---
Easy Korean street food recipes
---
Korean street food has its little charms that make it such a well-loved favourite both internationally and domestically. A popular haven for street food, the streets of Myeong-dong are always packed with visitors looking to bask into its bustling atmosphere and tuck into tasty fare. 
Alas, all vacations must come to an end and that extends to me feasting on my favourite Korean fried chicken. Thankfully, there's a trove of Korean ingredients you can get in Singapore to make the same dishes in Korea. Take your taste buds on a vacation and check out these four easy Korean street food recipes!
---
1. Spicy Cheese Tteokbokki (Korean Spicy Cheese Rice Cakes)
---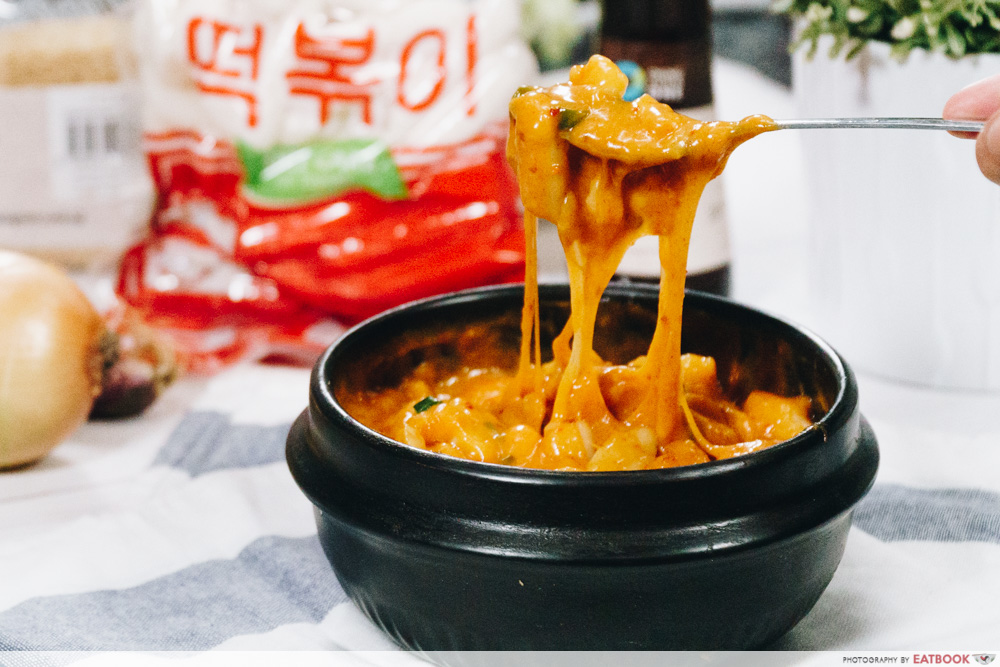 No trip to Korea is complete without a taste of tteokbokki. Featuring rice cakes that are cooked in a hearty gochujang-based sauce, this tasty treat is perfect for any occasion. 
The classic version is usually eaten without cheese, but mozzarella is fast becoming a popular addition to this street-food favourite.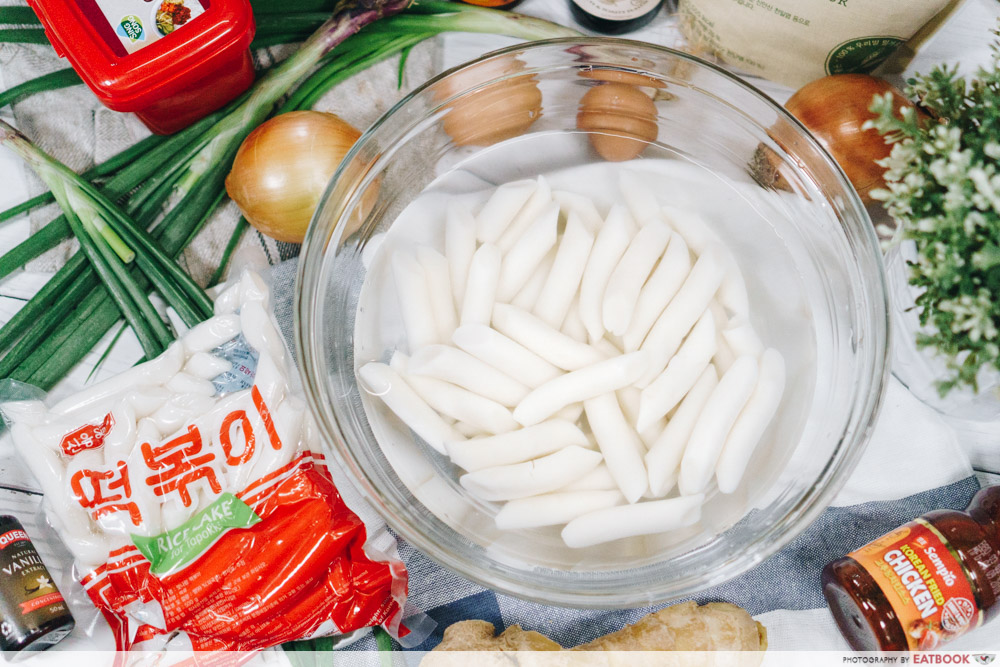 There are different types of rice cakes out there. While some require a long soak in water, the ones used in this recipe do not require you to do so. Just give them a brief rinse in cold water and you're good to go.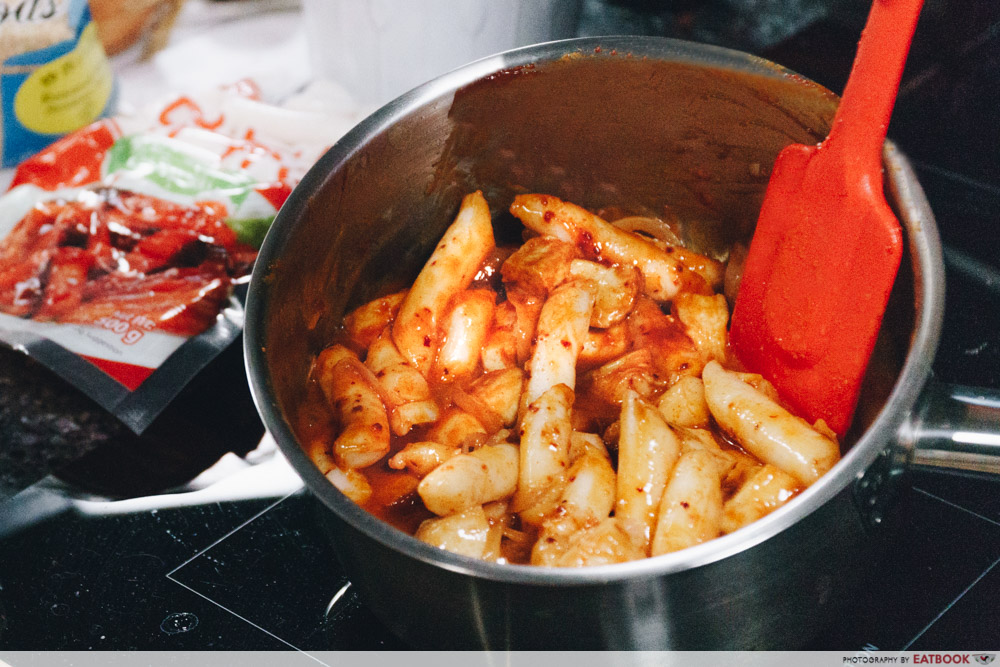 Most of the flavours in this dish are derived from gochujang. Made from red chilli, glutinous rice powder, and fermented soybeans, this tangy spice paste gives a nice kick of spicy and umami flavours. 
Yield: Serves 3
Cooking time: 30 minutes
Ingredients:
500g Sungji rice cake strip, rinsed with cold water
1 tablespoon vegetable oil
½ yellow onion, thinly sliced
2 pieces garlic, minced
200g tofu fish cake
1 teaspoon Daesang premium sesame oil
1 cup of water
2 tablespoon gochujang
3 tablespoon Korean chilli flakes
½ cup mozzarella cheese, shredded
½  stalk spring onions, sliced thinly
White sesame seeds (garnish)
Directions:
In a saucepan on low heat, sweat the yellow onion in the vegetable oil until they're clear and translucent. This should take around five minutes. Add garlic and cook for another minute.

Add the rice cakes, sesame oil, gochujang, tofu fish cake, water, and chilli flakes to the pan. Bring the mixture to a boil while stirring constantly.

Cook the rice cakes until they're soft and the sauce is thickened. This should take around 10 minutes. 

Remove the pan from heat and stir in cheese. Make sure to melt the cheese fully.

Garnish with spring onions and sesame seeds. Serve immediately.
---
2. Dakgangjeong (Korean Popcorn Fried Chicken)
---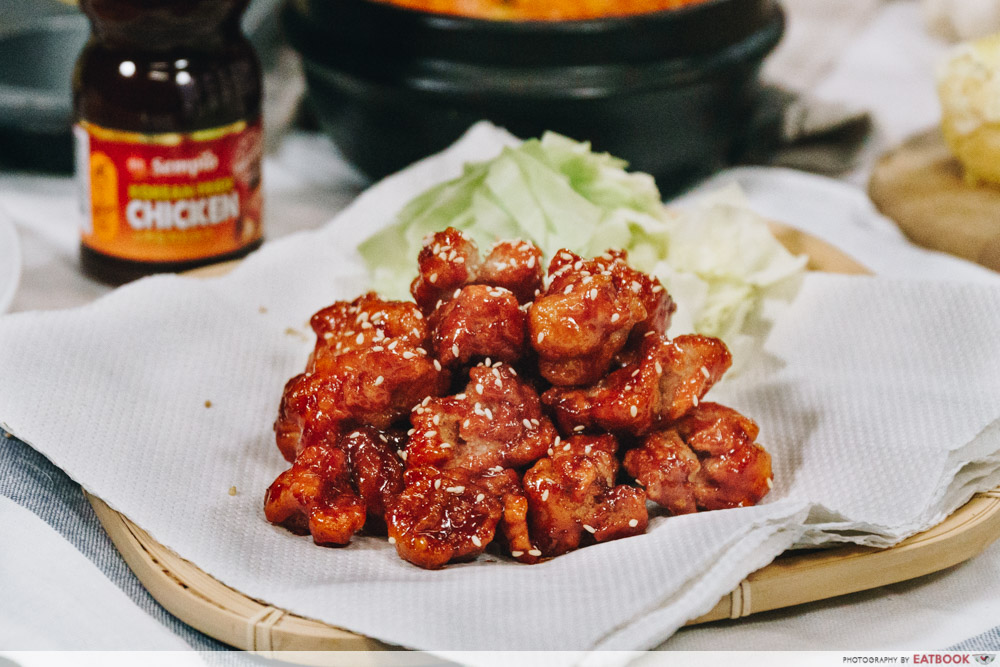 Commonly served in convenient paper cups in Korea, dakgangjeong is usually found in many fried chicken stores along the streets of Myeong-dong. Featuring chunks of crispy chicken that are coated in a lusciously sweet and spicy sauce, this simple dish is relatively easy to prepare in the comfort of your kitchen.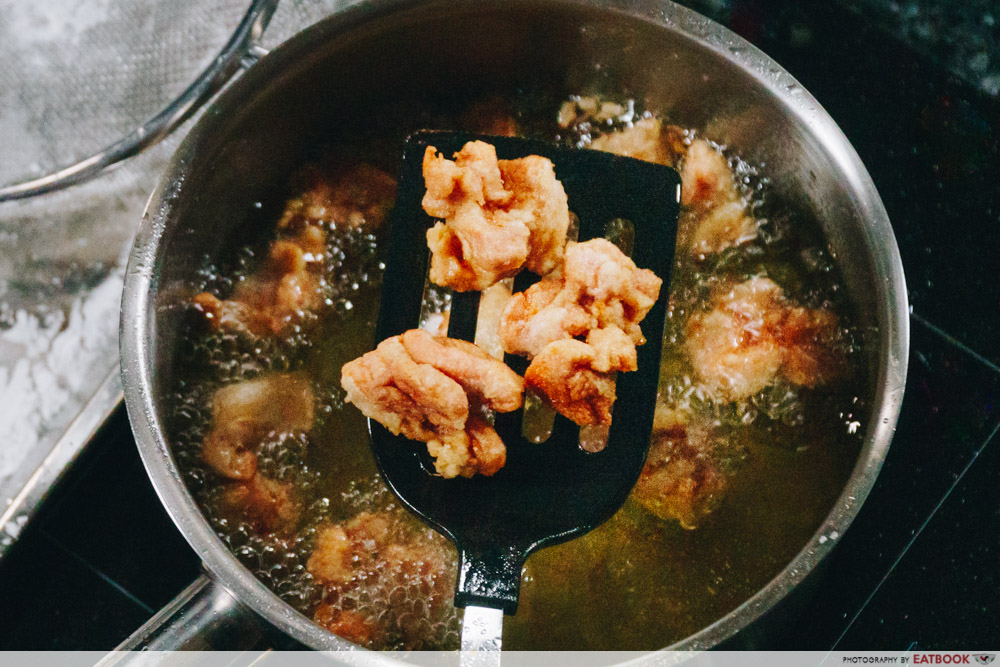 The chicken pieces are cut into tiny bite-sized pieces, making them great as a party appetisers.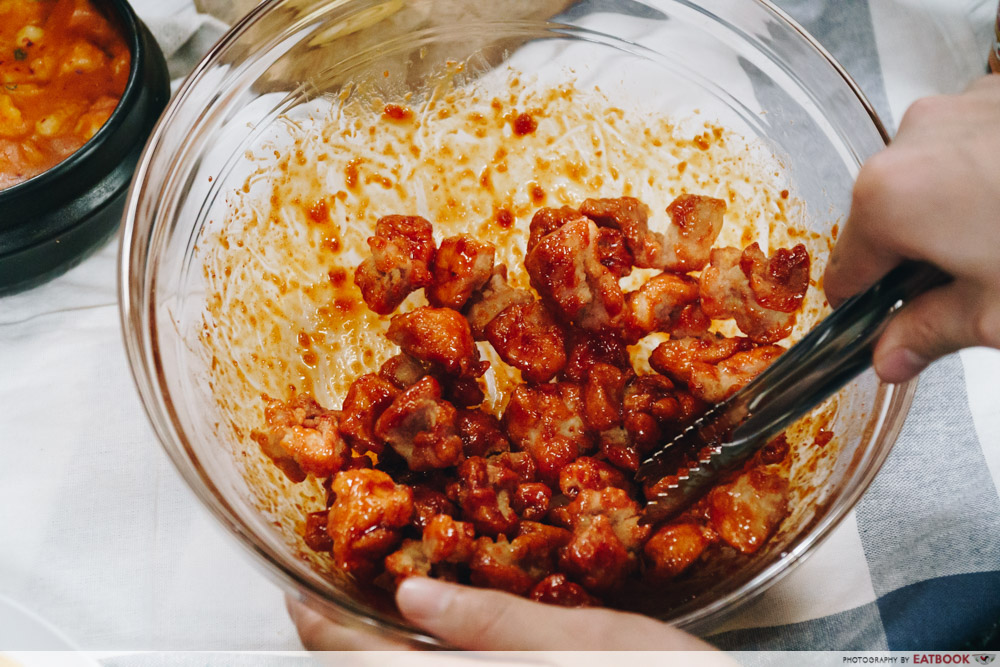 Coat the fried chicken with sweet and spicy sauce just before serving. You'll want to do it right at the end. Mixing it too early might cause the chicken to lose its crispiness. 
Yield: Serves 4
Cooking time: 20 minutes
Ingredients:
6 pieces of chicken thigh
1 tablespoon rice wine
1cm ginger, grated
2 pieces garlic, grated
½ teaspoon salt
½ teaspoon black pepper
2 cup potato starch 
Vegetable oil for deep frying
½  cup Sempio Korean fried chicken sweet & spicy sauce
White sesame seeds (garnish)
Directions:
In a mixing bowl, marinate the chicken with rice wine, ginger, garlic salt, and black pepper. Let it sit in the fridge for at least 30 minutes or up to overnight.

Remove the chicken from the marinade and pat lightly with paper towels. 

Coat the chicken pieces evenly with the potato starch.

Heat the oil in a deep pot to 180 degrees and fry the chicken until it turns golden brown. Stir occasionally. This takes around five minutes. 

Remove the chicken and drain excess oil with paper towels. 

In a mixing bowl, mix the fried chicken with sweet and spicy sauce. Garnish with white sesame seeds and serve immediately. 
---
3. Haemul Buchimgae (Seafood Kimchi Pancakes)
---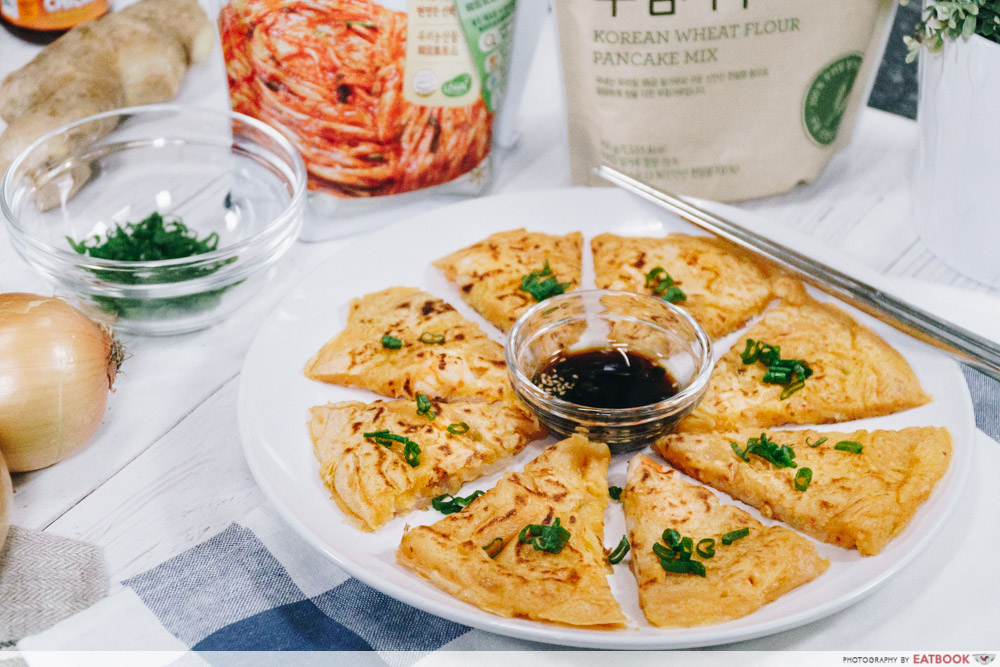 Crispy on the outside and soft on the inside, seafood kimchi pancakes are great for all occasions. You can always choose to jazz them up with an assortment of tasty seafood. For this occasion, we went with the ever-popular prawns.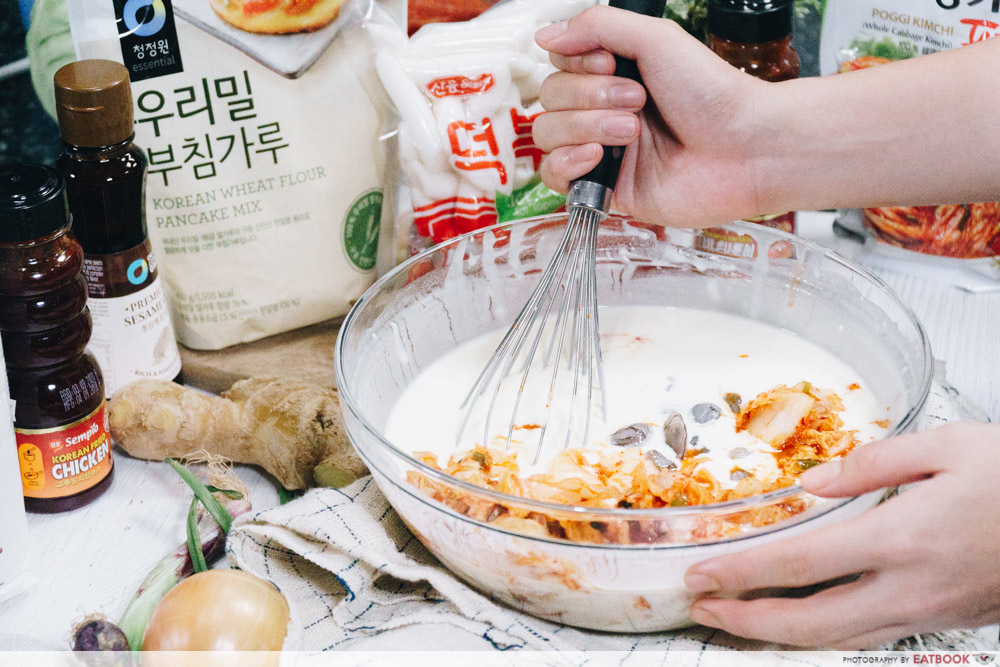 Prepare the batter by combining the pancake mix, water, kimchi, and seafood. Make sure to give it a good whisk to eliminate any lumps.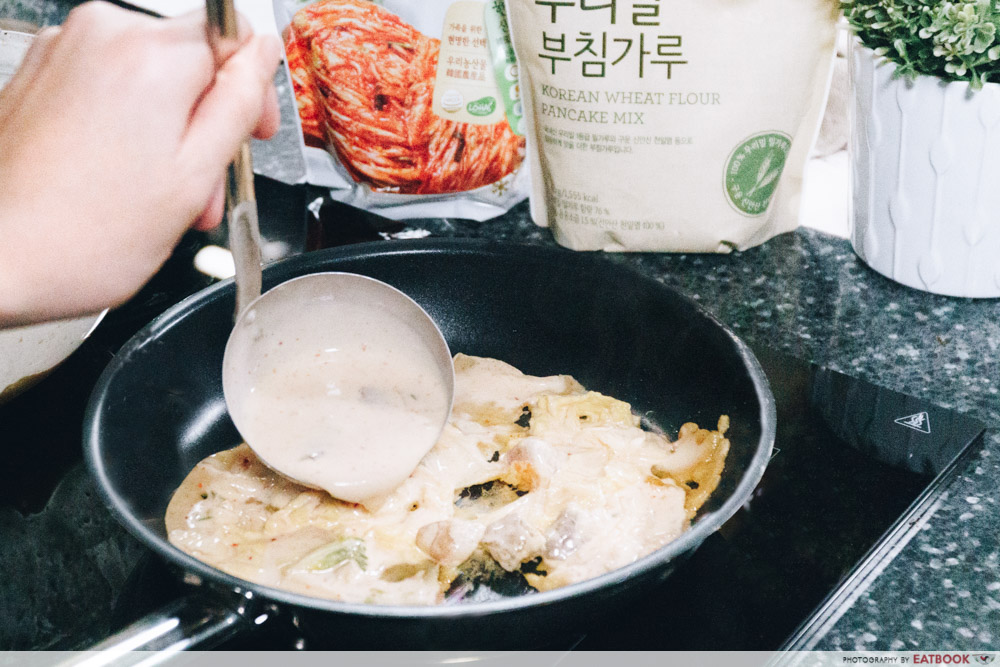 To cook the pancakes, pour the batter into a hot pan on medium heat and cook them for five minutes on each side. They should be ready when both sides have developed a golden-brown crust. 
Yield: Serves 4
Cooking time: 30 minutes
Ingredients:
450g Daesang Korean wheat flour pancake mix
720ml water
500g Zongga mat kimchi, roughly chopped
150g Vannamei peeled prawns, chopped
2 tablespoon vegetable oil
Dipping Sauce:
1 tablespoon soy sauce
1 tablespoon water
1 teaspoon rice vinegar
1 teaspoon sugar
½ teaspoon Daesang premium sesame oil 
White sesame seeds (garnish)
Directions:
To prepare the dipping sauce, combine all the ingredients and set aside on a small saucer.

In a mixing bowl, prepare the pancake batter by combining the pancake mix, water, kimchi, and prawns. Mix until everything is well incorporated

Heat the vegetable oil in a frying pan on medium heat. Gently ladle one cup of pancake batter into the pan. 

Let it cook for five minutes on one side before flipping over. Make sure that each side is golden brown.

Remove the pancakes and serve with the dipping sauce. 
---
4. Gyeran-ppang (Egg Bread)
---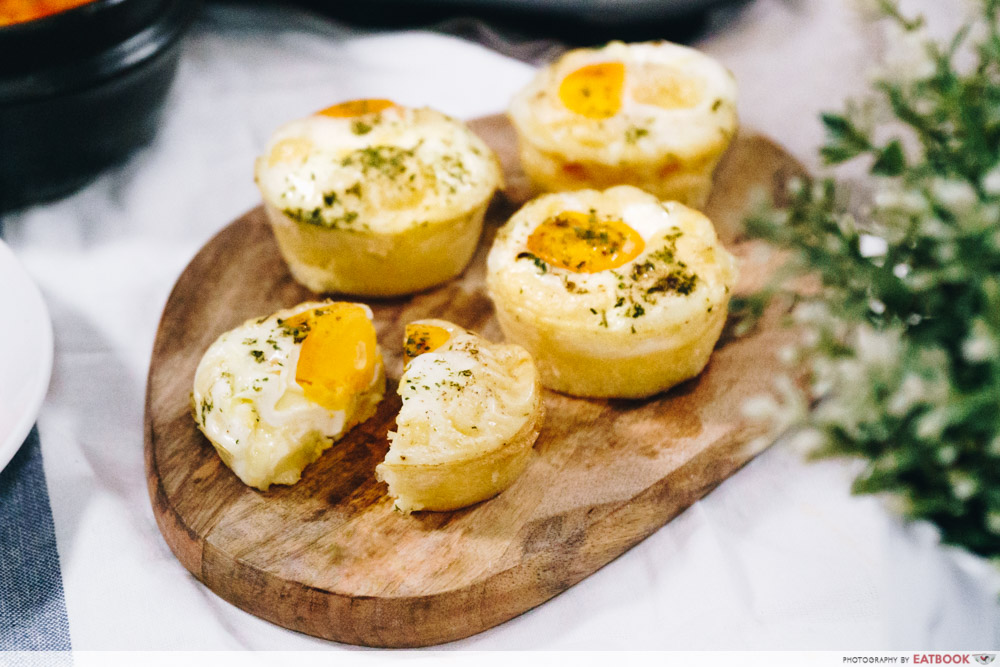 These sweet and fluffy loaves are commonly found in Korea but are hard to find abroad. They're great for tea time, and even better for parties where everyone can get a cute individual piece of this tasty morsel.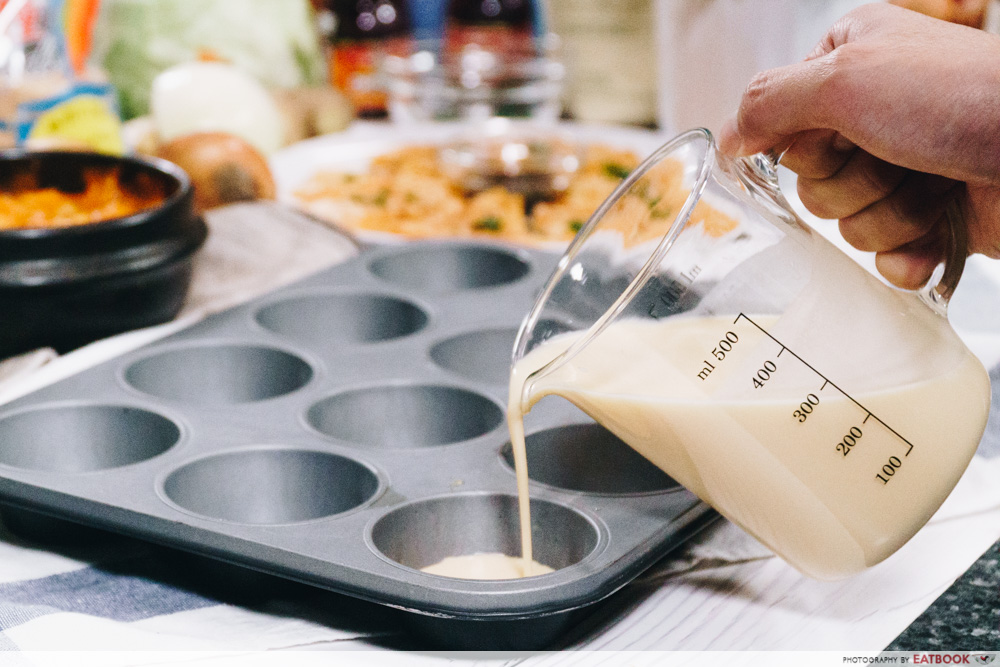 While the classic recipe calls for specific mini loaf moulds, you can easily substitute this with muffin moulds at home. Just make sure to pour the batter to ⅓ of the mould as you'll need to account for space for the bread to rise.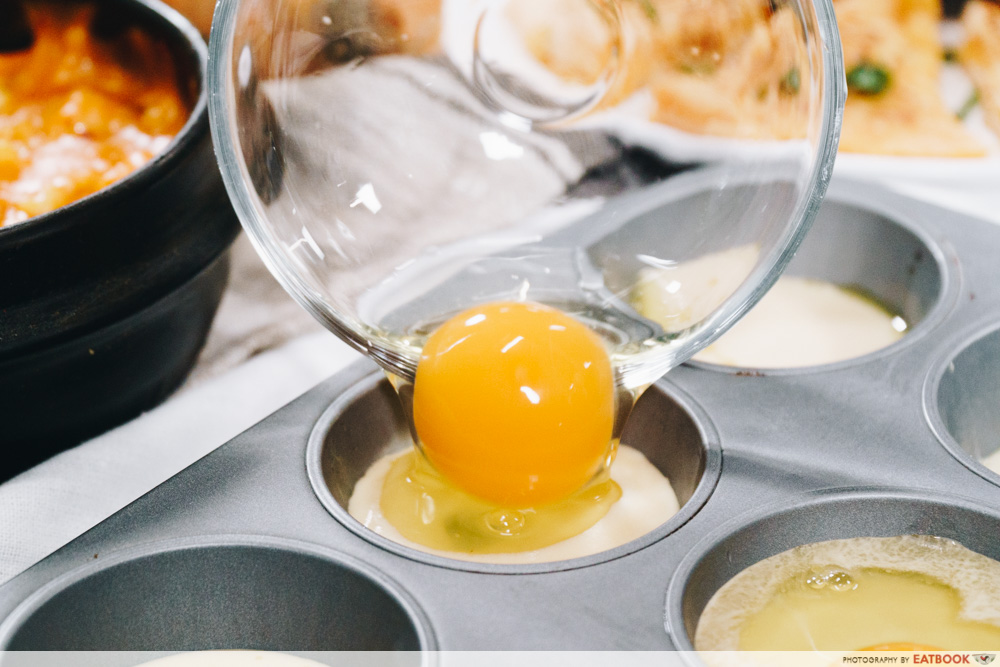 Adding a whole egg gives this bread a unique and attractive appearance. It also gives the bread a smooth and creamy texture.
Yield: Serves 12 egg bread
Cooking time: 30 minutes
Ingredients:
2 pieces Bega string mozzarella, cut into 2cm pieces
2 tablespoon unsalted butter, melted
6 tablespoon sugar 
A pinch of salt 
2 teaspoon baking powder 
1 teaspoon vanilla extract
1 cup all-purpose flour, sifted
1 cup milk
13 eggs 
A pinch of black pepper 
½ teaspoon dried parsley 
Directions:
In a mixing bowl, combine the butter, sugar, salt, baking powder, vanilla extract, one egg, flour, and milk. Whisk them until the batter is smooth.

Preheat the oven to 200 degrees. 

Lightly brush each muffin hole with melted butter.

Fill each muffin hole with the batter until its ⅓ full.

Add an egg and two pieces of mozzarella into each muffin hole.

Sprinkle with black pepper and parsley.

Place the muffin tray into the oven and cook for 15 minutes. 

To remove the bread from the muffin tray, gently push it out with a butter knife.
---
'Seoul' delicious with Cold Storage
---
[
Update, 8 August 2020
: Do note that the promotion has ended.]
These tasty Korea dishes are a breeze to prepare and do not require a lengthy cooking process. Loved by both the young and old, the spread will get swept away during parties. 
Cold Storage is having an exciting Seoul Delicious Korea Fair from now till 10 October 2019. Featuring loads of iconic Korean ingredients and exclusive products, the fair will also have a lucky draw that gives a grand prize of 100,000 KrisFlyer miles. That's the equivalent of two economy class tickets to Korea! 
On top of that, there will also be in-store samplings of delectable Korean food at Takashimaya, Bugis, Plaza Singapura, Compass One, and Causeway Point from 4 to 6 October, at 11am to 7pm.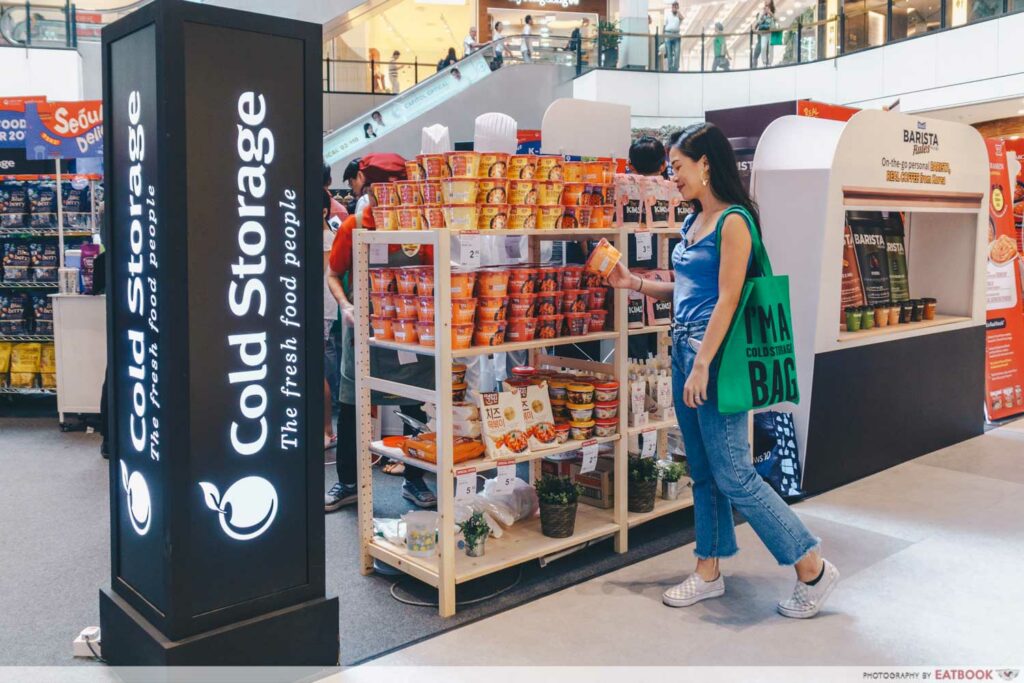 All you have to do is buy at least two participating Korean products from the Seoul Delicious Korea Fair and spend a minimum of $25 in a single receipt to stand a chance of winning. A consolation prize of 10,000 KrisFlyer miles will also be given to 10 lucky winners as well. 
Photos taken by Faith Toh and Cindy Yong.
This post was brought to you by Cold Storage.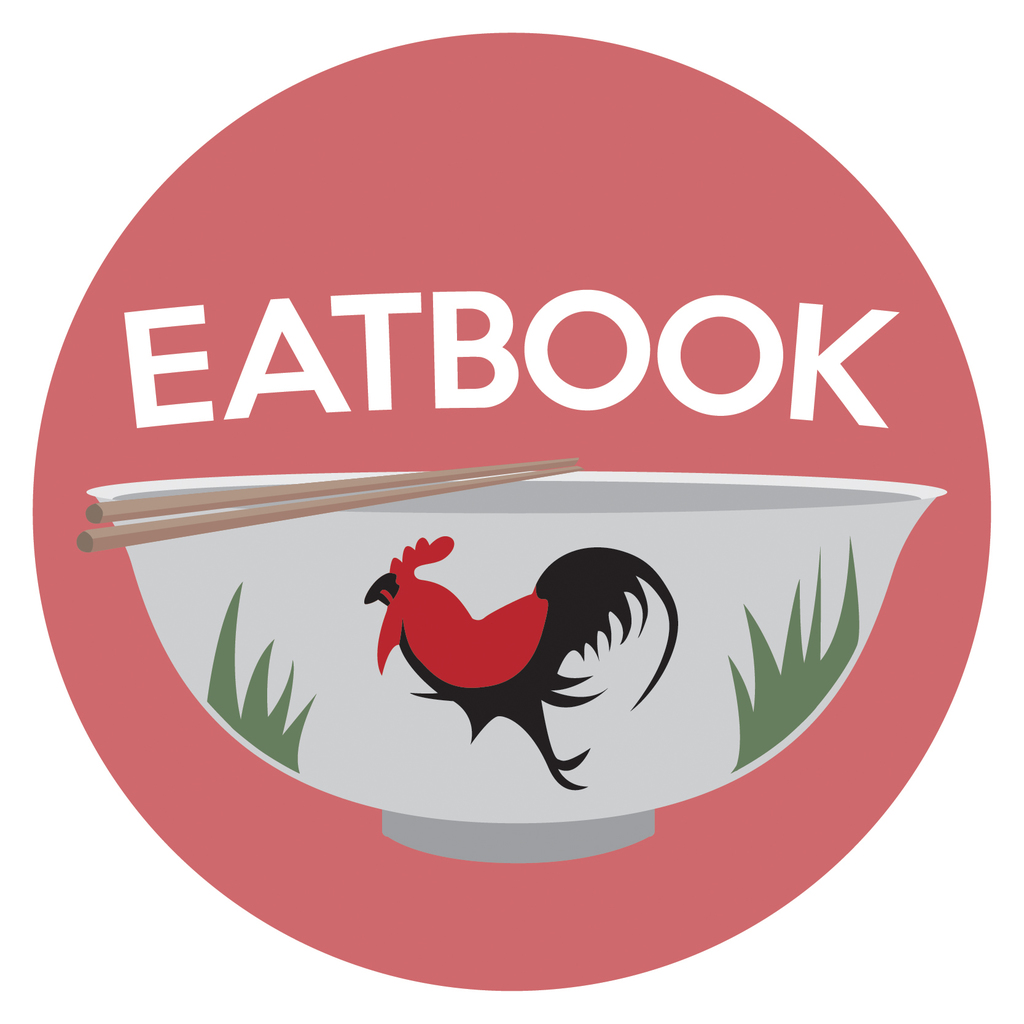 Drop us your email so you won't miss the latest news.