New DreamWorks KouKou Cafe at Bugis+
Update: DreamWorks KouKou Cafe is now permanently closed.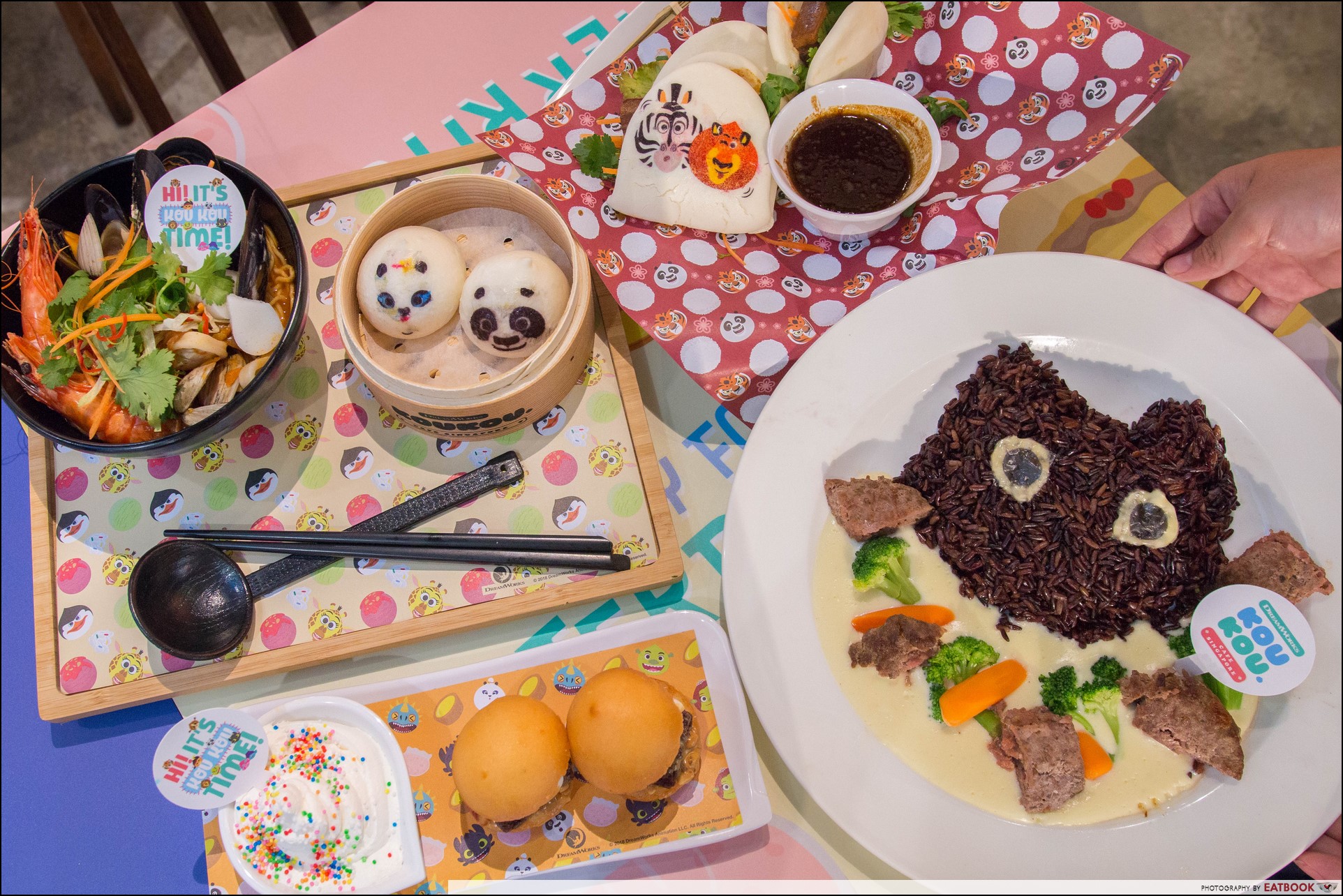 You either belong to Team Cartoon or Team Not. My BFF belongs to the latter; she thinks cartoon movies are lame. I disagree. They are fun, comical, and most of the time filled with deep anecdotes about life. My favourite cartoon movie to date is Shrek by Dreamworks – cue "Accidentally In Love" by Counting Crows.
So when we got news about DreamWorks KouKou Cafe, which opens at Bugis+ on 3 March, the inner kid in my colleague and I got excited. At the same time, we wanted to see how the food would fare as compared to the other themed cafes we have previously been to.
Food at DreamWorks KouKou Cafe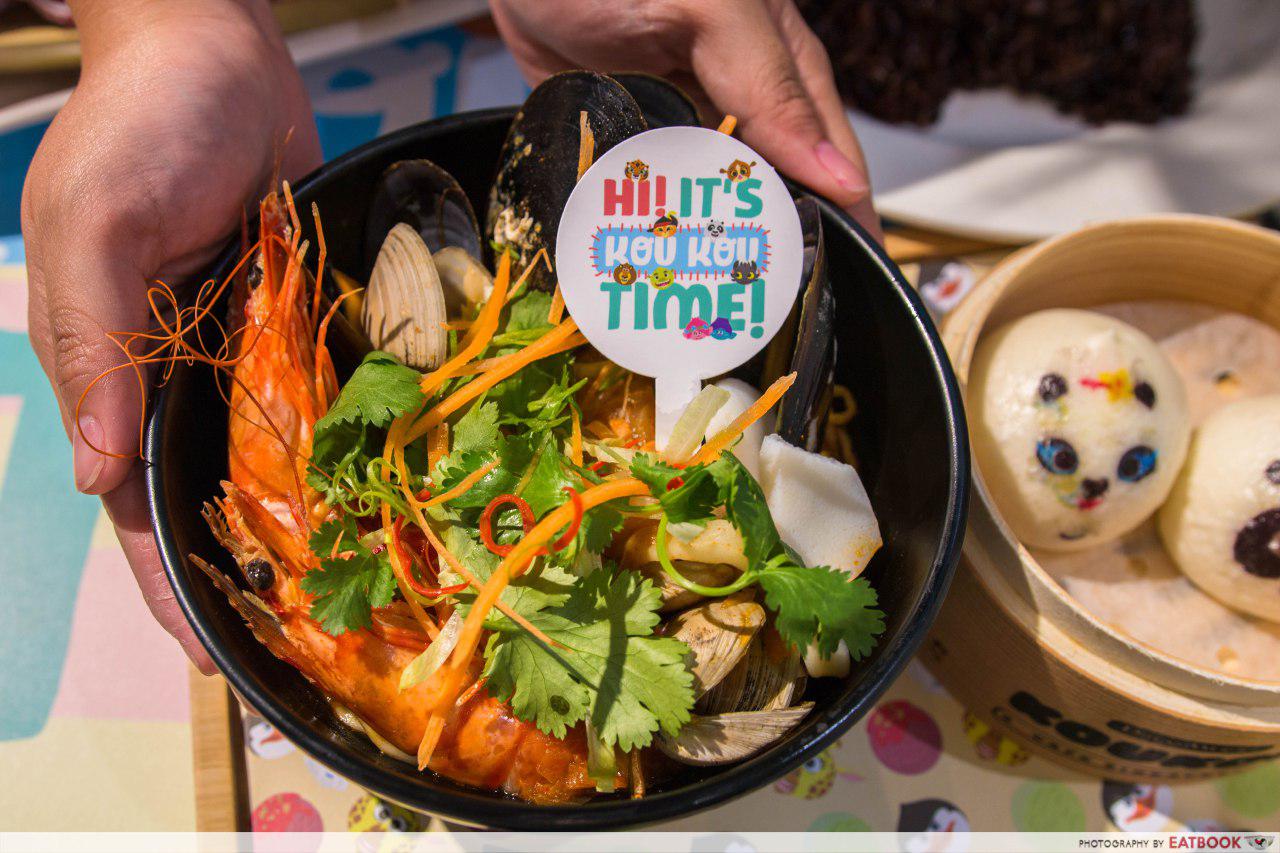 We were surprised by the menu offered at DreamWorks KouKou Cafe. They include a variety of Asian dishes, and the one that intrigued us the most was Secret Ingredient Noodle Soup ($23++). It is kimchi ramen with a variety of seafood such as large prawns, clams, mussels, squid, and fishcake.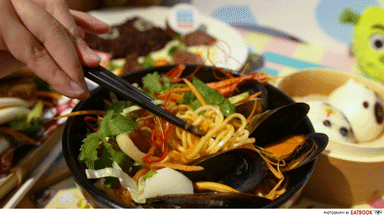 Even though my colleague and I went into a photo-taking frenzy, the noodles did not clump up and still held a good bite. The broth was a marriage of savoury and sweet flavours, with a tinge of spiciness. It was a collagen broth and had a depth of kimchi taste, evident from its milky orange colour.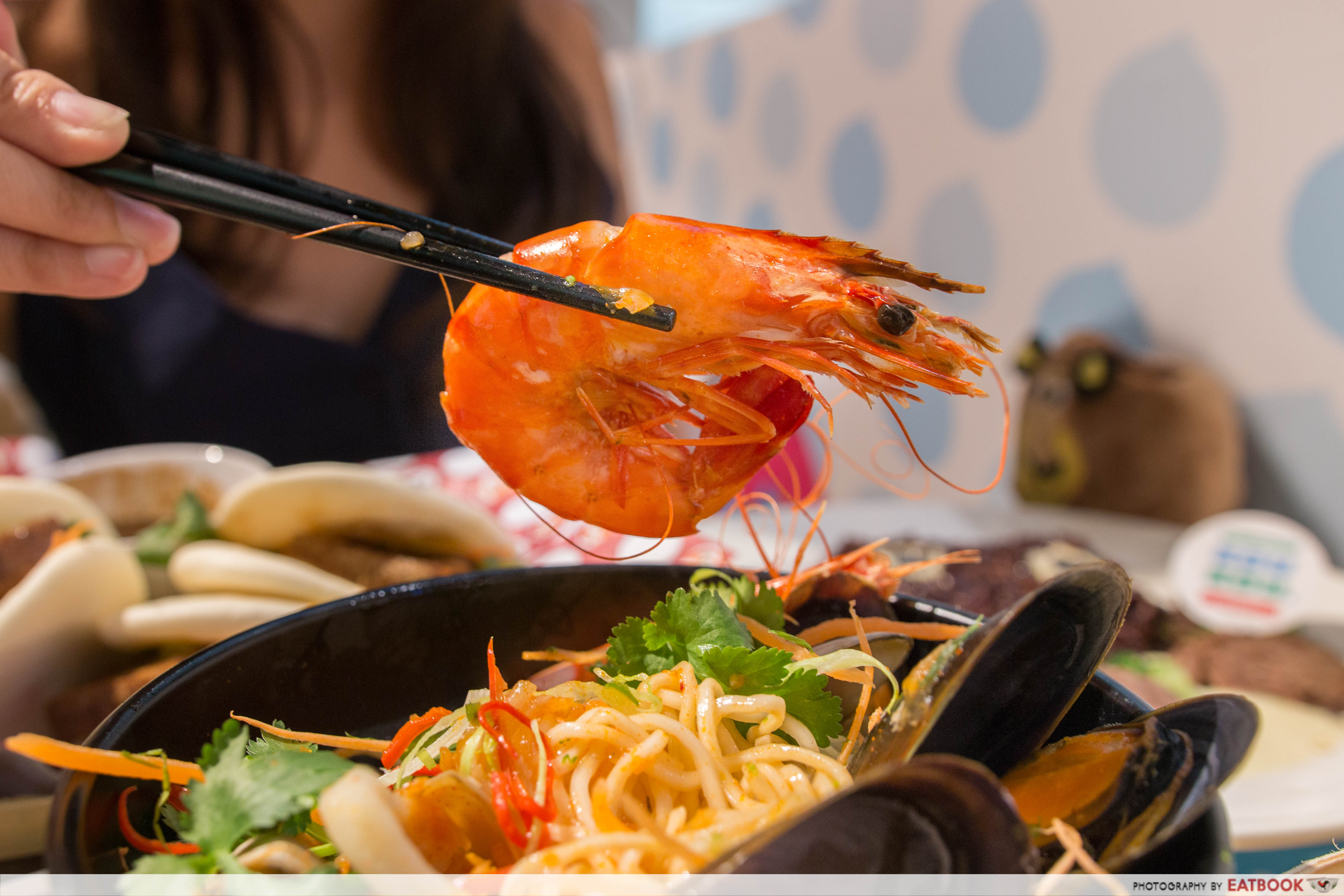 After savouring the noodles and the broth, I had my game face on and began digging about in the bowl, trying to find the "secret ingredient" the name of the dish seemed to promise me initially. To our dismay, there was nothing "secret" to be found. The prawns were my favourite ingredient. They were slightly larger than usual and tasted sweet. Sadly, there were only two and I could only wish for more.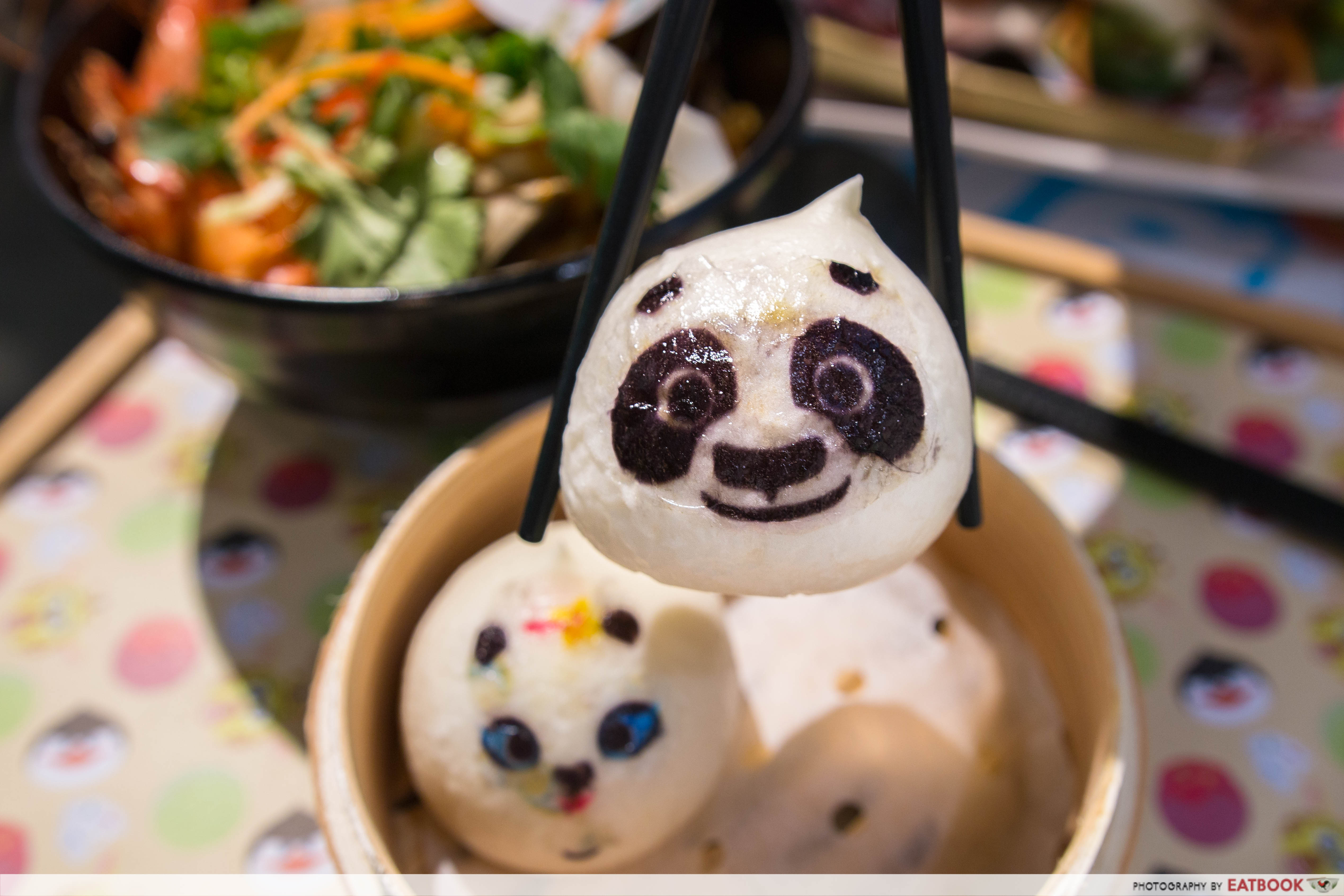 Secret Ingredient Noodle Soup also comes with two plain mantou. Tearing them bit by bit and dipping the slightly sweet buns into soup further added an element of fun to the dish.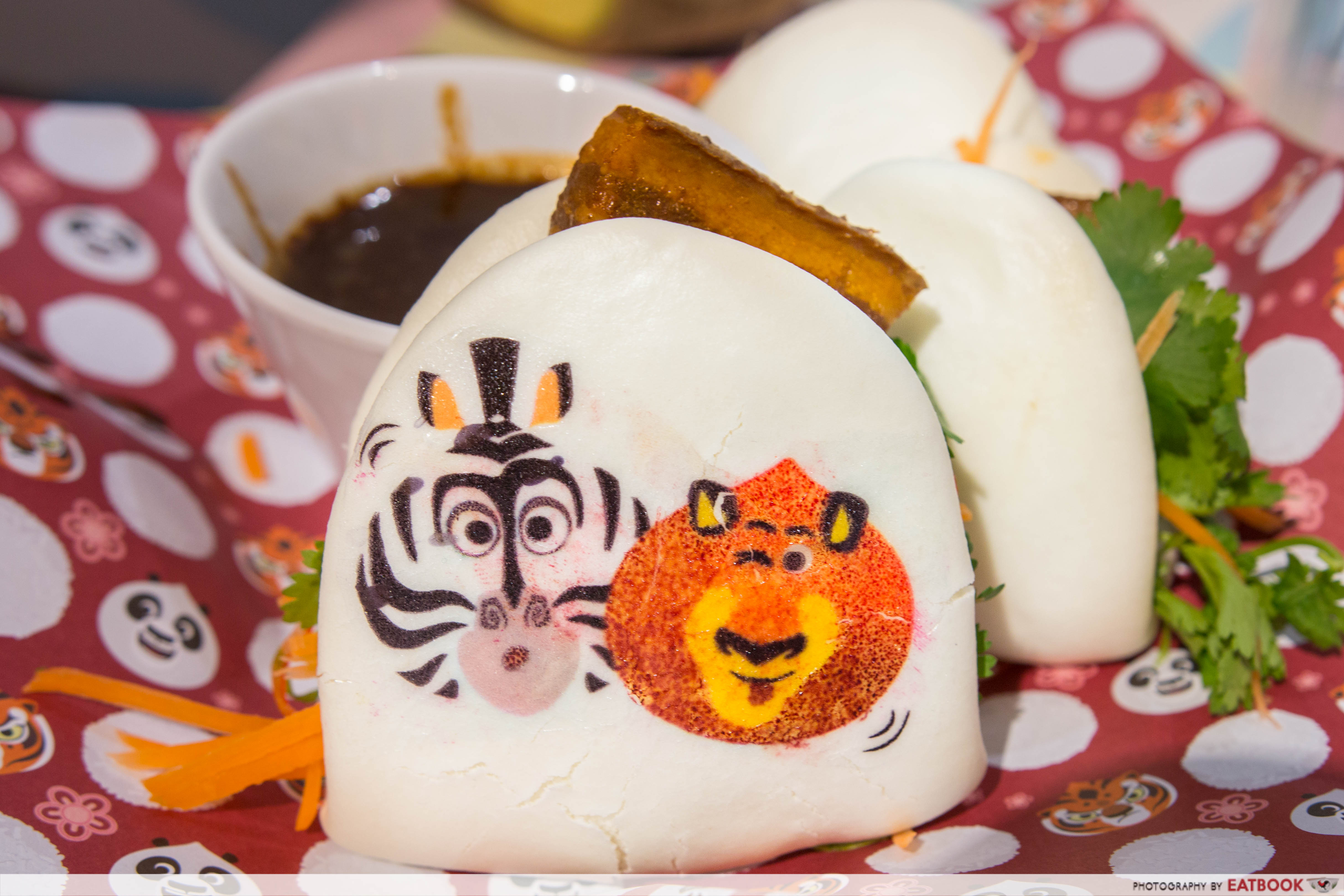 Signature K.B.P ($13++) was the dish I liked the most. "K.B.P" stands for kong bak pau, and a slice of braised pork was sandwiched between each white bun. One of the buns was embellished with an edible Madagascar sticker of Marty and Makunga.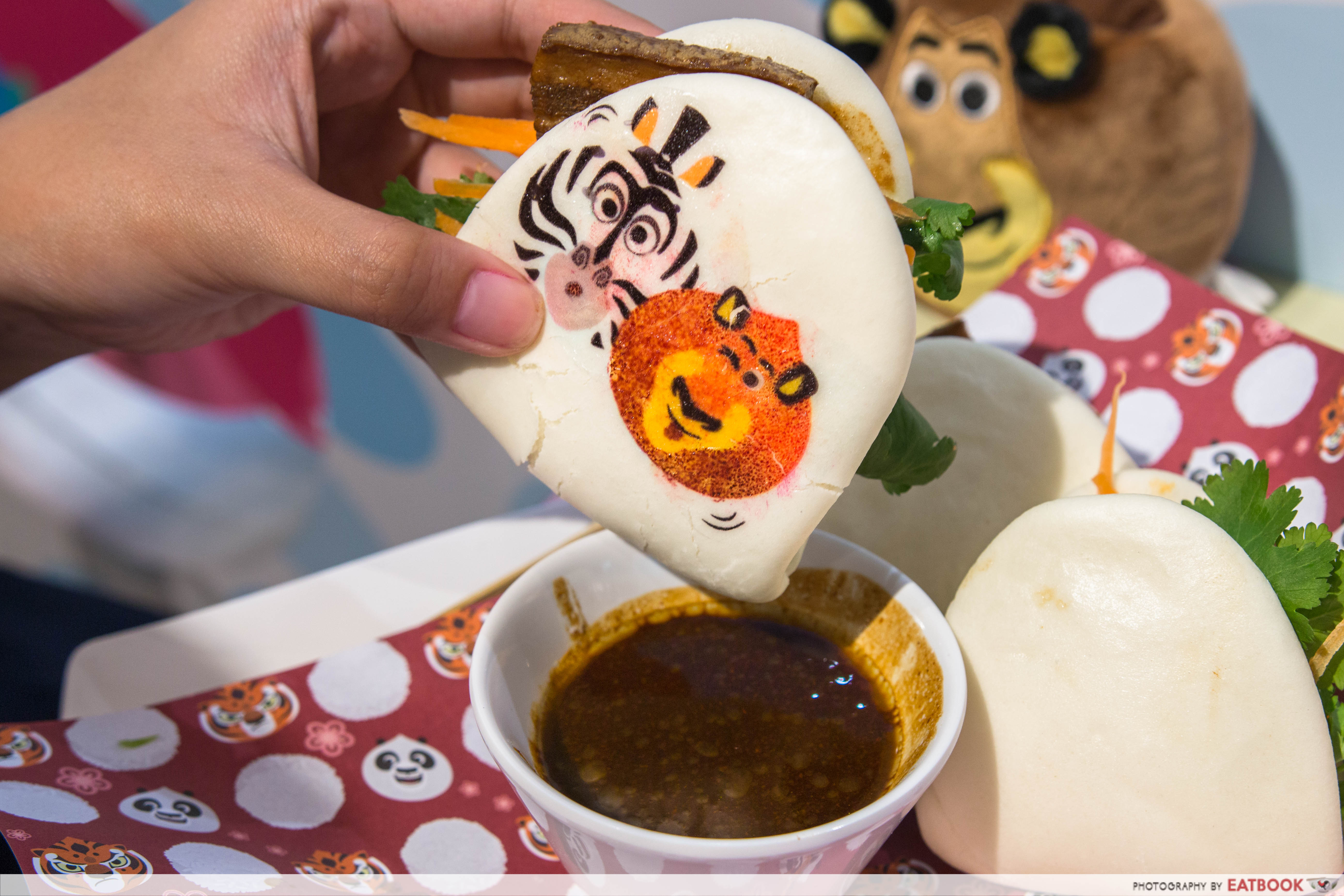 The braised pork was melt-in-your-mouth tender, especially the fatty layer which melted almost instantly as I took a bite. Though already well-flavoured, a small bowl of thick brown sauce was also provided. It was extremely salty, I'll only recommend it to those who like their food heavy on the palate.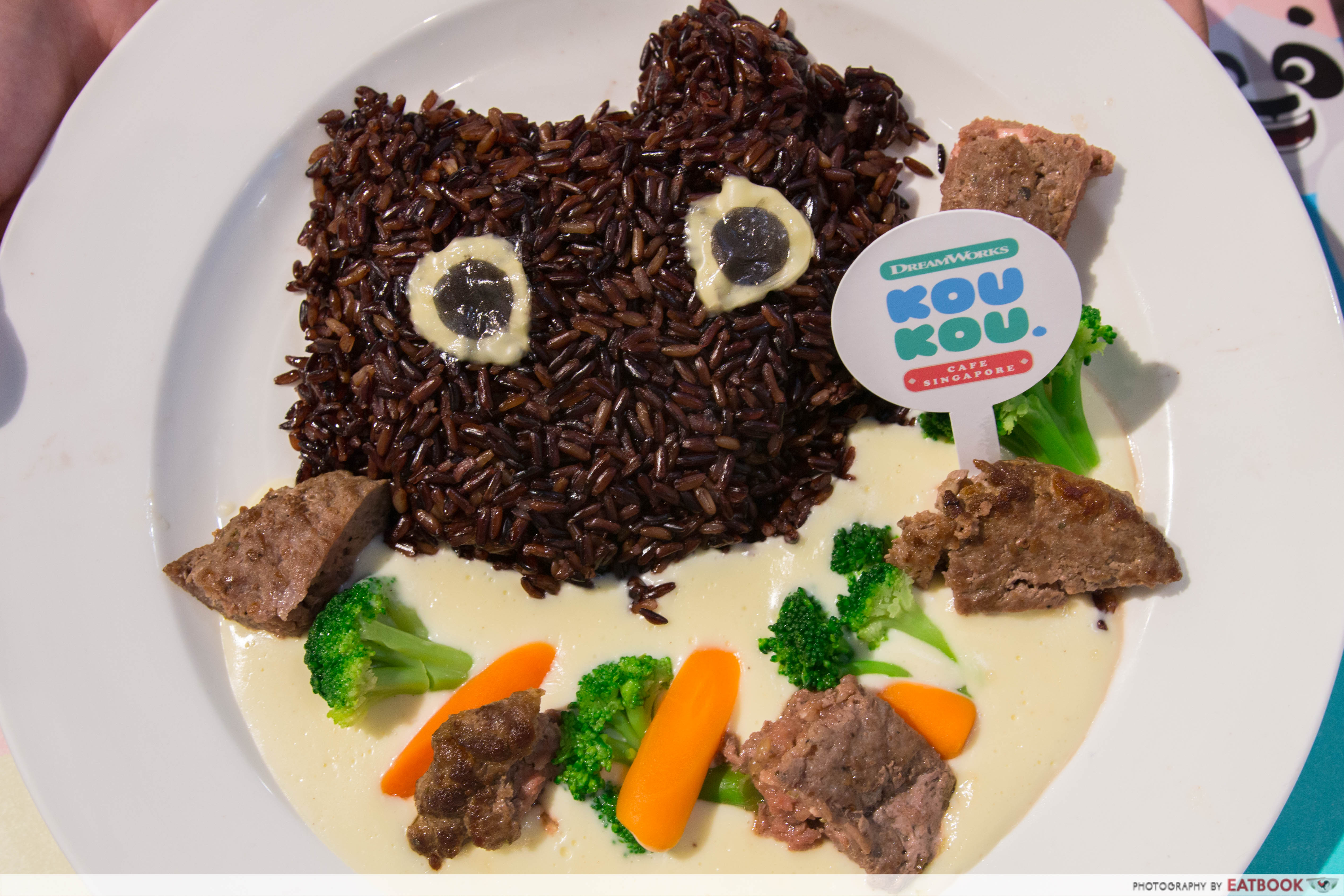 The other main we tried was Night Fury Steak Rice ($18.50++). We were in love with how Toothless, the black dragon from How To Train Your Dragon, came in the form of black rice. Also known as forbidden rice, the black rice contrasted beautifully with the white sauce.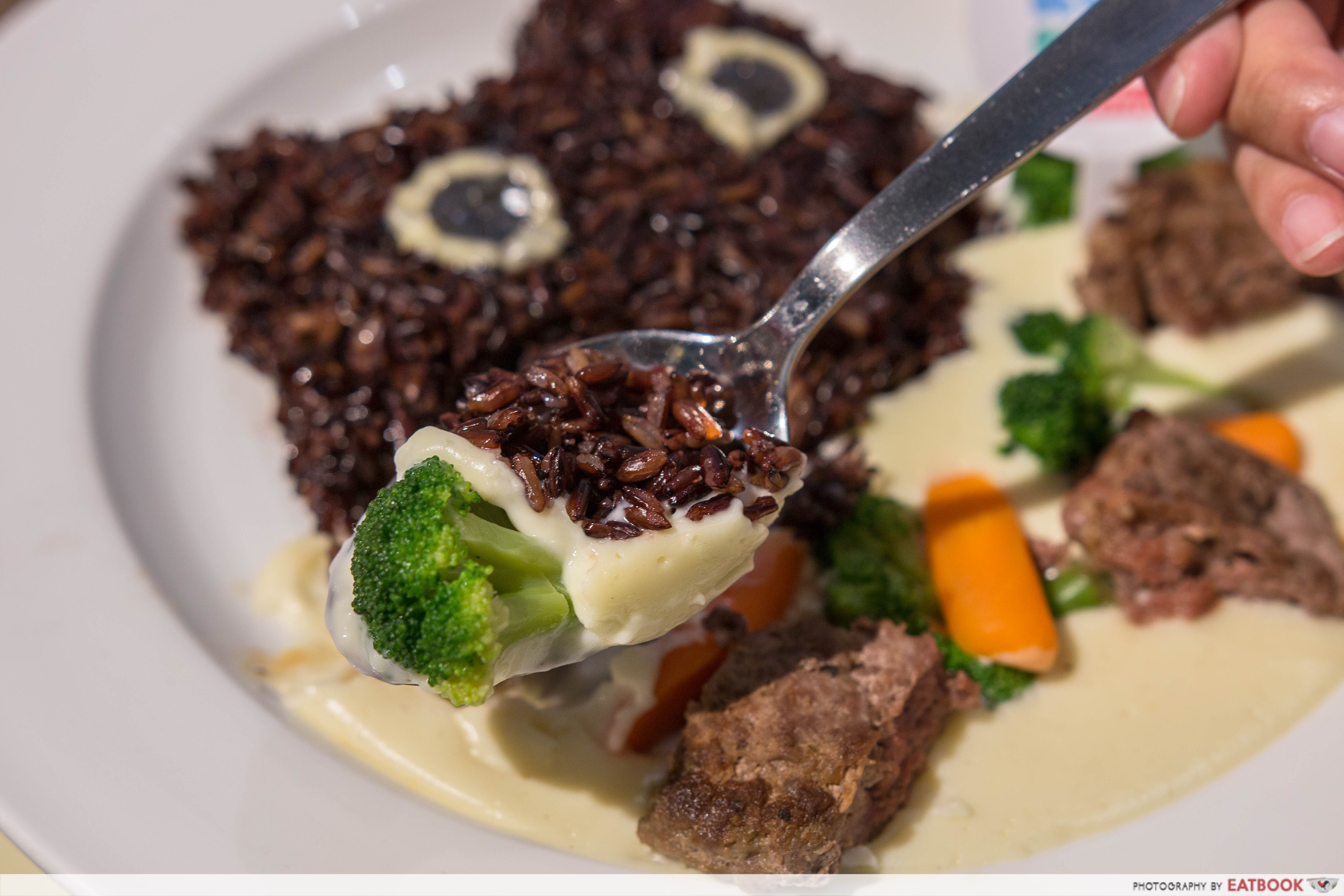 At first there was an off-putting smell that came along with the rice, but upon having a spoonful of rice soaked in the creamy white sauce, I realised it tastes a lot better than it smelled.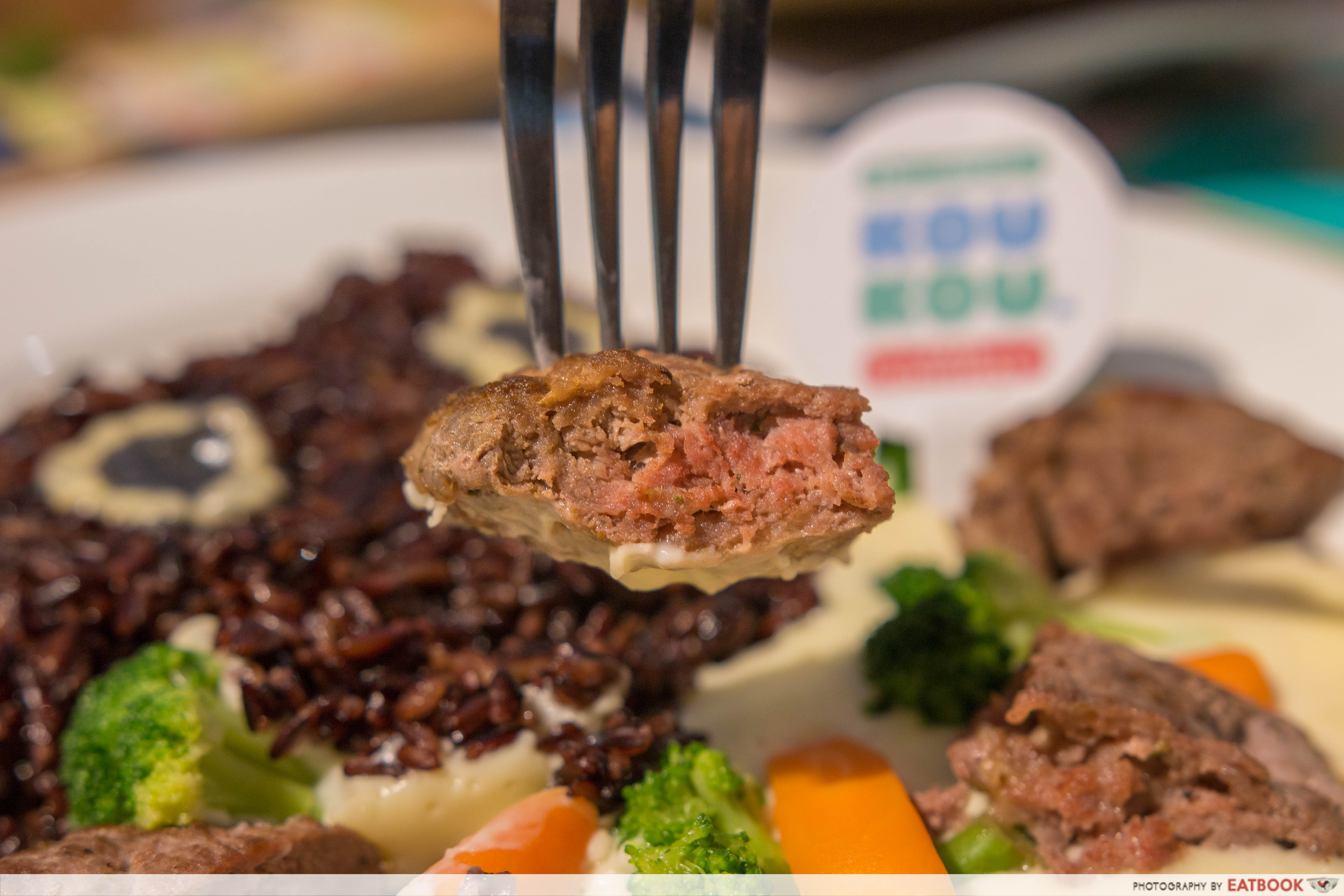 The hamburg steak, however, did not shine as much as I thought it would. Each piece was coloured a slight pink in the middle. Though they were juicy, there was a lack of flavour and seasoning. The vegetables could also have been left a tad longer in the boiler, especially the broccoli.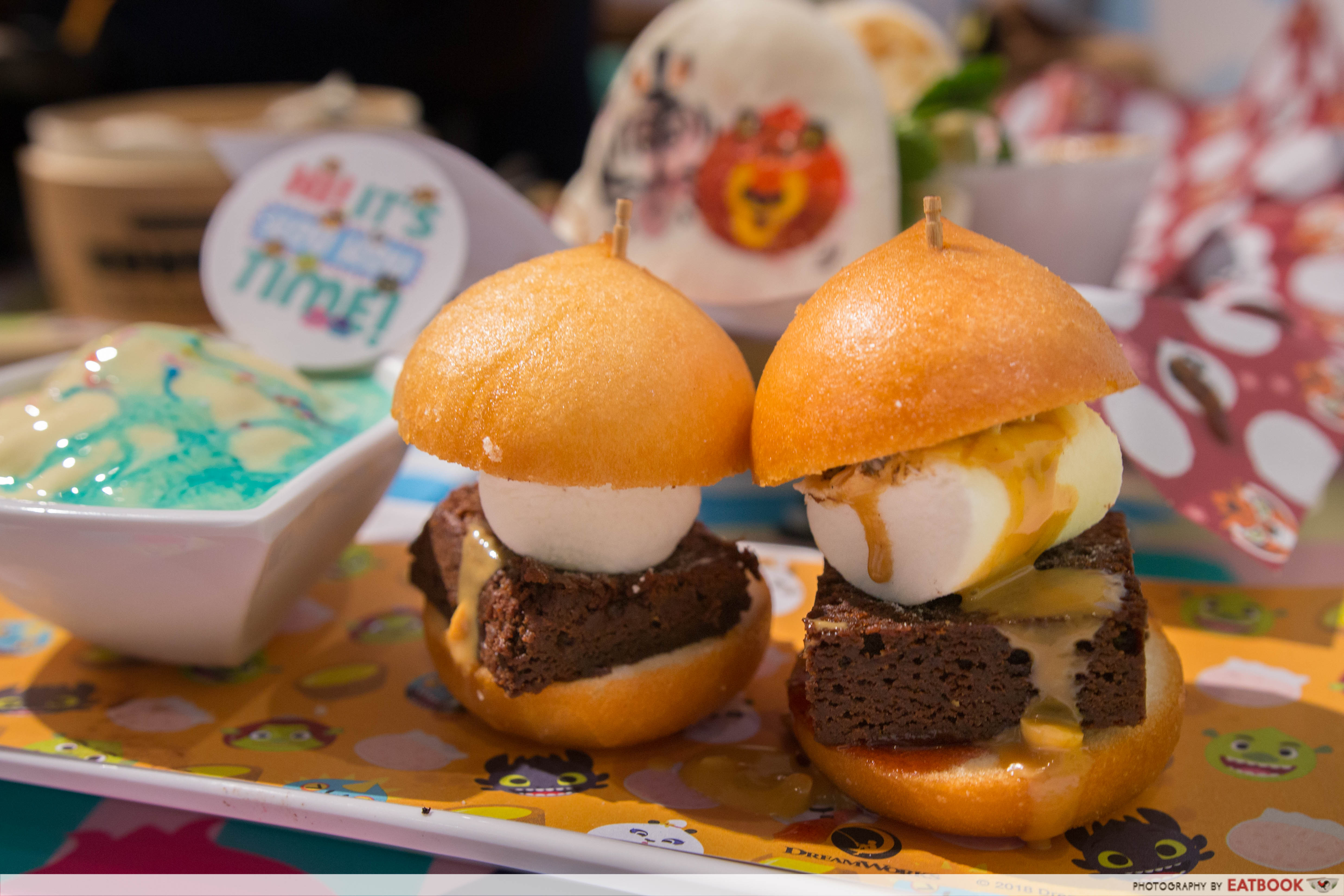 We also got to try Fun Sliders ($9++), the love child of savoury hamburger sliders and sweet s'mores. It features soft serve and fried mantou buns with a square of brownie and marshmallow sandwiched in the middle.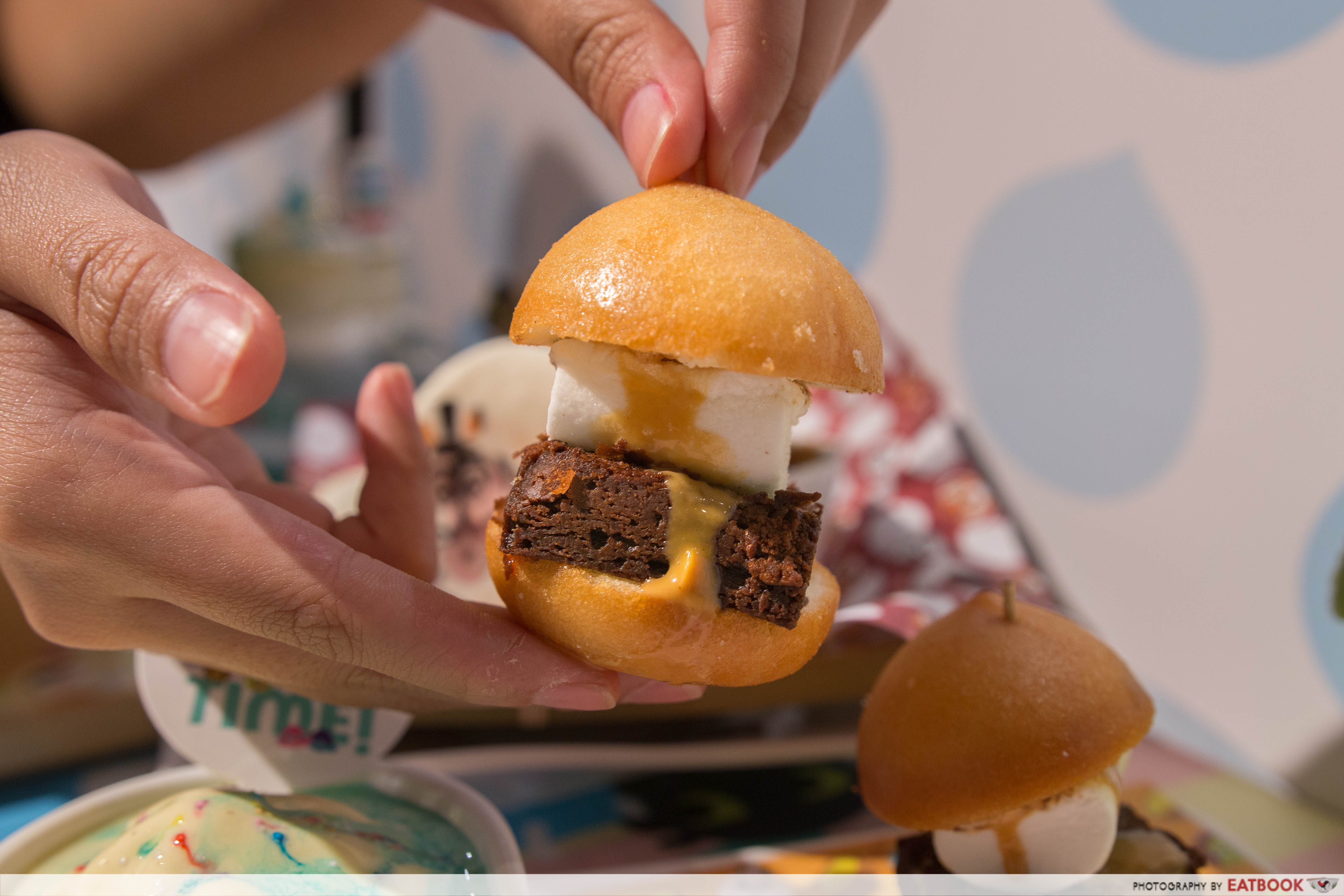 I tried eating one as a whole but it was just too large for my mouth. Splitting it apart, I savoured the slider in two mouthfuls. The fragrant and creamy peanut sauce drizzled atop was lovely and added depth to the otherwise one-dimensional dessert. A slab of strawberry jam was also hidden underneath the fudgy brownie, making the dessert one that reminded me of a peanut butter and jelly sandwich.
Ambience at DreamWorks KouKou Cafe
My colleague and I were impressed by how well-decorated DreamWorks KouKou Cafe was. The walls were plastered with characters such as Toothless, Shrek, Puss In Boots, and many more. Each table also has handphone holders in the plushie form of different characters for customers to keep their phones in during the meal. We could tell that there was much more attention to detail put into decorating the space, as compared to the many themed cafes we have been to.
The verdict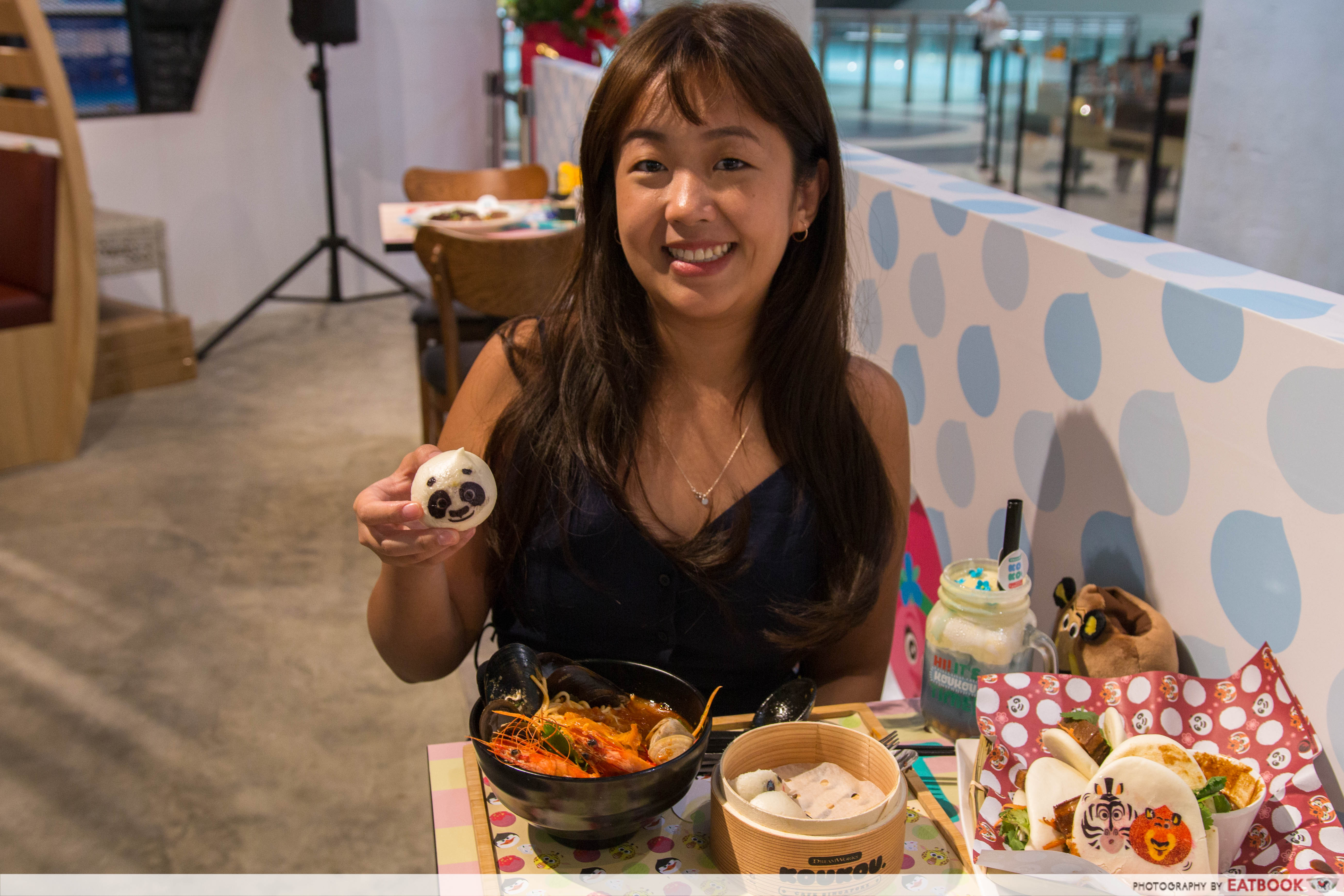 My colleague and I had a ball of fun here at DreamWorks KouKou Cafe. We were busy taking photos of the walls, food, tables, and more during the first 20 minutes. Though the food was not necessarily the best, it was a feast for the eyes and also provided some entertainment. Prices for desserts here were fairly lower as compared to themed cafes such as Minions Cafe and Cartoon Network Cafe. I recommend heading down to the cafe for a fun time with kids, or friends who are young at heart.
Don't forget to check out the merchandise sold here as you will not be able to find them elsewhere!
If these adorable DreamWorks characters are not enough to feed your love for all things cute, check out this list of bakers you can get customisable cartoon macarons from!
Address: 201 Victoria Street, #05-04-06, Bugis+, Singapore 188067
Opening hours: Mon-Fri 11am to 10pm
Website
This was a media tasting at DreamWorks KouKou Cafe.  
Summary
Pros
– Fun to eat
– Instagrammable
– Exclusive merchandise
Cons
– Pricey
– Food was average
Recommended Dishes: Secret Ingredient Noodle Soup ($23++), Signature K.B.P ($13++)
Opening Hours:
Mon-Fri 11am to 10pm
Address: 201 Victoria Street, #05-04-06, Bugis+, Singapore 188067