La Jiang Shan Hotpot buffet at Dhoby Ghaut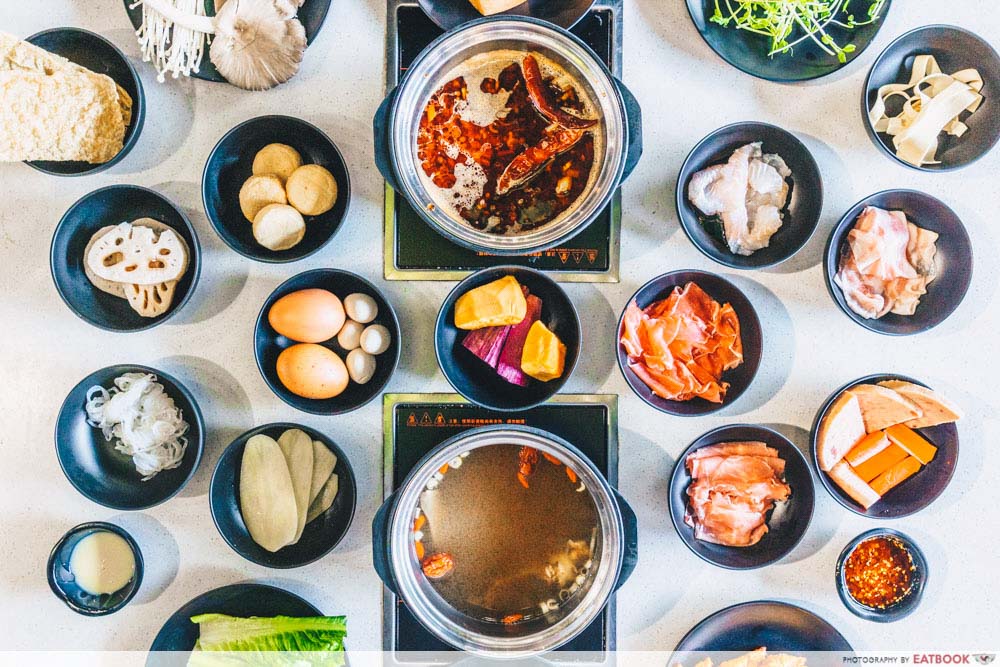 It's difficult to miss La Jiang Shan Hotpot's giant sign while walking down Selgie Road. 'Conveyor Belt Hotpot" is announced to all who pass by. After years of frequenting the area and catching glimpses of it, I finally gave the steamboat restaurant a go.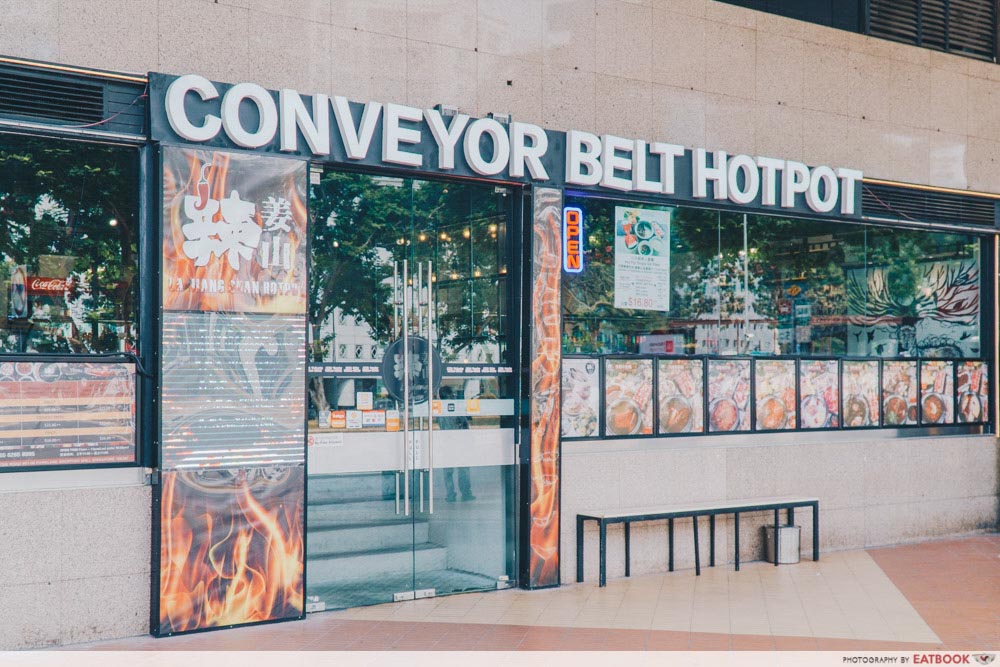 I could only make it for lunch and snagged their 90-minute Weekday Lunch Buffet ($15.80++). On top of soup and meat, this Chinese steamboat restaurant serves up pre-cooked Sichuan dishes. It even has free-flow xiao long bao if you visit in the evenings!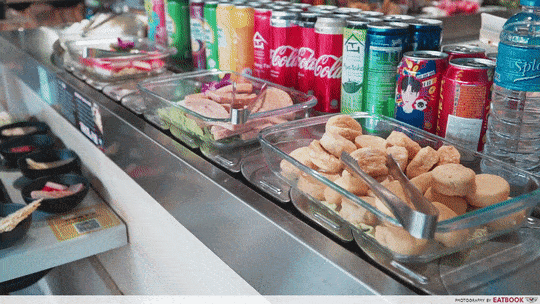 I want to be spoiled after forking out money at a buffet. Getting up to take my own food is a minor inconvenience; I just want to relax and keep eating. The hot pot restaurant conveniently sends the food right to you, offering trays after trays of vivid red meat, fresh vegetables, and heaps of steamboat staples such as cheese tofu and mushrooms. 
Food at La Jiang Shan Hotpot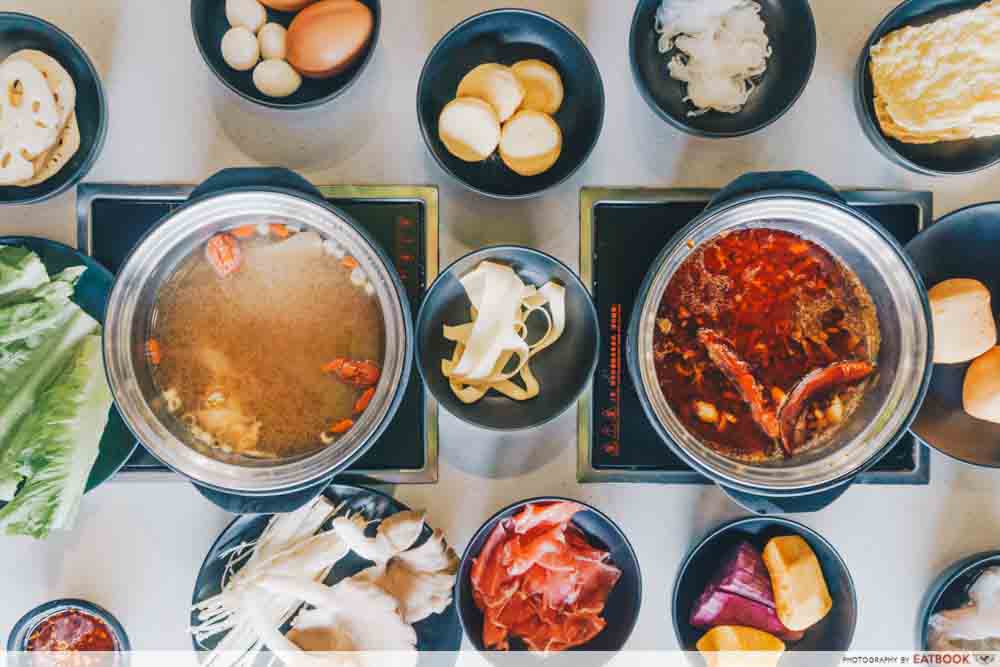 Going with the staff recommendations, we chose the Herbal Chicken and Spicy Ma La soup base. My pet peeve is when hotpot buffets charge extra on soup, Sadly, all soup options cost an extra $2.80++; it would be better if everything is included in the upfront price. 
The two pots of soup were rather small, but enough for a single person to go wild on—no need for sharing. The soup was free-flow too, and the staff were quick to flit around the restaurant and refill any pots that looked dangerously low.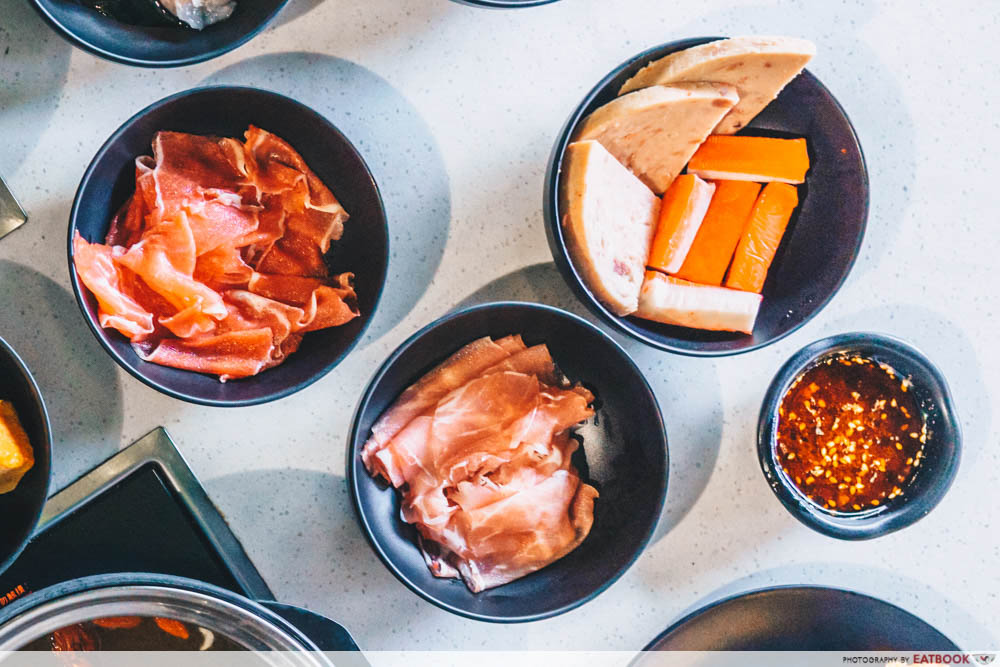 The Beef, Chicken, and Pork looked fresh with their vivid colours. Not commonly found at buffet spreads—but no less worthy—were the slices of Mutton that blessed the belt with their deep-red hue.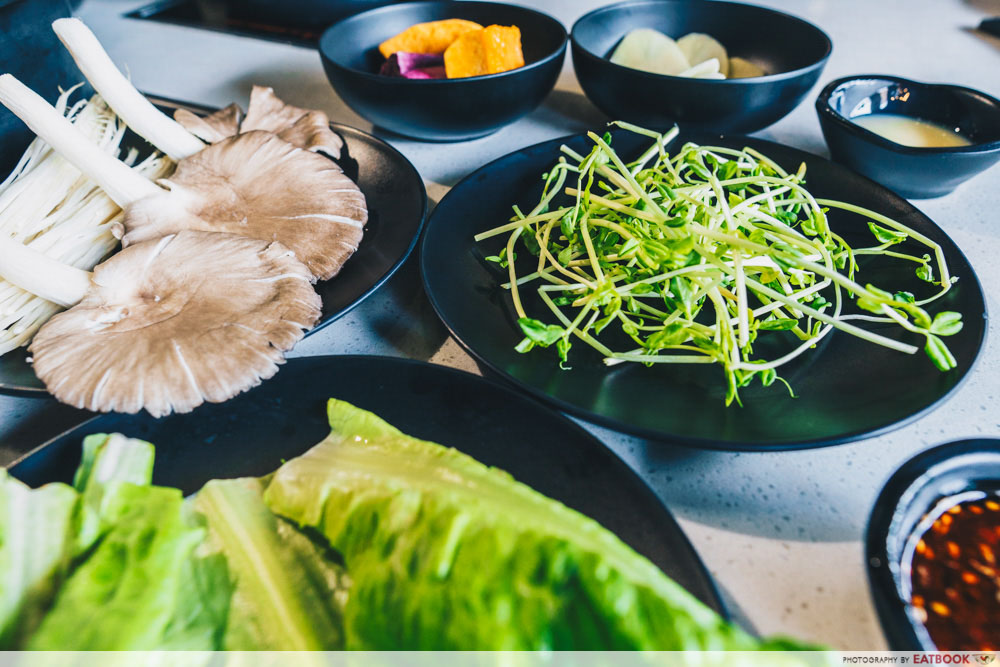 All the vegetables looked crisp and bright. The pumpkin and sweet potatoes stood out the most, with their bright hues drawing my attention as they rolled past.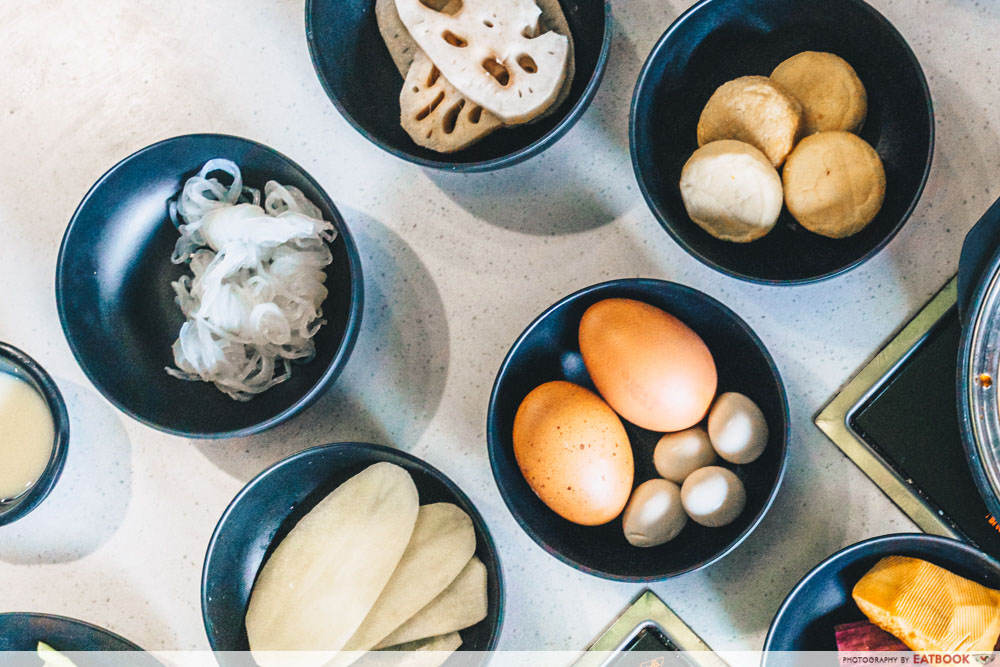 Joining the ensemble were the less premium ingredients: tofu, instant noodles, spinach noodles, and tau kee. They weren't as prominent as the meat, but they nonetheless had their place in the pot and rounded out the meal. Quail eggs can also be found here too, which I thought was quite a nice touch.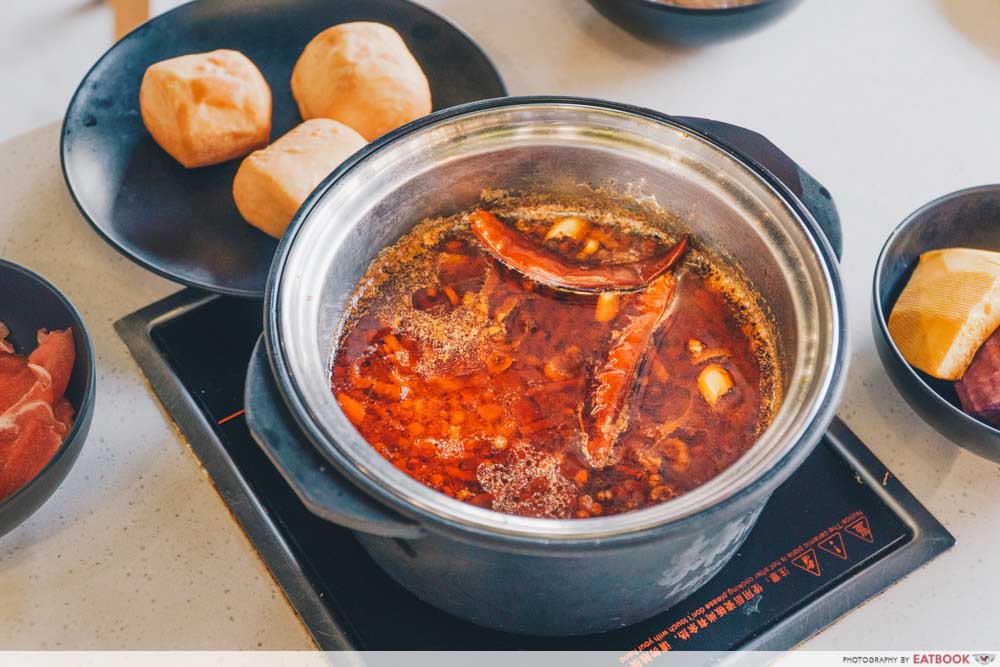 The ma la soup base was spicy and mouth numbing, with chillies floating on the surface amidst a film of red oil. Cooking the meat in the flavourful soup infused them with a savoury and spicy taste.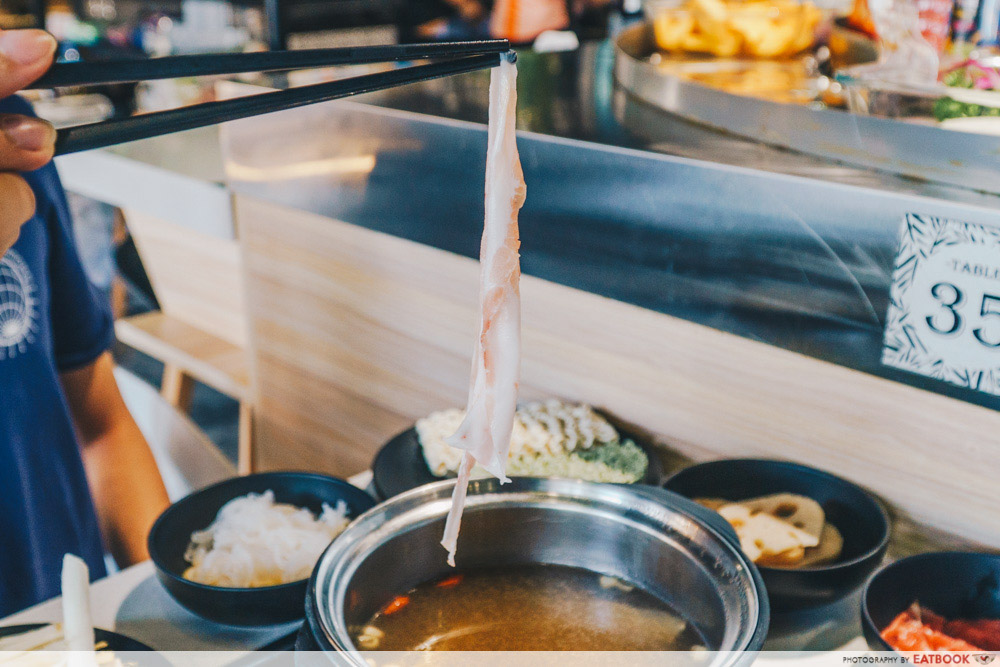 The pork belly was paper-thin and delightfully fragile. A quick swish was all it took to cook completely and melt apart in my mouth.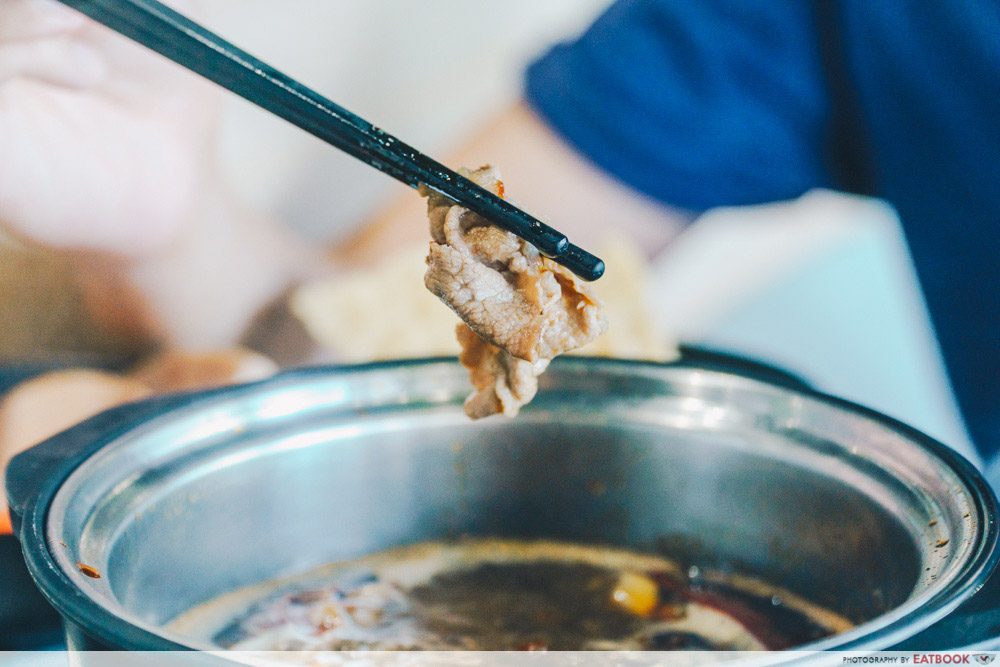 I personally love mutton but can understand why some would dislike the slightly gamey taste it bears. The mutton here was sweet and juicy, with only a tinge of its meaty pungency. Cooking the lamb in the ma la broth helped get rid of its gaminess while maintaining its sweet taste.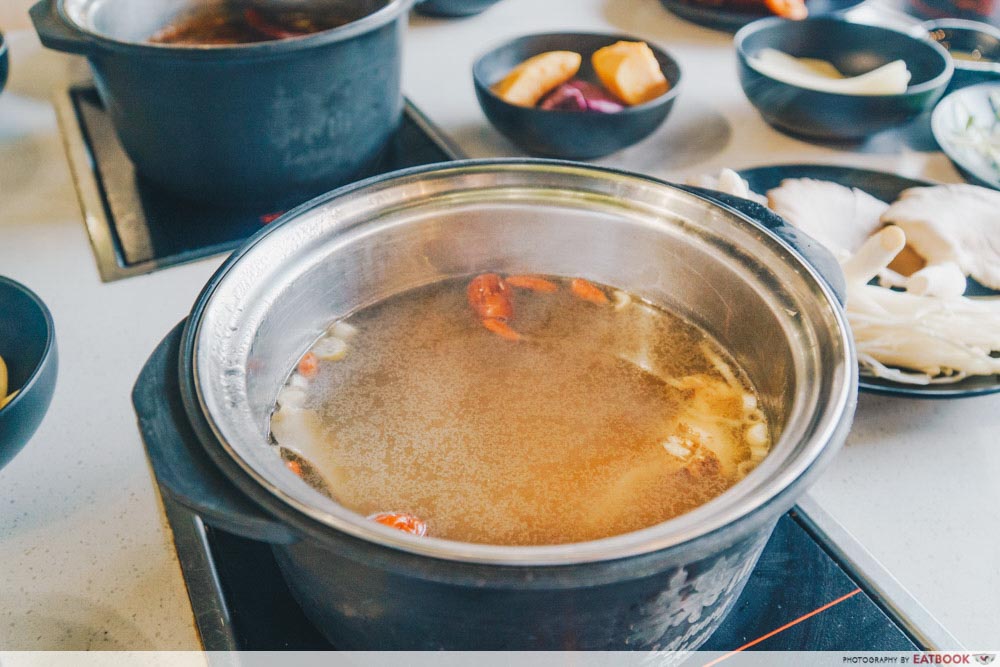 After an hour of eating, the soup's taste had been drastically changed. All the meat we cooked in the soup contributed a strong, full-bodied flavour to the soup. It made a great soup base for instant noodles thereafter.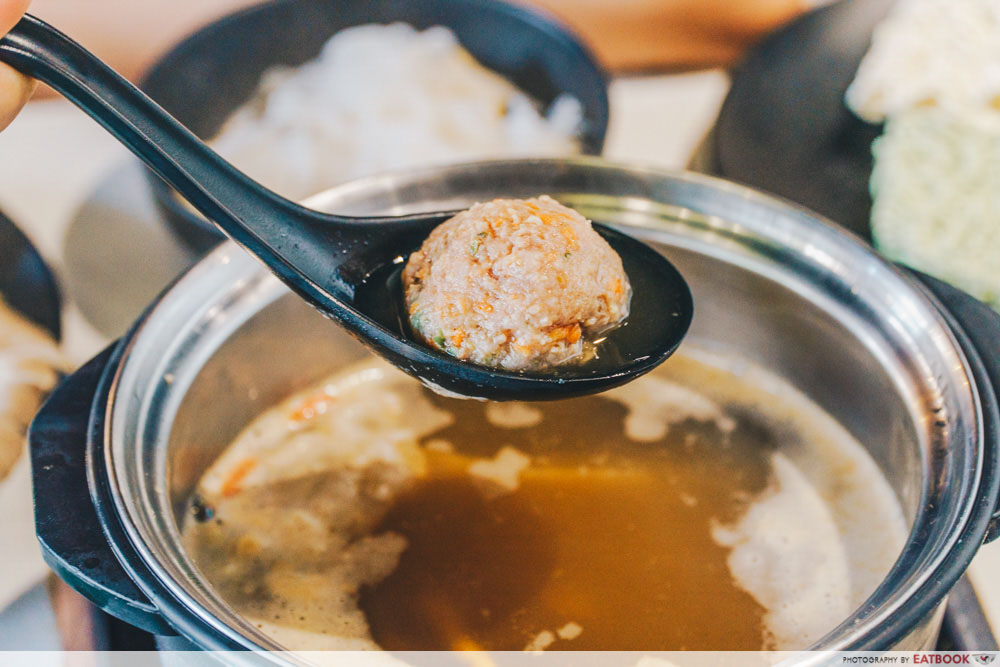 A dish that's special here are the Handmade Meatballs, which come in beef, pork, and mutton. My personal favourite out of the three was the beef. It's sweet and juicy, with chopped bits of carrots within the tasty meat. Because they're handmade, the meatballs tend to disintegrate if left in the soup for too long. You'll probably want to keep an eye on them while they cook.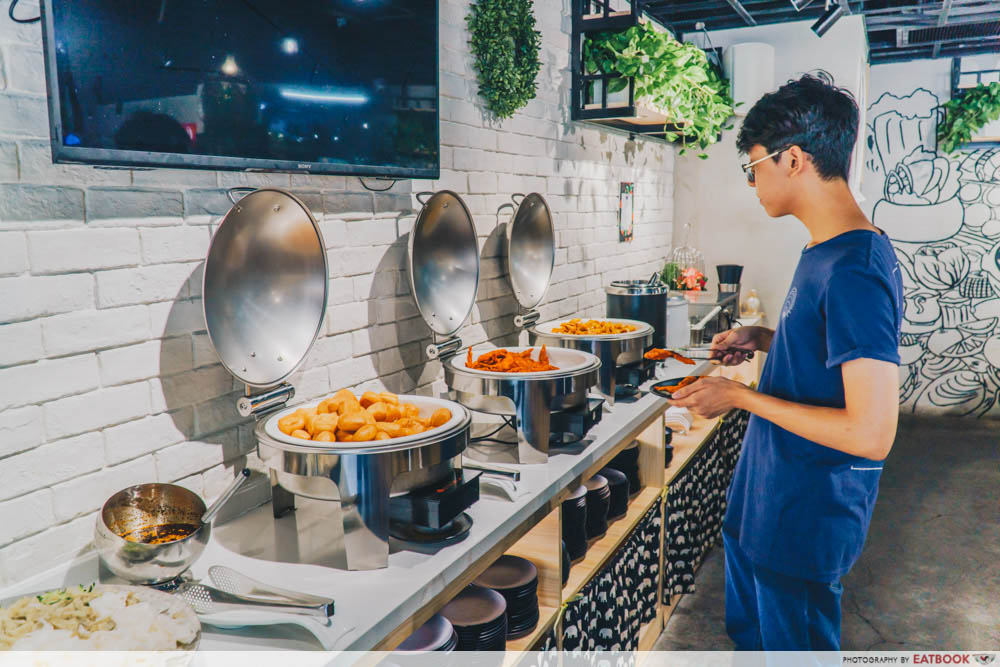 Halfway through the meal, I decided to stretch my legs and walk around. It was time to examine the pre-cooked food. The buffet table occupied a whole wall, adding even more options to the already luxurious spread.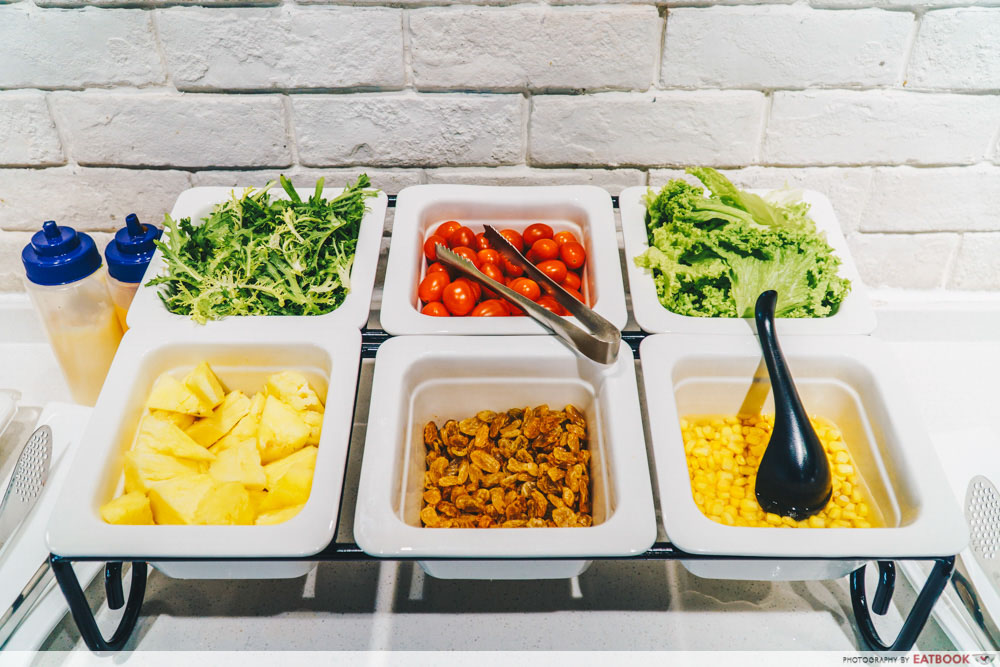 Right up front was a salad bar for those wanting to wash down the hearty fare with refreshing ready-to-eat greens and fruits.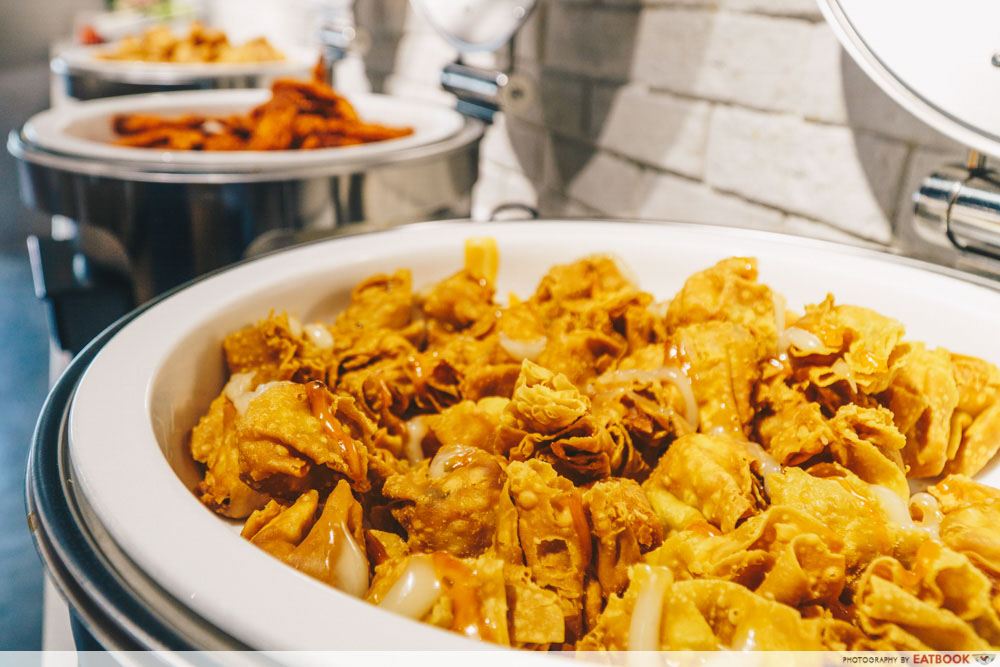 The three main things offered were fluffy Mantou, crispy Prawn Paste Chicken, and Wonton that came drizzled in a sweet white sauce. 
The chicken was kept crispy by the hot containers. The mantou were crunchy on the outside but soft and fluffy in the centre. I enjoyed dipping it into the ma la soup and letting the sweet bread soak up the spicy, tingling broth.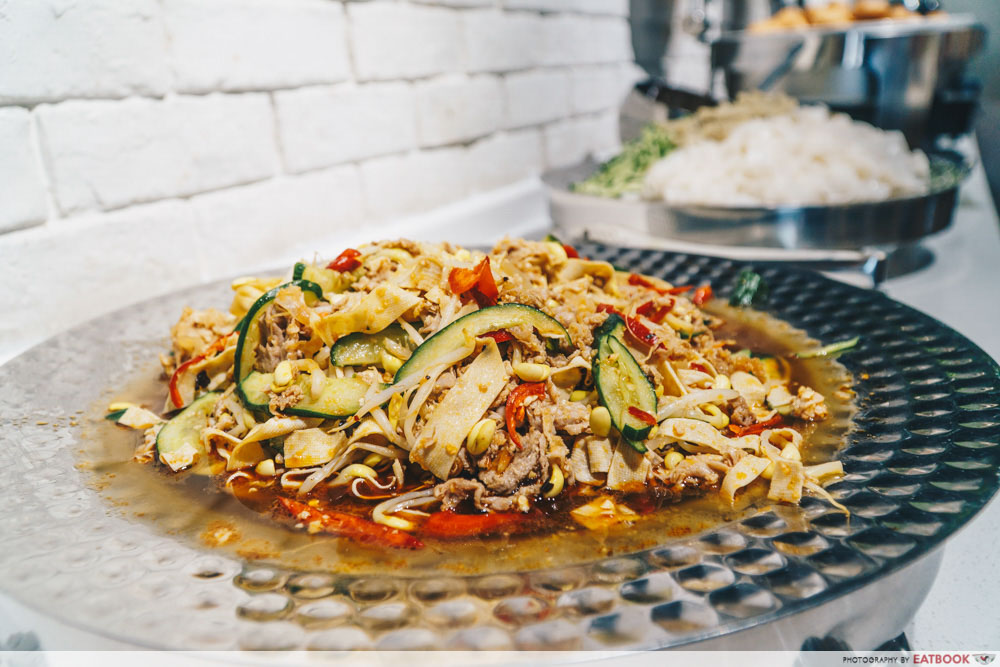 For extra appetisers, there were plates of Shredded Tofu Skin, drizzled in ma la sauce and accompanied by cucumber and beansprouts.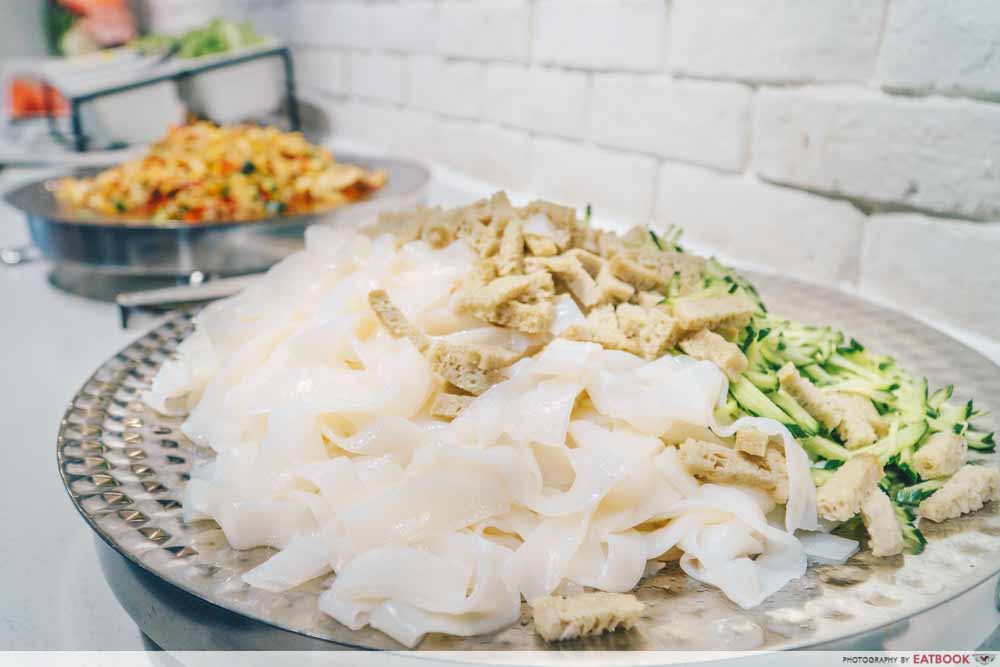 There were also a pile of mild-tasting Rice Noodles, with cucumbers and tofu on the side.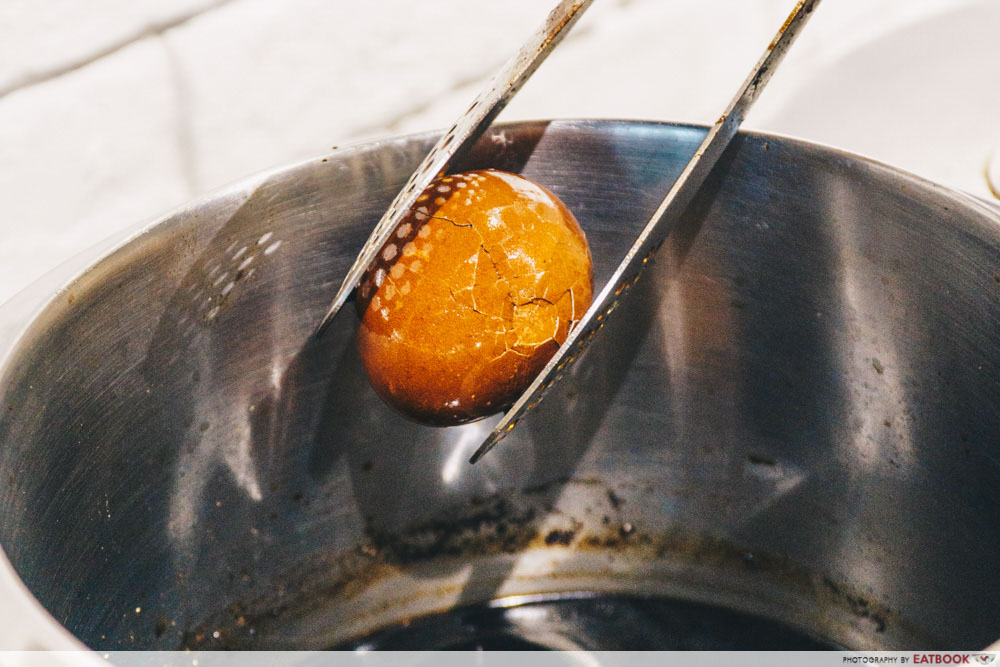 A steaming pot of Herbal Tea Eggs also sits here. It struck me as unusual, but certainly not unwelcome; I've never seen the tea eggs served at a hotpot place before.  
Ambience at La Jiang Shan hotpot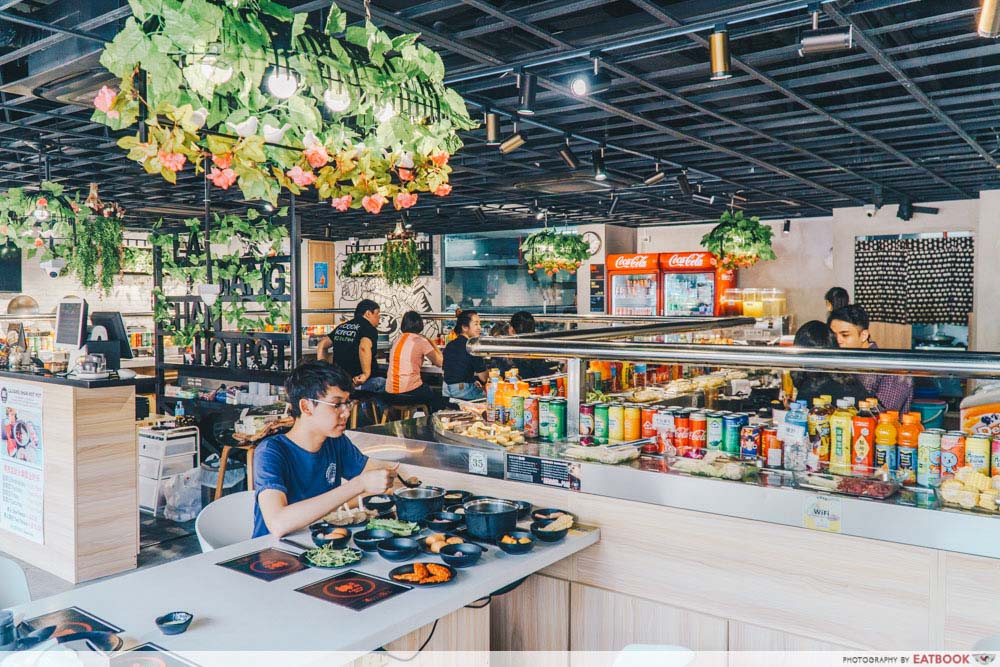 The thing I despise most about buffets are flies that might be buzzing around. With that much food out in the open, the sight of gross bugs can ruin the whole dining experience. La Jiang Shan Hotpot is remarkably clean. No gross spills anywhere and not a single winged intruder throughout the restaurant. Jets of cold mist constantly wash over the conveyor belt, making sure the entirety of it is kept fresh.
The interior is sleek, cute, and cheerful. It's clean and white, decorated with fake greenery, wall murals, and twinkling strings of lights.
The verdict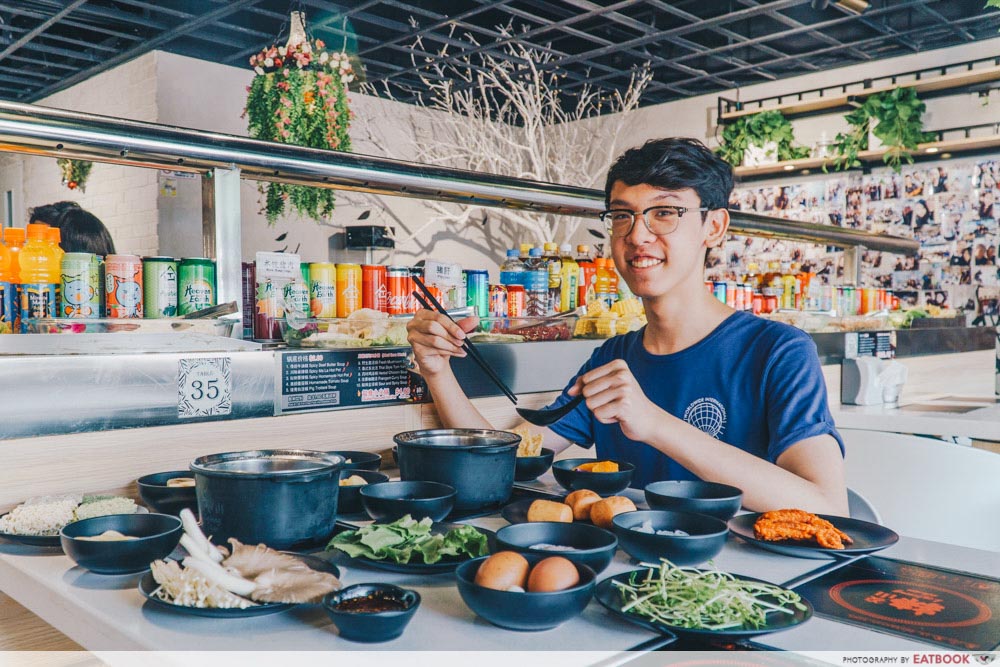 If there's one thing I regret about the experience, it's that I didn't drop by earlier. This under-the-radar steamboat restaurant had been sitting right beneath my nose all these years.
There was a good variety of dishes and almost no need for me to leave my seat. I could sit there uninterrupted the whole time, gorging on the endless stream of thinly-sliced meat and steaming soup. 
The dinner buffet bears even more delectable treats, such as fresh seafood and free-flow xiao long bao. The next time I'm hanging out with friends in the area, I'm definitely suggesting La Jiang Shan Hotpot as our dinner destination.
If you're looking for more hotpot restaurant, check out these Hai Di Lao alternatives!
Address: 35 Selegie Road, #01-06, Parklane Shopping Mall, Singapore 188307
Opening hours: Daily 11am to 11pm
Tel: 8669 6144
Website
La Jiang Shan Hotpot is not a halal-certified eatery.
Photos taken by Gabriel Seow.
This is an independent review by Eatbook.sg.
Summary
Pros
– Good variety of both hotpot and cooked food
– Lunch time buffet is very affordable
– Restaurant is extremely clean
– Good ambience and ventilation
Cons
– Soups cost extra
Recommended dishes: Pork Belly, Mutton, Handmade Beef Balls, Mala Soup Base
Opening hours: Daily 11am to 11pm
Address: 35 Selegie Road, #01-06, Parklane Shopping Mall, Singapore 188307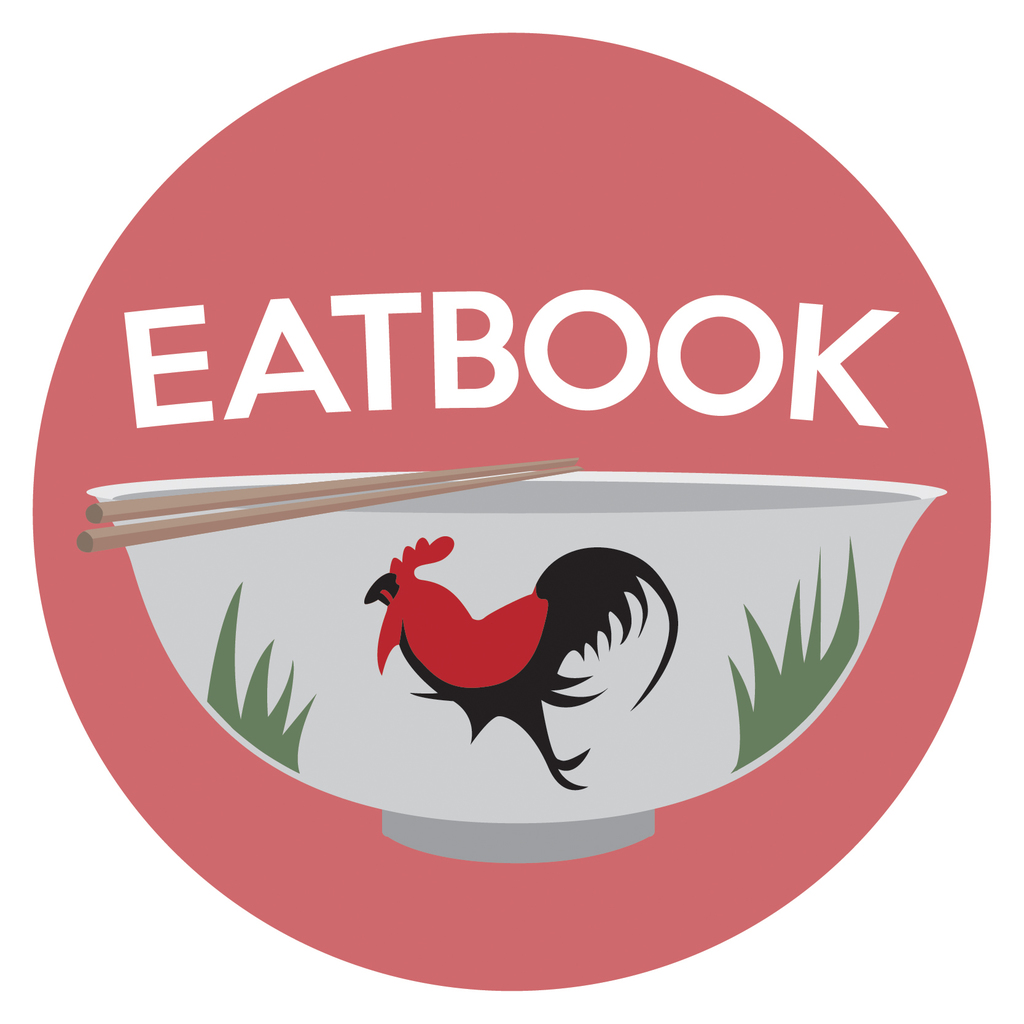 Drop us your email so you won't miss the latest news.