Latiffa Huri offers nasi lemak, mee betawi and more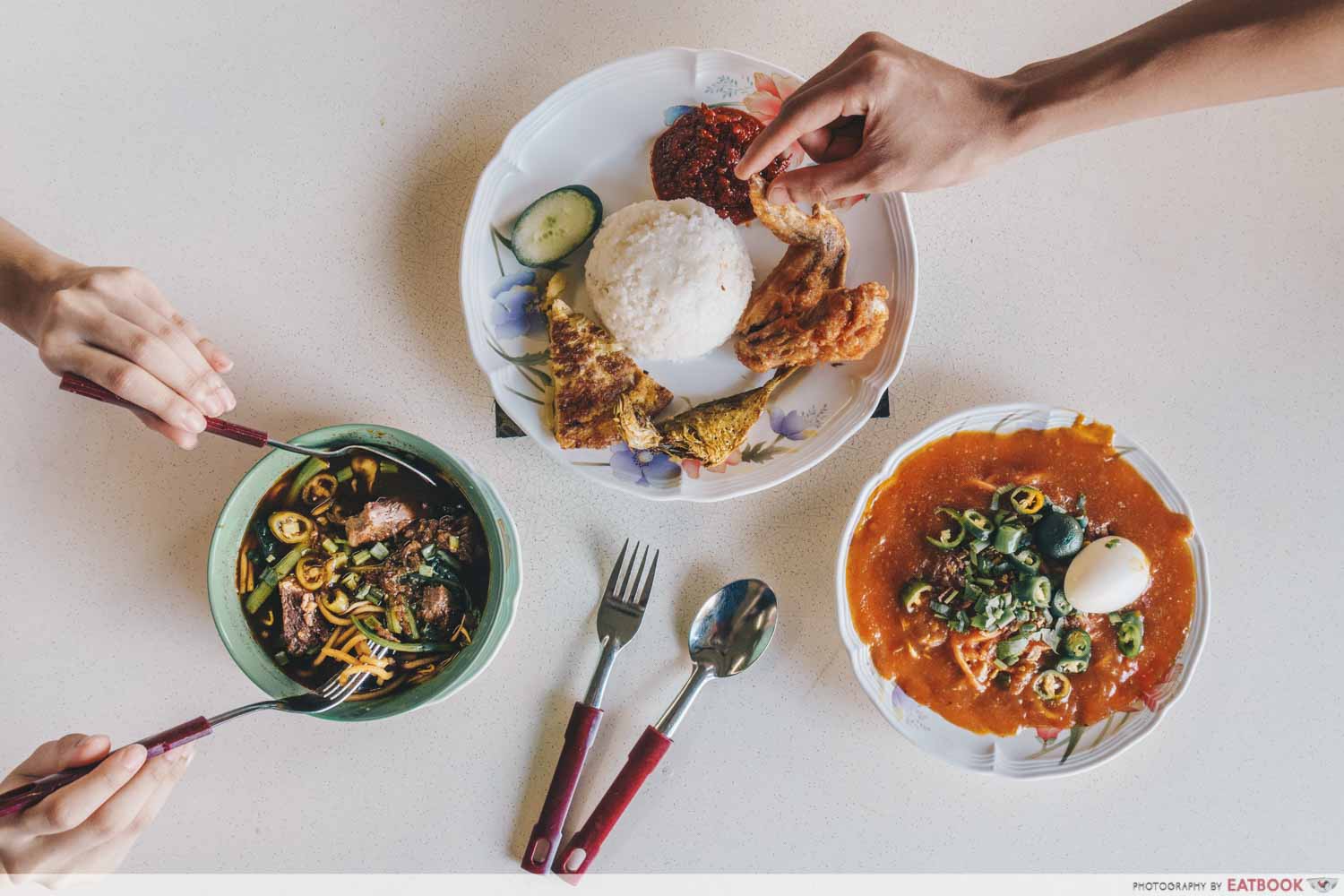 When we think of nasi lemak in the West, the OG Boon Lay Power Nasi Lemak often comes to mind. However, Westies may also have heard of Latiffa Huri, which some have dubbed comparable to their Boon Lay competitor. Popular among residents in the West, Latiffa Huri is said to garner extremely long queues from loyal regulars daily.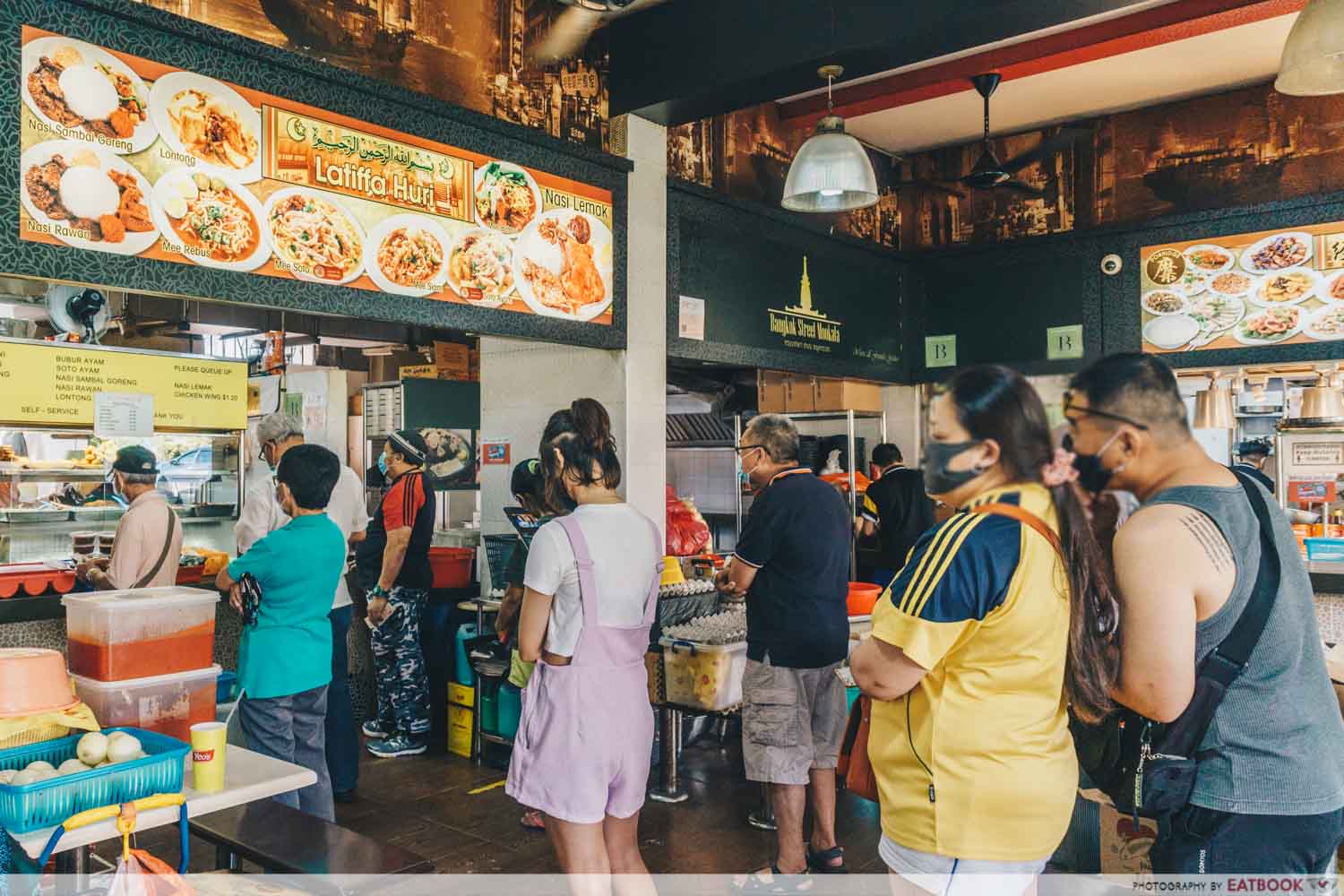 We arrived at 9am to find two long queues that extended to the other side of the hawker centre. According to a staff member of the coffee shop, queues for Latiffa Huri extended way out of their premises during the Circuit Breaker. True enough, the long queues never did die down even past lunchtime.
Food at Latiffa Huri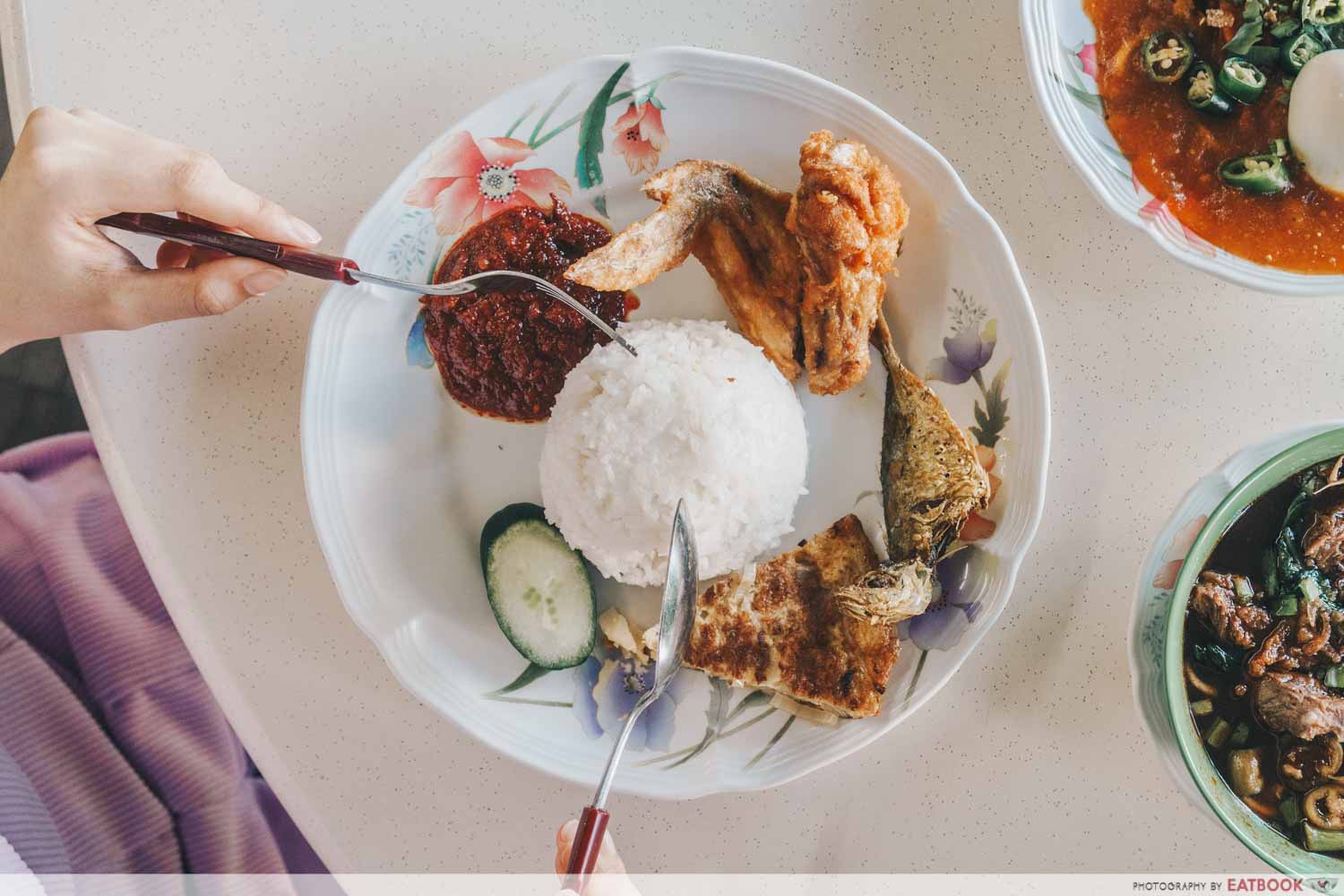 We started with the highly raved Nasi Lemak ($3.70). The dish was pretty heavy in protein, with a chicken wing, fried fish, and an omelette to accompany the coconut rice.
The chicken wings are well-liked by the customers, and we saw many groups ordering massive plates full of wings. As such, I was excited to try them with all the hype surrounding the wings.
Our wing had a crispy exterior, but I found its meat dry to tear into. Flavour-wise, the meat was bland and tasted as though it lacked marination.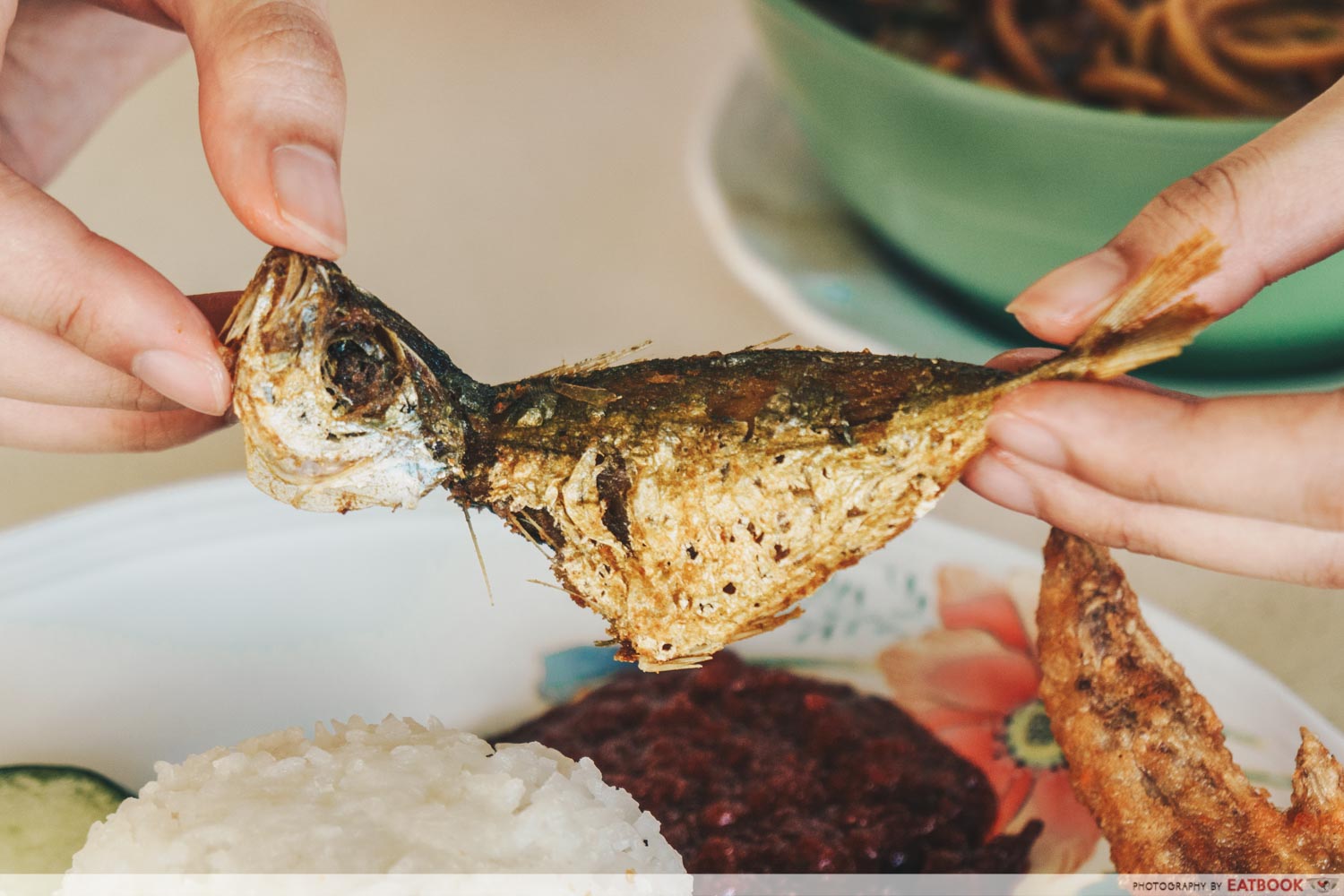 Apart from the chicken wing, the nasi lemak also came with a piece of fried fish, also known as ikan kuning. Being crunchy, the fish shattered easily with each bite, complementing the soft rice by providing different textures.
Speaking of the rice, it was definitely on the mushier side, which I personally appreciated. However, my meal partner preferred firmer grains and enjoyed it less than I did. Thus, if you prefer your rice to have a more pudding-like texture, this coconut rice would appeal to you. The rice also had a stronger coconut flavour and fragrance, compared to other nasi lemak I've tried.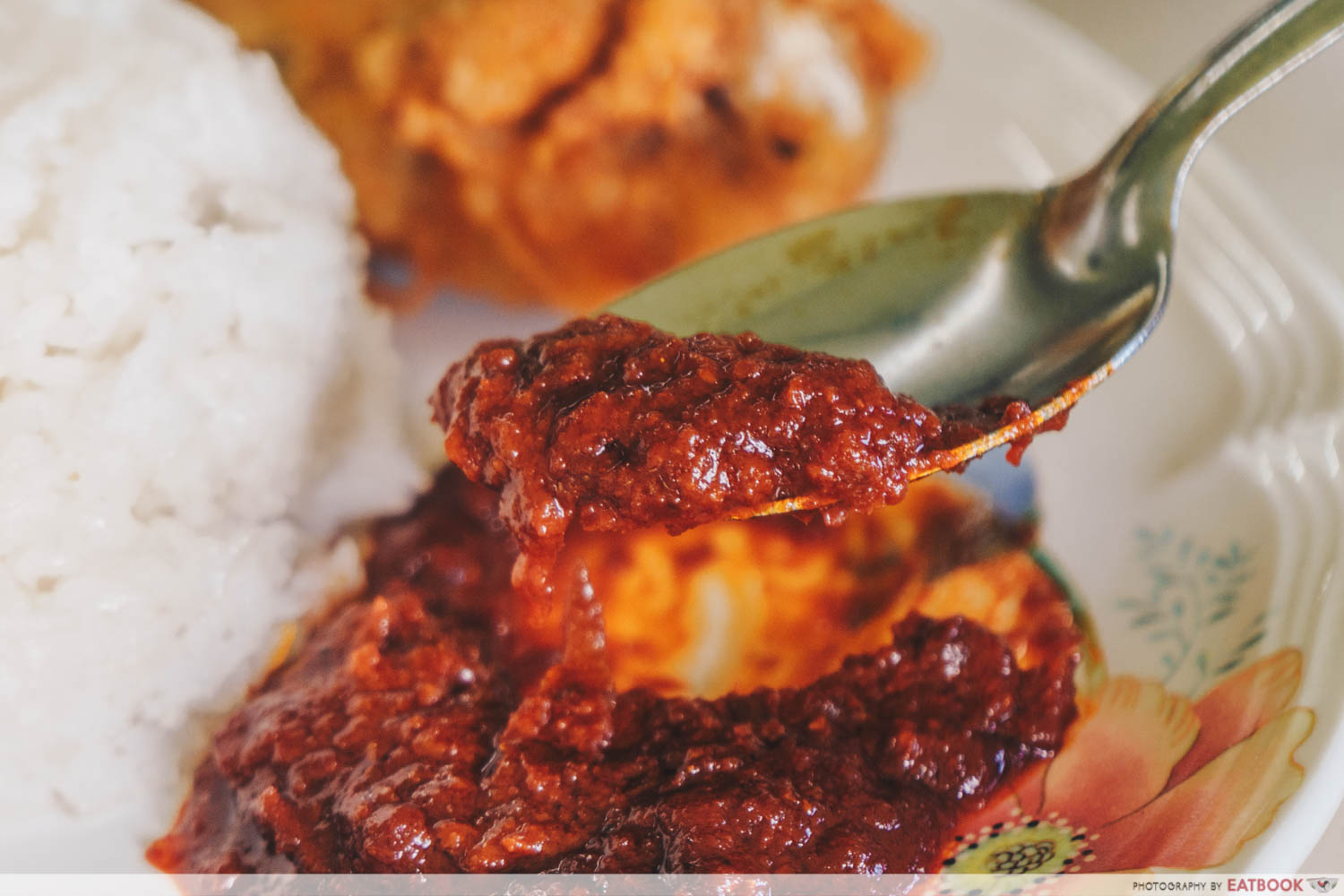 We enjoyed the rice with some spicy sambal chilli which also featured an extra layer of savouriness from the ikan bilis mixed inside.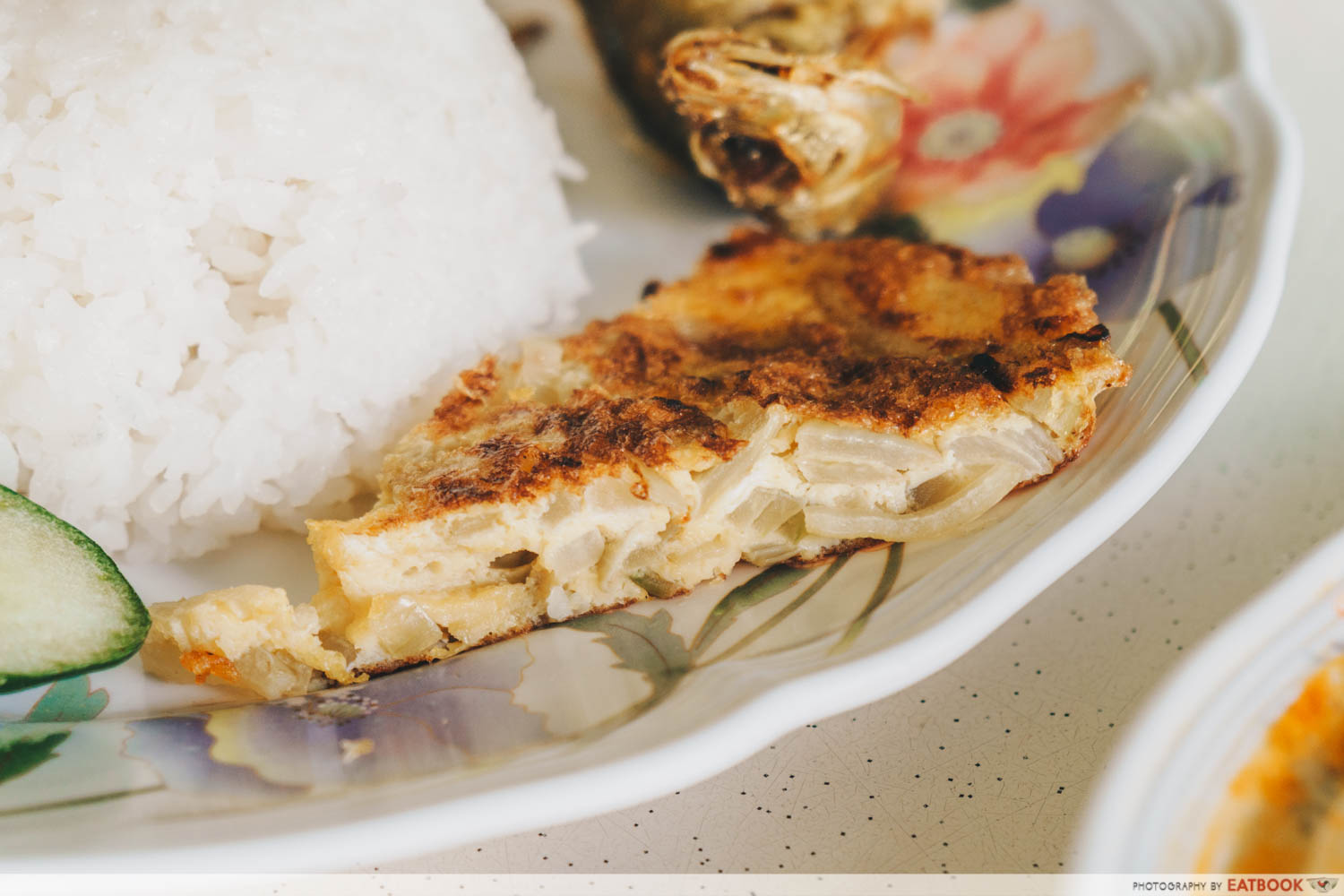 The omelette provided another source of protein on the plate. Being a combination of fluffy egg and sweet, crunchy onion, the omelette was a pleasant accompaniment to the other ingredients.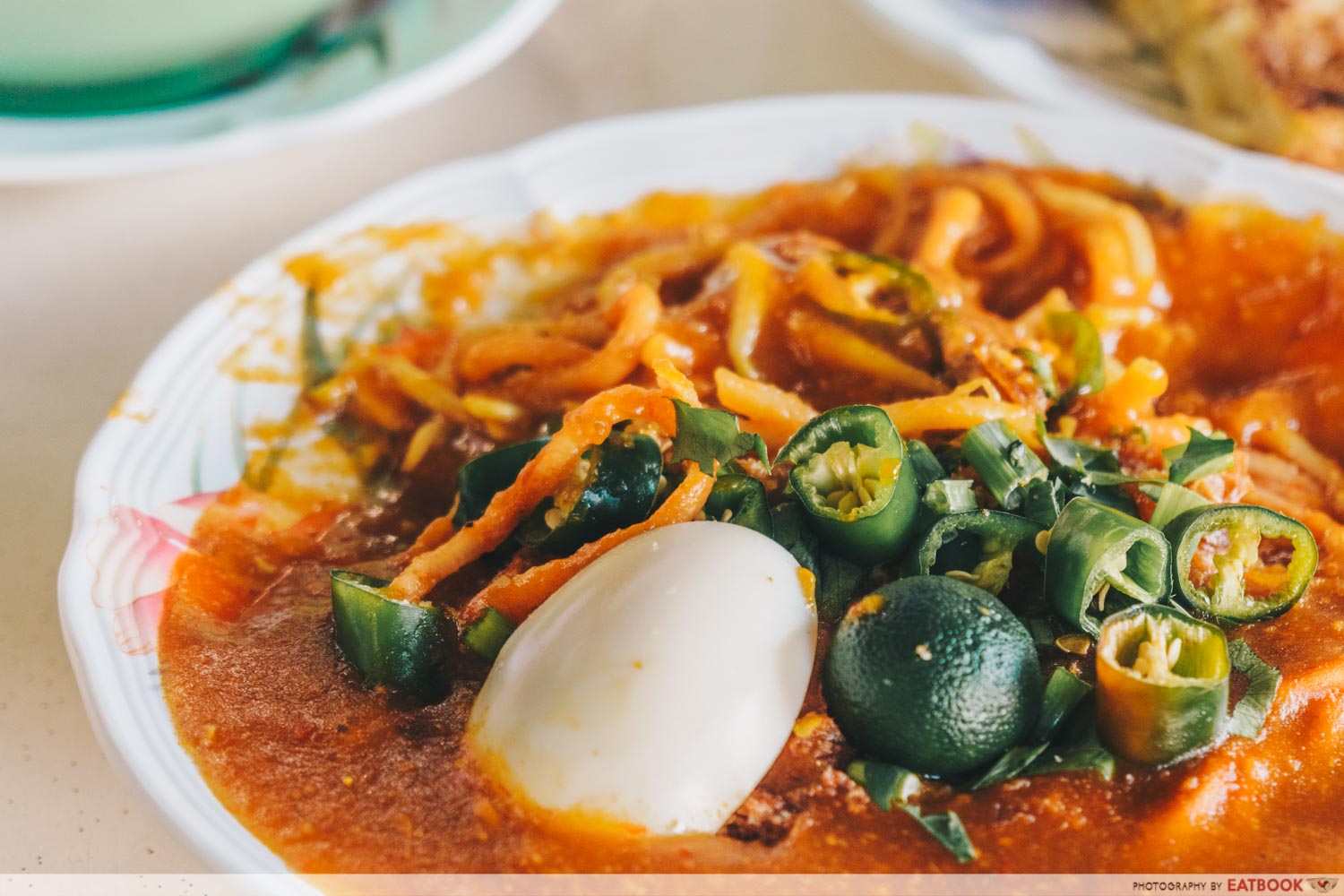 Apart from nasi lemak, Latiffa Huri also has a variety of noodle dishes. We decided to try the Mee Rebus ($2.50).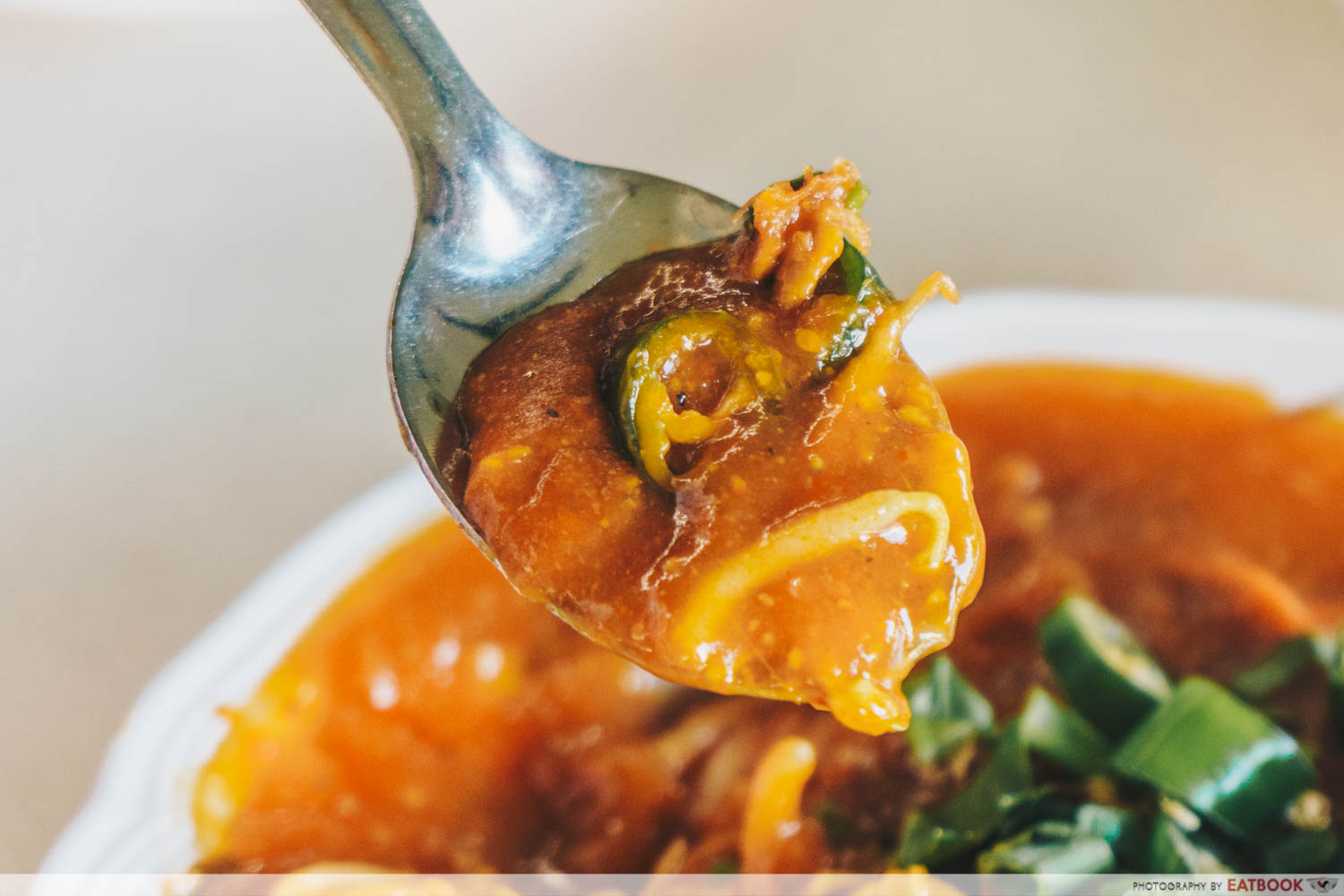 The yellow noodles were doused in a plentiful helping of bright orange gravy. Expecting the usual combination of sweet and savoury, I was surprised to find the gravy extremely sweet. Take away the noodles, and it could almost pass off as a dessert.
For me, I would have preferred more salt in my mee rebus for a more balanced mixture of flavours.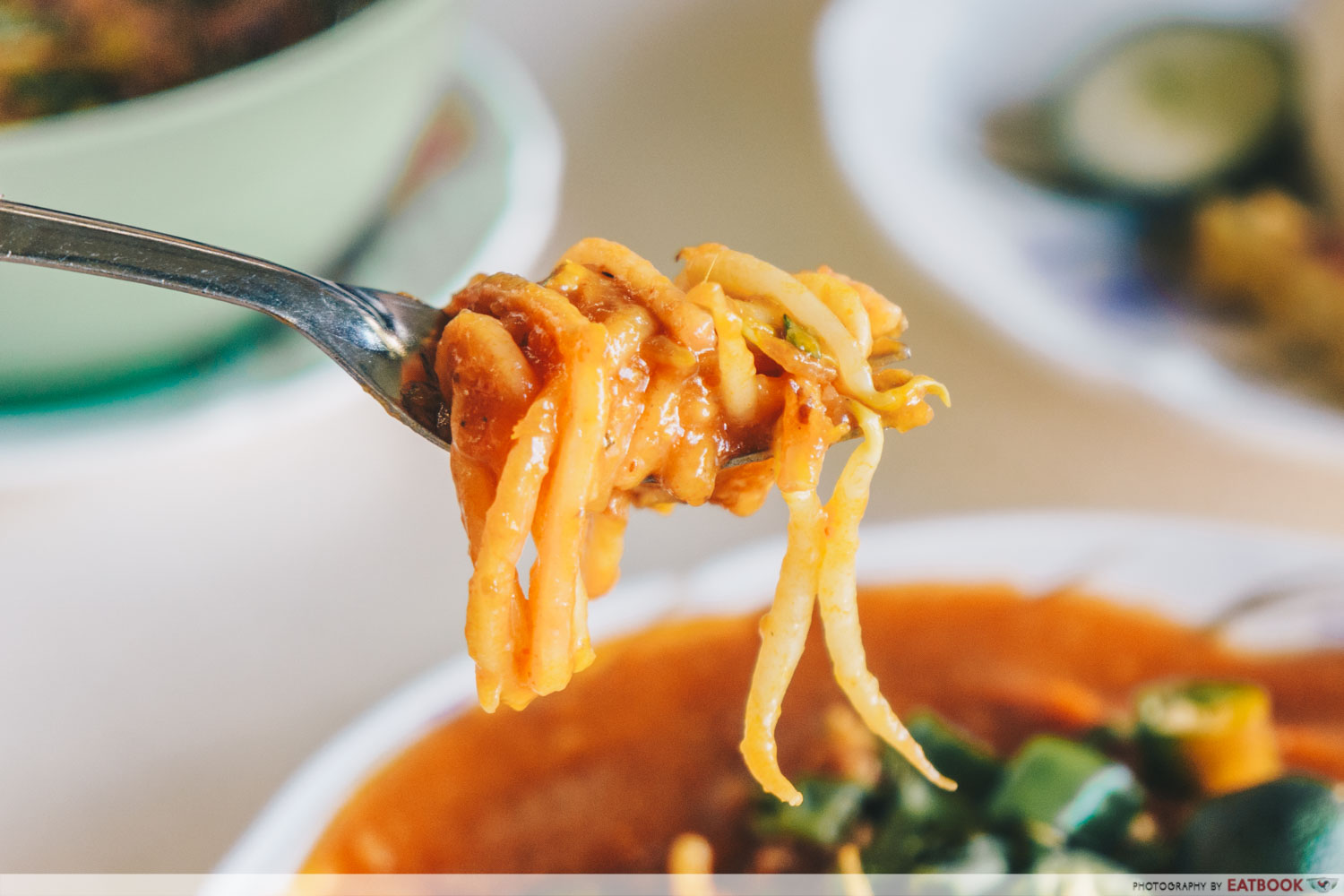 Despite being drenched in gravy, the noodles remained springy and firm.
Craving some heat, we decided to try the Mee Betawi ($2.50) next. Latiffa Huri's mee betawi seemed to visually lack the usual reddish gravy. Instead, a dark brown broth accompanied the noodles.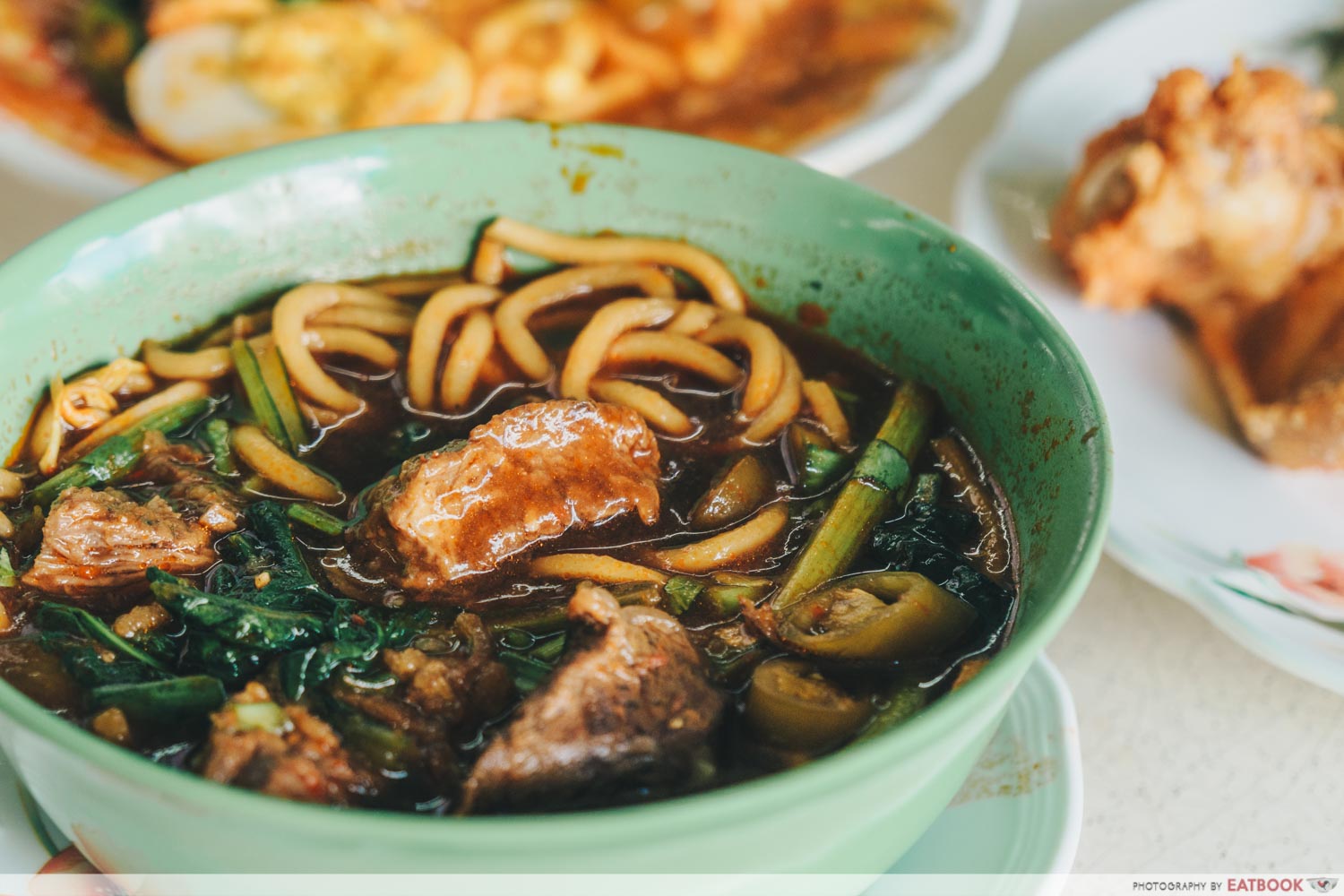 Concentrated amounts of chilli likely gave the gravy its dark colour and overwhelming spiciness. Refreshingly spicy, the gravy also had hints of sourness. Pairing the firm yellow noodles with some spicy gravy gave a satisfying mouthful packed with heat.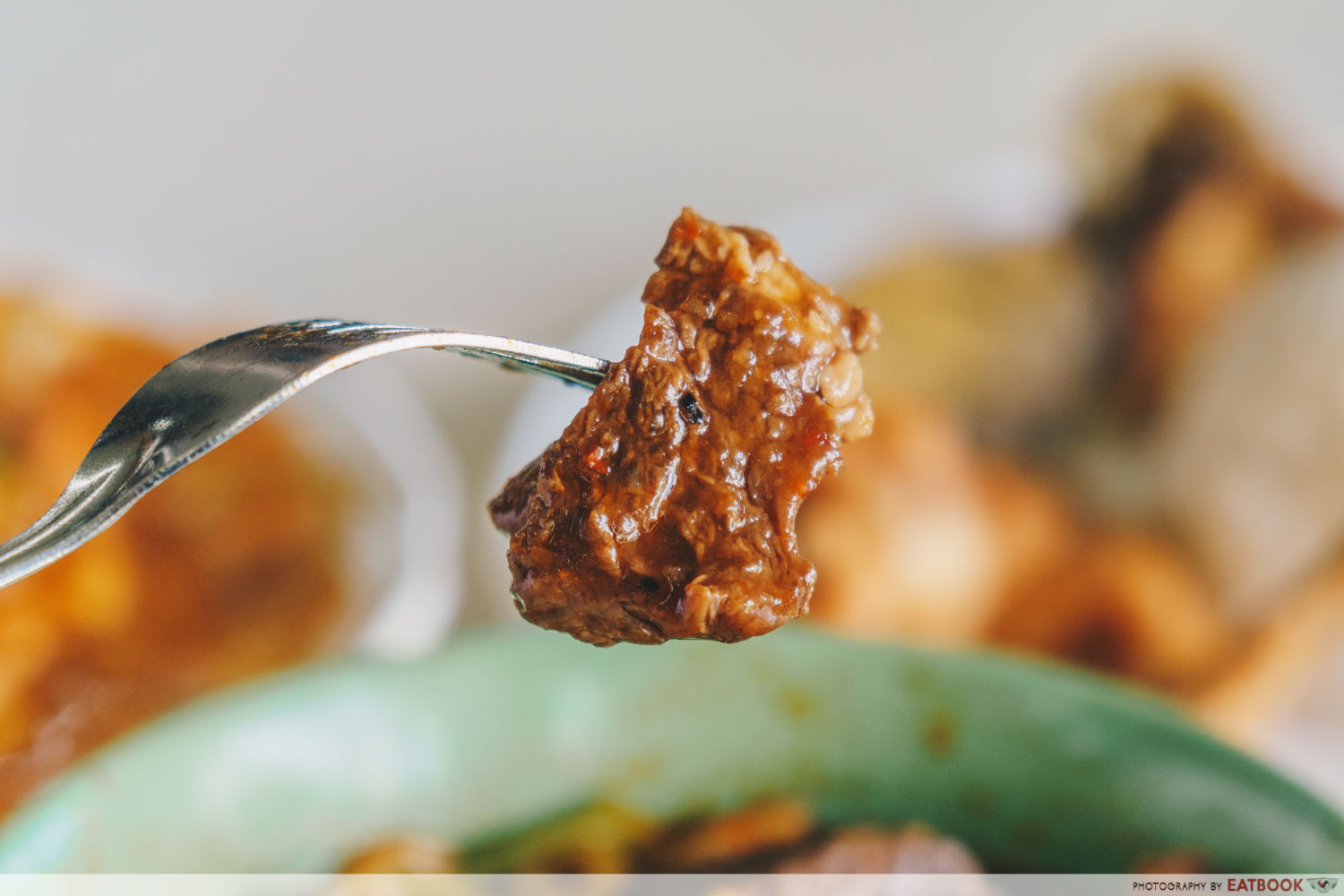 The mee betawi also came with a copious amount of beef cubes that were chewy and oozing with spiciness from the gravy absorbed.
Ambience at Latiffa Huri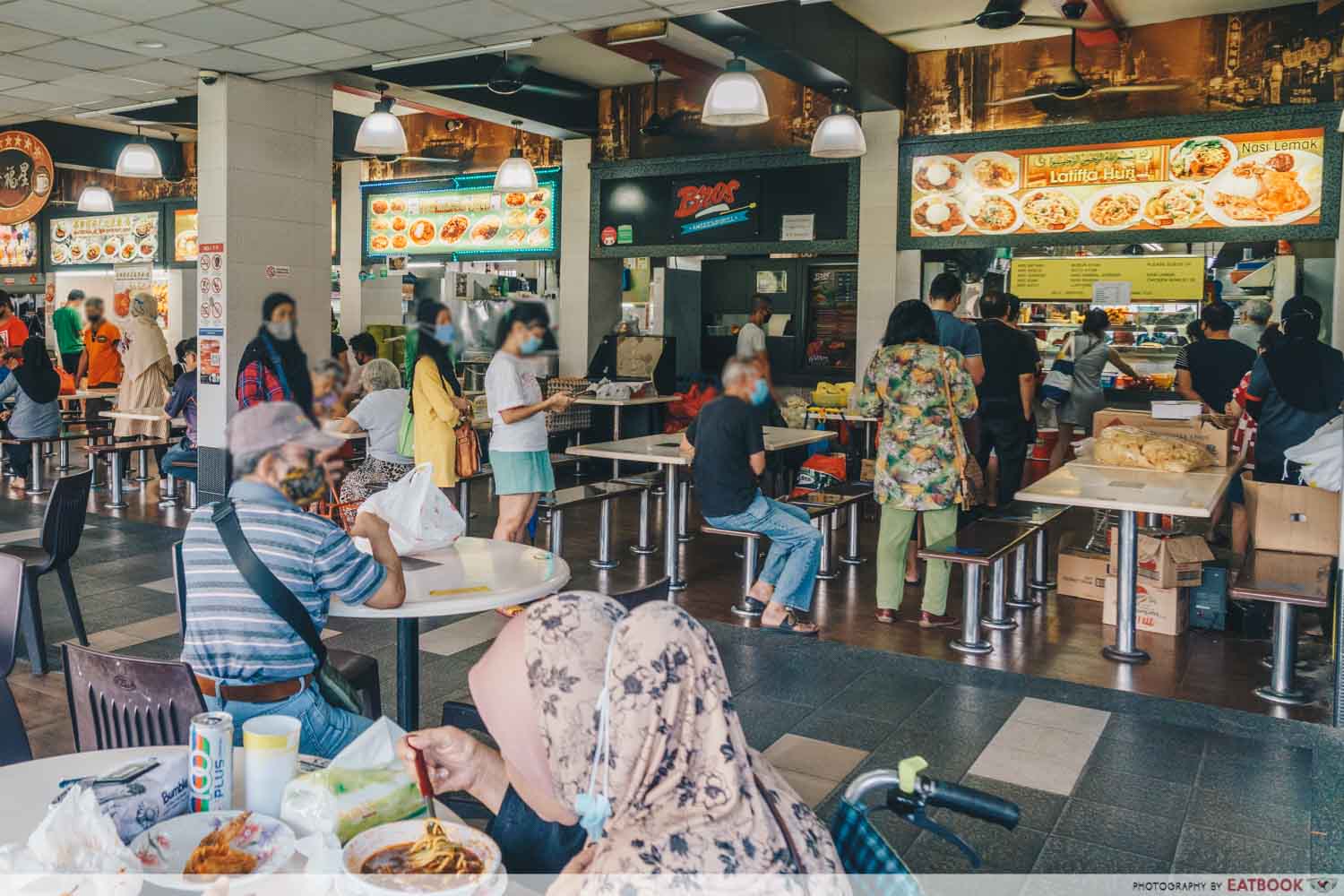 Latiffa Huri lies far into the West, just 10 minutes from Lakeside MRT Station. As such, it is less accessible for non-Westies. Well-ventilated and brightly lit by natural sunlight, the hawker centre provides a comfortable place to enjoy a meal.
The verdict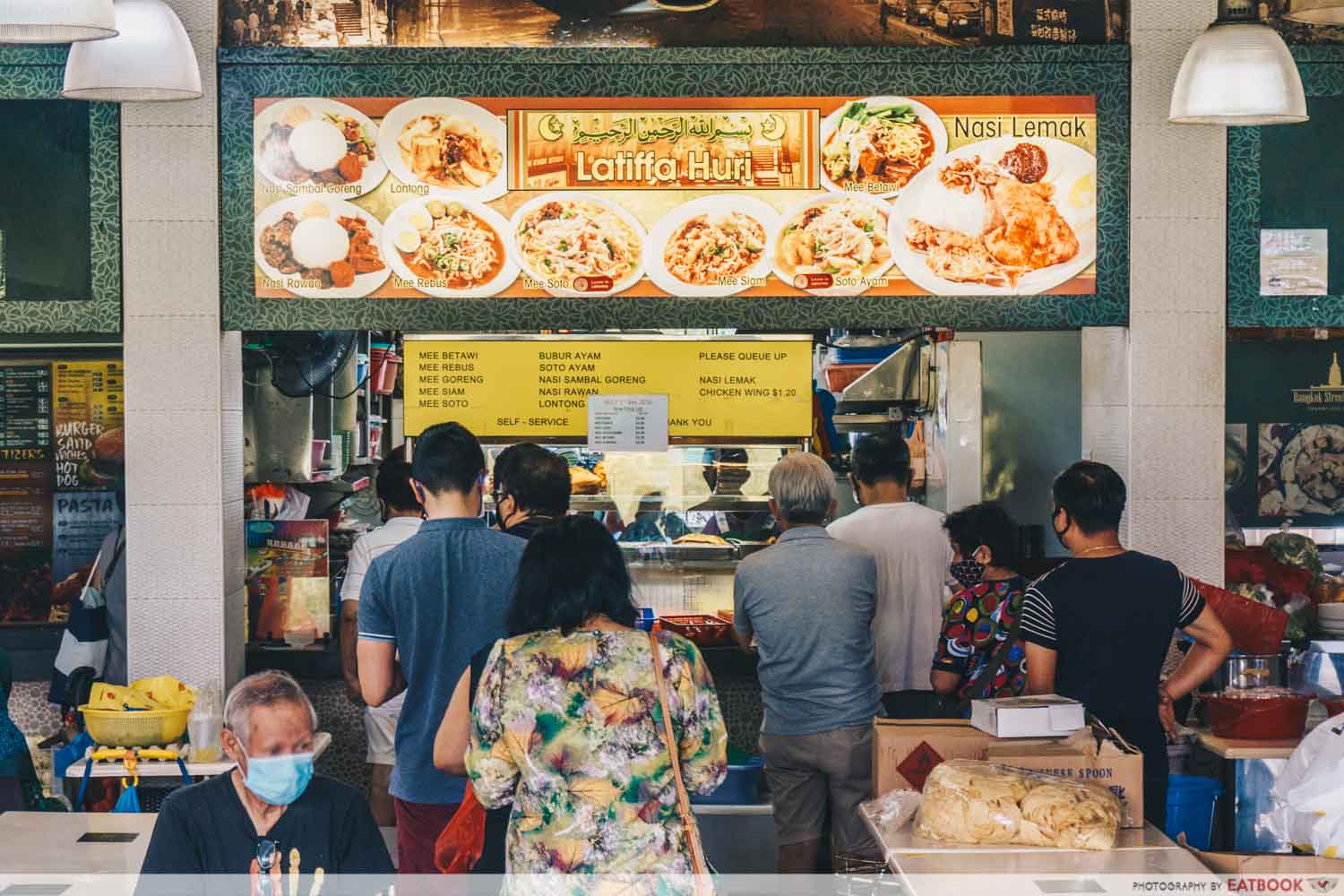 With the popularity surrounding this stall, we expected nasi lemak that was capable of rivalling even Boon Lay Power Nasi Lemak's. Despite the decent plate of nasi lemak, the dry and bland chicken wing definitely put us off. For us, there was nothing exceptional about their nasi lemak. The mee rebus was also too sweet for my liking. Conversely, the flavourful mee betawi was delicious and I would love to return to have it again.
Overall, their nasi lemak felt a tad overhyped and as a non-Westie, I personally would not find it worth travelling deep into the West for.
If you're seeking more unique nasi lemak options, do check out Lawa Bintang which features cheese lobster in their version, as well as Simple's blue rice rendition.
Address: 498 Jurong West Street 41, #01-426, 7 Stars Coffee Shop, Singapore 640498
Opening hours: Daily 5:30am to 3pm (or till sold out)
Latiffa Huri is a halal-certified eatery.
Photos taken by Gladys Lim.
This is an independent review by Eatbook.sg
Lawa Bintang Review: Cheese Lobster Nasi Lemak Found In A Kopitiam
Summary
Pros

– Delicious mee betawi
Cons
– Chicken wing was too dry
– Mee rebus was too sweet
Recommended dishes: Mee Betawi ($2.50)
Opening hours: Daily 5:30am to 3pm (or till sold out)
Address: 498 Jurong West Street 41, #01-426, 7 Stars Coffee Shop, Singapore 640498