Simple.簡 at Lavender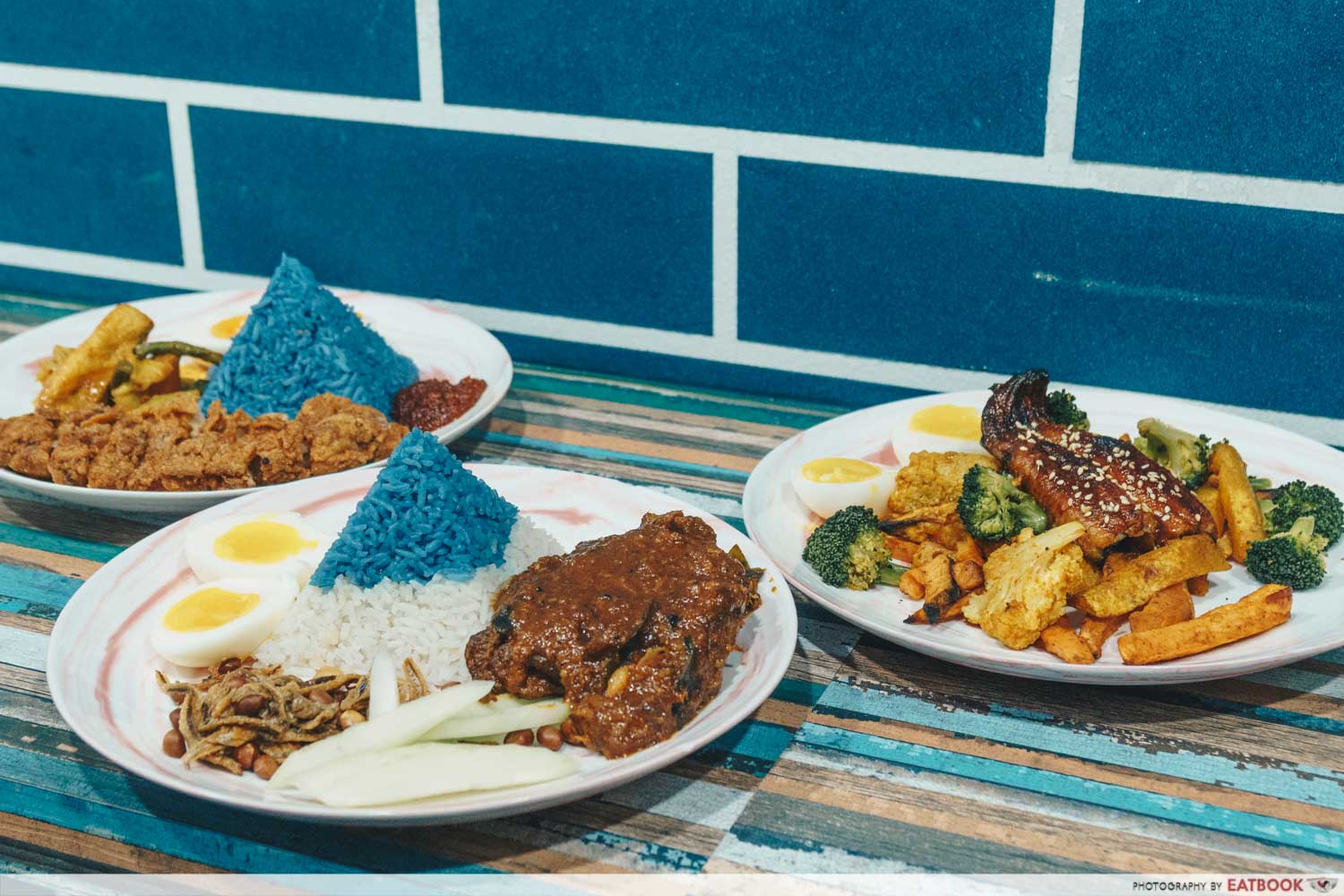 The butterfly pea flower has always been a key ingredient in Thai, Malay and Peranakan cuisine. When mixed with rice, it gives off a brilliant blue hue – worthy of the #foodporn hashtag.
Although this "blue rice" is common in neighbouring countries, it only started trickling into local food spots in recent years. For those looking to nom on these azure beauties, Simple.簡 is one of the few places you can head to.
Formerly known as Jia Xiang Nasi Lemak, they've since spruced up their menu to include har cheong chicken, salmon and healthy mains.
Food at Simple.簡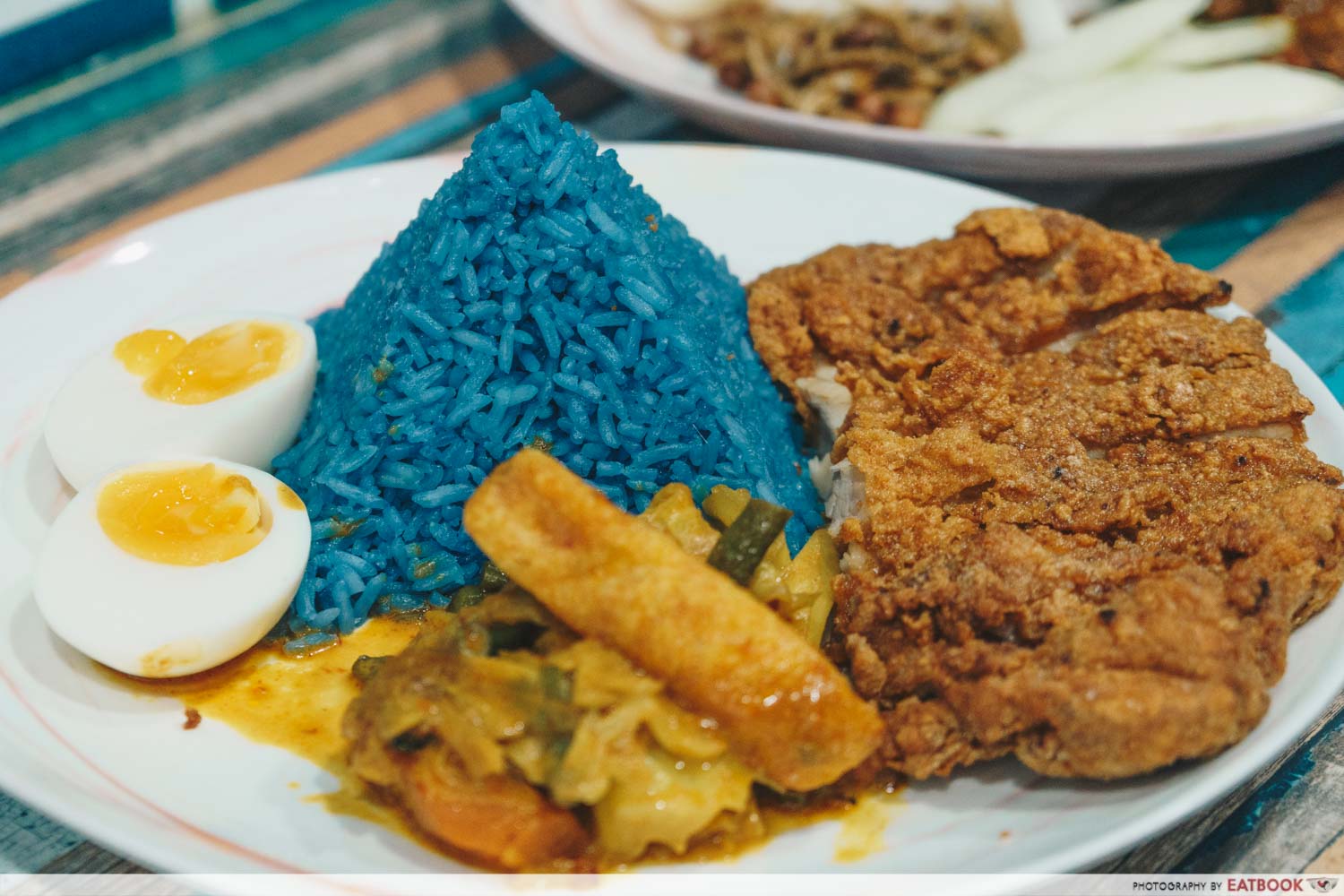 True to their namesake, ordering food here is a simple affair. Firstly, choose a base which includes either nasi lemak, blue rice or sweet potato and pumpkins. Then, pick a main dish: rendang chicken, har cheong chicken, grilled chicken or baked salmon.
8 Lavender Food Gems Including Vietnamese BBQ And Thai Stuffed Bread
The first thing we tried was the Blue Rice + Har Cheong Chicken ($6.50). Fair warning, although the butterfly pea flower dye gives the rice a pretty colour and fragrant aroma, it has zero taste. So eating it with your eyes closed is akin to eating white rice.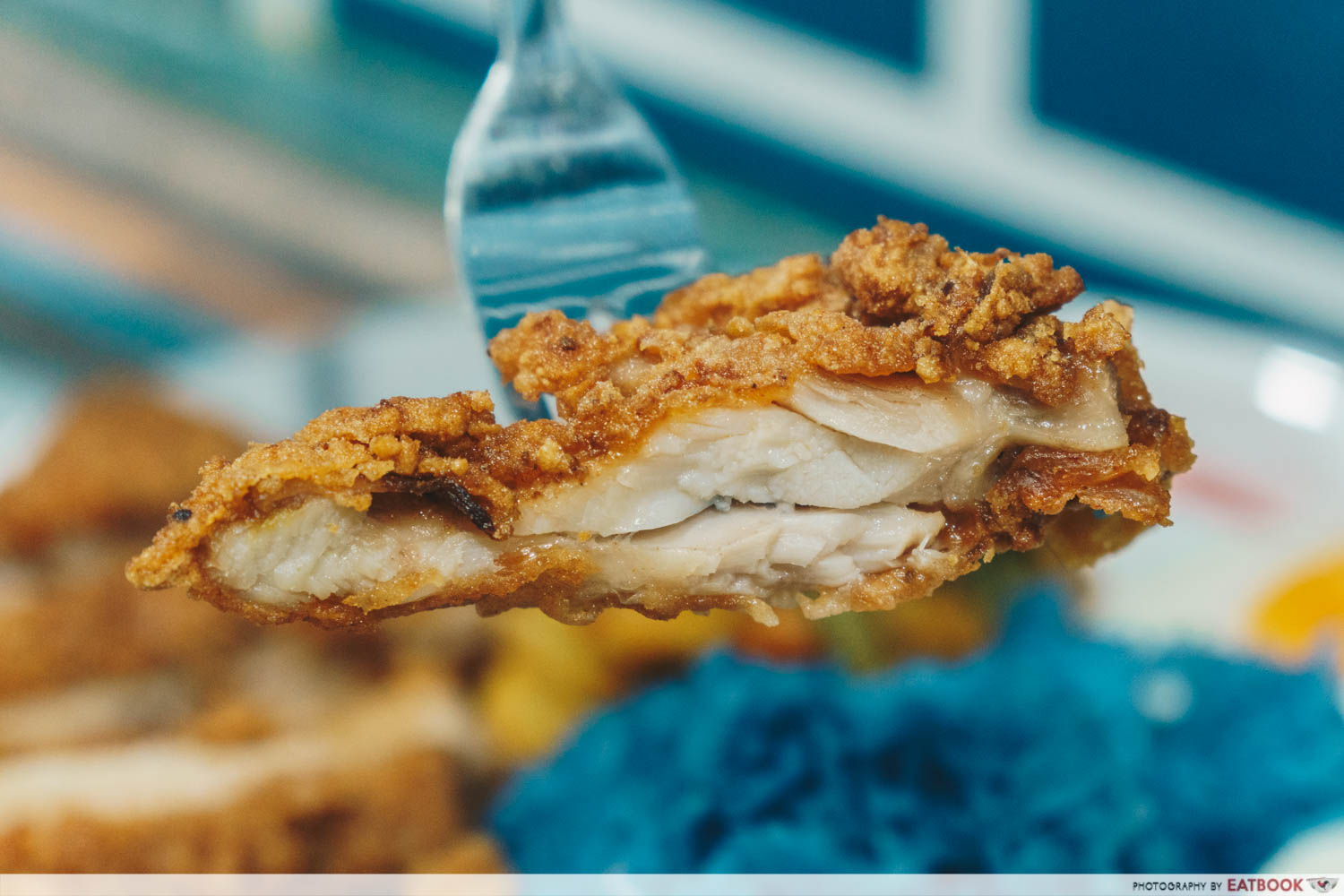 Although I liked the crispiness of the har cheong kai, I felt its flavour was faint and lacked the strong prawn paste taste I've come to expect. It was also a tad dry for our liking but that's probably 'cause we left it out for a while.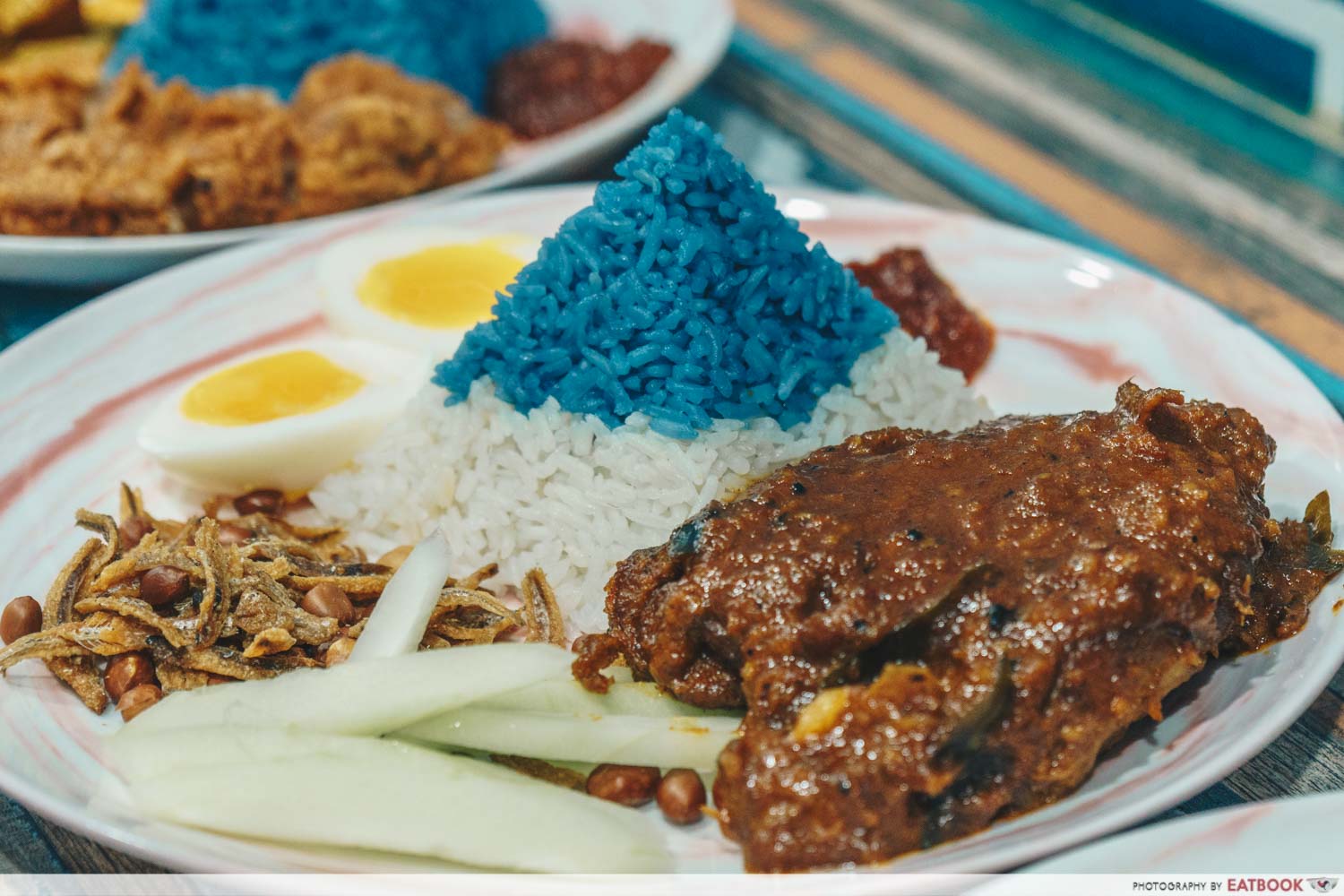 The Nasi Lemak + Rendang Chicken ($6.50) was simply lovely. The amount of lemak in the rice wasn't too strong, making it suitable for a wider range of taste buds. Our rendang chicken was huge and best of all, it was overflowing with succulent sauce.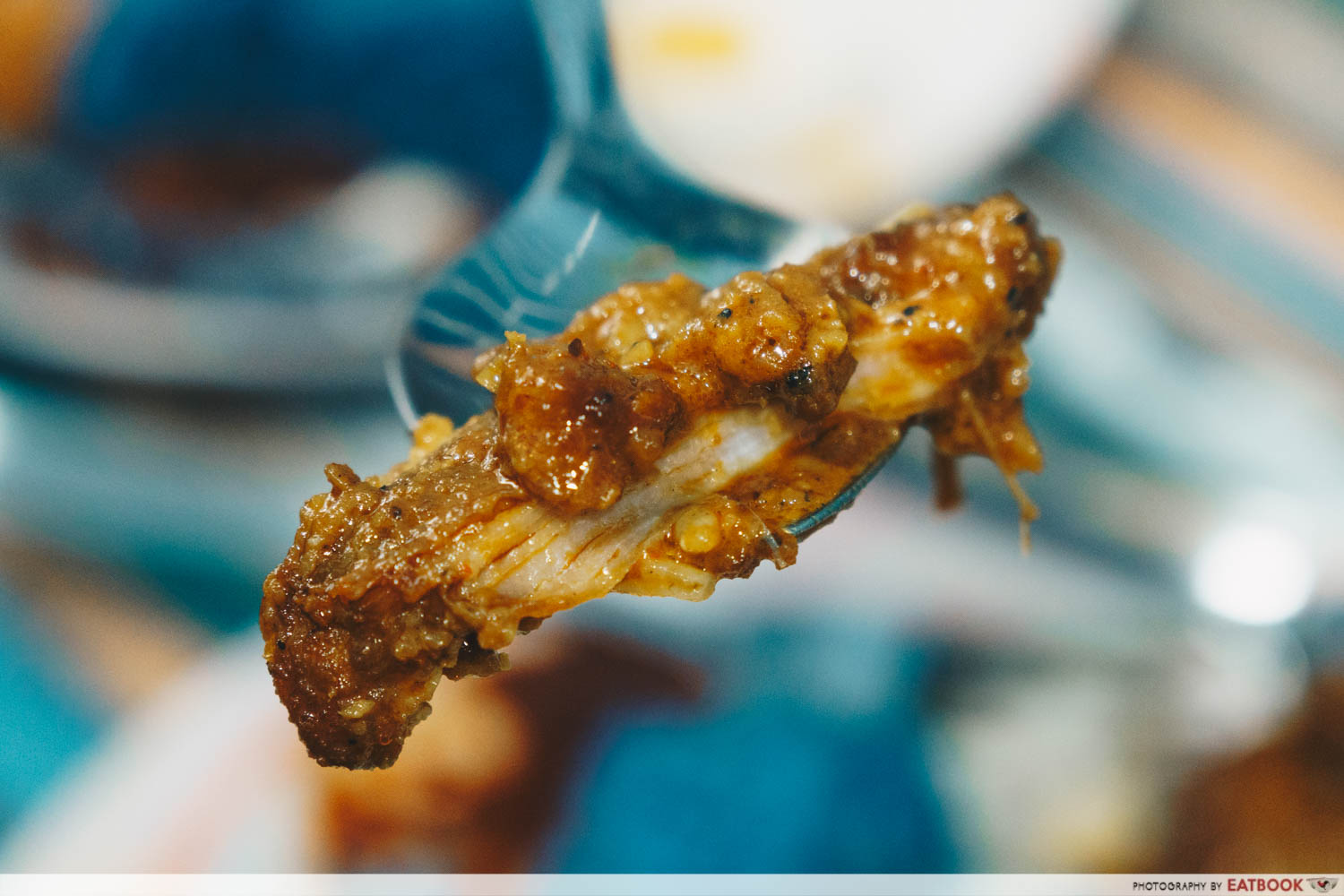 Cutting the chicken required little force as it was extremely tender and juicy. The sauce brought a welcomed spiciness, giving the dish a lingering aftertaste.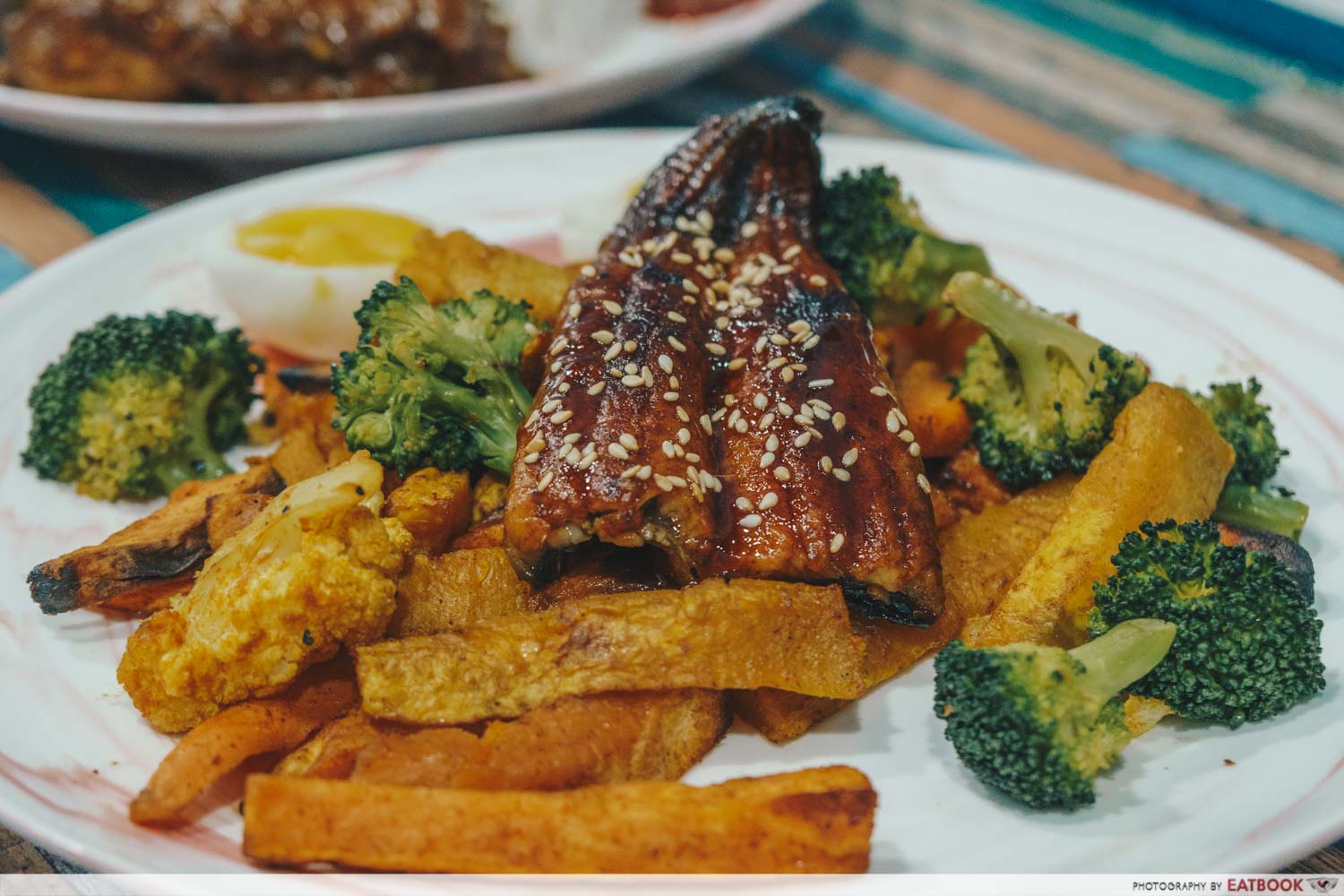 I appreciated how Simple.簡 had a #fitspo-friendly option in the form of their clean series. This base comprises roasted sweet potato and pumpkin, vegetables and egg – the holy trifecta of macronutrients.
The White Tiffin Review: XXL Lobster Nasi Lemak at Alexandra Road
It's also worth mentioning that the joint has special main dishes that change weekly. As such, we opted for the Clean Series + Kabayaki Unagi ($10). Capping off the spread that'll make MyFitnessPal proud was a huge slab of grilled eel. While I found the sweet potatoes and pumpkin decent, the broccoli didn't mesh as well as I would have liked, in terms of mouthfeel.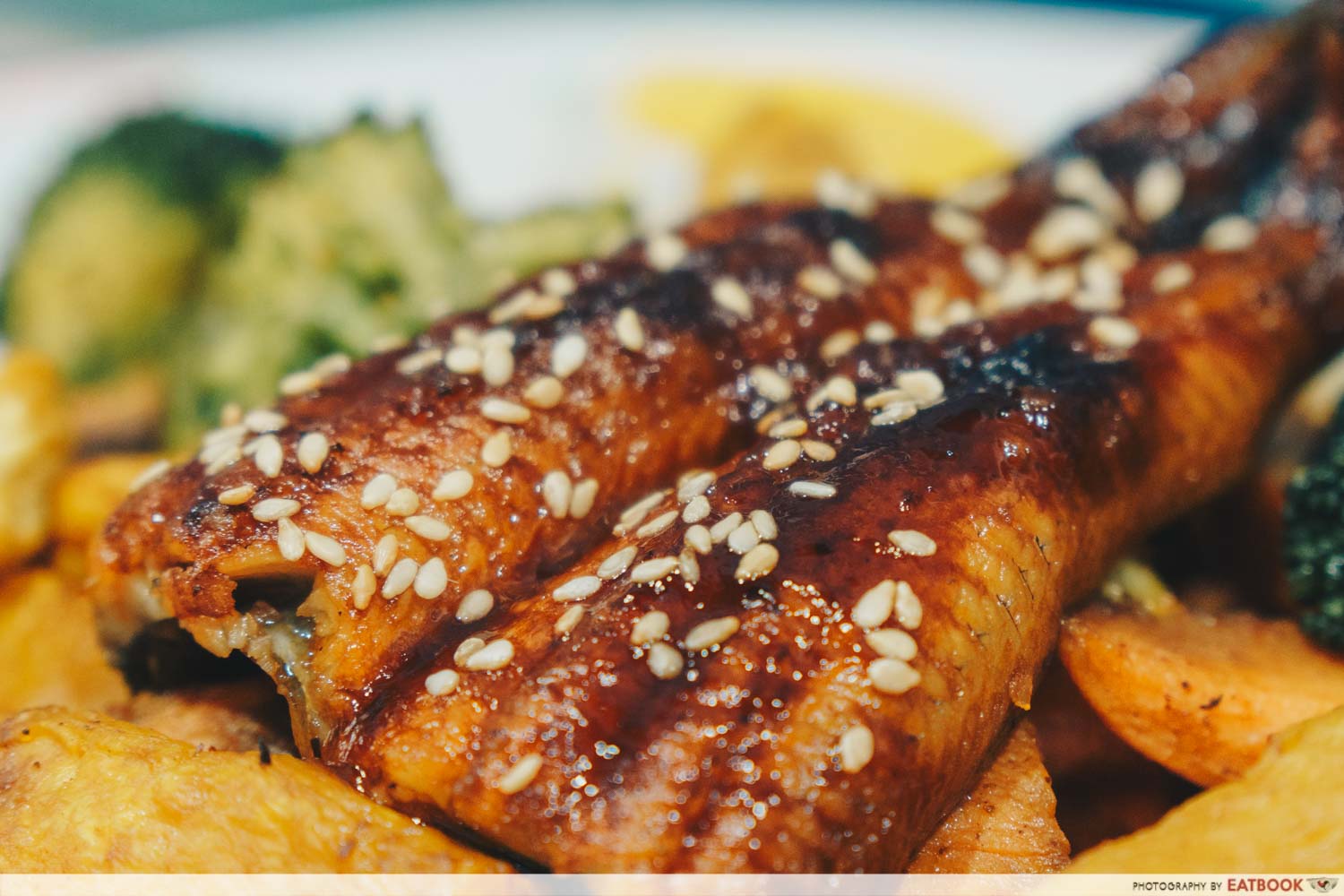 Although the eel was cooked just right, I felt the glaze should have been sweeter to carry the bland taste of the meat.
Ambience at Simple.簡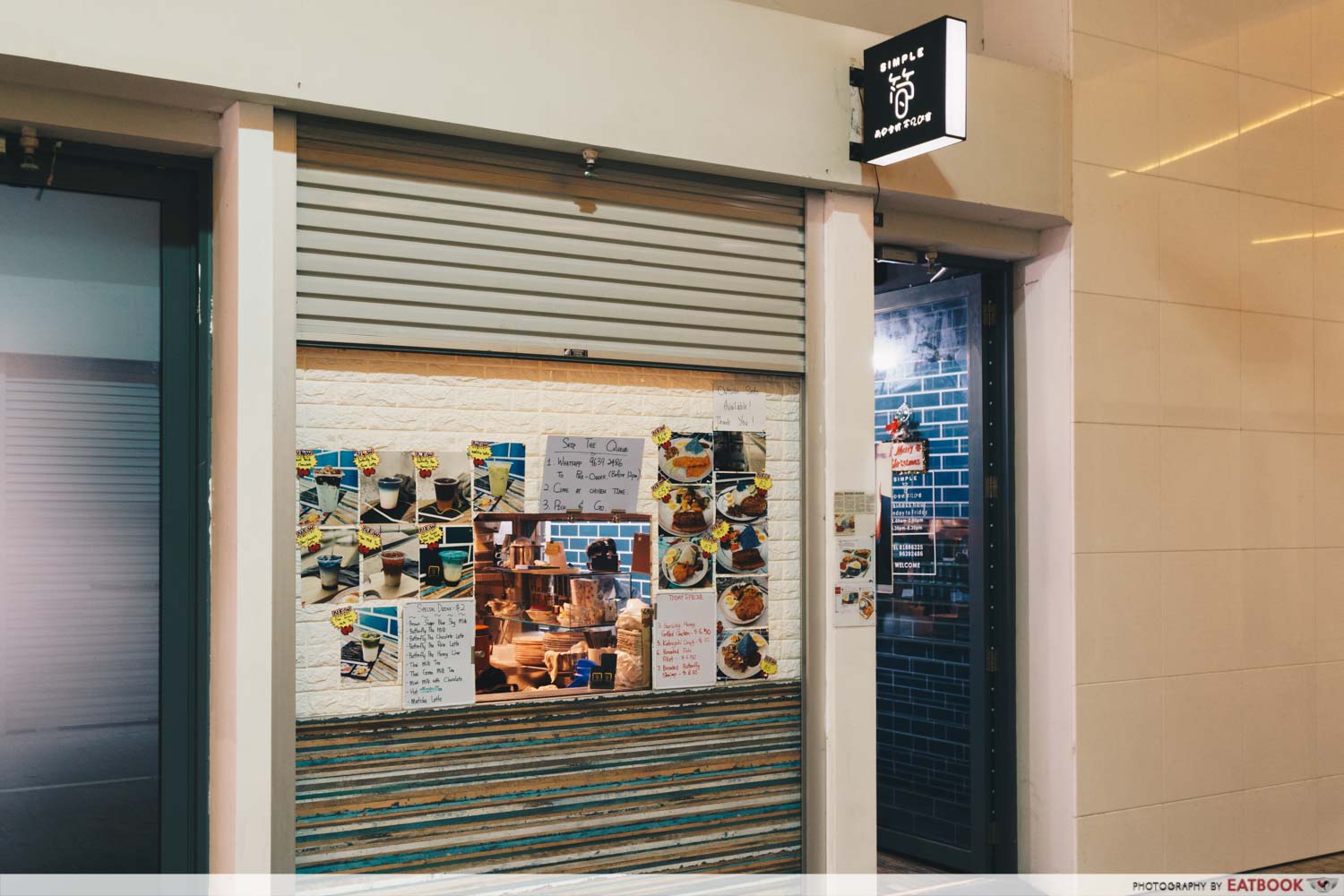 The owners recommend coming here before lunch, and it's easy to see why. The seating arrangement inside only fits four people, which is why most customers da pao their food. After all, being tucked in an industrial building limits your space quite a bit.
The verdict
The dishes here are hit-or-miss for the most part, but there's no denying the novelty of eating blue rice. If you're looking to dazzle your feed with these beautiful food, be sure to come during non-peak hours, so that you'll have a seat!
Address: 114 Lavender Street, #01-09, CT Hub 2, Singapore 338729
Opening hours: Mon-Fri 11am to 6:30pm, Sat 11am to 3pm
Tel: 8188 6325
Website
Photos taken by Stephen Kim
This is an independent review by Eatbook.sg
Summary
Pros
– Portions were decent
– The rice was pretty
Cons
– Some of the dishes needed stronger flavours
Recommended Dishes: Nasi Lemak + Rendang Chicken ($6.50)
Opening Hours: Mon-Fri 11am to 6:30pm, Sat 11am to 3pm
Address: 114 Lavender Street, #01-09, CT Hub 2, Singapore 338729