Crossing the bridge noodles by Mademoiselle Tang Noodle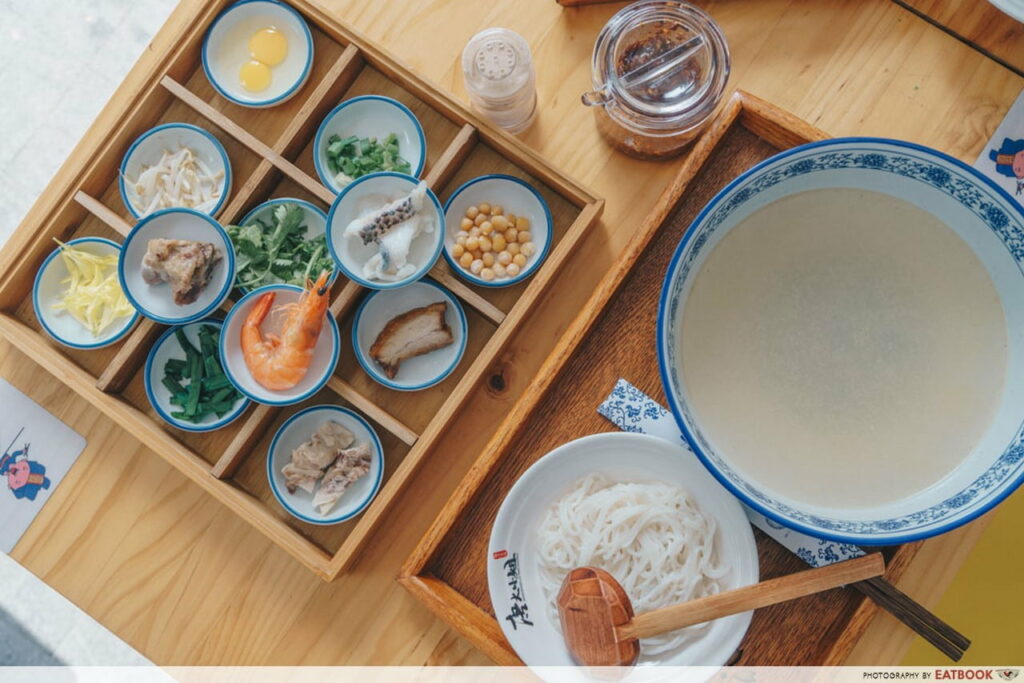 Behind every successful man is a woman. And this phrase rings true when it comes to the famous Yunnan noodles, Crossing The Bridge noodles.
The legendary tale tells the story of a virtuous wife who made her way across a bridge each day to bring lunch to her studious husband. However, with his nose stuck to the grindstone, the food always turned cold and soggy before he got the chance to eat it. Determined to feed her husband only the best, she decided to separate the noodles and ingredients into different bowls, all of which were to be added into the soup only when he was ready to eat. As with most stories, a happy ending is promised, and her husband passed the imperial exams, thanking his wife for her support and the noodles.
And that my friend, is the story of the famous Chinese noodles featured at Mademoiselle Tang Noodle.
Food at Mademoiselle Tang Noodle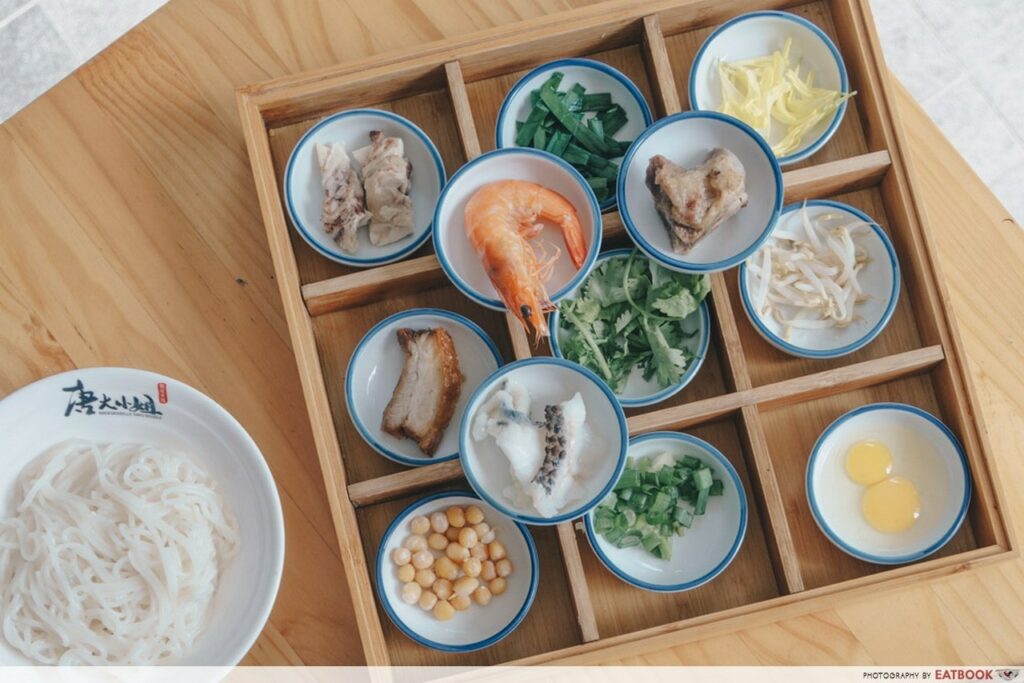 Believe me when I say Mademoiselle Tang Noodle's Signature Rice Noodle ($8.90 for nine, $12.90 for 12 ingredients) is a total eye-catcher. In fact, a group of cute grandmothers came to ask us about the noodles, as they were really amazed by the plating.
Here, a delicate broth made from chicken and pork bones is served in a huge Ming dynasty-inspired bowl. Chrysanthemum rice noodles and a boxed tray of ingredients are served on the side to add into the soup.
We decided to get the set of 12, which came with raw quail eggs, a prawn, fish, pork belly, pork rib, chicken, bean sprouts, pine nuts, chrysanthemum petals, and some greens.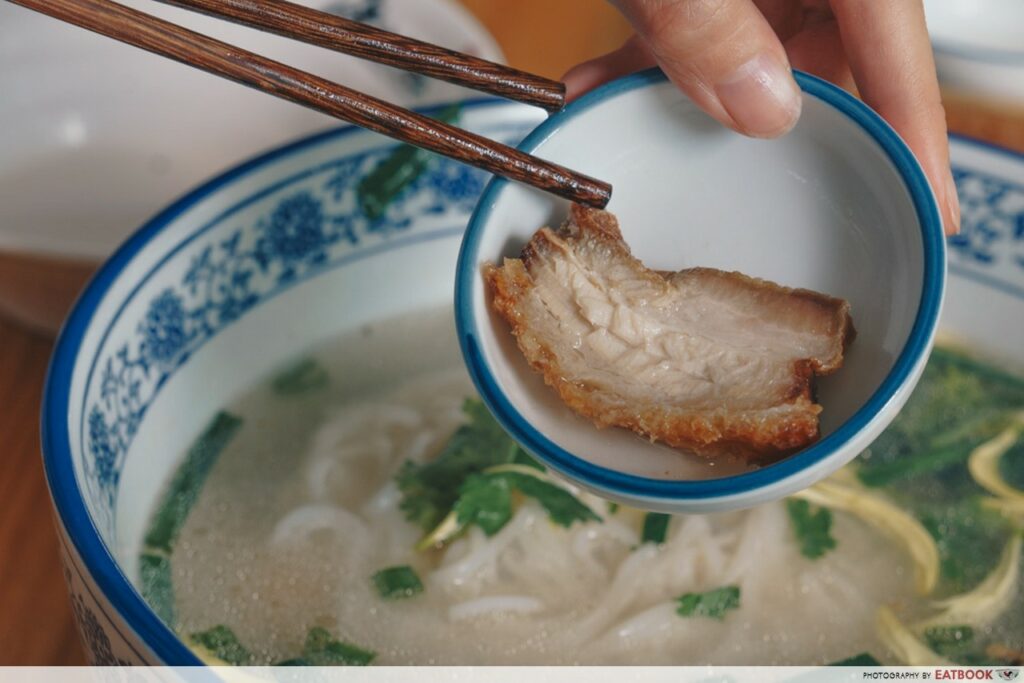 You're instructed to add the quail egg first, followed by the protein, vegetables and garnishes, and lastly the noodles. But the steps didn't really make a difference in my opinion.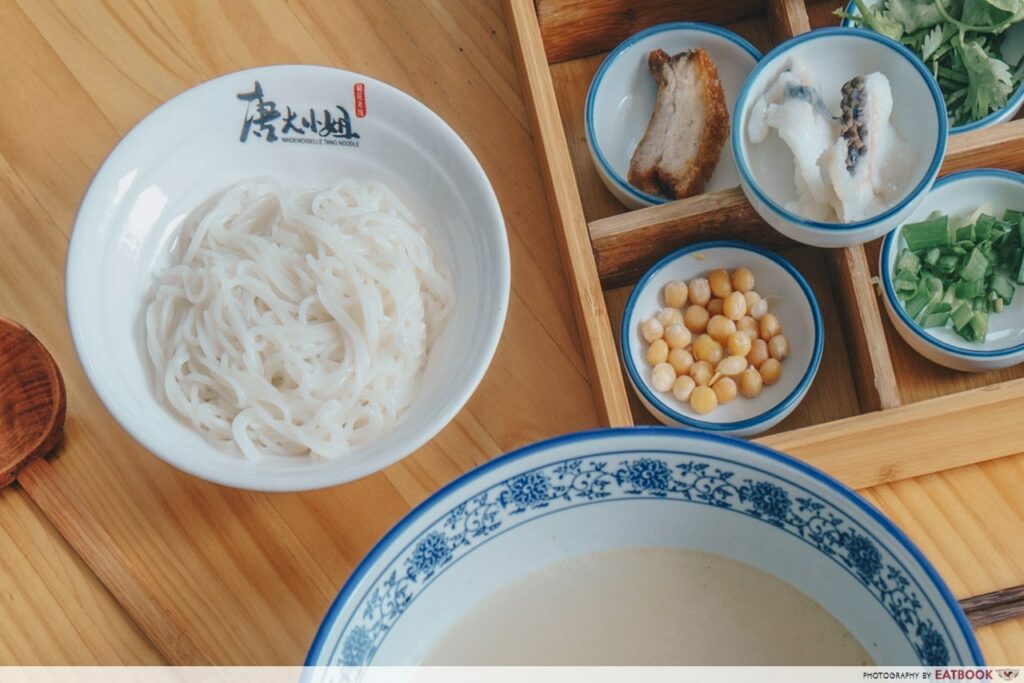 The best thing about this dish was the noodles. It was equal parts chewy and soft, and did not have a gummy consistency. It went down smoothly, and I could easily slurp all the noodles up in one breath.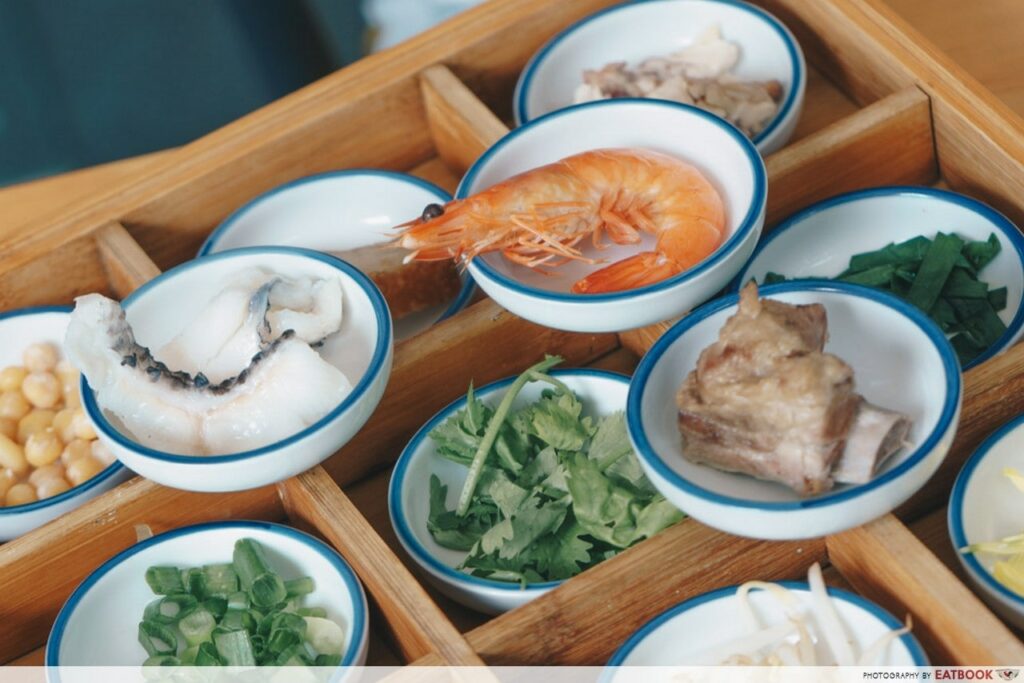 Unfortunately, the ingredients were overcooked, and the fish, prawn and pork rib were tough and dry. The broth, while light, left me thirsting for an ice cold drink. I also found that the garnishes of coriander, spring onions, and chrysanthemum petals did nothing but add colour to the plain looking soup.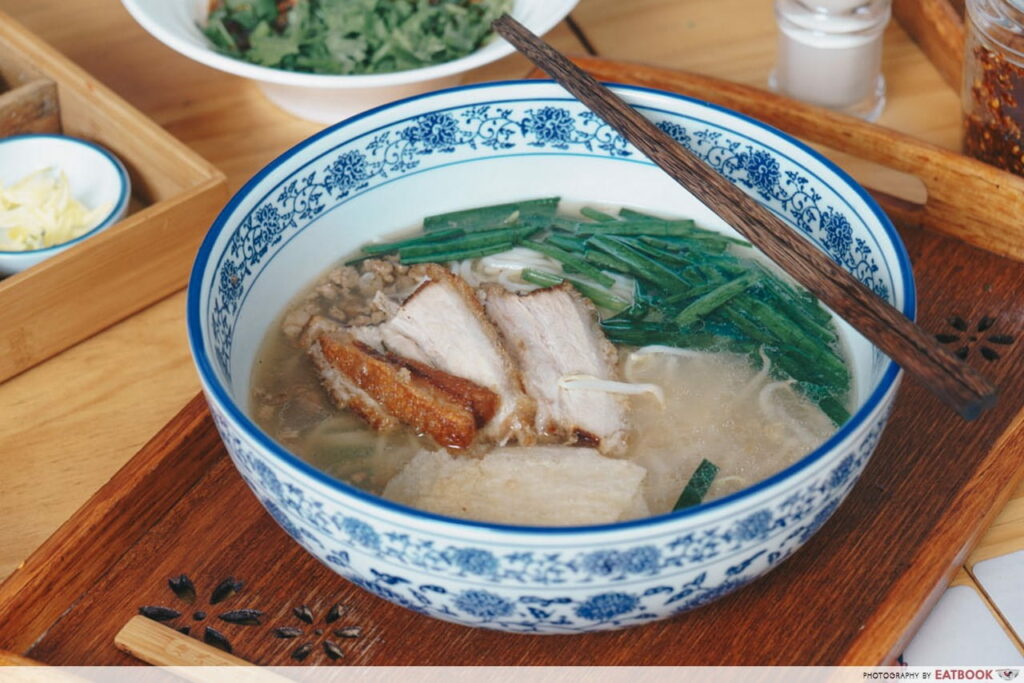 Even though they used the same chicken-pork bone broth, the Fried Pork Rice Noodle ($10.90) soup base was much richer. Perhaps this was due to the generous slabs of fried pork belly and minced pork that came in the dish.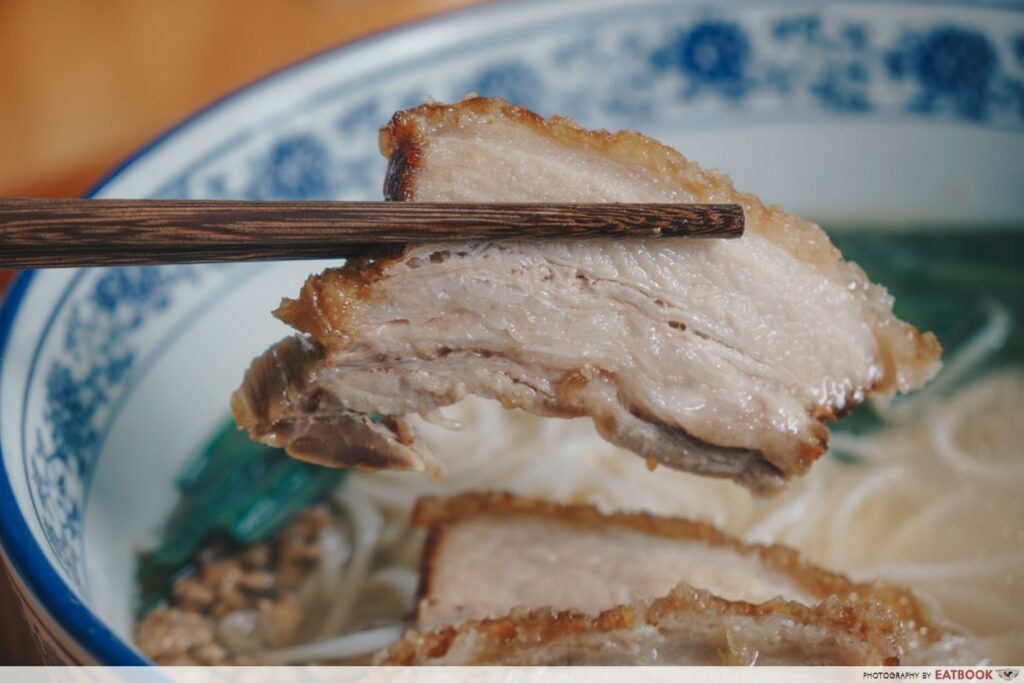 The fried pork belly had a crackling that retained its crispiness, despite sitting in the broth for a while as we took our photos. However, just like the ingredients in the previous dish, the meat could have been more succulent.
Nonetheless, the massive portion and the accompanying vegetables, such as bean sprouts and beancurd skin, made this dish value for money. It would definitely make for a satisfying dish on a cold, rainy day.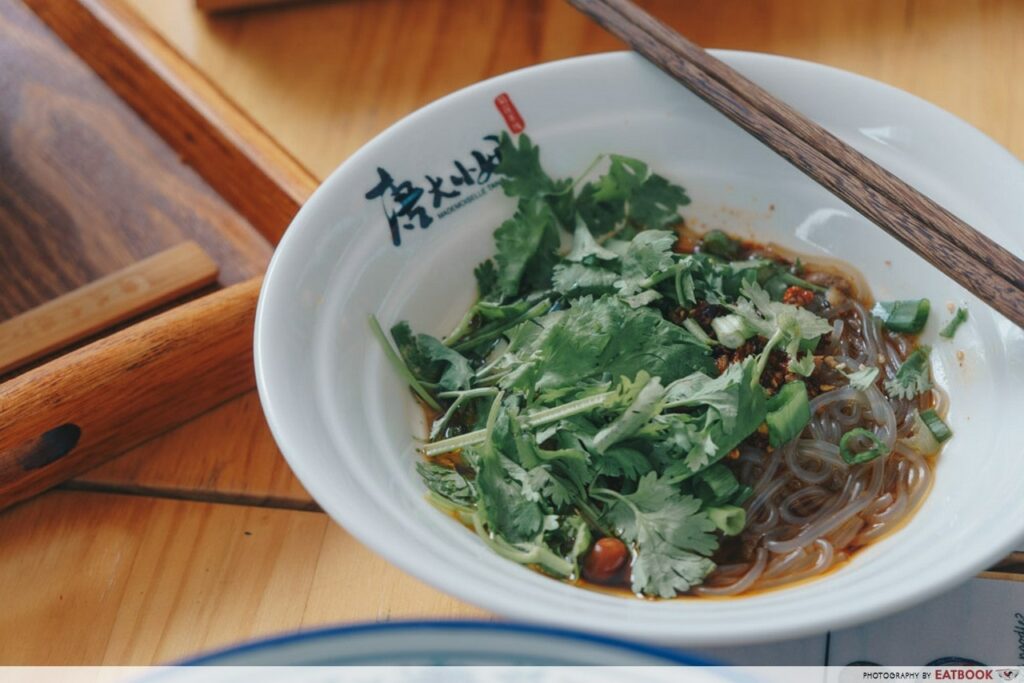 Now, a dish worth having is their Hot and Sour Rice Noodles ($6), which came topped with coriander, peanuts and chilli flakes. The serving was quite small, but it was so lip-smacking delicious, we didn't care.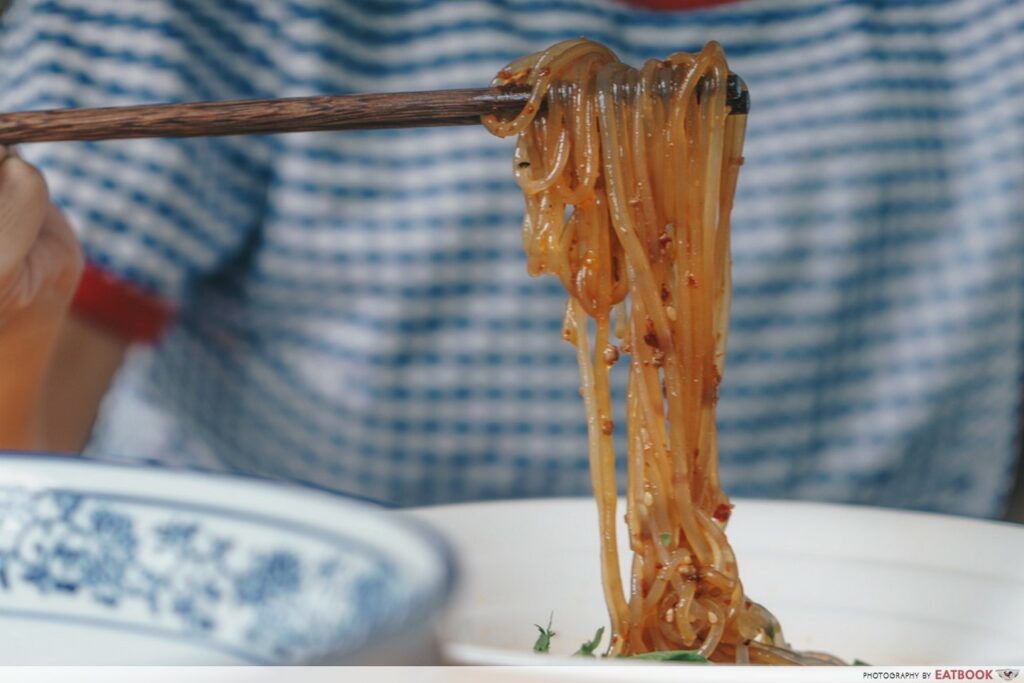 The brownish-red sauce that coated the silky glass noodles had an acetic tang, followed by a picante finish. It was such a simple dish, with only a smattering of minced pork topping it, but we finished the entire bowl up in no time.
Ambience at Mademoiselle Tang Noodle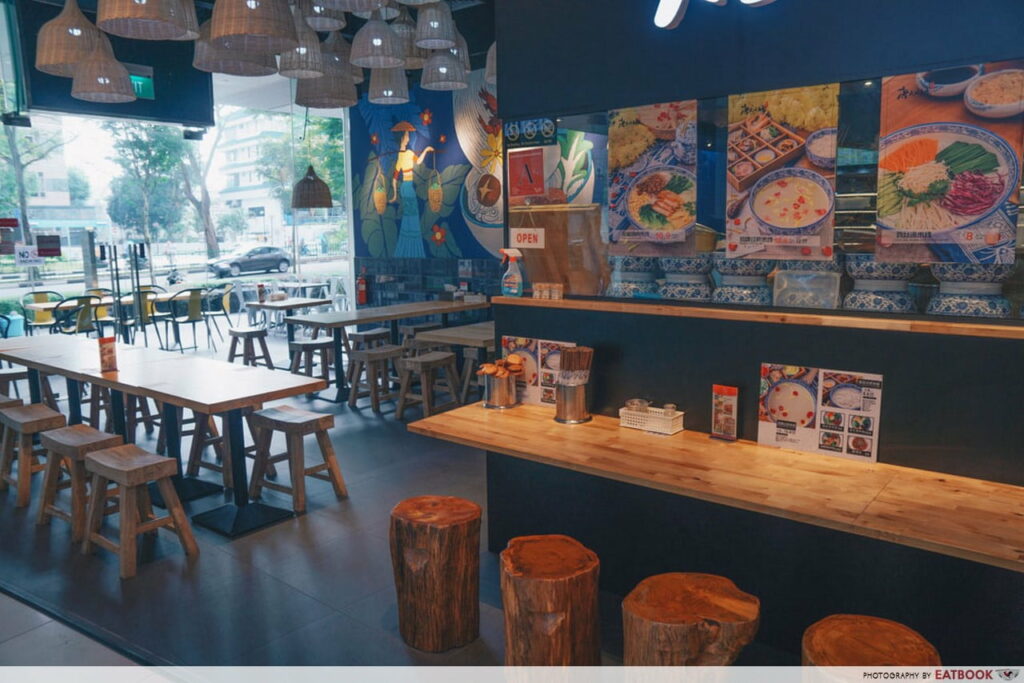 Occupying a spot at the newly opened Royal Square in Novena, Mademoiselle Tang Noodle boasts outdoor and indoor seating areas. Indoors you will find a vibrant painting of the legend plastered on one side of the wall. The seats indoors are not the most comfortable though, as a majority of them are Chinese wooden stools with no back rest to lean on. So if the weather is good, I urge you to grab a seat outdoors instead.
The verdict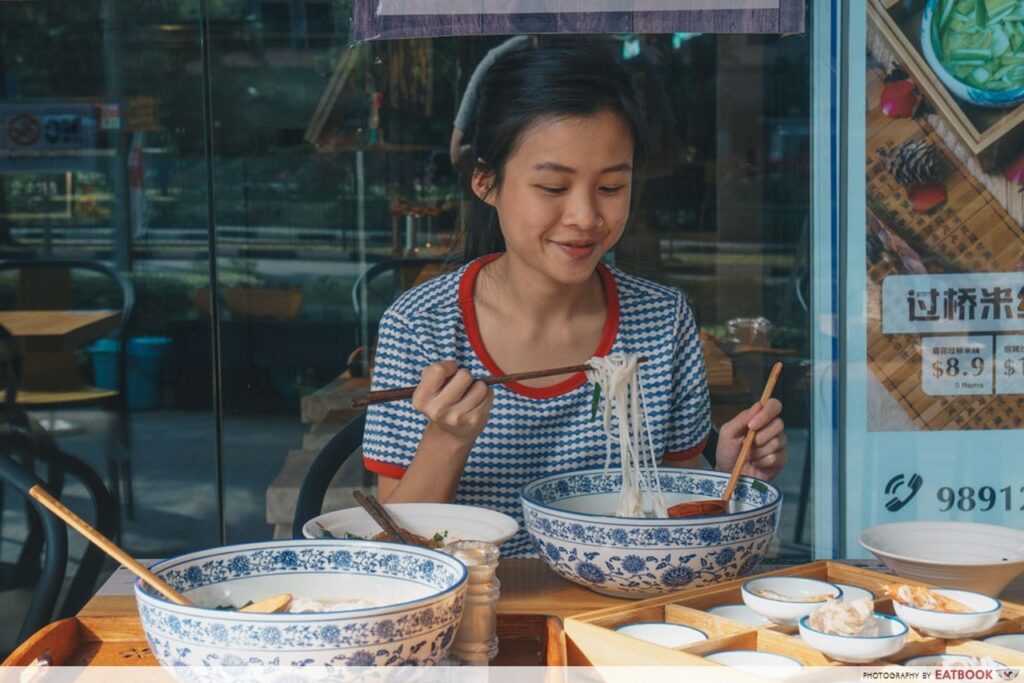 It's a weekly ritual for my family to attend Novena mass at Church of Saint Alphonsus, more commonly known as Novena church. The devotion service usually ends in the evening, so dinner would always be around the vicinity, at places such as Sky22. And while Mademoiselle Tang Noodle is not the best restaurant at Novena, I wouldn't mind asking my fambam to eat there for a fuss-free meal that won't break the bank.
Address: 103 lrrawaddy Road, #01-10, Royal Square at Novena, Singapore 329566
Opening hours: Daily 10am to 9pm
Tel: 9891 2571
Website
Photos taken by Clement Lee.
This is an independent review by Eatbook.sg.
Bee Kia Seafood Restaurant Review: Delicious Beef Hor Fun And Har Jeong Gai At Novena
Summary
Pros
– Huge portions
– Affordable
– Noodles done well
Cons
– Soup was a little too salty
– Seafood and meat were tough to chew
Opening hours: Daily 10am to 9pm
Address: 103 lrrawaddy Road, #01-10, Royal Square at Novena, Singapore 329566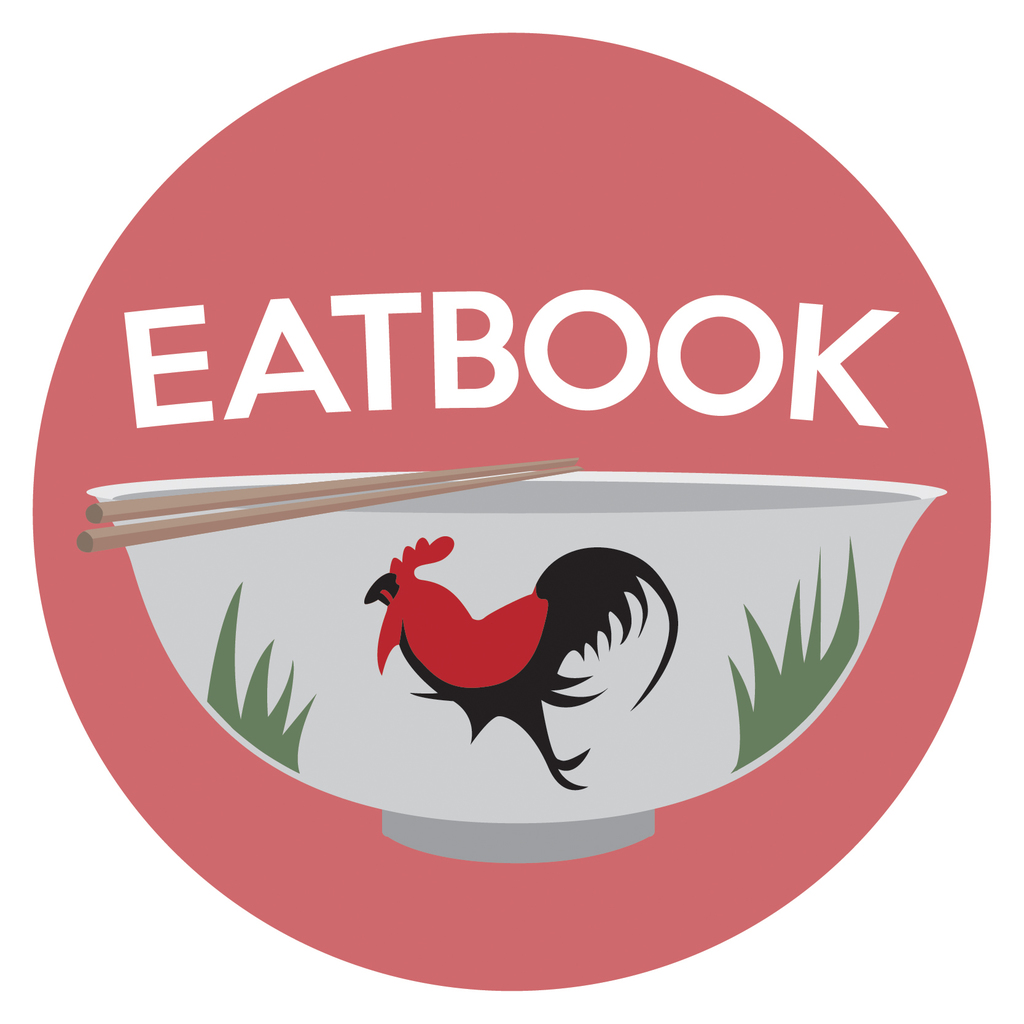 Drop us your email so you won't miss the latest news.