Makan-Makan offers steamboat BBQ buffet
Update (5 April 2019): Makan-Makan has permanently closed.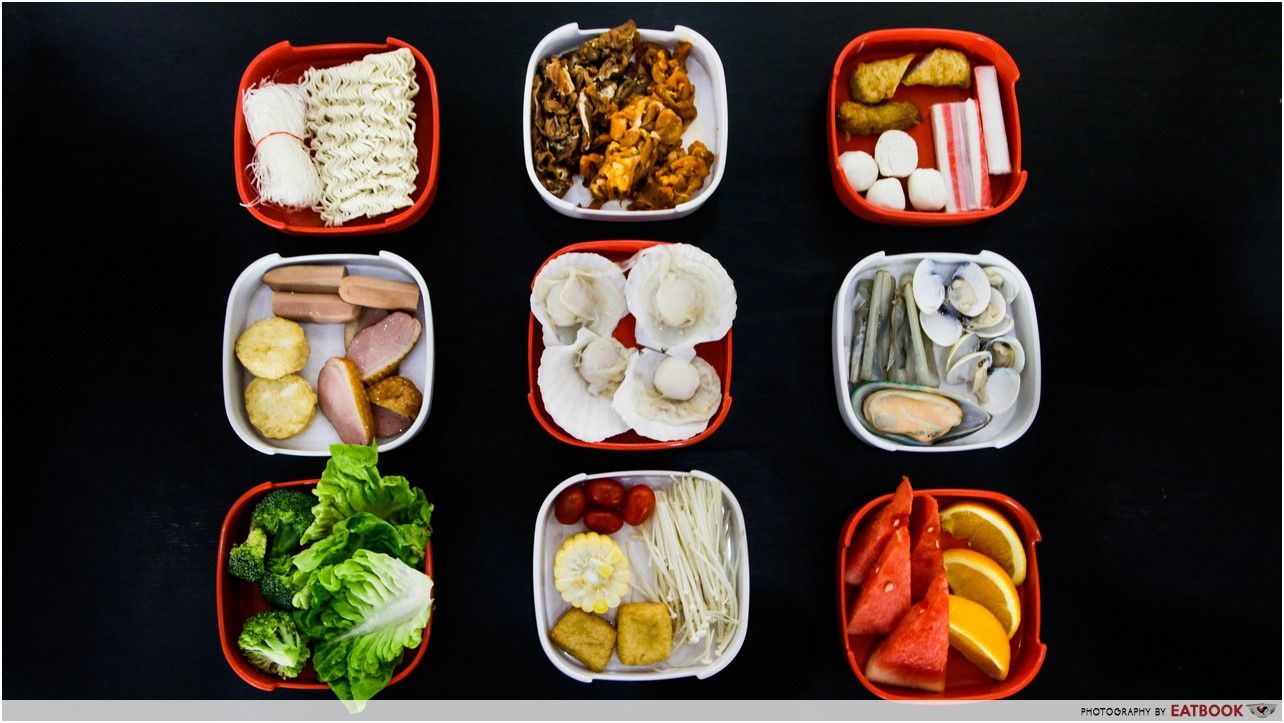 Whenever I think of Punggol, I have this idea that it's an ulu place with nothing to do or eat, and it's not somewhere that comes to mind when I'm jio-ing my friends out. So imagine my surprise when I recently found out that a Muslim-owned steamboat BBQ eatery opened up at Punggol End. Makan-Makan is a steamboat BBQ buffet that offers free-flow meat, seafood, cooked dishes, and desserts at $26 per person on weekdays and $29 per person on weekends.
Food at Makan-Makan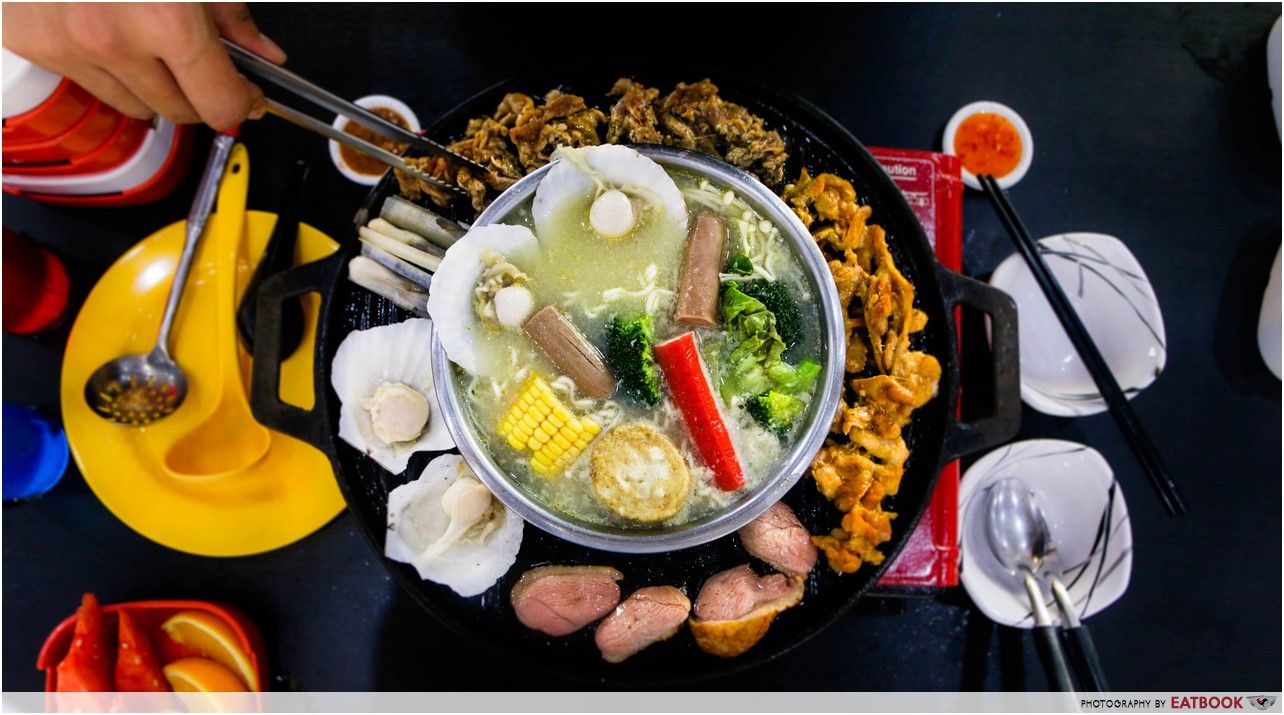 The pot and grill are big enough for four people to share. Makan-Makan works on a self-service concept where you'll have to get your own ingredients. Everything is free-flow, so you don't need to feel paiseh, just help yourself to whatever you want and as much as you need. That being said, they charge for wastage at $5 per 100g. For the soup base, you can choose to have either chicken or tom yum soup. We went for the former for something light.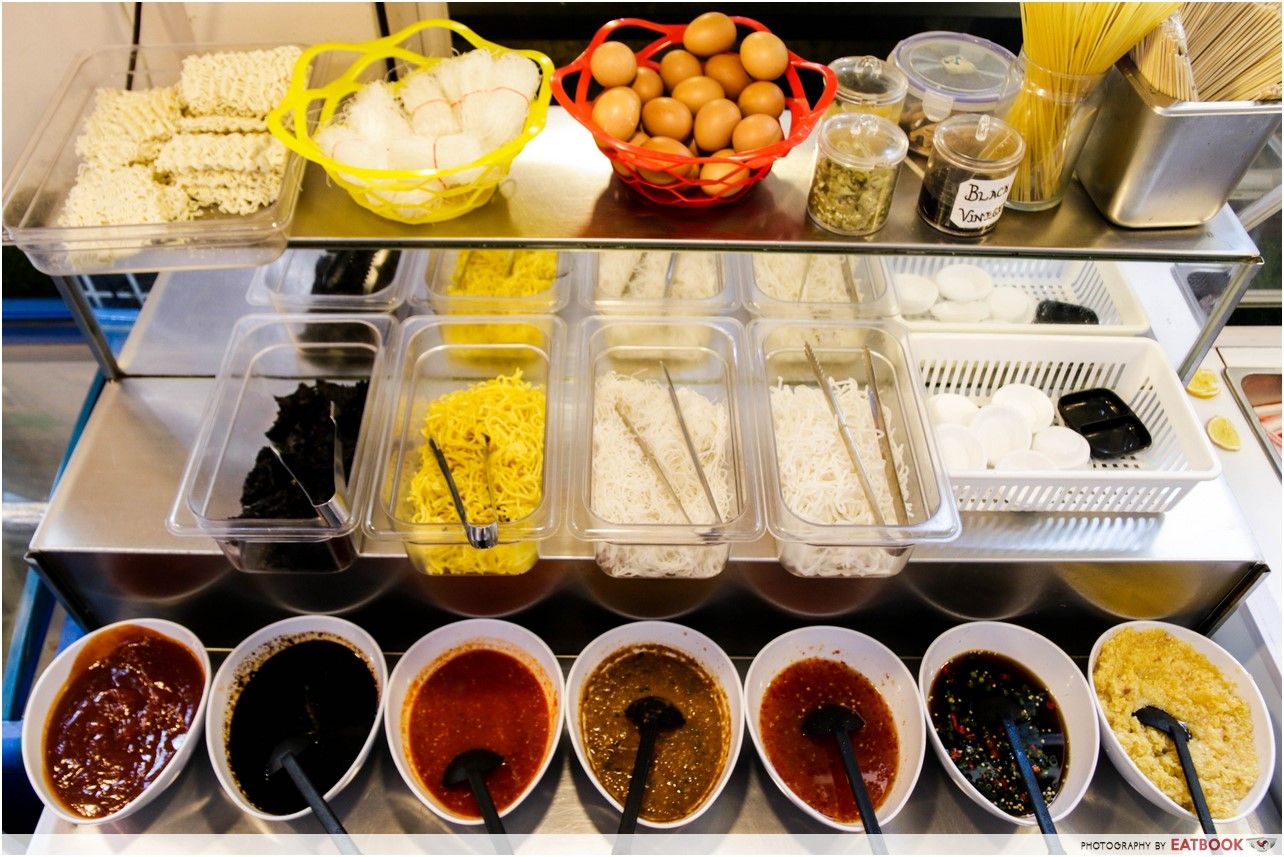 We began with the must-haves at every steamboat – noodles and condiments. We went for instant noodles and glass noodles. As for condiments, you can choose from Thai sweet sauce, ABC sweet sauce, Korean BBQ sauce, chicken rice chilli, chilli padi soya, chilli sauce, and minced ginger.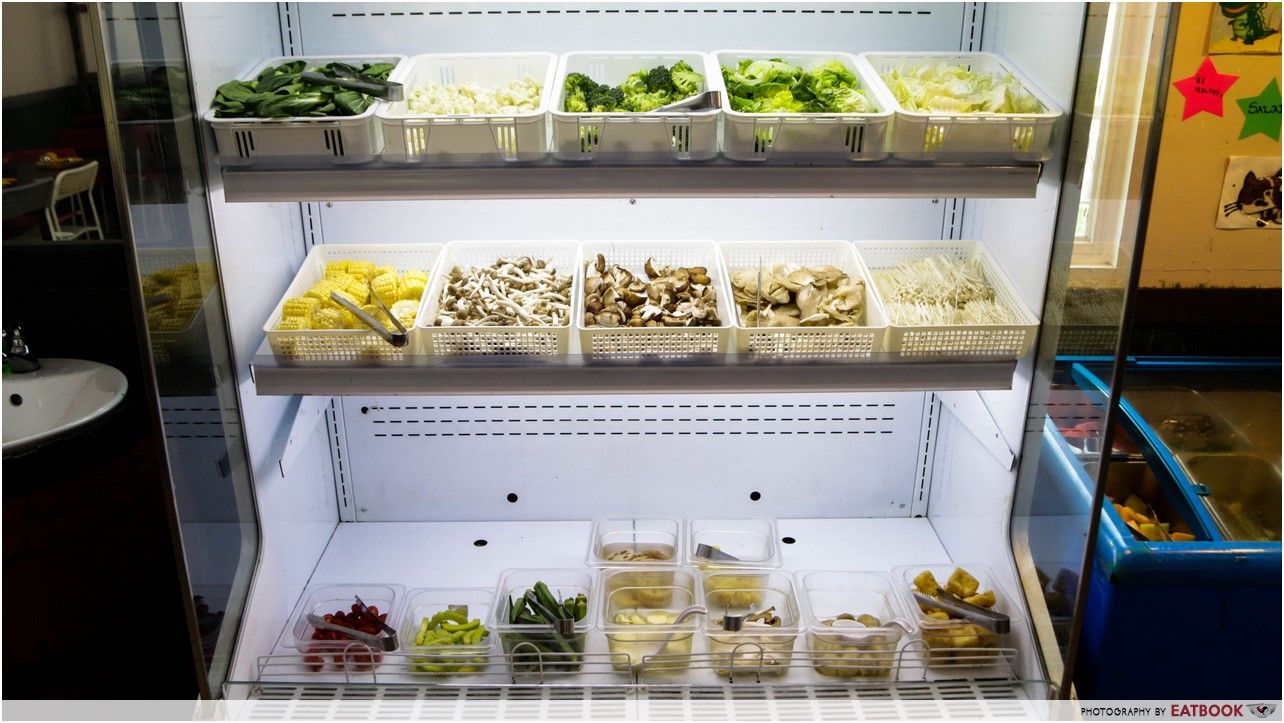 I was amazed that they kept their fresh vegetables refrigerated and covered with a transparent blind. They have veggies like broccoli, cauliflower, romaine lettuce and cabbage. I'm not a huge fan of mushrooms so I only took enoki mushrooms for our soup. Save some space in your stomach for their seafood and meat instead.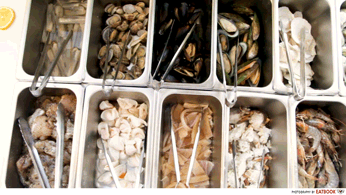 They have an array of seafood available – bamboo clams, blue crabs, cuttlefish, gong gong (conch), mussels, scallops and many more! Their seafood is kept under a glass cover. We were so spoilt for choice that we couldn't decide on what to get.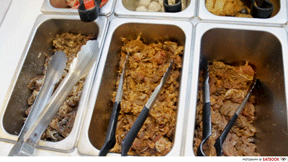 Don't worry if you're not a fan of seafood as they also have another section for meat and finger food. They have marinated meats such as smoked duck, black pepper beef, tom yum chicken, mutton satay, chicken satay and beef satay. As for finger food, there were fish balls, ngoh hiang, sotong balls, sausages and cheese fish cakes. I was so tempted to pick everything but I told my inner glutton to calm down.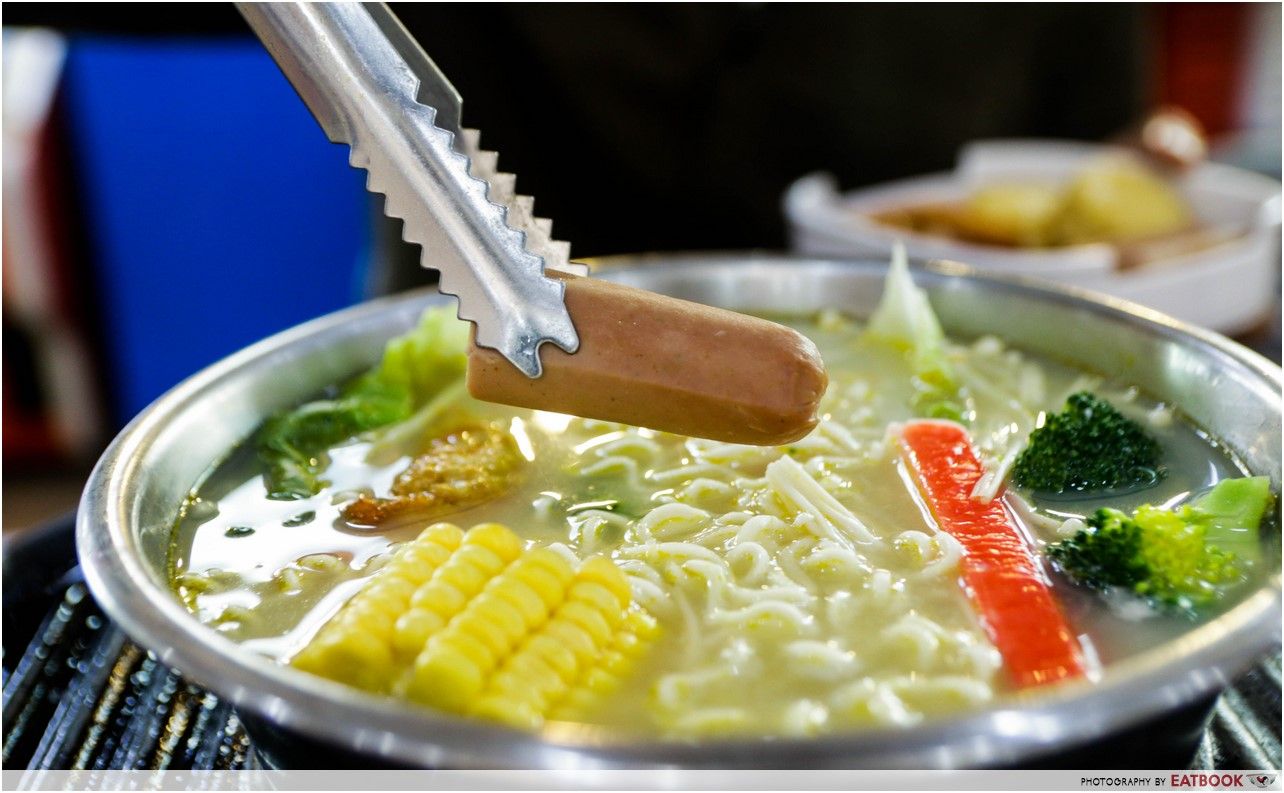 The chicken soup was very light and clear at the beginning, so we added ingredients such as eggs, clams, and corn to enhance the flavour and thicken the soup.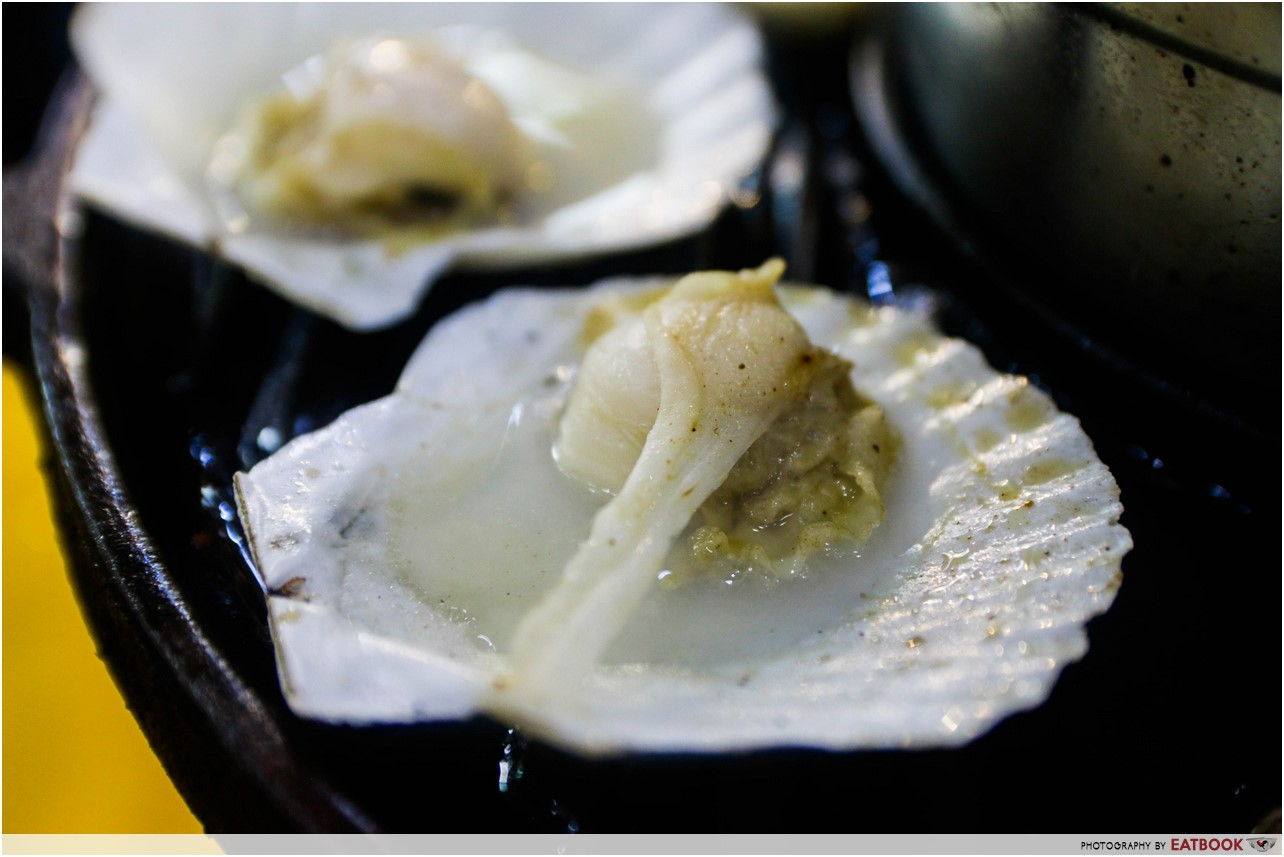 I was looking forward to the scallops the most. We grilled them with their shell to prevent them from charring. One thing you might notice is that the scallop will start releasing water, so try to drain the excess water every minute as you want it seared, not boiled. It was firm but not rubbery and tough. Dip it into the chilli padi soya for a more intense flavour.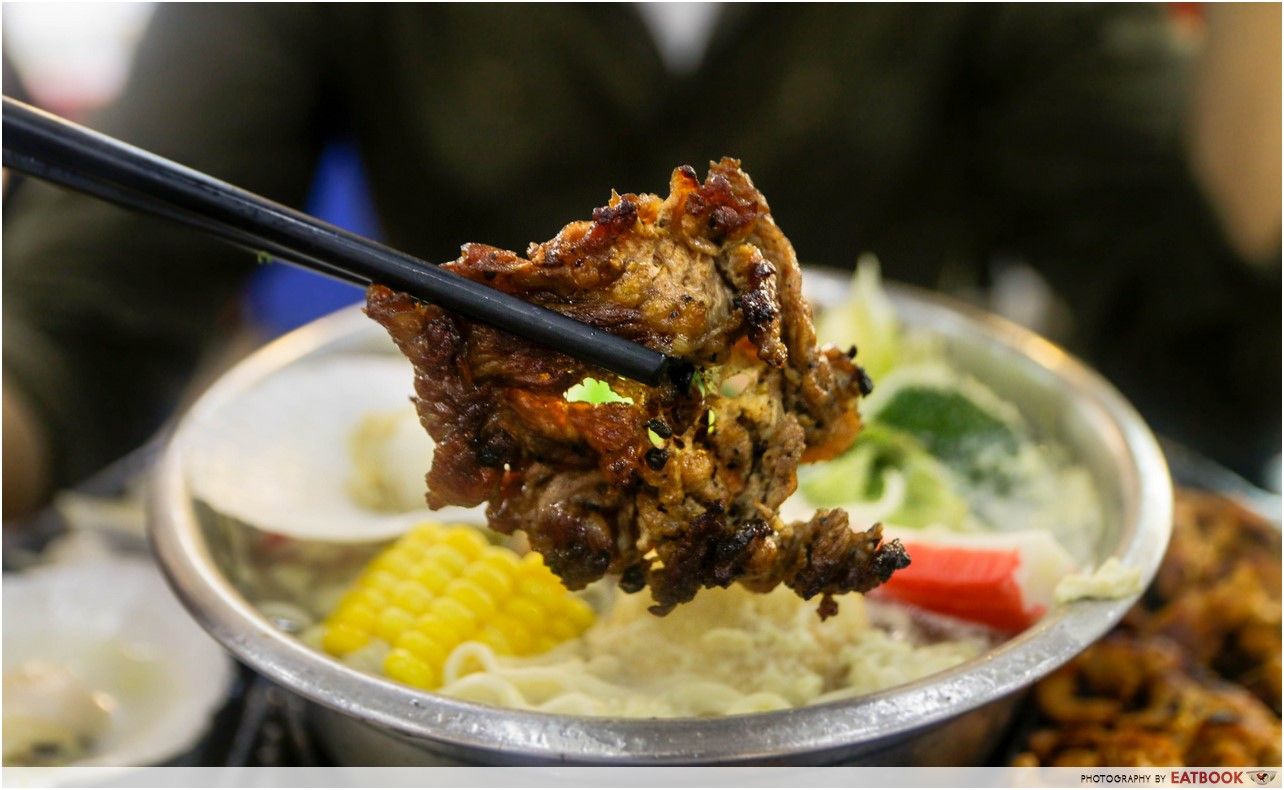 The beef slices were thinly cut, making it easier to grill. It was tender and flavourful – decent but nothing extraordinary. I personally liked the black pepper beef and satay chicken. I wrapped it in lettuce and ate it like a ssam. If only there were kimchi and garlic available, it would have made it more boomz.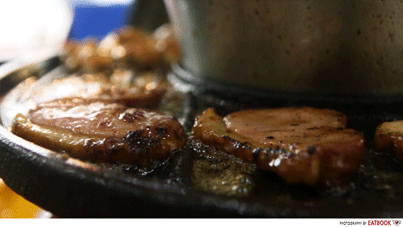 My perspective on duck meat changed after eating this. The duck meat was thickly sliced with a layer of skin and fats. It looked pretty dry and boring at first until we placed it onto the grill. The meat started sizzling and that was when the magic happened. The layer of fats started to melt, coating and flavouring the duck meat. We charred each side a little bit to add crispiness. We picked up a piece each with our chopsticks and popped it into our mouths. I was sold – the meat was succulent and very silky from the melted fat which gave it a rich and savoury flavour. I went to get more duck meat as soon as we finished this portion.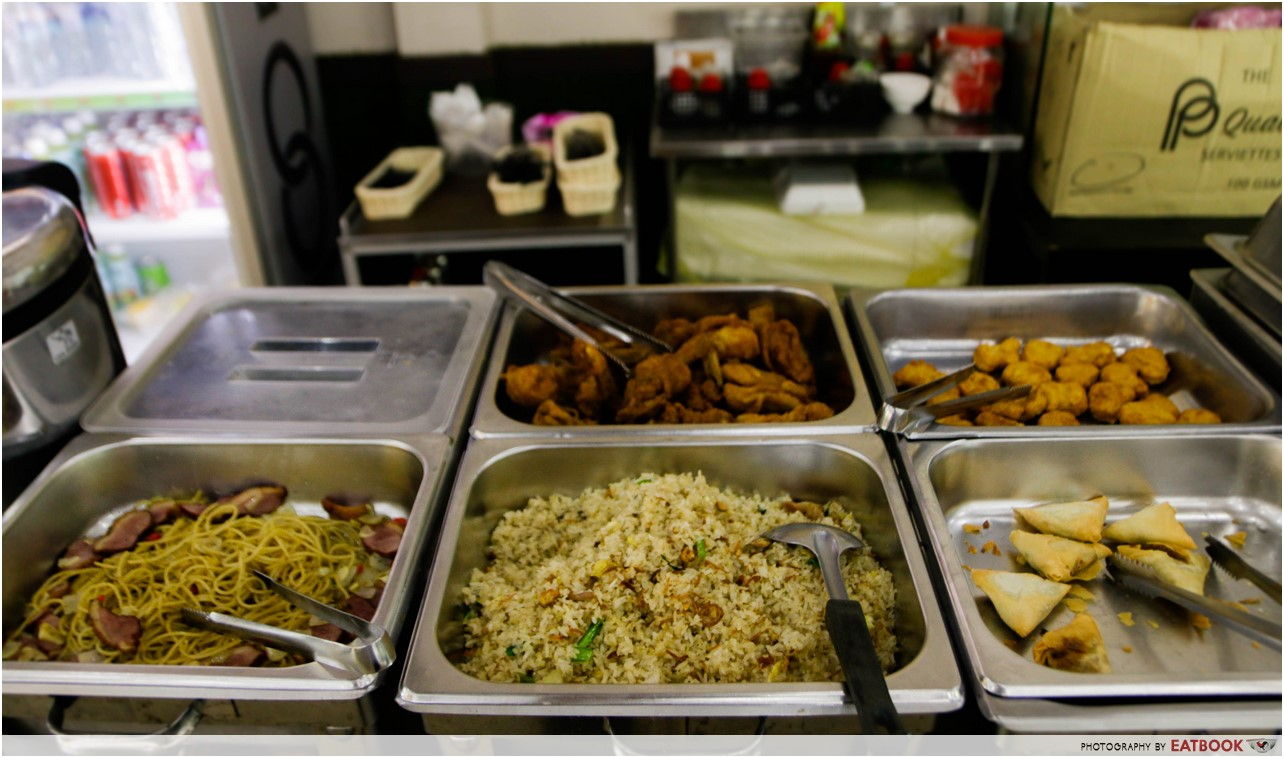 At around 6pm, they served cooked food such as fried rice, smoked duck aglio olio, fried chicken and samosa. I regretted eating so much that I had little space left for these.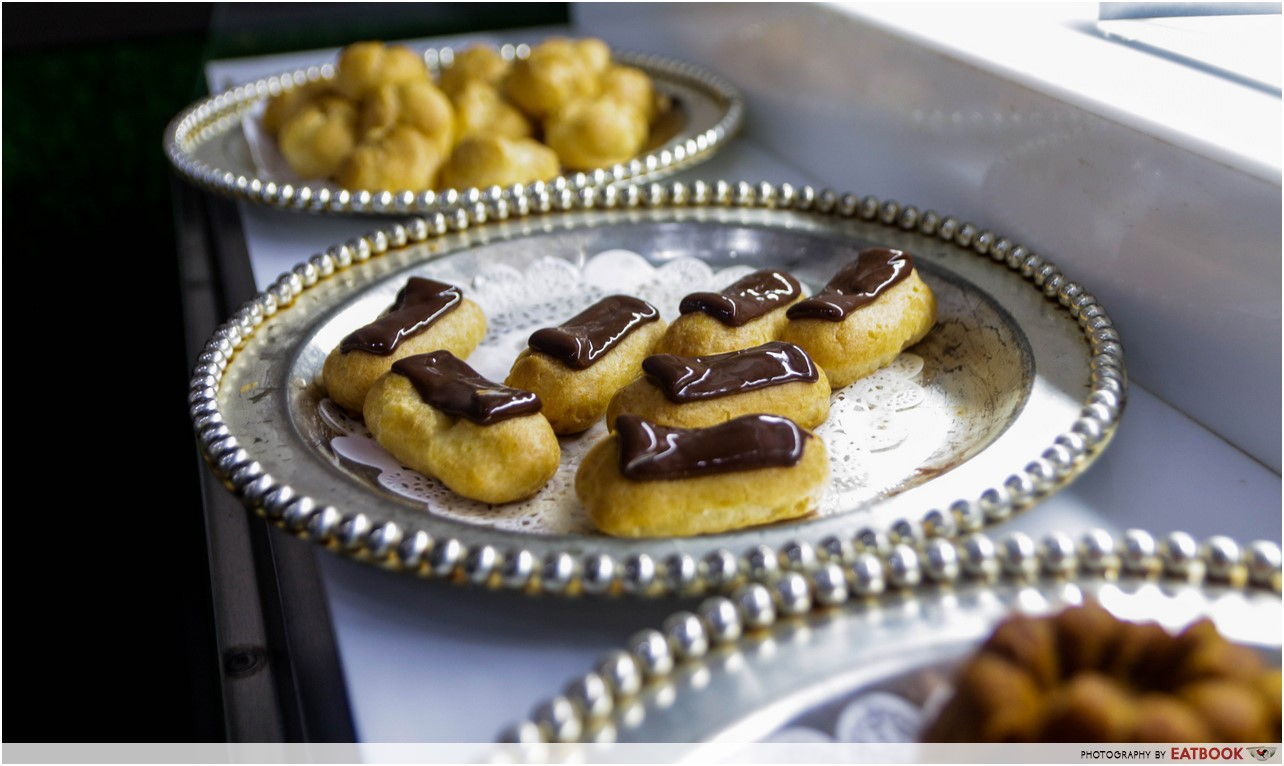 Tucked in a corner of the restaurant is every kid's dream – desserts. It's easy to miss this corner so remember save some space for cream puffs, mini eclairs, and ice-cream available in the freezer.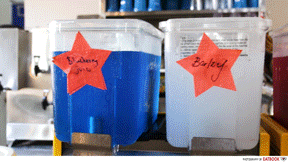 Chilled syrup drinks were available so don't be shy and refill as much as you want.
Ambience at Makan-Makan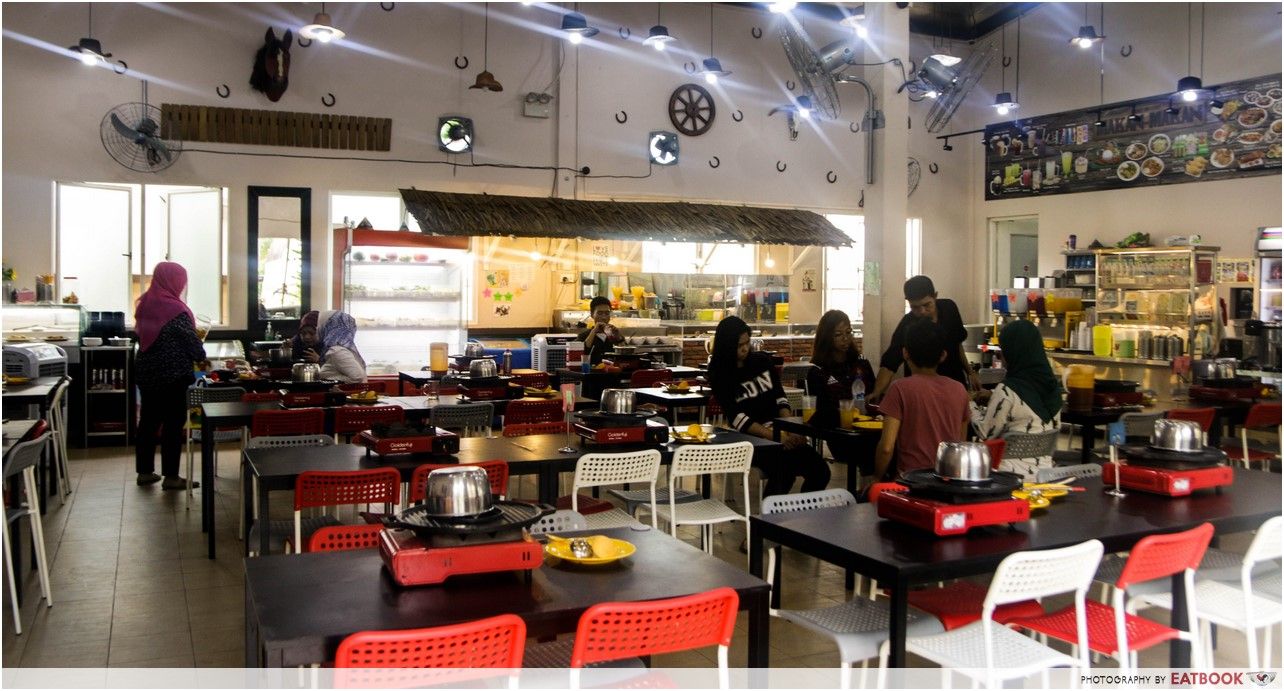 The restaurant is not air-conditioned but they do have plenty of fans and air coolers around. Just wear comfortable clothes if you plan to drop by. We went just before dinner time and there were plenty of seats. Even though the place is quite ulu, bus 84 from Punggol Bus Interchange takes you there directly, making it quite accessible.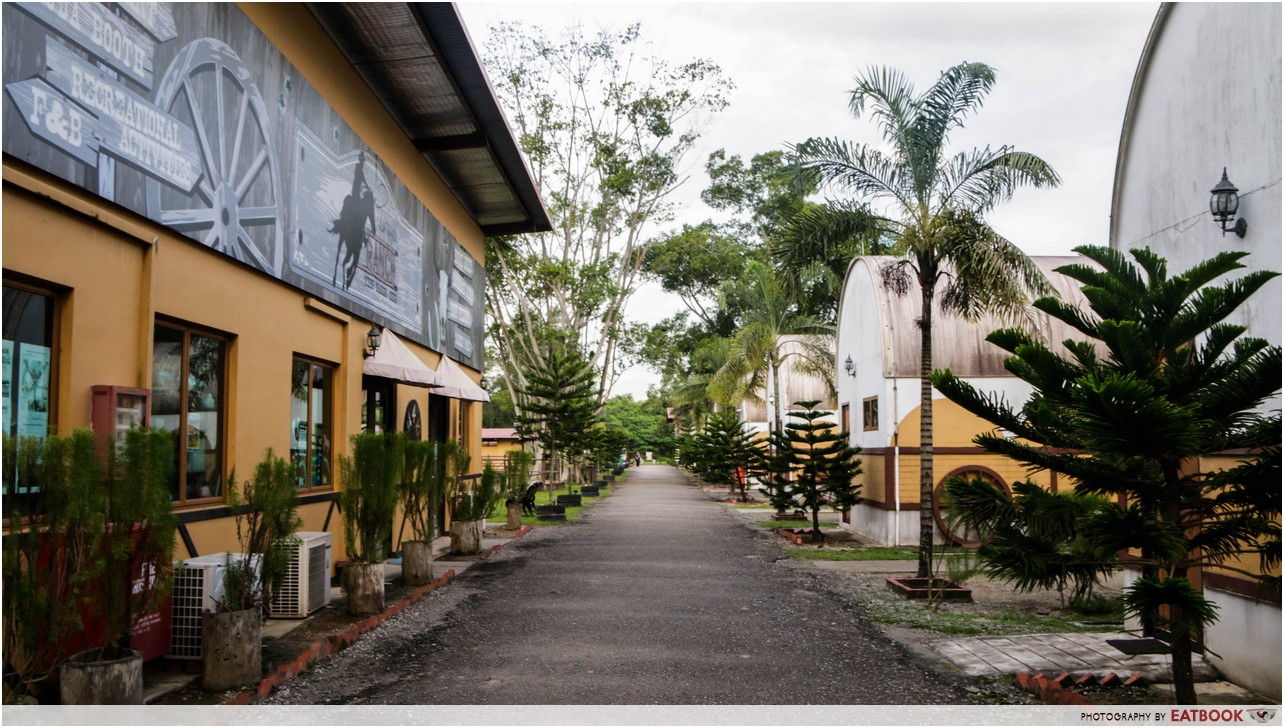 After a heavy meal, you can take a breather along Punggol Ranch and enjoy the quiet scenery. There is a horse stable, rabbit farm, and playground at the end of this path which is quite near. If you cross the road from the bus stop, you'll find a small jetty filled with fish hobbyists. You can also enjoy the warm sunset and strong breeze caressing your skin while you're there.
The verdict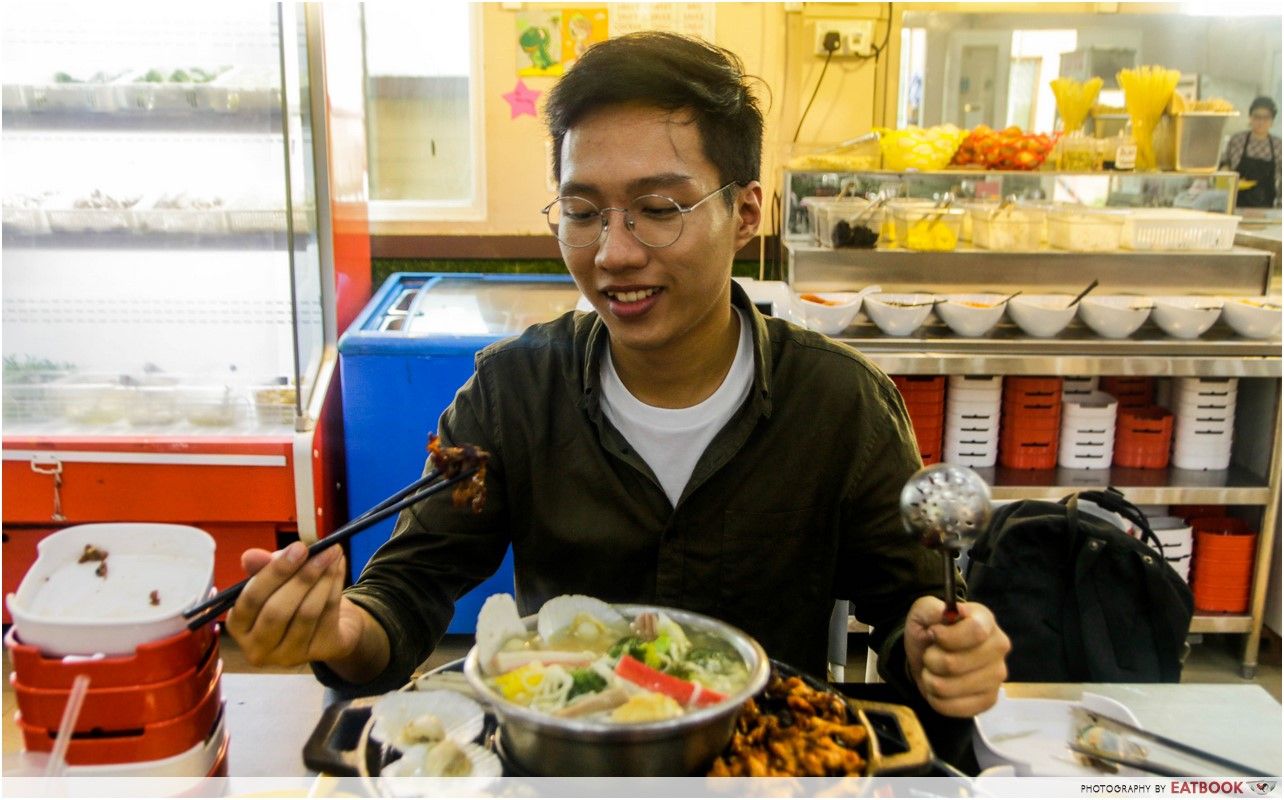 It is great that Punggol is starting to have more food choices available even though it is an ulu place to be at. I would say this place is great for families and friends who want to catch up over a filling meal and enjoy a short walk afterwards to unwind. Price-wise, it is a little expensive for its quality but it is fine for an occasional meal. For more steamboat options, check out King's Laksa Steamboat, One More Steamboat, or our list of affordable steamboats below $20!
Address: 900 Punggol Road, #01-03, Punggol Ranch, Singapore 829168
Opening hours: Tue-Fri 3pm to 11pm, Sat-Sun 3pm-12am
Tel: 8571 0203
Makan-Makan is a Muslim-owned eatery.
This is an independent review by Eatbook.sg.
Summary
Pros
– No GST and service charge
– Free-flow food
– Decent duck meat
Cons
– Slightly expensive
– No air-conditioning
– Flies were spotted
Recommended Dishes: Duck meat
Operating Hours:
Tue-Fri 3pm to 11pm, Sat-Sun 3pm-12am
Address: 900 Punggol Road, #01-03, Punggol Ranch, Singapore 829168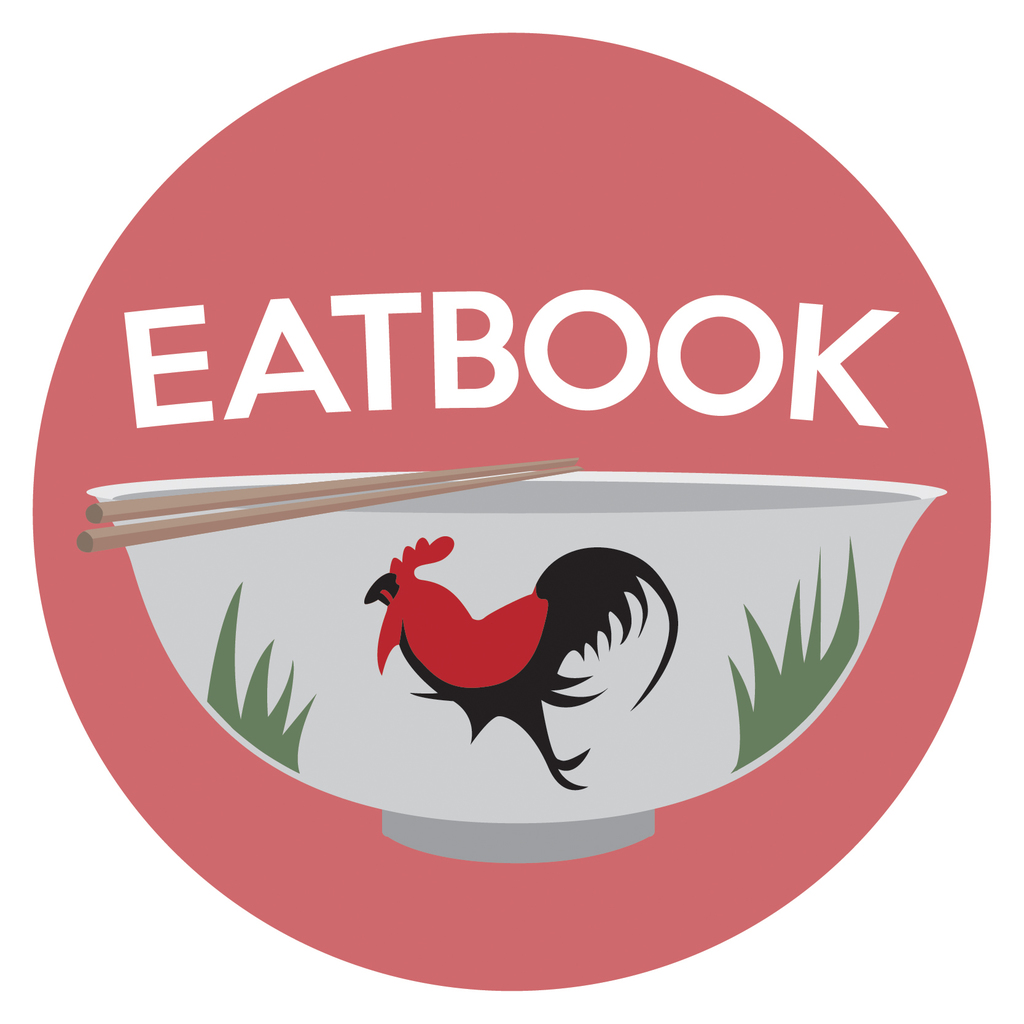 Drop us your email so you won't miss the latest news.