Man Tang Hong Desserts in Bedok

If you are looking for a late night hangout spot that offers desserts other than ice cream and waffles, visit Man Tang Hong Desserts. A new eatery that just opened in May 2021, Man Tang Hong serves a range of hot and cold traditional desserts such as Cheng Tng ($4.30), Orh Nee ($6.80), BuBur Cha-Cha ($4.30) and others, all made from scratch!
Unfortunately, the pandemic has been hard on the business. According to their latest Facebook post, they're officially closing down, with their last day of operation being 12 December. Head there soon before they close for good!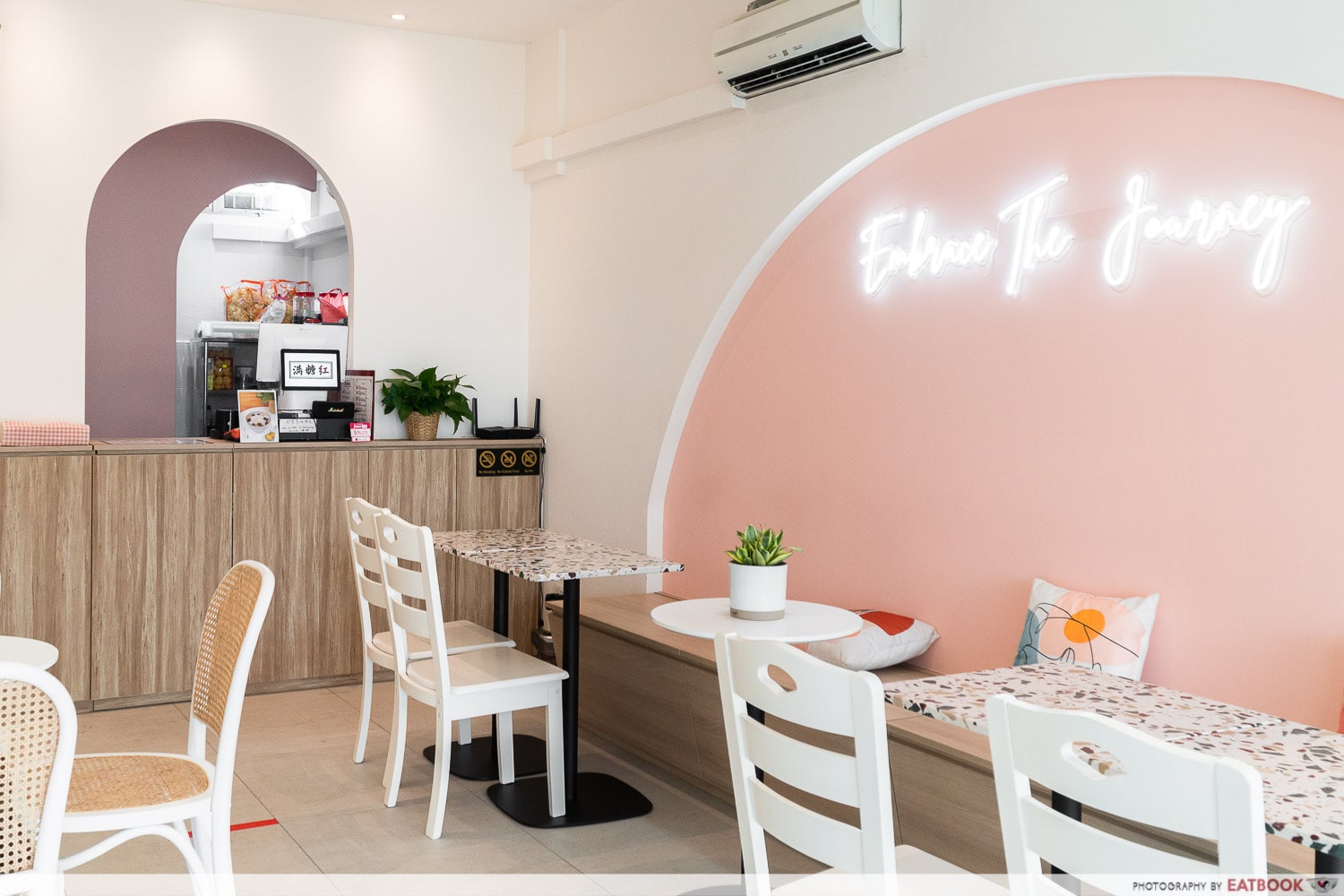 Hidden among HDB blocks in Bedok, it's a quaint and Insta-worthy cafe that can accommodate approximately 12 customers at one time. It has a lovely pink, minimalist vibe, making every corner of the cafe a picturesque spot.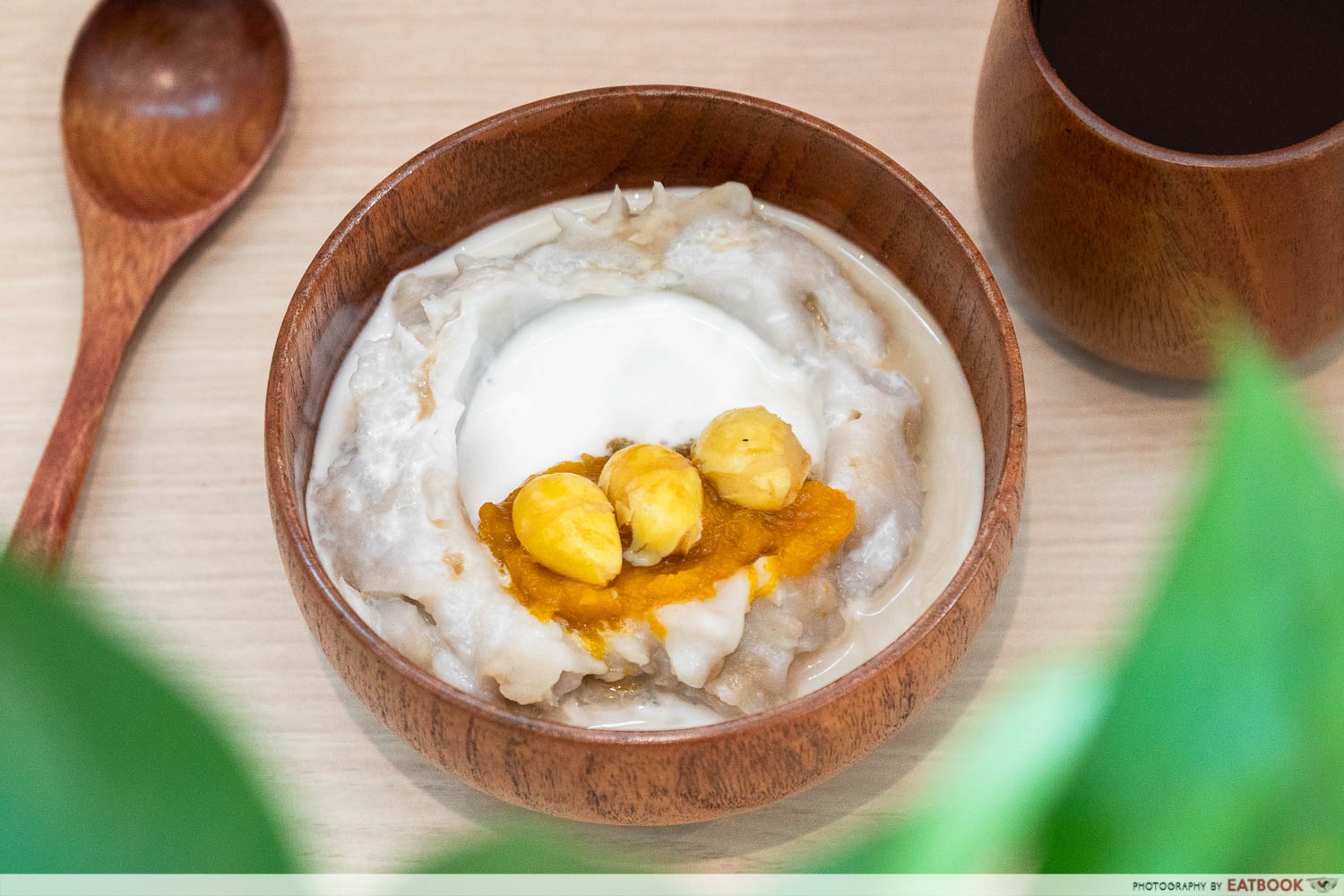 If you only have room for one dessert, we highly recommend going for the Yam Paste (Orh Nee) ($6.80). It's a bowl of homemade yam paste, filled with coconut milk and gula melaka, then topped with a teaspoon of pumpkin paste and ginkgo nuts. This dessert also comes with a cup of Pokka Oolong Tea (U.P. $1.30) on the side.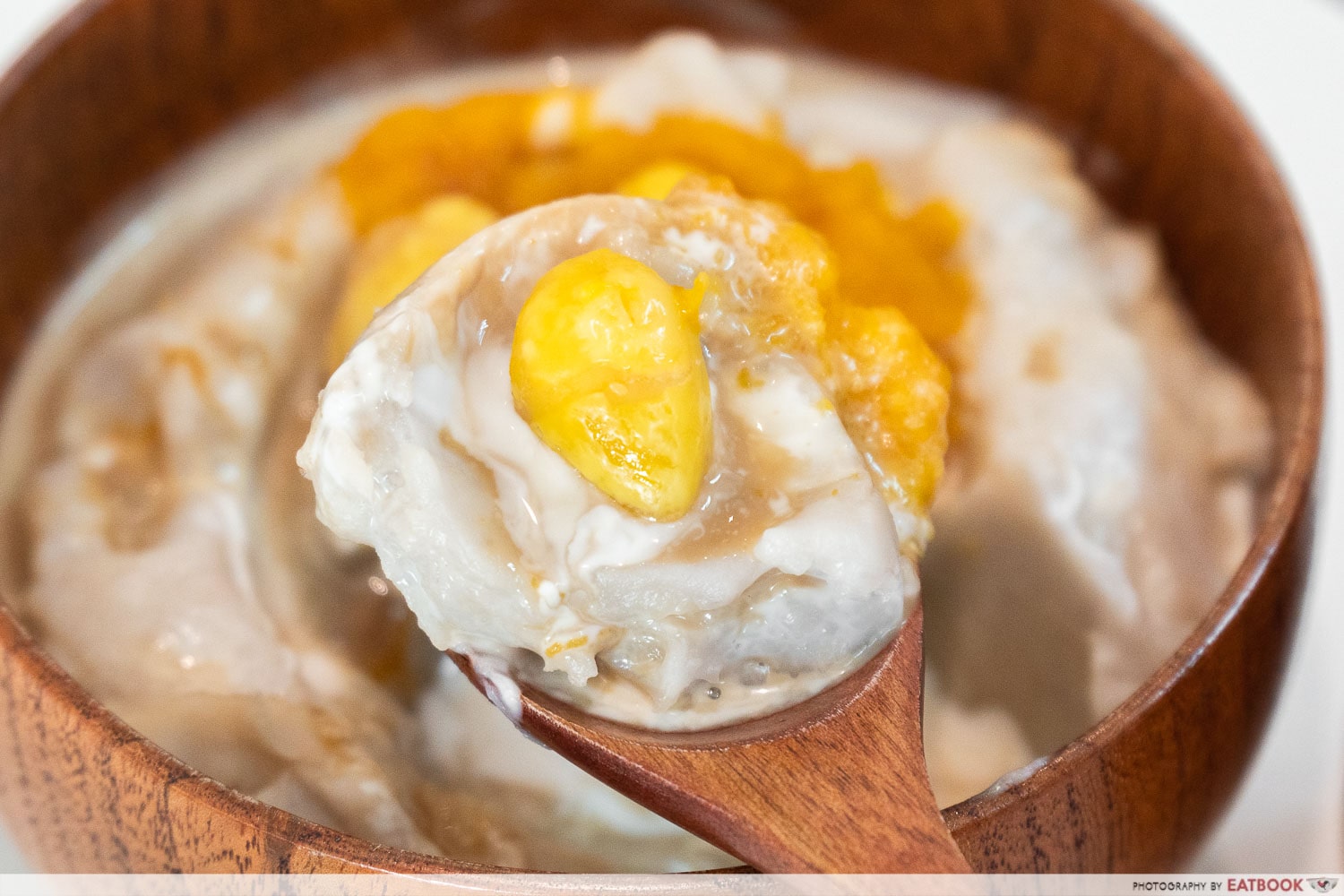 What we loved most about the Orh Nee dessert was the balance of flavours, and the texture of the yam paste. As it's made in-house, it was incredibly luscious and creamy. Texture aside, the paste itself wasn't sweet, so the gula melaka was a great addition to the dessert as it had a deep, caramelly note. 
The coconut cream, on the other hand, tied all the flavours together, and balanced out the robust palm sugar and the milder yam paste.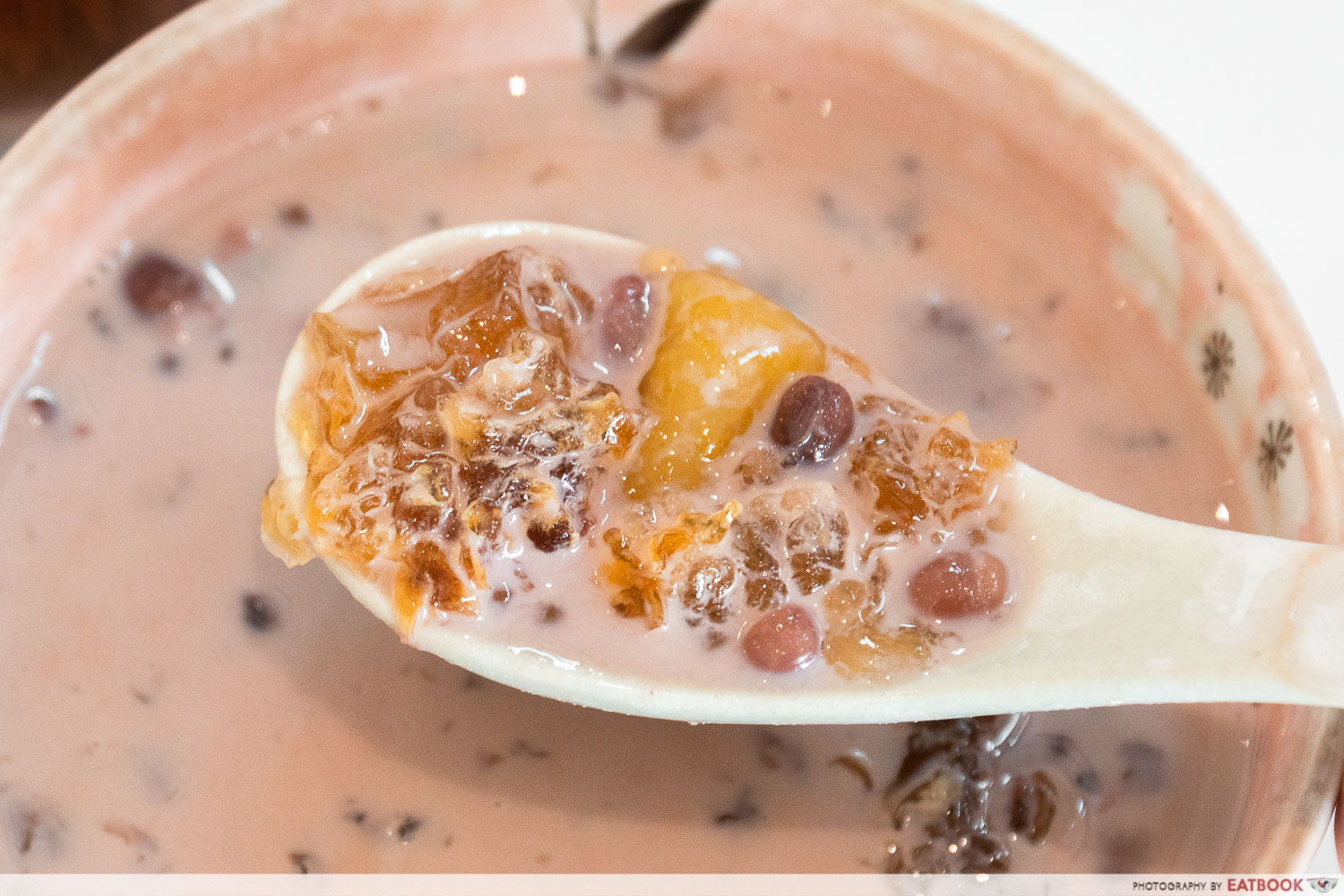 Another dessert that will warm you up is the Peach Gum Red Bean Milk ($4.30). This dessert comprises a milk base with red bean, filled with peach gum, taro, and sweet potato balls.
If you don't know what peach gum is, it's a resin found in Chinese wild peach trees typically used in traditional desserts or Chinese medicine. It has an agar-like texture, which worked as a great addition to the watery red bean base. The handmade taro and sweet potato balls were also a delight to consume as they were really soft and chewy.
Wanpo Tea Shop: Famous Taiwanese Bubble Tea Store Opens In Bugis With Mango Pomelo Sago, Taro Milk And More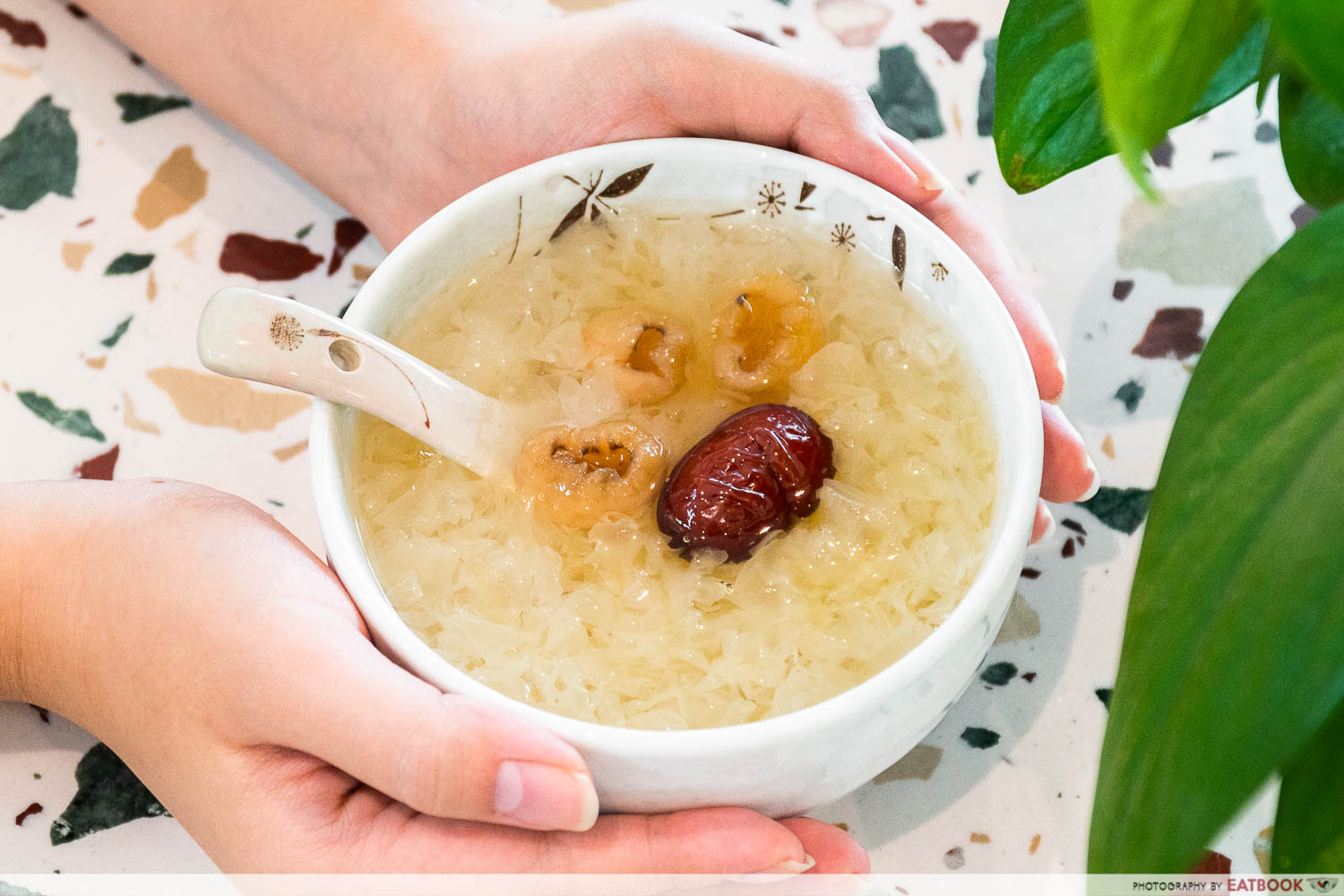 For those who prefer cold desserts, consider their best-selling Cheng Tng ($4.30) or Snow Fungus with Manuka Honey ($5.80). The latter has a thick and viscous syrupy base, with gelatinous white fungus, topped with red dates and dried longan. Expect sweet, honeyed notes. This dessert is rather clean-tasting and soothing to the throat.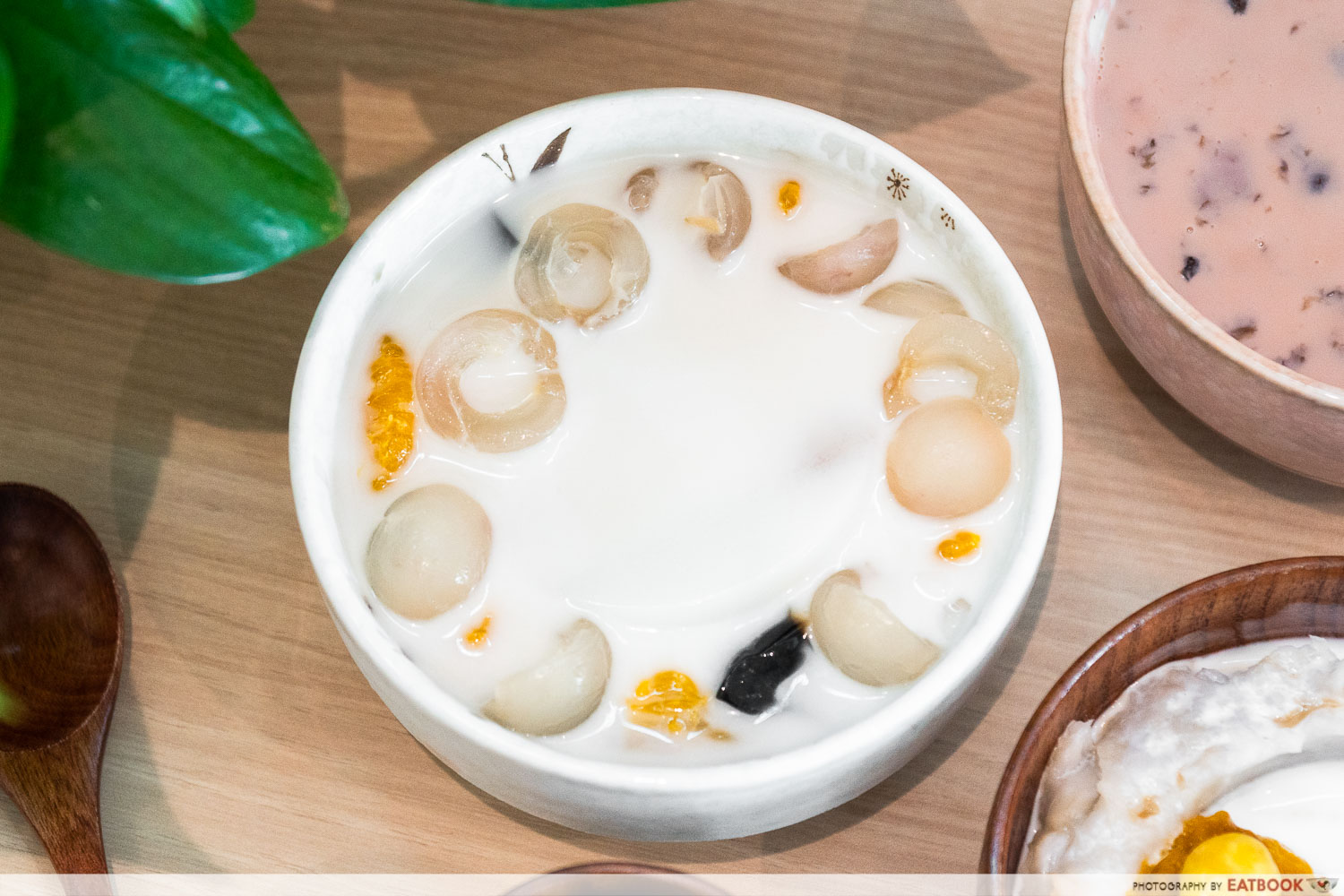 If you are feeling adventurous, we recommend the seasonal Longan Almond Jelly with Grass Jelly ($4.80). You'll get a generous bowl of almond jelly, paired with fresh longan, grass jelly, and tangerines, submerged in almond milk.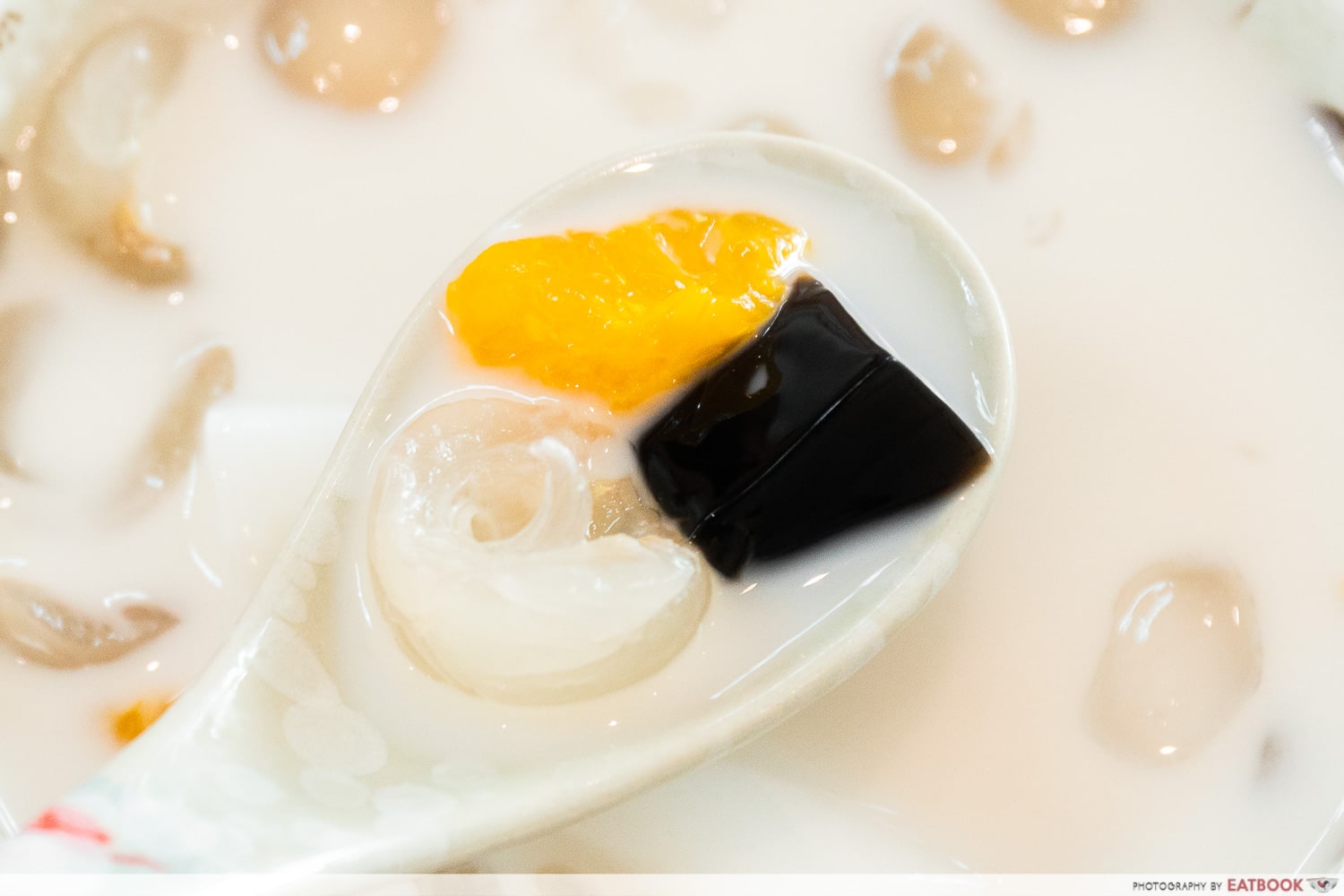 The homemade almond jelly had a texture that was somewhere between that of pudding and agar: soft but with a bite. It was a nice contrast to the crunchy longan pieces and soft tangerines. Flavour-wise, the sweet and musky undertones of the longan married well with the bitter-sweet almond base. 
Man Tang Hong also has a series of sago items, which are popular among the younger generation. There are only two fruits available—watermelon ($4.30) and rockmelon ($4.80). If you can't decide, simply get both ($4.50)! It comes with a coconut milk base with fruit balls and sago pearls.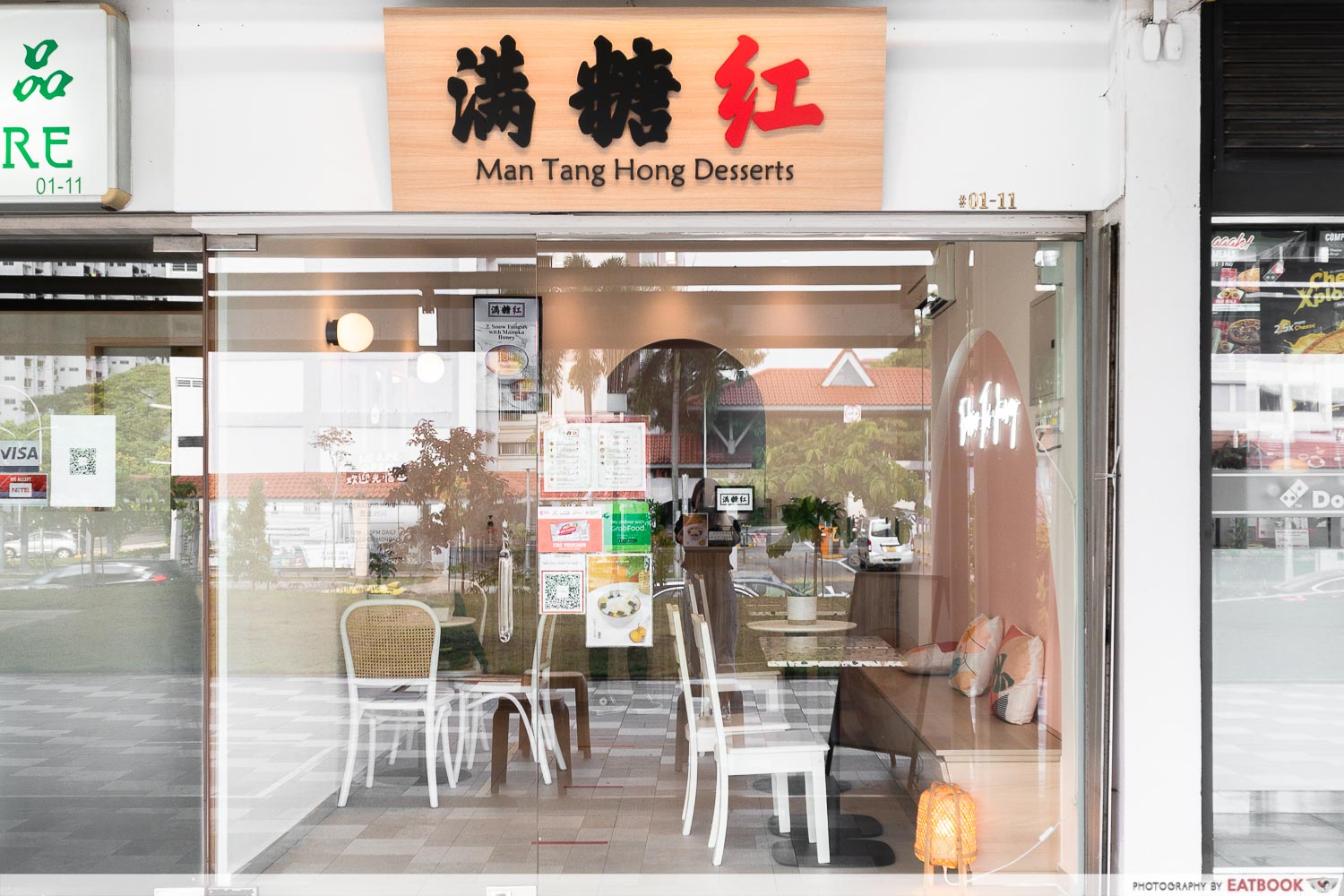 For more hidden food gems like Man Tang Hong Desserts, check out our list of neighbourhood eateries, which includes traditional confectionery, old-school snack shops and many more. Alternatively, visit the newest BBT shop in town—Wanpo Tea Store in Bugis. 
10 Hidden Gem Eateries You Never Knew Were In The Heartlands, Including UFO Floss Buns And Traditional Korean Snacks
Address: 218 Bedok North Street 1, #01-11, Singapore 460218
Opening hours: Tue-Sun 1pm to 10pm
Website
Photos taken by Lim Yu Hui.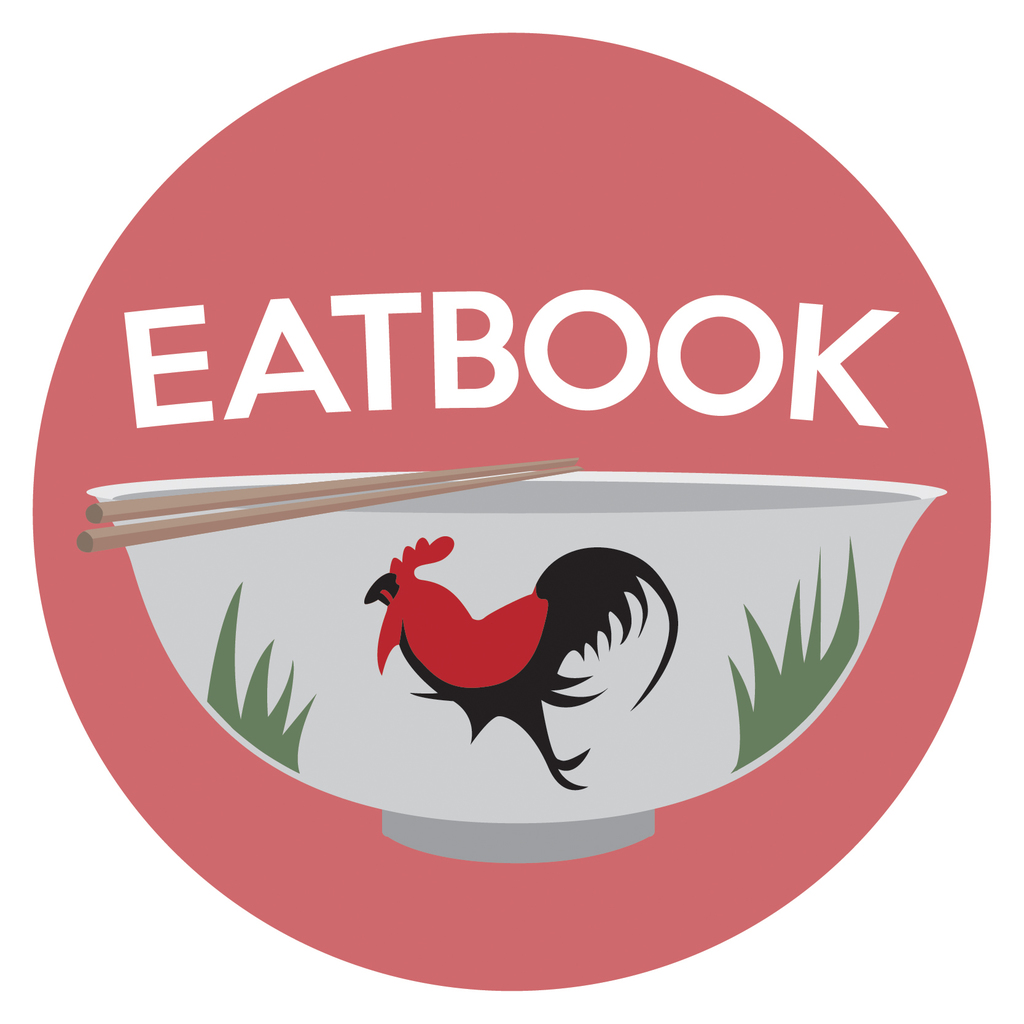 Drop us your email so you won't miss the latest news.