---
A mantou is a golden pillow of happiness

---
If happiness could be condensed into a physical form, it would probably look like a mantou. These golden pillows may look unassuming, but their crispy exterior with fluffy bread on the inside makes for an unexpectedly drool-worthy combination.
I usually have them with crab, but mantou is so good it deserves to be eaten more frequently. Here are 10 places you can get these puffs of joy that jazz up burgers, complement warm bowls of soup, and become a pasta topping you never knew you needed.
---
1. Xiao Ya Tou
---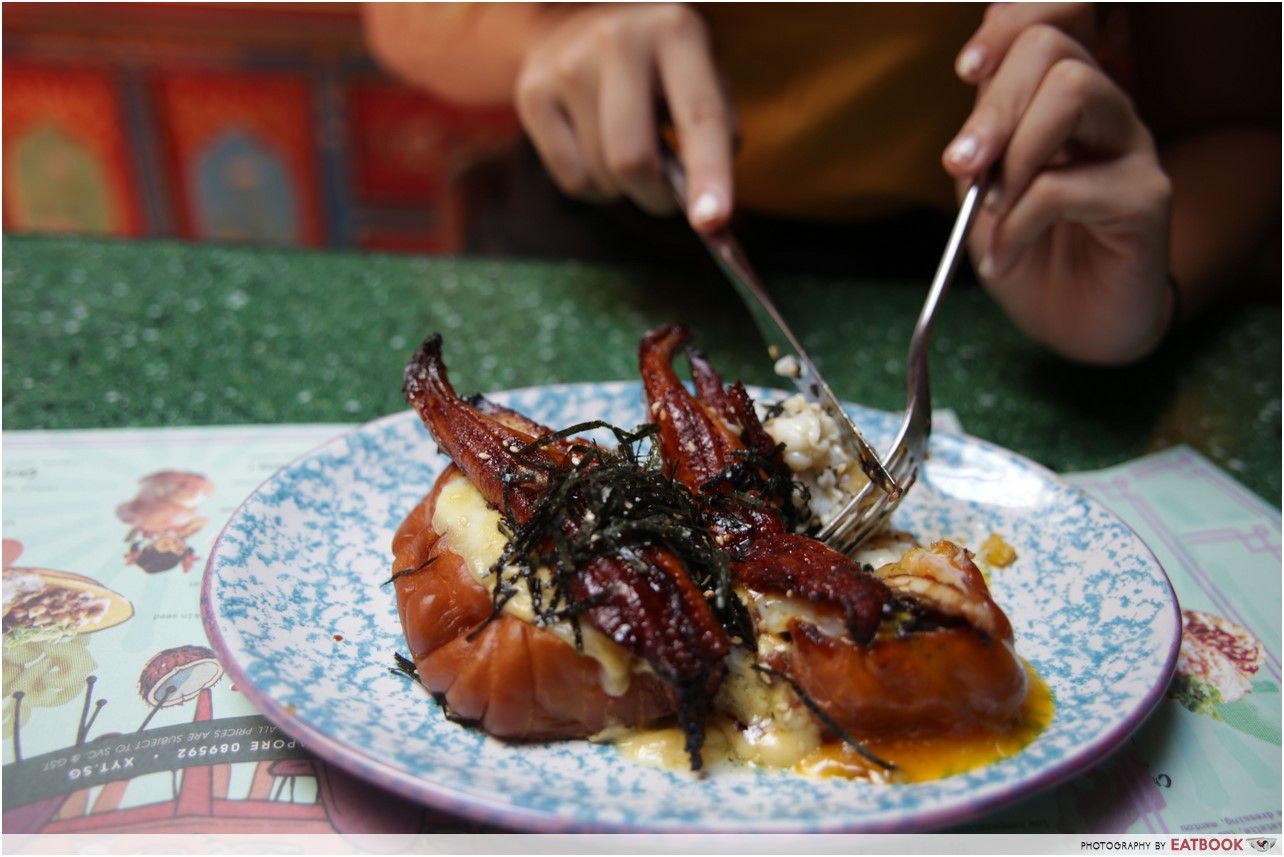 We're jumping straight into mantou madness with Xiao Ya Tou's Unagi Eggs Benedict ($23++). A golden mantou acts as the base to a mouthwatering combination of unagi, creamy yuzu hollandaise, and earthy mushroom sauce. The oozing yolk from each poached egg completes this dish. Before you pack your bags and head down, note that this is only available during brunch on weekends.
Check out our full review of Xiao Ya Tou.
Address: 6 Duxton Hill, Singapore 089592
Opening hours: Mon-Thur 10am to 11pm, Fri-Sat 10am to 12am, Sun 10am to 5pm
Tel: 6226 1965
Website | Menus
---
2. Full of Luck Club
---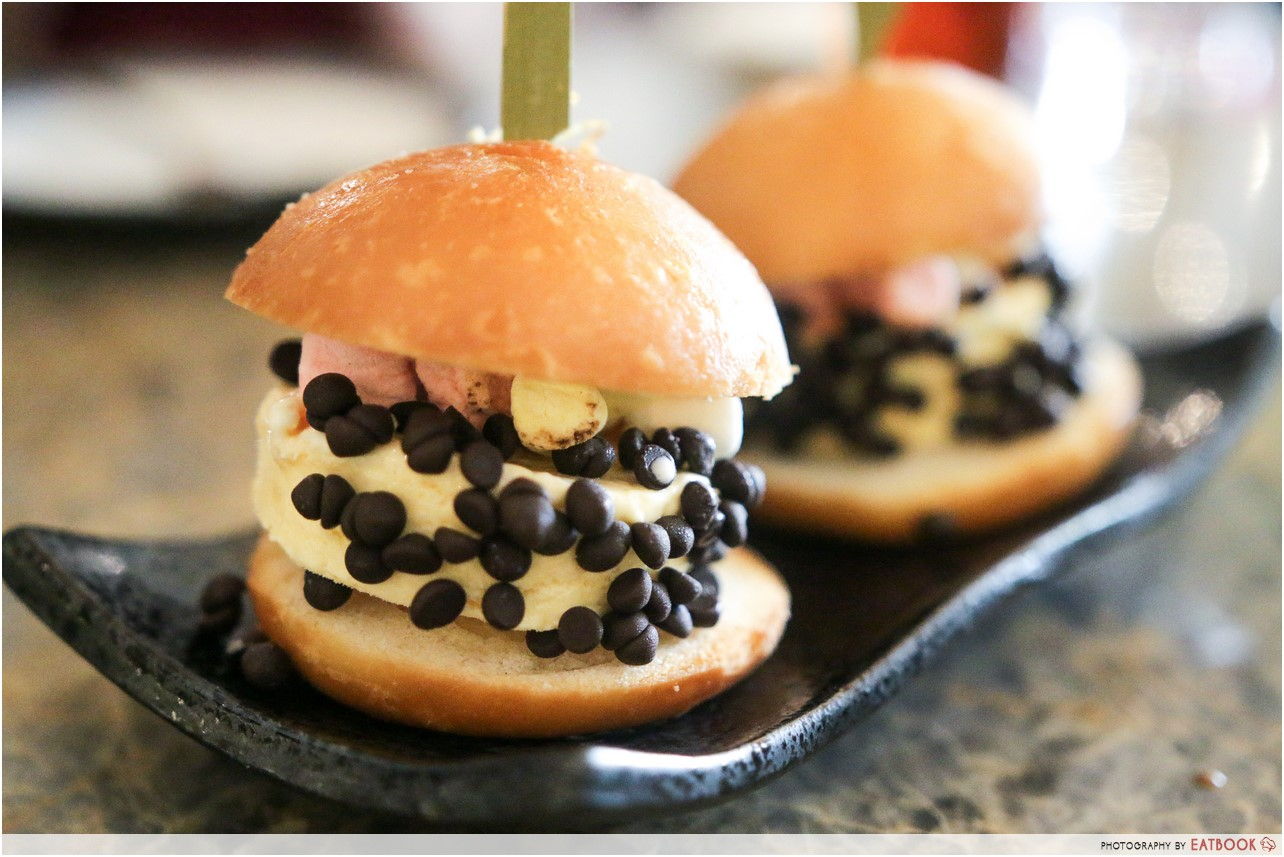 If ice-cream in a cone or cup is getting a little tame for you, try having it topped with toasted mini marshmallows, coated with chocolate chips and sandwiched in a fried mantou. Hokey-Pokey Ice-Cream Fried Bao ($6.50++) from Full Of Luck Club is not oily or greasy, instead, the honeycomb ice-cream tastes even creamier in the sturdy bao. Matcha lovers can check out their Matcha Ice-Cream Fried Bao ($6.50++), which comes with azuki bean paste.
Read our full review of Full Of Luck Club.
Address: 243 Holland Avenue, Singapore 278977
Opening hours: Daily 11am to 11pm
Tel: 6208 6845
Website
Menu
---
3. Just Dough
---
As delicious as crab is, it's a hassle to crack open shells and pull apart joints while trying to dodge any resultant splatter. Luckily, that's not the only way to quell chilli crab cravings. Just Dough makes it easy with their Chilli Crab Soup ($7.90) that comes with one plain mantou. Dunk the mantou in the soup and savour the chunks of crab meat within. Don't let the vibrant colour of the mantou fool you – they have a mildly sweet flavour that lets the soup shine.
Address: 3 Temasek Boulevard, #B1-169/170, Suntec City Convention Centre, Singapore 038983
Opening hours: Mon-Fri 7:30am to 10pm, Sat-Sun 8:30am to 10pm
Tel: 6341 9619
Website
---
4. Hyde & Co. 
---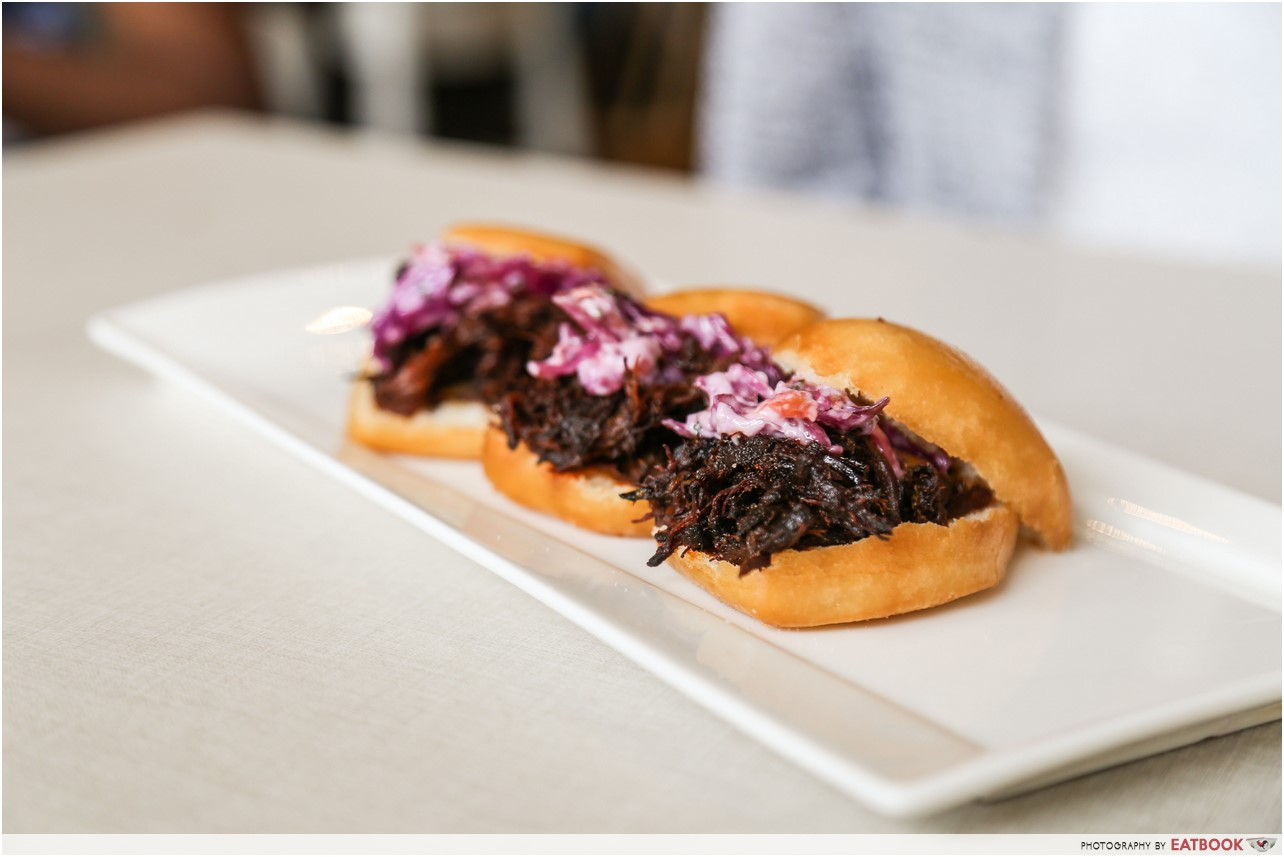 Burger buns are tasty, but even when toasted they pale in comparison to golden fried mantou that act as a vessel to slow-cooked beef brisket and creamy slaw in these Pulled Beef Man Tou ($8 for three pieces, $14 for five pieces). This is Hyde & Co.'s spin on sliders, which manage to strike a good balance between smoky, tender beef and crisp coleslaw.
Read our full review of Hyde & Co..
Address: 785 North Bridge Road, Singapore 198753
Opening hours: Mon 12pm to 6pm, Wed-Fri 12pm to 10pm, Sat 11am to 10pm, Sun 11am to 6pm
Tel: 6635 5785
Website | Menus
---
5. Bao Makers

---
While most of us are familiar with kong bak bao (braised pork buns), Bao Makers proves that a lot of other food taste better in a bao. Go for Salted Egg Fried Chicken Bao ($5.80), which has black sesame mantou that adds a little extra fragrance to thick salted egg yolk sauce. For a chilli crab experience without the fuss, get Chilli Crab Bao ($5.80) – just look at how much crab meat is sandwiched between a fried mantou! There's a minimum order of two bao, and other interesting flavours such as satay chicken are available as well.  
Address: 4 Jiak Chuan Road, Singapore 089261
Opening hours: Tue-Fri 12pm to 3:30pm, 6pm to 10pm, Sat 12pm to 5pm, 6pm to 11pm, Sun 12pm to 5pm
Tel: 6291 2330
Website
---
6. Drury Lane
---
Instead of English muffin, each Salted Egg Yolk Benedict ($17) at Drury Lane comes on soft steamed mantou. Also, in place of regular suspects like smoked salmon are succulent grilled tiger prawns. A hefty serving of salted egg yolk sauce is spooned over poached eggs to complete this indulgent brunch dish.
Address: 94 Tanjong Pagar Road, Singapore 088515
Opening hours: Mon-Tue 8am to 6pm, Wed-Fri 8am to 9pm, Sat-Sun 9am to 6pm
Tel: 6222 6698
Website
---
7. Habitat Coffee

---
I know what you're thinking, "Chilli crab again?!" #sorrynotsorry. We can't escape it, mantou is meant to be dunked in the classic sweet, spicy, and eggy sauce. The thick chilli crab pasta sauce in Chilli Crab Linguine ($17) at Habitat Coffee has the right balance of spiciness, sweetness, and savouriness. The pasta sauce is loaded with chunks of fresh crab and goes perfectly with the handful of fluffy mantou laid on top of it.
Address: 223 Upper Thomson Road, Singapore 574355
Opening hours: Tue-Sun 10am to 10pm
Tel: 6456 2567
Website
Menu
---
8. Corner Burger

---
Corner Burger's Crispy Fried Man Tou ($3 for six pieces) lets these buns take centre stage, serving these simple treats with condensed milk dip and homemade gula melaka dip. No complex flavours here, just savour each mantou in its glorious crunchy shell and sink your teeth into the soft bread. Enjoy them between sips of steaming kopi and you'll be all set to start the day.
Address: 228 East Coast Road, Singapore 428925
Opening hours: Tue-Sun 8am to 3pm, 5:30pm to 9pm
Crispy Fried Man Tou is on the breakfast menu, which is served from 8am to 11:30am from Tuesday to Friday and 9am to 5pm on weekends.
Tel: 9827 4562
Website
---
9. Lepark
---
Lepark's SEY (Salted Egg Yolk) Crab & Cake Slider ($14) takes a couple of plain ol' mantou buns from 0 to 100. Light batter coating the soft shell crabs make them airy and crunchy. They're slathered in salted egg yolk sauce and wedged in a steamed bun. Each bun is then topped with a crab cake, which is made from shredded crab meat and carrots.  
Address: 1 Park Road, Level 6, People's Park Complex, Singapore 059108
Opening hours: Tue-Thur 4pm to 11pm, Fri 4pm to 12am, Sat 12pm to 12am, Sun 12pm to 11pm
Tel: 6908 5809
Website | Menu
---
10. Wanna Cuppa
---
Having three burgers in one sitting becomes socially acceptable when you have mantou as burger buns. Wanna Cuppa's Man Tou Trio Sliders ($21.90) features a wagyu beef slider, a chicken slider, and a soft shell crab slider so you won't get bored midway through your meal. More reason to visit: Wanna Cuppa is beautifully decorated and makes a lovely and quiet spot to while away an afternoon.
Address: 15 New Bridge Road, Singapore 059385
Operating hours: Mon-Thur 8:30am to 10pm, Fri 8:30am to 12am, Sat 10am to 12am, Sun 10am to 6pm
Tel: 6816 2494
Website
Menu
---
Man, you tou-tally need to try these
---
A mantou goes great with sweet crab meat, but with these other options you can enjoy them any day without the fuss. Let us know your favourite places for a mantou fix in the comments below!