New goodies from Meadows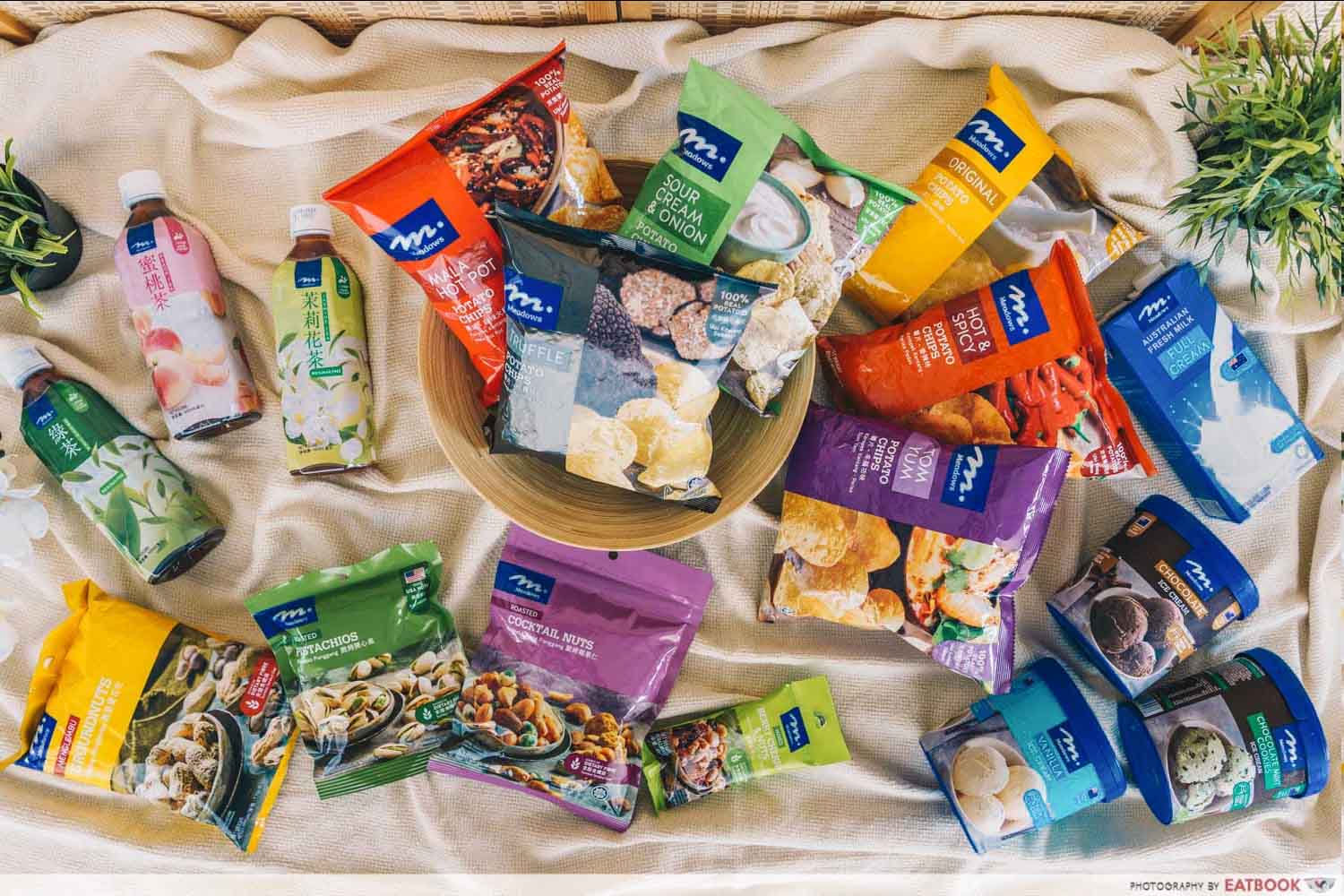 I confess: it is impossible for me to resist the temptation of a tasty savoury snack, especially if it's both cheap and good. So when I heard that Meadows now offers cheap atas snacks including $1 truffle chips, I knew it was my chance to up my snack game.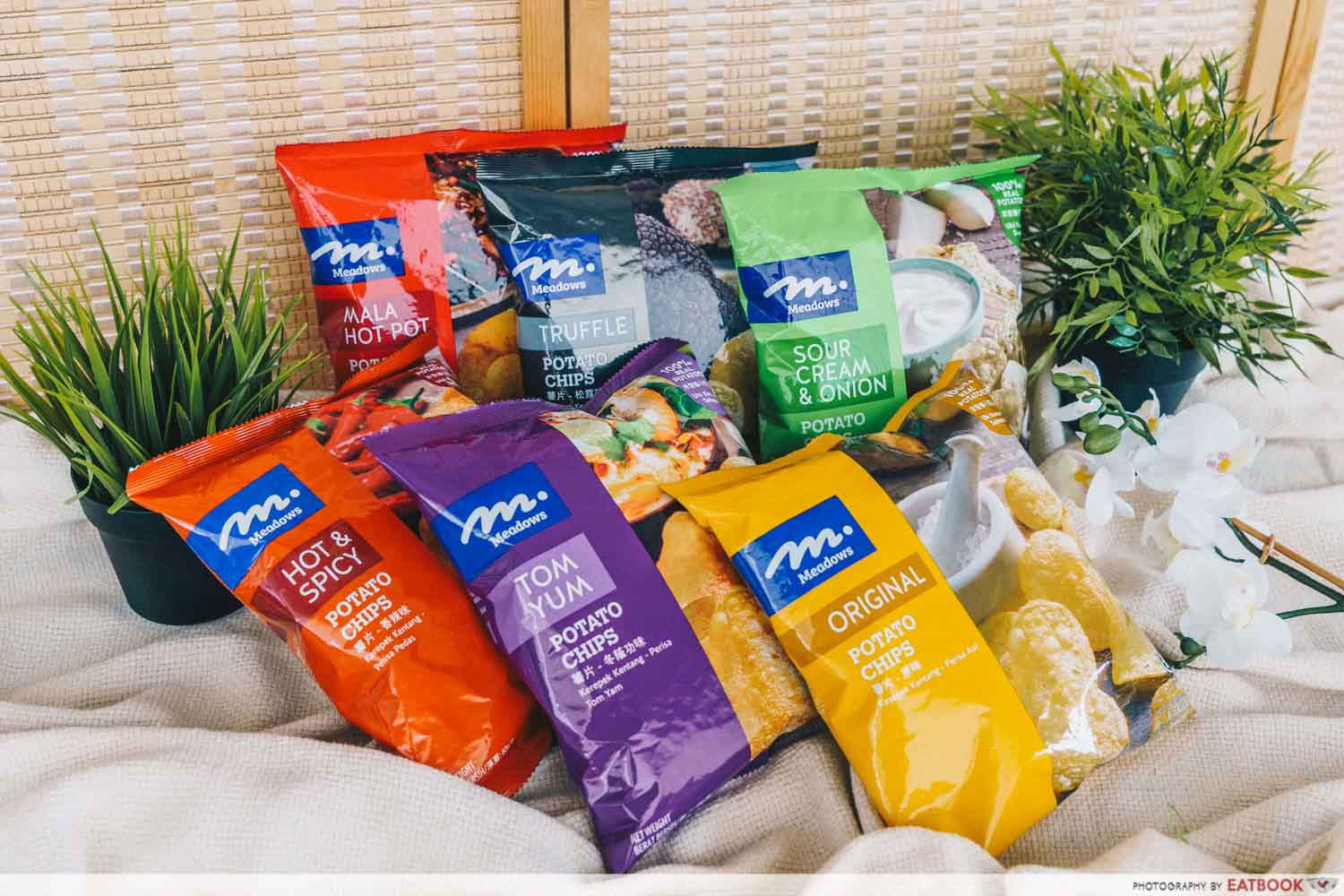 Quality and affordability don't always go hand in hand. However, Meadows' new series of chips threatens to defy that belief by offering cheap chips made from real potatoes in flavours such as truffle and ma la.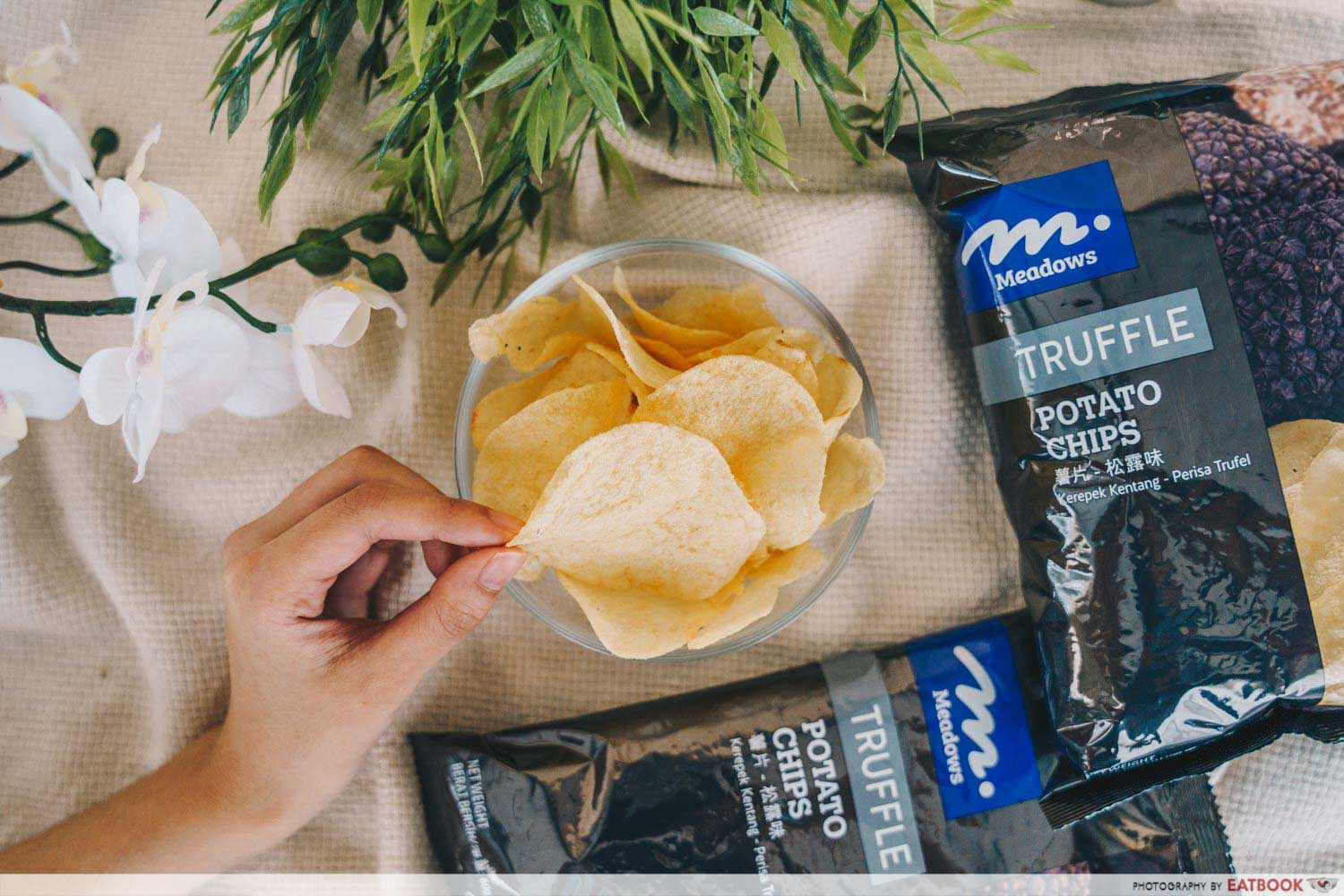 Anyone who has sought out some fancy truffle chips will know that they aren't the most wallet-friendly, and often run more than $5 a pack. So when I got my hands on some Meadows Truffle Potato Chips, I was surprised to find out that a pack of this gourmet pick-me-up was only $1. The savoury chips gave the distinct flavour of truffle we all know and love, going above that of their pricier counterparts.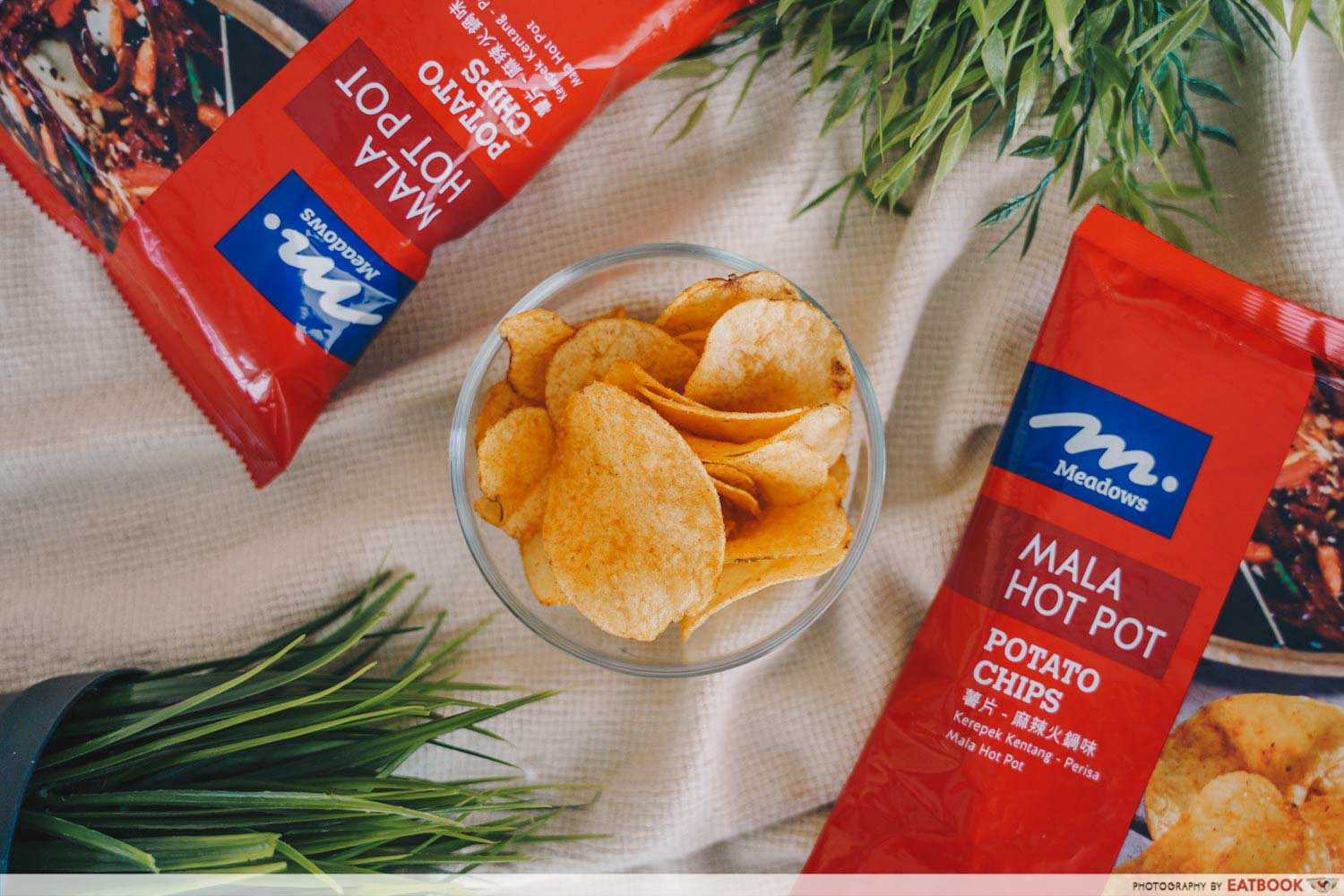 Ma la is another crowd-pleasing flavour Singaporeans are familiar with. Ma la snacks may have flooded our feeds last year, but this doesn't mean that the love for ma la has faded in any way. For ma la fans who appreciate some heat in their snacks, Meadows offers their Mala Hot Pot Potato Chips at $1 as well. While their chips aren't as spicy as regular ma la would be, they are brimming with the piquant flavour of Sichuan peppercorns to satisfy any late-night ma la cravings.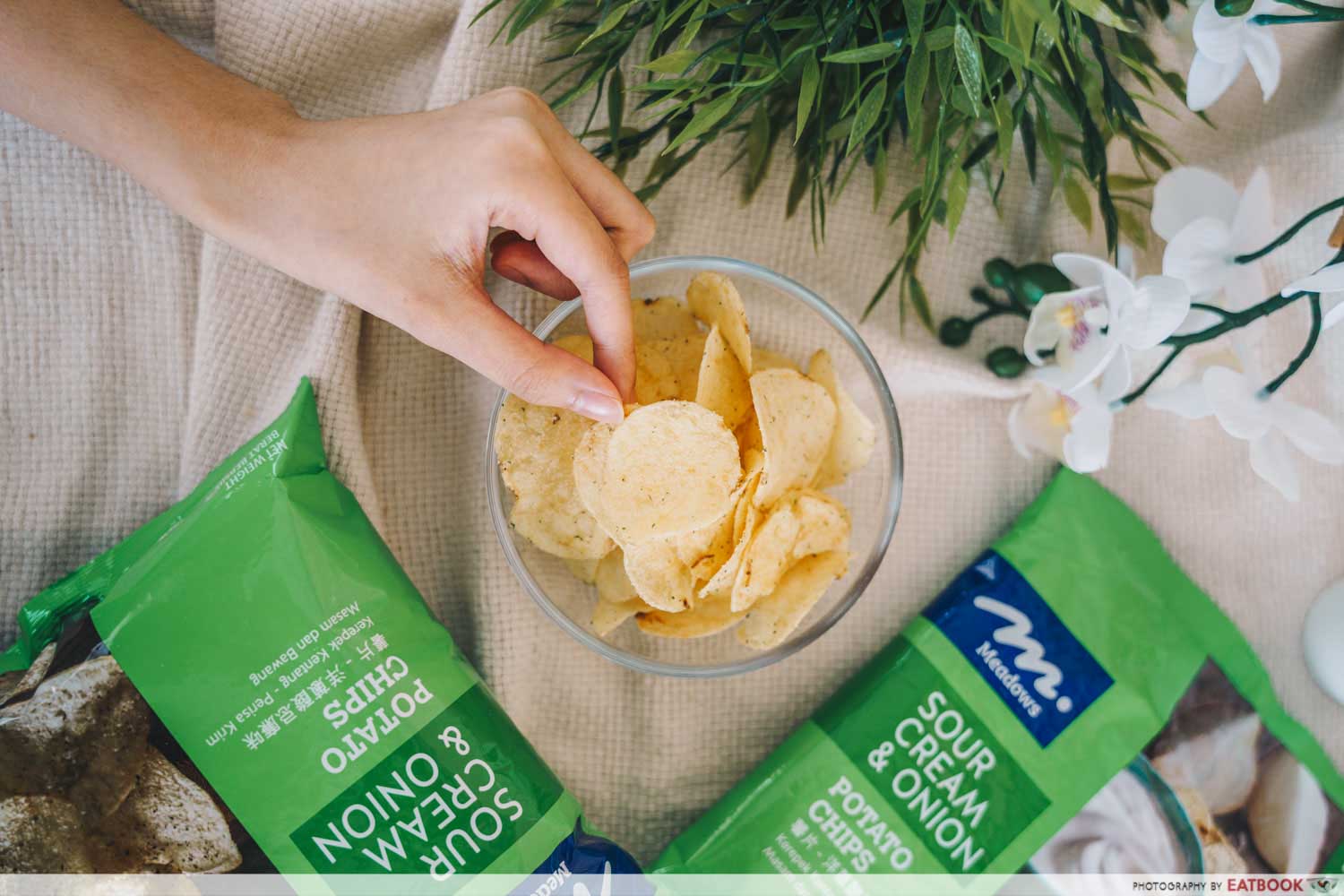 Sour cream and onion is my go-to chip flavour. Lucky for me, Meadows also has Sour Cream & Onion Potato Chips on their list of $1 snacks. Featuring sweetness from the onion and the tanginess from the sour cream, the chips are well-seasoned and crispy, satisfyingly crunchy with each bite.
Those seeking spicier chips can also look forward to the Tom Yum Potato Chips ($1) and the Hot & Spicy Potato Chips ($1). If a good plain snack is enough to satiate those chip cravings, Original Potato Chips ($1) are available too.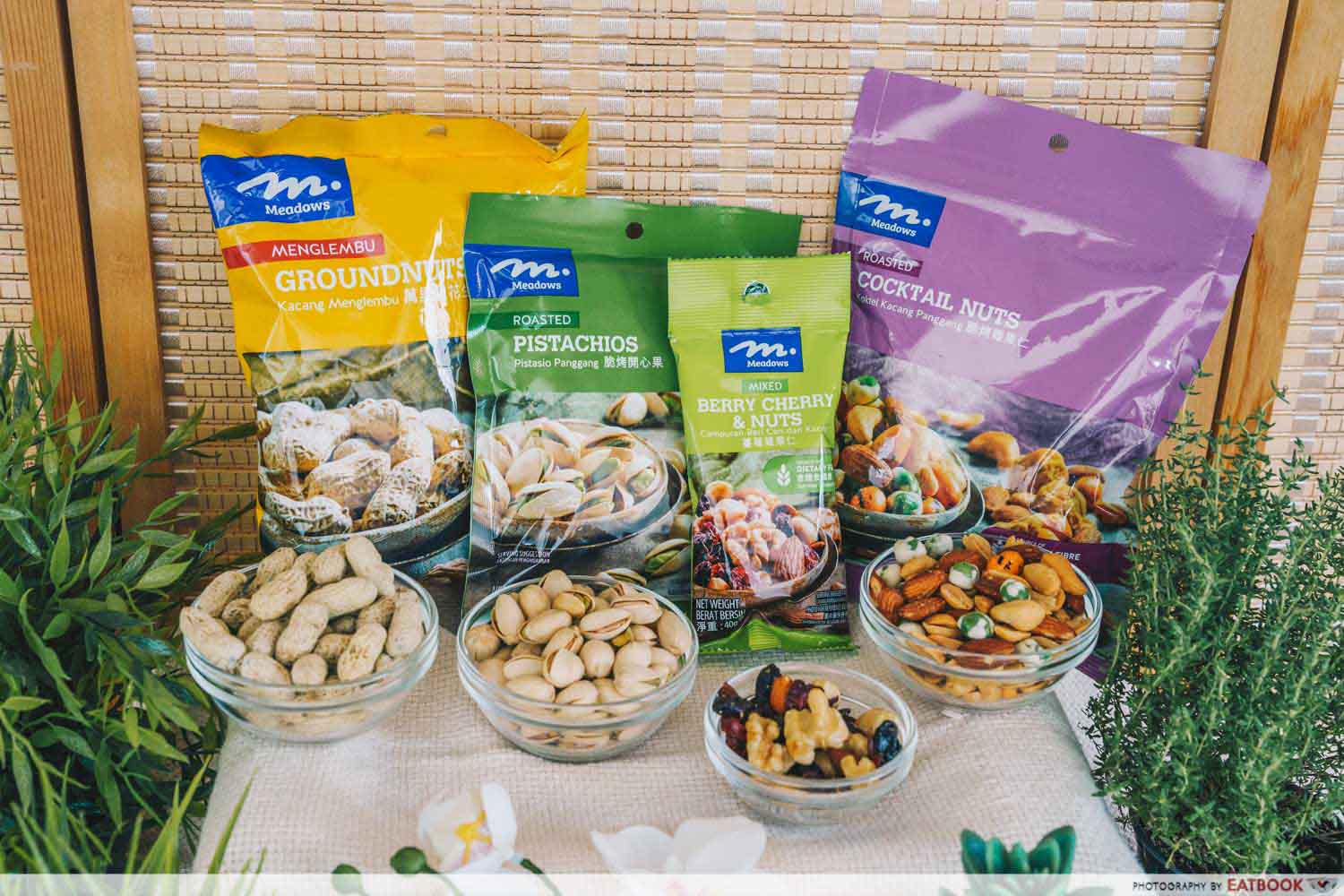 If chips aren't your go-to snacks, Meadows provides a healthier alternative of fibre-rich nuts too. Always chosen with care, their series of nuts are not only MSG-free but also baked for a deeper flavour.
Meadows features a wide variety of different affordable nuts for snacking, including Roasted Cashews ($4 per 150g), Roasted Pistachios ($3.50 per 100g), and Menglembu Groundnuts ($1.35 per 120g). These inexpensive little packets make perfect little bites to nibble on as you snuggle up to watch the latest episode of your favourite drama.
If you can't decide on just one, Meadows also has Cocktail Nuts ($2.65 per 150g) up for grabs. You can get the Berry Cherry & Nuts Mix ($1.75 per 40g) to satisfy your sweet and savoury cravings in a single snack too.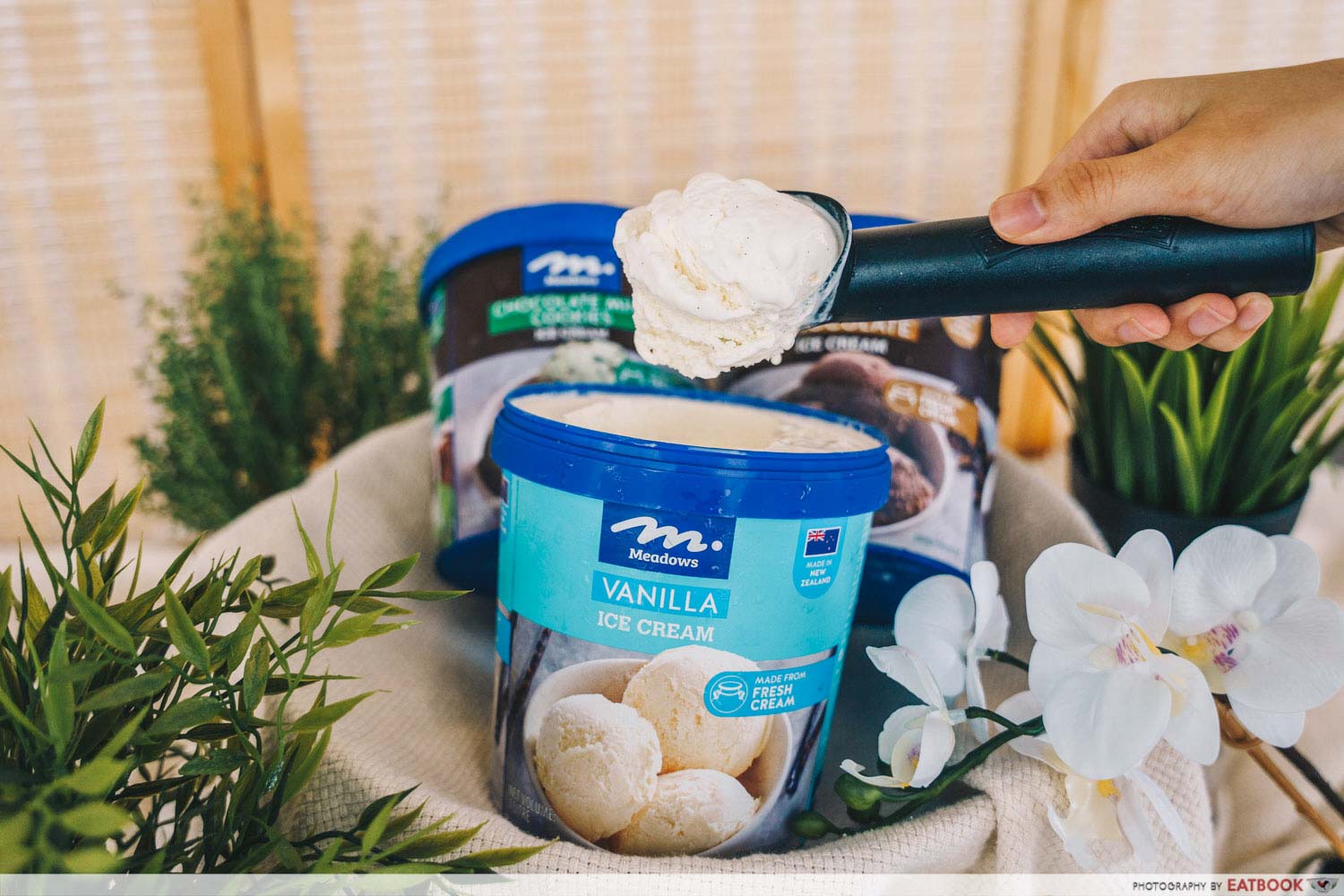 In Singapore's humid and stifling weather, nothing beats a tub of ice cream. For that, Meadows also has their own series of ice cream that come in multiple flavours. For just $8.95, you get a one-litre tub of ice cream made of fresh, rich, and flavoursome cream sourced from New Zealand.
Expect milky and creamy goodness from their Vanilla Ice Cream. If vanilla is not your thing, the indulgent Chocolate Ice Cream is also available. Apart from the duo, Meadows also has the Chocolate Mint Cookies Ice Cream up for grabs so mint chocolate fans aren't left out.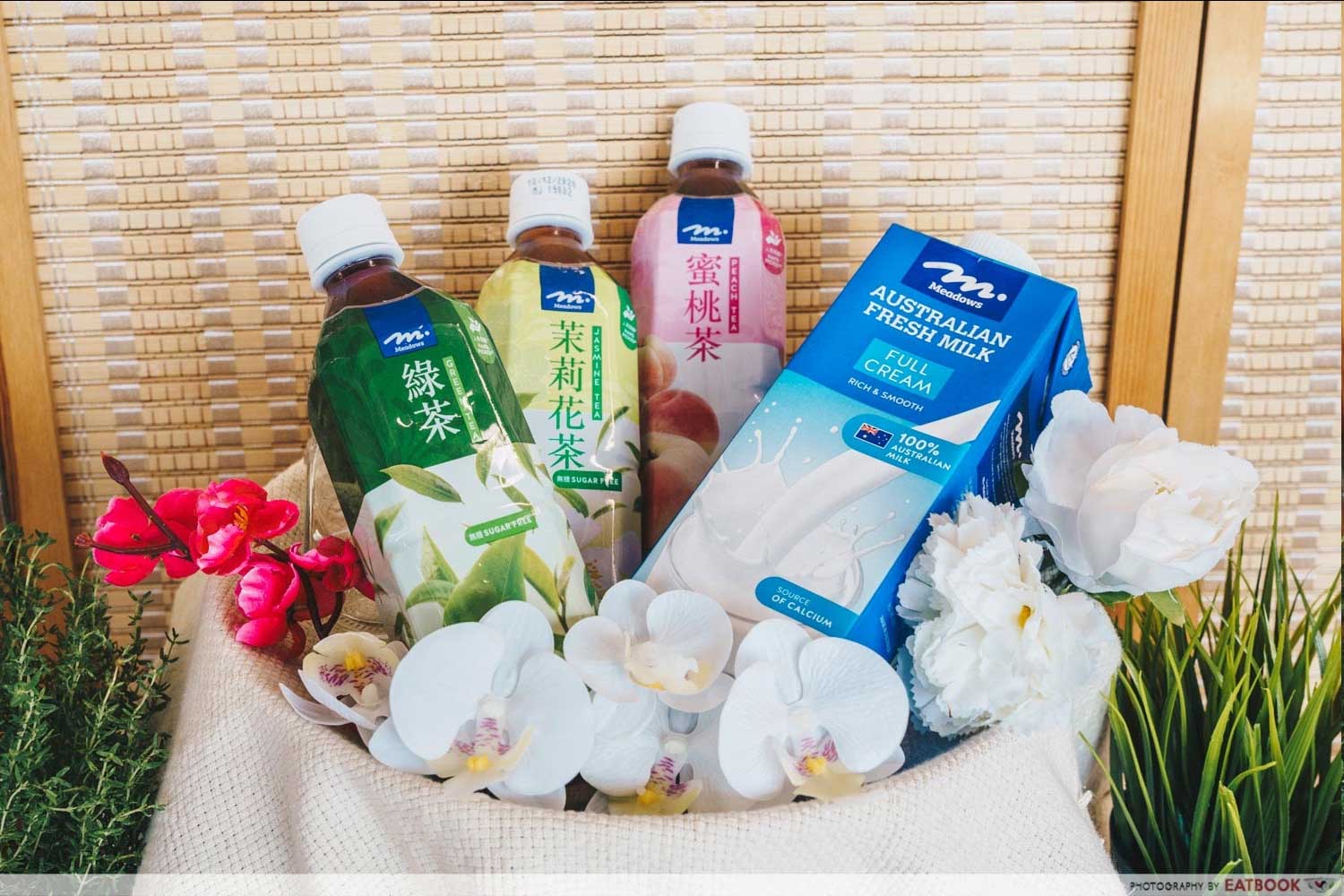 Already boasting a huge range of different snacks, Meadows further boosts their list of products with a range of beverages. Satisfy your daily calcium intake with Meadows Fresh Full Cream Milk 1L ($2.50) sourced from Australia. Despite being creamy and rich, Meadows' full cream milk remains light and smooth.
If dairy beverages aren't for you, Meadows also has a series of ready-to-drink teas made from handpicked tea leaves for premium quality. I was delighted to find that even with their high standards, these bottles of tea are priced at only $1. For a sweet beverage option, you can try the fruity Peach Tea. Sugar-free options available include Oolong Tea, Green Tea and aromatic Jasmine Tea, handpicked to ensure its good quality.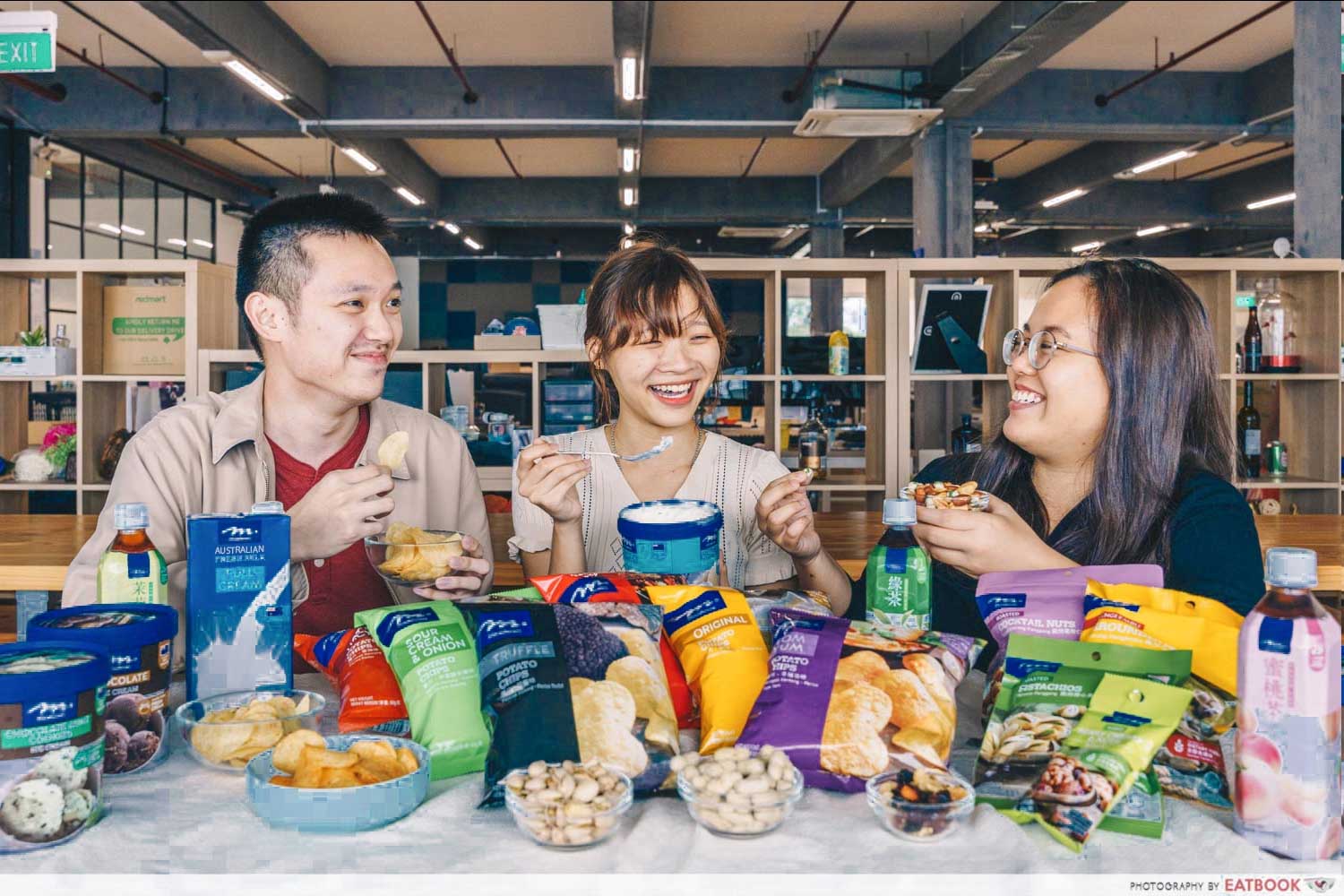 Meadows' determination to ensure quality in their ingredients without compromising affordability really impressed me and I'll definitely be including their truffle chips in my next grocery shopping list. If you're interested in trying Meadows' cheap and quality selection, you can now get them at Cold Storage and Giant. Selected nuts are available at Guardian, whereas selected chips and nuts are available at 7-Eleven outlets.
Photos taken by John Lery Villanueva.
This post is brought to you by Meadows.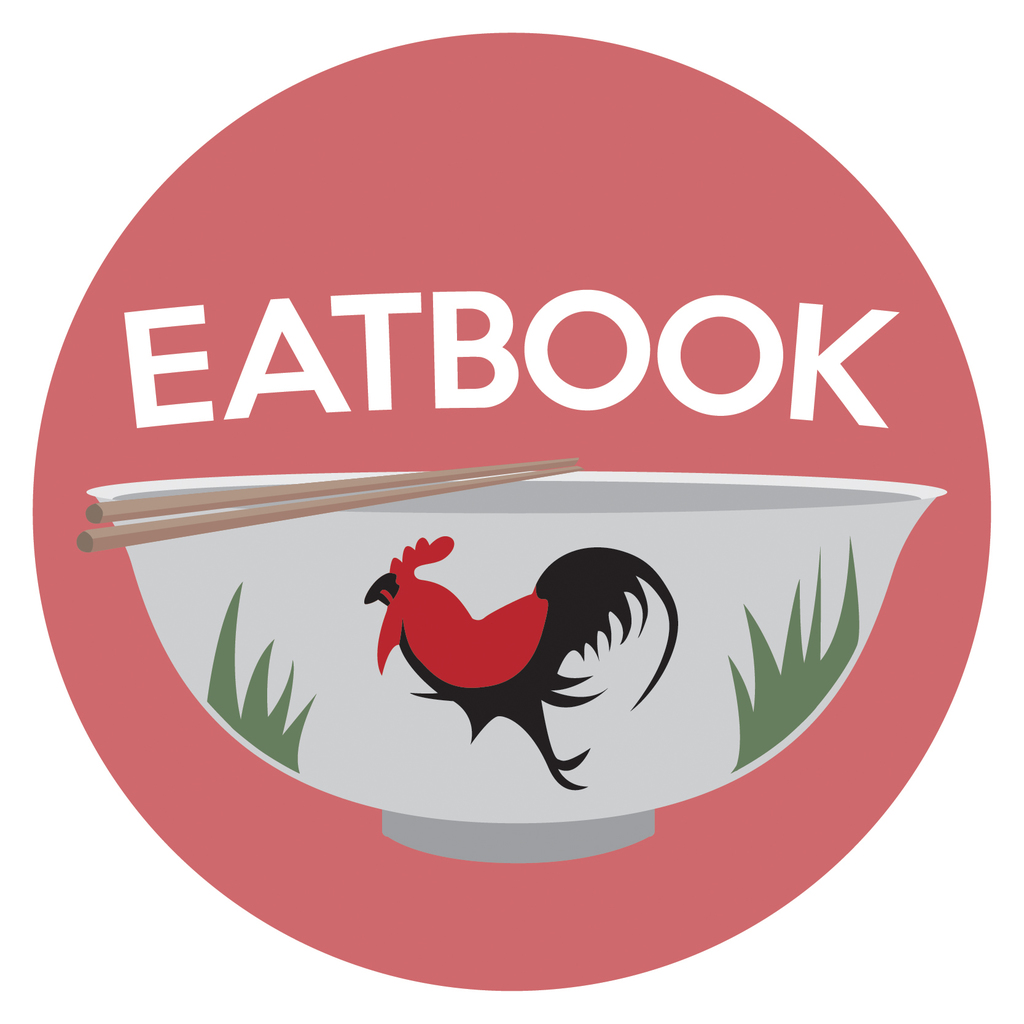 Drop us your email so you won't miss the latest news.