Meet 4 Meat in Katong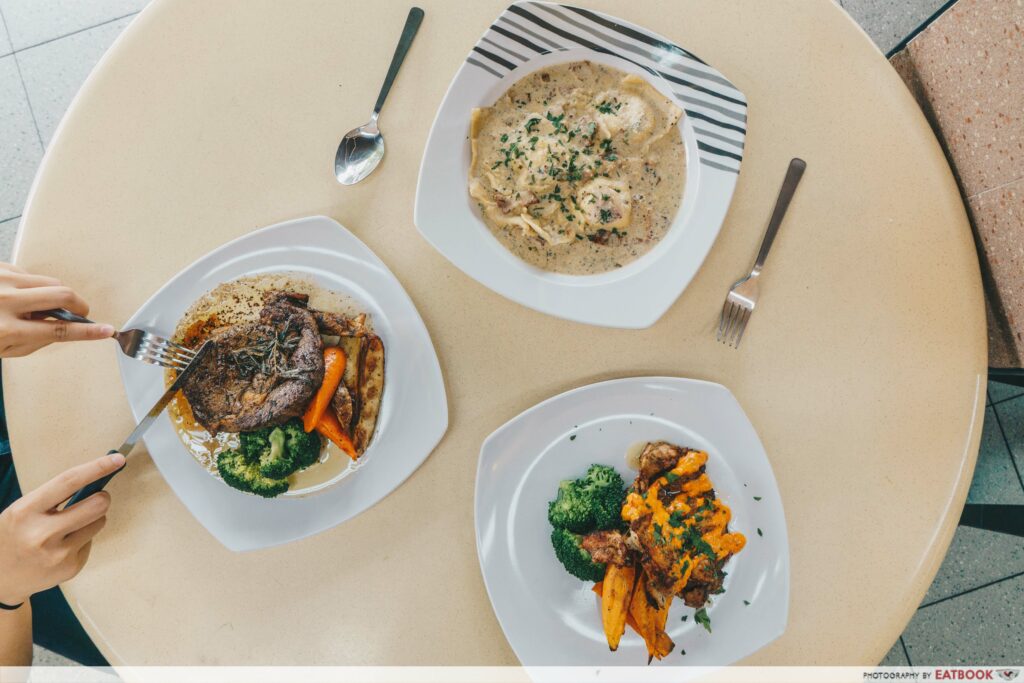 Living paycheck-to-paycheck has denied me the luxury of eating at good steakhouses like Bedrock Bar & Grill and CUT by Wolfgang Puck.  This has always made me a little sad, because I could never spoil myself and indulge in a good piece of steak. That was until I came across Meet 4 Meat. This three-week-old stall is opened by former Wooloomooloo chef, Jimmy Teo, who serves up high quality steaks at friendly, hawker prices.
Food at Meet 4 Meat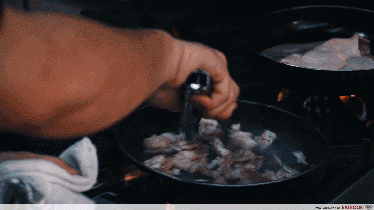 My colleague and I watched in awe as Chef Jimmy effortlessly prepared our three dishes – Jimmy's Carbonara ($9), Buttered Chicken Chop ($8), and 100% Aussie Ribeye ($16) –  all at once. The theatrics involved was indeed a captivating sight.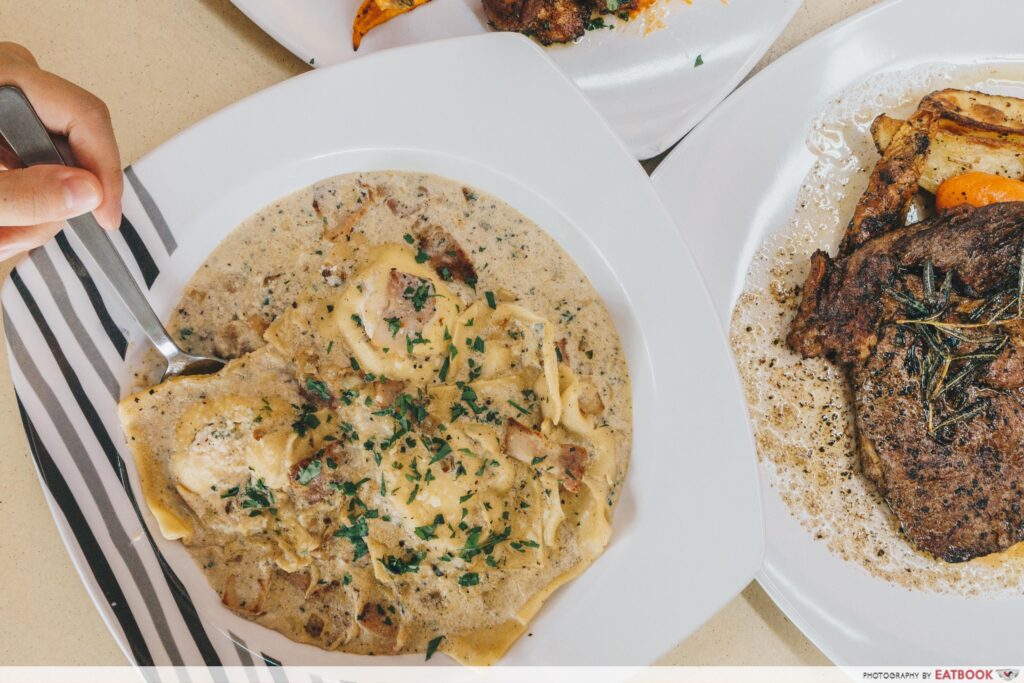 The decision between fettuccine and cheese ravioli wasn't much of a feat. I easily chose cheese ravioli in hopes that it would complement the creamy sauce – and it did!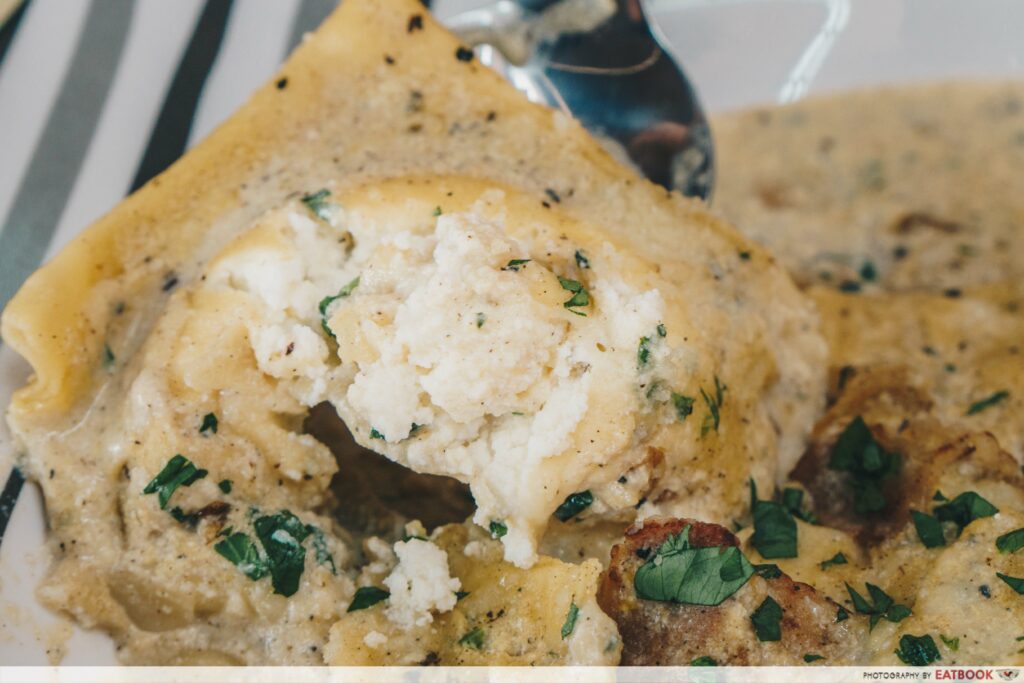 Coated with a rich gravy, the al dente dumplings revealed a mixture of ricotta and parmesan cheese, which created a balanced flavour in each bite. Generously speckled with bacon, the salty nuances of the cured pork made the dish not jelak.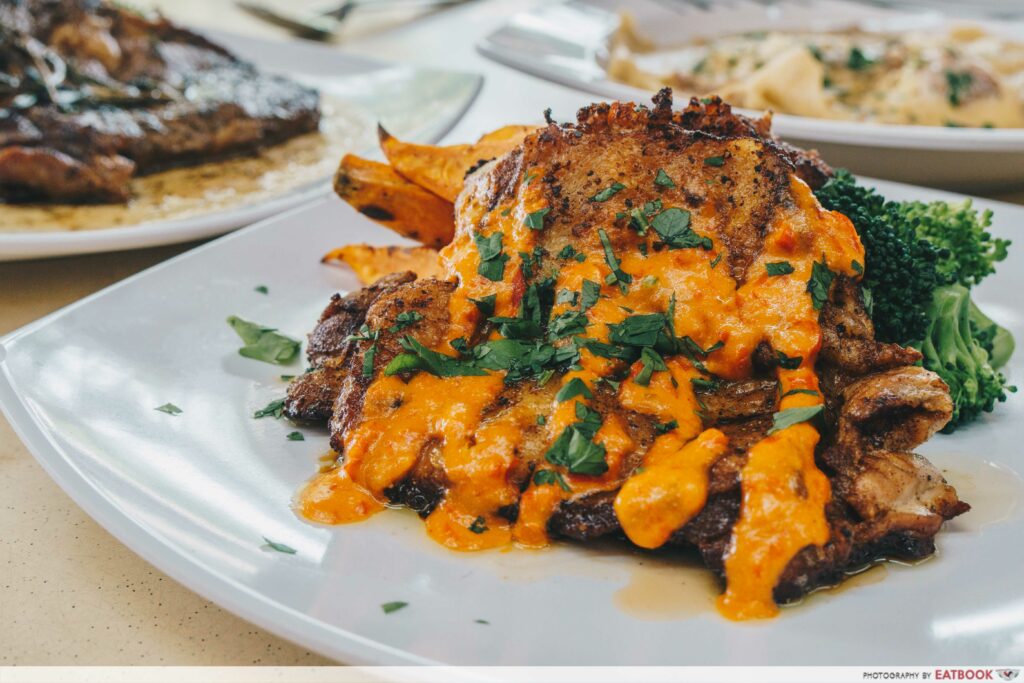 Drizzled in their house-made capsicum pesto sauce, Meet 4 Meat's Buttered Chicken Chop came with a side of herb roasted potatoes, carrots, and broccoli, which were well seasoned but not soft enough for me. These sides were the same ones that came with our steak.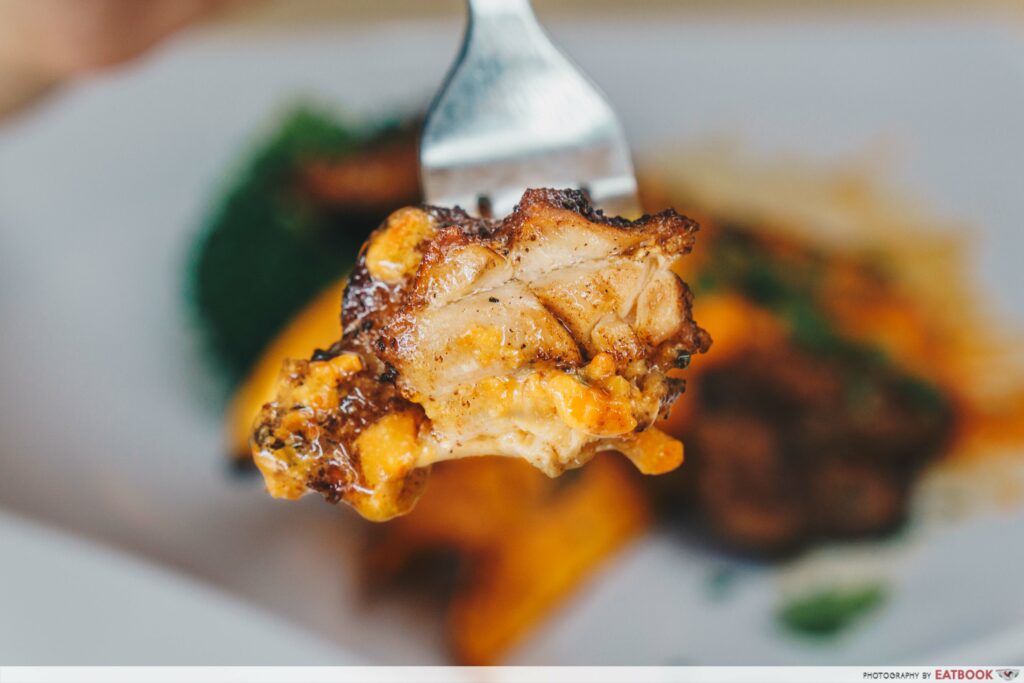 Chicken chop is a dish I usually wouldn't order at a Western food stall, but this dish blew me away. As I popped a piece of chicken into my mouth, I was shook at how tender and moist it was. Slightly charred on its ends, there was a slight smokiness that lingered at the back of my throat. Plus, the sweet and refreshing sauce uplifted the flavour of the butter poached chicken.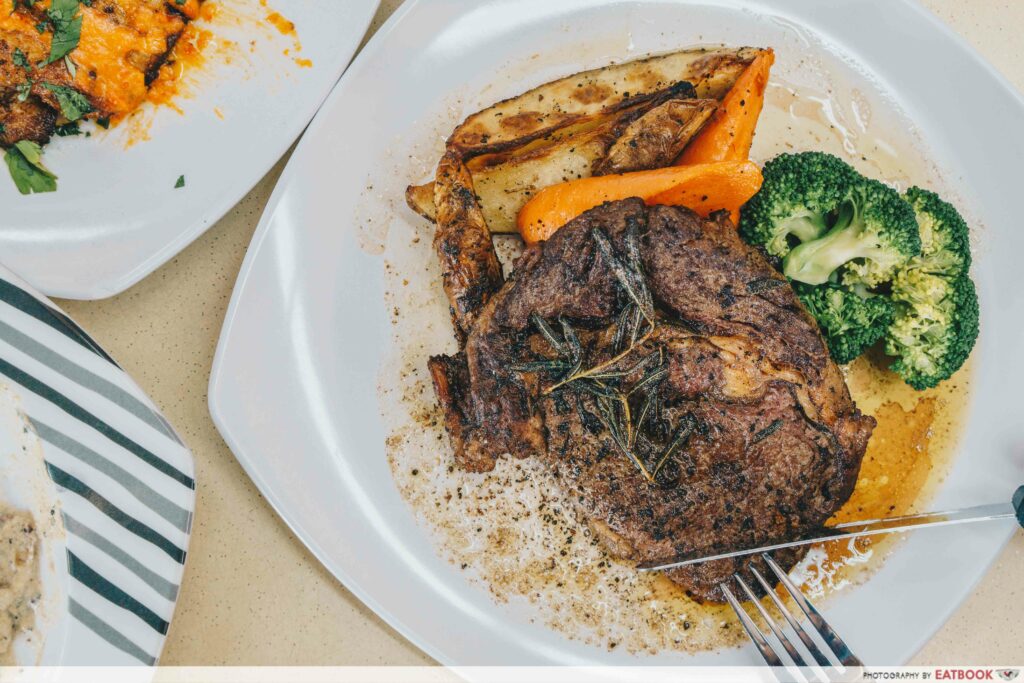 I was not about to leave Meet 4 Meat without trying their steak. I had my eyes glued on Chef Jimmy, as he skillfully butter poached the slab of beef by swirling it in melted butter. My stomach grumbled by the tantalising aroma of the dish.
My knife was met with little resistance as it slid through the piece of meat. It was as though I was carving butter. Flavoured with thyme and rosemary, the steak was also well-rested, which meant that all the juices were locked in. Let's just say my plate was wiped clean and I was savouring every bite of this beefy goodness.
Ambience at Meet 4 Meat

In hopes to make high end restaurant dishes affordable for more people, chef Jimmy gave up jobs in reputable restaurants to set up this stall with his friend, chef Gerald. While chef Jimmy is the main chef, chef Gerald manages the rest of the business and helps with the cooking occasionally. The chefs also mentioned that after business picks up, they will be offering charcoal grilled meat!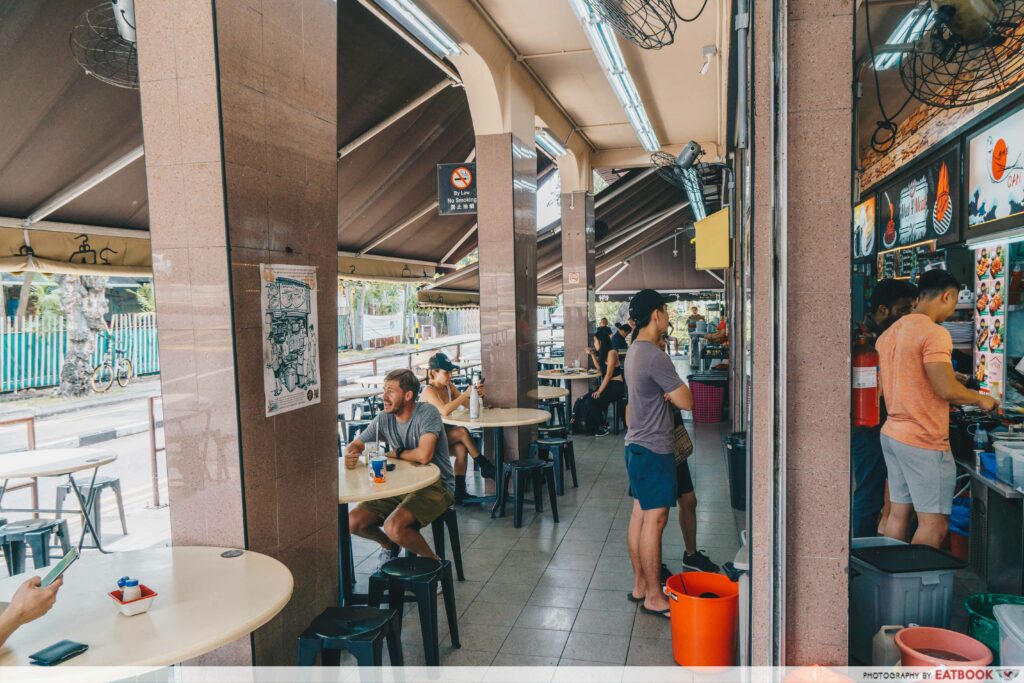 Hidden in one of the coffee shops along East Coast Road, this three-week-old stall is still a pretty hidden gem, which means faster service and you get a chance to know the chefs better. Many seats were available, even during lunch time, so you don't have to worry about finding a seat!
The verdict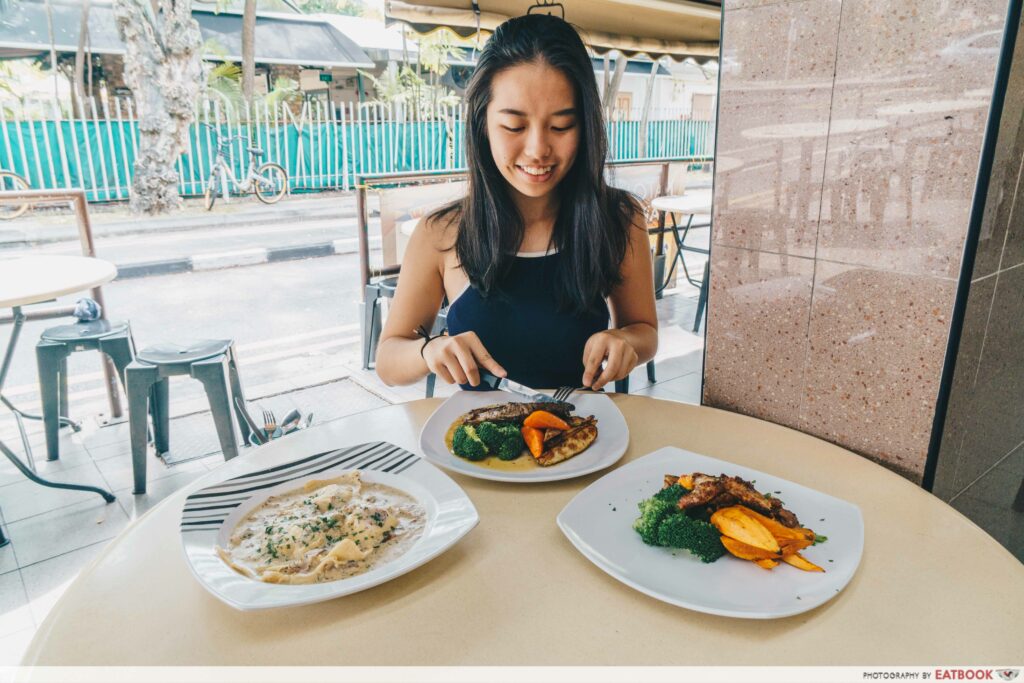 Overall, I am more than satisfied with the dishes I tried when I was there. The dishes were mostly well executed, with the exception of the veggies. Despite the small slip up, I would definitely be going back with my family and friends, just because they produce delicious restaurant quality dishes at a fraction of the price.s. Now, my broke self can get my fix of good steak more often!
If you love steak as much as I do, check out these steak buffets and Wild Olives!
Address: 228 East Coast Road, Brunners Coffeeshop, Singapore 428925
Opening hours: Mon – Fri 10:30am to 9:30pm, Sat & Sun 8:30am to 9:30pm
Tel: 8290 3605
Website
This is an independent review by Eatbook.sg
Summary
Pros
– House-made pasta
– Good dishes
– Friendly chefs
– Many seats available
Cons
– Vegetables were not cooked enough
Recommended Dishes: Jimmy's Carbonara ($9), 100% Aussie Ribeye ($16), and Buttered Chicken Chop ($8)
Operating Hours: Mon – Fri 10:30am to 9:30pm, Sat & Sun 8:30am to 9:30pm
Address: 228 East Coast Road, Brunners Coffeeshop, Singapore 428925