Wild Olives is taking us on a wild ride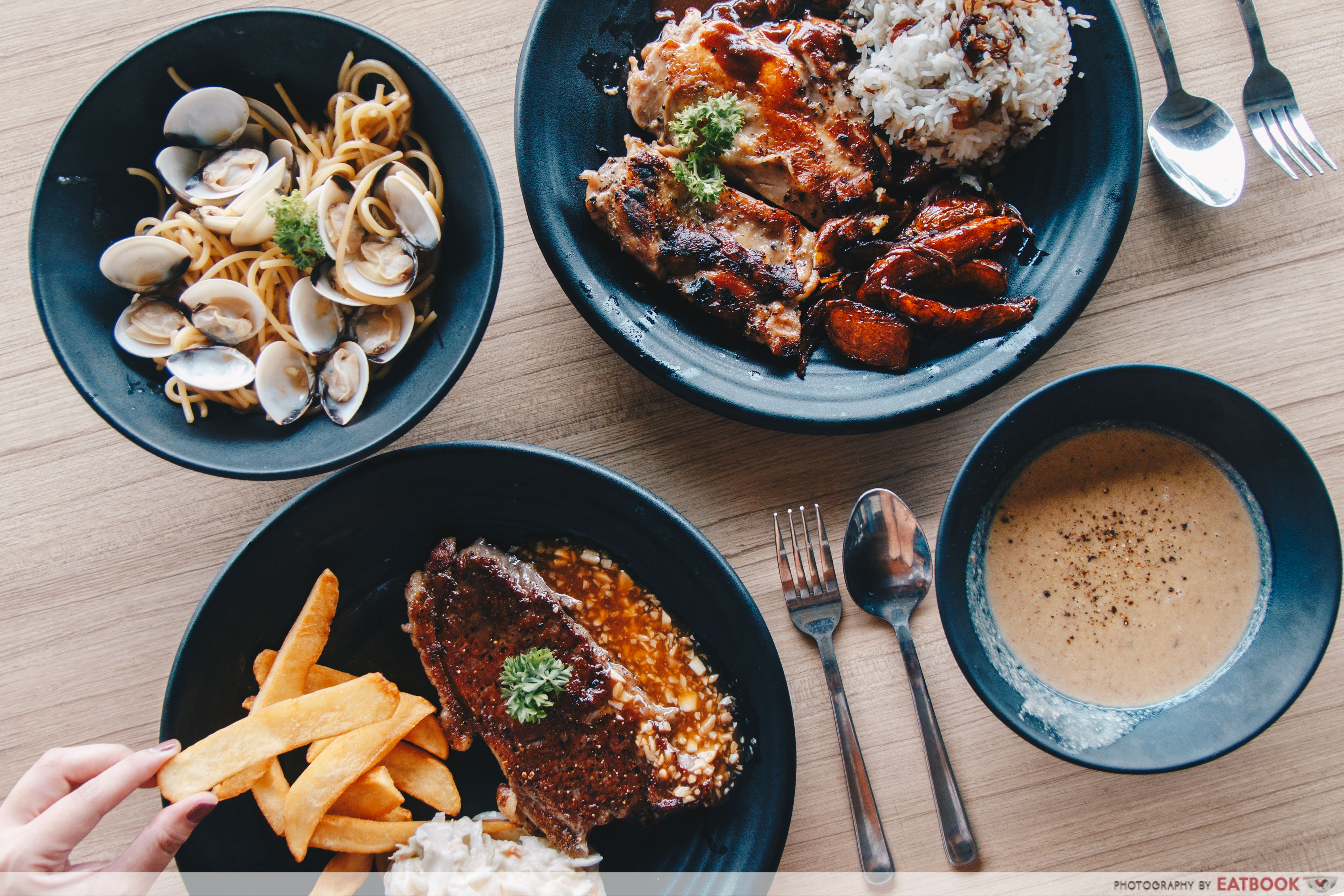 Instead of falling victim to the overpriced food at Changi Airport before takeoff, smart and savvy Singaporeans would know about the cheap and good food hidden in the staff canteen at Terminal 2. Wild Olives was a crowd-favourite for a long period of time at the airport canteen, until they disappeared into thin air. They have recently resurfaced at the hipster Pasir Ris Central Hawker Centre, and fans have flocked down to show them how much they were missed.
Food at Wild Olives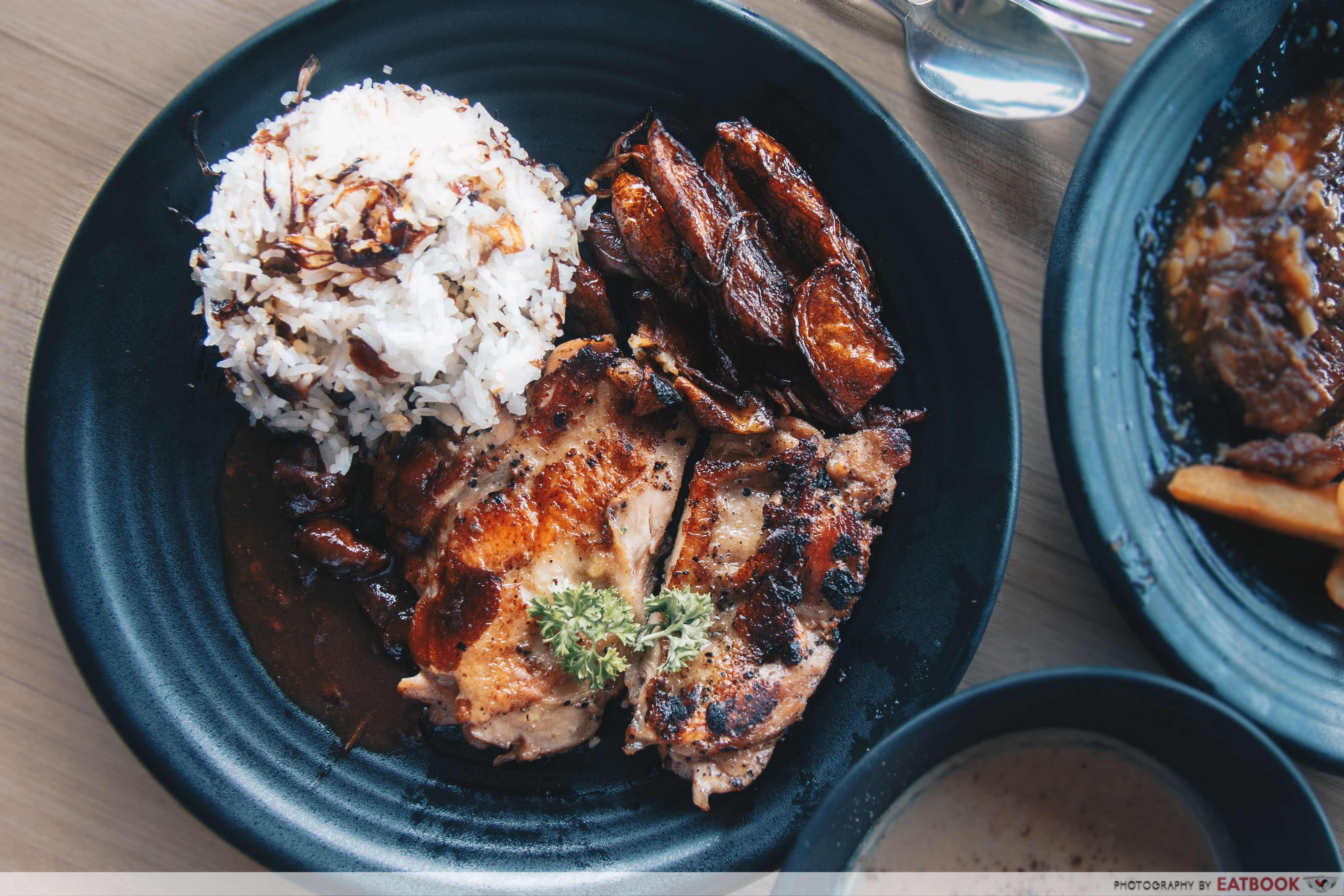 Here at Wild Olives, you get a choice of two side dishes with your main. There are options such as Wild Olives' Signature Mushroom Rice, Grilled Herb Potatoes, Thicked Cut Fries, Seasonal Vegetables, Homemade Coleslaw, Garden Green Salad, and Whipped Potatoes.
Their Grilled Chicken with Mushroom Sauce was the dish I was most excited about. At $5.70, the generous portions made my jaw drop. It was cheaper than many other chicken chops I've had at hawker centres. Not only that, the sides of grilled potatoes and mushroom rice delighted our senses in terms of colour and scent.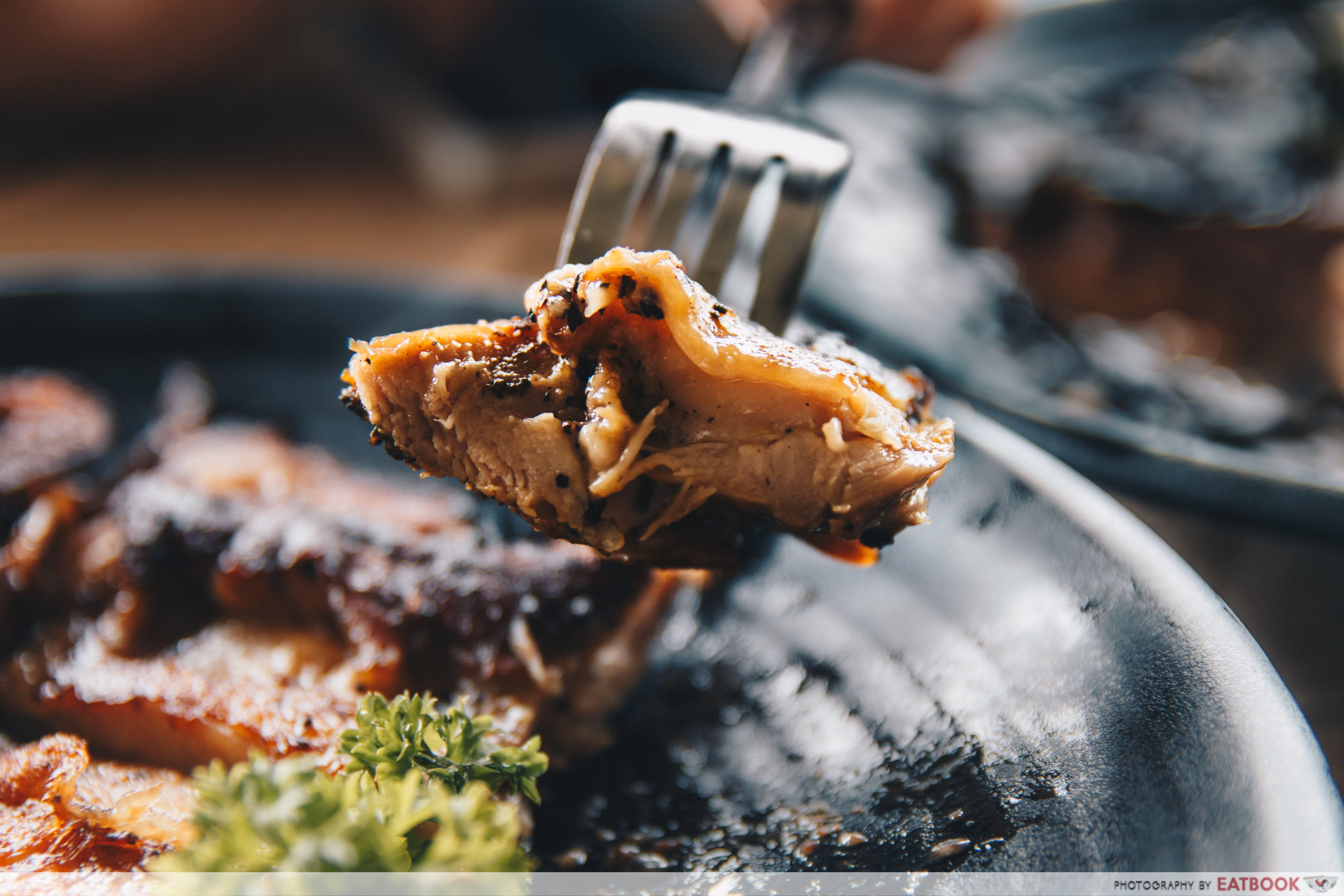 Armed with a knife and fork, we dug in. Contrary to how it looked, slicing a piece off the chicken revealed precious juices. Popping it in, I could confirm how tender and moist the meat was. The Maillard brown sear on top and at the corners of the grilled chicken also added a hint of smokiness to each mouthful. The meat was well-seasoned and there wasn't a need for sauces.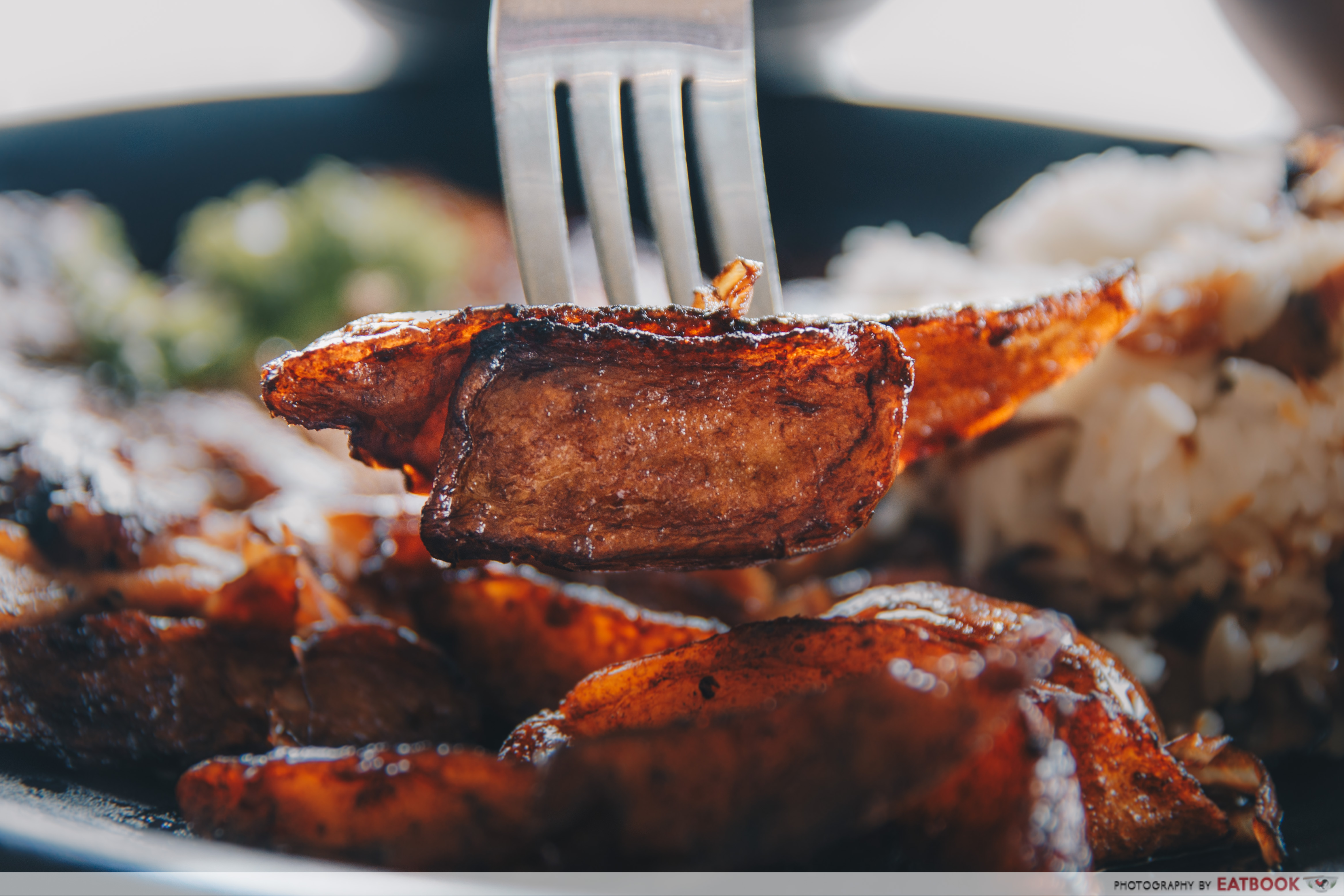 In a hurry, we moved on to the sides which begged to be devoured. The grilled herb potatoes came coloured in glossy, dark, chocolate brown wedges, while we were only expecting plain cubes peppered with green herbs. Each wedge was extremely moreish. They were a mix of sweet and savoury, tasting just like my favourite honey soy chicken potato chips. I could see myself snacking on them endlessly.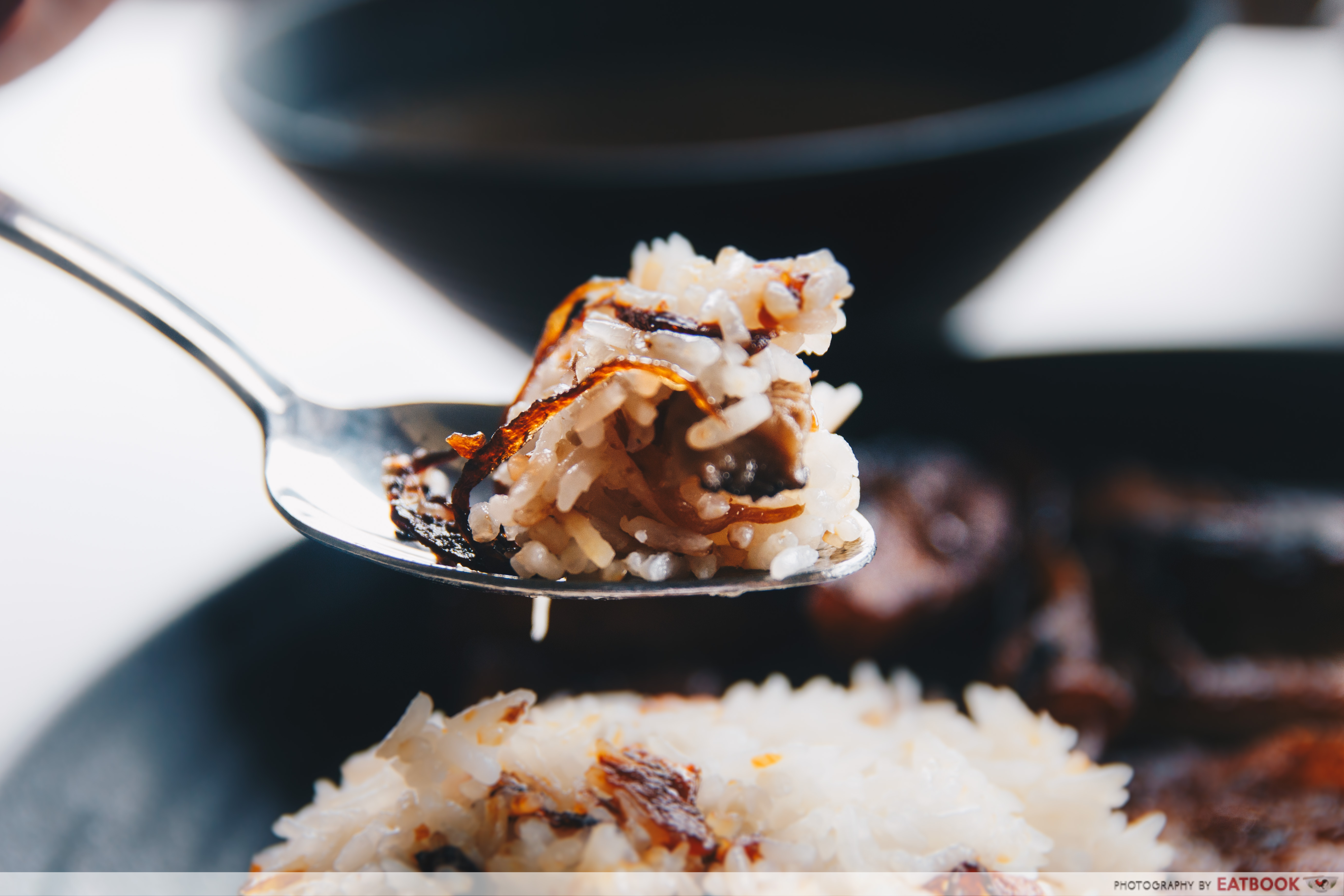 The contrast of white rice to the slivers of dark caramelised onion and mushrooms of the Wild Olives' Signature Mushroom Rice was equally a sight to behold. Each spoonful was tasty and fragrant, reminding me of the Hokkien stir-fried glutinous rice dish with mushrooms, sausage, peanuts and dried shrimp.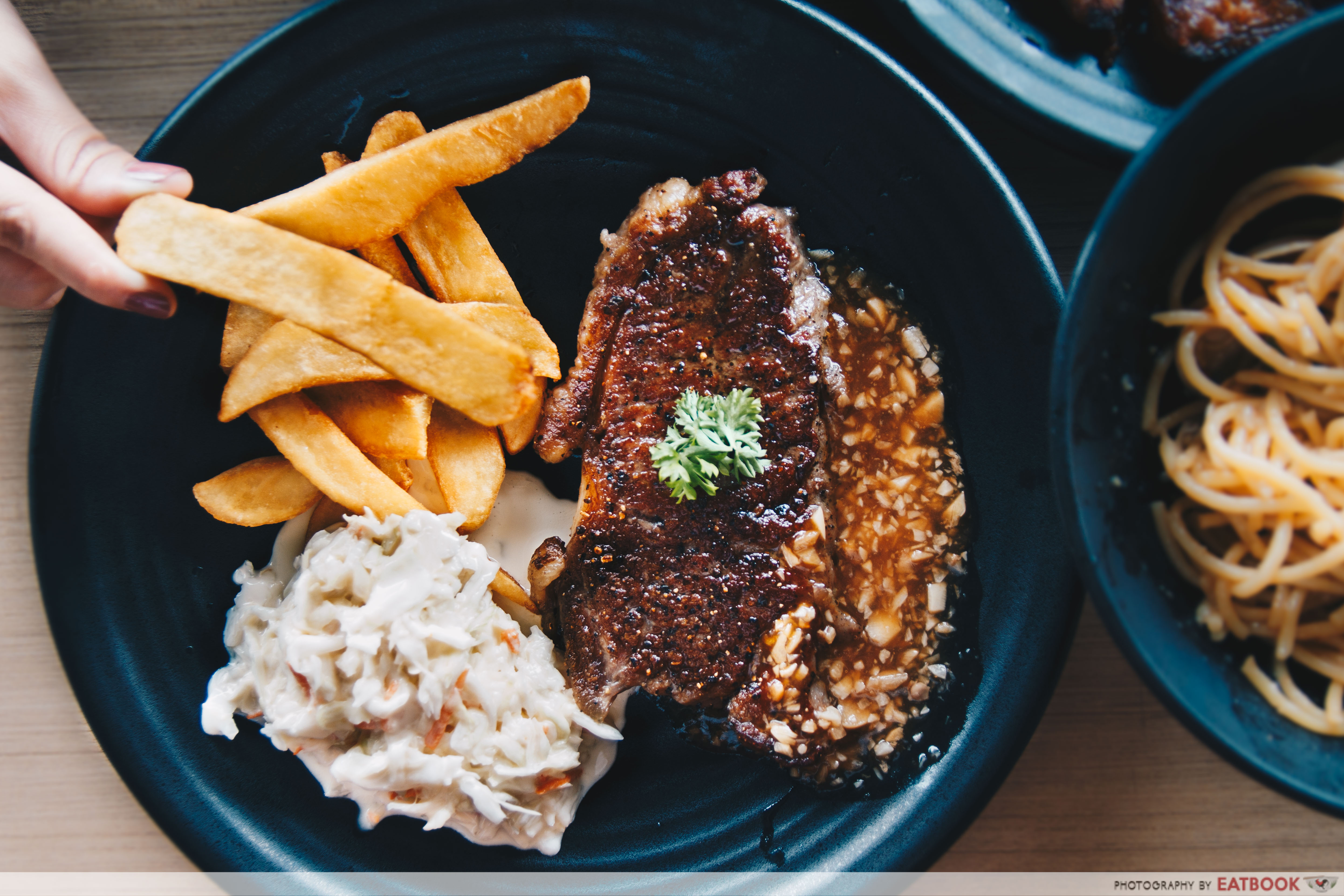 When I collected the Chilled NZ Sirloin Steak ($10.90) from the counter, the very-busy-but-still-smiley chef-owner told us to let the steak sit for five minutes before we start on it. And we did.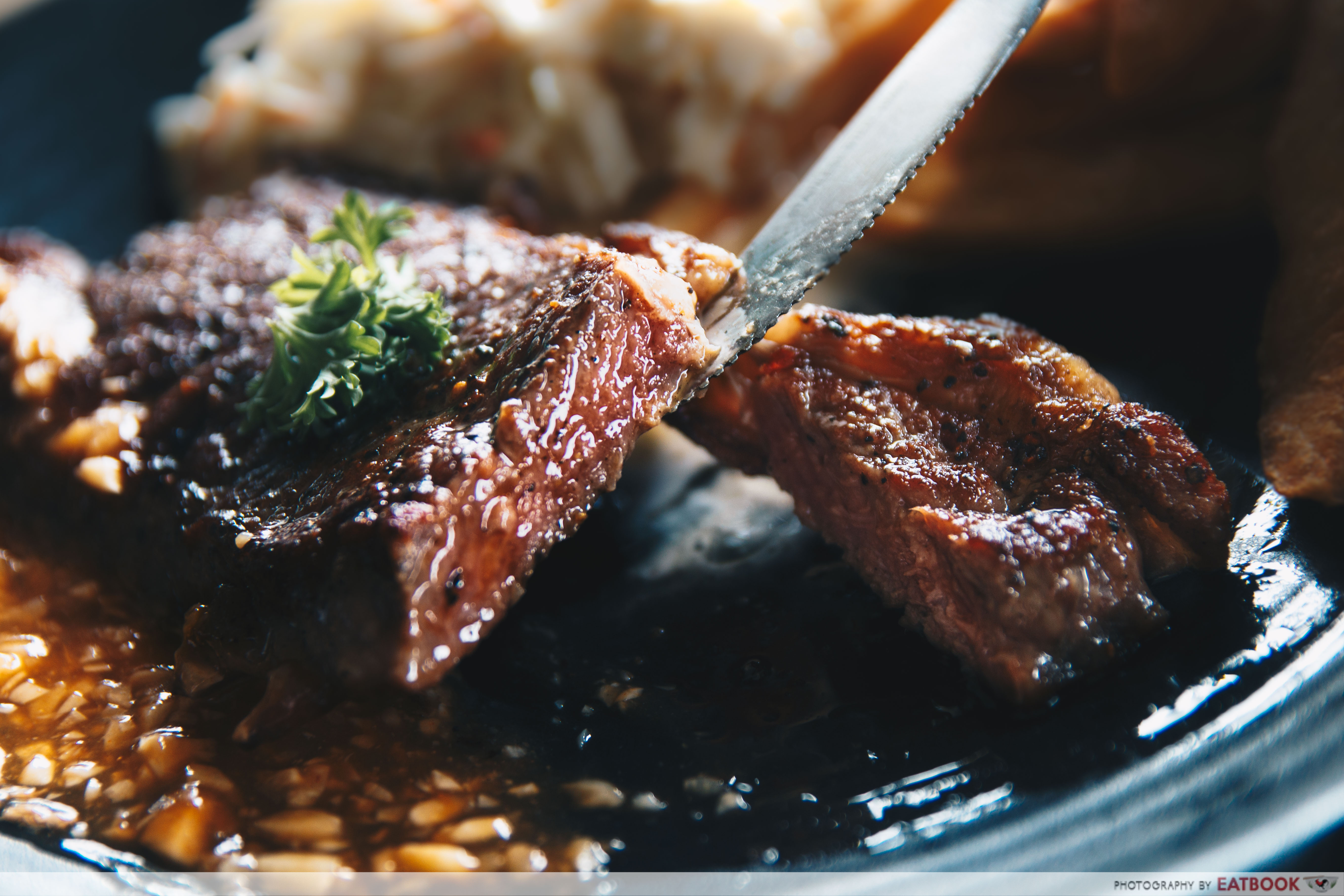 After the gruelling five minutes, we sliced the steak and were surprised by a beautiful pink centre. The portion of the steak, though small, was justified by the low price. The steak was juicy and rich, without a need for any sauce for added flavour.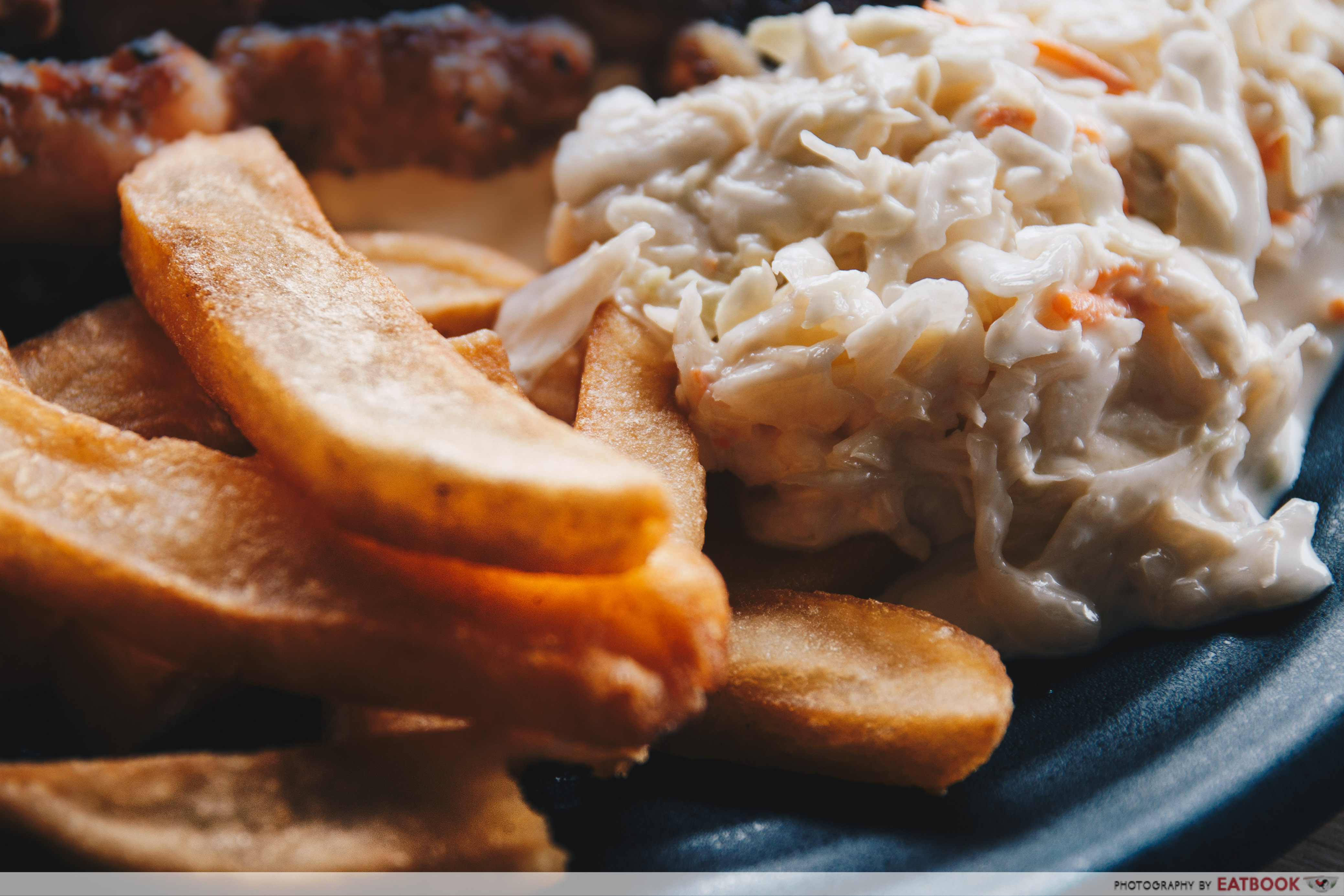 The sides we chose for the steak were thick-cut fries and house-made coleslaw. The fries were interesting – they were like mashed potatoes encased in a light and crunchy batter. I could tell that the people behind Wild Olives really make an effort to set themselves apart from the slew of Western hawker food stalls in Singapore. The coleslaw, on the other hand, was nothing to shout about.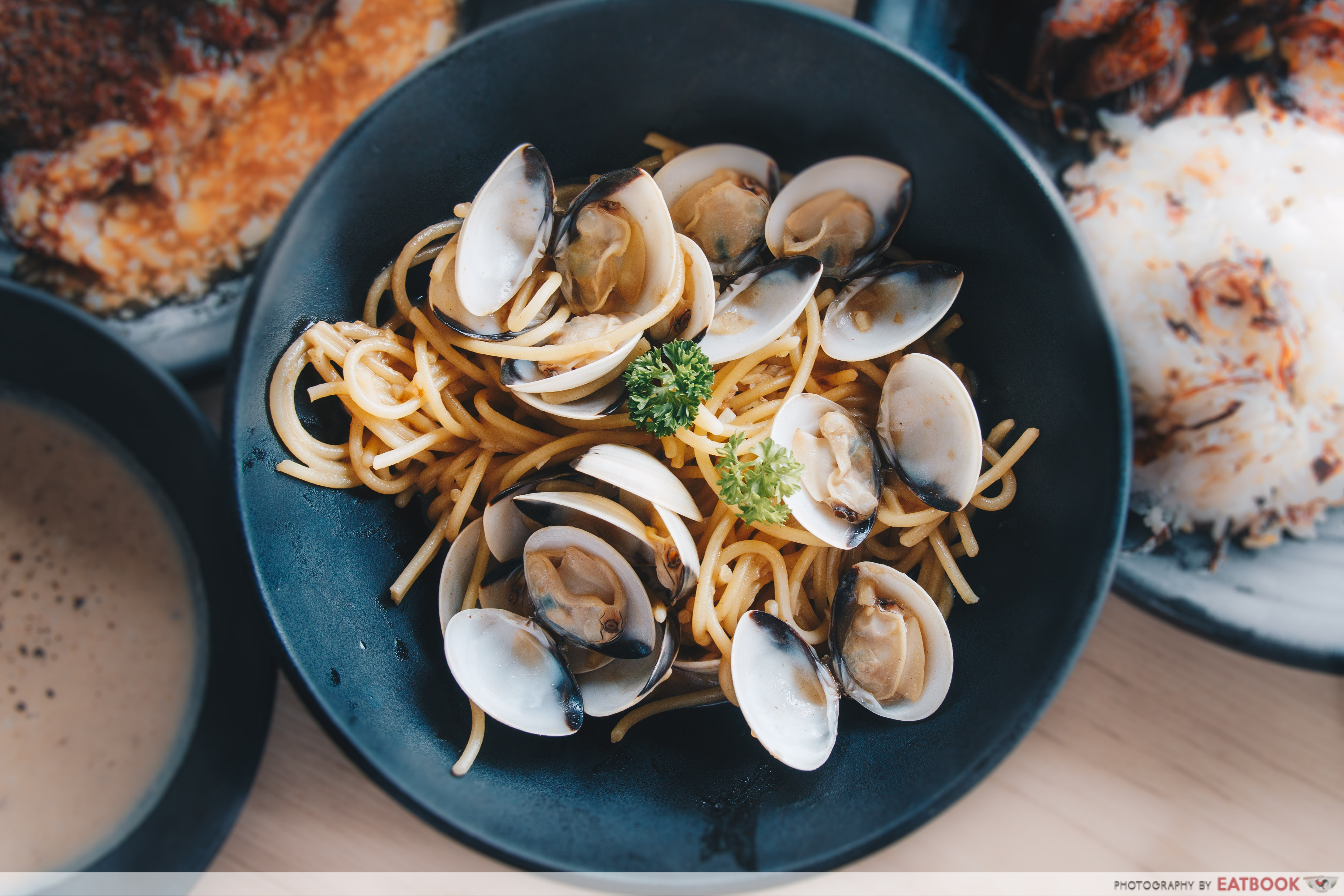 We also ordered a dish from their menu of affordable pasta dishes. The prices ranged from $4.80 to $6.20. We chose Spaghetti alle Vongole ($5.70) to put Wild Olives to the test by seeing if their seafood proved to be fresh as well.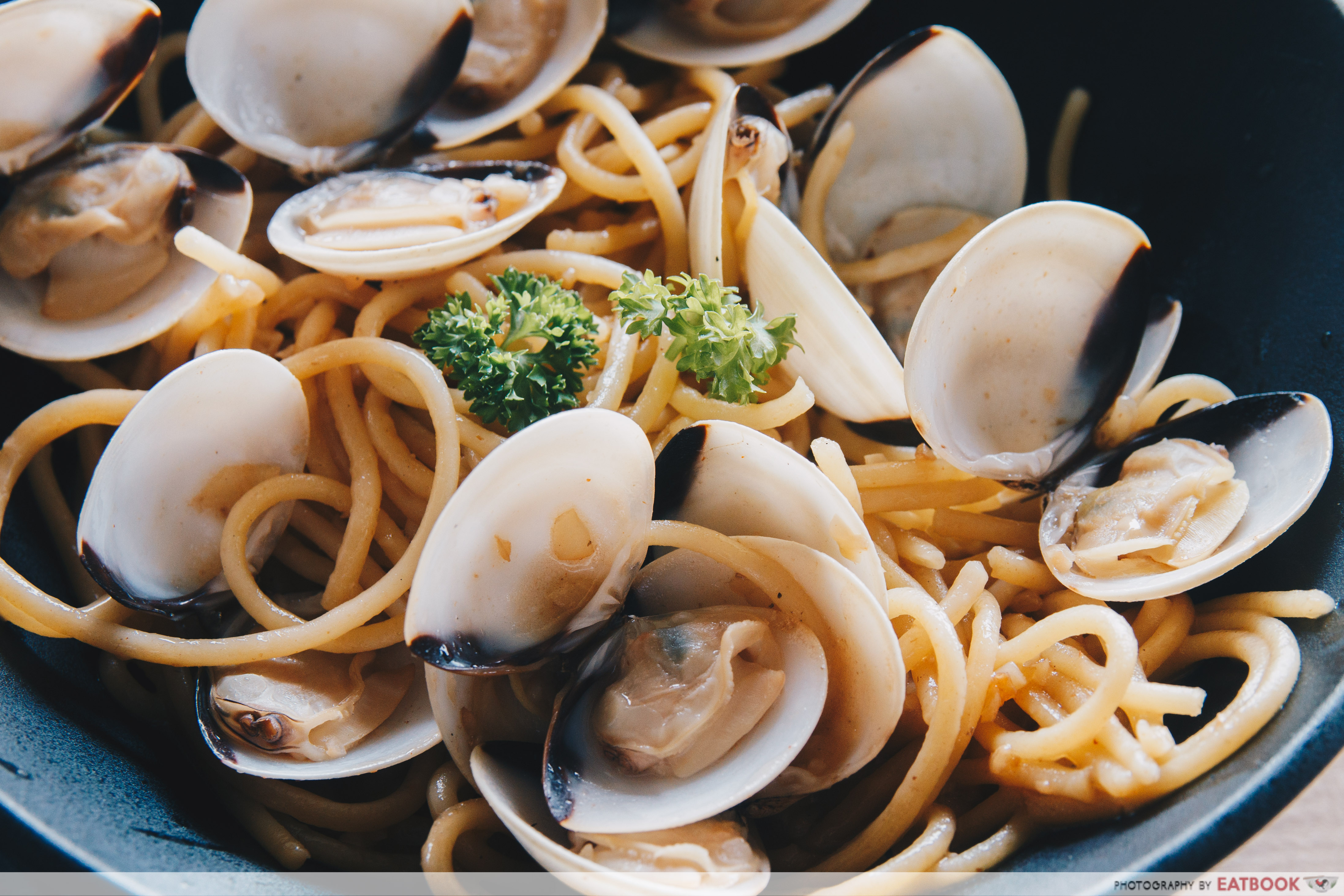 We were first hit by the aroma of the dish. Slurping the spaghetti up, the initial taste was the classic flavour of white wine, then I was into savoury, garlicky goodness. Taking a quick count, there were around 10 clams in the bowl. The clams were easy to deshell and were small but plump, salty parcels of chewy meat.  
Ambience at Wild Olives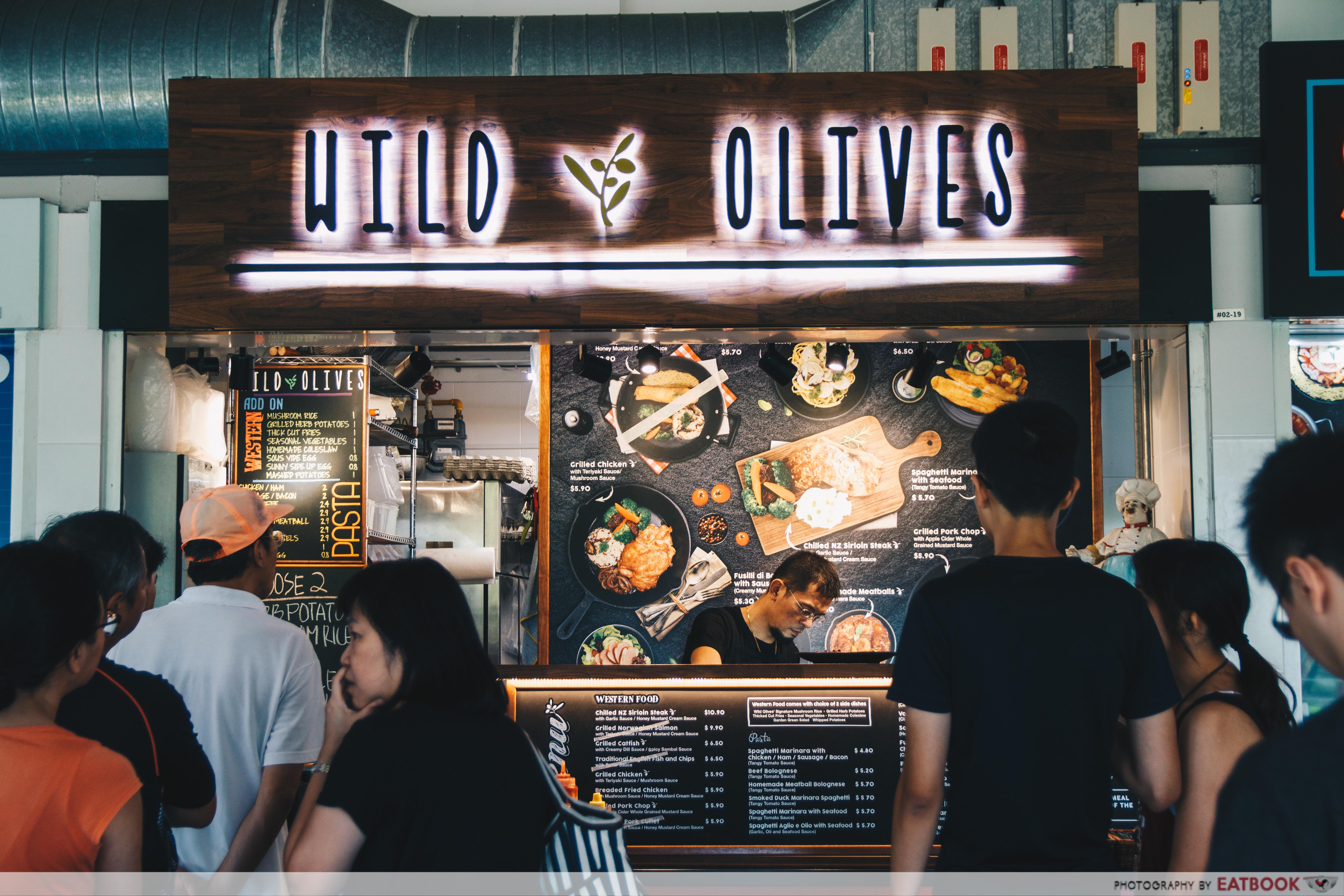 Wild Olives is located at the hipster Pasir Ris Central Hawker Centre, just a few shops before The Humble Burger. Similar to the previous trip we took to shoot the chicken rice burger, the hawker centre was still as clean and as airy as before. We didn't break into a sweat even though we queued for Wild Olives for a good 30 minutes during lunch time.
The verdict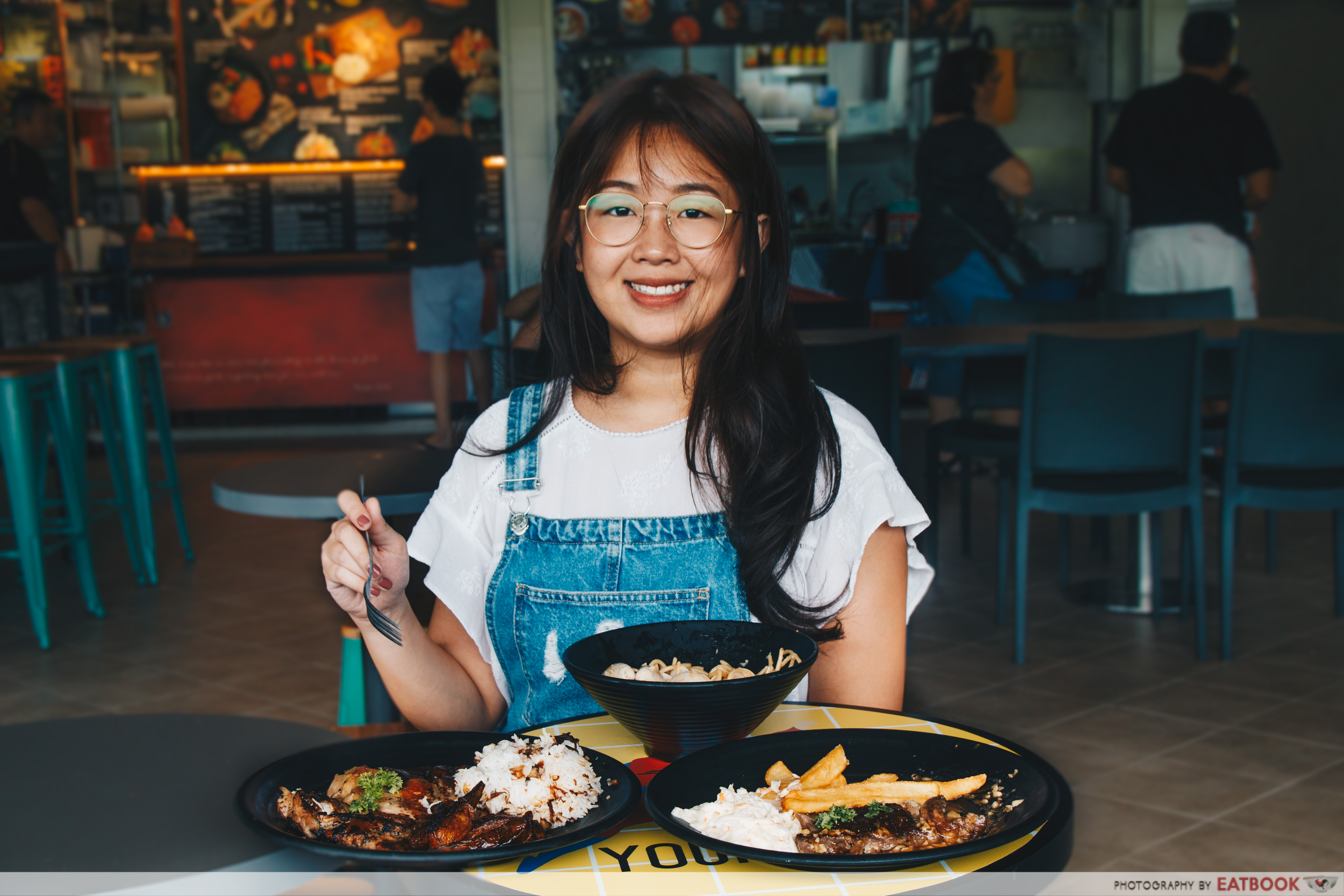 Wild Olives is proof that cheap eats can be delicious. Like many Singaporeans, my brother and I are suckers for cheap and good food with great portions. Even though I stay in the far West at Lakeside, I have already made plans to lug my brother down to the far East to feast at Wild Olives. The Western dishes here have definitely raised the bar for value-for-money hawker fare. Pro tip: add-on a bowl of mushroom soup to your meal at only $1 for more cheap thrills.
If you are looking for more food to try at Pasir Ris Central Hawker Centre, check out our review on Burgernomics, which offers wallet-friendly burgers. If you are looking for more value-for-money hawker food, check out our review on Xian Jin, which serves dishes such as bak kut teh, century egg minced meat porridge and more at only $2.
Address: 110 Pasir Ris Central, #02-19, Pasir Ris Central Hawker Centre, Singapore 519641
Opening hours: Wed-Thur 12pm to 3:30pm, 5pm to 9pm, Fri-Mon 12pm to 3:30pm, 5pm to 9:30pm
Tel: 9684 0689
Website
This is an independent review by Eatbook.sg.
Summary
Pros
– Affordable prices
– Generous portions
– Well-flavoured dishes
– A short walk from Pasir Ris MRT Station
Cons
– Long waiting time
Recommended Dishes: Grilled Chicken with Mushroom Sauce ($5.70), Chilled NZ Sirloin Steak ($10.90), Spaghetti alle Vongole ($5.70)
Opening Hours:
Wed-Thur 12pm to 3:30pm, 5pm to 9pm, Fri-Mon 12pm to 3:30pm, 5pm to 9:30pm
Address: 110 Pasir Ris Central, #02-19, Pasir Ris Central Hawker Centre, Singapore 519641