My Melody Cafe in Singapore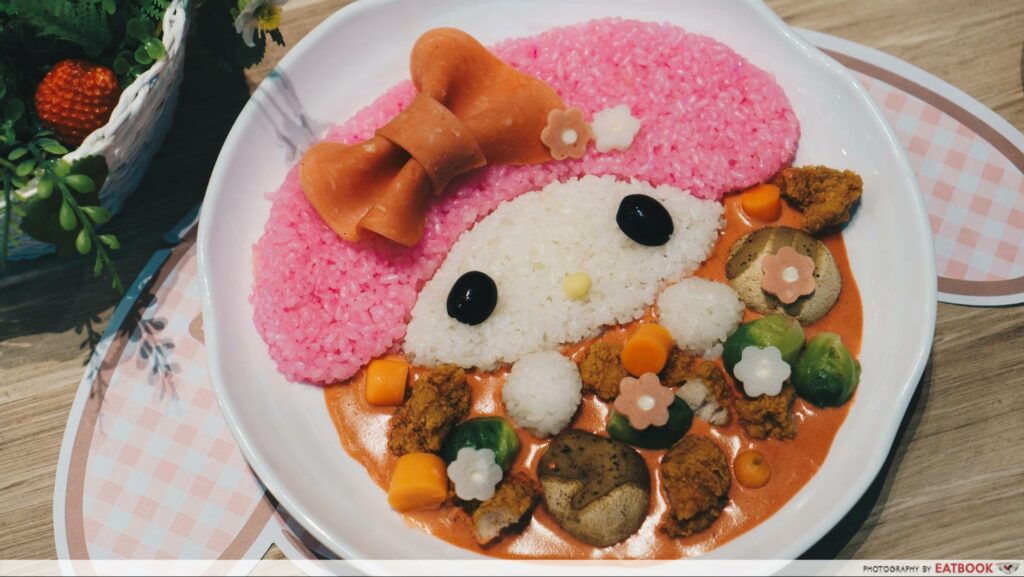 If you're still lamenting over how the Pompompurin Cafe shuttered its yellow doggy-shaped doors last year, here's something that might fill the hole in your Sanrio-loving heart: a brand new My Melody Cafe at Suntec City, with a "Strawberry Paradise" theme to boot.
Character cafes featuring Hello Kitty and Gudetama already exist here, and hardcore Sanrio-hungry folks would be just as thrilled for this one centred around the sweet hooded bunny. After all, as one of the earliest characters created by the Japanese company, My Melody is a classic icon of kawaii that many of us grew up with.
But before we start rabbiting on about the aesthetics, let's hop through the highlights of the menu.
Food at My Melody Cafe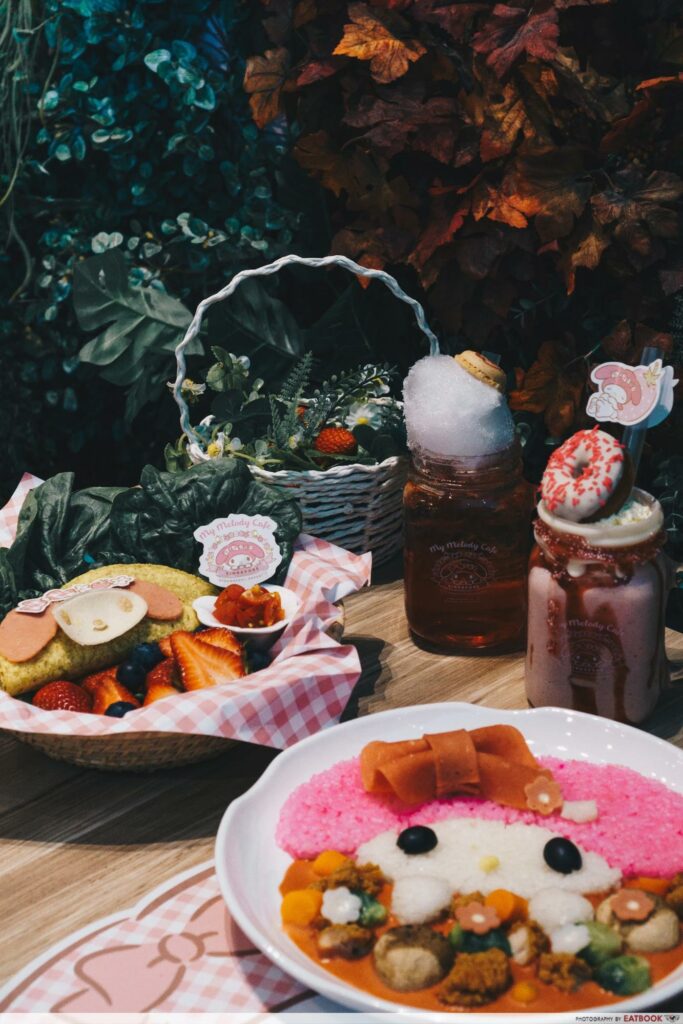 Don't worry, the dishes here don't come in rabbit-sized portions – everything we tried was of a reasonable serving. If you're a rice monster, go for the filling Princess Bunny ($18.90++) – pink Japanese curry rice with fried chicken, mushroom, brussel sprouts, and carrot. The heap of rice is moulded in the shape of My Melody's face, with the pink parts naturally dyed with beetroot juice.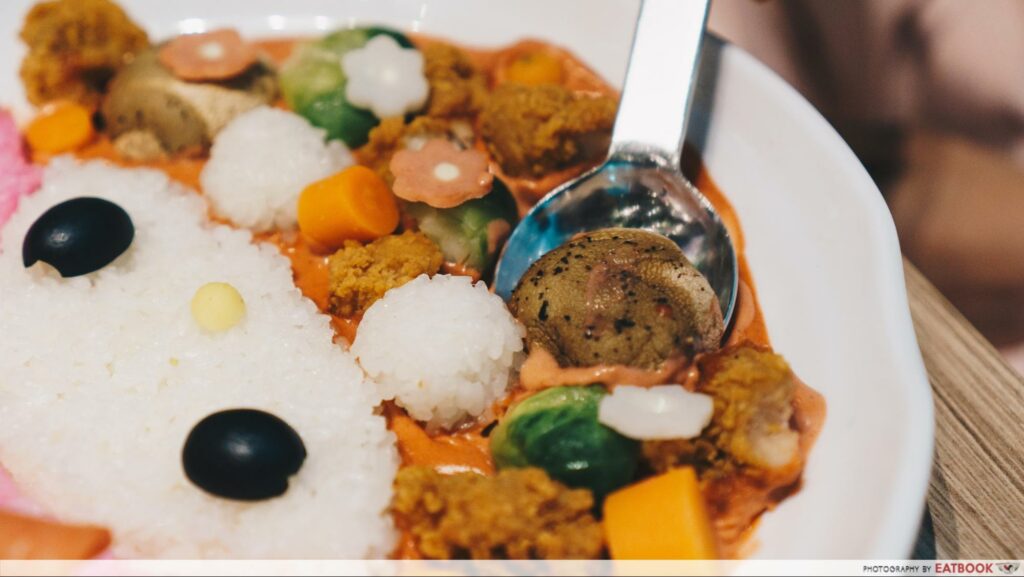 As themed cafes have a rep for less-than-stellar food, I was bracing myself for watery, diluted curry. But I was pleasantly surprised to find that it was thick and flavourful, with a mild hint of spiciness. The popcorn chicken karaage was tender and well-seasoned, but for what it had in quality, it lacked in quantity.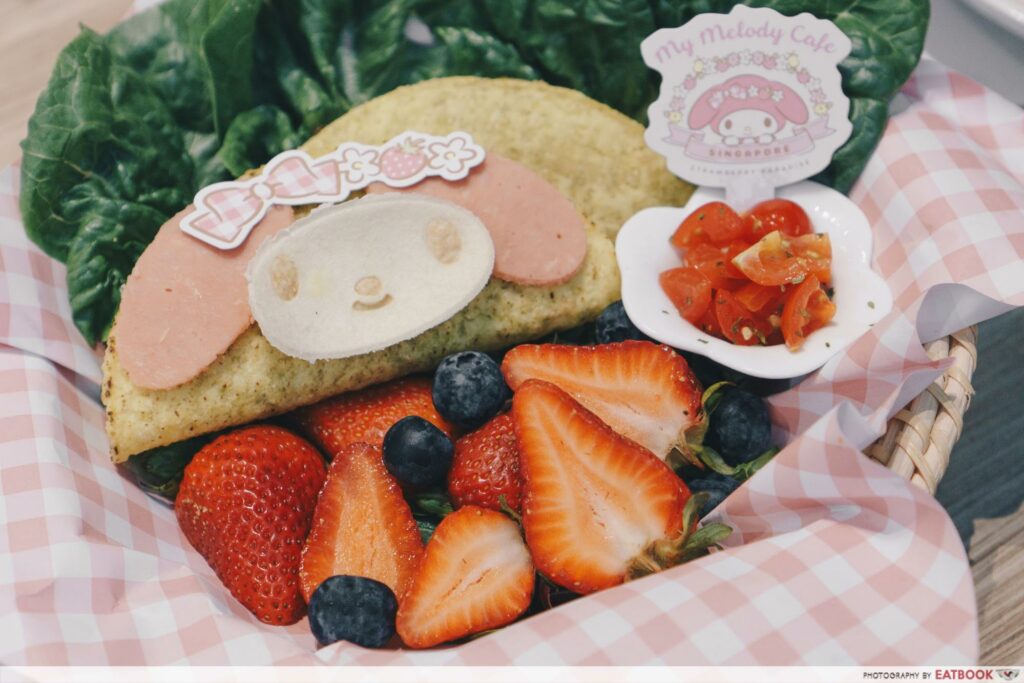 Those who'd rather not pile on the carbs would prefer the Hola Taco ($25++), the priciest item on the menu. Instead of the usual Mexican spiced meat, this one came with thin slices of bulgogi beef topped with melted cheese. The juiciness of the beef went well with the crunchy hard-shell tacos.
Complementing all that generous, sinful meatiness is a bed of fresh romaine lettuce, alongside plump blueberries and strawberries, and a small dish of salsa.
Other selections of mains include Little Pink Riding Hood ($23.90++), which is basically salmon benedict with pink hollandaise sauce.
Desserts at My Melody Cafe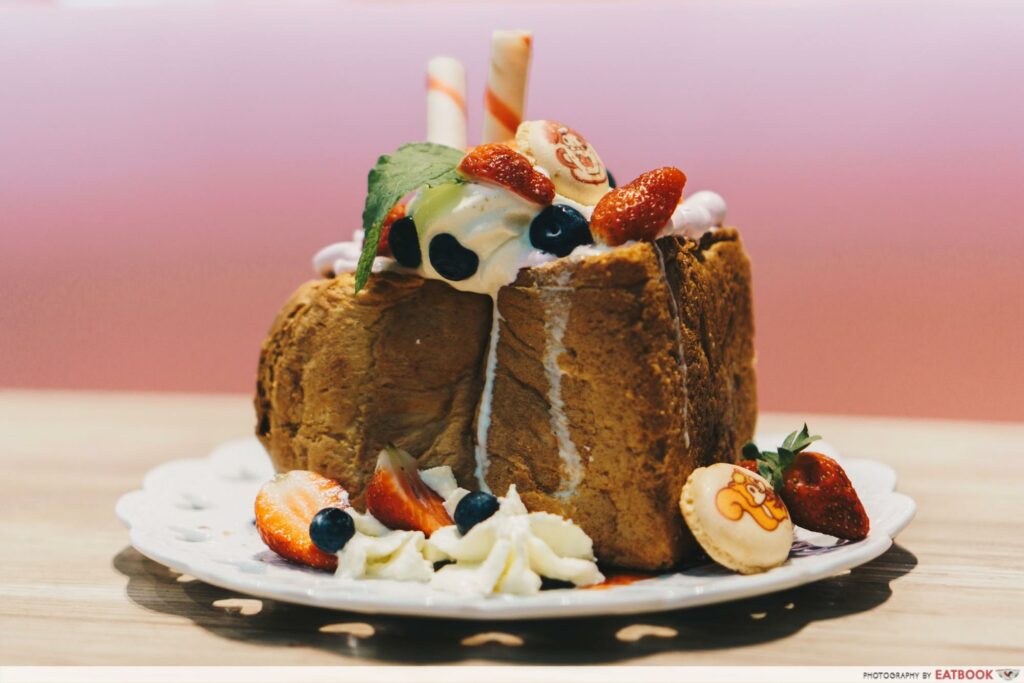 End things off on a sweet note with one of the six desserts here – if you aren't already in a food coma from your main dish, that is.
Fair warning: Treasures of Maryland ($19.50++) is quite something to tackle. It's a huge block of brioche toast the size of a whole small bread loaf, best shared in a group of two to four.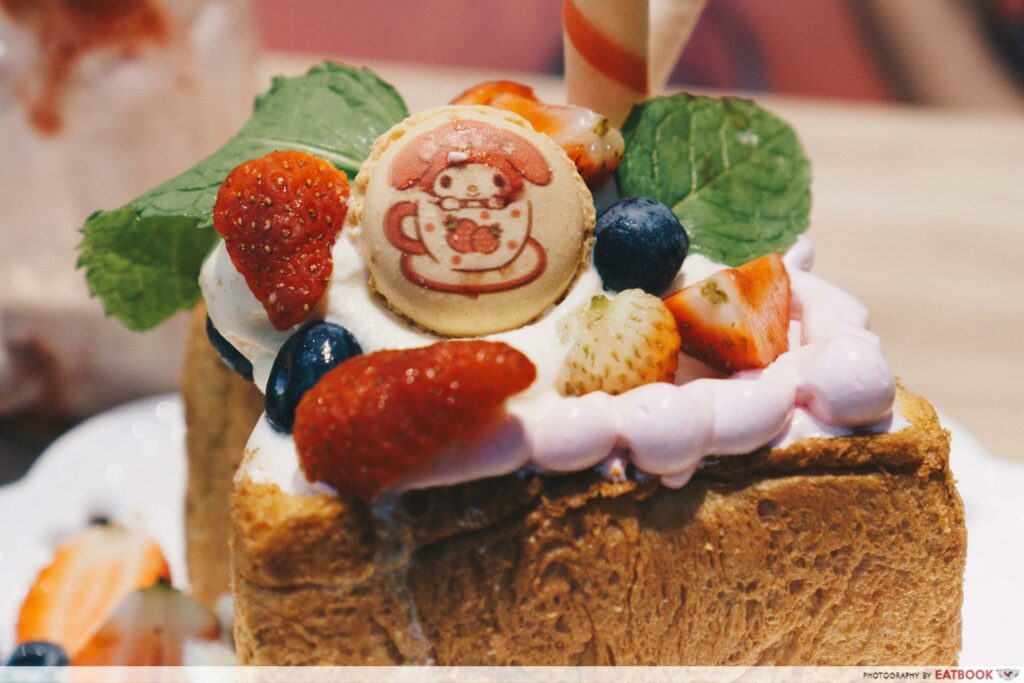 Topped with strawberries, wafer sticks, vanilla ice-cream, and character macarons, the entire ensemble is drizzled in maple syrup. I was glad to find that the toast was done well – crispy on the outside, and fluffy on the inside.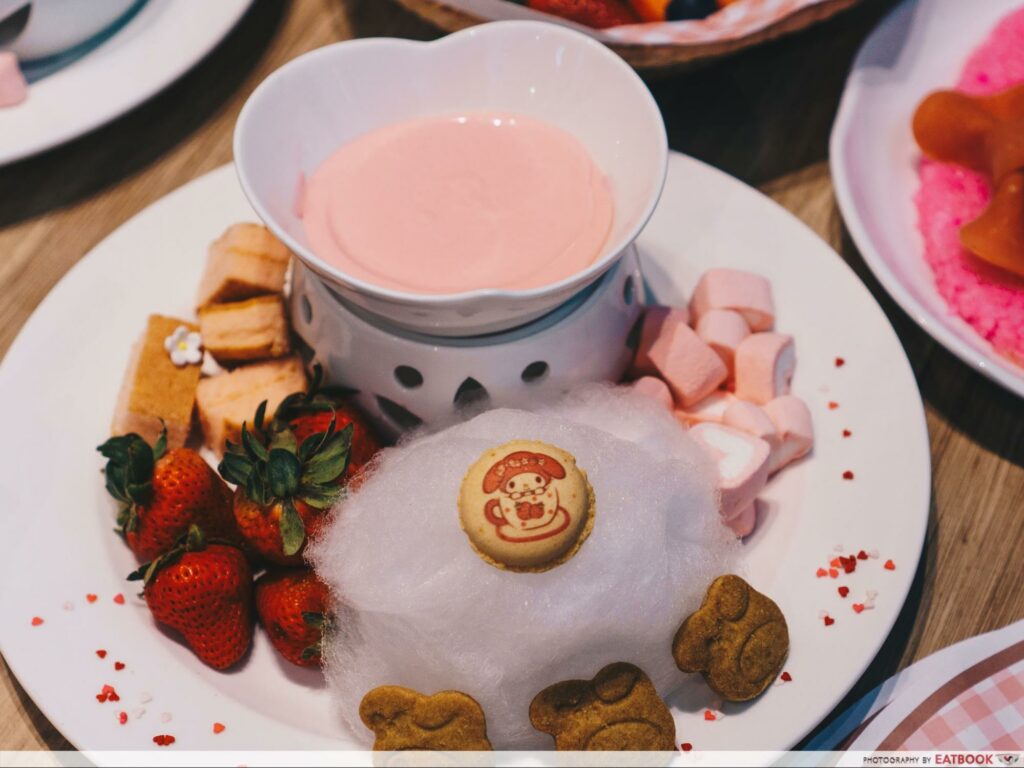 There's also the Play Time Fondue ($22.50++), which, instead of the usual dark chocolate dip, comes with strawberry flavoured white chocolate.
The fondue was immensely sugary on its own – think strawberry Pocky coating in liquid form, with twice the amount of sweetness. But it went pleasantly well with all the goodies on the plate, which comprised of heart-shaped marshmallows, vanilla sponge cake, strawberries, and butter cookies. My only gripe is that the butter cookies were horribly lao hong.
Drinks at My Melody Cafe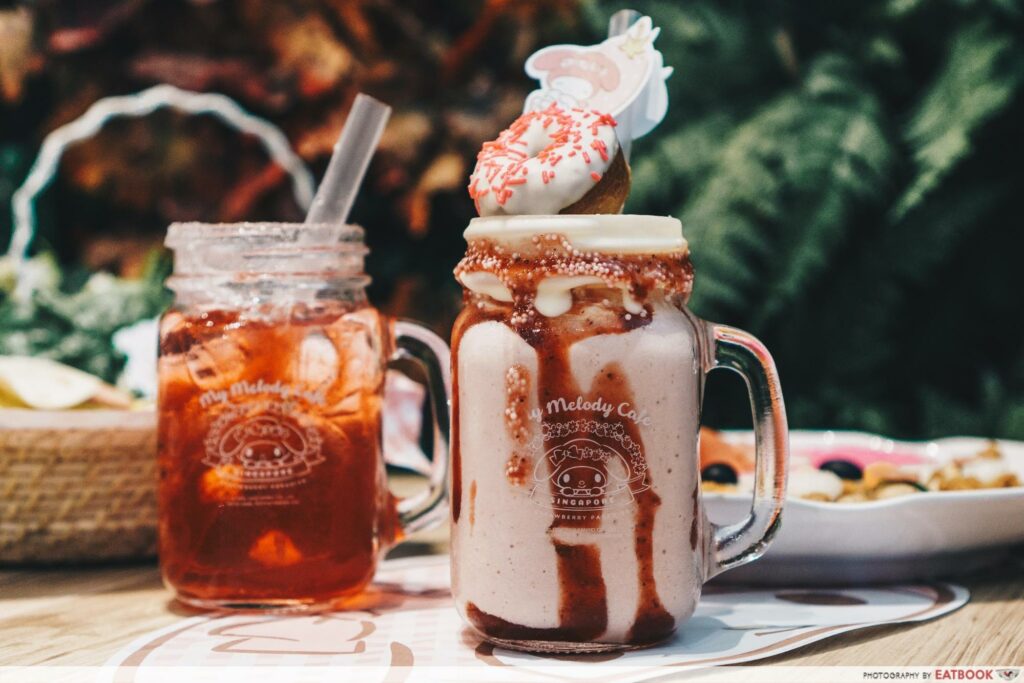 Quench your thirst with On Cloud Nine ($8.90++), a berry tea topped with a cloud of cotton candy and My Melody macaron. The tea was refreshing and mild, and tasted good on its own. But if you like your beverages sweet, go on and poke the cotton candy into the mason jar.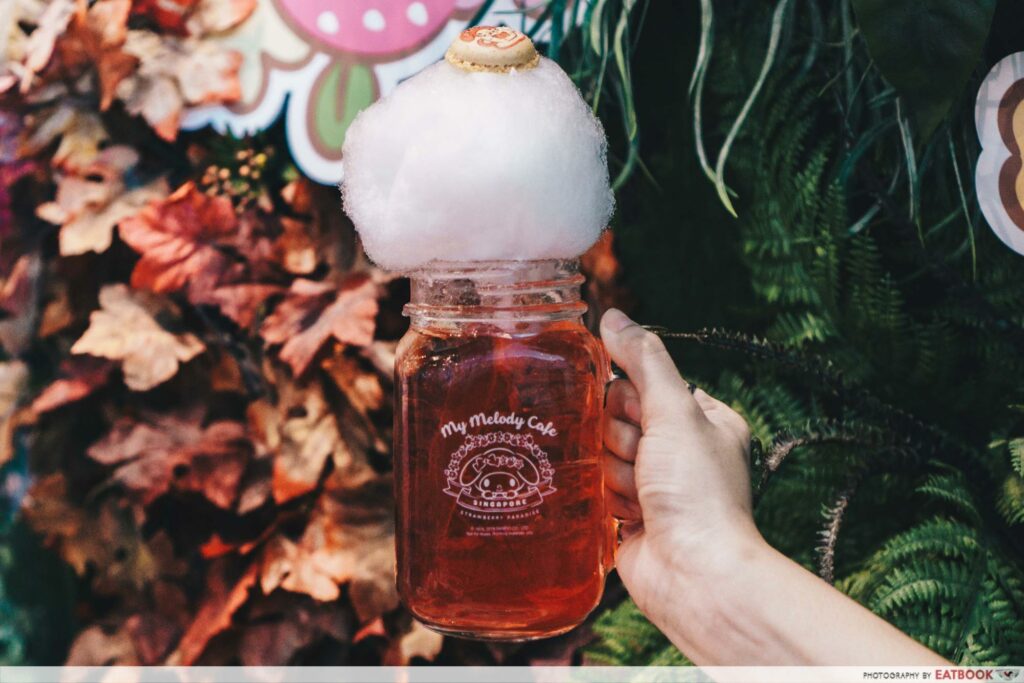 If you're not a fan of mint, we suggest removing the mint leaves right away or asking the staff to omit them altogether – once they soak up the liquid and sink to the bottom, the mintiness can get quite overpowering.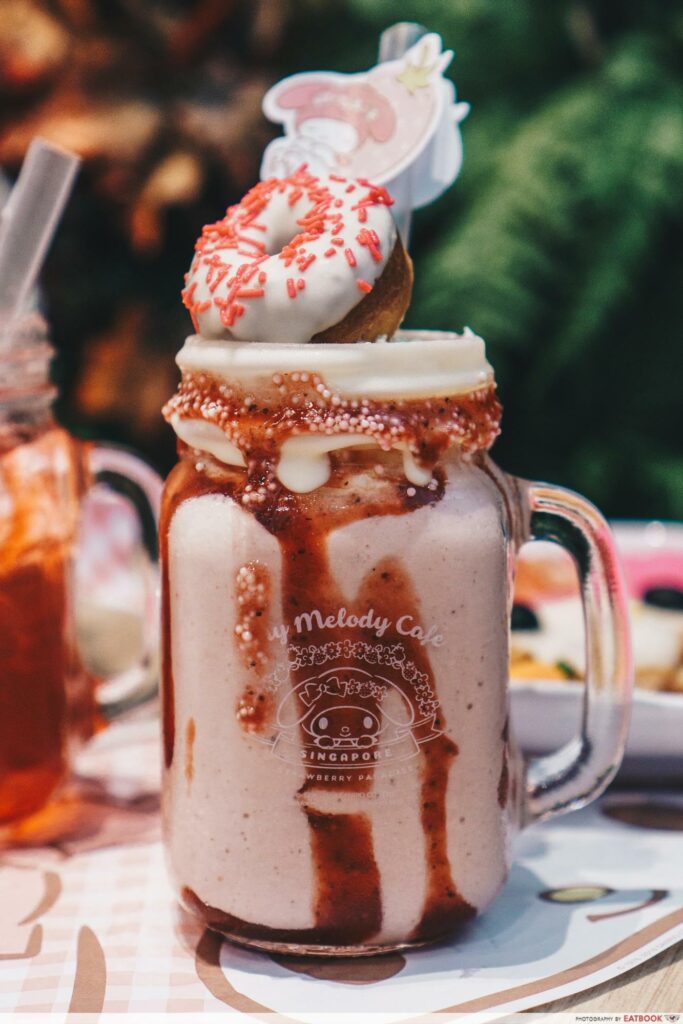 For something heavier, try the Merry-Donut-Go-Round ($12.90++), a creamy strawberry milkshake which all with a sweet tooth will enjoy. It was rich and thick – enough to pass off as a dessert, even – but not overly cloying.
The treacly concoction was topped with a mini frosted donut. Unlike your usual pillowy donuts, this one had a crisp surface. The inside was dense, but not in a bad way. It's not of Krispy Kreme standard, of course, but it's decent enough.
DreamWorks KouKou Cafe Review: New Themed Cafe With Kung Fu Panda, Shrek And More at Bugis+
Ambience at My Melody Cafe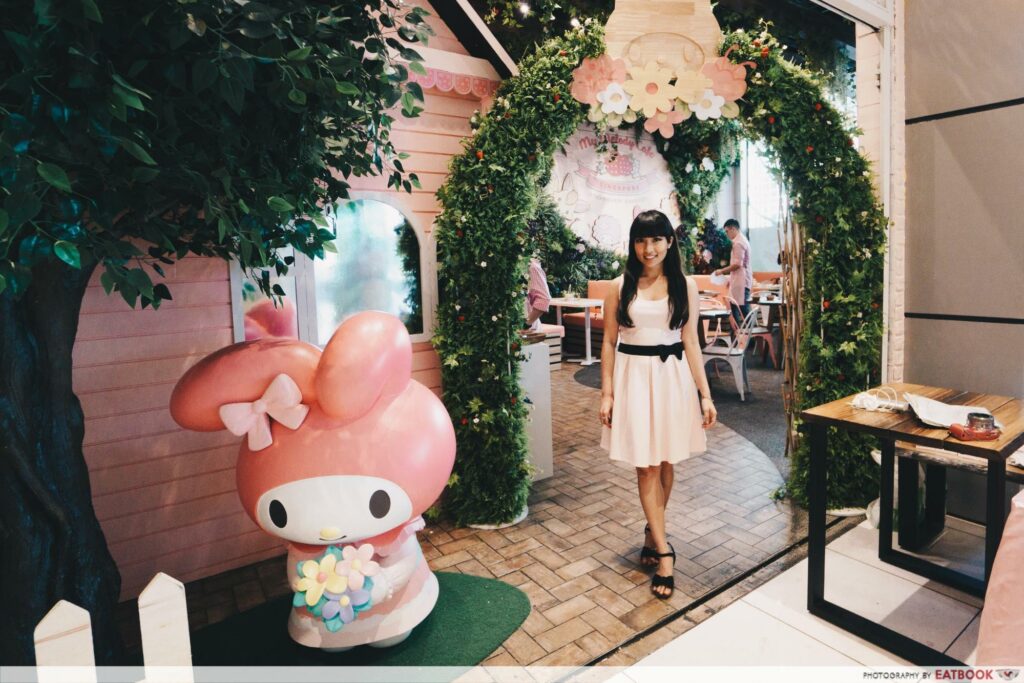 In line with our "garden city" status, My Melody Cafe has a garden-like entrance to match – with a life-like artificial tree and leafy archway.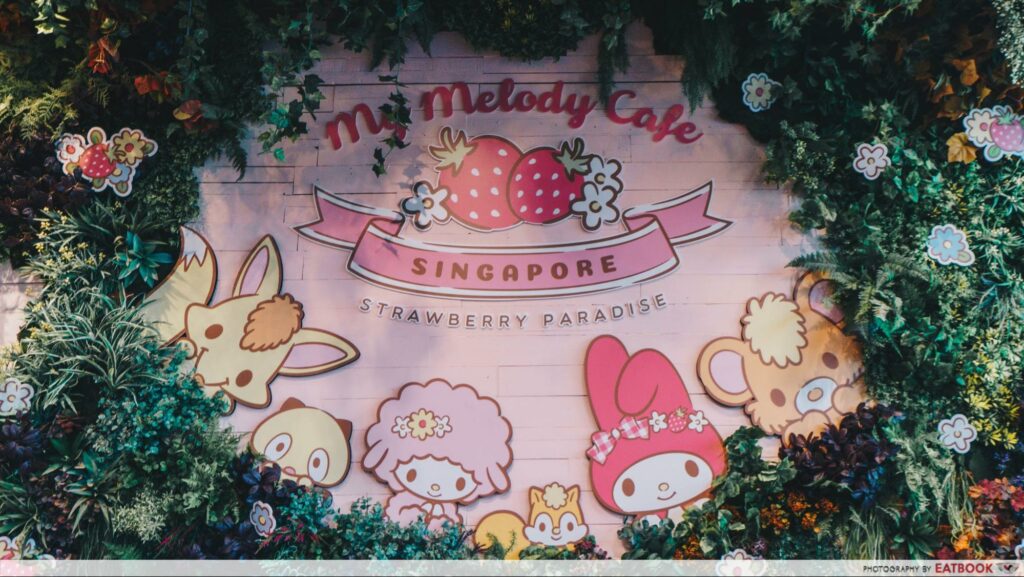 Inside, you'll find a huge feature wall decked out in more artificial greenery, and a character centrepiece featuring My Melody and her friends such as Risu and My Sweet Piano. The kitchen area is rather cleverly concealed, behind a cottage-like set-up.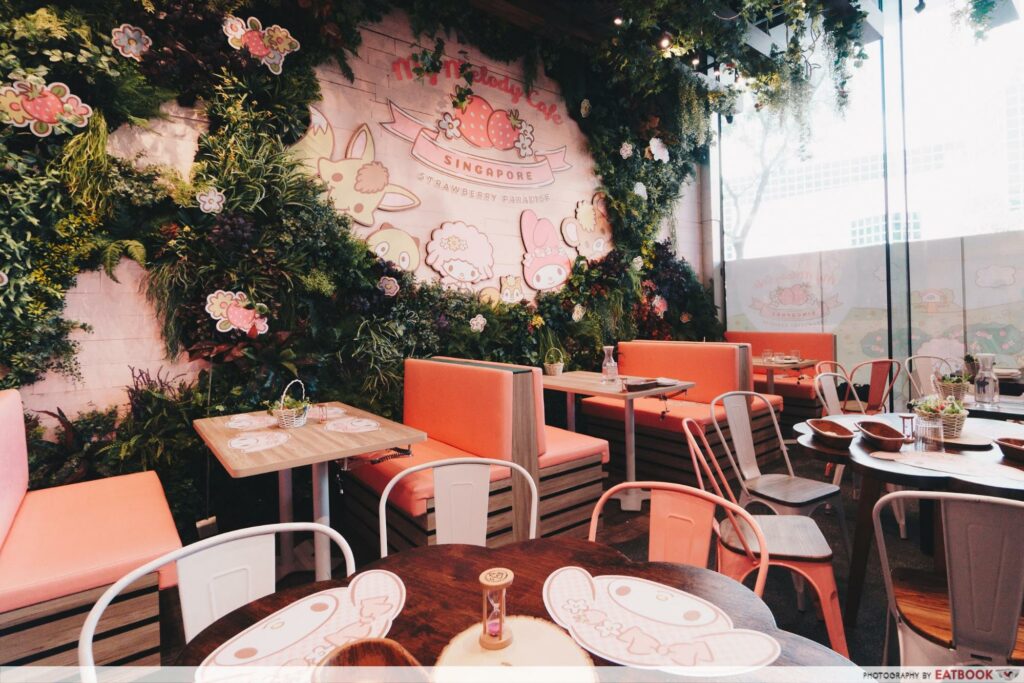 The cafe is small, so it's best for couples and groups of two to four.
The verdict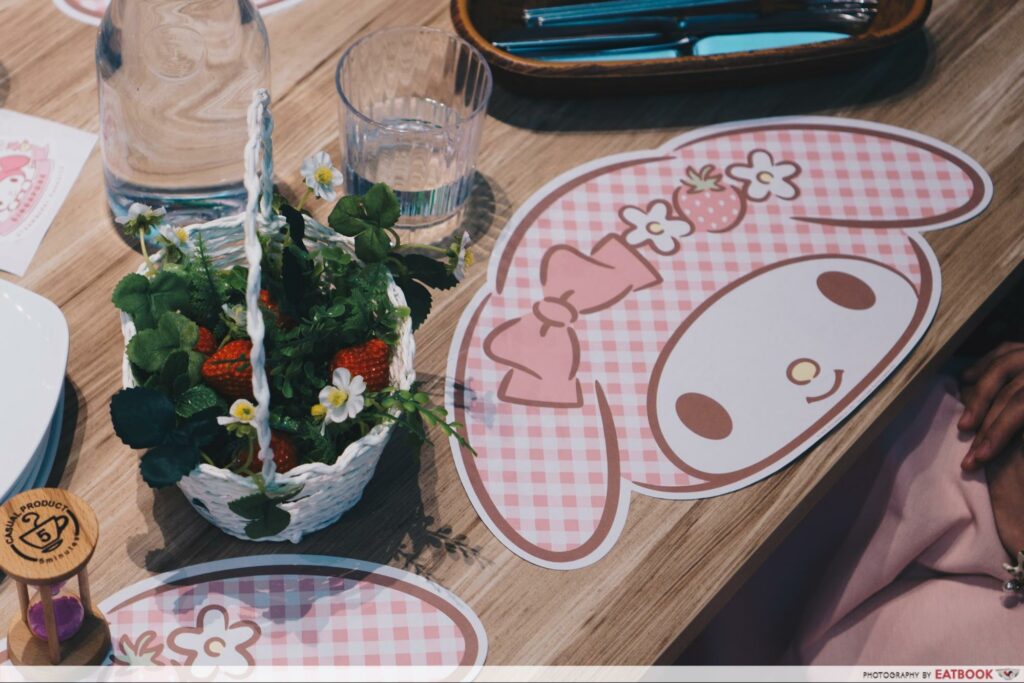 As a longtime fan of Hello Kitty & Friends, I was underwhelmed by how cramped this cafe was. The pink, girlish interior was undeniably pretty, but I was hoping for something more over the top, with better aesthetics. And despite the cafe branding itself as a "Strawberry Paradise", not much of that was translated into its decor.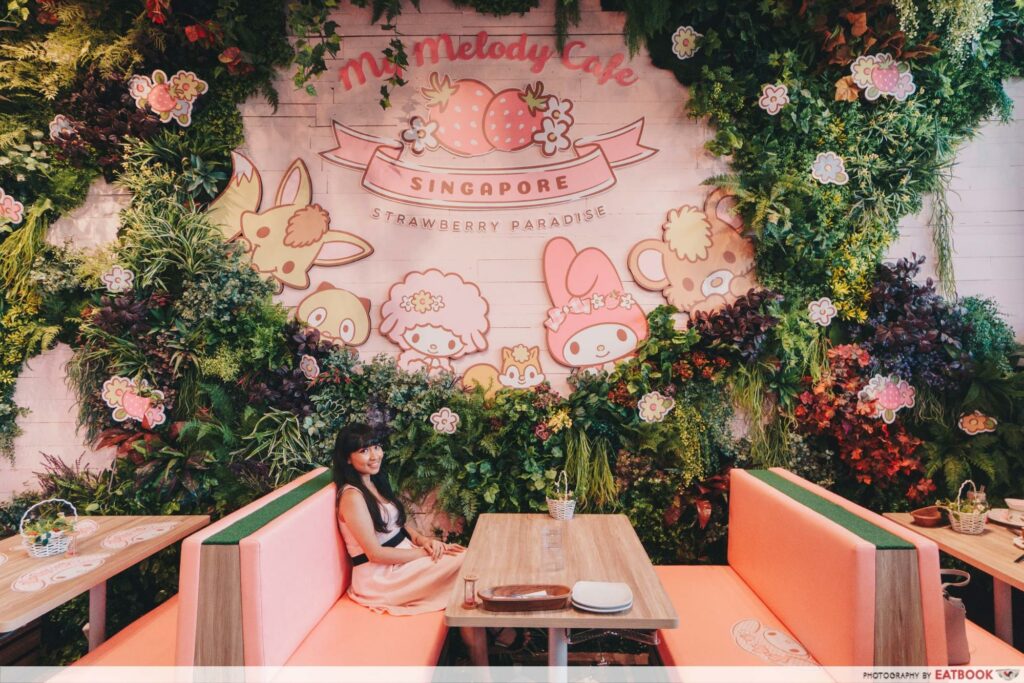 That said, there was indeed a good amount of strawberries present in the food, and the cute plating of the dishes was commendable. Taste-wise, the grub was surprisingly decent for a themed cafe's – not outstanding, but not unsatisfactory either. However, I feel the desserts in particular don't give as much value for money as the mains, as their components are fairly simple.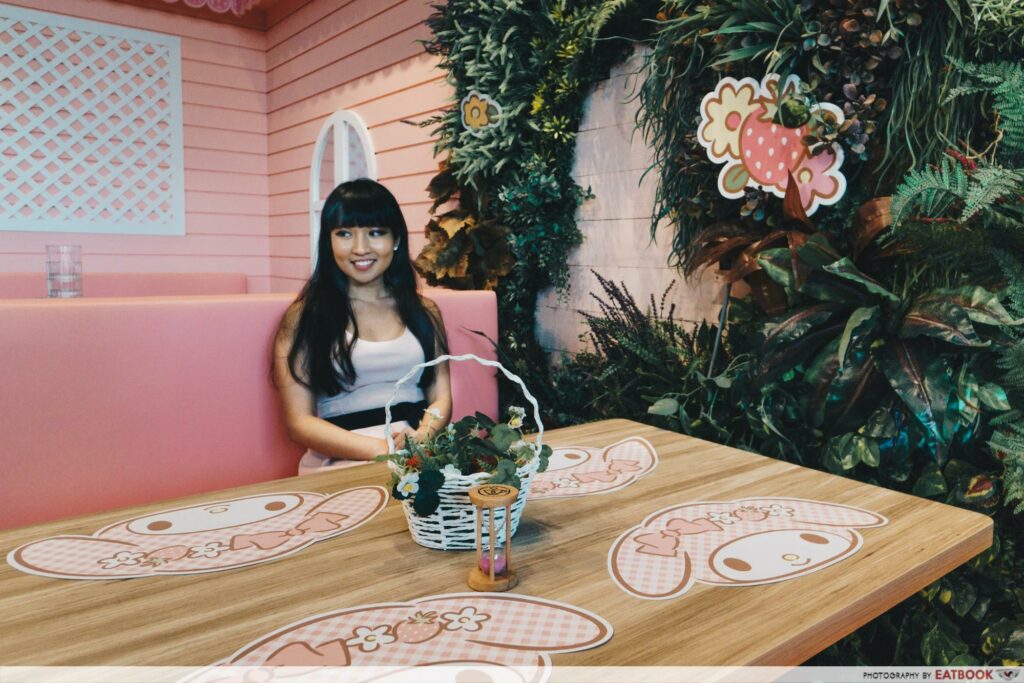 I'm still undecided as to whether I'll return, but this is a cafe that Sanrio fanatics would definitely want to visit at least once in their lives – before the next themed cafe comes along.
Address: 3 Temasek Boulevard, #01-361, Suntec City, Singapore 038983
Opening hours: Daily 10am to 10pm
Tel: 6677 6195
Website
My Melody Cafe is not a halal-certified cafe.
This was a media tasting at My Melody Cafe.
8 Old-School Cafes That Give Modern And IG-Worthy Twists To Familiar Dishes
Summary
Pros
– Super cute food plating
– Genorous portions
– Convenient location
Cons
– Small menu
– Expensive
Recommended Dishes: Hola Taco ($25++), Merry-Donut-Go-Round ($12.90++), Princess Bunny ($18.90++)
Operating Hours: Daily 10am to 10pm
Address: 3 Temasek Boulevard, #01-361, Suntec City, Singapore 038983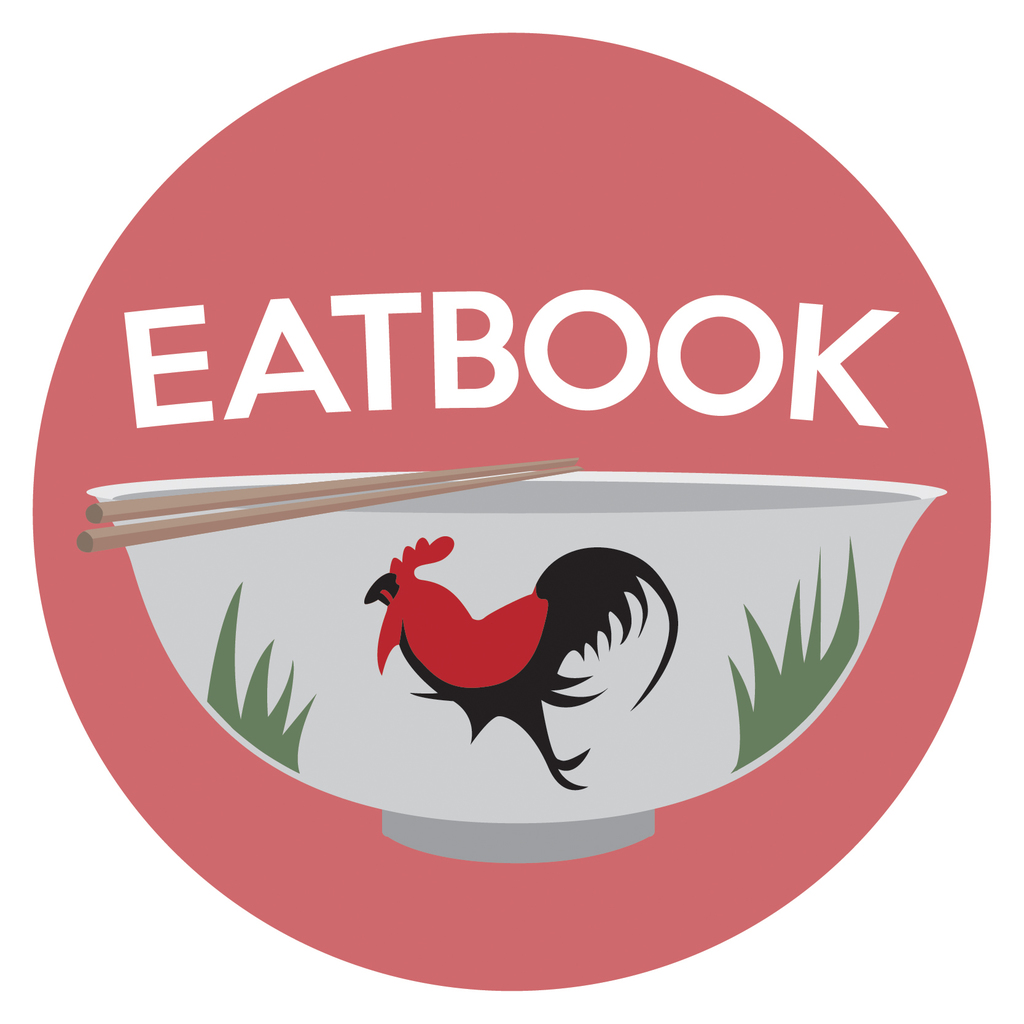 Drop us your email so you won't miss the latest news.