Can we really trust the Michelin guide?
The food scene has been buzzing with talk the past weekend with the recent releases of Singapore's very first Michelin guide and Bib Gourmand, but not all of it are positive. Many harbour doubts about how trustworthy the guide is, and whether Singapore's Michelin inspectors have done a thorough job in scouring our sunny island for food.
Some background info: The Michelin guide was first published in France in 1900, which was when horse carriages were still the primary form of transport. Yes, it was that long ago. Despite its history, the guide by tire company Michelin only ventured out of Europe in 2005 with its New York edition. In Asia, Tokyo got its first edition in 2007, and Hong Kong and Macau in 2009.
Even though we are glad it has finally travelled to Singapore this year, we can't help but notice some very disturbing issues with the judging process of our first Michelin guide.
    

Sponsorship and partners
A quick look at Michelin Guide Singapore's website shows their partnerships with several companies here, including Resorts World Sentosa (RWS) and Singapore Tourism Board (STB).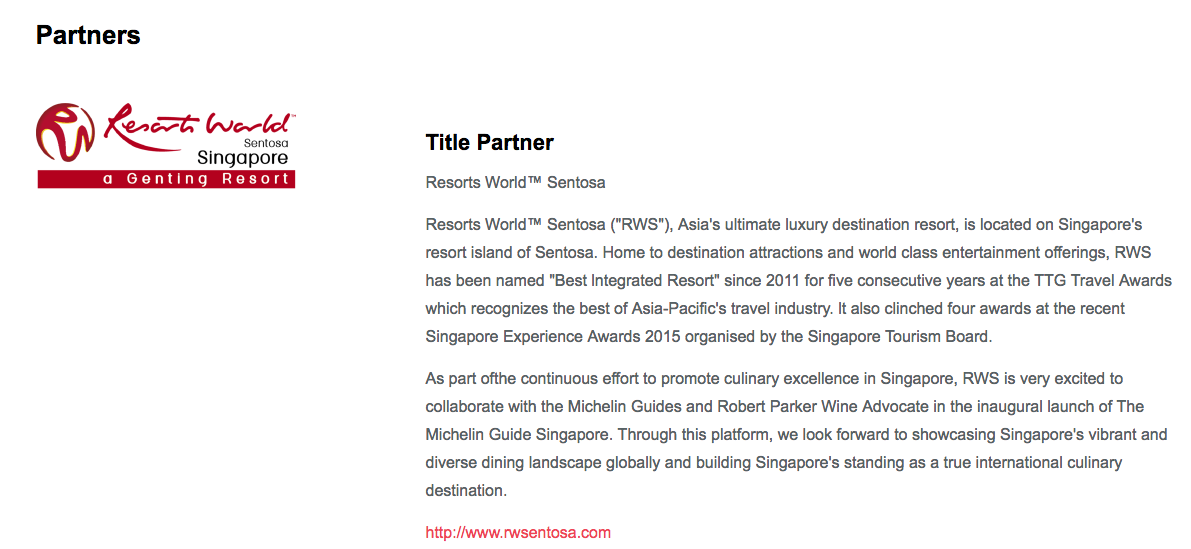 The problem becomes prominent when it was announced that 4 restaurants in the list of 29 (that's more than 10 per cent) are found in RWS. While we have no doubt that these restaurants serve extraordinary meals, it still makes us wonder if the guide's partnership with RWS has any influence on the list.
Aside from RWS, they also have 14 other partnerships with companies like Evian and Tiger beer. Here comes the incredulous part: they've got partner titles like "Official Water Partner" and "Official Champagne Partner". What does that even mean? It makes you wonder if two similar restaurants were vying for a star, would a restaurant serving beverages from their partners have an edge?
Too add on to this blatant commercialisation, there was even a ticketed gala dinner of the Michelin guide launch that cost $450 per person. There is no doubt left that this so-called "objective" food guide is one that pursues profit.
The partnership with STB may seem innocuous, but it sets off the question of how much STB benefits from it. A longer list of starred restaurants would make Singapore seem like a foodie's ideal destination and give our tourism sector a boost. Similarly, the more money tourists spend here on food, the happier STB would probably be. A meal at some restaurants on the list can set you back by a few hundred.
    

Less-than-anonymous food inspectors
One thing that gives Michelin guides authority is their food inspectors' anonymity. They don't identify themselves at restaurants, and hence are treated like any other diner. They also go to restaurants more than once to ensure consistency in the meals they taste.
Yet, an article by The Straits Times (ST) revealed that Michelin inspectors have been giving name cards out at several restaurants here. They may have done so after dining at a certain place for the last time, but the fact that their anonymity was compromised is still alarming. After all, if they were to continue being an inspector in future editions, who is to say they would not be recognised and given preferential treatment?
Also, just like what a chef was quoted saying in the ST article, "What's to stop staff from whipping out their phones and taking a photo of the inspector and passing it on to their friends in other restaurants?"
An article by Esquire SG goes further to show that name cards weren't even necessary to spot the predictable behaviour of inspectors. According to a chef interviewed, "The inspectors came solo and took pictures while they dined. They ordered the standard menu, and selected one glass of wine. They would then watch the room. When they ate, they would look stressed. They talked a lot and asked many questions, yet wouldn't leave any comments. They knew what they wanted to order, and they ate very fast."
    

Concentrated amount of restaurants in Singapore's central area
It doesn't take a genius to realise that 23 out of 29 restaurants in the Michelin guide are in Singapore's central area and 4 are in Sentosa. As for the remaining 2, Putien (Kitchener Road) and Hill Street Tai Hwa Pork Noodle are 2 and 3 MRT stops away from Dhoby Ghaut station respectively.
So the question we want to ask food inspectors is, "You got no budget to travel out of town ah?"
Even though places in the Bib Gourmand list are slightly more varied to include spots in Geylang, East Coast Road and Queenstown, they are still vastly concentrated in the central area.
Whether it just so happens that all our good food are found in the middle of our island, or the inspectors were being lazy, we hope the next edition will be more geographically comprehensive. Maybe Seng Kee Black Chicken Herbal Soup in Kembangan or Boon Lay Power Nasi Lemak?
    

Unexpected exclusions
Sure, many of our world-class restaurants are included (think Les Amis and Jöel Robuchon), but we can't help wondering why others fell off the list.
One of them is Burnt Ends, which is currently on the list of The World's 100 Best Restaurants and Asia's 50 Best Restaurants. The lack of Tippling Club and Wild Rocket's names is also a mystery to us as they've been given high recognition in other international guides.
There are more top-notch chefs we can think of who aren't on the list, and we hope they'll be given the recognition they deserve as well.
    

Surprising winners
On the flip side, there are also winners that confuse us. For instance, Shoukouwa, which received 2 stars, only opened its doors in March this year. How many times did Michelin inspectors dine at this young sushi place before deciding it should be a winner?
Some might argue that Shoukouwa is deserving of its stars, considering it was started under a partnership with Ernie Singer (founder of three-star Michelin restaurant Sushi Shikon in Hong Kong), and we don't deny that. But it would be nice to know what exactly went behind the decision making process of giving it its stars.
Another two-star restaurant that perplexes us is Restaurant Andre. What was the deciding factor that gave Restaurant Andre, which is also on the list of The World's 50 Best Restaurants this year and Asia's 50 Best Restaurants the past three years, 2 stars instead of 3?
There were even rumours that the restaurant was meant to receive 1 star, and it was only through chef Andre Chiang's influence at STB that the restaurant got a 2-star listing. Whether this was true or false, the fact remains that such controversy shakes the Michelin guide's authority.
    

Lack of diversity in type of cuisine
Out of the list of 29, 9 restaurants offer European cuisine (including French and Italian) and 6 of them offer Chinese cuisine.
For a city known for its diversity in food, it is almost startling that the list had no Malay representation, with Song of India being the lone Indian restaurant. 
The final say
Of course, the Michelin guide is not entirely bad or unwelcomed. There is no doubt it gives us a better knowledge of where to splurge on food, and it's great that it helps draw in foodies from all over the world.
We're also glad they included 2 hawker stalls to give our hawker heroes more global recognition. And $2 for a plate of 1 Michelin star soya sauce chicken rice? We're not complaining.

There are many positives the Michelin guide will bring. Increased tourism receipts, higher dining quality for patrons and recognition for deserving winners.
That being said, these issues raised here cannot be overlooked, and hopefully they will be taken into account in the next edition of the Michelin guide in Singapore.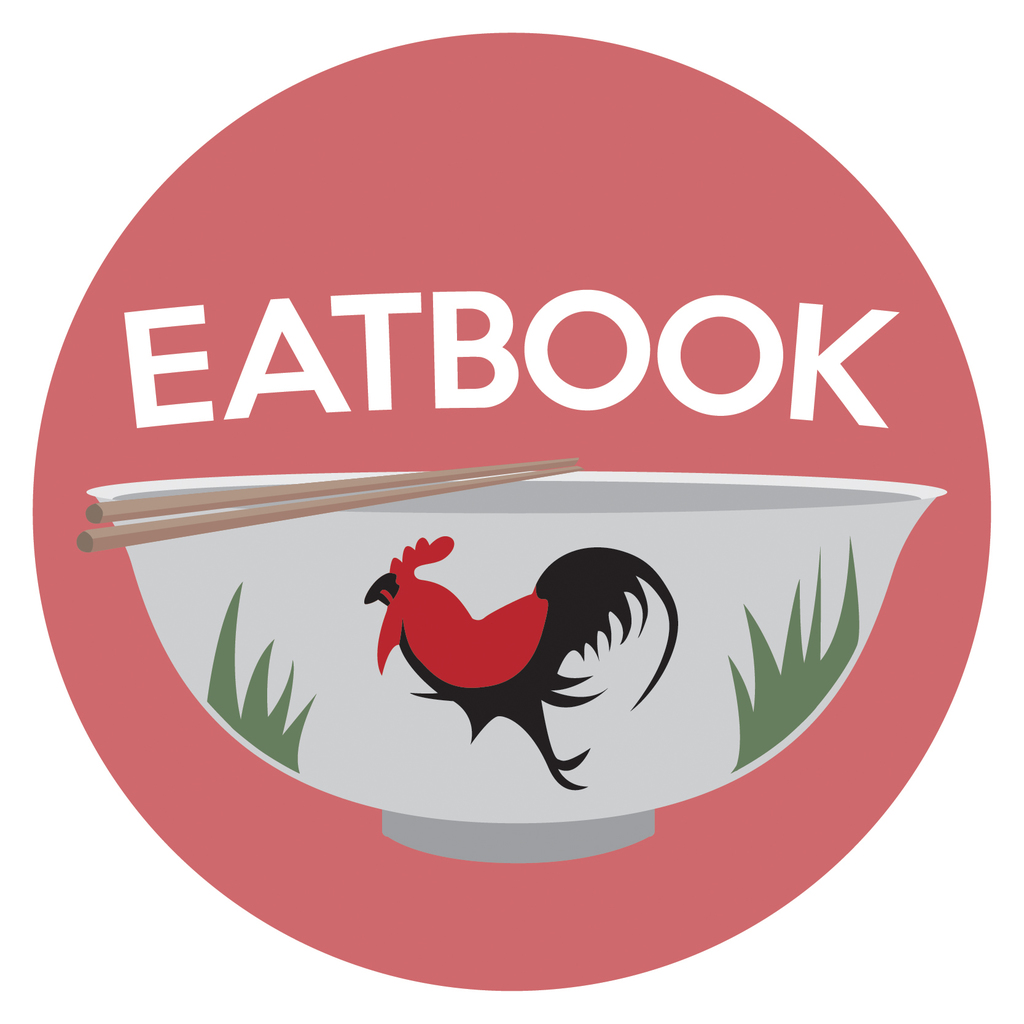 Drop us your email so you won't miss the latest news.