I scream for ice cream
This was an undercover review with expenses covered by Eatbook.
If there's one dessert best suited for Singapore's hot and humid weather, it'd have to be ice cream. There's something insanely comforting about digging into spoonful after spoonful of cold creamy goodness on this sunny island.
Opening early this year, this quaint ice-cream parlour along Upper Serangoon View Road has charmed many with its unique offerings seldom found elsewhere. Fromn classic ice cream flavors to wacky ones, we're talking Chilli Crab and White Truffle – this place has something for even the weirdest palates!
Double Scoop ($8.40) – Butterscotch Bacon x Chilli Crab
Stepping into the cafe, you'll be greeted by gorgeous photographs lining the wall. These photographs are for sale, so if any of them catch your eye, feel free to ask the service staff for more information.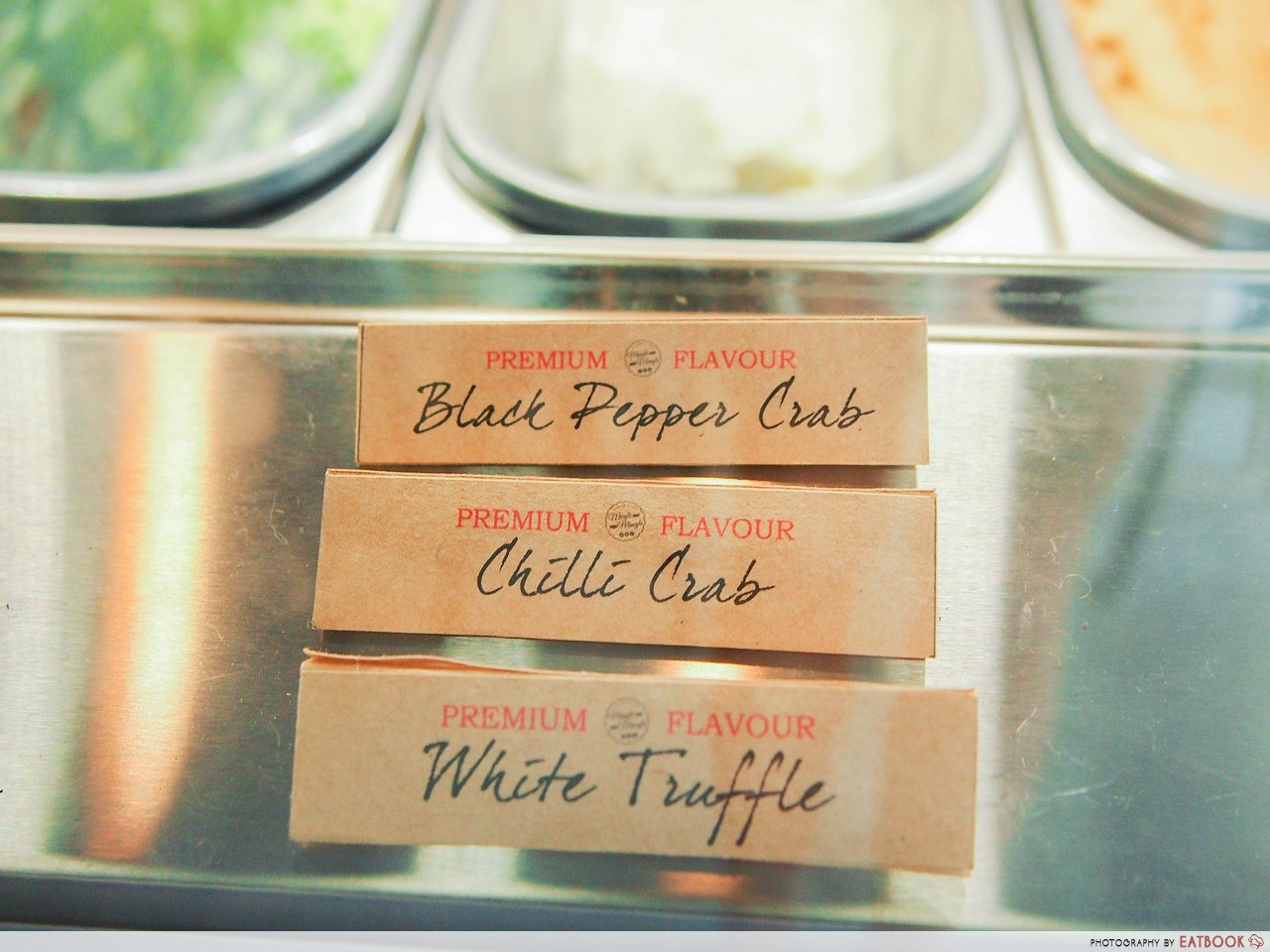 As I stood looking at the wide selection of never-before-seen flavors at the counter, I felt spoilt for choice. With just a casual glance of the chiller, I spotted 5 unconventional flavours – Chilli Crab, Black Pepper Crab, White Truffle, Butterscotch Bacon, and Dark Truffle.
Luckily, the service staff was extremely patient and kindly allowed me to sample a few flavors! In the end, I settled on a double scoop cup with Butterscotch Bacon and Chilli Crab.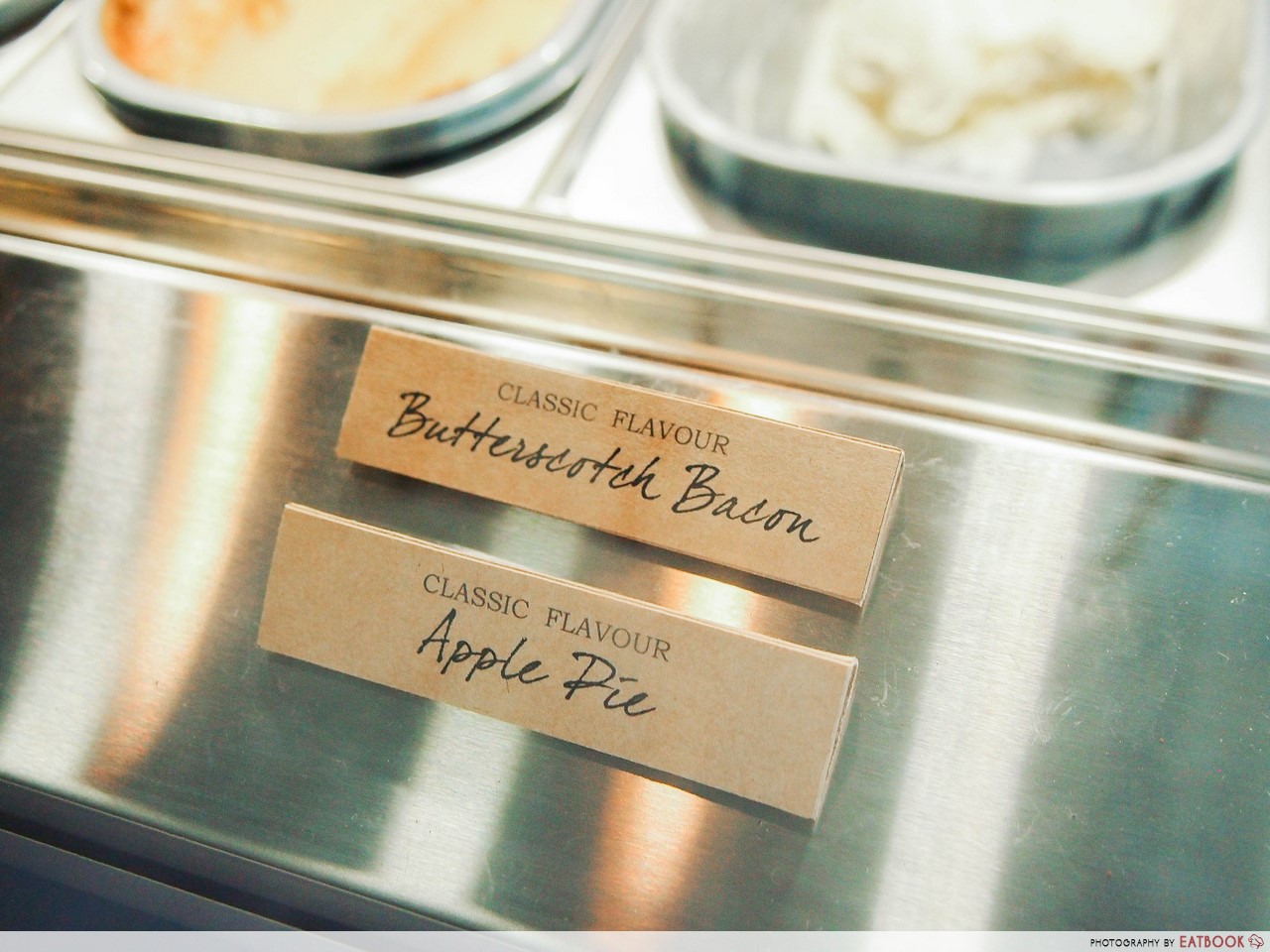 The Butterscotch Bacon was pleasing to my palate as the sweetness of the butterscotch was balanced well with the savoury crispiness of bacon bits. While you wouldn't expect bacon to work well with butterscotch, the sweet-savory combination was a showstopper. I guess there's some truth in the saying "Bacon is the answer to everything".
My only grouse was that the flavour of butterscotch was slightly muted and could have had a more caramelized tang.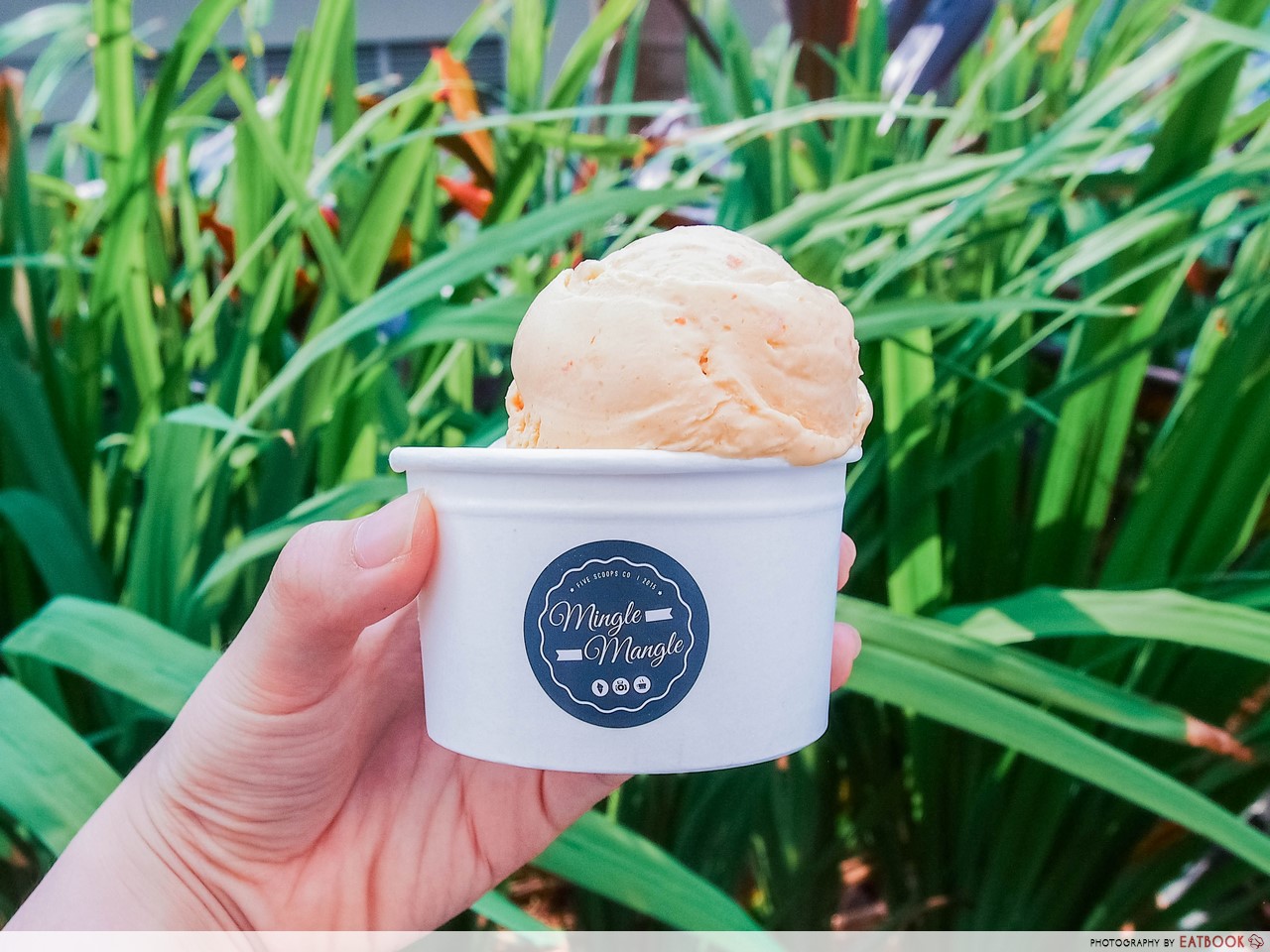 The Chilli Crab flavor was, in short – confusing. My mind associates the flavor of chilli crab to a spicy-sweet eggy sauce, and the scoop of ice cream did have the familiar taste that us Singaporeans know and love – except that it was cold and creamy. Each scoop gave my senses a mild shock from the unfamiliar combination of my favourite crab dish mixed with the cool texture of ice cream.
Even though I was slightly put off by the taste, Mingle Mangle managed to capture the essence of a local favorite perfectly well, though I couldn't help but prefer the actual dish.
P.S: For those who cannot take spicy food, note that this flavor has a slow numbing heat that creeps up on you in waves.
Dos Bros ($11)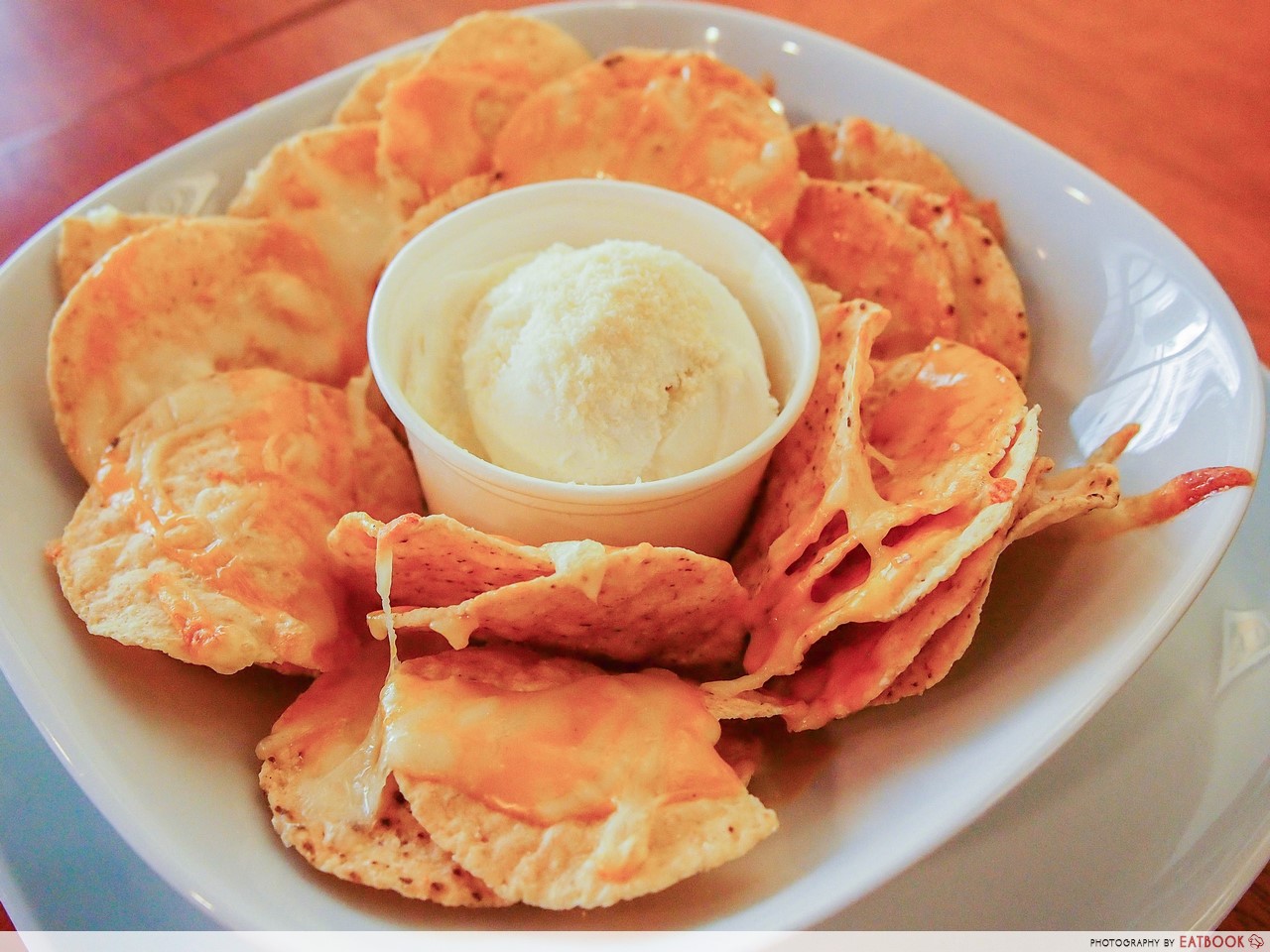 The Dos Bros was an interesting duo that featured warm cheese-drenched nachos and Mingle Mangle's unique Parmesan Cheese ice cream as a 'dip'. The entire concept of the dish was novel, but the ice cream tasted like vanilla ice cream mixed in with powdered parmesan cheese – not the best combination in the world.
For the price of $11, I would rather get a plate of proper nachos somewhere else. If I was to make a return visit, it's unlikely that I would order this.
Test your tastebuds at Mingle Mangle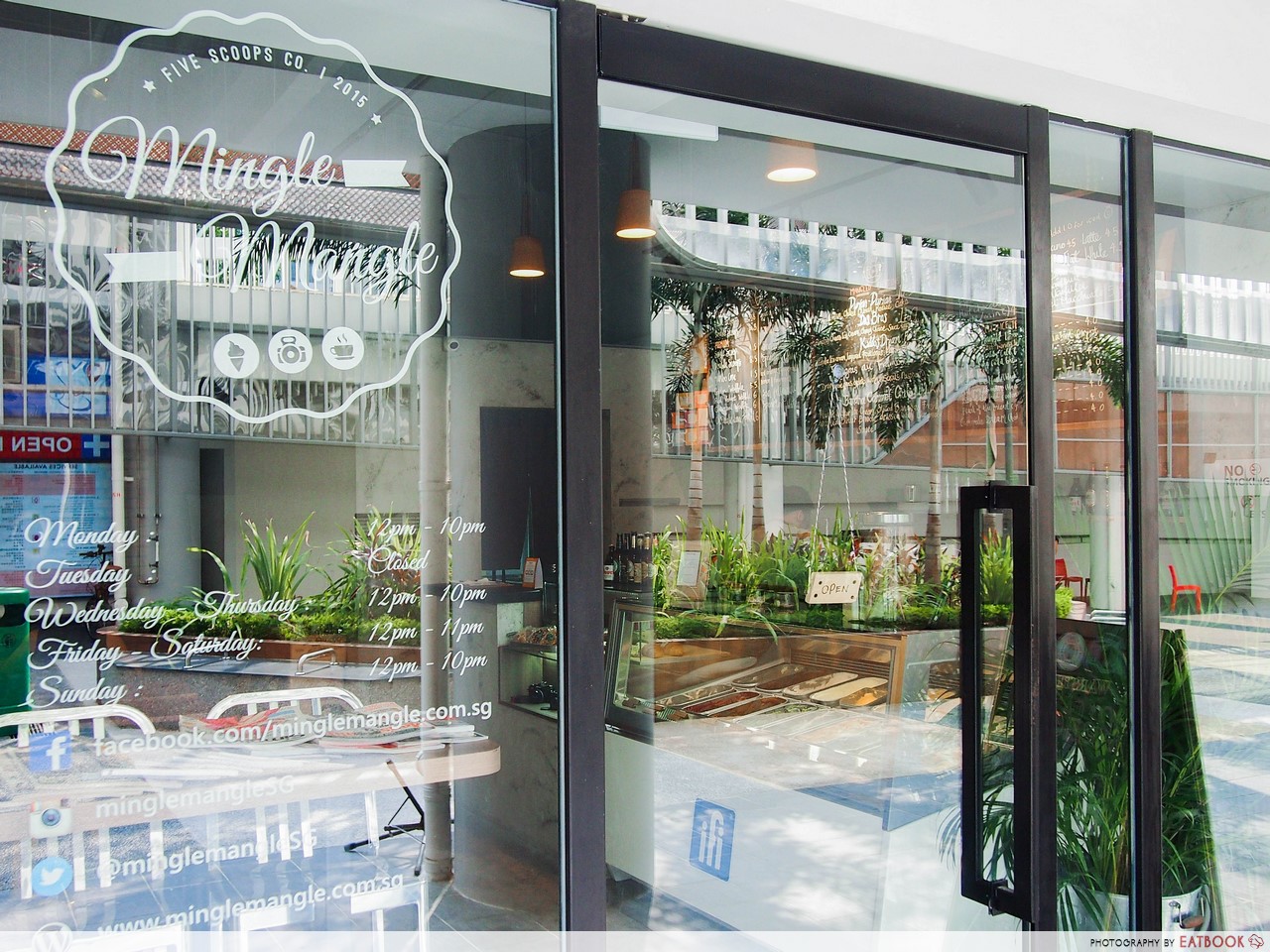 While Mingle Mangle definitely stands out with its unique flavours, it veered on the side of being gimmicky at times. However, it was carefully balanced out by good craftsmanship and a willingness to explore questionable tastes to intrigue our palates.  
Nevertheless, I enjoyed spending a lazy afternoon in this tranquil cafe with my head bobbing to the latest pop tunes, and a cup of ice cream in my hands.
Summary
Pros
– Well made ice cream
– Wide variety of flavors
Cons
– Some of the flavors might need some getting used to
Recommended Dishes: Double Scoop ($8.40)
Operating Hours:
12pm to 10pm (Sunday to Thursday)
12pm to 11pm (Friday to Saturday)
Address: Block 476 Upper Serangoon View, #02-07, Singapore 530476