Minion Cafe in Singapore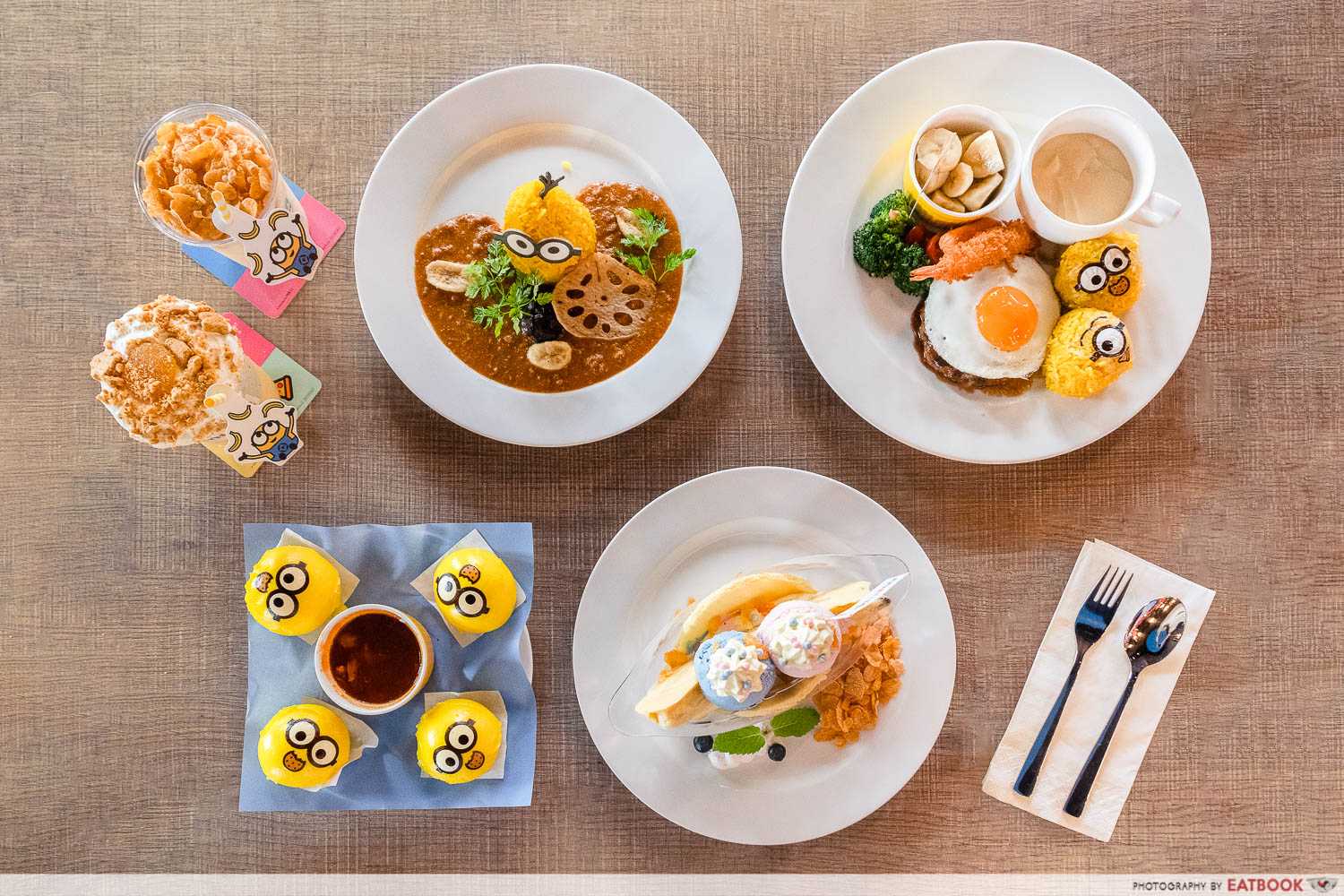 It has been a while since the last Minion Cafe pop-up at Orchard Central in 2017. The Minion Cafe has now returned, and is situated at Clarke Quay with a larger menu. Instead of just featuring the menu from PARCO Japan, they have also included locally-inspired dishes that are specially curated by Chef Tom Kung, the head restaurant chef at 1-Group Singapore. The cafe is operating from now till 2 January 2022, so head down before it closes!
The menu at the Minion Cafe features 10 mains, four desserts, and five drinks. It includes dishes such as prawn noodles, mantou with chilli crab dip, and Wagyu lunch plates, with prices ranging from $7 to $32.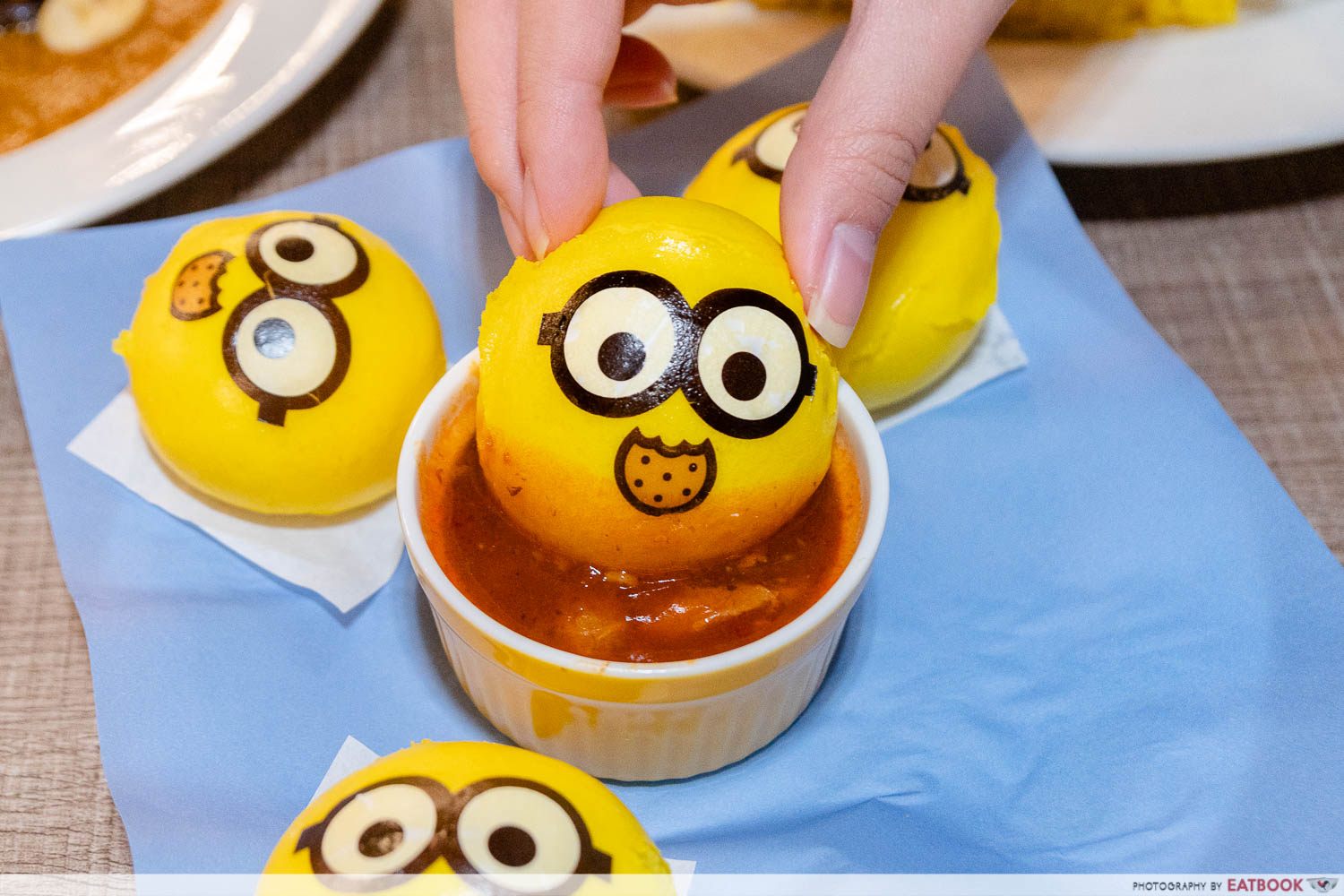 To start your experience, we recommend the Mini Pumpkin Mantou With Chilli Crab Meat Dip ($15). This comes with four bright yellow tennis ball-sized mantou, adorned with Minion faces, and served with a chilli crab dipping sauce. 
My colleague and I were impressed with this dish. The mantou had a hint of sweetness, which complemented the spicy, tangy, and sweet chilli crab dip. What's noteworthy was that there were  bite-sized chunks of crab meat in the dip. The chilli crab packs a punch, so this might not be the most kid-friendly.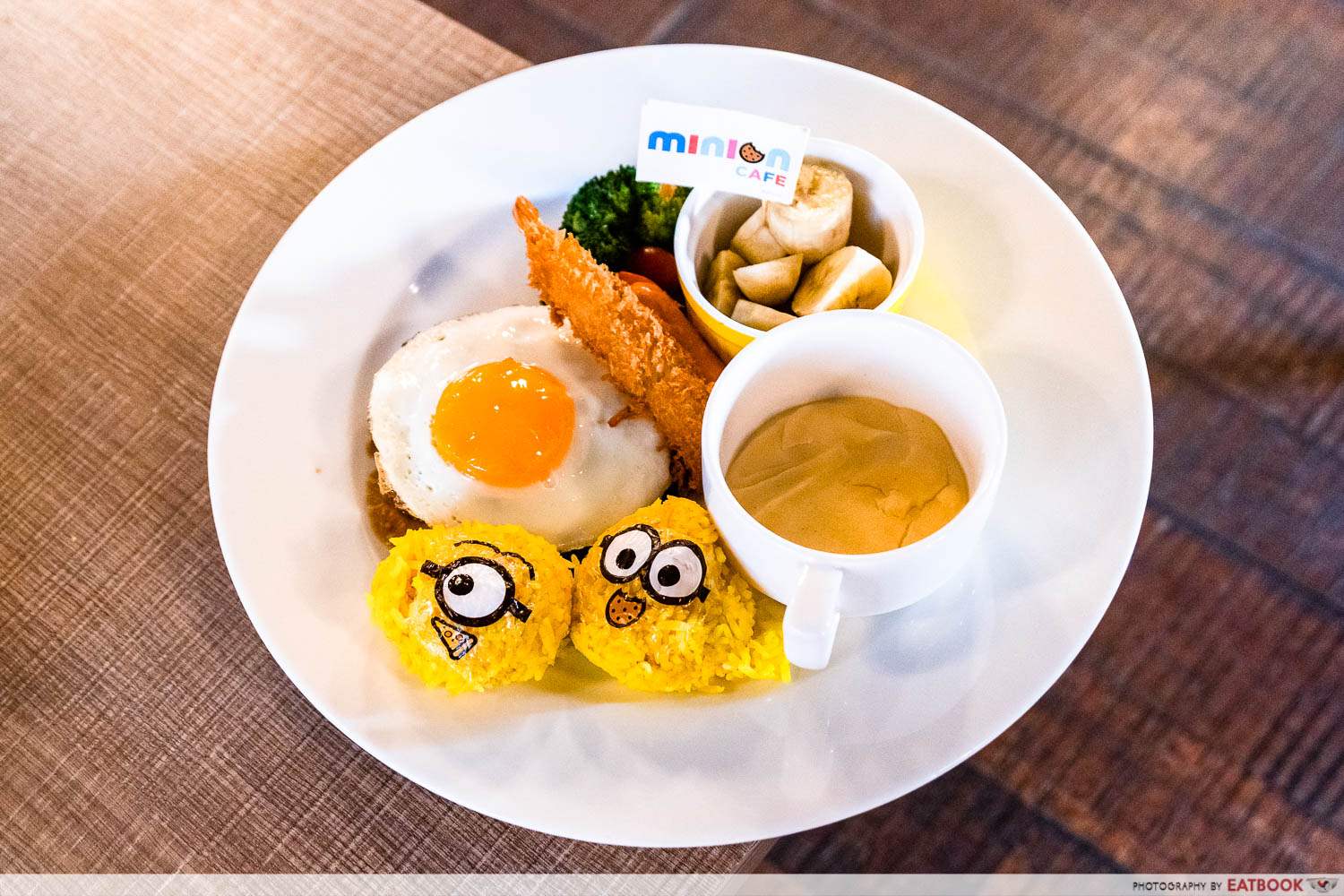 For mains, consider the Minion Wagyu Lunch Plate ($28) or the Minion Keema Chicken Curry ($25). The former includes two Minion-shaped rice balls, a fried prawn, mashed potatoes, a small portion of vegetables, a Wagyu patty, a sunny side-up egg, and a bowl of sliced bananas on the side.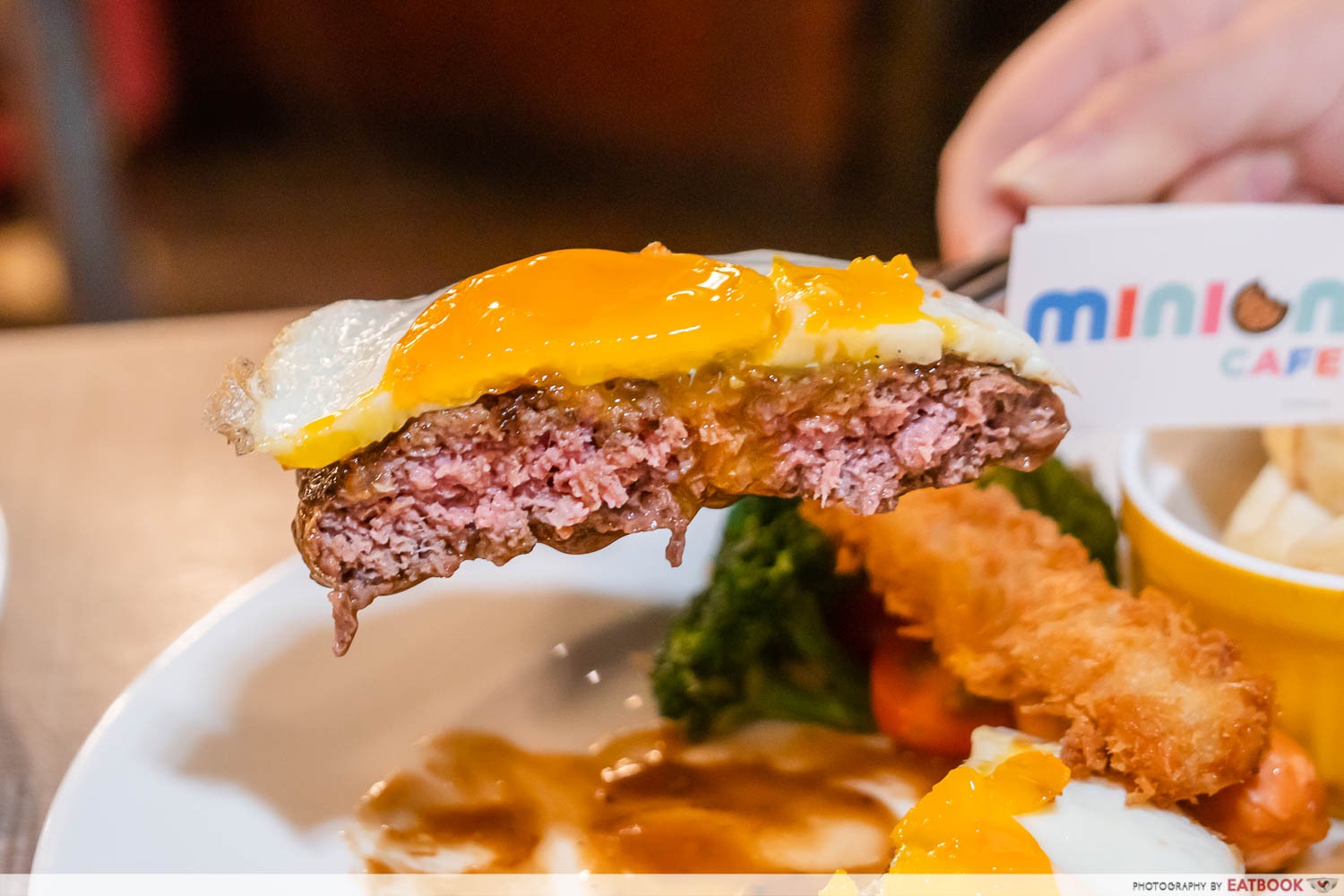 Cutting into the Wagyu patty revealed a pink centre, with a lovely browned exterior. Unfortunately, the visuals did not reflect its texture; it was a tad dry and tough. Thankfully, the runny yolk and gravy added some creaminess and moisture to the patty. Flavour-wise, the gravy was pleasantly peppery and savoury. 
The Minion Cafe also offers this lunch plate as a meat-free option ($28). It features the same items, but with a Beyond Meat patty instead.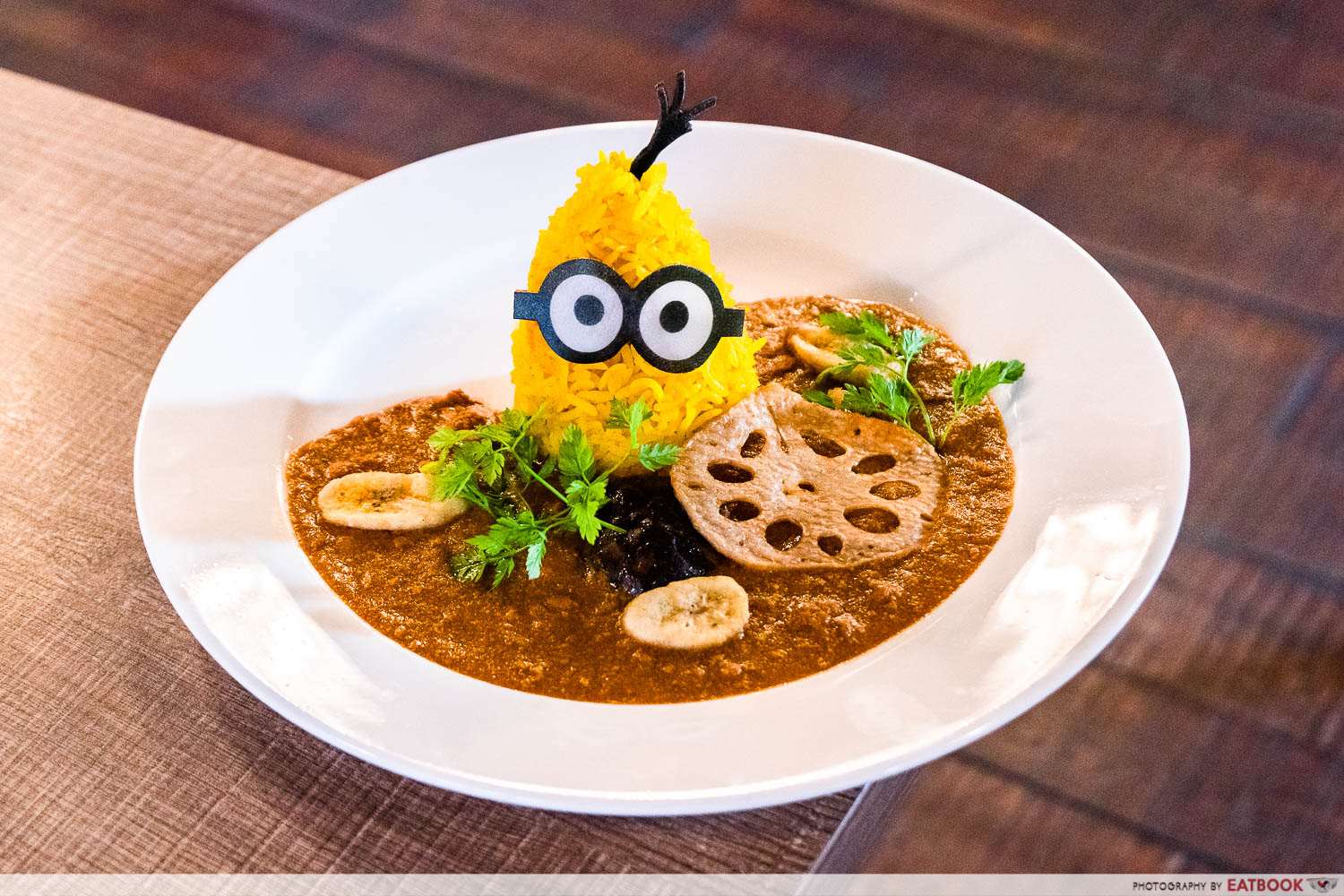 Otherwise, the curry rice is a great alternative if you're looking for something less filling. It comes with minced chicken curry, topped with mushroom, a fried lotus chip, and three slices of dehydrated banana. The dish is completed with a portion of turmeric rice, shaped to resemble a Minion. 
Compared to the chilli crab, this curry was less spicy, making it more suitable for children, or for those who can't handle spice. The curry was very fragrant, savoury, and well-seasoned. What stood out the most were the banana chips, which we found complemented the curry nicely. 
Aside from these dishes, there are other mains that you can also check out, such as the Minion Singapore Prawn Noodles ($24), Minion Kelong Prawn & Scallop Pizza ($32) and more.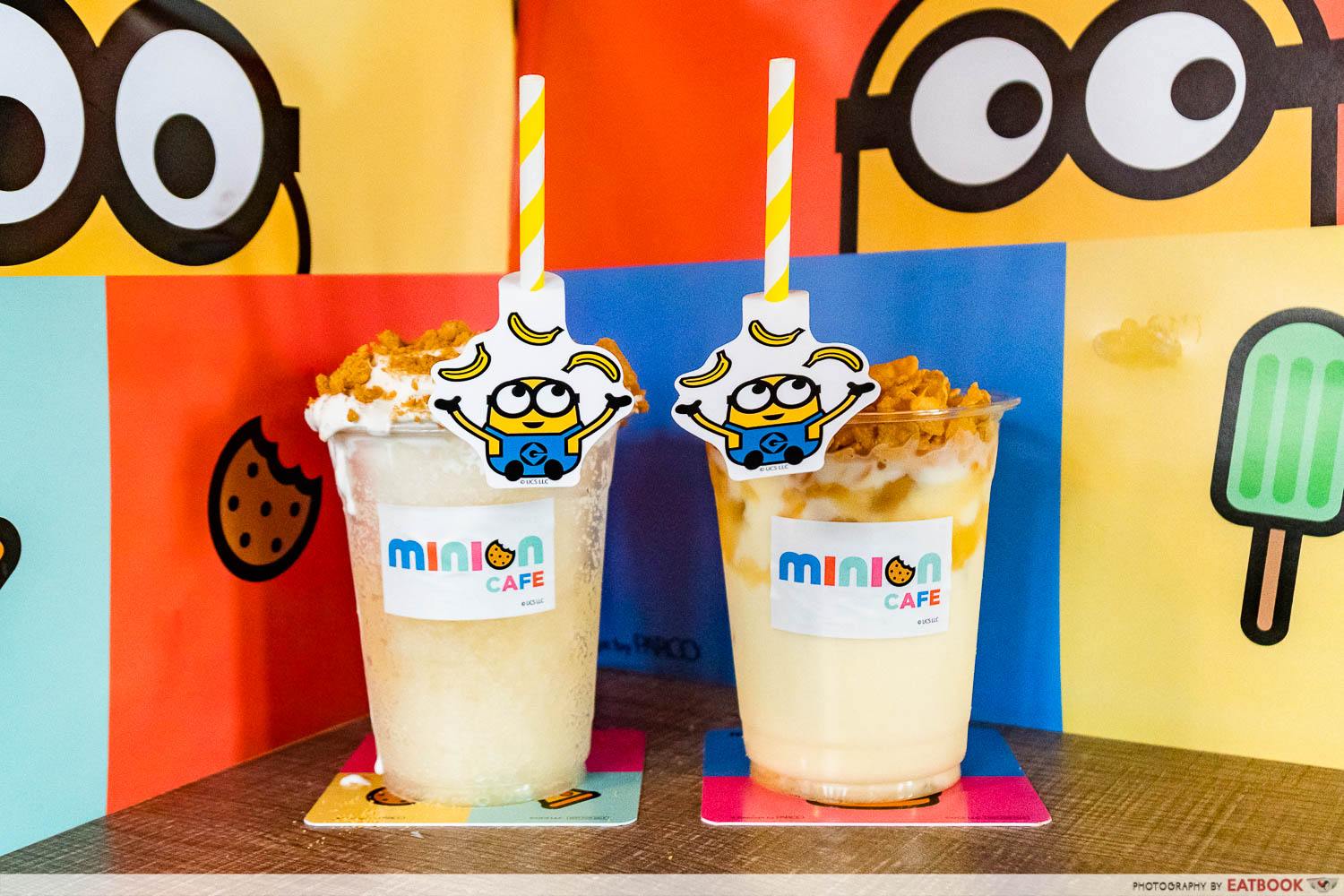 If you are feeling parched during the meal, consider the Minion Banana Drink ($9), which is a banana milk beverage, drizzled with banana syrup and topped with a mountain of cornflakes一akin to a bowl of breakfast cereal with milk, but in the form of a drink! If not, the Yellow Bello Pineapple ($9) is a refreshing and thirst-quenching option.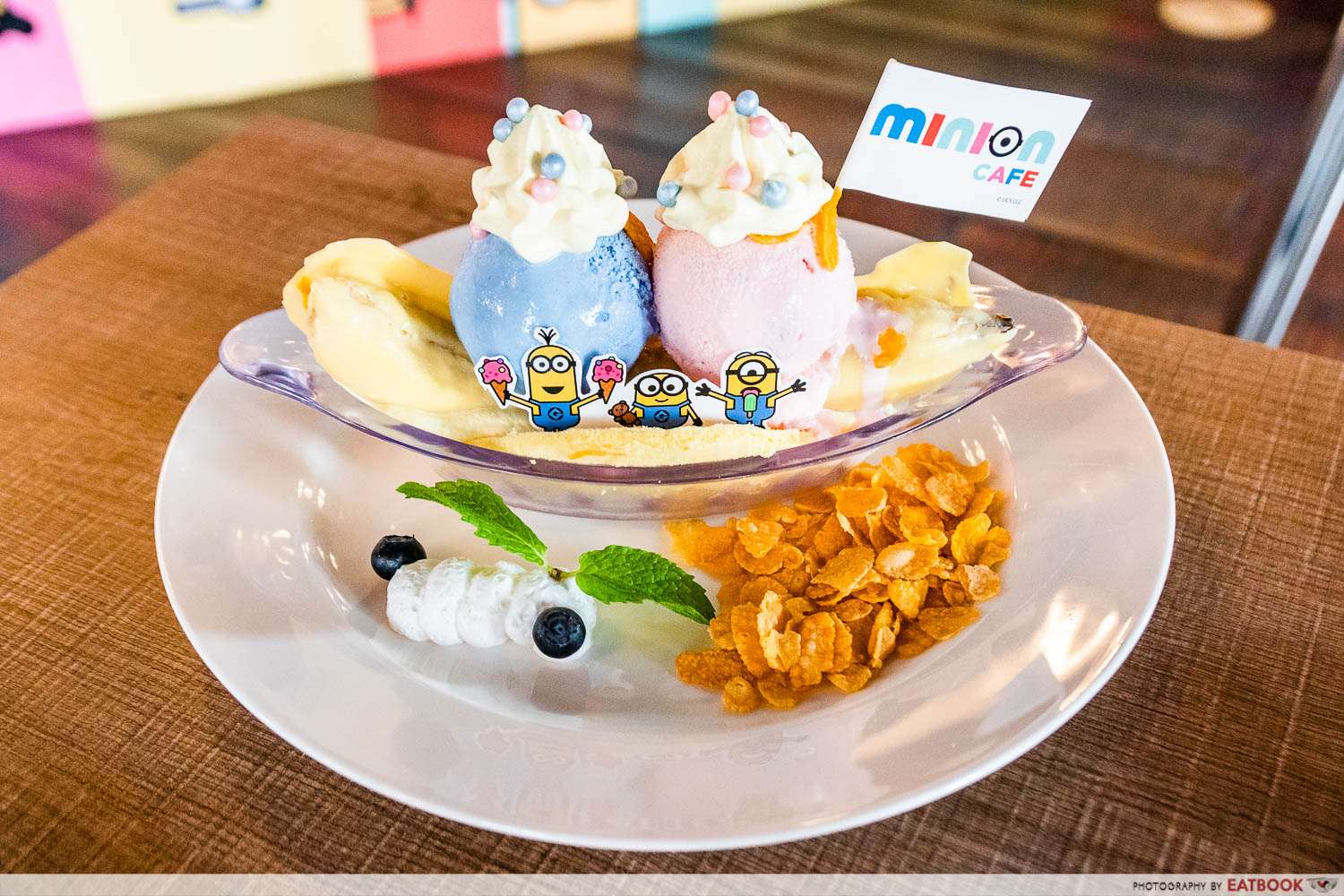 To end your experience on a sweet note, go for the Minion Banana Boat ($18), which features a sponge cake base topped with banana encased in white chocolate and ice cream. Have the strawberry and cotton candy-flavoured ice cream with some of the accompanying cornflakes for more texture!
After your meal, don't forget to visit their Minion store, stocked with exclusive merchandise from Japan such as the Minion plushie ($40) and the plushie keychain ($14). You won't be able to find these anywhere else in the world!
Whiskdom Review: IG-Famous Bakery Opens At Clarke Quay With Lava Brownies And Chunky Cookies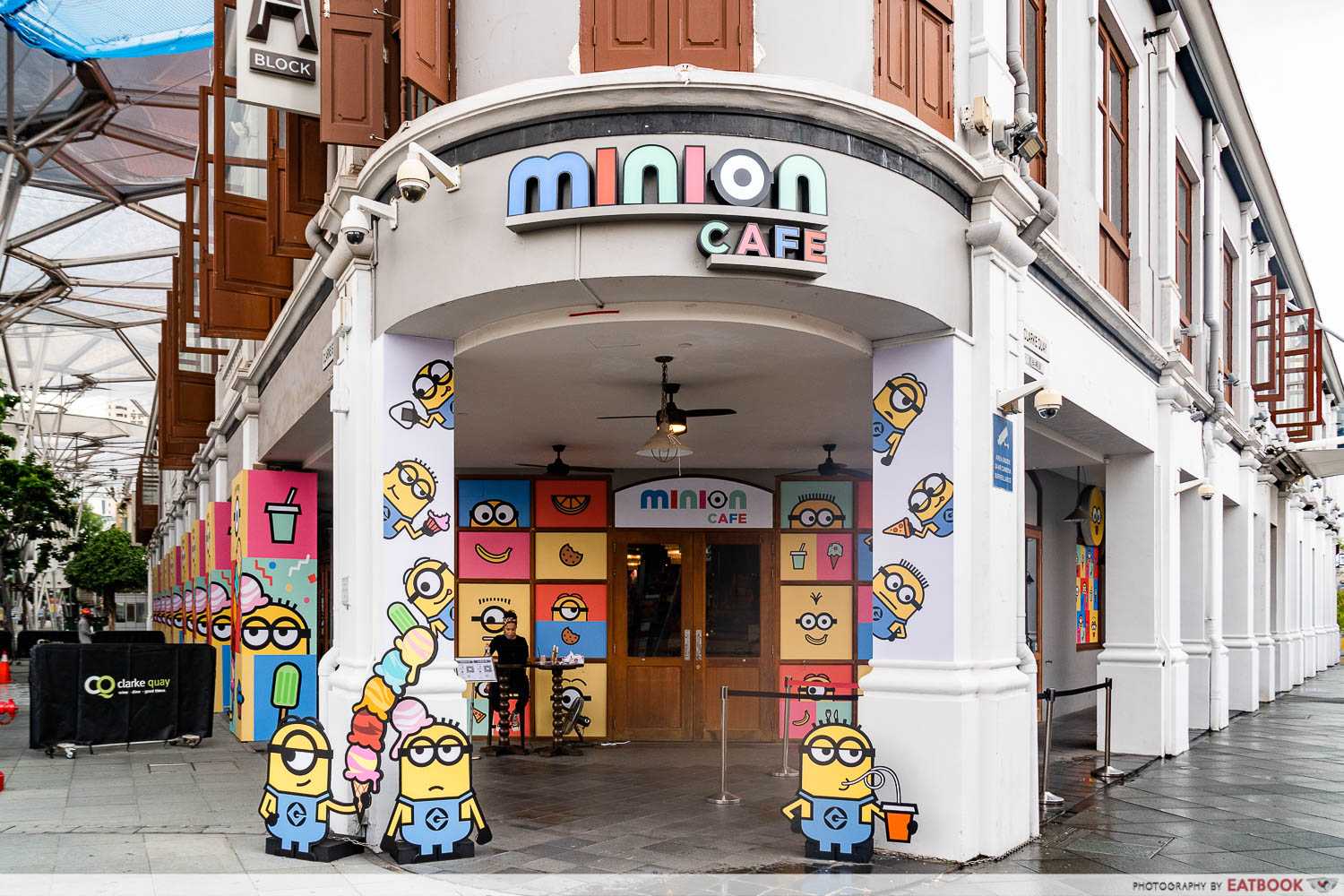 The cafe is approximately a five-minute walk from Fort Canning MRT Station, and is situated next to Chupitos and House of Seafood. It's hard to miss as the exterior is plastered with colourful Minion posters, as well as mischievous-looking Minion standees.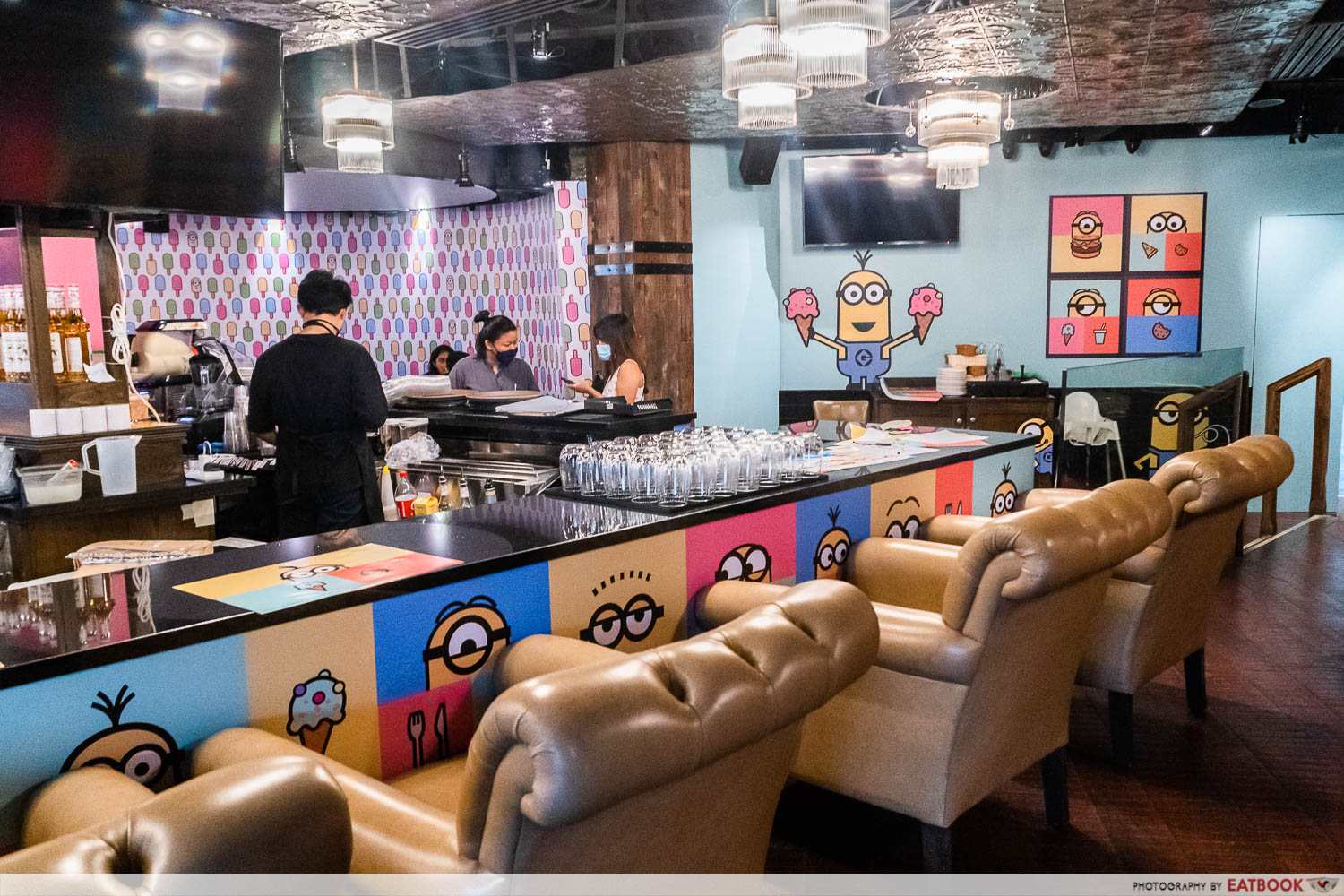 The Minion Cafe is rather spacious, and is able to seat approximately 130 customers. The space looks like it used to be a bar, so it may seem a little dull at first when you walk in. However, the mood is uplifted with vibrant wallpapers and well-loved Minions. 
For more food around the area, check out our newest find—Whiskdom—for lava brownies and chunky cookies to bring home after the meal. Alternatively, check out these eateries at Clarke Quay that offer wallet-friendly lunch deals below $20!
10 Lunch Sets At Clarke Quay Under $20 Including Bulgogi Bagel, Ribeye Steak And XXL Hot Dogs
Address: 3A River Valley Road, Block A Clarke Quay, #01-01C, Merchant's Court, 179020
Opening hours: Sun-Thurs 11am to 11pm, Fri-Sat 10am to 11pm
Tel: 9726 0307
Website
Minion Cafe is not a halal-certified eatery.