About Mitzo
---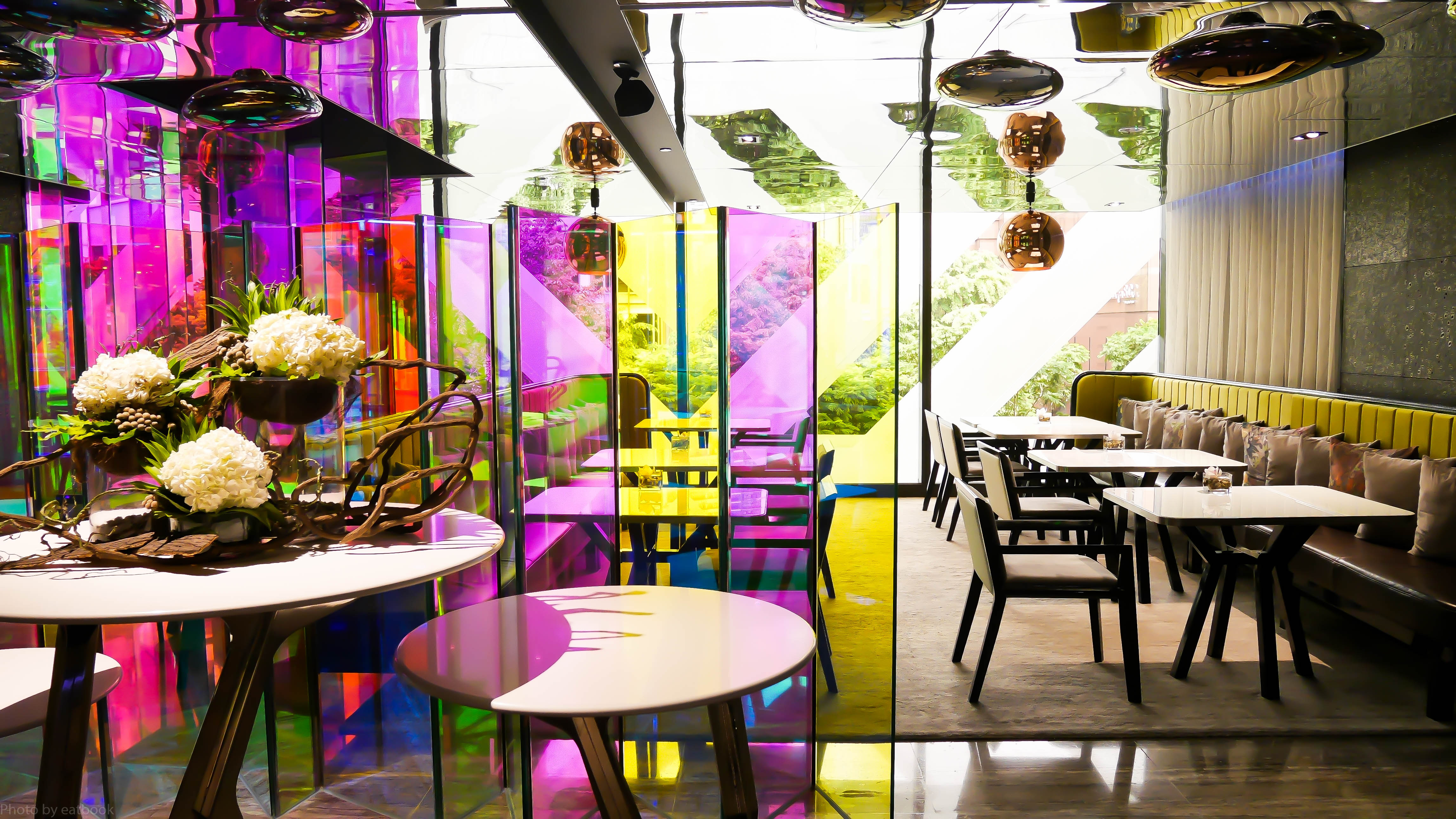 For the longest time, Orchard Road had been a wasteland when it came to good, value for money restaurants. Mediocre and overpriced plates of pasta adorn the menus on the boulevard and soulless chain restaurants beckon you into their plush sofa seats after a long day of shopping. There are maybe a handful of restaurants I would recommend here, and I'm happy to say I've included Mitzo on the list.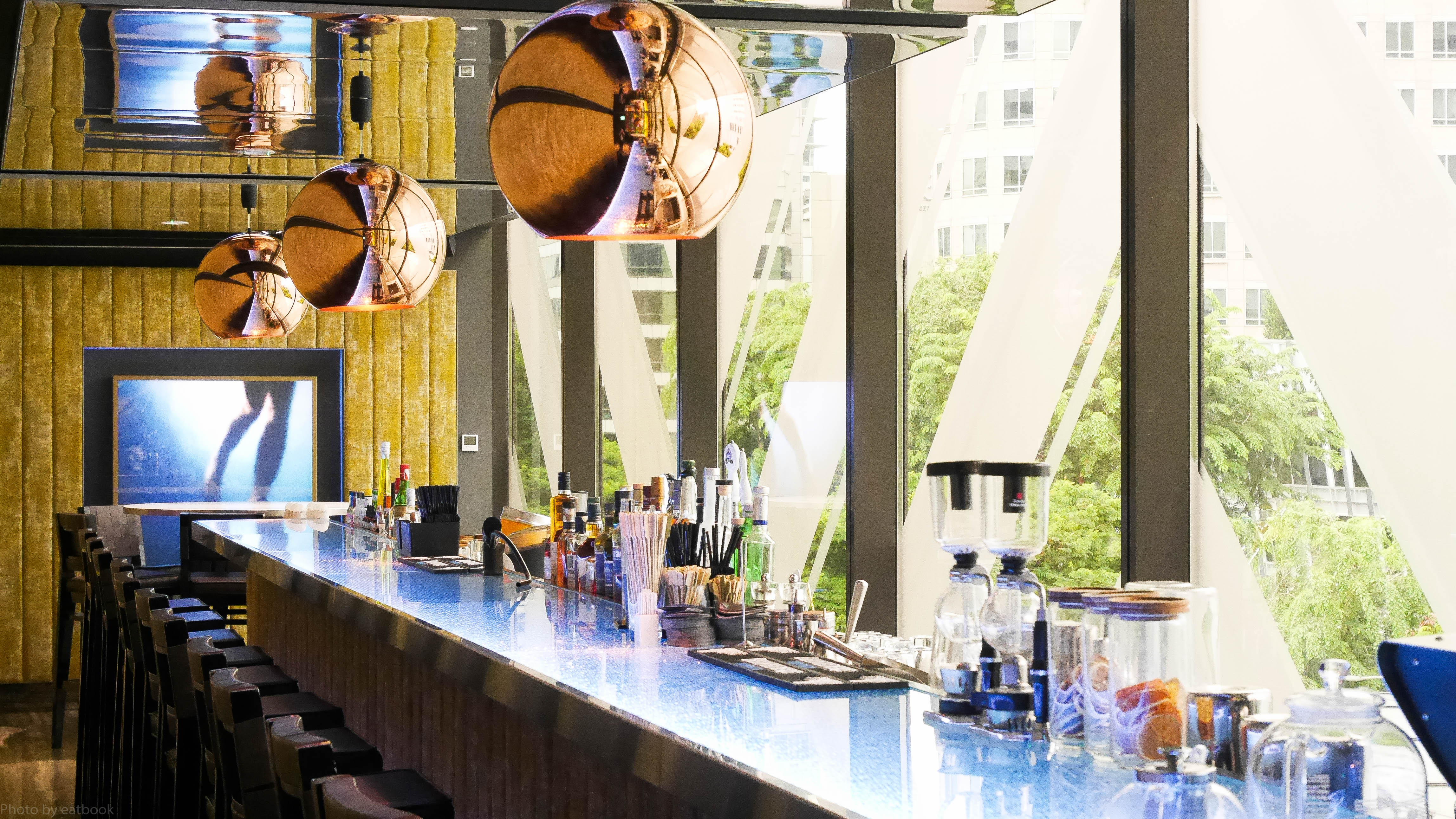 Mitzo is a modern Cantonese restaurant. While their origins and inspirations are steeped in tradition, their techniques and ingredients belong to the 21st century – bringing a new take on Cantonese cuisine that will be both familiar and strange to many of us. Chef Nicky Ng who has graced the kitchens in Hakkasan of Michilen star fame, has constructed a signature 10 course menu ($108++) to demonstrate this new philosophy.
---
Mitzo Special Barbecued Pork
---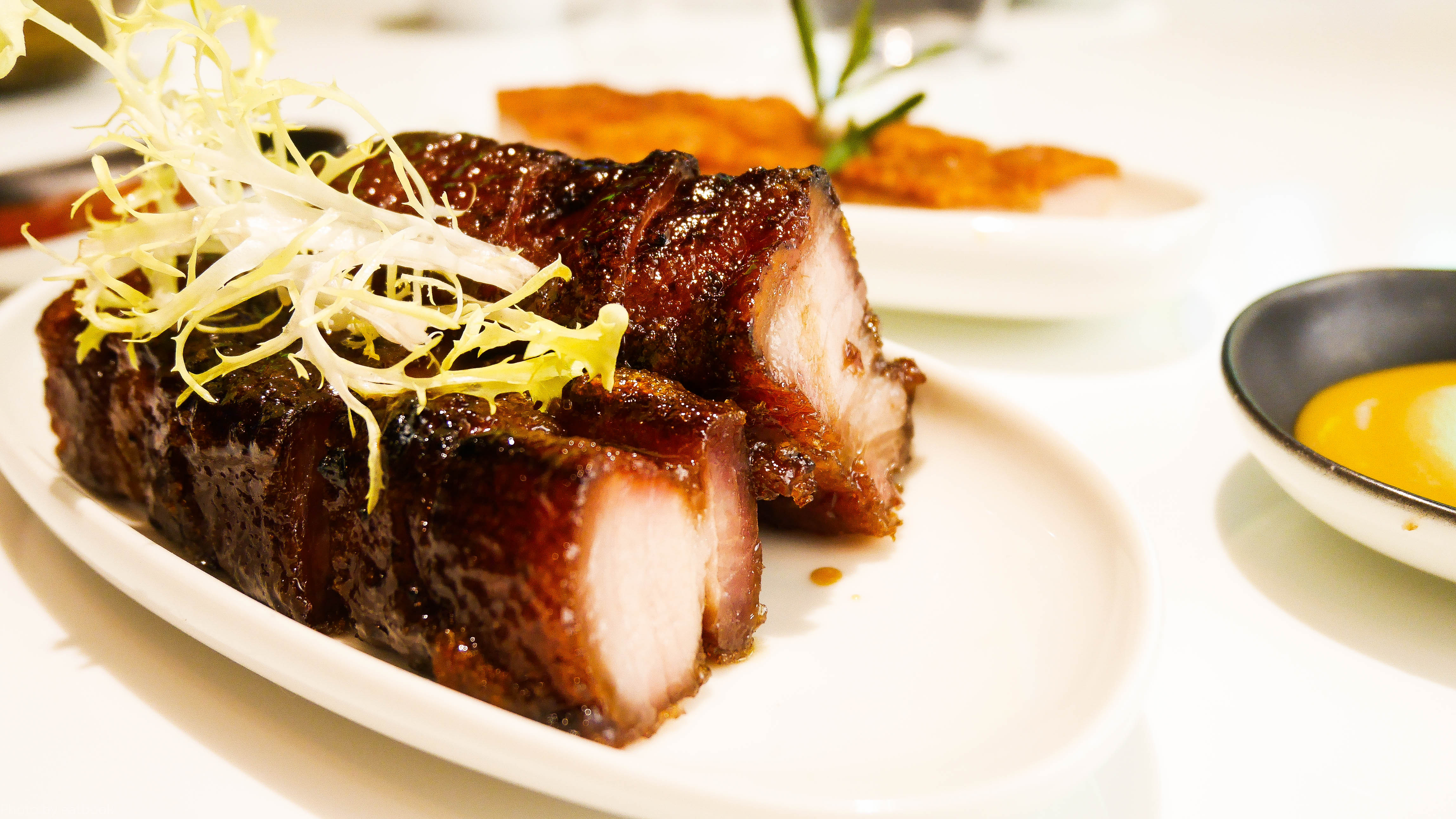 Special doesn't even begin to describe this dish. The outside of this perfectly roasted pork is layered thinly with sugar and caramelized to create an extra crispy layer not unlike a creme brulee. Biting into it is such a joy, and the end product was amazingly not overly sweet. It's tremendously enjoyable and one of my favorite dishes this year.
---
 Dim Sum Platter 
---
This beautiful platter includes the Thousand Layer Radish Puff, Crispy Glutinous Pumpkin in Custard and, Bread Coated Shrimp with Foie Gras. The radish puff may look like a caterpillar, but it certainly doesn't taste like one.  Its sweet and aromatic filling was a joy to eat as were the pumpkins whose gooey insides oozed in my mouth as I bit into that crunchy exterior.
The prawns looked beautiful, but were severely under-seasoned. I could barely taste the foie gras  or anything else in the dish and ended up being very dissapointed by it.
---
Mitzo Lobster Bisque with Poached Scallop
---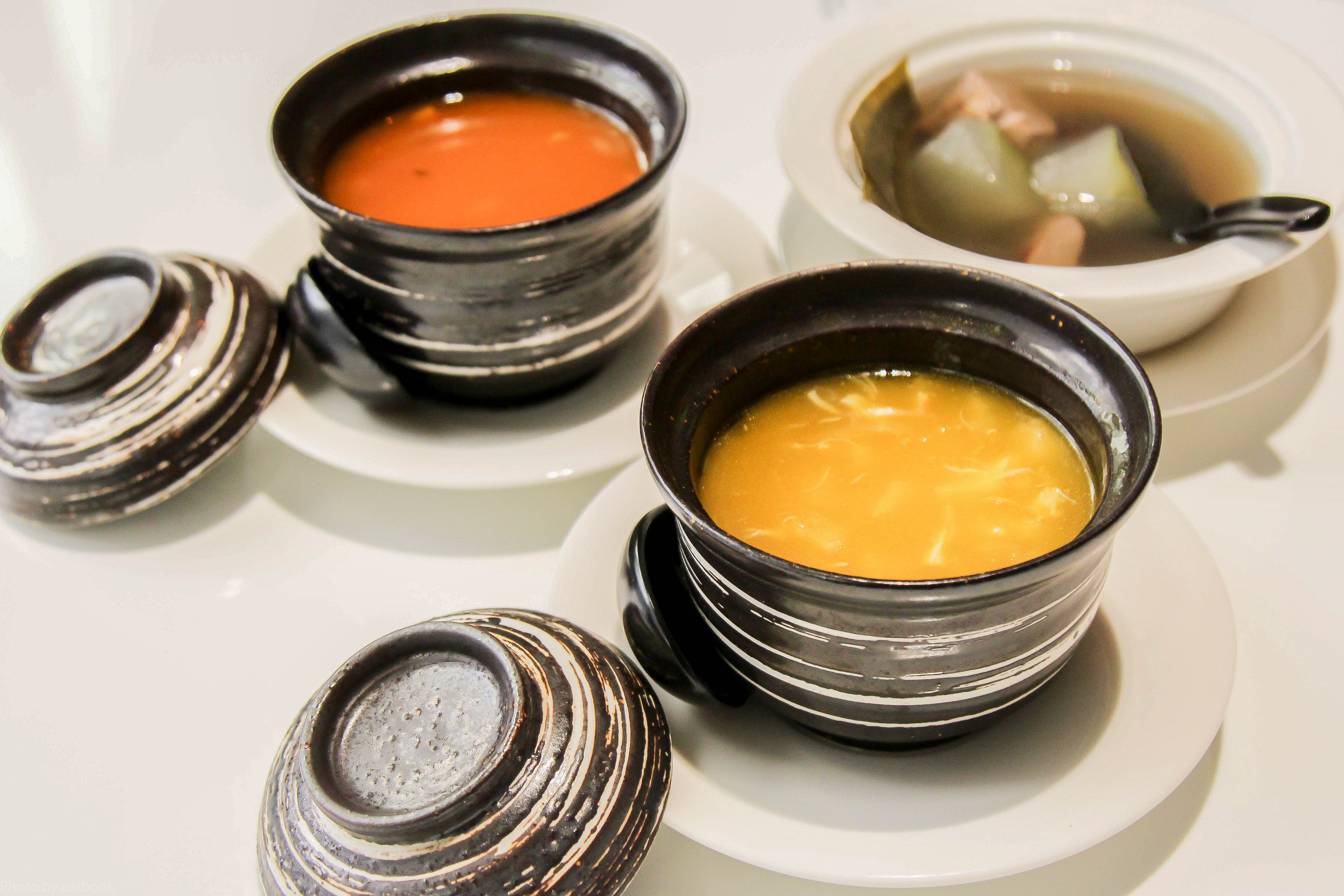 I was given a choice between the soup of the day or  the bisque and opted for the default bisque on the menu. The bisque was a letdown. What piqued my curiosity was the lack of cream, a principal ingredient in a bisque. Instead it was thickened the Chinese way with corn starch. The main problem was the flavor, or the lack of it. There was a tiny semblance of lobster if I really concentrated, and that was just way too subtle.
---
Oven Baked Chilean Seabass with Lemongrass, Chilli and Spices
---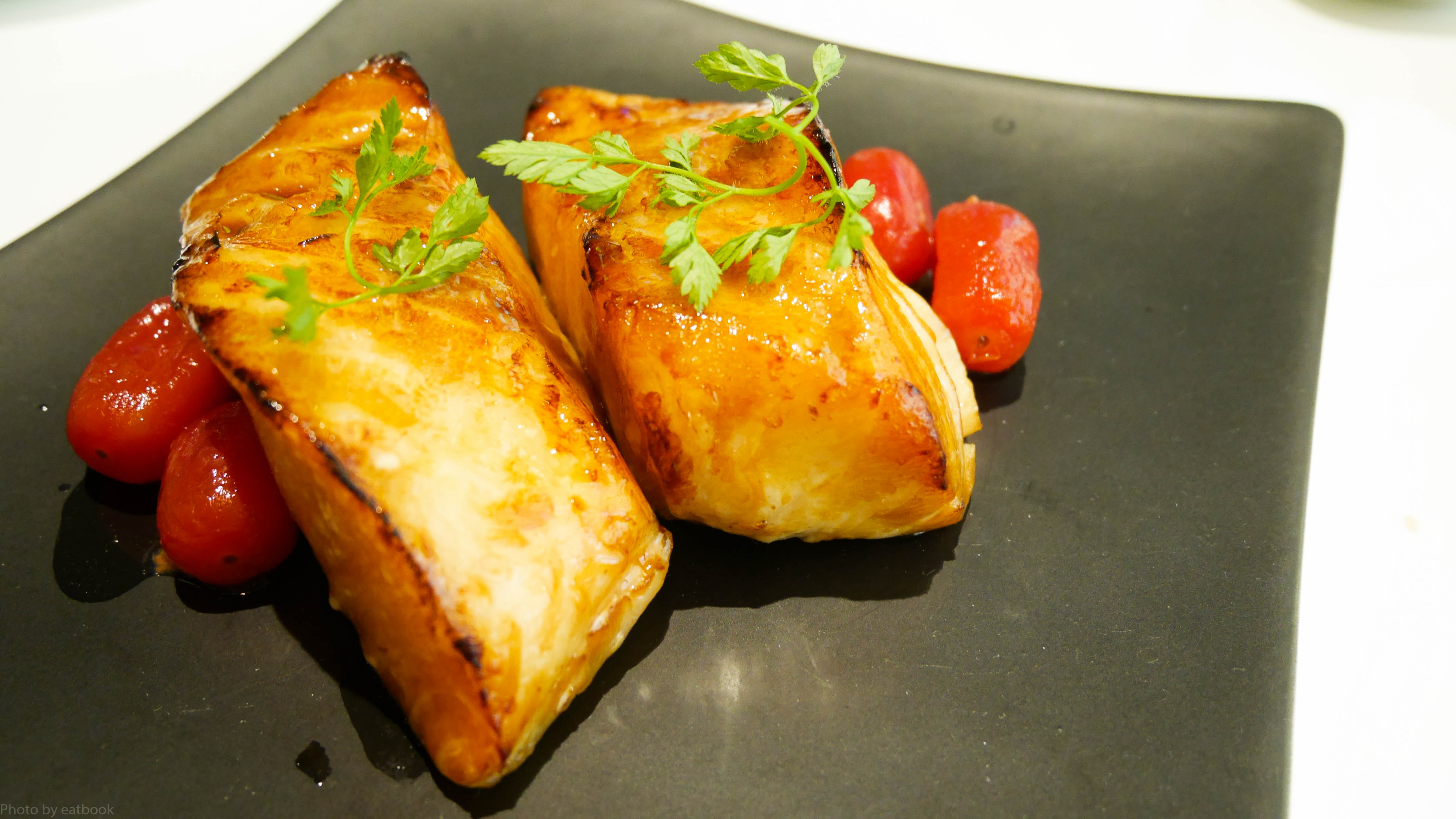 The Seabass was flaky yet firm and full of flavour, which is pretty much the best thing you could say about Seabass! What really caught me by surprise were the little cherry tomatoes on the side which were amazingly sweet. I was convinced they were brined but the chef corrected me. The tomatoes were first fried to get the skin off then blanched in a sour plum liquid with some spices. It's a great technique that paid off really well.
---
Deep-Fried Prawn Coated in Creamy Lemon Sauce 
---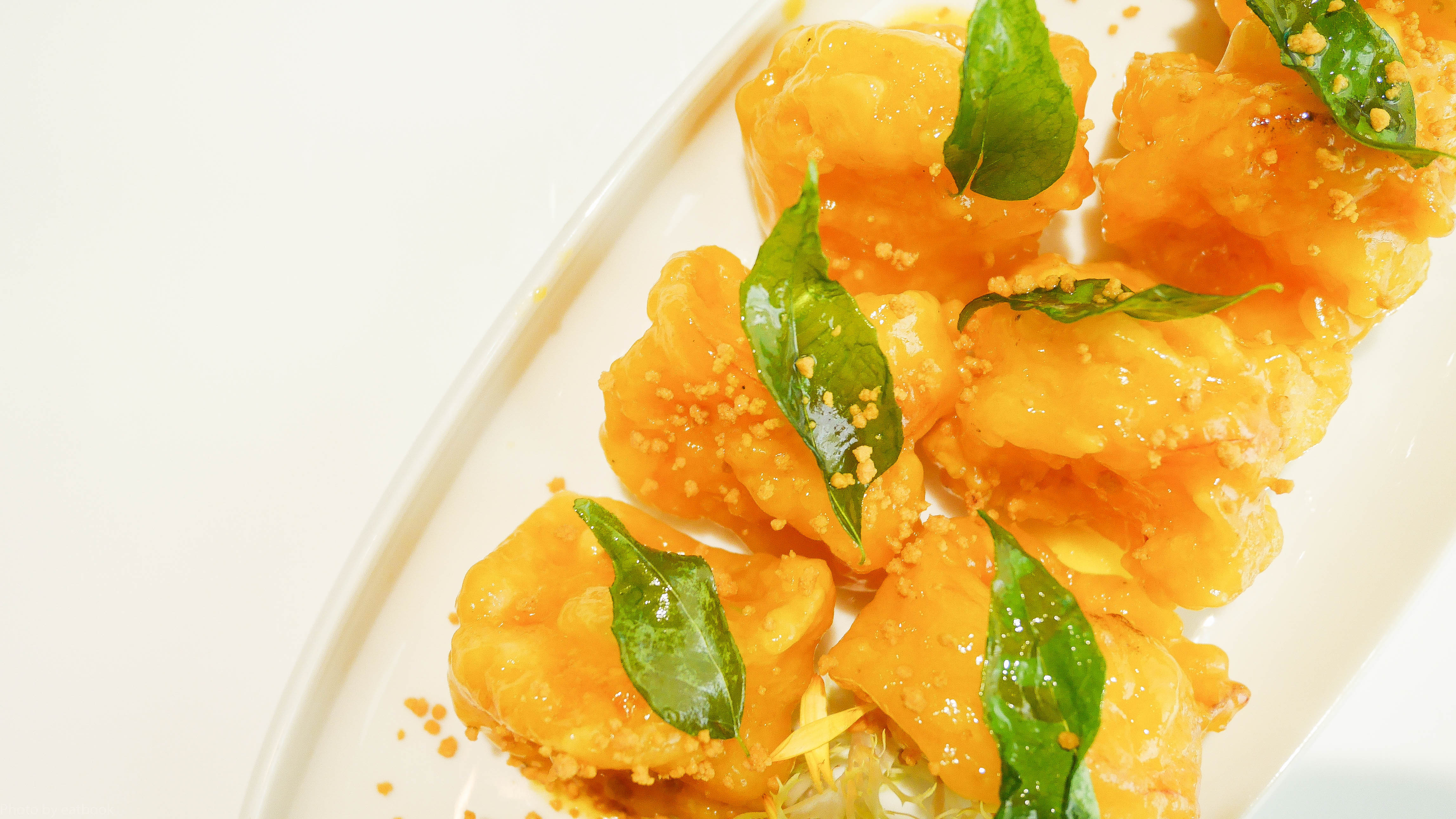 This dish is reminiscent of wasabi prawns, crispy prawns drenched in a mysterious sauce, only this time, it's a sour one. This dish was great, the prawns managed to stay crisp despite being drenched in sauce and it complemented the citrusy tang of the sauce well. I'd still take the wasabi prawns over this, but they were delicious just as well.
---
Pan-Fried Lamb Chop with Enoki Mushroom and Onion in Xinjiang Style
---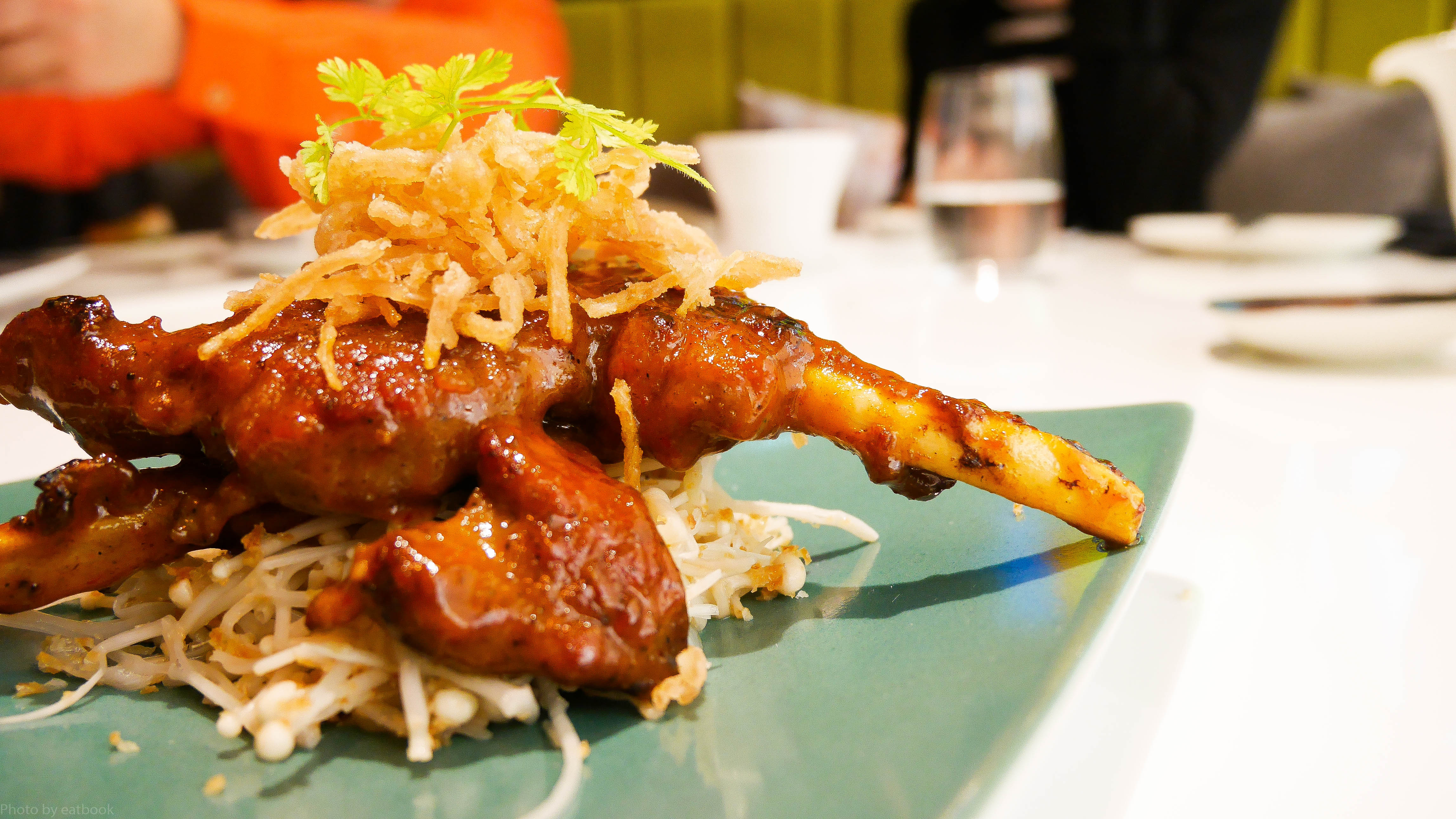 What's Xinjiang style? Well Xinjiang is a province that shares a border with numerous Muslim nations. As a result, Xinjiang uses plenty of spices. The lamb was peppery, but I felt that the entire dish was held back a little. The flavors could have been stronger, but there was nothing on the dish to balance it out.
---
Braised Vermicelli with Scallops, Prawns and Cod
---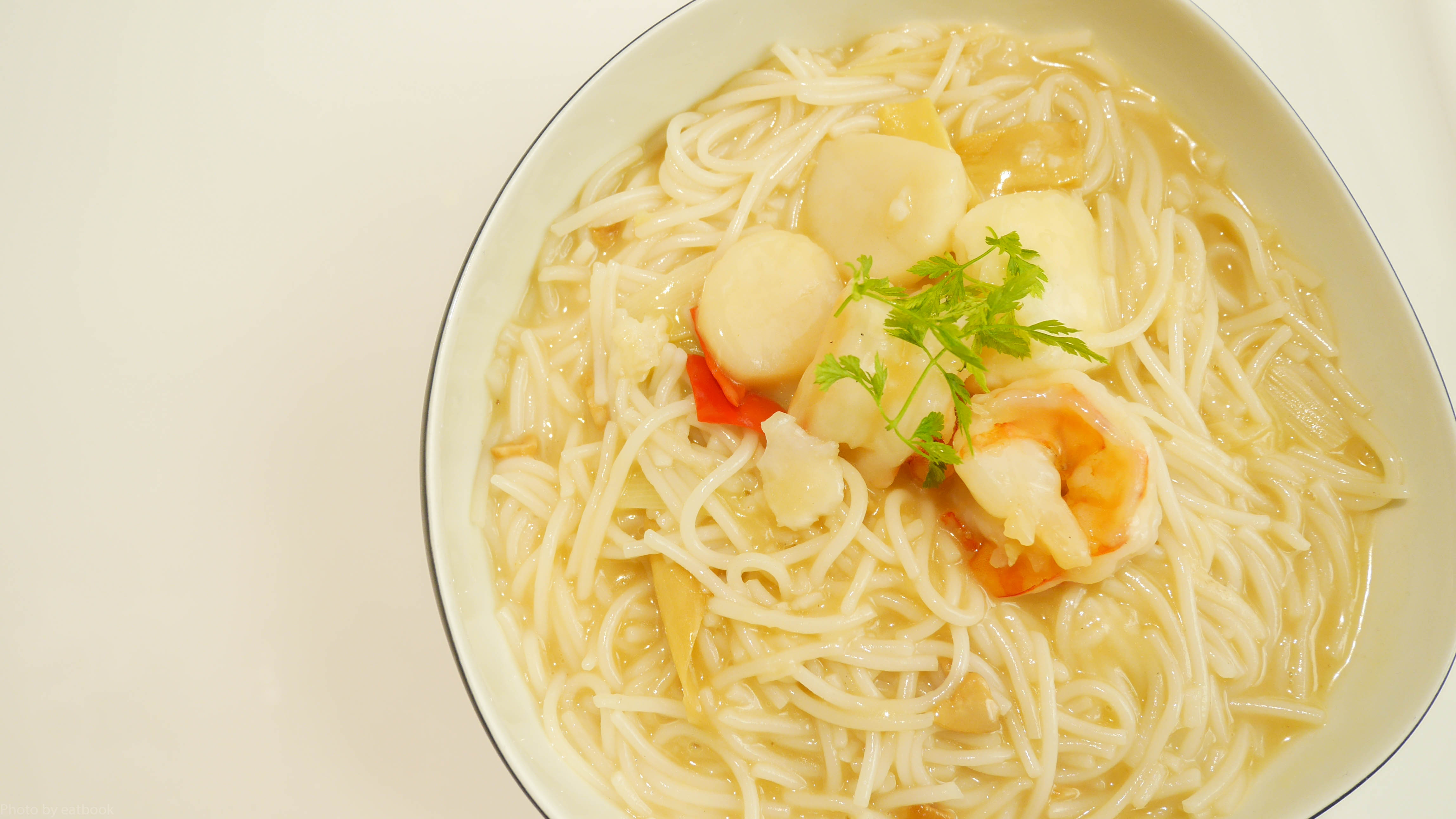 There are two kinds of people in this world. The noodle people or the rice people. I'm a noodle guy myself and this looked delicious on the menu. Unfortunately it was again, rather bland when I tasted it. I expected a lot more from the ingredients that were used. It's a shame that many of the dishes suffer from this because that BBQ they opened with was such a burst of flavour!
---
Chilled Avocado Milkshake with Fried Sesame Dumpling
---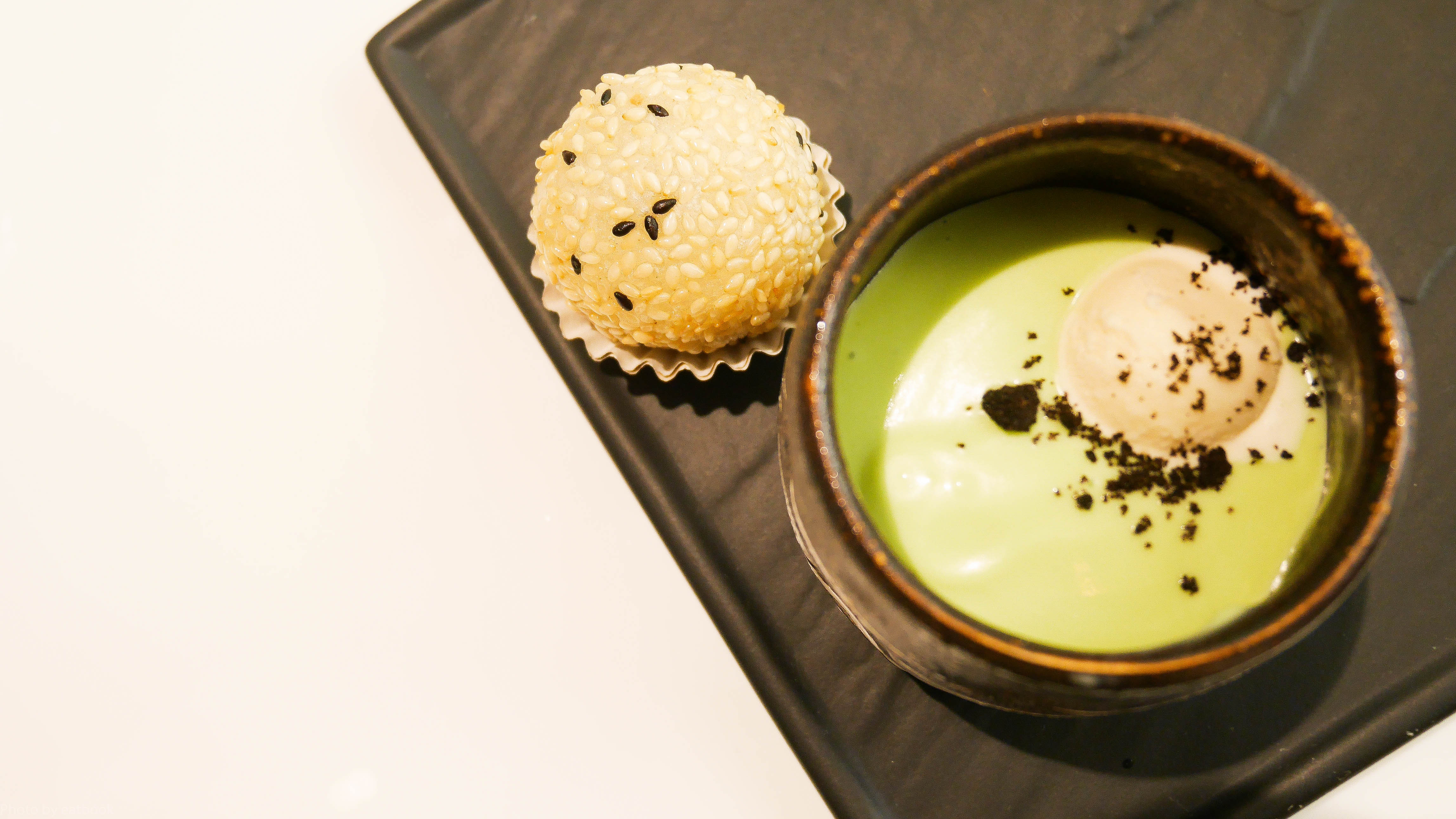 I was told to take a bite off the dumpling before I started on the avocado. I'm glad I did, because doing so revealed a luxurious chocolate filling with a hint of something on the lines of Baileys. It was delicious and definitely complemented the avocado milkshake. I could have used a couple more dumplings to help me through the rest of the dessert though.
This article is brought to you by Mitzo
Summary
Pros
– Amazing Char Siew
– Great value for money
– Beautiful restaurant
– Some really delicious items
Cons
– Some bland dishes
– Inconsistency in seasoning
Opening Hours
Lunch: 12nn to 2.30pm
Dinner: 6.30pm to 10.30pm
Supper: 6.30pm to 12am last order (Sunday to Thursday)
6.30pm to 1am last order (Friday, Saturday, eve of
Public Holidays and on Public Holidays)
Address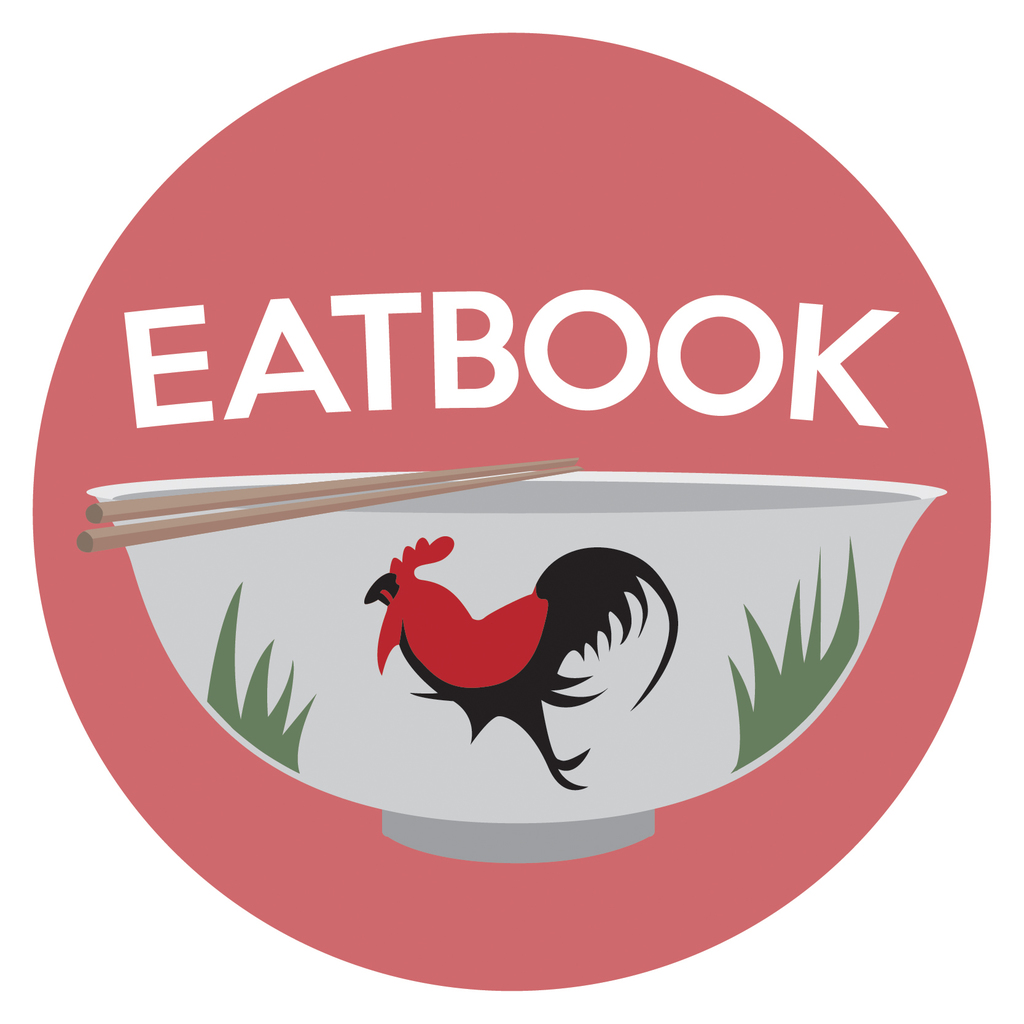 Drop us your email so you won't miss the latest news.