Miznon has loaded Isareli pitas at nett prices
My colleague and I were recently joking about how we plan holidays solely around the eateries we want to visit. As we flexed old itineraries for eating trails in foreign cities, the hard-hit reality dawned—I really miss boarding a plane just to eat my weight in food abroad. I am grateful, though, that Singapore is a hotspot for new restaurants even during a pandemic that has not been kind to F&B, and this gratitude skyrocketed when I heard that the famous Israeli bistro, Miznon, was in town.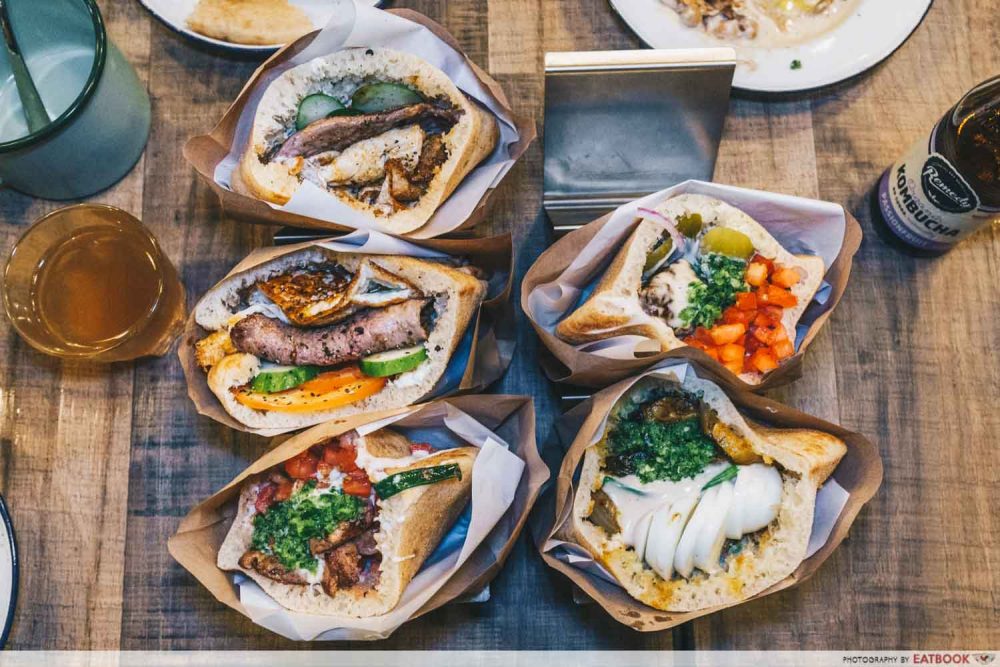 Clearly, a lot of Singaporeans felt the same. Within the first week of opening, Miznon was swamped with queues. For context, this casual diner concept hails from Israel.
Opened by the Israeli equivalent of Gordon Ramsay, celebrity chef Eyal Shani, Miznon has 10 outlets worldwide in cities like Paris, New York, and Melbourne. Singapore is the 11th open by the MasterChef Israel judge, and the first in Asia.
Since opening, Miznon has gained serious IG traction in foodie circles thanks to their loaded pita breas and their signature whole grilled cauliflower. Instead of flying to Tel Aviv, I flew down to Telok Ayer one afternoon to give their fare a try.
Hjh Maimunah Restaurant To Open New CBD Outlet Serving Michelin-Approved Nasi Padang
Food at Miznon 
The menu is as straightforward as it gets. Divided into two, you get eleven different pitas Pitas, and eight Out Of The Pita dishes. Diners also get free plain pitas and a tahini dip to start.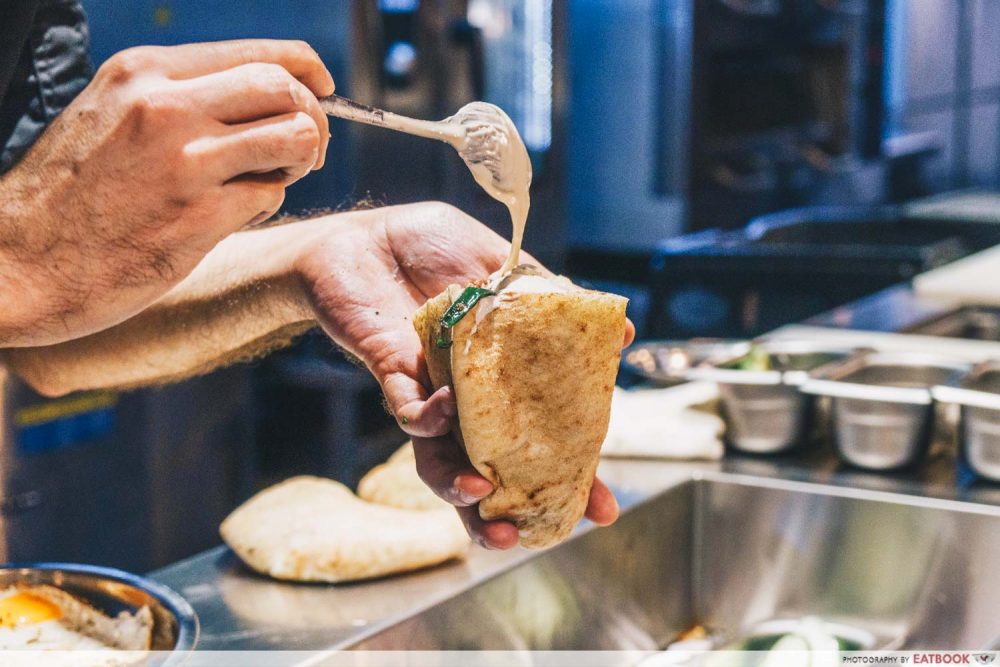 Before I get to the loaded pitas, I have to talk about the effort it takes to put the actual pita bread in your hands. They are made in Tel Aviv and air-flown to Singapore, frozen. This elaborate process is because the secret pita recipe requires a mix of different flours and a specific oven not found locally. 
Nutty, fluffy, and chewy, these pitas were textured like min jiang kueh and sourdough had a baby.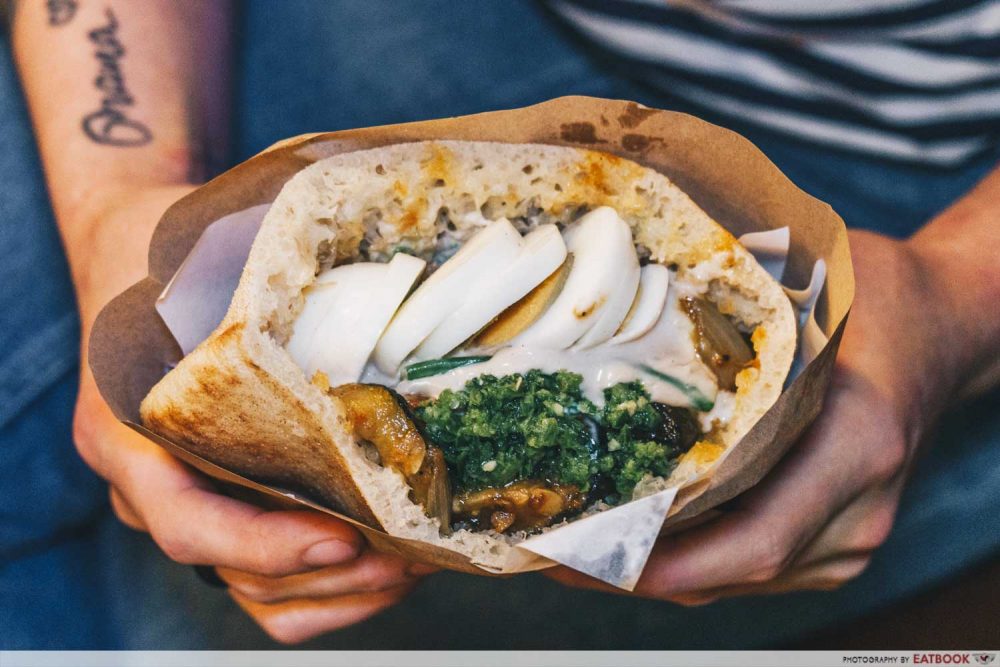 Ratatouille ($17), is one of the four plant-based pita options, loaded with the French vegetable stew, chilli, tahini, and a hard-boiled egg. The combination of sweet root vegetables, tomato sauce, and a healthy dose of chilli made this option a hearty choice for vegetarians or vegans.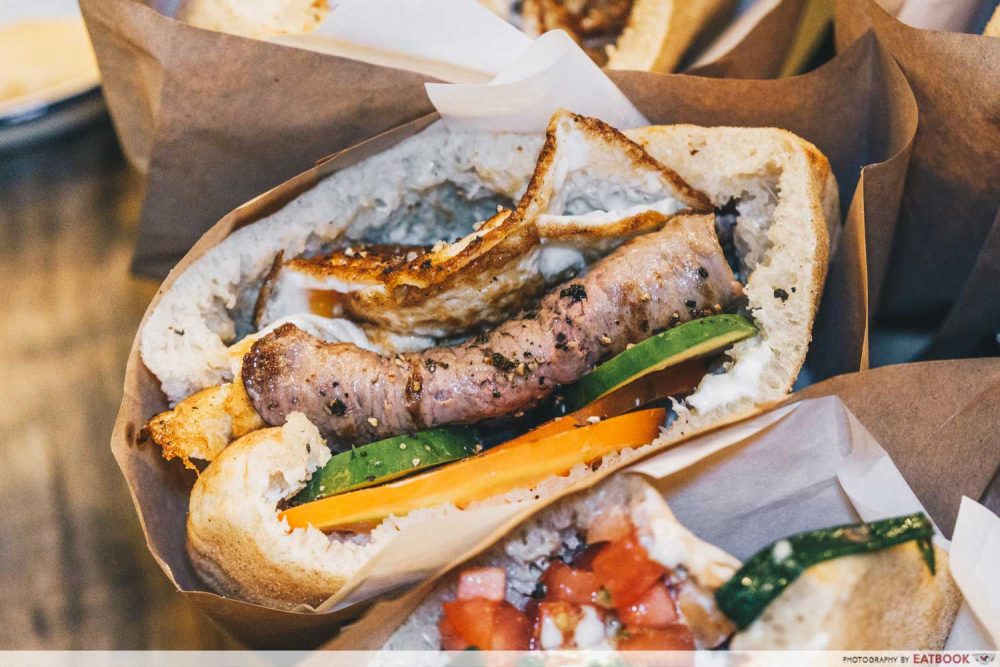 But, as my dining companion and I are neither, our favourite pitas were the Steak & Egg ($21), and the Abu Kebab ($24). The first takes the breakfast staple and puts it in a pita.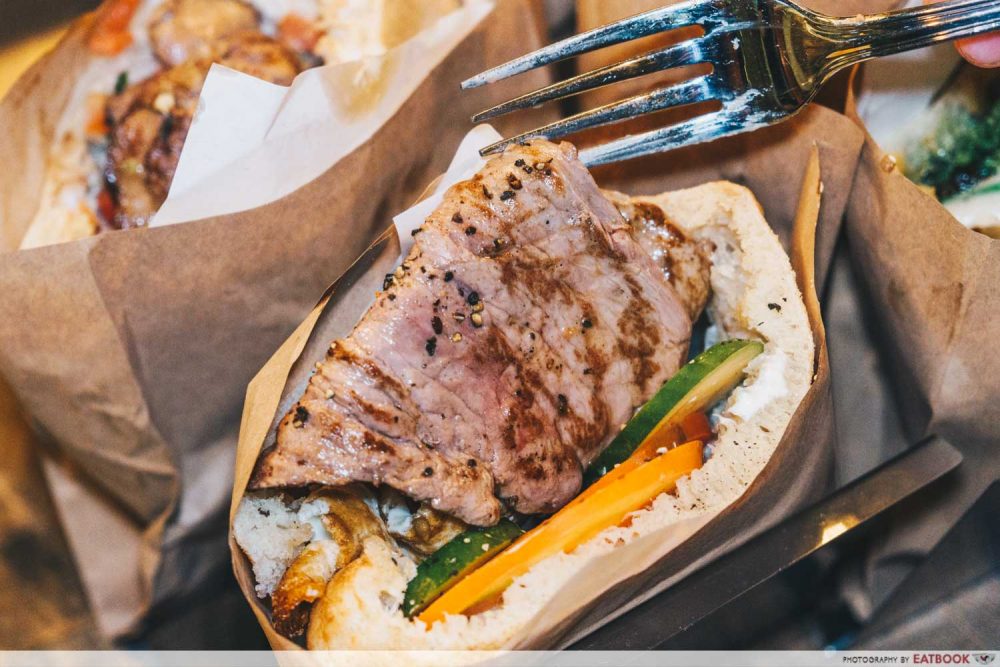 Thin, yet juicy sirloin slices are cut by tart sour cream, tomatoes, onion, and fresh Japanese cucumbers. A sunny-side-up egg seals the deal, with a molten yolk that doubles as a creamy dressing on first bite. I love steak and eggs, so this portable version earned a big thumbs up.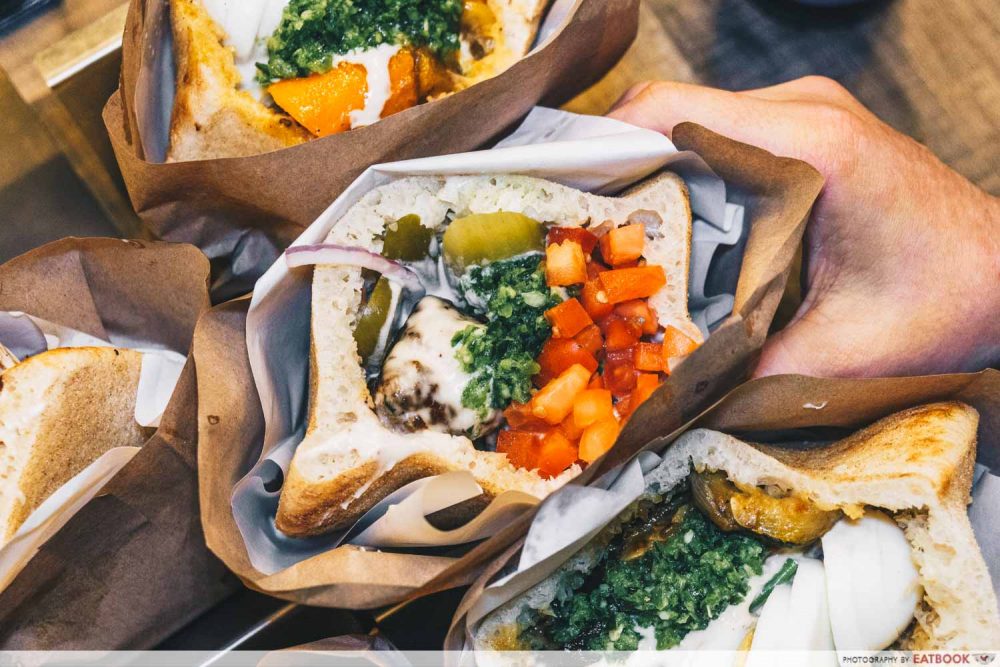 Abu Kebab is more classically Mediterranean. The hero was the golf ball-sized lamb and beef meatballs, lightly charred and spotted with juice and fat. Pickles brought on both crunch and tang to balance the lamb's dominance. A housemade salsa rounded off the flavourful fireworks with zest.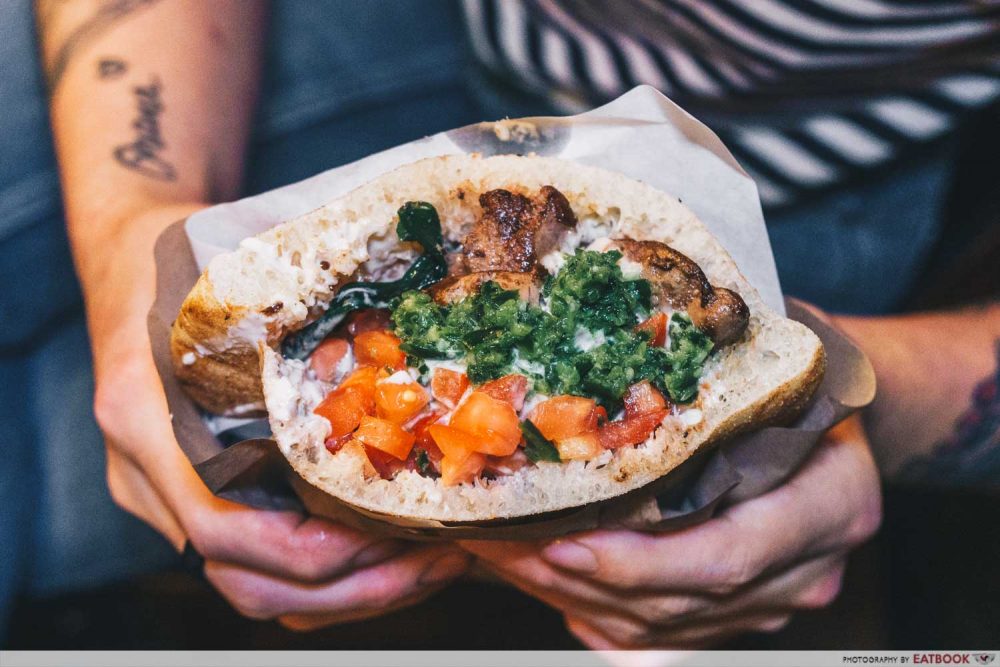 Finally, the Chicken Liver Pita ($18). I was very hesitant for this one as offal is not my thing, but consider me a convert—for their take, at least. Instead of strips of leathery liver that I'm so used to having offend my bak chor mee, Miznon sears the organs whole, and deftly.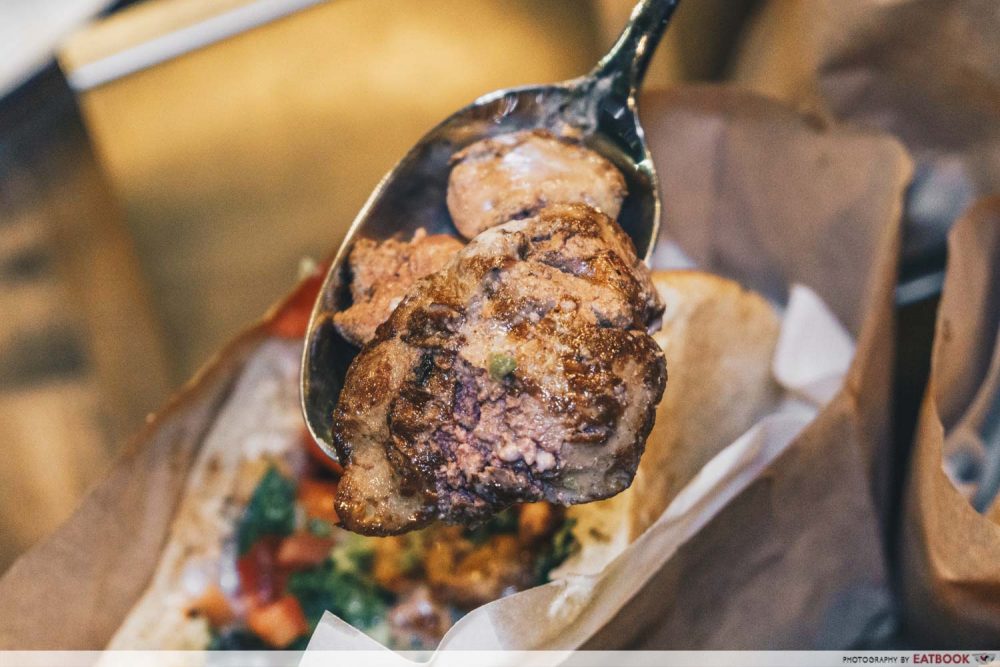 Each piece was springy, with just the right whispers of the metallic bitterness that makes liver, well, liver. The tahini helped to enhance the butteriness of the offal, but halfway through the pita, even the salsa topping couldn't save the jelakness that set in.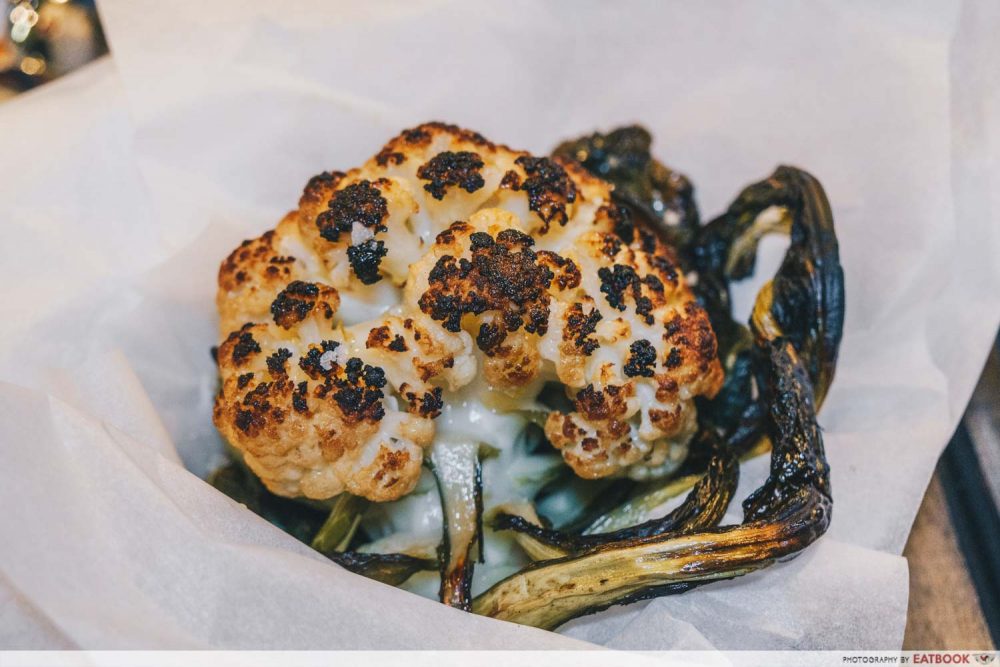 A meal at Miznon is not complete without the Baby Cauliflower Flower ($16). Roasted whole with quality olive oil, one can eat all of the cauliflower, from the green leaves, to the smoky, flame-kissed florets, and the hidden flavour bomb the fork-tender stem.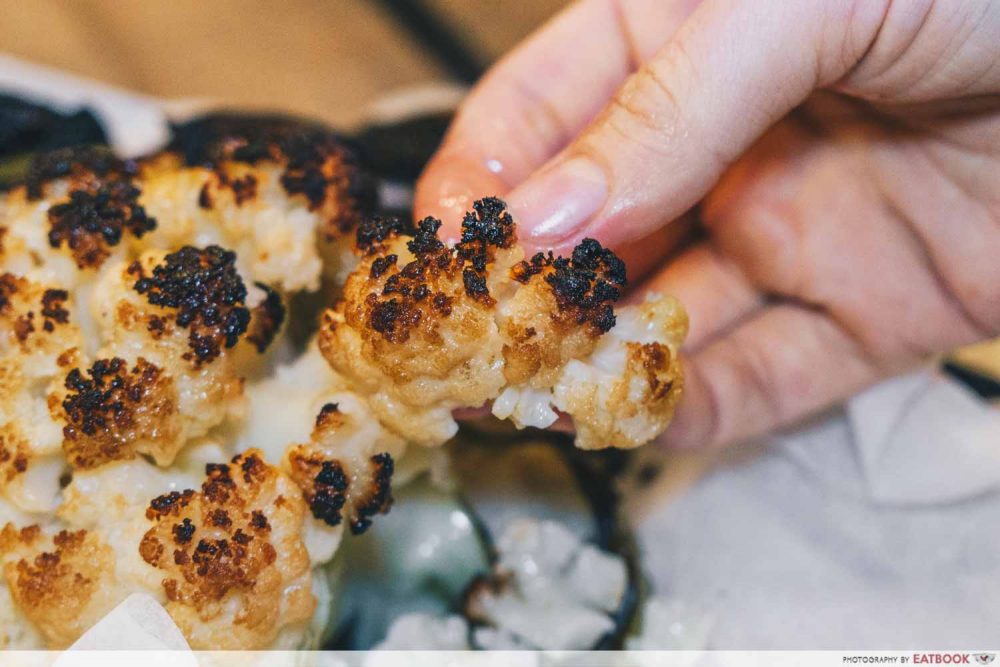 The dining philosophy at Miznon relies on very little seasoning, and more on letting the natural profile of ingredients shine, so this simple vegetable roast could be blander for diners who are big on salt.
Another thing to note is that the cauliflower is not permanent on the menu right now due to supplier constraints.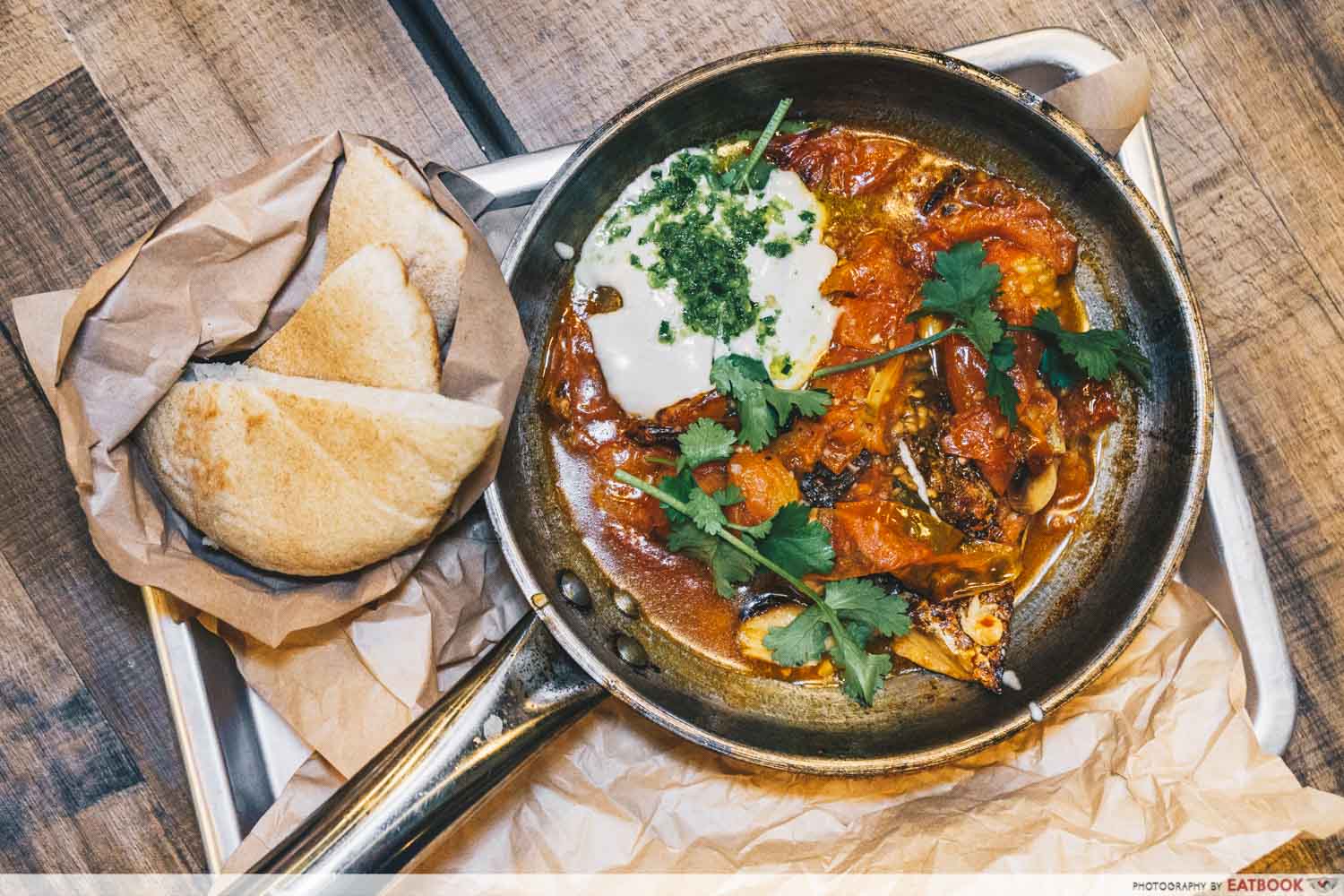 For another sharing dish, the Hraime ($26), a spicy Moroccan barramundi stew, or the Intimate Plate ($24), laden with root vegetables and beef short ribs, are two other solid picks. 
French Fold Review: New Bistro Serves French Galettes And Crepes With Gelato In Telok Ayer
Ambience at Miznon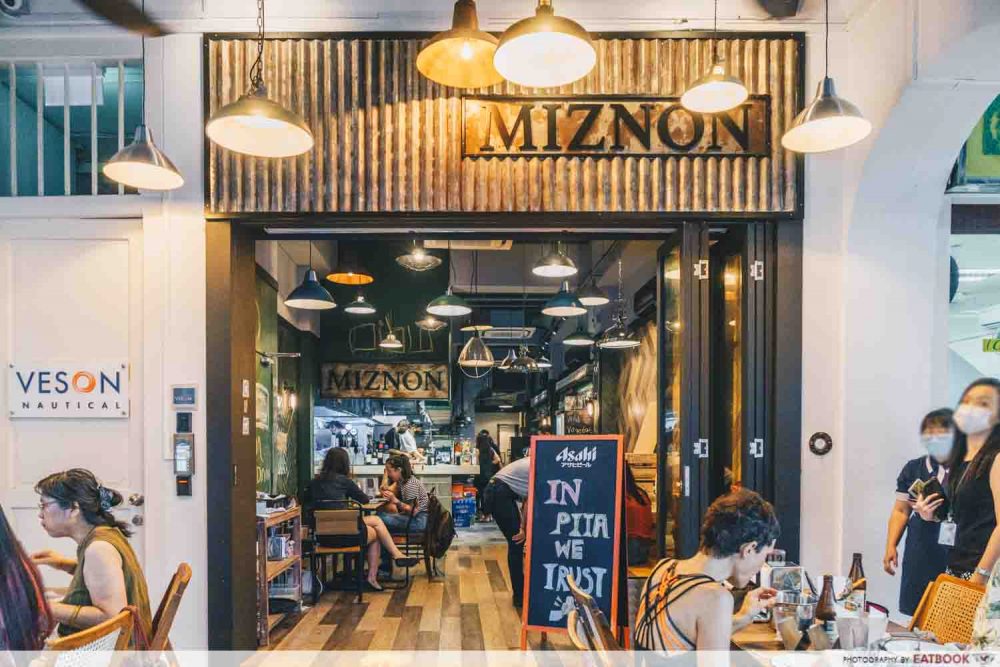 Miznon is as casual as it gets. An open kitchen and bar counter centres the bistro, bustling with chefs at work and the buzz of early '00s rock music. Clusters of seats are available in and outside of the narrow eatery, though people who prefer to dine quick and jet can park themselves along the makeshift wooden crate tables by their "Eat & Go" lane.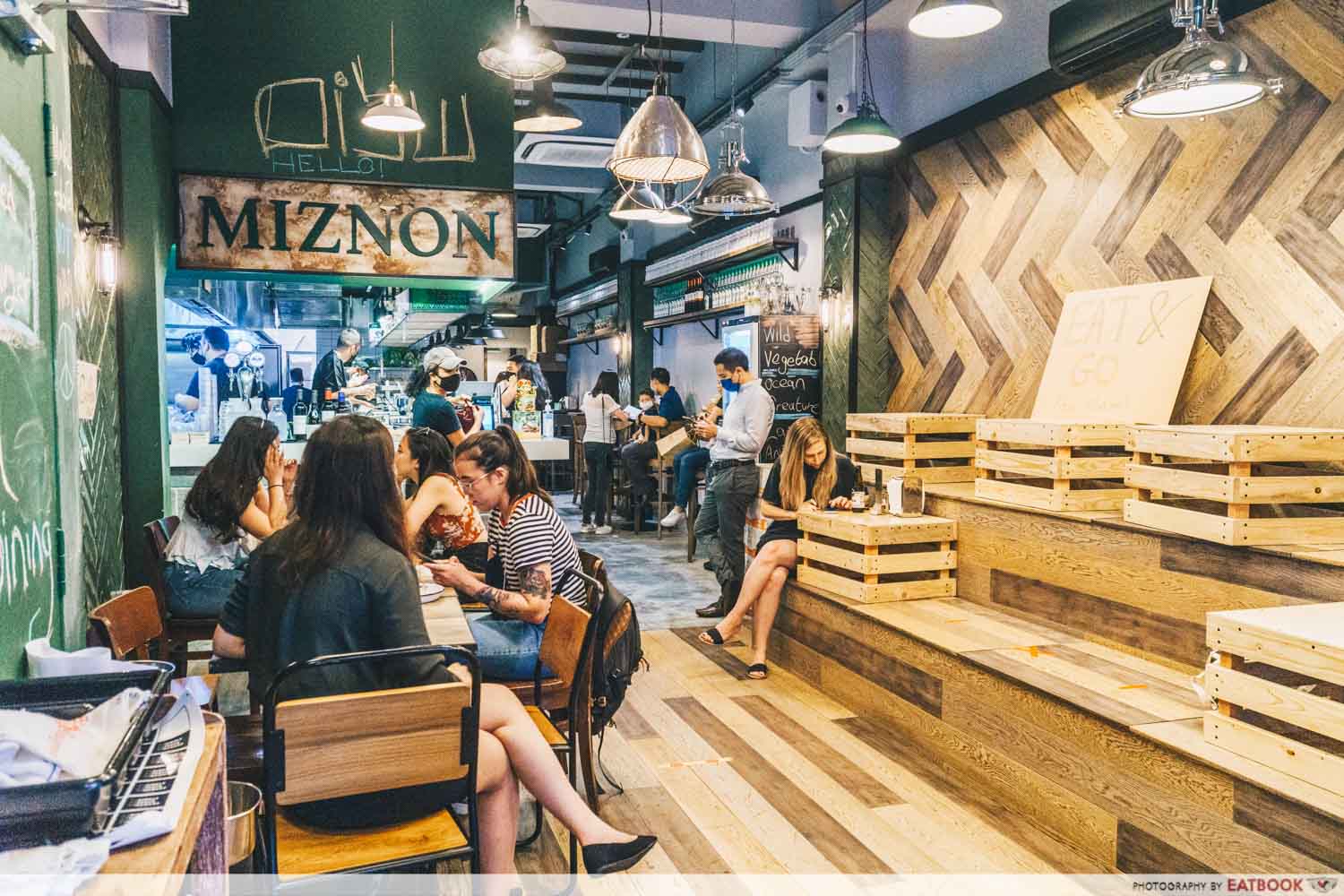 Doors open at 11am, and the queue begins to form shortly after, so be prepared to stand in line when you arrive, especially during peak hours. Located just a five-minute walk away from Telok Ayer MRT Station, this is a convenient spot for CBD workers to dine at too.
The verdict
Though my passport won't be stamped this year, my culinary horizons have grown, in small part thanks to Miznon. I foresee myself joining many travel-starved Singaporeans lining the doors of the bistro again, especially since a meal here is such a novel experience. 
From the rush of the kitchen pushing out messy, moreish pitas to the grungy decor, right down to that one glorious encounter with chicken liver that didn't make me gag, I declare Miznon worth the hype.
For more in the area, check out our list of Telok Ayer cafes for brunch or the orh nee cakes at LUNA Patisserie, a popular bakery-cafe in the 'hood.
11 Telok Ayer Cafes Serving French Crepes And Fried Chicken Sandwiches For Brunch
Address: 6 Stanley Street, #01-01, Singapore 068725
Opening hours: Mon-Sat 11am to 11pm
Tel: 9015 5319
Website
Miznon is not a halal-certified eatery.
Photos taken by Hay Thi.
This was a media tasting at Miznon.
Miznon Review: New Pita Bistro By MasterChef Judge In Telok Ayer Draws Long Queues
Summary
Pros
– Unique cuisine
– Satisfying, hearty portions
– Well-executed food with a dedication to fresh ingredients
– Nett prices
Cons
– Long queue
– Light hand with seasoning could come across as blander to some
Recommended dishes: Steak & Egg ($21), Abu Kebab ($24), Hraime ($26)
Opening hours: Mon-Sat 11am to 11pm
Address: 6 Stanley Street, #01-01, Singapore 068725