Momolato is a dessert cafe by an Asian gelato champion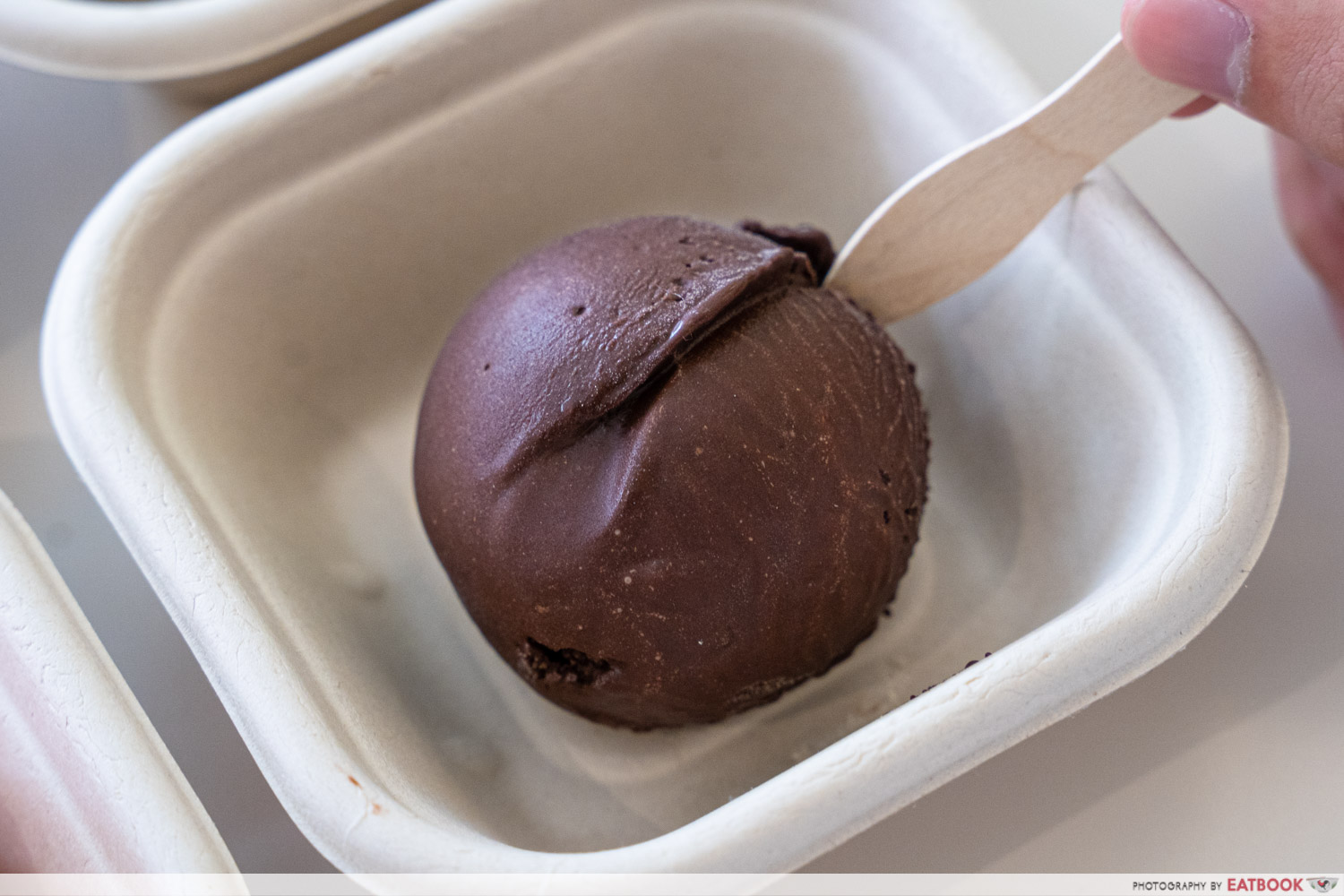 Consider this scoop of gelato.
With prior knowledge of the dessert, you may guess that it has six to nine percent butterfat, about 35% air, and some kind of flavouring. Its deep brown colour suggests, rather obviously, that it is made of cocoa. This is some sort of chocolate gelato, you conclude, and a fairly unremarkable-looking one at that.
Yet, this gelato is anything but unremarkable. It was, in fact, crafted by one of the best gelato makers around, and we do not say that lightly.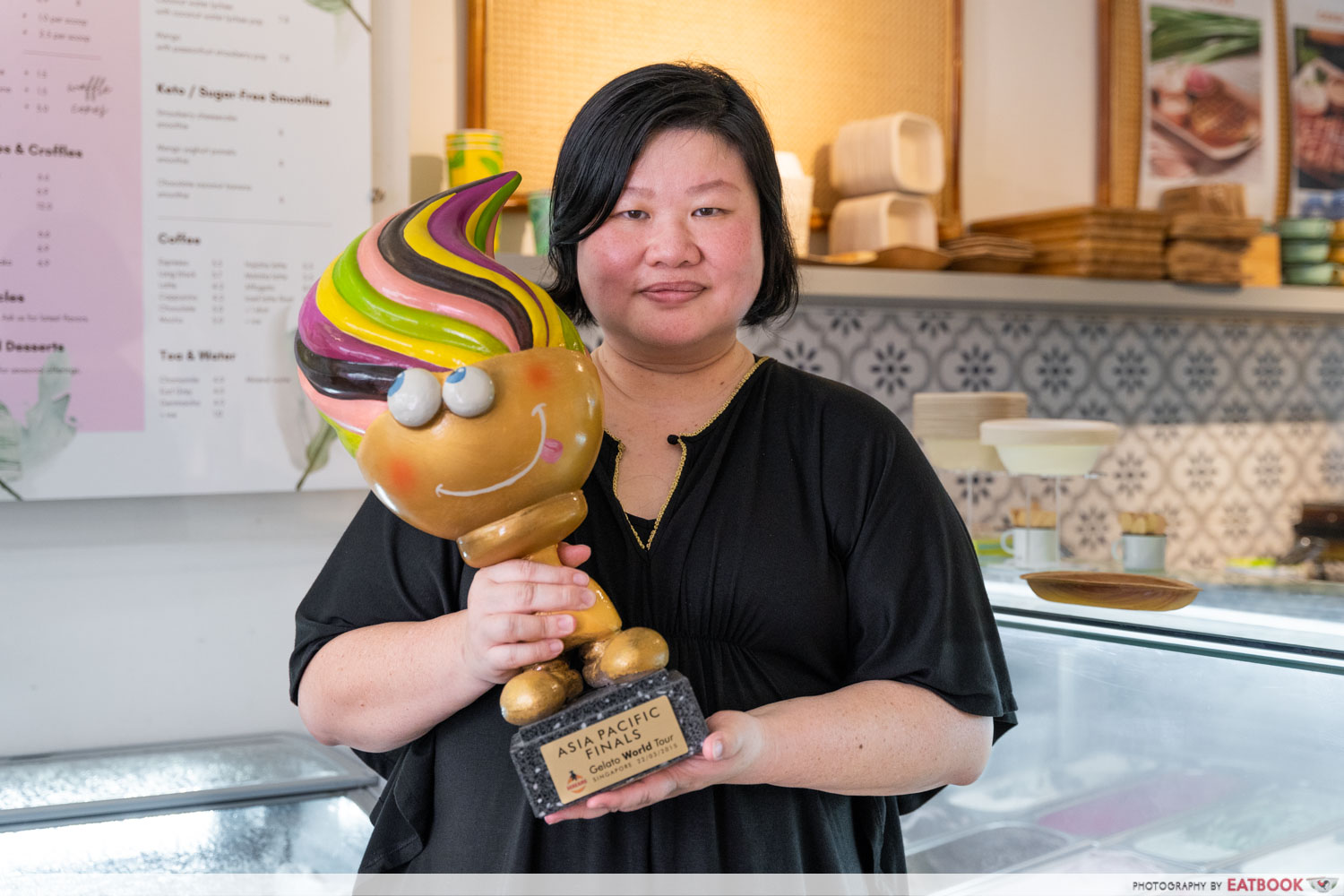 Sharon Tay, 43, is a gelato champion. In 2015, she clinched the top prize at the Asia Pacific leg of the Gelato World Tour, and later represented Singapore at the 2017 Gelato World Tour Finals in Italy. We're talking about the Son Heung-min of gelato here—someone who, at one point, was considered the best at their craft in Asia.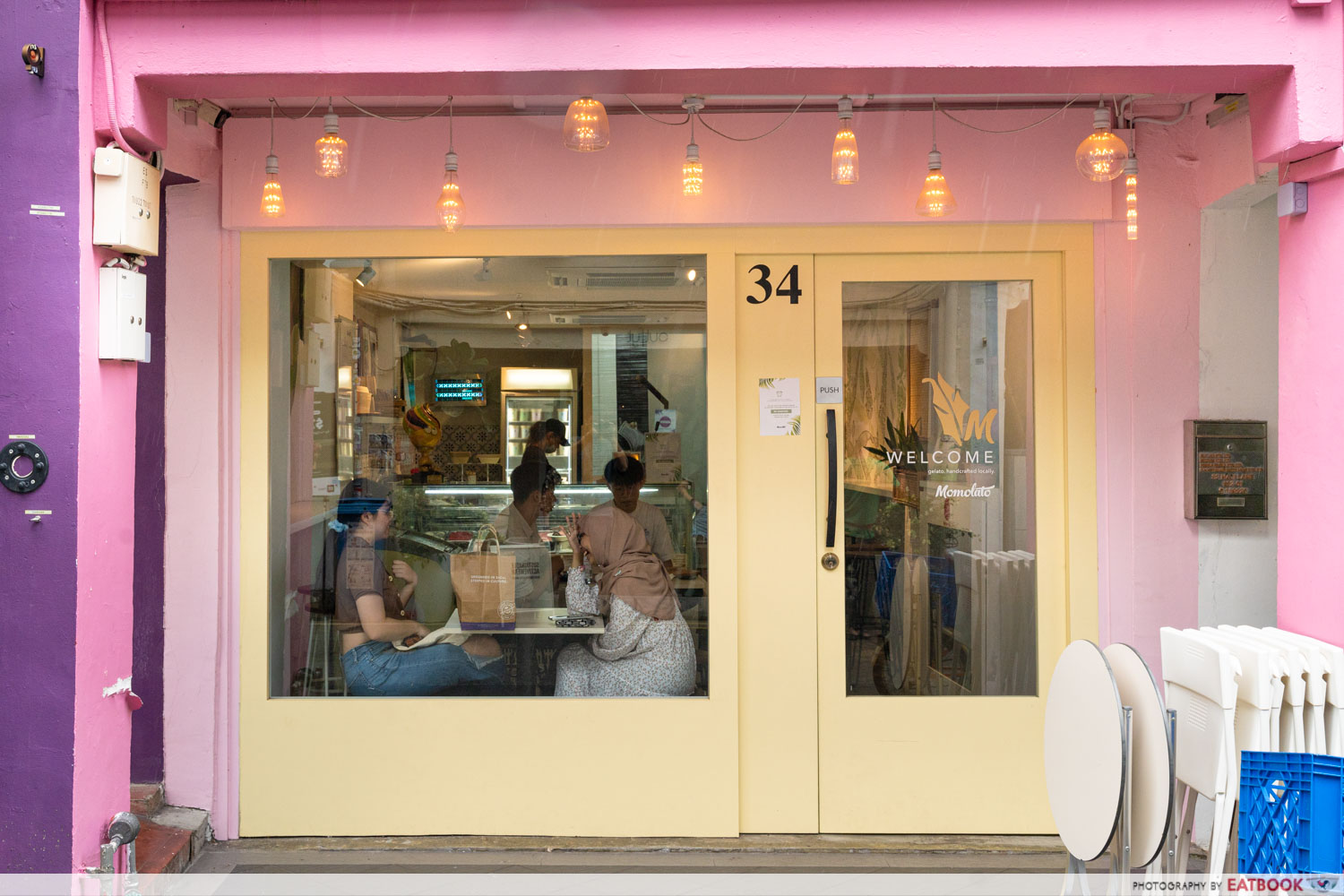 Today, you can have a taste of Sharon's work at Momolato, a chic gelateria located along Haji Lane. Besides the masterful gelato-making, the cafe is known for its innovative flavours such as Maple & Pancakes and White Miso Butterscotch, as well as its keto and vegan options.
But what exactly does it mean to be a gelato champion, and how does that translate into running a gelateria? We spoke to Sharon herself to find out.
The pursuit of gelato greatness
As far back as she can remember, Sharon had always been deeply enamoured with the art of ice cream making.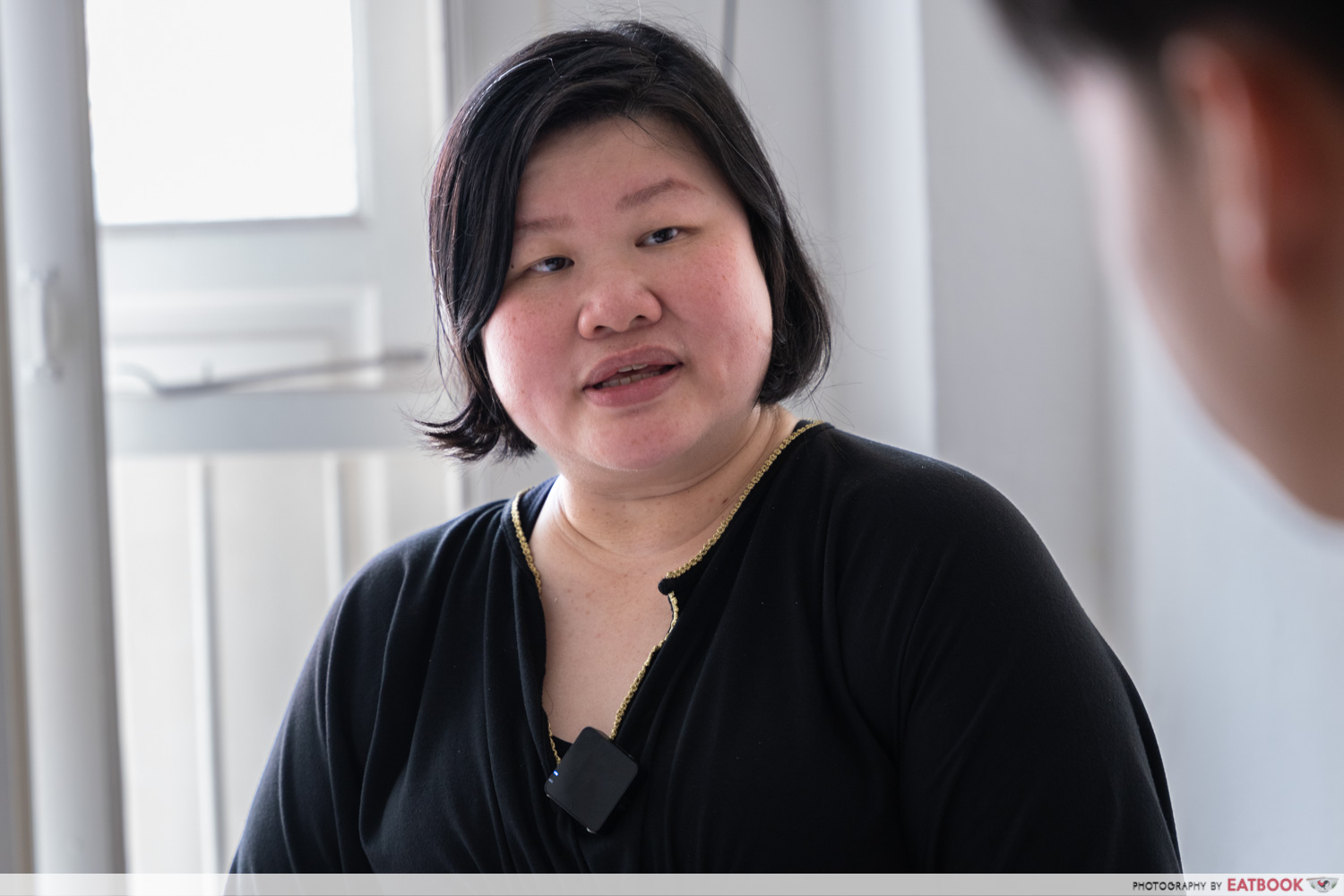 "When I was young, I would always make ice cream with my mom and grandma," she recalled. "We started making them as simple ice boxes, and from there, my mom would always challenge me to create better stuff. It became a real passion of mine."
That passion never left Sharon, even as she moved through the rigours of Singaporean life. And so after eight years of working as an investment banker, she packed her bags and headed to the cradle of gelato—Italy.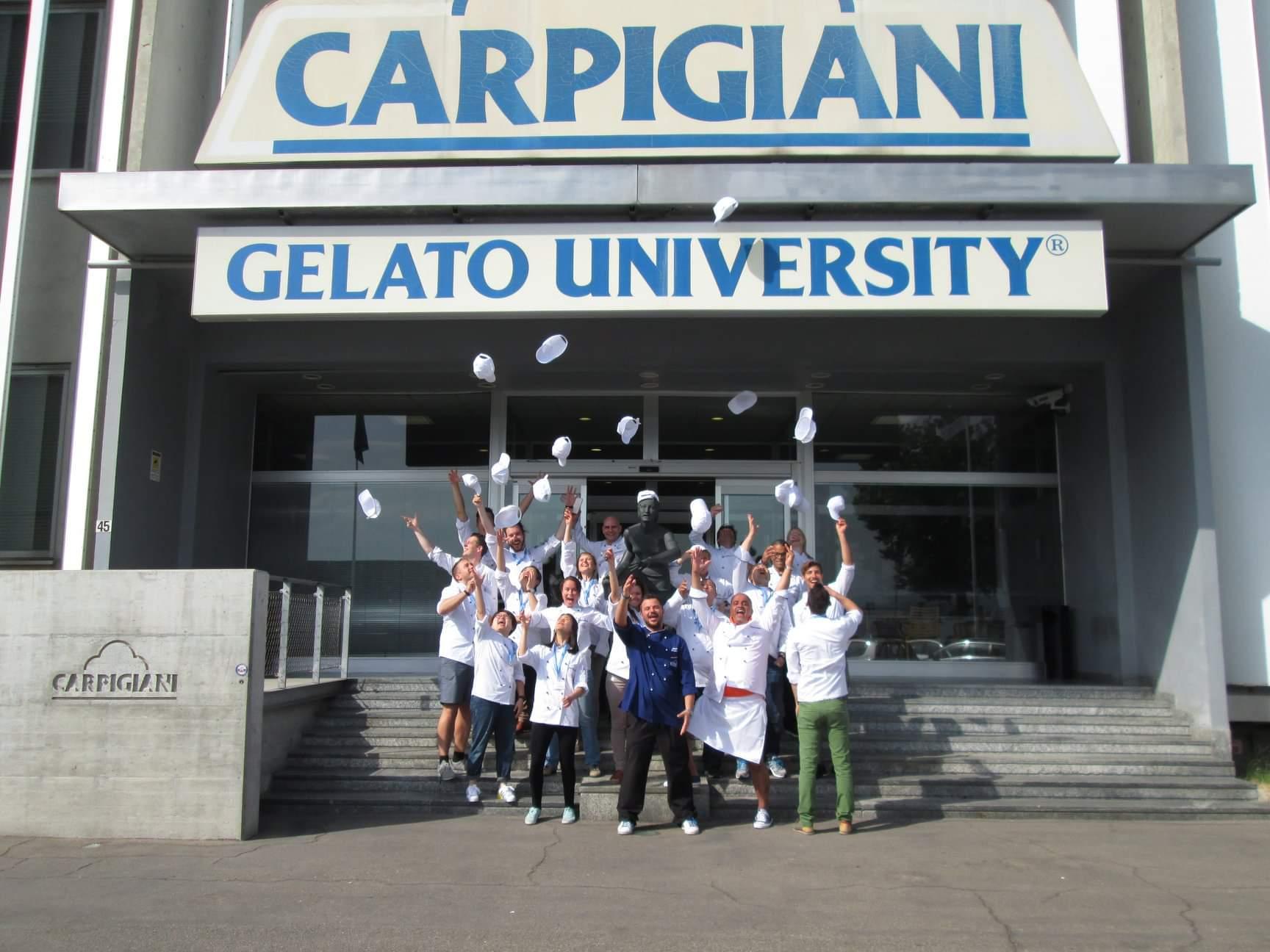 Image credit: Carpigiani Gelato University
In 2013, Sharon enrolled at Carpigiani Gelato University in Bologna, Italy. It's the world's first school dedicated to the art of gelato making. And as you'd expect with Italians and their food, the craft is taken very seriously there.
"Italy was a real eye-opener for me, because I got to see how meticulous the chefs there were," Sharon noted. "They believe that making very good gelato means using the best ingredients to start with, along with a balanced recipe. We follow that at Momolato."
"(Italian gelato chefs) believe that making very good gelato means using the best ingredients to start with, along with a balanced recipe. We follow that at Momolato."
Upon her return to Singapore, Sharon opened Momolato initially as a gelateria at SMU, before pivoting to a B2B business model. Like many newcomers to the F&B industry, those early days were tough—there were days when Sharon herself had to make gelato till one in the morning.
Eventually, those efforts paid off, and Momolato became a brand behind brands, a supplier to many famous restaurants, cafes, and hotels in the country.
Still, Sharon had greater heights to scale.
The apex of the gelato world
In 2015, Sharon and her team competed with other more established brands in the Gelato World Tour. Their entry, a gelato flavour titled "Good 'Ol Days", impressed judges so much that they walked away as the Asia Pacific gelato champion.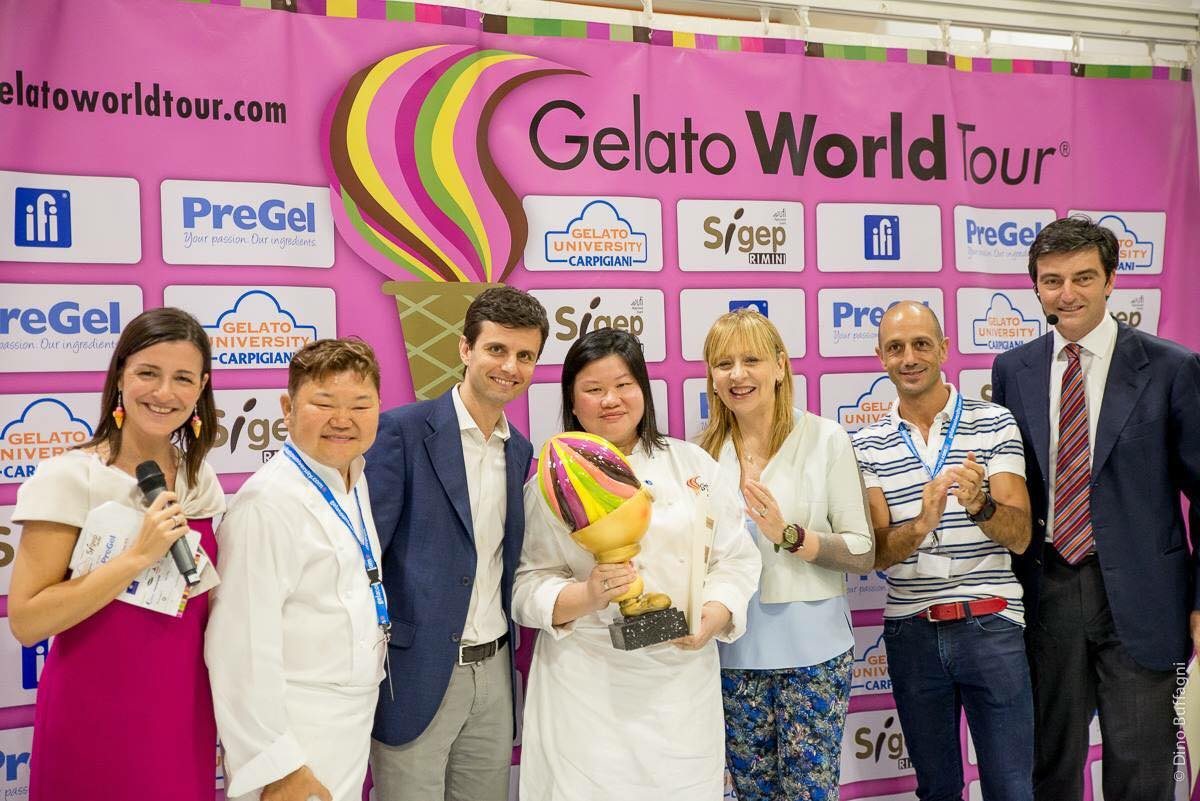 Image credit: Momolato
"We wanted a flavour that would represent Singapore, so we came up with Good 'Ol Days. It was made of coconut gula melaka and soya beancurd skin, which we caramelised then toasted before using it as a topping," Sharon explained.
The team went on to compete in the Gelato World Tour Finals in 2017, where they faced stiff competition from all around the globe. And yet despite being advised to come up with a flavour that appealed to Western sensibilities more, Sharon stuck to her guns and persisted with Good 'Ol Days.
"In the end, a gelato that was based on pistachio won," recounted Sharon. "Even though we didn't win, we were glad we could showcase the flavours of Singapore to the world."
"We were glad we could showcase the flavours of Singapore to the world."
Home of the gelato champ
After operating on a B2B model for several years, the Momolato cafe was opened along Haji Lane in 2021, allowing customers to try the brand's range of desserts in a physical space once again.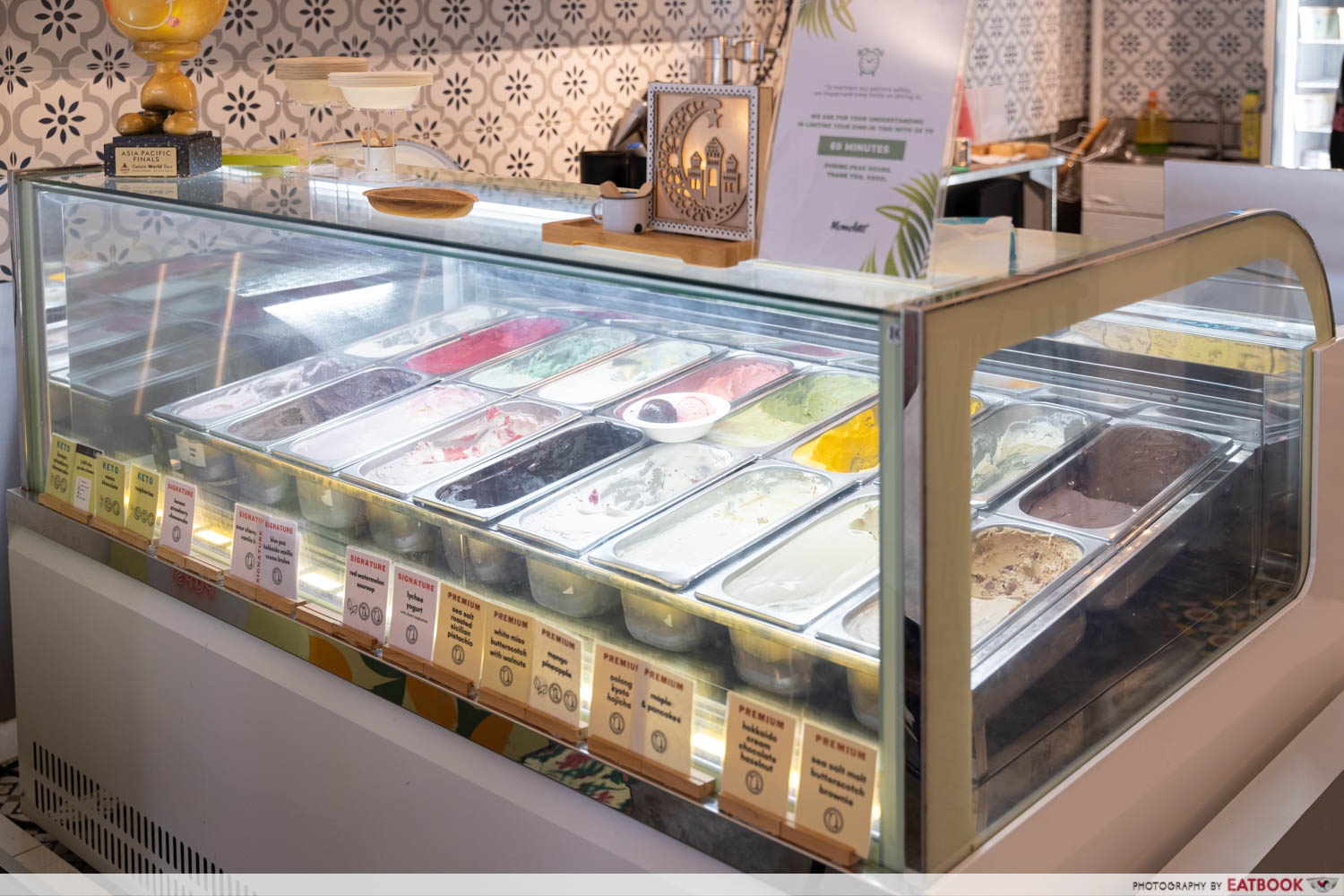 Having rubbed shoulders with other world-class gelato makers, it's no surprise that you can find wildly creative and artful gelato options at Sharon's cafe. One recent example is the Maple & Pancakes flavour.
"Somebody recently told us that they missed the taste of amazing pancakes. And so we made a flavour out of it," Sharon said. "We made nice pancakes, soaked them with maple syrup, then combined them with maple syrup gelato."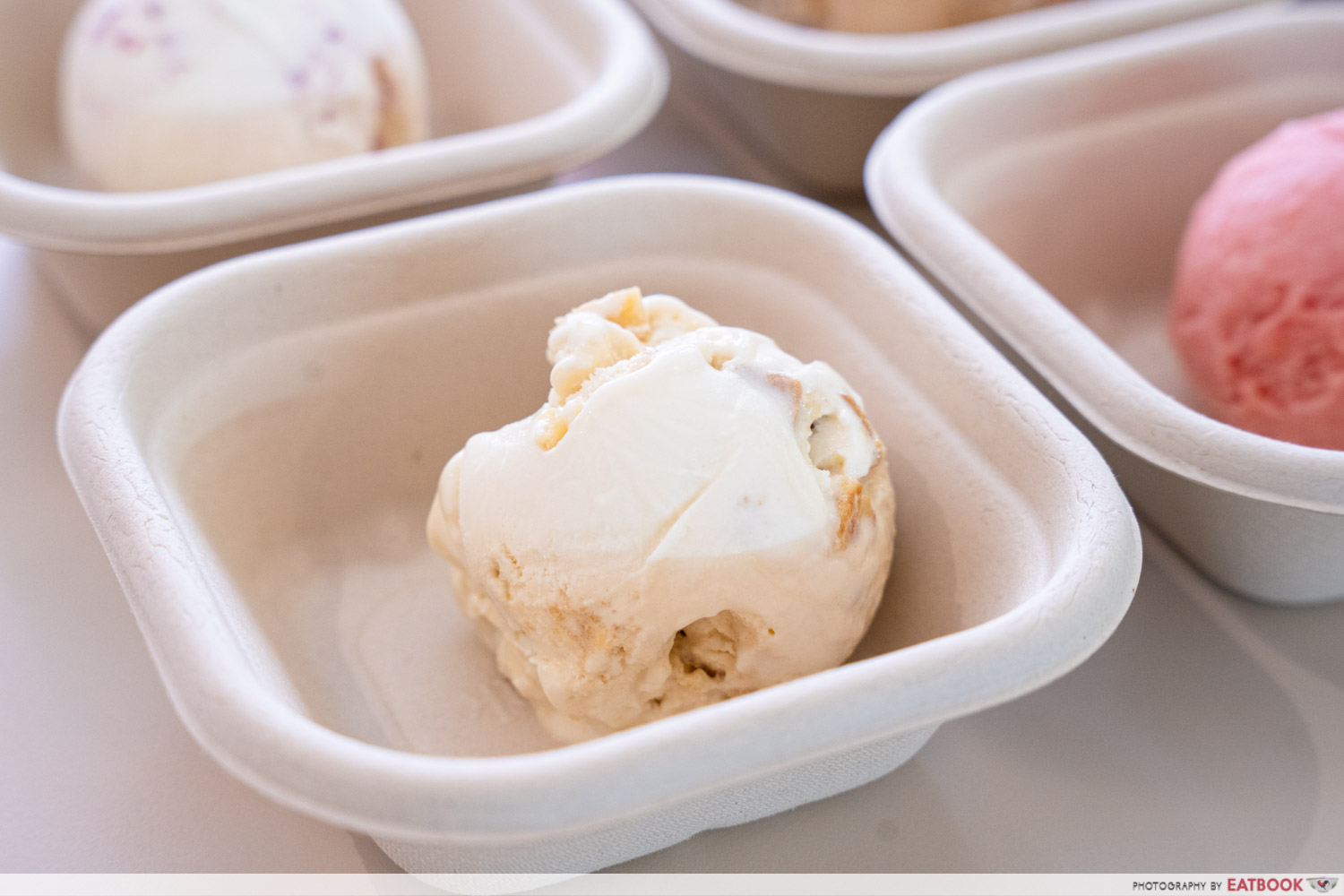 The results are stunning. Like all of Momolato's gelato, the mouthfeel for the most part is silky smooth, but this one is interrupted with bits of pancake that add a coarse yet fluffy texture. Maple syrup is the most prominent flavour here, of course, but it's implemented tastefully rather than in a way that overwhelms the palate.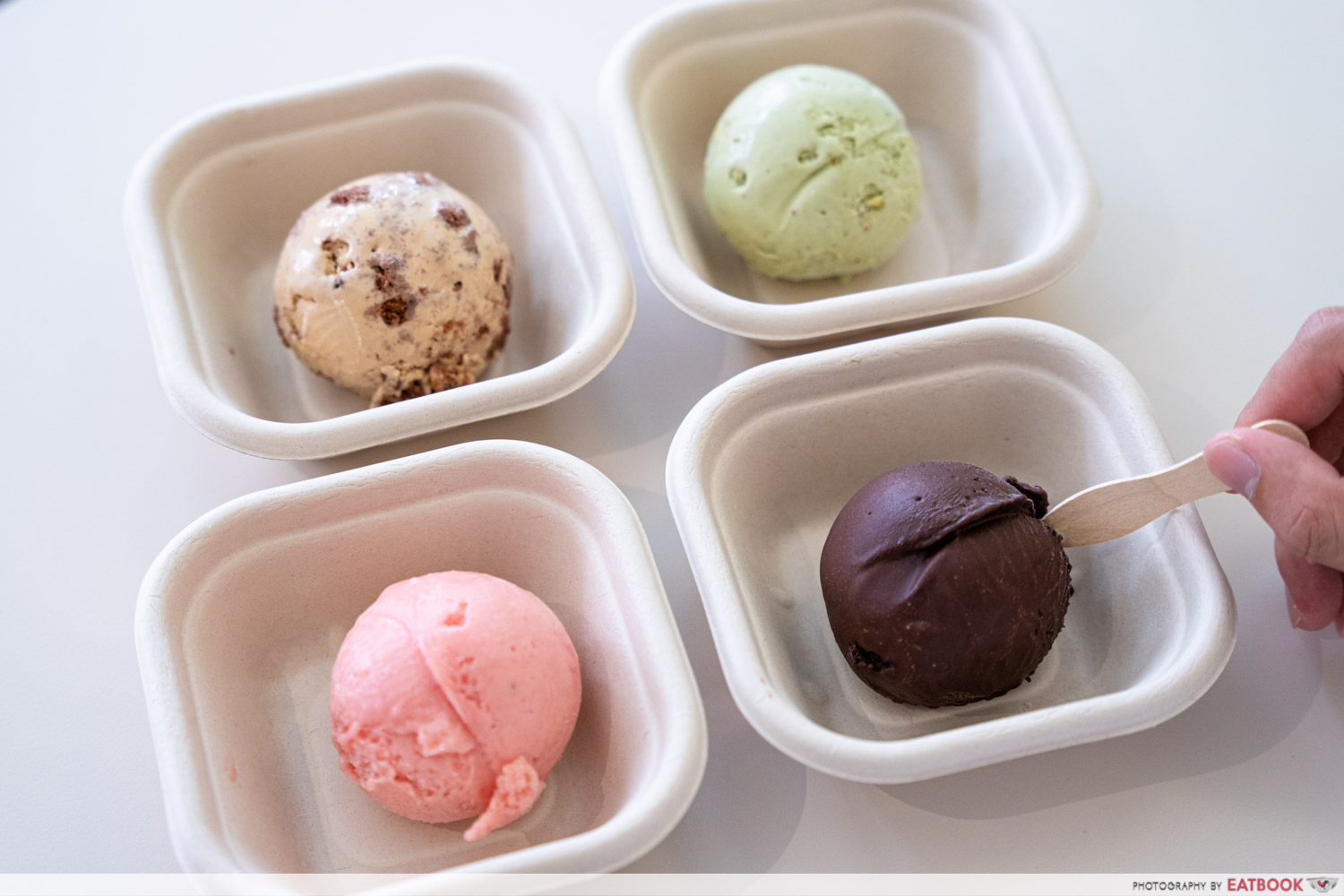 We asked Sharon for other flavours one needs to try at Momolato. "Sea Salt Pistachio, Triple Blend Dark Chocolate, Red Watermelon Soursop, Korean Strawberry Cheesecake—those are my favourites!"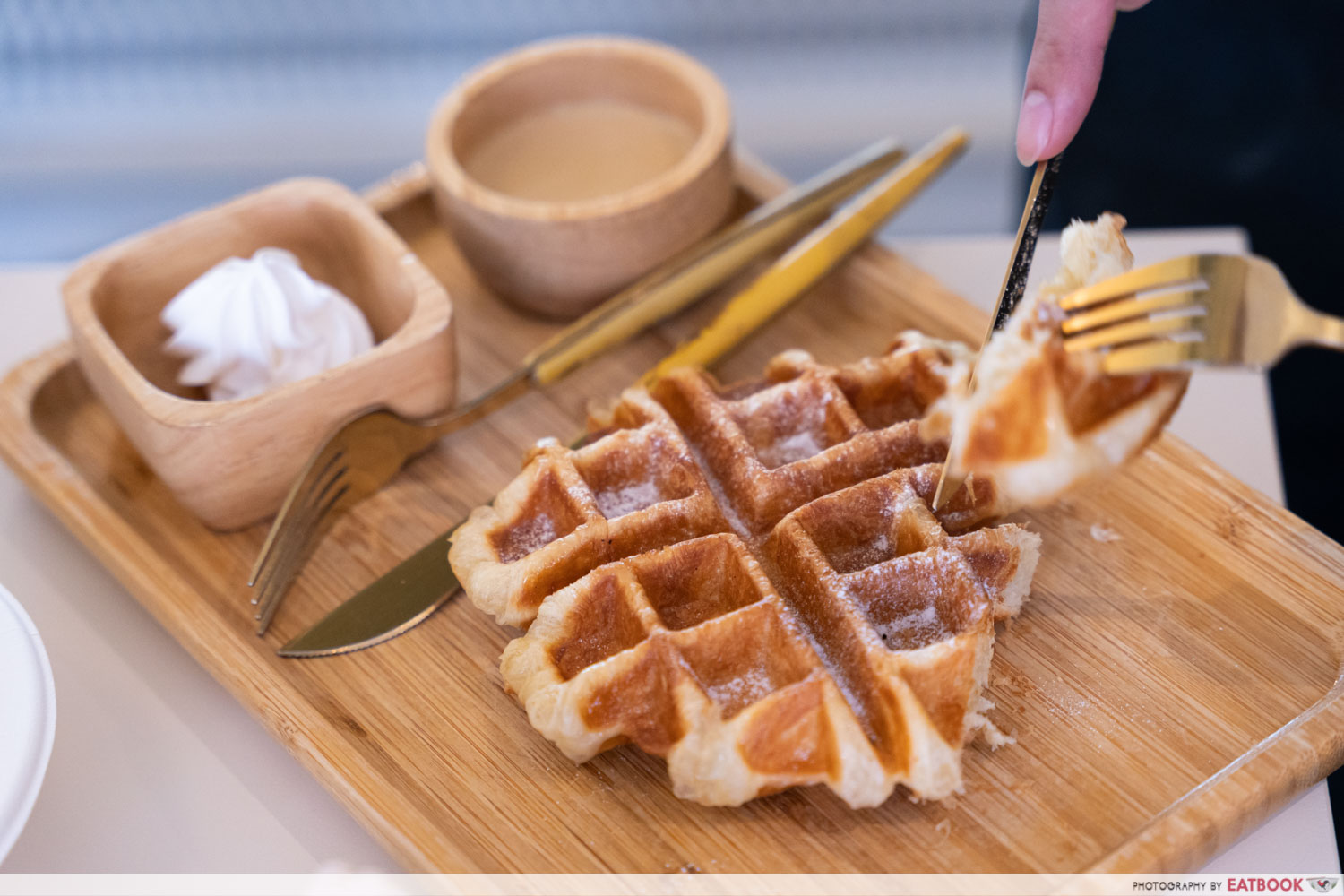 Aside from gelato, Momolato offers treats such as popsicles and croffles, and even those are plenty innovative. "We like to insert fruits and local ingredients such as gula jawa into the croffles before we press them into their crispy form," said Sharon. "In the future, we may try doing mochi croffles as well."
To conclude the interview, we decided to throw Sharon a more philosophical question: what is the essence of gelato making?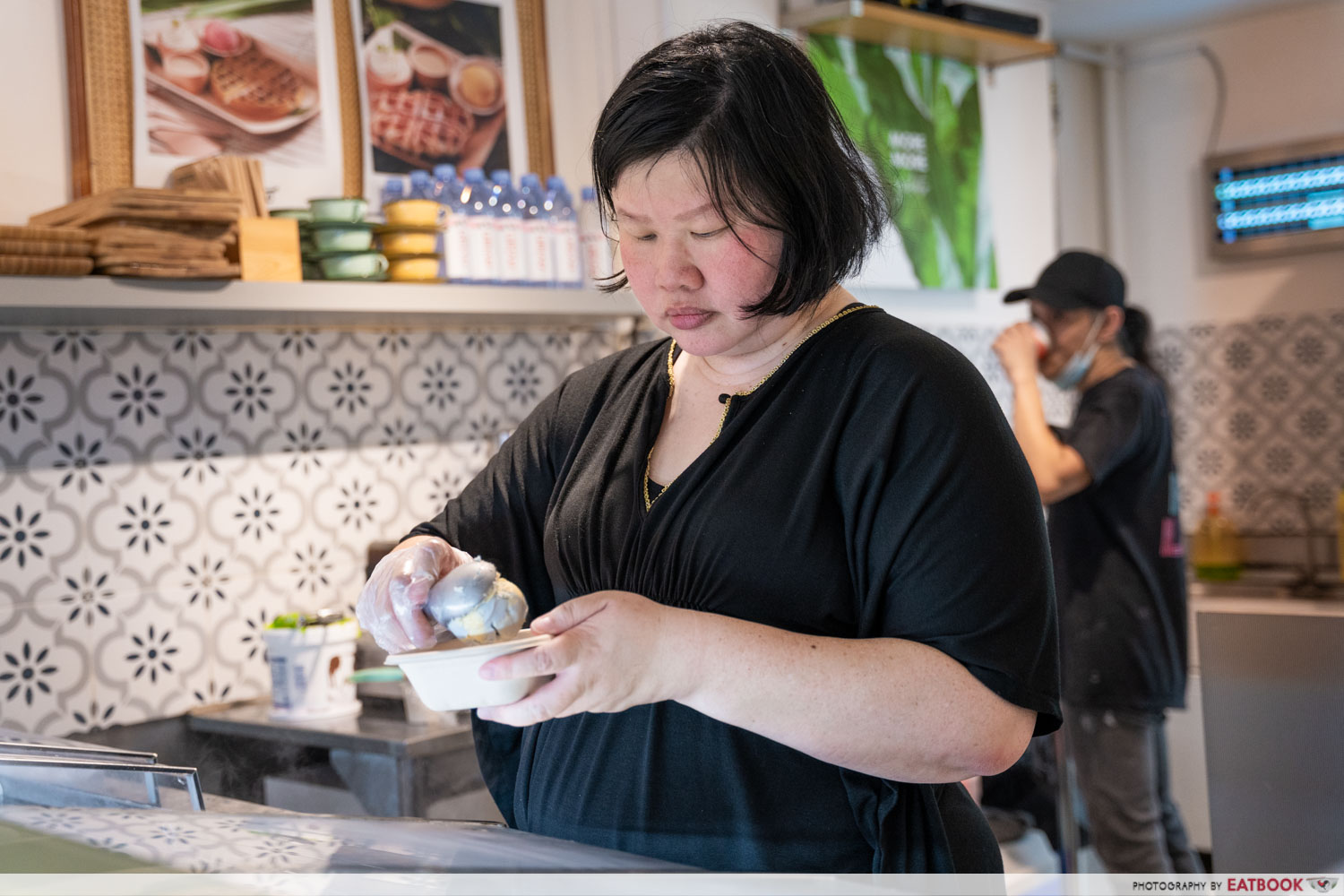 "I would say it is sticking to your ethos, no matter what," Sharon concluded. "Our ethos has never changed since day one. We strive to offer good quality gelato, using only good ingredients. We would never settle for anything less."
Spoken like a true gelato champ.
If you'd like to find out why satay bee hoon is a fading hawker dish, have a look at our history of satay bee hoon feature. Also, check out our Big Bakery feature, which tells the tale of a 30-year-old bakery that specialises in handmade apple pie.
Address: 34 Haji Lane, Singapore 189227
Opening hours: Mon-Thurs 1pm to 11pm, Fri-Sat 12pm to 2am, Sun 12pm to 11pm
Tel: 8883 7968
Website
Momolato is a halal-certified eatery.
The History Of Satay Bee Hoon, And Why It's A Fading Hawker Dish In Singapore
Photos taken by Melvin Mak.
This was an independent feature by Eatbook.sg.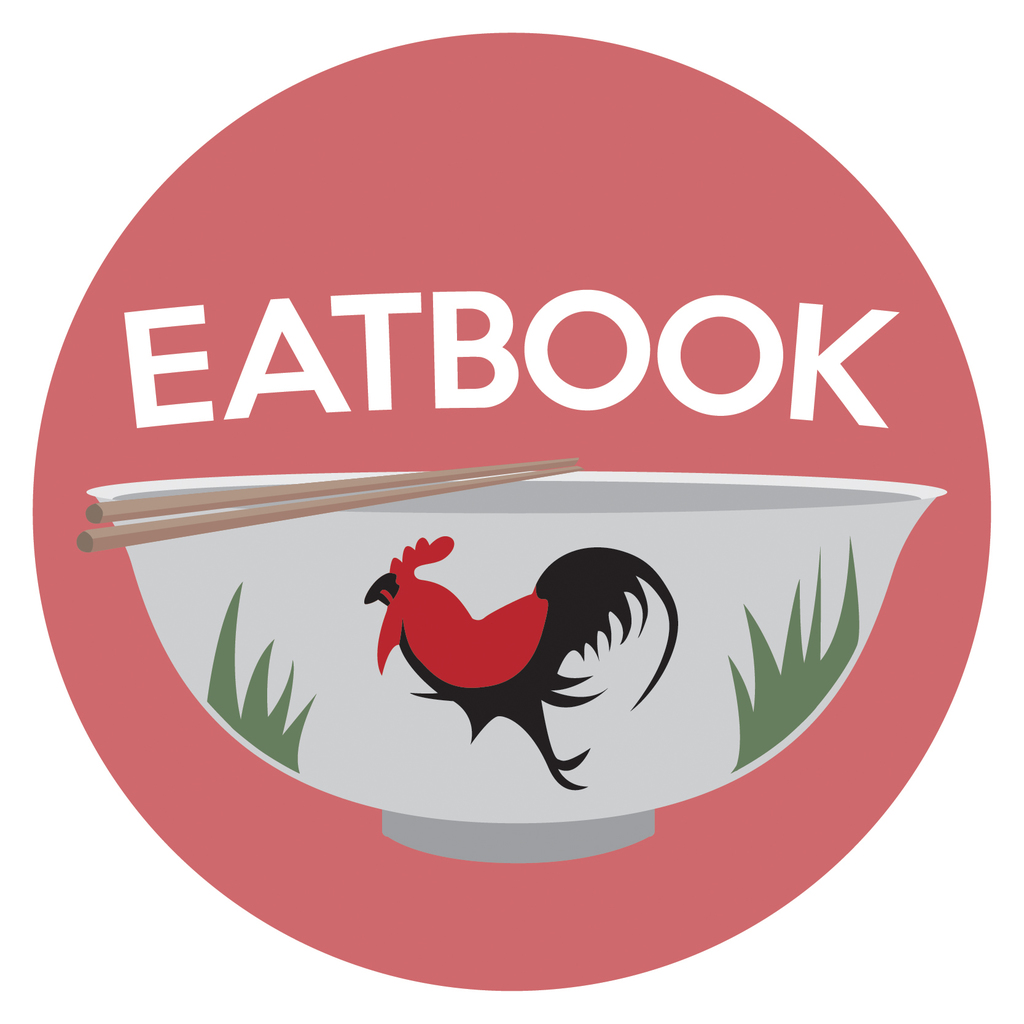 Drop us your email so you won't miss the latest news.