---
Get your hands on these mooncakes
---
I have fond memories of celebrating Mid-Autumn Festival as a child. From choosing my own lantern with cousins to stuffing my face with piggy mooncakes baked by Mum, this season is a great time to bond with the family. The circular shape of mooncakes even signifies a complete family reunion. Treat your family to mooncakes from our curated list that includes tea-infused snowskin and pineapple custard baked mooncakes.
---
1. Salted Egg Lava Mooncake
---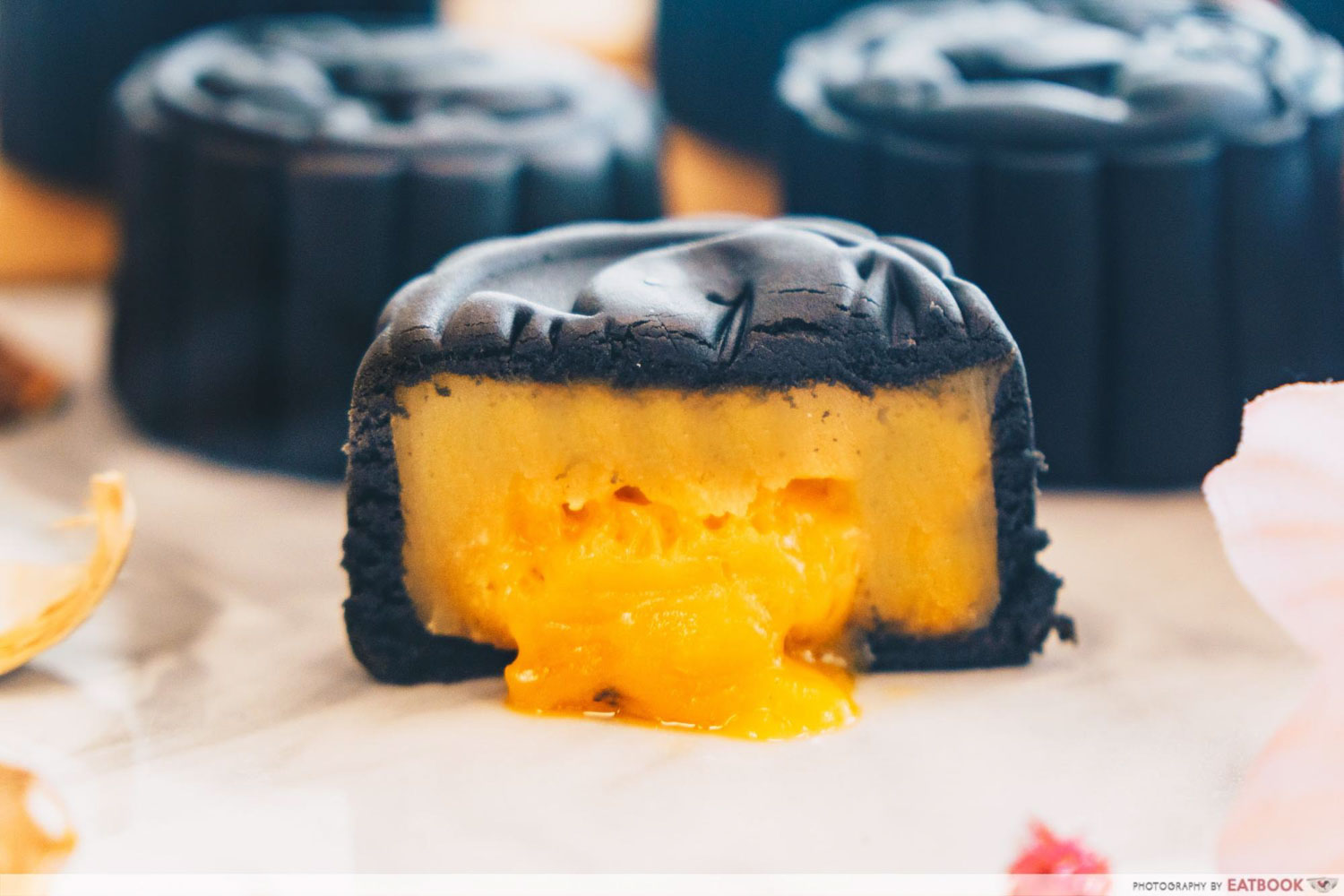 We all know Irvins for their salted egg chips, but this time they're raising the mooncake game with their Salted Egg Lava Mooncakes ($40 for a box of eight). Wrapped in soft charcoal snowskin, these mooncakes come in two flavours: mung bean and yam. Be sure to pop them in the microwave for 10 seconds to get that salted egg centre flowing. 
Address: 1 Harbourfront Walk, #B2-K25, VivoCity, Singapore 098585
Opening hours: Daily 10am to 8:30pm
Tel: 6264 3076
Website
---
2. Snowskin Mao Shan Wang Mooncake
---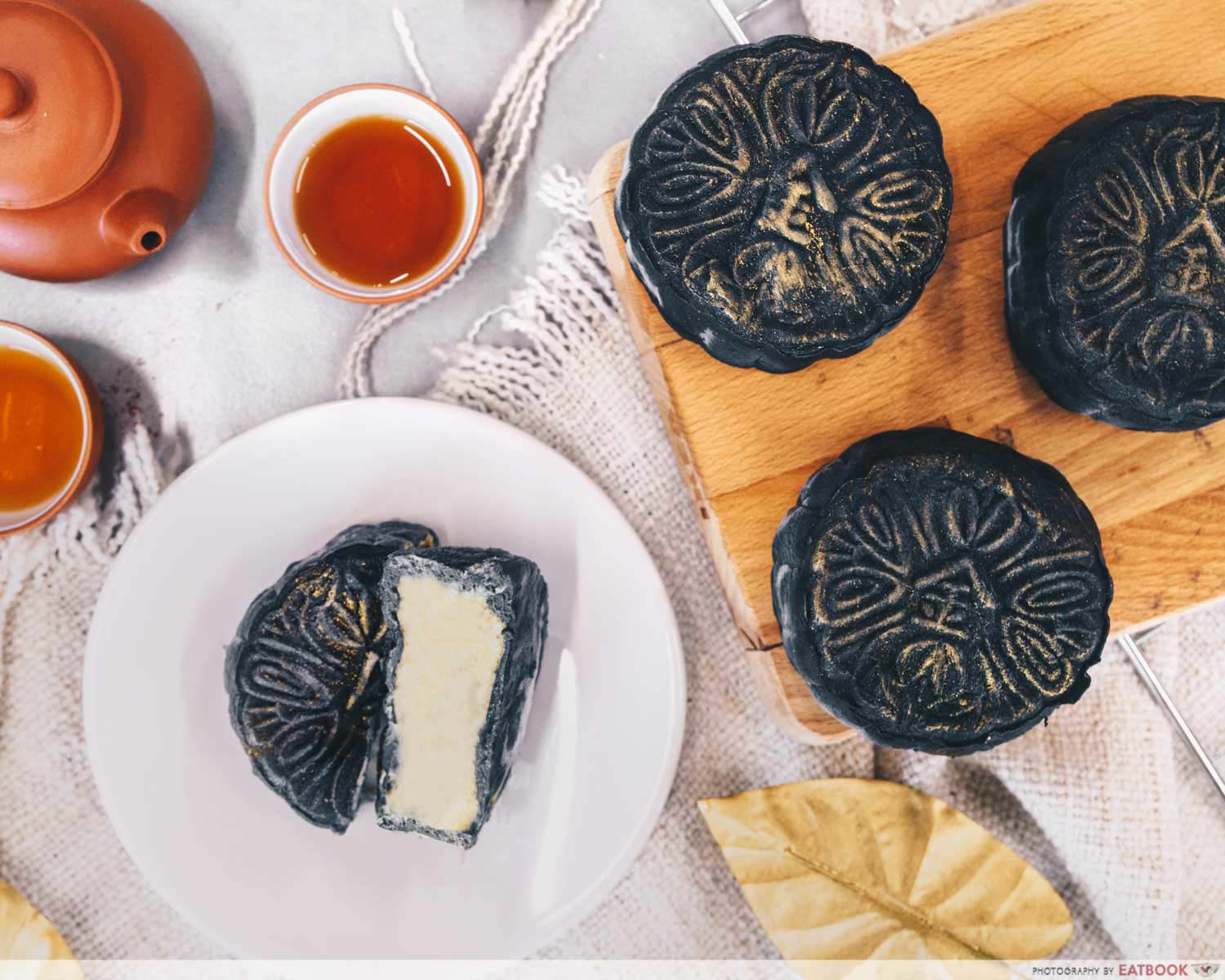 Durian lovers are in for a treat with Golden Moments' Signature Snowskin Mao Shan Wang Mooncake ($98 for a box of four). These mooncakes are made with pure mao shan wang durian and wrapped in a charcoal snowskin. To elevate the level of extravagance, edible gold dust is sprinkled on top of these mooncakes. These are the mooncakes to get if you want to go full out and impress your beau's parents this year. 
Address: 71A Geylang Road, The Honest Project, Singapore 389194
Tel: 8766 8960
Website
---
3. Tea-Infused Snowskin Mooncakes
---
I love tea, and not just spilling it, but also sipping it. So I was naturally excited about Crowne Plaza Changi Airport's Tea-Infused Snowskin Mooncakes ($85 for a box of four). You can expect popular tea flavours such as Chrysanthemum with Winter Melon Bits, Red Date with Wolfberries, Earl Grey with Tapioca Pearls, and Matcha with Azuki Beans. These mooncakes are packaged in a stylish suitcase, on brand with the theme of Changi Airport. 
Address: 75 Airport Boulevard, Crowne Plaza Changi Airport, Singapore 819664
Website
---
4. Pineapple Custard Mooncake
---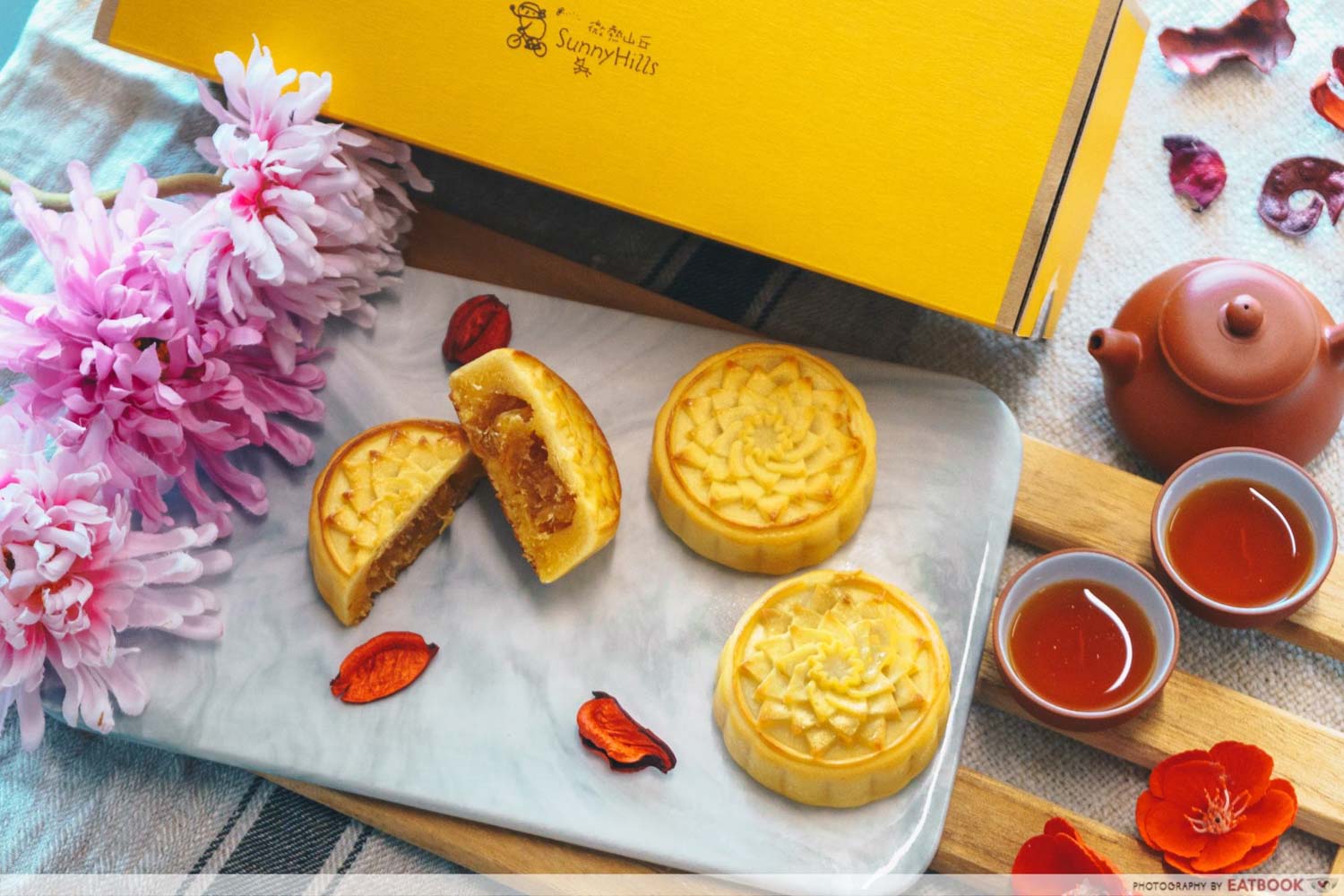 SunnyHills brings their popular pineapple cakes to the table with some Pineapple Custard Mooncakes ($45 for a box of six). Harvested from their local farms in Taiwan, organic pineapples are used in the custard filling. A tinge of salted egg is also added to the lotus paste to elevate the savoury and sweet notes of each delectable mooncake.
Address: 391 Orchard Road, #B2-27A, Ngee Ann City Tower B, Takashimaya Shopping Centre, Singapore 238872
Opening hours: Daily 11am to 9pm
Tel: 8522 9605
Website
---
5. Brown Sugar Mochi Mooncakes
---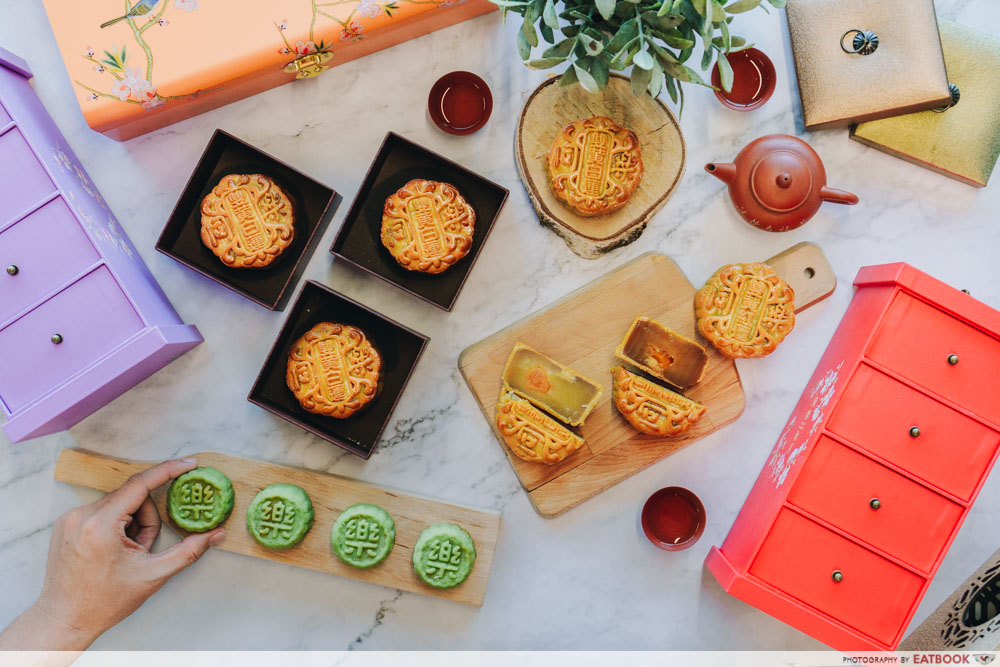 You won't have to feel guilty while indulging in TungLok's Double Yolk White Lotus and Double Yolk Red Lotus as they are made with 25% less sugar. Their TungLok Perfect Duo ($78+ for four pieces) presents you with best of both worlds, and is packaged in a pretty four-drawer chest. They also have mini snow skin mooncakes ($62+ for eight pieces) in unique flavours such as Brown Sugar Mochi with Red Bean and Peanut as well as Durian with Chestnut.
Get TungLok's Low-Sugar Mooncakes For A Healthier Treat This Mid-Autumn Festival
---
6. Shanghai Mooncakes
---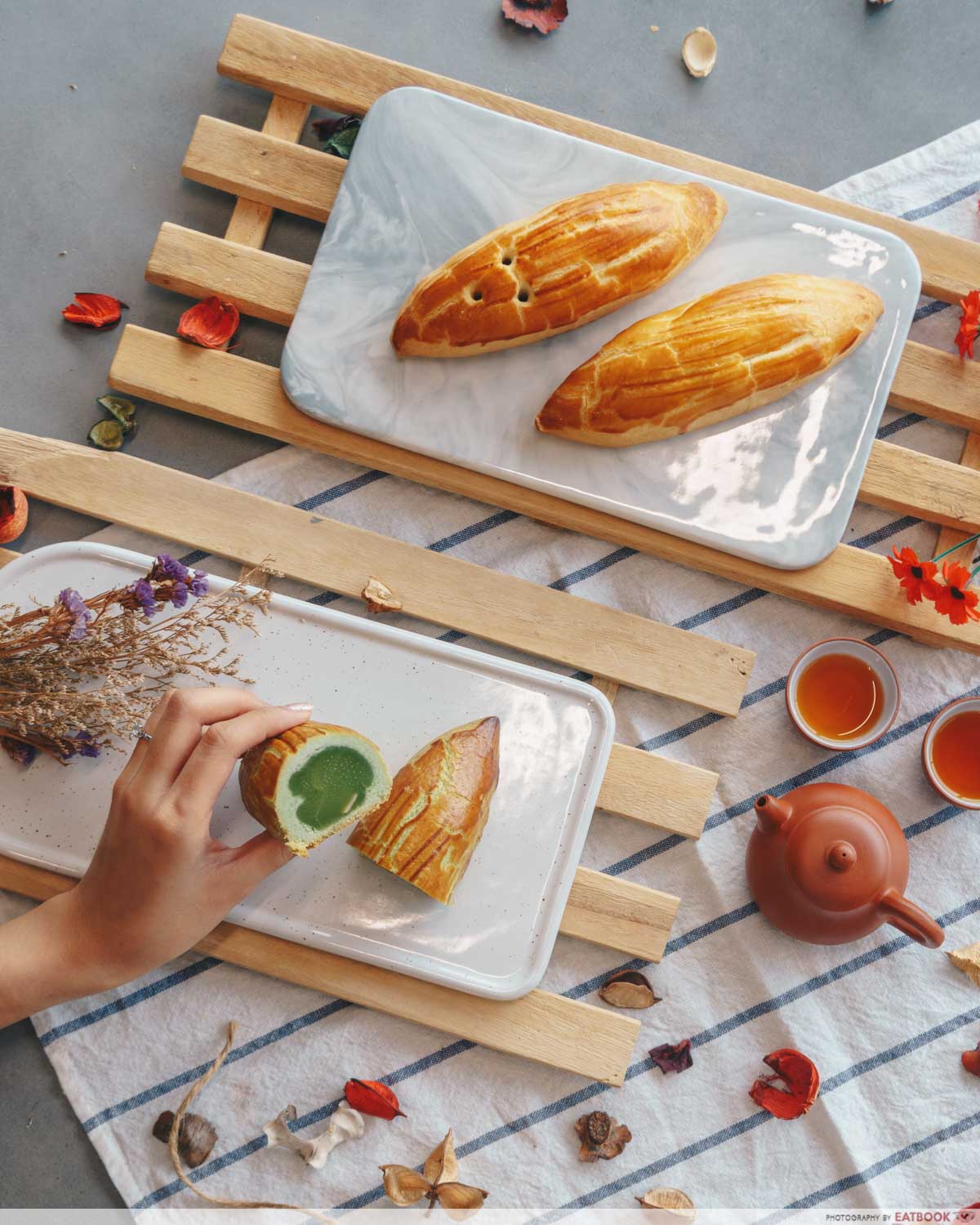 The only shape I know mooncakes take on, is well, a round circle like the moon. So I was taken aback when I opened Mdm Ling Bakery's box of Signature Shanghai Mooncakes ($52 for three pieces). It seemed that the unique shape represents the sampans that docked along the Singapore River in the past, and was created to celebrate Singapore's rich history. The taste is also different; instead of the usual shortcrust mooncake, you'll bite into a compact and buttery pastry that encases flavoured pastes such as pandan, red bean or lotus. 
Address: 2 Soon Wing Road, #03-07, Singapore 347893
Opening hours: Daily 8am to 10pm
Tel: 8787 4142
Website
---
7. Mocha and Coconut Snowskin Mooncakes
---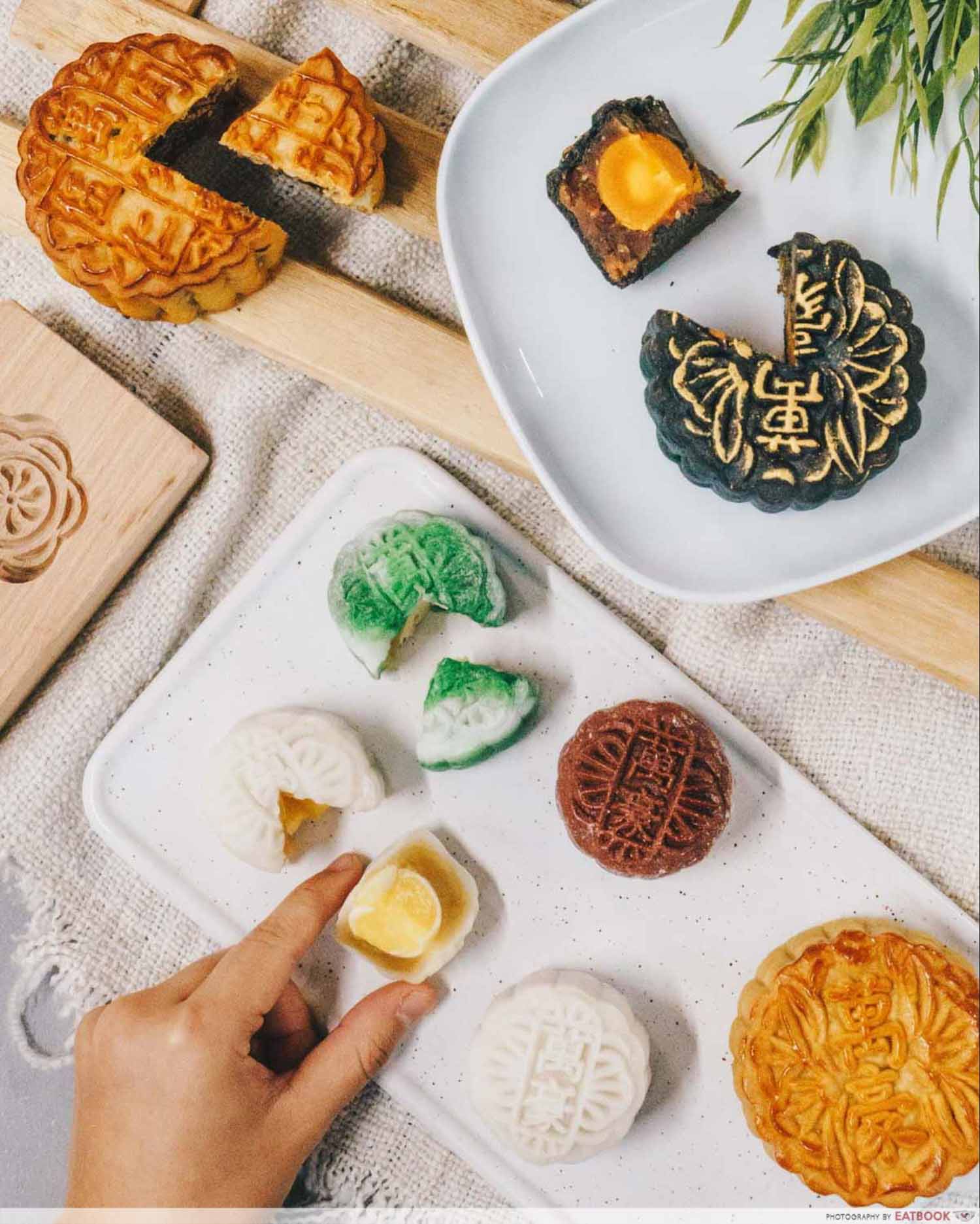 Singapore Marriott Tang Plaza Hotel is pulling out all the stops this year and making it fancy. Treat yourself like royalty and get their Gold-dusted Red Date Baked Mooncakes with Pistachio, Jambon de Bayonne, Sesame & Salted Egg, which comes with a bottle of champagne ($238 for a box four). If you're a sucker for the mochi-like texture of snowskin mooncakes, have a go at their latest flavours:  Mocha with Rose Liquor Praline ($70 for a box of eight) and Coconut with Champagne Praline ($72 for a box of eight). 
Address: 320 Orchard Road, Forecourt Stall, Singapore Marriott Tang Plaza Hotel, Singapore 238865
Opening hours: Daily 10am to 10pm
Tel: 6831 4708
Website
---
8. Caramel Mixed Nuts Mooncake
---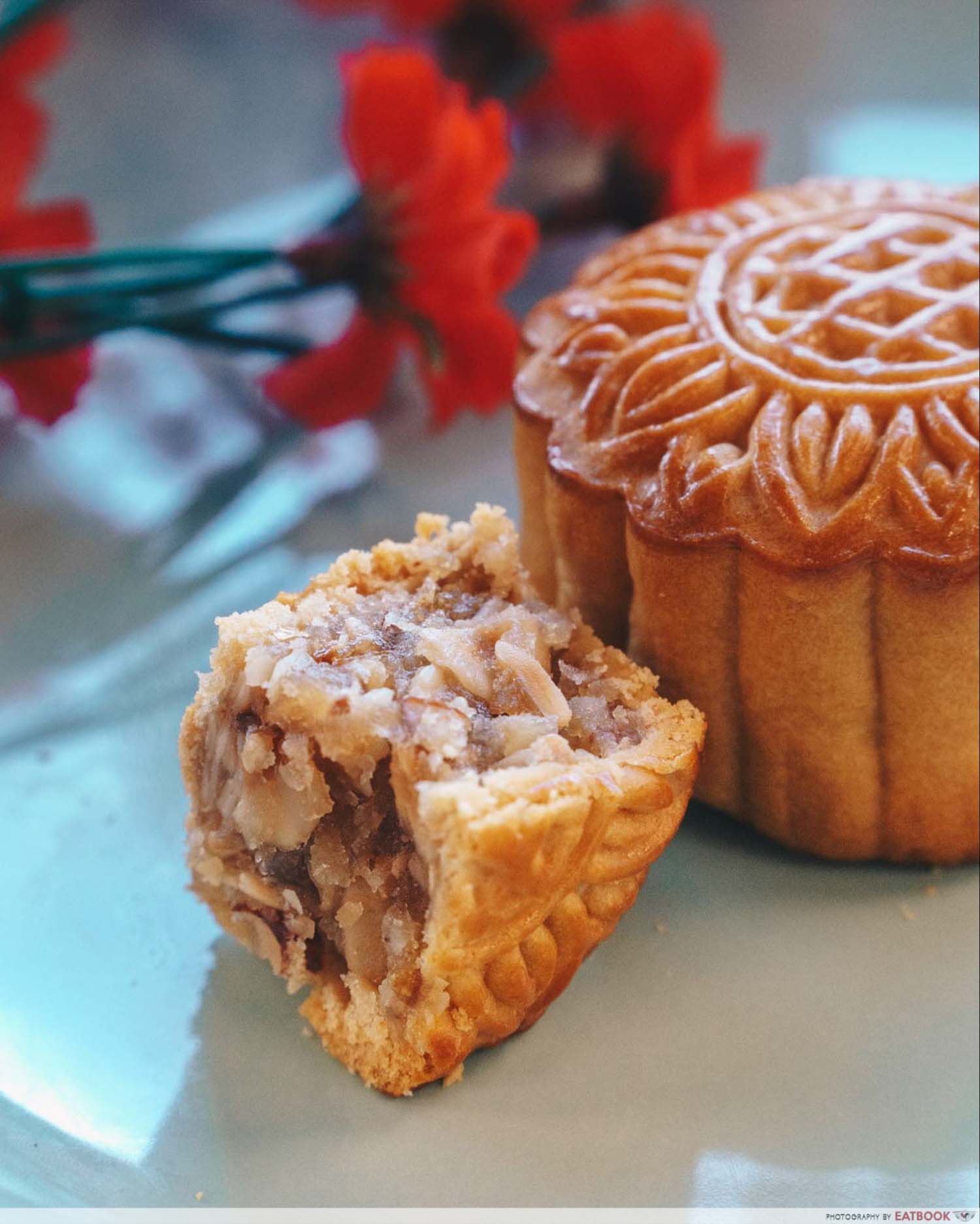 A new contender on our list is Capitol Kempinski Hotel Singapore, with "Demon Chef" Alvin Leung crafting this fresh range of mooncakes. Their Mini Theatre Combo set ($68 for a box of eight) contains hearty mooncakes such as Caramel Mixed Nuts and Mini Golden Corn. This box of mooncakes is packaged with the hotel's rich history in mind.
Address: 15 Stamford Road, The Capitol Kempinski Hotel, Singapore 178906
Tel: 6384 1929
Order form
---
9. Yam with Salted Egg Yolk and Salty Tau Sar with Salted Egg Yolk Mooncakes
---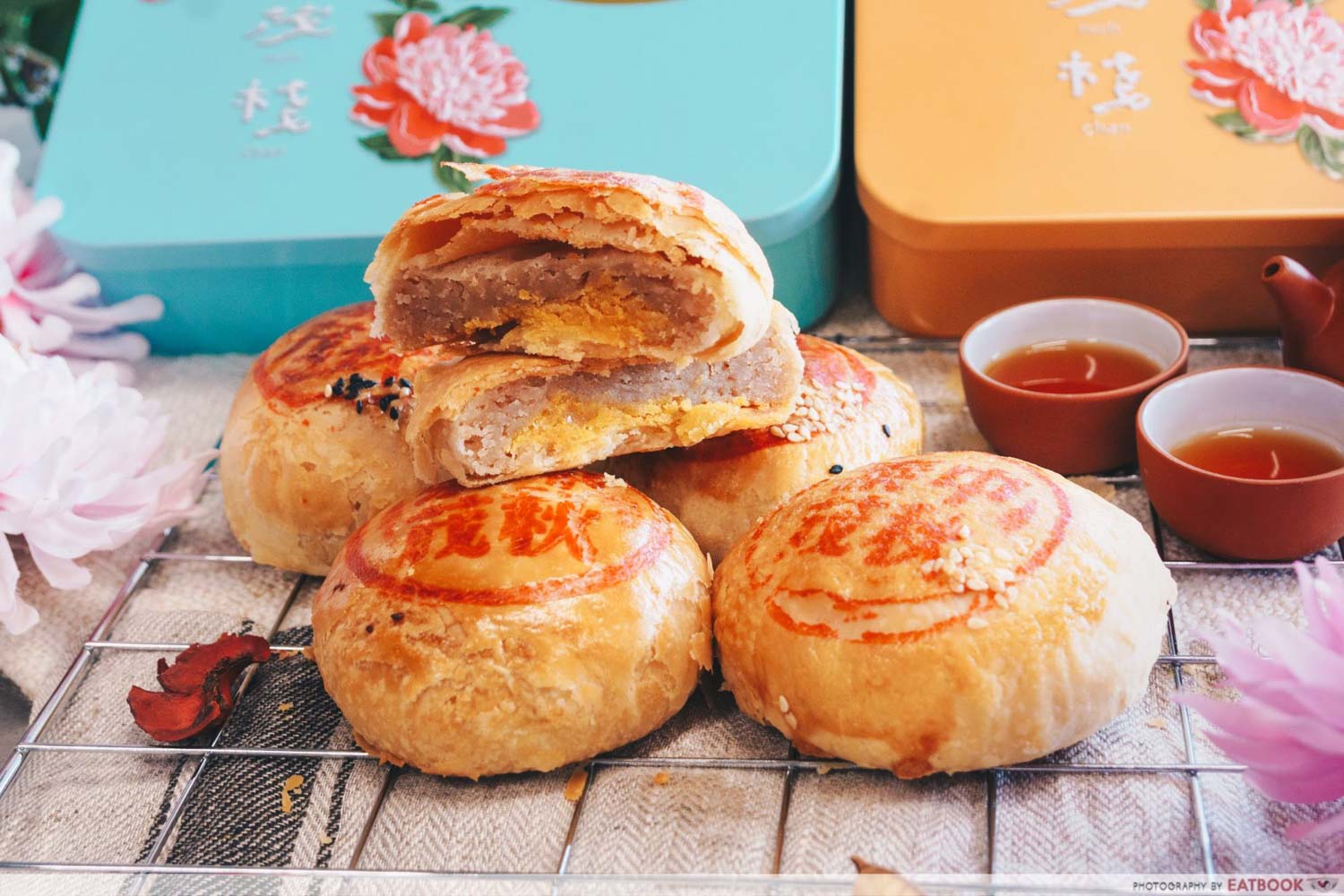 Unlike regular baked mooncakes we're used to, Thye Moh Chan's mooncakes have a light and flaky pastry skin. Their Yam with Salted Egg Yolk mooncake ($38.80 for a box of four) is reminiscent of orh nee. If you have a savoury tooth, their Salty Tau Sar with Salted Egg Yolk ($33.80 for a box of four) is a fragrant treat, while their Yuan Yang with Salted Egg Yolk ($35.80 for a box of four) presents a satisfying blend of spicy pork floss, salted egg yolk and mung bean.
Address: 133 New Bridge Road, #01-45, Chinatown Point, Singapore 059413
Opening hours: Daily 10am to 10pm
Tel: 6604 8858
Website
---
10. Blueberry Cheesecake Snowskin Mooncake
---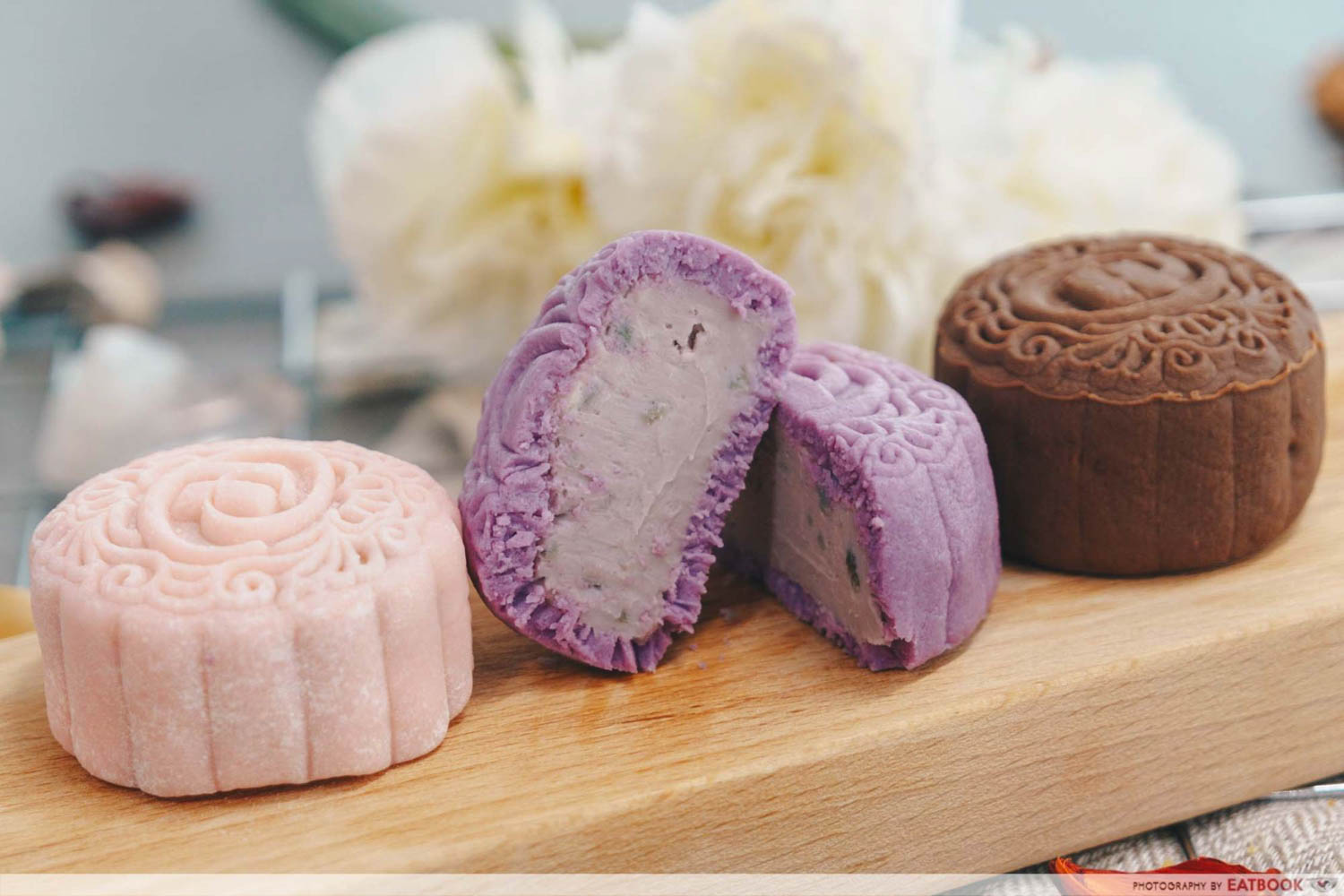 Taking inspiration from the hotel's well-liked American cheesecake, Hilton Hotel stars Blueberry Cheesecake flavour in their Mini Snowskin Delights Collection ($68 for a box of eight). You can also expect other popular flavours such as Lychee Chocolate Truffle and Dark Chocolate with Crunchy Pearl, which sold out quickly last year.
Address: 581 Orchard Road, Hilton Singapore, Singapore 238883
Tel: 6730 3392
Website
---
Get these mooncakes for your family
---
Though mooncakes are on the pricier side, splurging on them for the family comes as second nature. Treat you and your family to some of these delectable mooncakes! If you're looking for places to eat with the family, check out the zi char buffet at Lai Huat Signatures.