Try TungLok's low-sugar mooncakes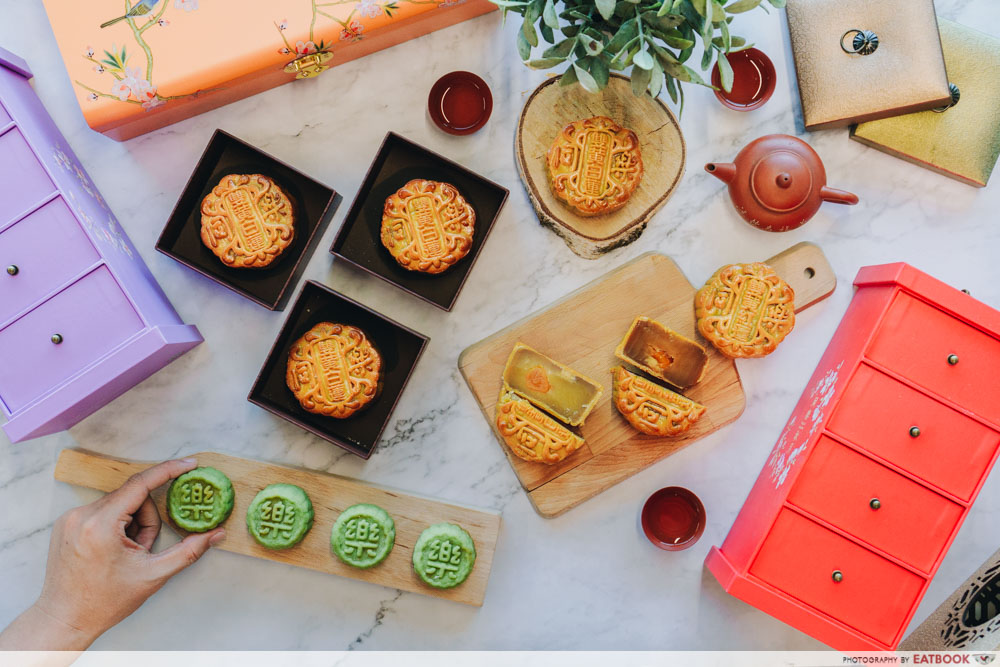 From the lighting of lanterns to sharing boxes of mooncakes, there are plenty of reasons to get together with the fambam during Mid-Autumn Festival. But with my sister becoming a #fitspo and my mom watching her sugar intake in recent years, devouring a plain baked mooncake has become a big no-no in my house, as it is high in sugar and contains approximately 700 calories. 
As such, I was tasked to find a mooncake that fit my family's criteria of being tasty yet not too sweet. Cue TungLok's low-sugar mooncakes, namely their mooncakes with white and red lotus fillings.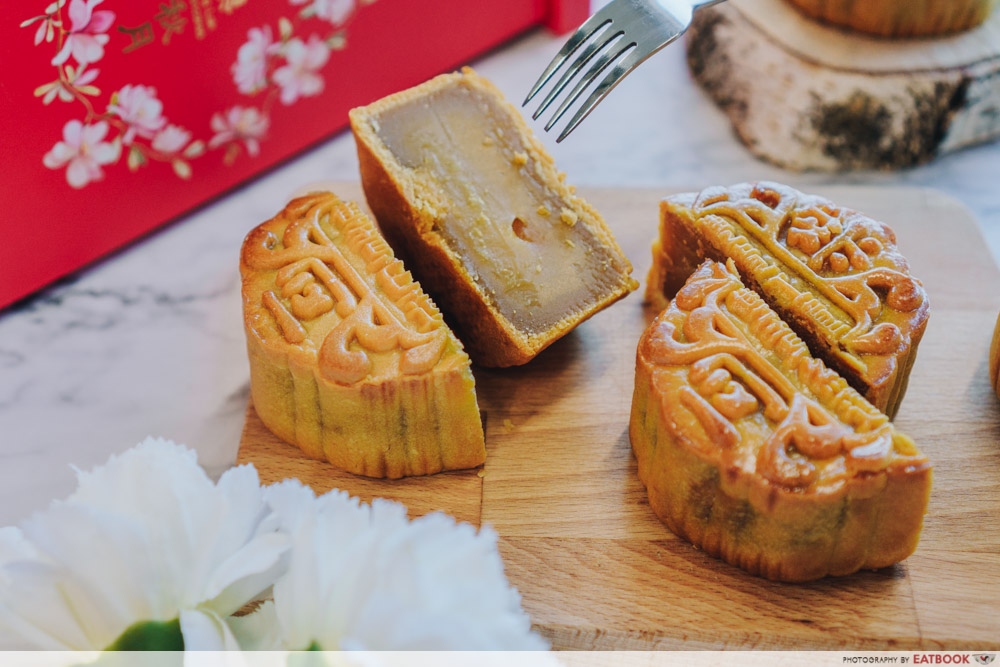 The red and white lotus mooncakes, which are endorsed with a Healthier Choice Symbol, are known to contain 25% less sugar than the ones on the market. Plus, they also swap out palm oil for pure peanut oil. The result is a mooncake that's low in sugar and calories.
But nutritional values aside, the taste is what really matters—and it doesn't disappoint. Using pure lotus seeds to make the paste, the white lotus filling has a delicate sweetness with a nutty undertone. Biting it together with the buttery golden-brown shell delivered a wave of scrummy flavour.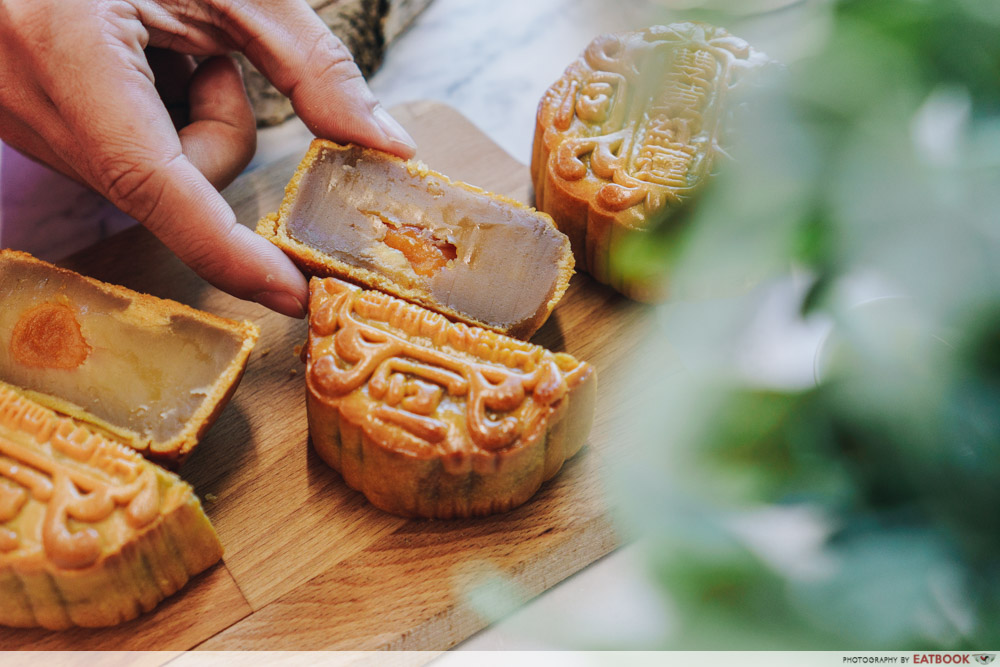 The red lotus filling is punchier, with a treacly consistency. In fact, I forgot that it was low in sugar, as it was really quite sweet. That being said, I would have preferred if it was not too rich, as I needed a cup of tea to accompany this baked treat. 
You won't be short of options when you get your mooncakes from TungLok too, as they are plenty of categories to choose from: 
---
1. TungLok Treasure Box
---
Mooncake season is the best time to impress your future in-laws, and you won't go wrong with the TungLok Treasure Box ($138+), which comprises four low-sugar Double Yolk White Lotus that are part of the Healthier Choice range.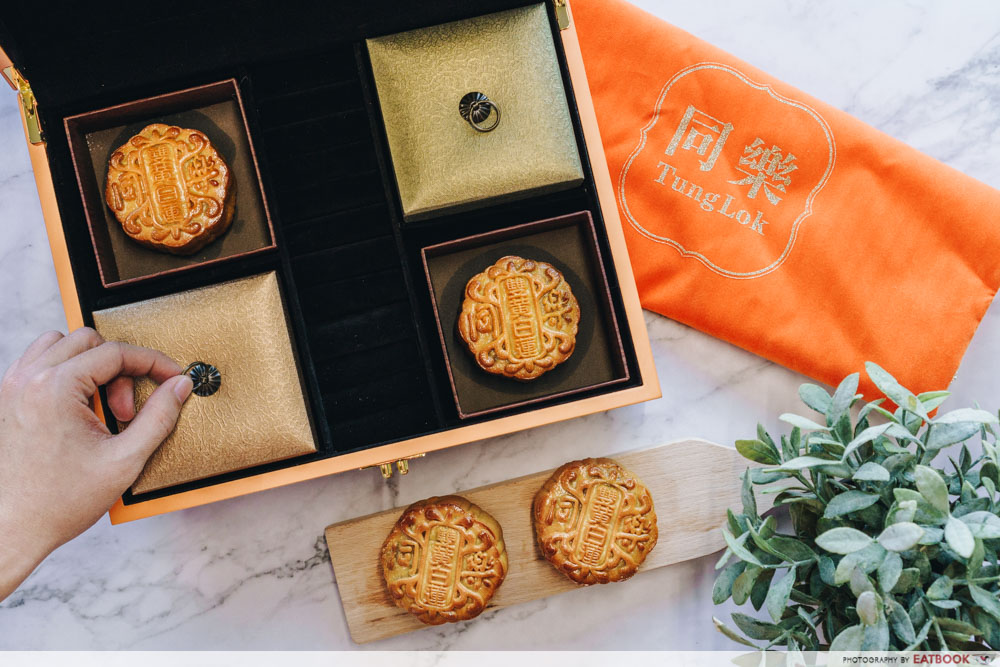 Packaged like a Hermes bag with an orange suede drawstring bag, this wooden mooncake box is absolutely gorgeous with slots that can fit rings or bracelets, allowing you to convert it into a jewellery box thereafter.
---
2. TungLok Perfect Duo
---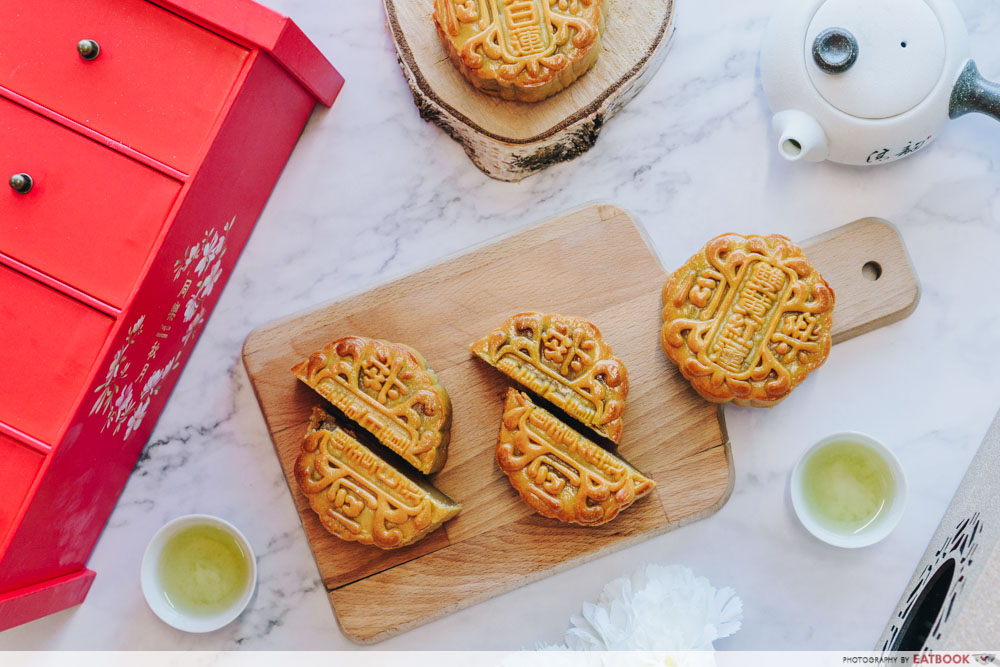 Two is better than one, and the TungLok Perfect Duo ($78+) presents you with the best of both worlds. Open up the stylish four-drawer chest to find two pairs of Double Yolk White Lotus and Double Yolk Red Lotus.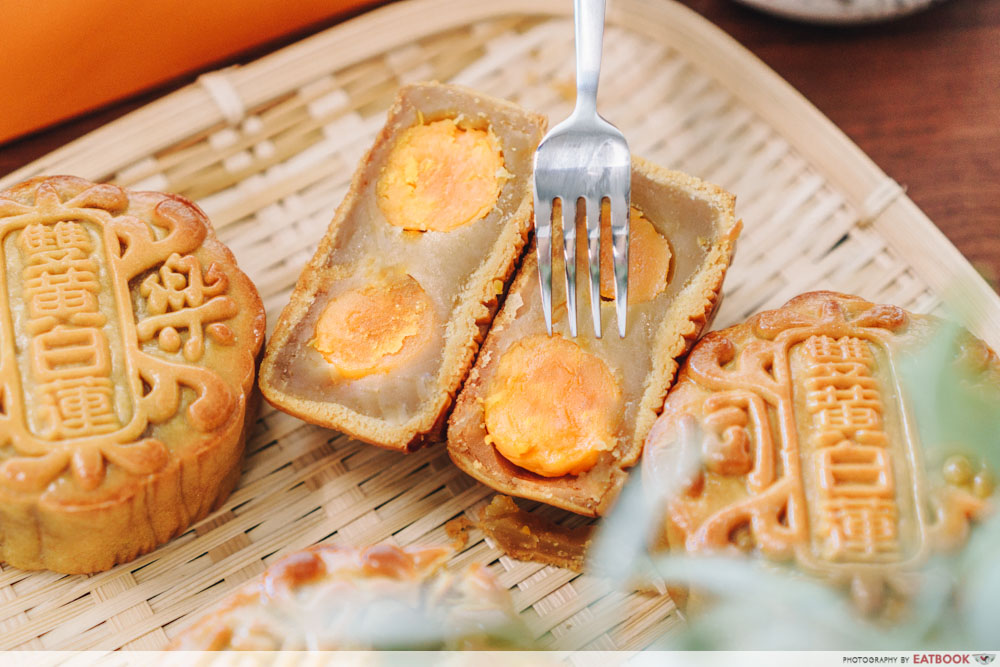 The double yolks make this a decadent treat, as the saltiness from the golden orb elevates the taste of nutty lotus.
---
3. TungLok Four Seasons
---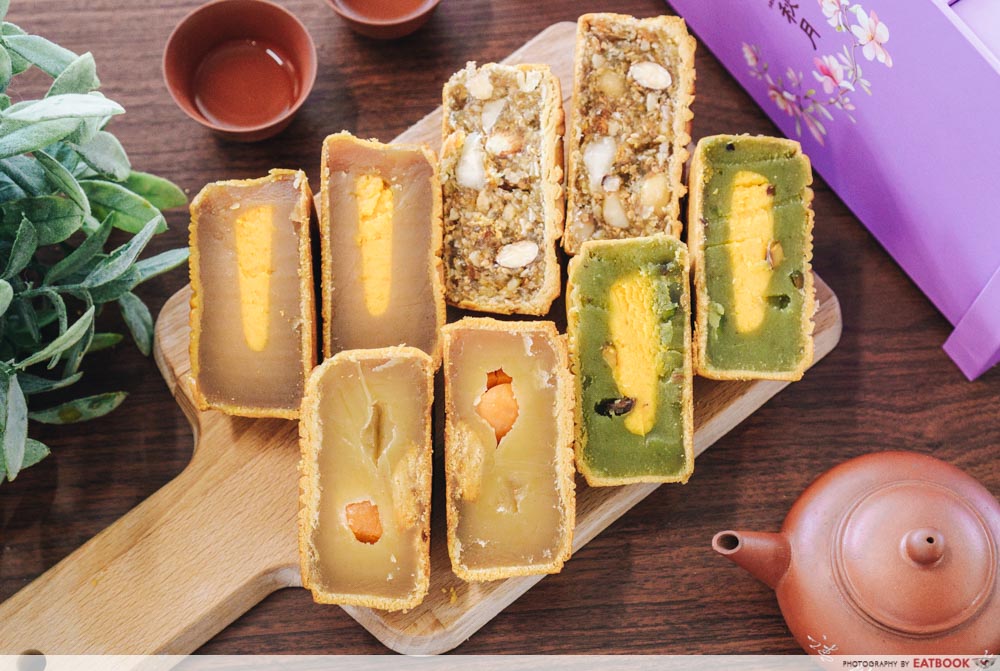 Those undecided on what to buy can order the TungLok Four Seasons ($76+), as it features four different flavours, namely Egg Yolk White Lotus, Egg Yolk Red Lotus, Egg Yolk Pandan Lotus with Pistachios, and Mixed Nuts.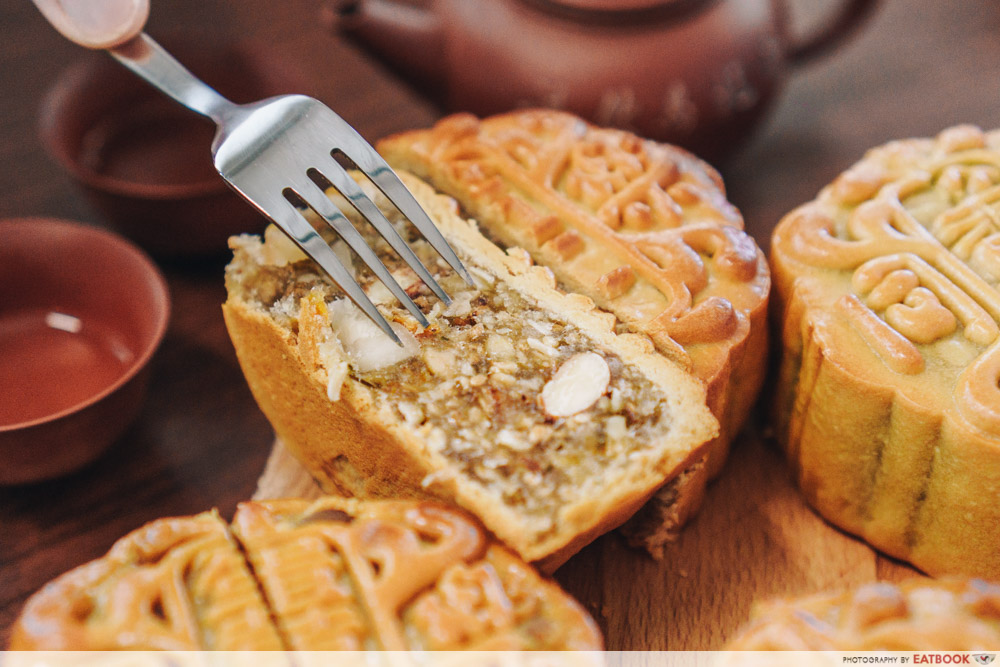 The pandan lotus and mixed nuts flavour are extremely delicious and will be well received by all. The former has a delicate floral aroma that lingers on your palate, while the latter is extremely savoury, with a hint of spice and a nice crunch from the chopped nuts. 
---
4. TungLok Bite-Sized Mooncakes
---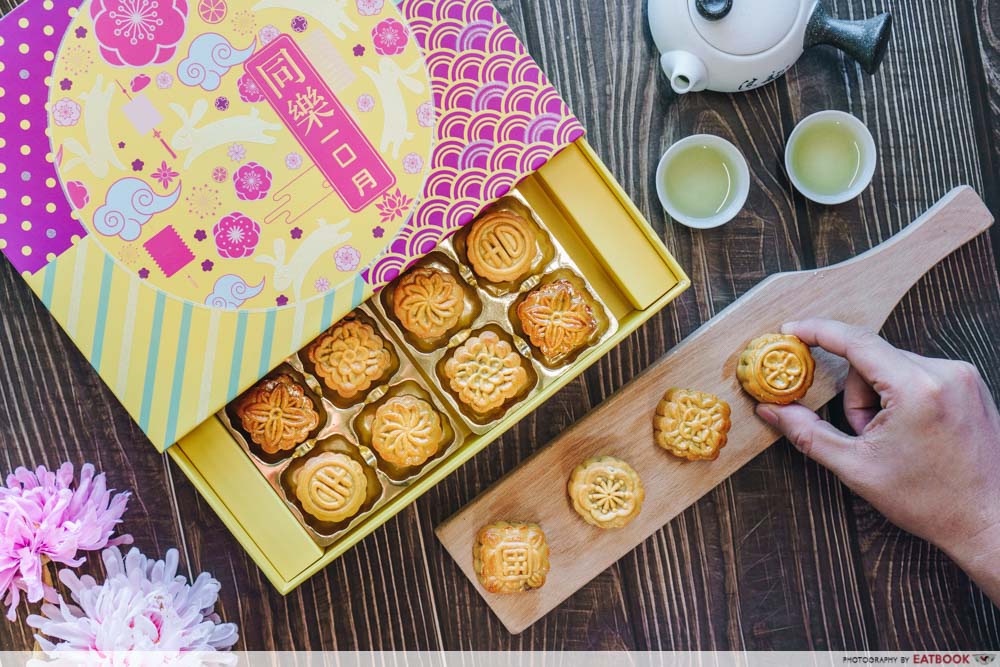 TungLok Bite-Sized Mooncakes ($66+ for 16 pieces) will suit families with little ones. Featuring eight flavours of mooncakes such as Pandan Lotus, Green Tea Lotus, and Pineapple, these dainty bites will please everyone in the fambam with its wide variety of flavours. 
Tung Lok Seafood Review: Dim Sum Buffet With Unlimited Sashimi At Only $28.80++
There's also the white lotus and red lotus fillings here, so those watching their waistline need not worry. I personally found this box to be my favourite, thanks to the variety it presented.
---
5. TungLok Mini Snow Skin Mooncakes
---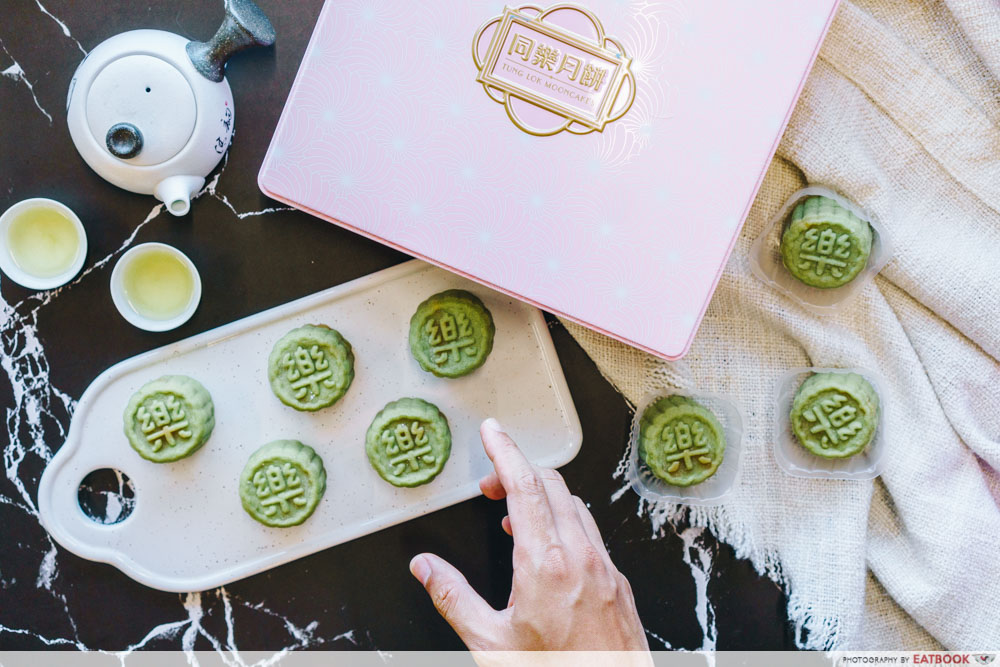 Opt for the Mini Snow Skin Mooncakes instead, if baked mooncakes aren't your cup of tea. There are four types of snow skin mooncakes to choose from, including the Egg Yolk White Lotus ($58+) as well as a unique Brown Sugar Mochi with Black Sesame and Peanut ($62+).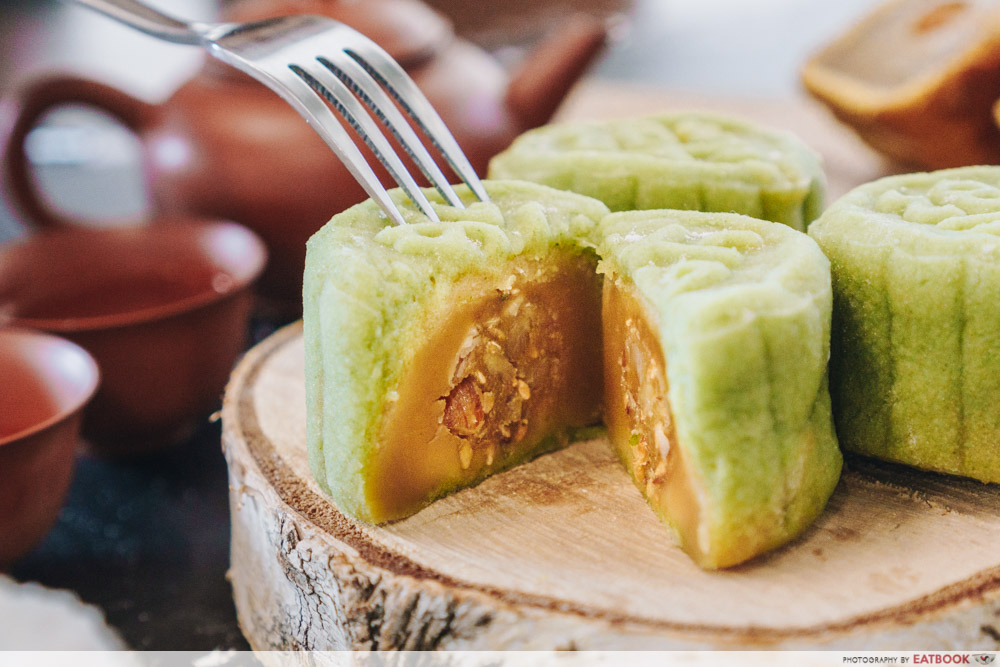 Each snow skin box comes with eight pieces of mini mooncakes, so order a few to mix and match! 
---
TungLok low-sugar mooncakes for the entire fam'
---
Ever since I started working, I've taken it upon myself to buy mooncakes for my relatives to give my mom a break from the mooncake-buying responsibilities. And TungLok has always been one of my go-to mooncake brands, thanks to their tasty range of low-sugar mooncakes and unique flavours. 
It helps that they are not only available at TungLok Group of Restaurants, but at Fairprice Xpress, Cheers at Esso Stations, as well as selected Cheers outlets from now until 13 September 2019. This makes it super convenient to grab and go.  
If you'd like to sample them first, you can find these babies at mooncake fairs happening at Takashimaya Square B2 and Jewel Changi Airport Atrium at Basement 1.
Photos taken by Tan Wen Lin.
This post is brought to you by Tung Lok.
Mademoiselle Tang Noodle Review: IG-Worthy Guo Qiao Mi Xian With Up To 12 Ingredients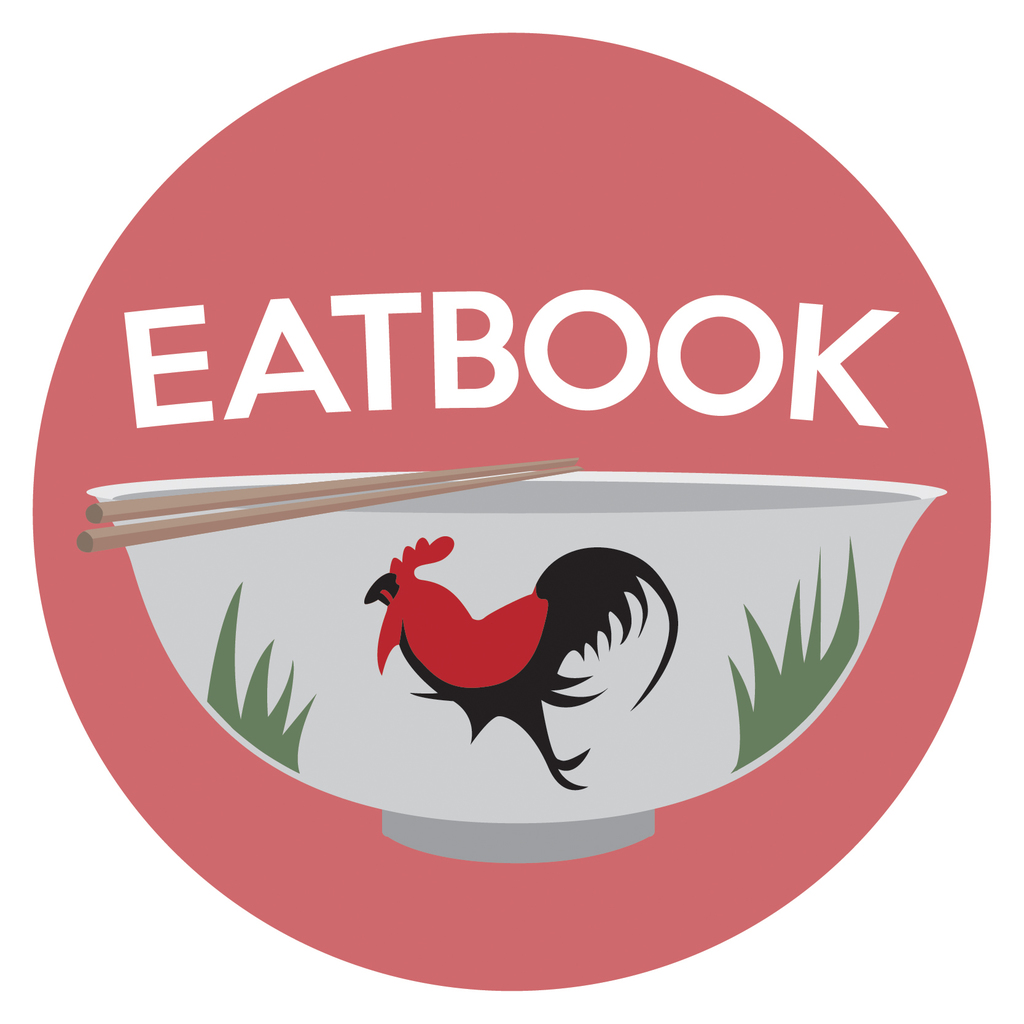 Drop us your email so you won't miss the latest news.