Mr Bucket Chocolaterie is a chocolate cafe and factory in Dempsey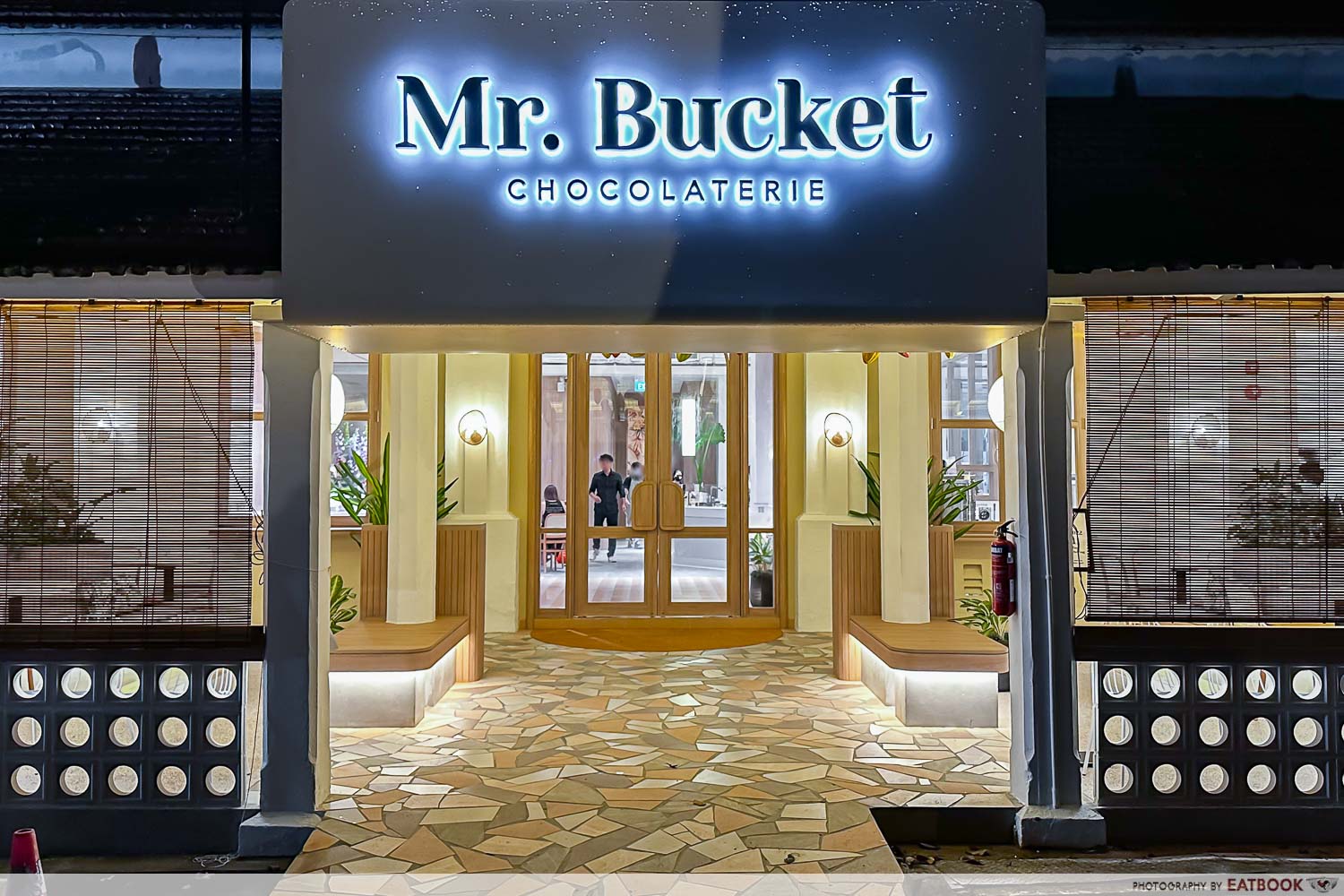 Chocolate lovers, this one's for you: local chocolatier Mr Bucket Chocolaterie has just opened their flagship store on Dempsey Hill, housing their very own chocolate factory, a chocolate cafe, a retail store, and a DIY station where you can customise a chocolate bar of your own!
The first of its kind in Singapore, their Creation Station takes centrestage with its duo of chocolate fountains and 16 jars of assorted toppings, which you can add to your DIY chocolate bar ($21.90)—ready in just 20 minutes.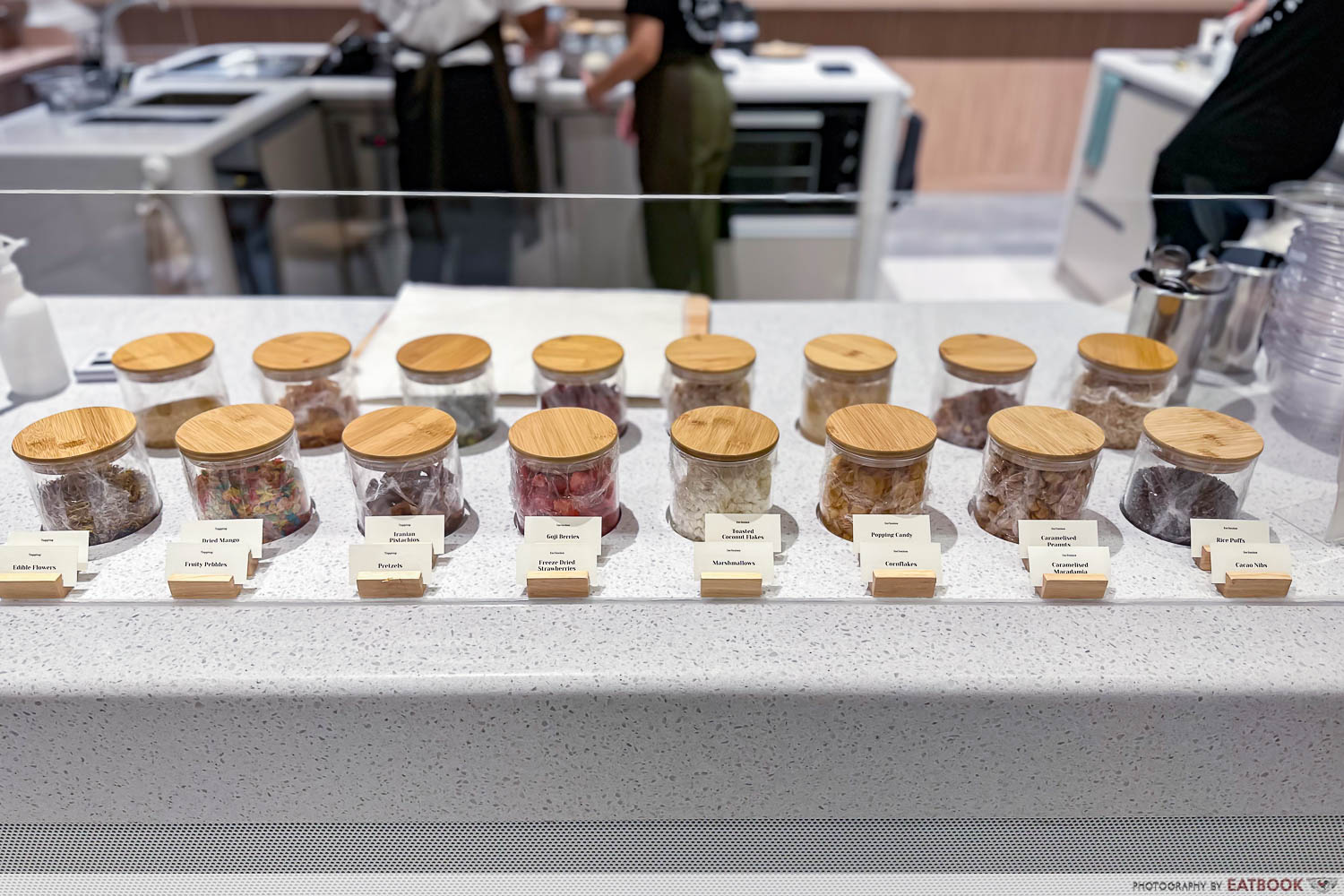 In the spirit of being inclusive, the 50% chocolate at this DIY station is made with Oatbedient oat milk, so this one's for the lactose-intolerant among us, or for those who prefer sweeter chocolate. Then, there's also a 72% dark chocolate. You'll get to pick three of the 16 toppings available, which include dried edible flowers, caramelised nuts, pretzels, freeze-dried strawberries, marshmallows, coconut flakes and more.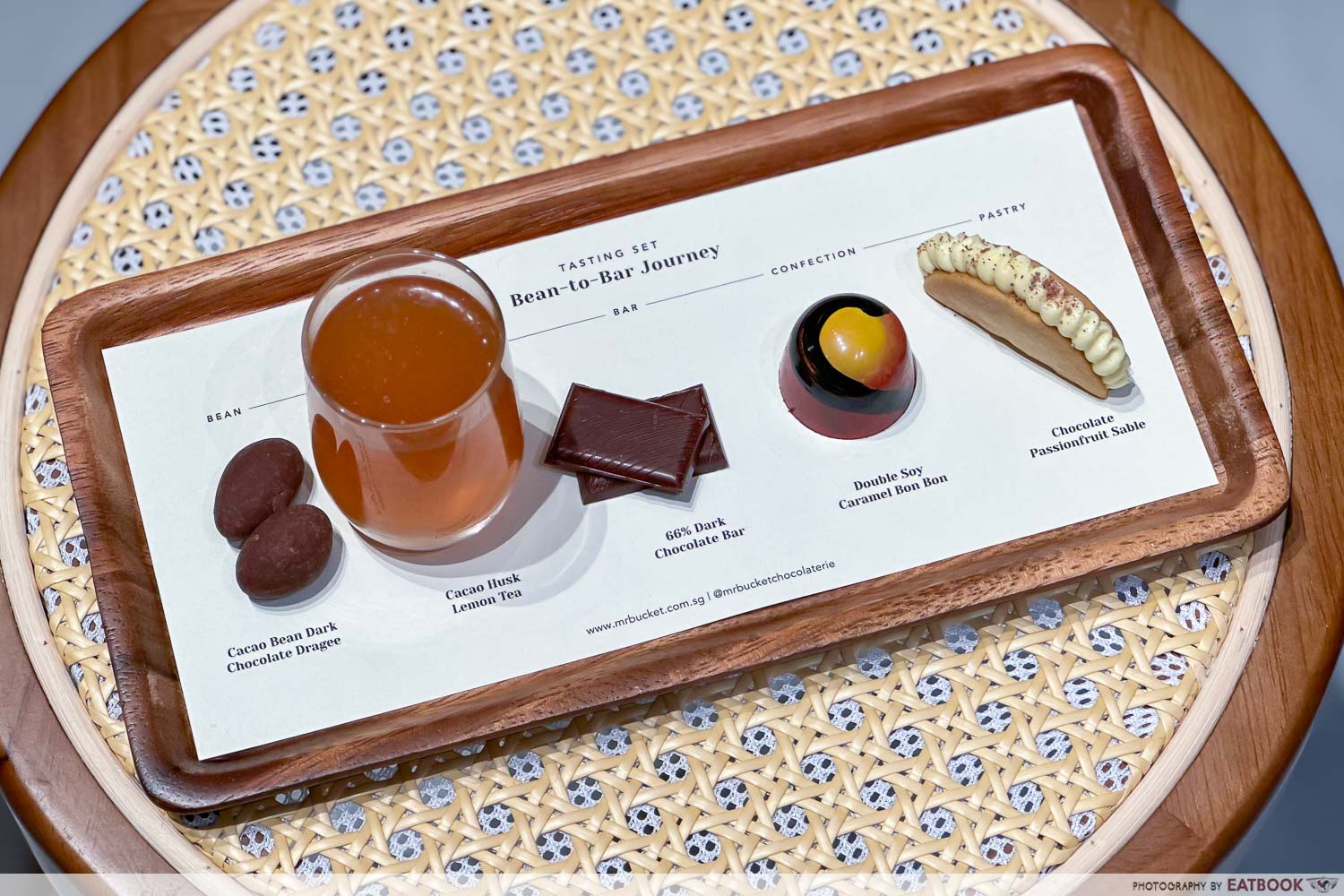 While you wait for your chocolate bar to be ready, check out the chocolatey treats Mr Bucket's got on the menu. Start with the Bean-To-Bar Journey Tasting Set ($18++), which takes you on a journey through the different stages of a cacao bean's transformation into the sweet treats we enjoy. Here, you'll get a refreshing Cacao Husk Lemon Tea ($9++), derived from cold-brewing cacao bean husks, and then infusing lemon and tea.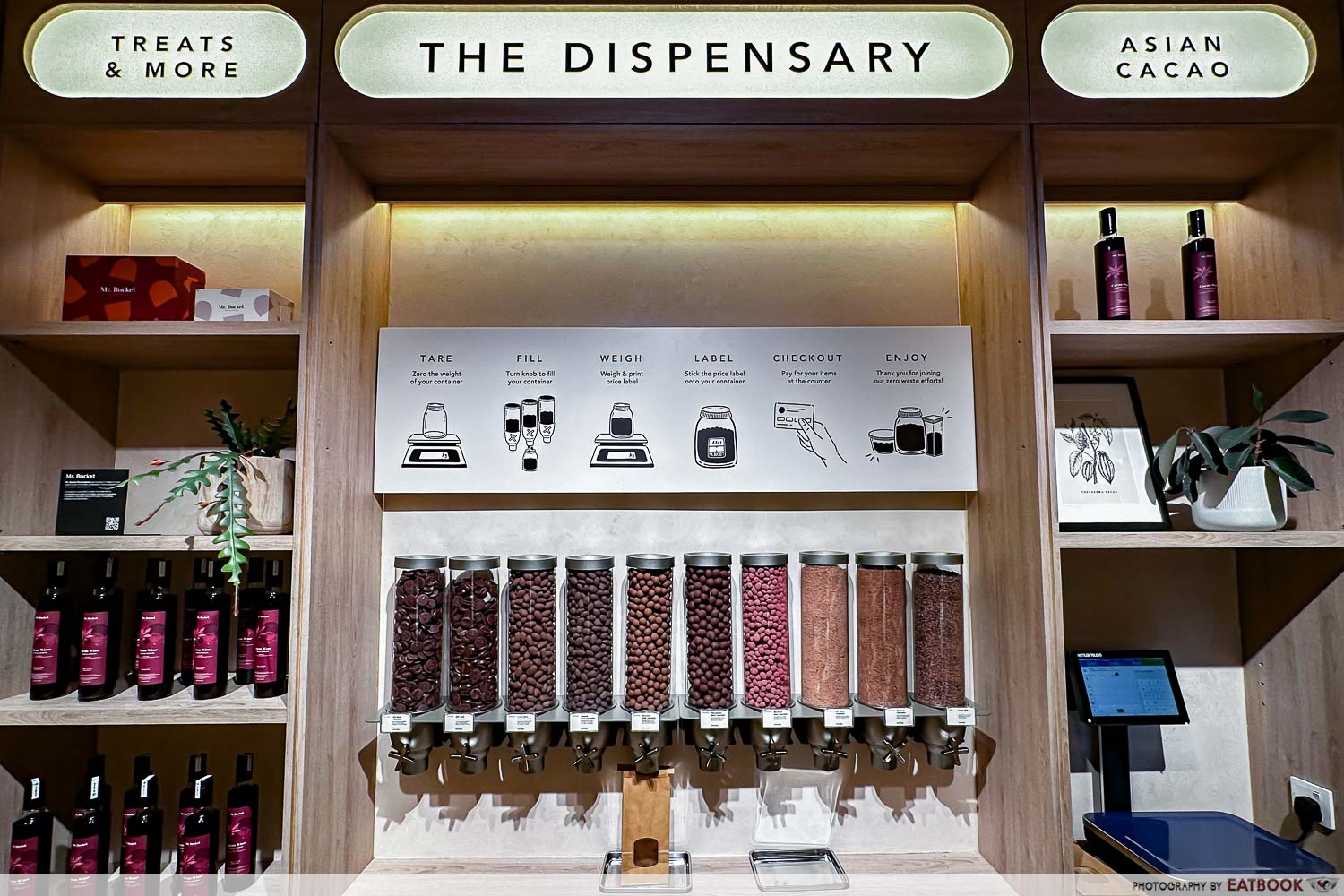 Fun fact: all the chocolate that you'll find at Mr Bucket Chocolaterie is made from cacao beans, sustainably sourced from Asian producers in countries such as Malaysia, India, and the Philippines. These beans are roasted and processed right here on Dempsey Hill—the glass-fronted kitchen allows you to watch the magic as it happens.
25 Dempsey Hill Restaurants For Date Nights And Special Occasions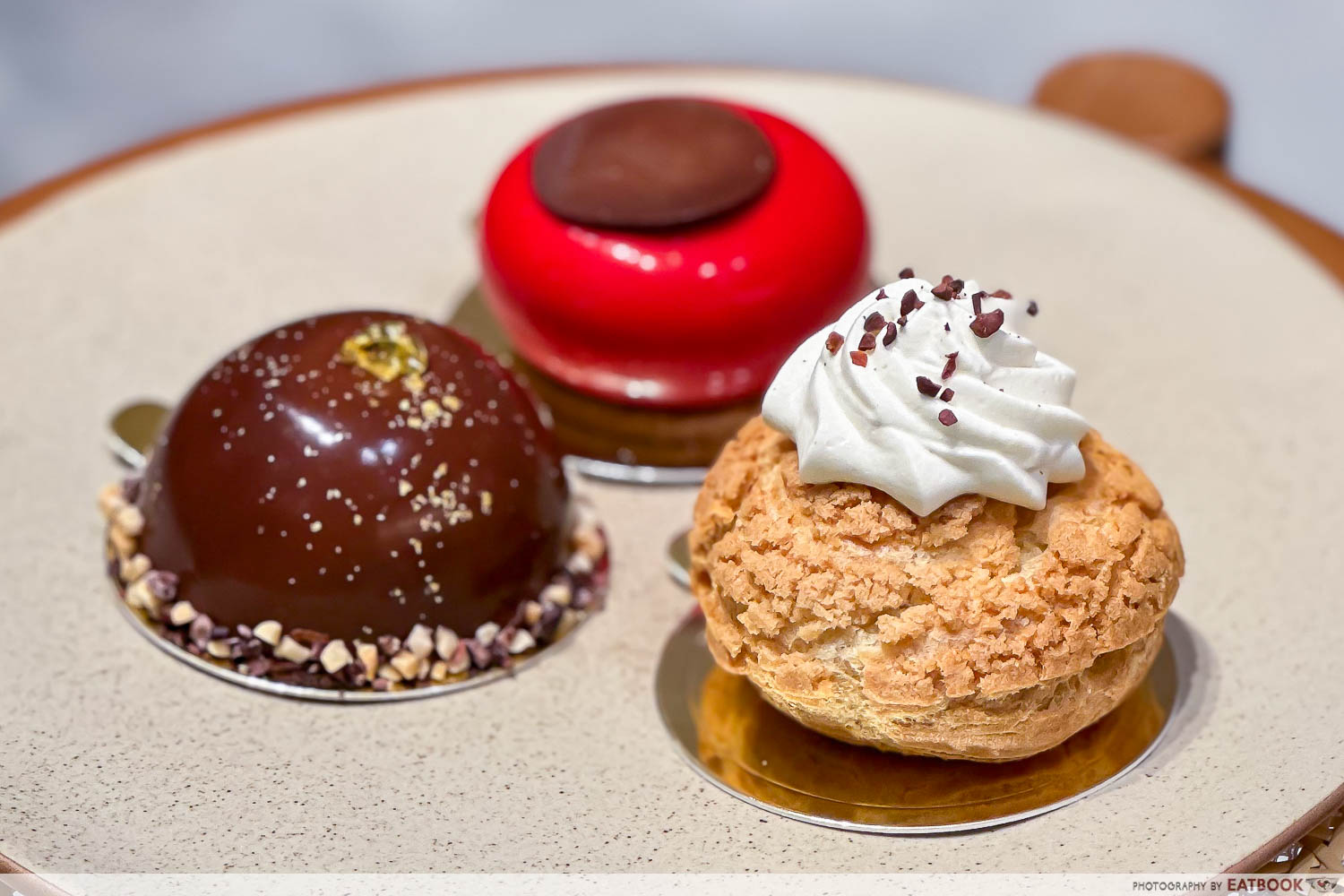 For more dessert-y things, Mr Bucket's has a spread of house-made, chocolate-based cakes and entremets which you can pick from the glass display at the entrance of the store. The Dark Chocolate Choux Puff ($10++) is one of these, with a centre of 80% Anaimalai chocolate cream, topped with vanilla Chantilly cream. Otherwise, the Signature Chocolate Dome ($12++) is a mirrored 72% Calinan chocolate mousse on a cacao nib wafer.
Just in time for Christmas, the Festive Maple Apple Cake ($12++) is their take on a tarte tartin, with maple mascarpone, Panchor chocolate cremeux, and a maple sable Breton base.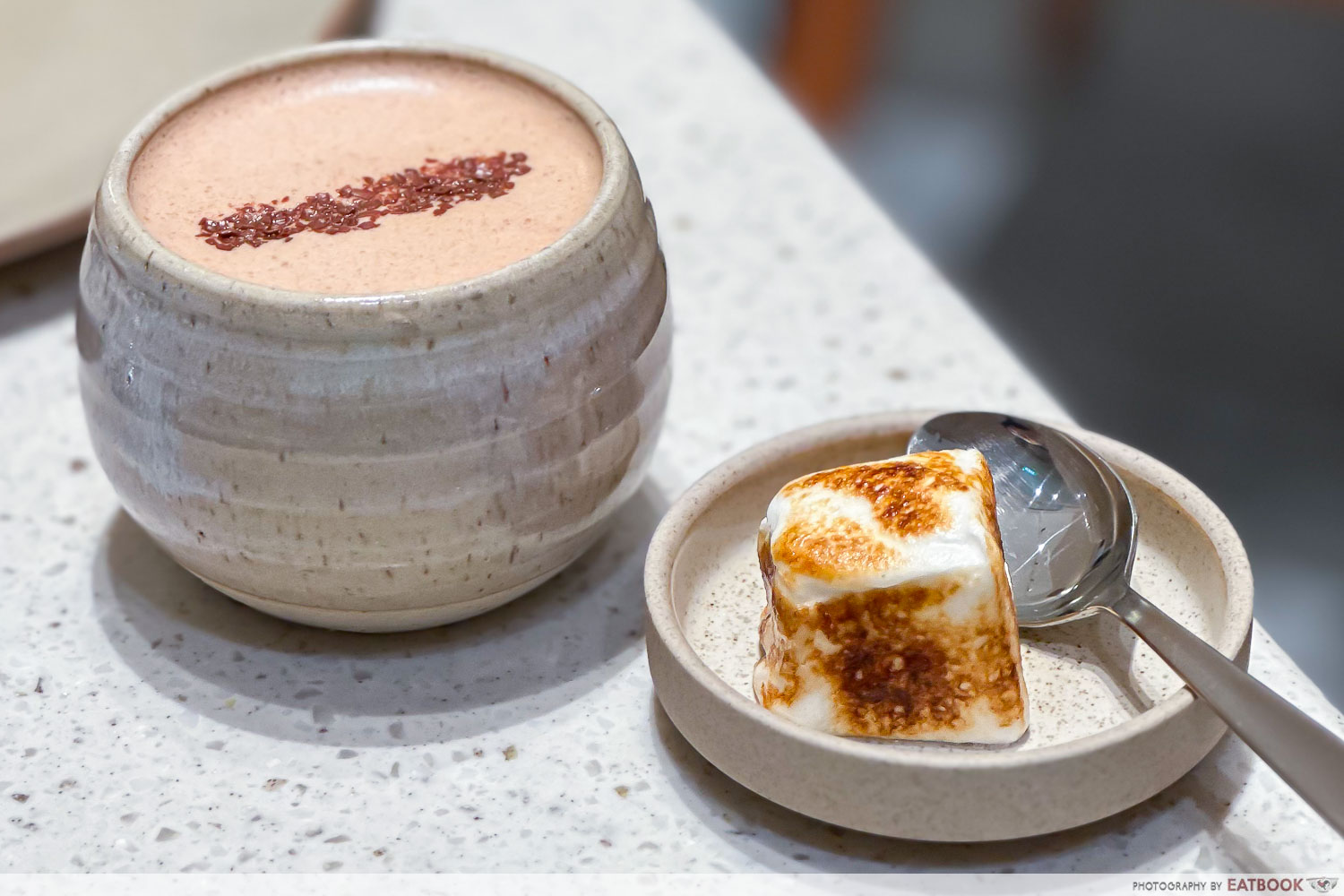 Don't leave Mr Bucket without trying their drinks—there's 72% Single Origin Hot Chocolate ($8++), served with a rosemary glazed marshmallow on the side, and Salted Caramel Hot Chocolate ($9). For something cold, their milkshakes include a Seaweed Chocolate Milkshake ($12++) topped with furikake rice puffs. For an alcoholic tipple, the Cacao Wine ($10++) is very easy to drink, with notes of caramelised pineapple and dried currants.
For more Dempsey eats, check out our guide to date night restaurants in Dempsey. If you're taking the new TEL to Dempsey, we've got a guide to the best spots for food along the Thomson-East Coast Line!
Address: 13 Dempsey Road, Singapore 249674
Opening hours: Tue-Fri 12pm to 10pm, Sat-Sun 10am to 10pm
Website
Mr Bucket Chocolaterie is not a halal-certified eatery
Thomson-East Coast Line Food Guide: 16 Places For Korean Bagels, $1.30 Waffles And More
Photos by Michelle P and Jasper Juay
This was a media tasting at Mr Bucket Chocolaterie.