My Korean Mom's Kimchi 
While Singapore has plenty of Korean restaurants, there are few avenues for locals to get the kind of legit home-cooked Korean fare we see in dramas, shy of boarding a flight. That is, until I found out about My Korean Mom's Kimchi, a new home-based business run by a mother-son duo of Korean descent.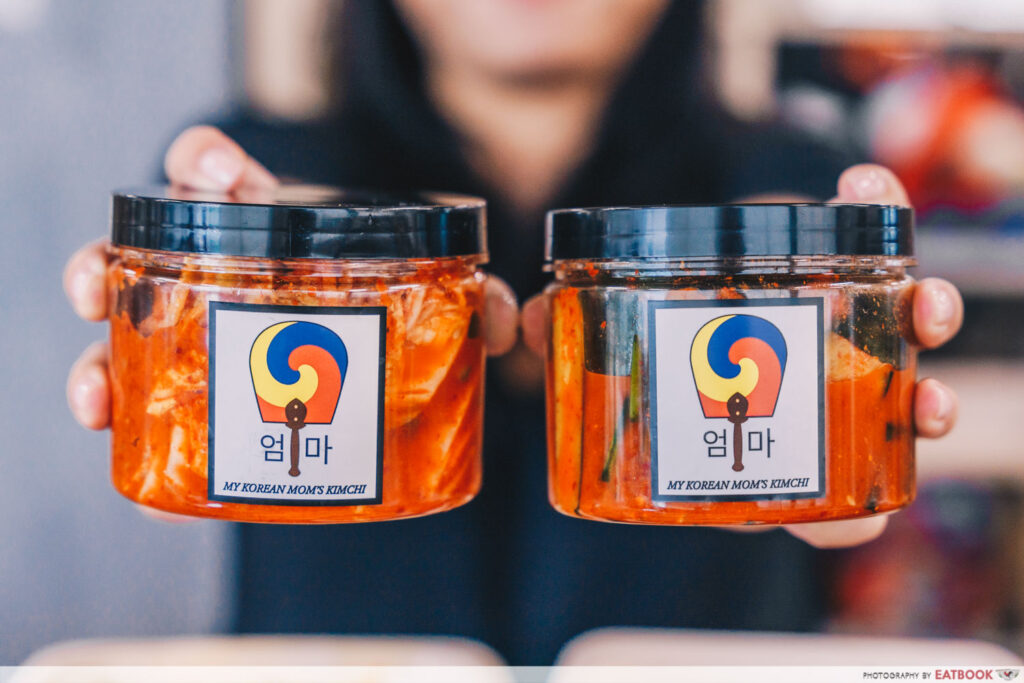 The aim of the business is simple: to bring the warmth and authenticity of an ahjumma's cooking to hungry Singaporeans.
The brand-new online store will launch on 6 December, with a lean, but no less hearty menu of four Korean classic dishes.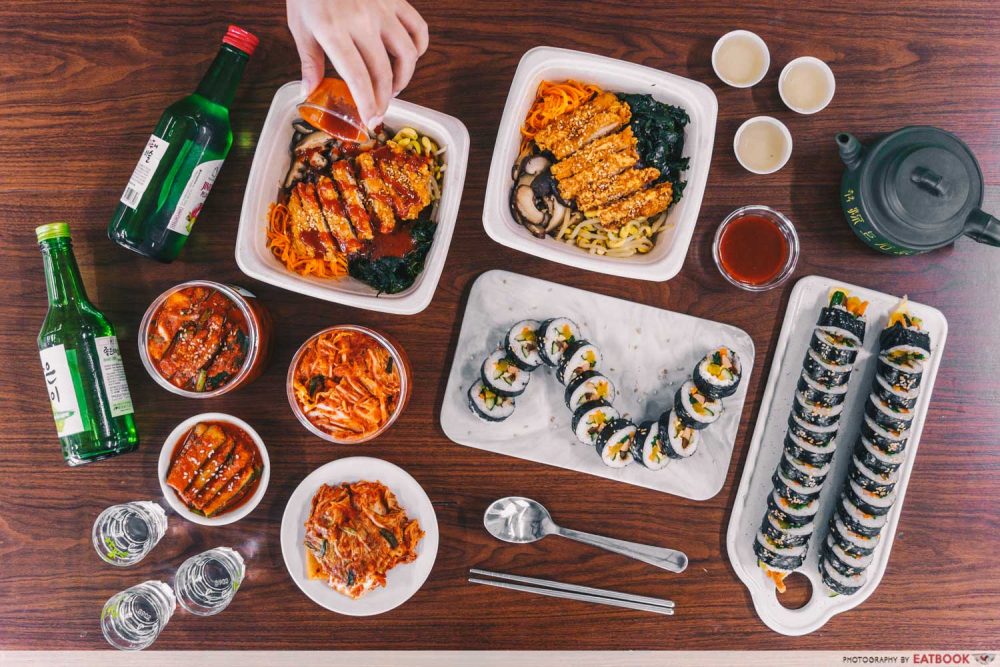 The Korean mom in the business' name lives up to the tradition that mothers are maestros in the kitchen by sharing her family's recipes, collected over 30 years of cooking, with eager diners. Her son is the eager assistant, helping make the homely fare, and market the business as well. The idea to start a business really took root due to demand from their neighbours in the same estate, with over 80 orders streaming in twice per week.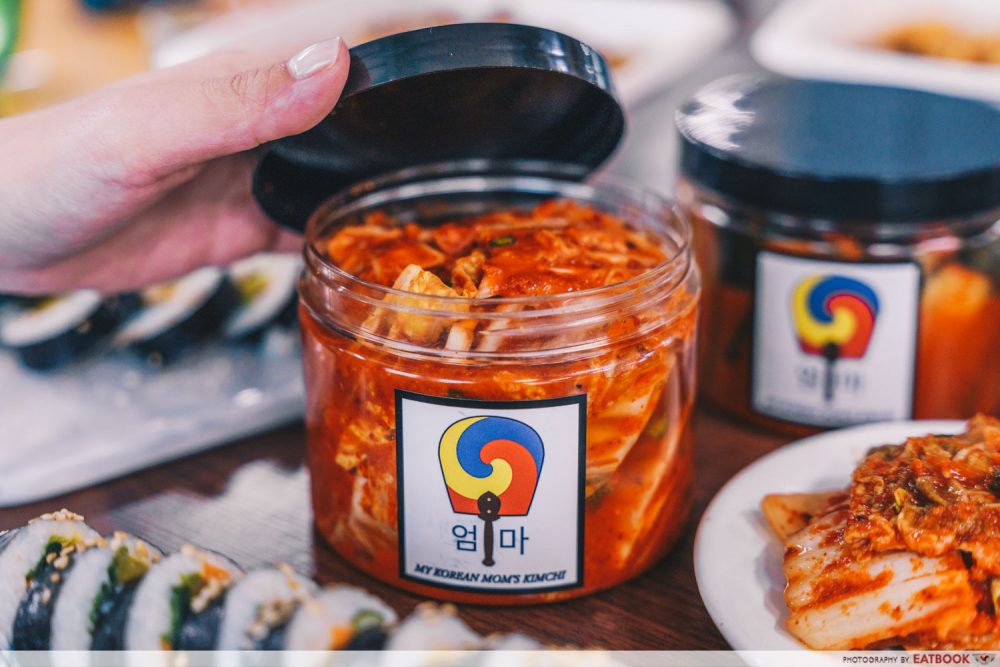 Currently, the menu's hero is the Kimchi ($15 for 450g). Made fresh daily by hand, every tub has no MSG, no preservatives, and gets its full flavour via the combination of the mother's skill and a handful of secret ingredients.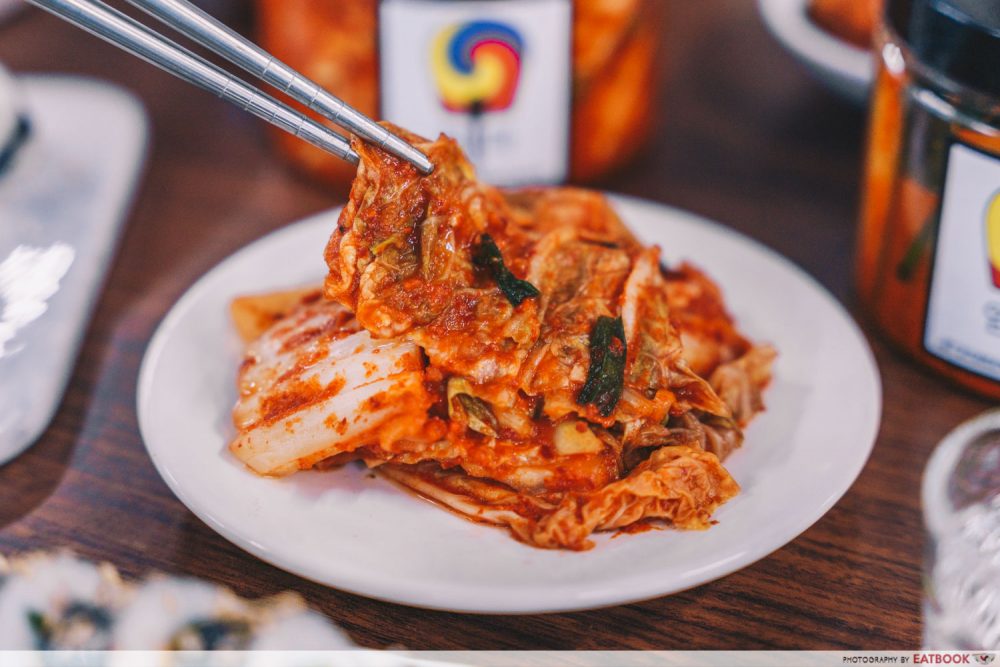 This ticks all the boxes of good kimchi—spicy, sour, and with an undertone of sweetness most commercial kimchi lack.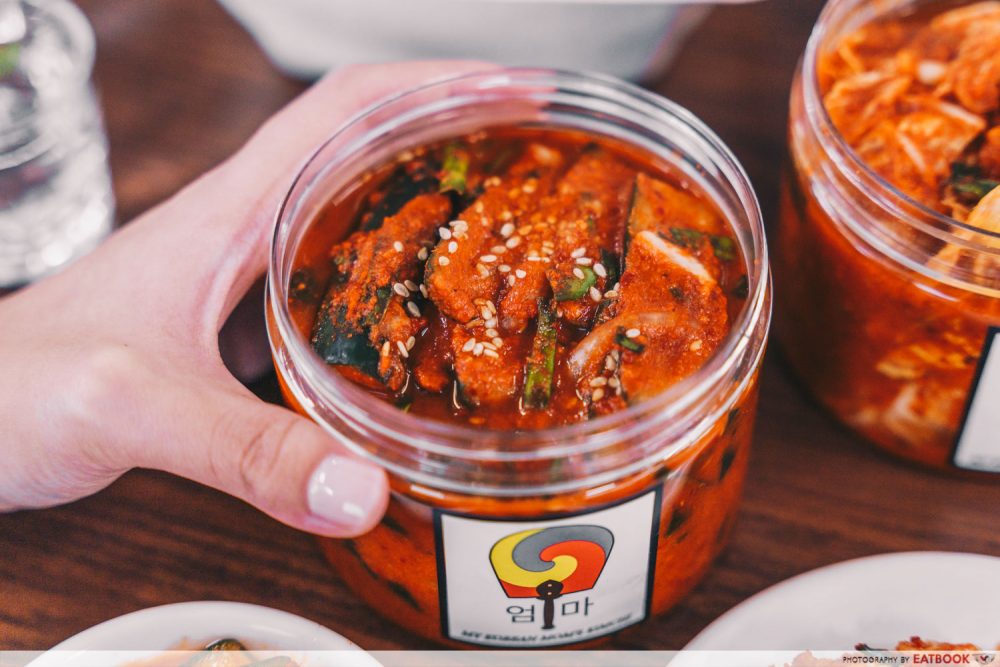 Though this is a great way to zhng up your kimchi fried rice, or even your late-night Nongshim binge, the kimchi alone was big on fermented shrimp, slightly overpowering the refreshing bite of cucumber and the piquancy of the kimchi juice.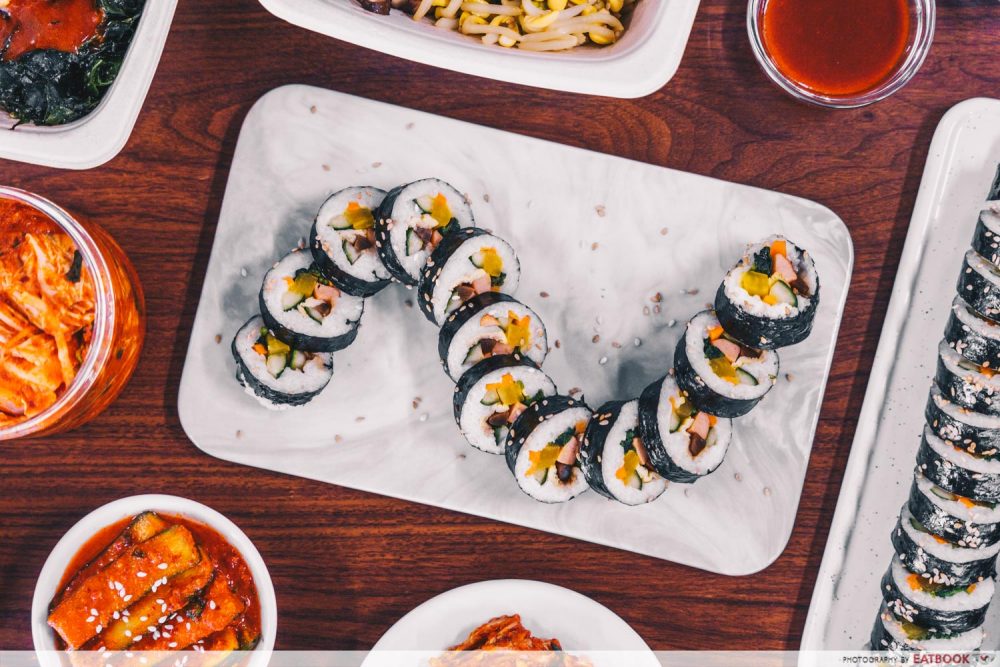 My Korean Mom's Kimchi also sells portable meals. The Signature Gimbap ($9) was hands down, my favourite.
Gimbap may seem like an easy dish to execute, but their version elevates all the components, using handmade yellow radish and burdock as the garnish, and Vienna chicken sausage and eggs instead of Spam. Because of this homemade approach, the ingredients take over three hours to prepare for every order.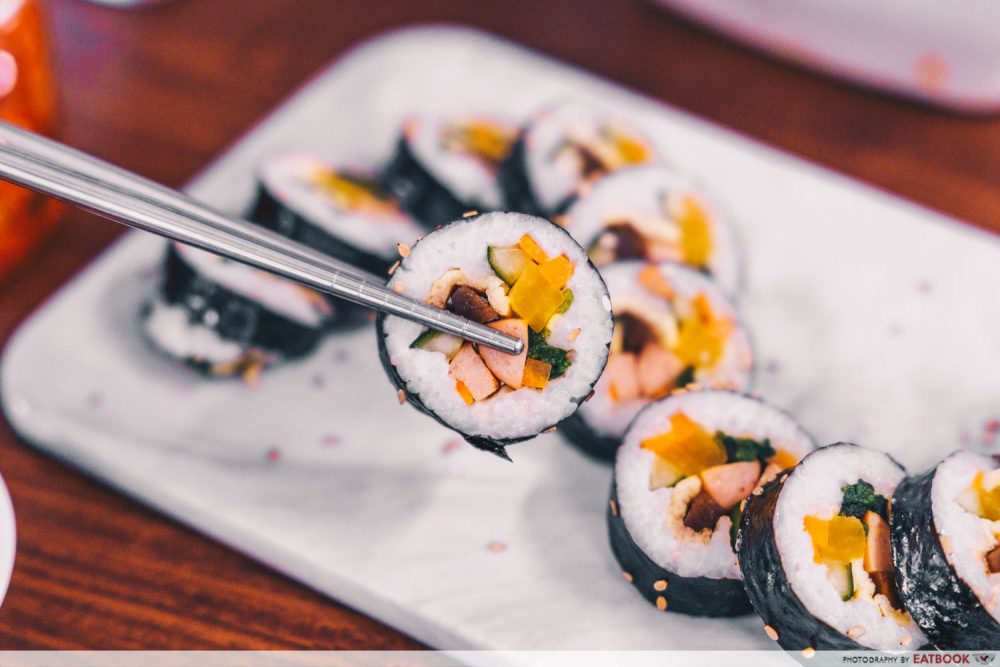 Short grain Japanese rice made each bite chewy, while greens like carrots, spinach, and cucumber brought on the crunch. One roll is meant to feed up to two, but I scoffed it solo.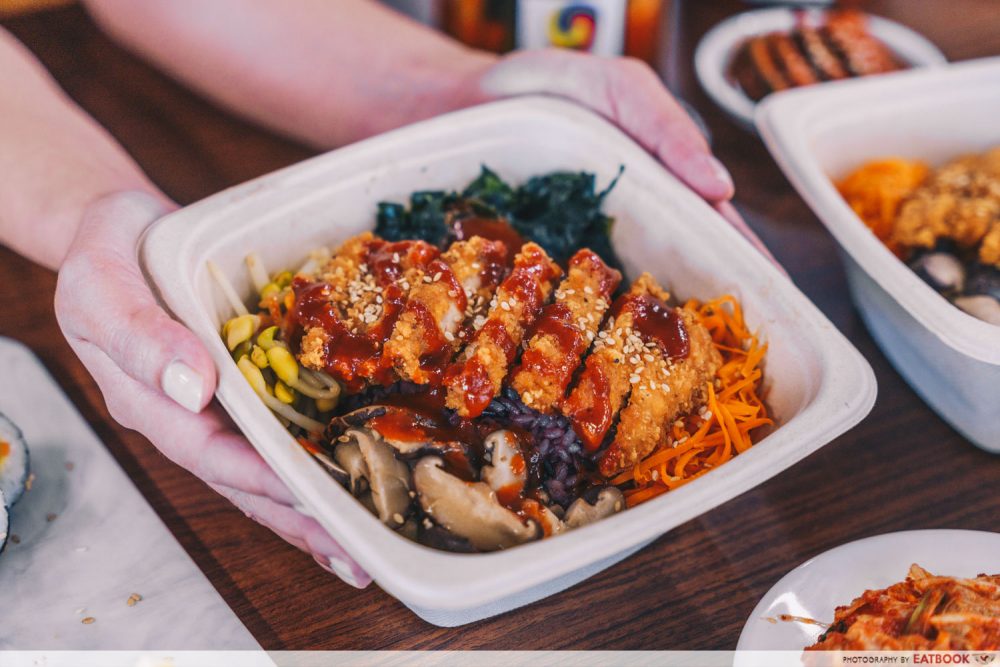 If you want something heartier, then the Bibimbap With Chicken Katsu ($15) is what you should order.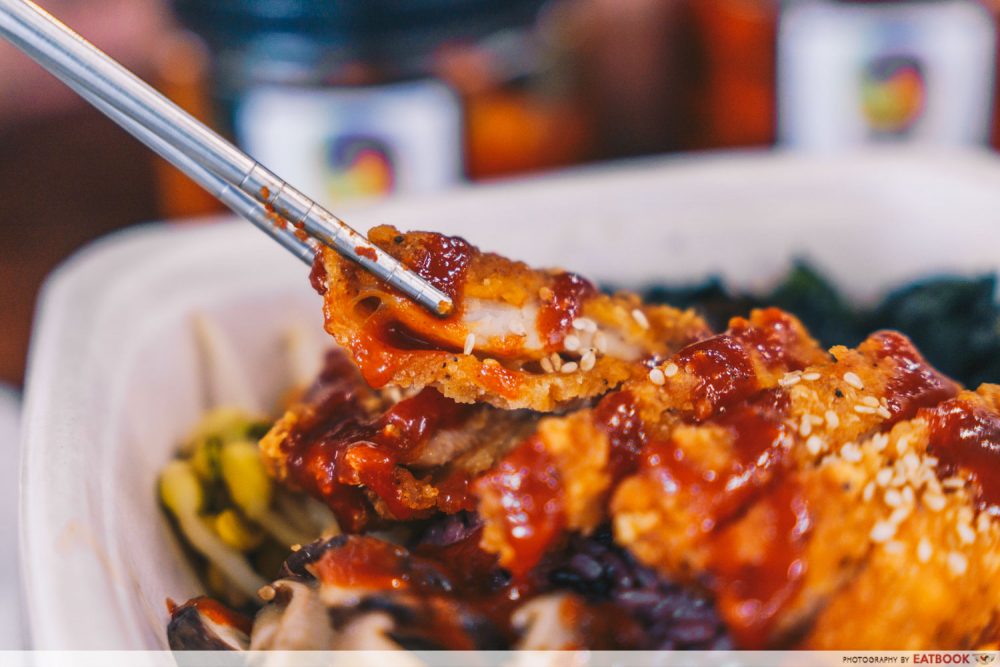 The usual beef or pork gets swapped out with a spicy chicken cutlet, and served on a colourful bed of purple short-grain rice, homemade seaweed, carrots, beansprouts, and sauteed shiitake mushrooms.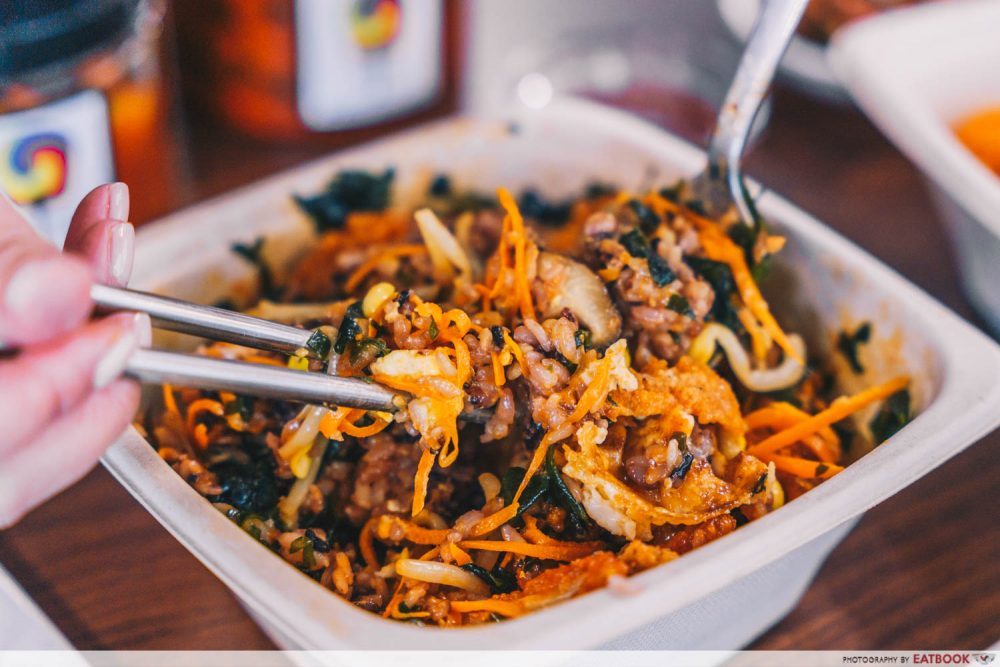 The sweet, spicy gochujang is made by the mother also, and tastes far more robust than store-bought versions. Despite coming with a fried chicken cutlet, this fusion bibimbap still felt like a healthy, satisfying meal, great for WFH lunches.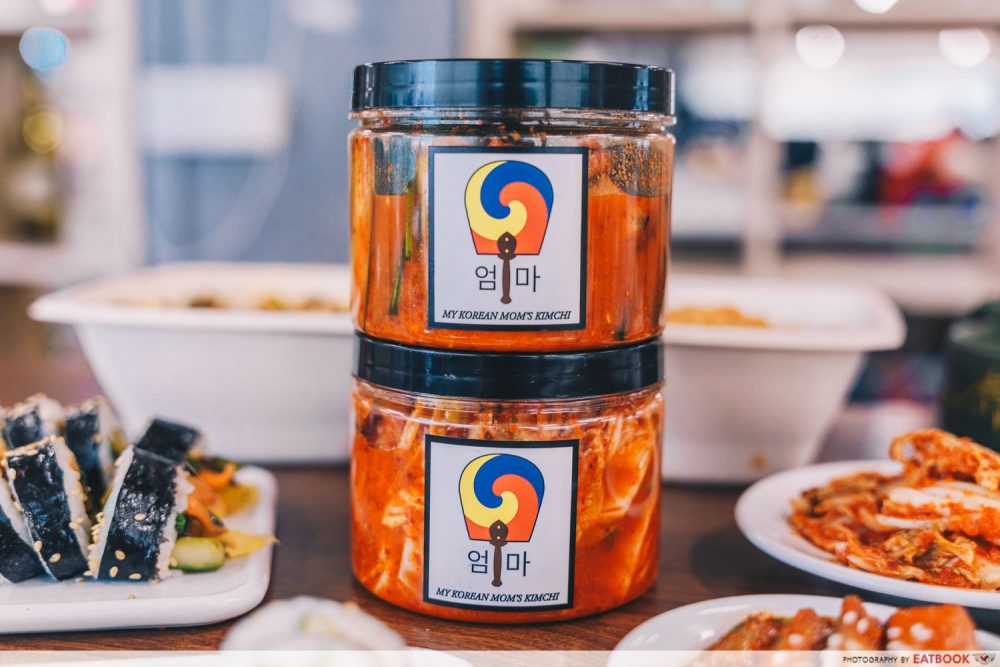 For the month of December, My Korean Mom's Kimchi will be offering a 1-for-1 promotion on all their menu items to celebrate their opening. Do note, however, that there is a daily limit. Since everything is made by hand, the business currently only is able to cater 40 orders daily.
Interested customers can place their orders on their website, Facebook, Instagram, or WhatsApp at 8787 0876.
Photos taken by John Lery Villanueava.
This post was brought to you by My Korean Mom's Kimchi. 
Pints & Cones Review: Thyme And Pandan Waffles For $7.50 At New Ice Cream Parlour In Serangoon