Ice cream and thyme waffles at Pints & Cones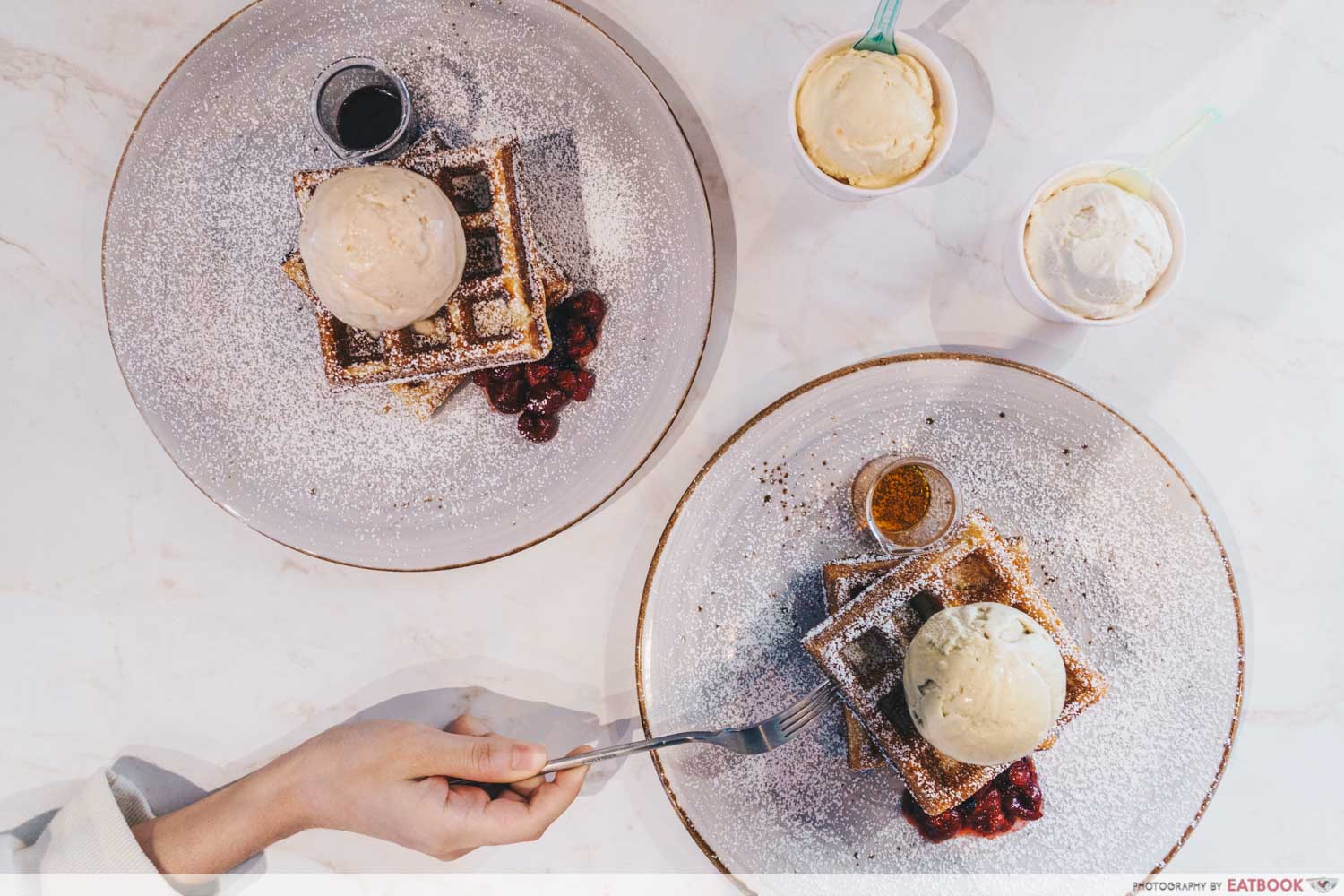 Ice cream parlours have saved the day for so many of us when the weather is just too hot to handle, so it's hard to complain when another pops on to the scene. Pints & Cones is a new addition to the Serangoon neighbourhood, where you can get your waffles and ice cream fix apart from the usual spots like Wimbly Lu and Oblong.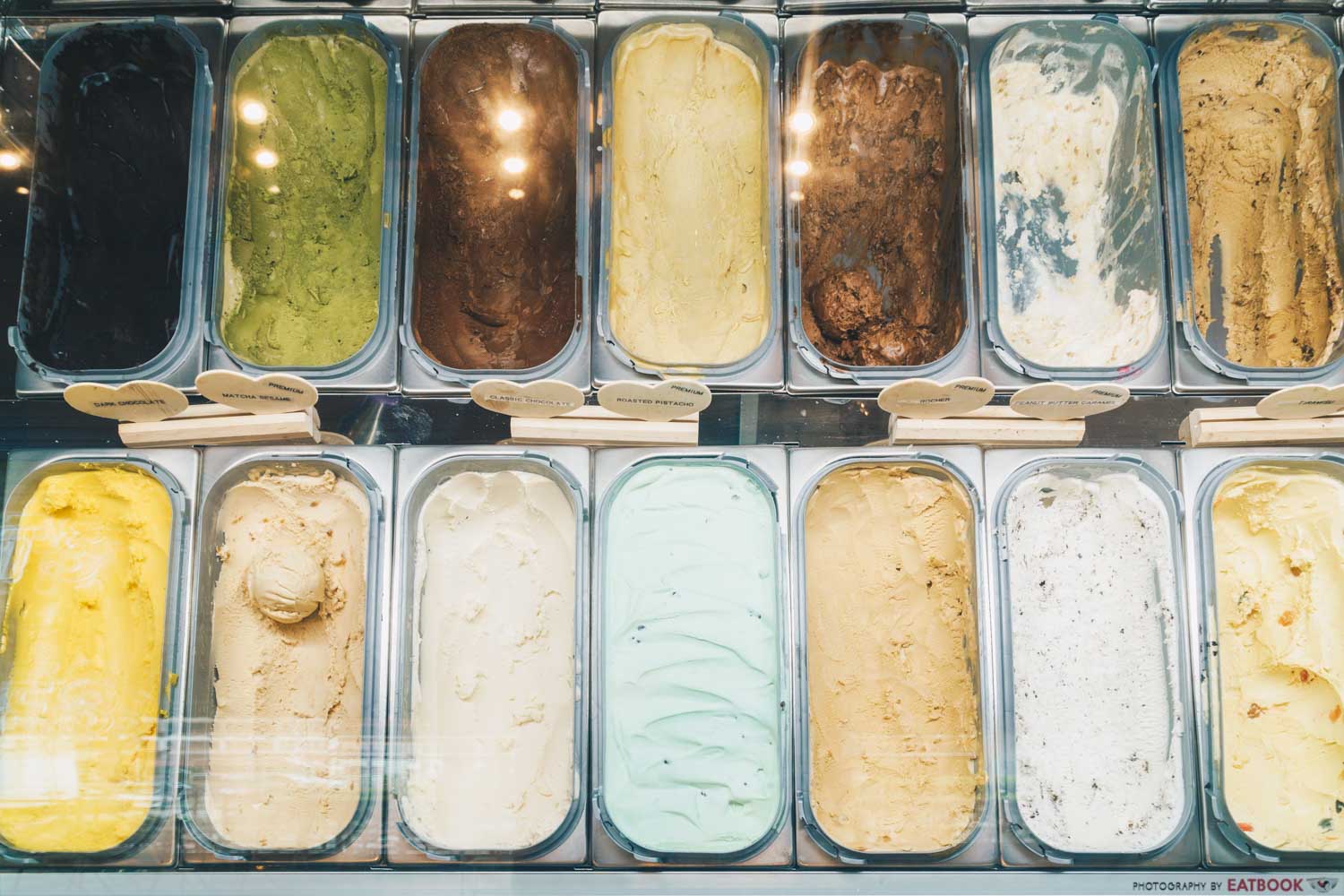 This humble ice cream parlour has freshly-churned gelato that comes in more than a dozen flavours on a rotational basis. Besides that, they offer thyme, and pandan-flavoured waffles. 
Food at Pints & Cones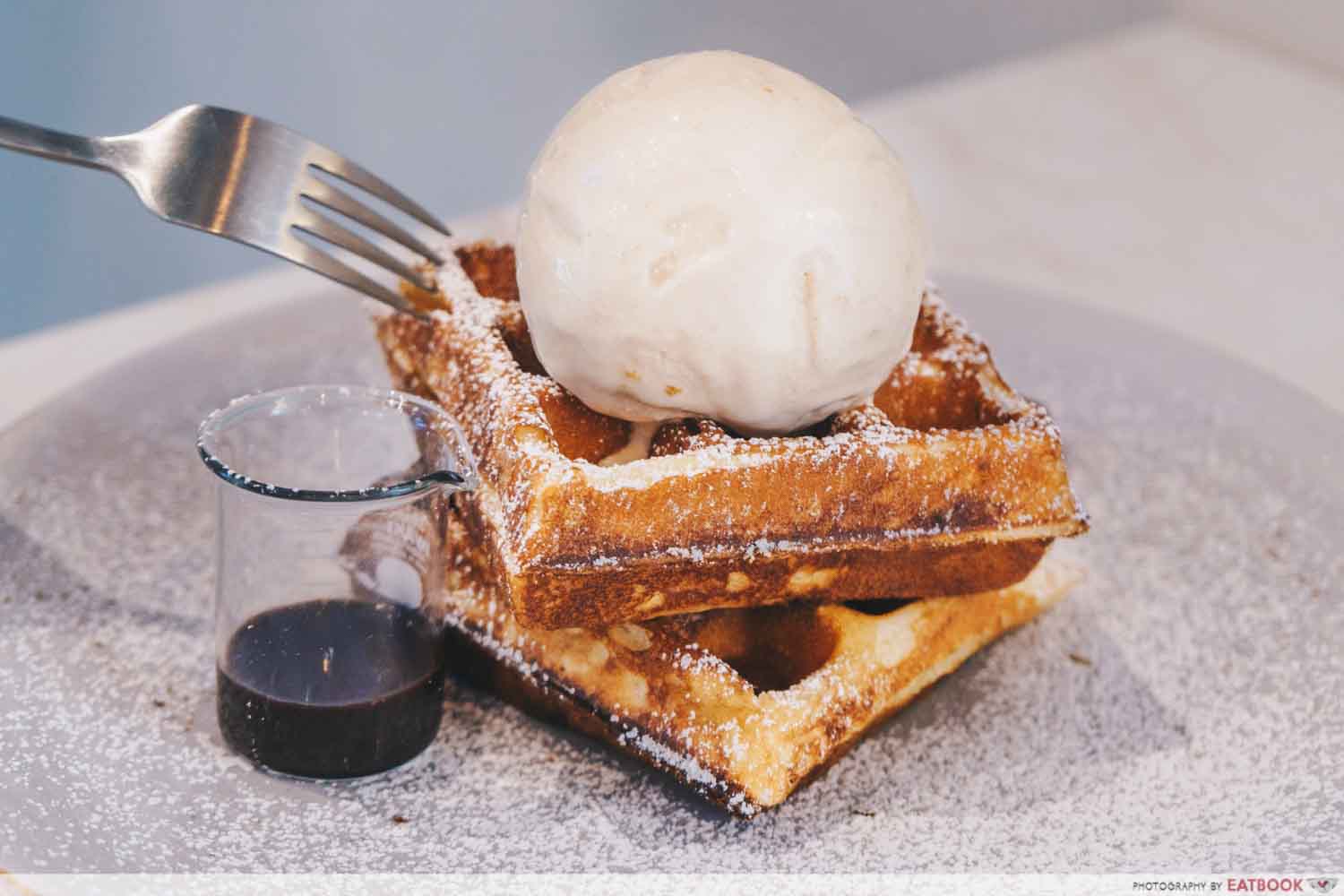 The Signature Waffle with a Single Scoop Premium Flavour Gelato ($8.30) is served with a little beaker of chocolate sauce, and a spoonful of mixed berries. The standard gelato flavours with the waffles are priced at $7.50, but we went for the Banana Biscoff, which is one of their premium offerings.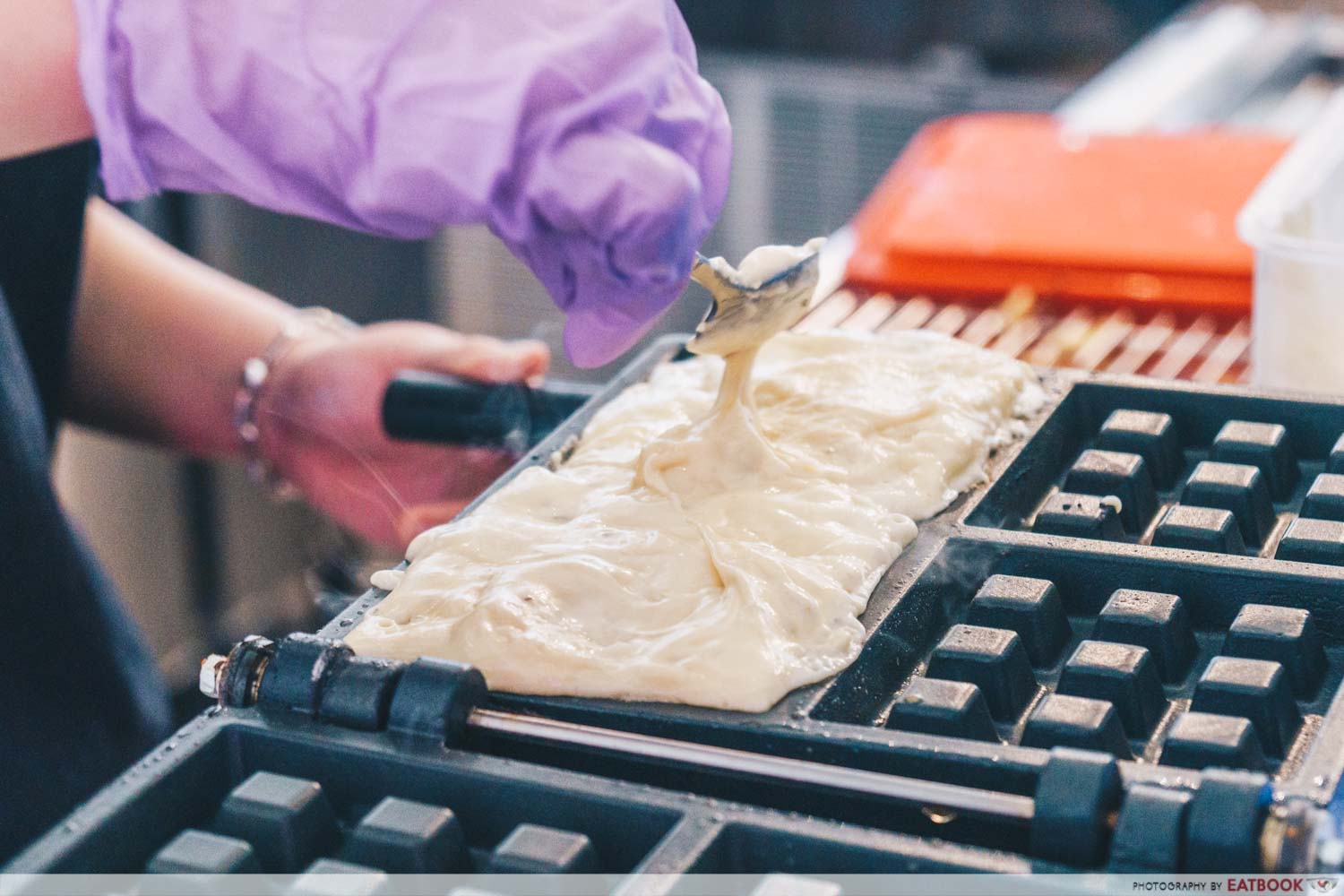 The waffles are made to order, so you can expect them to be warm and fragrant when they are served to you. Though a little dense, they were crisp on the outside and had a soft and tasty centre.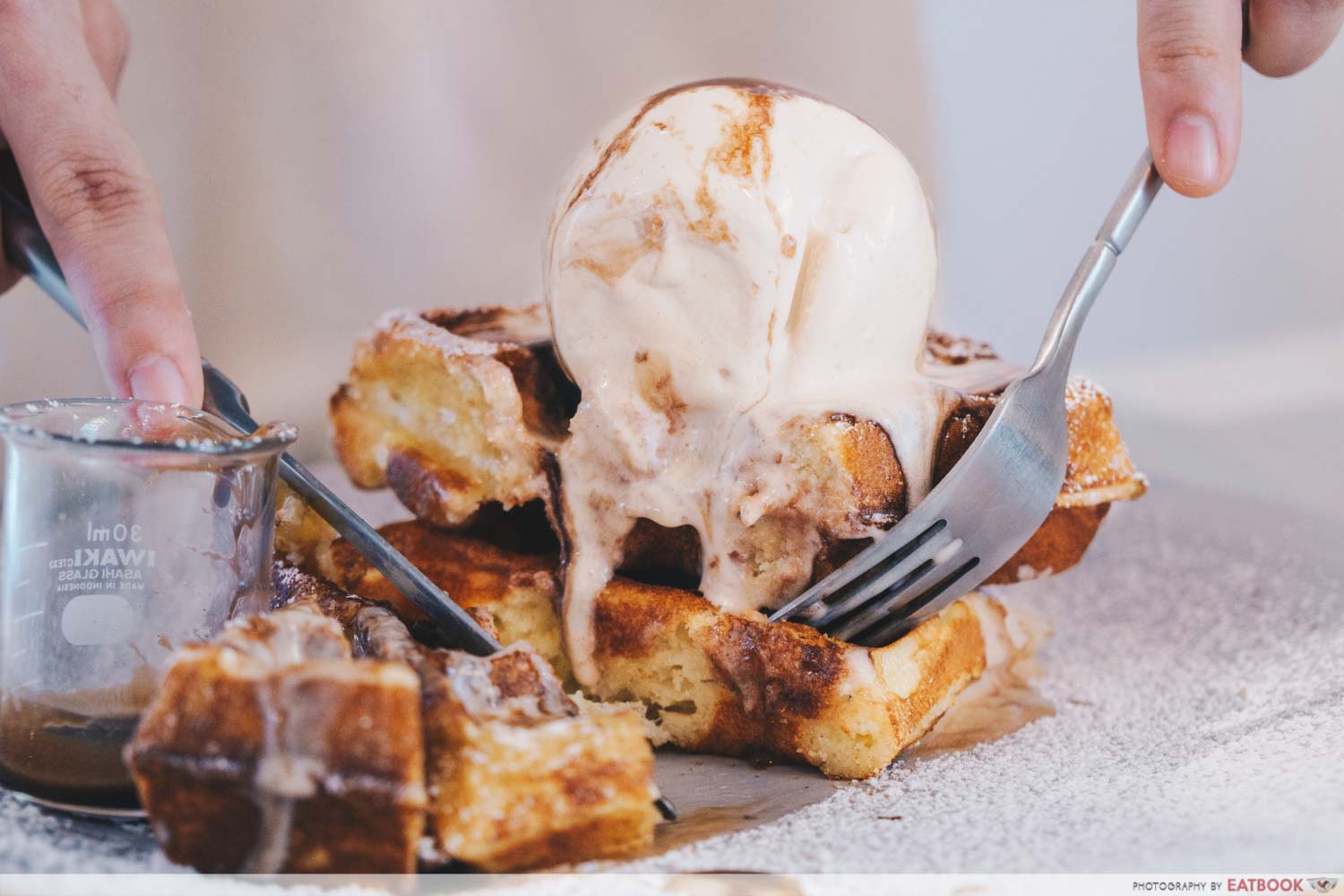 Pints & Cones mix their thick waffle batter with dried thyme. However, it wasn't as earthy as I would've liked, and the floral aroma of the thyme wasn't strong at all. This could probably be remedied by increasing the amount of thyme added into the batter.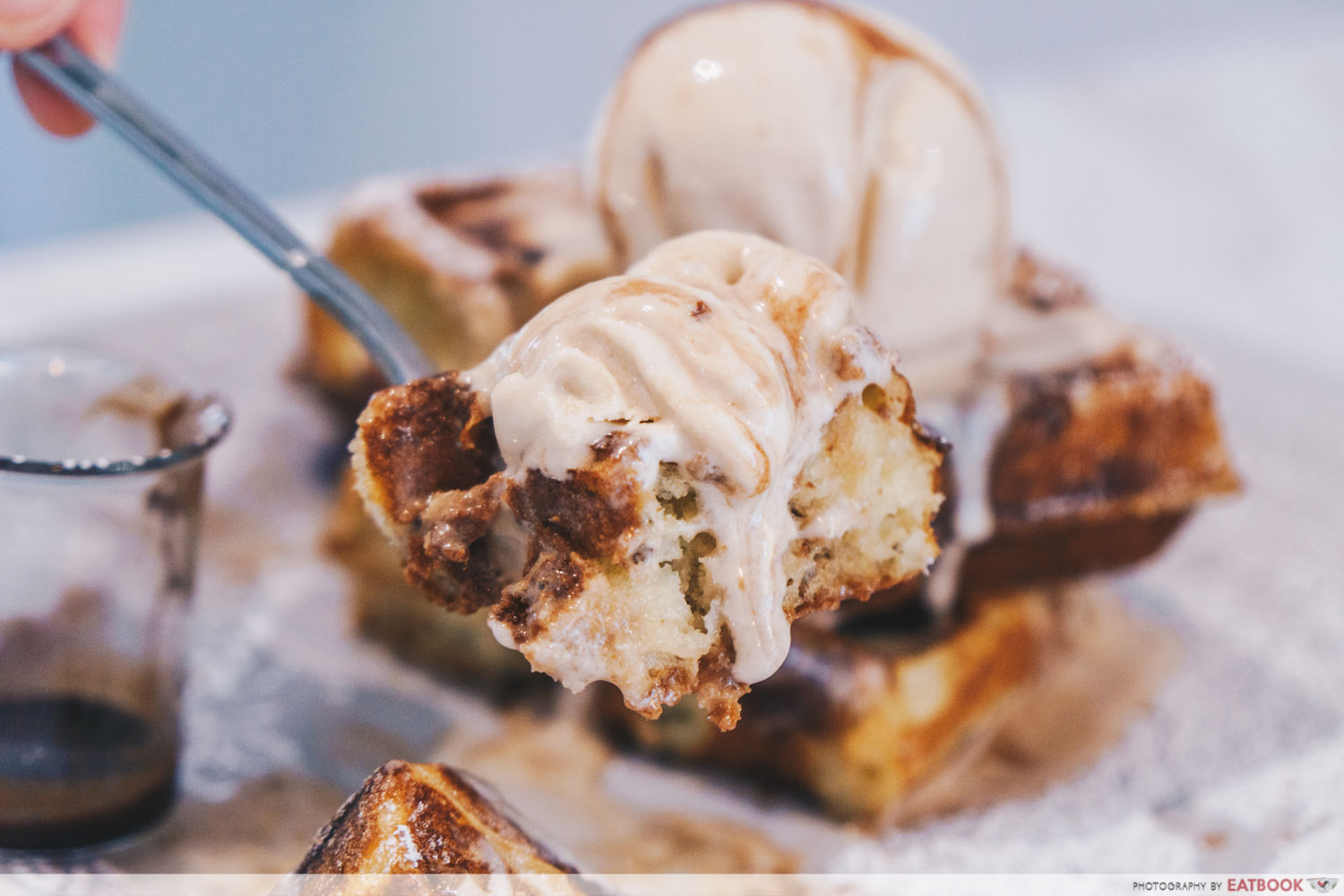 The creamy gelato tasted strongly of banana. I was expecting a caramel-like sweetness with hints of cinnamon or nutmeg. Instead, I found the flavour of the biscoff wasn't very noticeable, and it was only mildly sweet.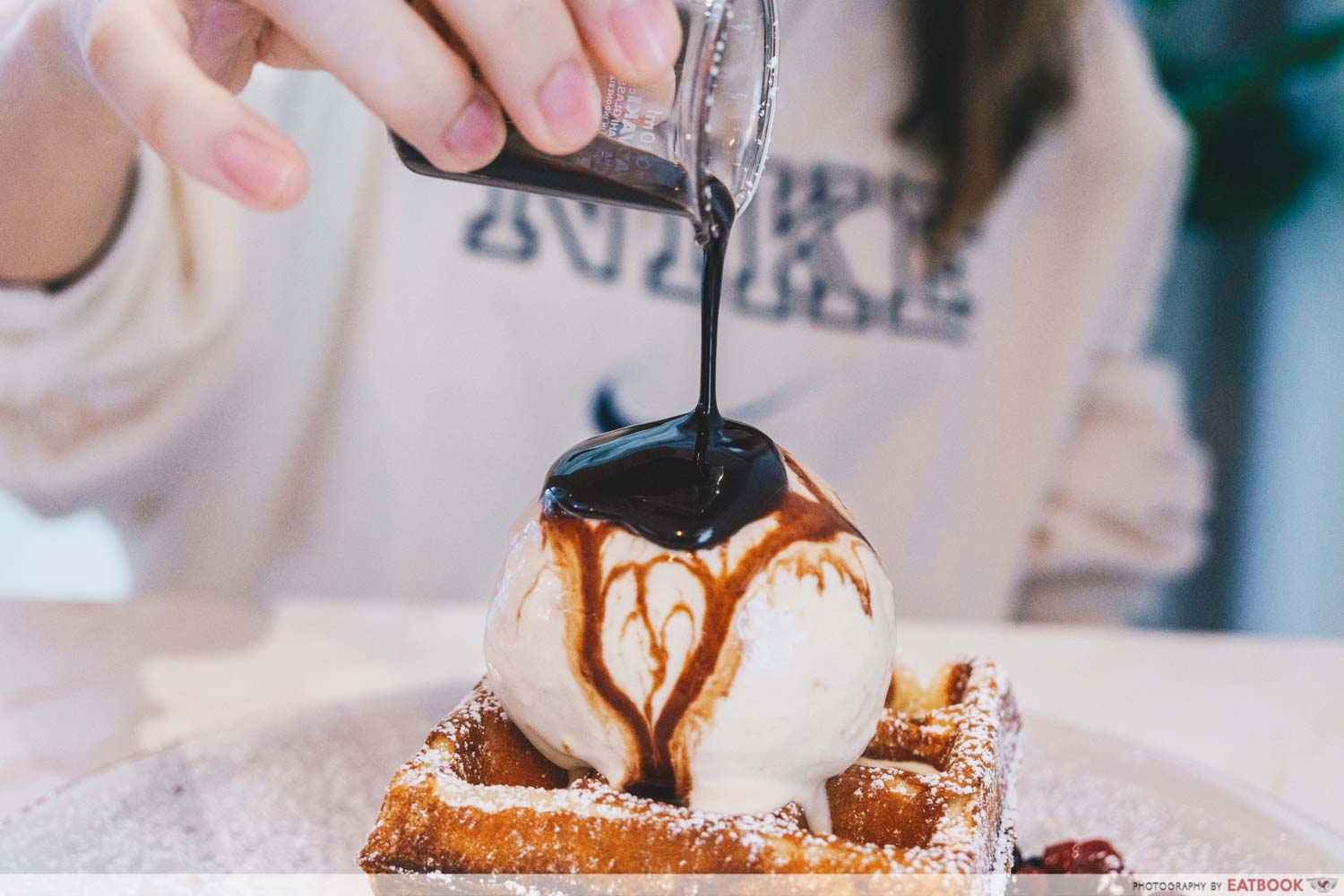 Don't forget to drizzle your waffles and ice cream with the chocolate sauce for a sweeter finish. 
If you find the dish too sweet for your palate, they have included mixed berries with their waffles and gelato to help cut through the sweetness. I found the berries were a little too tart for my liking, though.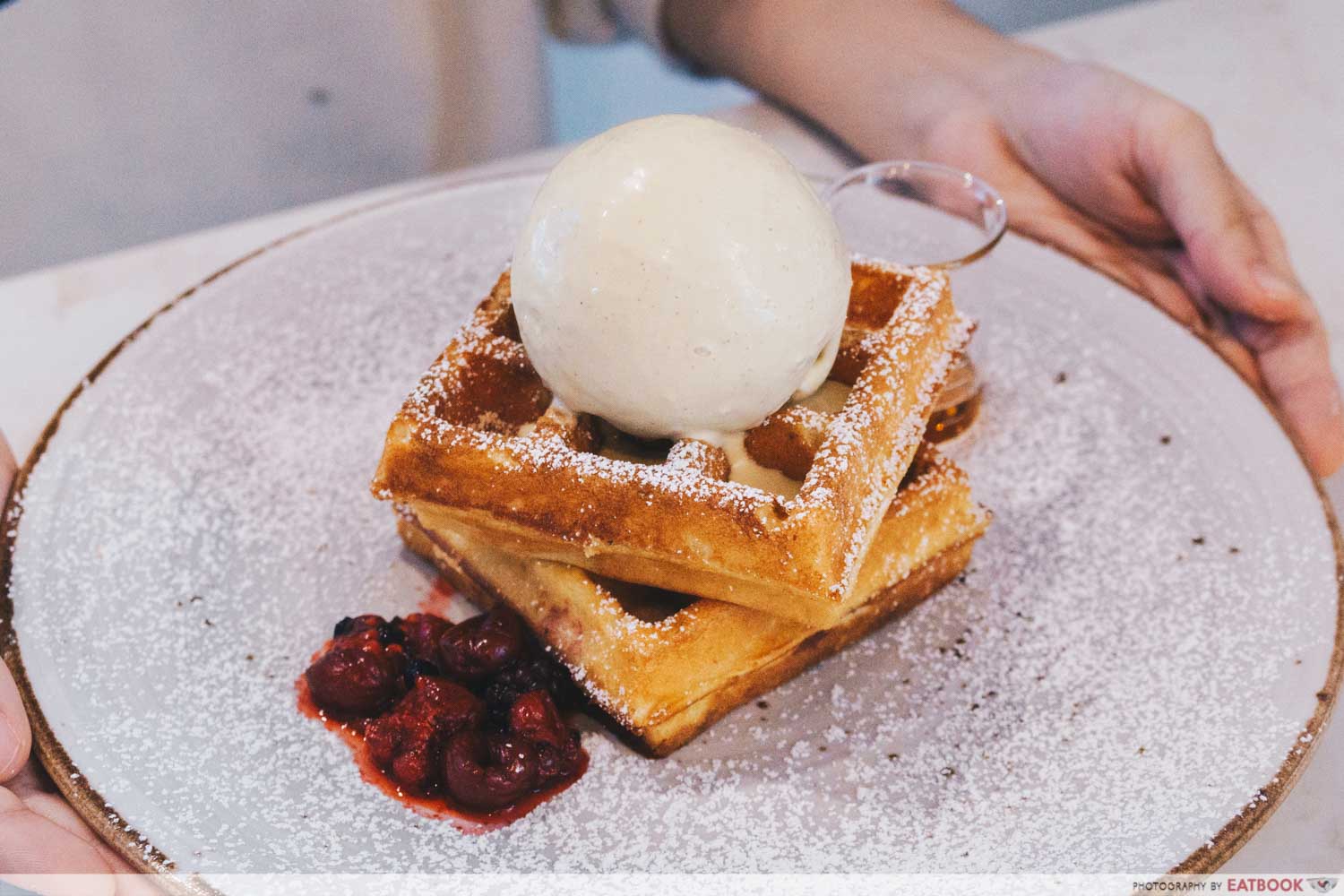 We wanted to try the pandan-flavoured waffles but unfortunately, they were sold out. Instead, we ordered another portion of the Signature Waffle ($8.30), paired with a single scoop of Roasted Pistachio, which is a premium flavour, and maple syrup.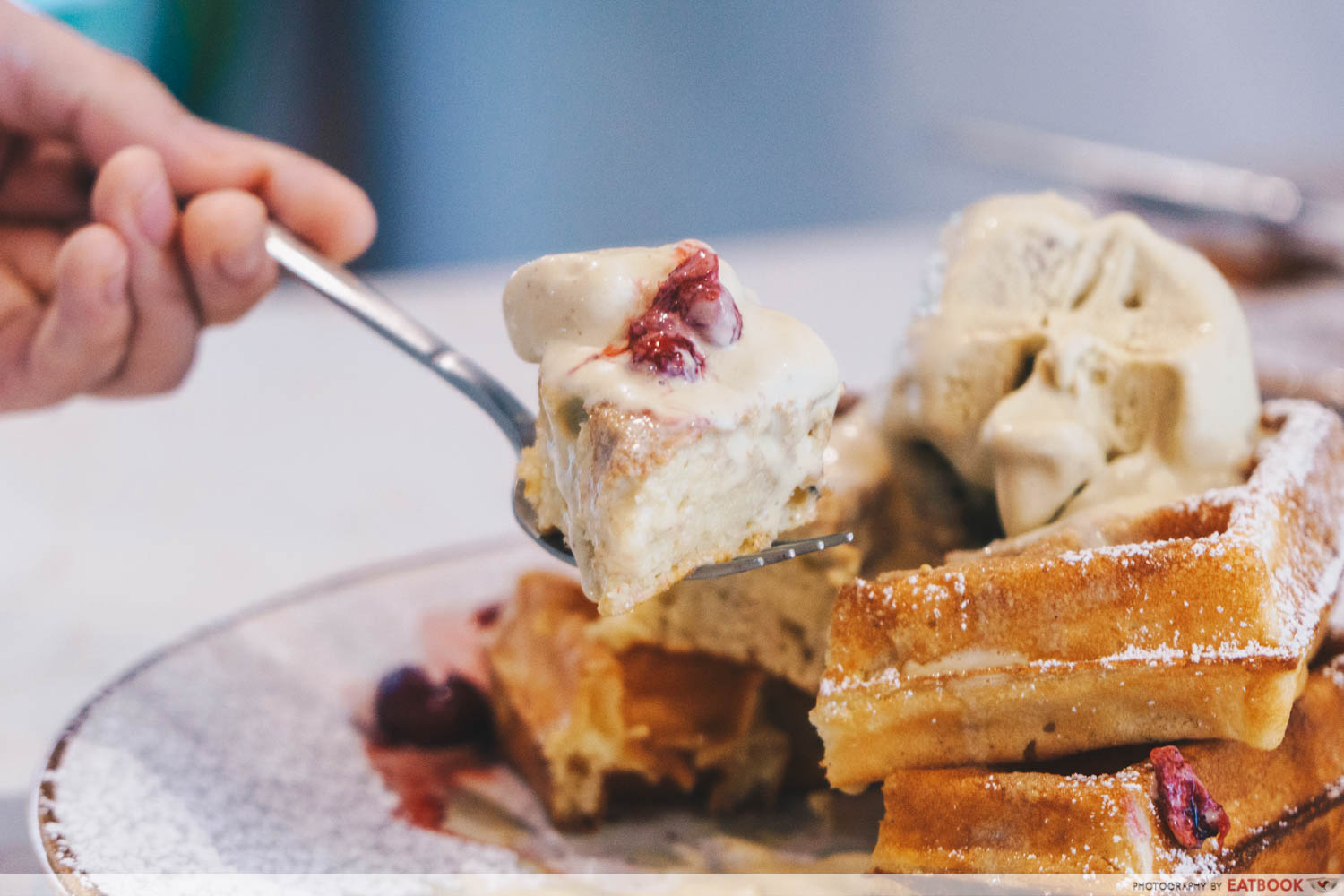 This has got to be my favourite flavour at Pints & Cones. The Roasted Pistachio gelato was packed with real pistachio, brimming with a toasty, nutty fragrance.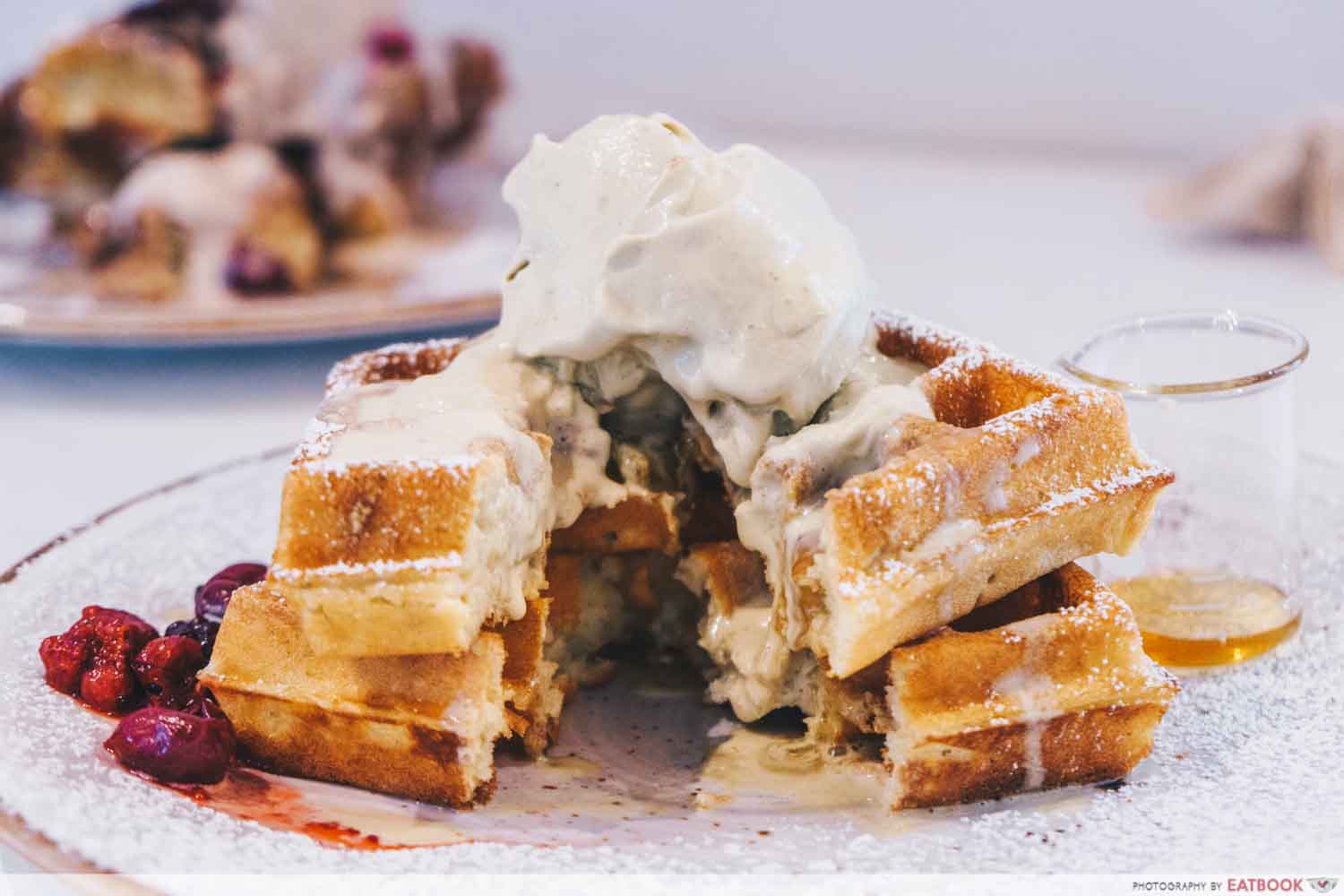 Since the gelato wasn't overly sweet, the inclusion of the maple syrup elevated the sweetness without overdosing me with sugar.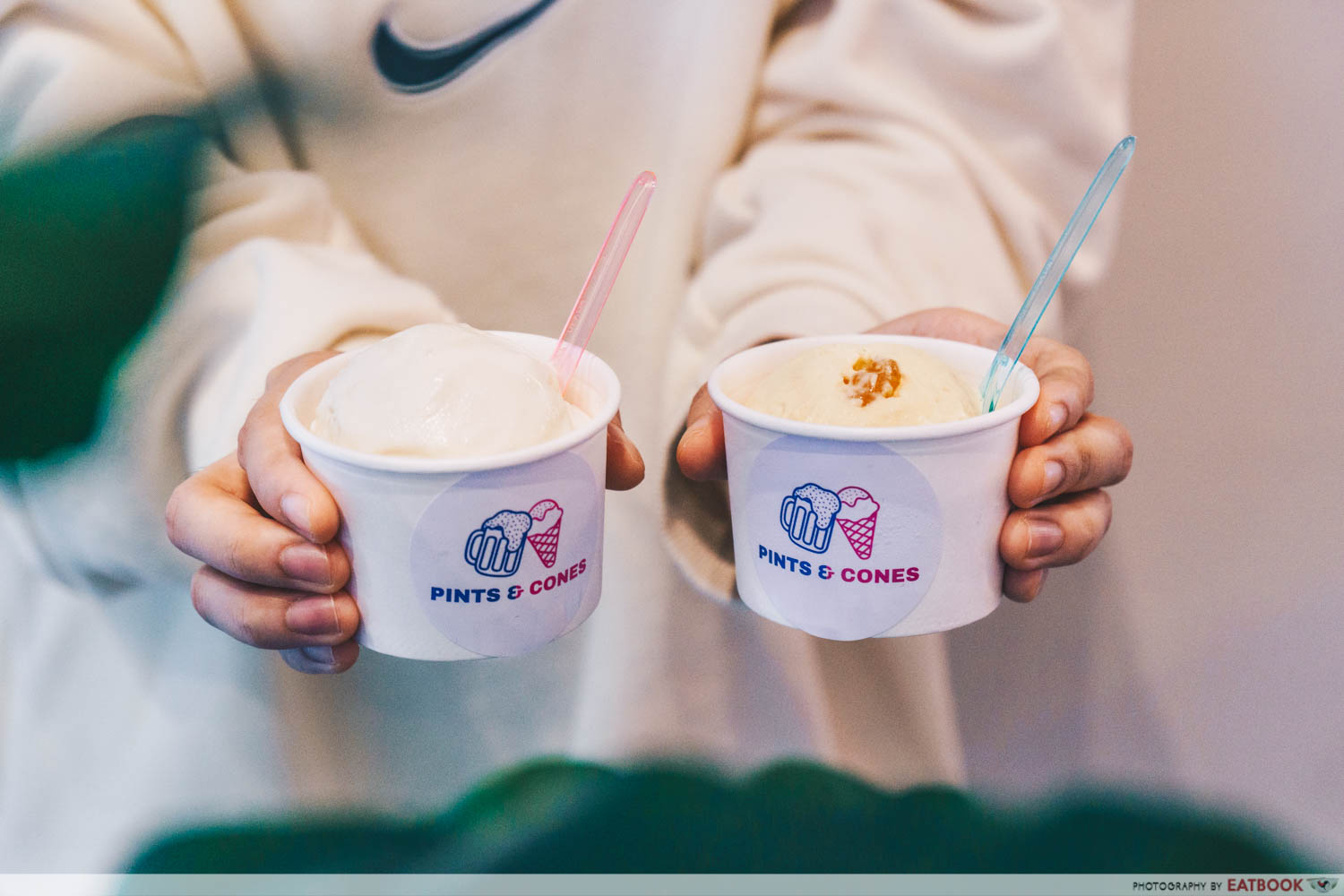 A Single Scoop Gelato is priced at $3.50. However, we decided to indulge in more of their premium flavours, Honey Lavender and Rummy Bear, available with a top-up of $0.80.
Bursting with floral notes, the Honey Lavender gelato wasn't shy with its flavours. It was definitely on the sweeter end of the scale. I would've preferred for both the lavender and honey flavours to be more subtle.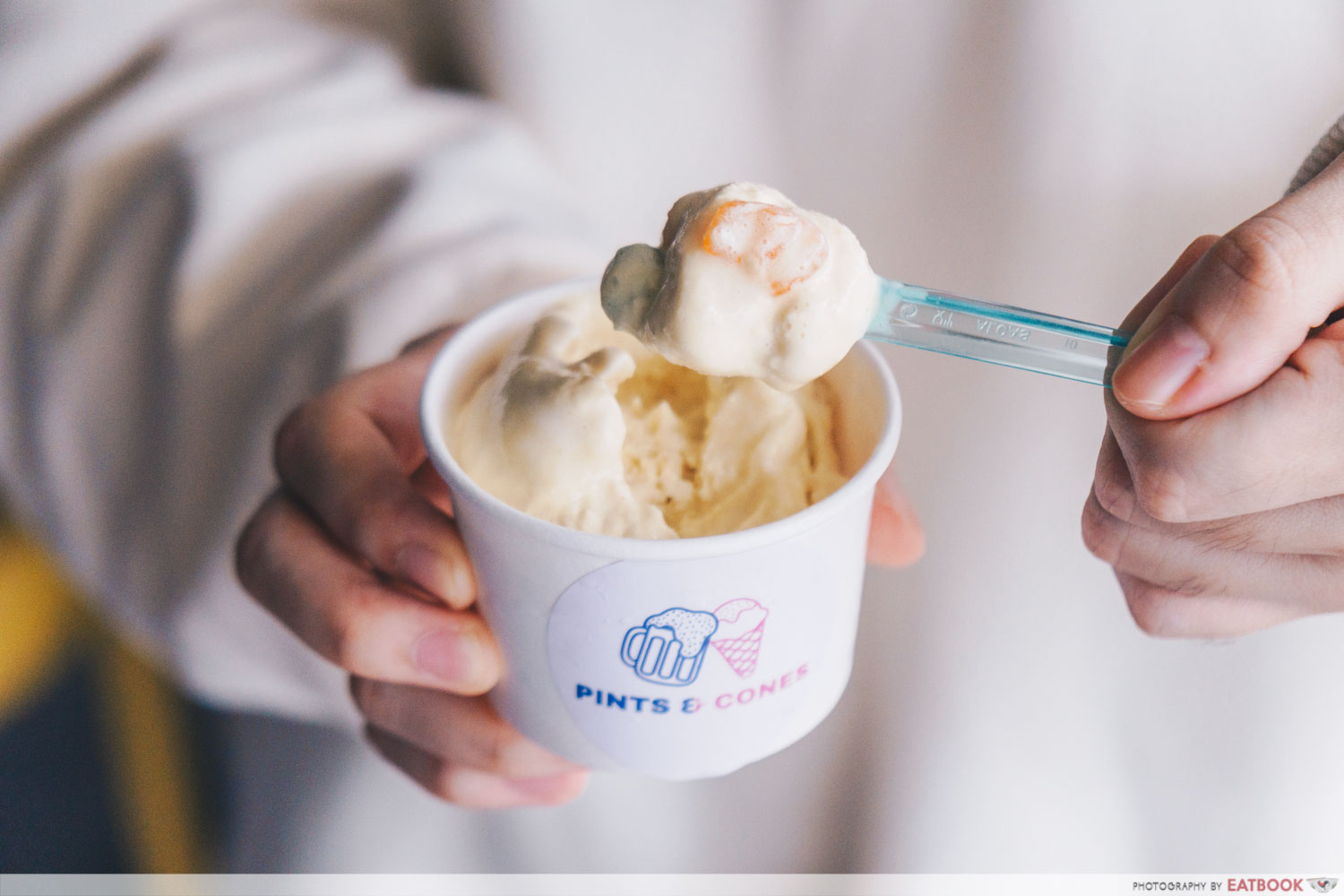 The last flavour we tasted was the intriguing Rummy Bear gelato. This boozy treat has got rum and colourful gummy bears inside. For some reason, it tasted similar to Jägermeister, with a slight hint of liquorice. Perhaps they could've dialled down on the alcohol and sweetened the gelato a little more so the flavours would be less jarring. However, this is definitely an interesting one to try.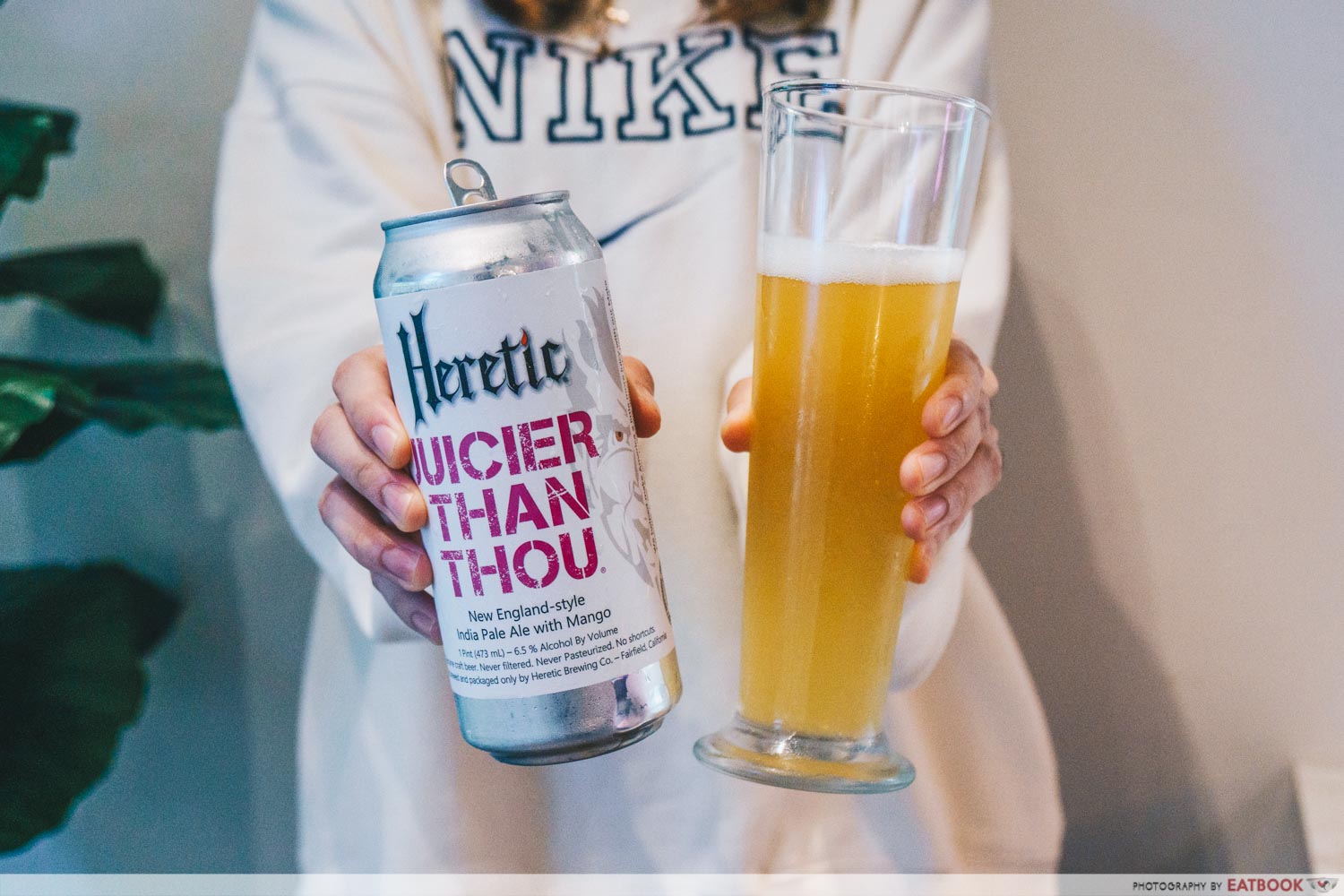 Also, you might want to try their craft beers if you're there. Their craft beers are directly imported from the U.S., with flavours ranging from tart, to sweet and fruity. We went with the New England-style India Pale Ale with Mango ($8.50), which was rich, slightly bitter and had a mango aftertaste.  
Ambience at Pints & Cones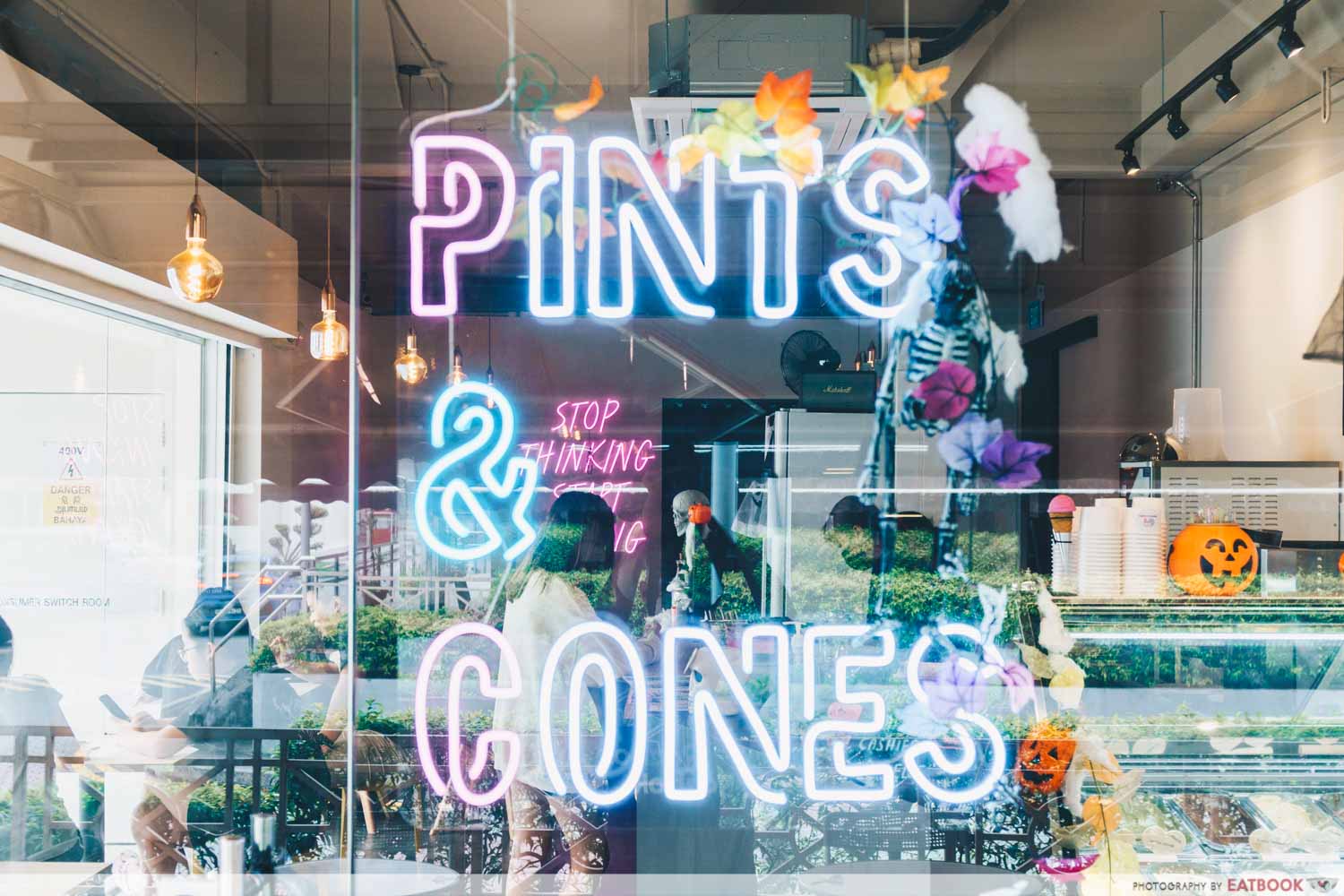 It takes approximately 10 minutes to walk from Serangoon MRT Station to Pints & Cones. This cosy gelato parlour is nestled in the corner unit of a HDB block in Serangoon. You wouldn't miss it, since it's fronted by a neon-lit store sign.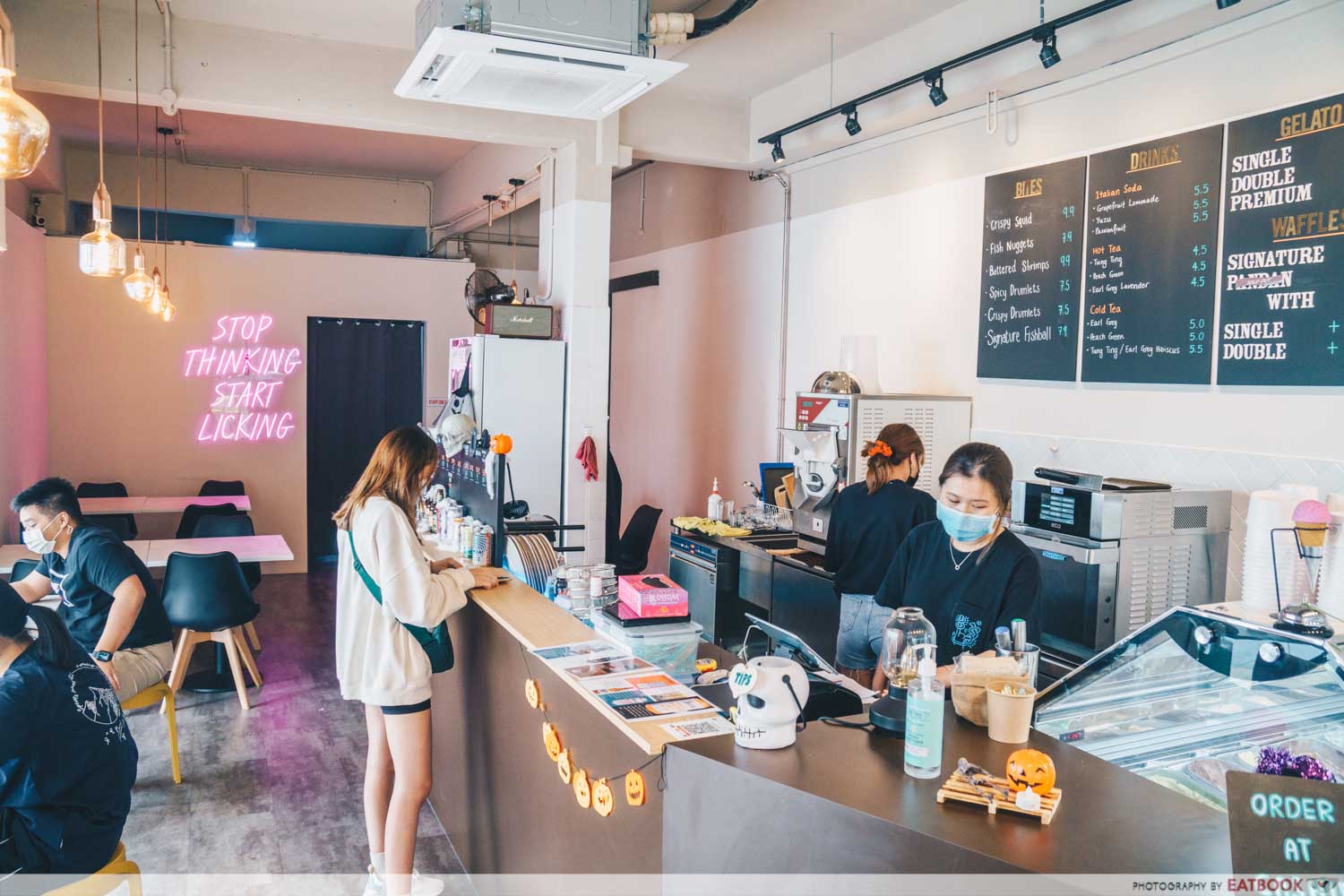 They have indoor seating, but if you're like me, who finds eating gelato in an air-conditioned space torturous, they have tables outside the shop as well. 
The verdict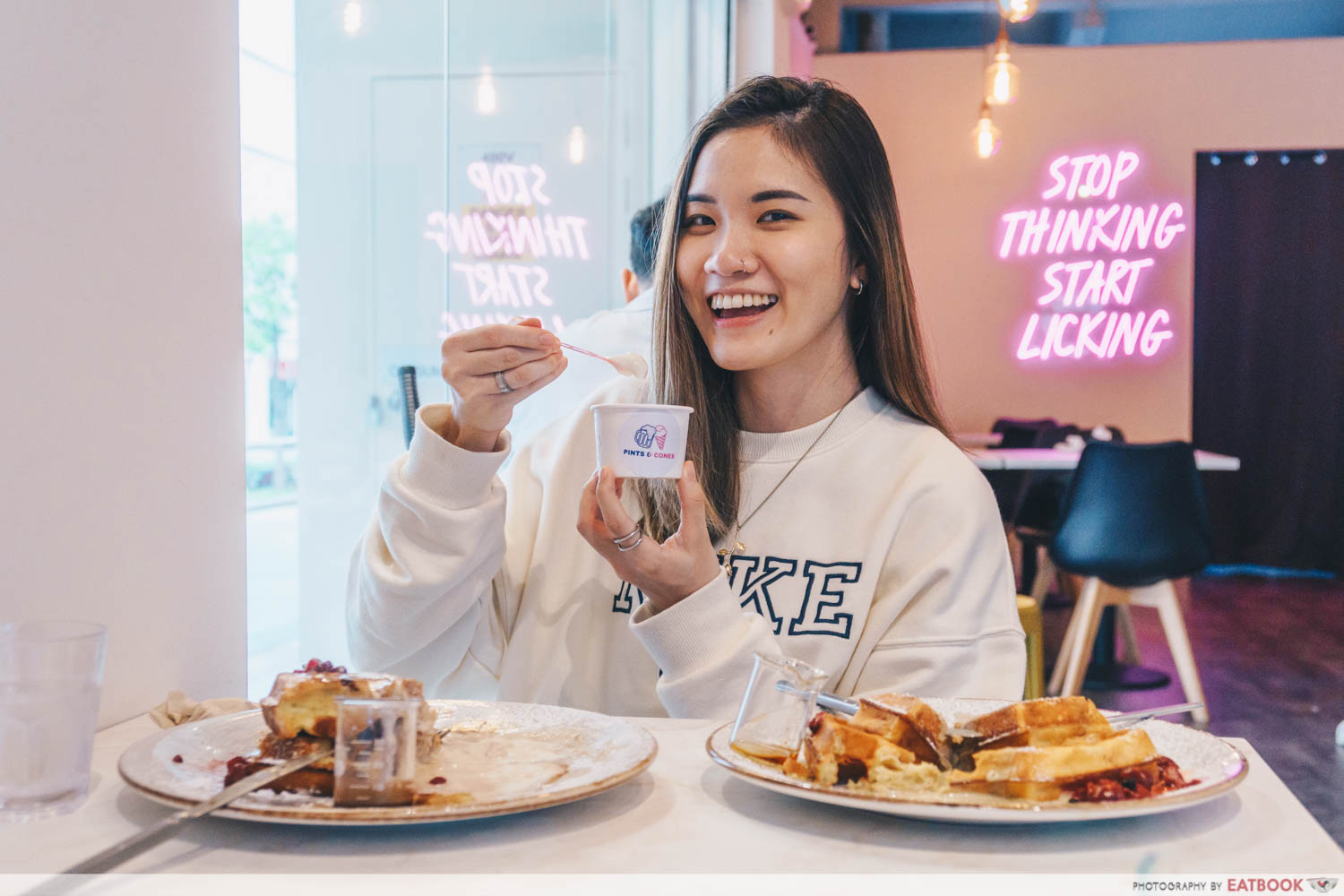 Pints & Cones seems like the kind of shop that you would go to for a quick gelato fix if you're in the area. The gelato flavours here were pretty typical, although there are some interesting ones. However, I felt these could still be improved further. Nonetheless, I enjoyed their waffles and I'd drop by to try the pandan waffle if I happen to be nearby. 
Address: 304 Serangoon Avenue 2, #01-02, Singapore 550304
Opening hours: Daily 1pm to 10:30pm
Website
Photos taken by Muhammad Hafiq.
This is an independent review by Eatbook.
Pints & Cones Review: $7.50 Thyme And Pandan Waffles At New Ice Cream Parlour In Serangoon
Summary
Pros
– Cosy ambience
– Great waffles
Cons
– Typical flavours
– Some of their gelato flavours could be better executed
Recommended Dishes: Signature Waffle With Premium Flavour ($8.30), Roasted Pistachio ($4.30) 
Opening hours: Daily 1pm to 10:30pm
Address: 304 Serangoon Avenue 2, #01-02, Singapore 550304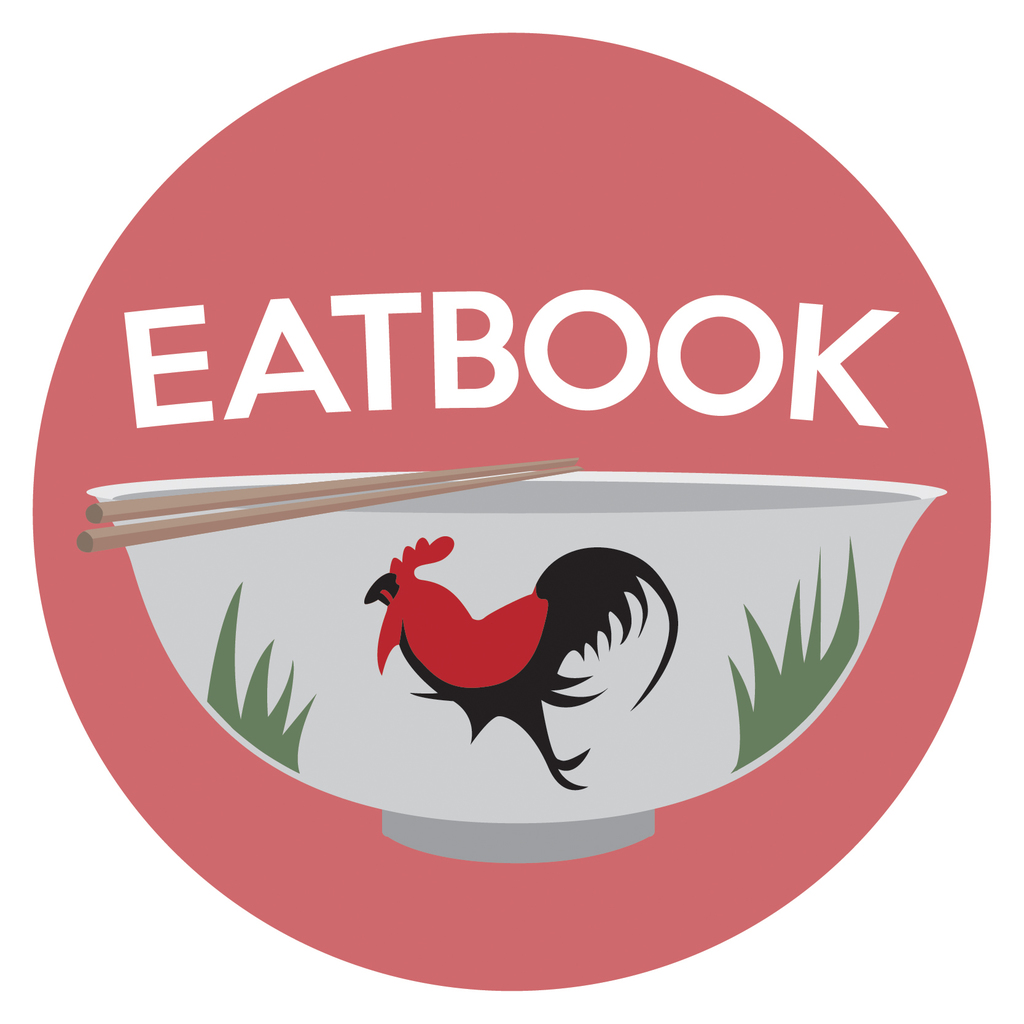 Drop us your email so you won't miss the latest news.