Nestcha at Haji Lane
Just when you think the bubble tea trend has come and gone, a new store pops up every now and then. From famous Taiwanese drink store Wanpo Tea Shop at Bugis, to Make Tea, a kiosk selling rainbow mochi-topped beverages in Clementi, there seems to be a new-found resurgence in the hype. Adding on to the never-ending list of bubble tea stores in Singapore is Nestcha, popularised for its layered Asian-inspired concoctions and 'gram-worthy box cakes.
Make Tea: Bubble Tea Stall In Clementi Makes Rainbow Mochi Ball Toppings And Matcha Orh Nee BBT
Following its successful opening at Chinatown Point, Nestcha has opened a second outlet, located along the buzzy Haji Lane. One thing's for sure—the branding team has got everything nailed to the tee. Just look at their beautifully illustrated menu and aesthetically pleasing cup stickers!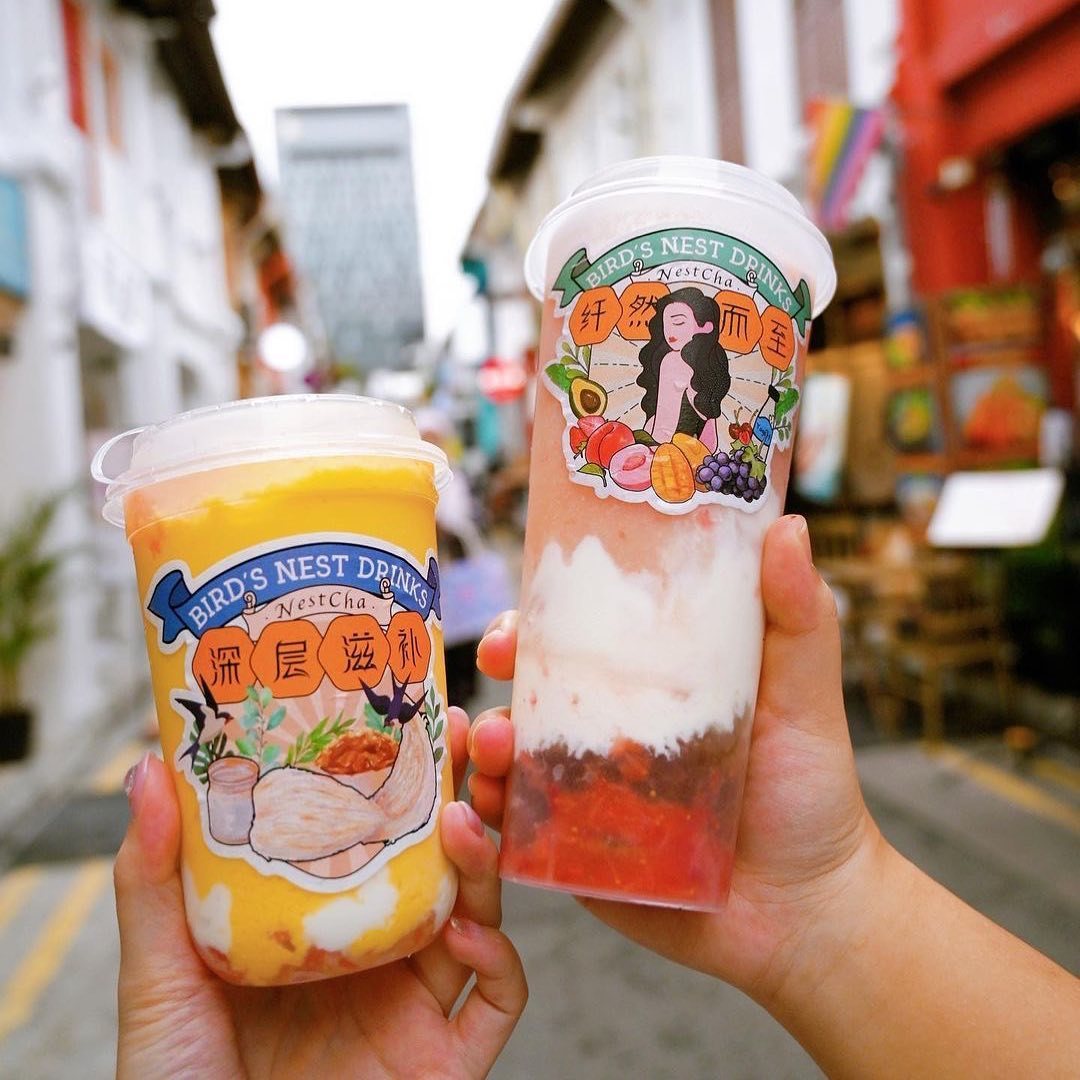 Image credit: @nestcha.sg
Nestcha specialises in layered drinks, from trendy combinations such as Taro Machi Milk ($5.90) to premium flavours of Papaya Peach Gum Bird's Nest ($12.90) and Mango Pomelo Bird's Nest ($12.90).
The taro-infused number features soft and chewy mochi and taro balls at the bottom, followed by yam, and fresh milk for a rich finish. Stir the components well to enjoy the earthy and creamy drink, which goes well with the QQ fillings.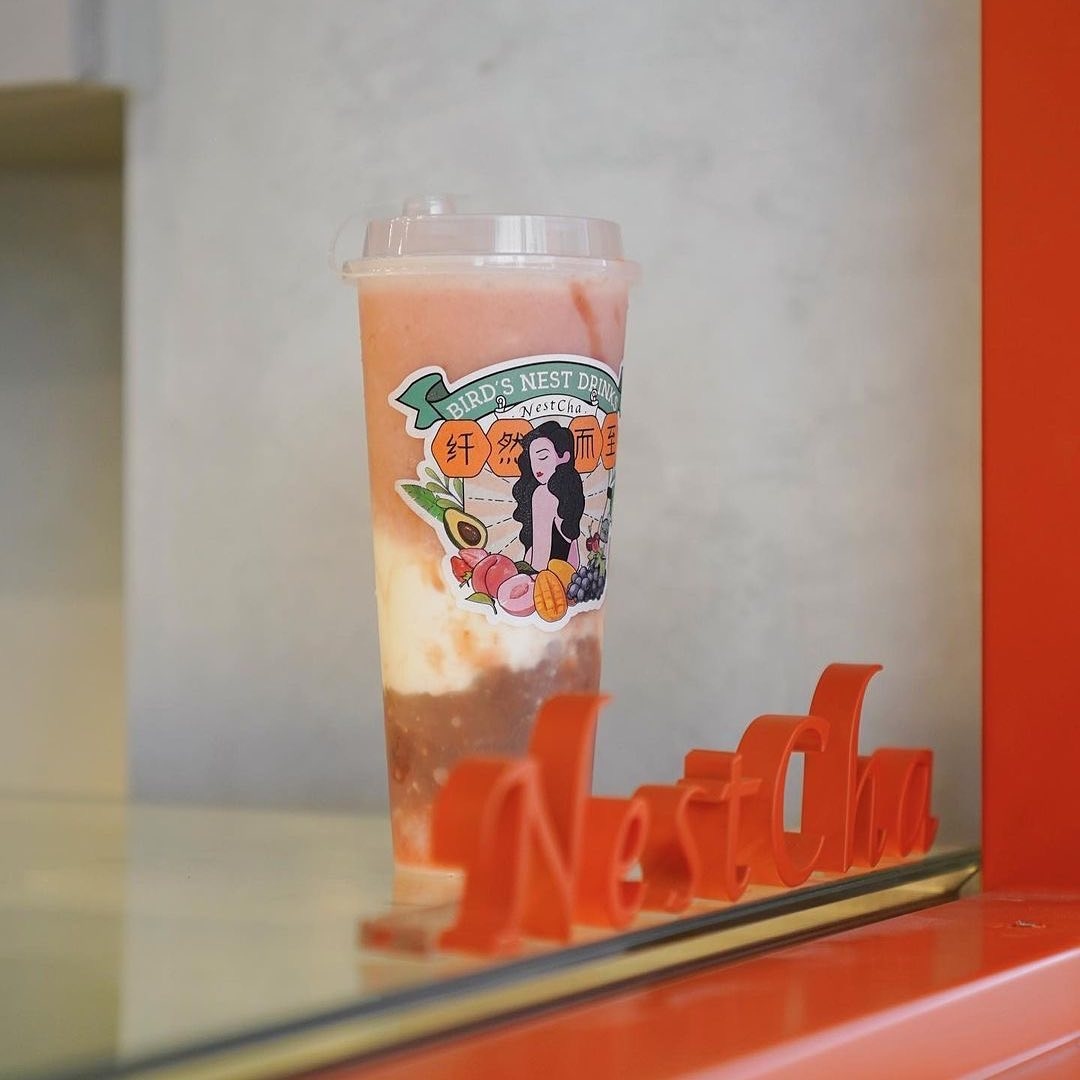 Image credit: @nestcha.sg
The Papaya Peach Gum Bird's Nest is one for the health-conscious; this nourishing drink comes with fresh papaya bits, peach gum, bird's nest, and fresh milk. There's also the Grape Peach Gum Yogurt ($7.80), with purple layers that taste as good as they look. The house-made yogurt along with juicy grapes and peach gum is a winning combination that will properly cool you down in the peak of the afternoon heat.
Nestcha also offers a series of Chinese Box cakes that are ideal for sharing. The Yam Chicken Floss Mochi Cake ($9.90) consists of smooth yam paste akin to the familiar orh nee dessert we all know and love, boasting a natural earthiness with just the right amount of sweetness. Paired with the meaty chicken floss and the soft mochi, this cake was an unexpected favourite of mine when I first tried it.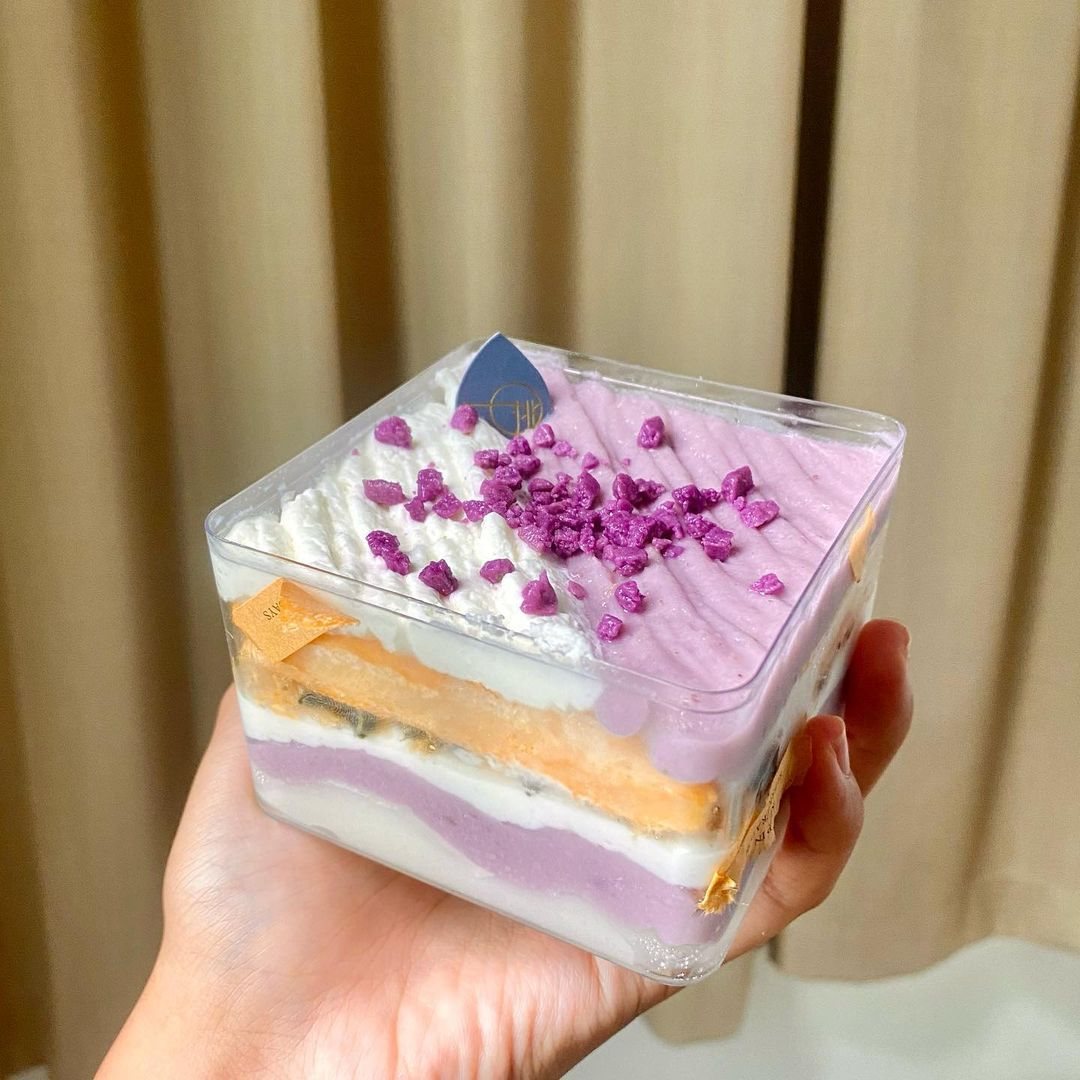 Image credit: @chereobese
The store is rather small with a narrow walkway, and limited seats are available—only four to six with social distancing restrictions in place—so most patrons opt for takeaway instead. As it can get crowded during peak hours, especially on weekends, I'd suggest to dabao and walk along the streets to soak in the vibes instead!
Nestcha is conveniently located along Haji Lane, which is a mere five-minute walk from Bugis MRT Station. If you're in the area, walk to Jalan Pisang to visit Uncle Lee Confectionery for old-school kaya cake. Alternatively, read our Nirvana Dessert Cafe review for affordable shaved ice in Bugis.
Address: 68 Haji Lane, Singapore 189261
Opening hours: Daily 11:30am to 9:30pm
Website
Uncle Lee Confectionery: Family-Run Bakery With Over 35 Years Of History Reopens In Bugis
Featured image adapted from @chereobese and @nestcha.sg