---
New restaurants to visit in May 2019
---
To quote NSYNC's most famous member, "It's gonna be May." After the high of visiting Jewel and Shilin Night Market, it's back to digging into tasty dishes at the four corners of Singapore. From America's most popular burger point to a Japanese stall serving cheesy beef don, here are 10 new restaurants to check out in May 2019.
---
1. Jam at SIRI HOUSE
---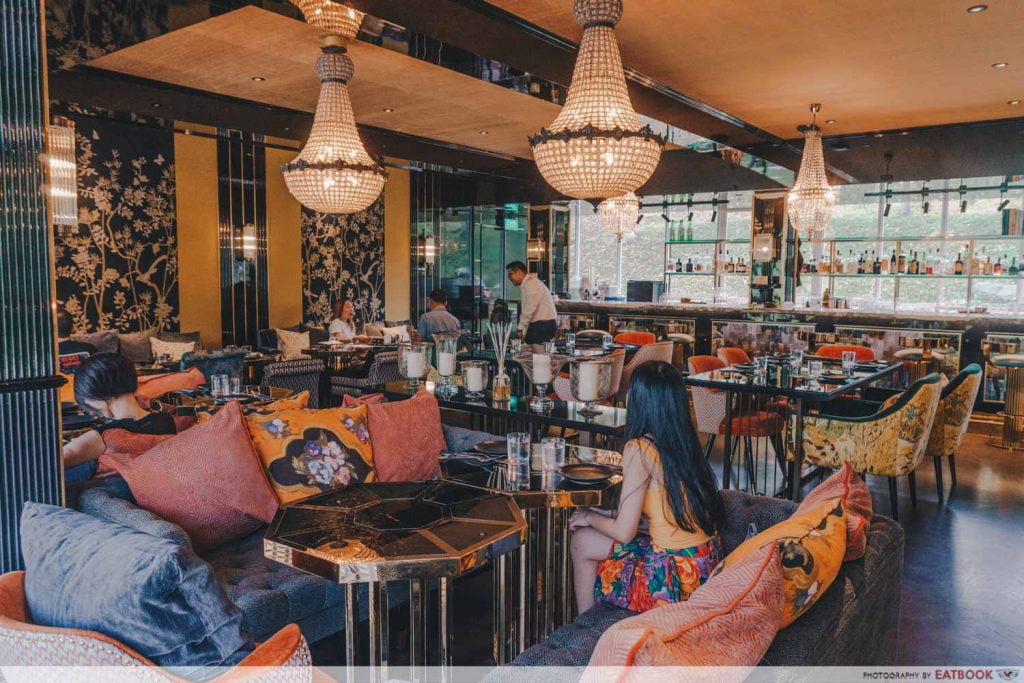 Check out Jam At SIRI HOUSE the next time you're planning a soirée with your girlfriends. The 42-seater restaurant at Dempsey is fitted gorgeously with crystal chandeliers, plush chairs and chinoiserie wallpaper. The kitchen is helmed by Ming Tan from Park Bench Deli as well as Jeremy Cheok who was previously from New Ubin Seafood, so you can expect dishes with exciting flavours.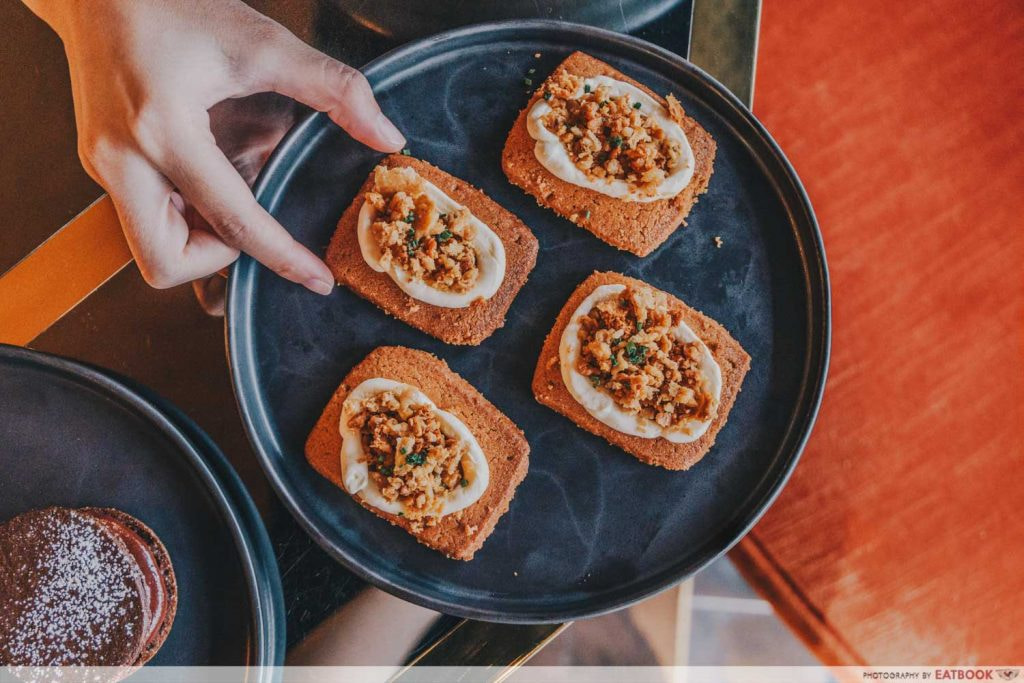 Start off with their Chicken In A Biscuit ($12++) to share, before indulging in a bowl of their Pappardelle ($33++). The scrummy pasta dish has strong umami notes, as it features a bisque-like sauce made from roasting prawn and lobster heads in butter. The S'mores ($18++) will cap off your meal on a high note with its tart raspberry ganache.
Jam At SIRI HOUSE: Atas Chicken Biskit And Seafood Bisque Pasta By Park Bench Deli's Ming Tan
Address: 8D Dempsey Road, #01-02, Dempsey Hill, Singapore 249672
Opening hours: Tue-Sun 11:30am to 2:30pm, 6pm to 10:30pm
Tel: 9667 0533
Website
---
2. Shake Shack
---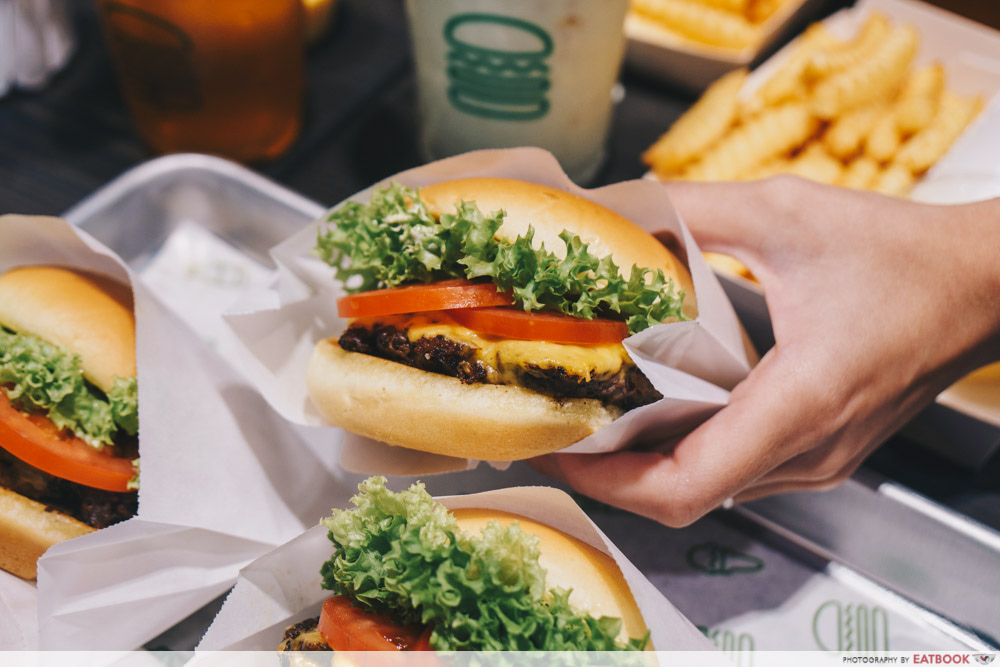 The burger joint everyone has been waiting for has finally arrived at Jewel Changi Airport. A fine casual restaurant, Shake Shack's service and quality of food is way better than most fast food joints, though prices are still kept low and affordable.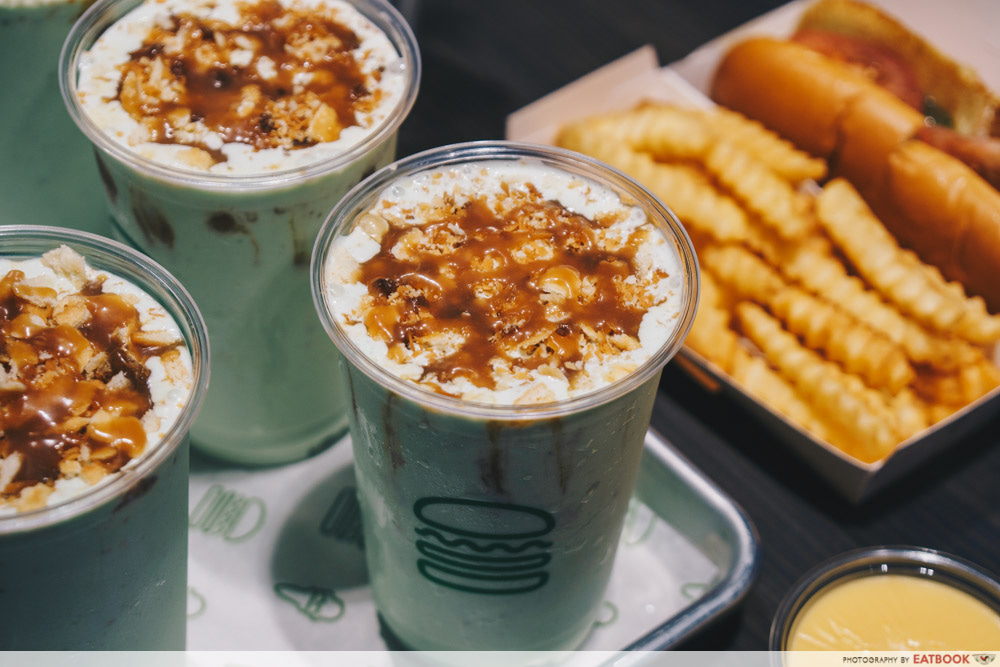 Choose from a range of burgers and hot dogs. If it's your first time there, get the ShackBurger ($9.20), which is a cheeseburger boasting US Angus beef patty and pillowy potato buns. Their shakes are not to be missed. Try the Singapore-exclusive Pandan Shake ($7.80) – a blend of vanilla ice-cream, pandan, and coconut that's topped with gula melaka crumble.  
Shake Shack Review: First Look At Their Signature Burgers, Pandan Milkshake And Gula Melaka Ice-Cream
Address: 78 Airport Boulevard, #02-256, Jewel Changi Airport, Singapore 819666
Opening hours: Daily 10am to 10pm
---
3. Sora Boru
---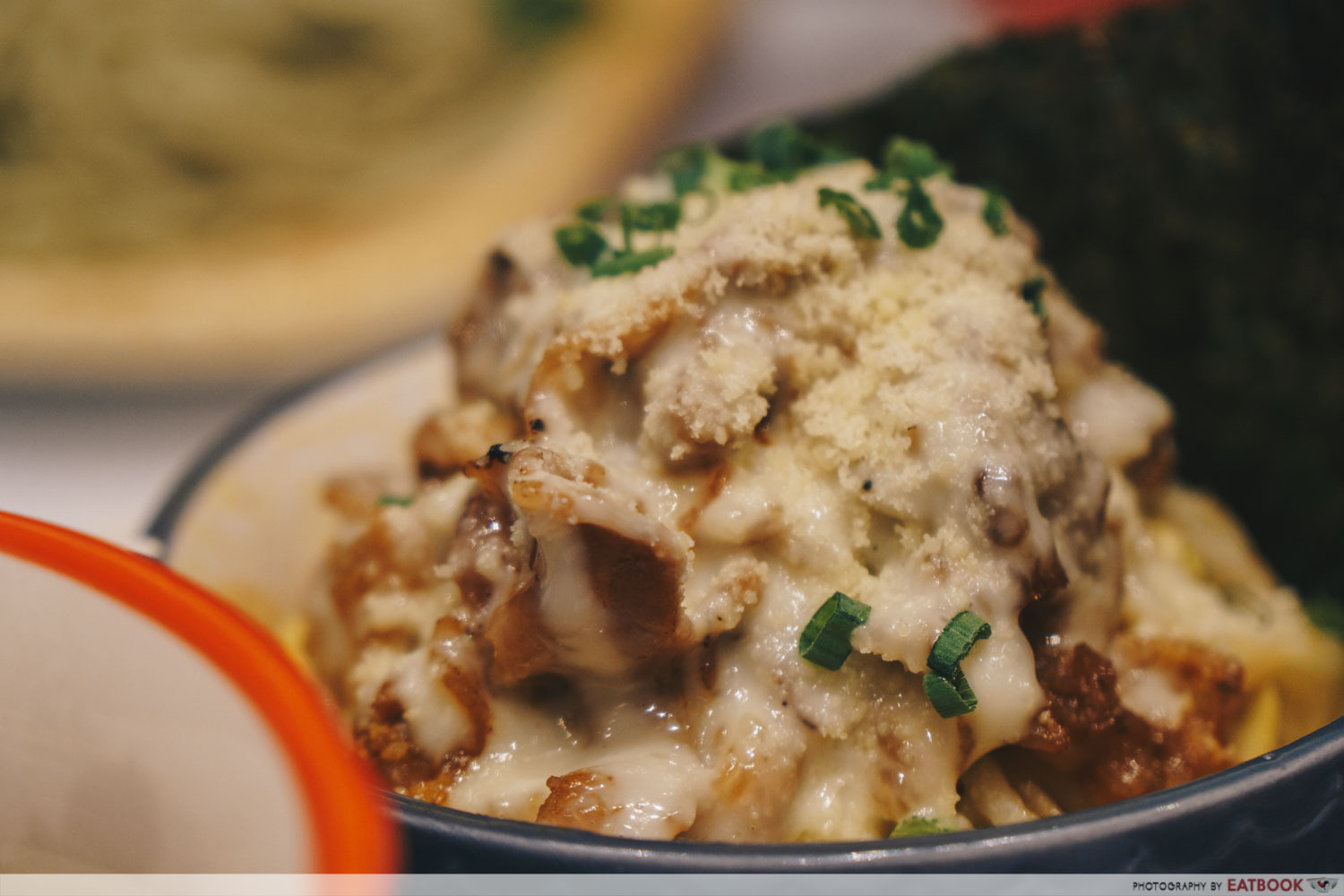 Serving food from $3.90 nett, Sora Boru has taken over the jarringly empty space at 313@Somerset where Yoshinoya used to reside. Though the menu mainly features Japanese rice bowls, we were impressed with novel creations such as their cheesy Snow Beef Don ($7.50/$11.90) and spicy Volcano Beef Don ($7.50/$11.90).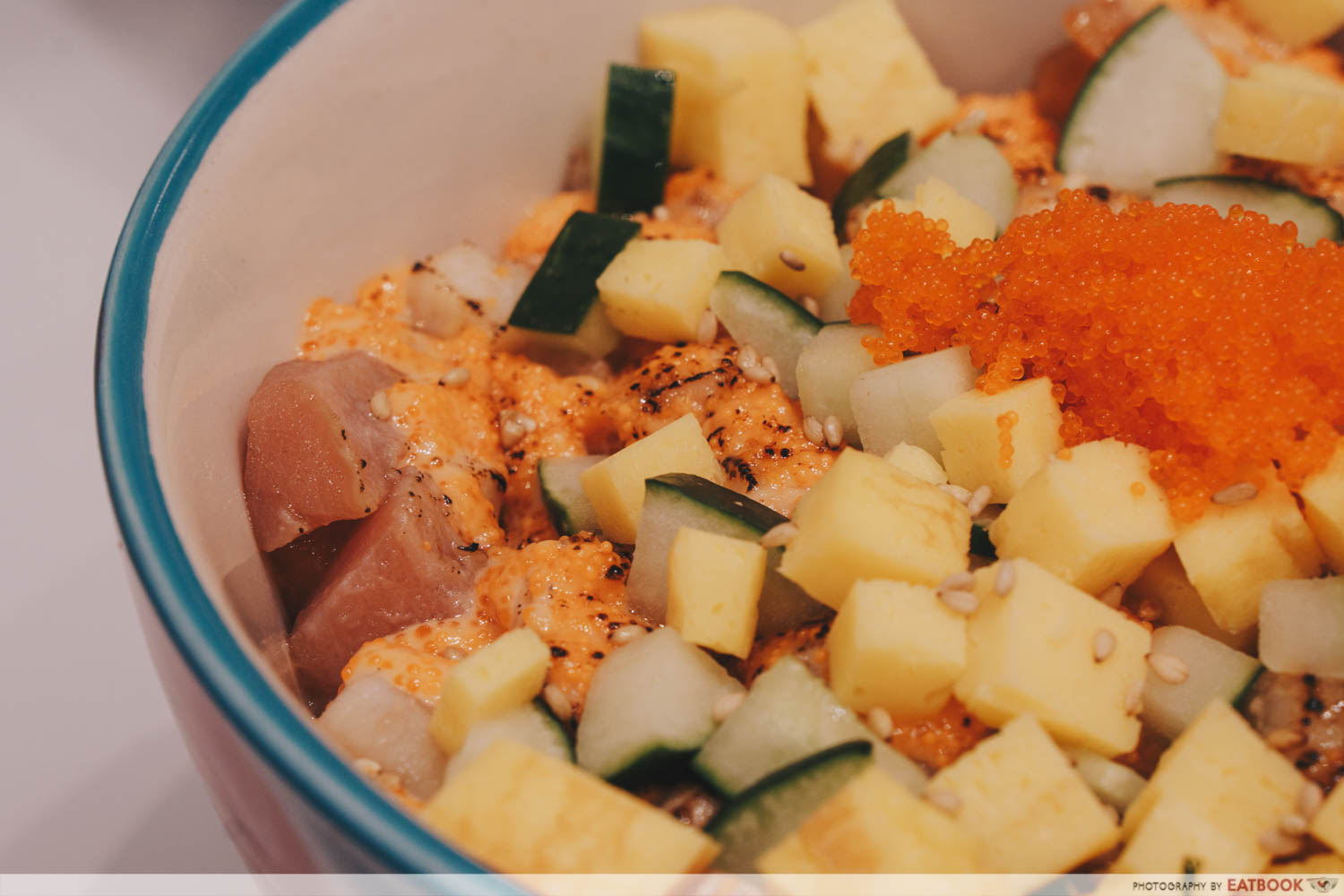 If you have already tried the sweet and savoury beef bowls, order their Bara Chirashi Ebimayo Aburi Don ($9.50/$16.90) the next time you visit. It comes with a generous scatter of diced salmon, tuna, swordfish, and scallops.
When looking for an affordable spot to eat in town, Sora Boru makes for a good option as choices between a regular size or substantially sized mini portion are available.
Sora Boru Review: Affordable Japanese Rice Bowls And Soba From $3.90 Nett At Orchard
Address: 313 Orchard Road, #B3-19/20, 313@Somerset, Singapore 238895
Opening hours: Mon-Fri 11am to 10pm, Sat-Sun 11am to 11pm
Website
Sora Boru is not a halal-certified eatery, but their food contains no pork or lard.
---
4. Penguin's Kitchen
---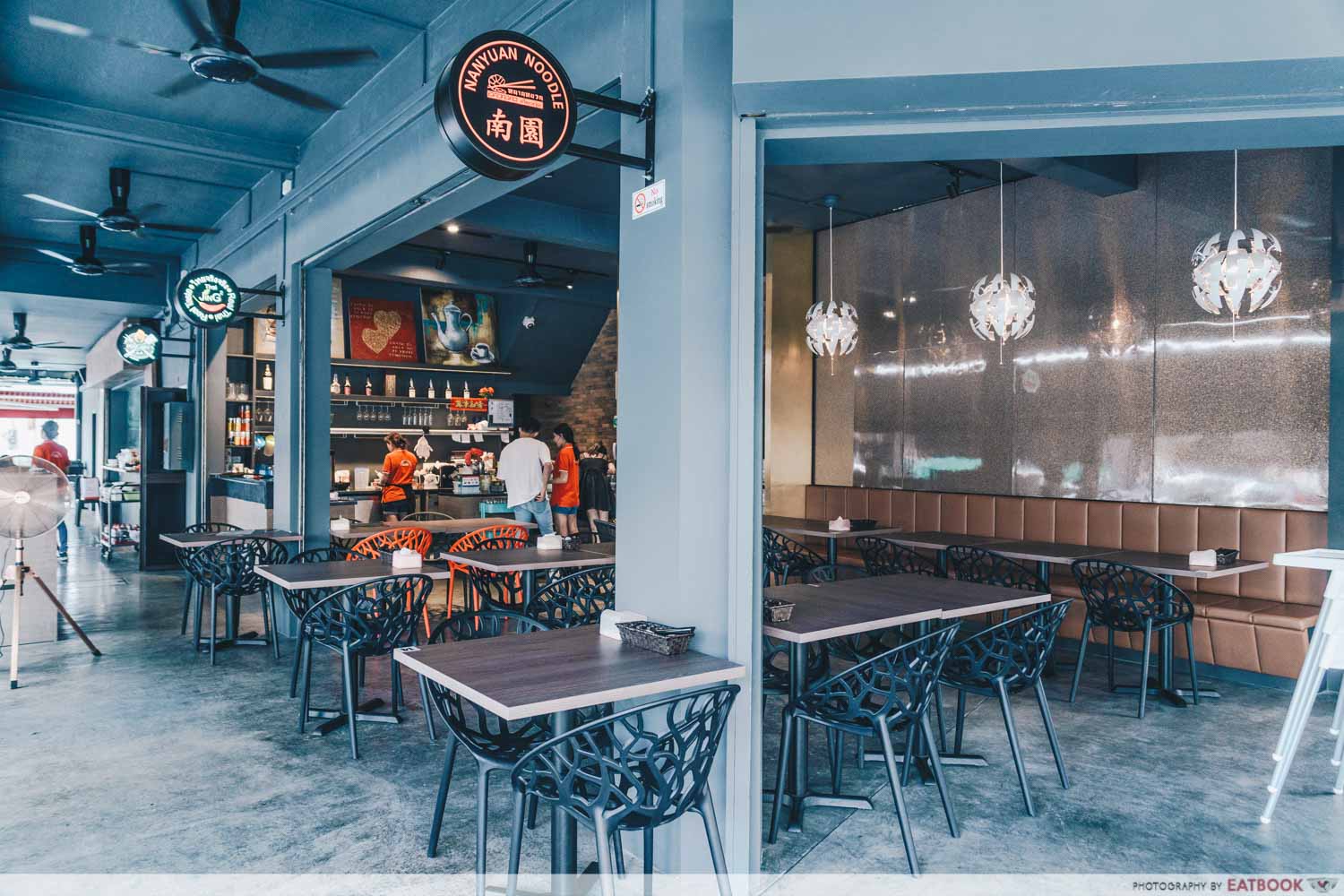 Penguin's Kitchen is tucked away in the quiet alleys of Serangoon. The tranquil vibes here go perfectly with their dark interior palette – brown furniture juxtaposed against their grey concrete floors.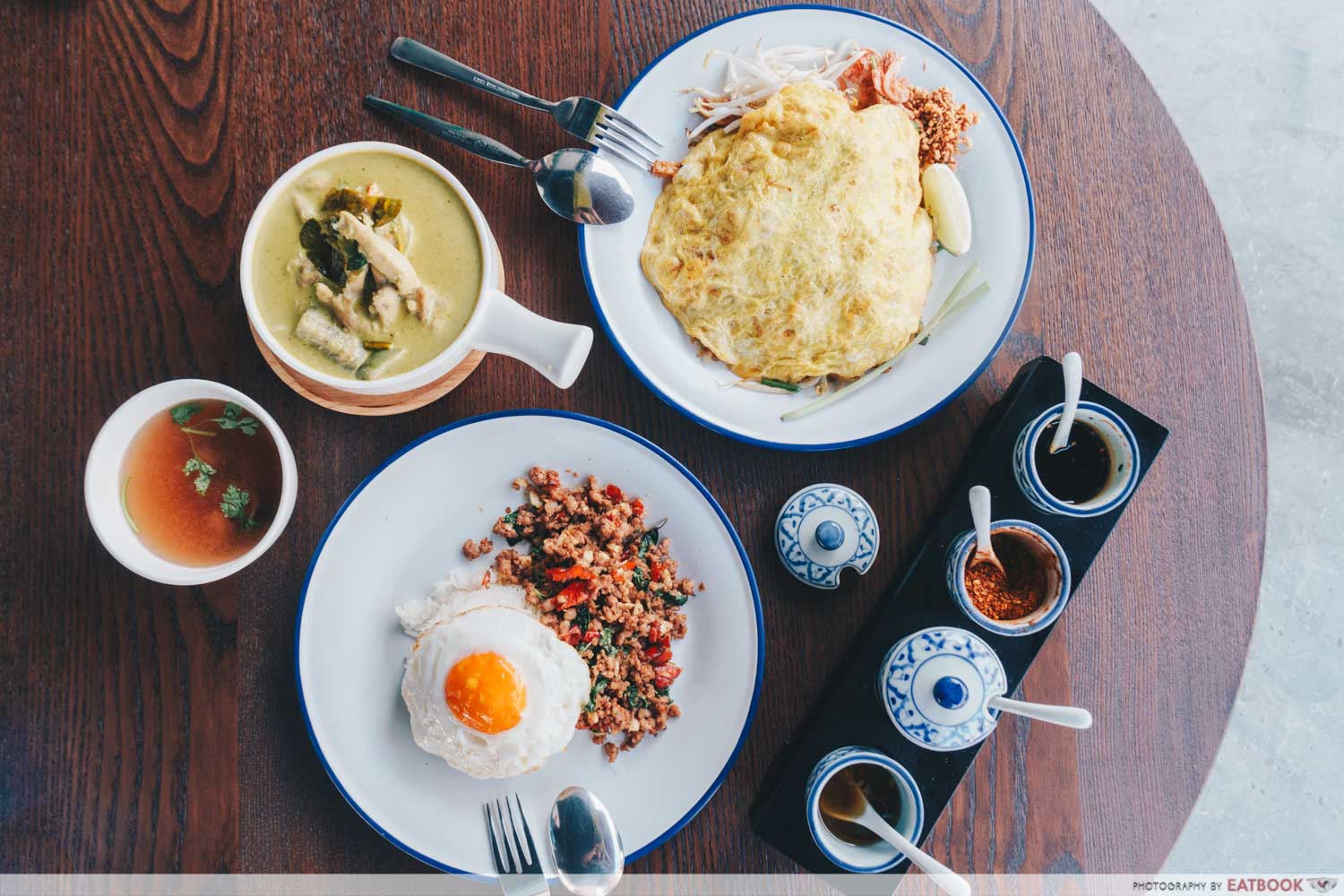 They serve Thai food here, and you can consider the Stir Fried Hot Basil Pork Rice ($8). Minced pork and dices of chilli and garlic are thrown into a wok, and finished with a generous handful of basil.
Another dish to consider would be their Green Curry Chicken ($10). The blend of herbs used in this curry really shines through. Lemongrass, chillies, kaffir lime are but a few components that give the curry a gorgeous, herbaceous fragrance.
Penguin's Kitchen Review: Legit Thai Cafe Serving Affordable Green Curry Chicken And Basil Pork Rice In Serangoon
Address: 9 Opal Crescent, Singapore 328404
Opening hours: Daily 11am to 11pm
Tel: 6291 5949
Website
---
5. Herit8ge
---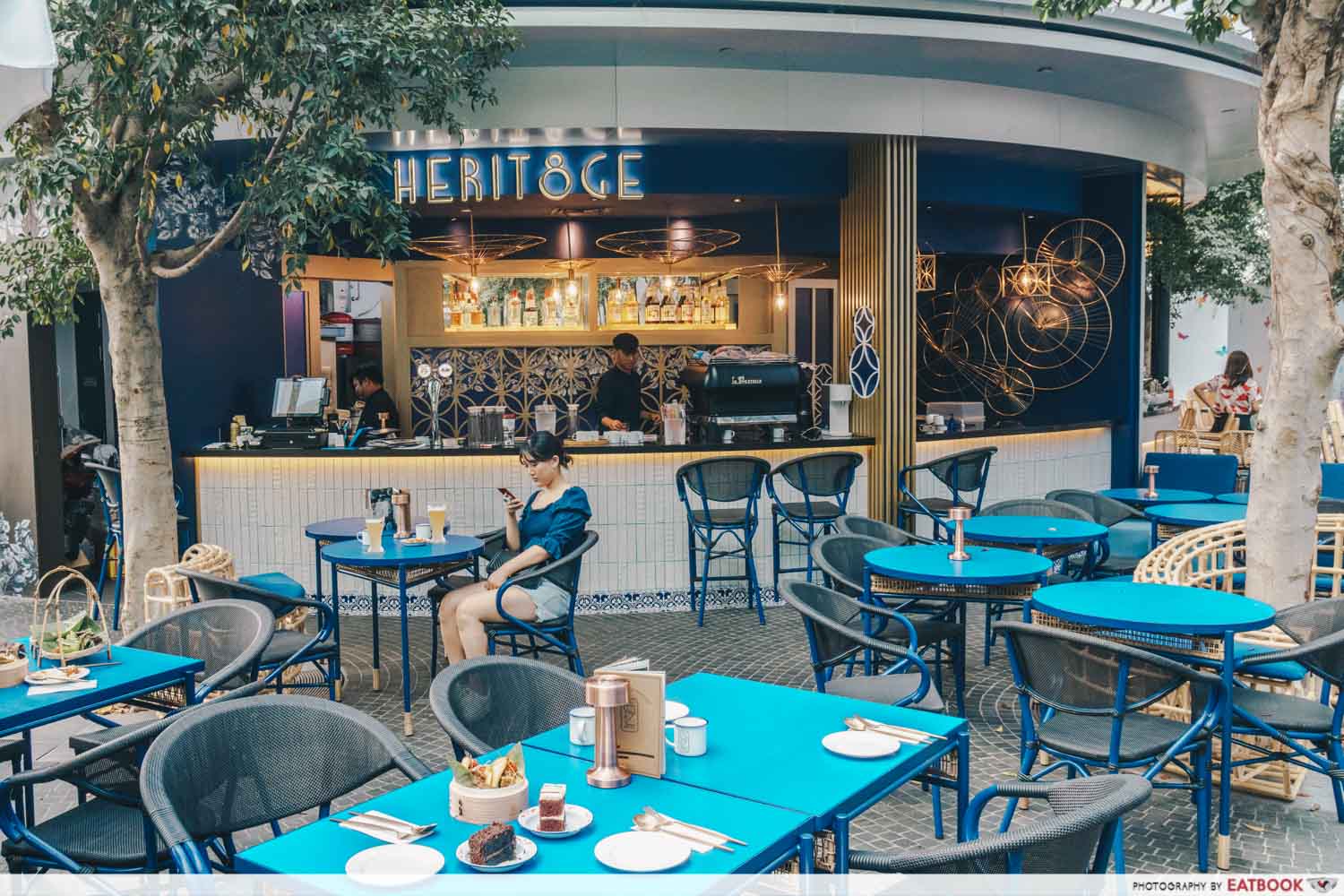 Opened by the minds behind Harry Potter-inspired Platform 1094 and pretty pastel cafe Fresh Fruits Lab, Herit8ge reinvents local favourites at the idyllic fifth floor of Jewel Changi Airport. Woven rattan furniture and plating influenced by classic porcelain wares add nostalgic touches, reflecting their desire to show traditional Singaporean dishes in a new light.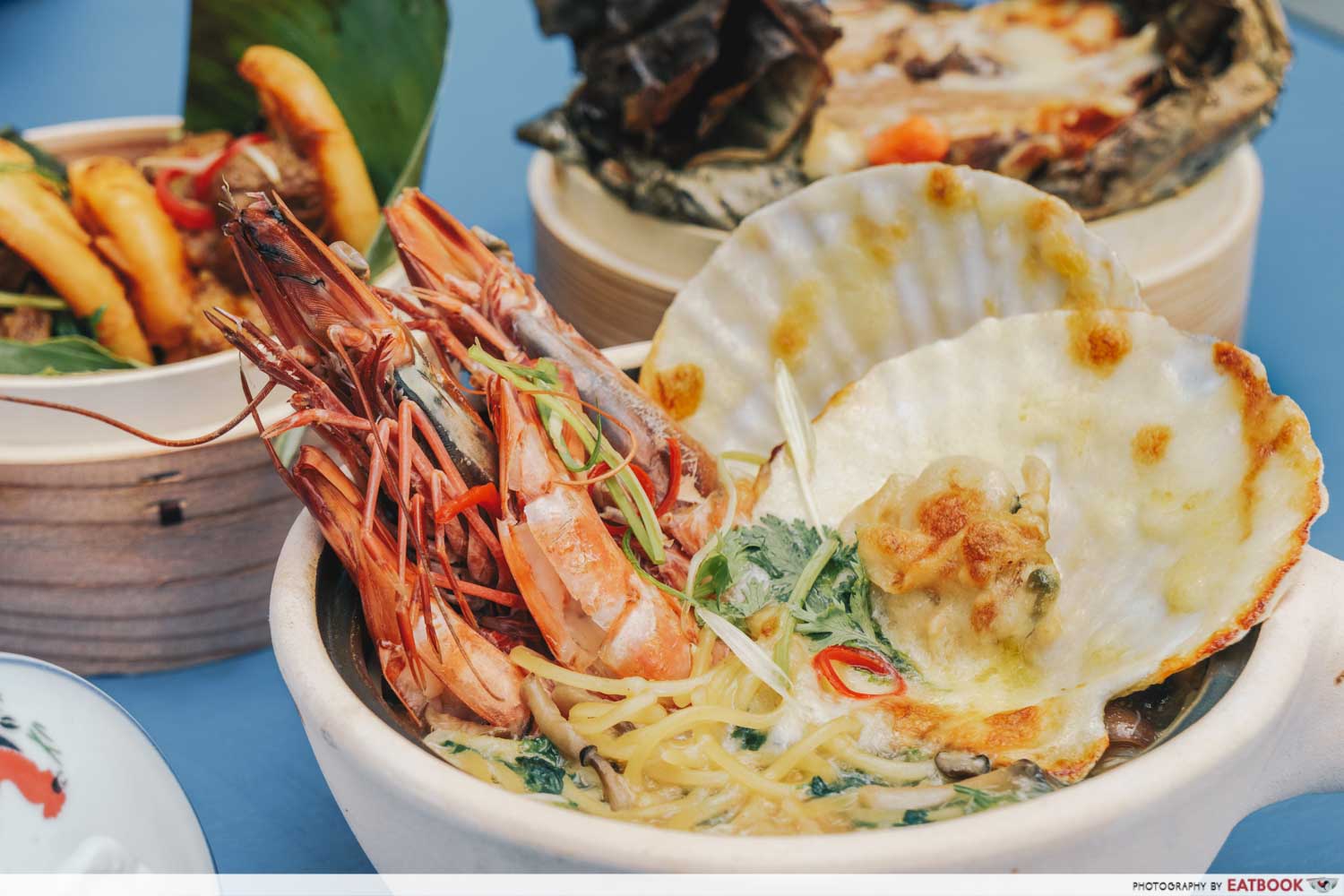 The Claypot Seafood Mapo Tofu Pasta ($25++) amps up Hokkien mee, pairing baked cheesy scallops, juicy king prawns with crab meat spaghetti for a barrage of seafood flavour. If you want to hang out and knock down cocktails with friends, something from the tapas menu might do the trick, such as Nyonya Rendang Lamb Bao ($15++). Chinese mantou meet aromatic Nyonya lamb rendang to create finger food that your Peranakan grandmother would approve of.
16 Jewel Changi Airport Food Places To Visit When It Opens On 17 April 2019
Address: 78 Airport Boulevard, #05-206, Jewel Changi Airport, Singapore 819666
Opening hours: Daily 9am to 3am
Tel: 6962 7720
Website
---
6. What's Pide
---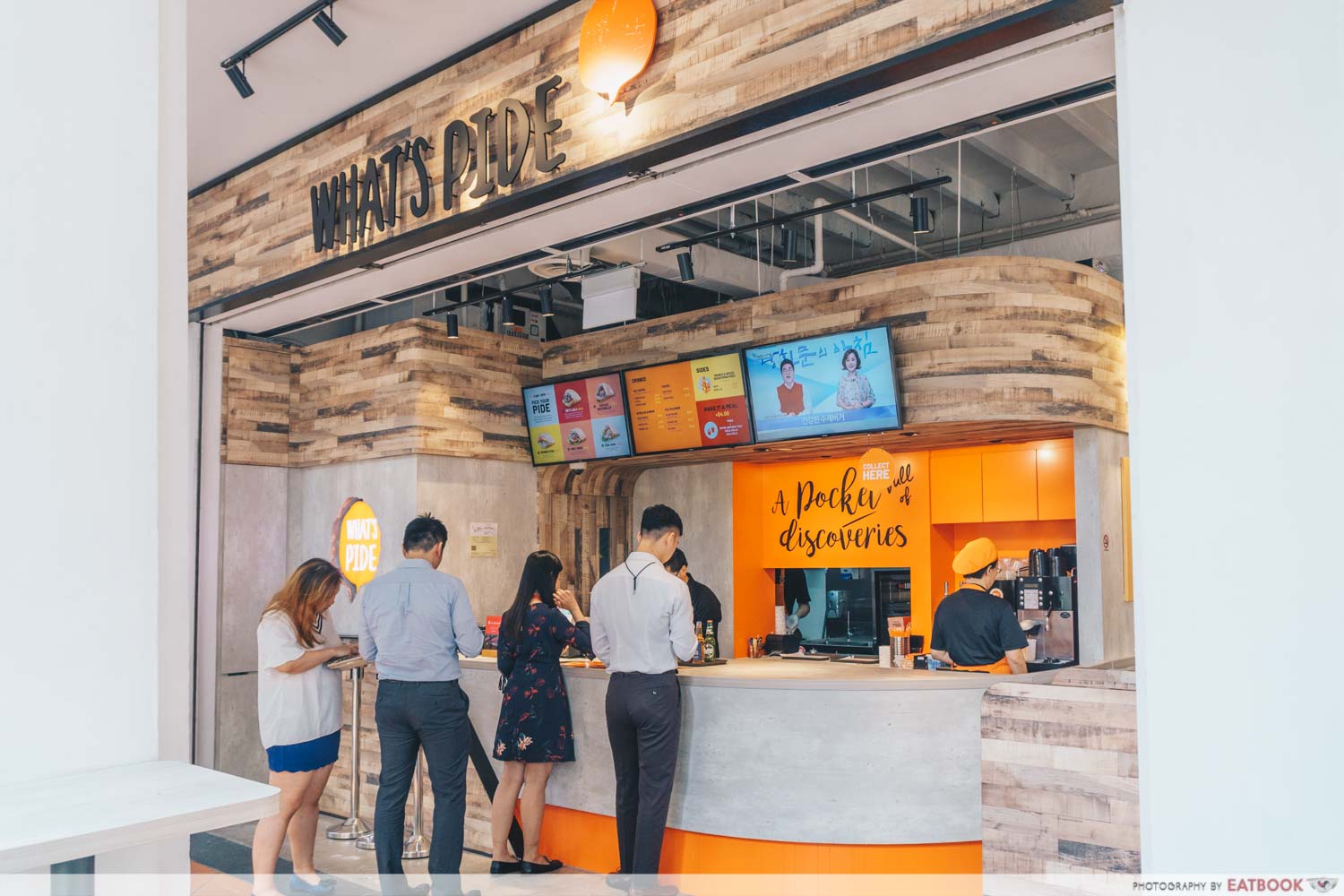 Hailing from South Korea, What's Pide is a brand new stall at China Square Central that sells pide stuffed with all sorts of savoury fillings. Unlike traditional flatbread, the bread here has a spongy texture as a result of their secret recipe.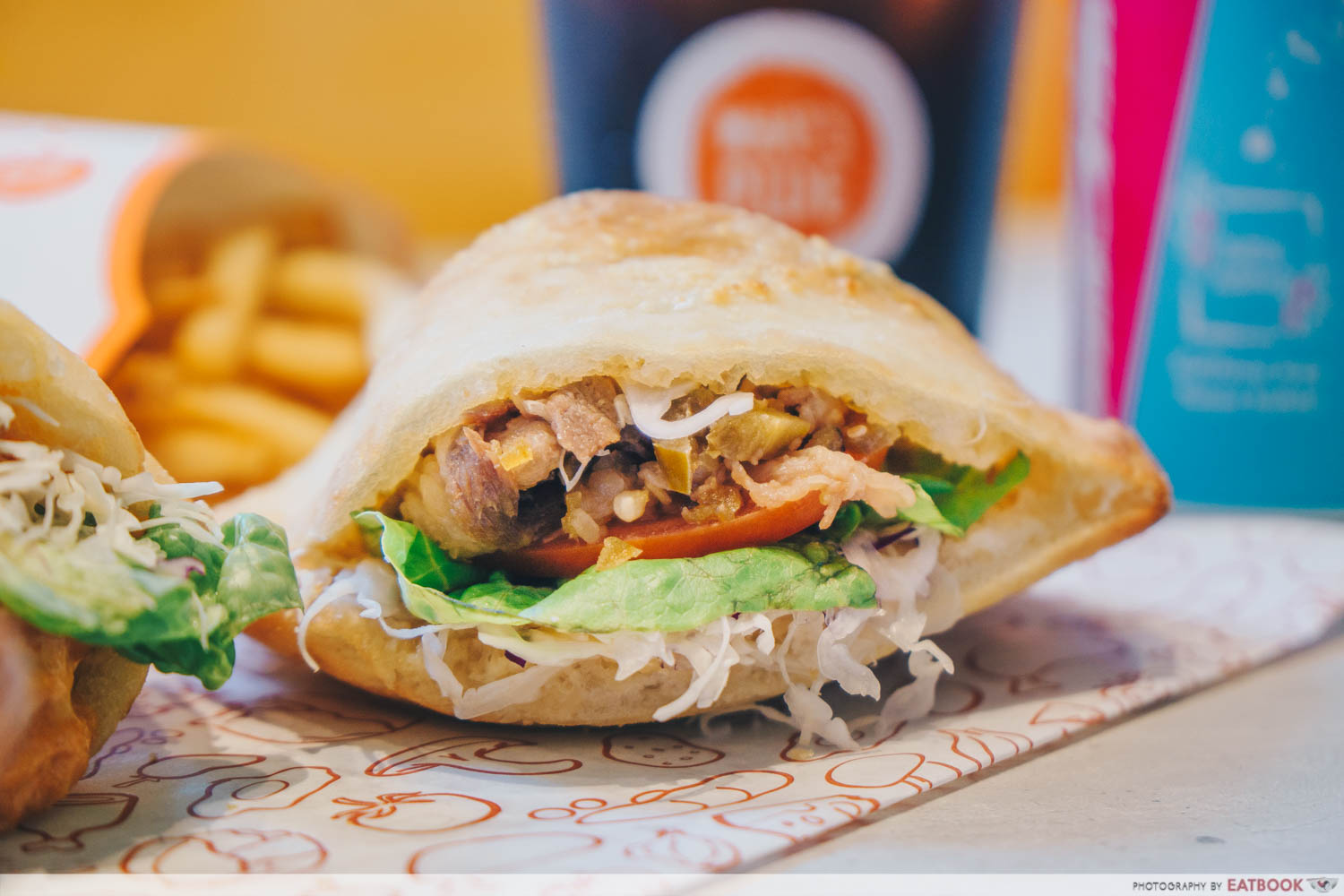 This translates to a dish that's able to retain all the different flavours better. Case in point, the Mrs Park ($9) – a pocket full of seasoned bulgogi beef, pickled jalapeno and caramelised onions. The pillowy interior acted as canvas to absorb the sweet traces of beef and vinegary notes of jalapeno. Other standouts include the Prawn Star ($8.50) that's filled with soft-shell prawns, and the Eda-san ($7.50) featuring mushroom balls doused in wasabi mayo.
Address: 22 Cross Street, #01-63, China Square Central, Singapore 048421
Opening hours: Mon-Thur 8am to 9pm
Website
---
7. Xiao Yang Guo Kui
---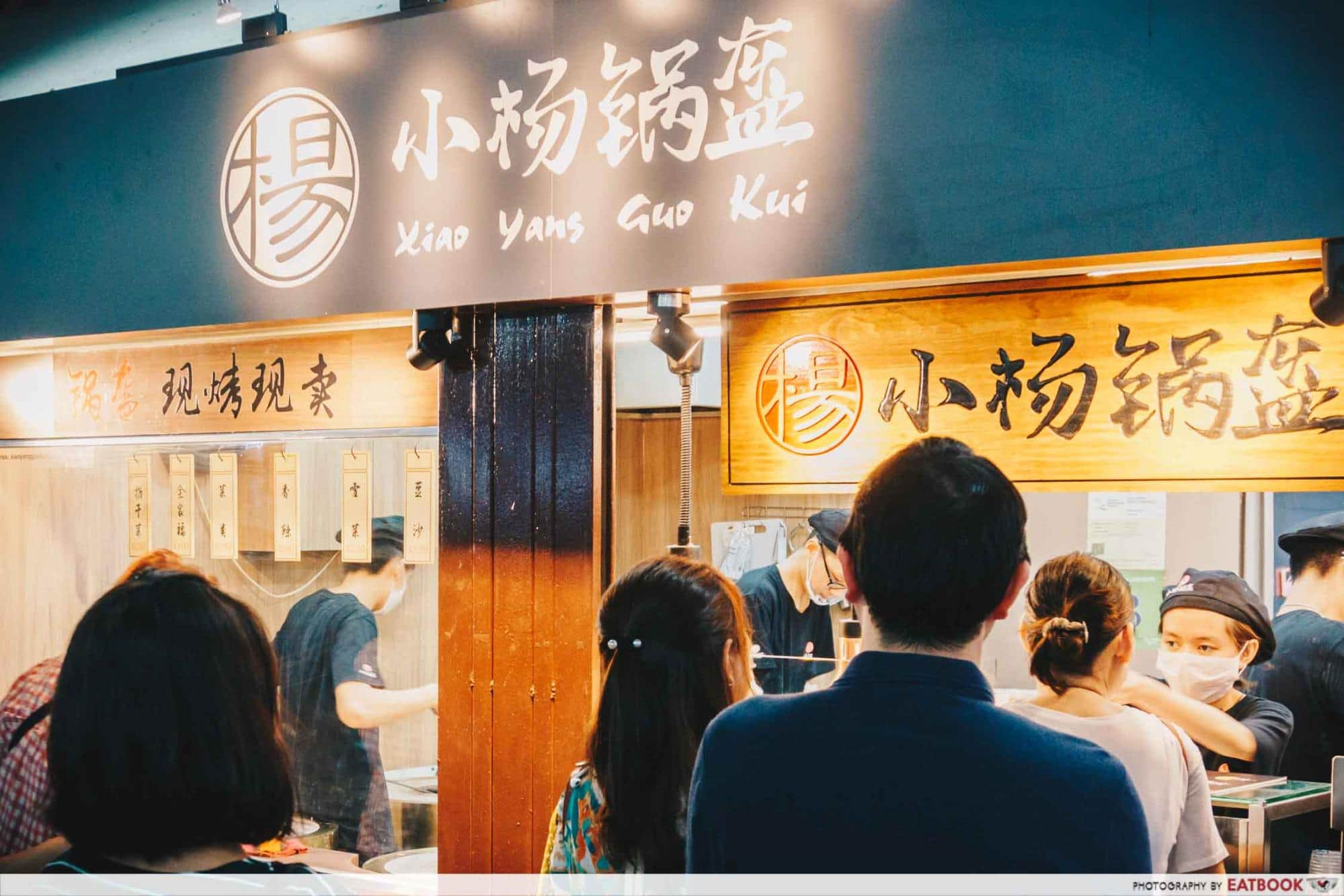 Xiao Yang Guo Kui specialises in the eponymous guo kui – a classic Chinese flatbread with a 1000-year history. Baked in a cylindrical oven, the flatbread boasts the crisp crust of a bing but lacked the usual unctuous aftertaste.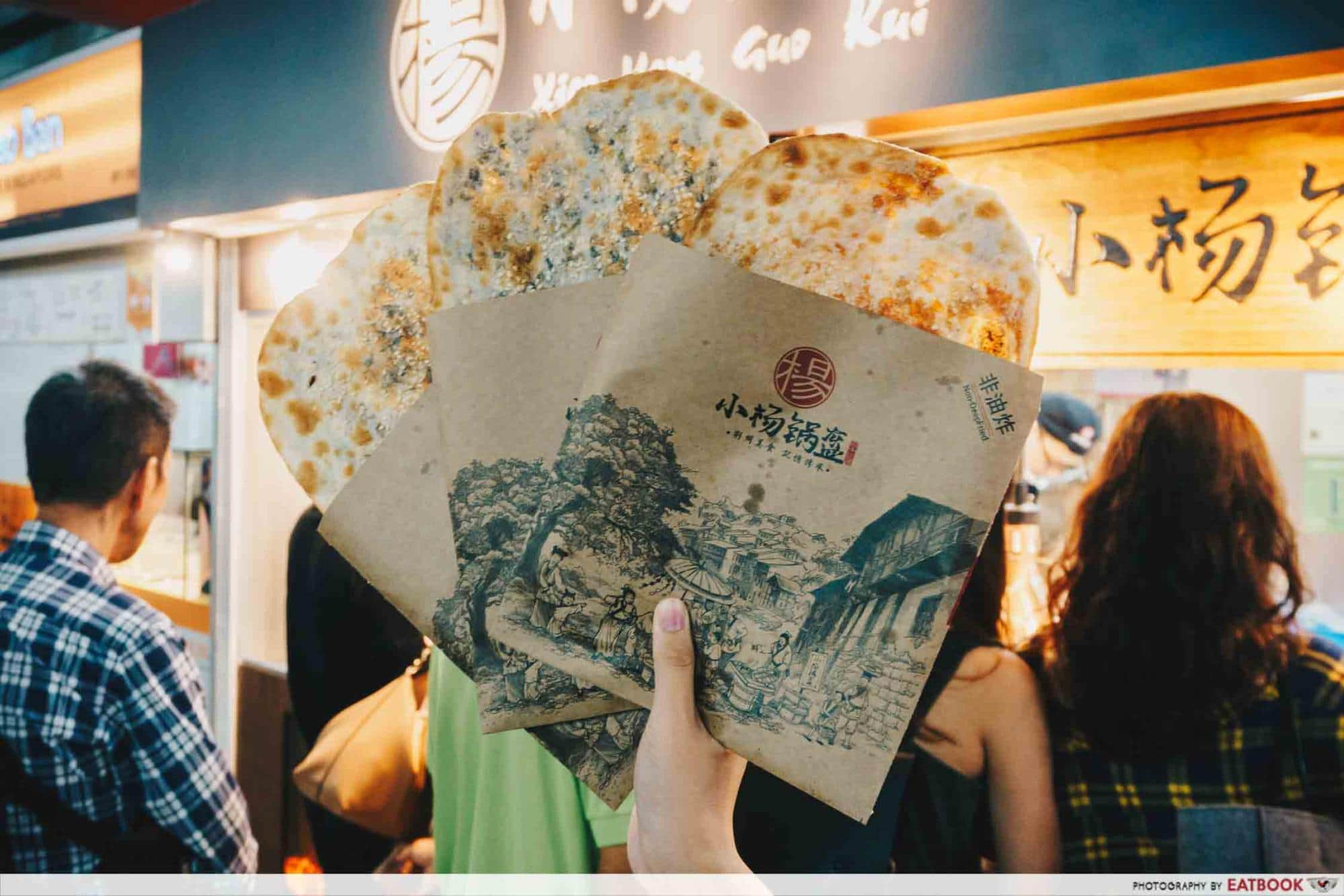 If you're trying guo kui for the first time, we recommend the Shanghai Happy Family ($3), which combines the fillings of Chongqing Pickled Vegetables ($2.50), Jiangsu Pickled Greens ($2.50), and Xi An Mixed Greens ($2.80).
Fun fact: try dabao-ing the snack and enjoy it with curry for a taste that is both familiar and foreign at the same time.
Address: 60 Jurong Gateway Road, #01-10C, Jurong East Interchange, Singapore 608548
Opening hours: Daily 6:30am to 9:30pm
Website
---
8. Yun Nans
---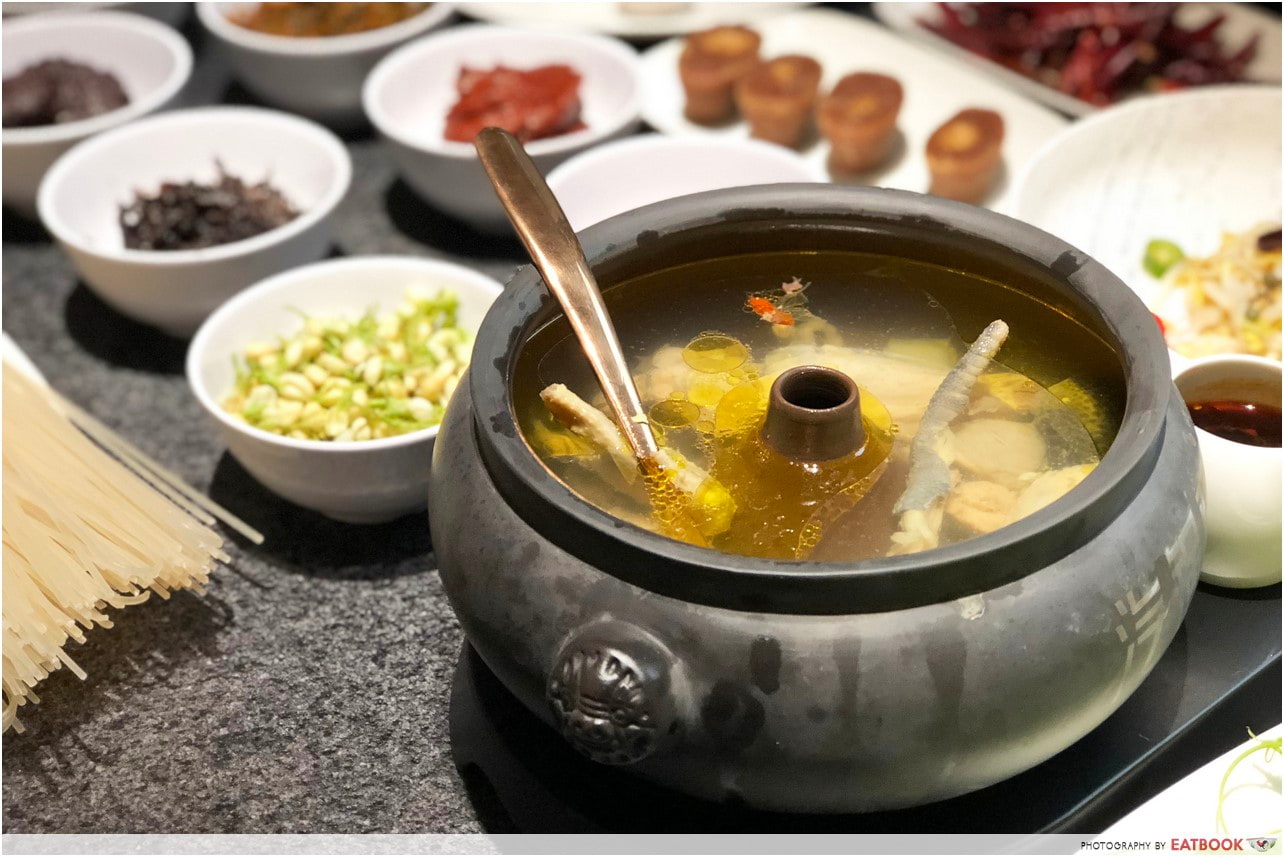 While we often think of ma la xiang guo or xiao long bao when Chinese food is mentioned, Chinese cuisine has so much more to offer. Yun Nans at Jewel Changi Airport serves Yunnan dishes, and specialises in the province's famous steam pot chicken.
The Steam Pot Chicken Soup ($23.90++) here is served in the clay pot it's cooked in, and it's made without a single drop of water added to it. Prepared the traditional way, the porous clay pot, filled with chicken and herbs, is sealed within a bigger pot of boiling water. As it cooks, the steam condenses, along with the juices of the ingredients, to form a rich, flavourful soup.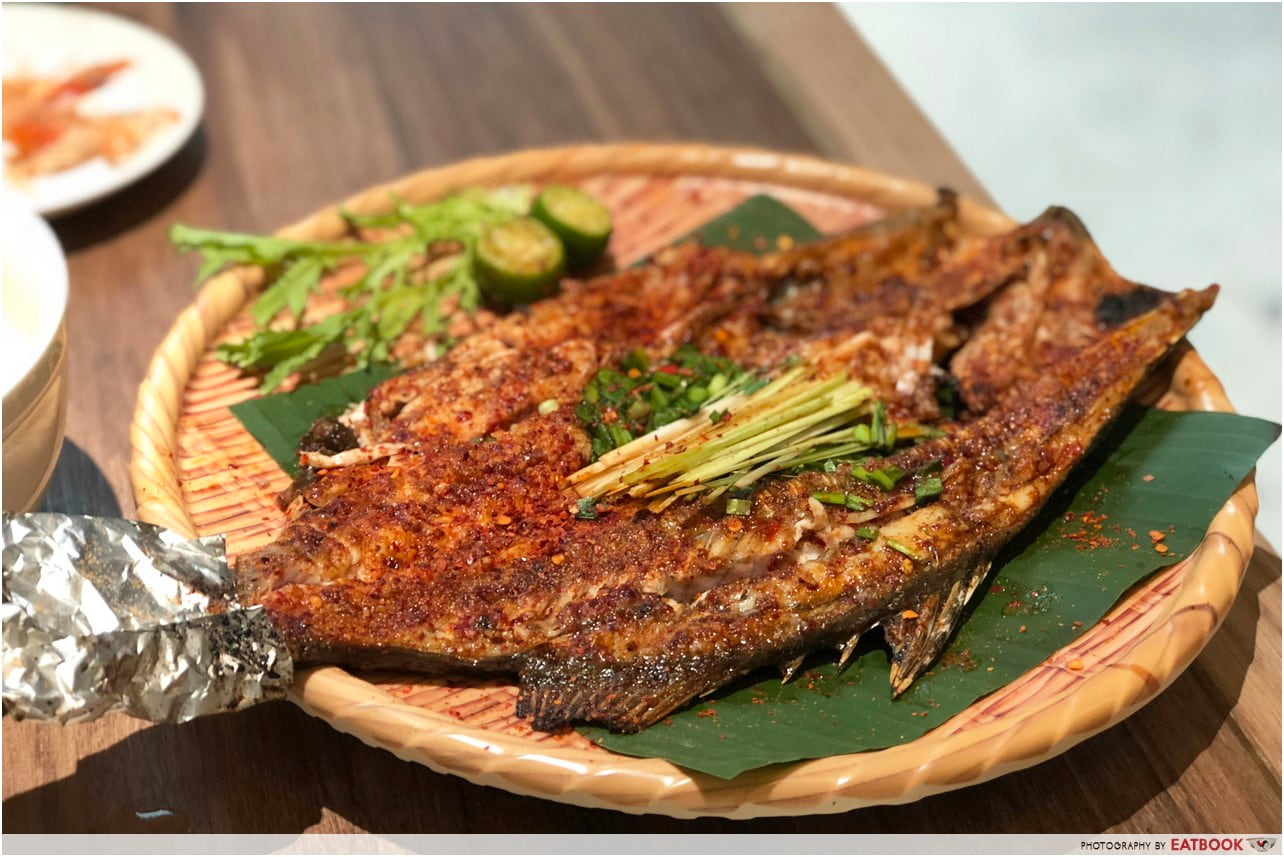 Another dish that we really enjoyed was the Charcoal Grilled Seabass with Lemongrass ($22.90++). The layer of fiery red chilli seasoning on top gave life to the soft, tender fish, and tempted us to keep going despite the blazing heat on our taste buds. Try their Stir Fried Wild Porcini Mushroom with Dried Chillies ($24.90++) as well, which truly reminded us of the many mushroom dishes some of us had in Yunnan.
Address: 78 Airport Boulevard, #02-217, Jewel Changi Airport, Singapore 819666
Opening hours: Daily 10am to 10pm
---
9. BOTANY
---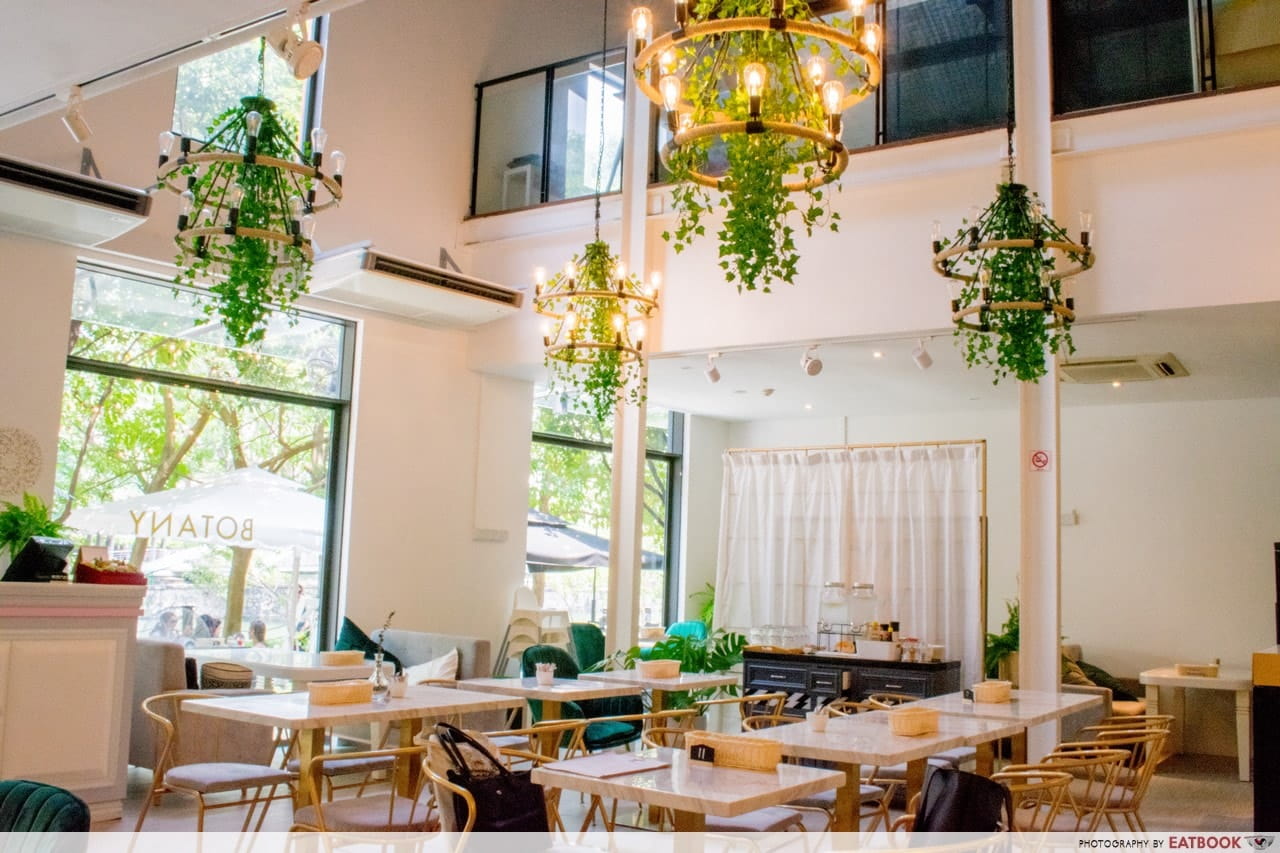 Founded by the same people behind Dazzling Cafe, BOTANY is a new cafe along Robertson Quay that serves Western dishes with an Asian twist. Its leaf-shrouded chandeliers and walls, coupled with its high ceilings, make for a prime date night location.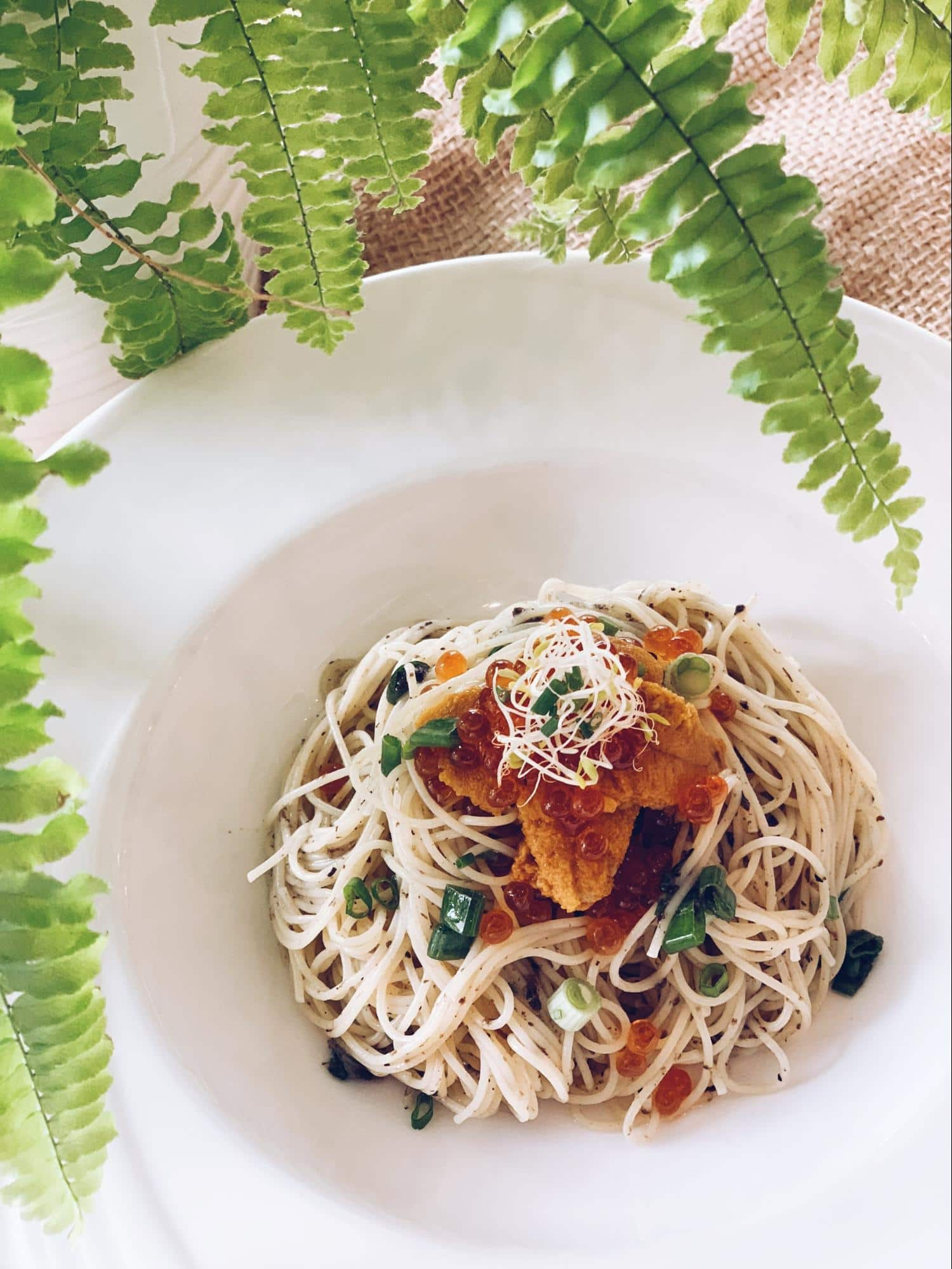 Image credit: BOTANY
Peruse the menu and you'll find that the selections are pretty affordable. We loved the Uni Truffle Capellini ($28++) featuring smooth Japanese sea urchin, topped with fresh and briny roe. Other delectable options include their popular Avocado Toast ($18++) – a sourdough toast served with smashed avocado, sautéed kale and sous vide egg – and Dazzling Café's Signature Honey Toast ($18++) that's sure to delight Shibuya toast lovers.
Address: 86 Robertson Quay, #01-03, Singapore 238245
Opening hours: Sun-Thurs 9am to 10pm, Fri-Sat 9am to 11pm
Website
---
10. Ho Fook Hei
---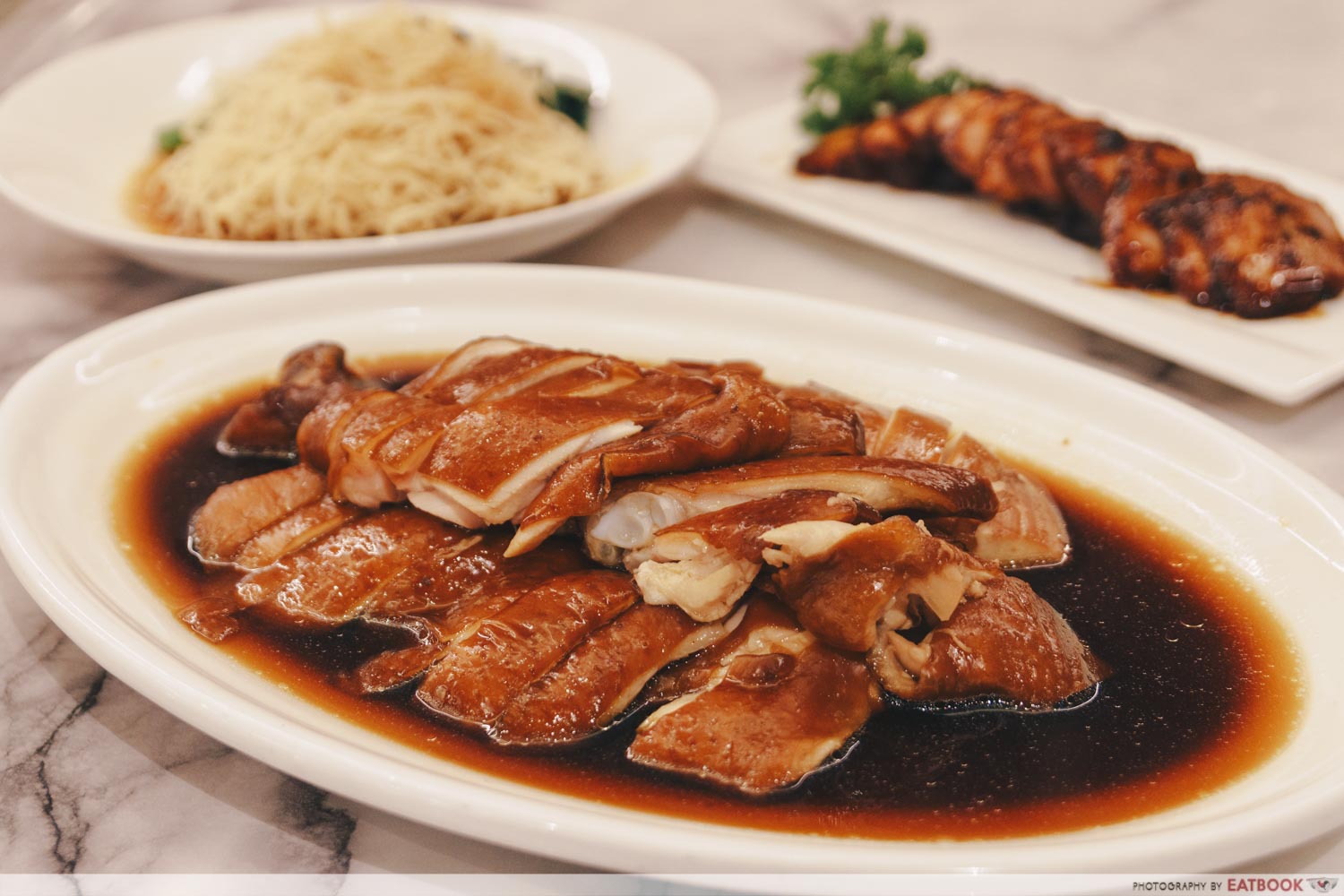 Ho Fook Hei is located at the newly renovated wing of Great World City. This casual eatery serves Cantonese delights that will keep you coming back for more. A definite order to place would be their Specialty Rose Wine Soy Sauce Chicken ($19++/$35++). It features beautifully poached chicken, drenched in a thin yet robustly flavoured sauce.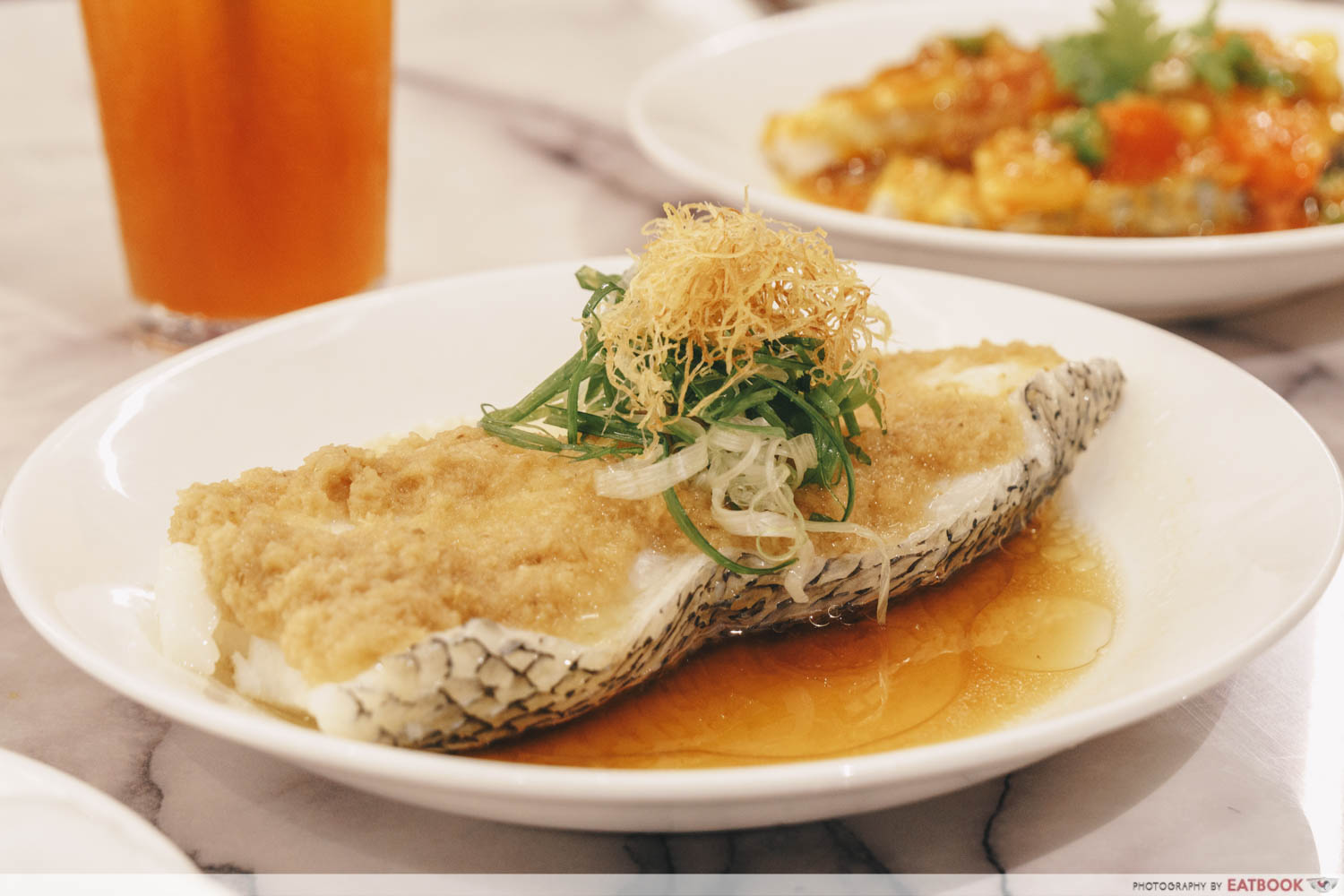 Just like its sister restaurant Joyden Seafood, Ho Fook Hei doesn't disappoint with their steamed fresh fish. Notable mentions include their Cod Fish Fillet ($24.80++) and Seabass Fillet ($14.80++). There are four choices of sauce and cooking style, but we highly recommend ordering the fish steamed with old ginger sauce, which highlights the natural sweetness of its white meat.
Great World City Now Has Michelin-Starred Ramen From Japan And More New Makan Spots
Address: 1 Kim Seng Promenade, #01-141, Great World City, Singapore 237994
Operating hours: Daily 11:30am to 3:30pm, 5pm to 9:30pm
Tel: 6219 2262
Website
---
Bonus 1: Indian Express
---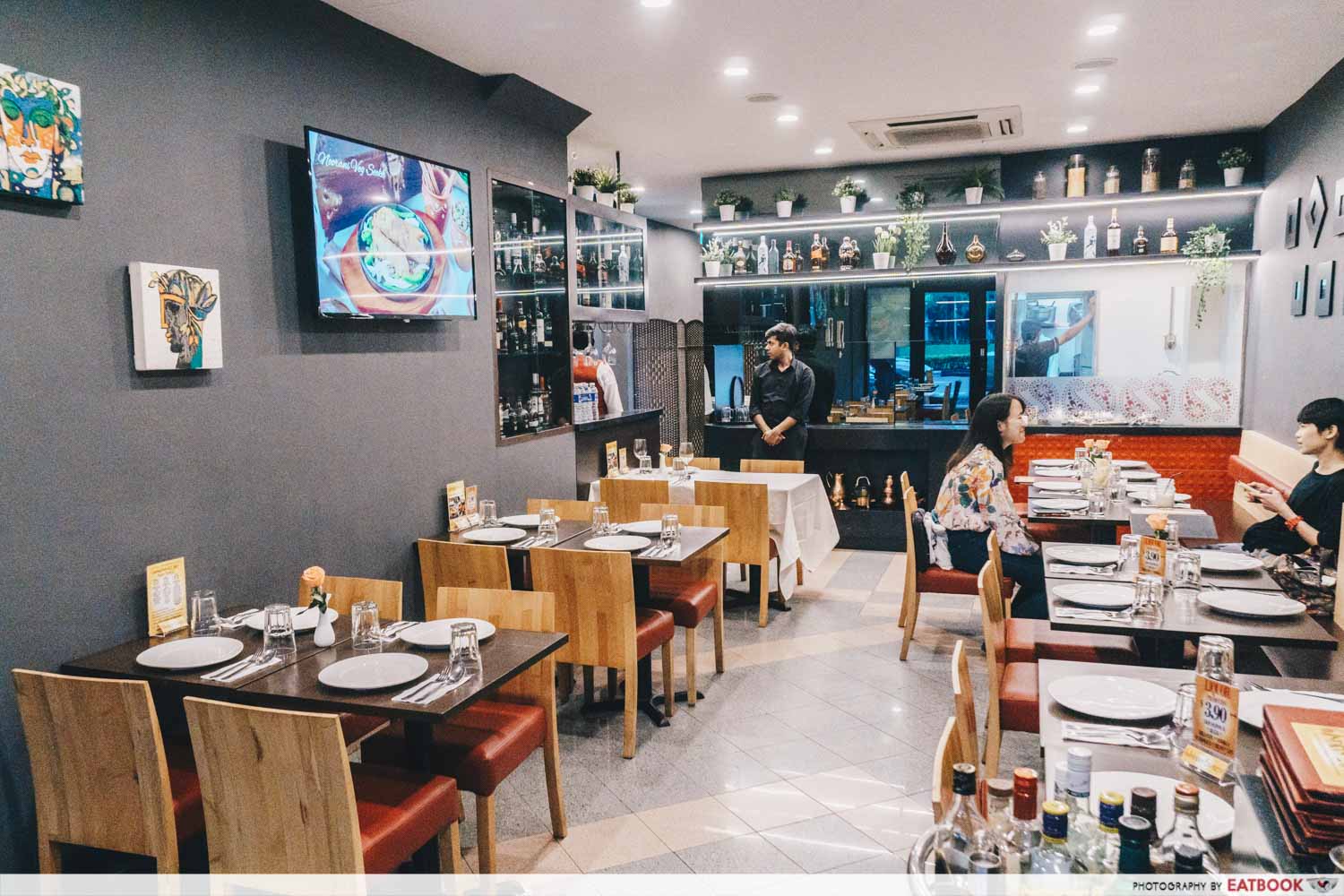 Led by Chef Manjunath Mural, One-Michelin-Starred The Song Of India has long been revered as one of Singapore's best spots for an Indian meal. The freshly-renovated Indian Express delivers that pedigree in a stylish yet affordable setting, as Chef Mural's protege, Chef Umed Singh, serves up authentic Indian flavours with finesse.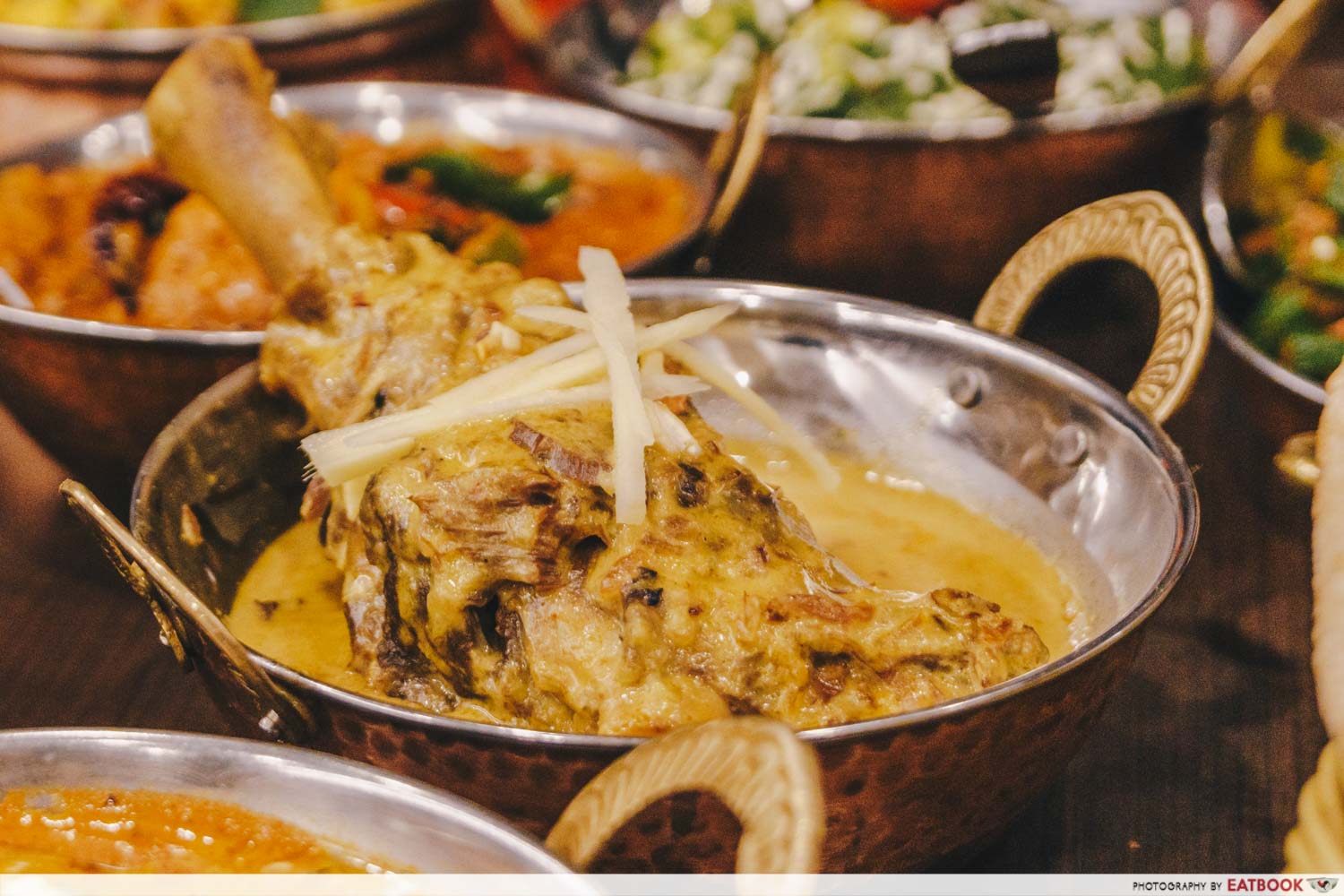 Curries in Singapore are too often oily and one-dimensional in flavour. Each curry we were served here was a breath of fresh air, from the smoky Butter Chicken ($14++) and devastatingly aromatic Prawn Masaledar ($18++) to the surprisingly bright Lamb Shank ($16++).
For a crash course of their best meats, get a Tandoori Mixed Grill Platter ($19++), containing generous portions of juicy tandoori chicken and dish, as well as intensely spiced lamb kebabs.
Address: 38 Race Course Road, Singapore 218555
Opening hours: Daily 12pm to 11pm
Tel: 6341 7429
Website
---
Bonus 2: FatPapas
---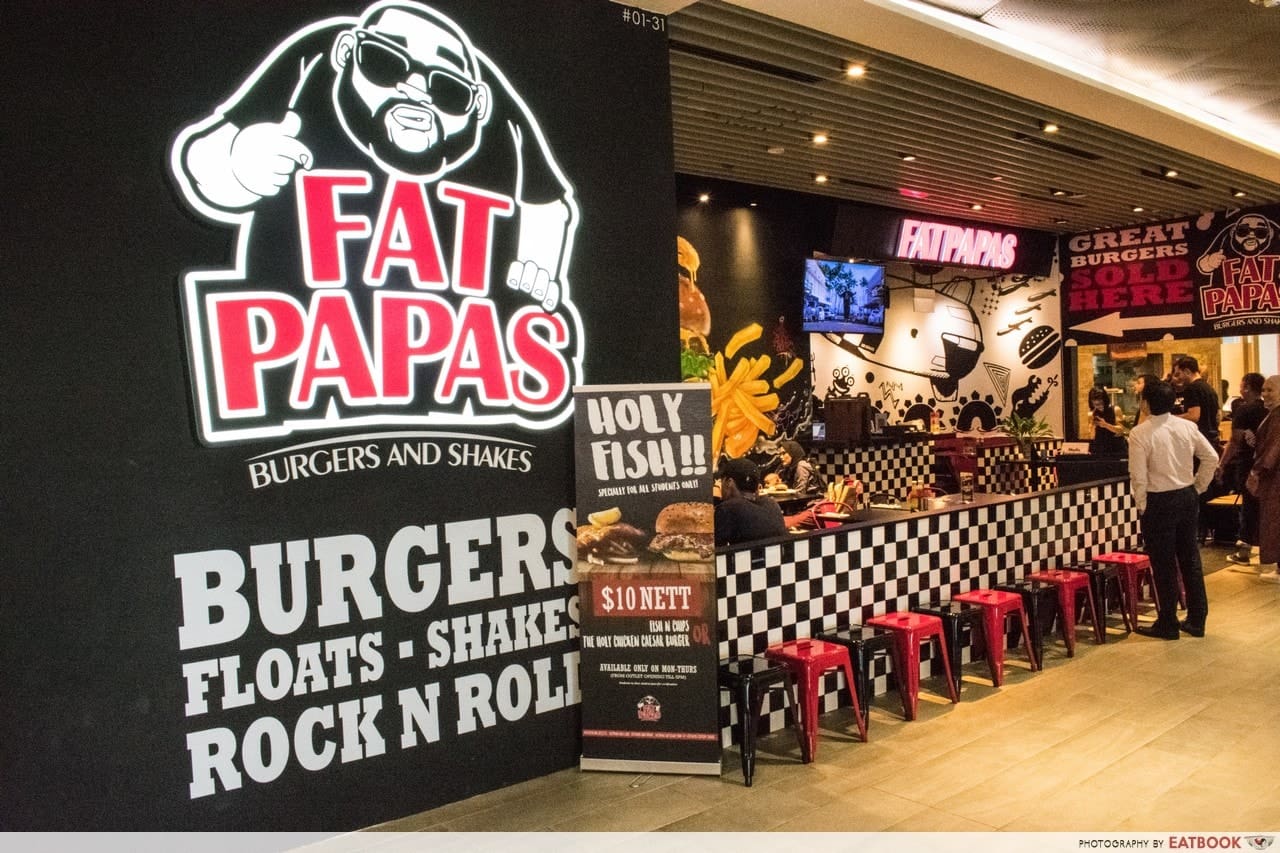 FatPapas is the place to visit for all burger addicts. They've recently introduced Impossible Foods into their lineup and boy, were we impressed. For the uninitiated, Impossible Foods are plant-based substitutes for meat products, making them a vegetarian-friendly option.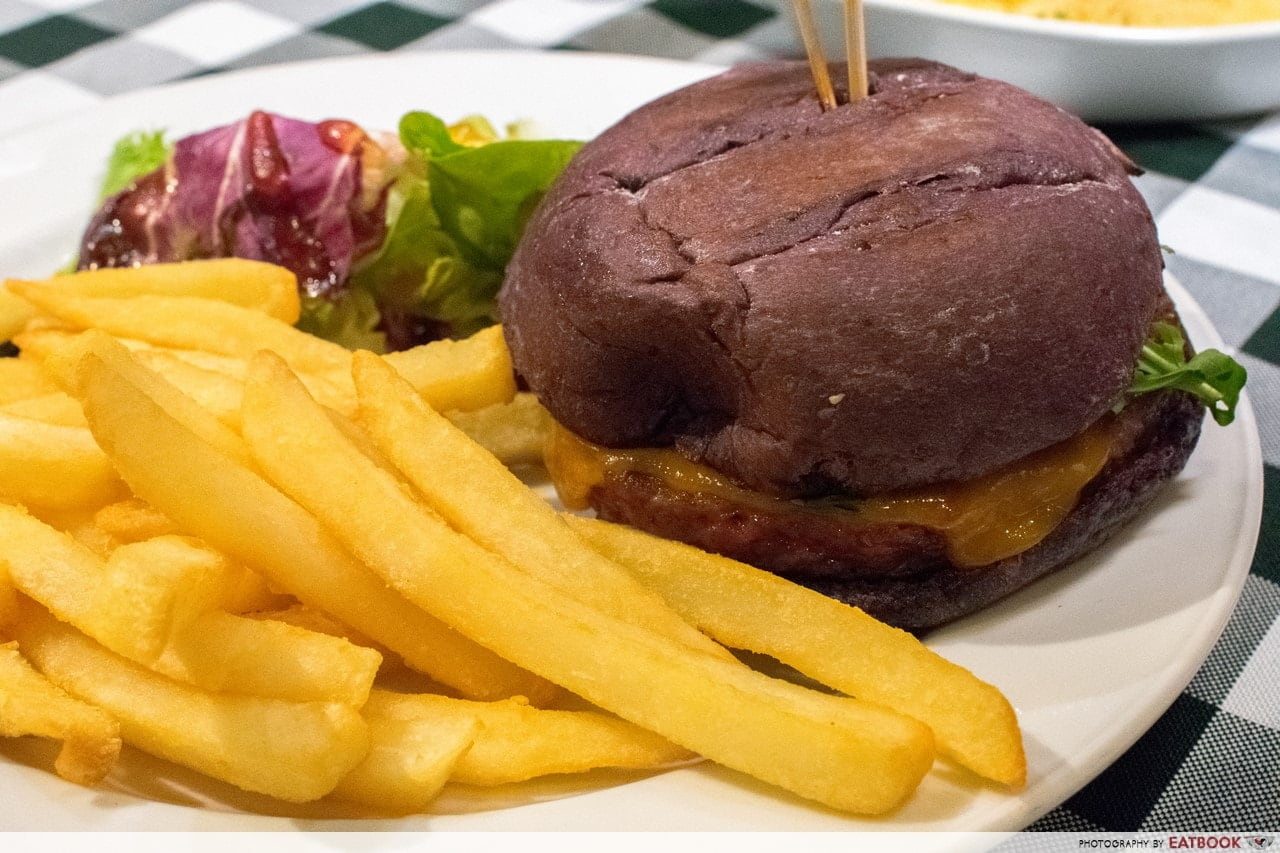 Currently, this extends to four items in FatPapas, with the Impossible Cheese Burger ($18++) impressing us the most. The patty tastes exactly like beef, which bodes well for vegetarians who might miss the taste of meat. This thick patty is sandwiched between Carbolite Chia Seed buns alongside melted aged cheddar and smoked Chipotle sauce.
Other selections include the Impossible Meatball Spaghetti ($18++) and the Impossible Chili Queso and Chips ($15.50+).
Address: 83 Punggol Central, #01-31, Singapore 828761
Opening hours: Daily 11am to 10pm
Website
---
Bonus 3: Brotzeit
---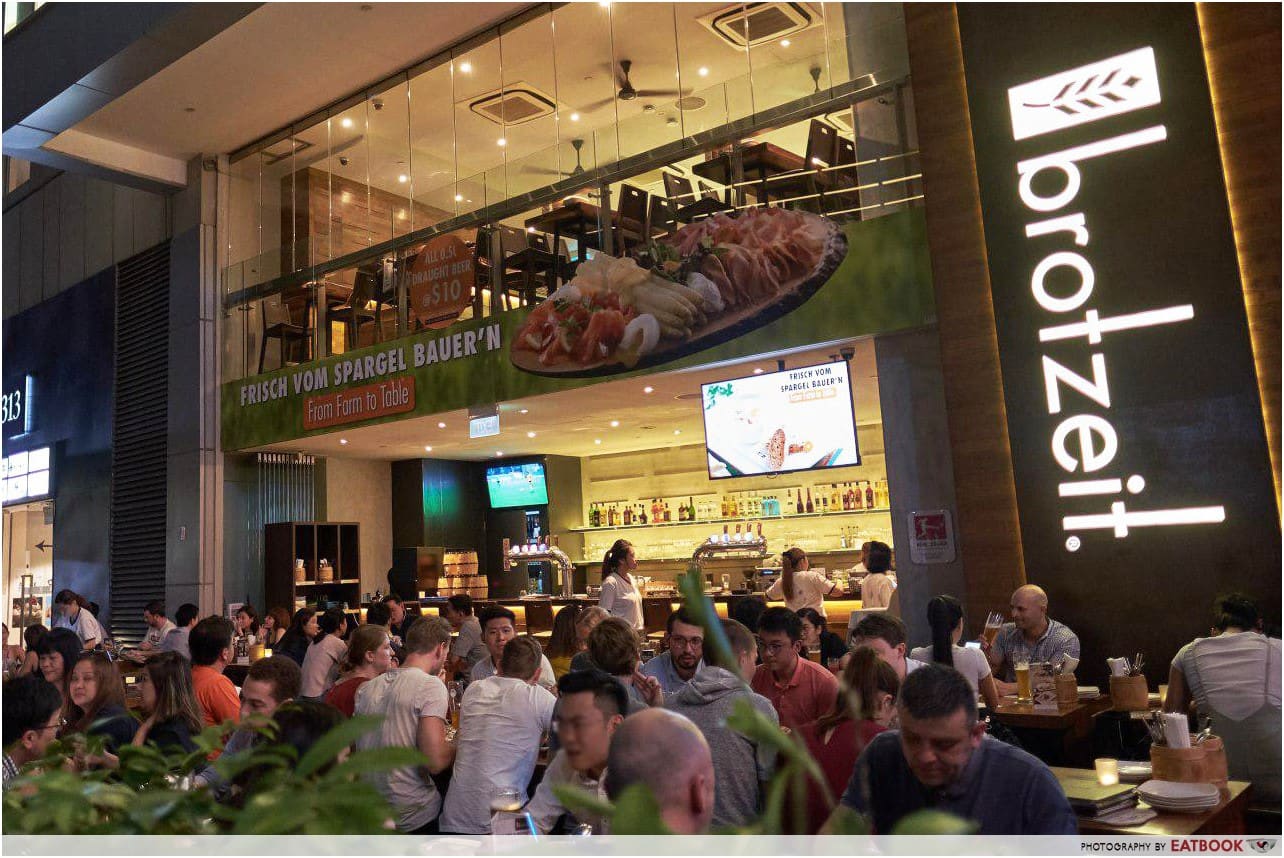 No stranger to the scene, Brotzeit is a frequent go-to for many when the German food cravings strike. They've recently introduced a seasonal white asparagus menu, which lets you try the rarely found veggie in various delicious forms.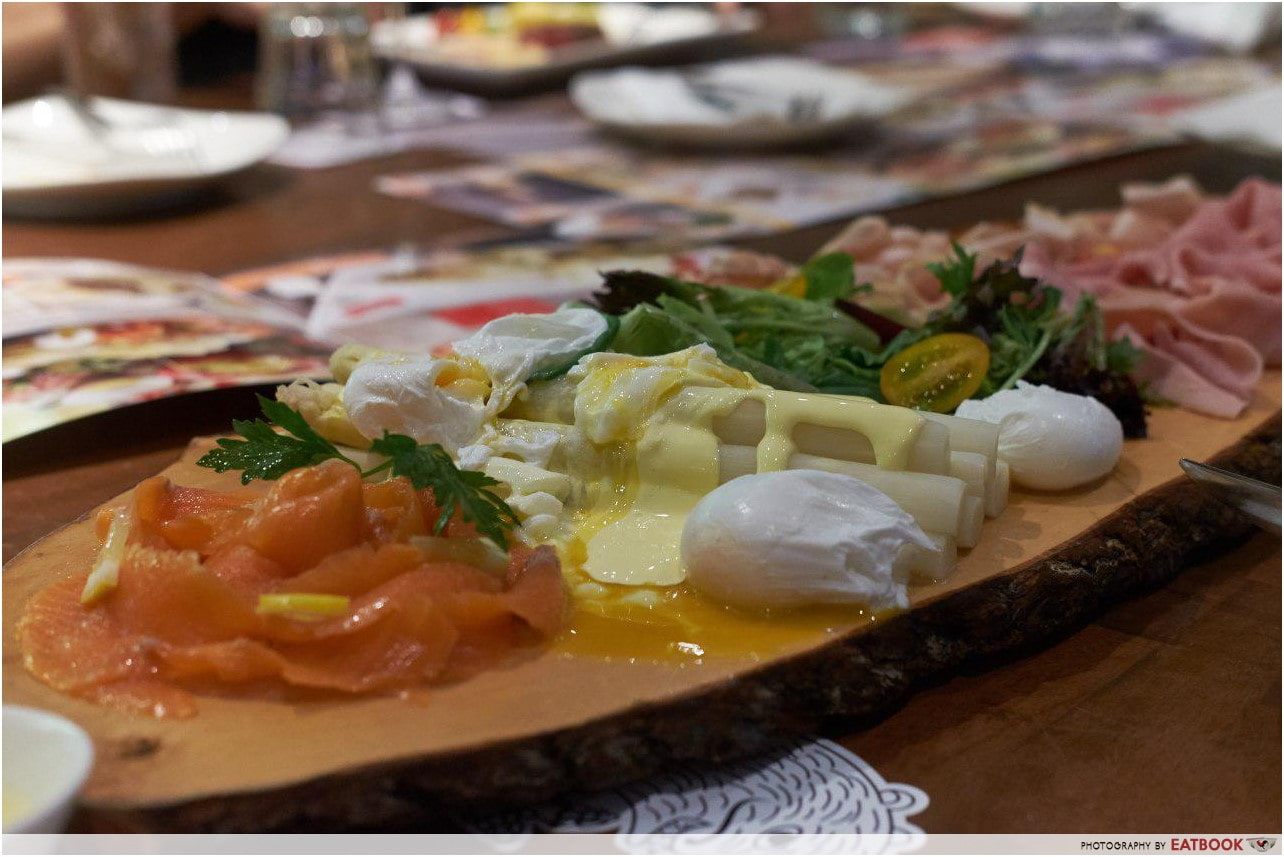 This huge sharing platter, Spargelplatte ($79++), comprises smoked salmon, two types of ham, poached eggs, potatoes, and 400g of white asparagus covered in hollandaise sauce. It's great for those who want to try white asparagus without forgoing other Brotzeit classics.
If you're more adventurous, go for the Zitronen Käse Creme Mit Spargel ($10++). This deconstructed lemon cheesecake comes with white asparagus ribbons, that add a refreshing touch to the dessert. Alternatively, get their Spargel Mit Rinderfilet ($39++) or Spargel Mit Barramundi ($32++), which offers white asparagus with beef tenderloin and grilled barramundi respectively.
Address: 313 Orchard Road, #01-27, Discovery Walk at 313@Somerset, Singapore 238895
Opening hours: Mon-Thur 11:30am to 12am, Fri 11:30am to 1am, Sat 10am to 1am, Sun 10am to 12am
Tel: 6834 4038
Website
Menu
Full list of outlets
---
Bonus 4: Bar Cicheti
---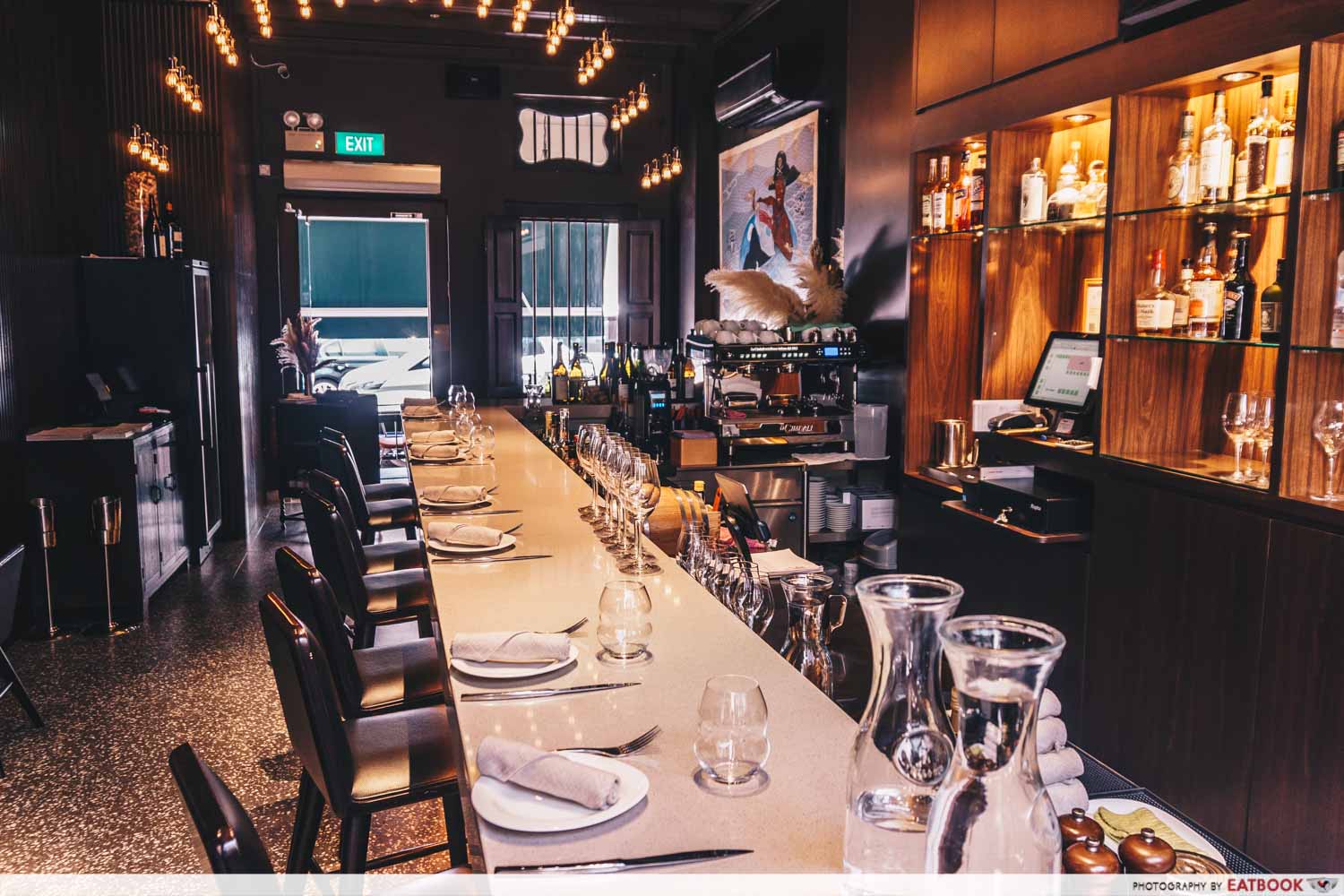 Bar Cicheti has undergone a minor menu revamp with upgrades on several crowd favourites. Owned by the same people behind Cicheti, the pasta at this small and cosy restaurant are all painstakingly handmade.
Helmed by Malaysian chef Lim Yew Aun,  this restaurant puts a slight Asian spin to its wide variety of pasta available.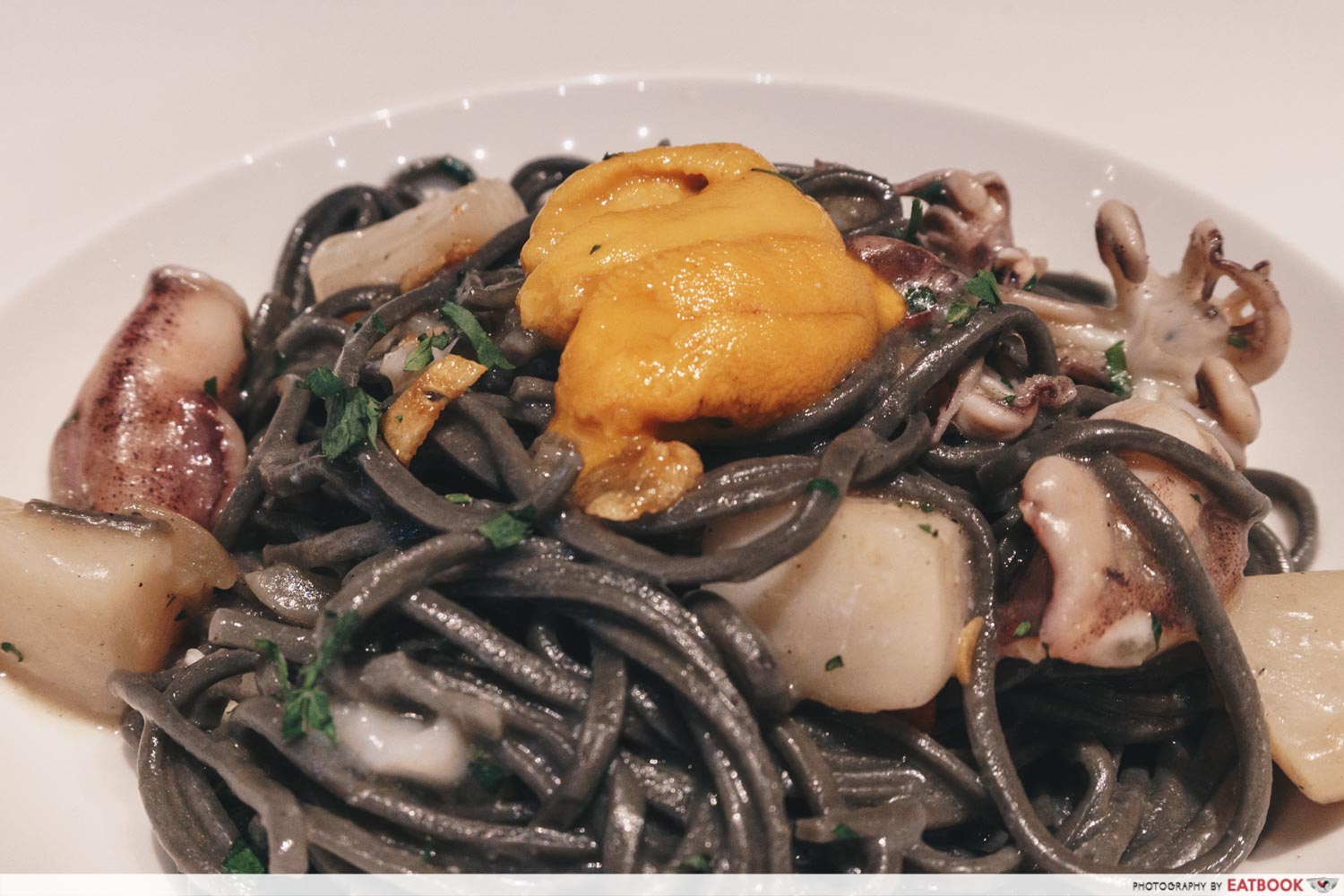 Tagliolini Nero ($22++/$35++) is a good example of this, with Hokkaido scallops, Indonesian squid, and Japanese Uni. Full of rich flavours, the noodles are enriched with an aromatic seafood bisque that packs a real briny punch. Our favourite component has to be the uni, which gives an extra depth of creaminess from the sea.
Address: 10 Jiak Chuan Road, Singapore 089264
Opening hours: Mon 6pm to 10pm, Tue-Sat 12pm to 2:30pm, 6pm to 11pm, Sun 11am to 3pm
---
Bonus 5: Lime Restaurant
---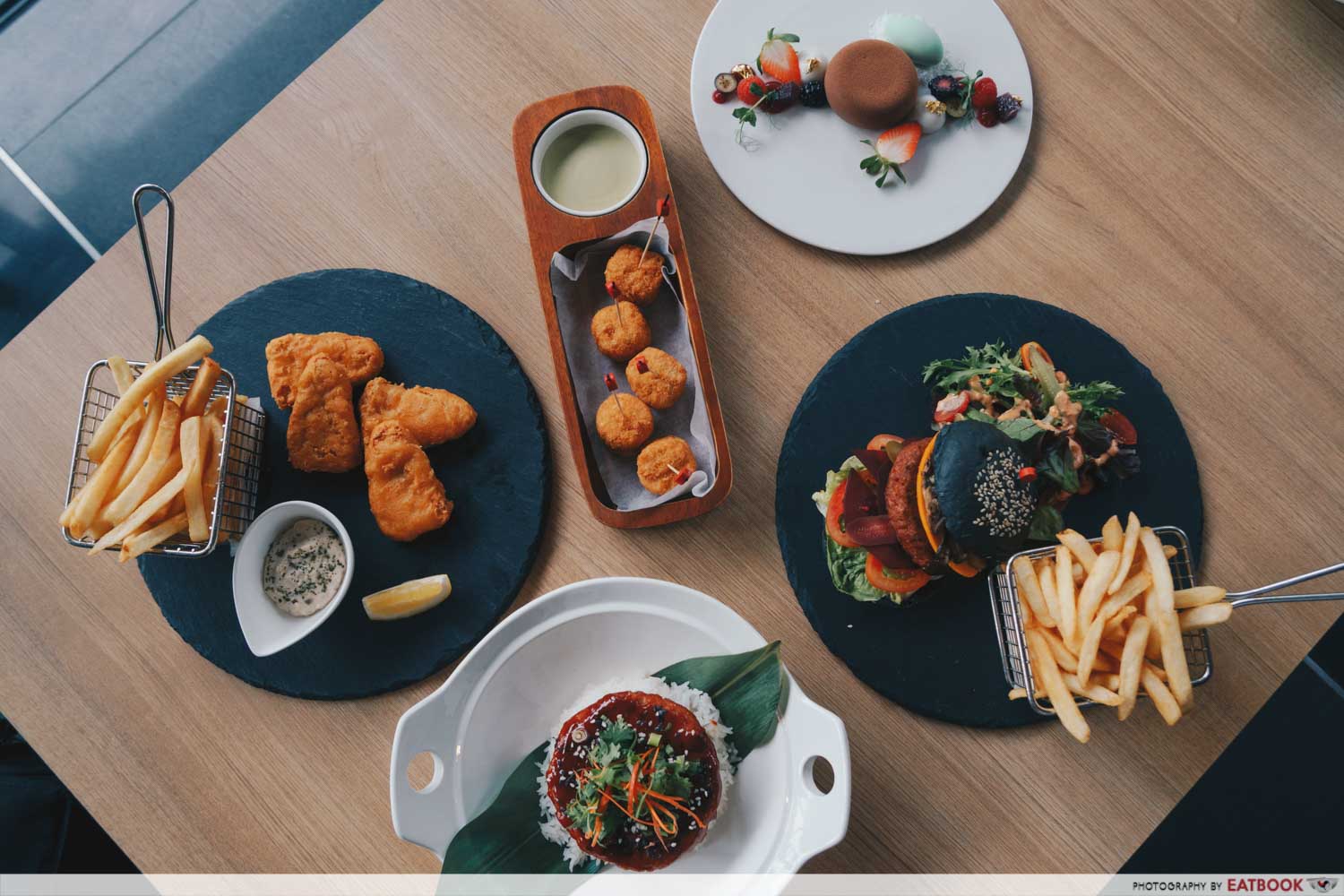 Lime Restaurant at PARKROYAL on Pickering has just introduced seven new vegan dishes to their menu, so you can jio your vegan friends here for a fancy meal together on special days. Start your meal with their Wasabi Crab Meatball ($18++ for six pieces). Made with soy and chickpeas, this chubby treat will kick-start your appetite thanks to the piquant wasabi.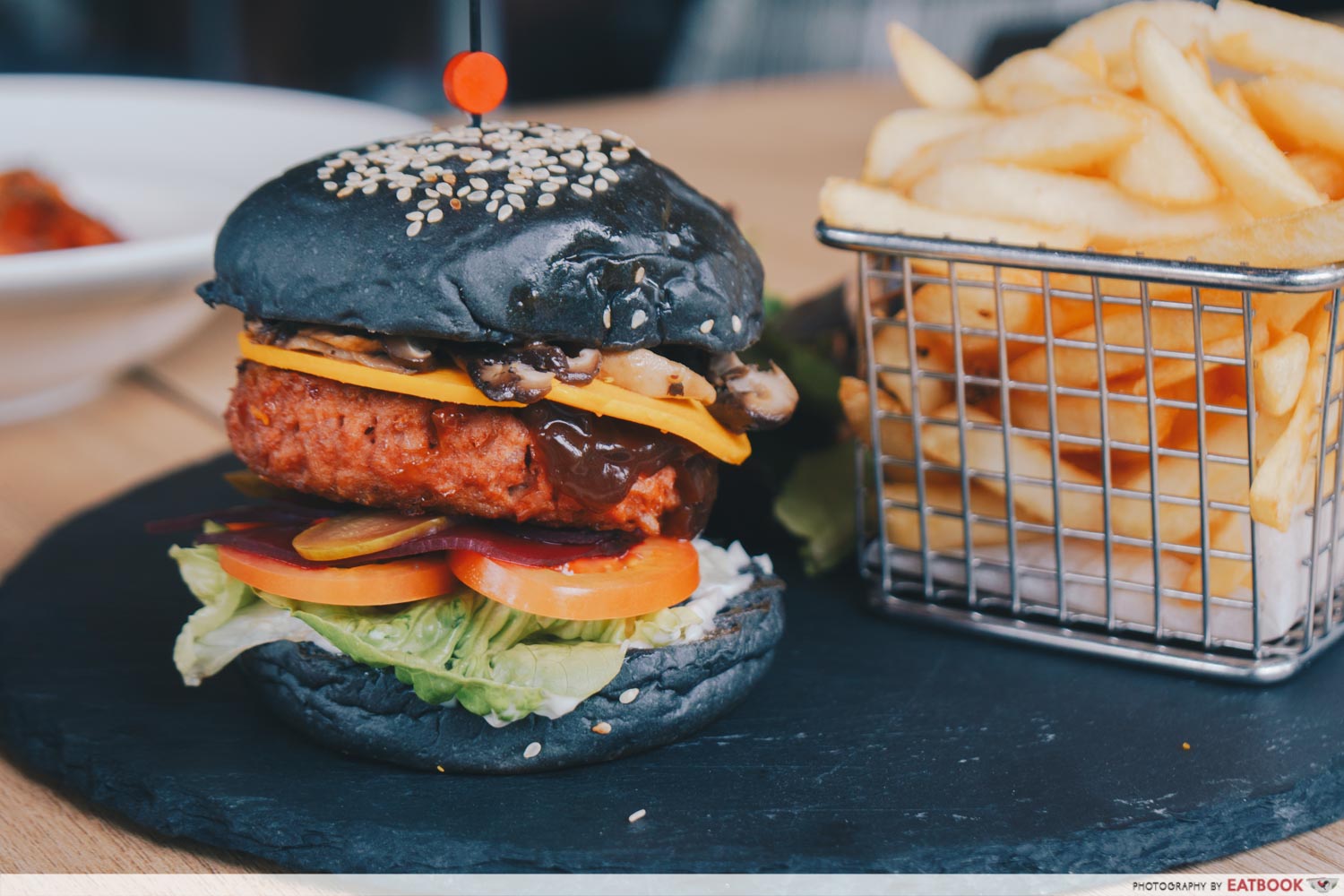 There are four mains to choose from, with the highlight being The Beyond Burger ($27++). Served with fries and salad, this hearty burger comes with a plant-based patty that tastes like a mix of pork and beef. Coupled with the rich sauce, this is one vegetarian dish that even carnivores might find hard to reject. Their Coconut Chocolate Mousse Cake ($18++) is served with refreshing lemon-lime sorbet, and both vegetarians and meat lovers will be able to enjoy it the same.
Address: 3 Upper Pickering Street, Singapore 058289
Lunch and dinner hours: Mon-Fri 12pm to 2:30pm, 6:30pm to 10:30pm, Sat 12pm to 10:30pm, Sun 12:30pm to 2:30pm, 6:30pm to 10:30pm
Tel: 6809 8899
Website
---
Bonus 6: No Milk Fish Soup and Bistro
---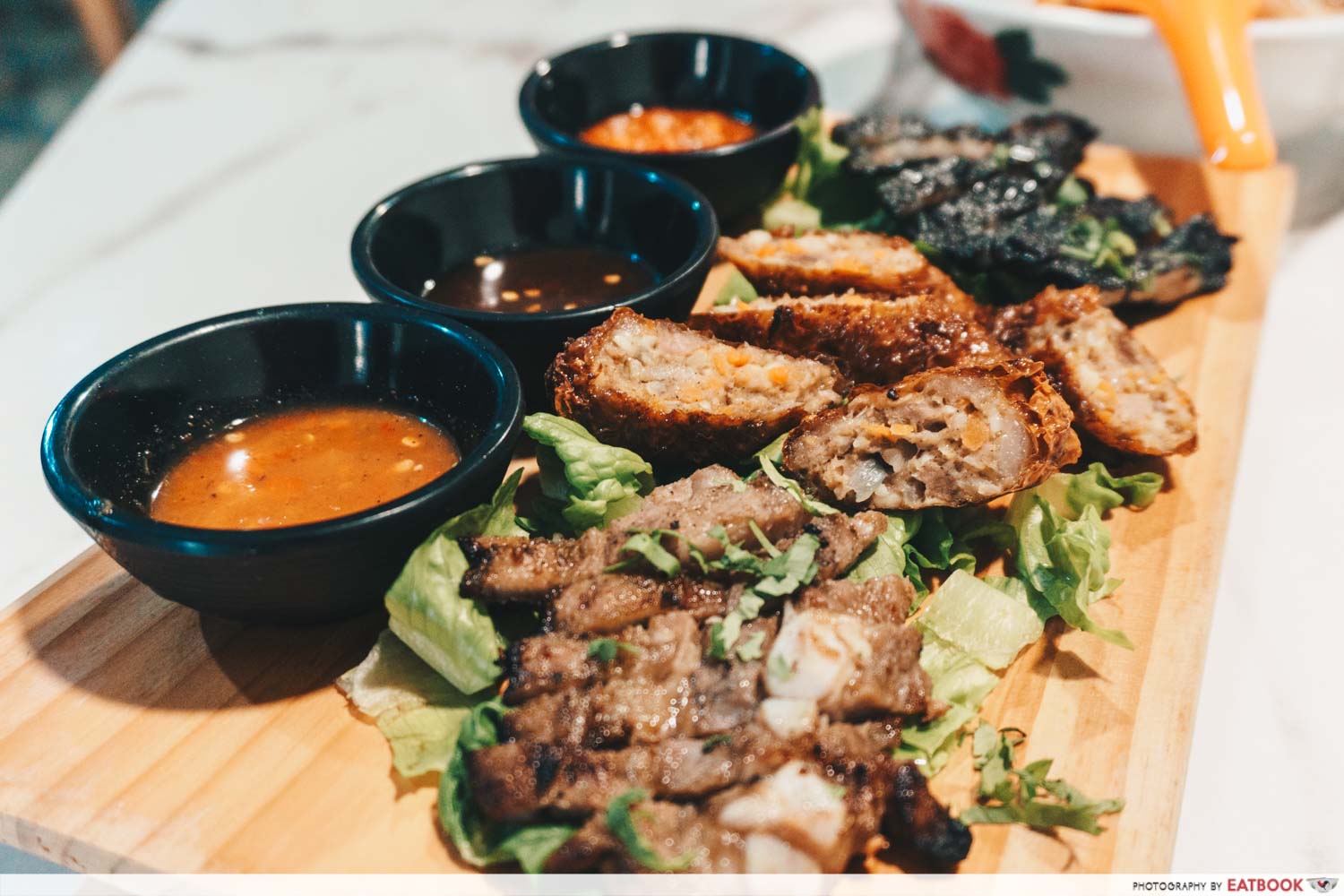 No Milk Fish Soup and Bistro cooks up a sumptuous clear fish soup without the addition of evaporated milk. Enjoy the best of both worlds with their Mixed Fish Soup ($7), which stars tender slices of mackerel and chewy pieces of fried sea bass.
But it's at night when the store comes to life, as it transforms from a fish soup stall into a classy bistro. Jio your friends down for a pint and chill at the rooftop bar with their various bar snacks. Chomp down on their Homemade Black Charsiu ($12.80) and relish its sweet and mildly spicy notes.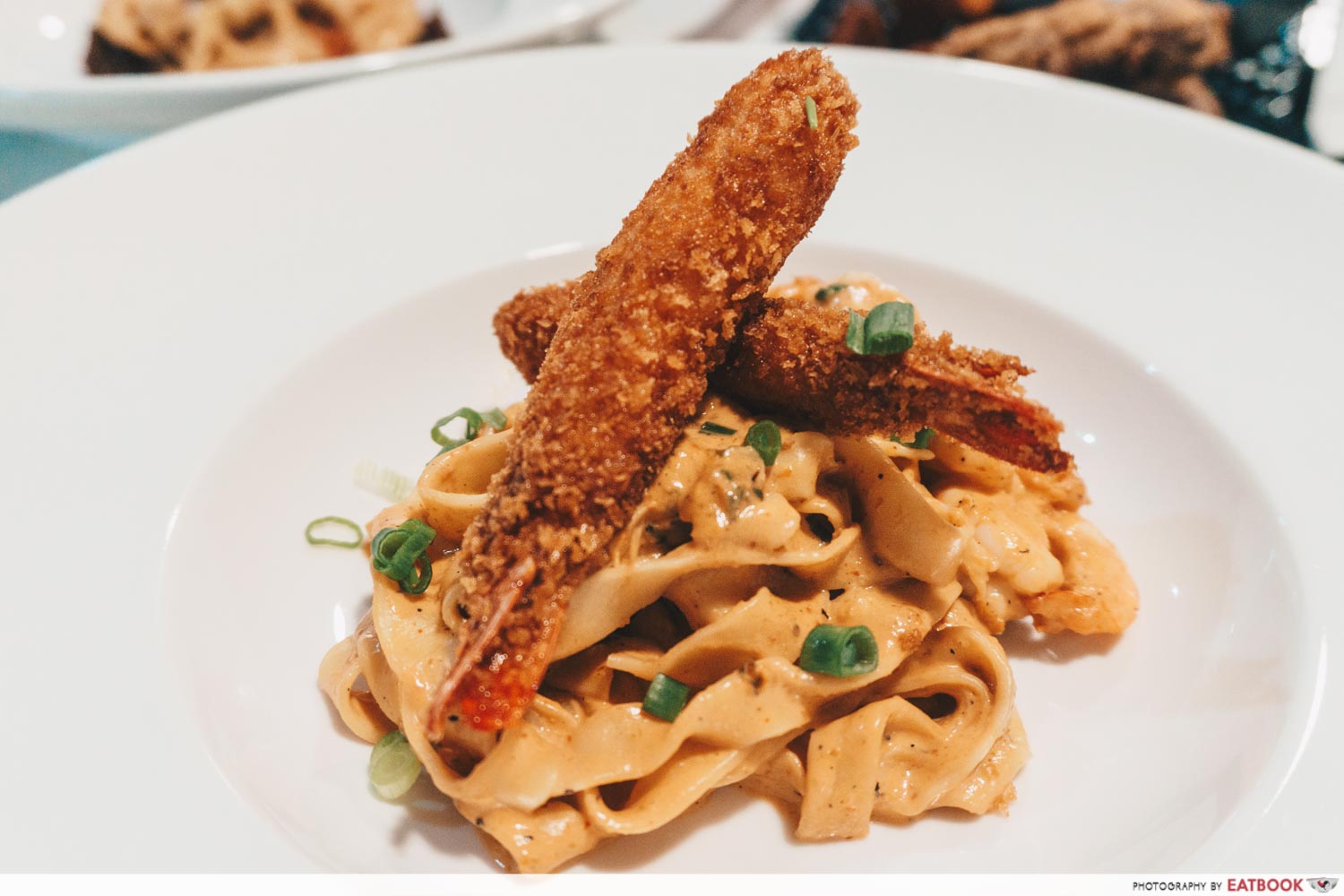 While their finger food is pretty addictive, be sure to leave room for mains such as their Thai Red Curry With Tiger Prawns ($18.80)! The house-made tagliatelle is incredibly bouncy, with its eggy flavour contrasting superbly with the tangy red curry. Furthermore, the prawns are brined prior to frying, so you can look forward to the succulent bite of the deep-fried prawns.
Address: 18 Pahang Street, Singapore 198615
Opening hours for No Milk Fish Soup Boutique: Mon-Fri 11am to 10pm, 5:30pm to 10pm
Opening hours for No Milk Rooftop Bistro: Mon-Fri 5pm to 12am, Sat 5:30pm to 12am
Tel: 6291 5854
Website
---
New restaurants in May 2019
---
With so many options to choose from, you won't have to scream "Mayday" if bae asks for a new place to eat at. Whether it's delicious Thai food at Penguin's Kitchen or tasty pasta at Bar Cicheti, KIV this list for your next makan sesh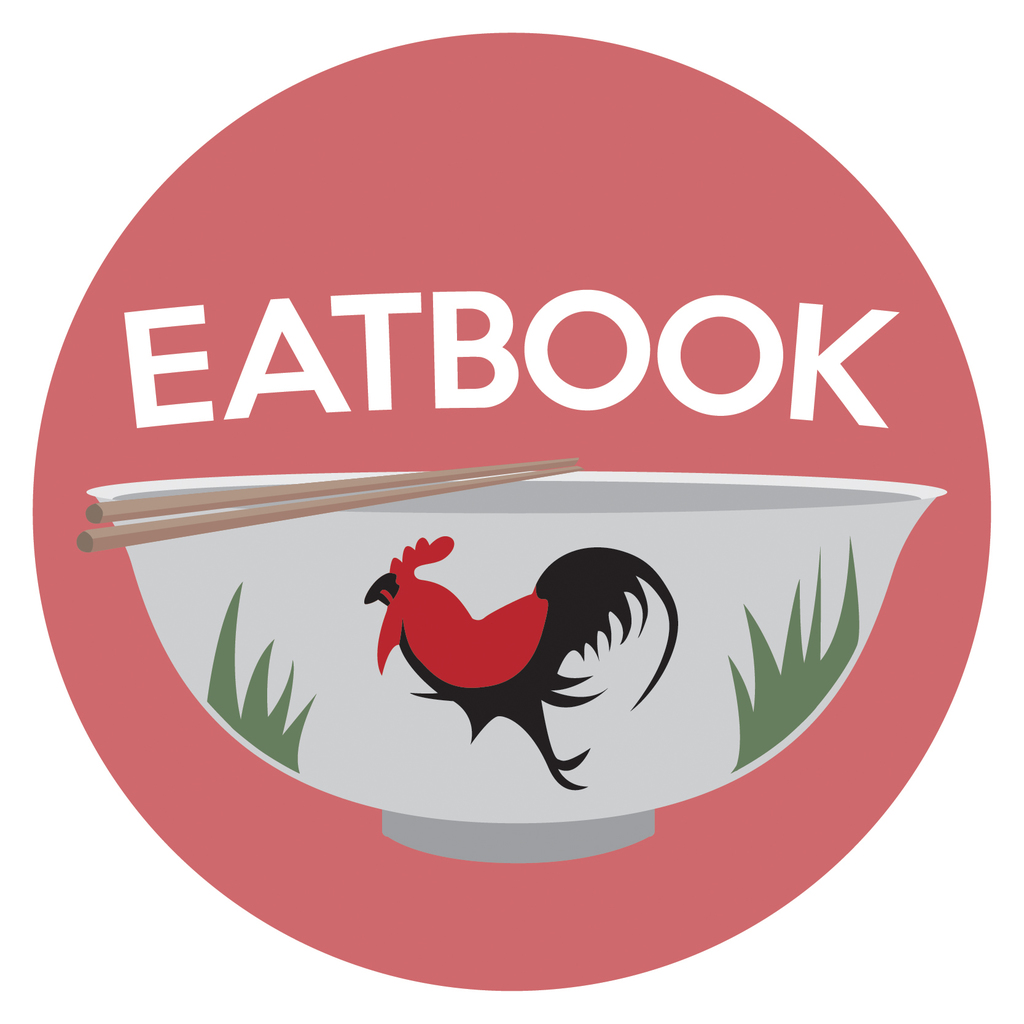 Drop us your email so you won't miss the latest news.