---
New restaurants in October 2019
---
It's time to wake up 'cause September has ended, bringing with it the last quarter of 2019. As you start using your remaining offs, be sure to set aside some time to give your belly some TLC at these places selling the likes of uni ramen, artisanal desserts, and free-flowing foie gras. Here are 10 restaurants in October 2019 you can dine at to treat yo'self.
---
1. Seizan Uni Ramen
---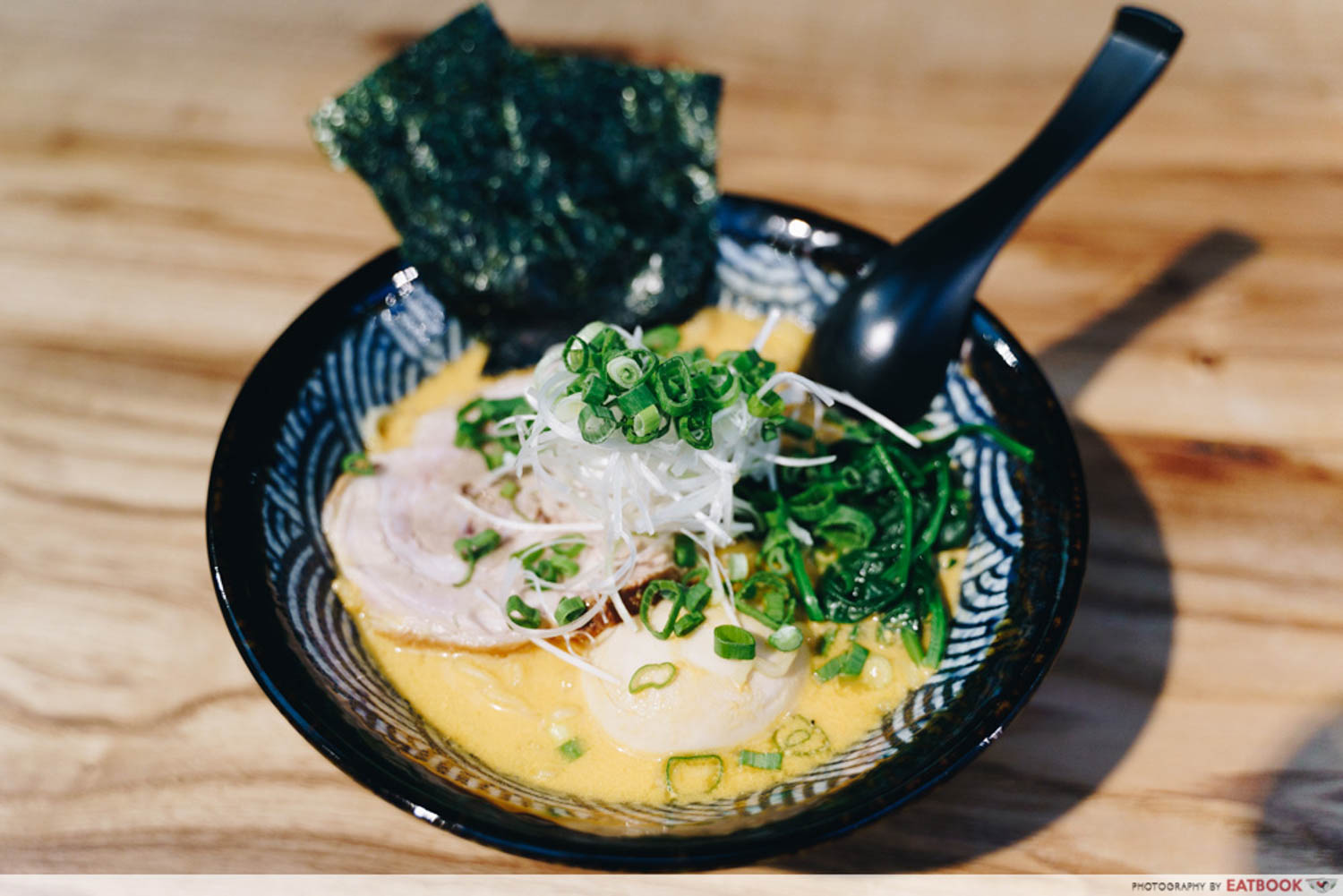 Using the dashi from two Micheli-starred kaiseki restaurant, Seizan, in Tokyo, Seizan Uni Ramen combines this light-tasting broth with creamy uni and cream for an interesting Uni Ramen ($21).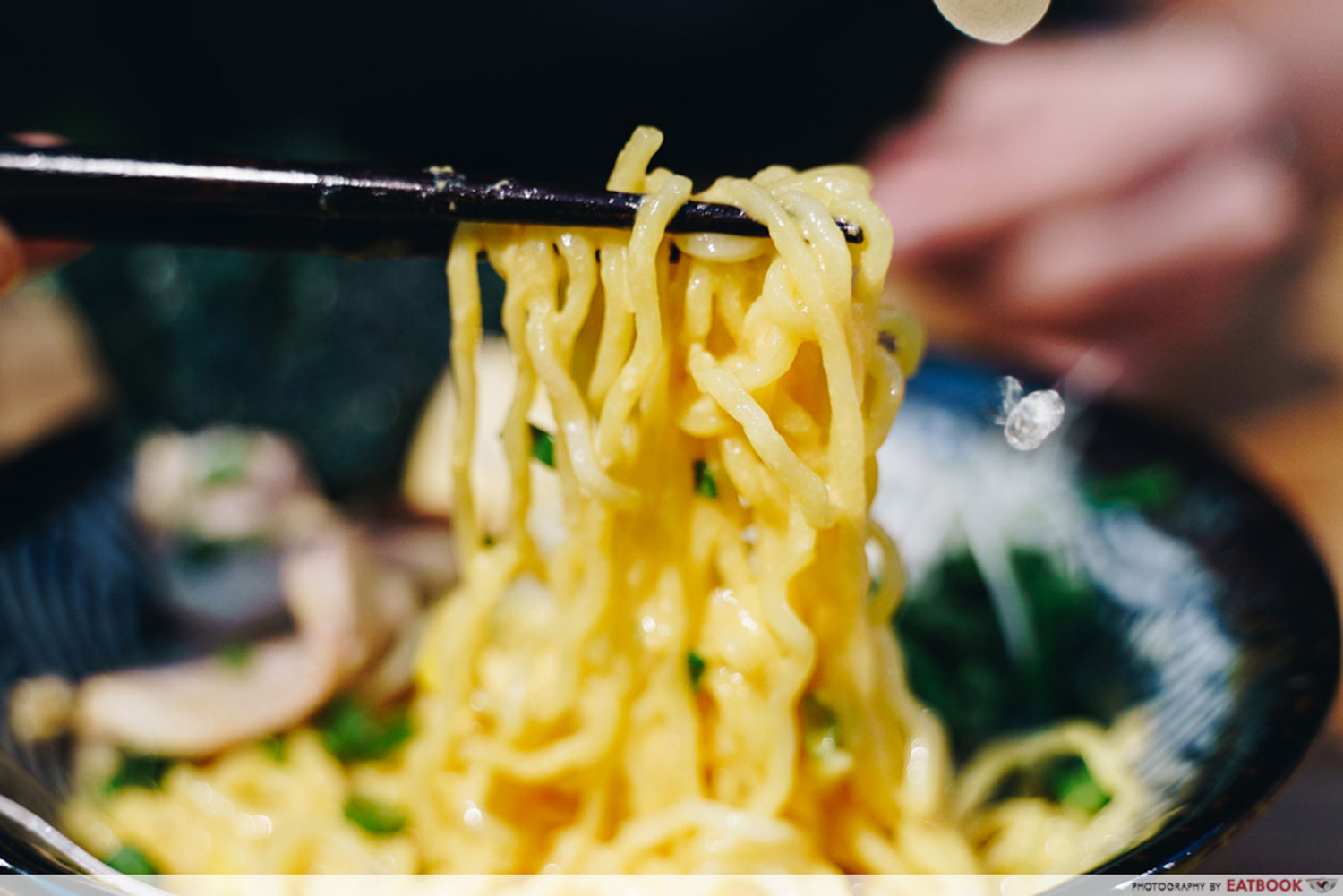 You might want to slurp the noodles fast though. These specially-imported noodles are sourced from Tokyo for its ability to soak up the rich and flavourful umami-laced soup. On top of that, the store also sells a hearty bowl Kumamoto Wagyu Ramen ($20) and a clean-tasting Dashi Somen ($18).
Read our full review on Seizan Ramen here! 
Address: 435 Orchard Road, #03-15-49, Picnic, Wisma Atria, Singapore 238877
Opening hours: Daily 11am to 10pm
Tel: 6734 8352
Website
Seizan Ramen is not a halal-certified eatery.
---
2. Baker & Cook and Plank Sourdough Pizza
---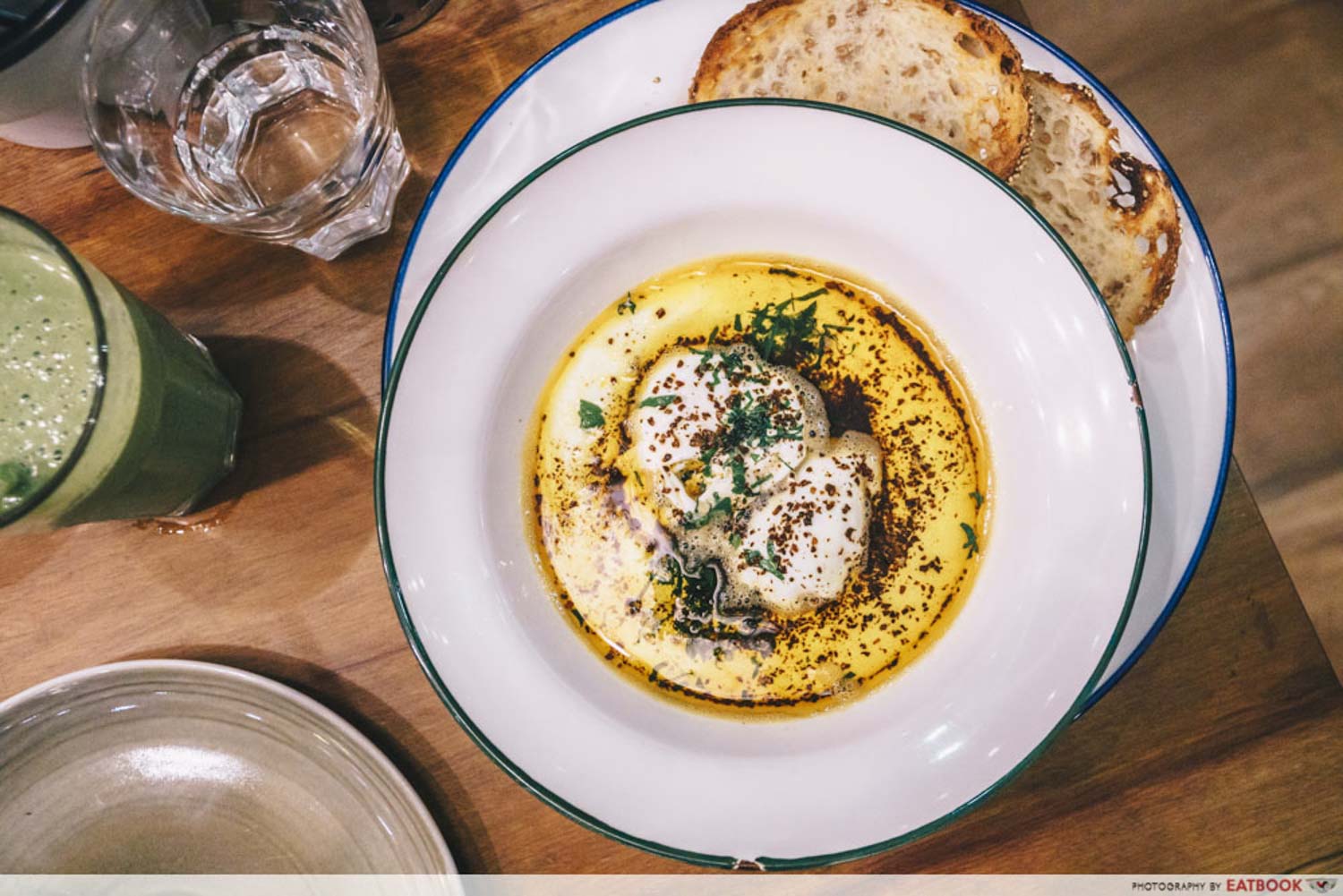 Housed in a gorgeous glasshouse, Baker & Cook and Plank Sourdough Pizza have joined hands to offer a range of comforting meals at Dempsey. If you're here for brunch, be sure to try their Peter Gordon's Turkish Eggs ($22++), which comes with two slices of Dempsey Sprouted Wheat Sourdough that's exclusive to this outlet. This vegetarian dish offers whipped Greek yoghurt topped with poached eggs and a generous drizzle of brown butter-Aleppo pepper oil sauce.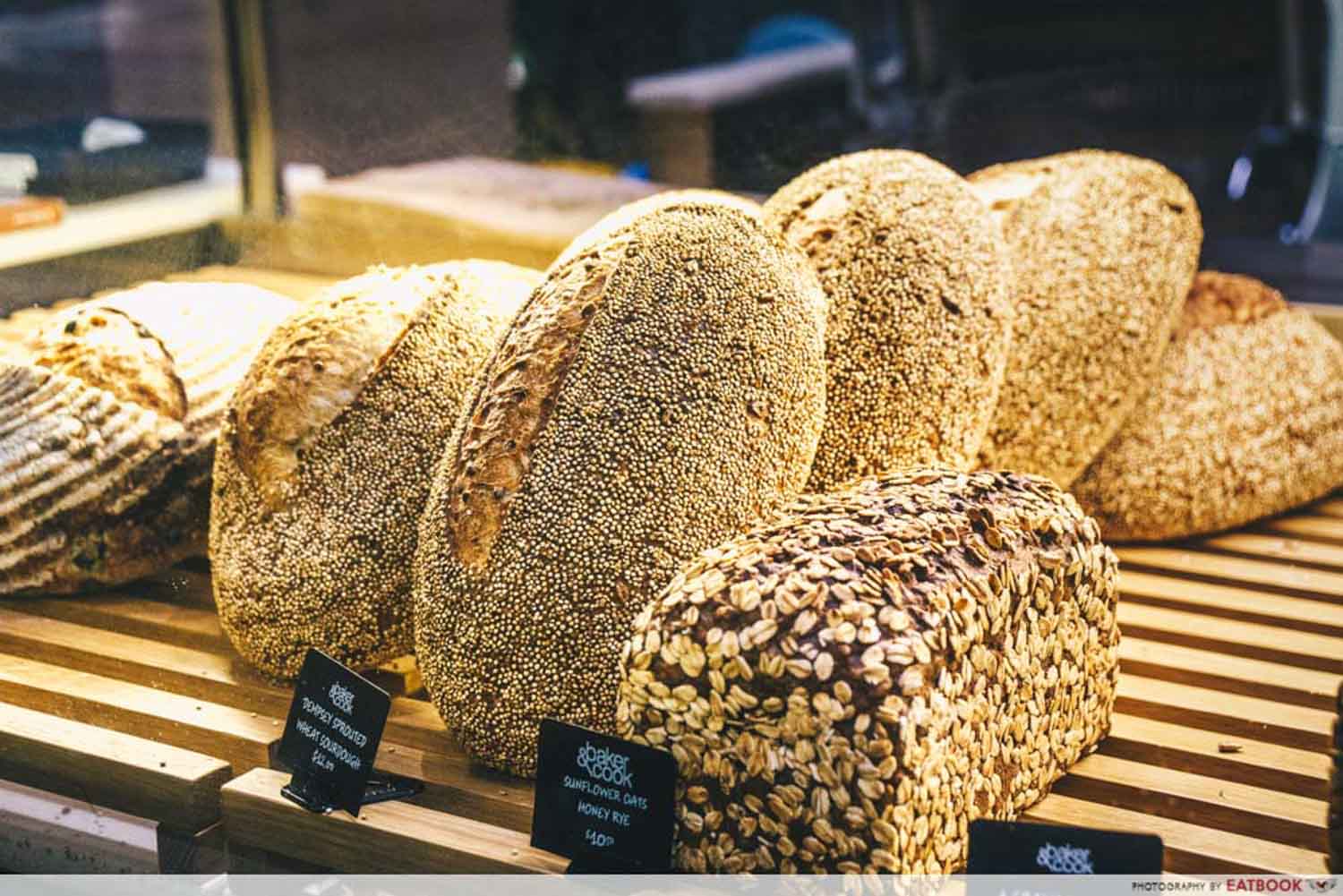 While their lunch and dinner menu offers the usual meats and fish, a must-try is the Blackened Corn Barley Risotto ($25++). Goat's cheese is the highlight of this dish, as it provides every mouthful with that addictive creaminess that gives balance to the vegetarian dish. Before you leave, I'd recommend getting their Dempsey Sprouted Wheat Sourdough ($12) first. Made with sprouted whole wheat berries, this is a dense and delicious loaf that you'd be hard-pressed to find elsewhere.
Address: 30C Loewen Road, Singapore 248839
Opening hours: Daily 8am to 10pm
Tel: 6251 1098
---
3. Origin + Bloom
---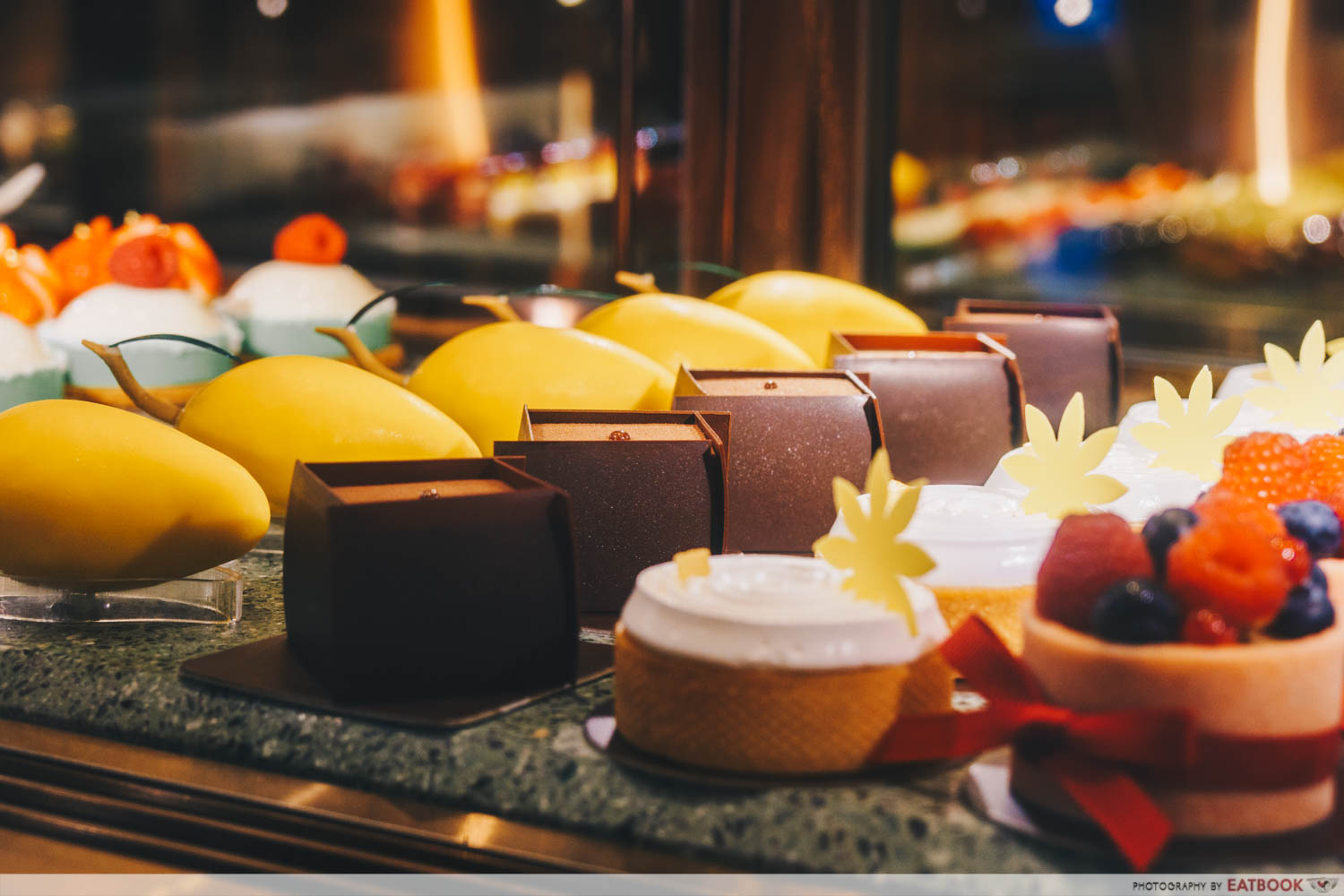 You won't feel like you've wasted your money when dining at Origin + Bloom, despite its high price tag. Located at chi-chi Marina Bay Sands, this new patisserie doles out gorgeous and tasty pastries, satisfying sandwiches, and surprisingly delicious ice-cream.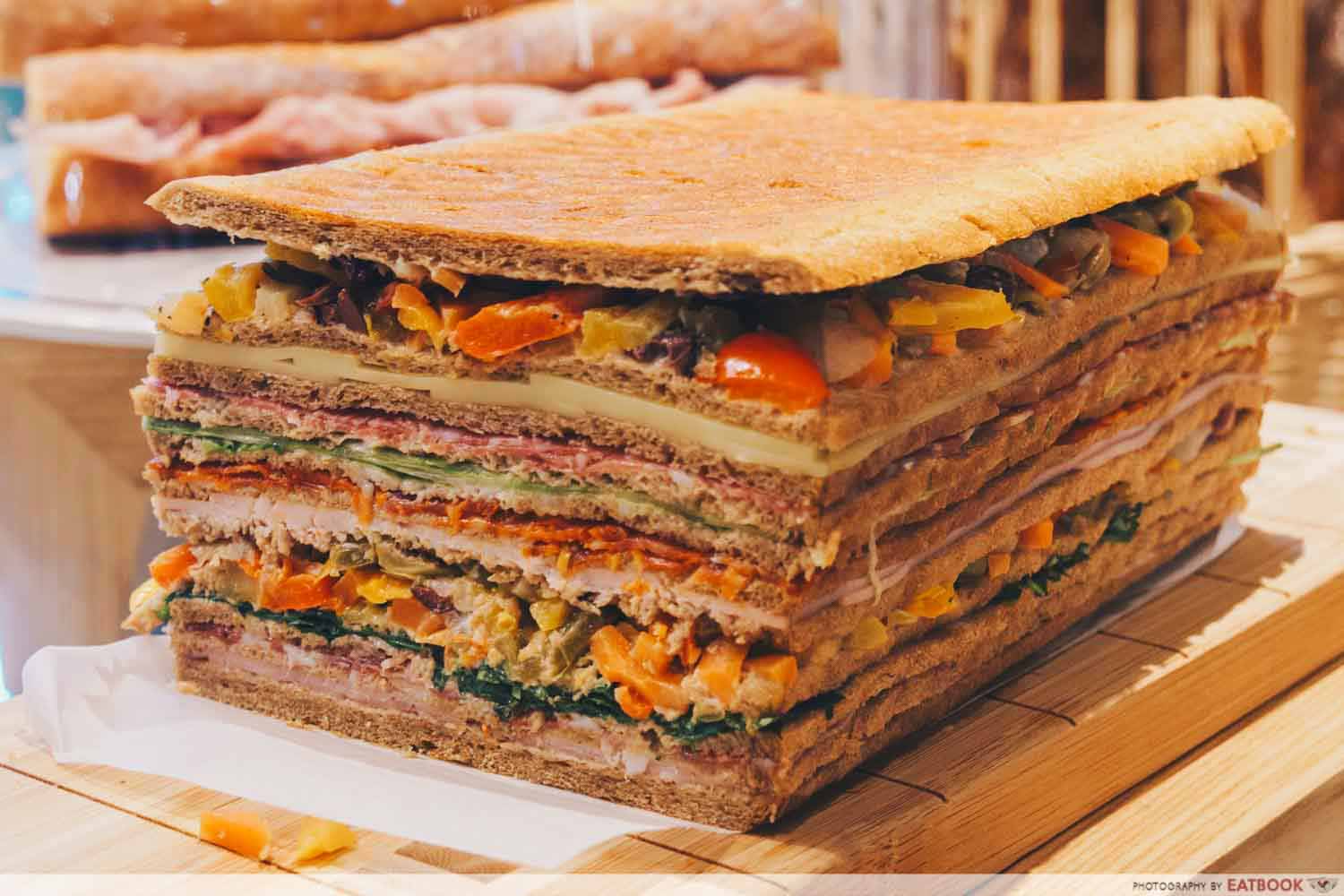 Open your mouth wide, and you will still have difficulty chomping down on The Whole 9 Yards (from $16++), which is a 20-layer sandwich comprising hams, sausages, pickles, greens, and cheeses. Desserts start from $9 a pop, and my favourite is the Mango ($10++), featuring a tangy mousse filled with passionfruit and lychee jelly encased in a yellow-hued chocolate shell. They also have a unique cold drip coffee with lemon juice, named Origin + Bloom Mazagran ($6++), that tastes absolutely refreshing. 
Address: 10 Bayfront Avenue, Lobby, Hotel Tower 3, Marina Bay Sands, Singapore 018956
Opening hours: Daily 7am to 10pm
Tel: 6688 8588
Website
---
4. 19TeaSG
---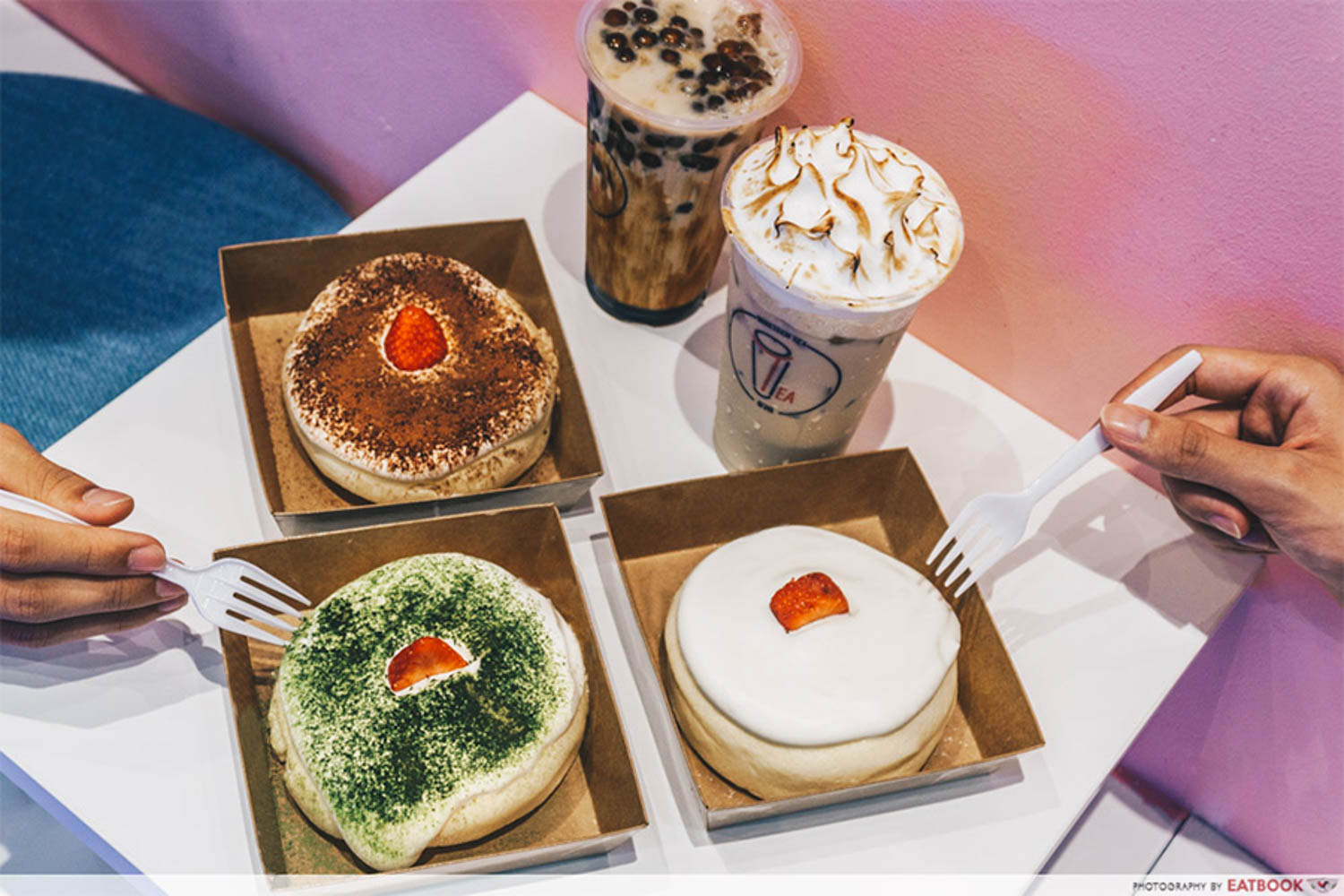 Affordable Souffle Pancakes are a bit of a rare find outside of pasar malams. But 19TeaSG at Our Tampines Hub offers three flavours of rich, sugary pancakes: Original ($3.90), Matcha ($4.20) and Tiramisu ($4.20).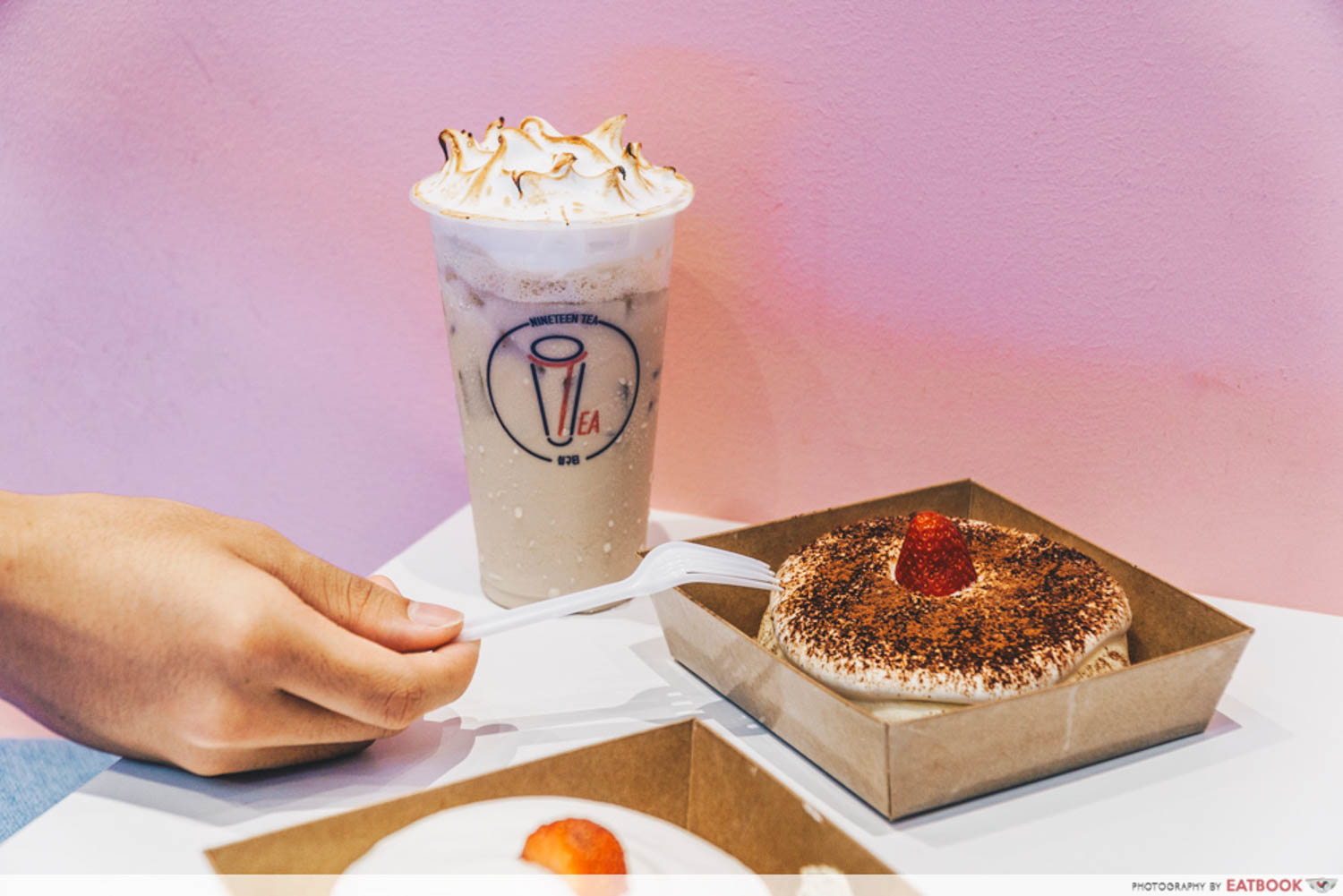 You can wash down the decadent treats with a cup of their Meringue Milk Tea ($5.90), topped with a sugary potion of luxurious icing, or try out their Signature Milk Tea ($5.10) with thick brown sugar and golden pearls. 
Check out this list for more souffle pancakes!
Address: 1 Tampines Walk, #01-82, Our Tampines Hub, Singapore 528523
Opening hours: Daily 11am to 10pm
Website
---
5. Fancy At 15 Sunday Brunch
---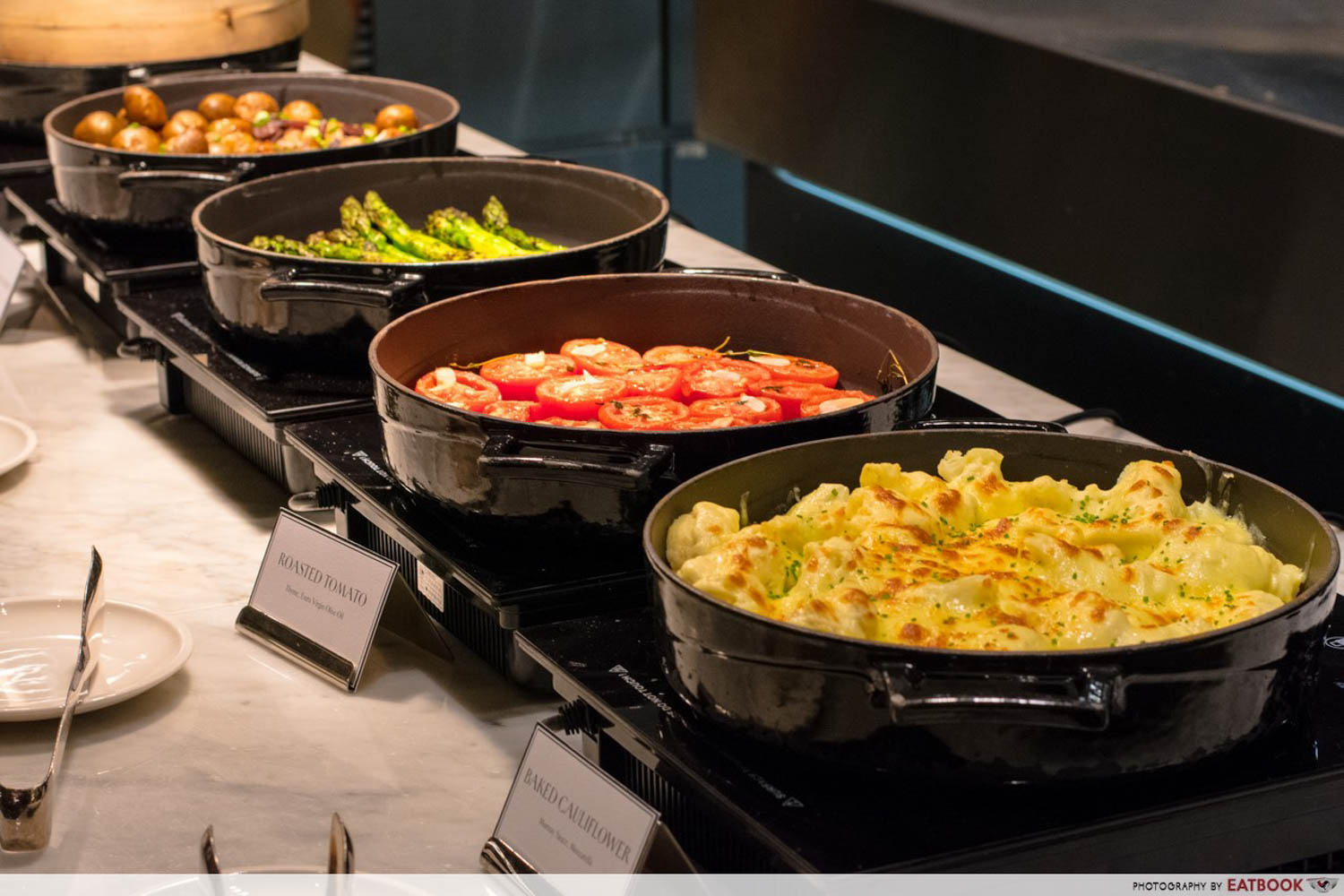 Sunday brunch doesn't have to be limited to usual Eggs Benny and pancakes, as shown by 15 Stamford by Alvin Leung's Fancy at 15 Sunday Brunch ($148++). The hearty spread comprises a slew of luxe dishes such as free-flow Wagyu beef cuts, foie gras, and sashimi.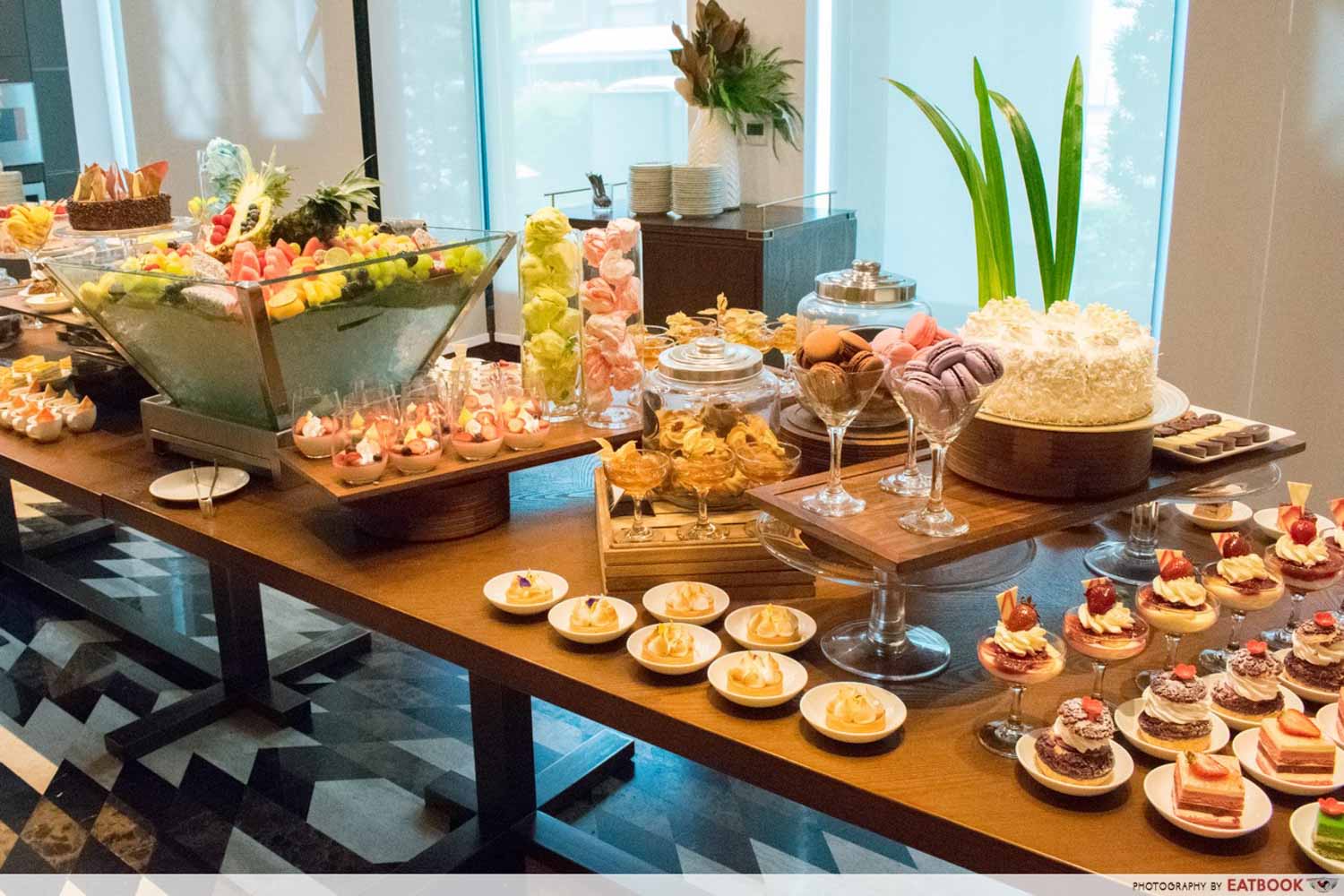 They even have an entire room dedicated to desserts where you'll find assorted macarons, creme brulee, and tarts. Crepe fans will be glad to know that there's also a live station where you can top these freshly made pancakes with the likes of banana rum raisin and peanut butter ice-cream.
Address: 15 Stamford Road, The Capitol Kempinski Hotel Singapore, Singapore 178906
Buffet hours: Sunday 12pm to 3pm
Tel: 6715 6871
Website
---
6. La Scala Ristorante
---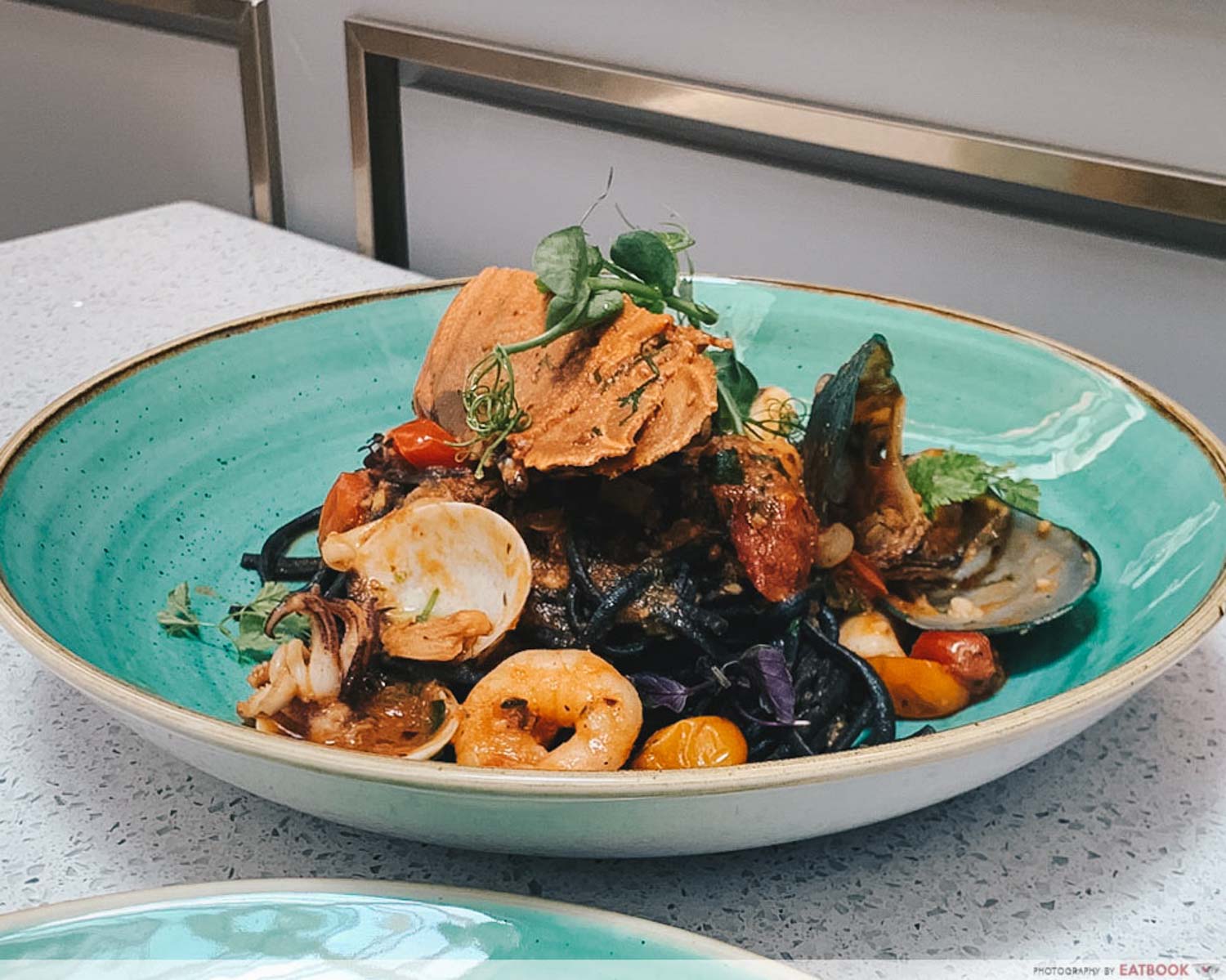 The Capitol Kempinski has a new restaurant again, and this time it showcases Italian cuisine. Named after Milan's opera house, La Scala Ristorante is a charming little restaurant, with a tiny sunroof allowing natural sunlight to pour, mimicking an alfresco experience.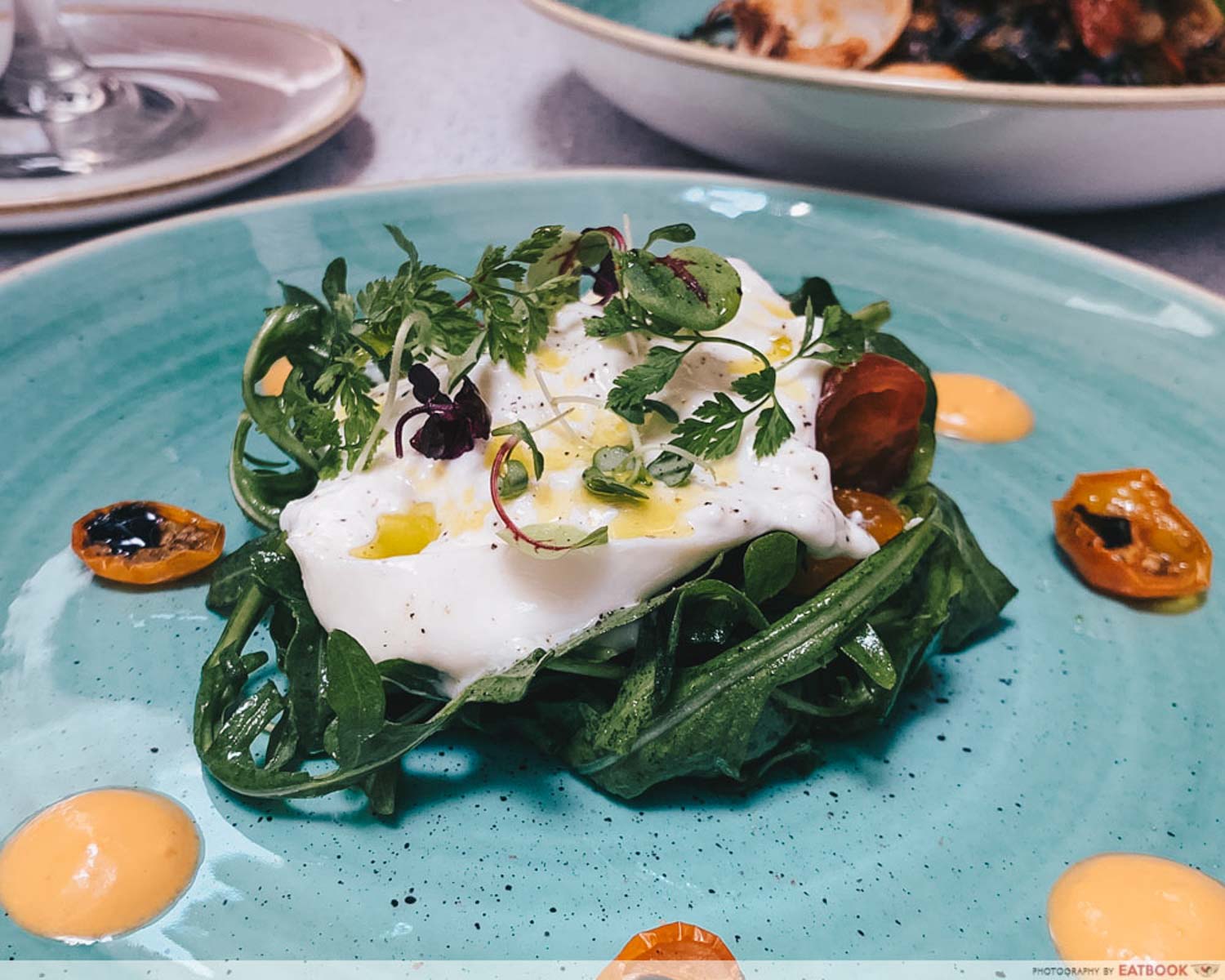 The food—such as this Burratina ($18++) that was a little too salty—isn't one of the best Italian food I've ever had, but the restaurant's ambience makes up for it. A dish that won't go wrong is the Linguini Nero di Mare ($26++), which comes with squid ink pasta tossed in a tangy tomato sauce, together with mussels, squid, clams, prawns, and crayfish. 
Address: 13 Stamford Road, #01-86, Arcade @ The Capitol Kempinski, Singapore 178905
Opening hours: Daily 11:30am to 2:30pm, 6pm to 10:30pm
Tel: 6715 6877
Website
---
7. Din Tai Fung
---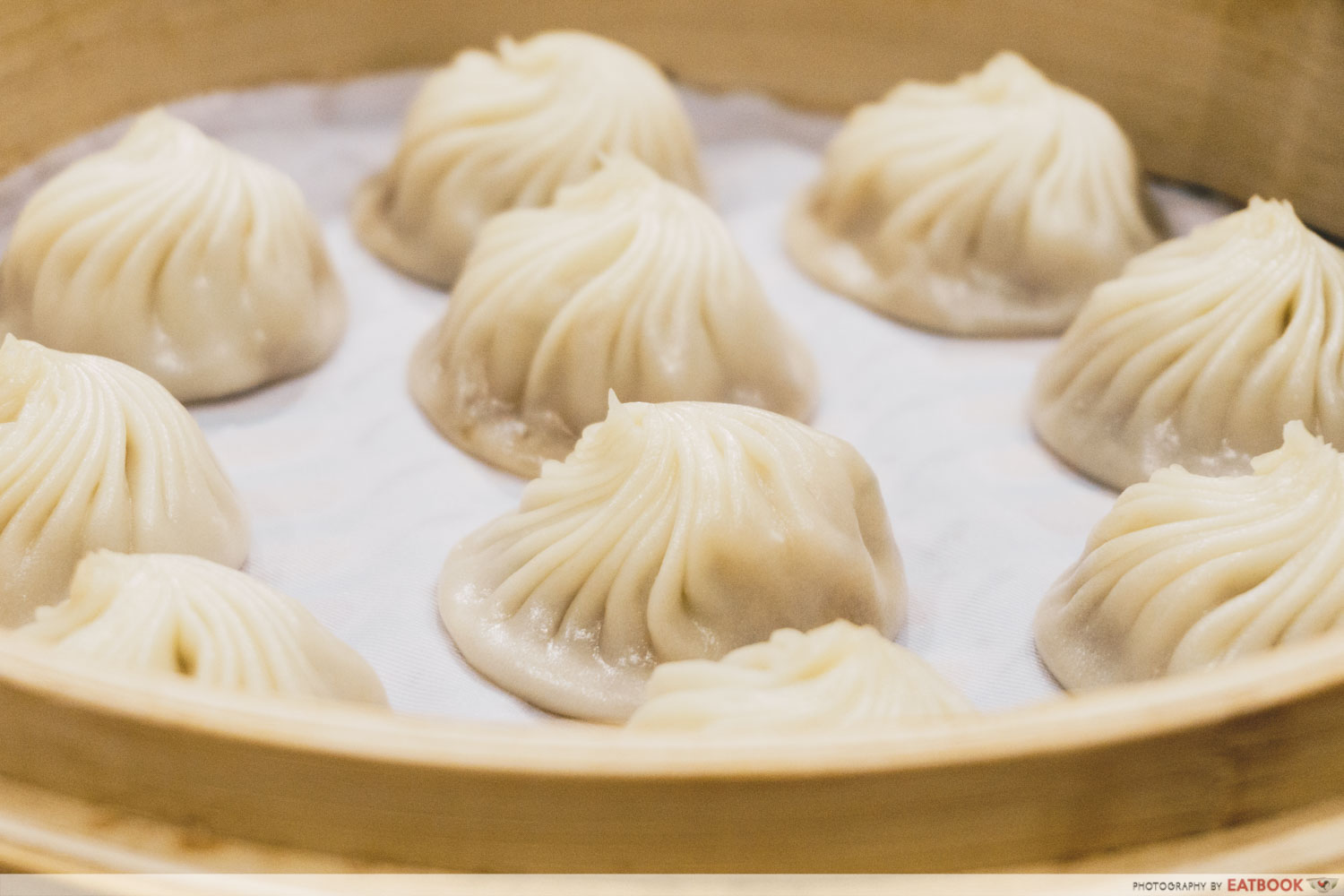 Din Tai Fung is well-known for their dainty xiao long bao which are packed with a juicy and succulent pork filling. It's also safe to say that their pork chop fried rice is everyone's go-to order. For the month of October, they're upping the fried rice game with XO Fried Rice with Shrimp and Eggs ($15.80++).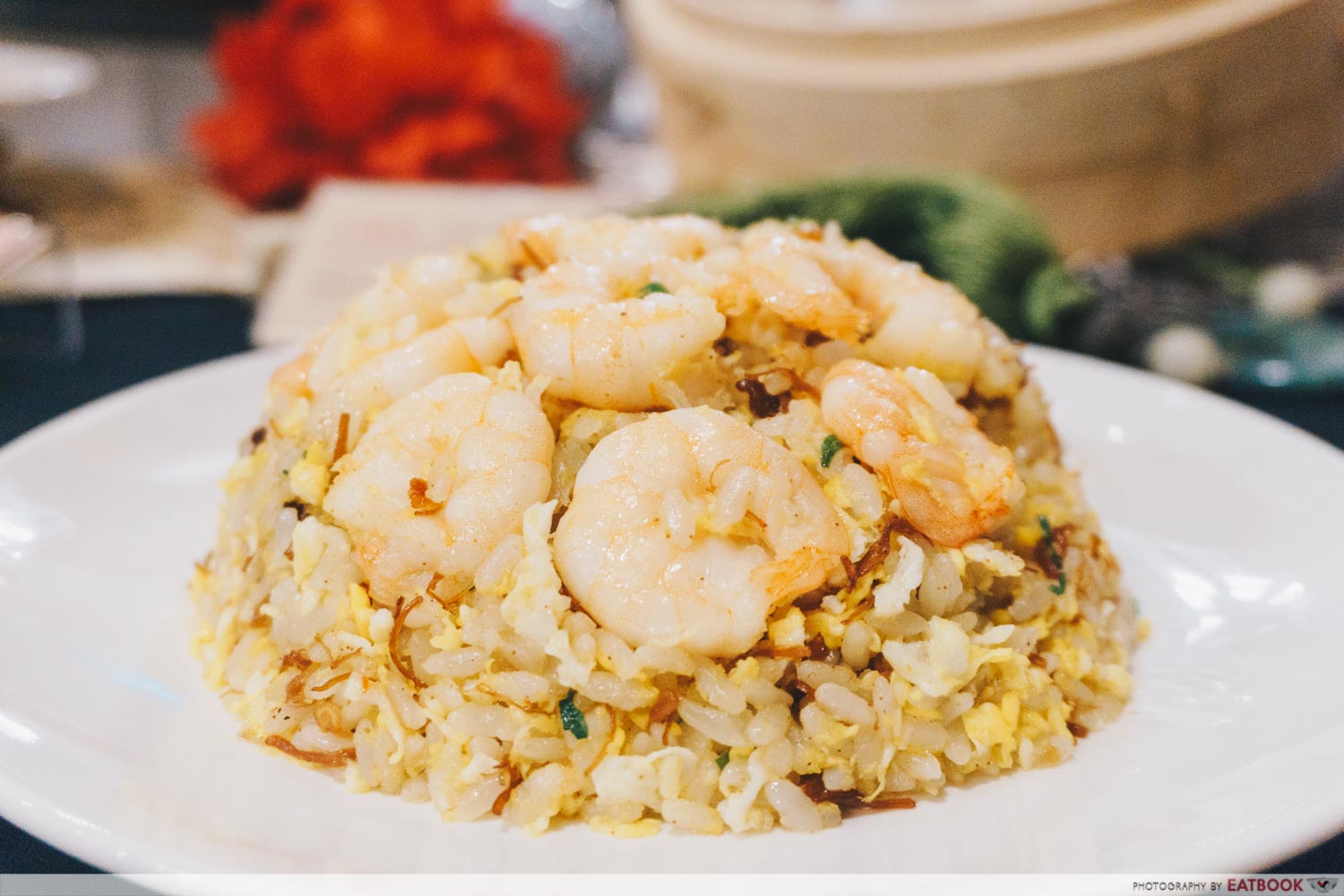 Unlike the regular shrimp fried rice, this limited-edition version features a distinctive mix of XO sauce, scallops, and dried shrimp. Those who can't tolerate spice need not worry, as the fiery kick is taken down a notch. The addition of grilled dried flatfish elevates the savoury dish with smoky hints. 
In line with all things exclusive, this new release is only available for the entire month of October at selected outlets. 
Address: 290 Orchard Road, #B1-03, Paragon Shopping Centre, Singapore 238859
Opening hours: Mon-Fri 11am to 10pm, Sat-Sun 10am to 10pm
Tel: 6836 8336
Website
---
8. Edge's Sunday Champagne Brunch Buffet
---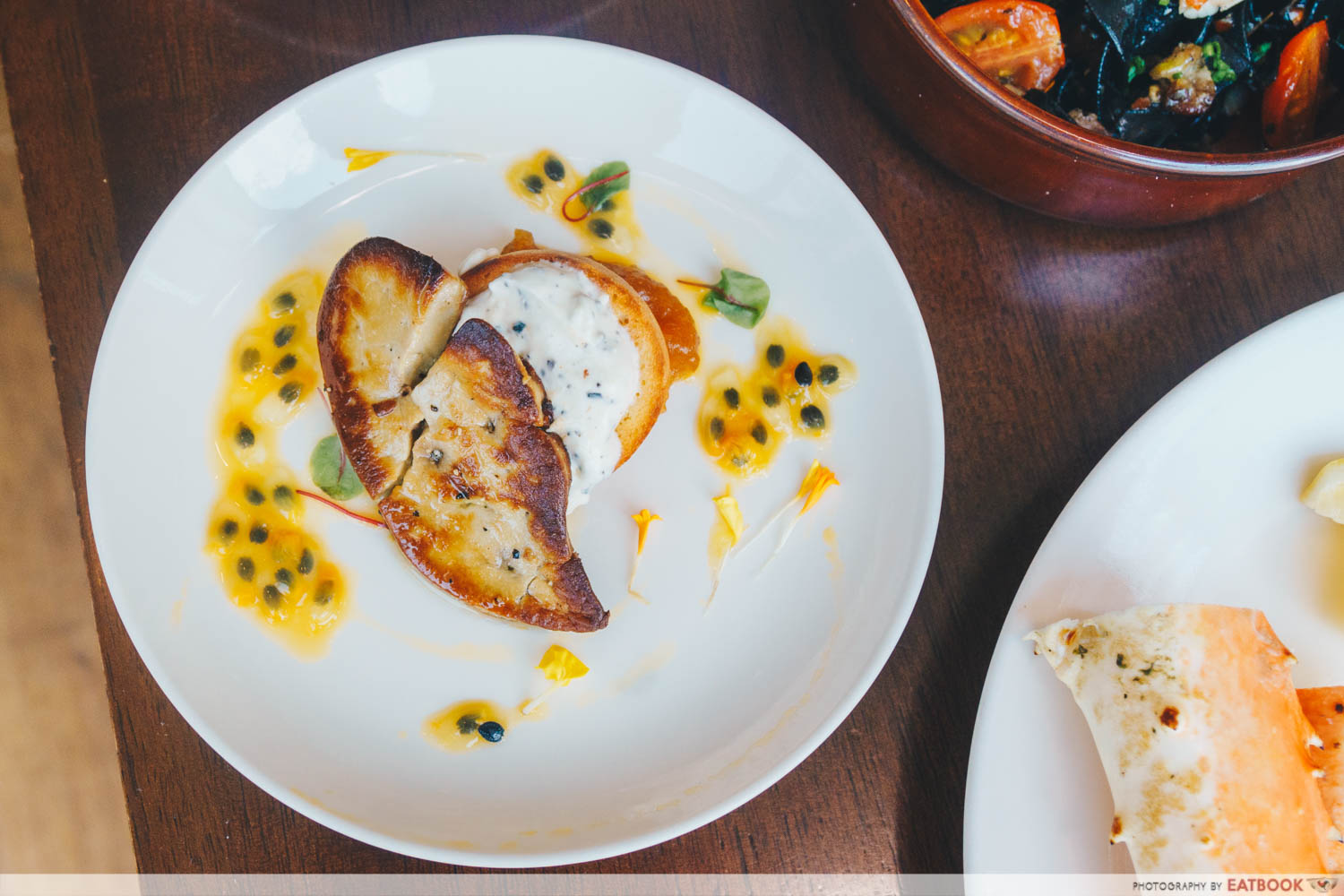 Edge revamps their Sunday Champagne Brunch Buffet ($128++ for adults) with a spread so extensive, you will face difficulties trying everything. The dishes I would recommend making a beeline for are their a la minute dishes, such as the Pan-Seared Foie Gras. Served on top of a brioche bun, the creamy, gamey notes of the goose liver is cut away by the tangy passion fruit and apple chutney.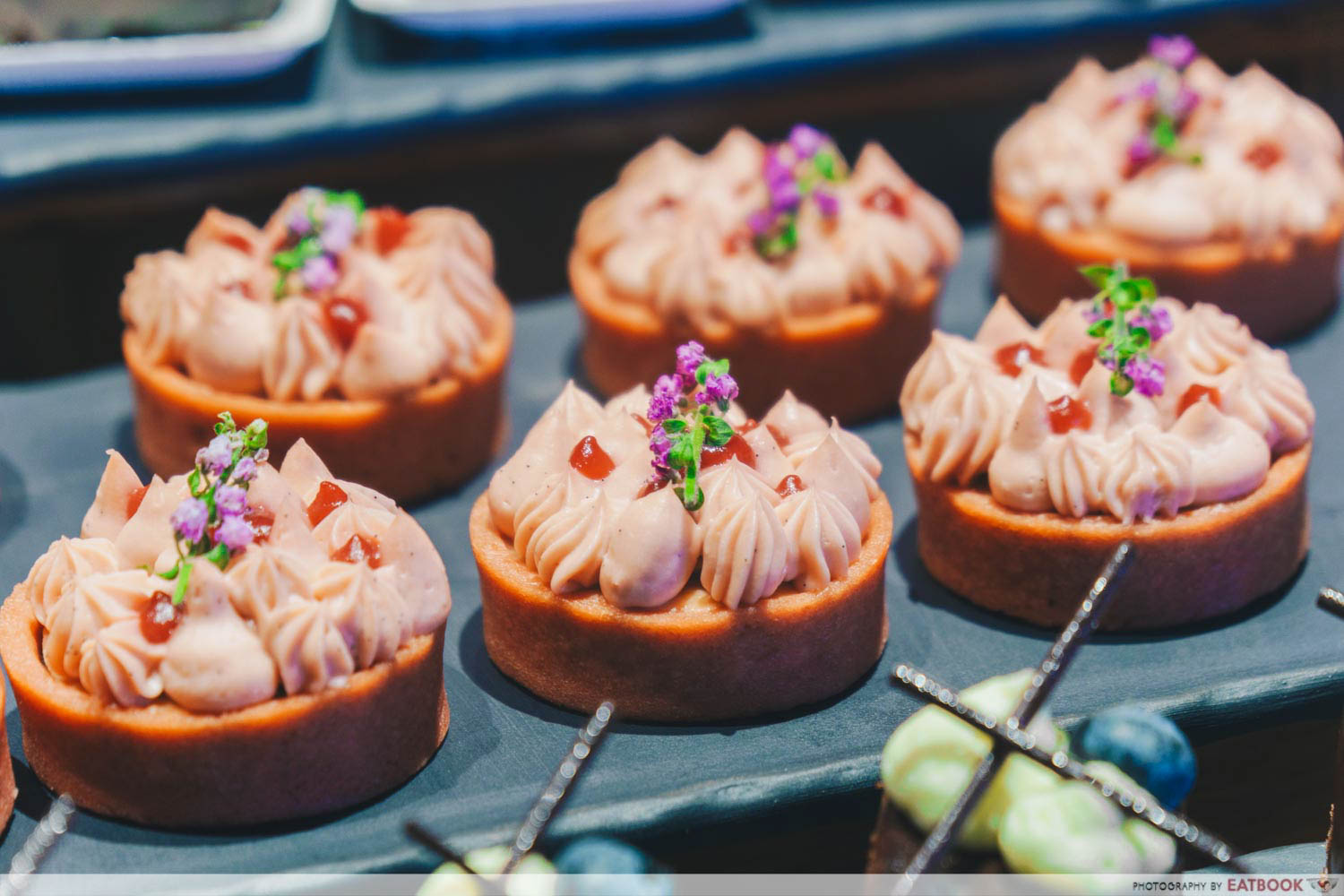 Their array of desserts are also equally impressive, with more than my fingers and toes can count. Pile your plates high with treats such as their Strawberry Rhubarb Tart, Dark Rum Soft Chocolate and macarons. They also have a widespread of cheeses from Little Farms, located right next to the cocktail buffet ($60++ for free-flow champagne, gin, cocktails and wines) bar serving up all types of gin. 
Address: 7 Raffles Boulevard, Level 3, Pan Pacific Singapore, Singapore 039595
Buffet hours: Sun, 12pm to 3:30pm
Tel: 6828 8240
Website
---
9. Farmers & Chefs
---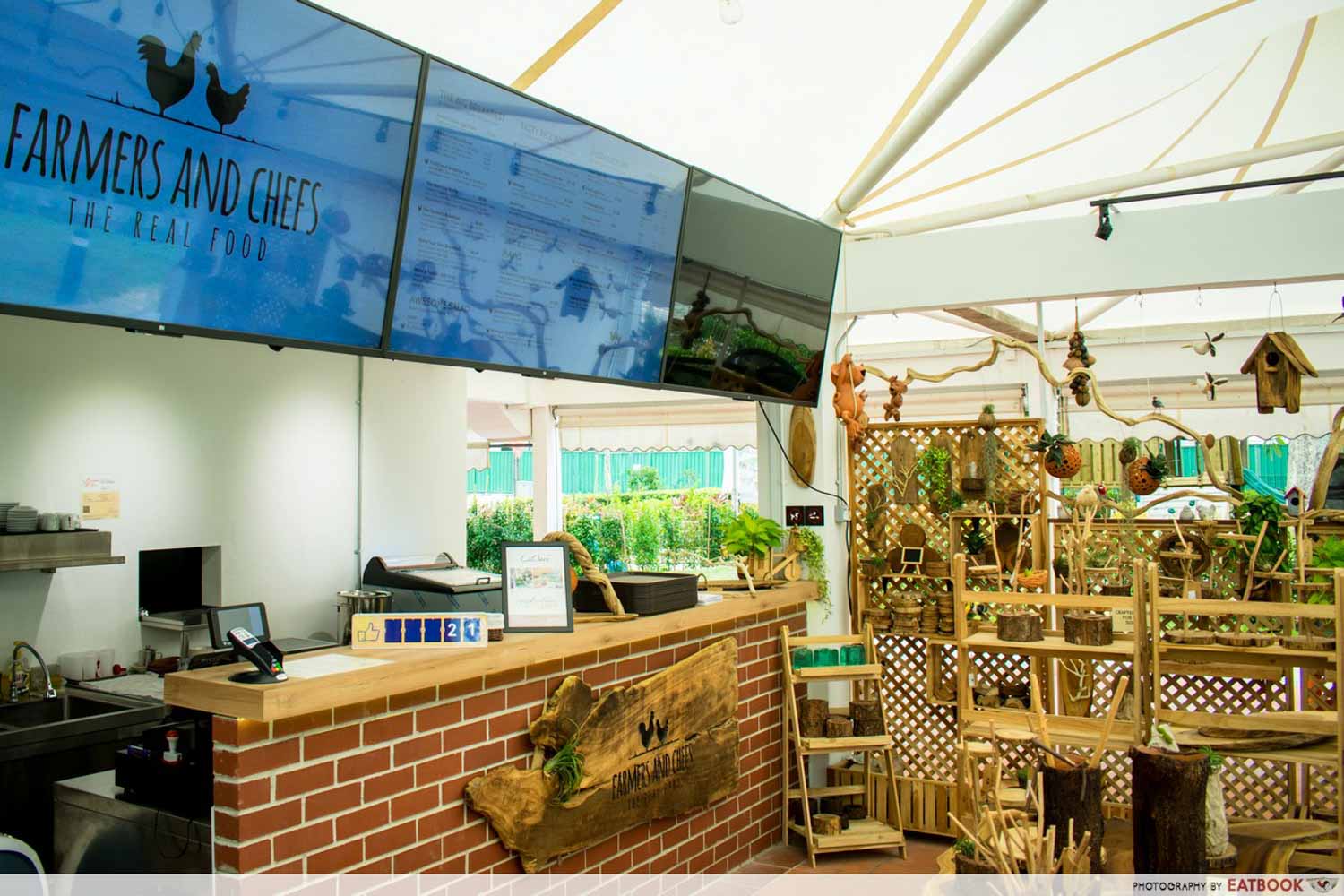 Tucked in a giant canvas tent in front of Singapore Conference Hall, Farmers & Chefs sticks out from the surrounding urban jungle with its lush greenery and wooden crafts. It's all about wholesome meals here, as each dish is free from flavour enhancers, artificial colouring and deep-frying.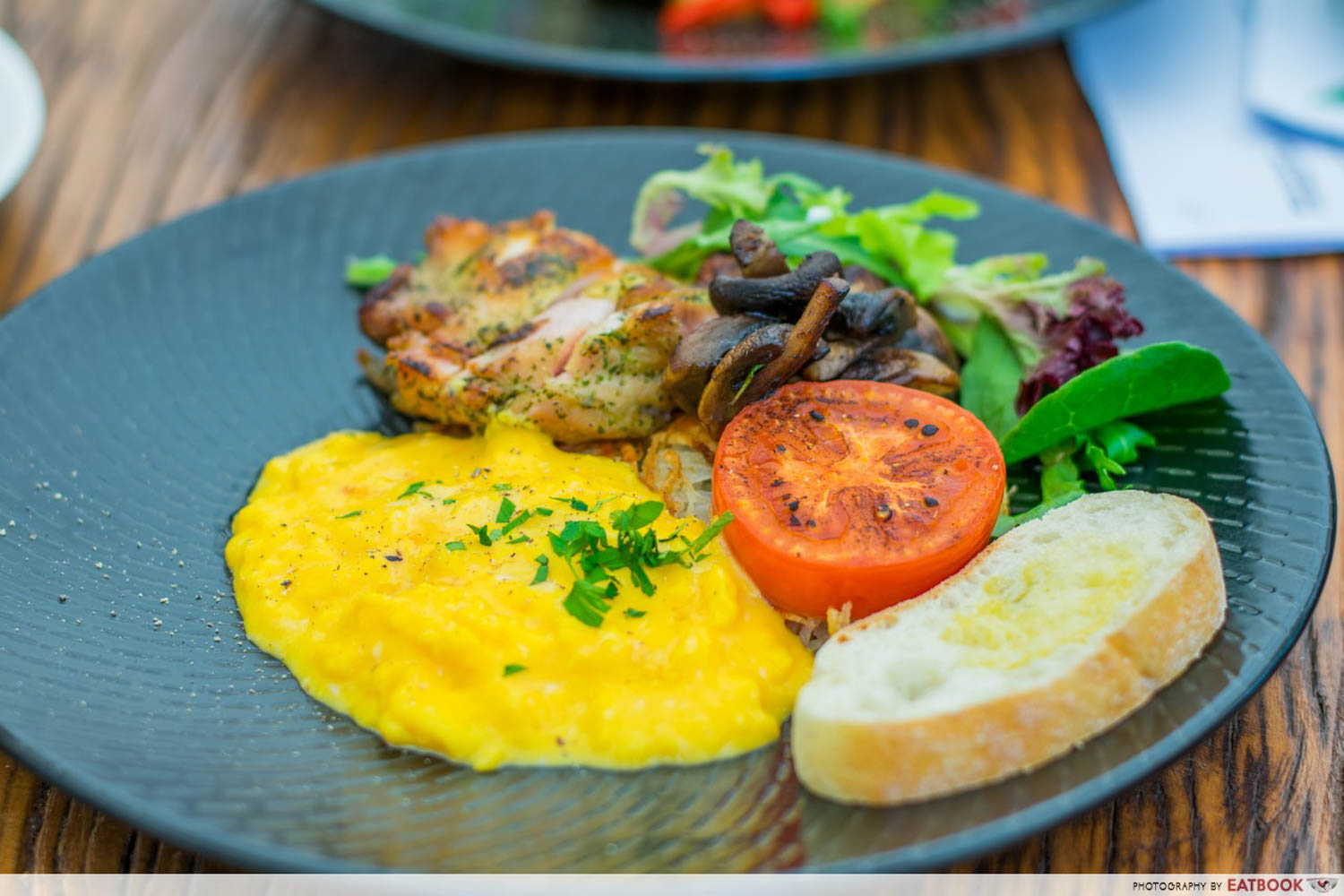 While options such as the Kurobuta Pork Loin ($18)—pan-seared pork with red wine apple compote—and Yakiniku Beef ($14) rice bowls will fill you up just fine, it's The Farmer's Breakfast ($10) that's worth the trip down. The platter comprises sous vide chicken thigh served with scrambled eggs, grilled mushrooms, and greens on a rosti. The result is a satisfying mouthful of creamy and crispy textures with bursts of umami.
Address: 7 Shenton Way, #01-04, Singapore Conference Hall, Singapore 068810
Opening hours: Mon-Fri 8am to 8pm, Sat 9am to 8pm
Website
---
10. Uni Gallery By OosterBay
---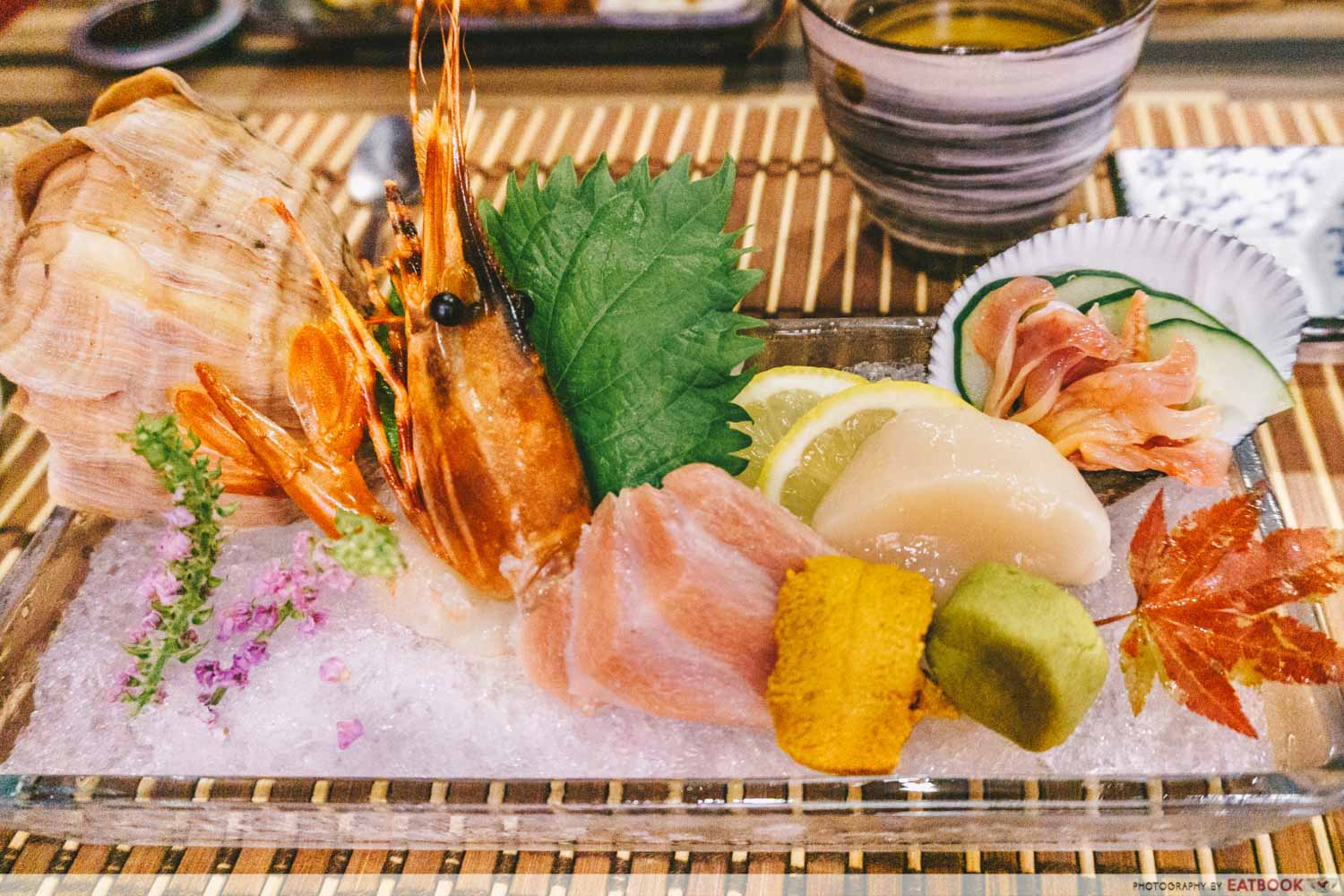 Uni specialist, Uni Gallery By OosterBay, has come up with their first-ever kaiseki menu that features a whole treasure trove of premium ingredients such as caviar, truffle, and A5 Wagyu from Miyazaki.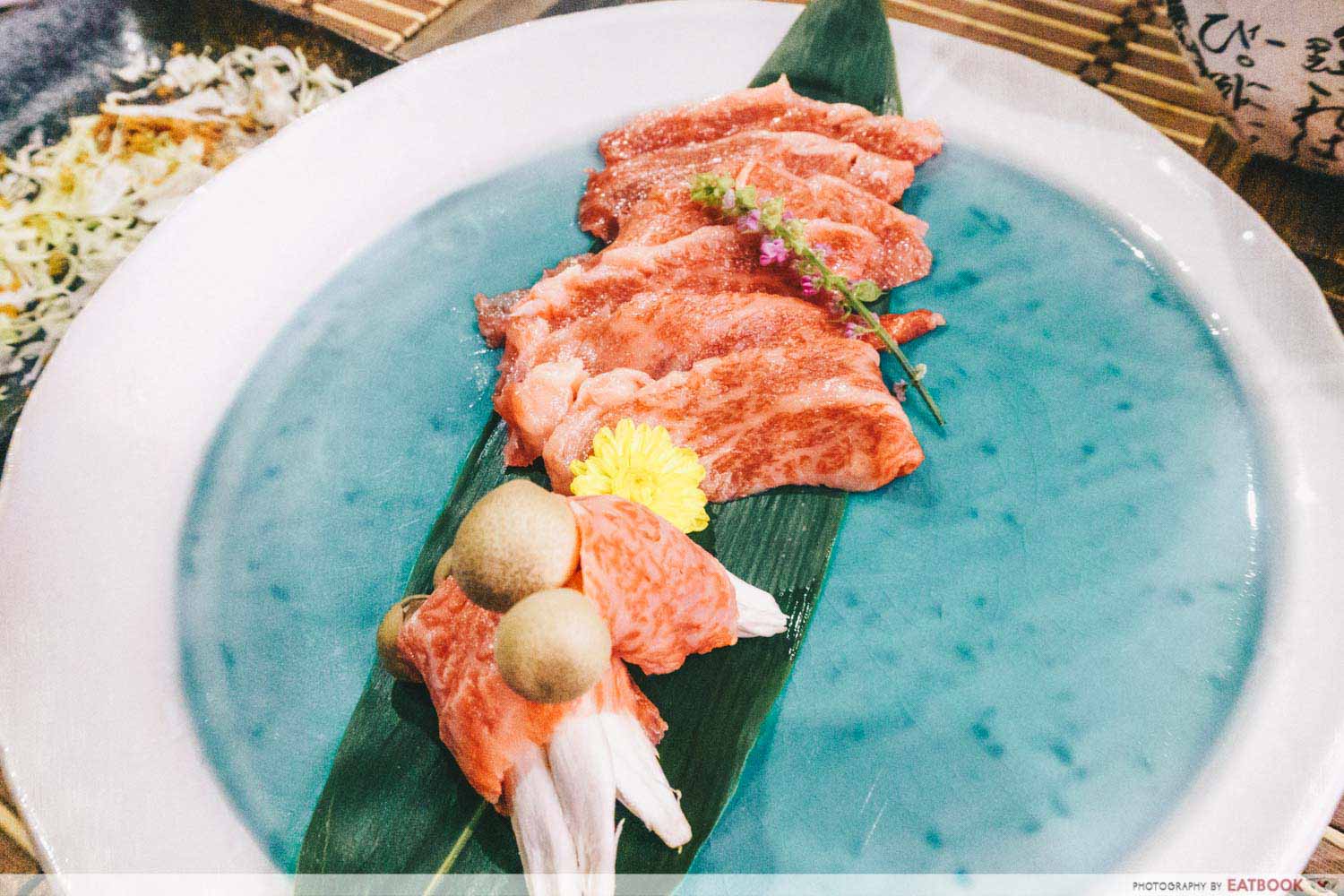 There are two menus available, a six-course ($118++) and an eight-course ($188++). Each menu features loads of seasonal uni, along with caviar that's specially sourced and tailored to the restaurant's requirements. 
The eight-course menu will also include a sizeable portion of A5 Miyazaki ribeye wagyu. This beautifully marbled meat is generously streaked with layers of fat that simply melts in the mouth. A side of uni cream sauce is also available for you to dip it into. 
Address: 7500A Beach Road, #B1-310, The Plaza, Singapore 199591
Opening hours: Sun-Thur 11:30am to 2:30pm, 6pm to 9:30pm, Fri-Sat 11:30am to 2:30pm, 6pm to 10pm
Tel: 6291 0528
Website
---
Feast at these new eateries in October
---
No matter your budget and preference, you'll find something that suits your taste buds at these 10 restaurants; be it extravagant buffets at Edge and 15 Stamford by Alvin Leung, or filling brunches at Farmers & Chefs!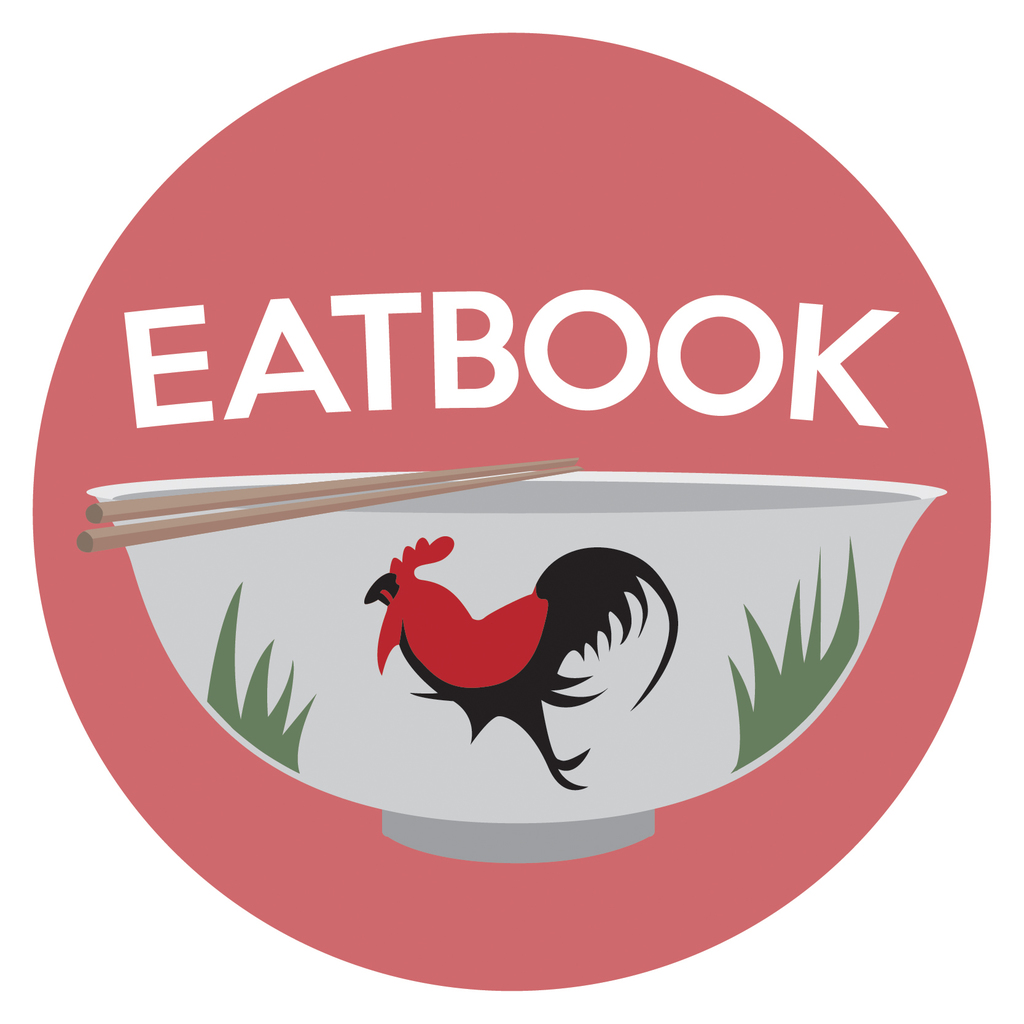 Drop us your email so you won't miss the latest news.