Nongshim Bokkeum Kimchi Dried Ramyun comes with fresh kimchi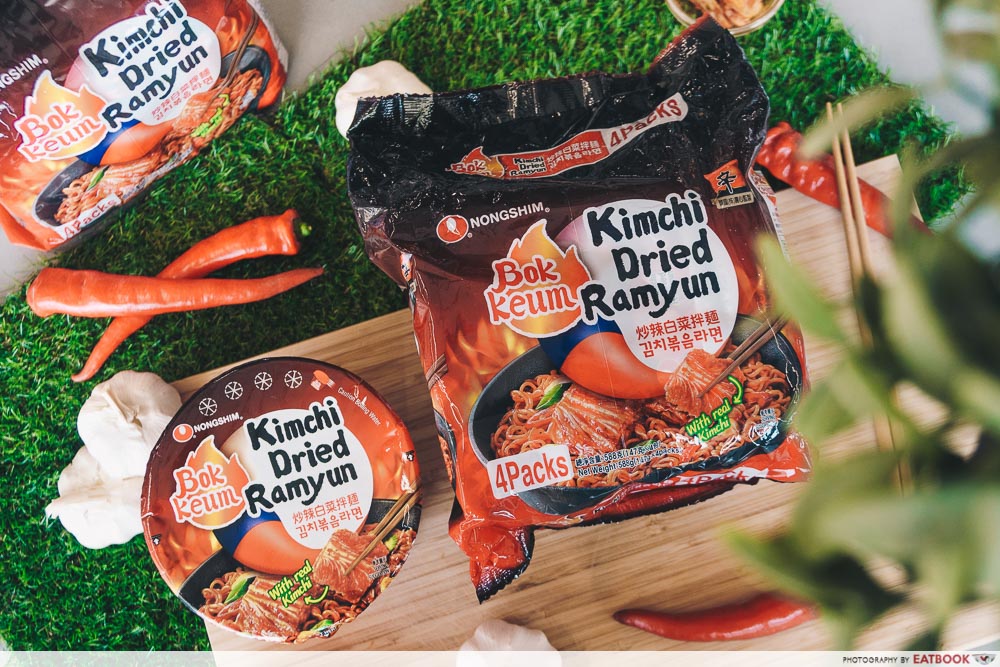 If you're a fan of all things Hallyu, a.k.a. the Korean Wave, Nongshim's new Bokkeum Kimchi Dried Ramyun would be right up your alley. Not forgetting those who walk on the spicier side, this instant noodle Big Bowl ($2.50) or 4 Packs Bag ($5.95 for a pack of four) can also be a quick three-step, tongue-tingling meal for you.
Available at Cheers and selected Fairprice supermarkets, the Big Bowls will be having a 1-for-1 promotion from 5 to 18 December 2019, while stocks last!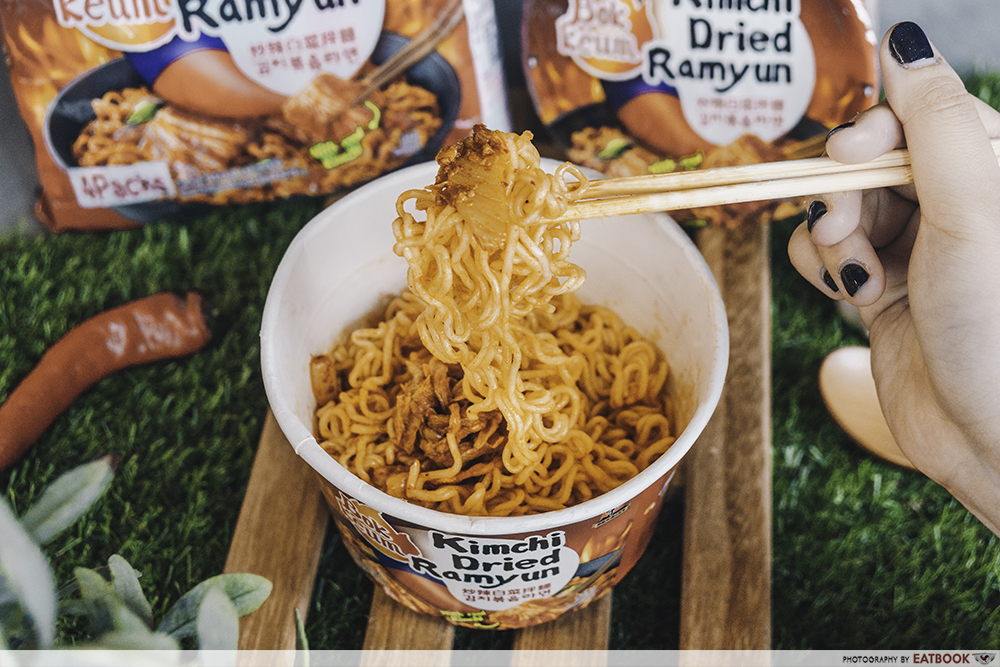 As a fan of Korean dramas, there have been multiple times when I've been tempted to whip up a plate of kimchi fried rice, after watching the protagonist dig into one as if it was the most delicious thing on earth. This popular dish requires little skill to cook, but it also calls for ingredients such as kimchi and cooked rice, which you won't usually find readily available at home.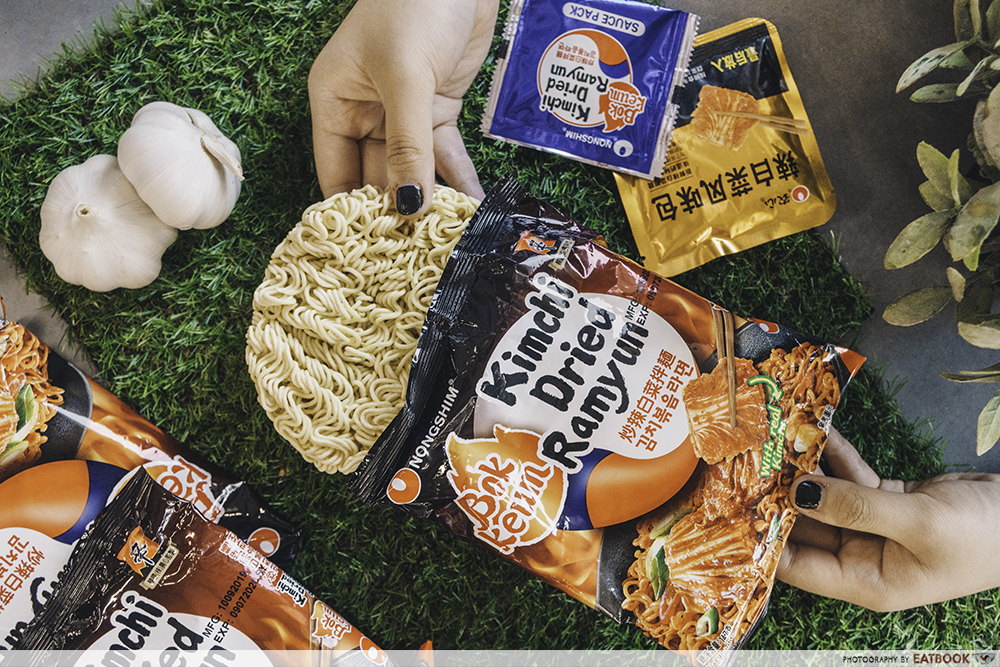 Nongshim's Bokkeum Kimchi Dried Ramyun takes the trip to the grocery stall and waiting time to cook rice out of the equation. In each Big Bowl or packet, rice is swapped out for noodles, which are made from wheat flour and potato starch. These chewy strands cook within just four minutes.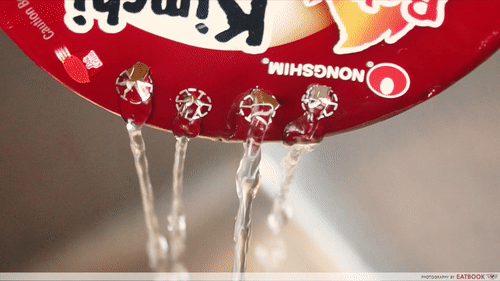 IMPORTANT: this is a dry, stir-fry version of kimchi ramyun! The second step will either make or break your kimchi creation. It involves draining the hot water after the noodles are cooked. 
Bokkeum is the Korean phrase of the day. With the help of Google search, we found out that the phrase on the packaging means "to cook food with a small amount of liquid by stir-frying over heat." This cooking method happens to align with a pro tip I use to cook saucy instant noodles such as mee goreng and jjajangmyeon; eyeball three tablespoons of water in the bowl instead of pouring everything out. This extra moisture gives the noodles a level up on the slurp-o-meter.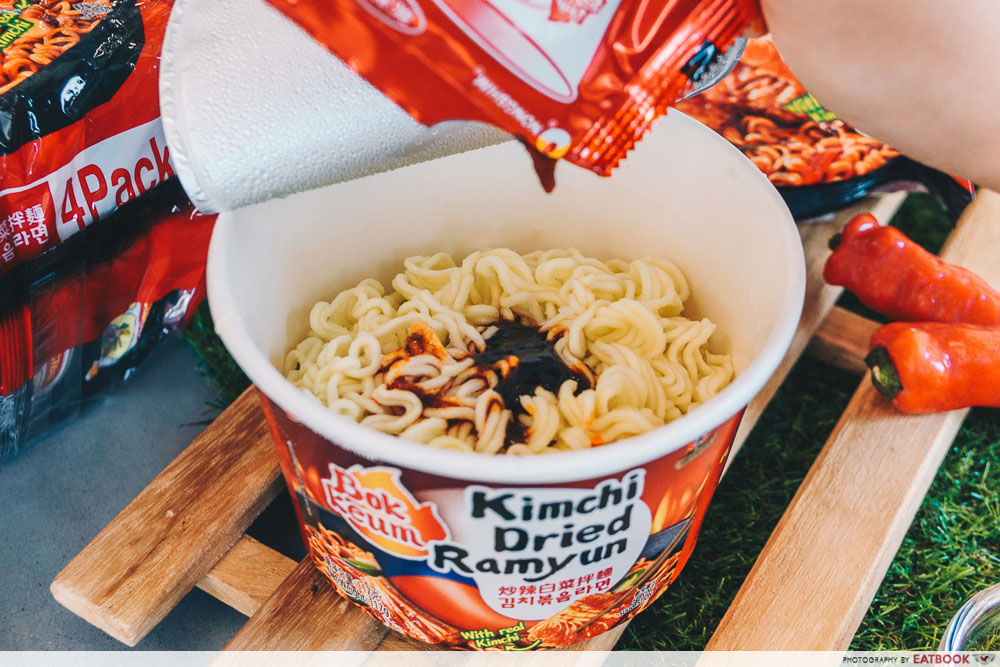 Add in the dark red sauce from the sachet and give the noodles a good toss. Coat each strand evenly as you take a waft of the spicy sauce that promises the deliciousness to come.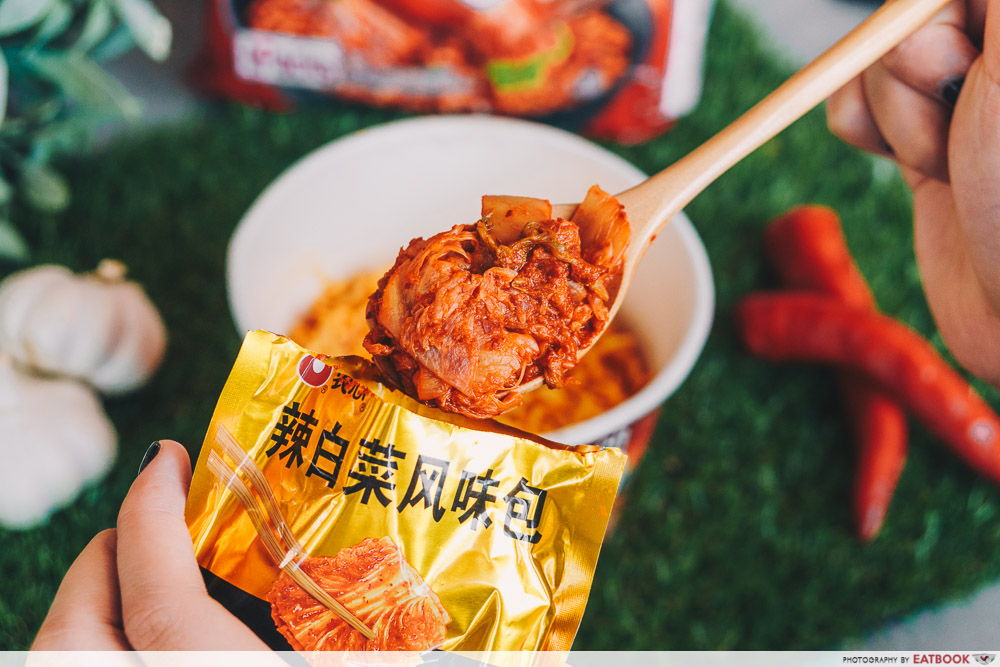 Nongshim's Bokkeum Kimchi Dried Ramyun provides fresh kimchi sealed in a golden sachet. The real kimchi element makes the meal taste so much more legit, as compared to instant noodles that only use dehydrated kimchi or chilli flakes. 
Sour, spicy, and slightly smoky; the kimchi chunks are like the Chemical X of the ramyun. It is almost like they were sauteed—a step found in many Korean fried rice recipes—beforehand. Each slurp is elevated in terms of flavour, and also texture from the crunchy kimchi. Don't forget to empty the sachet of all its content, including the kimchi juices, for an extra kick.
The Bokkeum Kimchi Dried Ramyun makes for a delicious alternative when you're looking for something easy-peasy to whip up. This can also work as a solid base to enjoy with extra toppings such as melted cheese or fried egg.
Nongshim's Bokkeum Kimchi Dried Ramyun is sold exclusively at Cheers and selected FairPrice supermarkets. Those with a bigger appetite can grab the pack of four, which comes with 30g more noodles in each packet. Lazy boys and girls like myself can opt for the Big Bowls for easier cleanup!
This post is brought to you by Nongshim.
Photos taken by Sharlene Lau.