Nonya Nonya at Serangoon Garden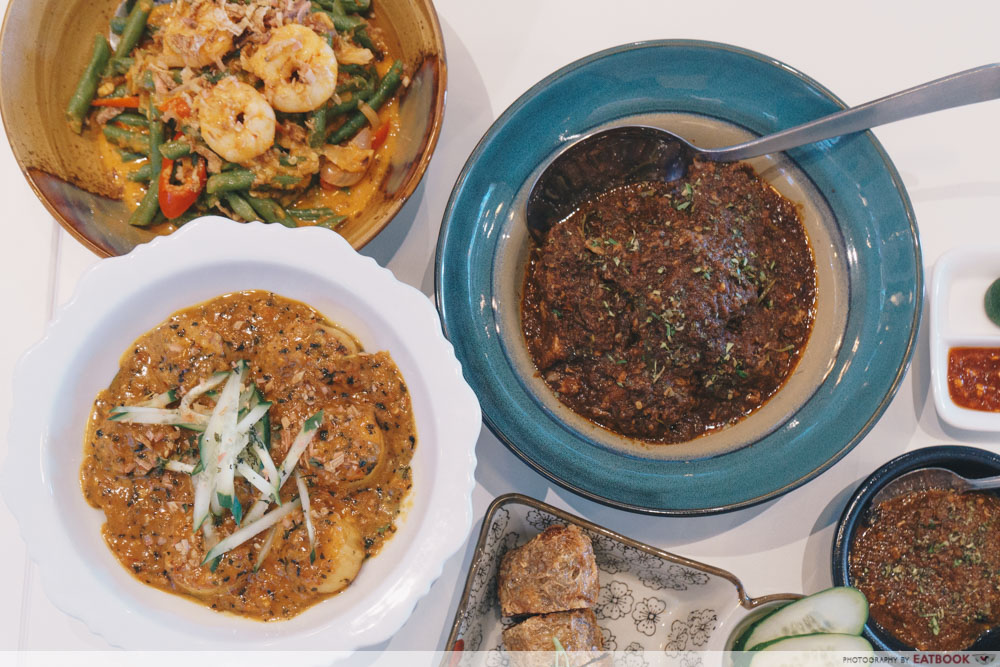 Redolent in spices, with well-balanced flavours of sweet, savoury and spicy, Peranakan food never fails to impress. And a new joint to get your Peranakan fix is Nonya Nonya. Opened by third-generation restaurateurs of one of Singapore's pioneering Peranakan restaurants, House of Peranakan, Nonya Nonya offers a modern take on the complex cuisine, without straying far from the traditional recipes that are passed down through their fambam.
Food at Nonya Nonya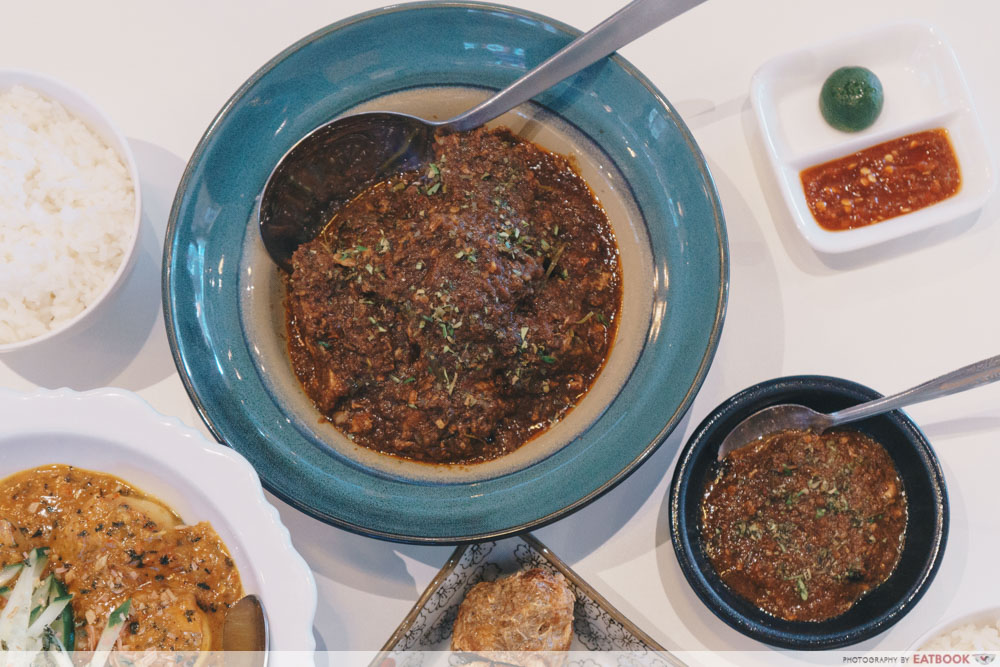 Ayam Buah Keluak ($16++) is a must-have at any Peranakan restaurant. But the one qualm I have about this classic dish is the fact that there are never enough buah keluak nuts to go around the table.
Thankfully, at Nonya Nonya, the creamy black meat within is scraped out and placed on the side. Purists might baulk at this, but I say this is the best way to have it. The paste is dressed lightly in the aromatic tamarind gravy too, so it's earthy bitterness doesn't overwhelm.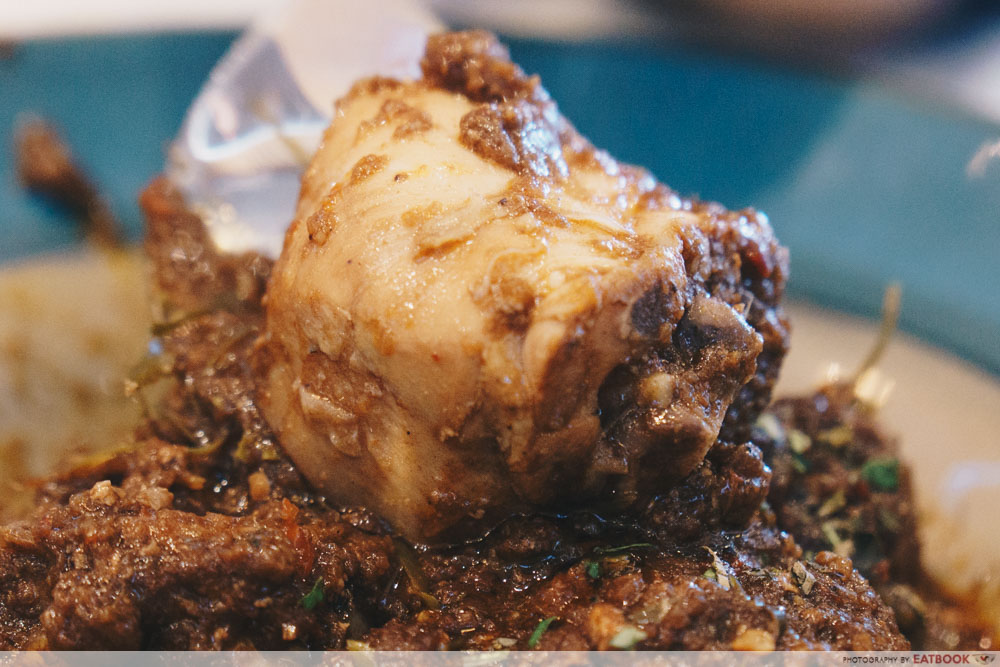 There was plenty of tender chicken hidden within the moreish gravy, and a serving of this can easily feed four famished diners.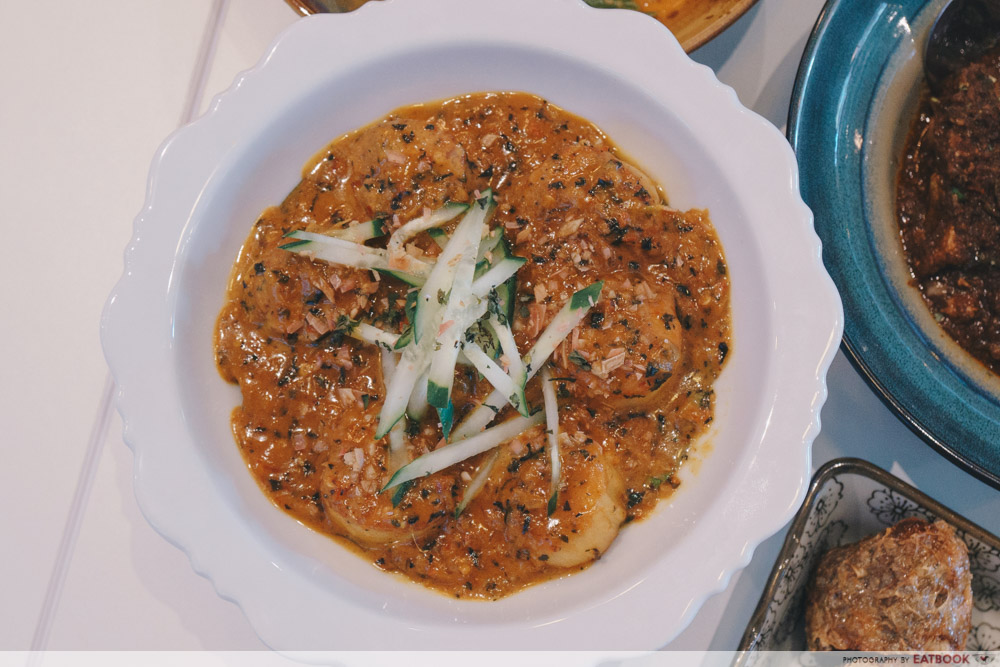 You won't normally find Scallop Lemak ($28++) on the menu at traditional Peranakan restaurants, but that shouldn't deter you from ordering this dish. Here, seven pieces of pan-seared Japanese scallops are sauteed in a rich coconut-based gravy that's made from lemongrass, turmeric, galangal and onions.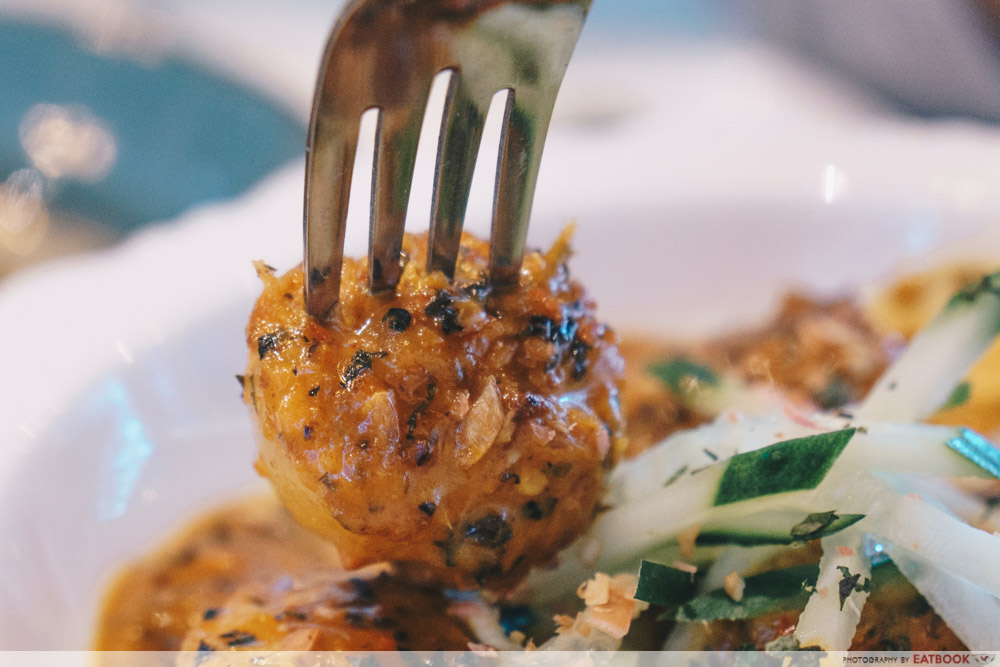 The subtle oceanic tang from the scallops were the perfect accompaniment to the tantalising gravy that was rich, with an underlying piquancy. The raw sliced cucumbers also helped lift up the dish, thanks to its refreshing nature.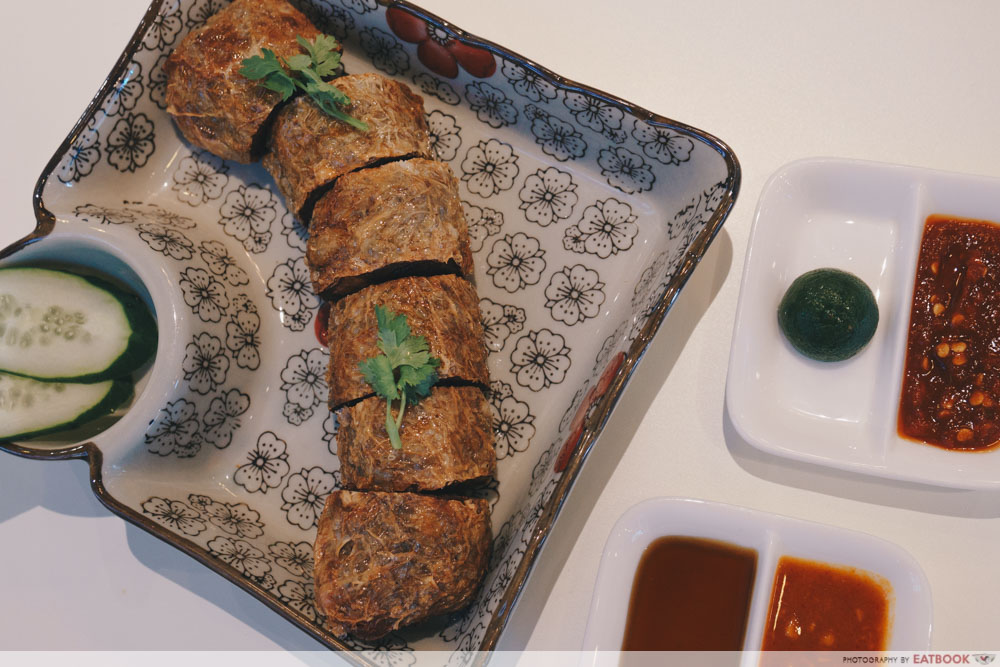 Guan Hoe Soon may be my favourite Peranakan restaurant, but Nonya Nonya earns the title for serving the best Ngoh Hiang ($10++) in Singapore. It was a roll of umami goodness, with crispy beancurd skin encasing the soft minced meat. Dip it into the sweet bean sauce to further bring out the moreish meaty flavour.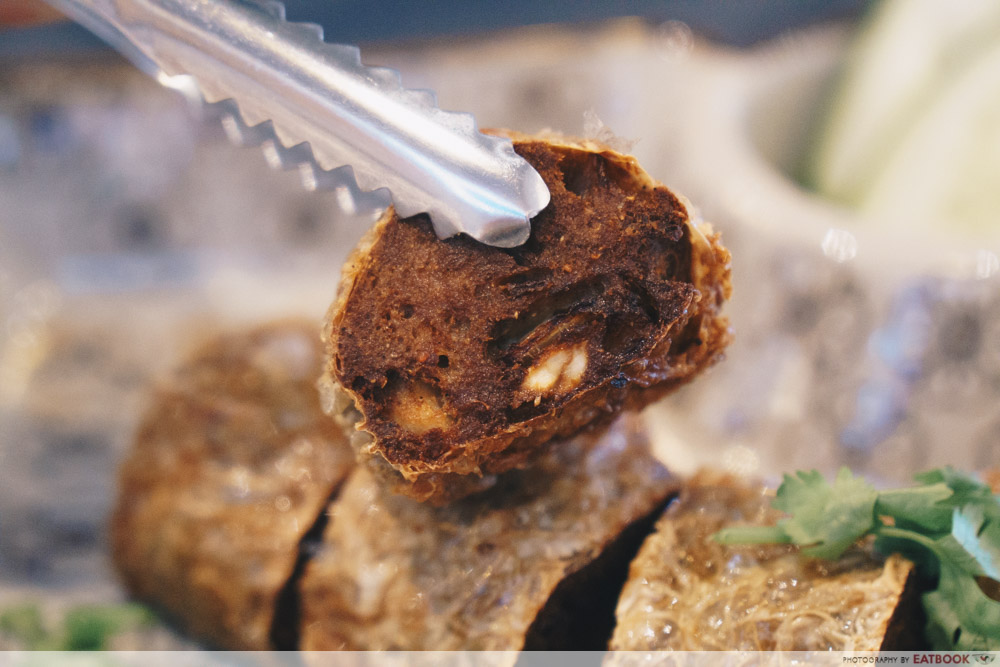 I liked the fact that the water chestnuts were not finely chopped but in chunks. These, along with the carrots and turnip, provided a nice crunch to the minced pork and prawns.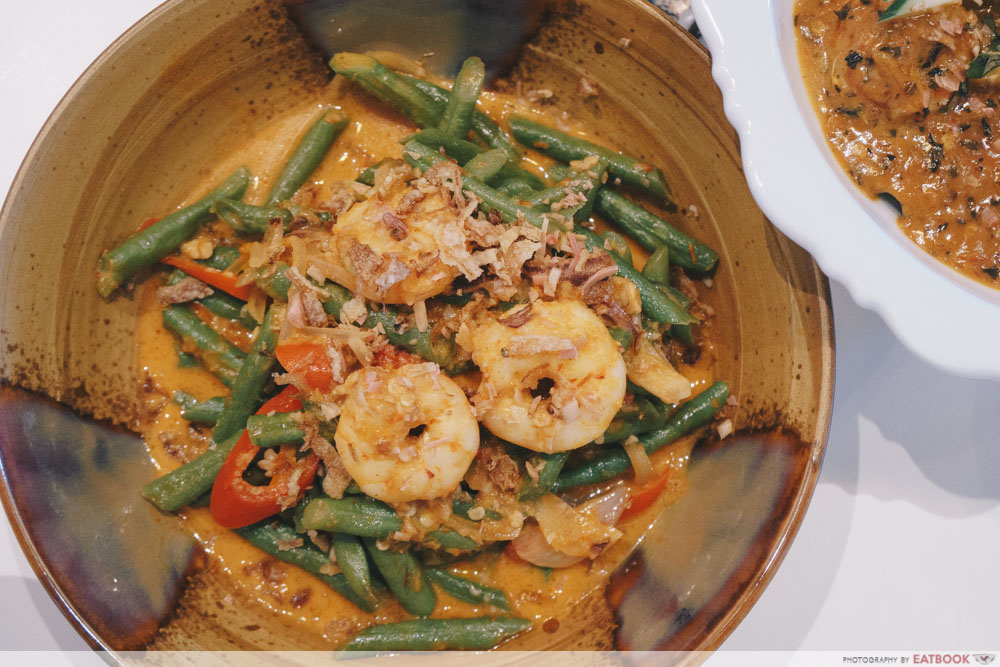 The Long Bean Sambal ($12++) makes for a good veggie dish. It comes topped with prawns, bits of squid and fried onions. The garnishes were a little salty though, and I would recommend mixing everything in the creamy coconutty base to dull it out.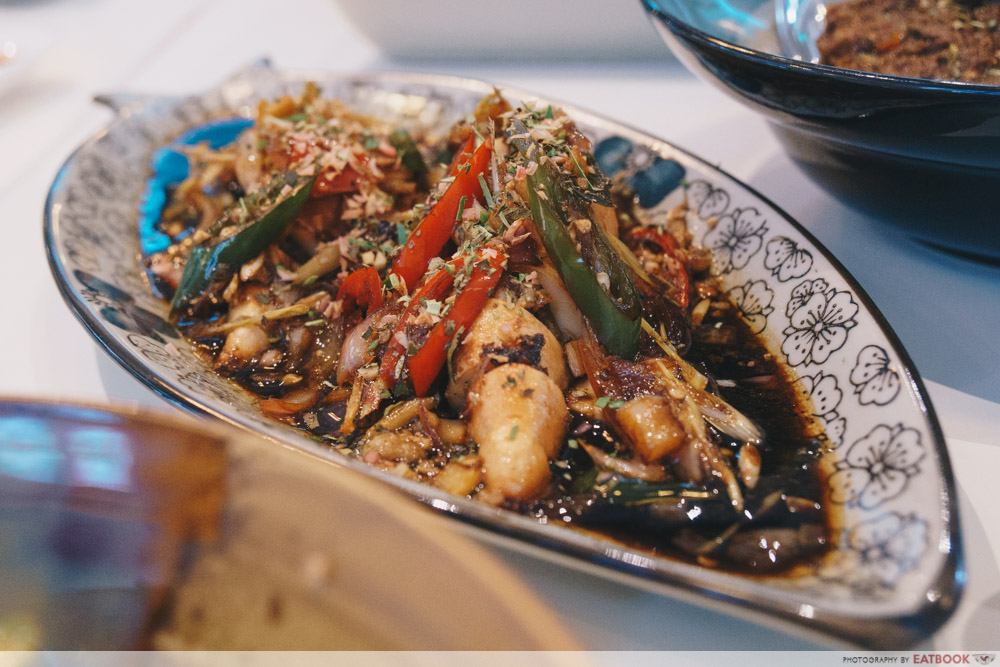 Not the most visually pleasing dish, the Stuffed Sotong Pangang ($20++) features grilled squid with minced pork and prawns stuffing. The sauce reminded me of a more delicate rendition of ikan masak kicap. It had a nice zest and an aromatic finish, due to the addition of rojak flowers and calamansi lime.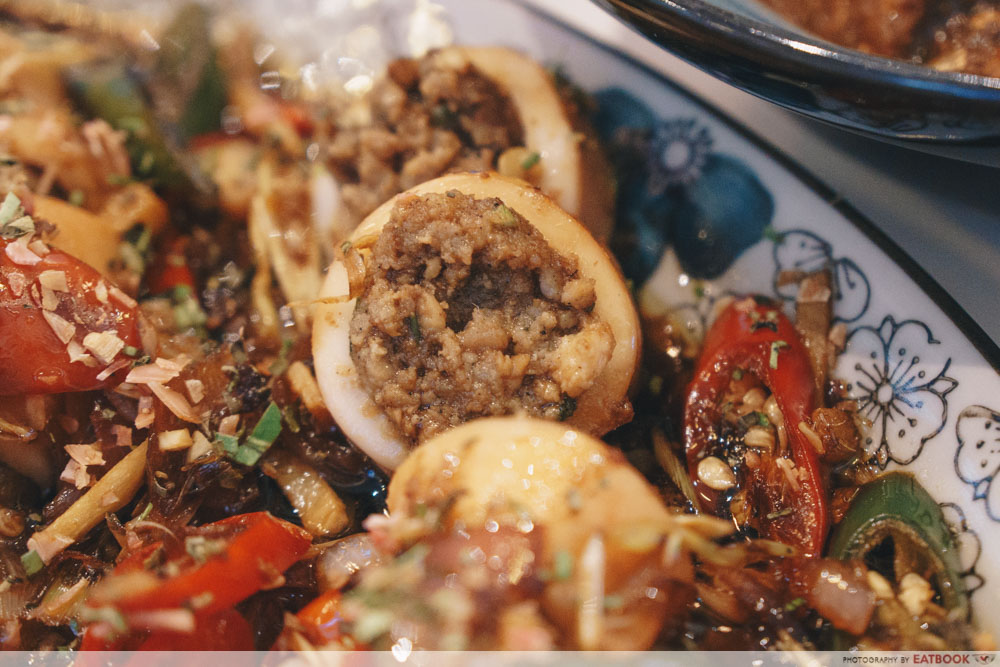 Don't be fooled by the red and green chillies; this dish is not spicy at all. In fact, I found the flavours here paled in comparison to the previous few dishes, which were more fiercely intense. That being said, my dining companion really enjoyed this, so to each its own.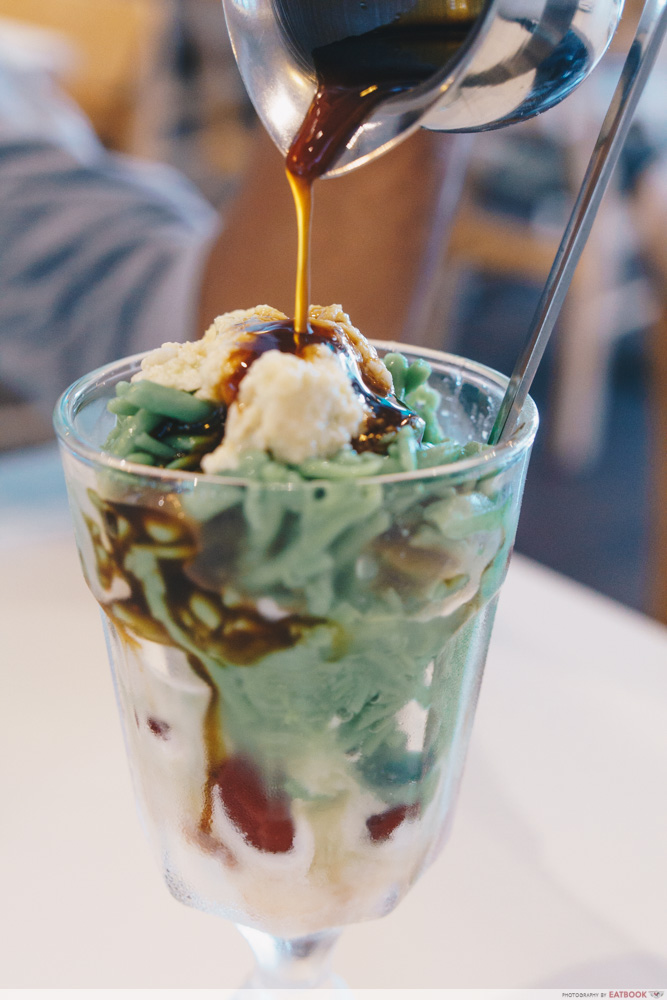 To cap off our meal, we had the Durian Chendol ($6.50++) comprising house-made chendol strips, velvety coconut ice cream, red beans, and attap chee. Durian puree crowns this sweet treat, and gula melaka is served on the side for you to pour in.
The pungent dollop of durian together with the melted ice-cream made for a winning combination. Both ingredients did not overpower the other, thus creating a sweet treat that was more refreshing than cloying.
Ambience at Nonya Nonya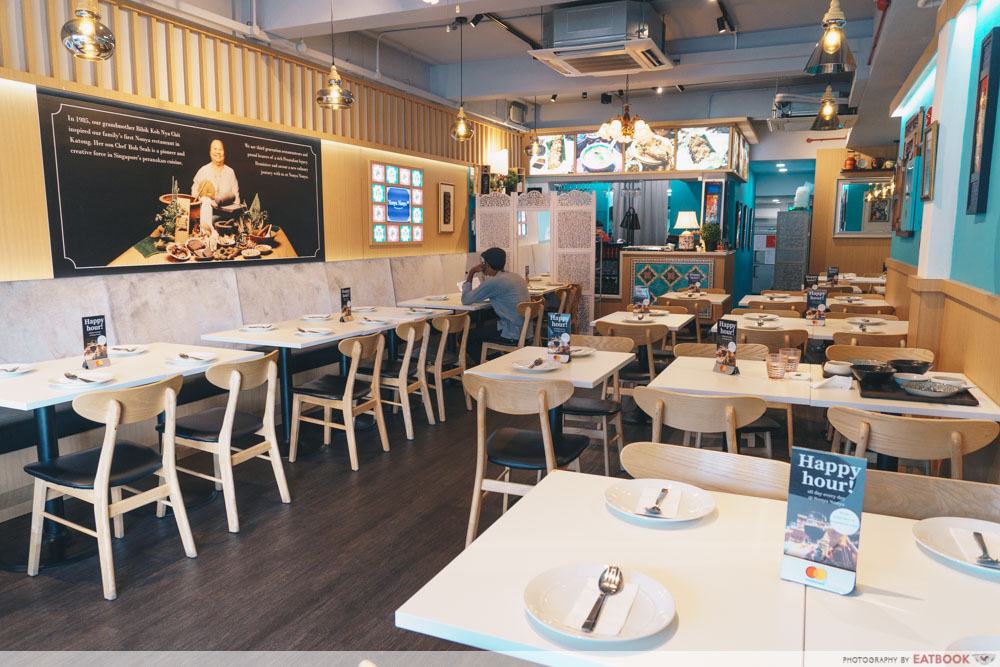 With hopes of luring millennials in to savour Peranakan food, the space is a far cry from the gaudy interior of House of Peranakan. Instead, Nonya Nonya features modern Scandinavian chairs, with bits of Peranakan motifs gracing the kitchen counter and paintings on the walls. The vibe is homely, making it an ideal joint for casual family dinners or meet-ups with friends.
The verdict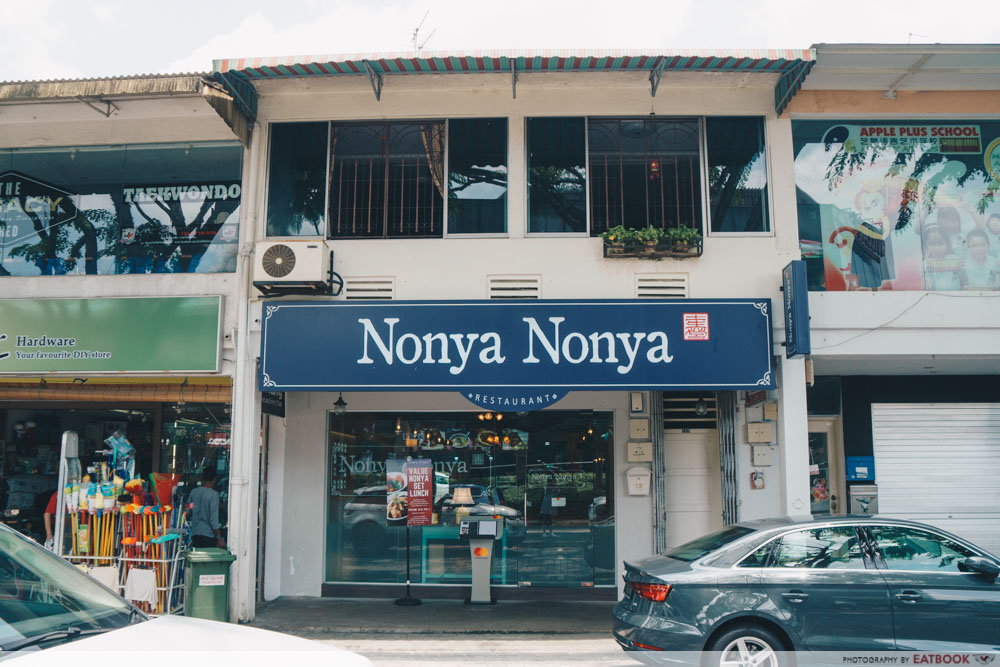 "Certain things should stay the way they are" is one of my life mottos, and I am generally rather apprehensive when it comes to modernising traditional food. However, Nonya Nonya manages to thread the thin line in ensuring their food stay true to their roots, while giving little tweaks to cater to us younger folks.
Address: 12 Maju Avenue, Serangoon Garden Estate, Singapore 556690
Opening hours: Daily 11:30am to 3pm, 5:30pm to 10pm
Tel: 6282 4021
Website
Photos taken by Katie Boon.
This was a media tasting at Nonya Nonya.
Summary
Pros
– Punchy flavours
– Great service
Cons
– Slightly expensive
Recommended Dishes: Scallop Lemak ($28++), Ngoh Hiang ($10++), Ayam Buah Keluak ($16++)
Opening hours: Daily 11:30am to 3pm, 5:30pm to 10pm
Address: 12 Maju Avenue, Serangoon Garden Estate, Singapore 556690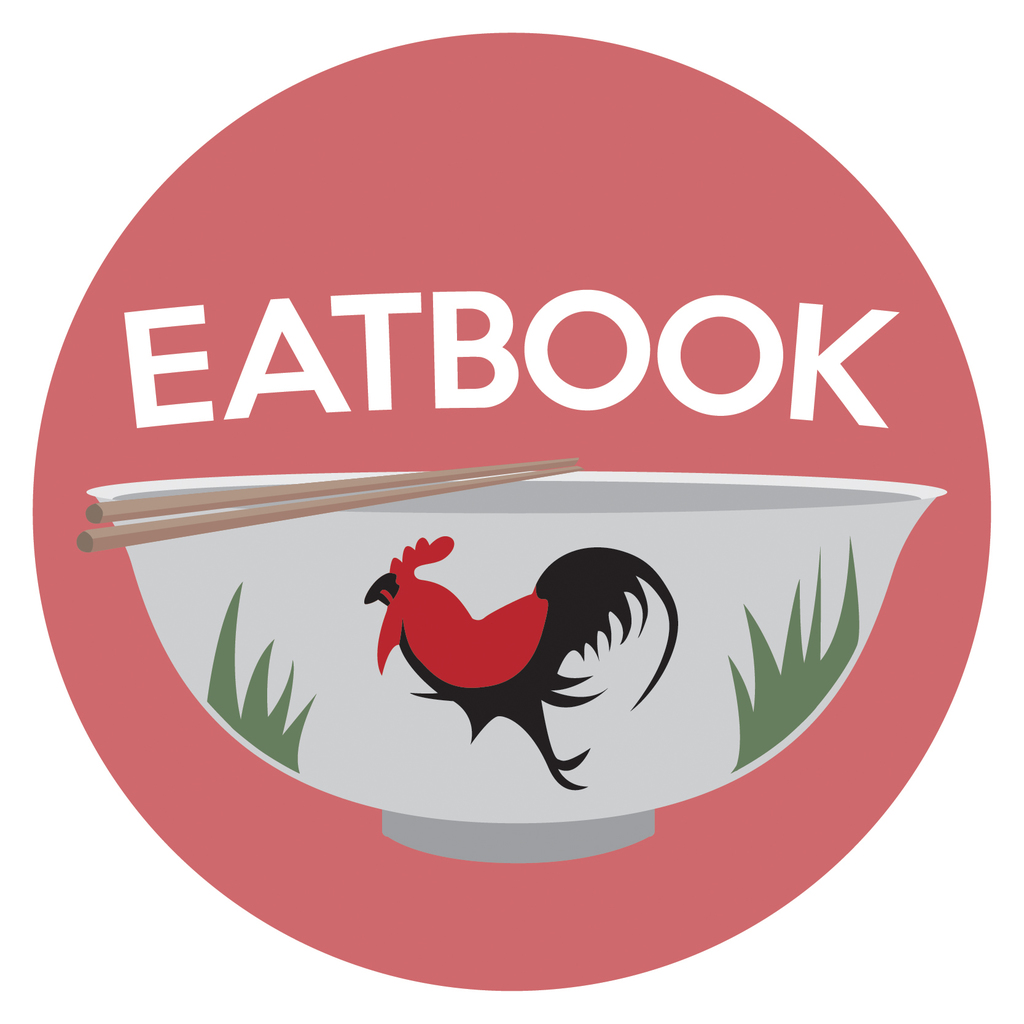 Drop us your email so you won't miss the latest news.