---
Easy oatmeal breakfast recipes
---
While I am a big breakfast person, I am also big on snoozing my alarms in the morning. This always leaves me with little window to prepare something nutritious to eat before work. I have found Quaker Oats to be a personal gamechanger for this time crunch, given that their oatmeal is versatile and quick to prepare.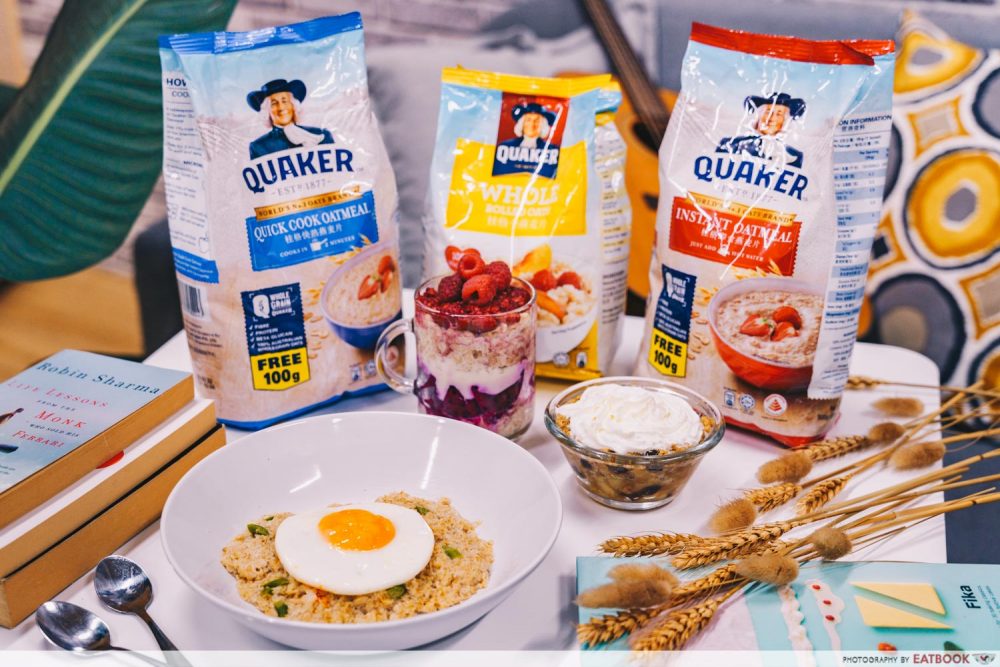 There are three different types of oats: Instant, Quick Cook, and Rolled, all of which cater to specific cooking needs.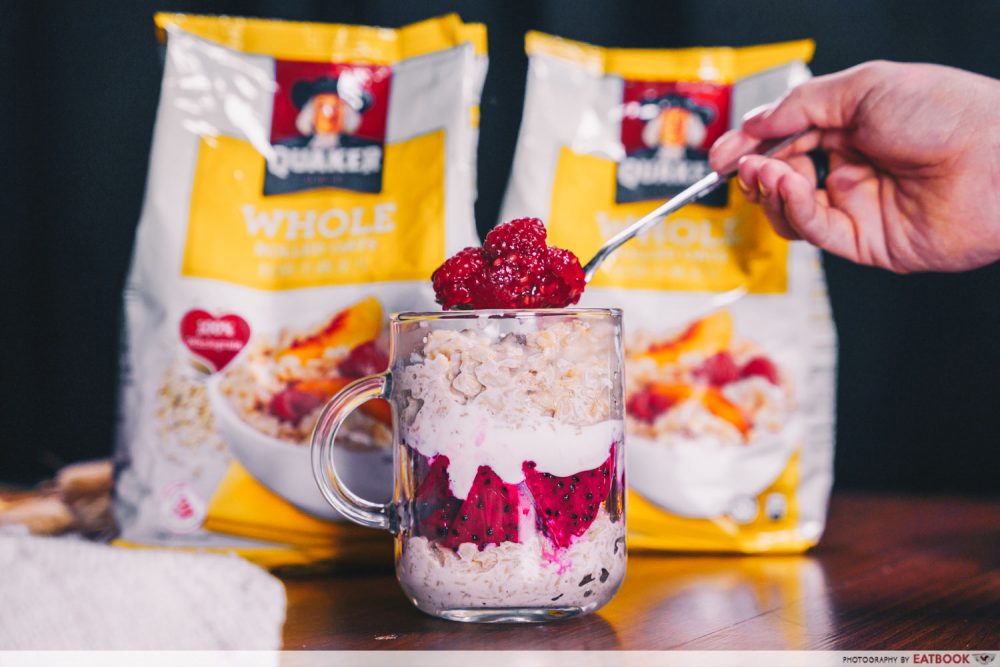 While oats themselves may come across as boring, I think of them as a blank canvas that I can build upon to create exciting breakfast dishes and start my day right. 
From a cheesecake parfait to apple pie and savoury chicken porridge, here are three oatmeal breakfast recipes I personally love to make with Quaker Oats. They all take under 15 minutes to make. Some can even be done ahead of time or simplified to ease the morning rush.
12 Breakfast Places In Singapore For Pancakes, A Full English Breakfast And More
---
1. Berry Dragonfruit Cheesecake Parfait
---
Dessert is my favourite food group, so naturally, I found a way to incorporate that into breakfast with this Berry Dragonfruit Cheesecake Parfait. Packed with vitamins and antioxidants, this healthy parfait doubles up as a feast for your eyes too.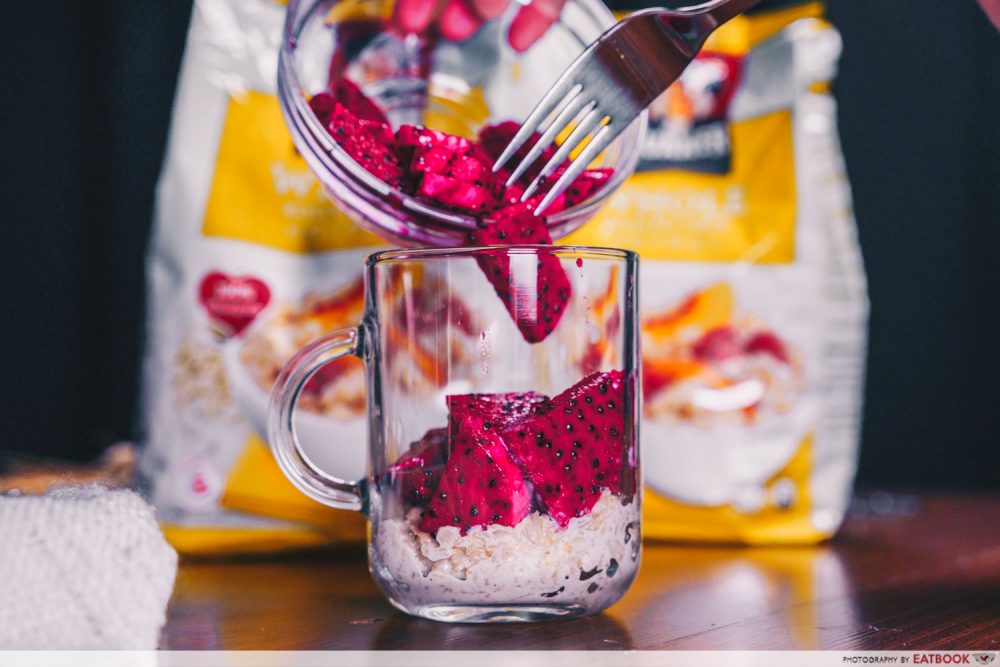 Brightly-coloured dragonfruit also adds a unique honeyed sweetness to this spin on a warm berry cheesecake.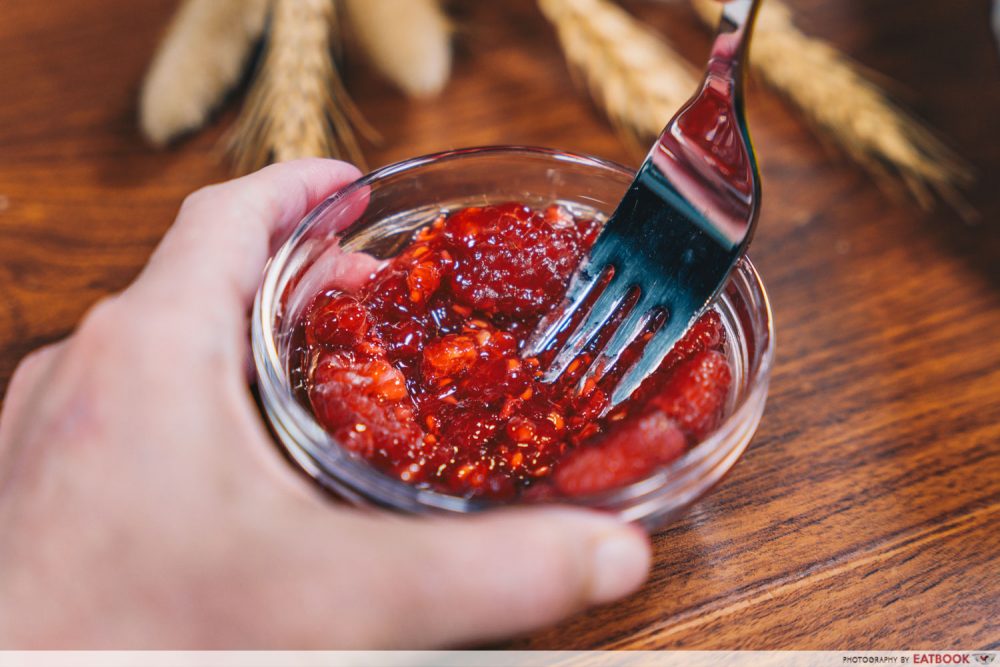 I used Quaker Rolled Oats ($5.35 for 800g) for this recipe. These absorb more liquid, taking in all the goodness from both the fruit and cheese cream when used in this recipe.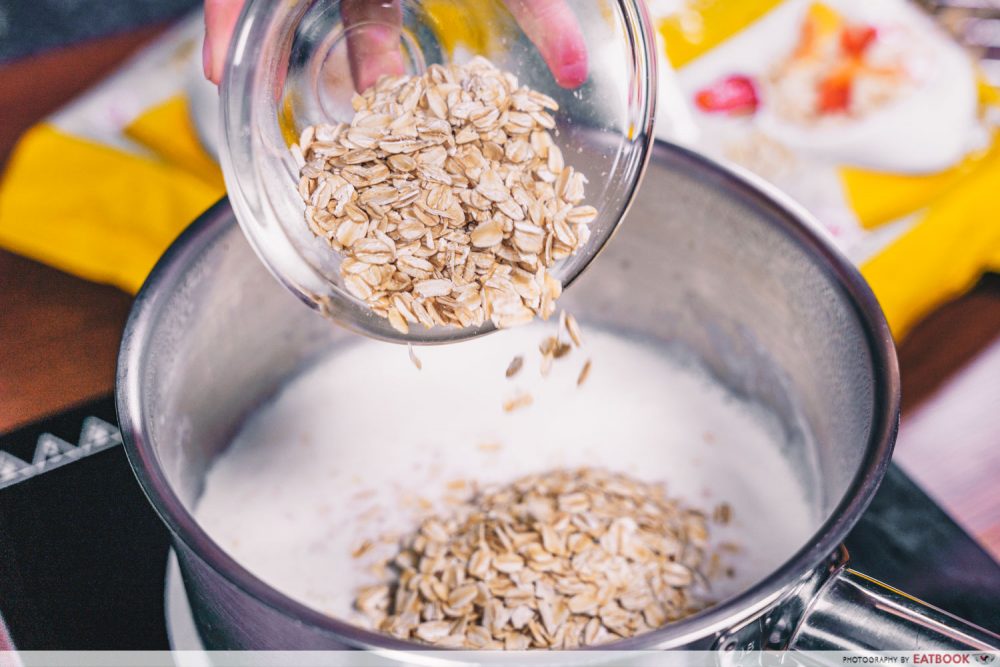 Though we have presented the parfait layered in a jar, you can always skip the gold star for presentation and simply add all ingredients to a bowl, mix, and enjoy.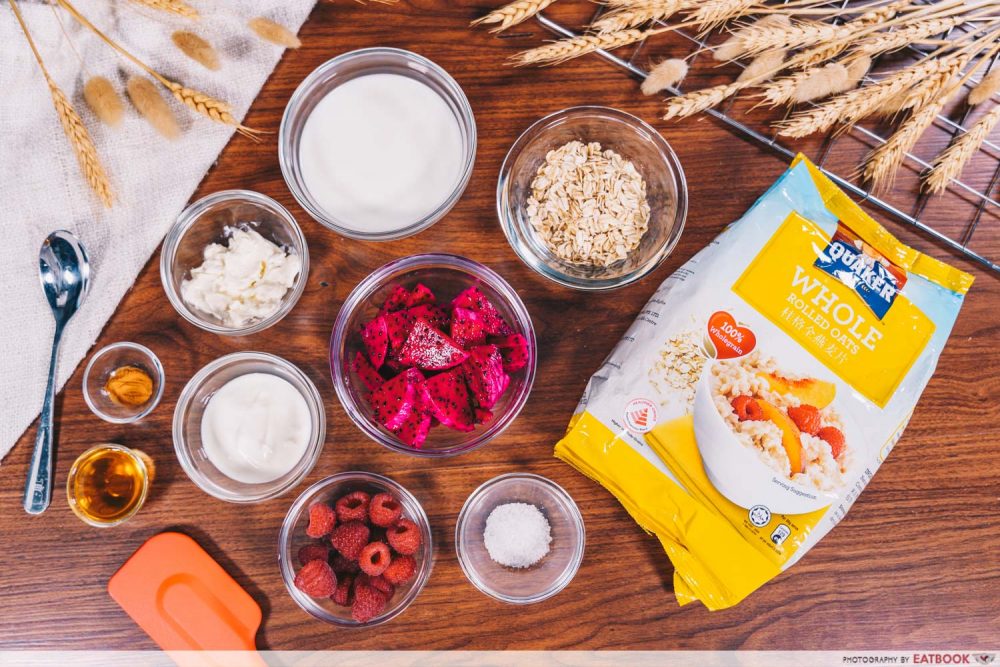 Yield: Serves 1
Cooking time: 15 minutes
Ingredients:
½ cup rolled oats
¼ tsp cinnamon
1 tsp honey
1 cup milk
Pinch of salt
Handful of raspberries
½ red dragonfruit, cubed
½ tsp honey
2 tbsp plain yoghurt
2 tbsp cream cheese
1 tbsp honey
Directions:
Bring milk to a boil in a saucepan. Lower the heat, then add the oats, salt, and cinnamon to the milk. Stir, and let simmer for five minutes.

As the oats are cooking, start on your layers. In a small bowl, mash the raspberries and the honey together. Set aside.

In a separate bowl, mix your yoghurt, cream cheese, and honey together. Set aside.

Once the oats are cooked, start layering your parfait. Begin with a scoop of oats, then cubed dragonfruit. Follow with oats, cream cheese, raspberries, and so forth until the glass is full. Serve.
---
2. Miso Chicken Porridge
---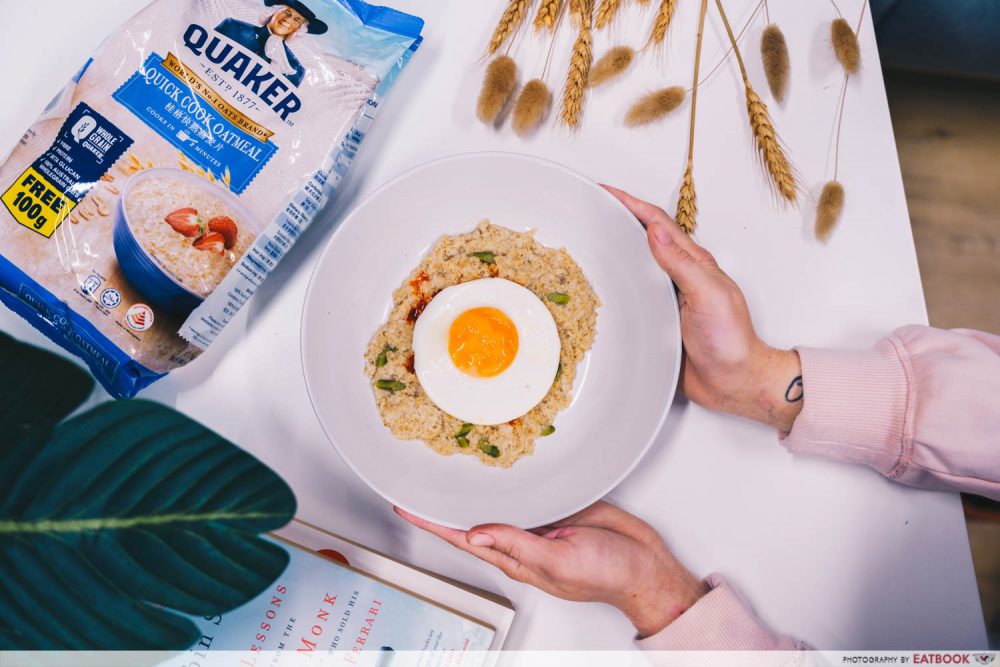 I was raised on Cantonese congee for breakfast, but ain't nobody got time to cook for upwards of an hour before the workday begins.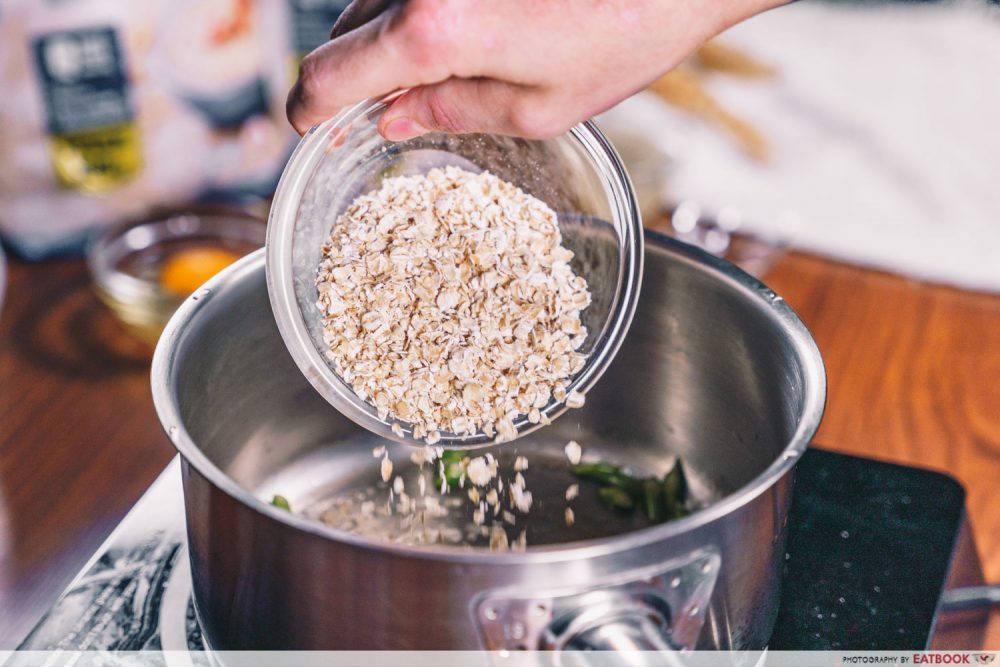 To hack this, I have swapped out rice for Quaker Quick Cook Oats ($5.10 for 900g), oatmeal that has a similar texture to porridge, but cooks in a fraction of the time.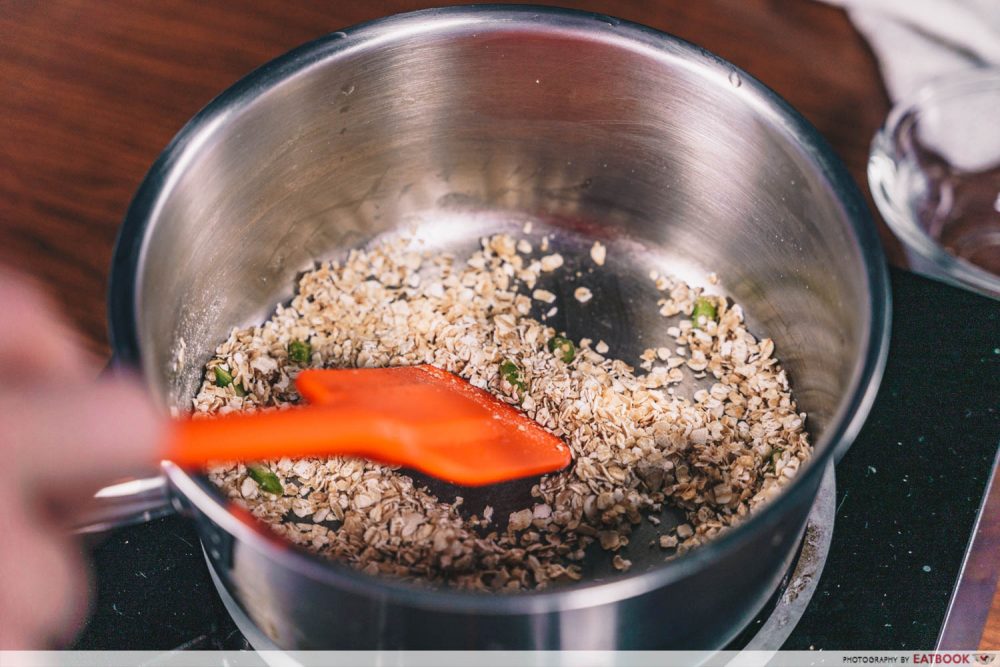 This nutty, savoury Miso Chicken Porridge doesn't require actual poultry for flavour either, saving on the fuss.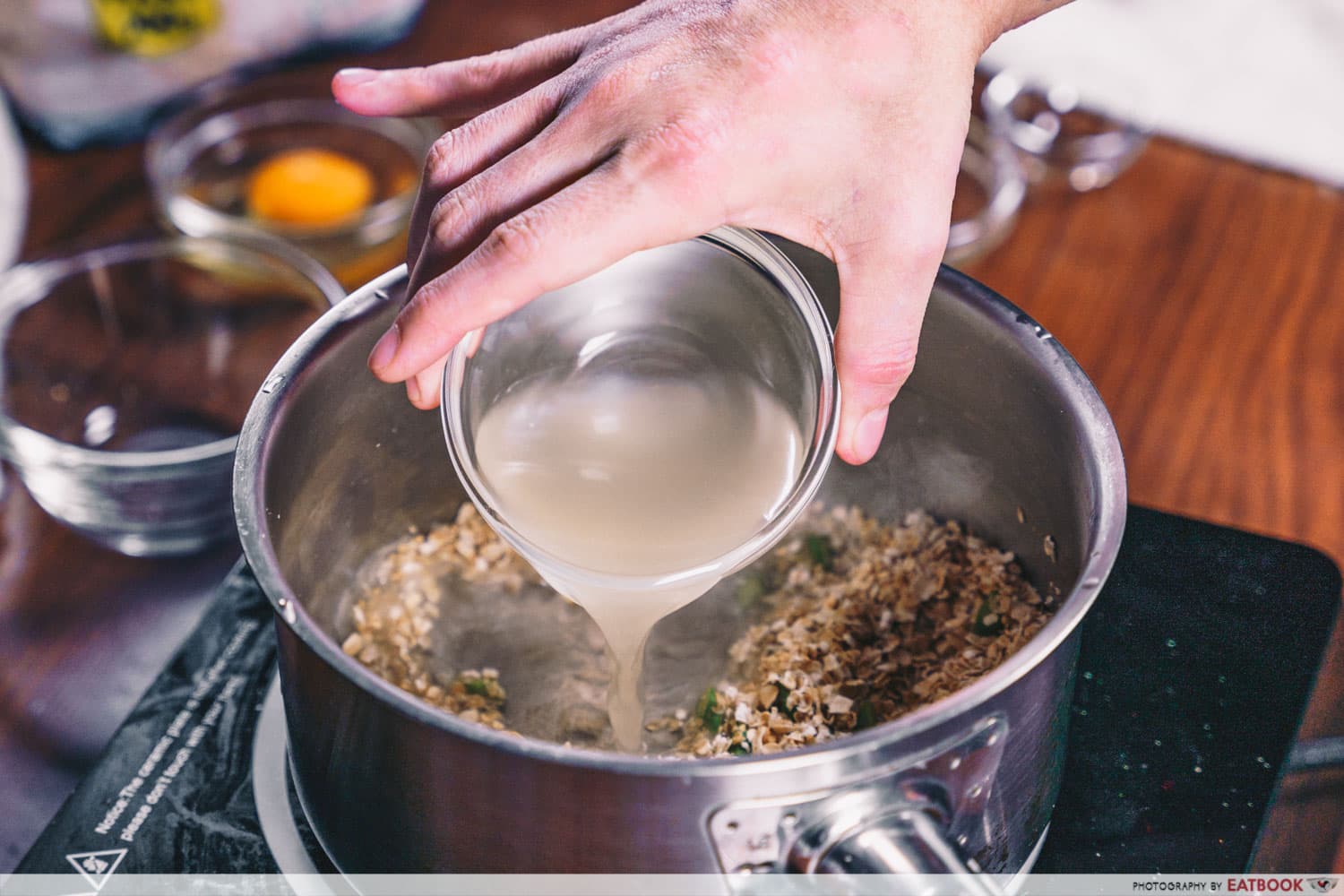 Instead, I find that the combination of miso paste, sesame oil, and liquid chicken stock is ample enough. Also, while the recipe calls for garlic sprouts, an easy swap to make is cloves of garlic, which will impart the same character to the dish, just with less colour.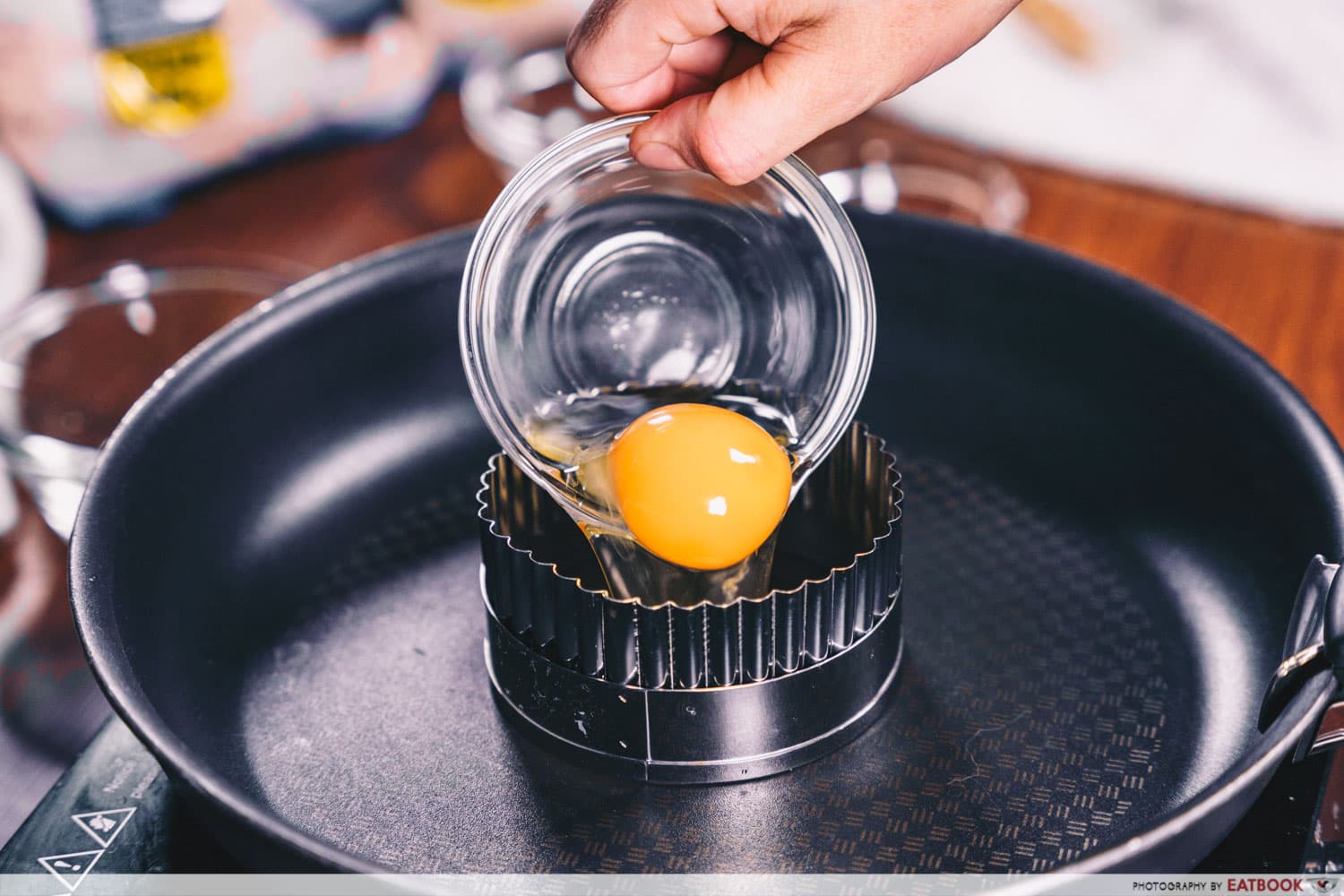 For protein, a fried egg is easy enough to prepare as your oatmeal cooks.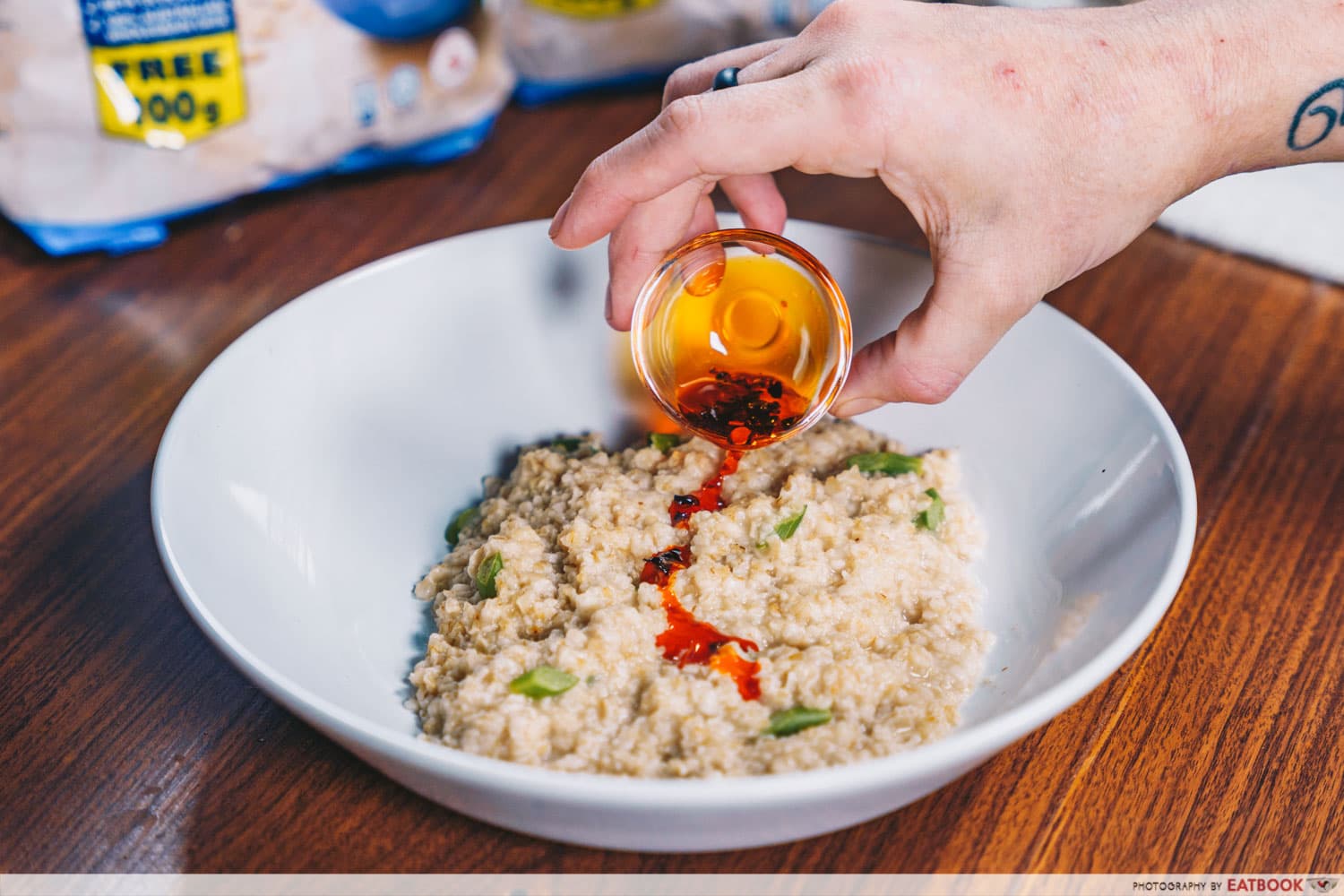 Chilli oil, especially Lao Gan Ma, is great to add a spicy kick too.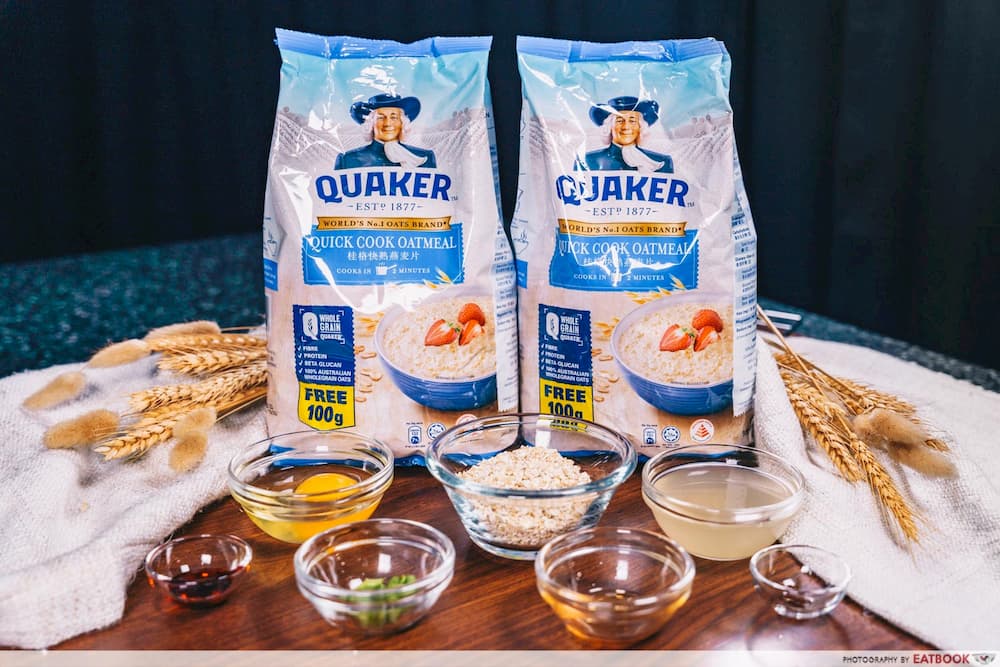 Yield: Serves 1
Cooking time: 15 minutes
Ingredients:
½ stem garlic sprout or 1 garlic clove, finely chopped
1 tsp sesame oil
½ cup oatmeal
¼ tsp miso paste
1 + ¼ tsp water
½ cup chicken broth or stock
1 egg
Chilli oil
Pepper
Directions:
Over medium-low heat, add sesame oil and garlic sprouts to a pot. Warm the oil, then add the oats to toast till browned. This will take a minute.

As the oats are toasting, mix ¼ tsp water into ¼ tsp miso paste to dilute it. Pour over the toasted oats.

Pour 1 cup of water and the chicken broth into the pot. Bring it to a boil, then lower the heat.

As the oatmeal cooks, fry a sunny-side-up egg in a separate pan. 

Take oatmeal off the heat once it achieves a porridge-like consistency. If it is dry, simply stir in a tablespoon of stock. 

Season with pepper and a drizzle of chilli oil. Top with a fried egg. Serve.
---
3. Six-Minute Apple And Raisin Oatmeal "Pie"
---
Another quick dessert-for-breakfast hack is this Apple and Raisin "Pie", which takes just six minutes and a microwave to make.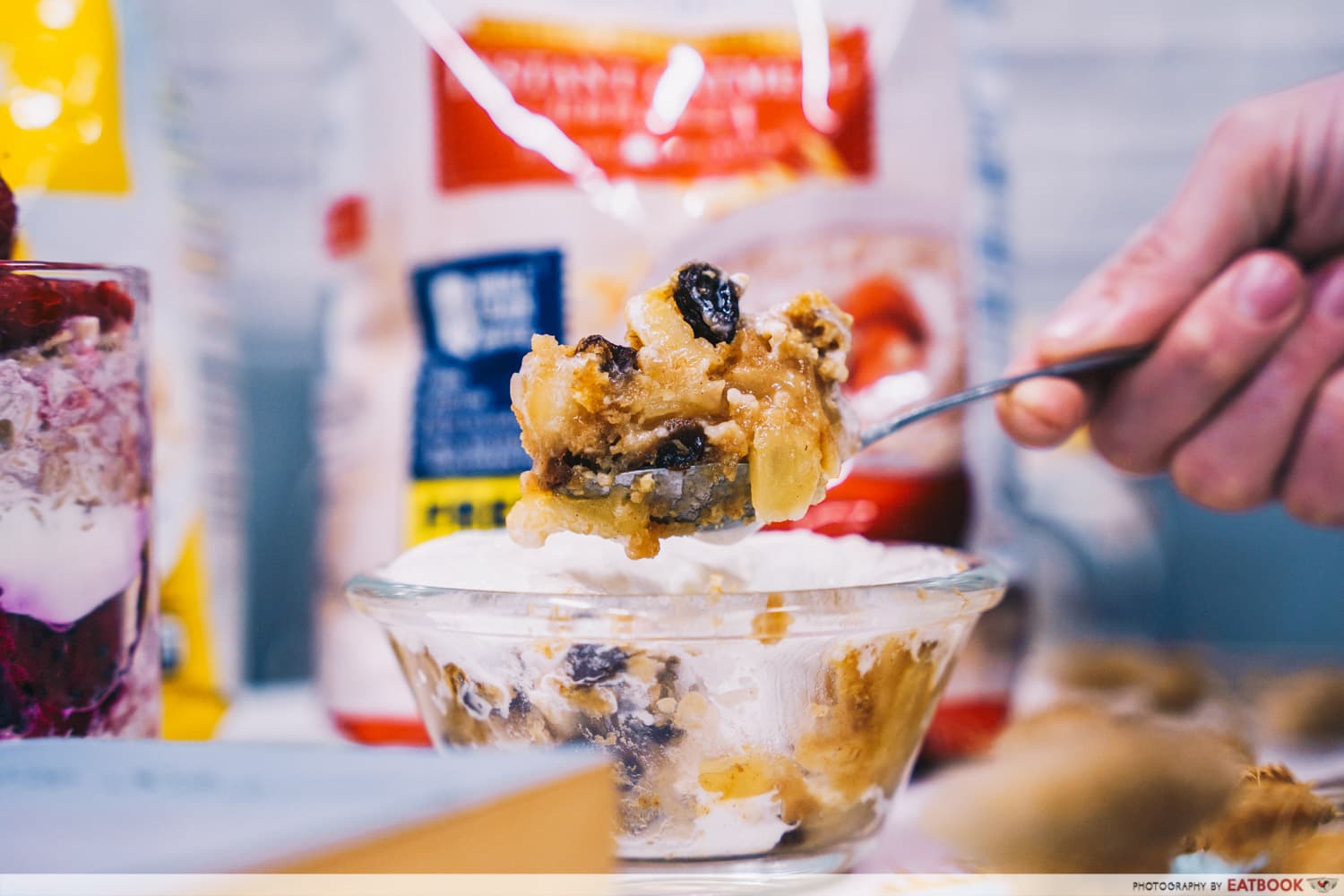 While you can't expect buttery pastry and gooey cooked apples within, this spin on the original pie more than makes up for it with how fast and effortless it is to whip up.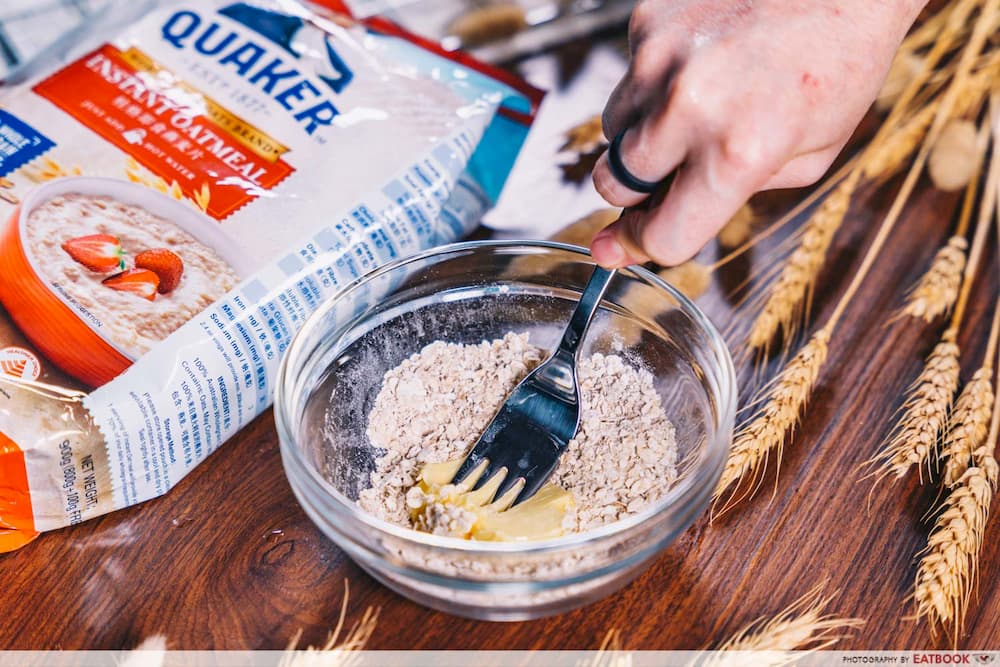 I use Quaker Instant Oatmeal ($5.10 for 900g) for this. This is the fastest cooking oatmeal in the Quaker Oats range. It just needs water or any liquid to rehydrate, and it's good to eat.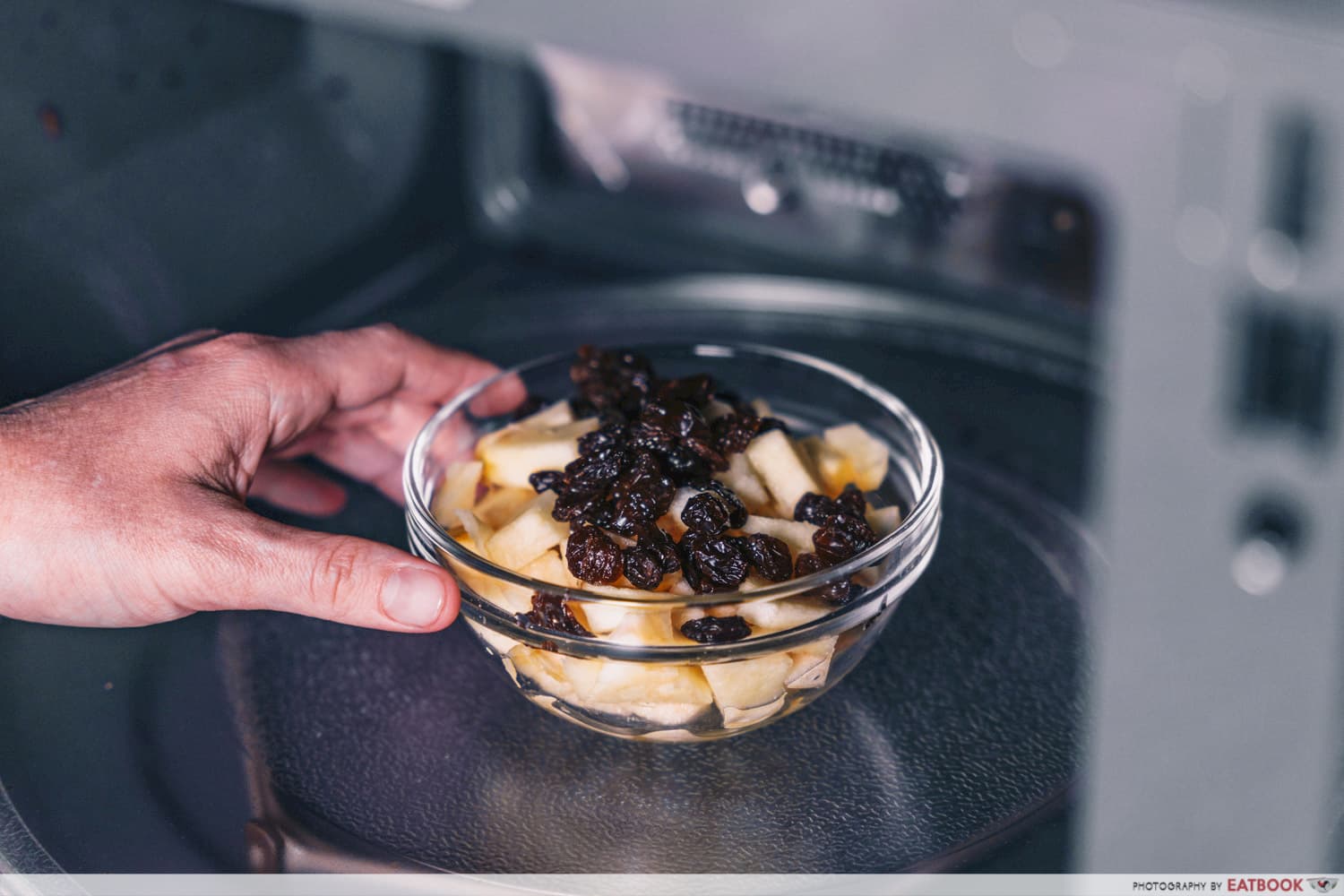 They also microwave in minutes, and have a softer texture that lends well to mimicking a crumble.
Another important thing to note with this quick pie is the "dough" you will make. Be sure to mix the dry ingredients before adding the butter.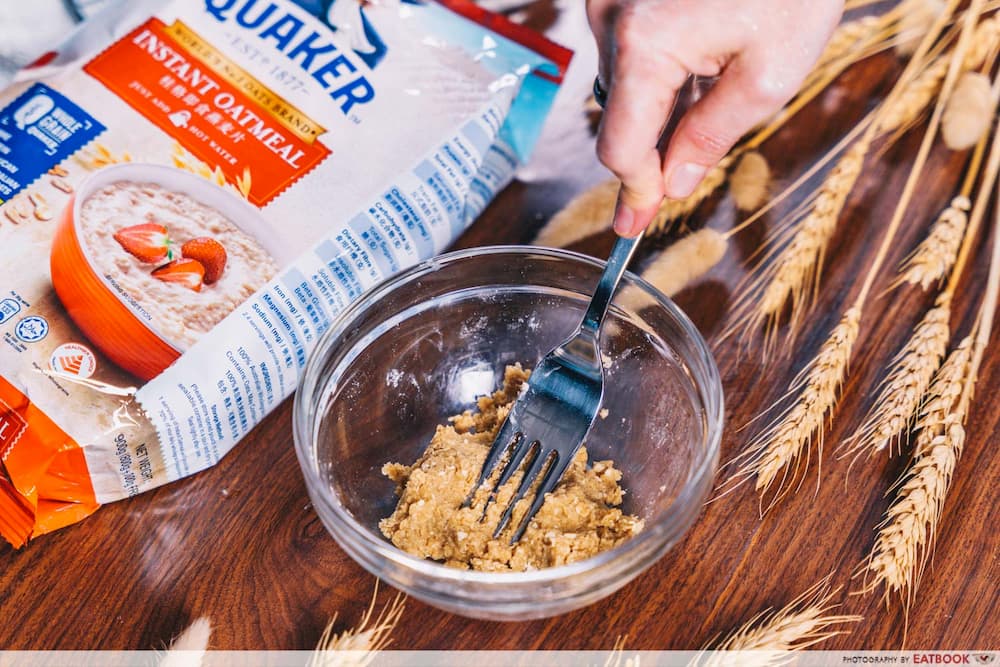 Also note that your butter ought to be slightly soft so it's easily kneaded with a fork, or with your bare hands. 
Omit the raisins if you're not a fan, but I find that it does give a bit of textural contrast to the apples. They also enhance the comforting warmth of this simple recipe.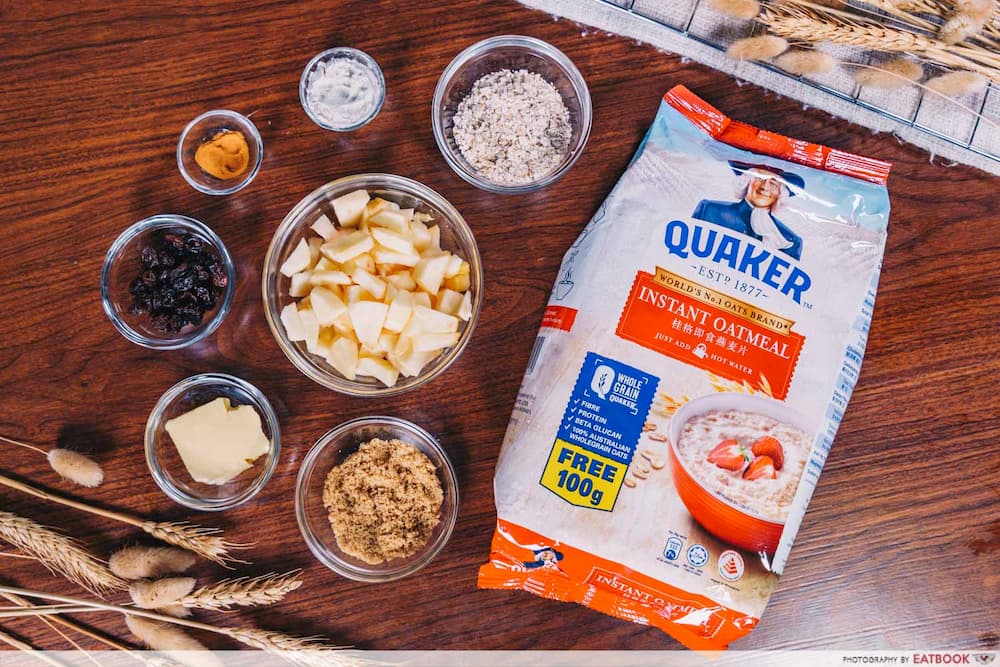 Yield: Serves 1
Cooking time: 15 minutes
Ingredients
1 apple, diced
1 tbsp water
¼ tsp cinnamon
1 tbsp raisins
1 tbsp brown sugar
1 tsp flour
1 pinch salt
3 tbsp oatmeal
1 tbsp flour
¼ tsp cinnamon
1 tbsp brown sugar
2 tbsp cubed butter
Directions:
Peel, then dice the apple into small pieces.

Add the apple and water to a microwave-safe bowl, and microwave on high until softened.

Stir in cinnamon, brown sugar, salt, and flour.

In another small bowl, mix together the instant oats, sugar, cinnamon, and flour. Add the cubed butter to it, and work the butter in with either a fork or your fingers until it forms a uniform dough.

Press the dough over the apple mixture, then microwave again for a minute on high. 

Remove, and top with whipped cream if you're feeling fancy. Serve.
Recipe adapted from Tasty.
---
Easy oatmeal breakfast recipes
---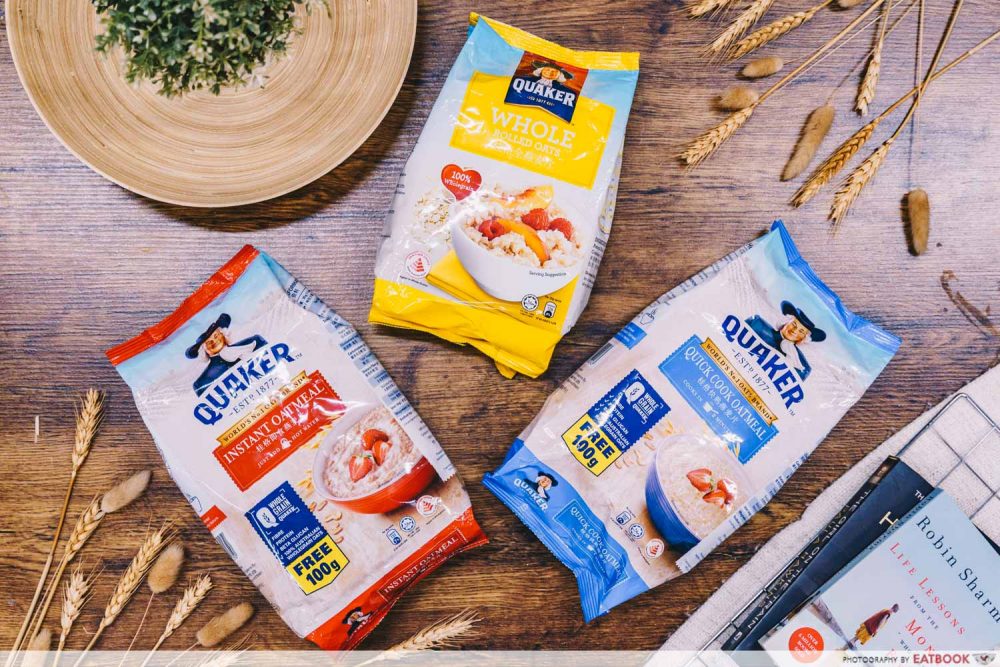 Oatmeal is truly one of the most fuss-free, quick ways you can start your morning. Outside of the recipes I have shared, the trio of Quaker Oats available on the market means that there are endless possibilities for how you want to elevate your meals with this pantry staple.
If you have a recipe to share, Quaker Oats is holding a competition known as SG Quaker Chef 2020, where you can upload your oatmeal invention to their website and stand a chance to win attractive prizes. There will be 10 Grand Prize winners, including a staycation at Shangri-La Hotel for two people to be won, and 50 sets of $100 CapitaLand vouchers for runner-up winners.
Get creative and ideate your next delicious and nutritious recipe. All you need to do to win is to submit your recipe to the SG Quaker Chef 2020 website with original photographs. For more information, check out their website.
Photos taken by John Lery Villanueva.
This post is brought to you by Quaker Oats.
MEIDI-YA Millenia Walk Has A Beer Garden And Cafe With Snow Crab Uni Bentos And Katsu Sandwiches