Obok Dabang at SMU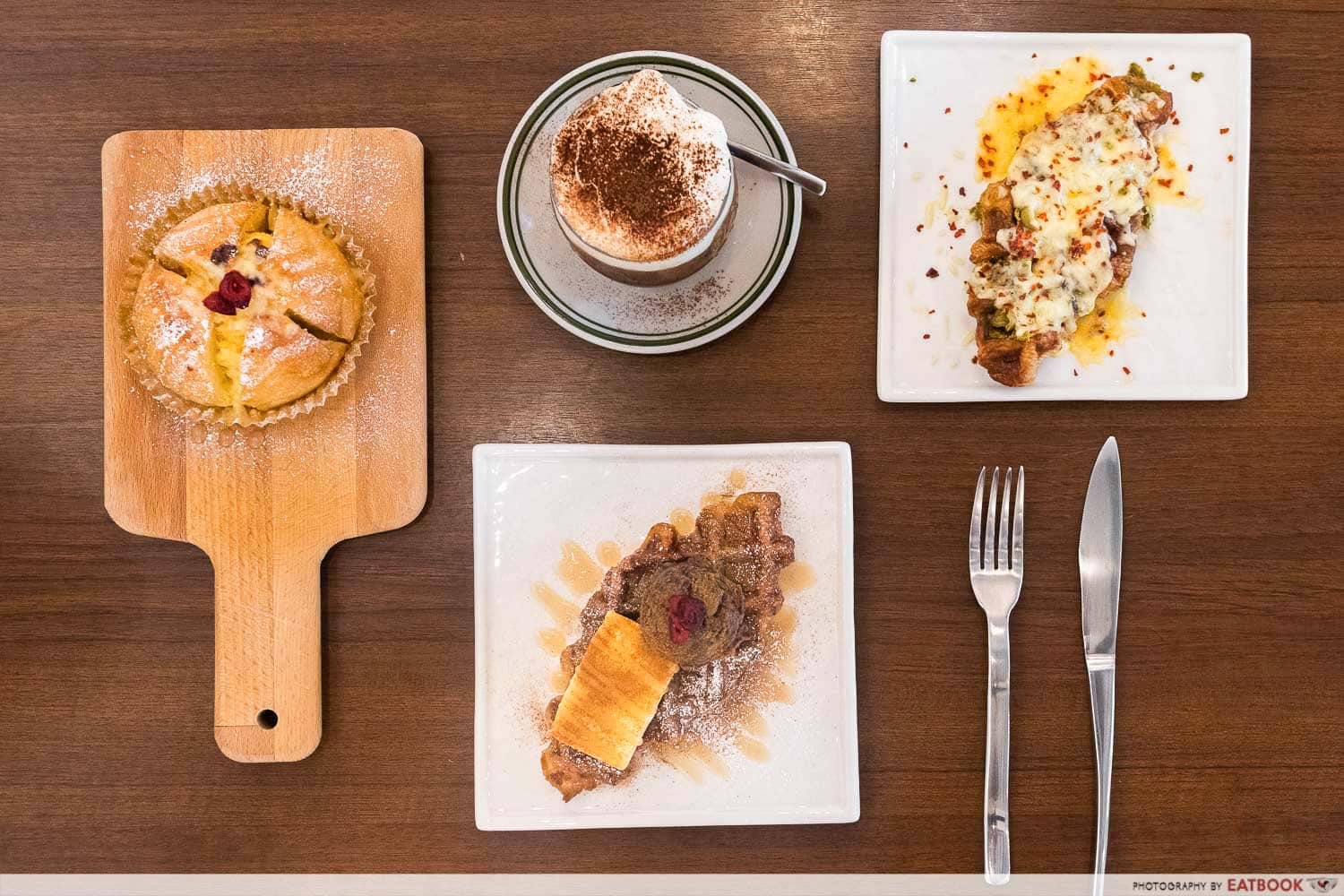 Growing up in an international school, I've made friends from all over the world, some of whom are from Korea. Recently, one of my Korean friends sent me a picture of an aesthetic looking beverage that's currently trending in Korea, called the Einspanner Coffee. The beverage, which takes inspiration from Viennese coffee, has a cloud-like foam that looks incredibly thick and creamy, sitting atop a coffee base. I was intrigued, and wanted to get my hands on one without having to travel. That's when I stumbled upon Obok Dabang, a Korean cafe that recently opened in SMU, offering the trendy drink, along with a slew of Korean-inspired cafe items! 
Obok Dabang, which translates to Five Luck Cafe, is a new Korean cafe by UTB Coffee—the same people behind Urban Table. As we previously enjoyed the authenticity of Urban Table's fare, I definitely had some expectations before visiting Obok Dabang.
Urban Table Review: New Seoul-Inspired Cafe With Specialty Coffee And Freshly Baked Croissants From $3.50
Food at Obok Dabang 
Obok Dabang features two menus—one where they serve small bites and beverages before 5pm, and another for after 5pm that includes fried chicken, ramen, and tteokbokki.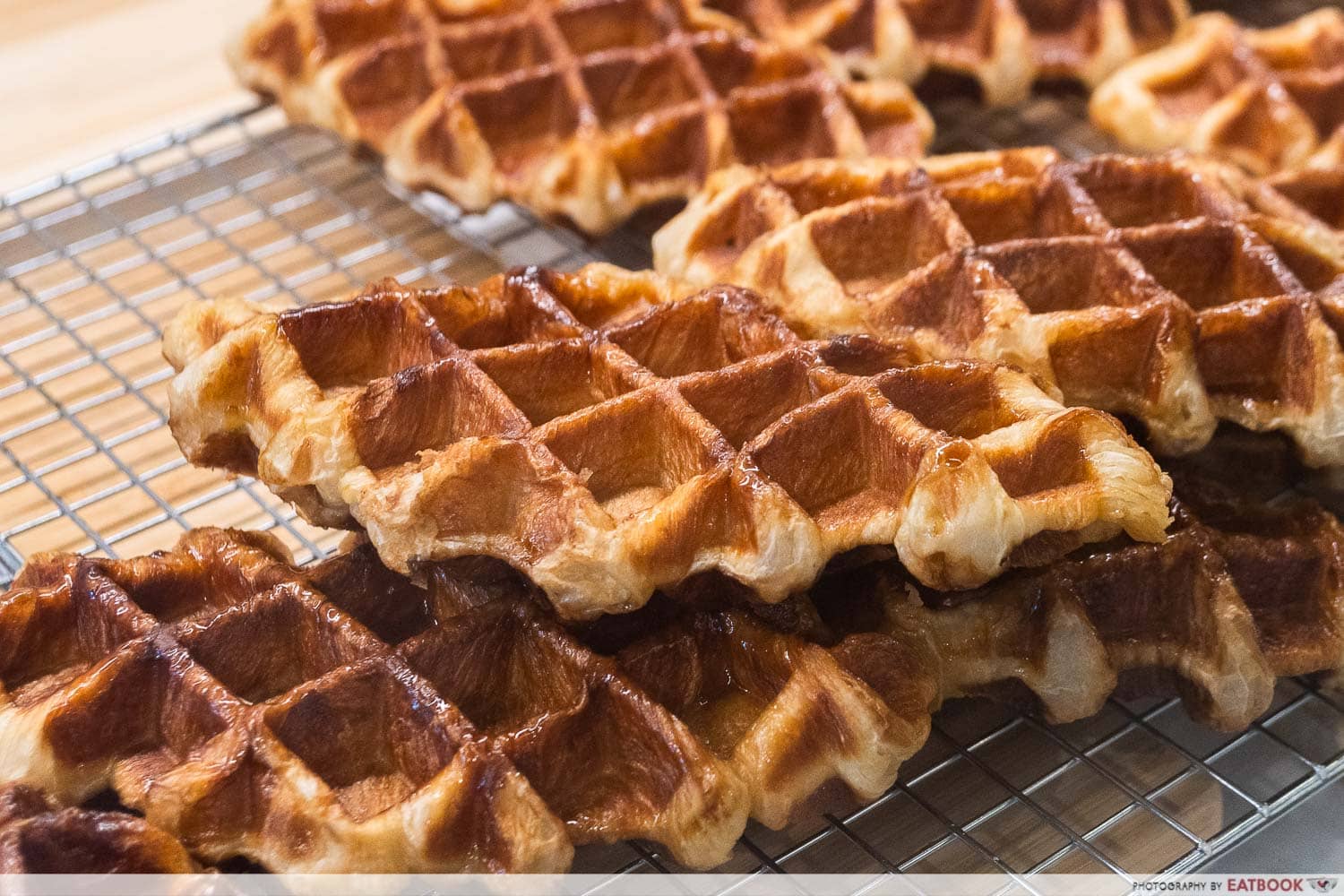 To avoid the student crowd in the afternoon, my colleague and I headed down right when they opened in the morning. They have a slew of coffee and tea to choose from, and a selection of cakes and croffles AKA croissant waffles to pair with your morning drink. What caught my attention was the display of the croffles as they sported a deep golden-brown colour, which whet my appetite.  
The croffles are available in five flavours: Basil Pesto, Ang-Butter (Red Bean), Tiramisu, Lotus Speculoos, and Blueberry, all of which are priced at $4.50++ a piece. As we had limited stomach space, we narrowed our order down to two flavours—Ang-Butter (Red Bean) and Basil Pesto—to get a taste of something sweet and savoury.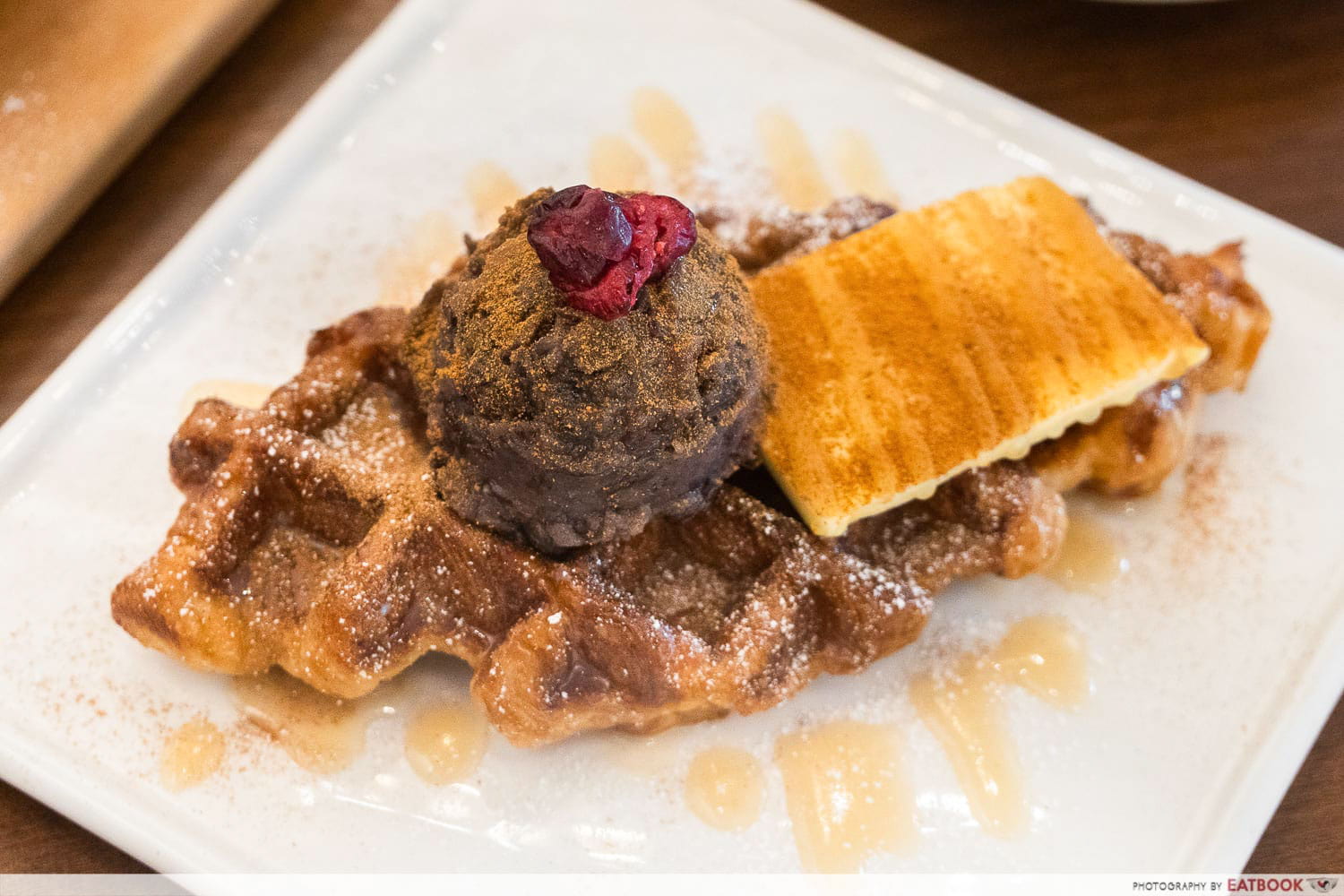 The Ang-Butter croffle came with a small scoop of red bean paste, together with a thin slab of butter atop. To finish it off, this dessert was dusted with powdered sugar, cinnamon powder, and drizzled with syrup.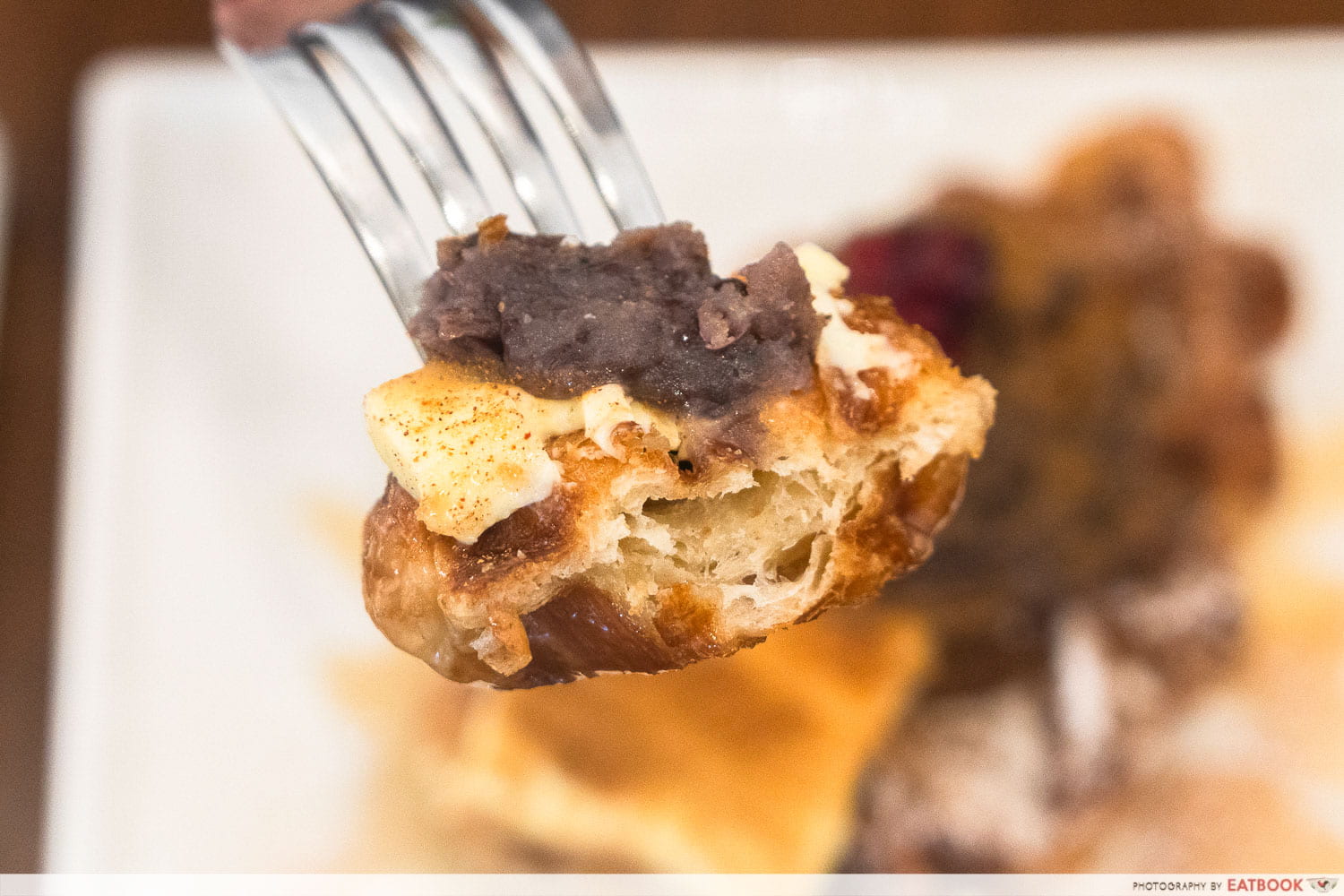 I have to admit, this was my first time trying out a croffle and I was pleasantly surprised! It had a sweet and crispy exterior, with a light and chewy centre. Even though the croissant was compressed into a waffle shape, the laminated layers were still visible, keeping the pastry soft within. It was nice and sweet on its own, but I enjoyed it much more with the red bean and butter toppings.  
I am usually not a fan of butter as I dislike greasiness. However, the butter used here was essential as it had a creamy mouthfeel while complementing the sweet azuki bean.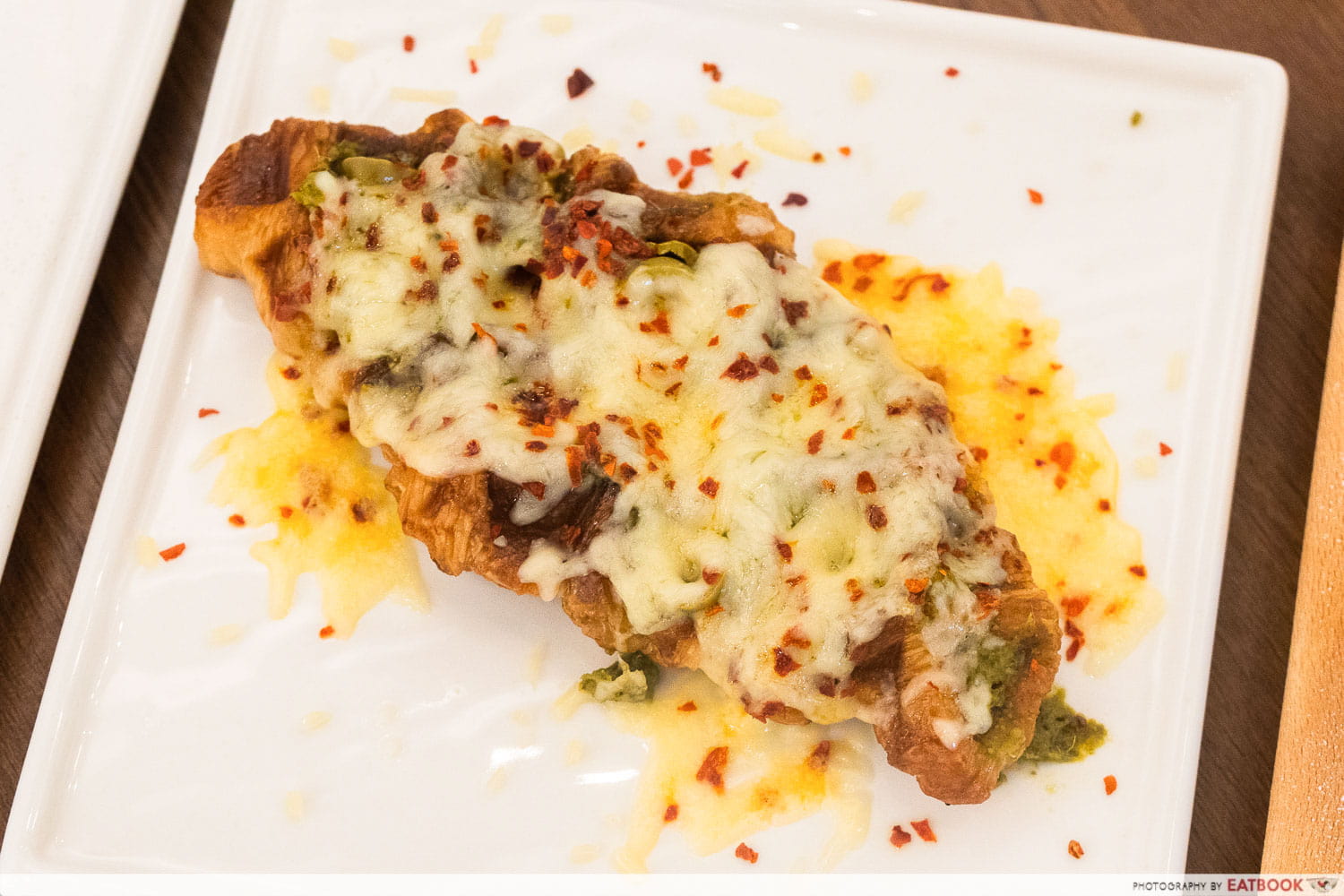 We then moved on to the only savoury flavour on the croffle series—Basil Pesto. It featured a pesto base blanketed with parmesan cheese, and sprinkled with chilli flakes. 
If you enjoy savoury items, this croffle is for you. The parmesan was bold and tangy, which contrasted with the sweet croffle. Personally, I felt that the cheese was too overpowering in terms of its smell and taste.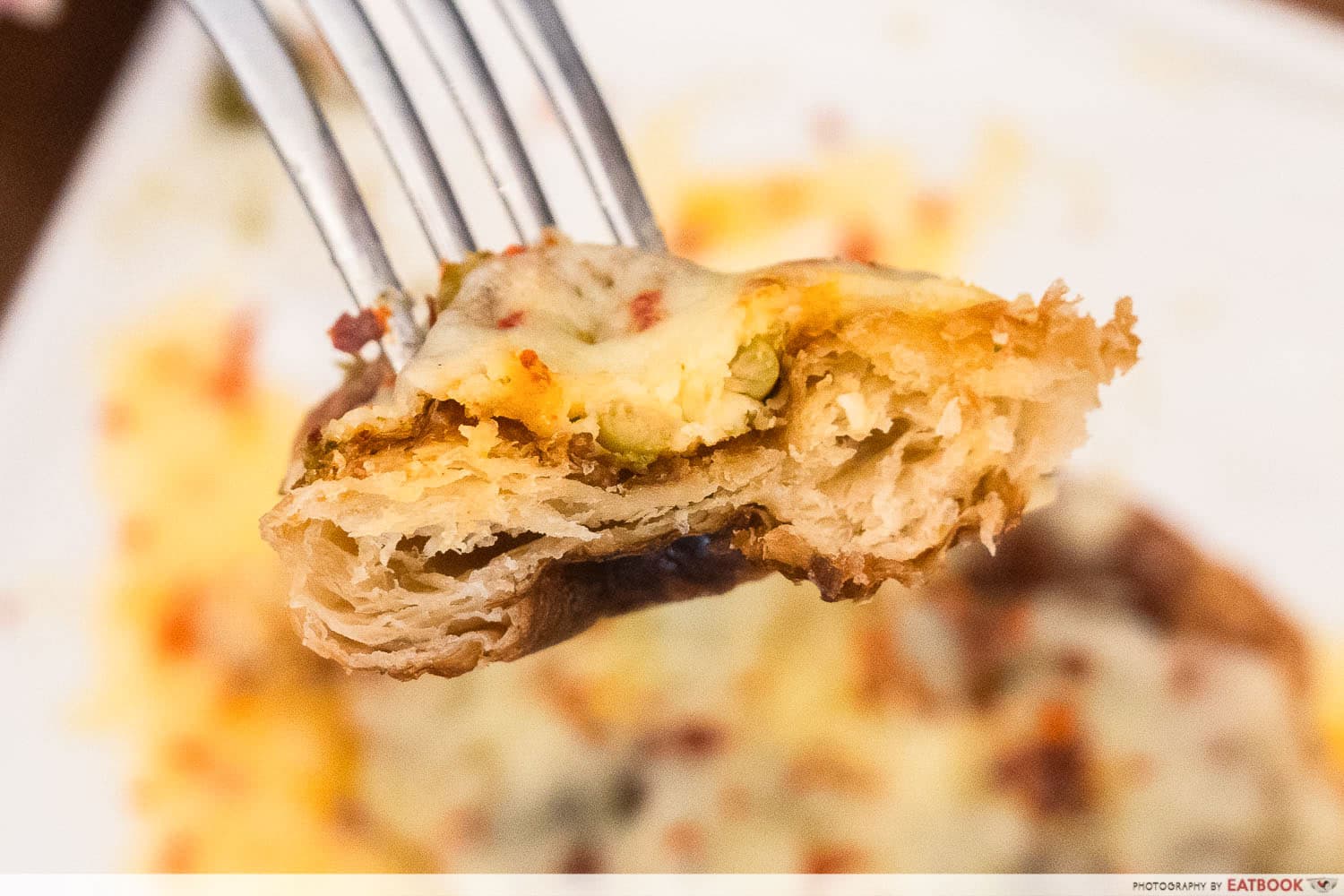 Another gripe that I had was with the pesto sauce. It was sharp and slightly bitter—definitely an acquired taste. I can't quite put my finger on it, but it wasn't as garlicky or nutty as I hoped it would be. It was also missing the grassy, basil fragrance that fresh homemade pesto sauce has. Nevertheless, the sweet croffle base and sharp cheese were able to redeem the lacklustre pesto. 
Do consume these croffles while they are still warm, as they harden when cooled. We experienced it during our shoot, so I can guarantee that the croffles have a better texture when they're fresh out of the maker.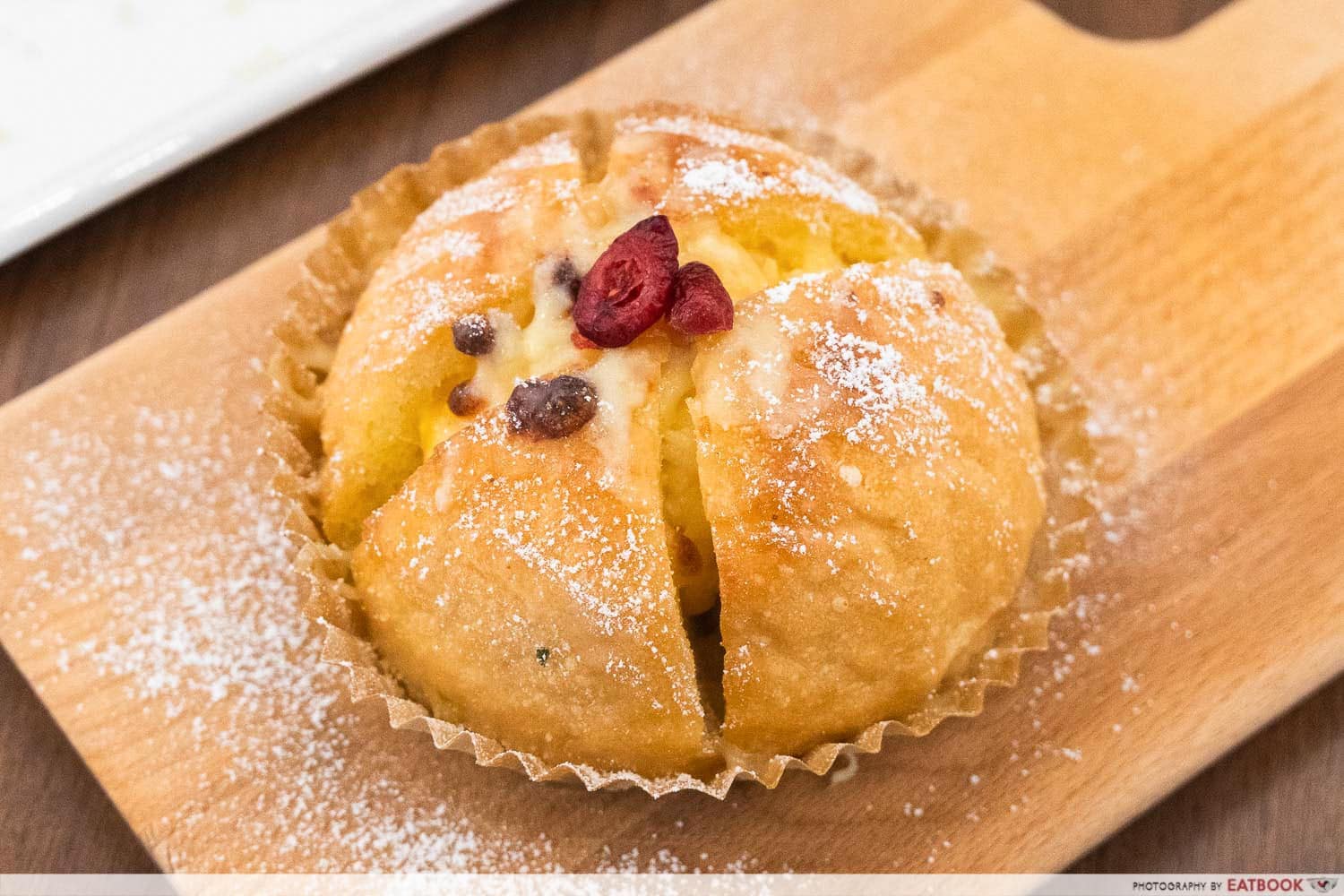 Other than the croffles, Obok Dabang also has baguettes and cakes. Out of all the items on the menu, I was most drawn to the baguettes as they looked nothing like the French bread that I know of. Curious about this never-seen-before baguette, I tried the Quattro Baguette ($6++) next.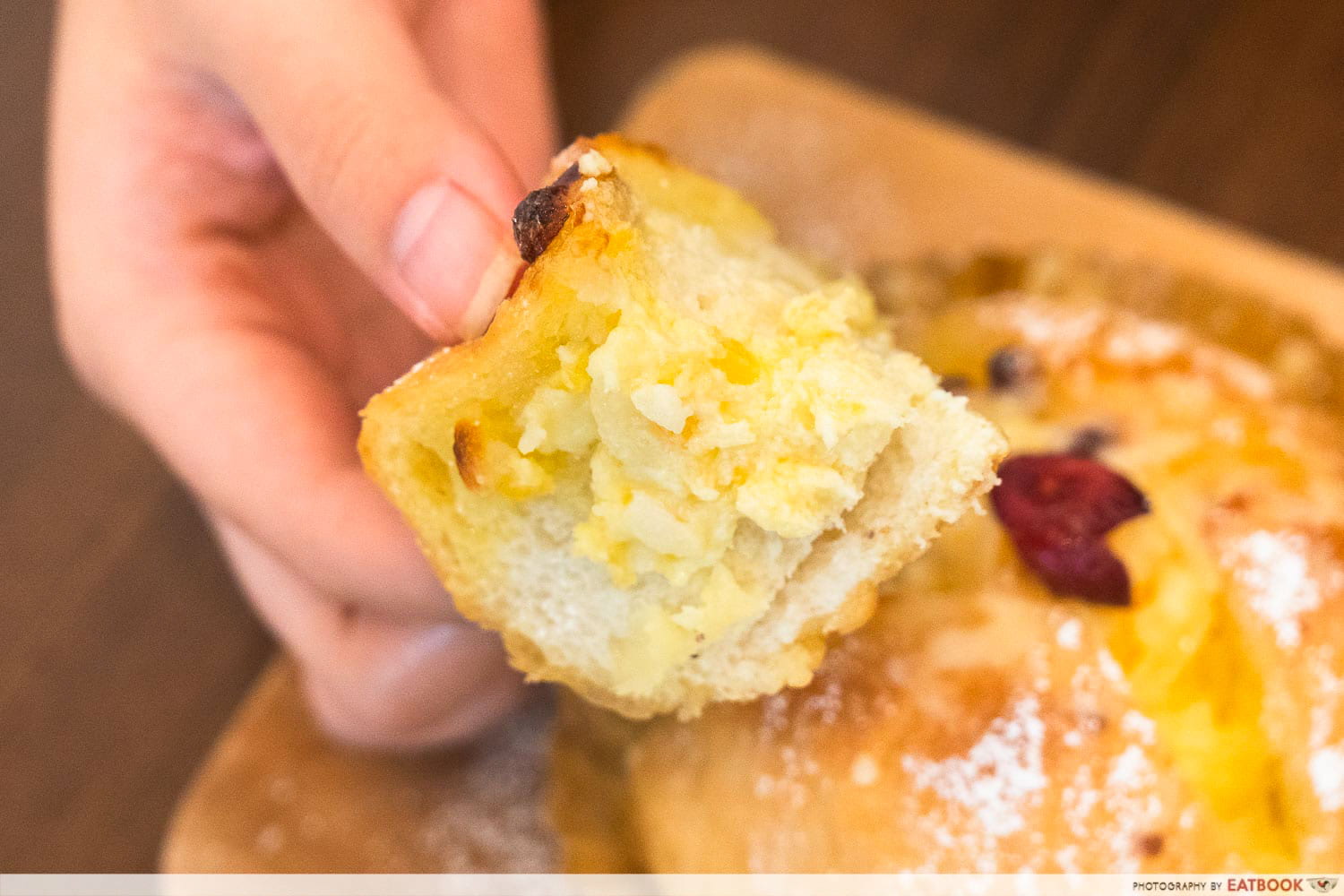 The baguette was sliced into four parts and had a cream cheese filling. As with the croffles, the baguette had a sweet coating, which contrasted nicely with the tart cream cheese. However, I would have preferred if the filling was more creamy.
What I did like, though, was the texture of the bread. It was incredibly soft and fluffy, unlike the chewy and crusty French baguette we know of, which made it a joy to eat.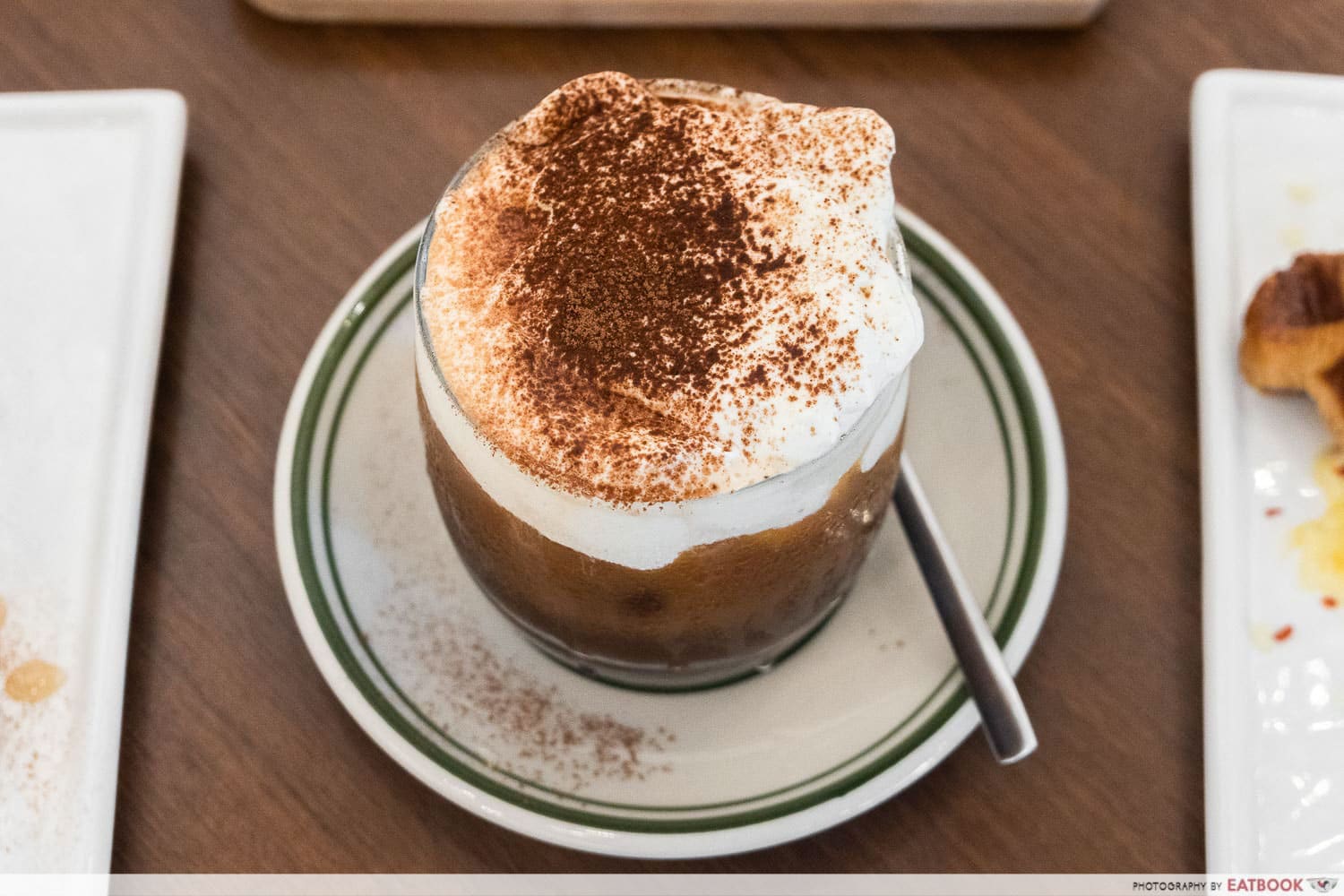 To pair with the small bites, we had an Einspanner Coffee ($6++) on the side. It comes with either a black or white coffee of your choice, topped with a special, handmade whip cream, dusted with cocoa powder. This coffee was the highlight of our visit.  
The barista advised that we first savour the cream, and then take a sip of the coffee to have a taste of both components separately. Then, stir in the cream and enjoy.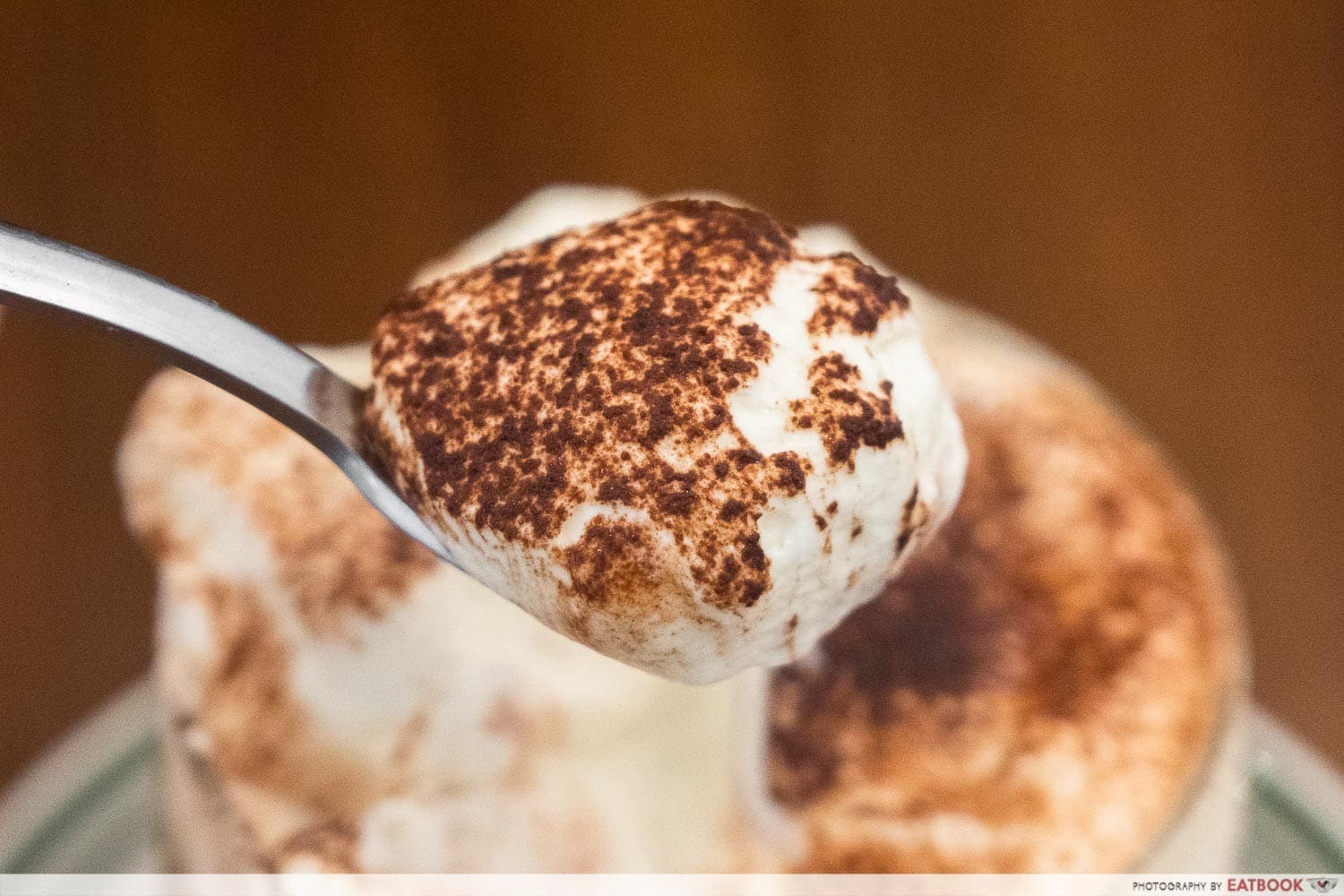 I was surprised by the sweetness and texture of the cream. I tend to avoid whipped cream as I don't like its oiliness. However, this cream is different. It tastes like a tiramisu dessert—sweet, creamy, and thick, with a whiff of coffee. 
The cream was much needed as the coffee was a little too acidic for my liking. Stirring in the cream helped to tone it down.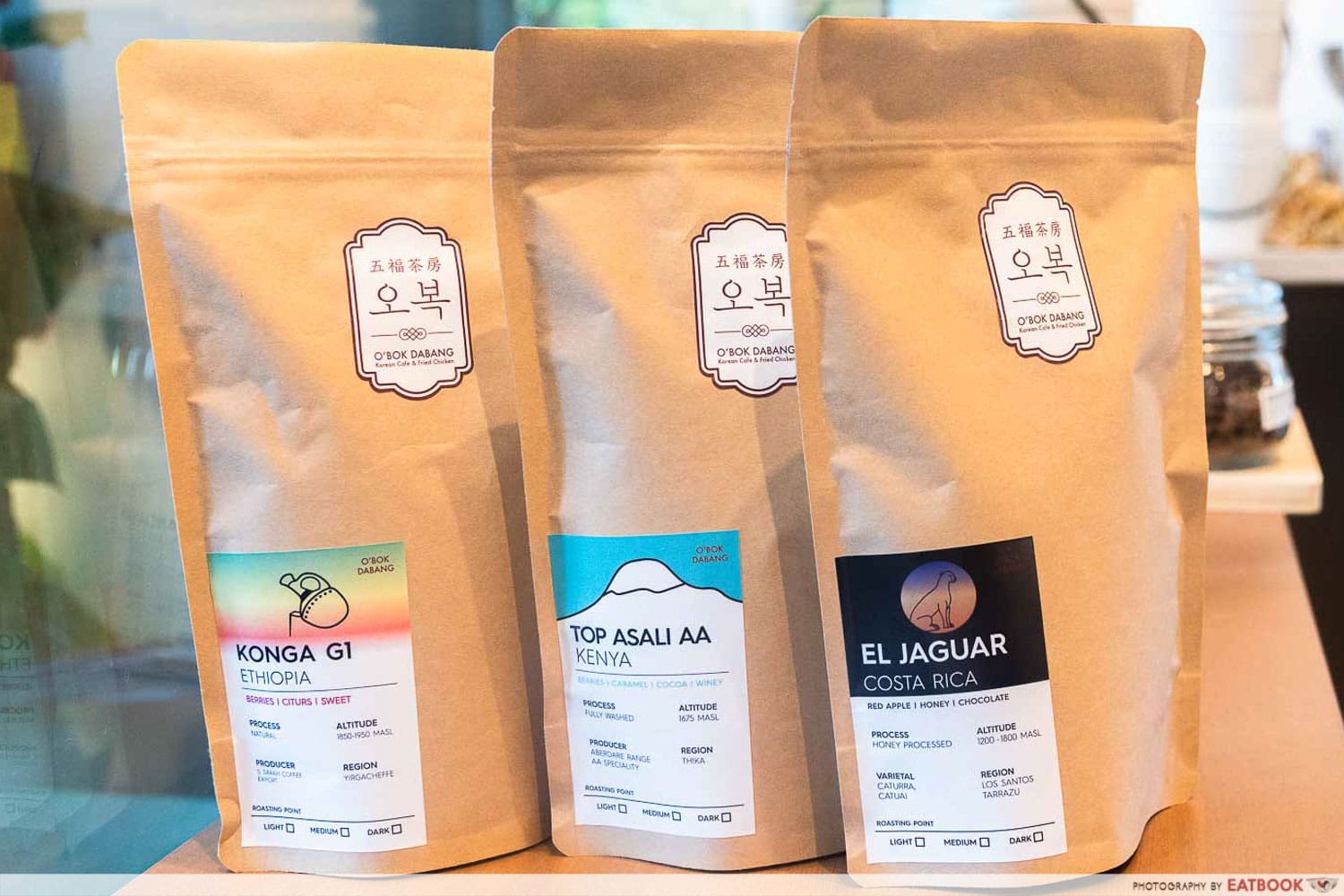 If you enjoyed the coffee here, consider taking home a bag of roasted coffee beans for $16.50++ (200g). Do note that Obok Dabang's coffee beverages are made from a blend of three different types of coffee beans, so it might taste different if you were to brew your own at home. 
Ambience at Obok Dabang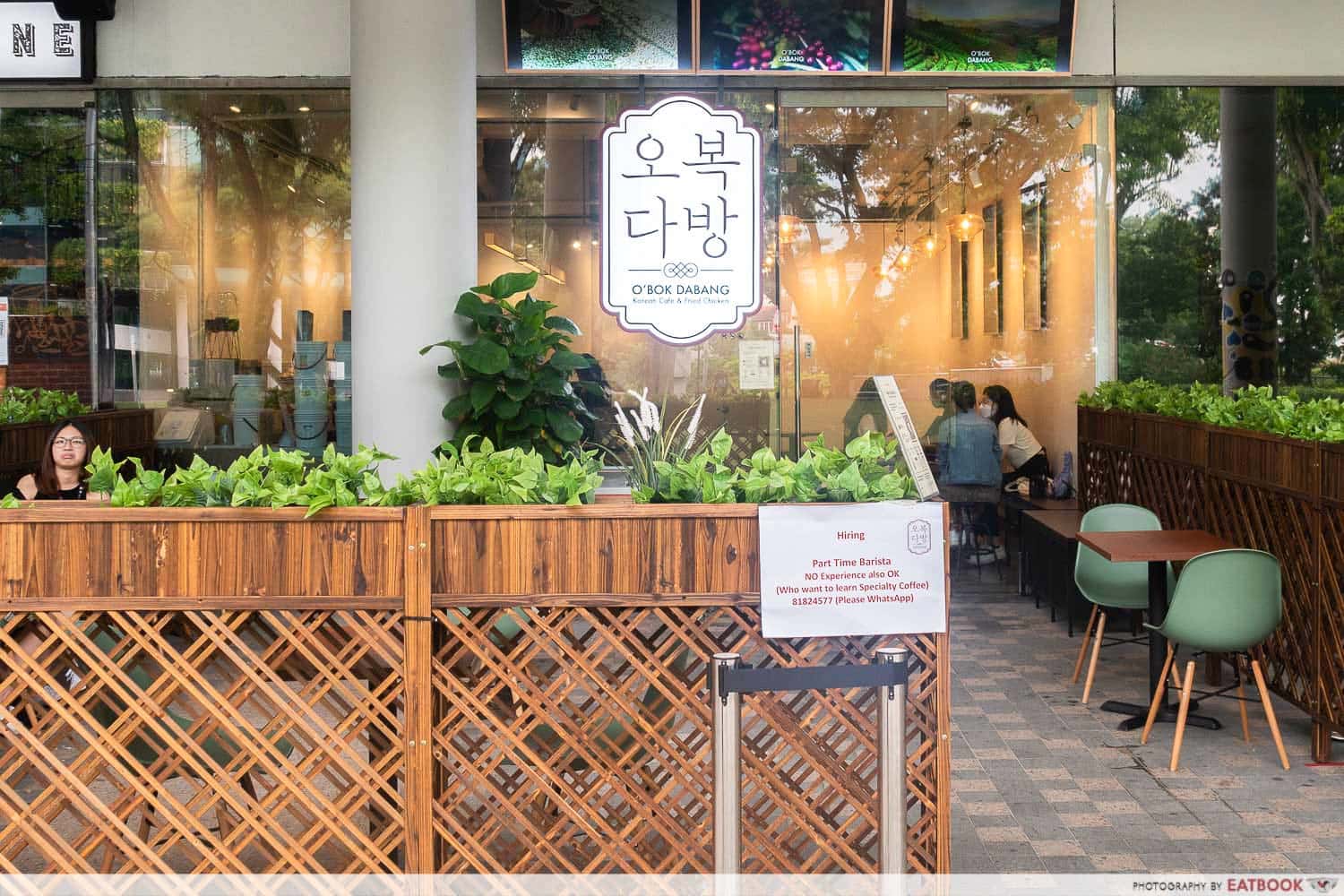 Obok Dabang is located within the SMU campus, right next to Li Ka Shing Library. If you know your way around the campus, it's a quick walk from Bras Basah MRT Station.
The cafe was rather quiet when we dined in. There are both indoor and outdoor seats available, so you can definitely find a good spot for a quick catch-up with friends.
The verdict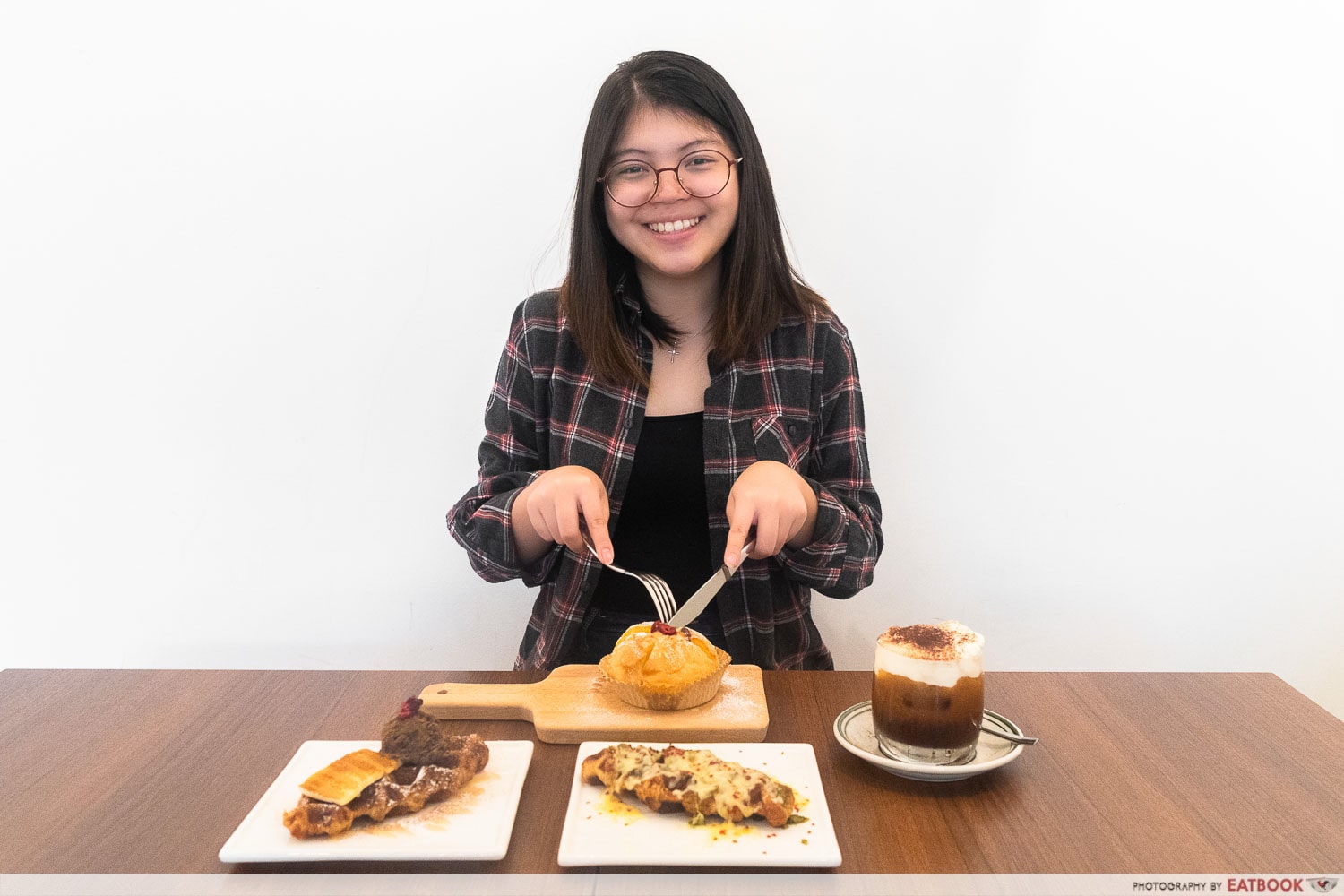 As Obok Dabang is relatively new, it's possible that they're still developing their menu, so I felt that my choices were quite limited. However, from their Instagram Page, it seems like new croffle flavours and hybrid items such as cruffins are now available. So I would recommend keeping Obok Dabang on your radar as I believe there is a lot more to come! What's more, if you're an SMU student you get to enjoy 10% off their bill when you present your student card. 
If you are looking for more Korean food within the area, consider 90 Minutes for a tteokbokki hotpot buffet, or SSAK3 for a wallet-friendly Korean BBQ experience.
Address: 70 Stamford Road, #01-22A, Li Ka Shing Library, SMU, Singapore 178901
Opening hours: Mon-Sat 7:30am to 1am
Website
The Obok Dabang is not a halal-certified eatery. 
SSAK3 Review: Affordable Korean BBQ With Samgyeopsal, Honeycomb Pork, Army Stew And More At Bras Basah
Photos taken by Lim Yu Hui.
This is an independent tasting at Obok Dabang.
Obok Dabang Review: New Korean Cafe At SMU Opens Till 1AM With Tiramisu Croffles
Obok Dabang Review: New Korean Cafe At SMU Opens Till 1AM With Tiramisu Croffles -

7/10
Summary
Pros
– Convenient location
– Nice ambience for a catch-up
– Opens till late
Cons
– Menu is quite limited
– Croffles were inconsistent
Recommended dishes: Einspanner Coffee ($6++), Ang-Butter (Red Bean) ($4.50++), Quattro Baguette ($6++)
Opening hours: Mon-Sat 7:30am to 1am
Address: 70 Stamford Road, #01-22A Li Ka Shing Library, SMU, Singapore 178901