Pop by Old Chengdu for a different ma la experience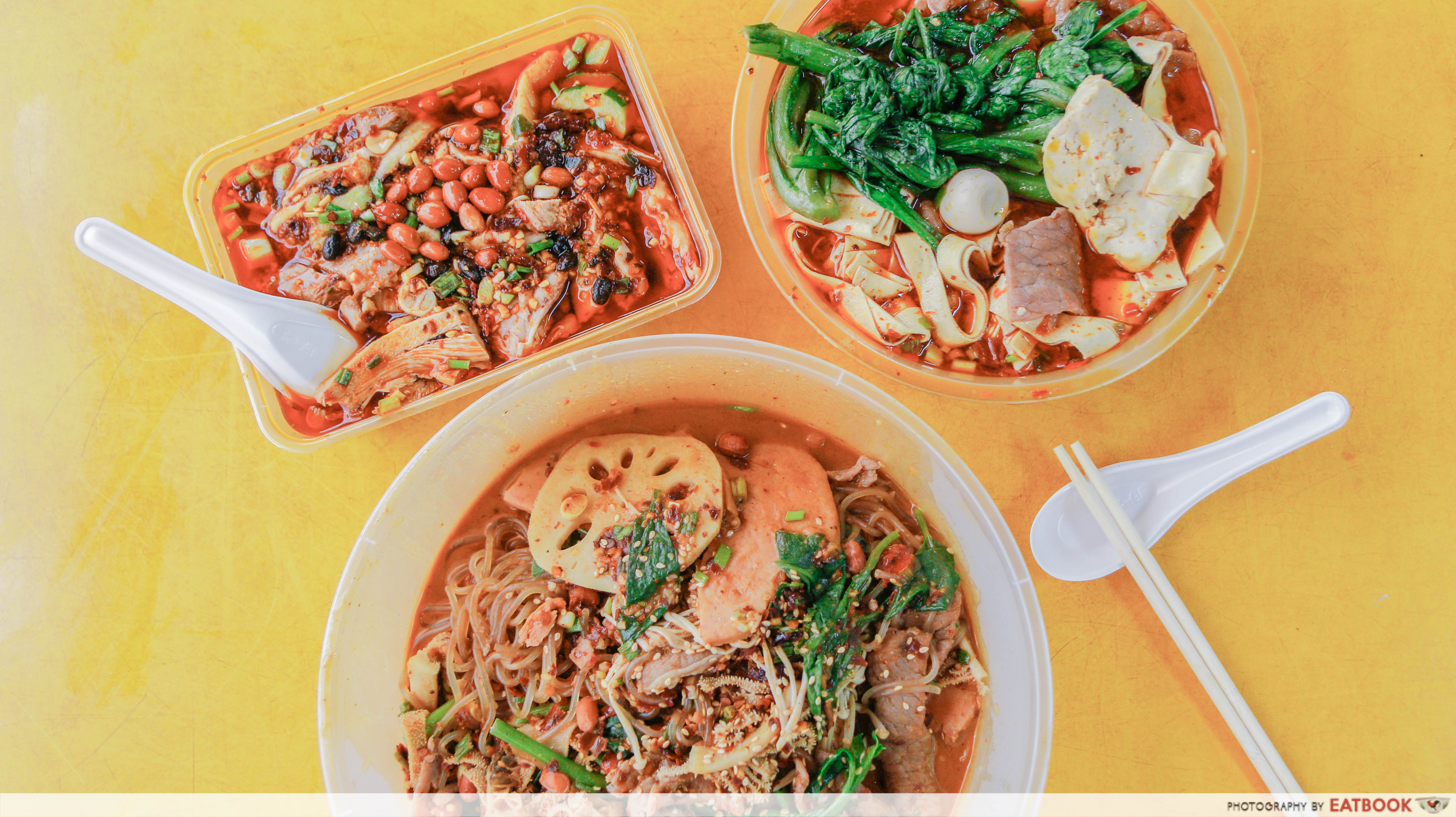 There's only one hawker spot I'm sure of – Ri Ri Hong – whenever I hit Chinatown but curiosity usually has me exploring the mini food street between People's Park Complex and Exit C of Chinatown MRT Station. The rows of Chinese kiosks labelled with dish names I don't understand feel a tad intimidating. Yet my mind seems to always expand from wondering how the food would thrill my palate. This time, I stopped for one of them.
Old Chengdu is just opposite the famed Ri Ri Hong and though it also sells ma la, its draw is its Mala Tang (soup). This small takeaway kiosk is an offshoot of their actual restaurant at Pagoda Street so, besides ma la, there were also some cold dishes and other mains. Interestingly, I realised Ri Ri Hong was drawing a lunch queue from local office workers while Old Chengdu was attracting more Chinese nationals.
Food at Old Chengdu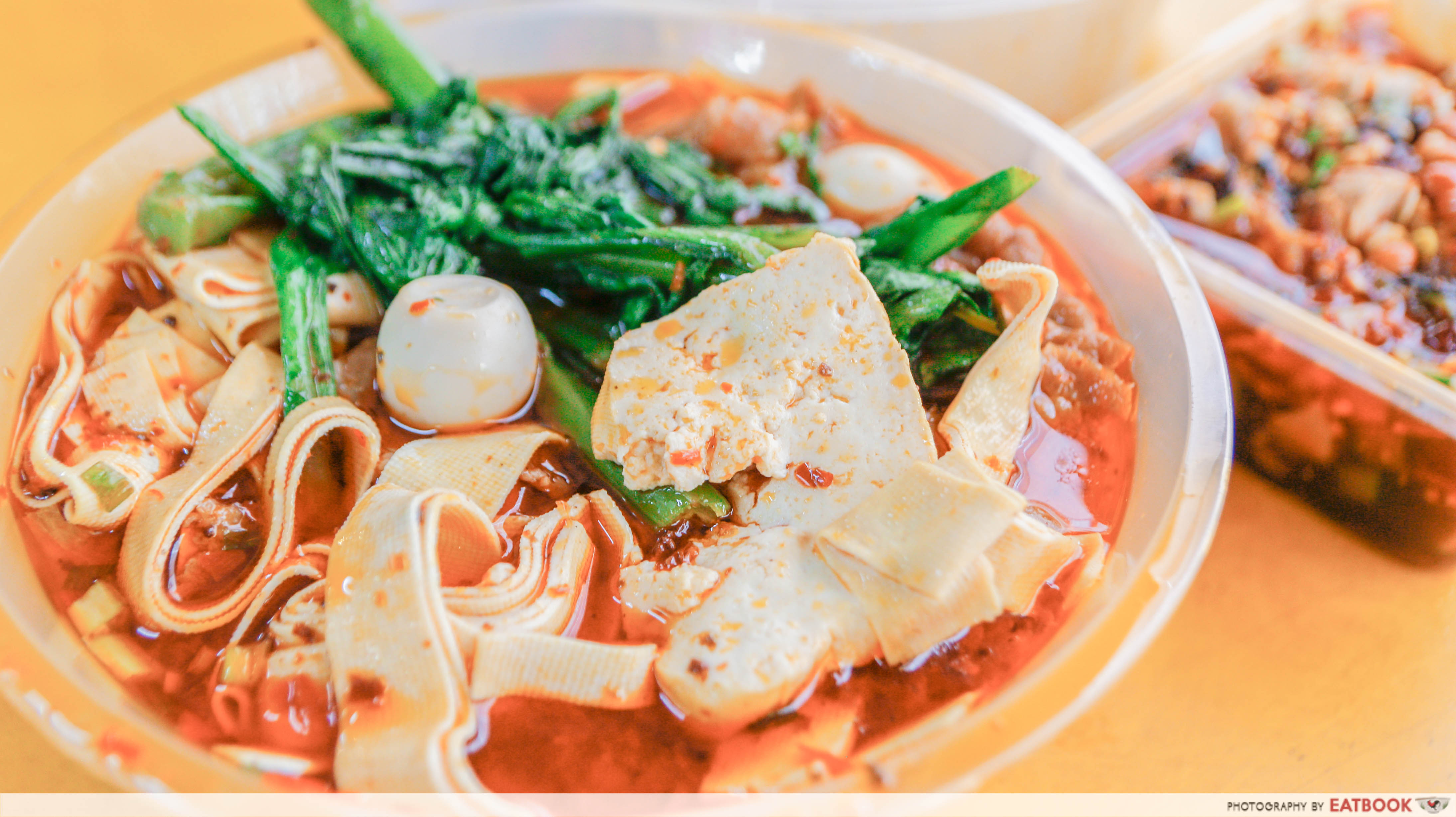 Ma la at Old Chengdu is by default served in soup and it is the popular way to have it, so be sure to request for dry if you prefer otherwise.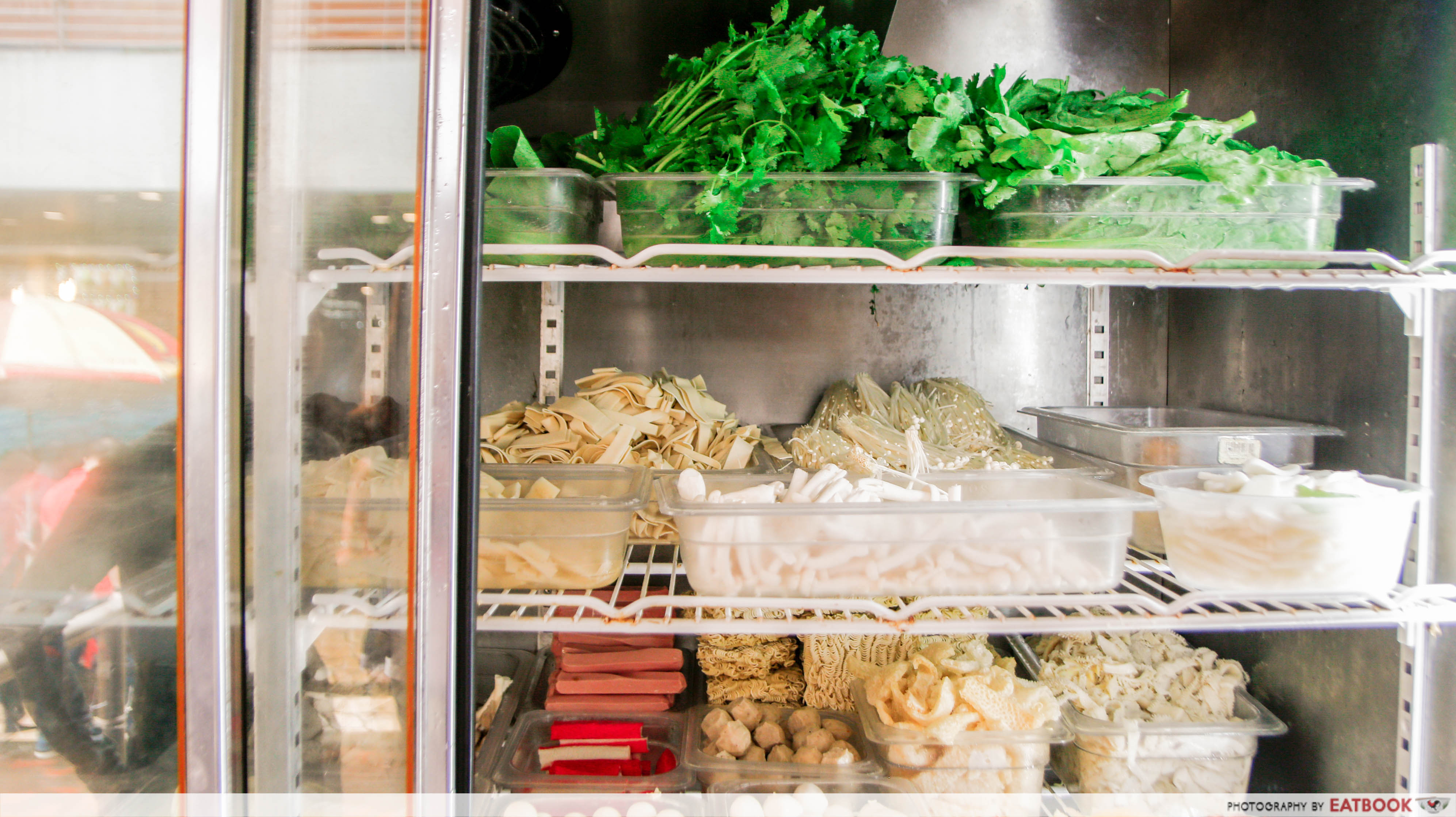 An assistant will help you take the ingredients in the fridge which is on the left side of the kiosk. Vegetables and meats go at $1 and $2 per portion respectively. They also had more premium cuts of meat ($3) on the higher shelf and coriander ($2) at the top. The variety was typical but the food looked fresh.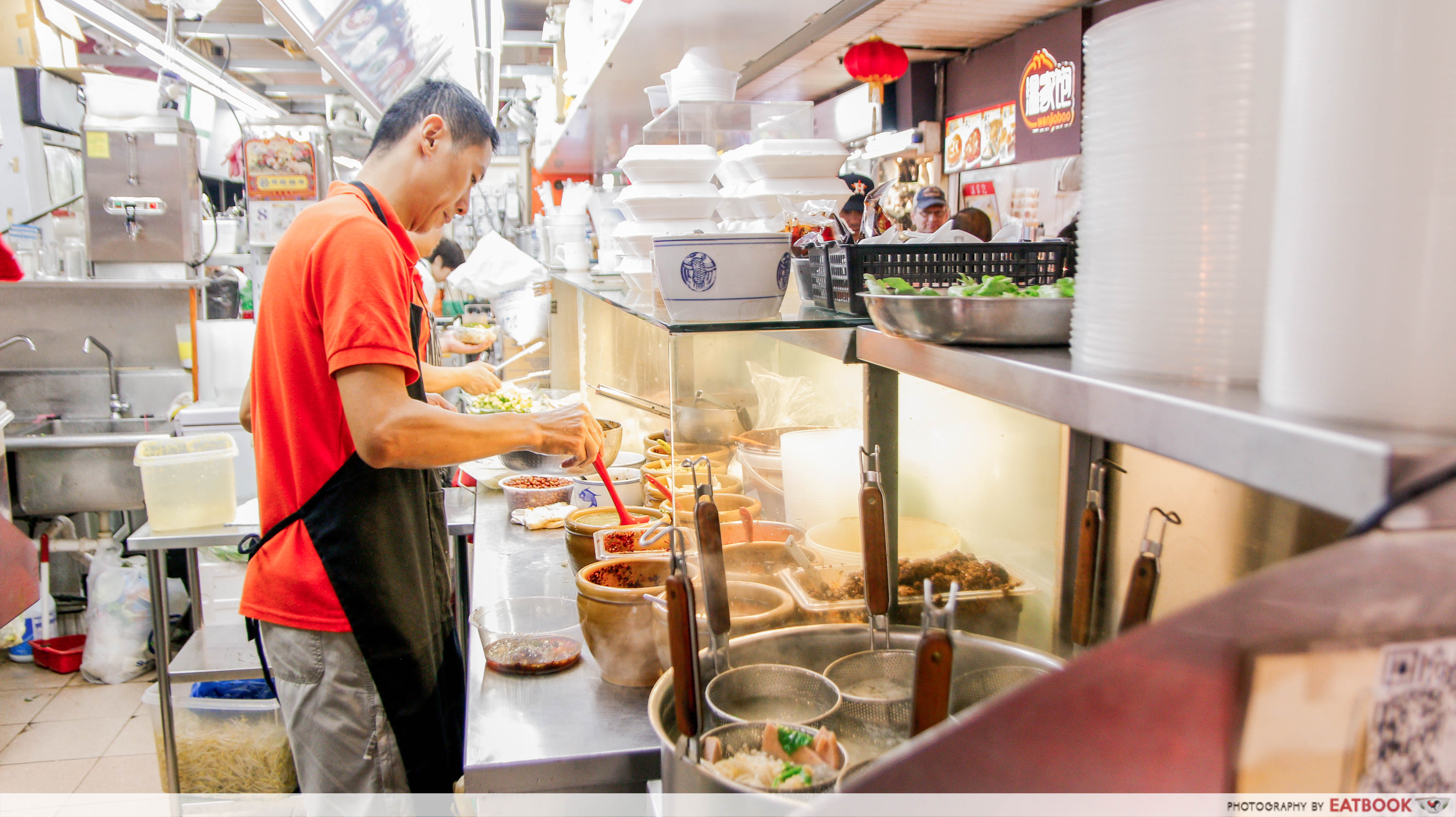 Our pick of ingredients – worth $10 – were put to boil as the chef started concocting a seasoning mix in a deep plastic bowl. He scooped various sauces and chopped chilli from an array of spice jars before pouring in broth from a separate pot. The cooked ingredients were then added in.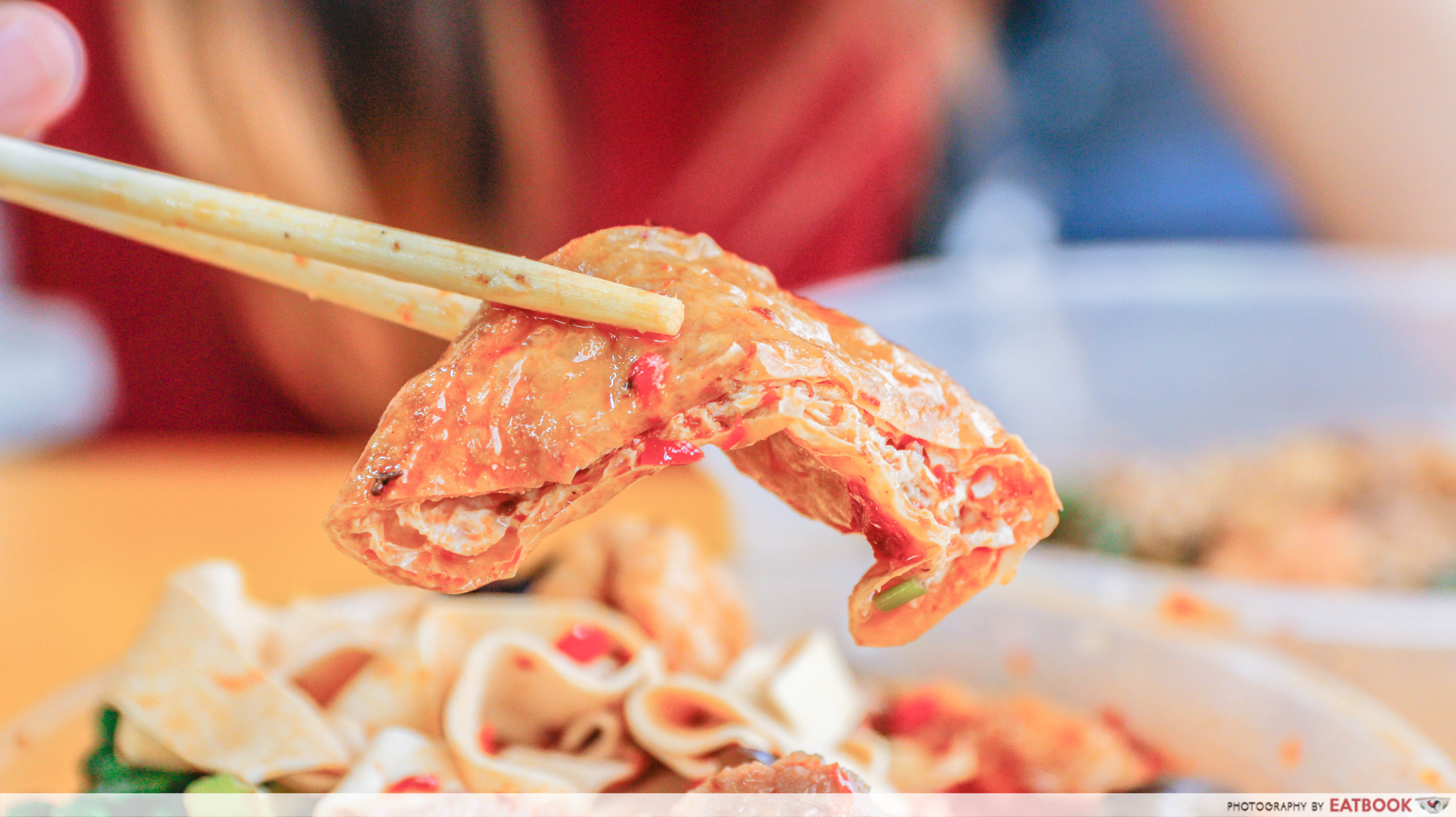 A spoonful of soup washed my throat with ma la flavour and at zhong la (moderately spicy), it wasn't as spicy as I expected it to be. It built up to a slow burn, intensified by its heat, and my lips tingled from the numbing spices. It's so heavy with chilli oil there was a scary layer of the fiery red oil floating on top of the soup, so my advice is to order this with rice ($0.50).
Be sure to also get some taupok in your mix. I'm not a huge fan of taupok but chewing into the ones in this feels shiok when it squeezes out all the broth it soaks up.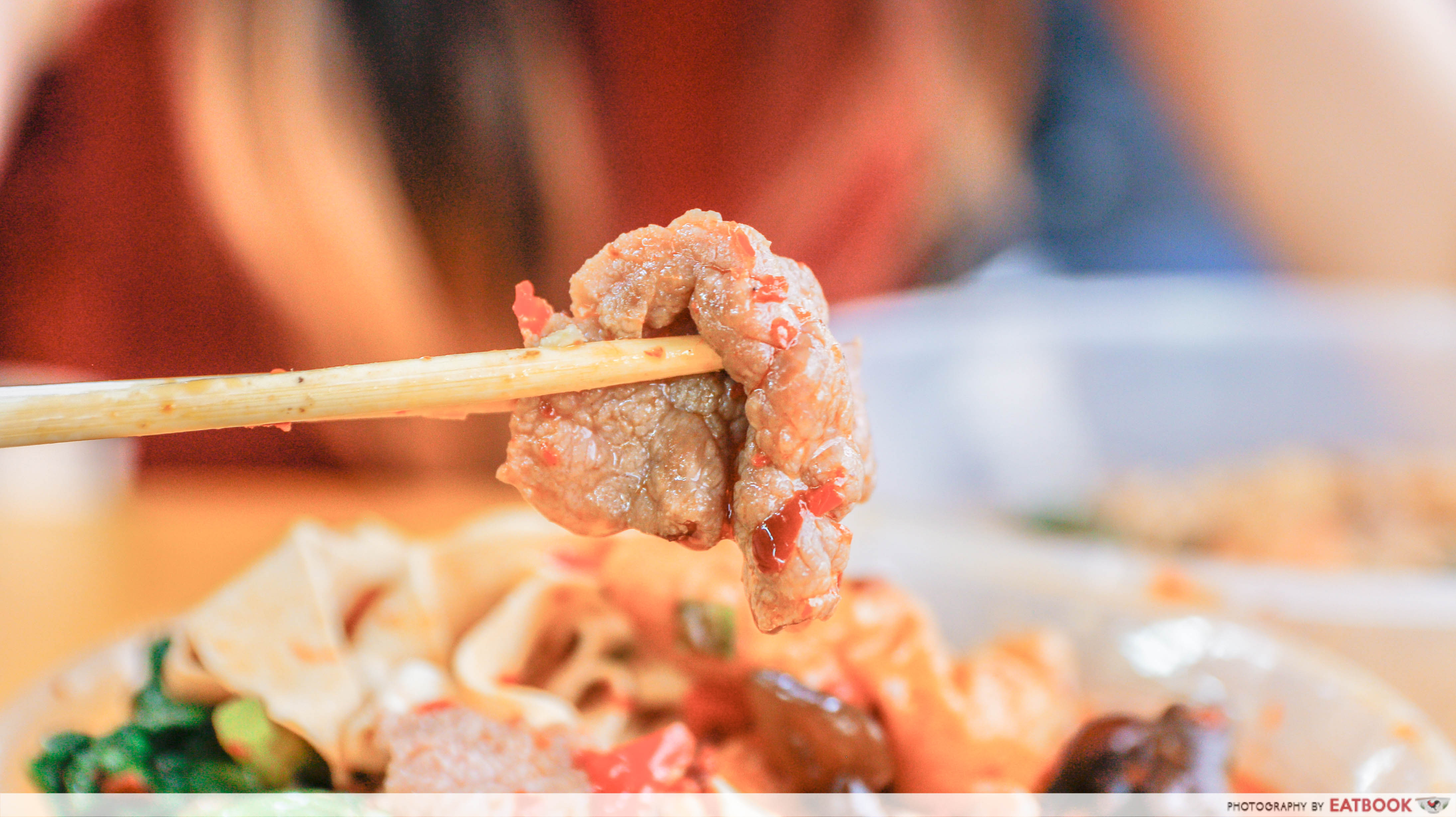 Their slices of lean beef had tender chewiness and the heat of it was left biting my lips. Aside from it, my next favourite to gobble up were quail eggs as the yolk mixed with the soup in my mouth. Our strips of beancurd skin were cooked till soft adding texture to the mix of greens and tofu.
Their Mala Tang seems to be popular as they are a lighter way to satisfy a ma la craving. The soup that clings onto the ingredients you pick up lends just enough flavour.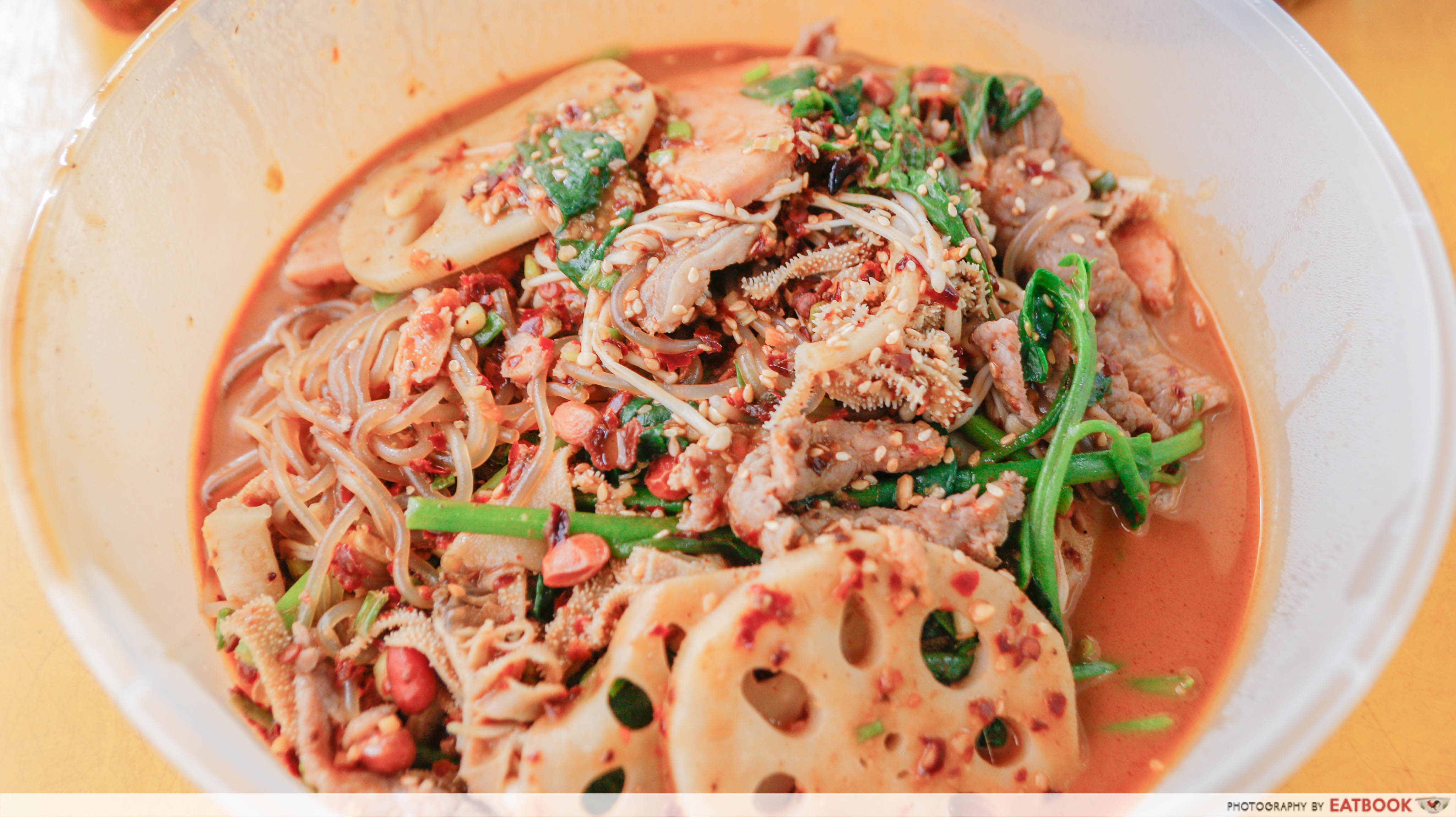 We also tried their Mala Ban (mix) which was flecked with sesame seeds. It was served in a huge container with $11 worth of ingredients that we selected and it looked enough to easily feed two people. 

The dry ma la was more aggressively seasoned so I was glad we asked for xiao la (small spicy) because it looked like this would be potent. Unlike some ma la joints that stir fry the ingredients with ma la seasoning, Old Chengdu boils then gives them a good toss in their seasoning mix.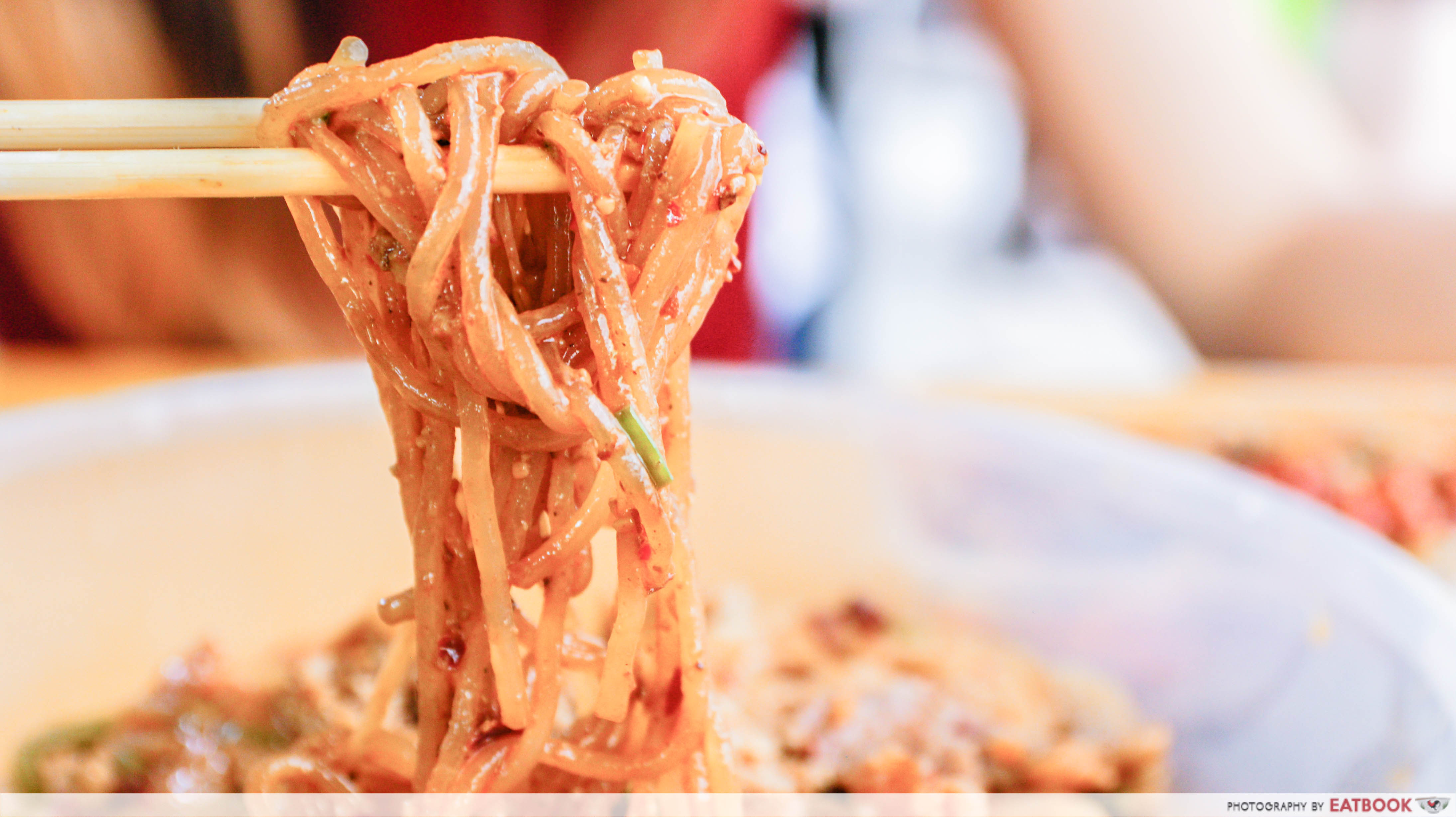 Compared to the soup, this had a more complex taste from a wider mix of sauces. It included peanut gravy which added bold flavour and a sandy texture, making it an interesting departure from the typical ma la that is heavier on spices.
If no one ever told you, glass noodles are one of the essentials for dry ma la because they pick up the flavour well. It was a soft and gloppy mix I pulled up and the slices of lotus root added crunch. We also threw in beef tripe and meat, luncheon meat, and celery.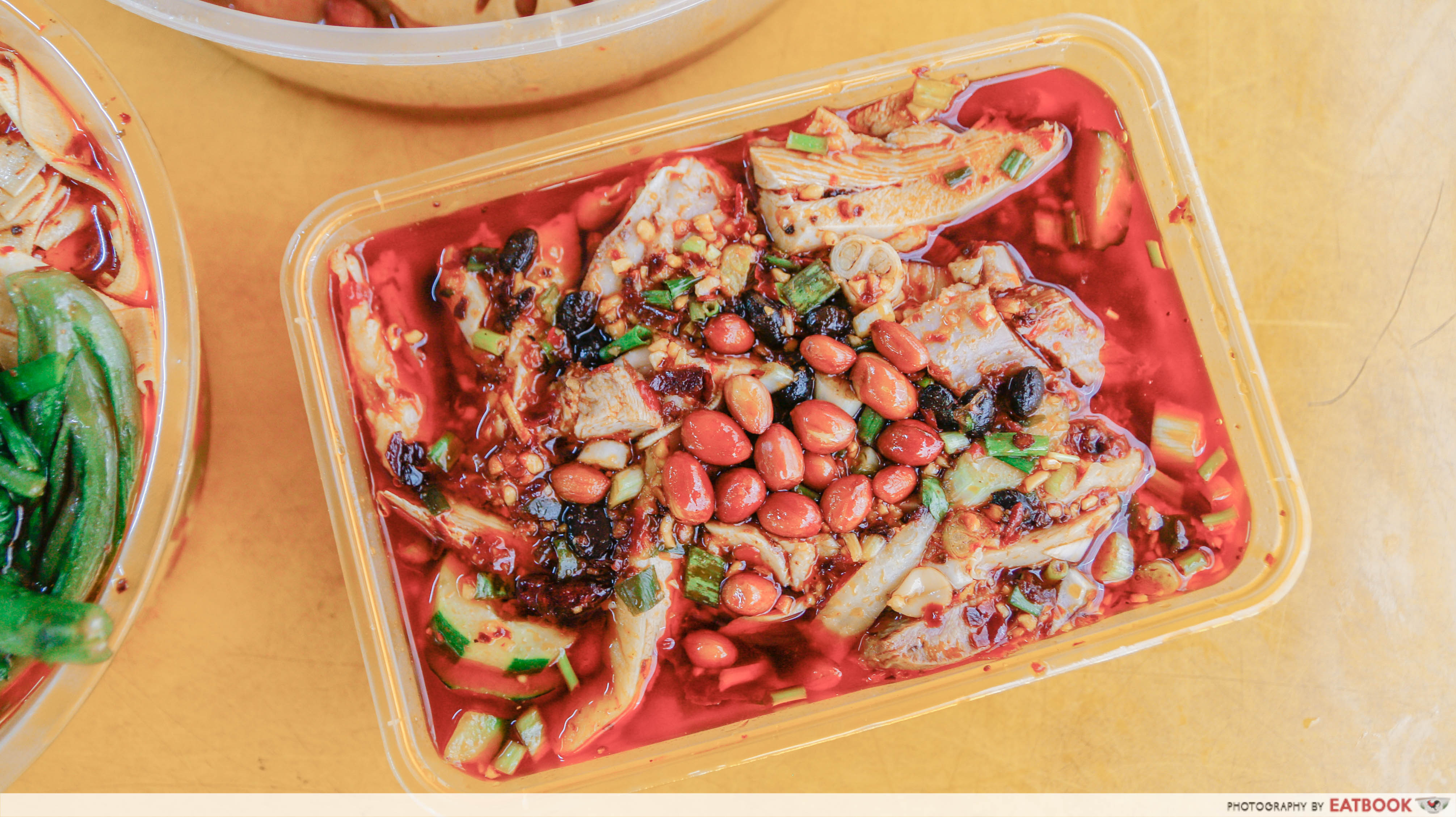 One of the dishes taken from their restaurant menu is Saliva Chicken ($5), which is a famous Sichuan cold dish of poached chicken in chilli sauce. The pale flesh was submerged with cucumbers in a deep pool of bright red liquid, topped with black beans, peanuts, and spring onions.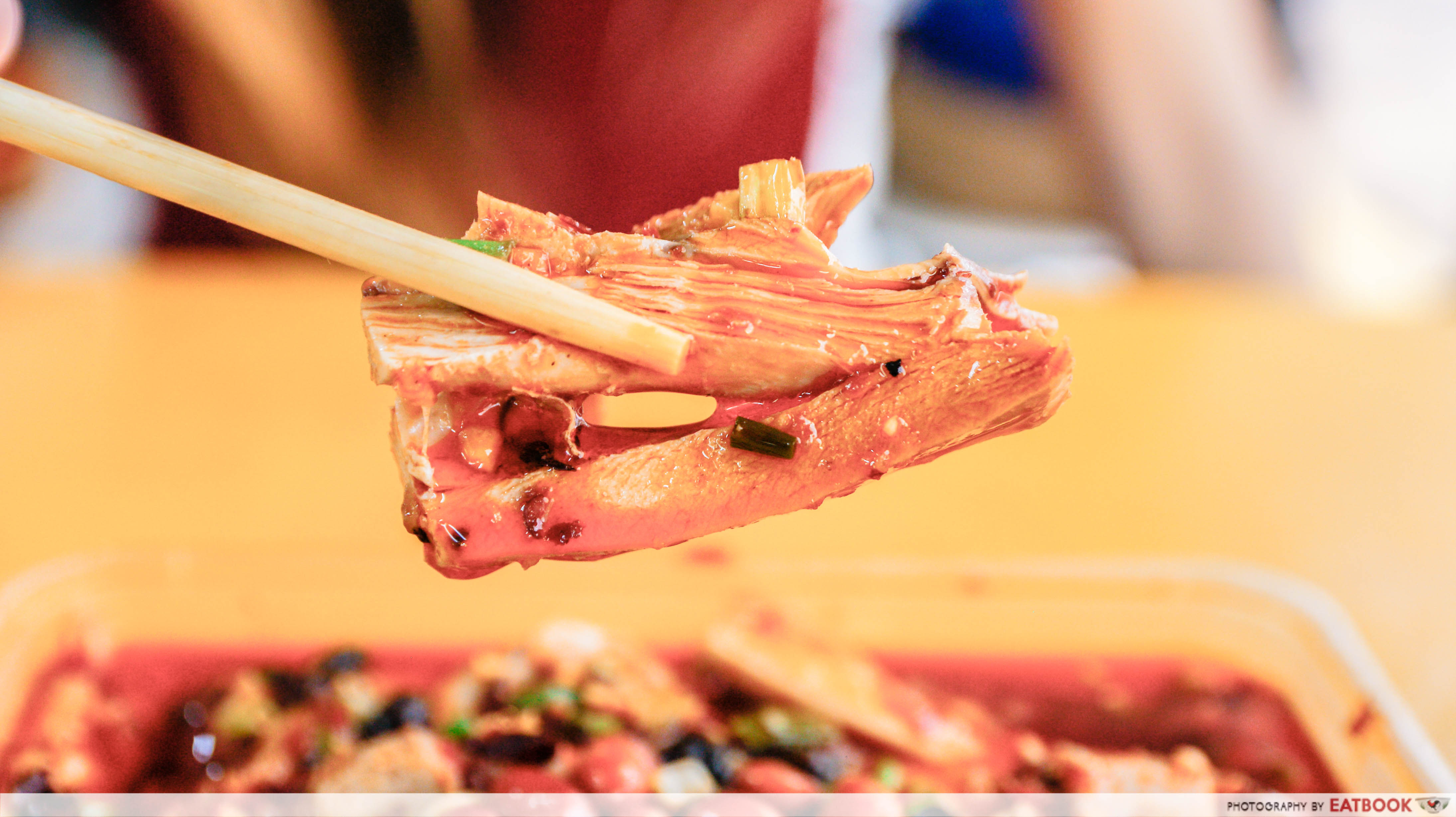 The meat was tight and tender and would've been enough to make lunch with a packet of rice. Chopped into long chunks with its skin still left on, it tasted like chicken from a chicken rice stall but with a sweet flavour. The sauce it was steeped in looked delicious but too greasy to drizzle over my rice.
About eight mains were available to try at the kiosk but their main restaurant has a huge menu which includes their new Pig Trotter Hotpot ($25.80+) and Duck Head Hotpot ($23.80+). If you need recommendations, their Fish Slices in Chilli Oil ($23.80+) and Chong Qing Chilli Chicken ($20.80+) are great mains to spice up your meal.
Ambience at Old Chengdu Sichuan Cuisine Restaurant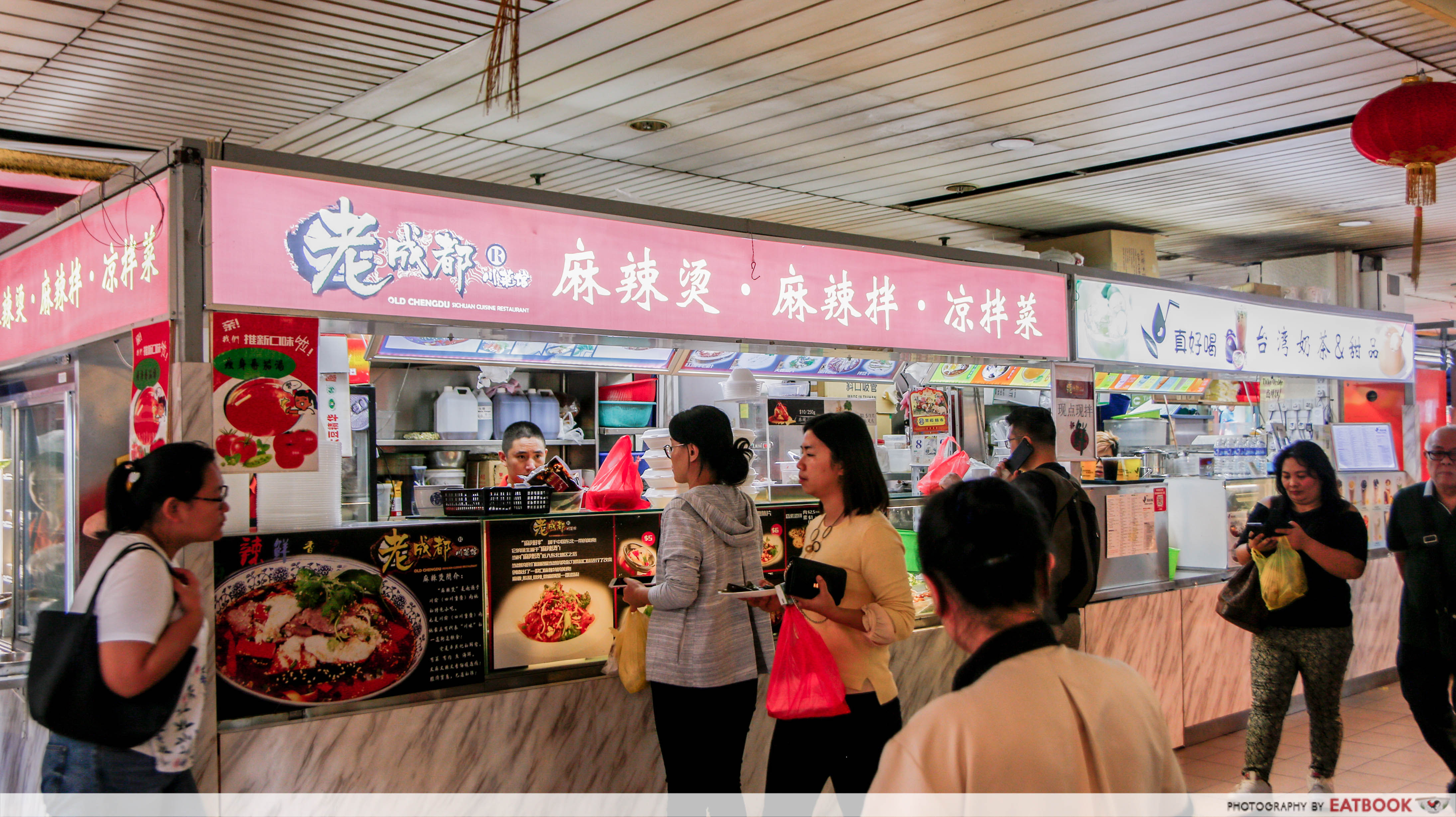 Conveniently located near Chinatown MRT Station, Old Chengdu is just outside People's Park Complex. Food arrives in plastic boxes because the kiosk caters only for takeaways. That doesn't detract those who want to eat out from coming though, because the staff usually direct customers to People's Park Food Centre.
The verdict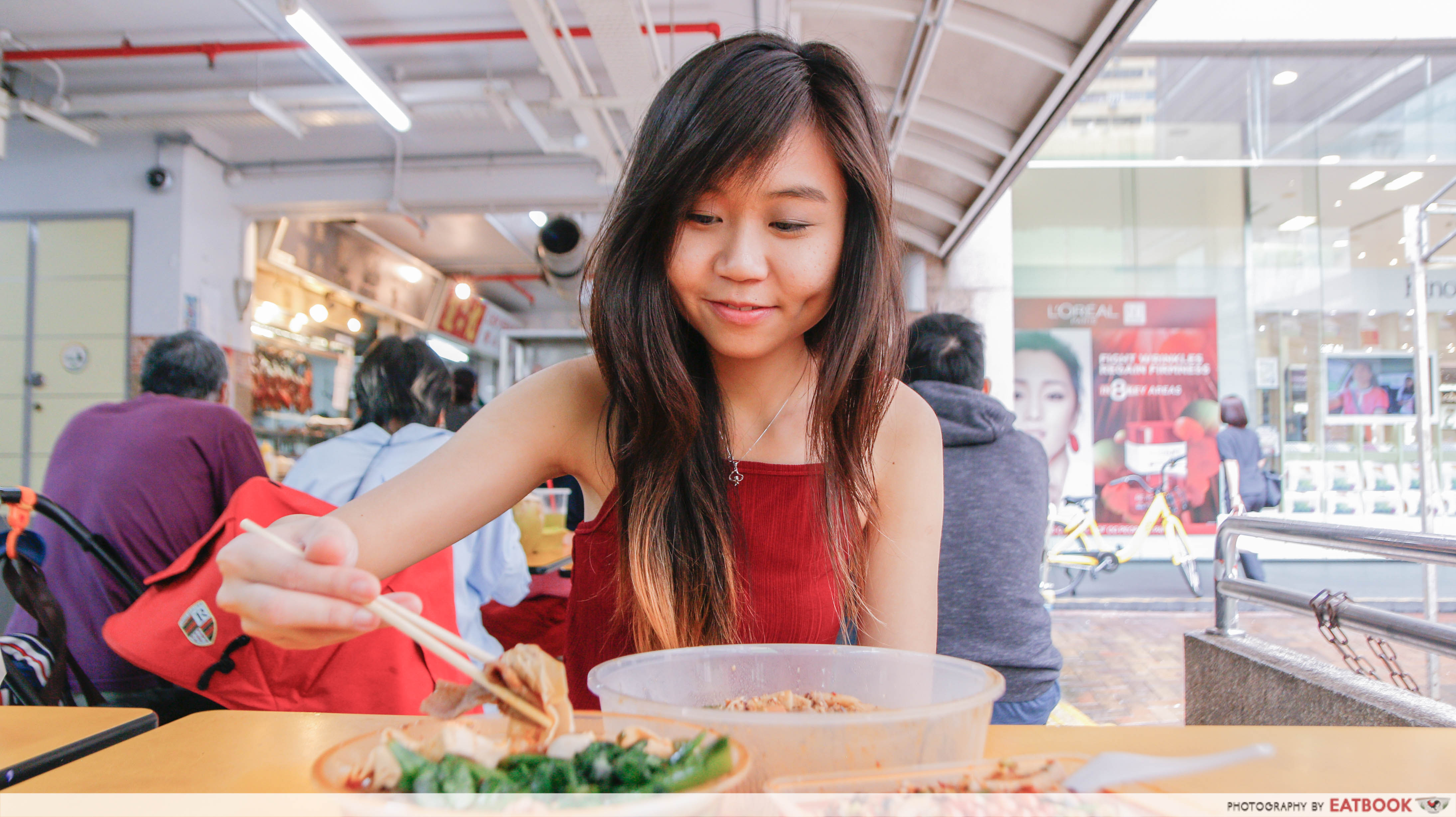 Those who enjoy ma la would know that every ma la spot is different, whether it is in terms of their seasoning, sauce, or even the peanuts used. Soup is what's popular here, but I still prefer their Mala Ban and what distinguishes them from others is undoubtedly their strongly flavoured peanut gravy.
Address: 1 Park Road, #01-K99G, People's Park Complex, Singapore 059108
Opening hours: Daily 10am to 9pm
Website
This is an independent review by Eatbook.sg
Summary
Pros
– Convenient location
– Generous portions
– Amiable staff
Cons
– Only takeaway available
Recommended Dishes: Mala Ban, Mala Tang, Saliva Chicken ($5)
Operating Hours:
Daily 10am to 9pm
Address: 1 Park Road, #01-K99G, People's Park Complex, Singapore 059108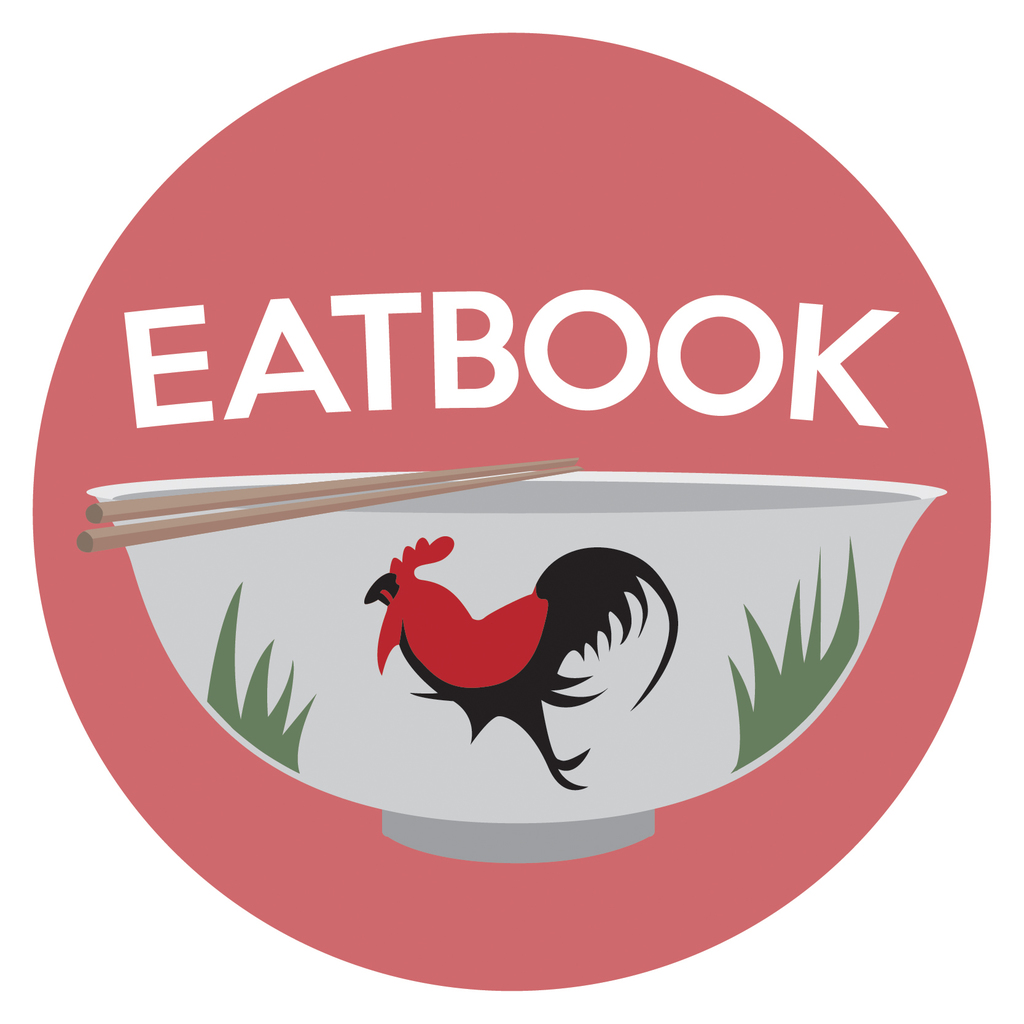 Drop us your email so you won't miss the latest news.