Old House takes usual hawker dishes up a notch

Anyone who knows me will know I'm always down for zi char, because affordable and lip-smacking food is not easily resistible. Plus, the communal dining experience is great for big groups! But sometimes, I get greedy and crave for more than just the typical dishes served at the zi char eatery below my block.
This is when Old House steps in with their unique zi char dishes, some of which are spins on hawker classics. They used to have a two-in-one concept, where they serve both lok lok and zi char, but Old House now focuses only on the latter.
Food at Old House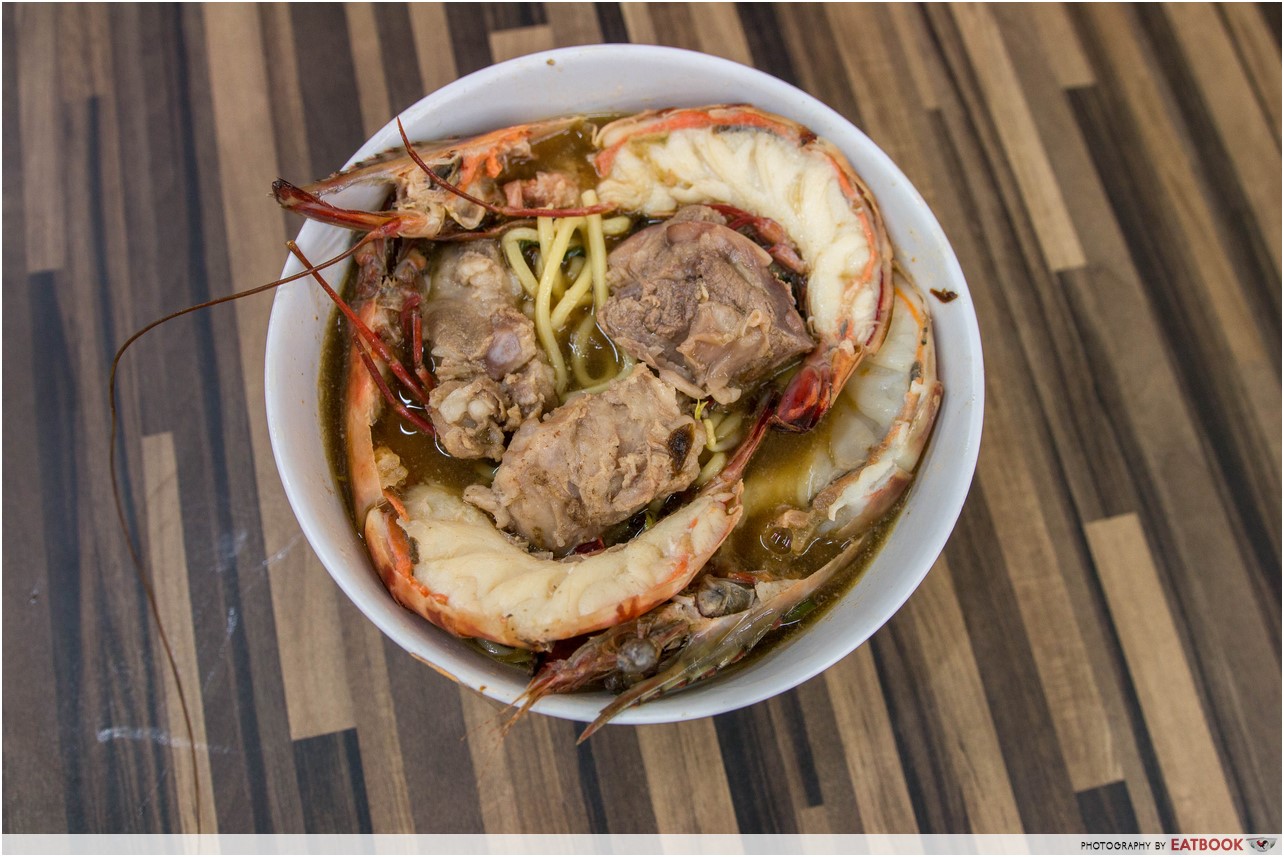 Singapore Dinosaur Prawn Noodle ($15) got us slack-jawed at its massive portion. The yellow mee was almost entirely covered by other ingredients in the deep bowl. Three huge chunks of pork ribs and three enormous halved prawns laid atop the noodles, which were mixed with crispy pork lard and some greens.
Granted, there are cheaper prawn mee options in Singapore, but considering the size of this dish, it is worth a try.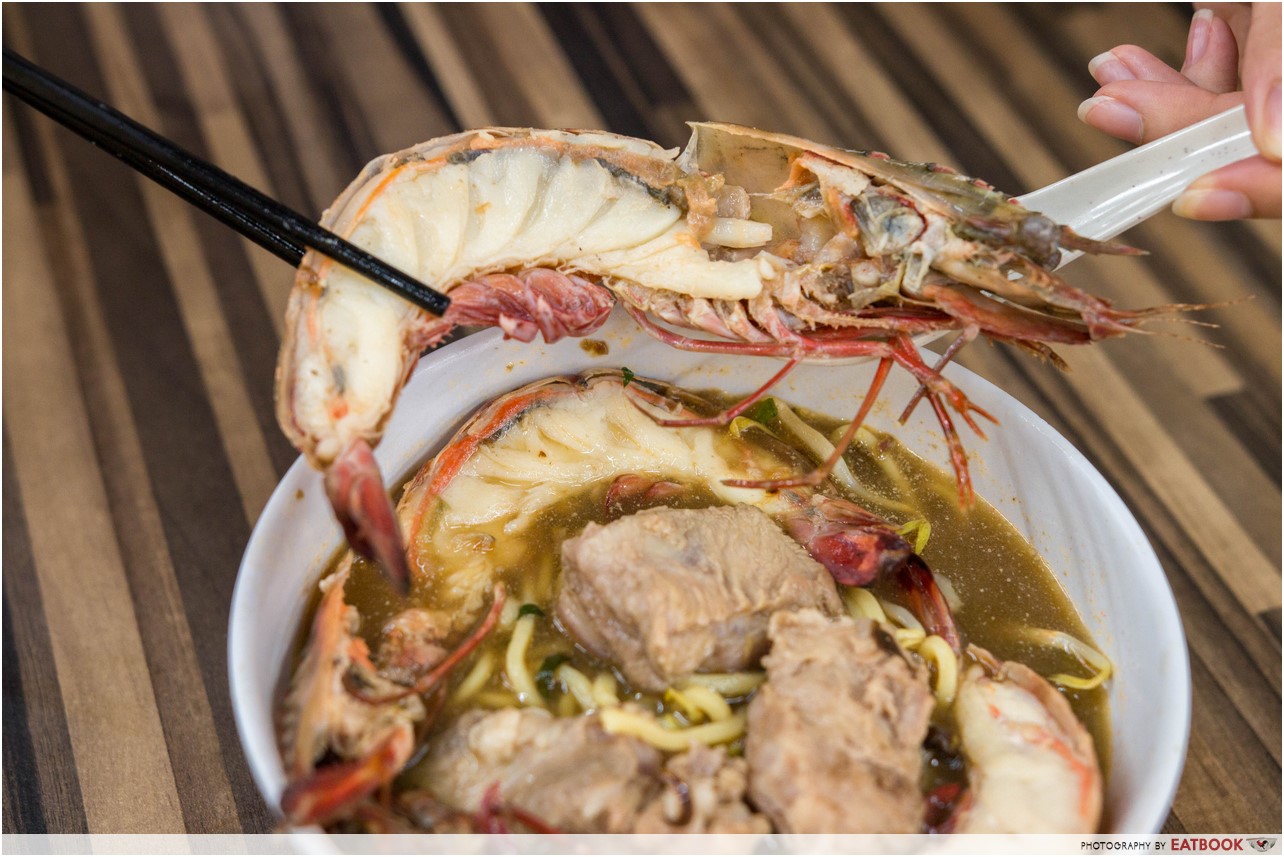 True to its name, the prawns were of a monstrous size – largest I've ever seen in my life. I struggled to hold the entire piece up with my chopsticks, and the sheer weight of the prawn caused its own neck to snap.
Despite being left in the robust broth for quite some time, the meat failed to absorb the flavourful prawn stock and lacked flavour. It was also tough to remove the meat from the shell, and being a lazy eater, this was a major deal-breaker for me.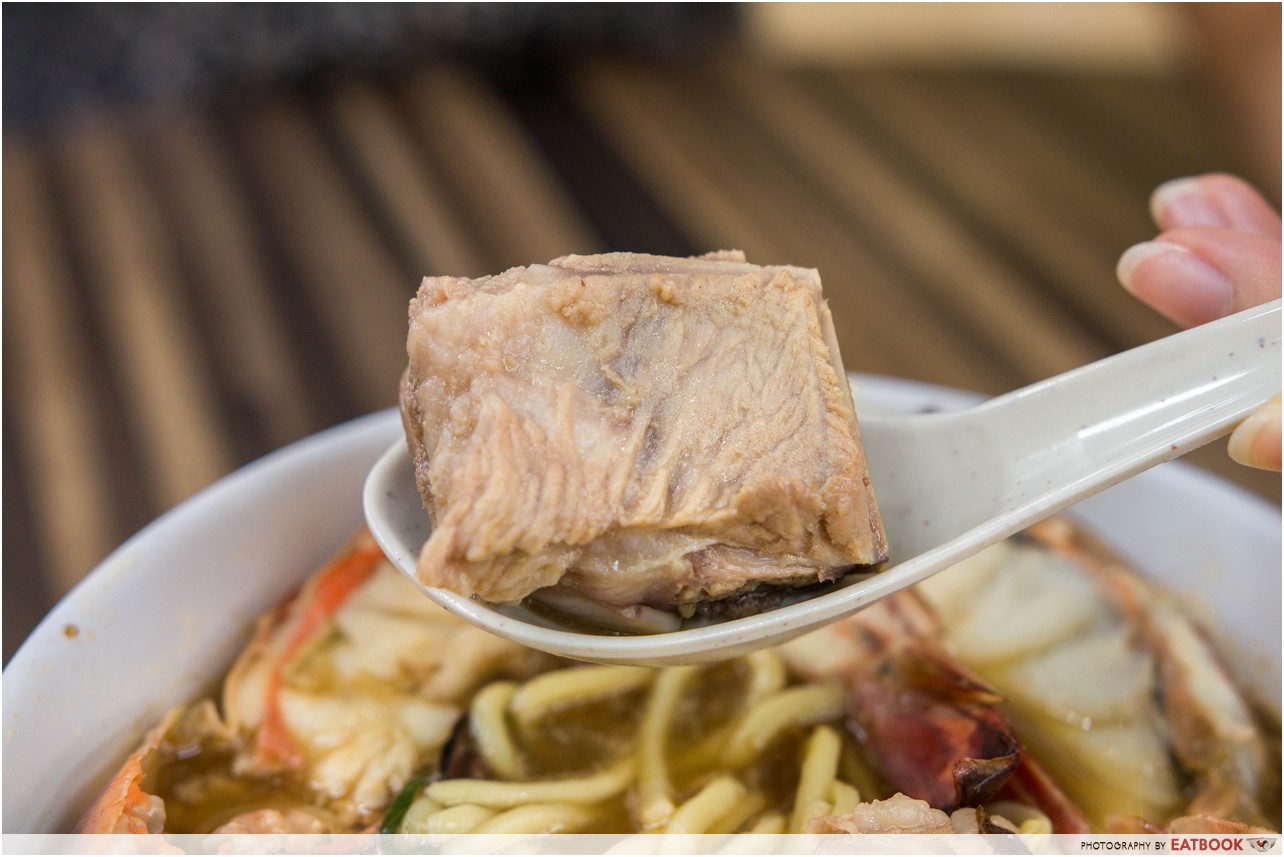 Though sizeable, the little meat covering the pork ribs was tough and rather bland. Unless you're a fan of getting juices out of pork bones, you might want to leave this untouched.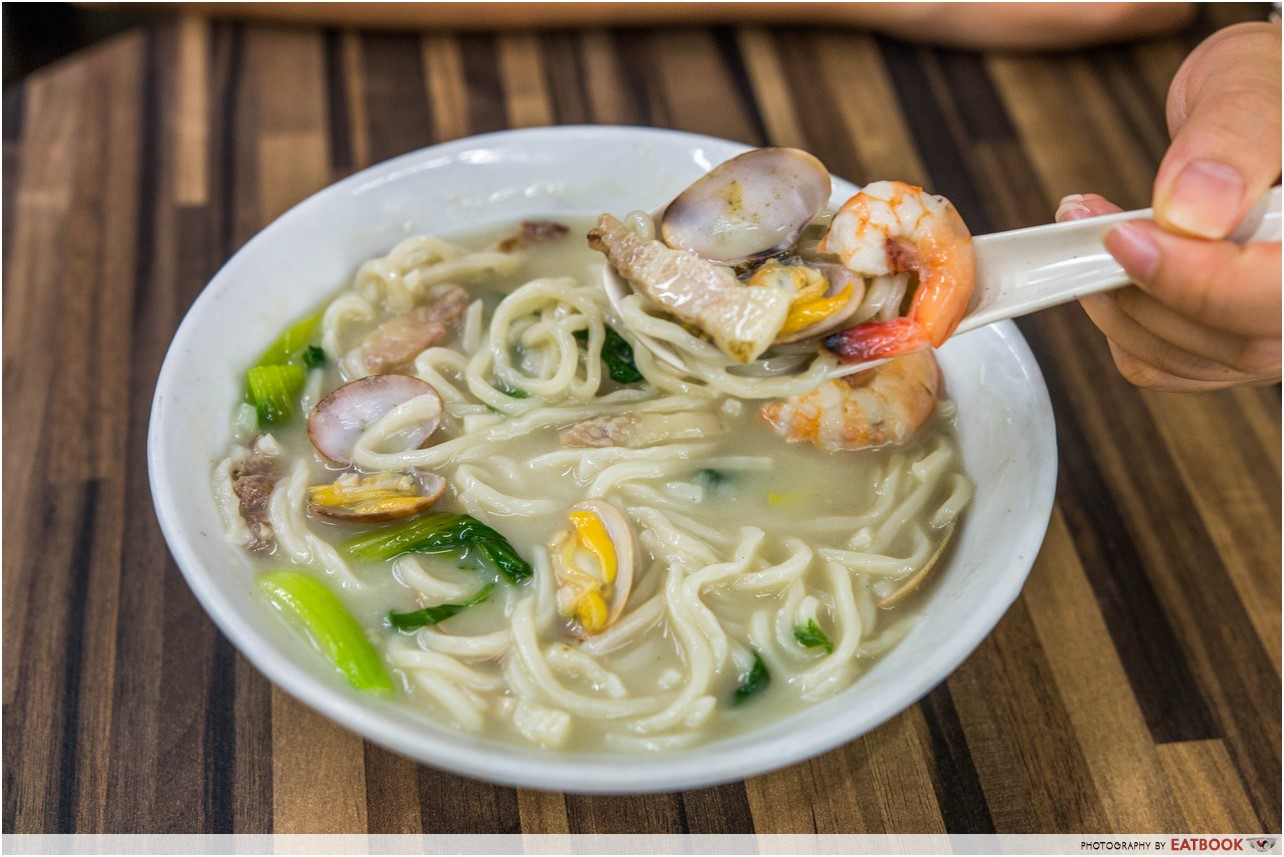 Thick Soup Noodle ($6/$9/$12) is dubbed 'white lor mee' among regular customers due to its thick, starchy soup. The dish came with prawns, slices of pork belly, clams, and some vegetables.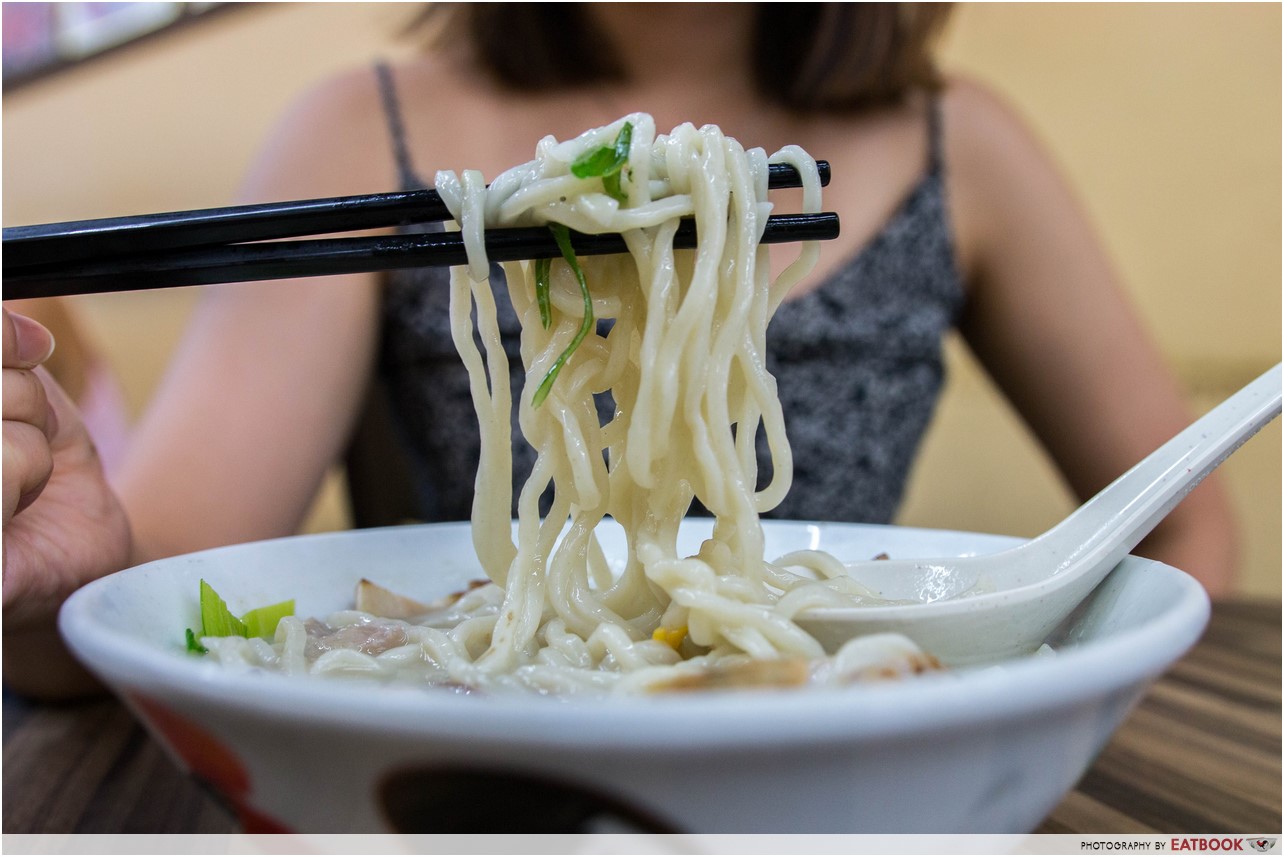 The noodles were chewy and springy, making this my favourite component of the dish. Each strand was slightly plump from absorbing the soup, and had an exceptionally savoury flavour on its own.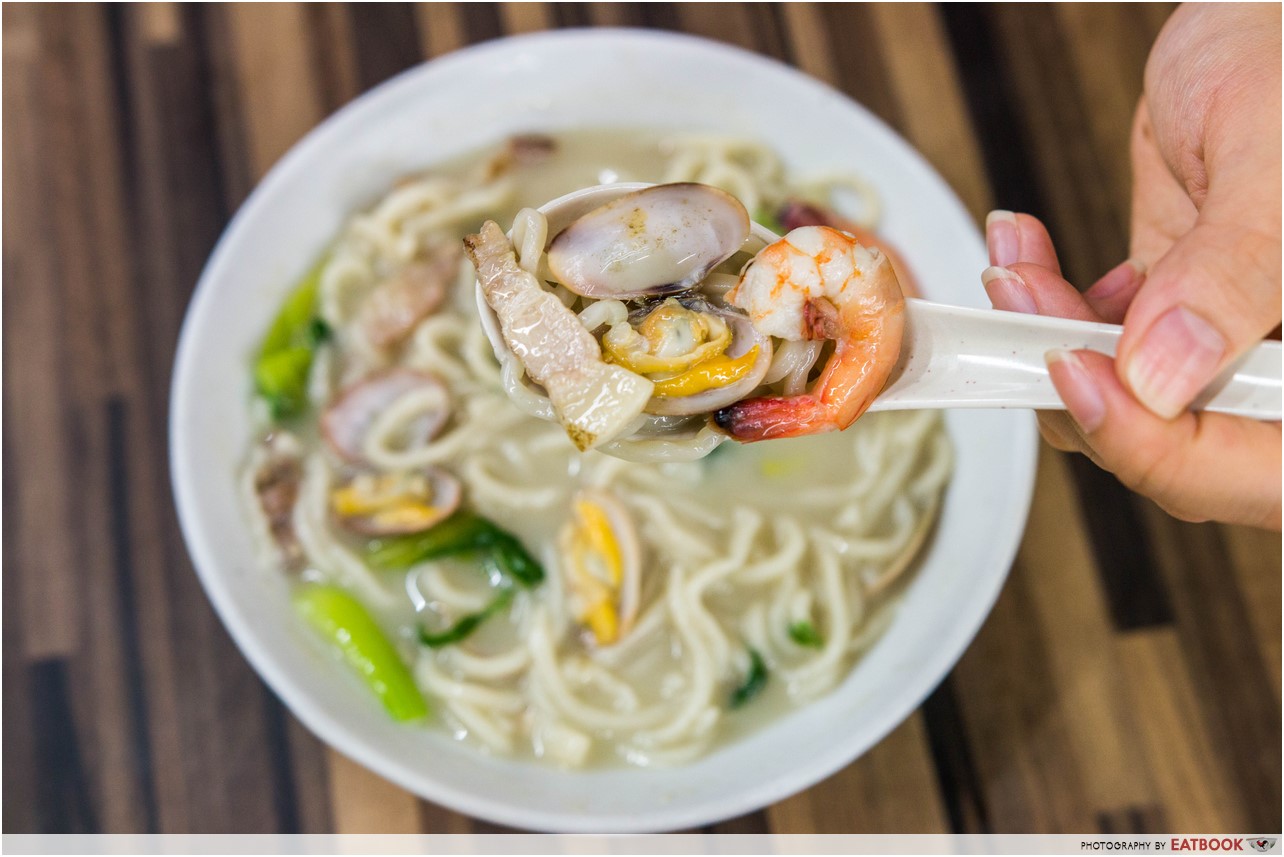 The clams took on a bright yellow hue and tasted a little briny, complementing the savoury soup well. I particularly enjoyed how the slices of pork belly had a good fat-to-meat ratio, and how it enhanced the flavour of the soup. Unlike the previous dish, the prawns here took on the flavour of the soup and were slightly chewy.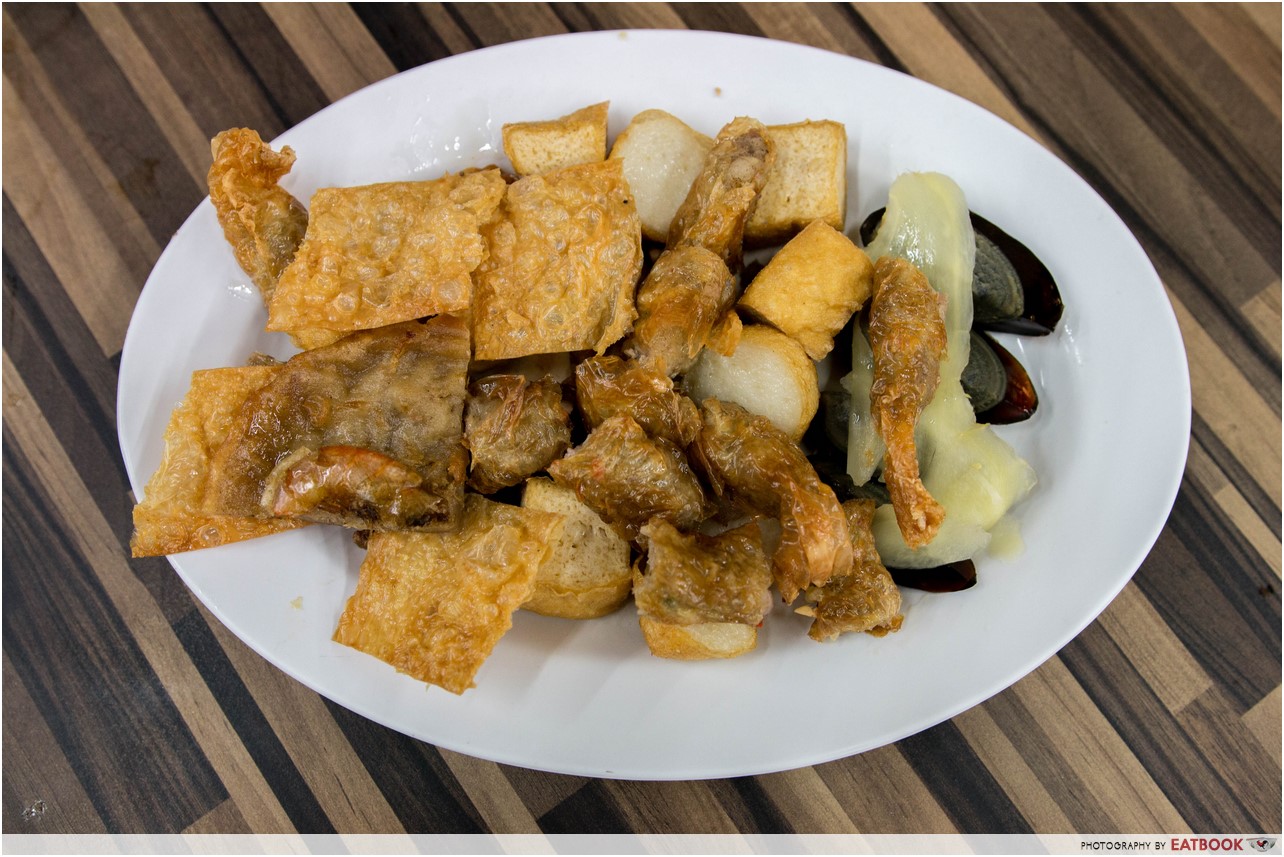 Because it was a TGIF night out, we gave in to our cravings and got Ngoh Hiang Set ($10/$15) to share. This was essentially a platter of deep-fried items, each being made by hand daily by the owner's aunt. A few items worth a shout-out would be Seafood Pancake and Hei Zhor (prawn roll).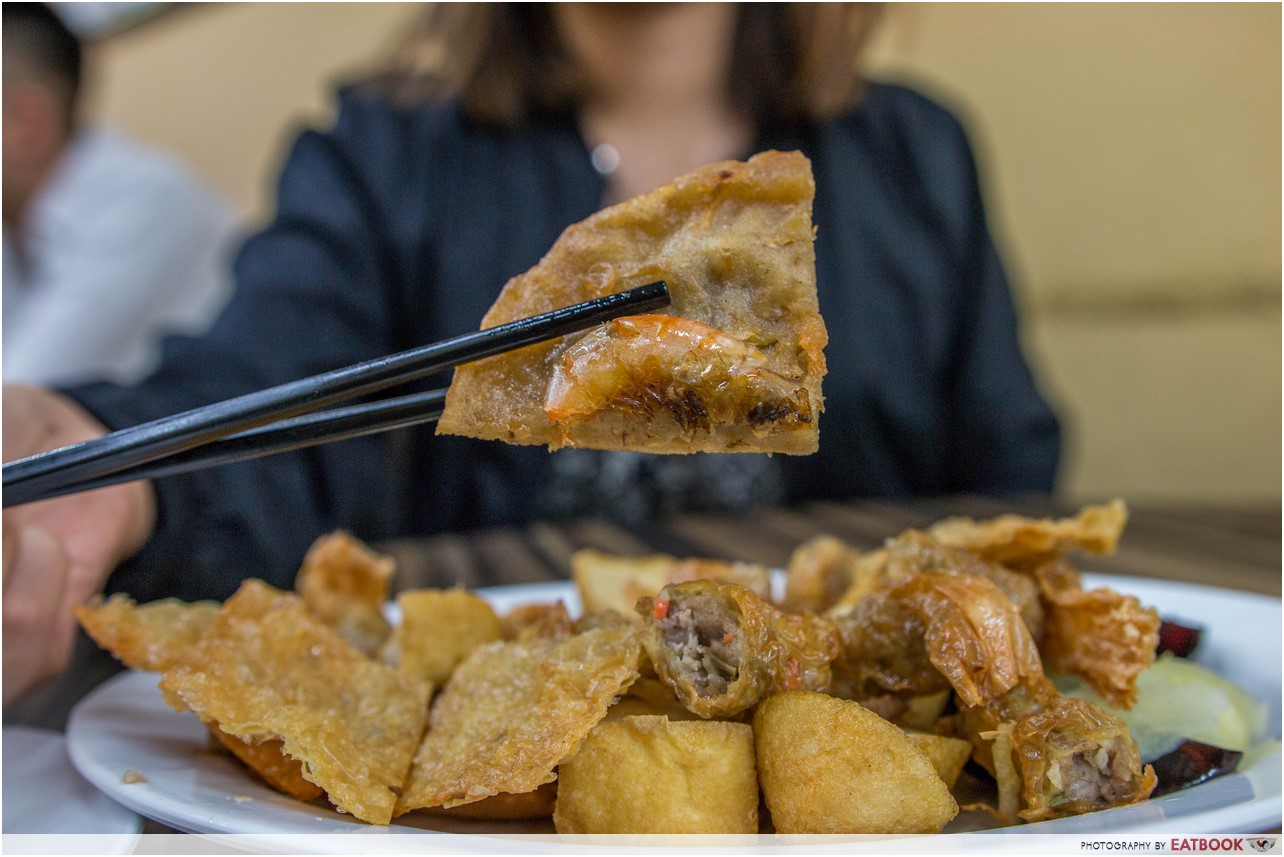 Seafood Pancake had a thin, flour-like base studded with diced prawns. Though crispy, it was too doughy for my liking and lacked a five-spice flavour.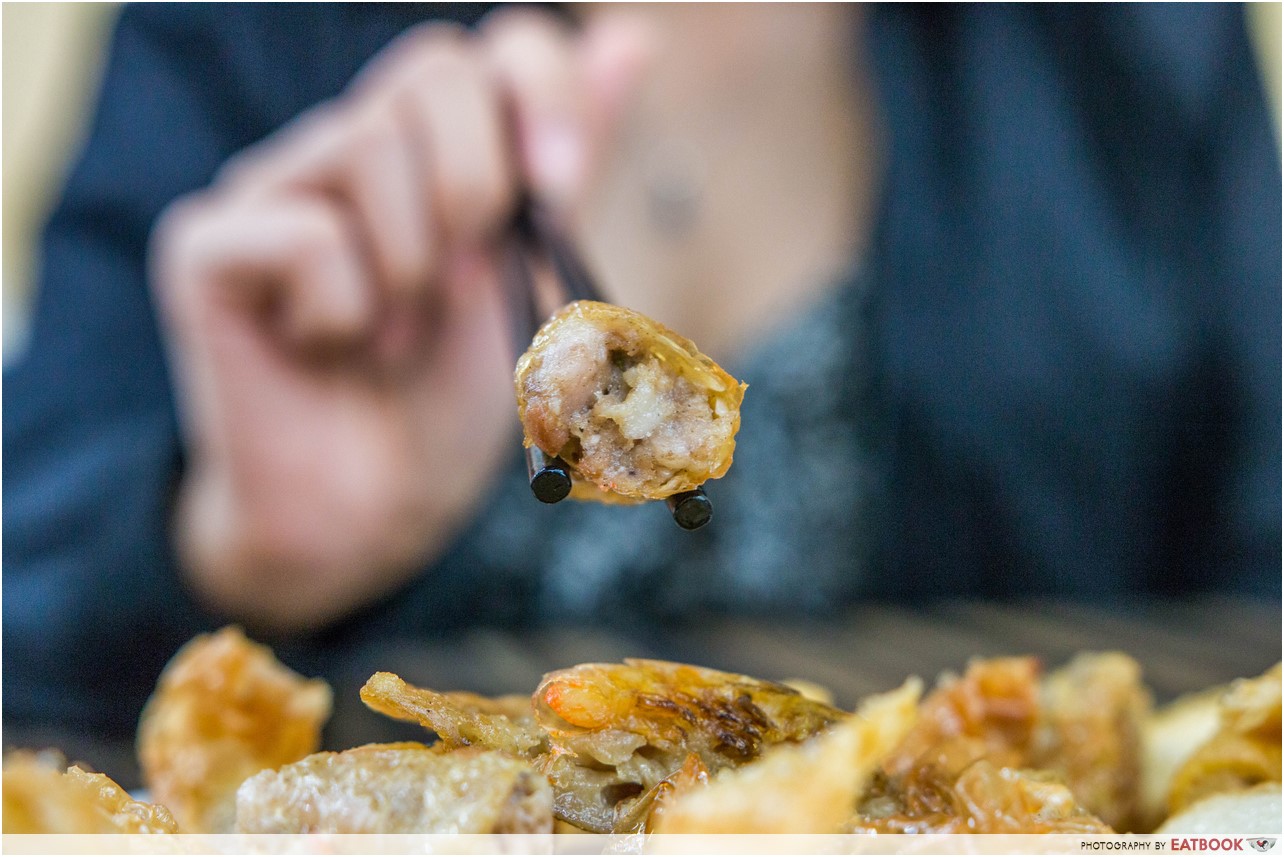 Hei Zhor had a combination of minced meat and prawn encased in a thin bean curd skin. The minced meat remained tender and juicy, and served as a nice textural contrast to the crispy, deep-fried bean curd skin. I particularly enjoyed how the meat was not too finely minced, making each bite feel more substantial.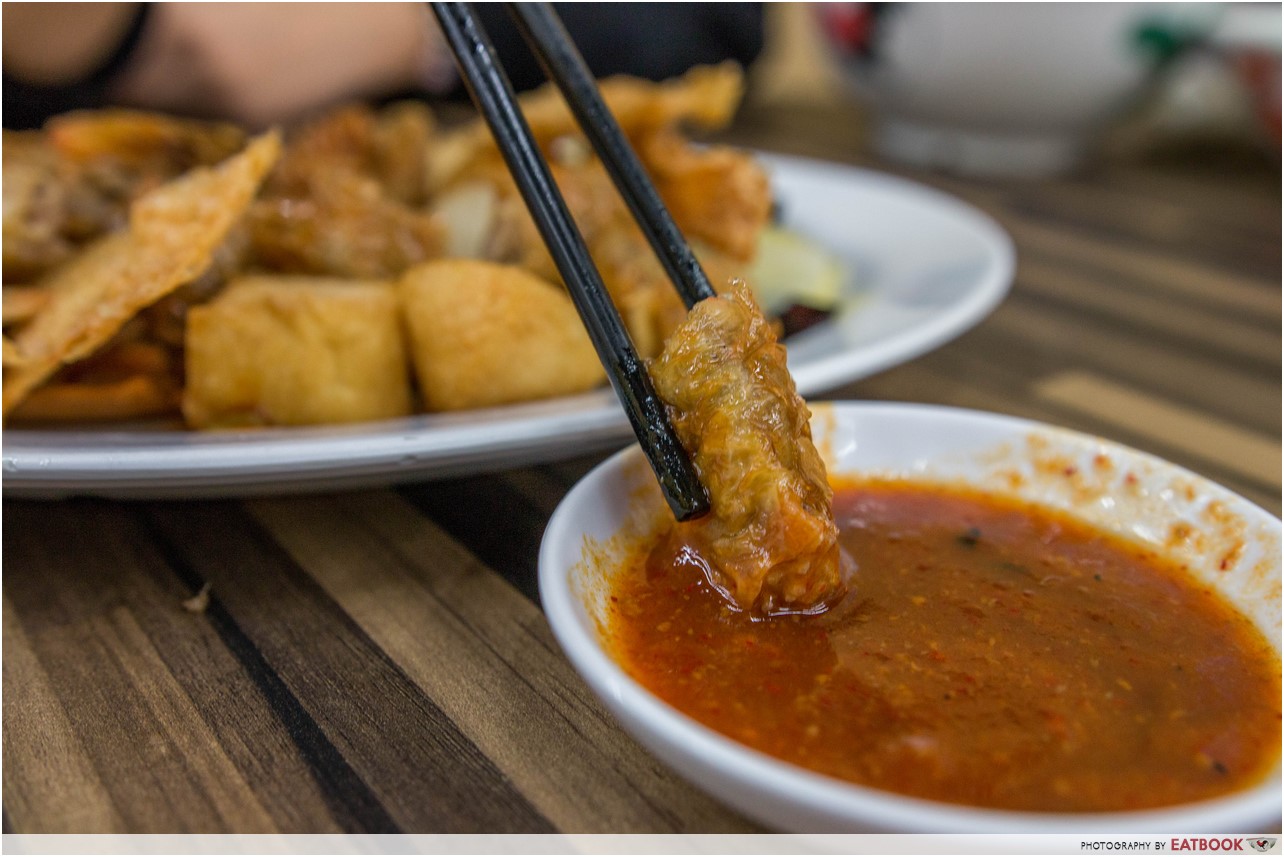 Dip the bites into a combination of sweet sauce and chilli sauce for some tang and a mild kick.
Ambience at Old House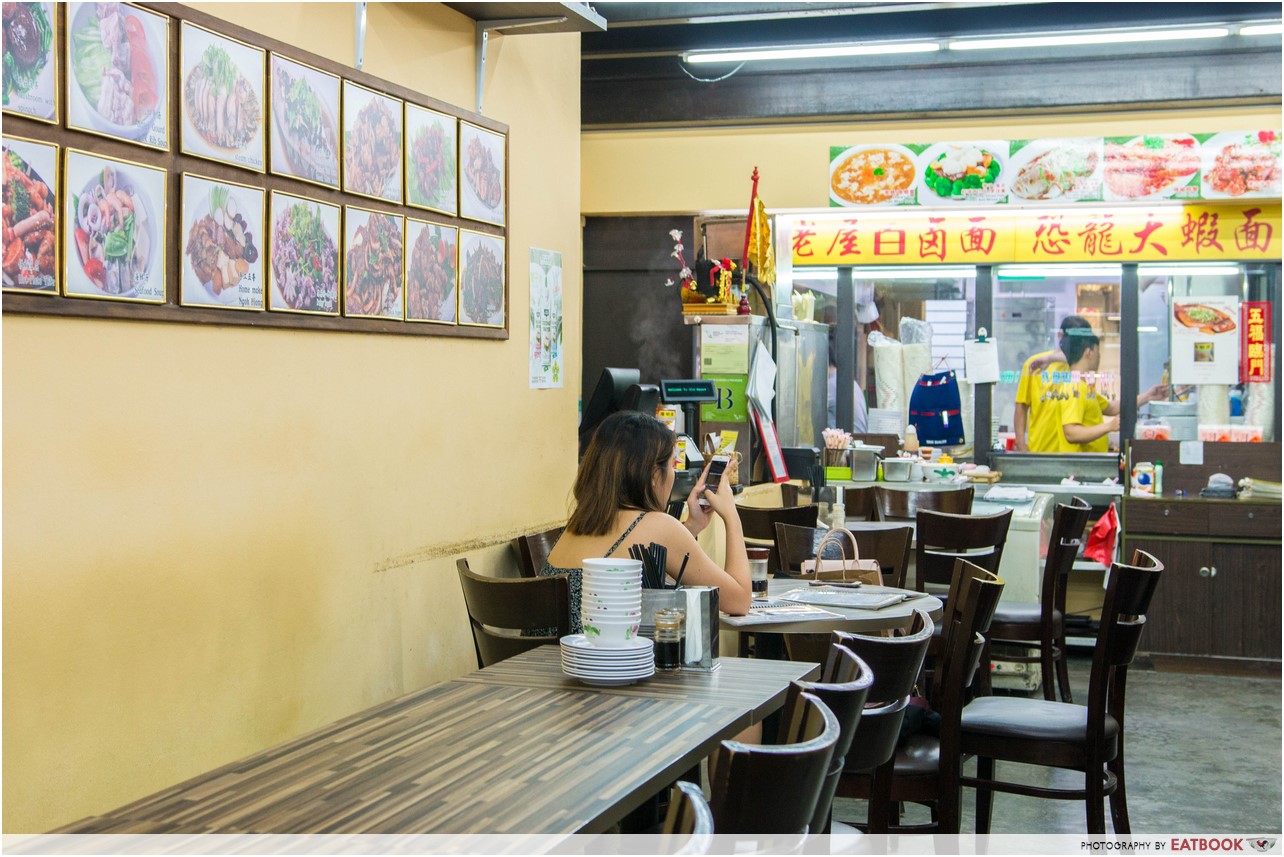 Old House is located among a row of shops along Neil Road, and it is about a 15-minute walk away from Outram Park MRT Station. The interior is spacious, with pictures of their dishes adorning their yellow walls so you don't actually have to refer to a menu. Rectangular and round tables are available for both big and small groups. Plus, being fully air-conditioned means you won't break into a sweat while feasting!   
The verdict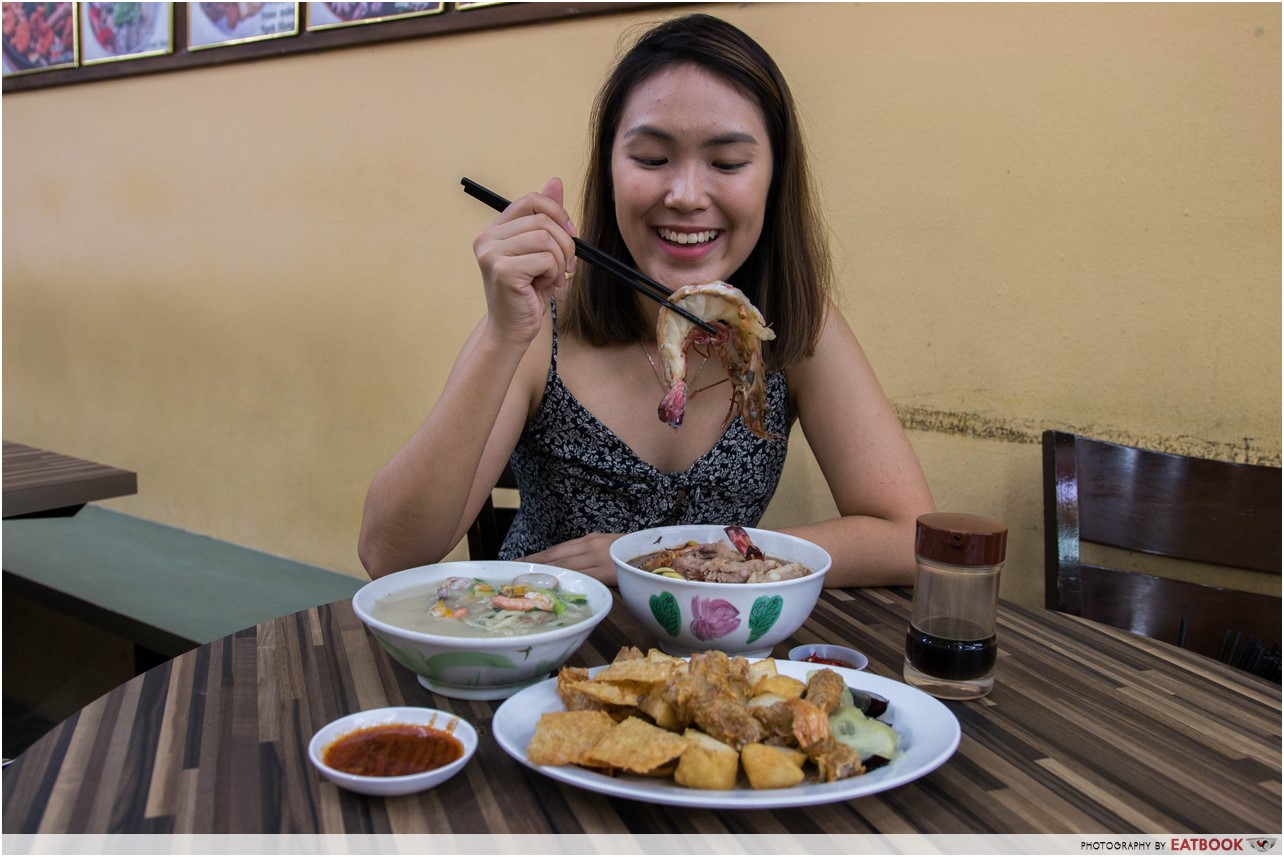 I'll definitely head back with my fambam, as my folks are like me – major fans of zi char. Plus, Old House is open till 4:30am daily, which means we no longer have to rack our brains to think of a new supper spot!
Address: 25 Neil Road, Singapore 088816
Opening hours: Daily 12pm to 12am
Tel: 6223 1633
Website
Old house is not a halal eatery.
This is an independent review by Eatbook.sg.
Summary
Pros
– Air-conditioned
– Unique dishes
– Convenient location
Cons
– Expensive
Recommended Dishes: Thick Noodle Soup ($6/$9/$12), Ngoh Hiang Set ($10/$15)
Operating Hours:
Daily 5pm to 4:30am
Tel:
6223 1633
Address: 25 Neil Road, Singapore 088816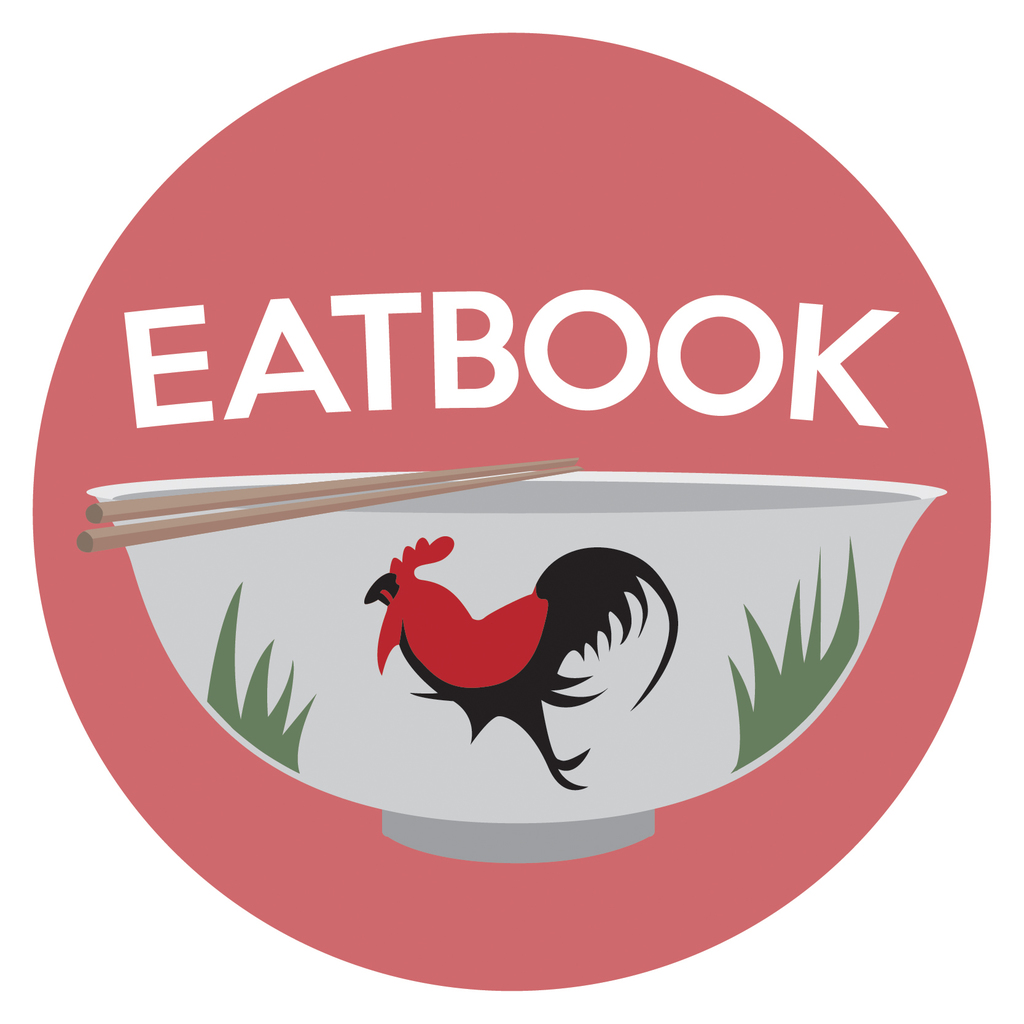 Drop us your email so you won't miss the latest news.