---
Gather all your buddies for these famous zi char dishes  
---
I'm not sure if it's the same for you, but I subconsciously categorise my friends into groups whenever it comes to dining out. There will be that bunch I'll jio for cafe-hopping, another clique to call when the zi char cravings strike, and a few nocturnal friends I'll ring up for times I feel like grabbing an impromptu supper at 2am.  
When zi char is involved, my friends and I always end up feeling torn just looking at the wide variety of dishes served. This is especially so when it comes to dining at popular zi char restaurants 'cause everything looks so darn good! Hence, here is a list of top dishes at famous zi char restaurants to make the lives of us indecisive diners easier. You're welcome.
---
1. Big Prawns Hor Fun

---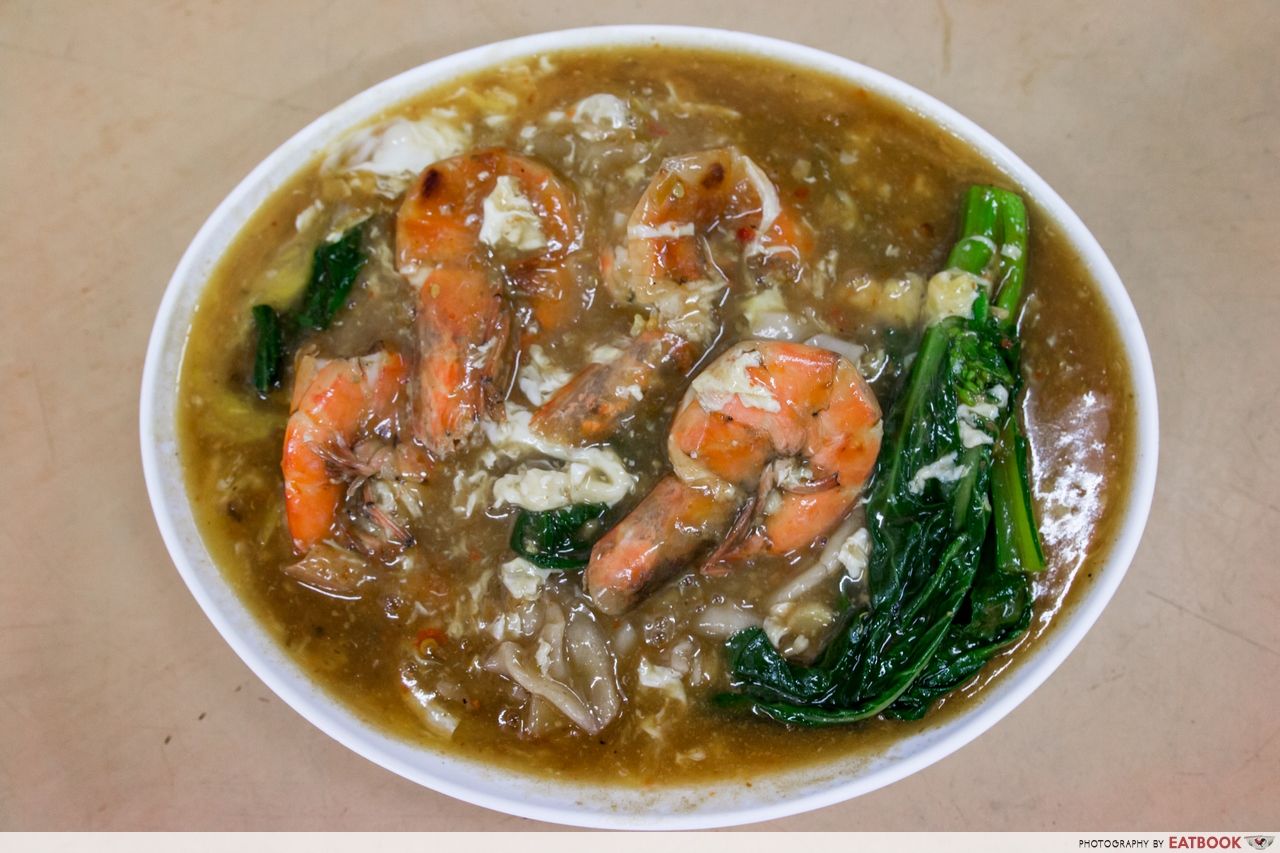 Being featured on the Bib Gourmand list of the Michelin Guide 2016 means snaking queues outside of Kok Sen Restaurant during peak hours, but good food is always worth the wait. Big Prawns Hor Fun ($16/$32/$48) shot this restaurant to fame, and it comprises silky hor fun covered in a rich prawn-based gravy with swirls of egg and four large prawns. Another dish to order is Claypot Yong Tau Fu ($14/$21/$28), which features a medley of deep-fried yong tau fu pieces soaked in a bubbling cauldron of braising sauce. Their house-made fish and squid paste provides a chewy contrast to the crispy skin of their tofu pieces and the thick sauce.
Check out our full review of Kok Sen Restaurant!
Address: 30 Keong Saik Road, Singapore 089137
Opening hours: Daily 12pm to 2:30pm, 5pm to 11:30pm
Tel: 6223 2005
---
2. Signature XL Ribs  
---
Pick from Signature Butter Champagne, Classic Salted Egg Sauce, or Traditional Coffee Sauce to go with your Signature XL Ribs ($24+ for four, $33+ for six pieces) at Big Lazy Chop. My favourite of the three sauces is Signature Butter Champagne that seems to make the meat extra succulent and tender. If you're game, order the spicy Big Lazy Signature Curry Bee Hoon Combo Version ($30+/$40+), which comes with a gigantic portion of bee hoon, crayfish, and clams. For the cowards, a non-spicy white mee sua version is available.
Check out other updated hawker food dishes that have been taken to the next level!
Address: 1A Short Street, #01-04, Singapore 188210
Opening hours: Tue-Sun 11:30am to 2:30pm, 5:30pm to 10:30pm (last order at 30 minutes before closing)
Tel: 6238 8443
Website
Menu  
---
3. Butter Pork Ribs
---
Opened by two brothers, Two Chefs Eating Place is recognised for their stellar Butter Pork Ribs ($8/$12/$16), which makes an appearance on almost every table here. Tender ribs are deep fried and smothered in milk powder, resulting in a dish that almost dissolves in your mouth before leaving behind a sweet-salty aftertaste. If you need your daily dose of 5 A Day, Vegetable with Egg, Salted Egg & Century Egg ($8/$10/$14) comes with a gravy that's been enhanced by different flavours and textures from the trio of eggs.  
Check out other zi char places that serve a unique signature dish!
Address: Block 116 Commonwealth Crescent, #01-129, Singapore 140116
Opening hours: Daily 11:30am to 2:30pm, 5pm to 11:30pm
Tel: 6472 5361 / 9437 9712
Website
Full list of outlets
---
4. Moonlight Hor Fun

---
At Keng Eng Kee Seafood, fried hor fun is brought up a notch with the addition of a raw egg in their Moonlight Hor Fun ($5/$8/$12/$16). Flat rice noodles are fried with lup cheong, squid,  prawns, beansprouts, and lard until it takes on a wok hei flavour, before a raw egg is cracked on top. Mix in the raw egg and you'll get a sticky glaze that brings out the dish's charred flavour. Salted Egg Sotong ($18/$28/$38) is another crowd-favourite, featuring fresh pieces of squid encased in a crispy salted egg yolk batter that has a right balance between sweetness and saltiness.   
Address: Block 124 Bukit Merah Lane 1, #01-136, Singapore 150124
Opening hours: Daily 12pm to 2:30pm, 5pm to 10pm
Tel: 6272 1038
Website
Menu
Info on Pandan Gardens outlet
---
5. Tofu Prawns

---
Sik Bao Sin Eating House (Desmond's Creation) serves up a variety of Cantonese-style zi char dishes, and "sik bao sin" means "eat your fill first" in the dialect. A dish that stands out would be Tofu Prawns ($19/$26), which has deep-fried blocks of tofu and fresh prawns doused in a thick zhup laced with silky strands of beaten egg. If you want something less indulgent, go for the comforting and filling Black Chicken Soup ($25).
Check out other comforting hawker soup dishes around Singapore!     
Address: 592 Geylang Road, Sik Bao Sin Eating House, Singapore 389531
Opening hours: Tue-Sun 11:45am to 2:30pm, 5:45pm to 9:30pm
Tel: 6744 3757
Website
---
6. Braised "Mi Tai Ba"

---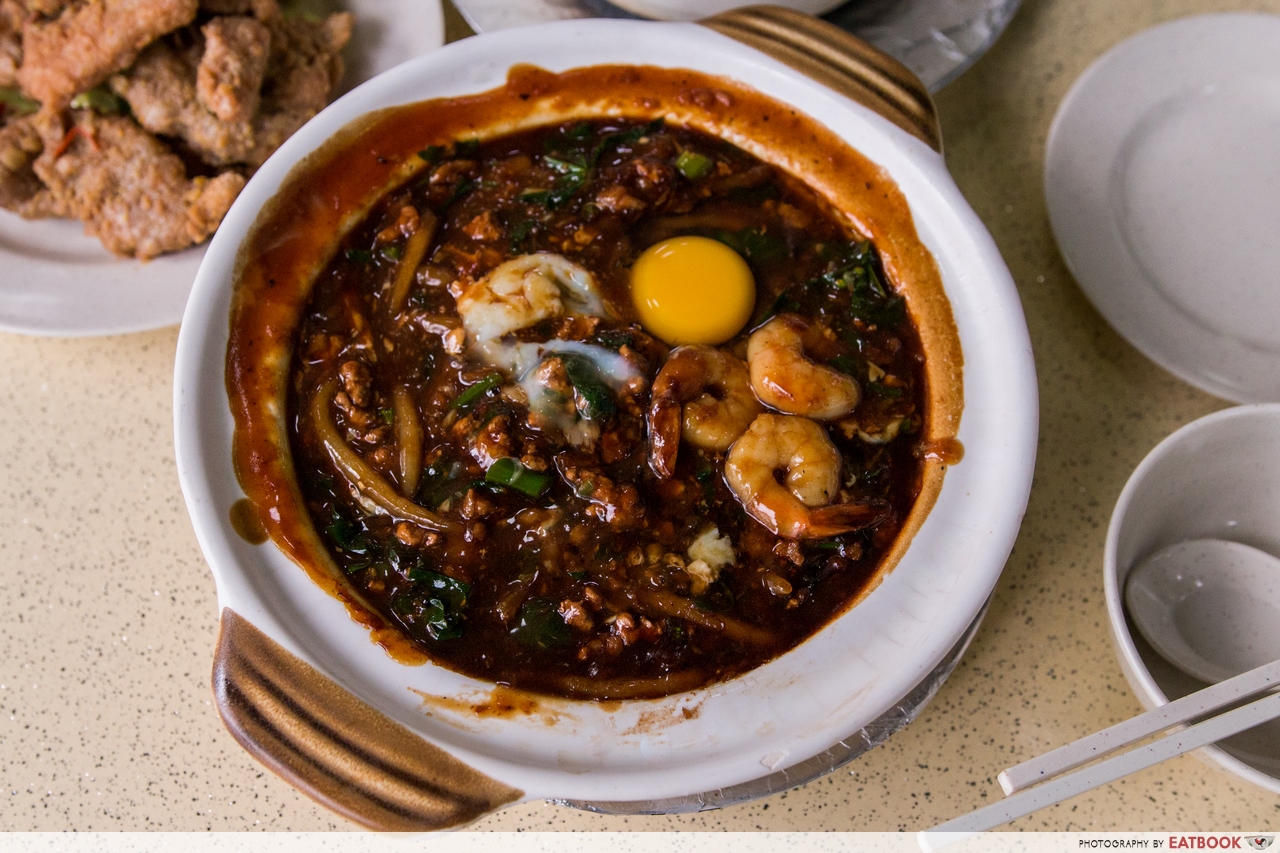 Most of us are familiar with soupy mee tai mak, but 136 Hong Kong Street Fish Head Steamboat serves a more sinful and delicious alternative – Special Claypot Braised 'Mi Tai Ba' ($5/$8/$10). This dish has mee tak bak swimming in a viscous, dark brown gravy that's filled with a robust flavour thanks to chunks of minced meat and fresh shrimps. Pork Ribs with Salted Egg ($10/$15/$20) is also another hit dish here. Each piece of pork rib, which is wrapped in a salted egg yolk batter, is juicy and fall-off-the-bone tender.    
Check out our full review of 136 Hong Kong Street!
Address: Block 713 Clementi West Street 2, Singapore 120713
Opening hours: Daily 11am to 2pm, 5pm to 11pm
Tel: 9437 8260  
---
7. Fried Porridge

---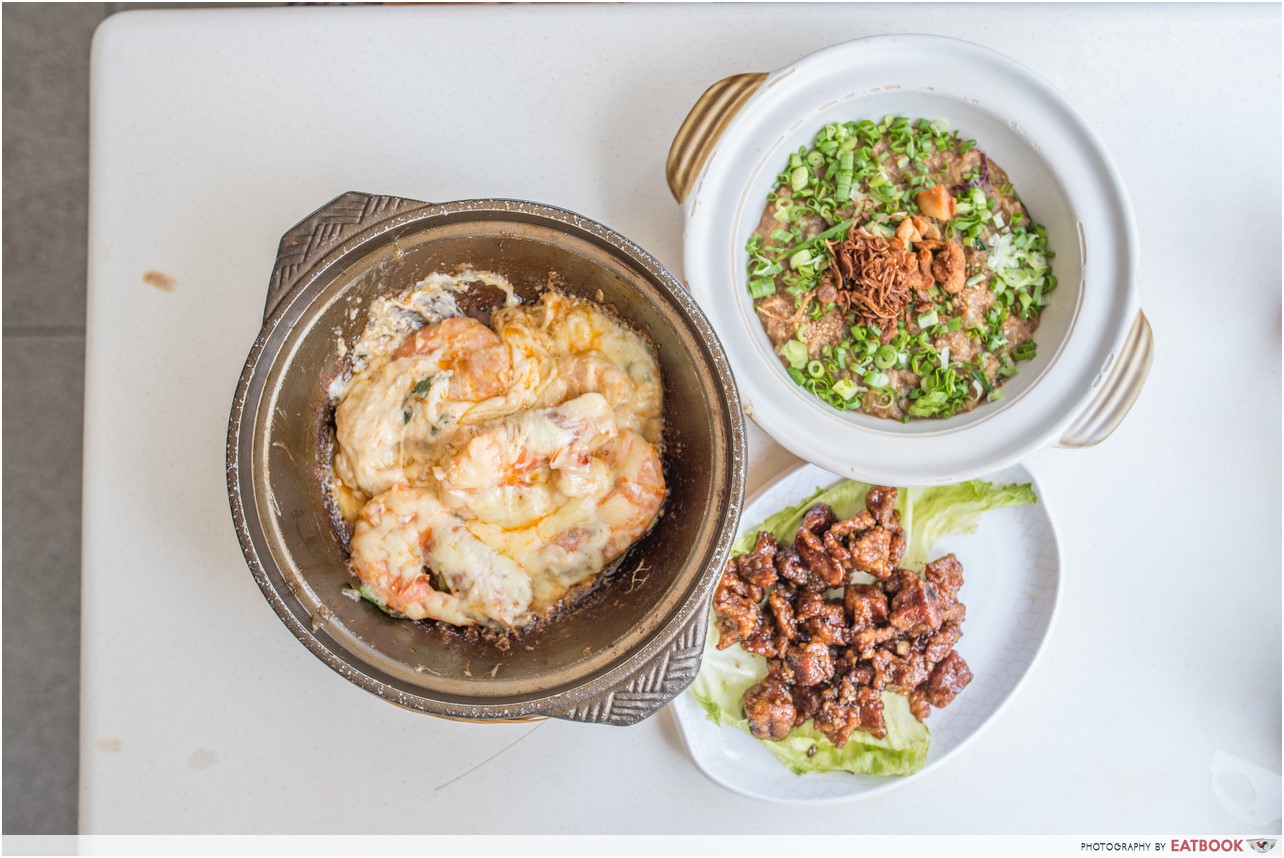 As much as Fried Porridge ($6 for two people) sounds like an oxymoron, Royal J's Seafood does a mouth-watering version of it. With diced yam, fried shallots, and crispy pork lard included, you'll be able to look forward to an interesting combination of textures. Royal Cheesy Prawns ($28) also won our hearts with a generous slab of sizzling cheese draped over gigantic, fresh prawns – you'll be more than glad to peel these prawns with your hands!
Check out our full review of Royal J's Seafood!
Address: 30 Foch Road, #01-02, Singapore 209276
Opening hours: Daily 11am to 2:30pm, 5pm to 11pm
Tel: 9357 3993
Website
Info on Bishan outlet
---
8. Herbal Mee Sua

---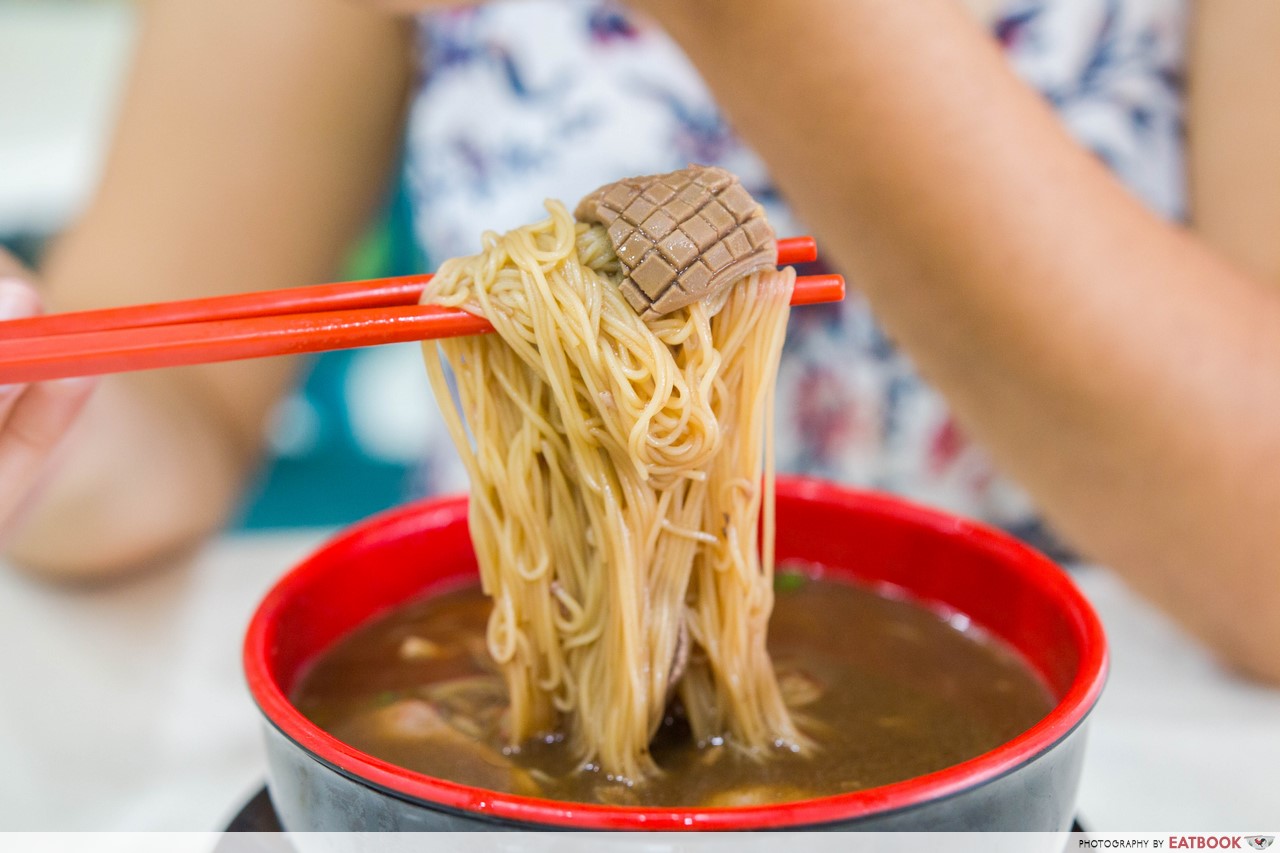 Instead of ordering fast food for supper, head down to Seng Kee Black Chicken Herbal Soup with your gang. Herbal Mee Sua ($5) is generously filled with pork kidney, pork liver, and pork meat. The soup boasts a strong flavour of pork bones, and has herbal undertones. If you want to ditch that diet plan and go all out, Chao Ta Bee Hoon ($10) is a good choice. This bee hoon is charred and filled with wok hei on one side, and soft on the other. Ingredients such as prawns, fish cake, and pork adds extra layers of texture and flavour to this dish.  
Check out our full review of Seng Kee Black Chicken Herbal Soup!
https://www.youtube.com/watch?v=Je35xR0Hcd0
Address: 467 Changi Road, Singapore 419887
Opening hours: Daily 11am to 4am
Tel: 6746 4089
---
9. Halal Beef Kway Teow 
---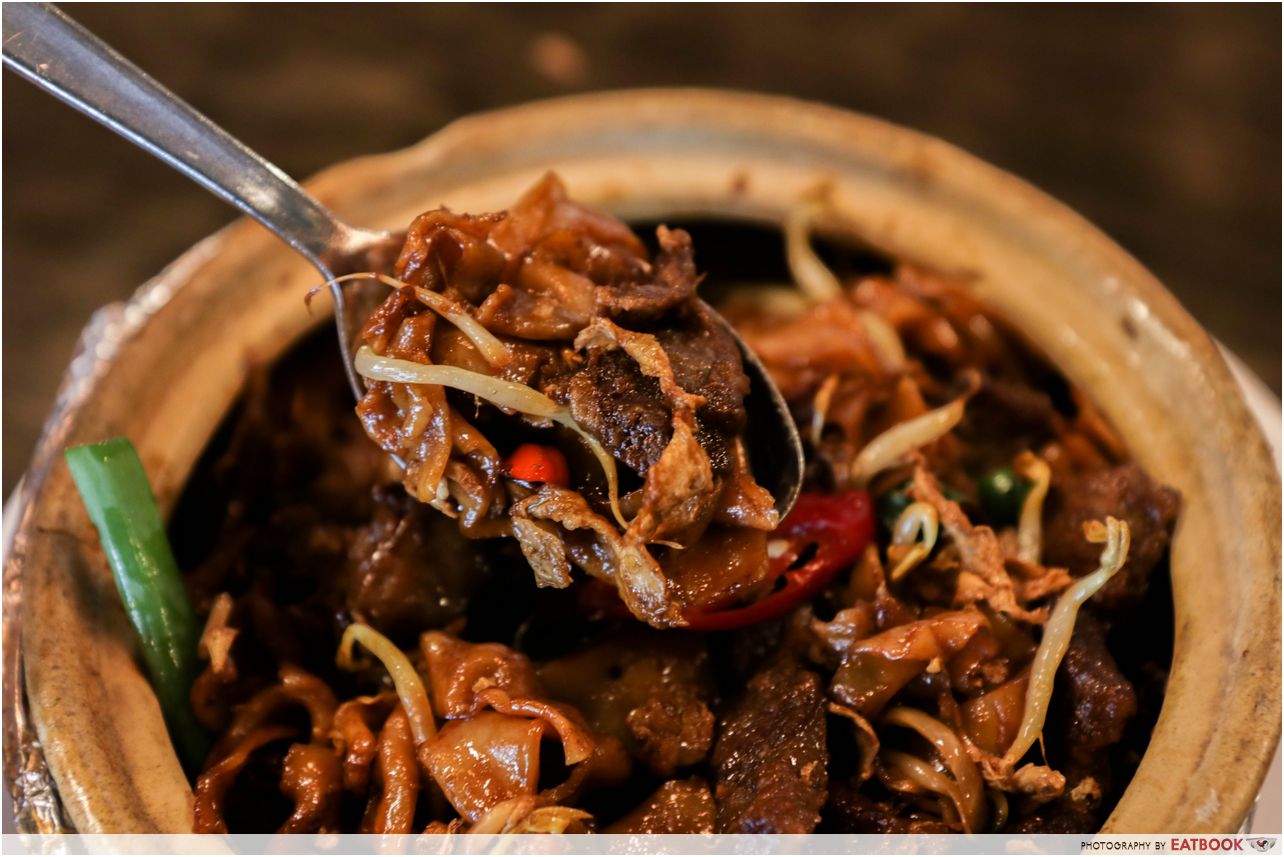 Segar Village is a halal-certified zi char eatery that serves the classics. Beef Kway Teow ($5/$12) is presented in a heated clay pot and has flat rice noodles tossed with sliced beef, crunchy beansprouts, and fried egg. Also, their ongoing promotion allows you to snag two medium to large crabs in a Black Pepper Crab or Chilli Crab dish at $30 when you spend a minimum of $20 on other dishes!   
Check out our full review of Segar Village!
Address: 19 Sims Way, Singapore 388831
Opening hours: Daily 11:30am to 2:30pm, 5:30pm to 11:30pm
Tel: 6547 1031
---
10. Singapore Dinosaur Prawn Mee 
---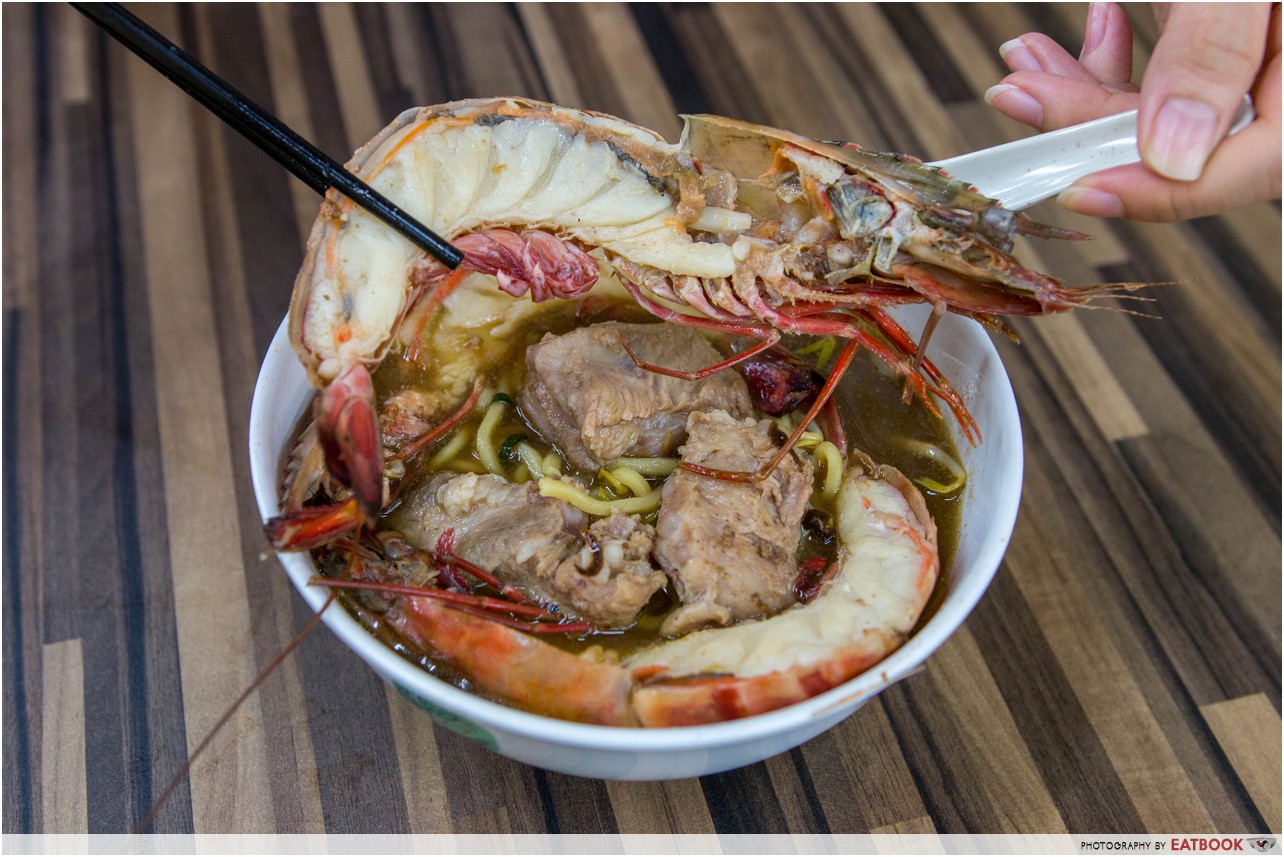 Singapore Dinosaur Prawn Noodle ($15) from Old House might not have made it to our list of cheap prawn mee, but considering its massive portion, it surely is worth trying. Yellow mee is steeped in a robust and flavourful prawn stock, and at the top lies three enormous prawns with thick, fresh meat, and three chunks of pork ribs. Bean sprouts, leafy greens, and crispy pork lard add crunch to the dish.  
Address: 25 Neil Road, Singapore 088816
Opening hours: Daily 6pm to 4am
Tel: 6223 1633
Website
Menu
---
Zi char-hopping should be a thing
---
Ring up your buddies and come up with a plan to cover all these dishes, and comment below to let us know which is your favourite! 
---
Featured image adapted from Instagram user sxiaoguang's post.