Old Shifu Charcoal Porridge in Tiong Bahru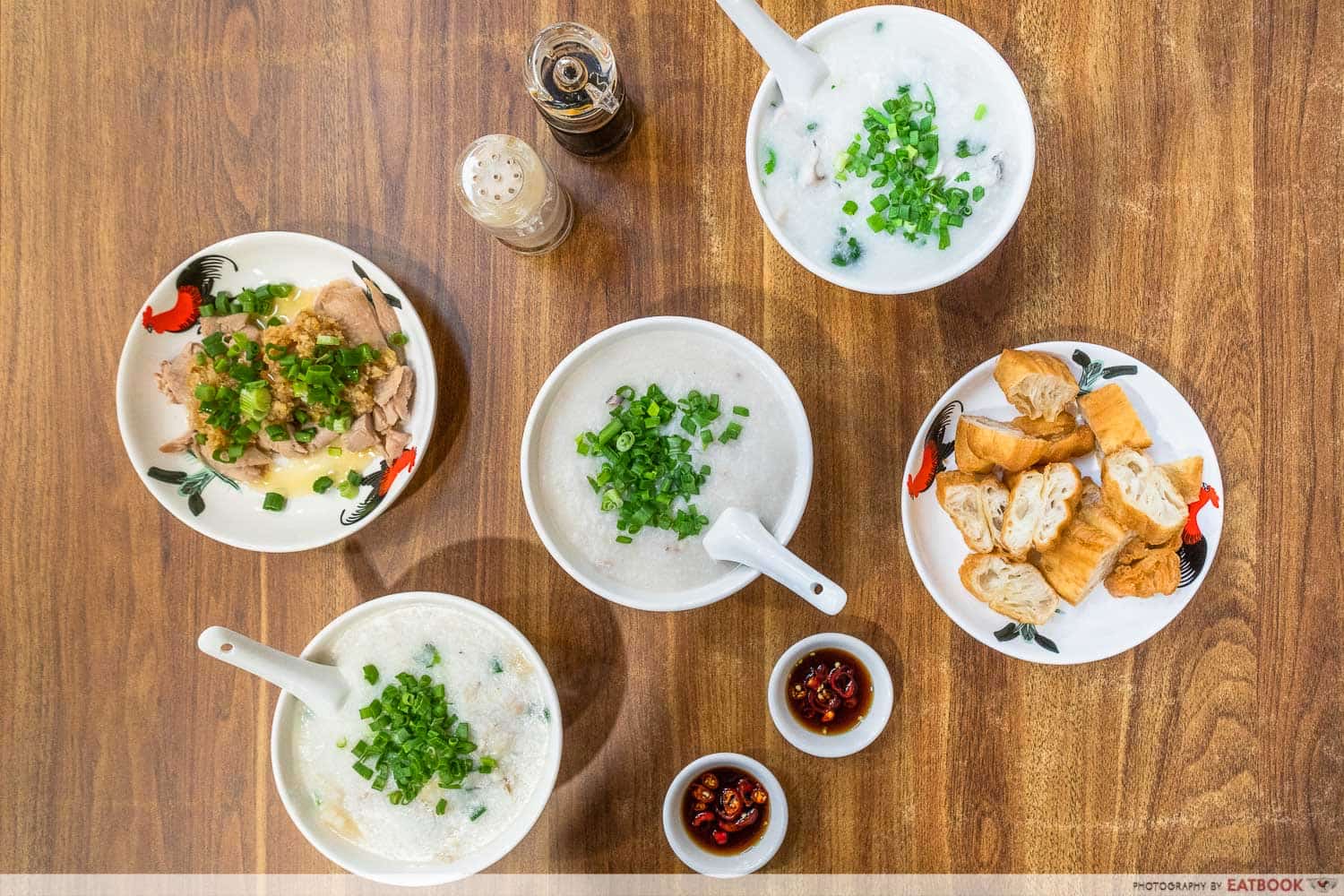 With the current season of gloomy skies and wet weather, I often find myself craving a comforting bowl of porridge. Located right next to Tiong Bahru Market is Old Shifu Charcoal Porridge, where you will find traditional charcoal-cooked porridge.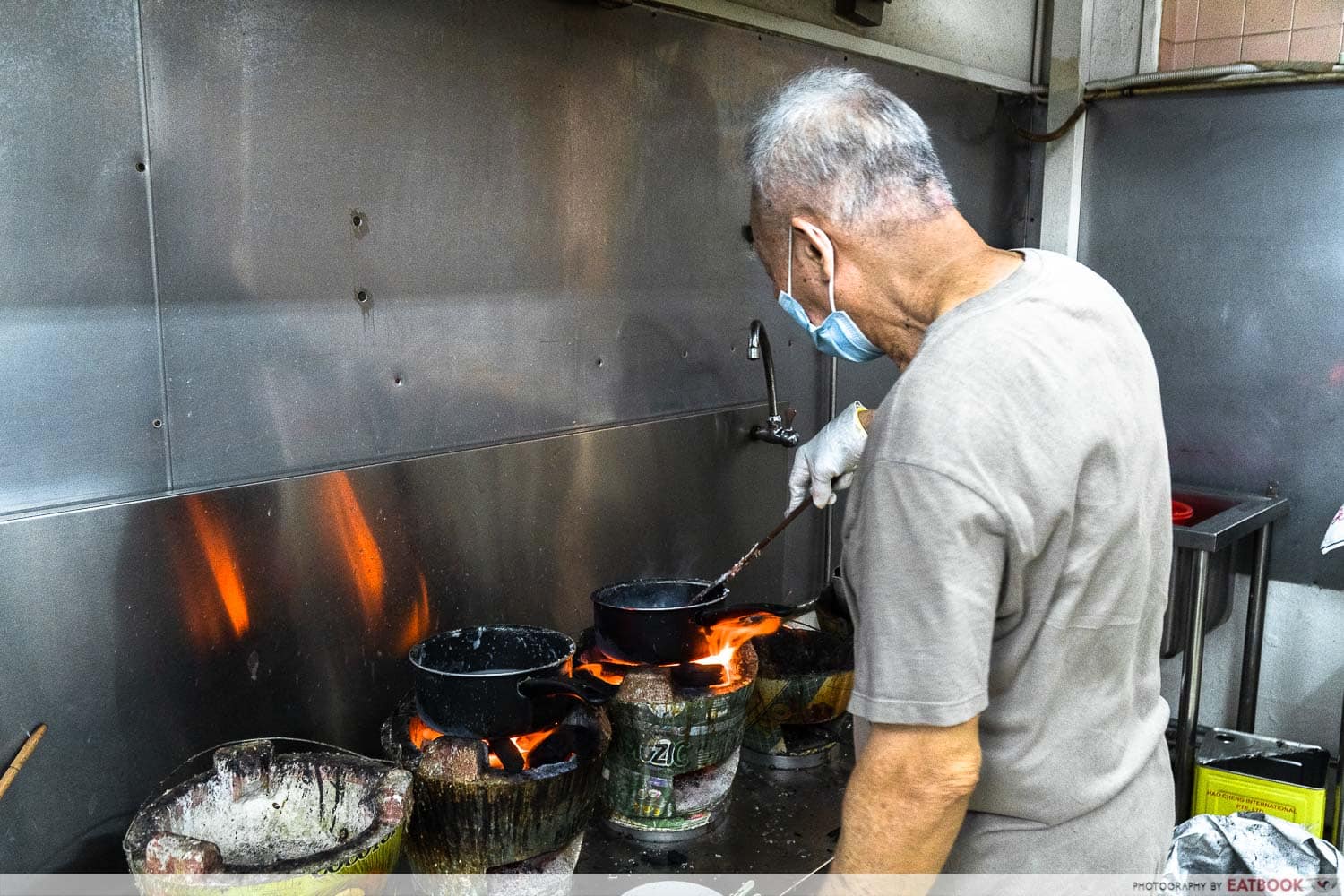 Chef Ah Chiang, who has over 50 years of experience cooking porridge, is a huge advocate for keeping this practice of preparing porridge on top of a charcoal stove. With large flames and an almost theatrical display, each portion of porridge is patiently stirred to create a smooth and thick consistency. At the same time, the charcoal brings out a hint of smokiness for a flavourful mouthful. 
10 Porridge Stalls In Singapore For HK-Style Congee, Congee Hot Pot And More
Food at Old Shifu Charcoal Porridge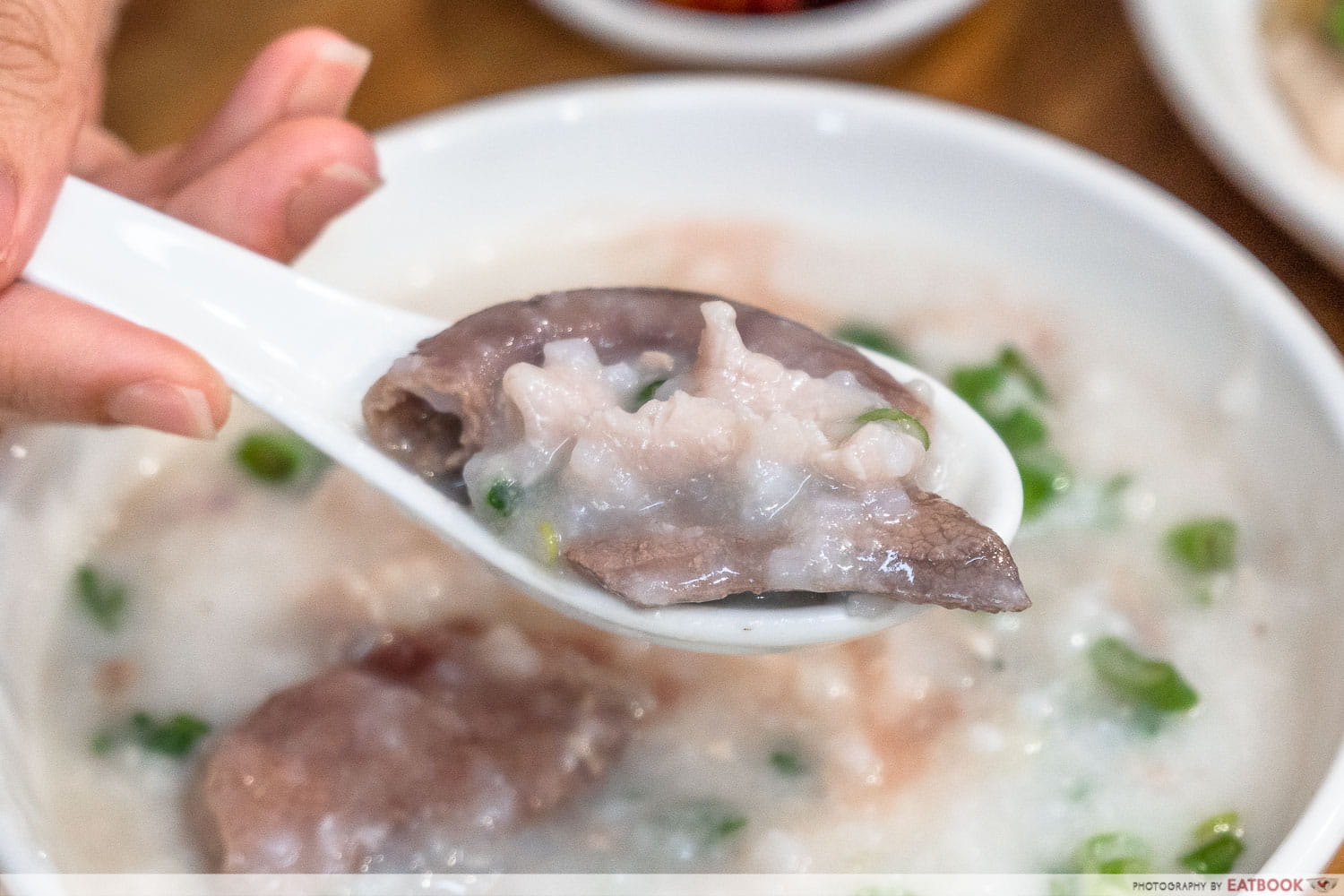 Curious to find how charcoal-cooked porridge differs from the rest, I headed straight for the Mixed Pork Porridge ($6.30). The porridge had a flowy texture, similar to that of Cantonese porridge. Hidden within the porridge were numerous pieces of pork intestines, pork liver, minced pork, and sliced pork—truly pork galore!  
Contrary to its promising starch-like consistency, the porridge was rather bland. I later learnt that the chef merely mixes rice and water, leaving out additional seasoning except for salt. It did have a light char to it, which is a unique trait of this cooking style. Customize the seasoning to your liking by adding a few drops of light soy sauce or sliced chilli padi for a spicy kick.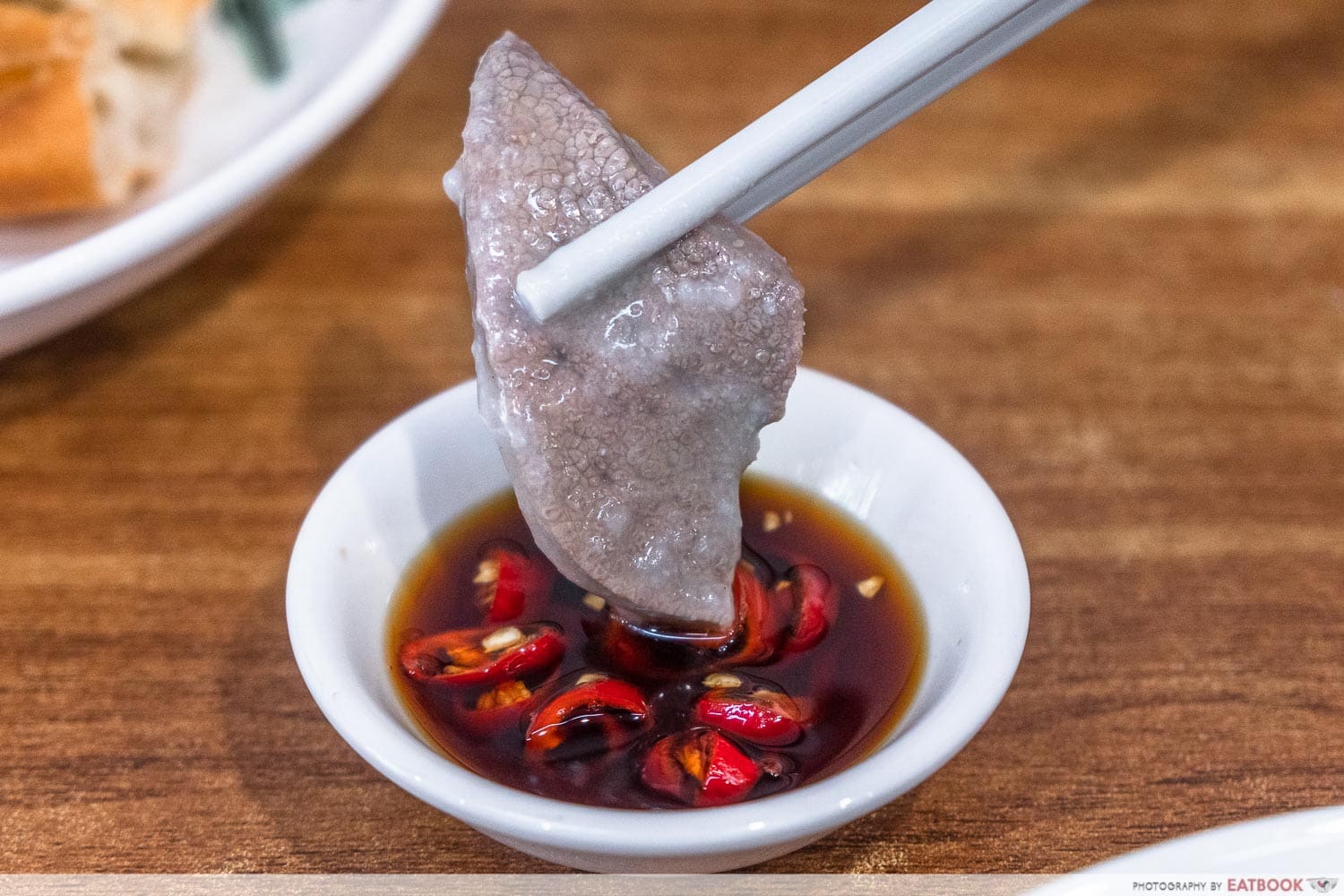 Out of all the pork pieces, the pork liver slices were my favourite. They did not have the usual gamey smell or taste, and the QQ texture complemented the viscous porridge. There was a strong earthiness to the pork intestines, which I personally am not a fan of. However, the pork slices were tender, and the minced pork was juicy and succulent.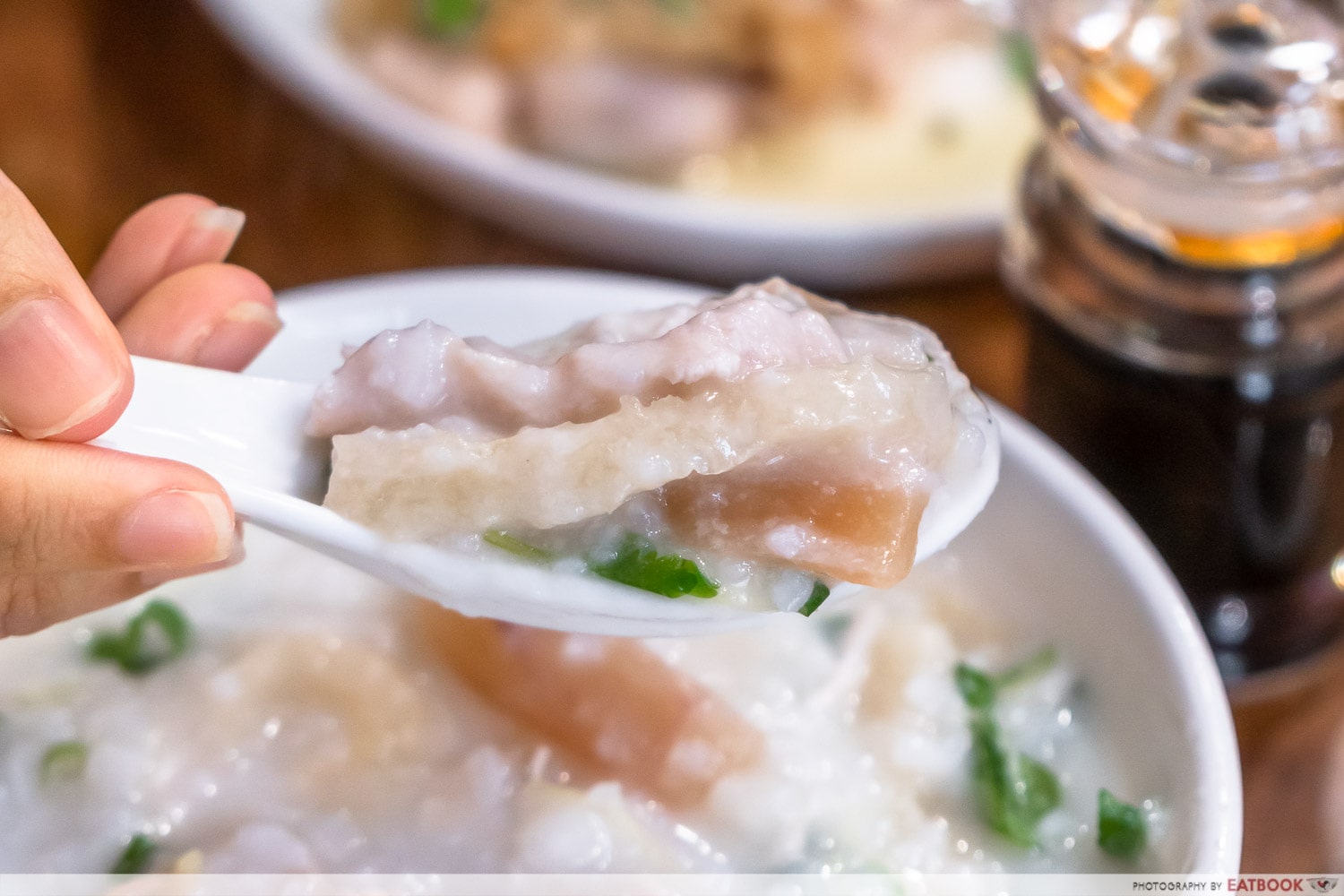 Intrigued by its unique name, I decided to try the Li Wan Boat Porridge ($5.50) next. After a quick Google search, I realised that the name of this porridge traditionally refers to its ingredients, which are 'catchable' on a boat. The list includes cuttlefish, fish, prawns and more. Here at Old Shifu Porridge, they add extra goodies such as pork slices, minced pork, and even pork skin. 
With the porridge filled to the brim with ingredients, I enjoyed the variation of textures in every spoonful. The addition of seafood gave the plain porridge a sweet and briny flavour, along with a rich aftertaste.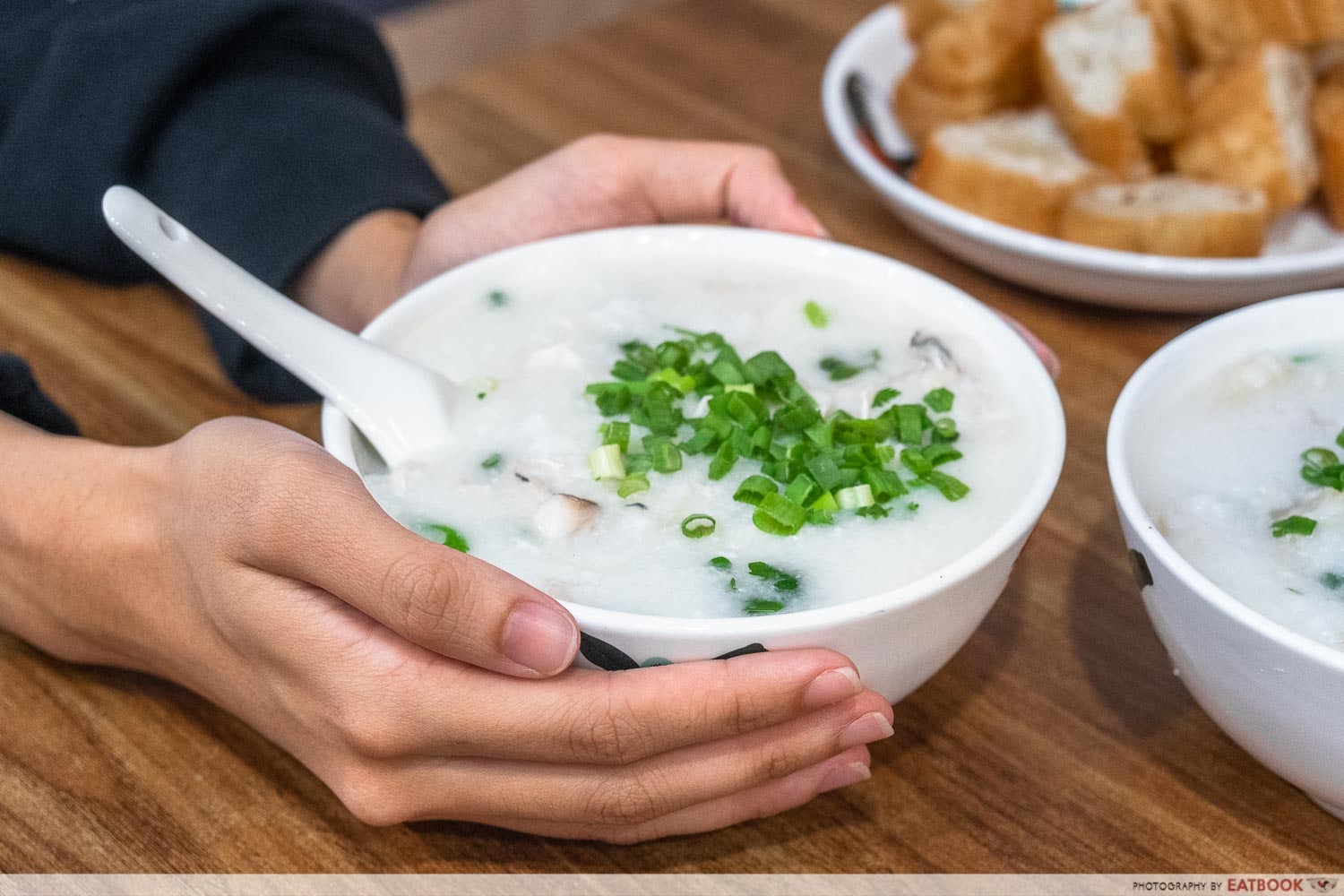 To end off this porridge galore, I went for a slightly more familiar option of Sliced Fish Porridge ($6). It came with mackerel pike, which is known to have tiny bones within. This is why there is also a child-friendly option of Salmon Fish Porridge at an extra cost of $1. We opted for the mackerel pike, which had a melt-in-your-mouth texture with no fishy aftertaste. 
Another great thing about this place is that you can add an egg to any porridge, completely free of charge!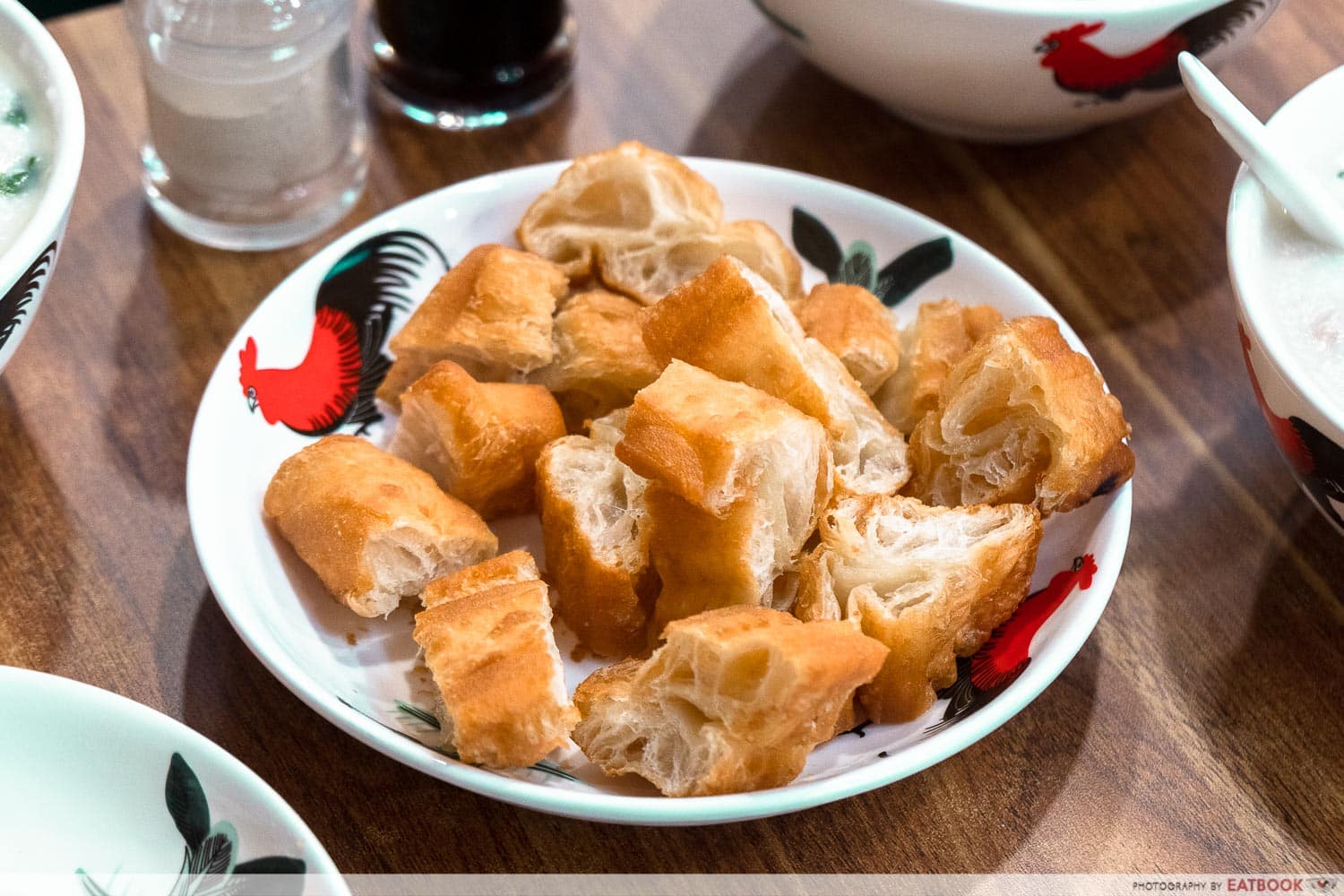 Although arguably a simple dish, their unassuming-looking You Tiao ($2) caught me by surprise. Encased within a golden, crispy outer layer was a fluffy and airy web-like dough. Prepared only upon ordering, these savoury doughnuts were still warm to the touch and had an addictively chewy texture. 
Lightly salted, these elongated fried dough pieces deserve to be a snack on their own; alternatively, enjoy them together with a spoonful of porridge.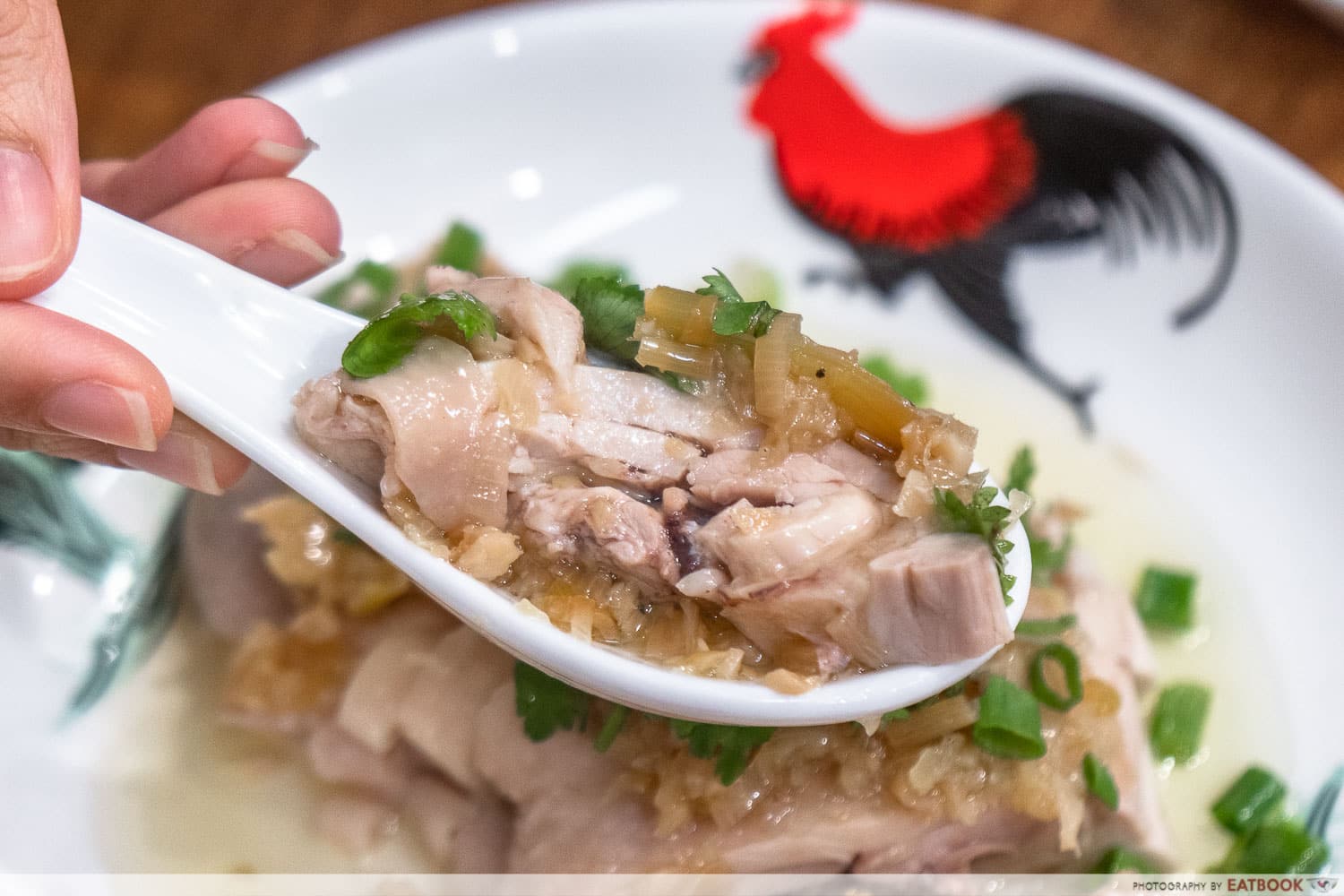 Swimming in a layer of fragrant sesame oil was the Ginger Chicken ($6), garnished with zesty ginger pieces, aromatic parsley and green onion. Served as a cold dish, this side dish created a refreshing contrast against piping hot bowls of congee. Perfumed with fragrance from its ingredients, the chicken was juicy, tender, and easily disintegrated in my mouth. 
Ambience at Old Shifu Charcoal Porridge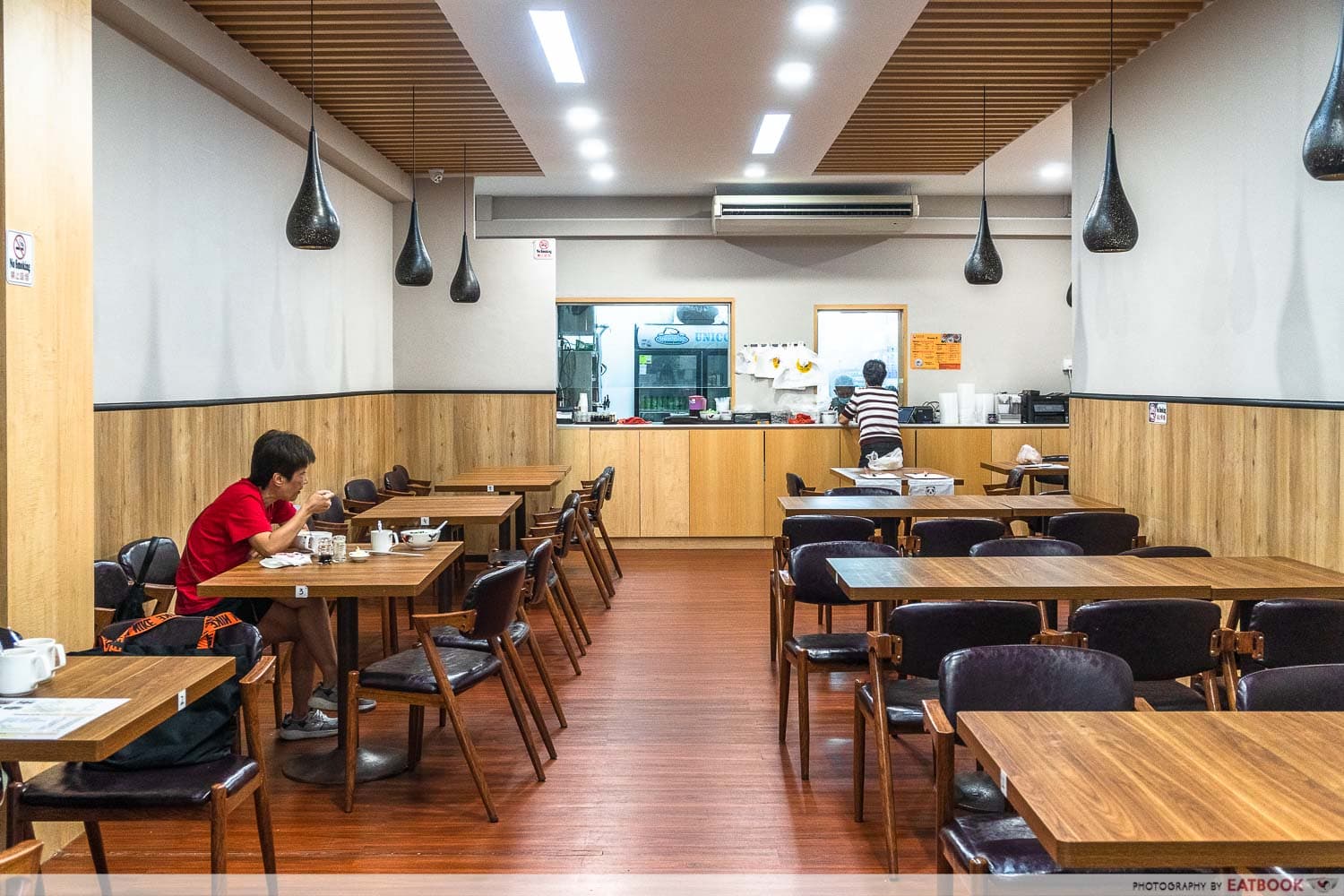 My only gripe about this place would be its slight inaccessibility, as it is quite a distance away from Tiong Bahru MRT Station. Although it's a shame that it's not exactly walkable from the nearest station, Old Shifu Charcoal Porridge is just a few bus stops away. 
In case you're worried about eating congee while battling the sweltering heat, rest assured that you can eat in comfort here as the dining space is air conditioned and spacious. 
The verdict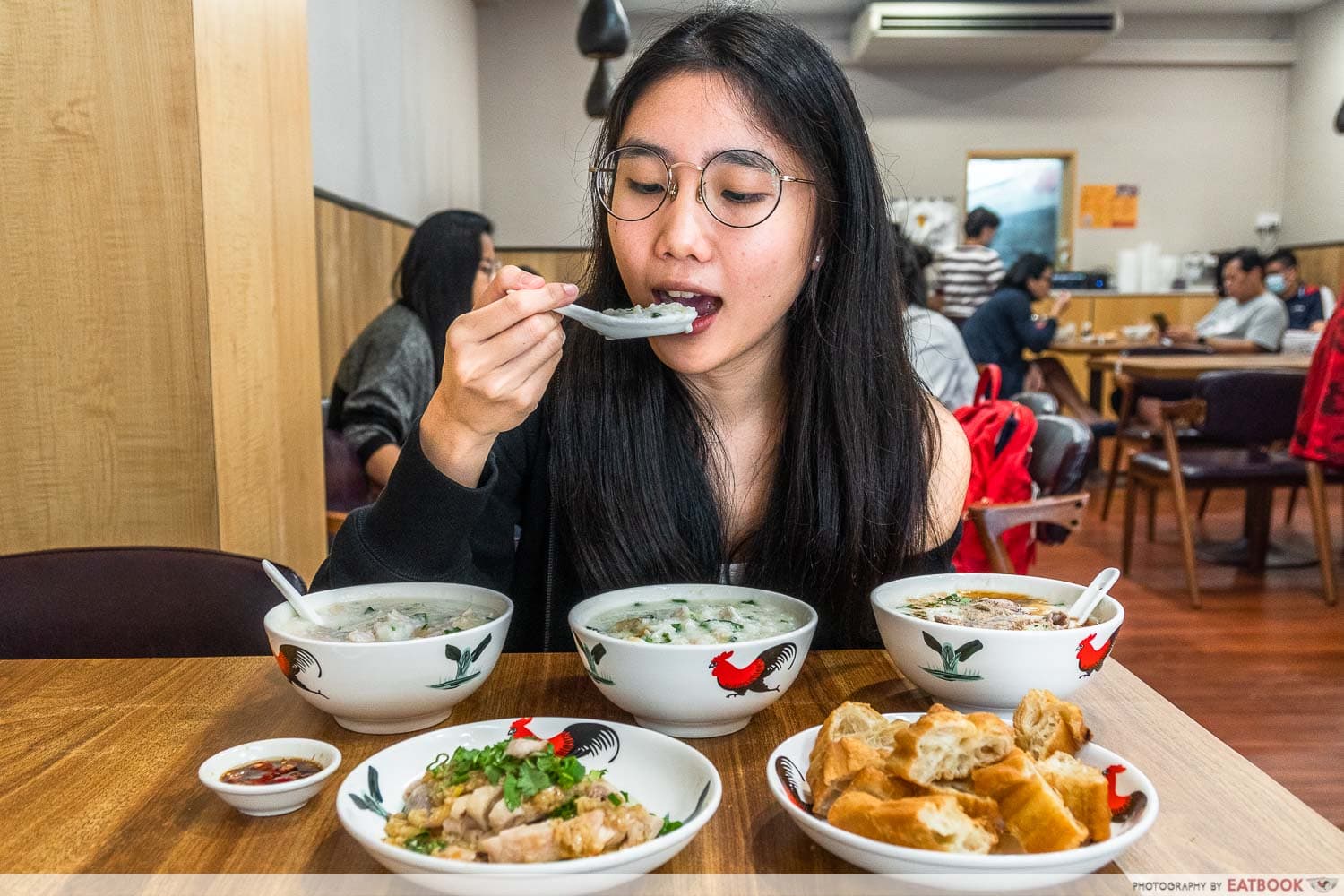 Although I felt that the porridge was a little too plain for my liking, I relished my first experience trying charcoal-grilled porridge. It was touching to hear from Chef Ah Chiang on his attempt to hold on to this highly respectable, yet dying tradition of cooking porridge over a charcoal stove. 
If you are craving for a bowl of heartwarming house-made congee, you should definitely make a trip down to Old Shifu Charcoal Porridge. If you're lucky, you might even catch a glimpse of the friendly chef in person! 
Loo's Hainanese Curry Rice Review: Famous 70-Year-Old Hainanese Curry Rice At Tiong Bahru
For more food in the area, check out our Loo's Hainanese Curry Rice review, which features a famous 70-year-old hainanese curry rice store. Those with a sweet tooth can give our Voyage Patisserie review a read, for atas French Toast and other artisanal desserts! 
Address: 58 Seng Poh Road, #01-17, Singapore 160058
Opening hours: Tue-Sun 7am to 2.30pm, 5pm to 8.30pm
Tel: 8201 8668
Old Shifu Charcoal Porridge is not a halal-certified eatery.
Photos taken by Emily Teu.
This is an independent review by Eatbook.sg.
Old Shifu Charcoal Porridge Review: New Eatery By Chef Ah Chiang With Over 50 Years Of Experience
Old Shifu Charcoal Porridge Review: New Eatery By Chef Ah Chiang With Over 50 Years Of Experience -

7/10
Summary
Pros
– Ginger chicken was fragrant
– You Tiao was crispy on the outside and fluffy on the inside
Cons
– Porridge was a little too bland
Recommended dishes: Ginger Chicken ($6), Mixed Pork Porridge ($6.30), You Tiao ($6)
Opening hours: Tue-Sun 7am to 2.30pm, 5pm to 8.30pm
Address: 58 Seng Poh Road, #01-17, Singapore 160058