Papa Ayam brings the heat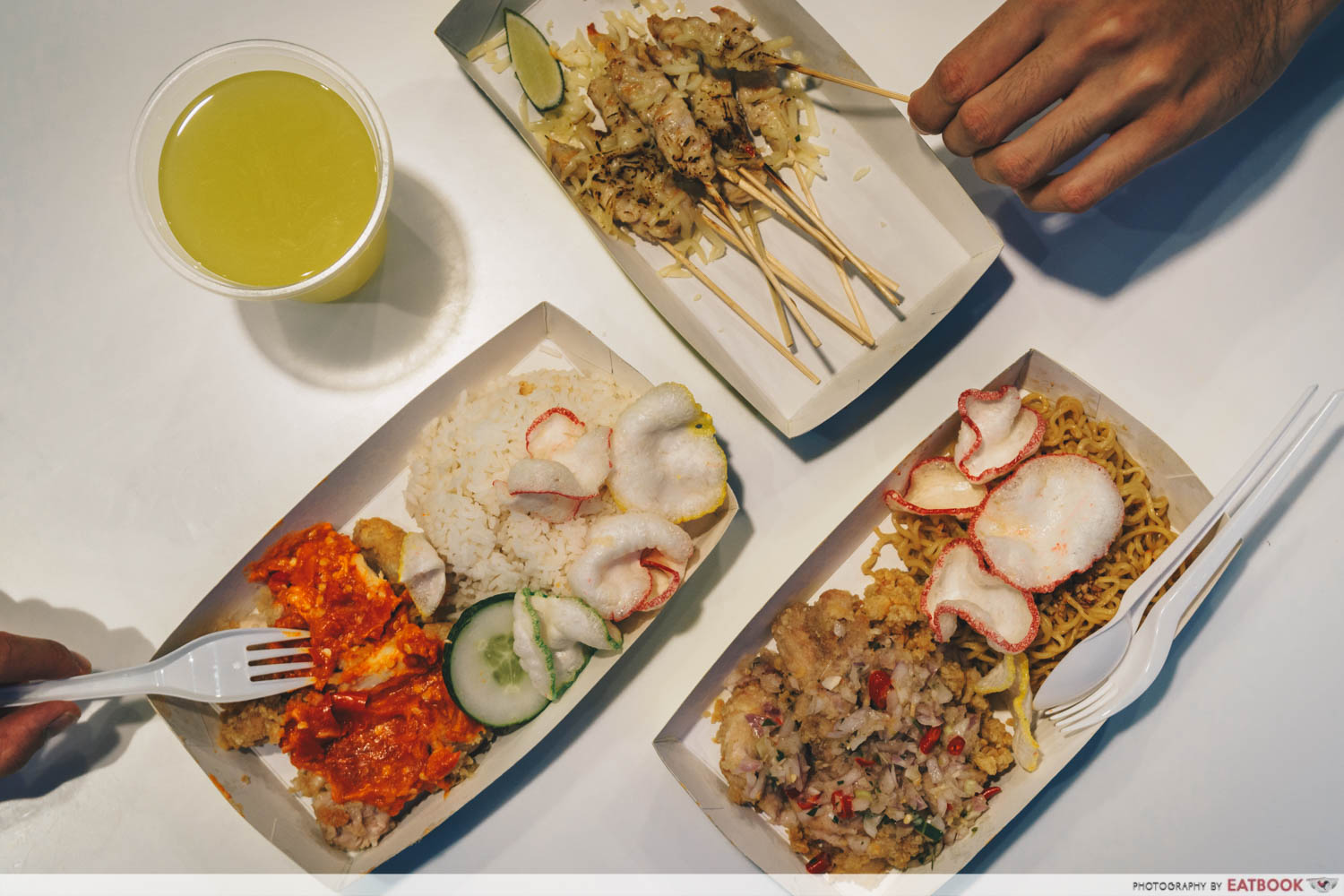 Ayam penyet is a beloved dish in Singapore and Indonesia, with meat smashed till tender lying beneath fragrant, crispy skin. Not many locals will have heard of ayam geprek though, a fellow member of the smashed chicken family that has blossomed into an absolute phenomenon across Indonesia in recent years.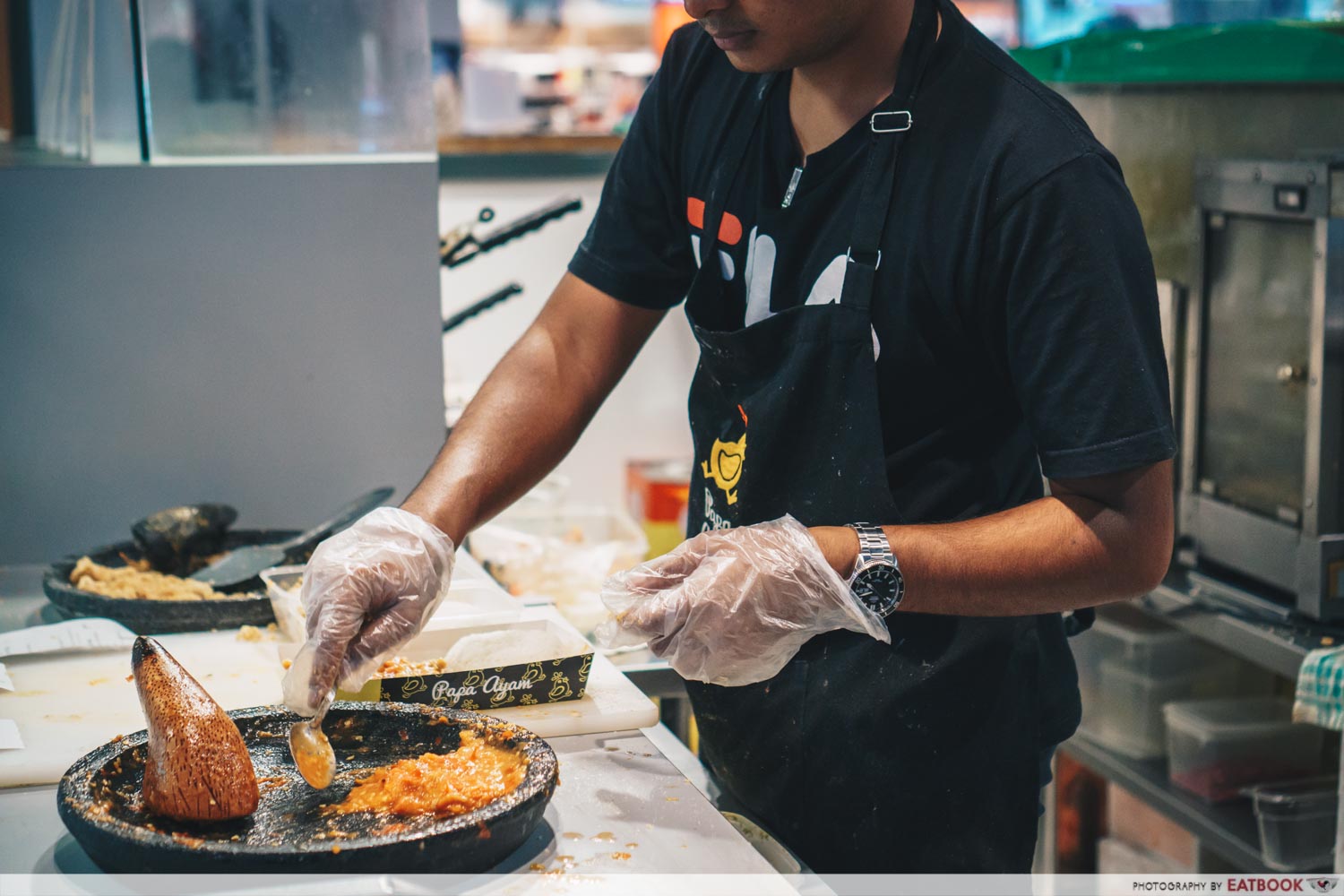 The dish features pounded, boneless fried chicken, liberally slathered with a layer of fearsome sambal that has the potential to make your mouth combust. Easy to eat and featuring adjustable heat levels, it has become especially popular among Indonesian youths. It's essentially boneless ayam penyet with a blanket of sambal.
Papa Ayam finally brings this dish to Singaporean palates, hoping to ignite a craze that rivals predecessors like ma la and salted egg yolk. Don't be fooled by its kiosk status; there's no compromise on quality. This Somerset stall uses fresh ingredients and prepares each batch of sambal on order, ensuring crispy chicken and potent heat for every customer.
Food at Papa Ayam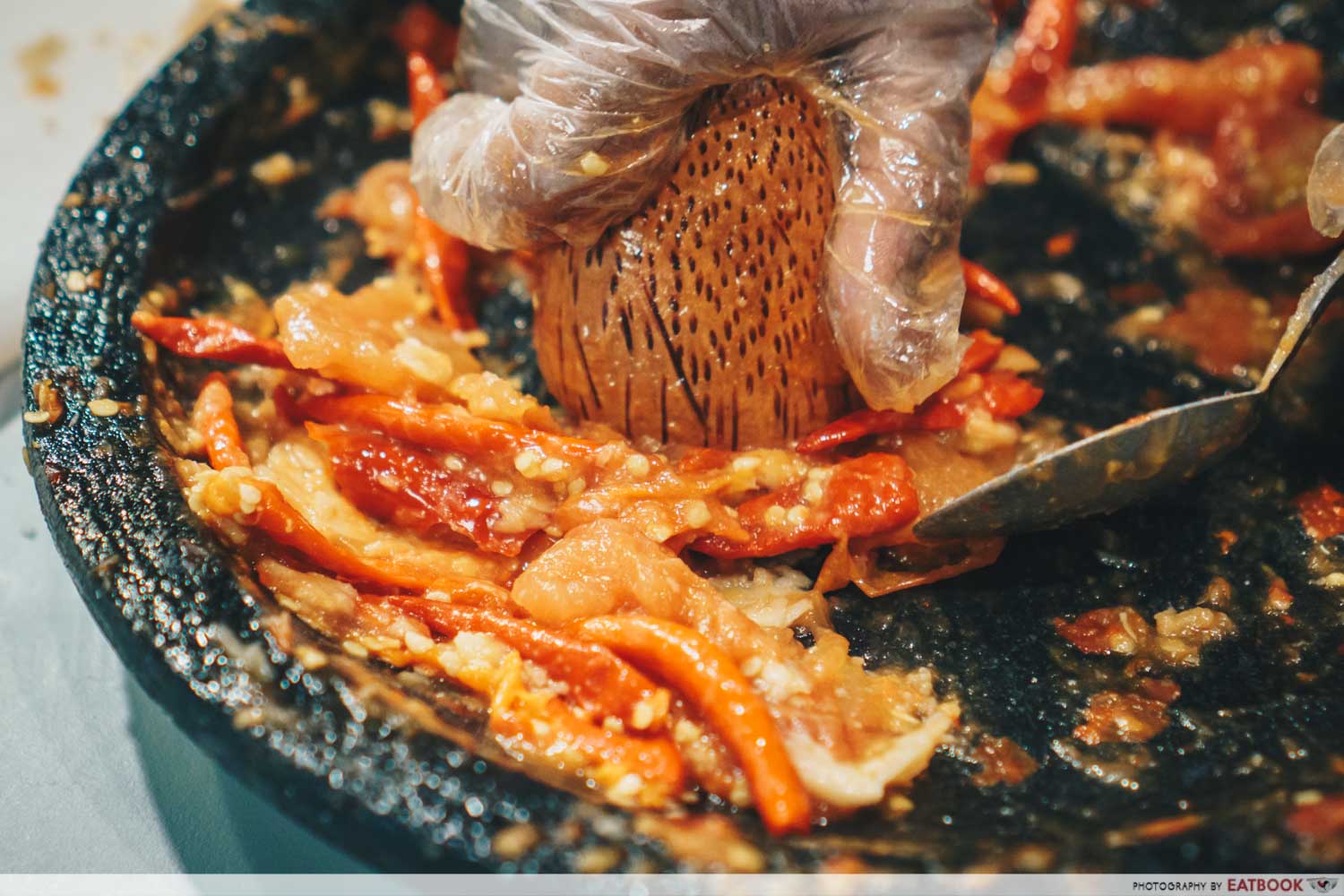 We stood and watched handfuls of gleaming red chillies getting thoroughly mashed, with menacing spiciness practically radiating from the mortar and pestle. Much like Japanese curry or ma la, the original ayam geprek comes with customisable spice levels, from level one to 15.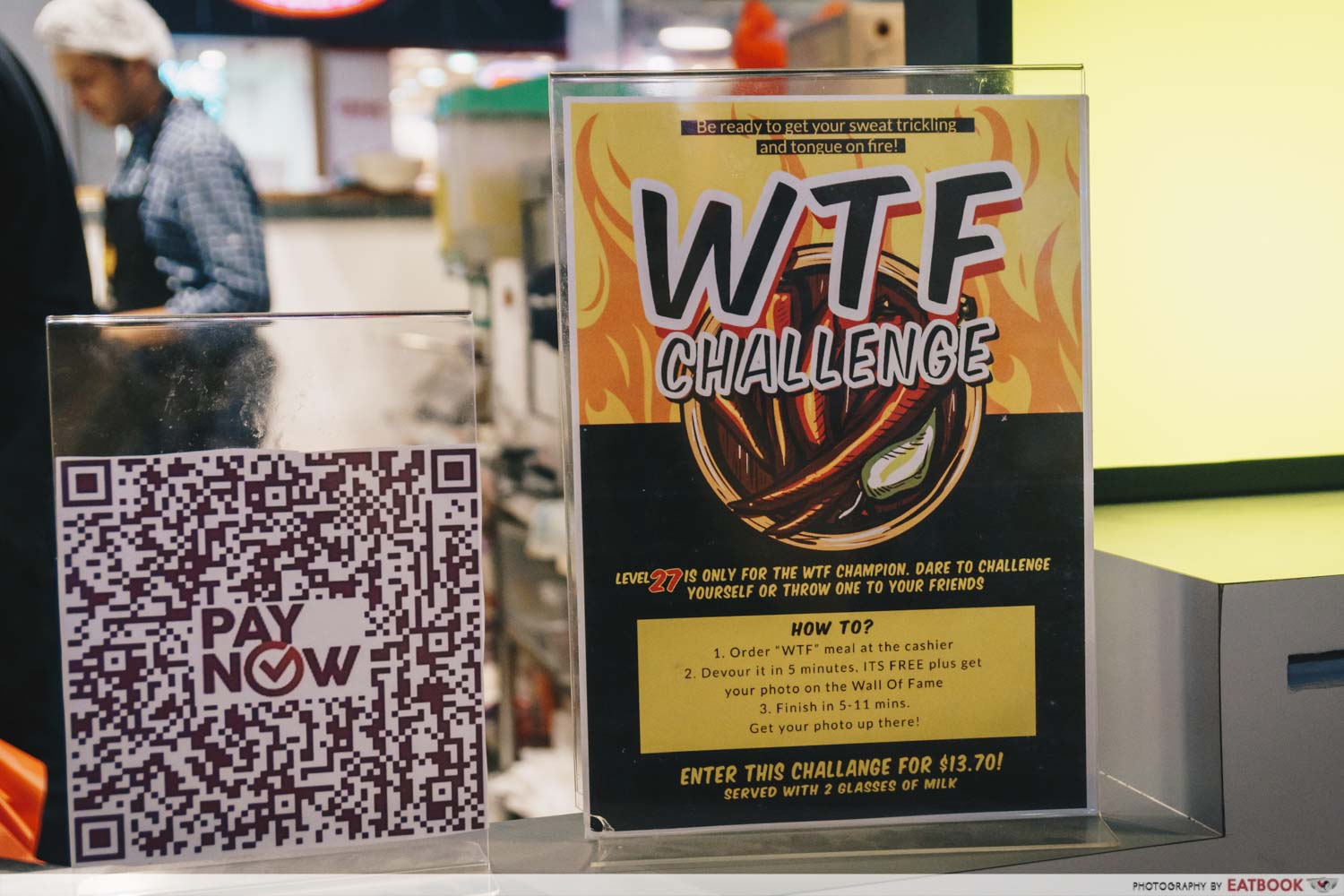 The WTF Challenge ($13.70) absolutely eviscerates that scale – probably along with your digestive tract – by cranking the heat up to level 27. Emerging triumphant nets you a free meal, along with a spot on the wall of fame. But the catch is that you'll need to polish your dish off within five minutes. It's overwhelmingly spicy, to the point that two cups of lime juice are served F.O.C to quench any flames.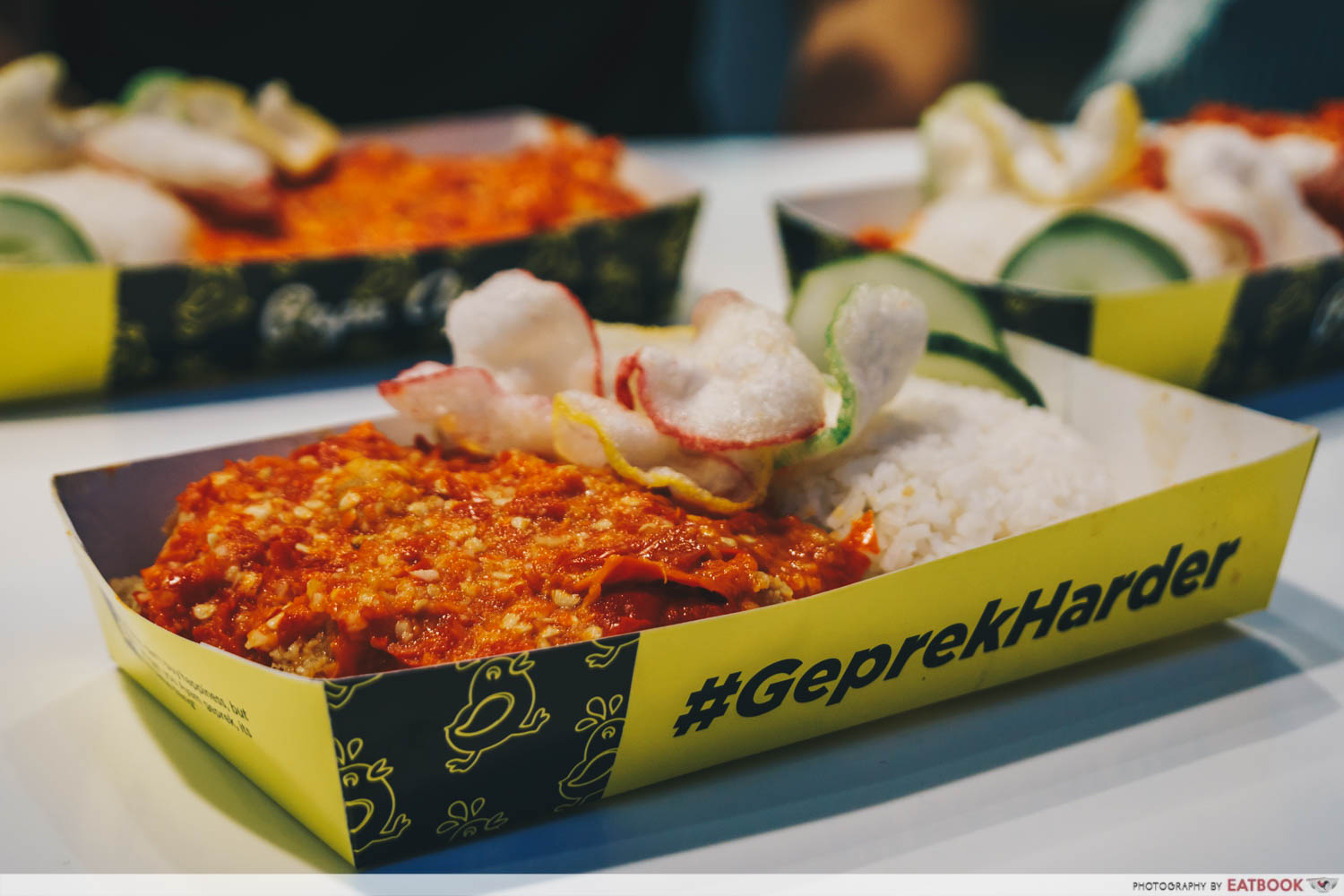 The level 27 sambal is intensely concentrated, with a ludicrous number of chillies going in. The result is this terrifying monstrosity of a dish, which looks like it has as many chilli seeds as rice grains.
Thankfully, I didn't have to torture my stomach with this challenge. Instead, I had the gleeful pleasure of watching three of my colleagues suffer through the heat. It's at this point that I would like to thank my editor for not subjecting me to this challenge.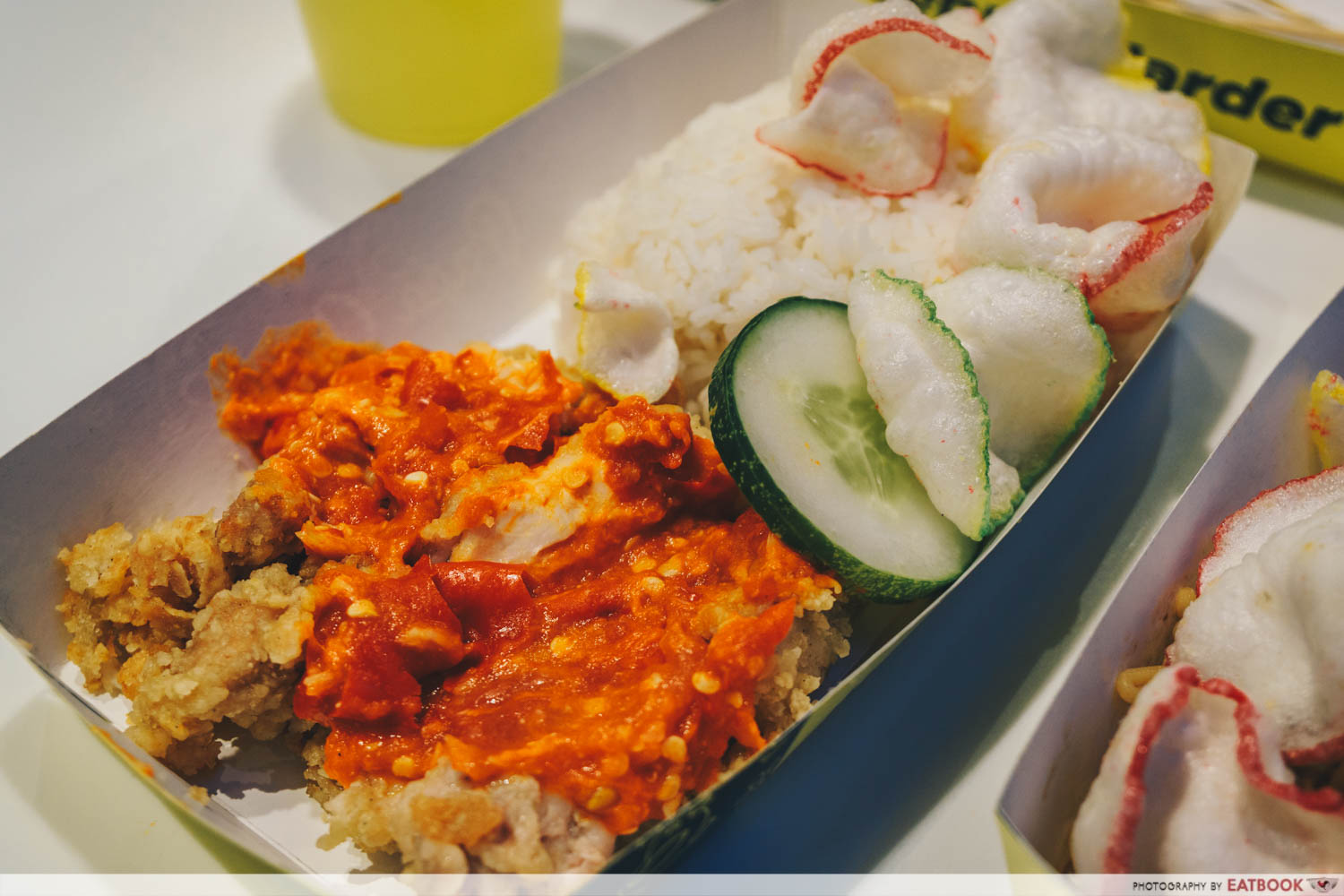 My plate of the Ayam Geprek Original ($6.80) was considerably tamer, coming in at level eight. Despite the much lower level, our chicken was similarly menacing, and came covered with a slightly lighter coat of crimson sambal.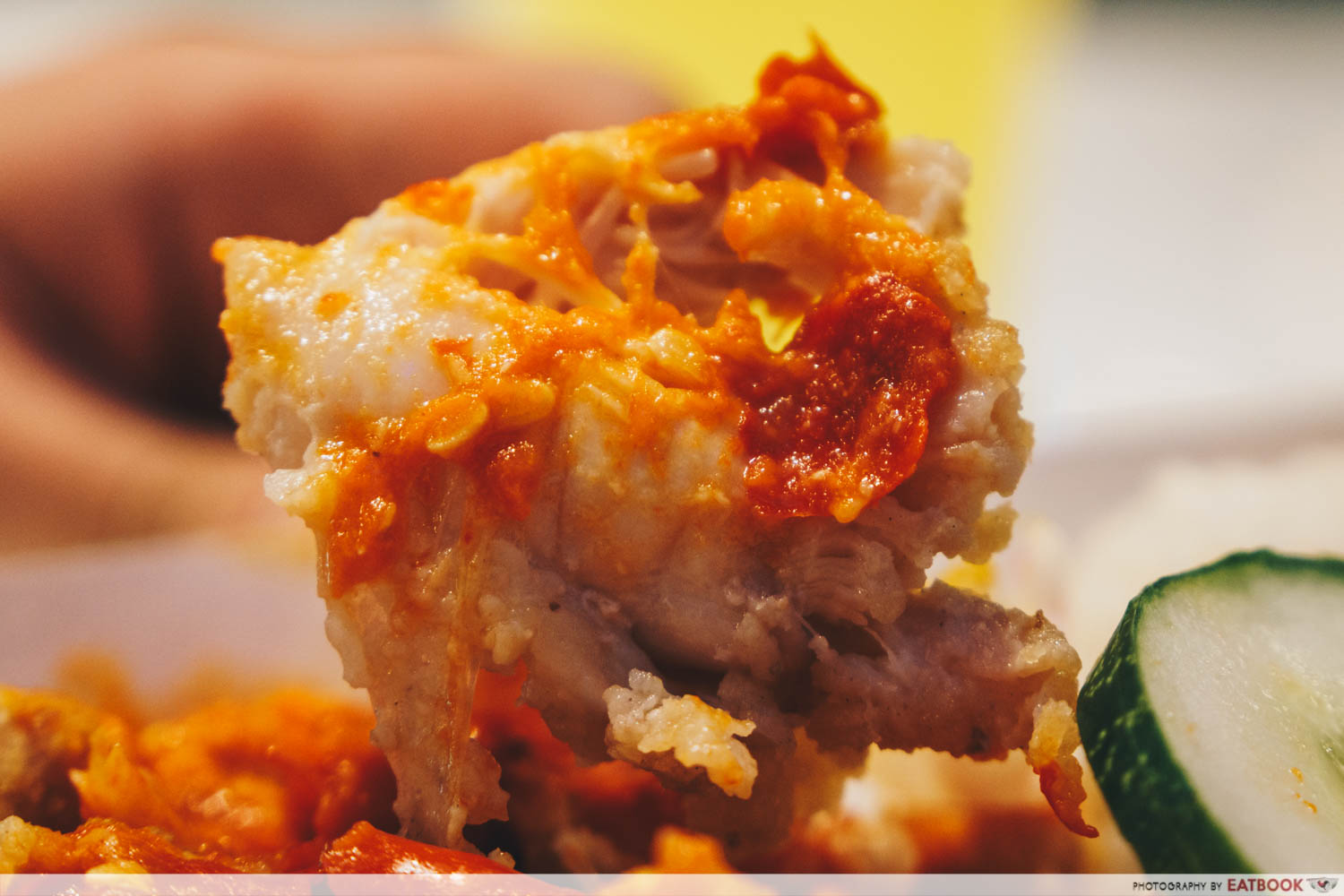 I consider myself pretty decent at handling my chilli. However, level eight proved to be a match for me. It was really spicy. At first, it was all good, as the piquant sweetness from tomato and lime came through. The sambal is simple in its composition, but that's the point – it exudes a homely feel, the sort of condiment you'd imagine an Indonesian grandma making.
After a couple of bites, the heat washed over my mouth, like a wave at high tide. Streams of sweat rushed down my face and my lips gradually became numb. It was then that I knew I was in trouble. Much-needed respite came via the fluffy mound of rice and crispy keropok, both playing their part to extinguish the flames raging in my mouth.
Unfortunately, the heat overpowered our fried chicken. It was a shame, because it was pretty darn good in its own right. The thick batter boasted a biscuit-esque crunch and a hint of salt that allowed the sambal to shine. That said, the sambal's moisture meant the central pieces of chicken became slightly soggy, losing their appealing crispiness.
Meanwhile, the chicken itself had an excellent balance of fat and meat, ensuring every bite filled our mouths with unctuous juices. Those qualities would have been more apparent with less heat. If we were to rewind time, we'd drop the spice level down to five, giving greater opportunity for the chicken's natural character to take centre stage.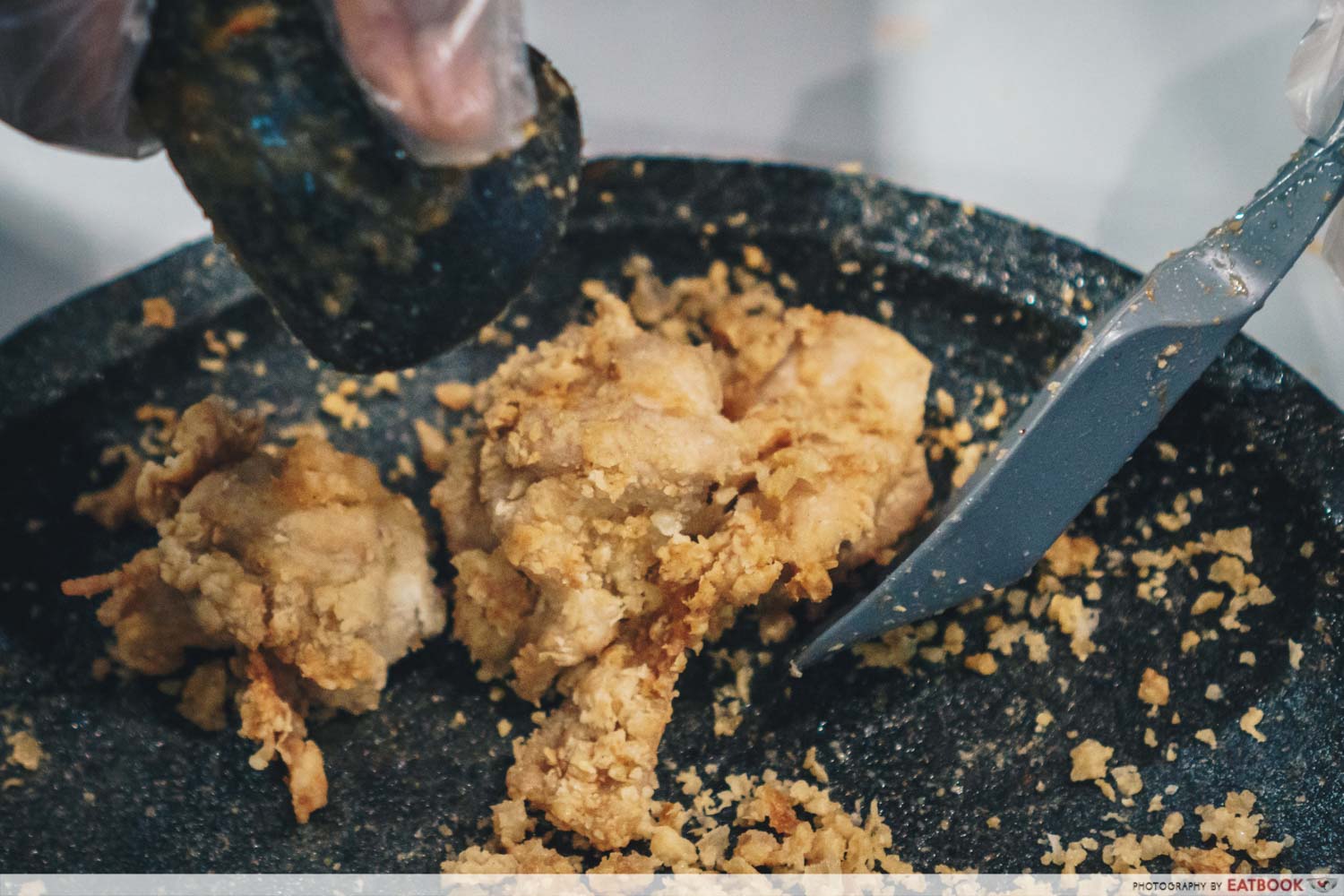 We appreciated how much effort was put into making the dish easy to eat. Boneless chicken thighs are pounded and sliced up into bite-sized chunks. All that translates into a tender chicken cutlet that you can enjoy without getting your hands dirty.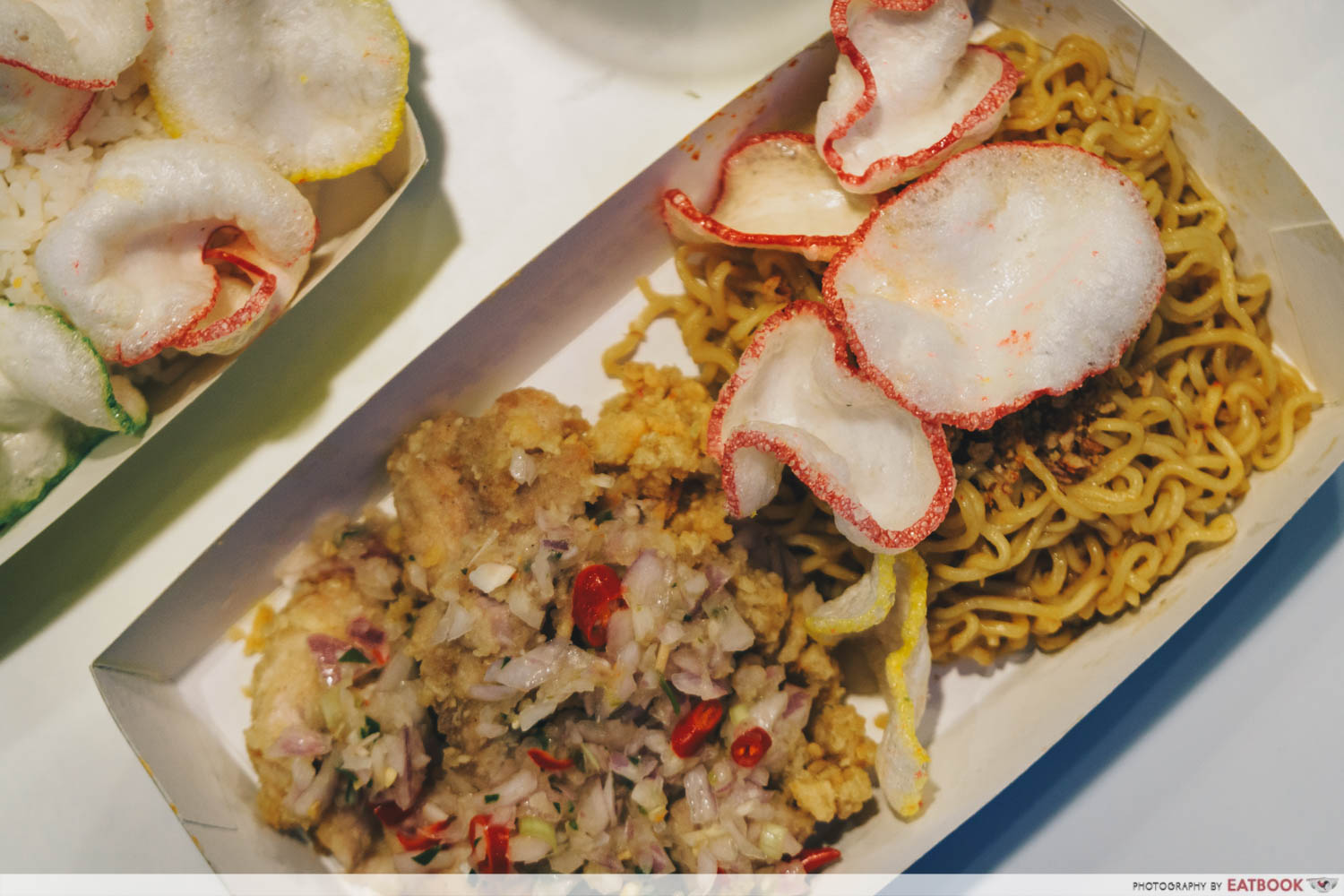 If the OG ayam geprek scares you with its furious red hue, you might be more comfortable with the Ayam Geprek Sambal Matah ($6.80). The sambal matah is dominated by chopped onions, with nefarious-looking chilli padi and shreds of lemongrass appearing in between. Eager to relive my NS memories of wolfing down Indomie in the bunk, we stumped up an extra $0.30 to sub out jasmine rice for Indomie.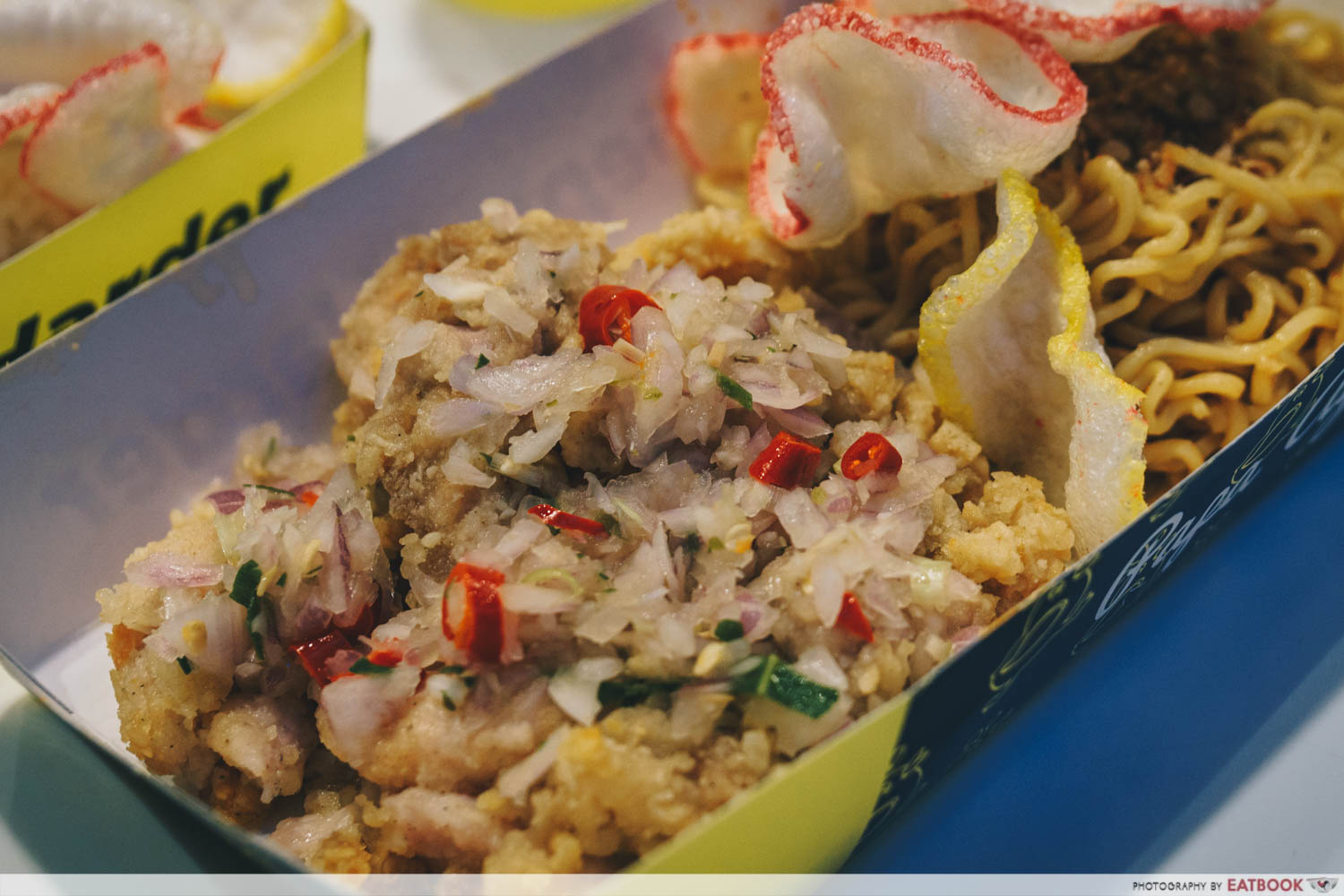 While we were already fond of the chicken, this sambal matah had us full-on infatuated. It was fresh and zesty, with dazzlingly bright flavours that enhanced rather than overpowered the chicken. Despite its facade, the raw onion gave minimal pungency, tempered by copious splashes of lime juice, spicy lemongrass zing and mild intrusions of chilli heat.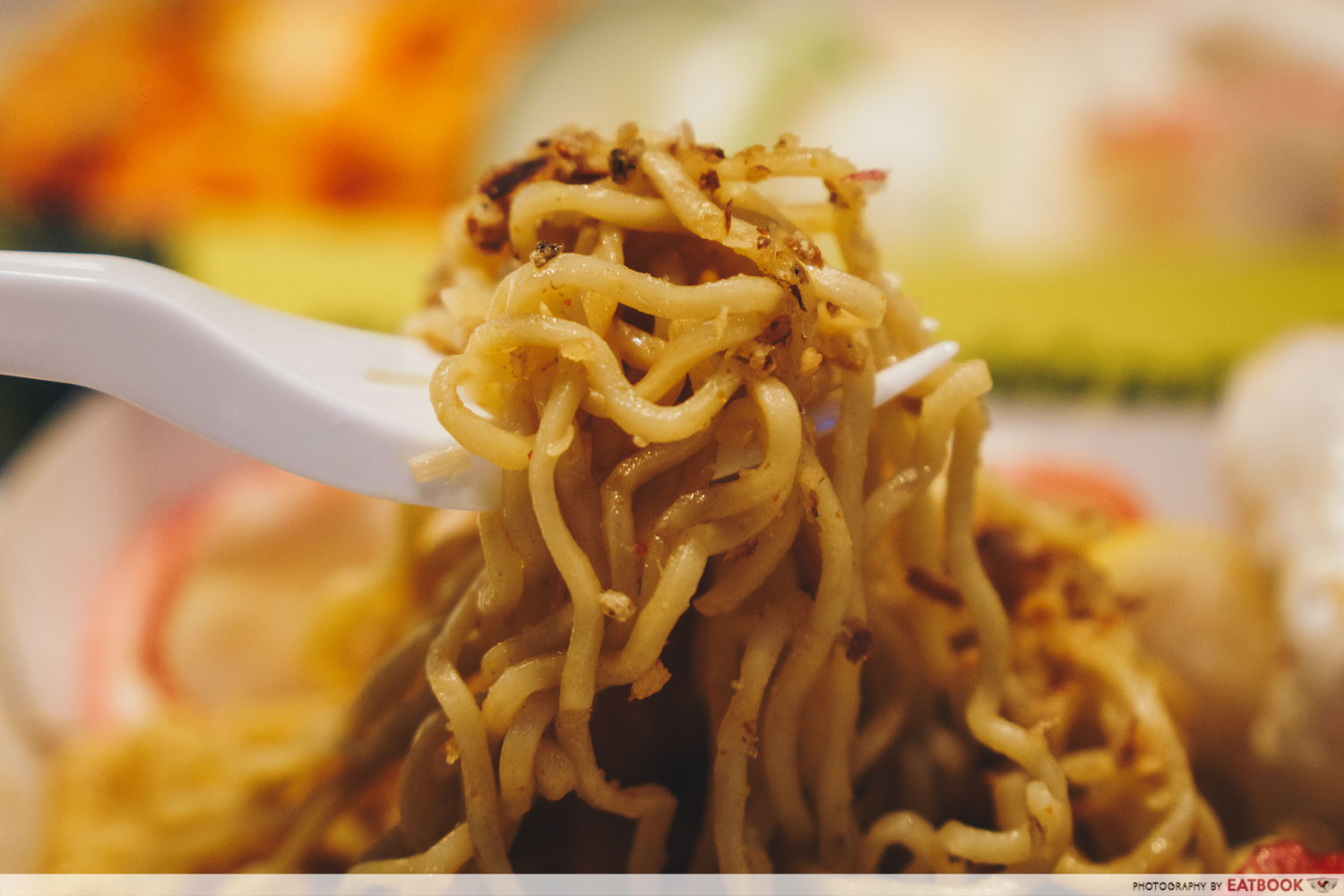 Our noodles were pretty much stock-standard Indomie. Considering I'm a big Indomie fan, that's a good thing. Bits of fried garlic adorned our springy noodles, providing crunch and an extra dimension of flavour. Salty and slightly sweet from kecap manis, these noodles exemplify comfort food.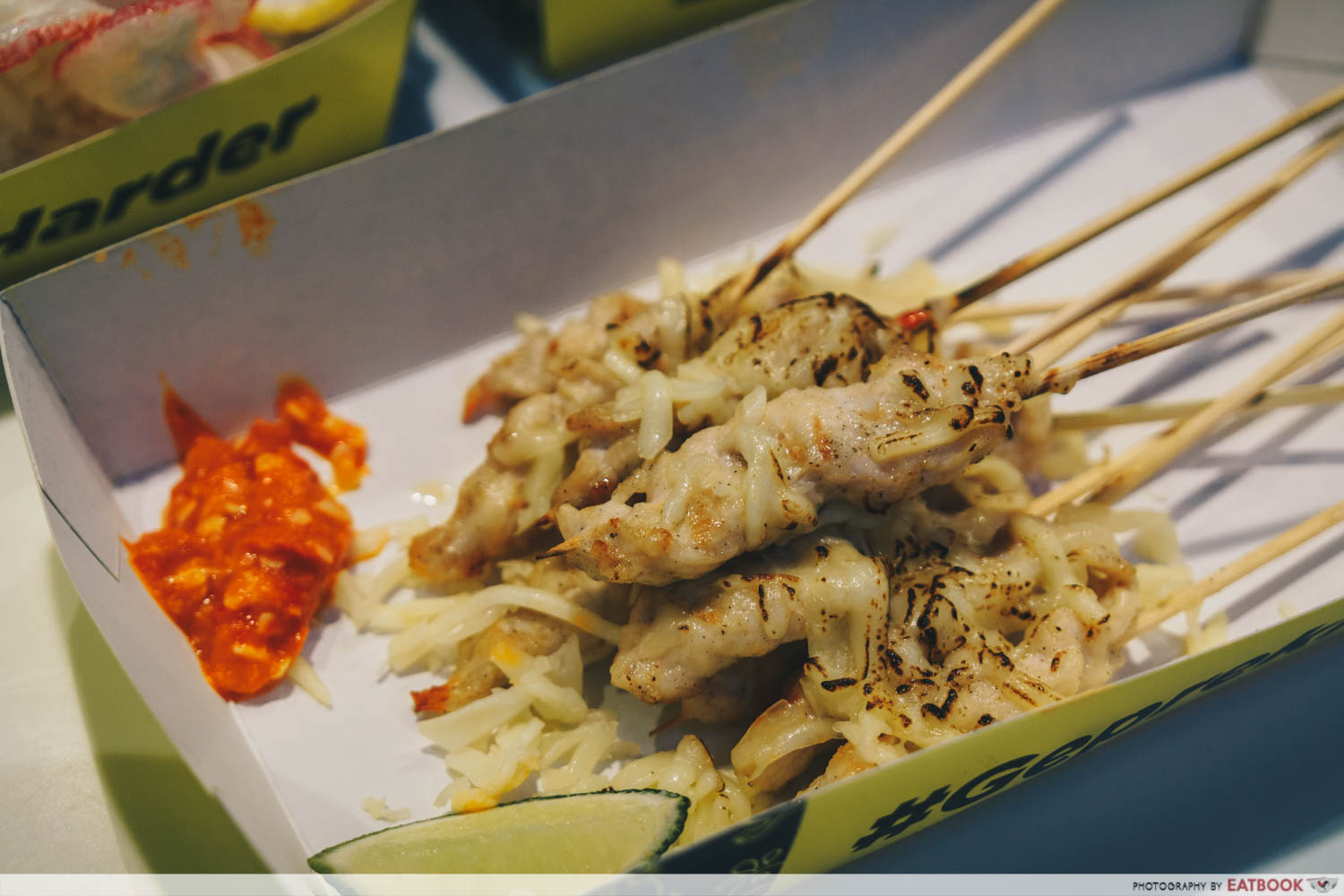 Singaporeans know satay as heavily marinated, well-grilled sticks of dark chicken thigh. Satay Taichan Mozzarella ($6.80) flips the script, featuring lightly-seasoned chunks of lean chicken breast.
While topping satay with cheese seems like an unconventional combo, it's relatively common in Indonesia. It's pretty difficult to go wrong with charred, melted mozzarella and any kind of meat. The duo proved its worth again, imparting smokiness and mild cheesy flavour to our skewers.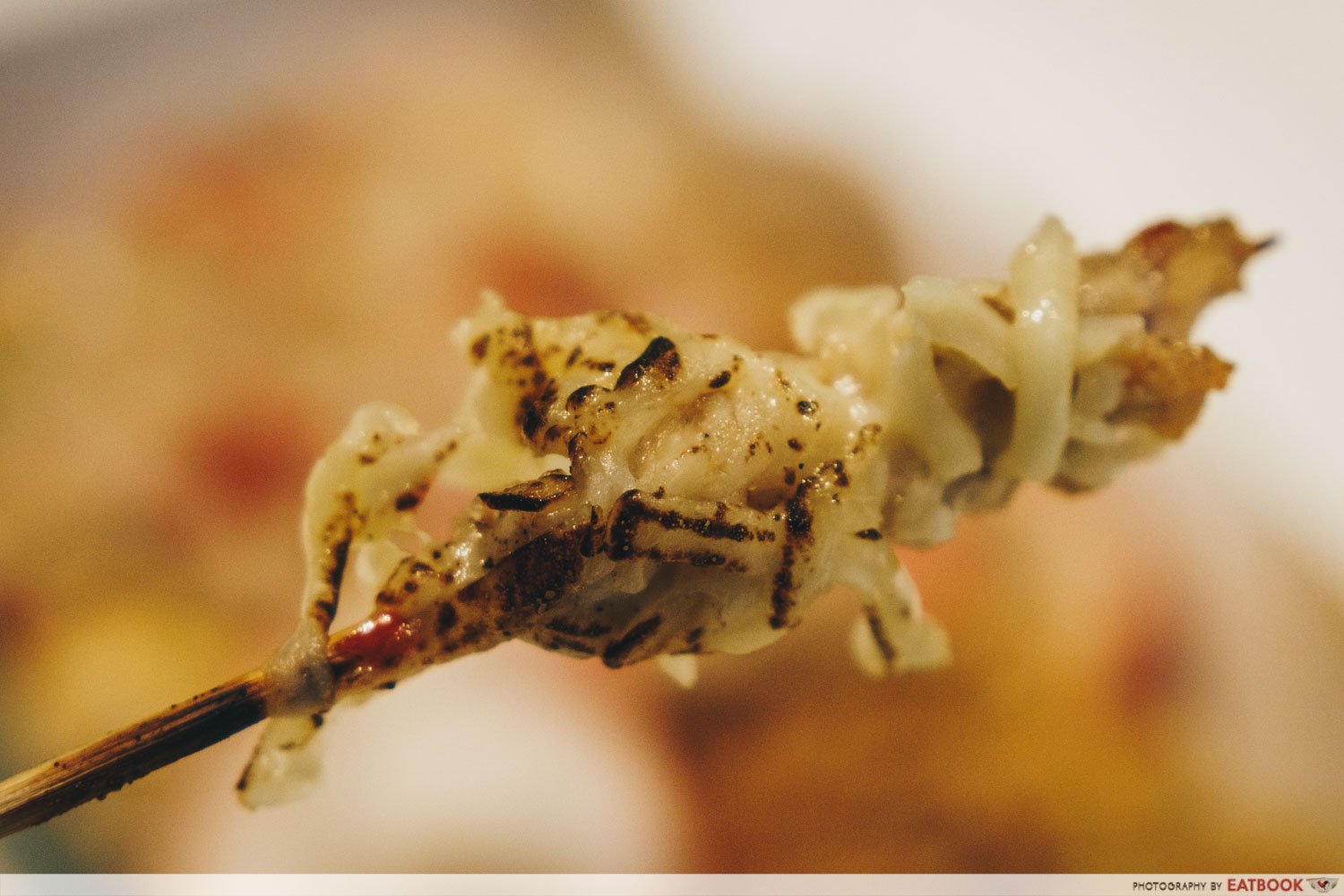 The gentle flavour of mozzarella gave the chicken breast room to flex its muscles. It's simple but not bland, with salt and lime the main players in the seasoning. A dollop of the tongue-burning sambal comes along for the ride, in case you want to spice up your skewers.
With the use of breast meat, we feared dry and powdery flesh that no amount of cheese could save. However, while our chicken wasn't bursting with juices, it was tender and easy to chew.
By using a leaner cut and foregoing sweet peanut sauce, this is definitely a healthier take on satay. I didn't quite enjoy it as satay to me is an indulgent endeavour. It's simply not as delicious without full-bodied marinades and juicy thigh meat.
Ambience at Papa Ayam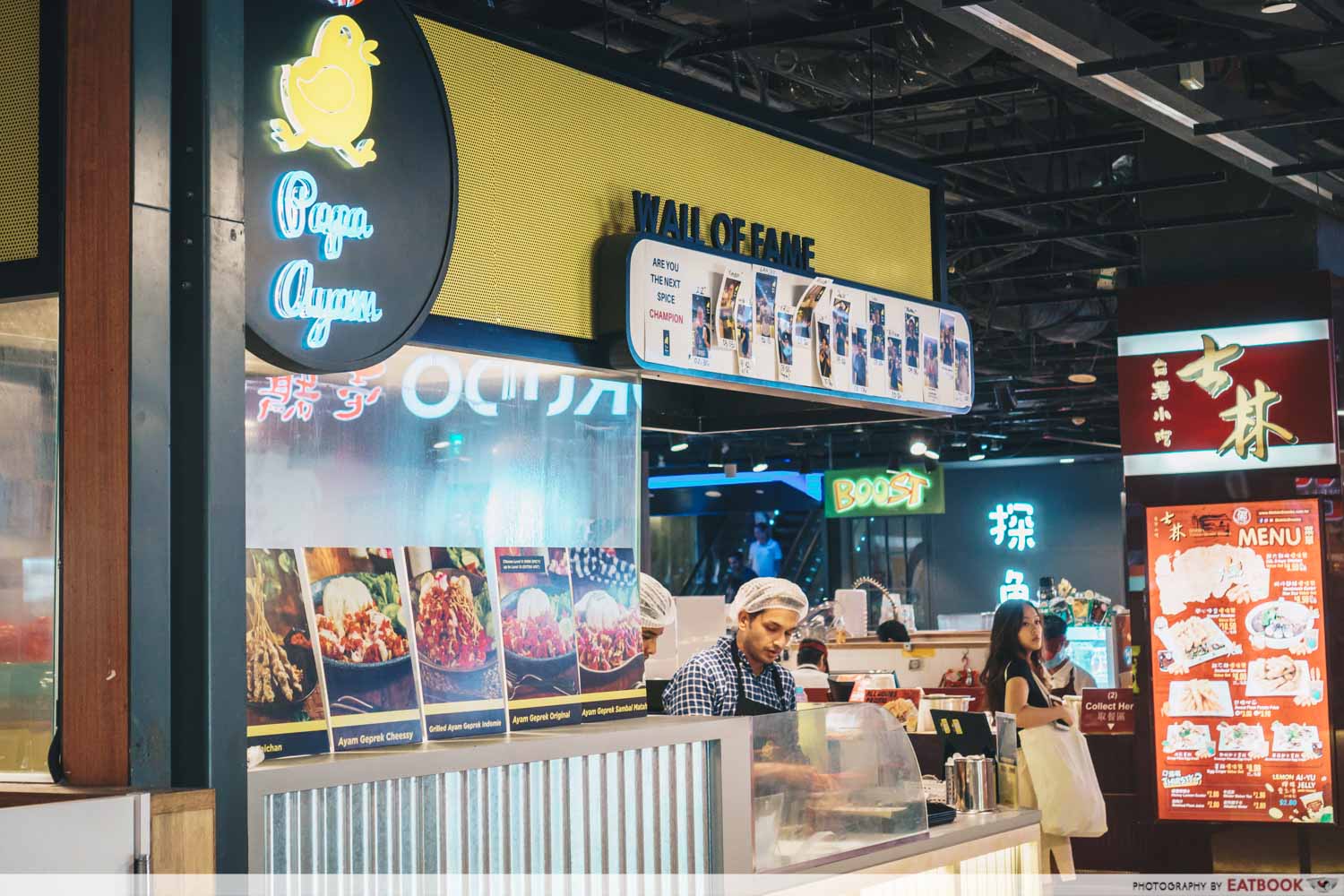 With its sunny yellow facade, cute chicken logo and charming wall of fame, it's easy to spot this Indonesian eatery as you explore 313@Somerset's basement food hall. Primarily a takeaway joint, you'll have to jostle for seats in the nearby common area if you want to enjoy your chicken fresh. Considering how quickly crispy batter deteriorates, we highly recommend doing so.
The verdict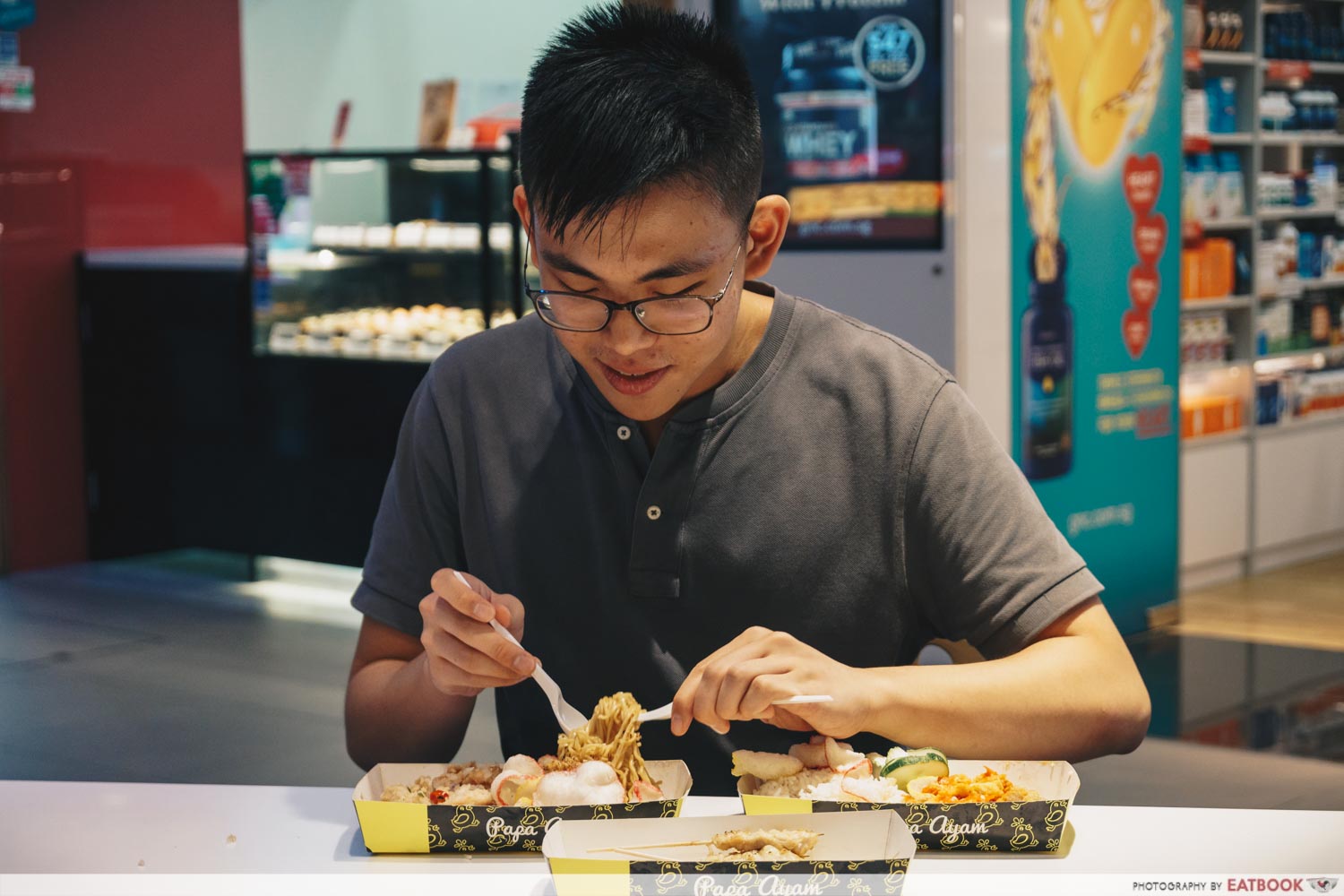 Ayam geprek is more than just a gimmick. Armed with bold yet familiar flavours and affordable prices, it's easy to understand why this dish has become a sensation in Indonesia. Perhaps Papa Ayam landing in Singapore signals that it's time for the craze to take root on our shores. After all, no matter what spin you put on it, everyone loves fried chicken.
Customisable spice levels and an impressively wide range of dishes mean that even those who can't handle the heat will find something to love. But, if you've got a competitive spirit and an iron stomach, do what I couldn't and attempt the WTF challenge.
Fried chicken fiends should check out our reviews of Yes! Nasi Kukus or Salt. Down for more food challenges? Take a look at our list of food challenges to prove you have an iron stomach.
Let us know where you get your favourite fried chicken in the comments below!
Address: 313 Orchard Road, #B3-49, 313@Somerset, Singapore 238895
Opening hours: Daily 11am to 9:30pm
Tel: 8698 3921
Website
Photos taken by Maverick Chua and Tan Ee Jing.
This was a media tasting at Papa Ayam.
Summary
Pros
– Wonderful sambal matah
– Can't find ayam geprek anywhere else in Singapore
– Central location
Cons
– Chicken not fully crispy
– Limited seating
Recommended dishes: Ayam Geprek Sambal Matah Indomie ($7.10)
Opening hours: Daily 11am to 9:30pm
Address: 313 Orchard Road, #B3-49, 313@Somerset, Singapore 238895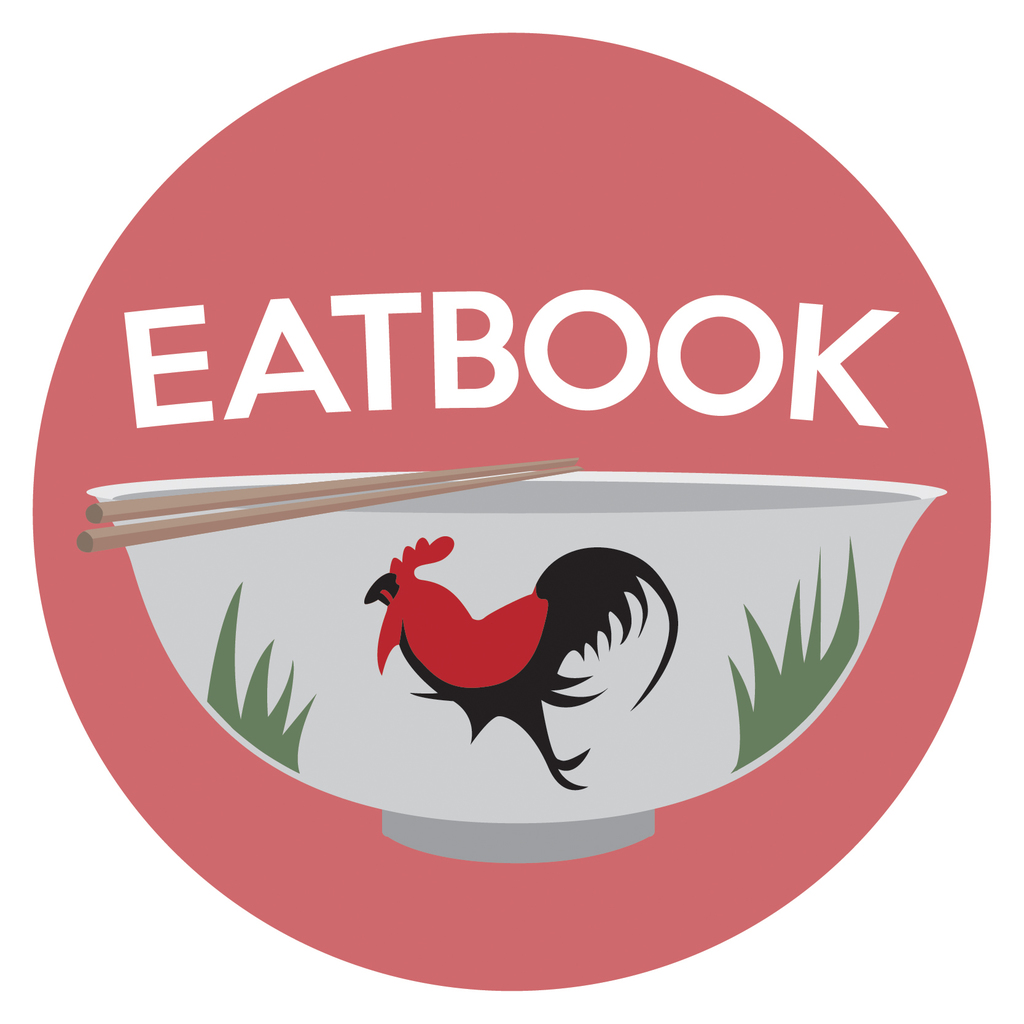 Drop us your email so you won't miss the latest news.