---
Parkway Parade food guide
---
As an Eastie myself, Parkway Parade holds a lot of fond memories for me, as it was the go-to hangout spot for my family and me when I was younger. Although I no longer frequent the mall, I've recently discovered a few eateries here that'll draw me back. If you're interested, read on to find out about these 12 best food places in Parkway Parade! 
---
1. Chalk Farm
---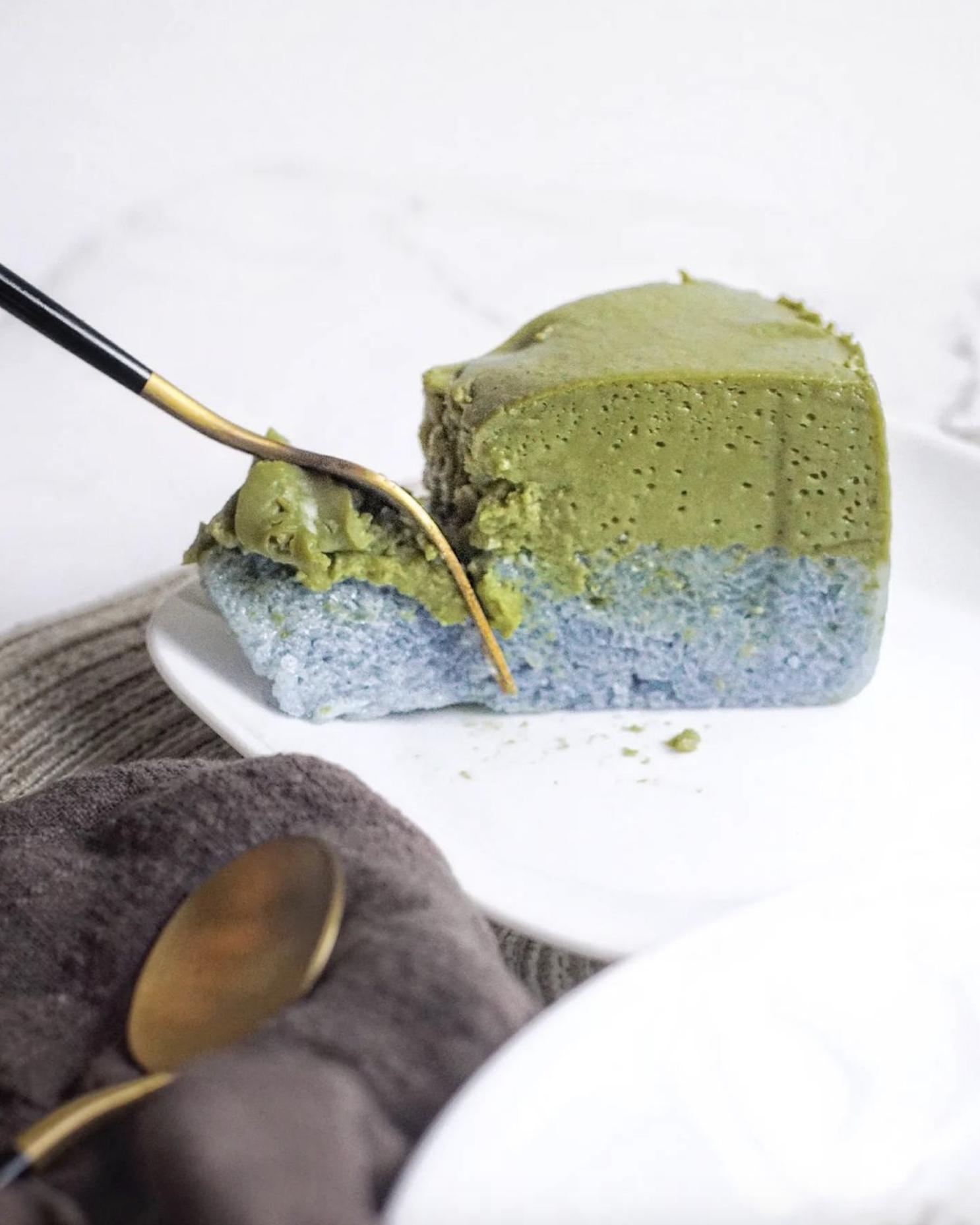 Image credit: @indulgentism
Cakes aren't usually my first choice when it comes to dessert, but after discovering Chalk Farm, a homegrown cake company specialising in artisanal cakes, I'm rethinking my choices. Chalk Farm is best known for their Kueh Salat ($6.50) cake, a two-tiered dessert featuring a glutinous rice base infused with blue pea extract and a coconutty pandan custard layer on top.
The Pandan Inti ($11) cake is another locally inspired treat to check out, with luscious gula melaka cream sandwiched between layers of pandan sponge cake and grated coconut. Other crowd favourites include the Nutella Rye Brownies ($6) and Burnt Durian Cheesecake ($13.80). 
Unit number: #B1-83M
Opening hours: Daily 11am to 8:30pm
Tel: 6348 2032
Website
Chalk Farm is not a halal-certified eatery.
12 Nyonya Kueh Stores Serving Traditional Handmade Treats Your Grandmother Will Love
---
2. PastaMania Pronto x Kraftwich
---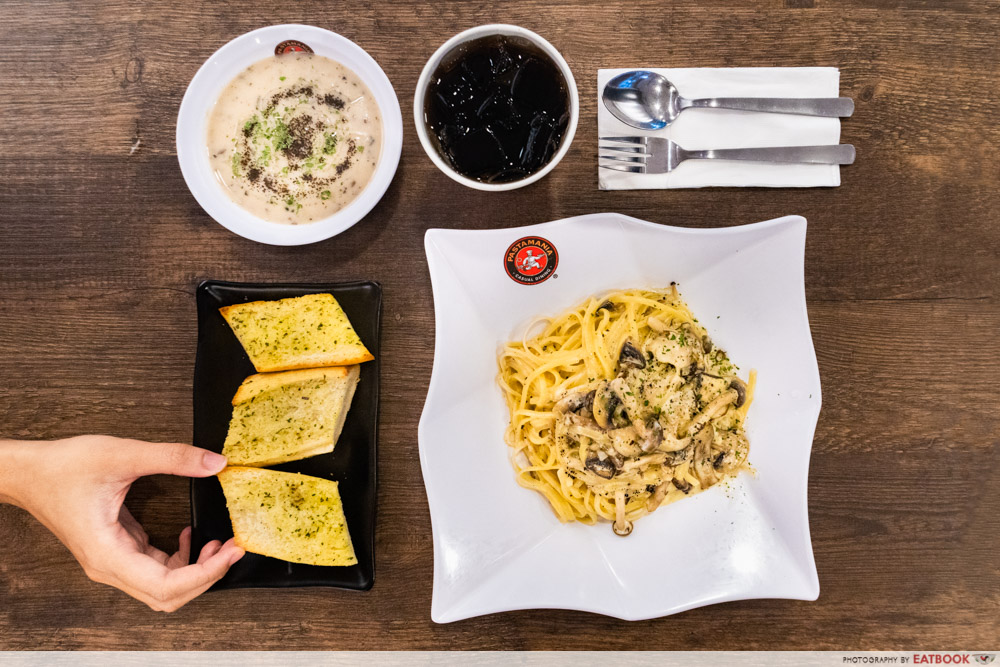 Homegrown chain PastaMania offers relatively affordable pasta options for a quick pasta fix. At Parkway Parade, you'll find this Italian eatery merged with Kraftwich by Swissbake, AKA Swissbake Cafe, in the same unit. 
While many of us are familiar with the range of pasta PastaMania has to offer, their fusion dishes, such as Salted Egg Chicken ($13.50) and Laksa Seafood ($13.50), may be something new to you.
Kraftwich, on the other hand, serves sandwiches in mouth-watering flavours such as Beef Pastrami ($10.50), Thai Spicy Chicken ($13.20), and the bestselling Smoked Salmon ($10.50). On top of that, you can get a soup and drink to go with your sandwich at an additional cost of $5.80. 
Unit number: #B1-83C
Opening hours: Daily 11am to 9pm
Tel: 6282 2845
Website
PastaMania Pronto x Kraftwich is a halal-certified eatery.
---
3. Ramen Dining Keisuke Tokyo
---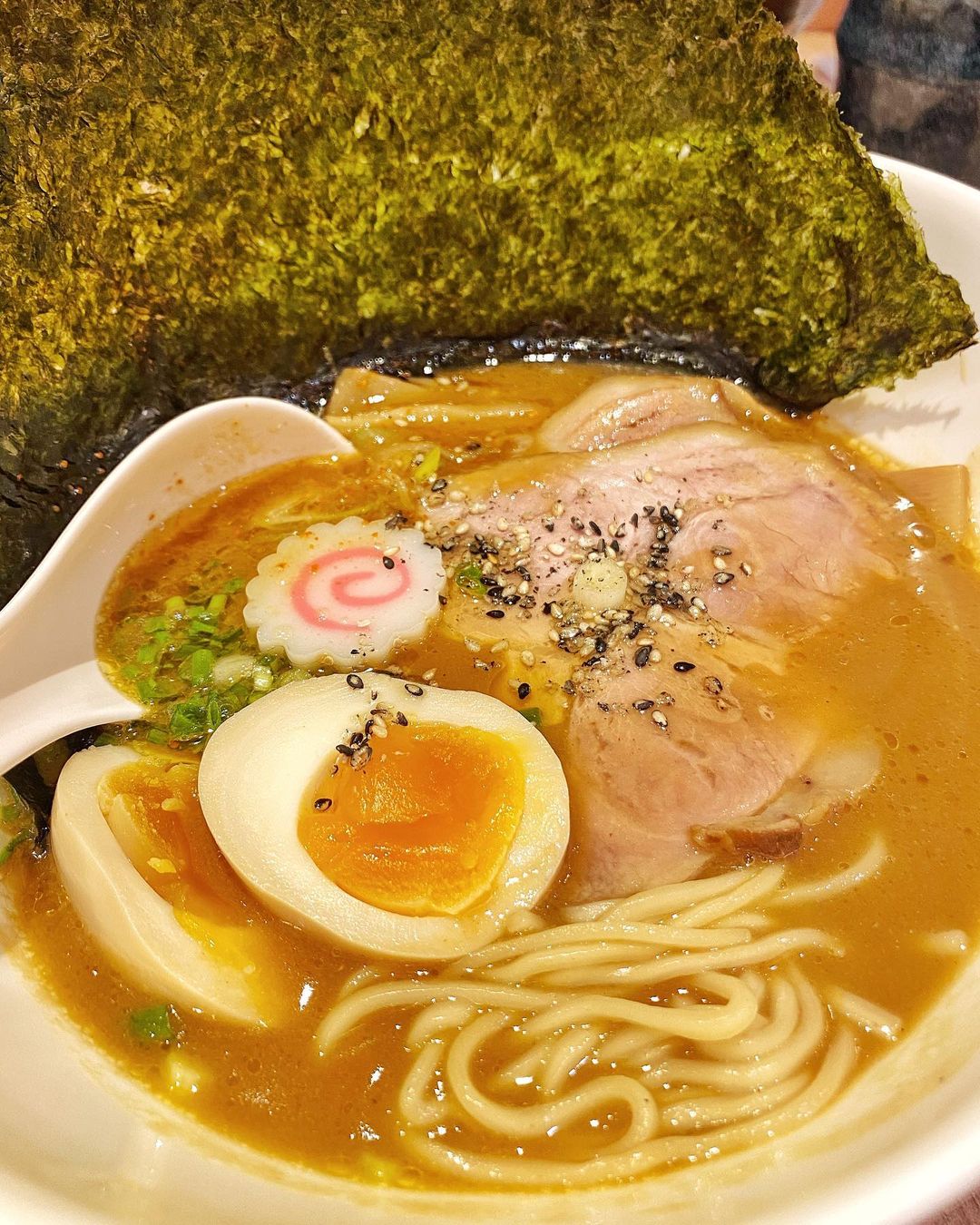 Image credit: @melvyn_caffeine
With over 18 outlets islandwide, popular ramen chain Ramen Dining Keisuke Tokyo is also found at Parkway Parade, where you'll be able to enjoy the franchise's signature dishes, namely Tonkotsu Ramen ($11.90++), Niboshi Ramen ($14.90++), Shoyu Ramen ($11.50++) and Shio Ramen ($11.50++). 
Instead of going for their ramen flavours made with the signature pork-based broth, you can try the Crab Stock Ramen ($13.90++) for something different. The crab broth is also said to boast a robust umami seafood flavour, coupled with a herbaceous hint. 
Unit number: #B1-18A
Opening hours: Mon-Fri 11:30am to 5pm, 5pm to 10pm, Sat-Sun 11:30am to 10pm
Tel: 6440 5548
Website
Ramen Dining Keisuke Tokyo is not a halal-certified eatery.
---
4. Seoul Garden HotPot
---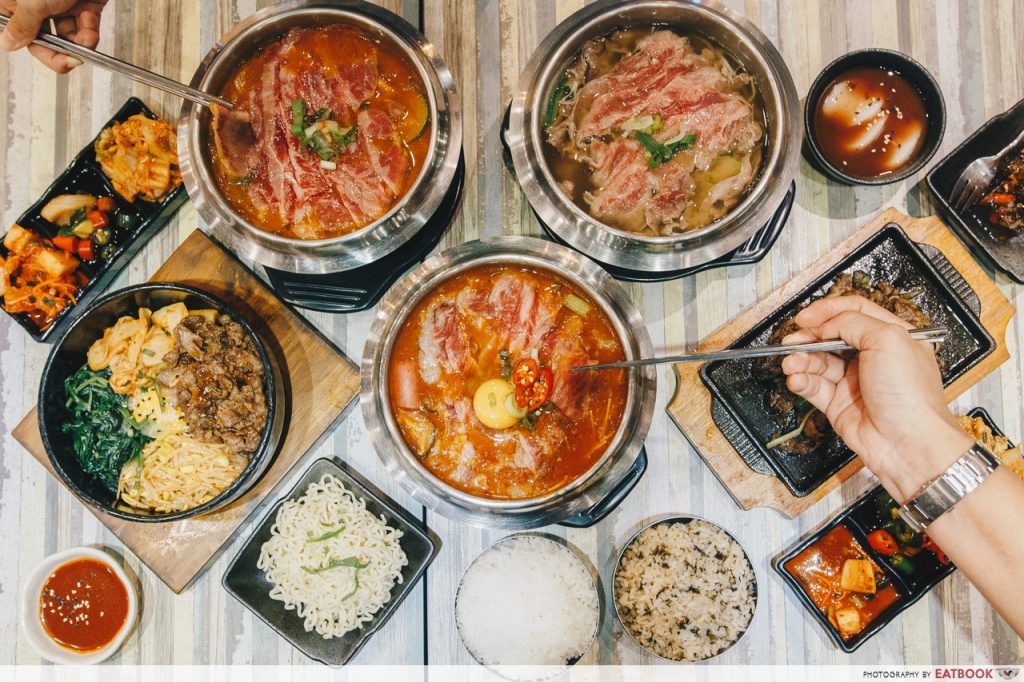 For those looking for a halal-friendly hotpot place, look no further than Seoul Garden HotPot. This is where you'll find a selection of halal-certified a la carte Korean dishes, including jjigae, bibimbap, and hotpot!
We recommend going for the Wagyu Beef Kimchi Jjigae ($19.90++) for a beautiful medley of sweet, spicy, and tangy flavours. The Wagyu Beef BiBimBap ($19.90++) is another comforting dish that features kimchi, spinach, and Wagyu beef atop warm rice. 
Read our Seoul Garden HotPot review!
Unit number: #03-01/02A
Opening hours: Daily 11:30am to 10:30pm
Tel: 6297 6338
Website
Seoul Garden HotPot is a halal-certified eatery.
Seoul Garden HotPot Review: Halal Korean Dishes With Wagyu Beef Under $22++
---
5. Sembawang Claypot Rice
---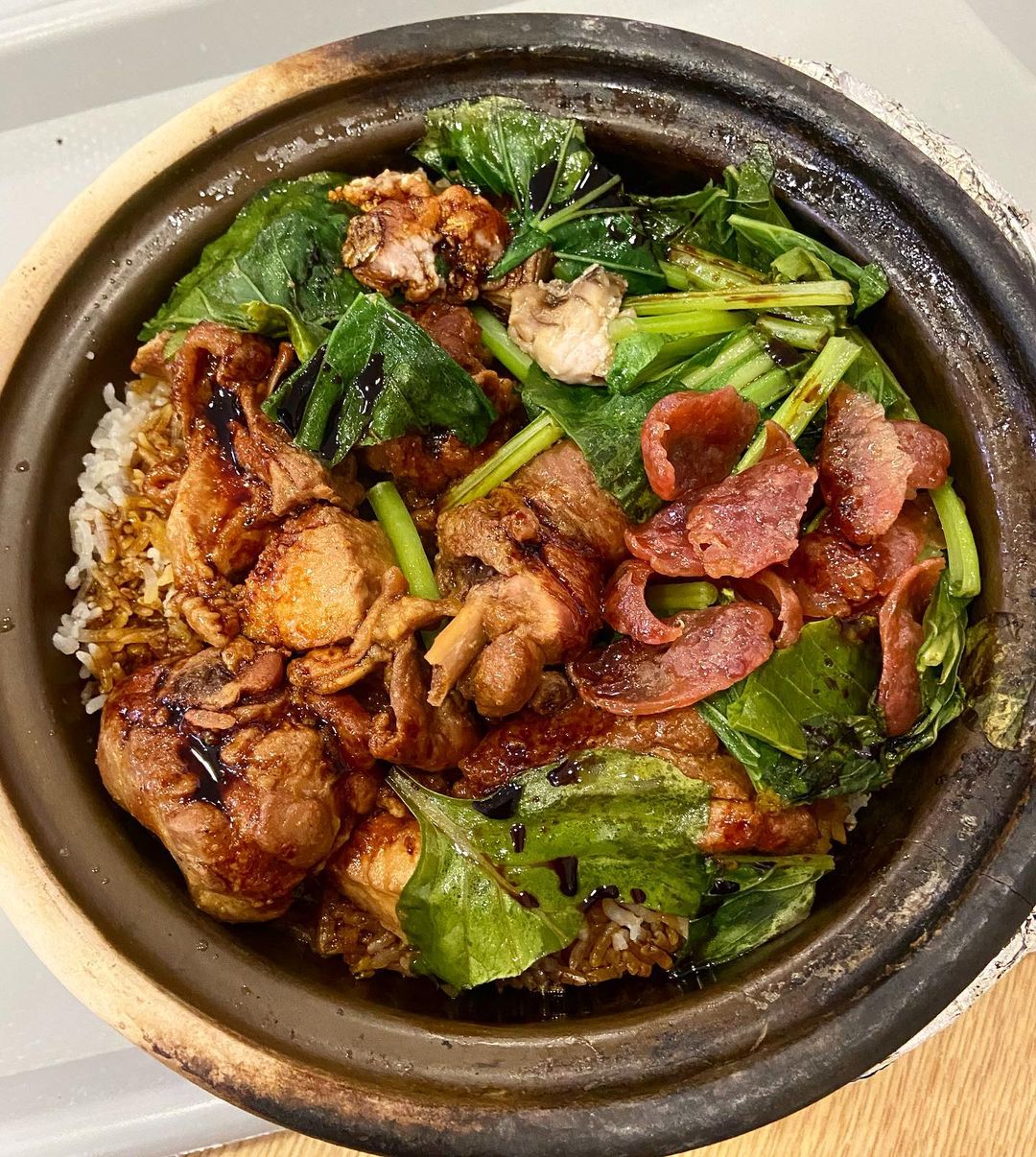 Image credit: @ahpekeats
Sembawang Claypot Rice is a good place to visit if you're craving some yummy claypot rice that's also value-for-money. Most patrons come for their Chicken Claypot Rice ($7.80), which comprises rice laden with chunks of chicken, salted fish, and lup cheong, and mixed with dark soya sauce. 
Aside from claypot rice, patrons also come for the JB San Lou Bee Hoon ($6.80), AKA crispy bee hoon, as it has a distinct wok hei and umami seafood taste. It's also available in a larger portion at $10.80. 
Unit number: #B1-04, Food Republic
Opening hours: Daily 10am to 10pm
Tel: 9777 3313
Website
Sembawang Claypot Rice is not a halal-certified eatery.
10 Claypot Rice Stalls In Singapore Including Halal And Michelin Bib Gourmand Claypot Rice
---
6. Lam's Kitchen
---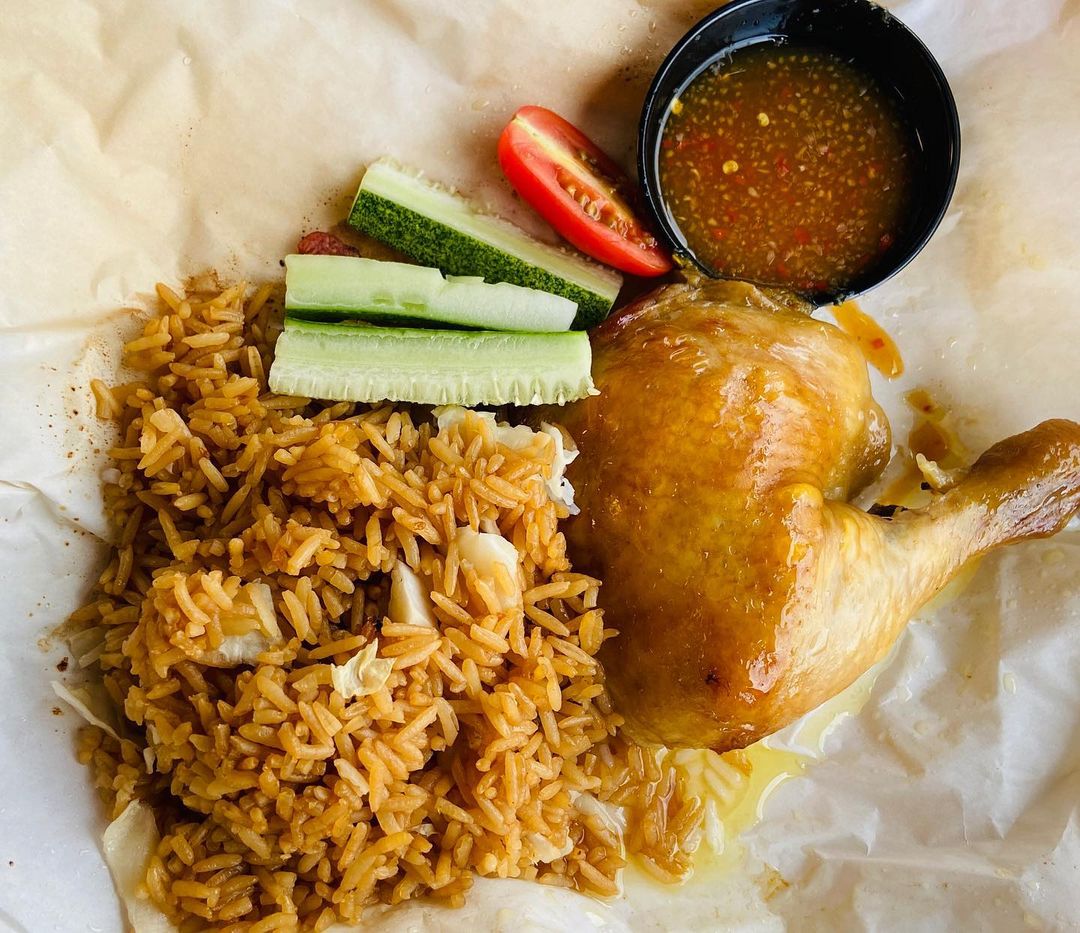 Image credit: @his_singapore_sub
Salt baking is an underrated method of cooking chicken—it's said to help retain the moisture and natural flavour of the chicken, resulting in juicier and more tender meat. 
At Lam's Kitchen, you'll find that the chefs do just that to whip up their signature dish: Lam's Salt-Baked Chicken Thigh with Rice ($7.40). For $0.60 extra, you can have your salt-baked chicken thigh with Sausage Rice instead. Lam's Kitchen also serves a flavoursome bowl of Abalone Noodles ($7.80), which comes with minced meat, sotong balls, skewered abalones, and a ramen egg. 
Unit number: #B1-13/14, Food Republic
Opening hours: Daily 10am to 10pm
Tel: 6336 0848
Website | Full list of outlets
Lam's Kitchen is not a halal-certified eatery.
---
7. TamJai SamGor Mixian Express
---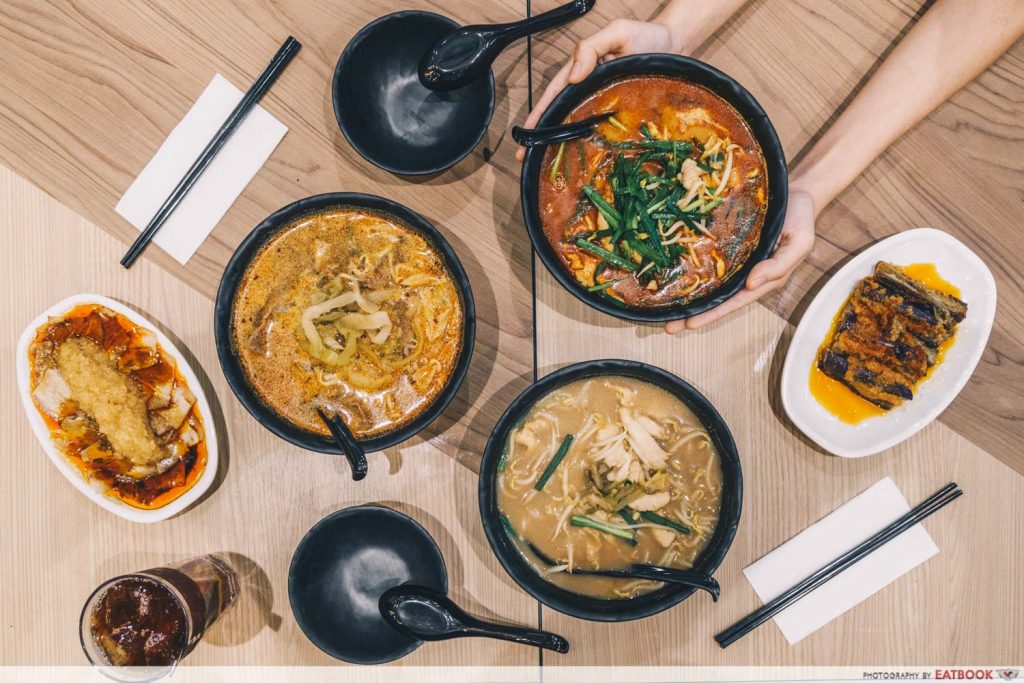 If you're up for a spicy challenge, head to TamJai SamGor Mixian Express for some Hong Kong rice noodles with 10 levels of spiciness! Each bowl is customisable to your liking with different toppings and soup bases to choose from. 
To order, simply pick some toppings to go with your rice noodles, such as Enoki Mushrooms ($1.30), Pork Belly ($1.80), Shrimp Wonton ($1.80), and more. Next, pick your spiciness level, ranging from Non-Spicy to Hell Fire, a spice level that's said to be not for the faint of heart. Complete your meal by picking a soup base, with tasty choices such as Ma La Soup ($6.20), Tangy Tomato Soup ($6.60), and Fragrant Clear Soup ($5.40). 
Read our TamJai Samgor Mixian review!
Unit number: MR03, Food Republic
Opening hours: Sun-Thurs 11am to 8:30pm, Fri 11am to 9pm, Sat 10am to 9pm, Sun 10am to 8:30pm
Tel: 6290 6455
Website
TamJai SamGor Mixian is not a halal-certified eatery.
TamJai SamGor Review: Famous HK Diner Has Customisable Noodle Soup With 10 Spicy Levels
---
8. Sanook Kitchen
---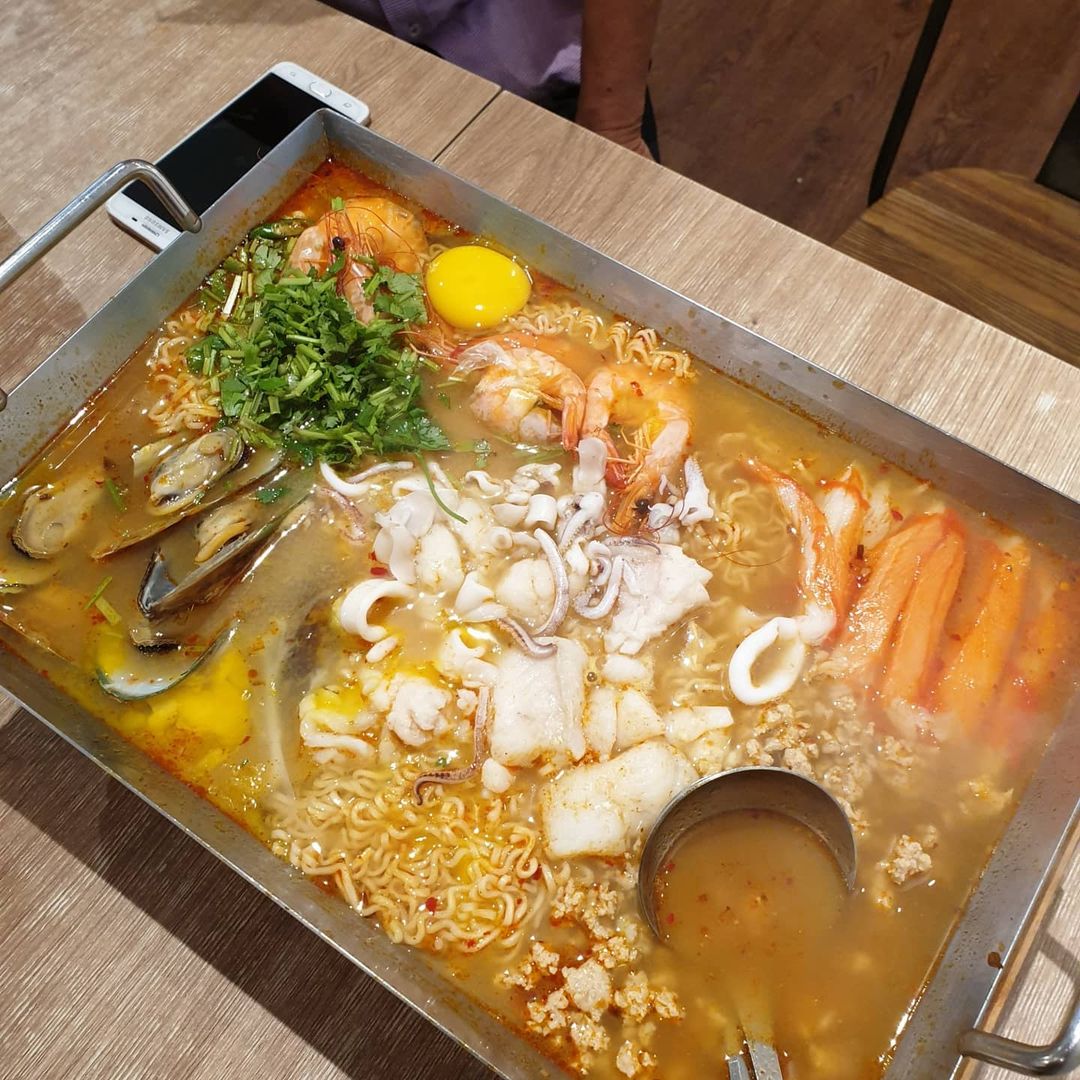 Image credit: @selina.lim.3133
Sanook Kitchen is one of my go-to restaurants for delicious and affordable Thai food—best of all, they are also halal-certified! If you're heading down with some company, feast to your heart's content with the Thai Super Bowl Red Tom Yum Soup ($29.90++), which features a variety of fresh seafood, instant noodles, and eggs in a piquant tom yum broth.
Alternatively, the Stir-fried Kway Teow with Beef Kai Lan ($7.90++) and Basil Chicken Rice ($7.50++) is great if you're looking for a hearty meal that's flavourful and filling. 
Unit number: #01-17
Opening hours: Daily 11am to 10pm
Tel: 6346 4178
Website | Full list of outlets
Sanook Kitchen is a halal-certified eatery.
12 Affordable Thai Food Places With Mains Below $15 For Your Next Clique Outing
---
9. PappaRich
---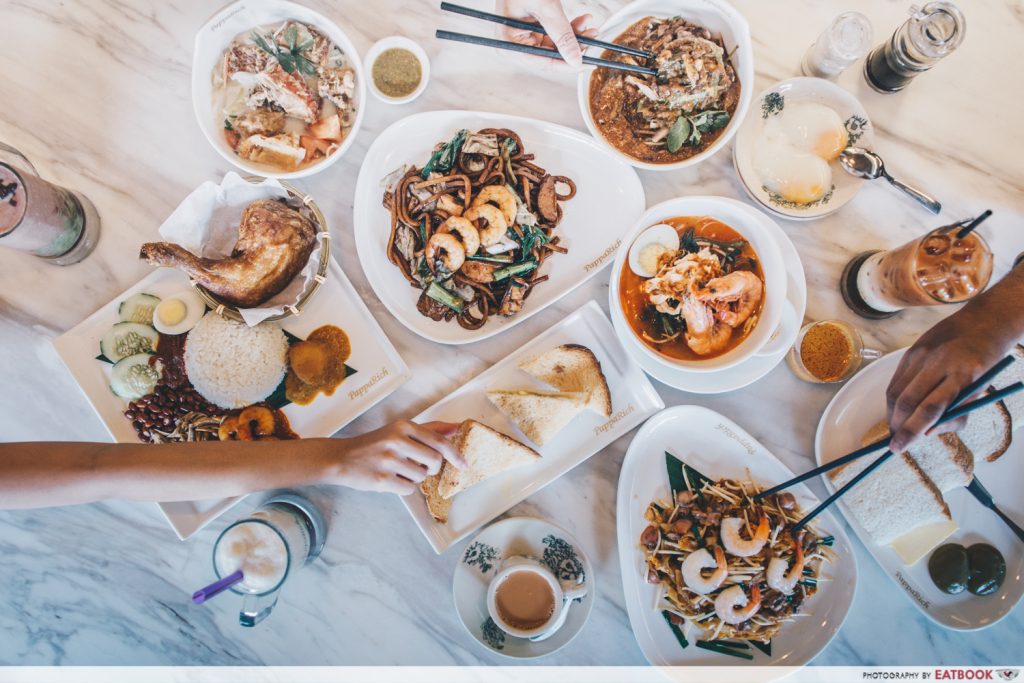 Hailing from Malaysia, with over 83 outlets countrywide, PappaRich is a halal-certified restaurant that specialises in traditional Malaysian cuisine. A must-try dish is the signature Ipoh Kway Teow Soup with Prawns + Shredded Chicken ($9.90++), which comprises rice noodles, prawns, and shredded chicken breast in a light and comforting broth. 
If you're more of a rice person when it comes to carbs, be sure to try the Nasi Lemak With Fried Chicken Thigh ($12.90++). This filling meal features a large fried chicken thigh, coconut-infused rice, cucumbers, anchovies, peanuts, and spicy sambal. 
Read our PappaRich review!
Unit number: #01-17A
Opening hours: Mon-Thurs 11am to 9:30pm, Fri 11am to 10pm, Sat-Sun 10am to 10pm
Tel: 6344 6323
Website
Papparich is a halal-certified eatery.
PappaRich Review: Malaysian Dishes From Penang To Johor All Under One Roof
---
10. Oleh Oleh Teahouse
---

Image credit: Mani Rajagopalan on Google Maps
For a quick bite, check out Oleh Oleh Teahouse for curry puffs and traditional Malay kueh. Patrons highly recommend going for the Epok Kentang ($1.40) AKA potato curry puffs, Epok Ayam ($1.40), or chicken curry puffs, and Onde Onde, which goes for $0.80 per piece. 
Other traditional kueh that are available include Lupis ($1.40), an Indonesian dessert made from steaming glutinous rice in banana leaves. It's then coated in desiccated coconut and drenched in a sweet brown sugar sauce. Kuih Koswi ($1.40) on the other hand, sees a palm sugar-infused steamed rice cake that's best eaten with grated coconut.
Unit number: #01-K3
Opening hours: Daily 10am to 9pm
Tel: 6344 5466
Website
Oleh Oleh Teahouse is not a halal-certified eatery.
---
11. Yakiniku-GO
---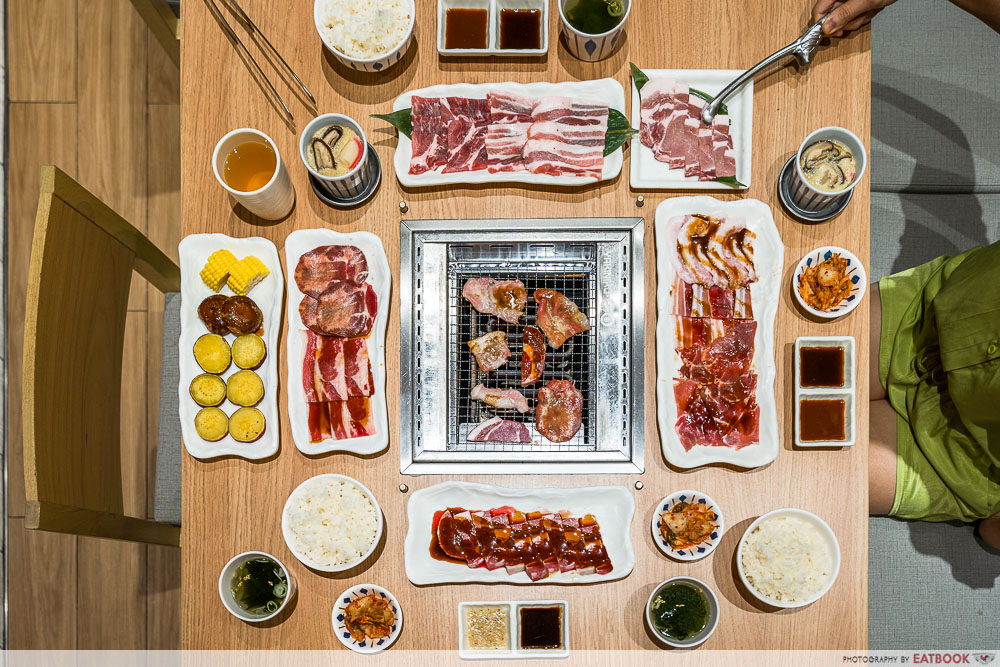 For affordable yakiniku fare, Yakiniku-GO is the place to visit. With their signature Yakiniku-GO Set priced from as low as $17.80++, you'll get three different cuts of beef: Angus ribeye steak, beef short plate, and beef tongue. 
Those who enjoy pork will be delighted to know that Yakiniku-GO has recently added it to their menu, including premium Japanese pork belly. The Miyazaki Tokujo Pork Set ($28.80++, 180g) is what you should come for, as it has three delectable cuts of Miyazaki pork: belly, collar, and loin. Alternatively, the Pork Sanshu Mori Set ($16.80++, 150g) is a slightly cheaper option, with Duroc pork belly, collar, and jowl. 
Read our Yakiniku-GO review!
Unit number: #B1-84B/84C
Opening hours: Daily 11am to 10pm
Tel: 6242 0520
Website
Yakiniku-GO is not a halal-certified eatery.
Yakiniku-GO Review: Yakiniku Joint In Seletar Mall Has Grilled Meats From $2.90++
---
12. Joy Luck Teahouse
---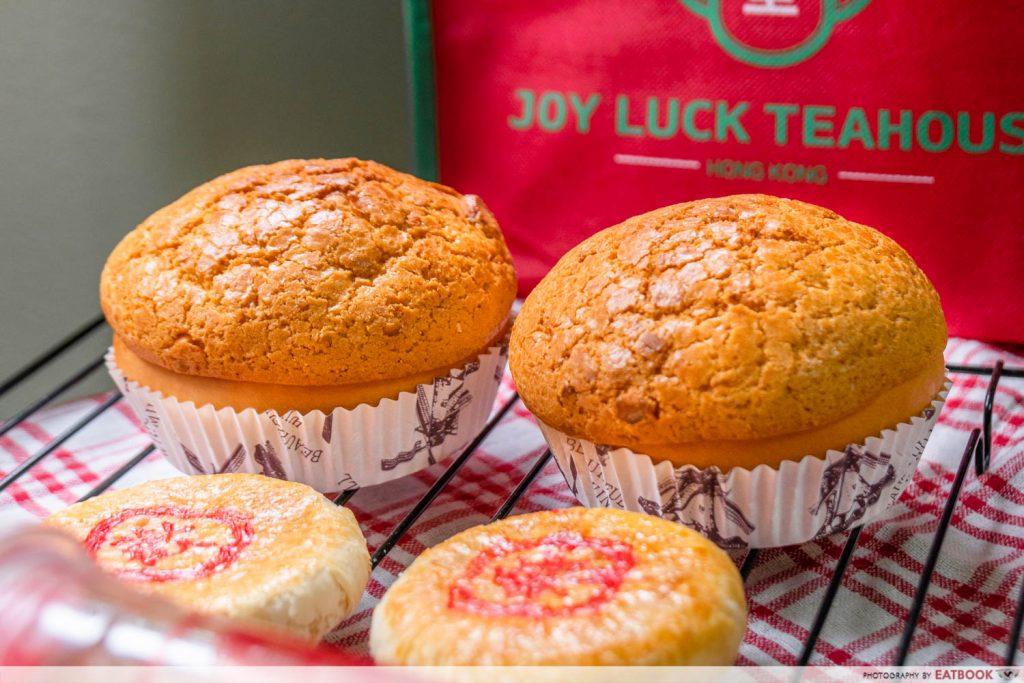 Check out Joy Luck Teahouse for some Hong Kong-style cafe snacks. The cafe uses recipes from three famous Hong Kong culinary brands: Hoover Cake Shop, Kam Kee Cafe, and Tak Hing Fish Ball Company. 
We recommend trying the hot-selling Hoover Egg Tart ($2.30), which comes in two different types of buttery crusts: Cookie ($2.30) and Flaky ($2.50). The Kam Kee Bolo Buns are also worth a shot, with flavours such as Original ($2.40), Kaya Bolo ($2.80) and Butter Bolo ($3.20). For something savoury, you can go for the Luncheon Meat Bolo ($3.20) instead.
Unit number: #B1-85/87
Opening hours: Daily 9am to 9pm
Tel: 8870 4060
Website
Joy Luck Teahouse is not a halal-certified eatery.
Joy Luck Teahouse Has Famous Hoover Cake Shop Egg Tarts And Kam Kee Café Milk Tea From Hong Kong
---
Food at Parkway Parade
---
With some familiar and new food spots at Parkway Parade, it definitely calls for a visit with friends and family at any time of the week. Now that we've introduced you to some of these places, be sure to head down to the mall if you're ever in the area looking for some good eats. 
For more malls to check out, check out our guide to Northpoint City's new food spots. Alternatively, you can read our VivoCity food guide for souffle pancakes, aburi salmon don, ramen, and more!
Address: 80 Marine Parade Road, Parkway Parade, Singapore 449269
VivoCity Food Guide: 32 Places For Lobster, Souffle Pancakes And More
Feature image adapted from @indulgentism Lanny Tay on Google Maps and @melvyn_caffeine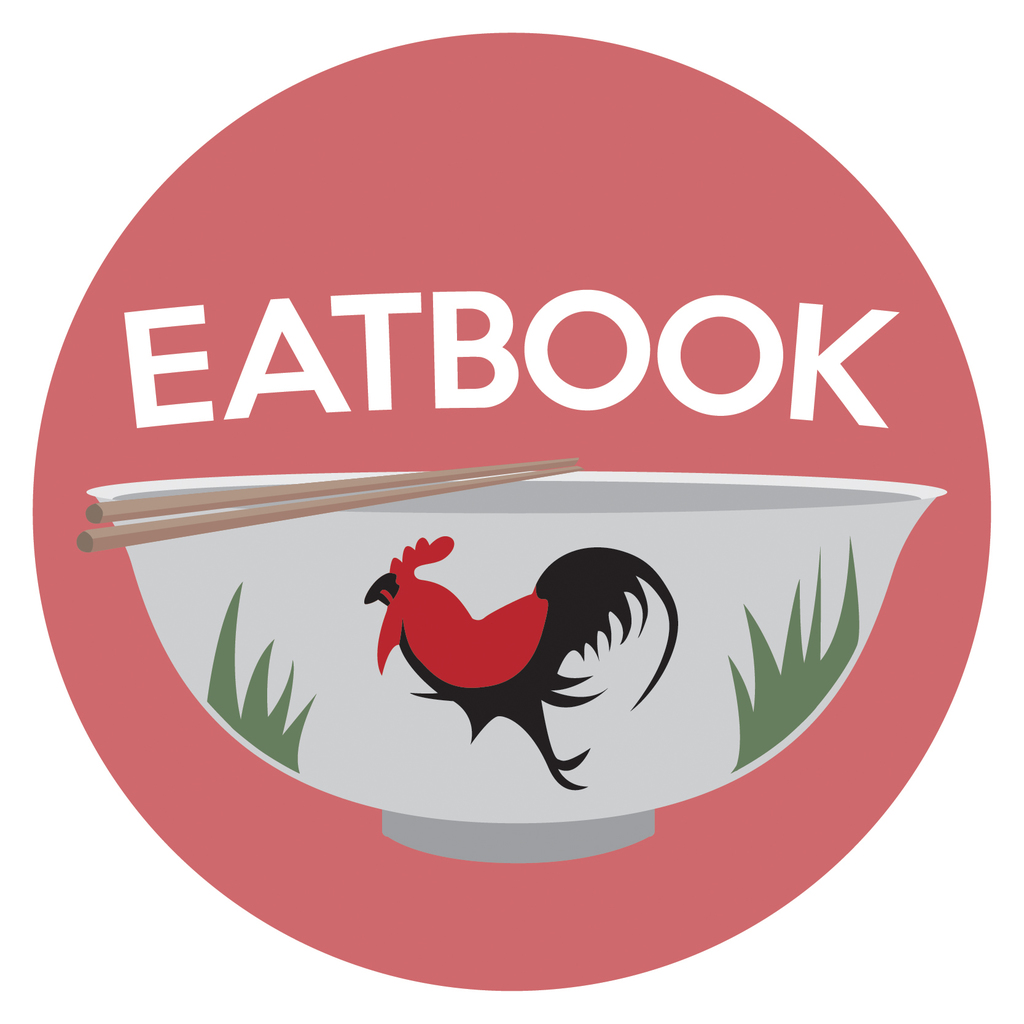 Drop us your email so you won't miss the latest news.