Is food at Pasta Supremo, supreme?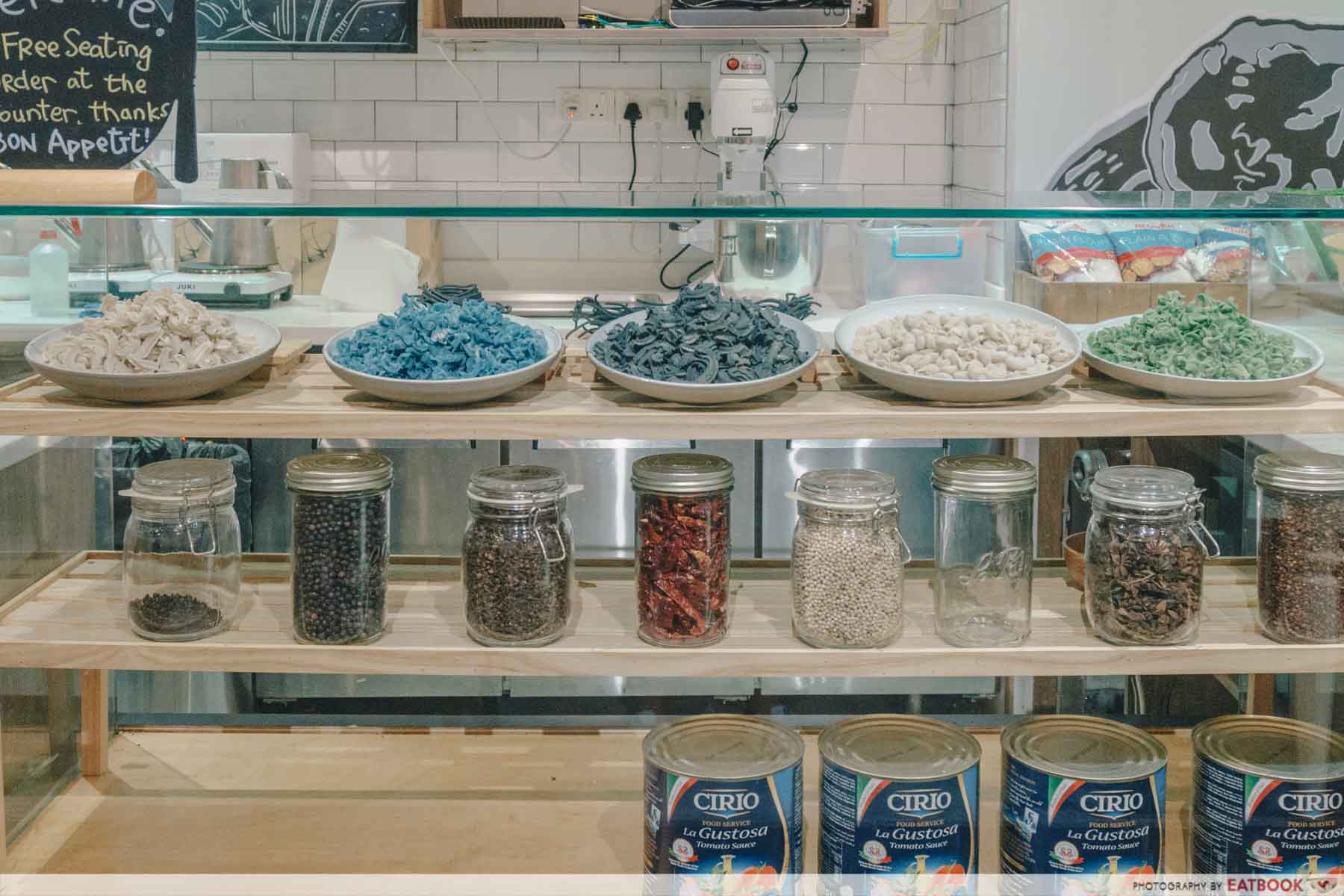 I would like to start by saying this: fresh pasta is not better than dried pasta — both have their distinct uses in different sauces. Therefore, when Pasta Supremo first launched and boasted about using fresh handmade pasta, I was expectedly apprehensive.
Food at Pasta Supremo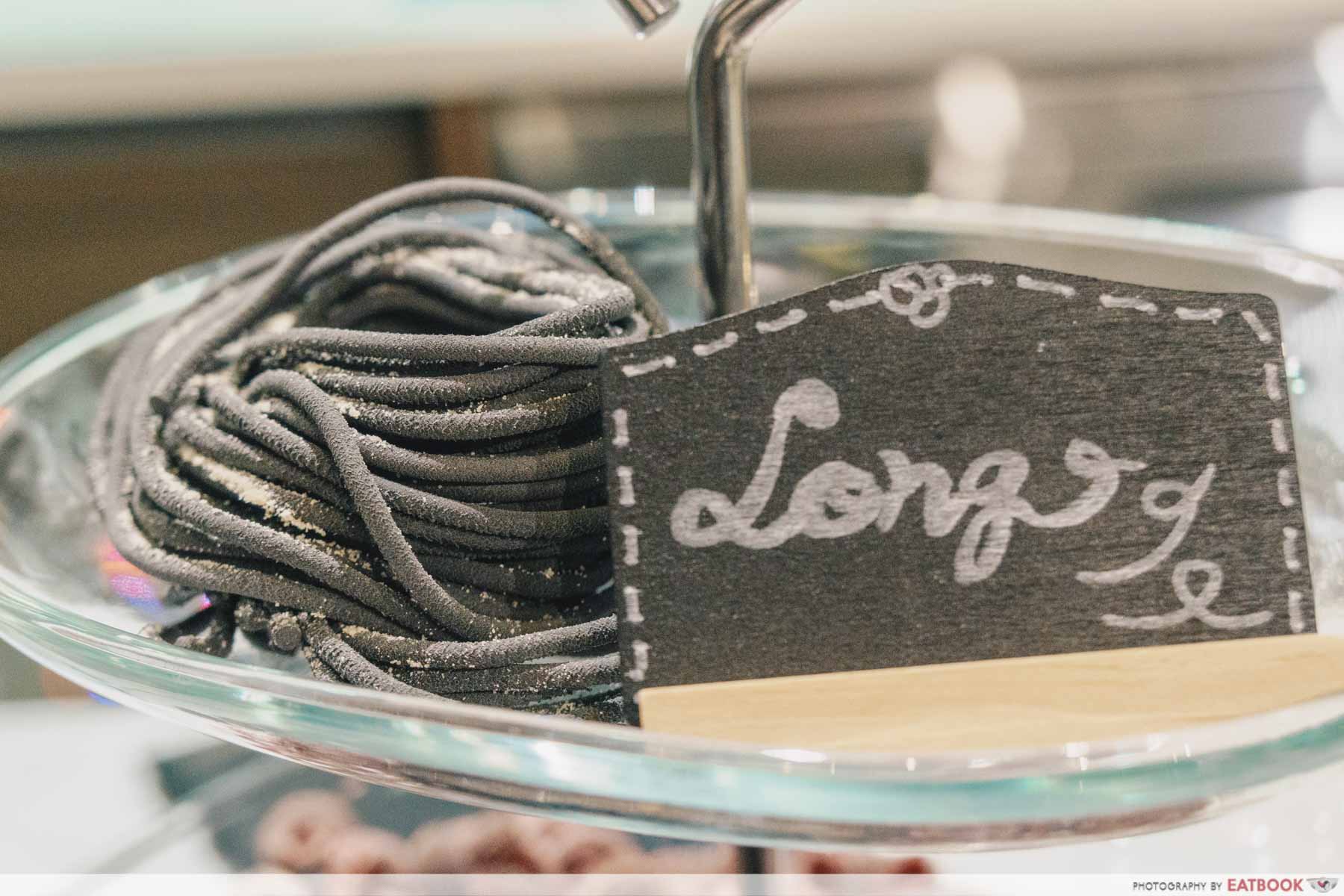 Pasta Supremo aims to serve fresh pasta at affordable prices. This is echoed in their menu, where they serve a Haus Marinara and Sichuan Pepper pasta (ma la) for only $8++.
Toppings like Supremo Pork Meatball ($5++) and Bak Kwa Jam ($10++) are also available to zhng up your meal.
You even get to choose your desired type of pasta: Long (infused with activated charcoal), Short (infused with beetroot) and Curly (infused with blue pea flower).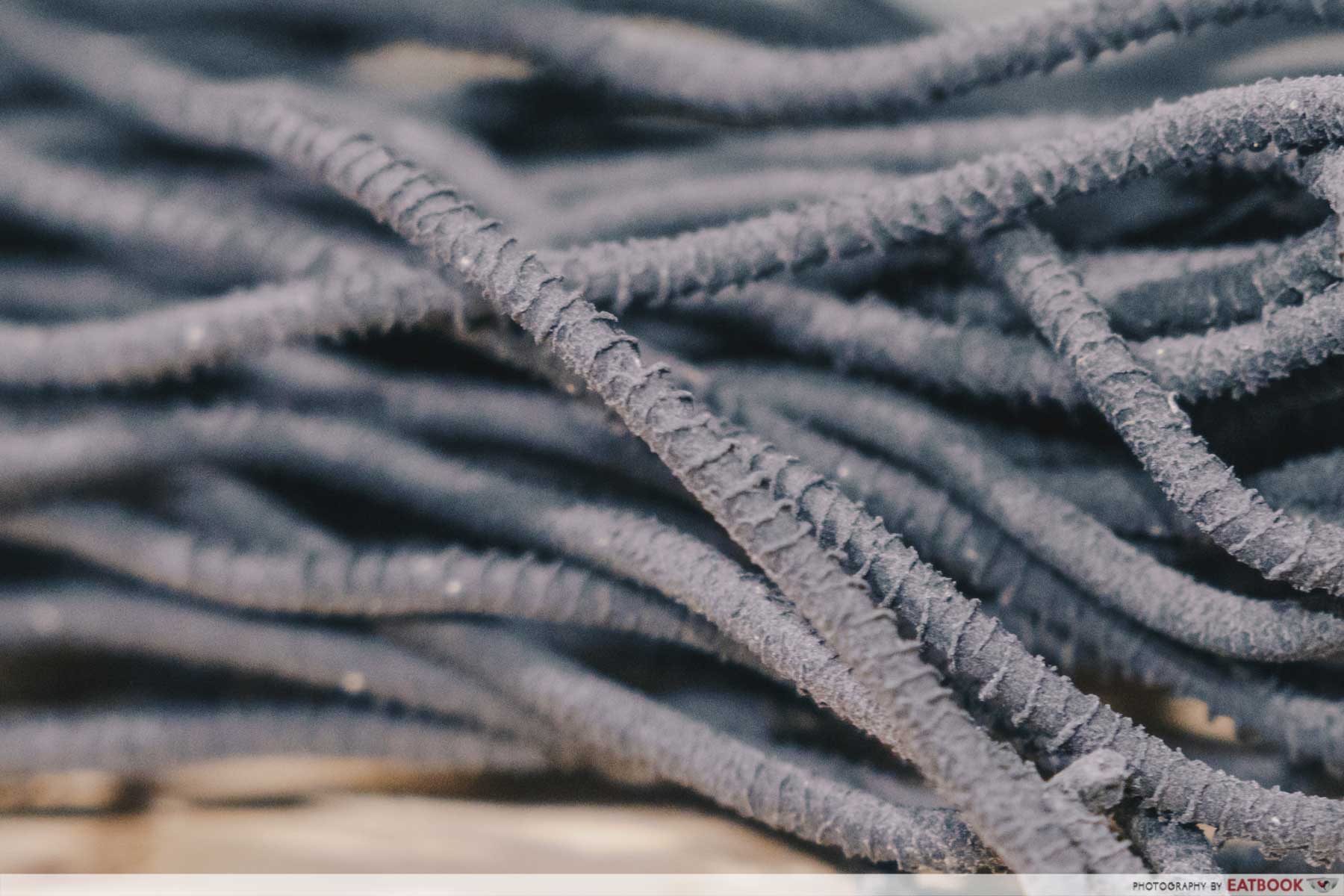 My favourite was the long pasta that's rather similar to bucatini. The rough ridges serrated across the noodle meant that pasta sauce clung well onto its surface.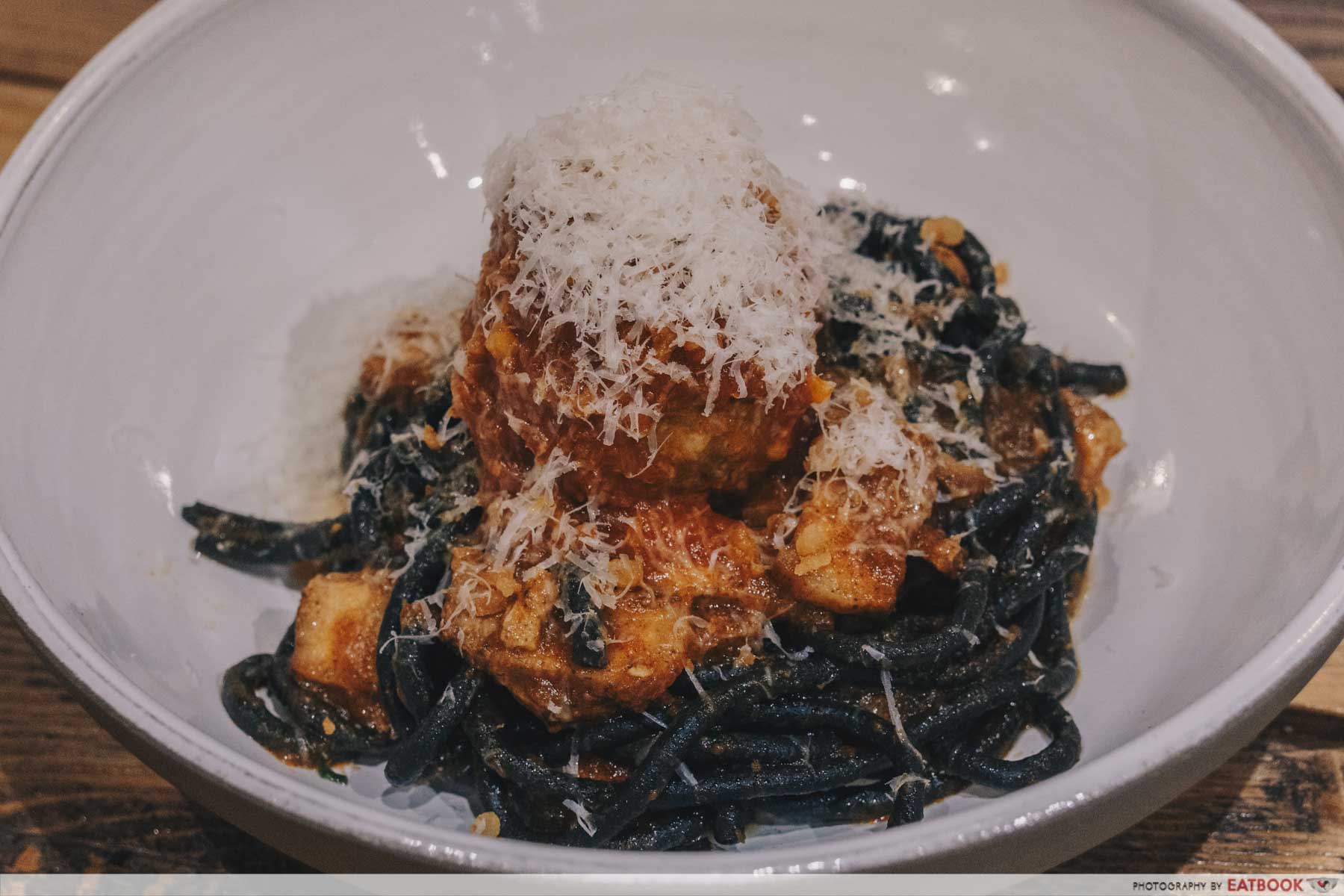 No dish exemplified this more than Supremo Porky Marinara ($15++). Strands of long pasta were tossed in a luscious marinara sauce and topped with a chunky meatball.
Gentle ribbons of Parmigiano-Reggiano then adorned the dish, giving a white blanket of cheesiness.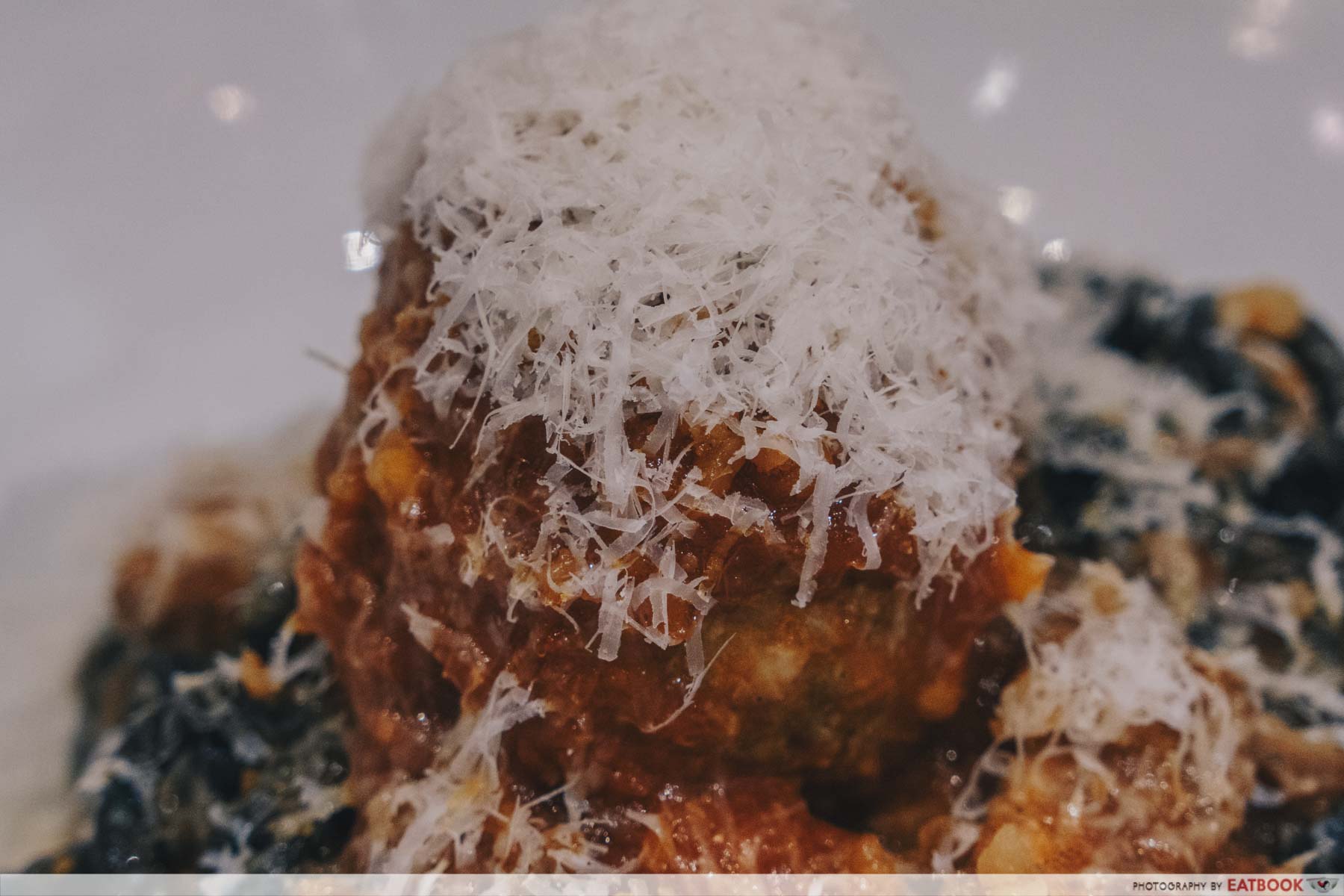 Tasting it, I was surprised by how meaty the sauce was. It was as if I were walking into an oven full of roasted meats. Having expressed my amusement to the chef, I was duly informed that rendered pork fat was added into the marinara.
No expenses were spared for the meatballs either. Beef and pork were mixed with diced water chestnut for an added crunch, breaking the textural monotony of ground meat.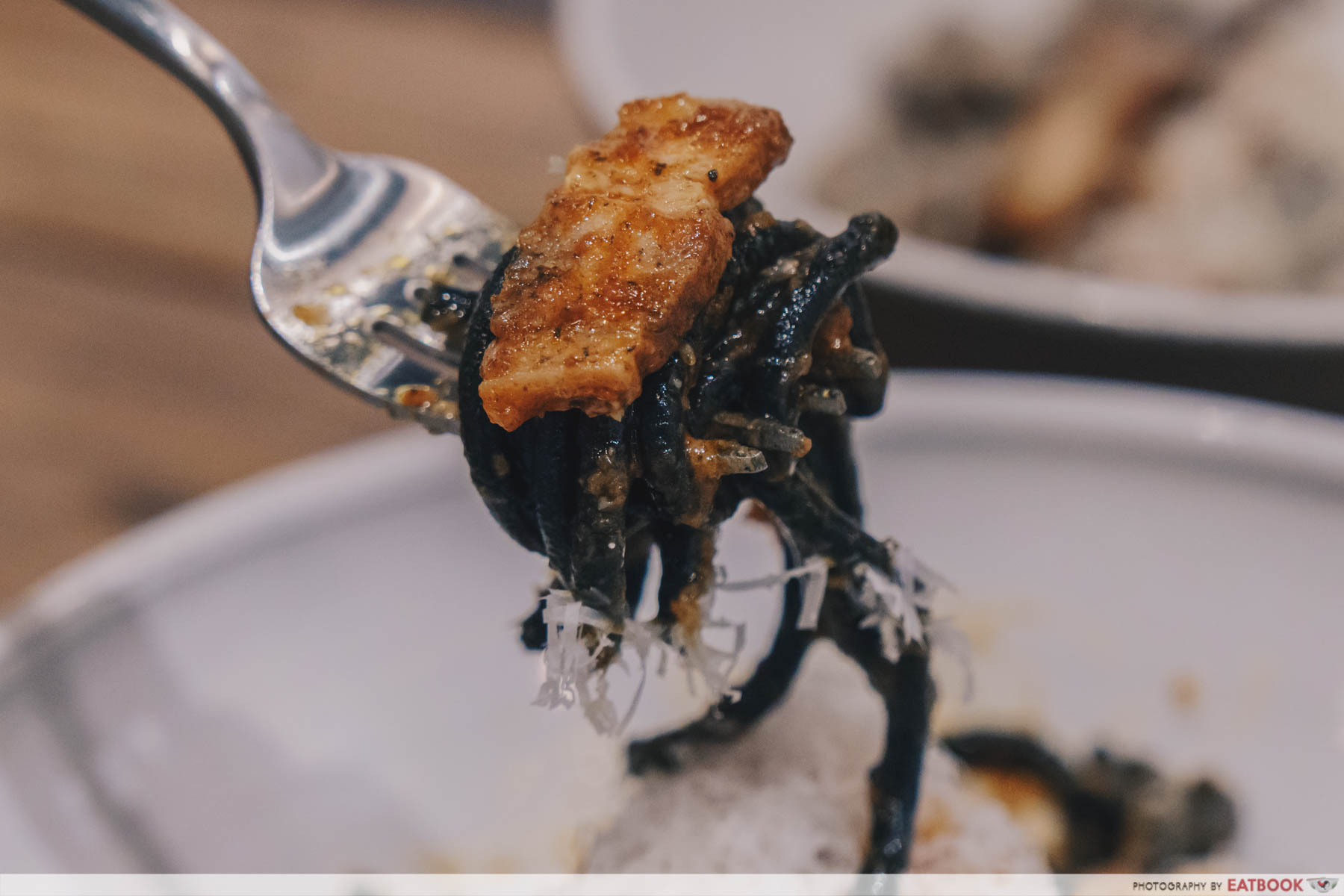 My preconceived disdain for handmade pasta came from all the soggy overcooked ones I've had at high-ses restaurants. Tasting it, my worries were allayed. It was ostensibly the best handmade pasta I've had. There was still a bite to it, shattering my perception that fresh ones lack texture.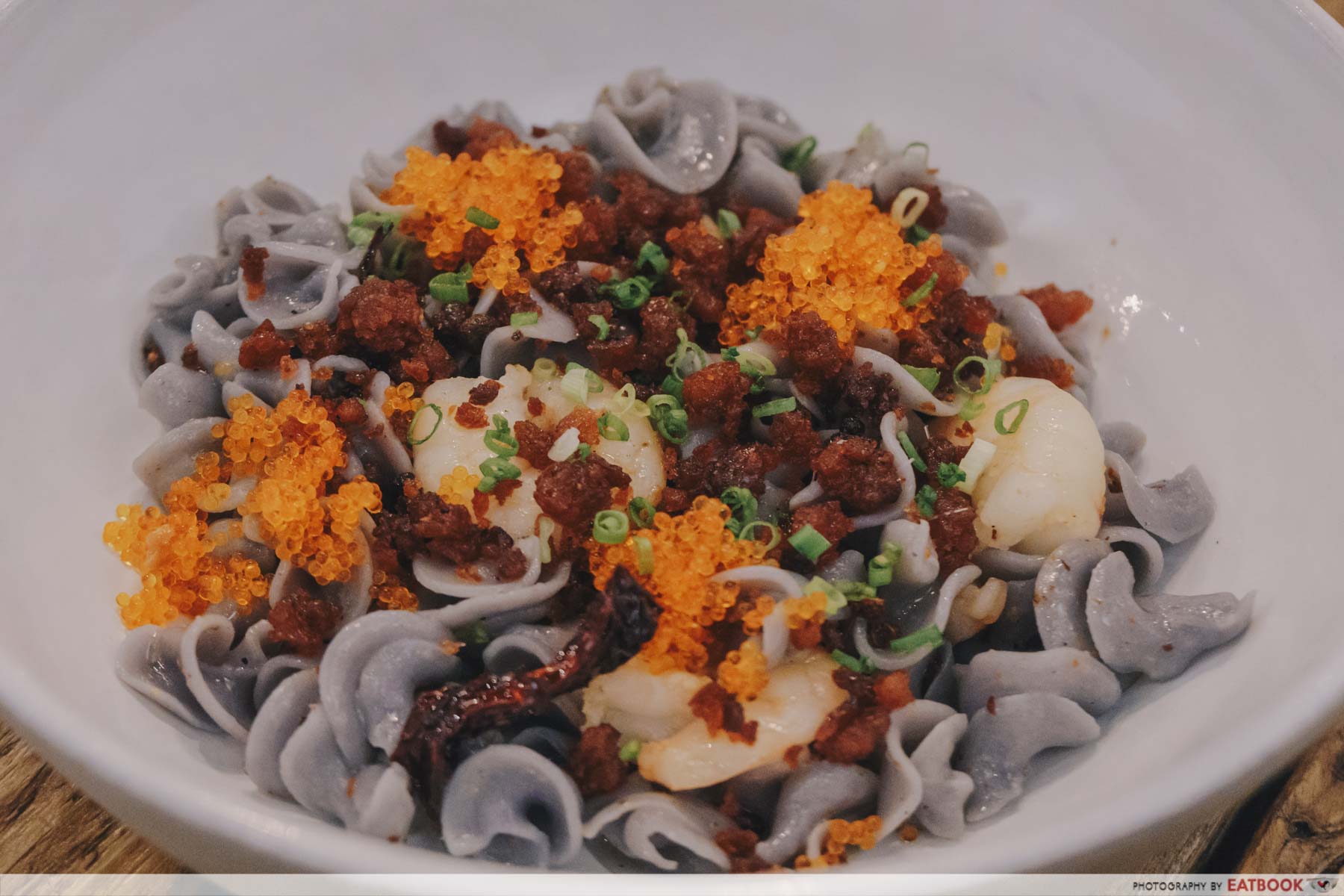 The Prawn Olio Olio ($20++) was the most visually stunning dish we had. Orange beads of tobiko glistened in the light, bringing out the outlandish blue hue of our curly pasta. It was gorgeous.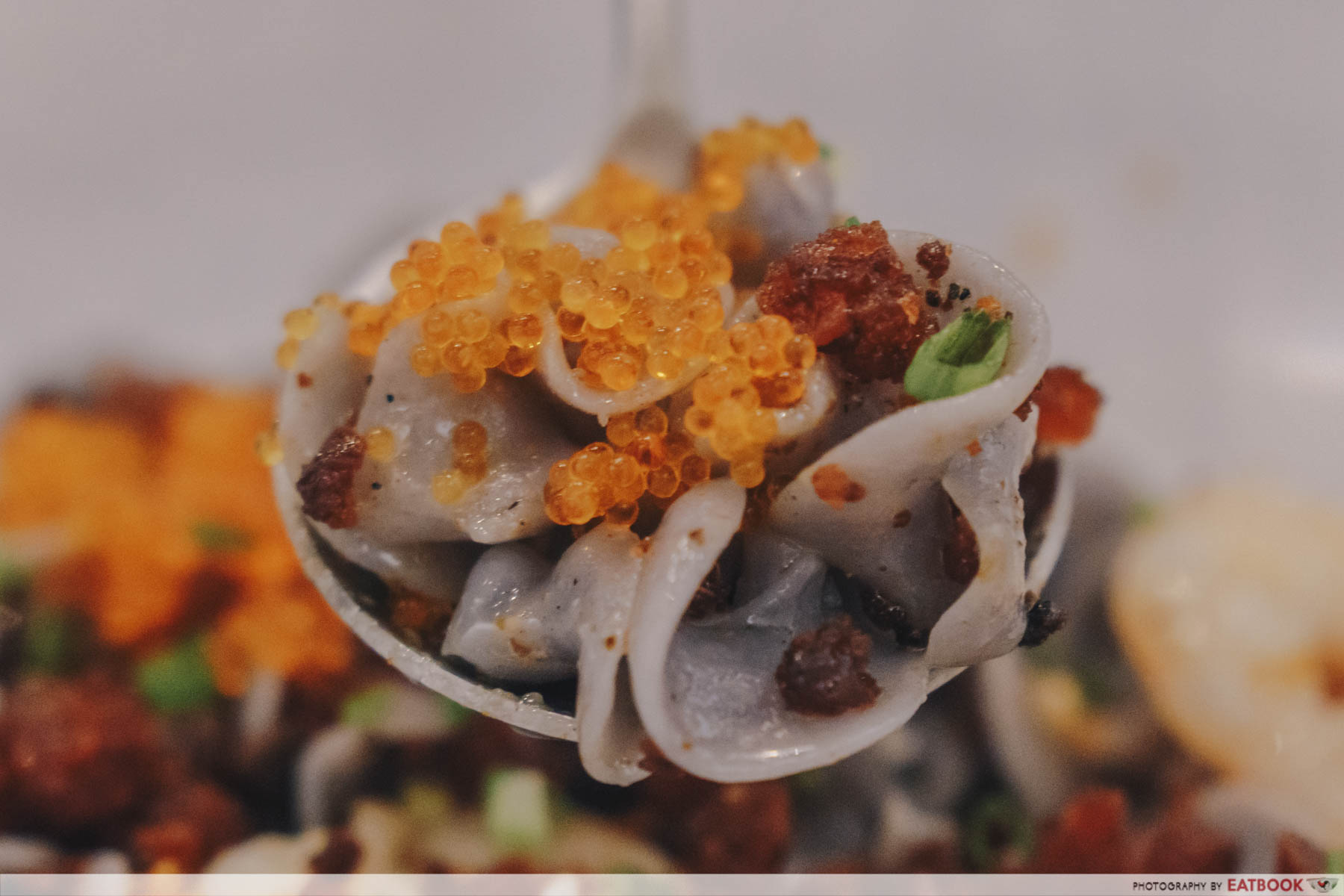 Awe unravelled into excitement when I took my first bite. From the way it looked, you would think that it would taste light and gentle.
Instead, a burst of ma la exploded in my mouth, instantly numbing my tongue. What followed were bursts of oceanic flavours from the fish roe that conferred a briny aftertaste.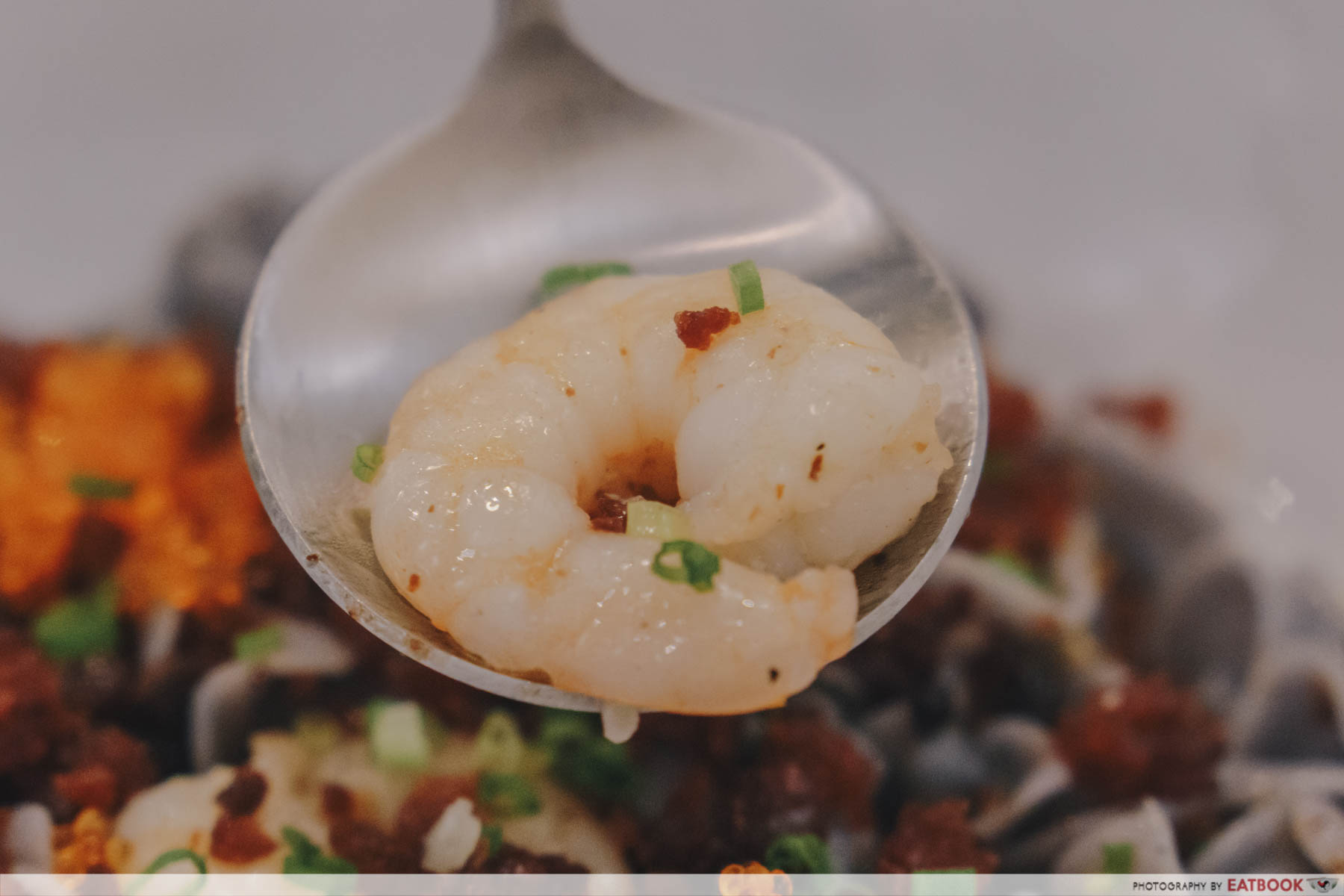 Less successful, however, were the prawns. They tasted frozen and their texture was somewhat lacklustre. With such a high price tag, I expected fresher tasting ones.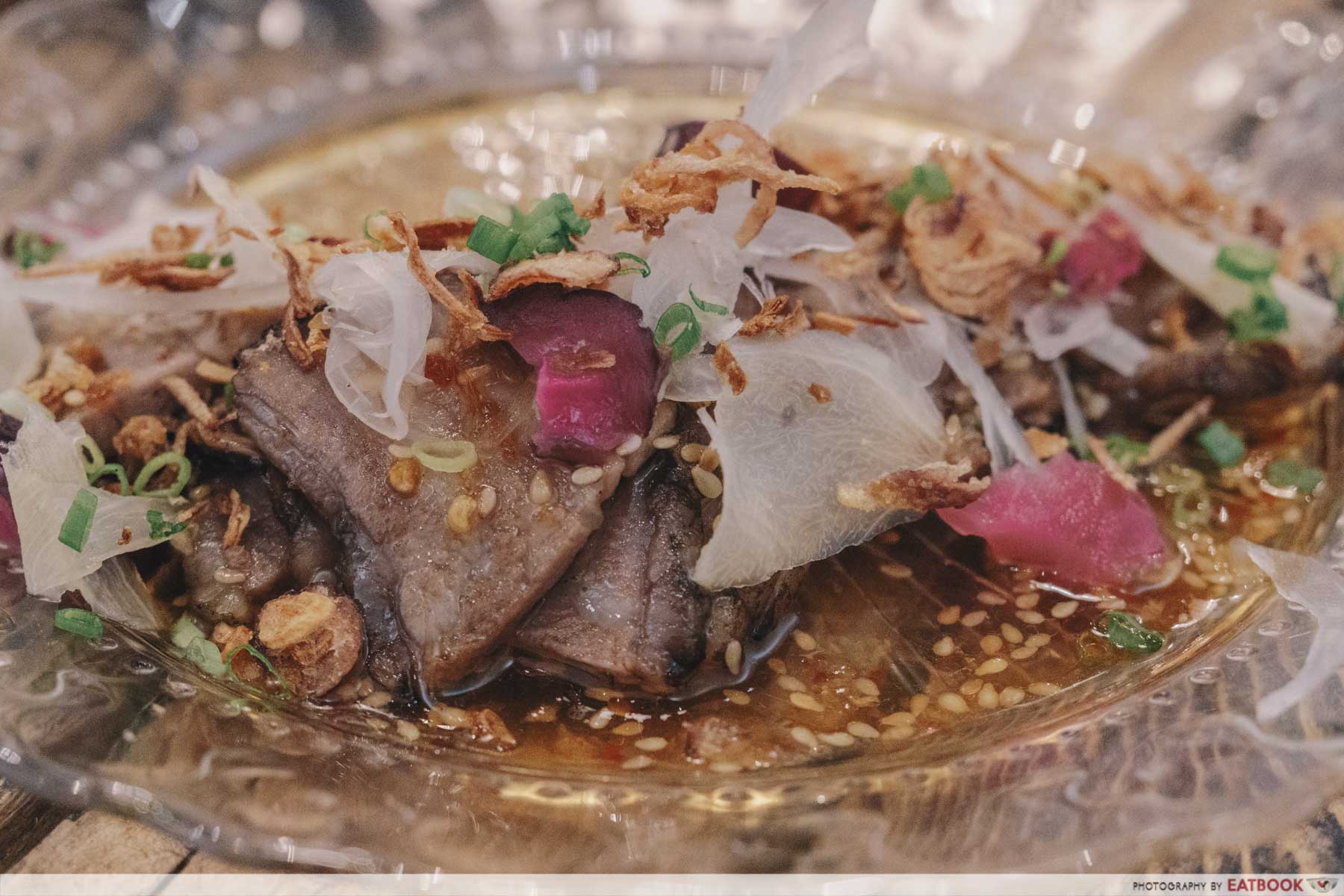 Apart from pasta, they also offer a 300 Day Grain Fed Fatty Wagyu ($15++). A light sesame dressing was spooned onto slices of sous vide beef, finished off with shreds of daikon that highlighted the torched crust of the meat.
The marinade used was rather peculiar. It was evocative of a carpaccio dressing, yet had a twist of Asian influences. For one, sesame oil was used in lieu of olive oil. It also had notes of Thai chilli sauce, giving the dish a tinge of heat.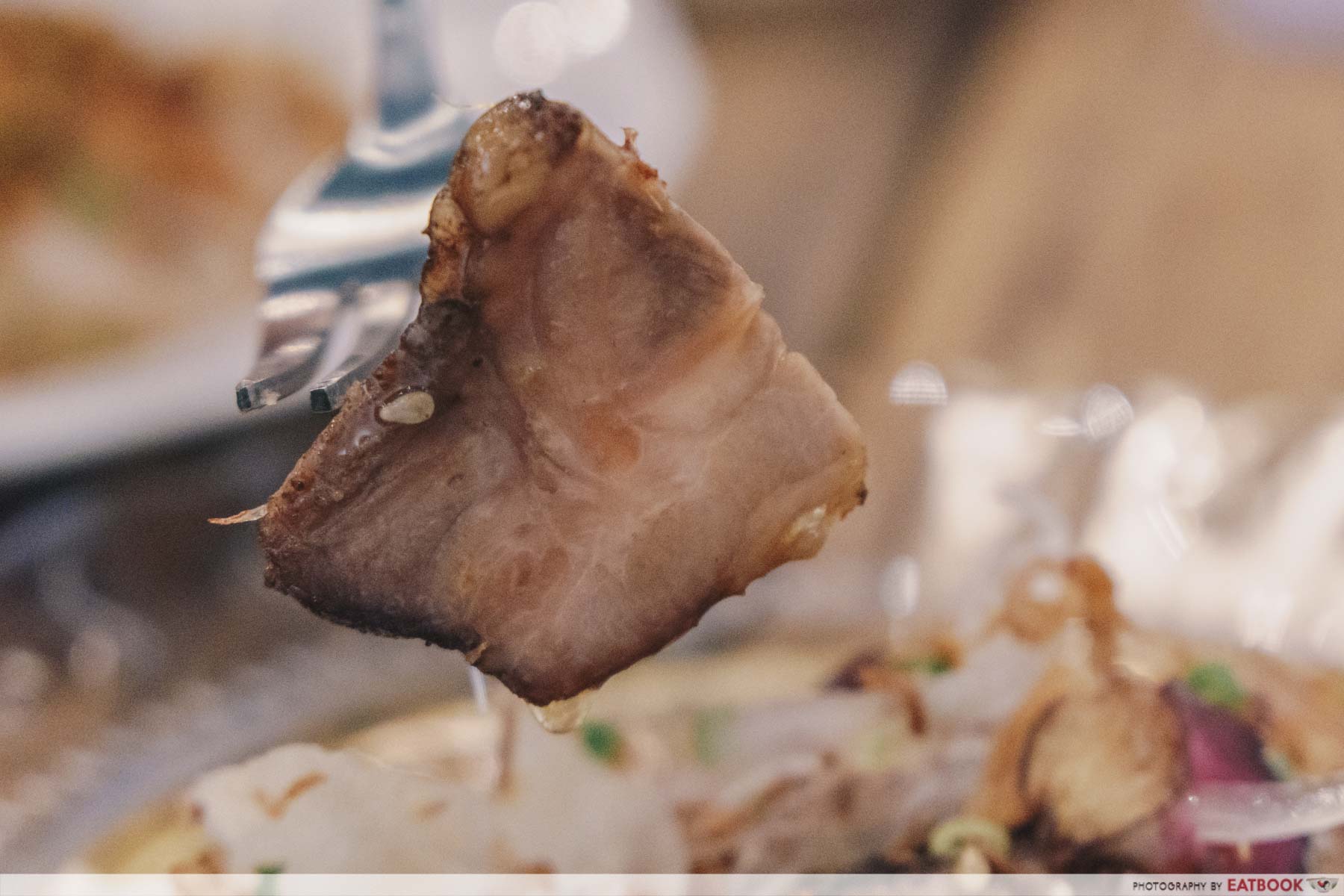 I absolutely adored their use of short rib for its rich marbling and profound beefy flavour. Amplifying it were the streaks of fat dispersed throughout the grain of the meat, bestowing an unctuous mouthfeel.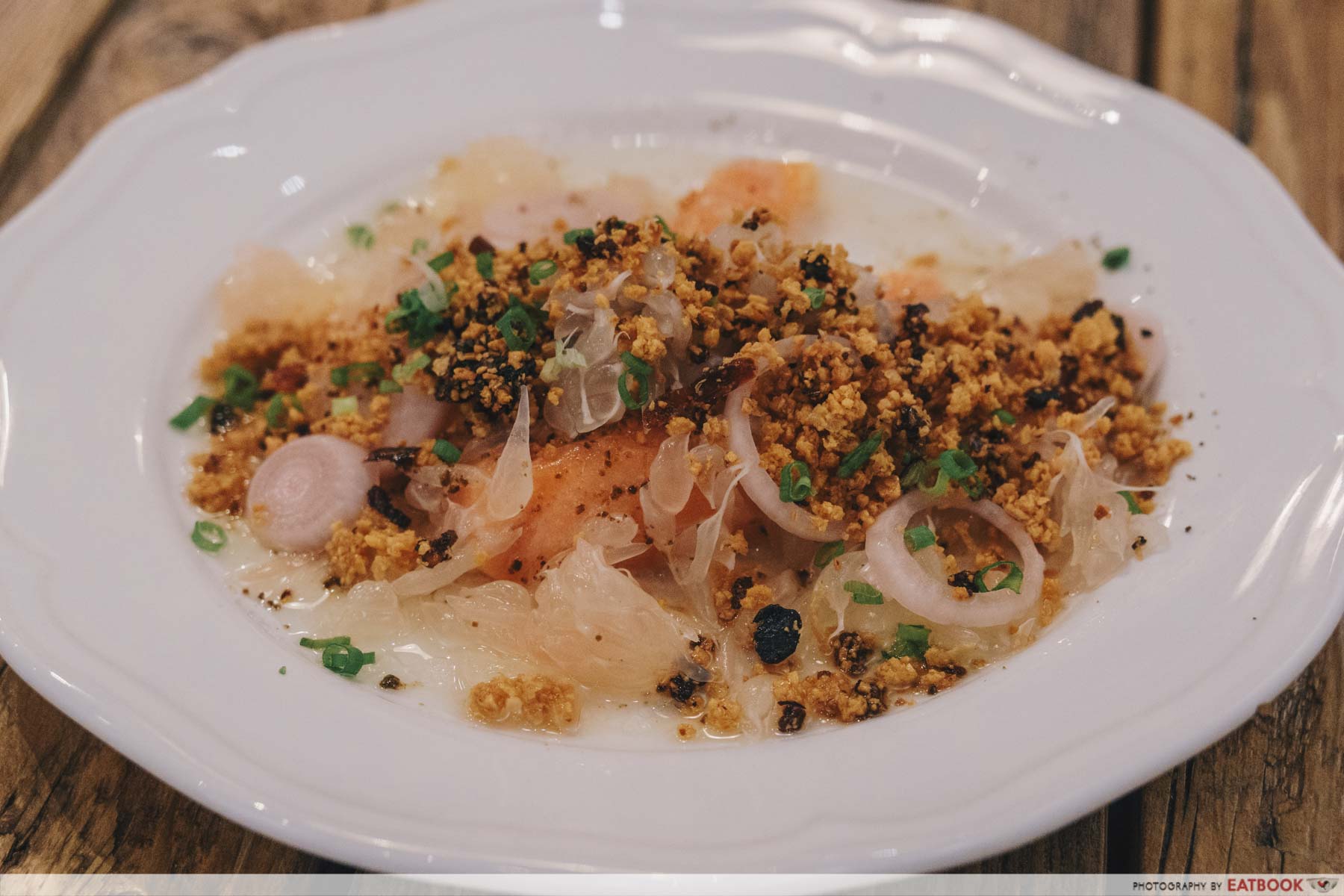 Also available is a delicately cured Ocean Trout & Pomelo Salsa ($15++) dressed with plump pearls of pomelo pulp. Rings of pickled shallots and soy bean crumble further ornate the dish in a contemporary decadence.
It had a bourgeois vibe, much like something I would find at SKAI or some other atas restaurant.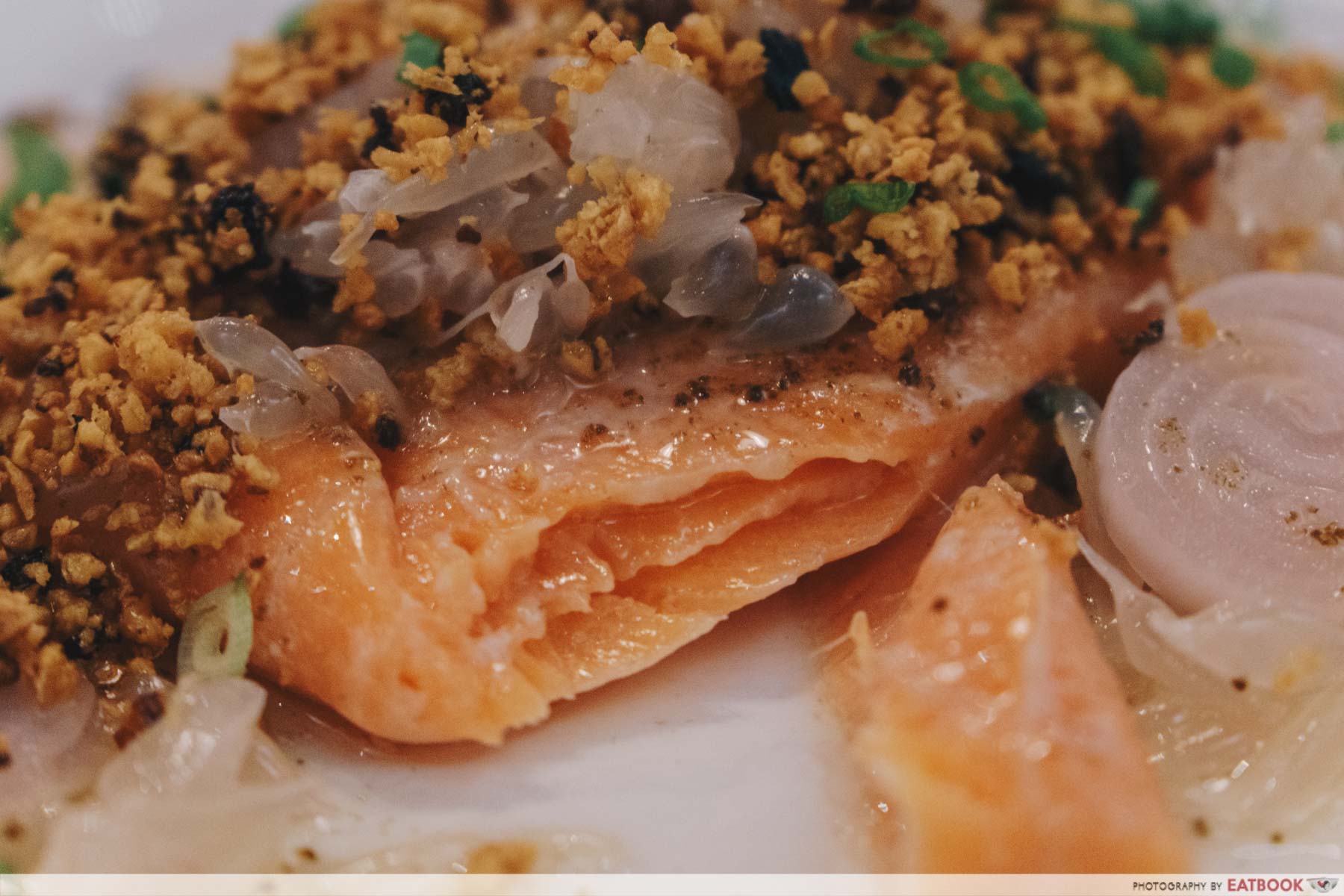 I also appreciated how the flesh flaked off beautifully, despite only being cured with rice vinegar.
It tasted like salmon, packing a potent wave of fresh seafood goodness with every bite.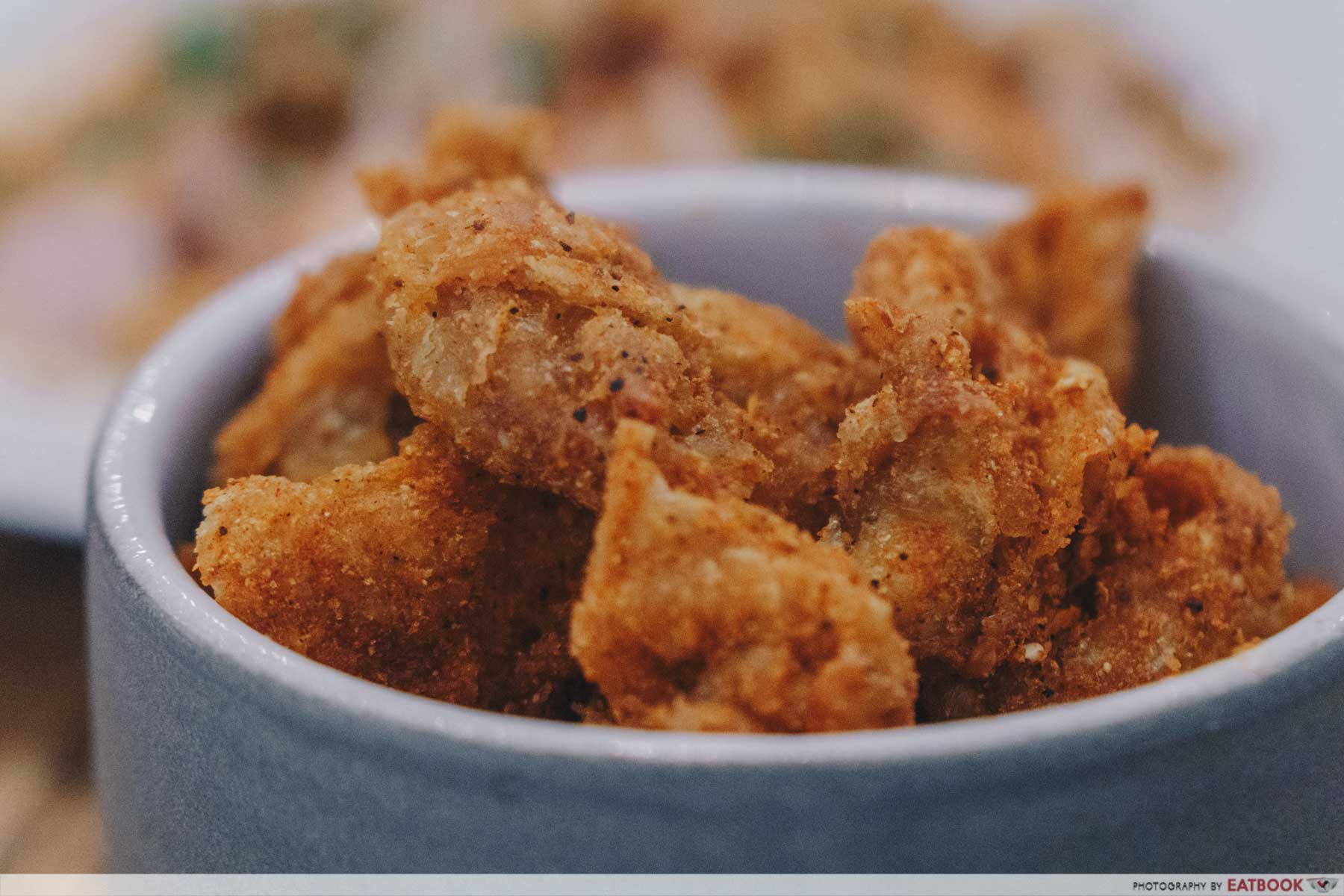 As a child, I would look on helplessly with beady eyes, as my parents removed the crispy skin off my KFC. I would be left, disappointed, with just the flesh.
Being served Spiced Supremo Chicken Skins ($6++) was thus a moment of liberation for me.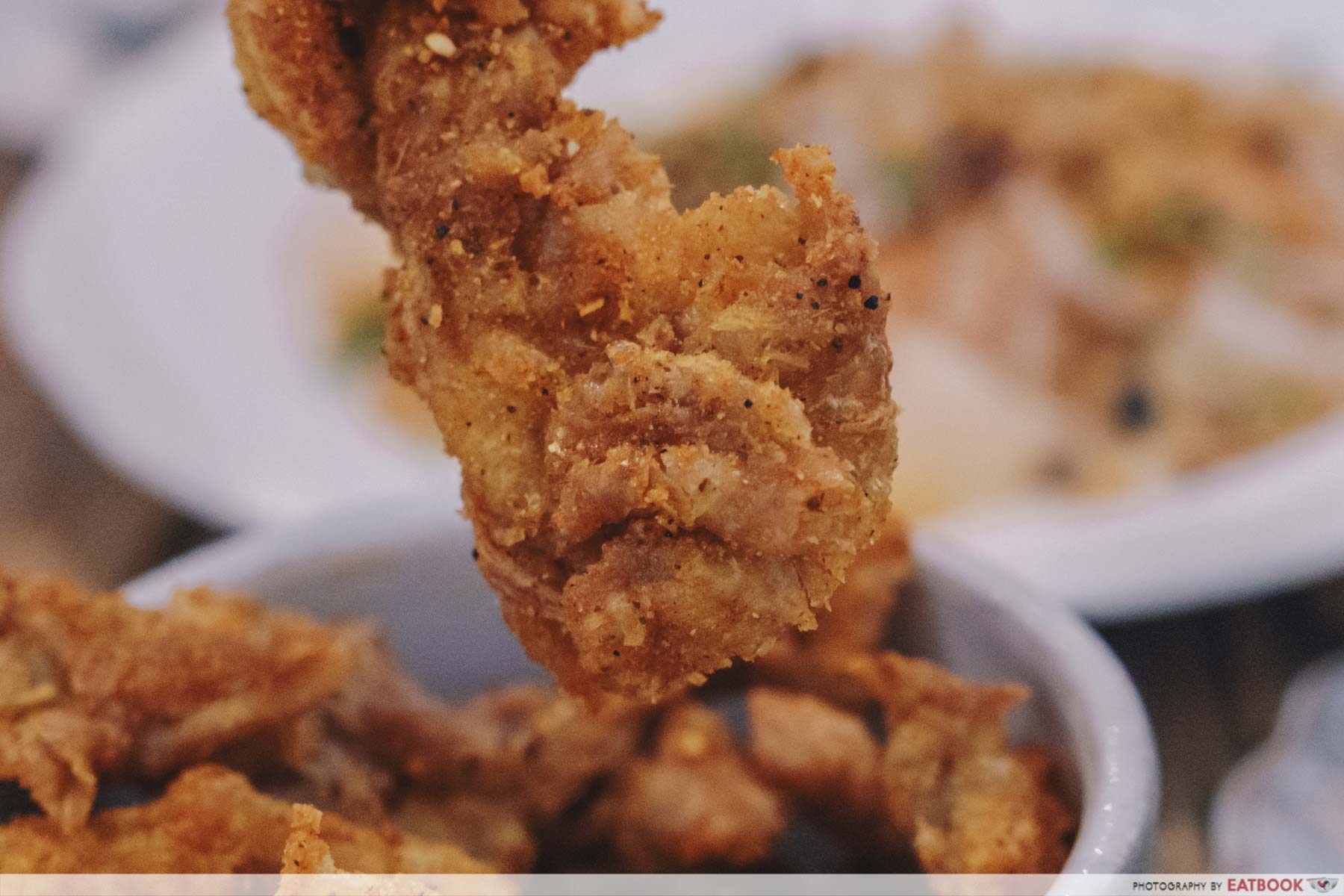 Taking my first bite, the skin shattered with a theatrical crunch. Then came the spice blend with a ubiquitous taste of ma la Sichuan peppercorn. Notes of garlic and cumin then slowly unfurled, leaving me craving for more.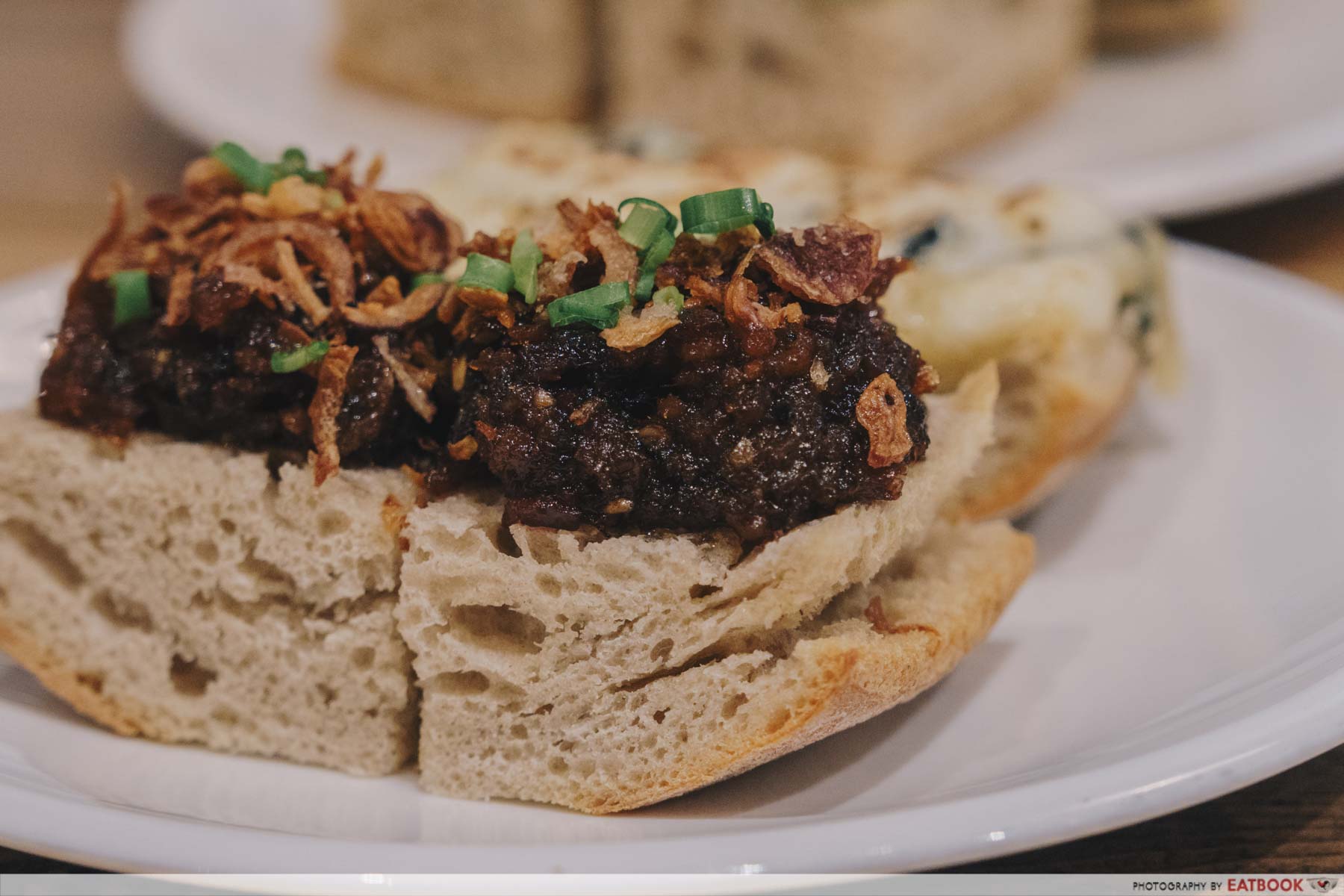 I then embarked on the Bak Kwa Jam Bread ($5++). It was everything I expected and more from my favourite Chinese new year pork snack.
It was pimped with bacon and chilli oil, which gave it an elevated dimension in taste.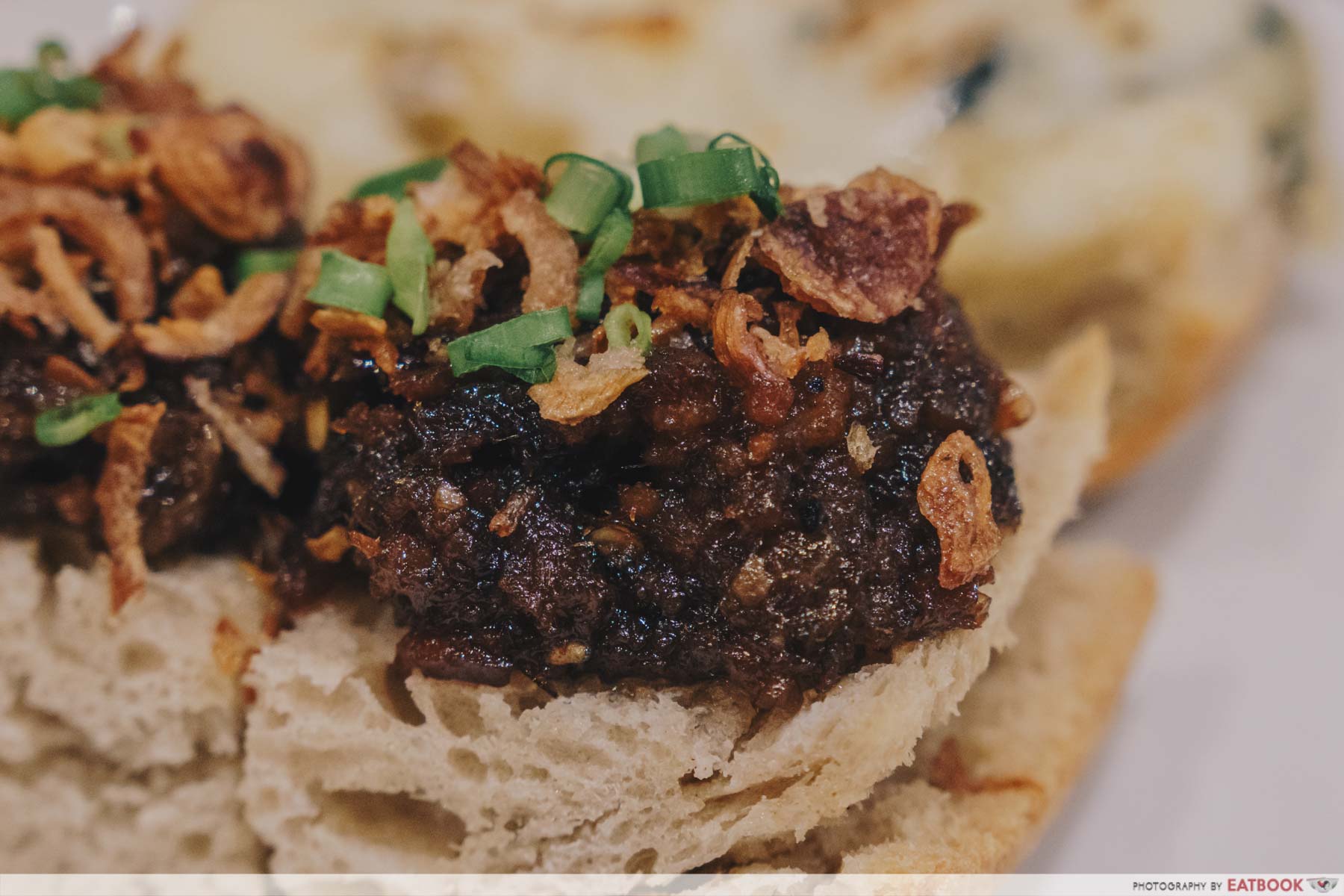 The jam was also umami-laden, emanating an intense meaty aroma when chewed on. It was so good I felt like I was eating meat candy.
Ambience at Pasta Supremo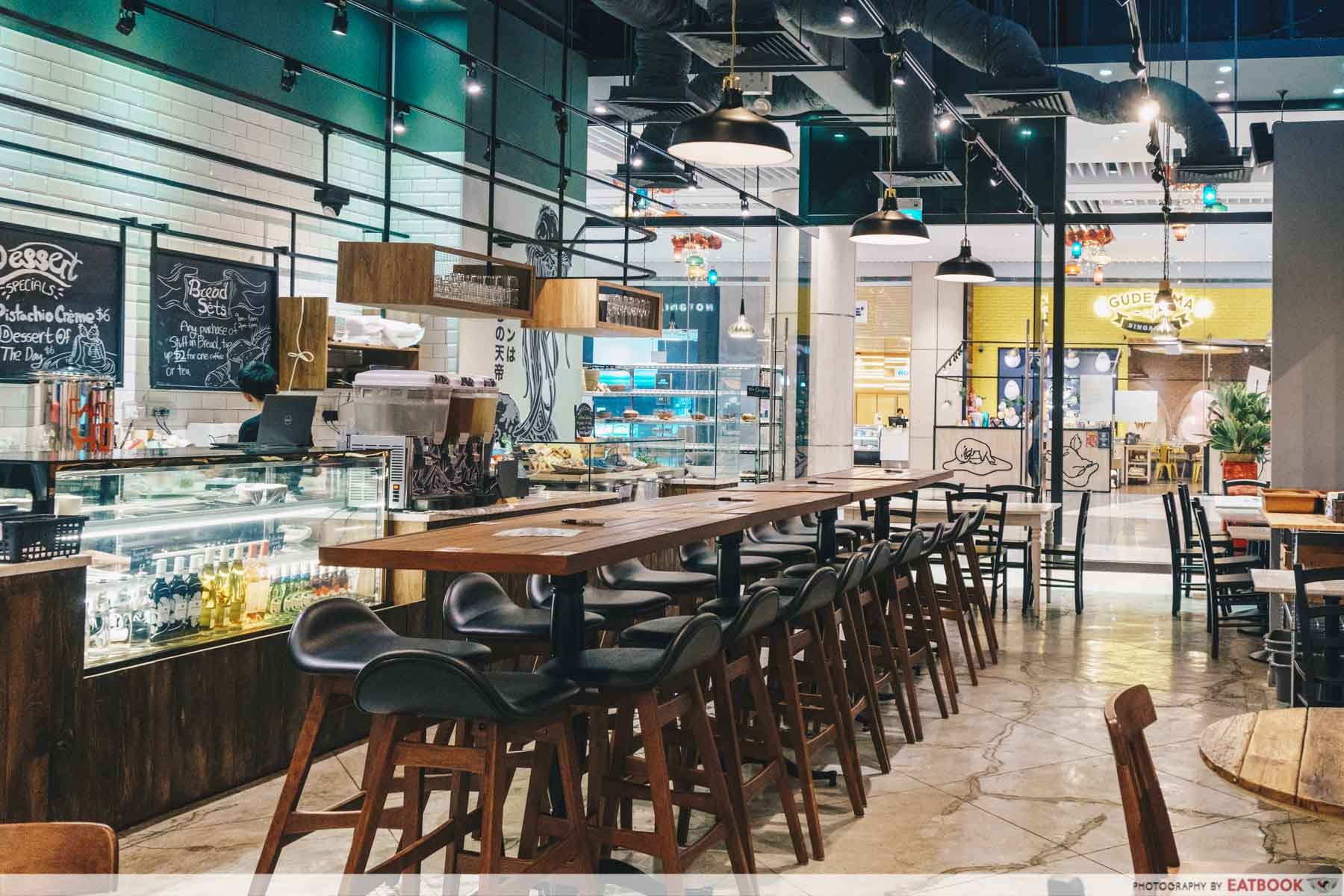 Walking in, an air of urban chic just exudes from the restaurant. The colours and furniture really spoke to me. It had a stately elegance I normally enjoy exclusively in casual French bistros or cafés.
The verdict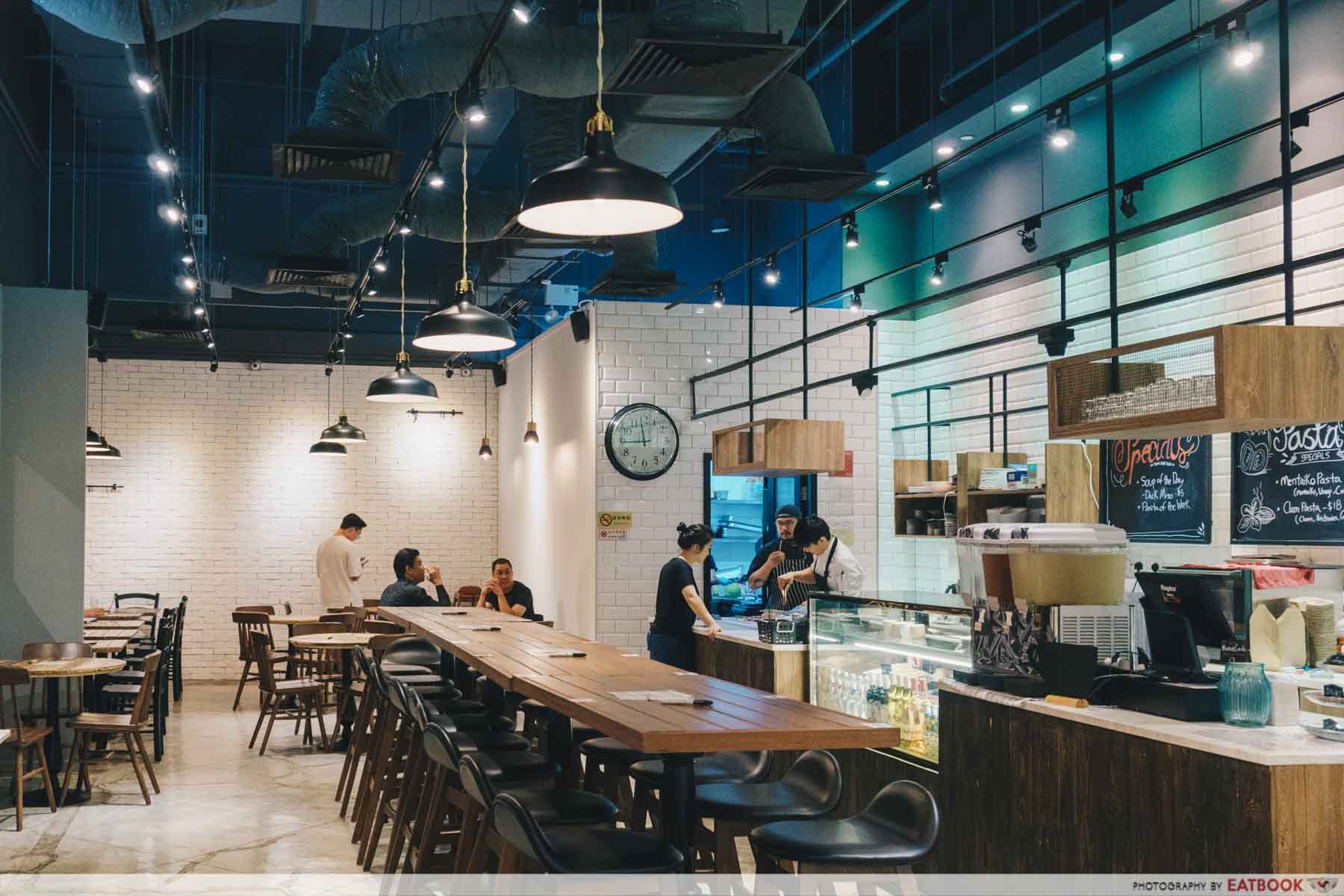 I started the article by saying how I was initially apprehensive about Pasta Supremo's handmade pasta. In a way, I still am. There were a few lacklustre plates of pasta that we did not feature, where the noodles were too soft and soggy, only salvaged by a tasty sauce.
But for what it's worth, that's the beauty of handmade pasta. It demands an unwavering attention to detail: sensitivity to time, ingredients and texture. Has Pasta Supremo got it? Not yet. But considering that they've only been in operations for a week, I really have to hand it to them.
Address: 3 Temasek Boulevard, #01-365/366/373/374, Singapore 038983
Opening hours: Daily 9am to 9pm
Tel: 6909 8138
Website
Photos taken by Becky Chong.
This was a media tasting at Pasta Supremo.
Summary
Pros
– Affordable selections available
– Strong attention to quality
– Central location
Cons
– Some pasta lacked texture

Recommended dishes:  Supremo Porky Marinara ($15++), Prawn Olio Olio ($20++), 300 Day Grain Fed Fatty Wagyu ($15++)
Opening hours: Daily 9am to 9pm
Address: 3 Temasek Boulevard, #01-365/366/373/374, Singapore 038983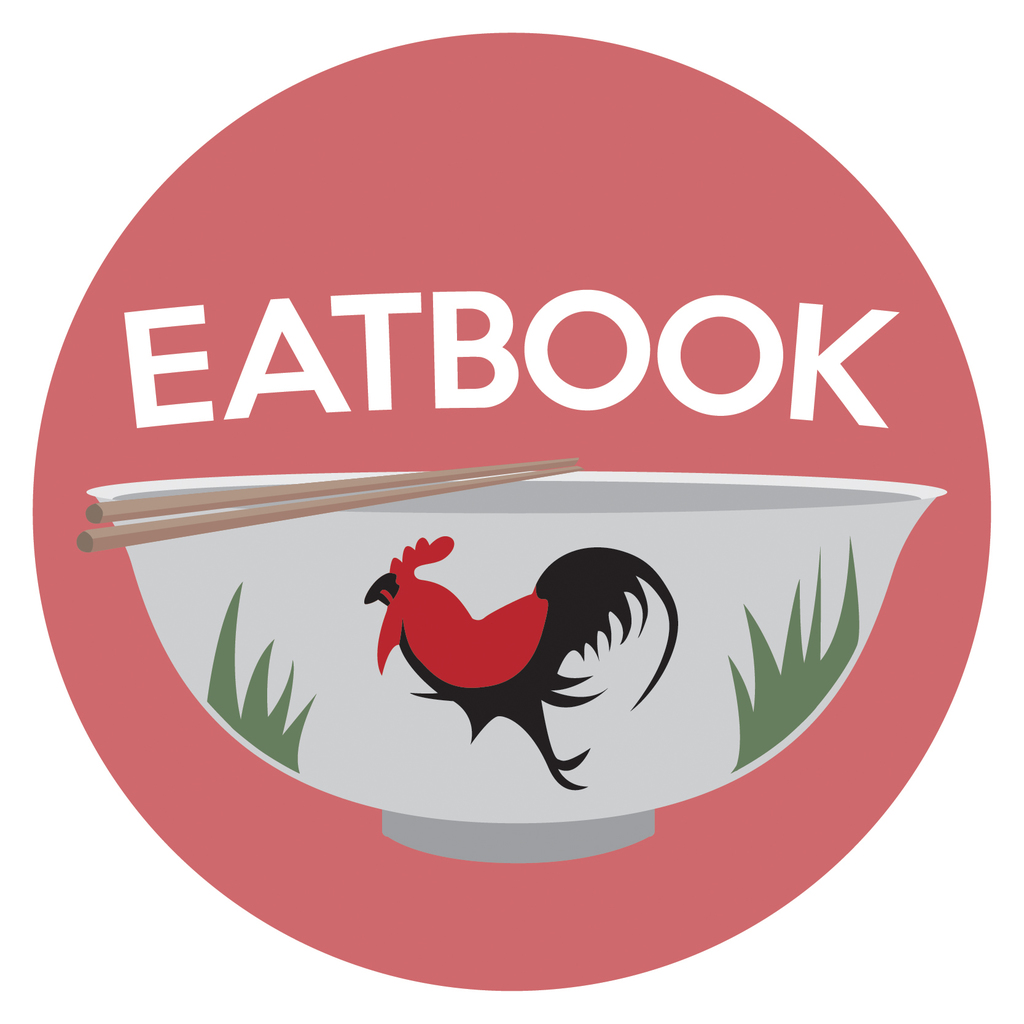 Drop us your email so you won't miss the latest news.