Enjoy ma la yong tau foo at Peppercorn30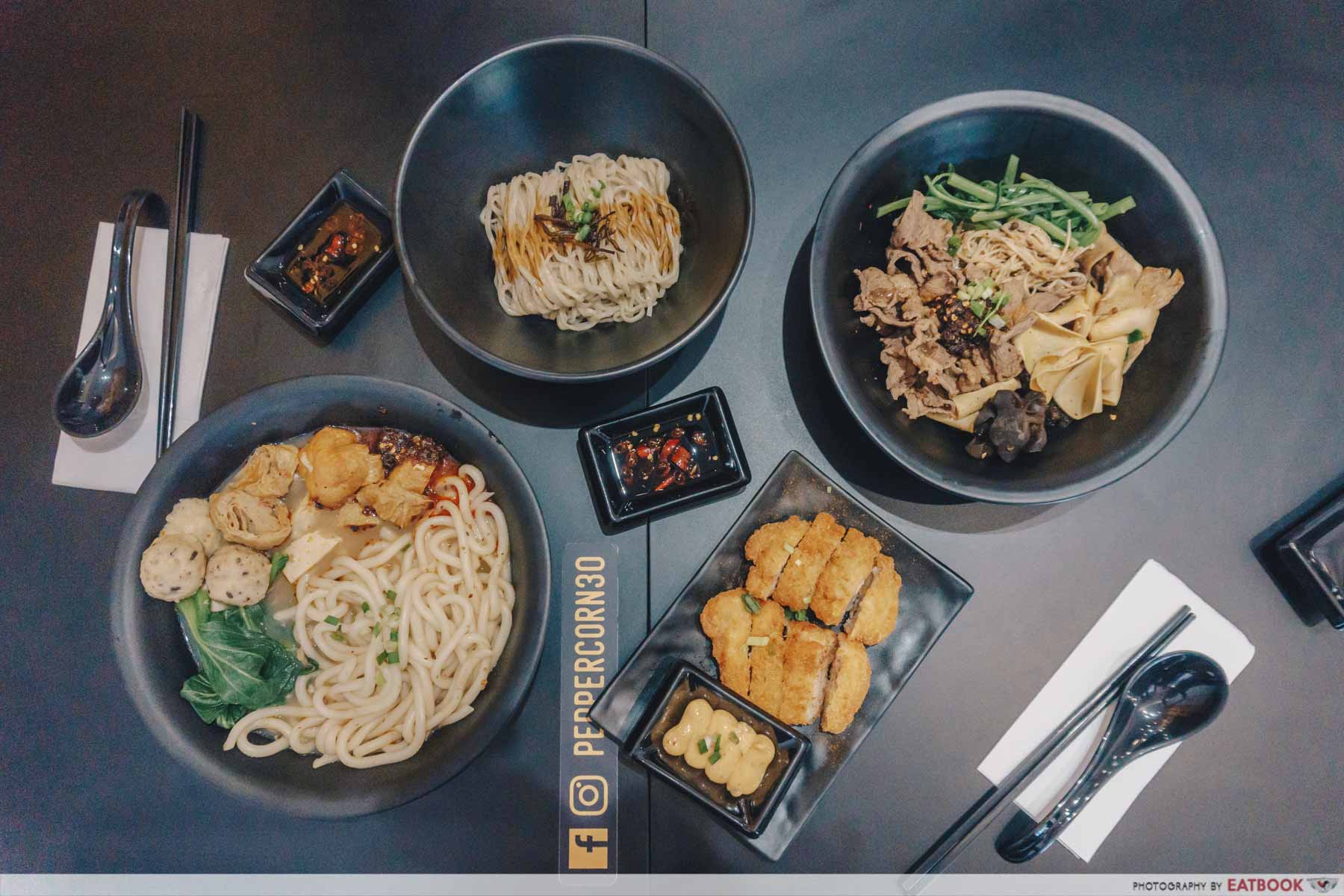 Thinking of food in the Malay-centric Kandahar Street area usually conjures up images of nasi padang or mee soto. However, there's a place serving halal ma la in a bright modern cafe.
Known as Peppercorn30, this halal cafe thrives on the unexpected. Inspired by their culinary experiences while living in China, the three young owners here serve up soup-based ma la. Don't come here expecting an intensely spicy, stomach-burning bowl of ma la xiang guo. Instead, you can look forward to ma la yong tau foo when you're here.
Food at Peppercorn30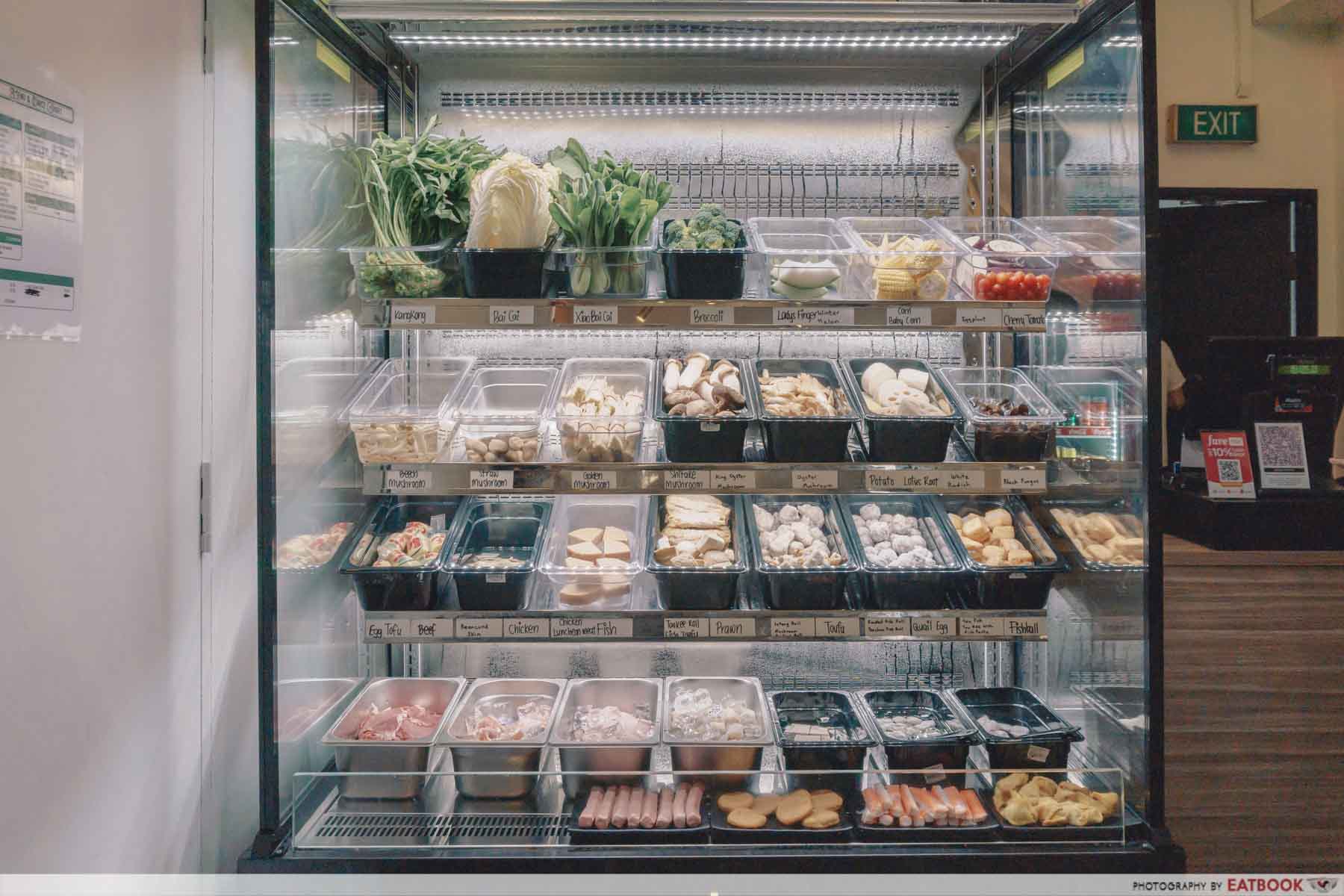 The price of the ma la ingredients is calculated based on their weight. If you want to go light on calories and on your wallet, vegetables are the cheapest item, going at $1.30+ per 100g. Soy items containing meat such as tau pok with fish paste cost $2+ per 100g and are a great protein option if you've got tight purse strings; mushrooms go at $2.20+ per 100g
When you're feeling carnivorous, opt for meat and seafood, priced at $3.80+ per 100g and $4.50+ per 100g,respectively. After that, make a choice between soupy or dry ma la, which sets you back at $2.50+ and $1.50+ respectively.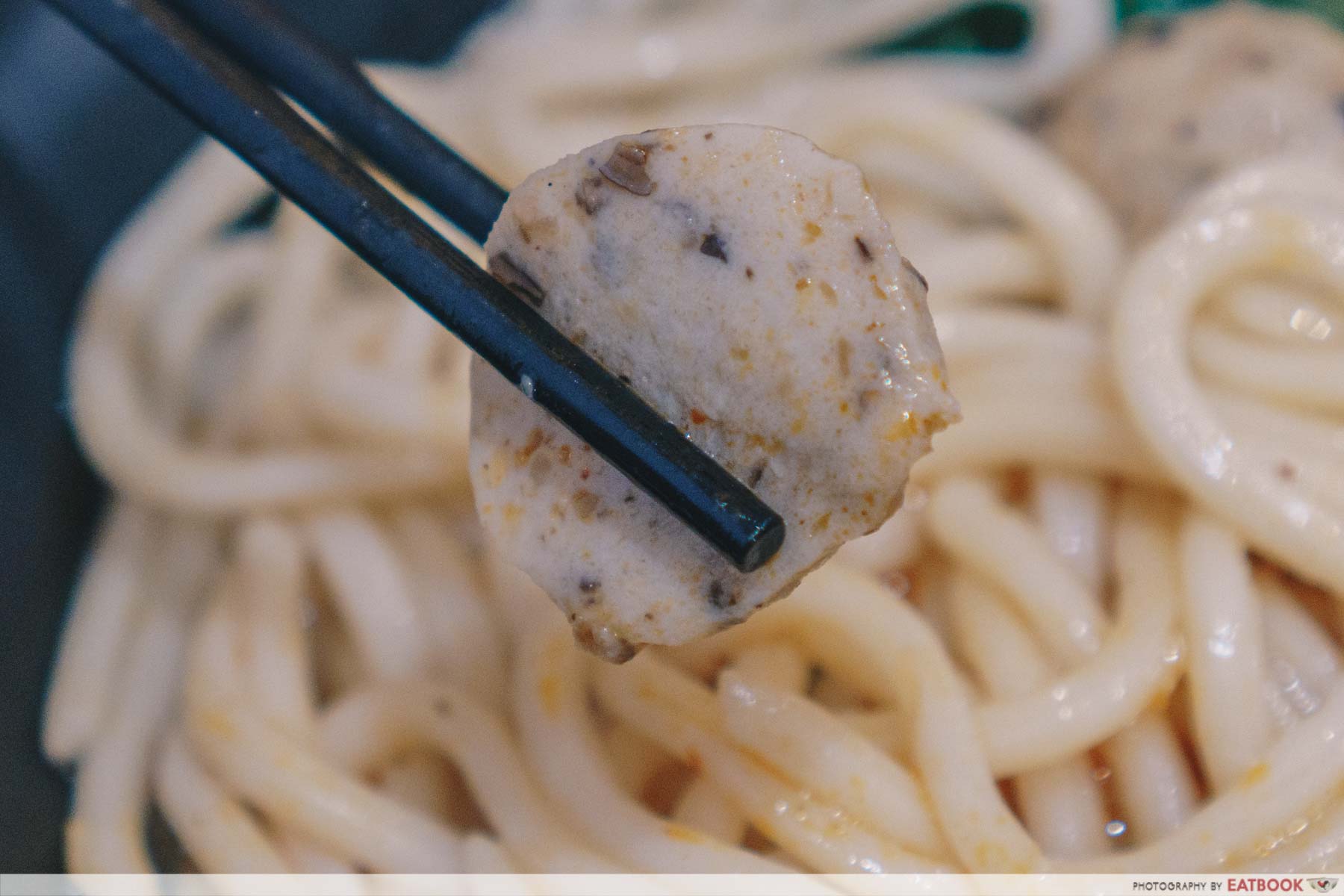 Ingredient-wise, we were spoiled for choice. An array of beancurd-based items and fish cake variants were available, such as bouncy chunks of fish tofu and old-school handmade Teochew fish balls. An item that stood out to me was the straw mushroom that's commonly found in tom yum soup. These mushrooms have little hoods that capture the soup well, so consider having it in your ma la tang!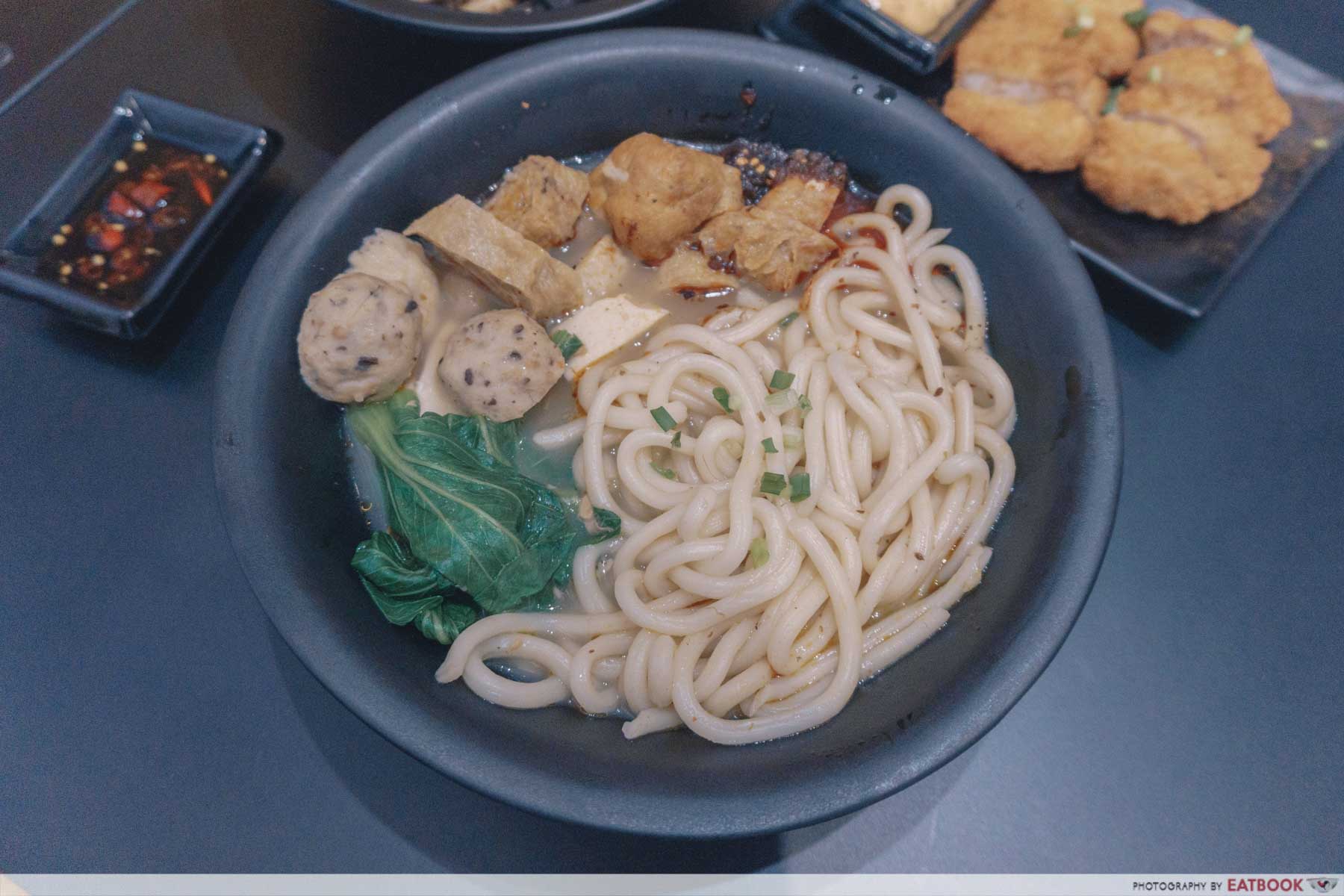 What makes the ma la tang special is its chicken broth, which is simmered for a whole day. This labour has evidently born fruit, with the cloudy soup having a comforting, deep flavour and a tinge of sweetness. Chicken soup for the soul indeed.
The mouth numbing ma la effect comes in the form of a dollop of paste on the side, which looks akin to Crystal Jade's dried chilli sauce. We ordered less spicy, or xiao la, so we could better appreciate the flavour of the chicken broth.  But if you have a change of heart and want to set your mouth on fire, you can request for more ma la sauce.
Compared to your typical ma la xiang guo, this is a good lunch option if you don't want to return to the office drenched in sweat.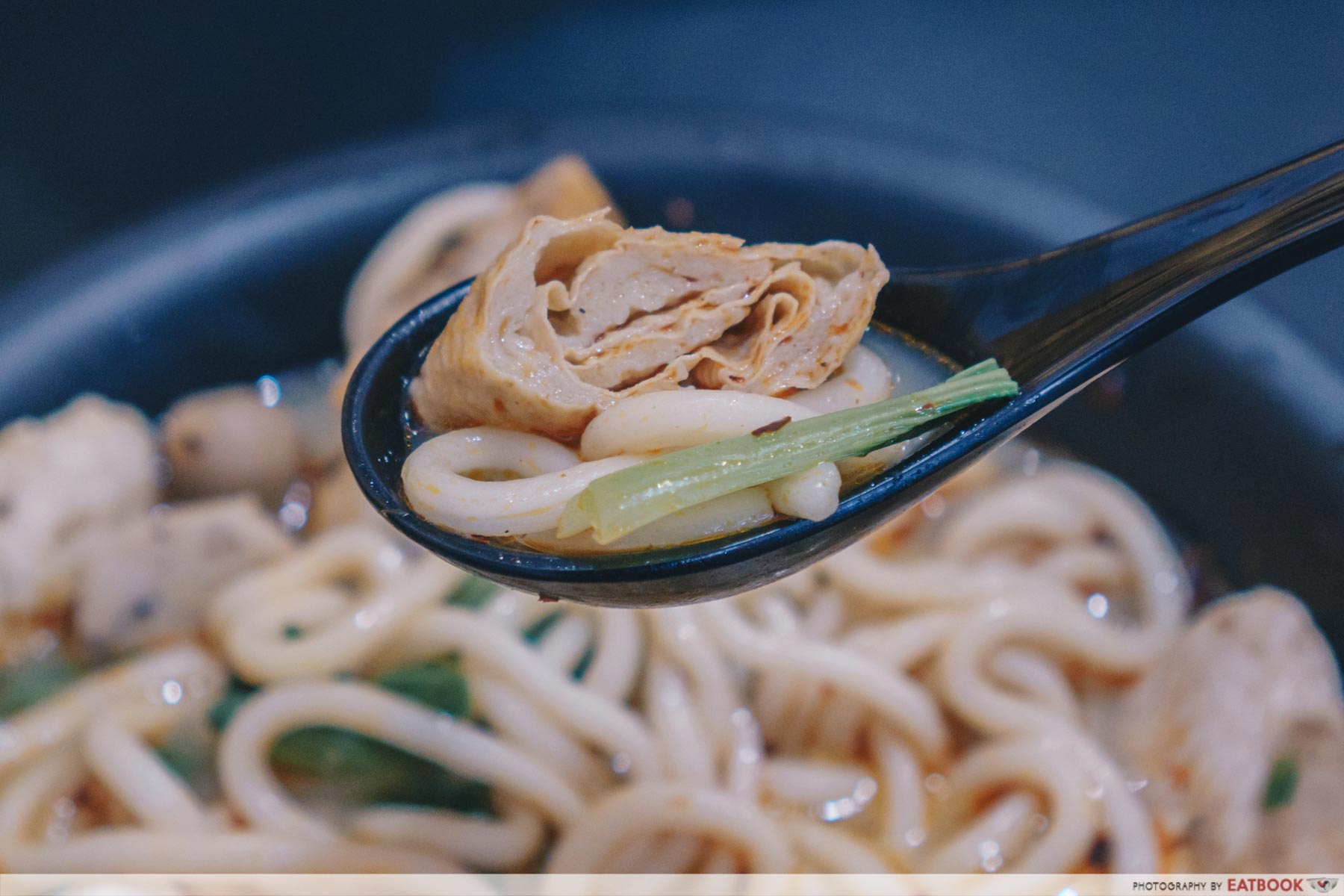 We expected a fiery, oily broth once the ma la sauce was mixed in, but there was just a smattering of ma la flavour in the pleasant soup. In fact, it was reminiscent of yong tau foo, where the ingredients are also cooked in the broth. Consequently, we recommend ordering more yong tau foo-style items, such as the tau kee and tau pok with fish paste if you're going for the ma la tang.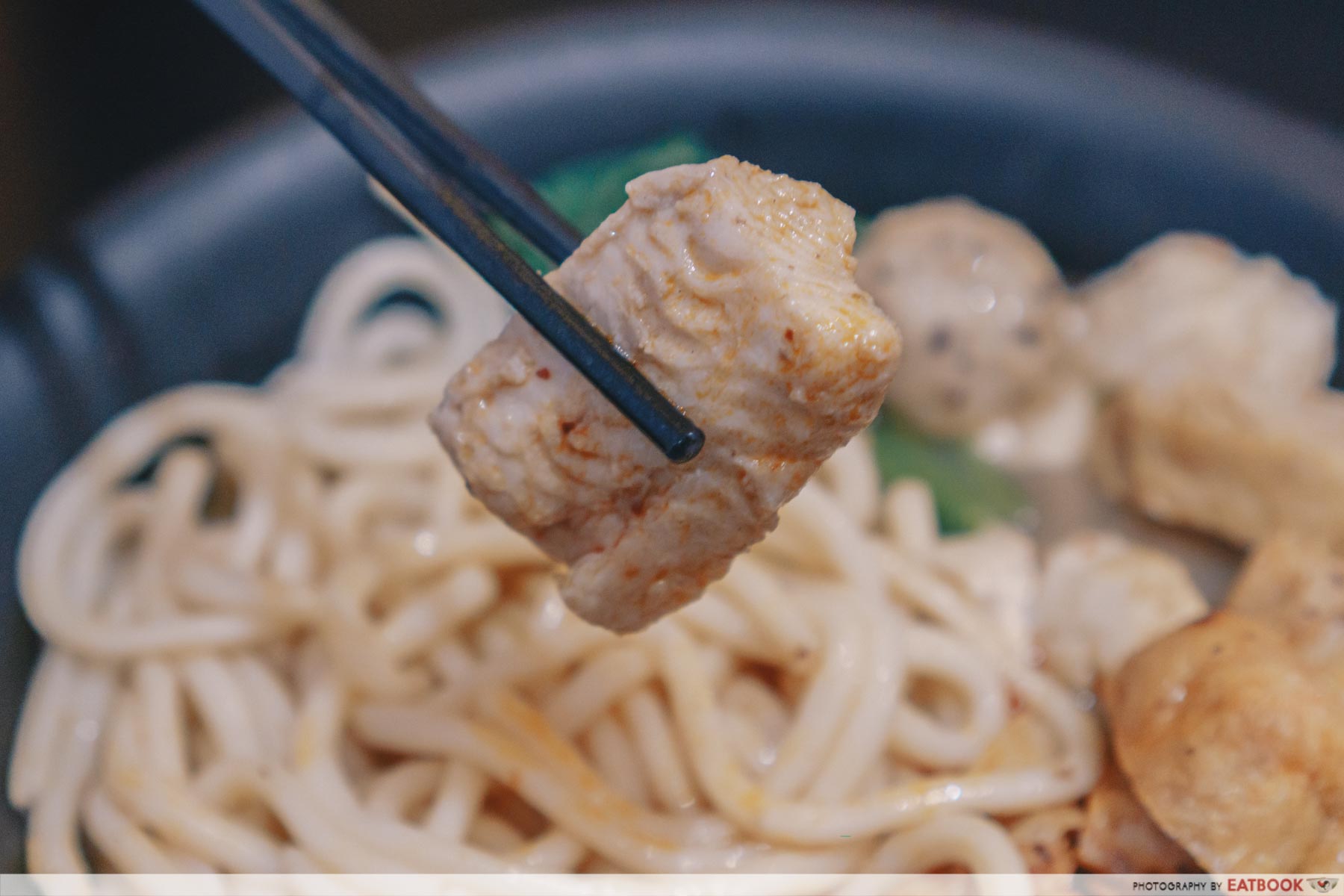 For protein, we went for their fish, which rotates on a seasonal basis. When we were there, we had pacific dory, and the fish held up well in the soup, absorbing its flavour while retaining a firm bite.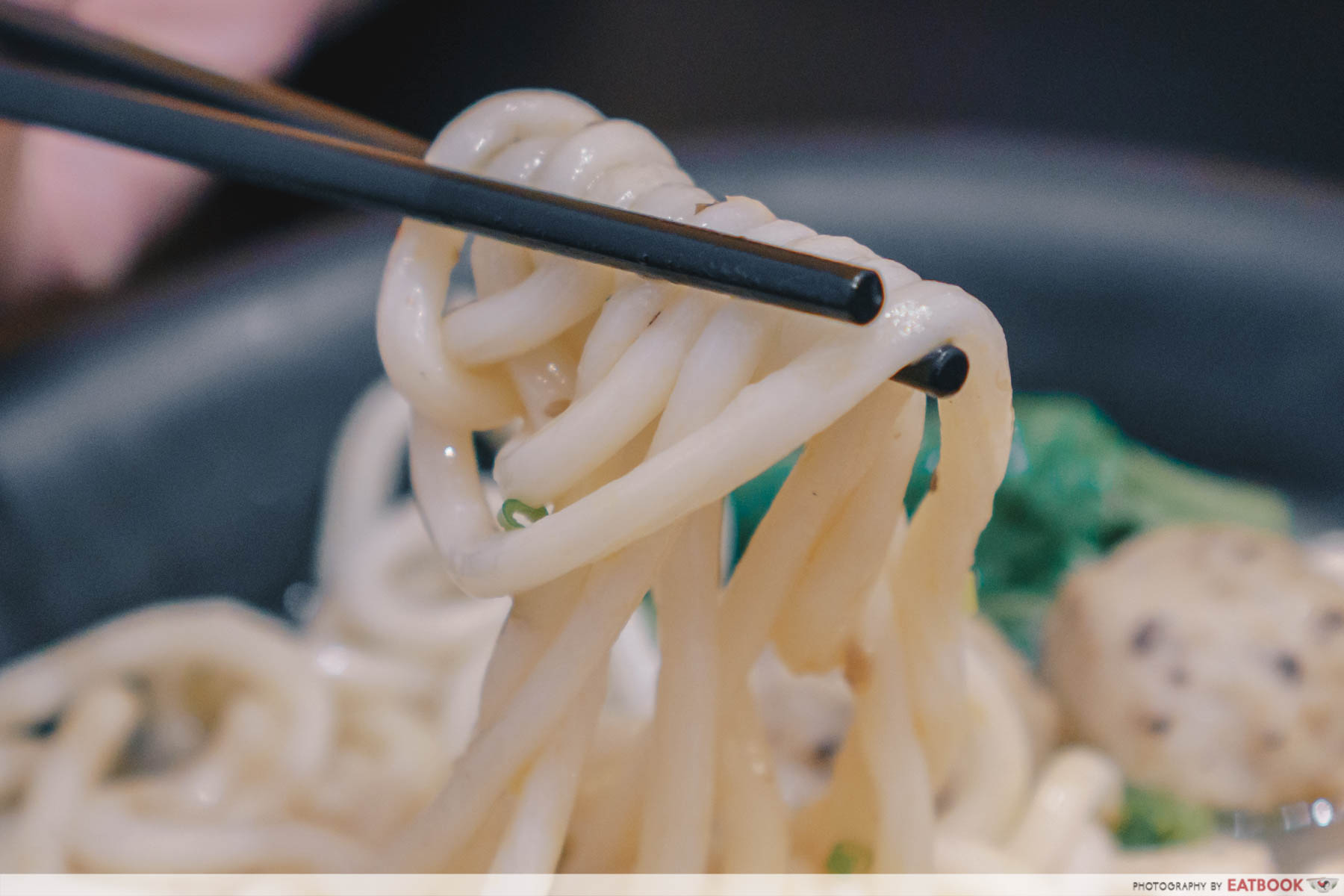 Another intriguing item we opted for was udon, rather than the conventional Maggi or tang hoon. Though admittedly untraditional, the owners chose to have udon on their menu as its chewy texture goes well with soup.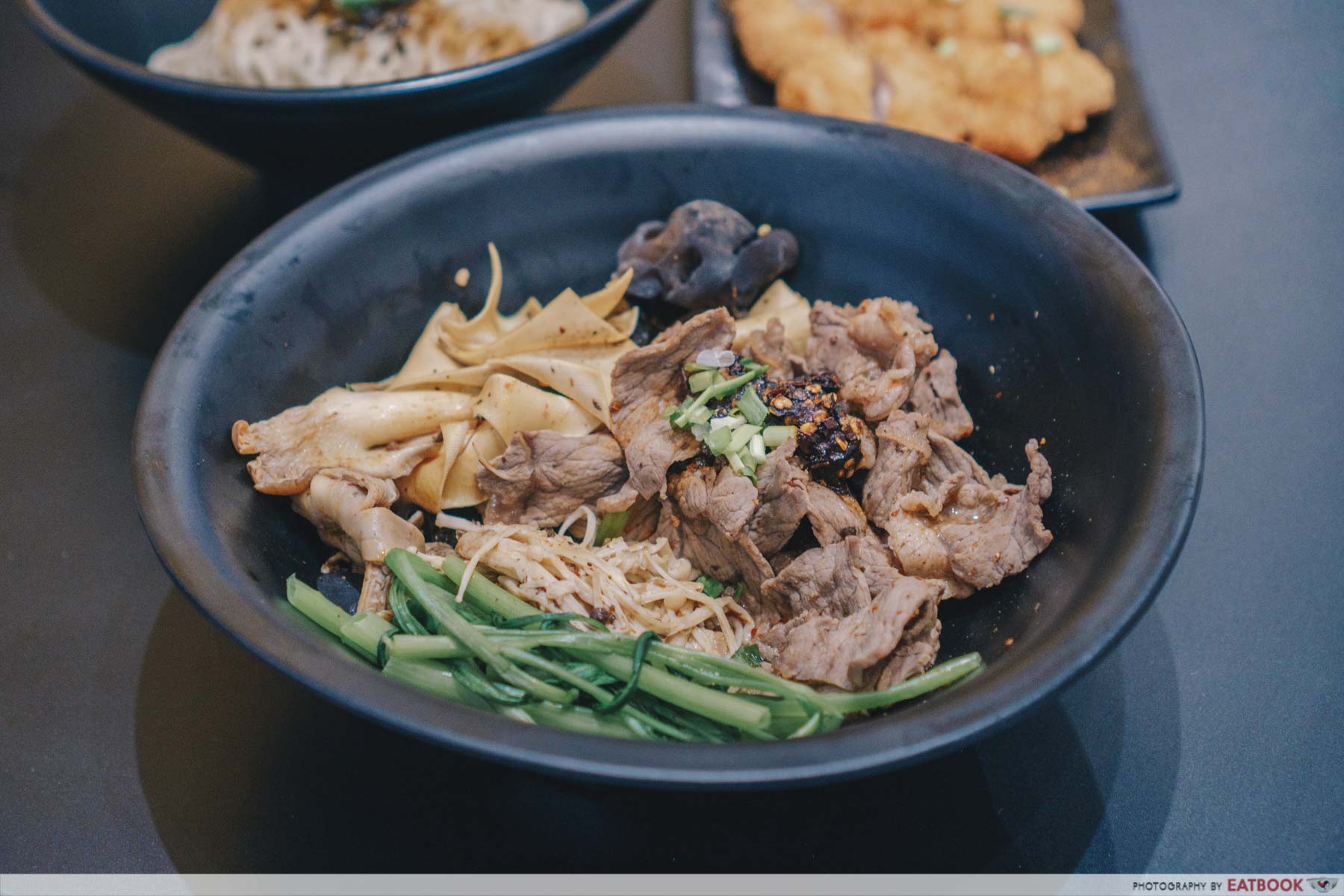 Much like the ma la tang, their Dry Ma La reminded us of ma la yong tau foo rather than ma la xiang guo. In ma la xiang guo, the selected ingredients are wok-fried with sichuan peppers and spices, but here, the ingredients were blanched in chicken soup.
We chose the medium-spicy zhong la, resulting in a larger amount of ma la paste getting loaded on. While we did get that signature numbing spicy feeling devouring this bowl, it lacked the explosive flavour of ma la xiang guo, as the ingredients were not cooked with the ma la spice.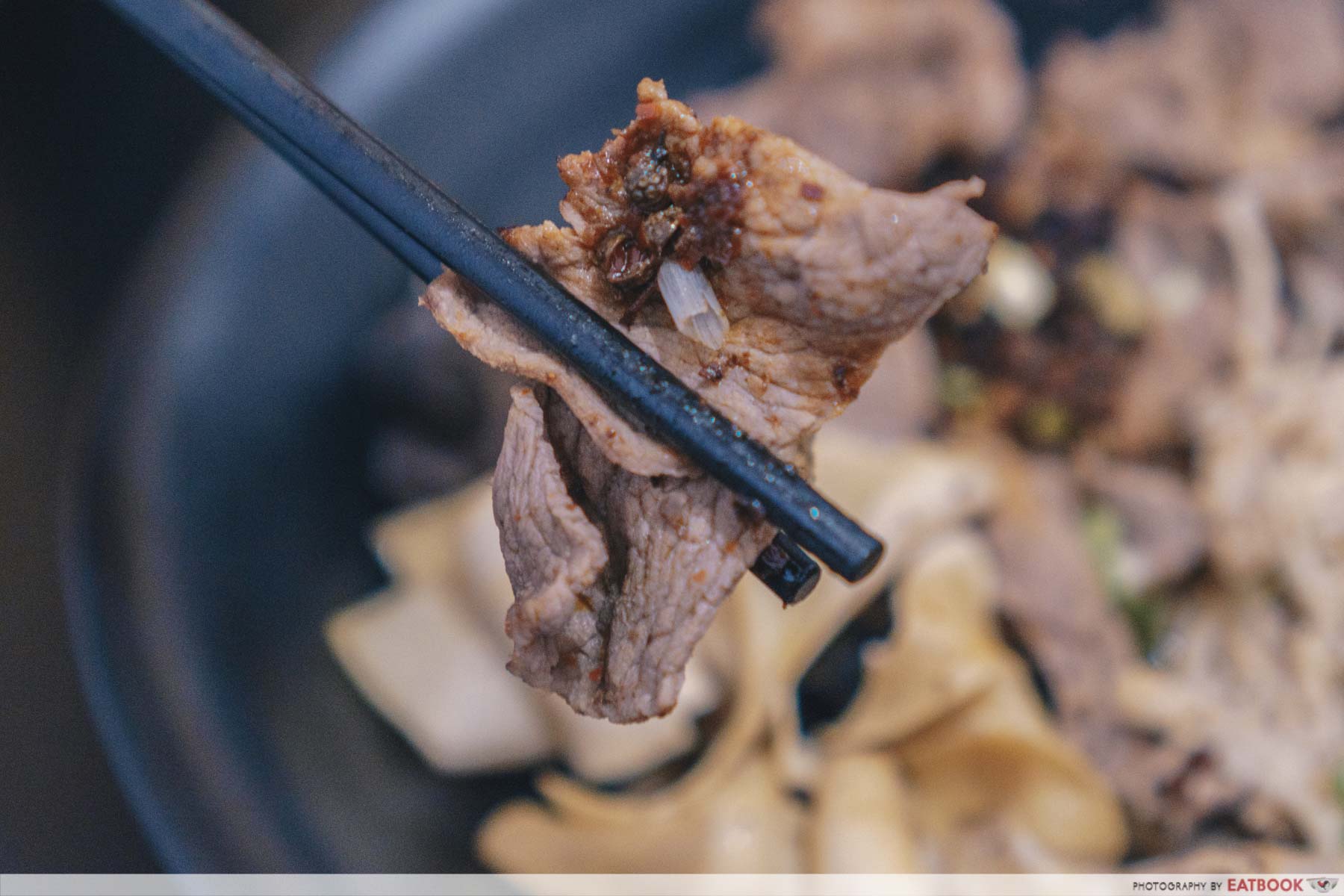 While the beef topped with ma la sauce was palatable, the meat itself lacked any distinctive flavour. Another disappointing ingredient was the tau kee, which was dry with an unpleasant mouthfeel. It would be better served in the ma la tang.
Overall, the ingredients in this dish weren't cohesive with each other. The ma la paste wasn't wet enough, making the dish too dry. It resembled a bunch of separately cooked ma la flavoured ingredients. Nonetheless, with less ma la oil, this is certainly a less artery-clogging dry ma la option.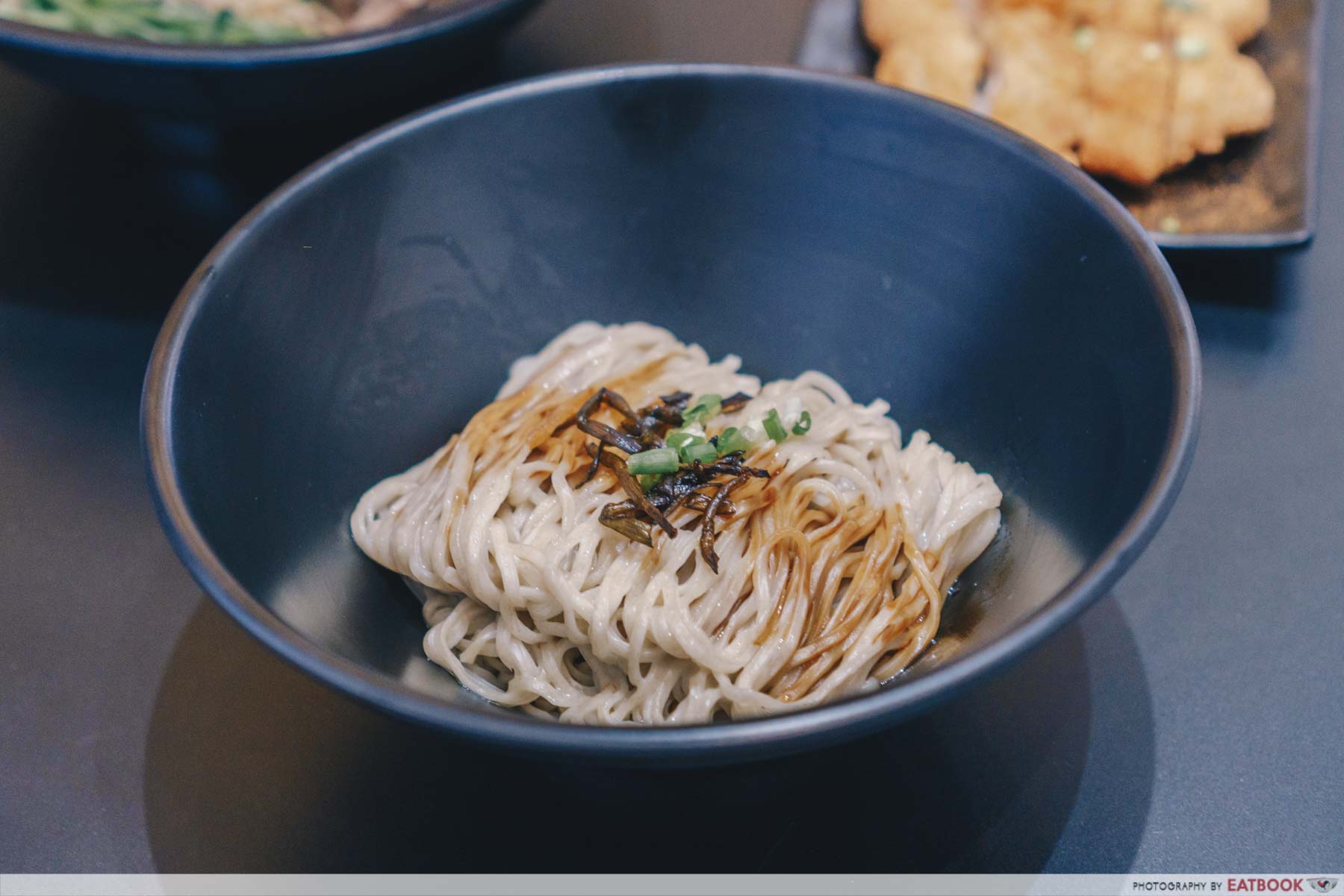 The Scallion Oil Noodles ($4.50+) is another signature item here. Arriving as a neat bed of white noodles with a streak of soy sauce in the middle, the robust aroma of fried scallions was first to reach us.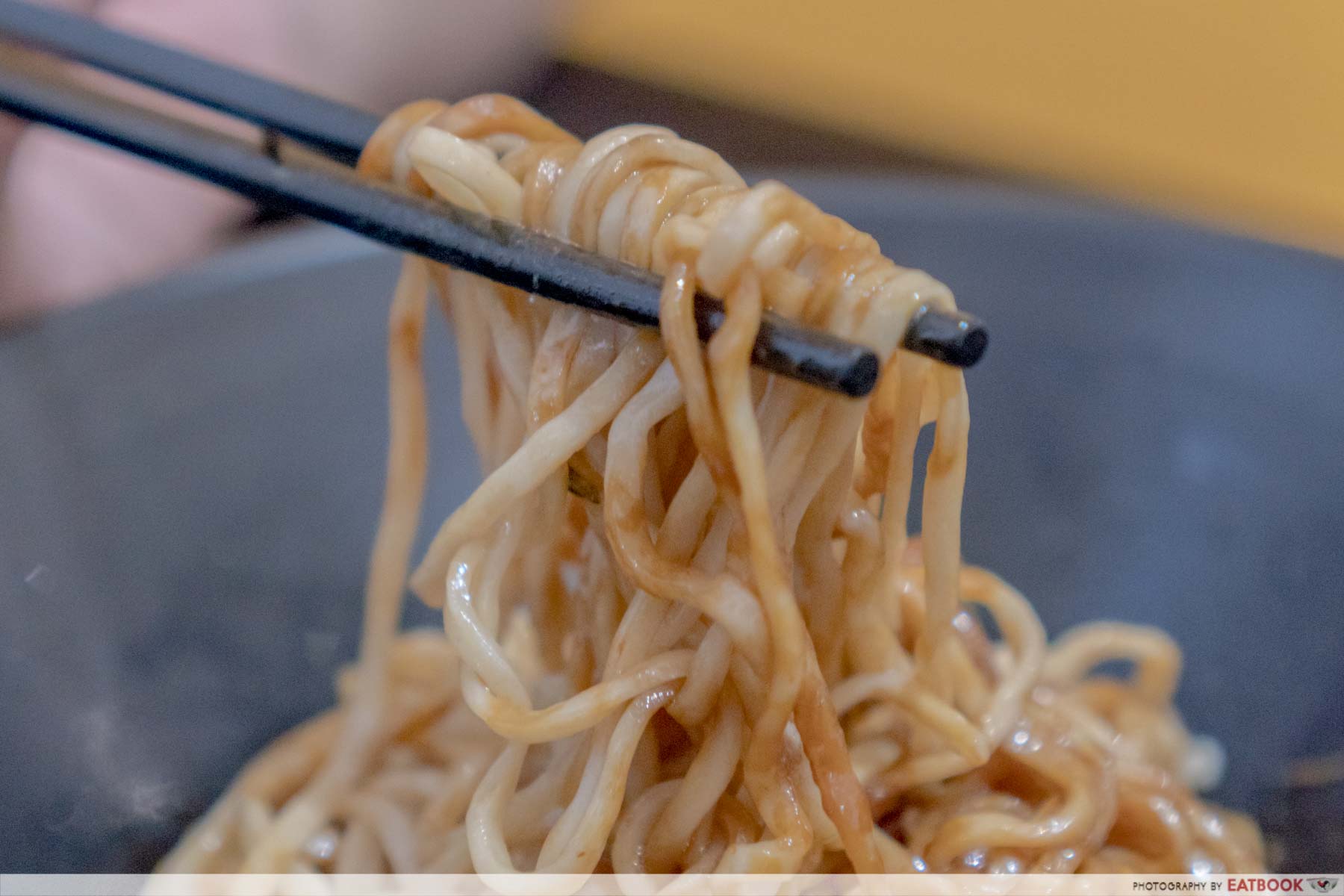 Delving in, the noodles, which are sourced fresh from a local supplier, were smooth and springy. Consistent with the smell, the first flavour that landed on our palettes was fragrant fried scallion oil, before its earthy flavour was punctuated by a hit of savoury soy sauce.
It reminded us of a souped up version of Indomie, bringing back my army memories of chowing down the comforting noodles in bunk, after returning from a gruelling outfield mission.
More fresh scallions would have improved the dish, providing a spark of freshness to balance the strong flavours in this bowl.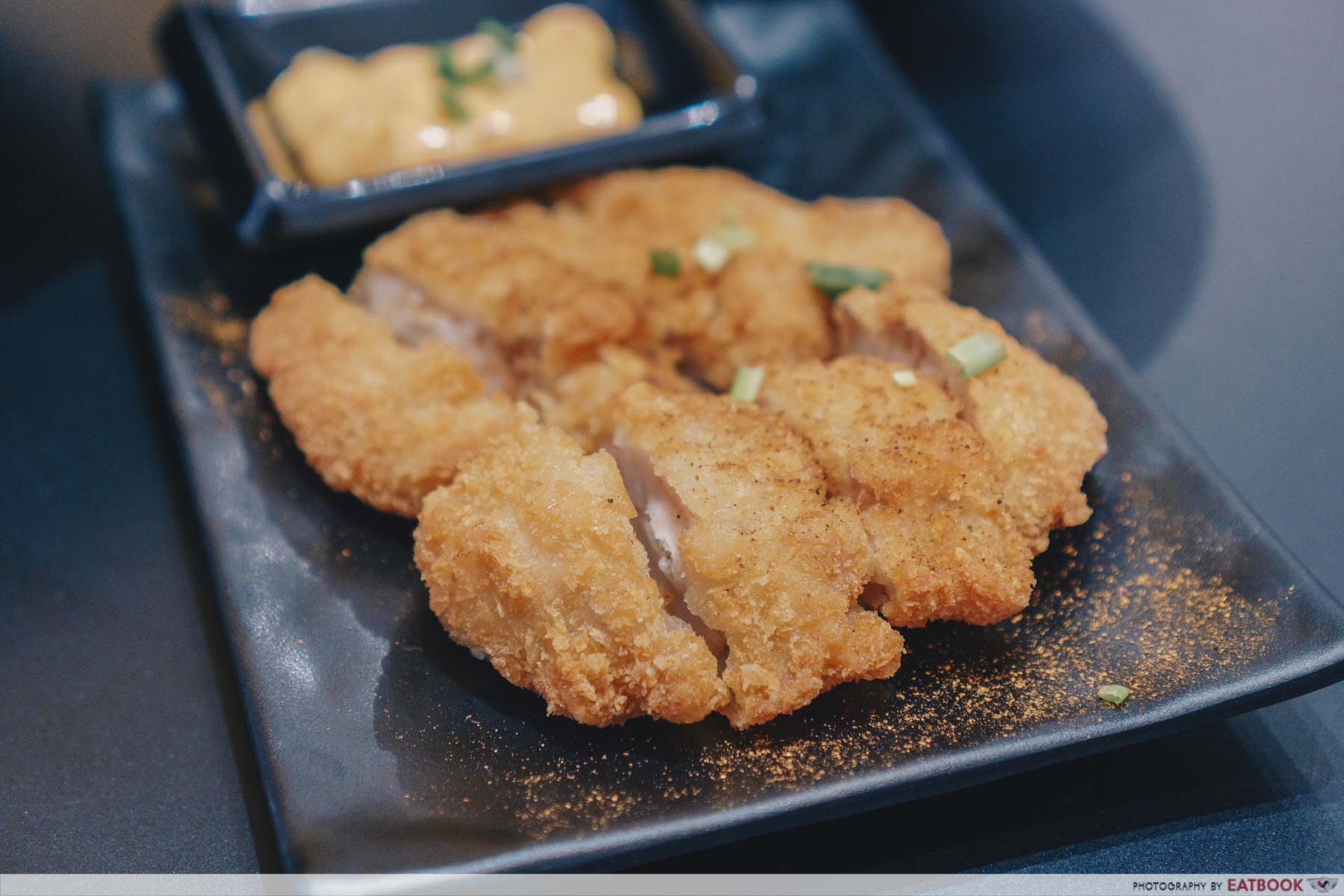 The Fried Chicken Cutlet ($5+) with a side of ma la mayonnaise was another fascinating side dish. It had a crispy batter and tender meat, but the meat could have been juicier.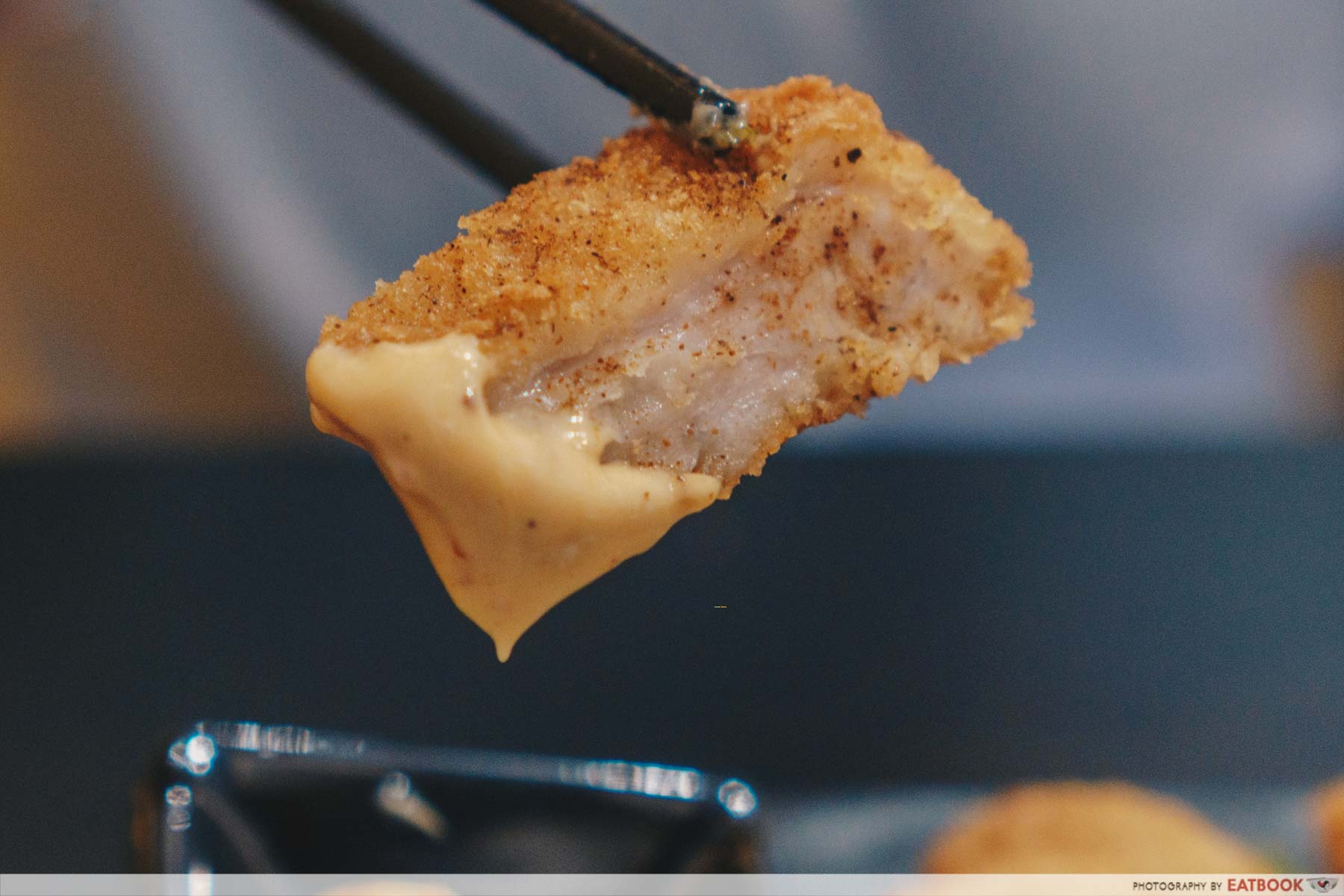 The star of this dish was the spicy mayonnaise. It could have had a stronger ma la punch, rather than its umami, almost mentaiko-esque flavour. It's the sauce that sets this plate apart from a run-of-the-mill food court cutlet.
Ambience at Peppercorn30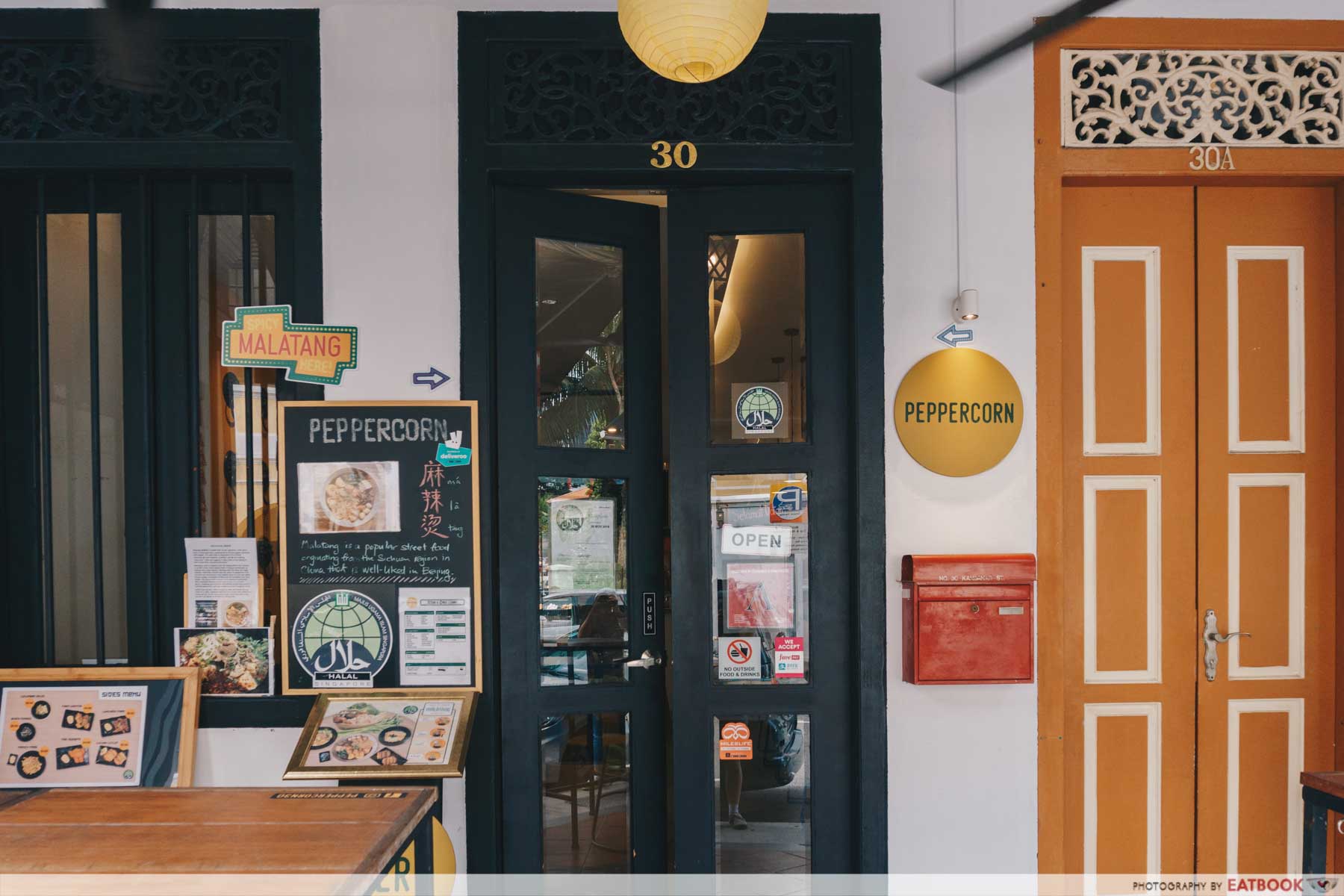 Opening a ma la eatery in the Muslim-dominated Arab Street area may seem counter-productive. However, the enterprising owners aimed to provide Muslims more appealing ma la options, choosing Kandahar Street to cater to their target audience.
It looks like they've been successful with that goal, with their lunchtime clientele consisting of quite a few Chinese office workers introducing their Malay friends to ma la.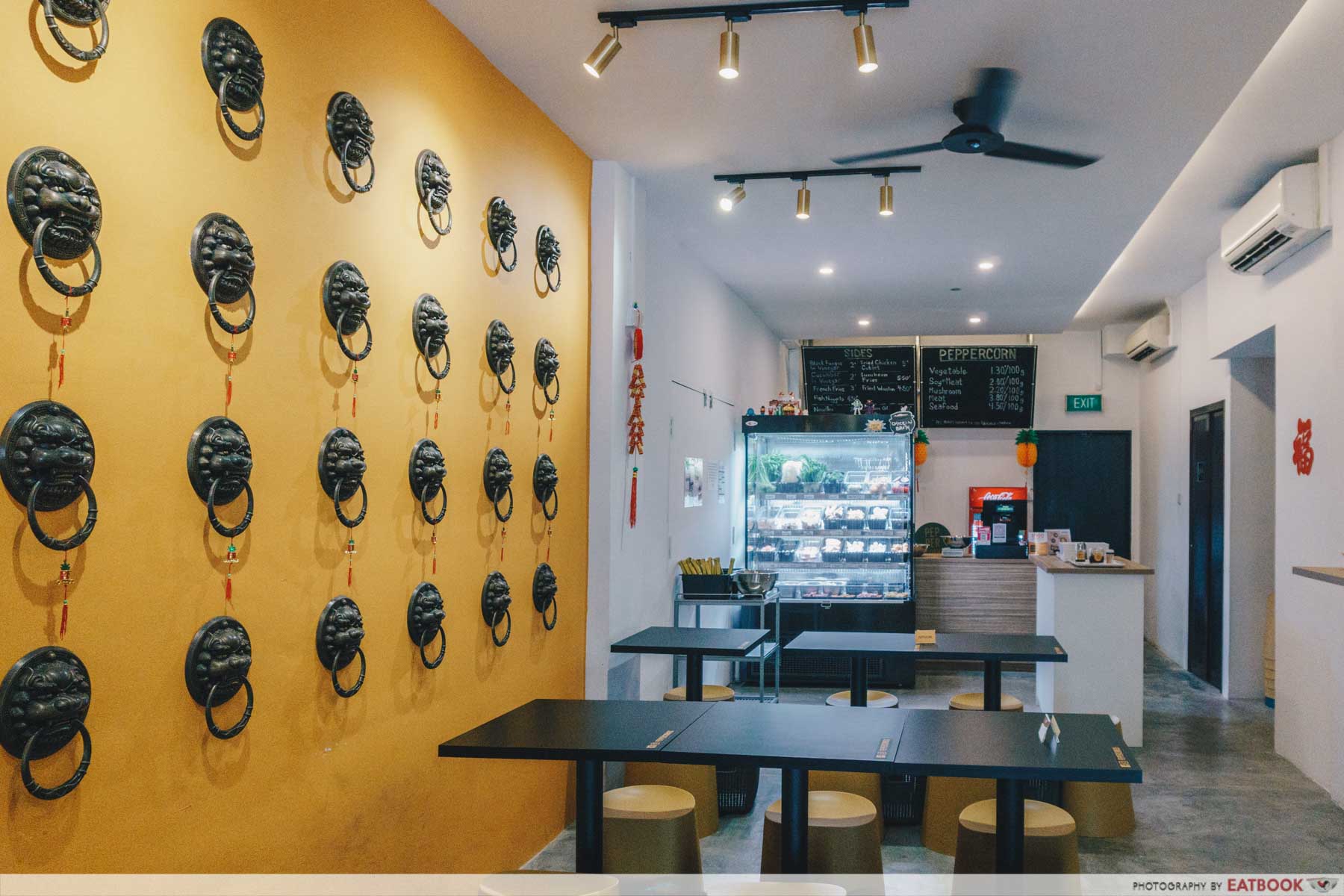 The decor here has a vibrant, yellow-hued colour scheme, with hints of traditional Chinese influence. Recognising that Malays don't usually consider eating in traditional Chinese restaurants, the owners stepped away from the typical red and brown or black decor associated with them.
The result is a bright and welcoming space, with rows of brass knockers on one wall and a light-hearted, socialist art-inspired decal on the other, reflecting the owners' experiences living in China.
The verdict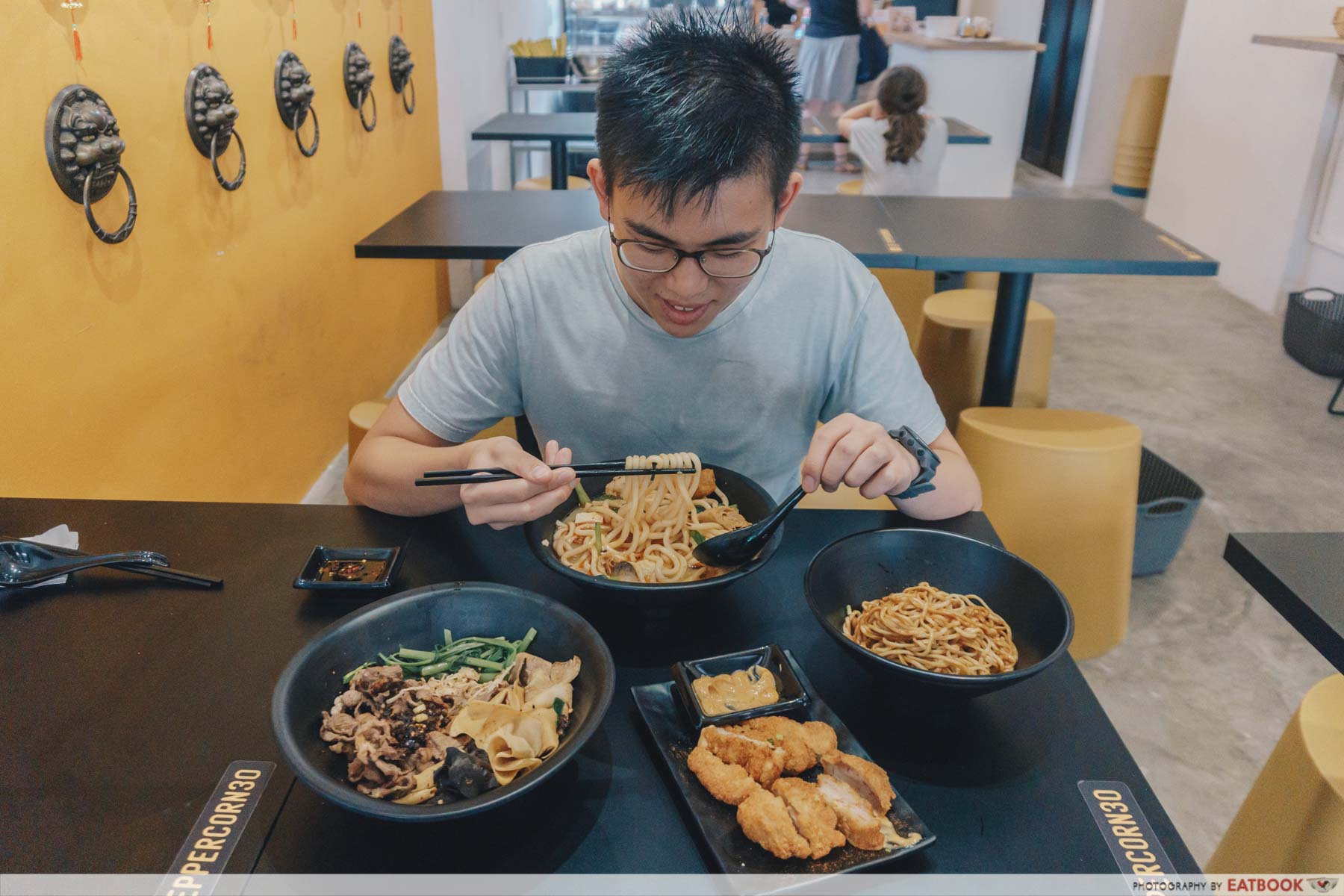 Overall, Peppercorn30 can't be judged against a ma la xiang guo joint. Its strength lies as a gentle gateway drug for newbies to get acquainted with ma la. And even for veteran ma la diners, their ma la tang is a nice and light lunch option.
That said, we wished more ma la flavour was incorporated, especially for the dry ma la bowl.
For some great weekend brunch nosh, check out Earlybird at the nearby Arab Street. If you're looking for a more traditional halal ma la xiang guo, take a look at Mala Wala Fragrant Hotpot!
Earlybird Review: Weekend Brunch Spot For Crispy Fried Chicken And Buttery Pancakes At Arab Street
Address: 30 Kandahar Street, Singapore 198890
Opening hours: Daily 11:30am to 2:30pm, 5:30pm to 9:30pm
Tel: 9862 2559
Website
Peppercorn30 is a halal-certified restaurant.
Photos taken by Becky Chong and Leong Kit Shan.
This is an independent review by Eatbook.
Summary
Pros
– Unique dishes
– Flavourful chicken ma la tang 
Cons
– Slightly pricey
– Ma la flavour could have been incorporated better
Recommended dishes: Malatang (Price by weight) and Scallion Oil Noodles ($4.50)
Opening hours: Daily 11:30am to 2:30pm, 5:30pm to 9:30pm
Address: 30 Kandahar Street, Singapore 198890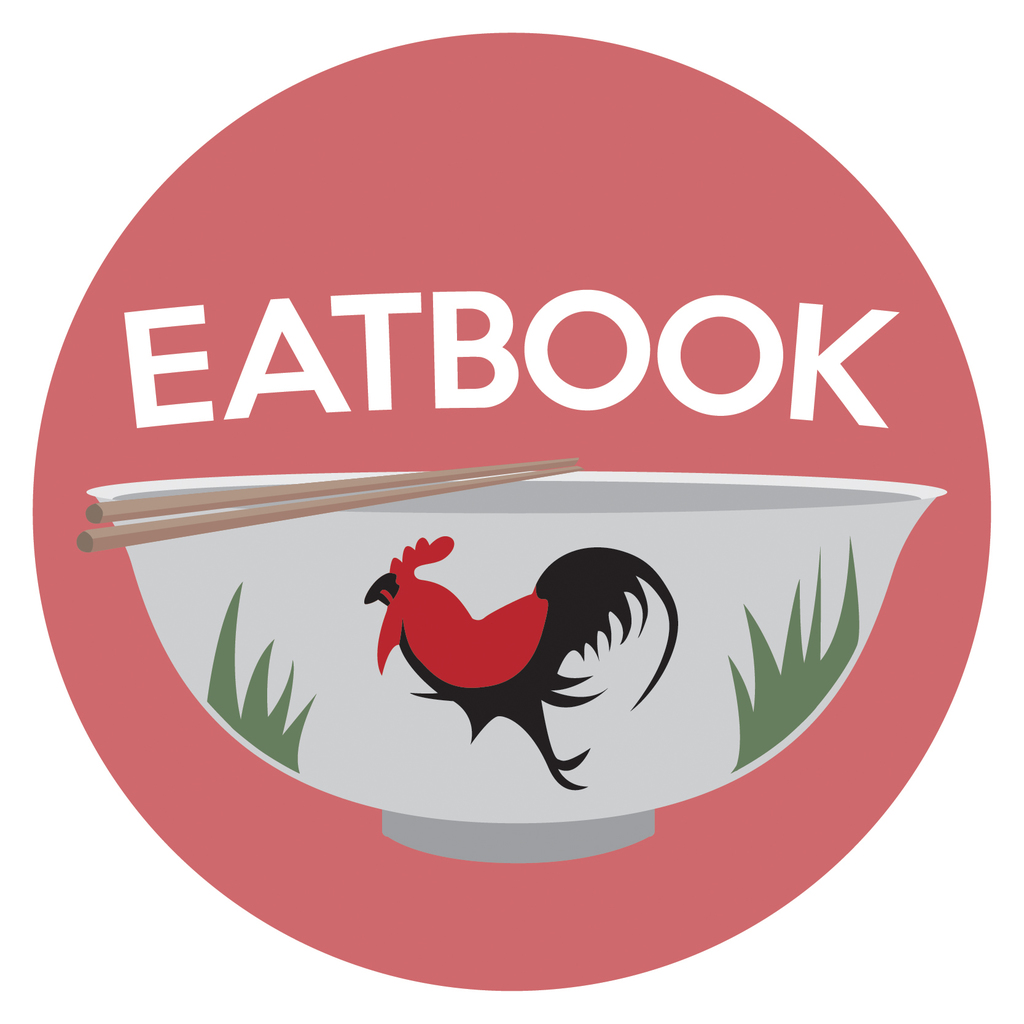 Drop us your email so you won't miss the latest news.