---
Pet-friendly cafes for you to take your fur kids to 
---
Our pets are basically our children, so it's natural to want to take them everywhere we go. But reality often forbids us from doing so, and we often worry or feel a tinge of sadness whenever we leave them at home.
Thankfully, some cafes in Singapore have started to appreciate our furry friends more and began dedicating some of their outdoor seating – if not the whole cafe – to pet lovers and their fur babies. If you want to bring your four-legged chum out for some bonding time over a meal, here's a list that'll bring an end to those sad puppy dog eyes you're used to.
---
1. Happenstance Cafe  
---
Nestled inside a quiet residential area, Happenstance Cafe offers a variety of tasty cafe fare for pet owners and their fur kids. Their Signature Burger ($14.90+) has its buns toasted to a golden brown with a thick slab of juicy beef patty and streaky bacon wedged in-between. To not leave your pooches out, you can customise a bowl of pasta (from $6.50+) for them too. First, choose a pasta type, followed by your choice of vegetables, type of meat and a topping such as cheese or salmon oil. However, as the standard portion given is quite small, you might want to get a bigger portion if you have a larger dog.
Address: 35 Opal Crescent, Singapore 328425
Opening hours: Mon-Fri 12pm to 10pm, Sat-Sun 11am to 10pm
Tel: 6341 7871
Website
---
2. Paw Pet-radise
---
Paw Pet-radise lets you enjoy brunch with your pet as they serve an extensive menu for both you and your furry bae. They offer light bites and mains such as Crispy Mid-Wings ($5.90++) and Chicken Chop ($13.90++) for you to munch on while your pet can enjoy a bowl of Pan Fried Beef Pasta ($9++).  As the cafe has a large play space, you can organise private parties here as well. These parties can happen pretty often, so regular cafe-goers who want to avoid the disappointment of being turned away at the door can call or check their Facebook page before heading down.
Address: 530 Balestier Road, Singapore 329857
Opening hours: Mon, Wed-Thur 5pm to 11pm, Fri 5pm-1am, Sat 12pm-1am, Sun 12pm to 11pm
Tel: 9234 7088
Website
---
3. Sun Ray Cafe 
---
Sun Ray Cafe near Serangoon Gardens serves delectable food for both pet owners and their fur kids. If you are with someone who is allergic to or afraid of animals, you can still head over as Sun Ray divides their cafe into two sections – one for pets and their owners, and the other solely reserved for humans. Rosemary Chicken ($16) is a juicy chicken thigh served with a side of mashed potatoes and broccoli, finished with a drizzle of balsamic vinegar reduction. On the pet menu, they offer dishes such as Homemade Cream Cheese Salmon Roll ($12) and Doggie Birthday Cake ($15 to $30), which you'll have to call and order in advance.
Address: 79 Brighton Crescent, Singapore 559218
Opening hours: Mon-Tue 6pm to 11pm, Wed-Fri 11am to 11pm, Sat-Sun 10am to 11pm
Tel: 6283 8700
Website
Menu
---
4. Ah B Cafe 
---
Ah B Cafe is situated in the huge Sunny Heights, a daycare centre for pets. The cafe is located beside Bossipaws, a dog bakery where you can get pastries for your dogs or stock up on their treats. In Ah B Cafe, the food selection is slightly limited, but their Teriyaki Chicken ($18.80) served with creamy mashed potatoes and fruit salad is a must-try. If your pet is in for a treat, Salmon ($11.80/$13.80/$15.80) from their pet menu is the most favoured among regulars.
Address: 110 Turf Club Road, Singapore 288000
Opening hours: Tue-Fri 1:30pm to 9pm, Sat 10:30am to 9pm, Sun 10:30 to 7pm
Website
---
5. Paws N Pans

---
Paws & Pans is opened by pet lovers who try their best to help homeless animals find a new family. They serve Hormone-free Chicken ($15.80), Salmon ($12.80), and Pork ($8.80) to pets. The owners are dedicated towards serving good food to humans too. Have a plate of their Basil Chicken Rice ($10.80) while watching your pet mingle around the cafe's massive play space.
Address: 327 Joo Chiat Road, Singapore 427584
Opening hours: Mon-Tue, Thur-Fri 1pm to 10pm, Sat-Sun 12pm to 10pm
Tel: 6509 6506
Website
---
6. Artistry
---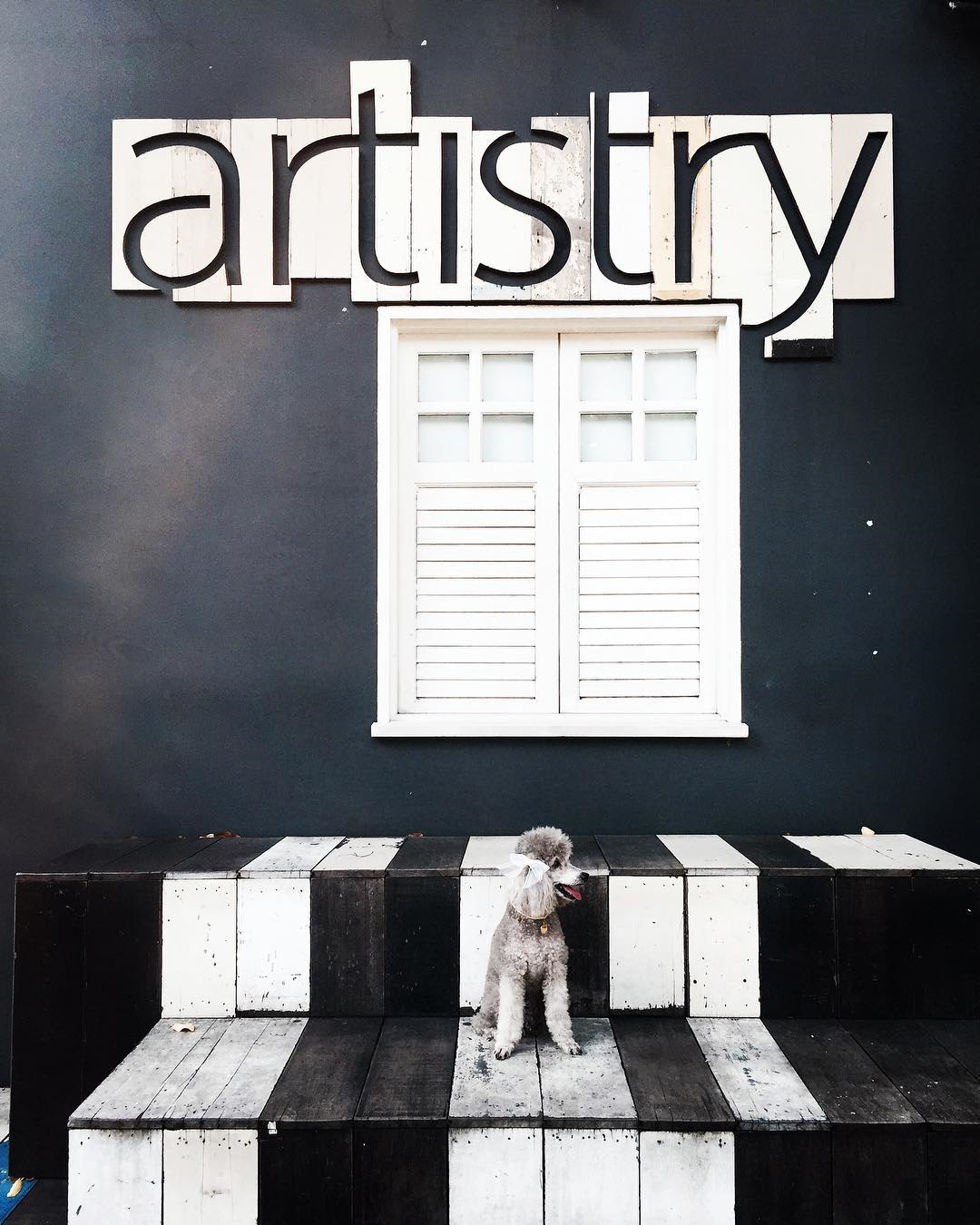 Source

Situated near Haji Lane, Artistry is a combination of a cafe and an art gallery. Even though they only allow pets outdoors, their waiters offer water bowls for your fur kids upon request. Humans, opt for an Acai Bowl ($12) that consists of Greek yoghurt, fresh fruits, toasted sunflower seeds and coconut shavings. For cheat days, their Chilli Crab Burger ($25) is the ultimate guilty pleasure.
Address: 17 Jalan Pinang, Singapore 199149
Opening hours: Tue-Sat 9am to 11pm, Sun 9am to 4pm
Tel: 6298 2420
Website
---
7. The Green Door 

---
The Green Door is the place for you and your pet to nestle in after a long day of work. Hidden away in a quiet corner of Dempsey Hill, this cafe serves a menu that includes gourmet bar bites such as Pulled Pork Sliders ($13+) and Buffalo Fries ($12+). Fresh off the grill, their juicy Signature BBQ Pork Ribs ($38+/$60+) is a must-try. Slathered with BBQ sauce, the caramelised pork ribs are fall-off-the-bone tender. Even though there is no pet food menu, water bowls are provided – it's not quite a fancy cocktail but the pups seem to enjoy it all the same.
Address: 13A Dempsey Road, Singapore 247694
Opening hours: Mon-Thur 5pm to 12am, Fri-Sat 5pm to 1am, Sun 1pm to 12am
Tel: 6479 5945
Website
Menu
---
8. The Coastal Settlement

---
The Coastal Settlement is a casual restaurant, cafe and bar. This ulu spot provides a great hideaway from your hectic everyday life, especially since you can bring your pet along with you. Wagyu Beef & Mushroom Pizza ($23++) is piled high with generous toppings of tender beef, sauteed mushroom and caramelised onions. Plus, the cheese pull for this pizza is a winning shot for foodies on Instagram. Pet owners can situate themselves comfortably at the outdoor sitting area, where you can request for water bowls for your doggies as well.
Check out other ulu cafes in Singapore you can relax at.
Address: 200 Netheravon Road, Singapore 508529
Opening hours: Tue-Fri 10:30am to 11pm, Sat-Sun 10:30am to 12am
Tel: 6475 0200
Website
---
9. Coastes
---
Found along the dog-friendly Siloso Beach, Coastes makes a convenient pit stop after a relaxing walk with your pet. They serve a mix of Western and Asian food, as well as some fusion dishes, for you to enjoy while watching your pet frolic around the sand. Green Curry Chicken Spaghetti ($28++) is tossed with juicy chicken strips, asparagus and capsicum in a fragrant and spicy green curry sauce. Order a nice cold beer and your day will be made.
Address: 200 Netheravon Road, Singapore 508529
Opening hours: Mon-Thur 9am to 11pm, Fri-Sat 9am to 1am, Sun 9am to 11pm
Tel: 6631 8938
Website
Menu
---
10. The Garden Slug 
---
Situated in the midst of terraced houses, The Garden Slug offers al fresco dining for pet owners and their furry friends with hearty all-day breakfast meals. It is conveniently located next to a pet store, so you can grab some treats for your bae after your meal. Their Tom Yum Pasta Vongole ($19.50+) is served with steamed clams and linguine, and tossed in a briny and flavourful broth of Asian spices. To beat the heat, the friendly staff members will serve your furry friend a bowl of ice cold water too. 
Address: 55 Lorong L Telok Kurau, #01-59/61, Singapore 425500
Opening hours: Mon-Tue 6pm to 10:30pm, Wed-Fri 11am to 10:30pm, Sat-Sun 9am to 10:30pm
Tel: 6346 0504
Website
Menu
---
Who let the dogs out?
---
If you're looking for more ways to bond with or treat your fur kid, here are 10 places for you to plan your next cafe-hopping adventure with your fur baby!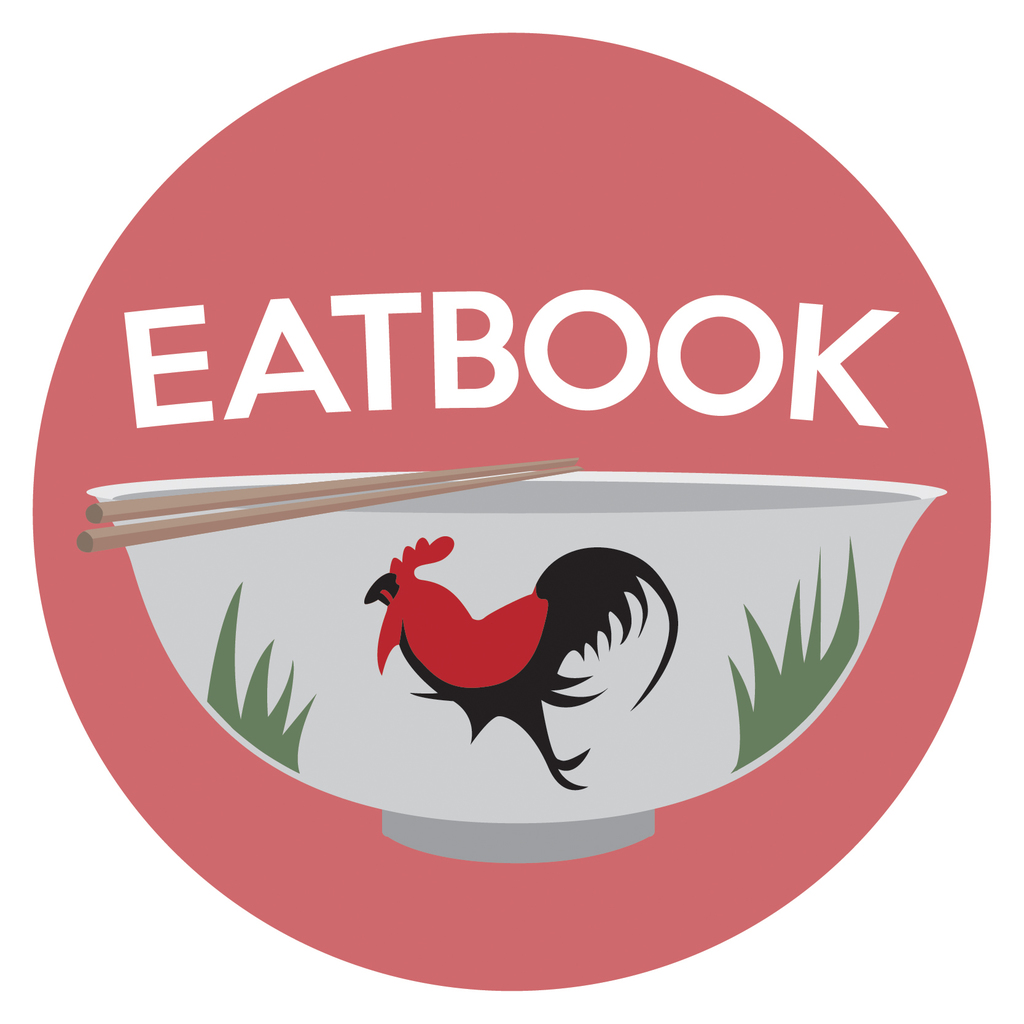 Drop us your email so you won't miss the latest news.