---
Ulu cafes to hide at on weekends
---
For some reason, Singapore's 5.3 million population seems to double on weekends. No matter where I go, I'm met with women, men, babies, kids, ah mas and ah gongs who are standing way too close for comfort to me not just on public transport but at shopping malls too.
The worst part is, when I go to some cafes to chill, I get NO chill. My table is so close to the one beside me I might as well take some of their fries too. Well, no more of that. Here are 10 places that are actually peaceful even on weekends so people like you and me won't have to cry inside every time we want a relaxing cuppa. Take this list as one that's from a very exasperated cafe-goer who would like to share her secret weekend cafe haunts for those who feel the same.
---
1. Fresh Fruits Lab
---
Don't be fooled by Fresh Fruits Lab's name because they serve so much more than fruits. Aside from a full menu that includes burgers, pizzas, pastas and more, there's also a weekend brunch menu that has Eggs Florentine ($14++) and Fruit Berries ($11++) pancakes. They're known for juices served in cool beakers and test tubes, so order some of that to spice up your Instagram feed!
Address: 351 Changi Road, Lor Marzuki, Singapore 419923
Opening hours: Tue-Thur 11am to 10pm, Fri 11am to 11pm, Sat 10am to 11pm, Sun 10am to 10pm
Tel: 6677 6741
Menu
---
2. The Bread Table
---
It pains me as I type this because The Bread Table is on my list of cafes-I-should-never-reveal. Not because it's not good, but because it's SO good I never want to share it with others lest it becomes another Lola's Cafe. This quiet spot at Kovan has a range of freshly baked breads and pastries – think sourdoughs, Multigrain loaves and cinnamon rolls – as well as sandwiches of the day. And don't get me started on their soft, fluffy brioche buns that I could just hug to sleep at night.
Address: 1010 Upper Serangoon Road, Singapore 534748
Opening hours: Tue-Fri 11am to 9pm, Sat-Sun 10am to 9pm
Tel: 6282 3546
---
3. Builders at Sims
---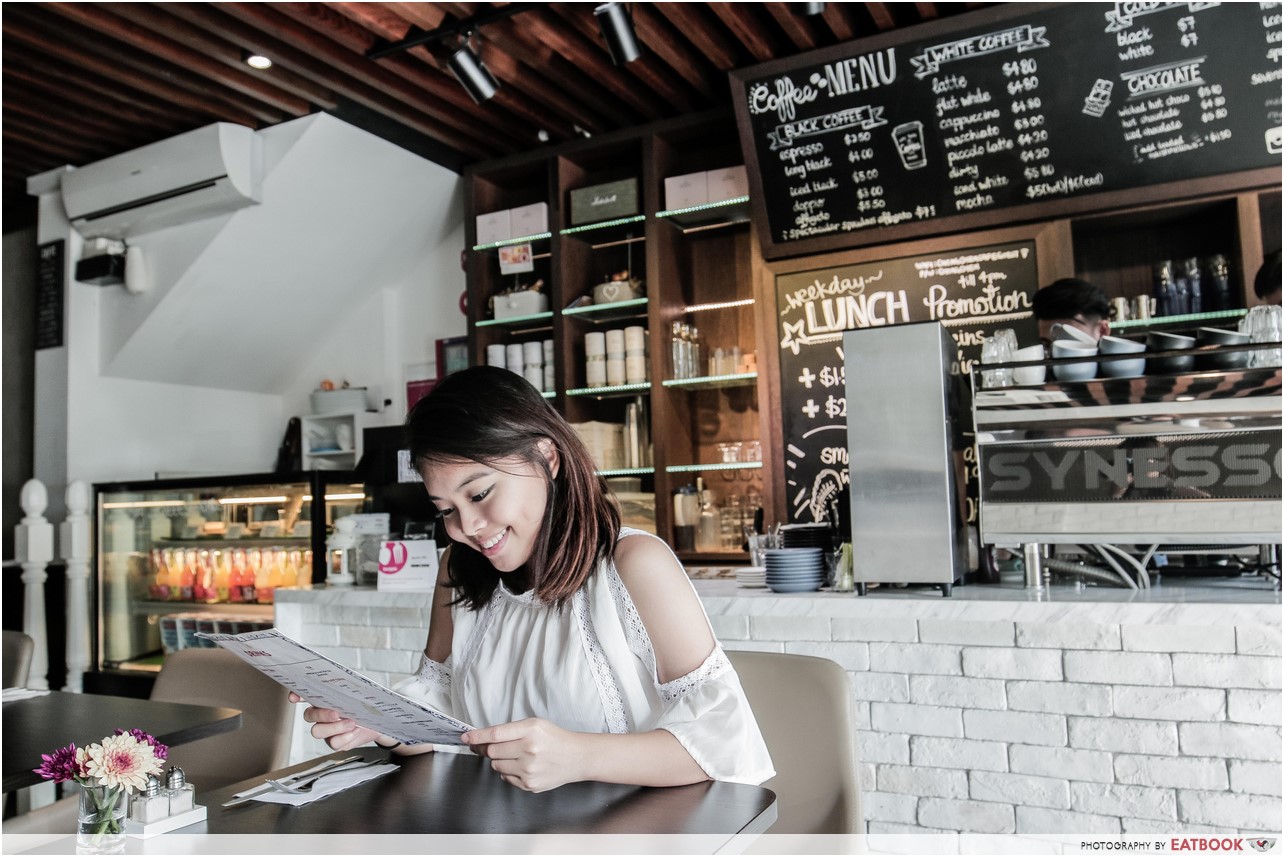 This hidden gem beneath a HDB flat at Aljunied is still one of my favourites. Even though the portions at Builders at Sims are pretty small, they really do pack a punch in terms of flavour. Go for Wagyu Beef Burger ($16.90) with curly fries, or go straight for dessert with their delectable French Toast ($9.80). Coffee Cone Latte ($7) is worth a try for coffee lovers too!  
Address: 53 Sims Place, #01-160, Singapore 380053
Opening hours: Mon-Sat 11am to 9pm, Sun 11am to 4:30pm
Tel: 6747 1837
Read our full review here.
---
4. Lots Gourmet
---
Easties, this one's for you. Located near Changi Museum, Lots Gourmet can be easily reached by taking bus 5 from Simei MRT Station. My personal favourite here is Portobello Truffle Fries ($11) that's made of thick deep-fried portobello slices – beats regular truffle fries anytime. Their bright and cosy interior is also perfect for those who want to chill with a cuppa after your meal.
Address: 985A Upper Changi Road North, Changi Garden, Singapore 507665
Opening hours: Tue-Thur 10am to 4pm, Fri-Sun 10am to 4pm, 6pm to 10pm
Tel: 6633 9651
---
5. Handlebar
---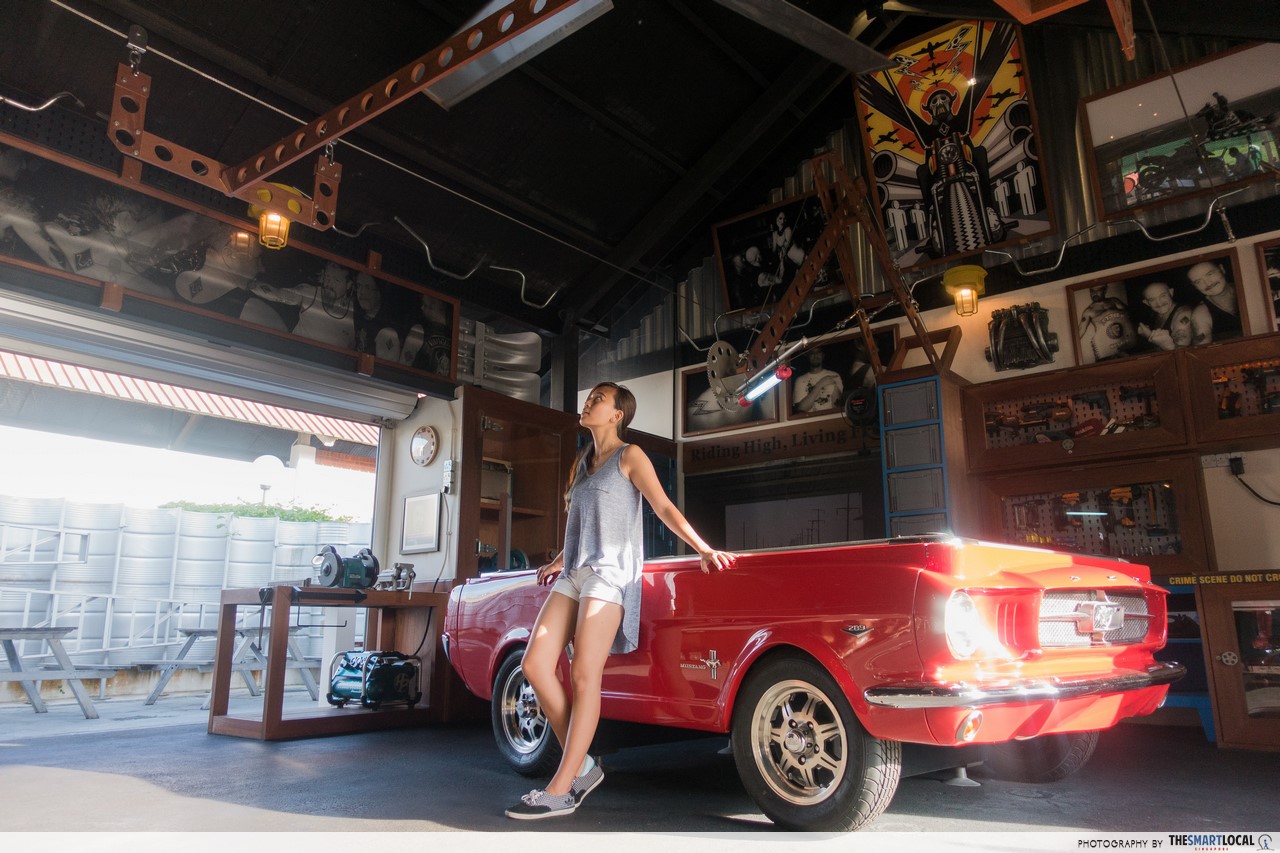 Update: Handlebar at Jalan Mempurong has permanently closed.
If you've got all the time in the world, make a trip down to Handlebar. This biker-themed restaurant is right at the Northern tip of Singapore and you can get there by alighting at Sembawang MRT Station, then taking bus 882 and finally walking for 1km. It may sound like a helluva hike, but if you've got a whole day to spare then you'll be fine. Motivate yourself by thinking of their Blossom Onion ($12) and super spicy but sedap Cocaine Wings ($14) that'll burn your tongue off – not literally, of course.
Address: 57 Jalan Mempurong, Singapore 759057
Opening hours: Tue-Sun 5pm to 1am
Tel: 6475 9571
Find out what other unique chicken wings there are in Singapore here.
---
6. Chong Wen Ge Cafe
---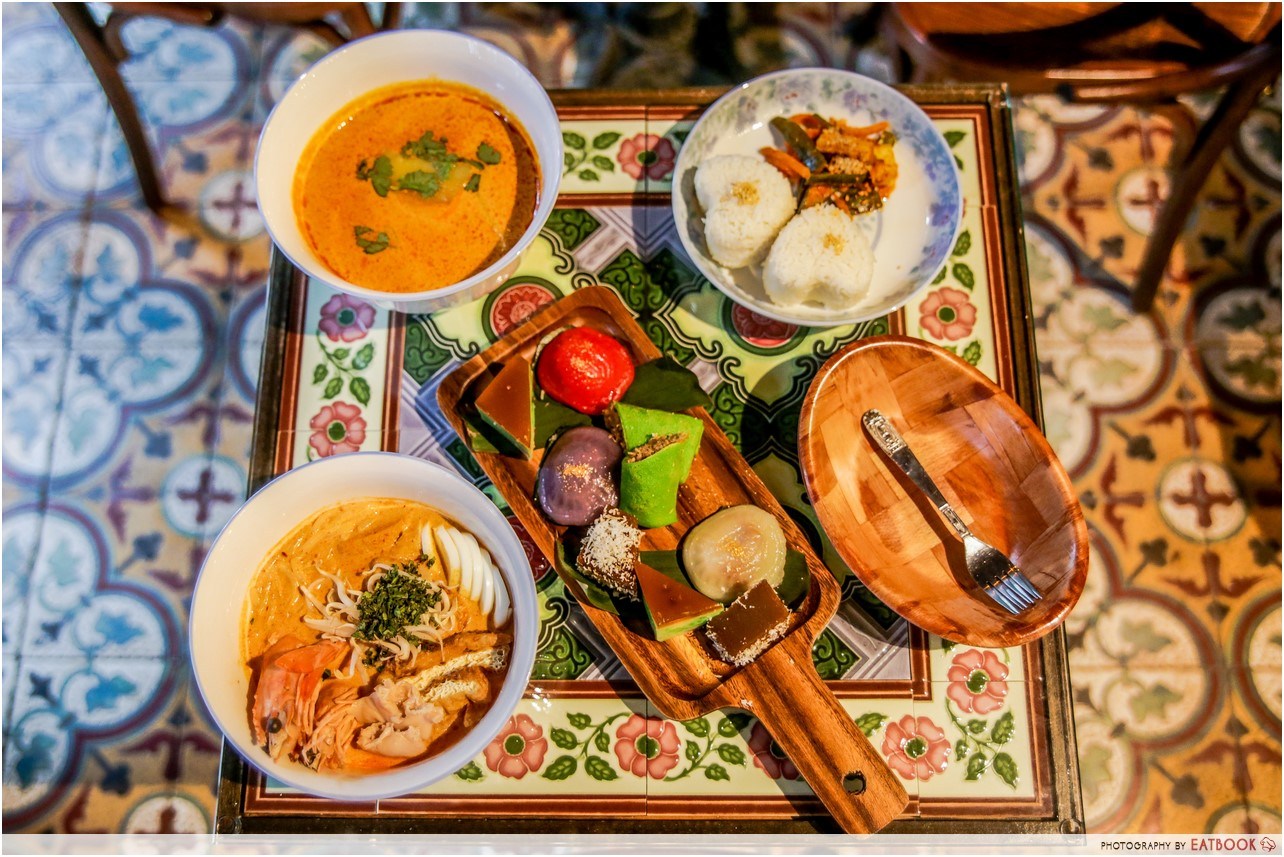 You don't necessarily have to order western fare for brunch. A bowl of comforting Nonya Curry Chicken ($9.80) at Chong Wen Ge Cafe can do the trick too. This serene Peranakan cafe located next to Thian Hock Keng Temple also has an assortment of Nonya Kuehs ($1.50 each) for you to end your meal on a sweet note. Once you're done, make sure you take some #OOTDs at this beautifully furnished cafe before you leave.
Address: 168 Telok Ayer Street, Singapore 068619
Opening hours: Mon-Fri 10am to 8pm, Sat-Sun 9am to 8pm
Tel: 8688 3028
Read our full review here.
---
7. Sun Ray Cafe
---
Here's one for dog owners who can't find anywhere to brunch at with their precious pooch. Sun Ray Cafe has an entire air-conditioned seating area just for pet owners and their dogs. If you don't like furry creatures – WHY?! – you'd be glad to know there's a separate pet-free zone too. Pet talk aside, the food and coffee here are stellar. From classics like Duck Confit ($17++) to desserts like Kuro Shibuya Toast ($12++), you'd leave Sun Ray with a happy tummy for sure. P.S. There's even a menu for dogs that includes Doggie Birthday Cake ($15-$30++ depending on size) and Happy Paw Bento ($12++)!
Address: 79 Brighton Crescent, Singapore 559218
Opening hours: Mon-Tue 6pm to 11pm, Wed-Fri 11am to 11pm, Sat-Sun 10am to 11pm
Tel: 6283 8700
---
8. Noshery
---
Tucked in a beautiful colonial house at Rochester Park, Noshery is the ultimate chill brunch spot. This relatively new baby sister of fusion bistro Nosh boasts of unique dishes like Crab Benedict ($20++) with coconut curry hollandaise and Devil's Breakfast ($20++) that comes with eggs in spicy tomato ragu and toasted bread. That being said, every time I visit this place I go straight for Yakitori Salmon ($24++). Don't look down on this deceivingly simple dish 'cause it'll blow you away with its Vietnamese caramel sauce and an incredibly flavourful portion of coconut rice.
Address: 9 Rochester Park, Singapore 139220
Opening hours: Tue-Fri 11:30am to 10:30pm, Sat-Sun 10:30am to 10:30pm
Tel: 9755 5015
Menu
---
9. South Union Park
---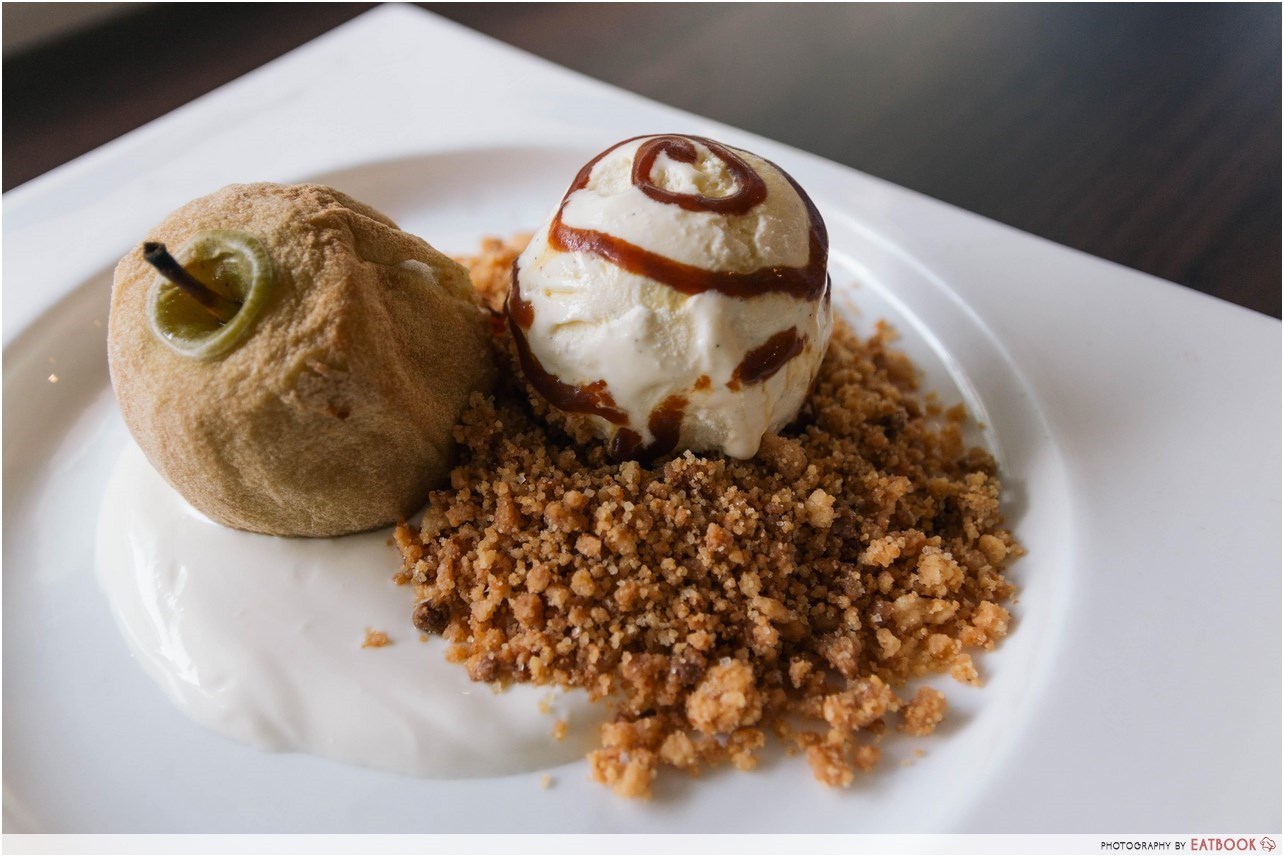 Kembangan is honestly the last place I would think of when people ask, "Where should we meet?". But when a friend told me about South Union Park, I was pretty intrigued. Not only is it a short walk from Kembangan MRT Station, it has got homely food to boot. Dessert lovers have got to taste the deconstructed Apple Crumble ($10) that comes with an entire stewed apple!
Address: 101 Jalan Kembangan, Singapore 419139
Opening hours: Tue 5:30pm to 10pm, Wed-Thur 11:30am to 10pm, Fri-Sat 11:30am to 11pm, Sun 11:30am to 10pm
Tel: 9061 8703
Read our full review here.
---
10. Boufe
---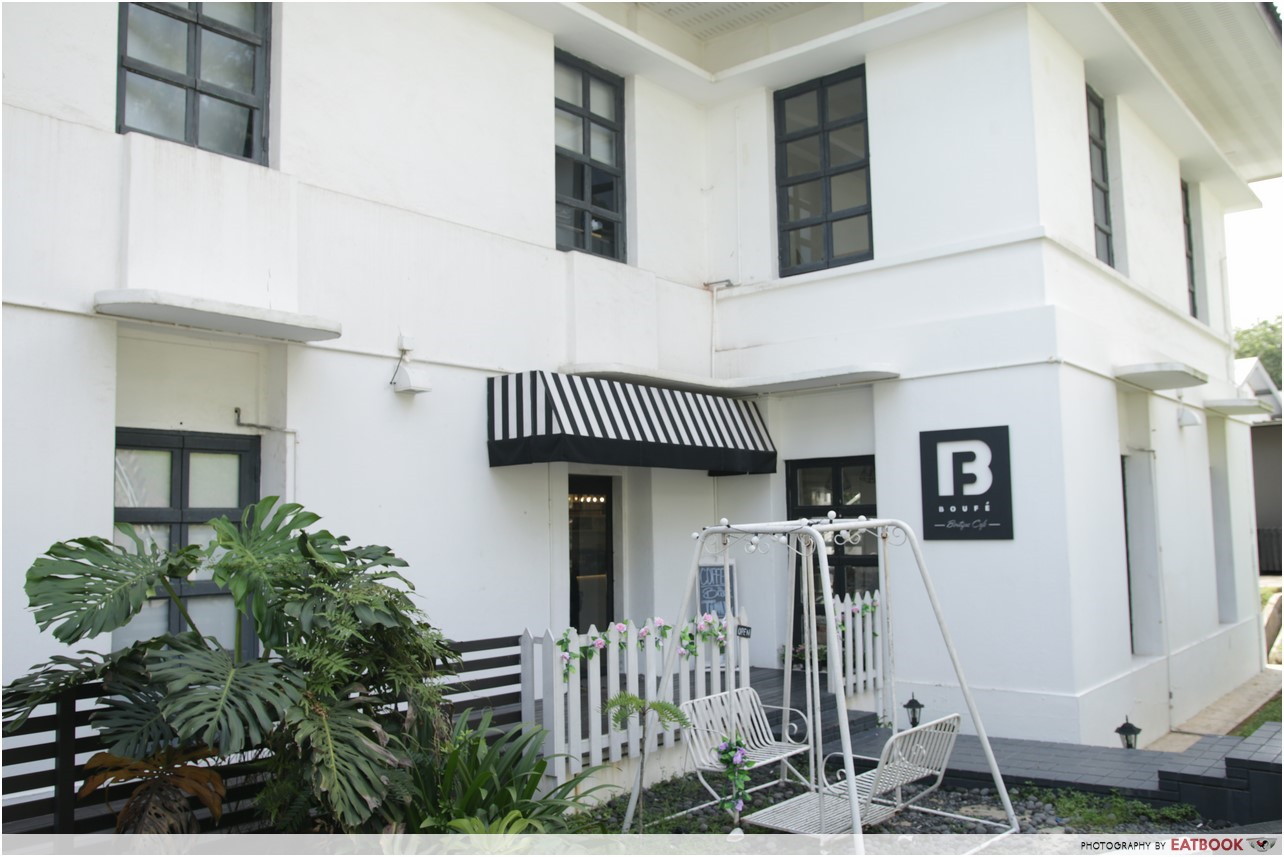 Boufe's slightly inaccessible location is probably what makes it quiet on weekends, but hey, I'm not complaining. If a 20-minute walk can help me relax in peace for the next 2 hours, I'd totally do it. Besides, this boutique cafe also stocks apparels you can check out while chilling. Food wise, try their colour-changing drink Twilight ($7+) or treat yourself to a sinful Brioche French Toast ($19+).
Address: 308 Tanglin Road, #01-01, Phoenix Park, Singapore 247974
Opening hours: Tue-Sun 10am to 10pm
Tel: 6734 7656
Menu
Find out what are some other boutique cafes in Singapore here.
---
Give yourself some peace and quiet at these ulu cafes
---
For all those who hide at home due to crowds, I really hope this list helps you get some fresh air on weekends. If you've got any other places to share, be sure to comment down below!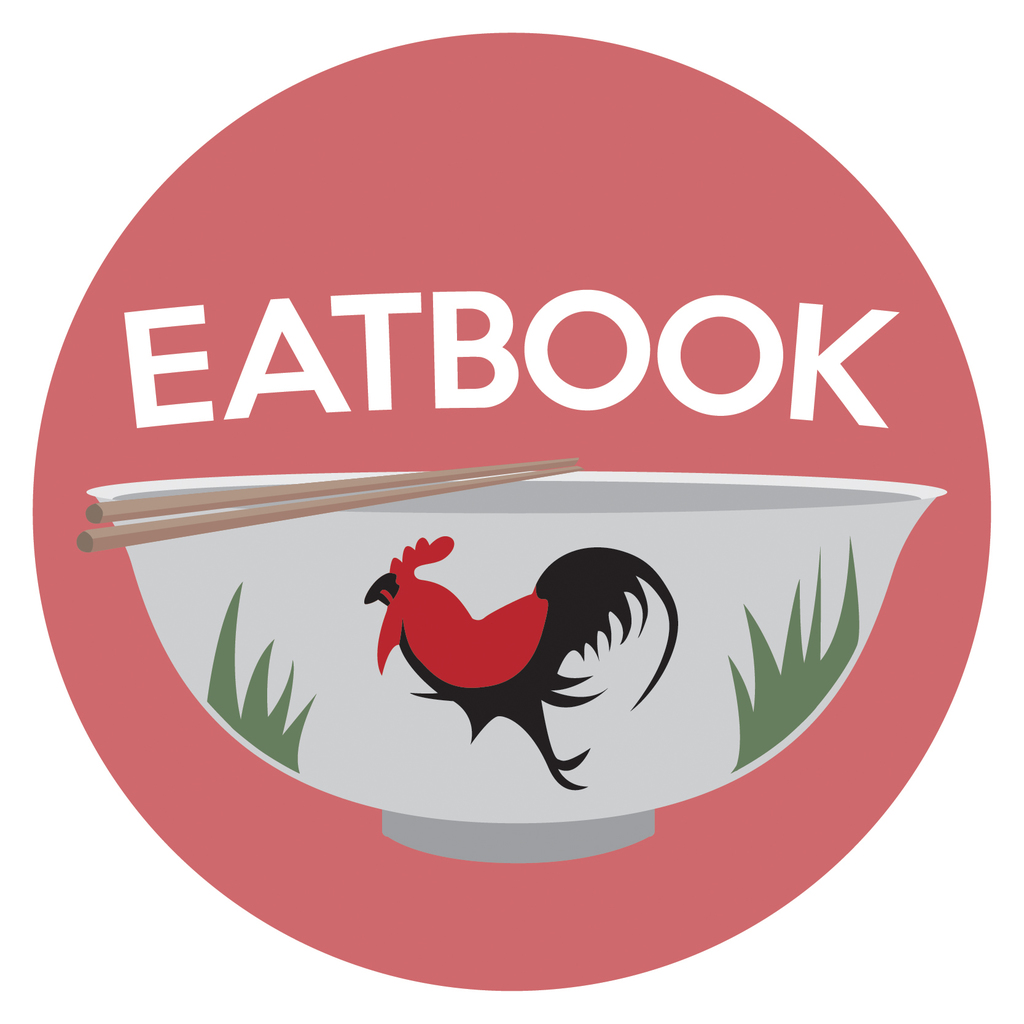 Drop us your email so you won't miss the latest news.