---
Insta-worthy drinks to brighten up your feed
---
I'm sold when it comes to anything cute, which is why you'll see me snapping up adorable drinks easily. But when it comes to actually slurping away at these creations, my heart pains a little. If you're like me, here are 10 drinks for you to feast your eyes on and quench your thirst with.
---
1. Atmosphere Bistro
---
Regular latte art is cool, but adding a dollar more to your coffee at Atmosphere Bistro will get you 3D latte art! It takes about 15 minutes for the barista to create a masterpiece like that, but it is well worth the wait. Although you're not allowed to request for a specific art or character to be drawn, they might surprise you with what you asked for.
Address: 460 Alexandra Road, #02-20, Alexandra Retail Centre, Singapore 119963
Opening hours: Daily 11am to 10pm
Tel: 6352 7725
Menu
---
2. Cheng's Gourmet Food Bar
---
With a galaxy craze sweeping Singapore, Cheng's Gourmet Food Bar has caught on with their Ultraviolet Floral Cooler ($6.20++) that changes from blue to purple. As a lemon shot is added, the butterfly pea flower used to colour the drink becomes more acidic and the pH levels change. Pretty, refreshing and citrusy – all with the beauty of science!
Address: 28 Clementi Road, Singapore 129754
Opening hours: Tues-Sun 11:30am to 12am
Tel: 6464 0617
Menu
---
3. WORD
---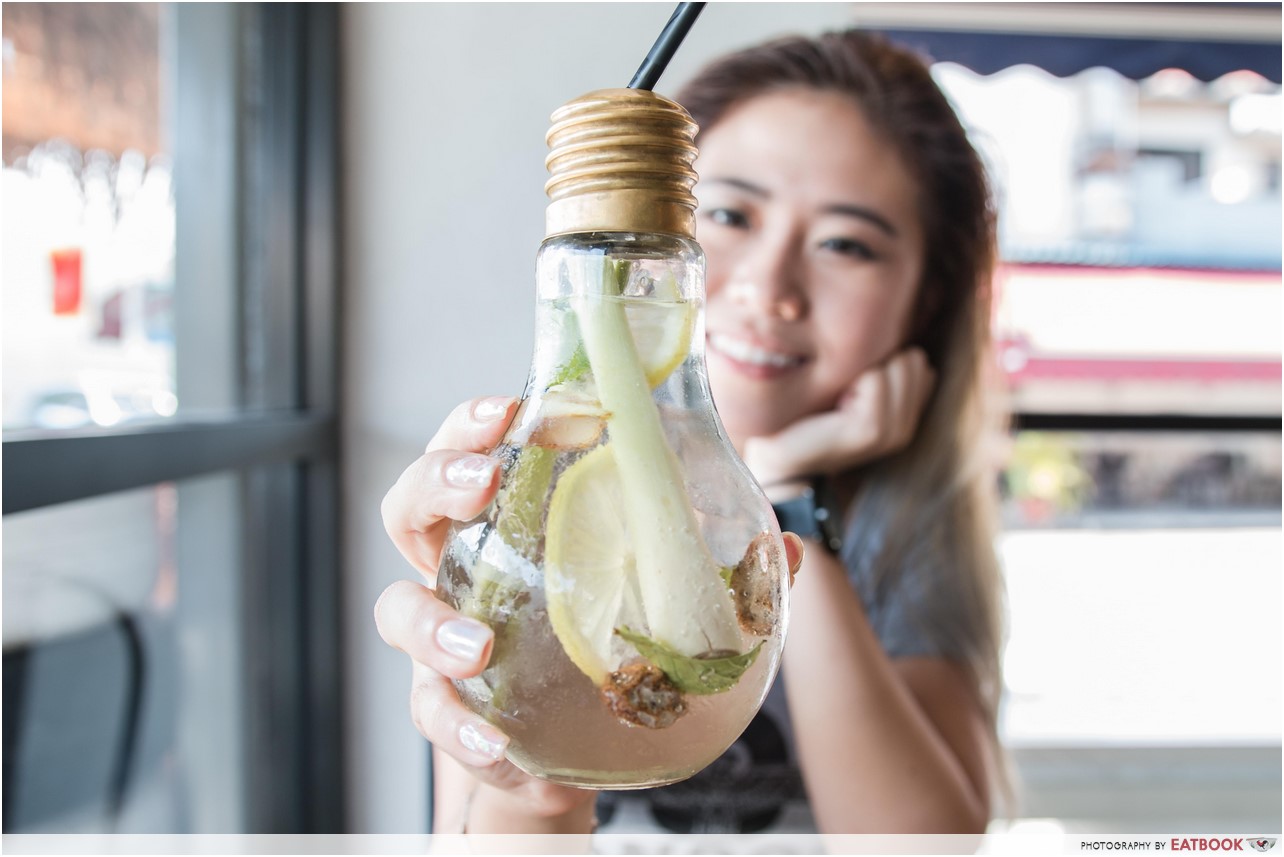 Word Concoction ($7+) at Word Bistro may seem gimmicky at first, but this combination of ice-cream soda, lemongrass, sour plum, lemon and mint is refreshing, and brings about a subtle tartness with a hint of mint that will rejuvenate your taste buds. Pair this with their famous Rainbow Burger ($20+), a psychedelic treat that is bound to propel you to Insta-fame.
Address: 906 Upper Thomson Road, Singapore 787110
Opening hours: Sun, Tue-Thur 12pm to 10pm, Fri-Sat 12pm to 10:30pm
Tel: 9699 4829
Read our full review here.

---
4. Banana Tree
---
Get ready to be transported to cloud nine with Banana Tree's Som Som Latte ($7), a drink topped with fluffy cotton candy floss and pillowy marshmallows. Pick from flavours like milk caramel, matcha and chai, or if you're obsessed with bananas like me, banana latte. Pair it with their gorgeous Flower Paap ($6.50), a pudding decorated like a flower pot that comes with a spade-like spoon. The banana-flavoured Flower Paap is made from real bananas, so you don't get any of the nasty artificial tasting stuff.
Address: 26 Keong Saik Road, Singapore 089133
Opening hours: Mon-Sat 12pm to 10pm, Sun 12pm to 7pm
Tel: 6221 5020
---
5. Chock Full Of Beans
---
Cold, fizzy drinks have always been the solution to hot and humid days, but Chock Full Of Beans has taken it up a notch and added jelly bears to their Specialty Sparkling Lemonade ($7.50++). Pick between rose and apple lemonade, and slurp till the end before eating the jelly – this I truly can't bear.
Address: Blk 4 Changi Village Road, #01-2090, Singapore 500004
Opening hours: Tue-Fri 11:30am to 10:15pm, Fri-Sun 9:30am to 10:15pm
Tel: 6214 8839
Menu
---
6. Pompompurin Cafe
---
Drinks at Pompompurin Café are bound to give you a sugar high, and have you squealing inside too. Pick from options including Cookies and Cream Caramel Latte ($11.99++) and Mango Soda and Ice Cream Float ($11.99++), with the latter being my favourite. It comes with a scoop of vanilla ice-cream decorated with chocolate to form Pompompurin's face, complete with a kawaii chocolate beret!
Address: 181 Orchard Road, #04-08, Orchard Central, Singapore 238896
Opening hours: Daily 11am to 10:30pm
Tel: 6509 8672
---
7. Builders At Sims
---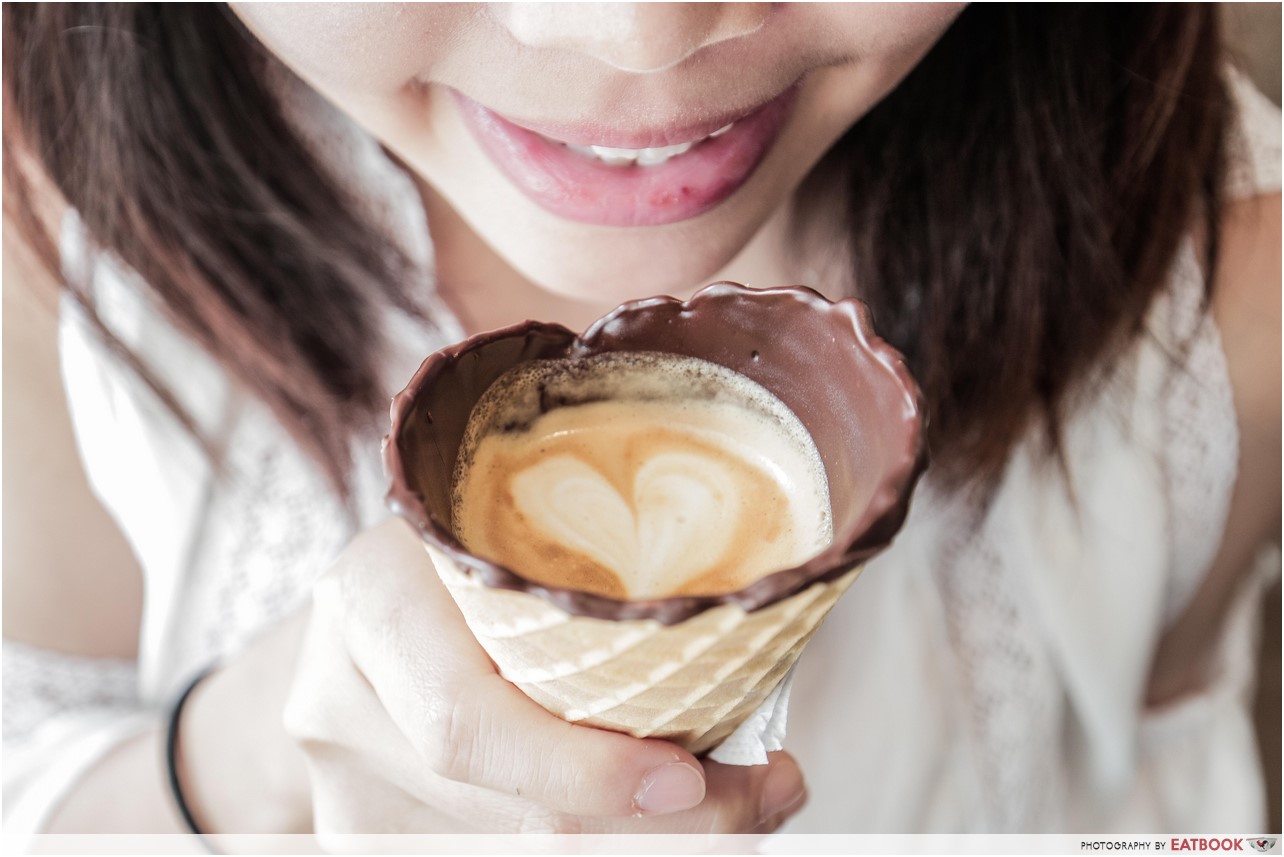 Chocolate coated cones make me a happy camper. Builder at Sims offers a Coffee Cone Latte ($7) that will satisfy those who love the aromatic bitter-sweet combination of coffee and chocolate. Be warned: the cone gets soggy if the coffee sits in it for too long, so drink up fast!
Address: 53 Sims Place, #01-160, Singapore 380053
Opening hours: Mon-Sat 11am to 9pm, Sun 11am to 4pm
Tel: 6747 1837
Read our full review here.
---
8. Dazzling Cafe Pink
---
We've all heard of Dazzling Cafe's long queues for their Shibuya toasts, but you might not know that they can do rainbow latte art. Order any latte and top up a dollar to make it colourful, complete with a rainbow butter biscuit. Although everything looks dainty here, the food and drinks can get heavy after a while, so jio more friends to share! 
Address: 277 Orchard Road, #01-12/13/14, Orchardgateway, Singapore 238858
Opening hours: Sun-Thur 11am to 10pm, Fri-Sat 11am to 10:30pm
Tel: 6385 3639
---
9. Dapper Coffee
---
Tucked away on the second floor of Amoy Street is Dapper Coffee, a hidden gem that can be easy to miss. Try Gold Brew ($10) for a seriously strong-bodied cold brew, but if you're not into caffeine, Unicorn Tears ($10) – an aquatic blue lemony drink filled with iridescent sparkles – makes for a winning photo too. The drink recipe remains a secret, which explains why there hasn't been any other cafe coming up with a similar version of this drink. Ask their staff what it's made of and they'll say that both drinks have a touch of "magic" in them, and "Unicorn Tears" is made with actual tears from their in-house purebred Mongolian Unicorn!
Address: 73 Amoy Street, Second Floor, Singapore 069892
Opening hours: Mon-Fri 8am to 5pm
Tel: 9005 4790
---
10. The Benjamins
---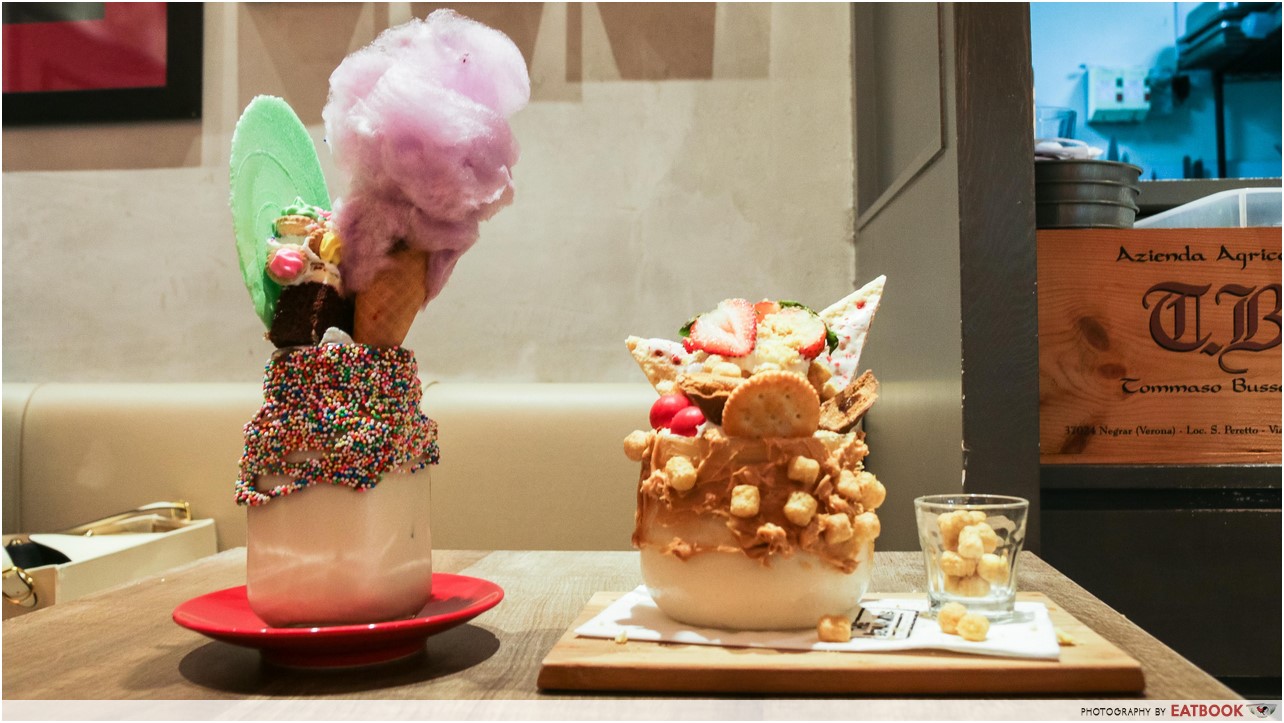 With multiple OTT milkshakes all over Instagram, you might be lost at which to try. My go-to is The Benjamins 'cause they make the least jelak milkshakes and are super generous with toppings. For a childhood throwback, go for Old School Vanilla OTT Shake ($16++) that will hit you with nostalgia. Cereal fans will also love Captain Nutty ($16++), a milkshake inspired by Cap'n Crunch's Peanut Butter Crunch. There's no doubt these milkshakes will bring all the boys to your yard!
Address: 583 Orchard Road, #01-20/21, Forum The Shopping Mall, Singapore 238884
Opening hours: Sun-Thur 10:30am to 9pm, Fri-Sat 10:30am to 9:30pm
Tel: 6887 4117
Read our full review here.
---
Such a lovely cuppa
---
For fans of everything and anything kawaii, this list gives you plenty of options to give your camera a snapping good time. It would be tea-riffic if you know any more Instagram worthy drinks and share with us in the comments below!