Hand-rolled chee cheong fun from Pin Wei Chee Cheong Fun
Having a steaming-hot plate of comforting chee cheong fun for breakfast always pulls me back to my childhood. These steamed rice rolls were a permanent fixture at the table, and no dim sum breakfast was complete without a heaping plate of rice rolls doused in sweet sauce. When I heard of Pin Wei Hong Kong Style Chee Cheong Fun and the snaking queues that would gather for their toothsome rice rolls, I took it as a calling to relive a slice of my childhood.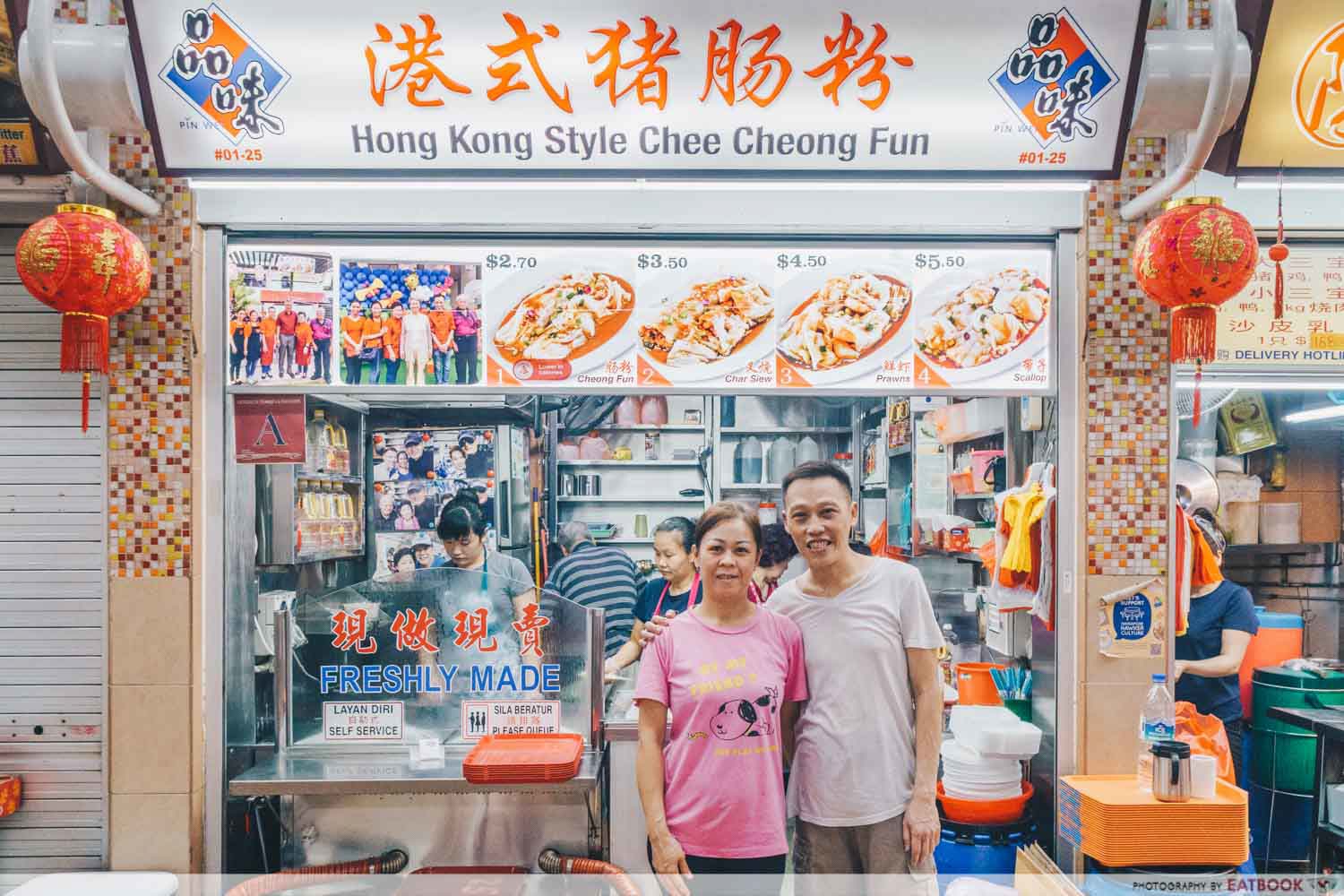 Though they've only started specialising in chee cheong fun roughly 10 years ago, this hawker stall has over 60 years of history working with another traditional Chinese delicacy: chwee kueh. According to the story they shared with CNA, the current owner's grandfather started the hawker business in the 1950s, selling the local breakfast item out of a pushcart.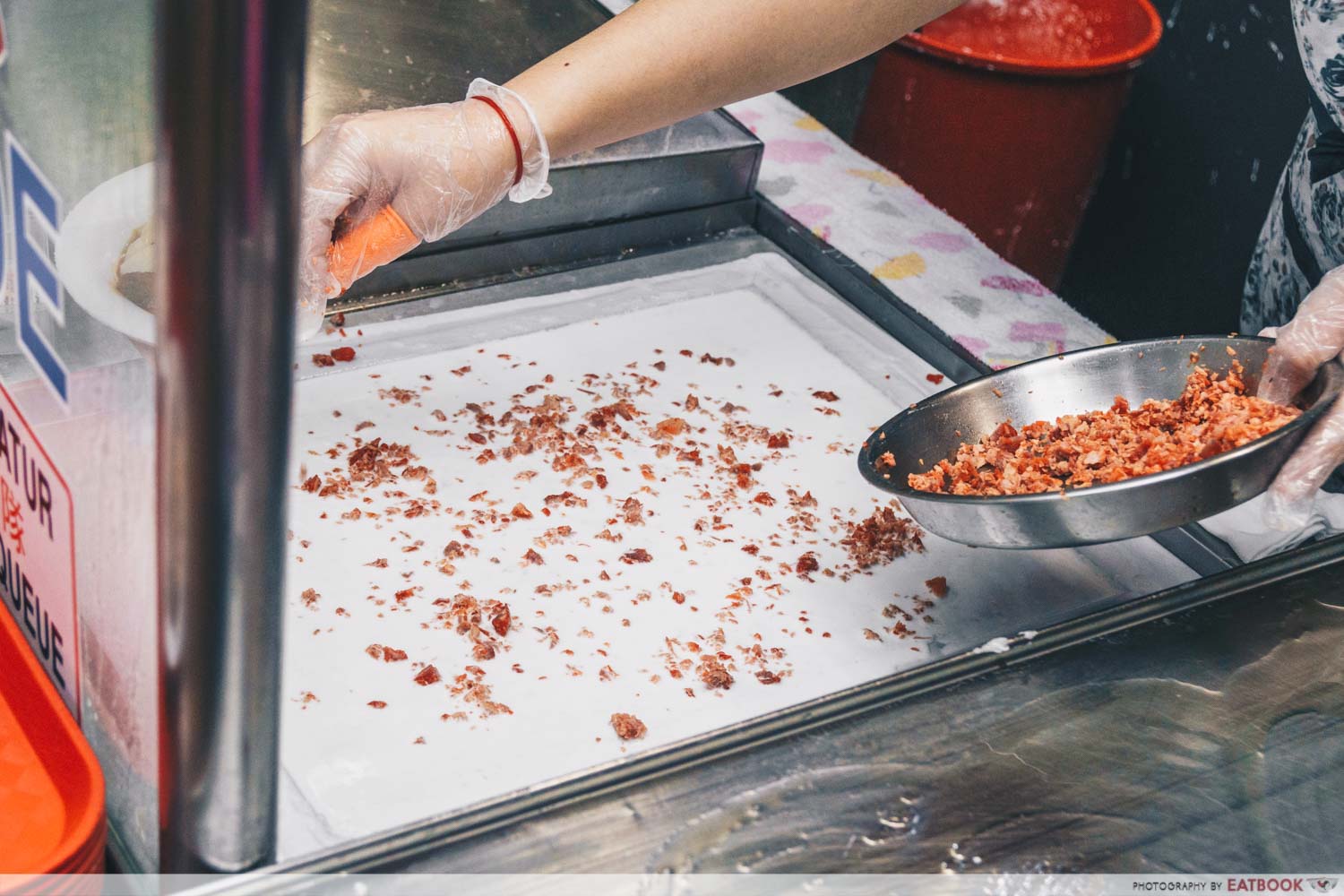 Then, much like a family heirloom, the chwee kueh trade was passed down two generations into the hands of the current owners. However, these steamed rice cakes were difficult to be handmade in large quantities without compromising on quality.
Decisively, the owners made the switch to selling chee cheong fun instead, and their commitment to evolve the humble family business even led to a hefty investment in a custom-built electric gas steamer. Thankfully, the pay-offs were immense. This high-tech steamer yielded consistency and efficiency in making the delicate rice rolls, and was what eventually brought them the success they have today.
Food at Pin Wei Chee Cheong Fun
After spending a good few minutes being mesmerised by the expert folding and speedy portioning of the rice rolls, I happily watched them load an entire sheet onto my plate. The hefty portion of Char Siew Cheong Fun ($3.50) was drenched in a ladle-full of house-made sauce, then sprinkled with sesame seeds before it was handed to me.
I appreciated the generous amount of diced char siew that was embedded within the delicate folds. The little bits of marinated pork added bursts of sweetness, accompanied by a kiss of smoky flavour to the chee cheong fun.
It may just be a personal peeve of mine, but compared to the silky smooth rice rolls that barely required chewing, the specks of char siew got stuck in my teeth, making it tiresome to chow down after a while. Perhaps larger chunks of char siew would have benefitted the dish here, and contribute to a juicier mouthfeel as well.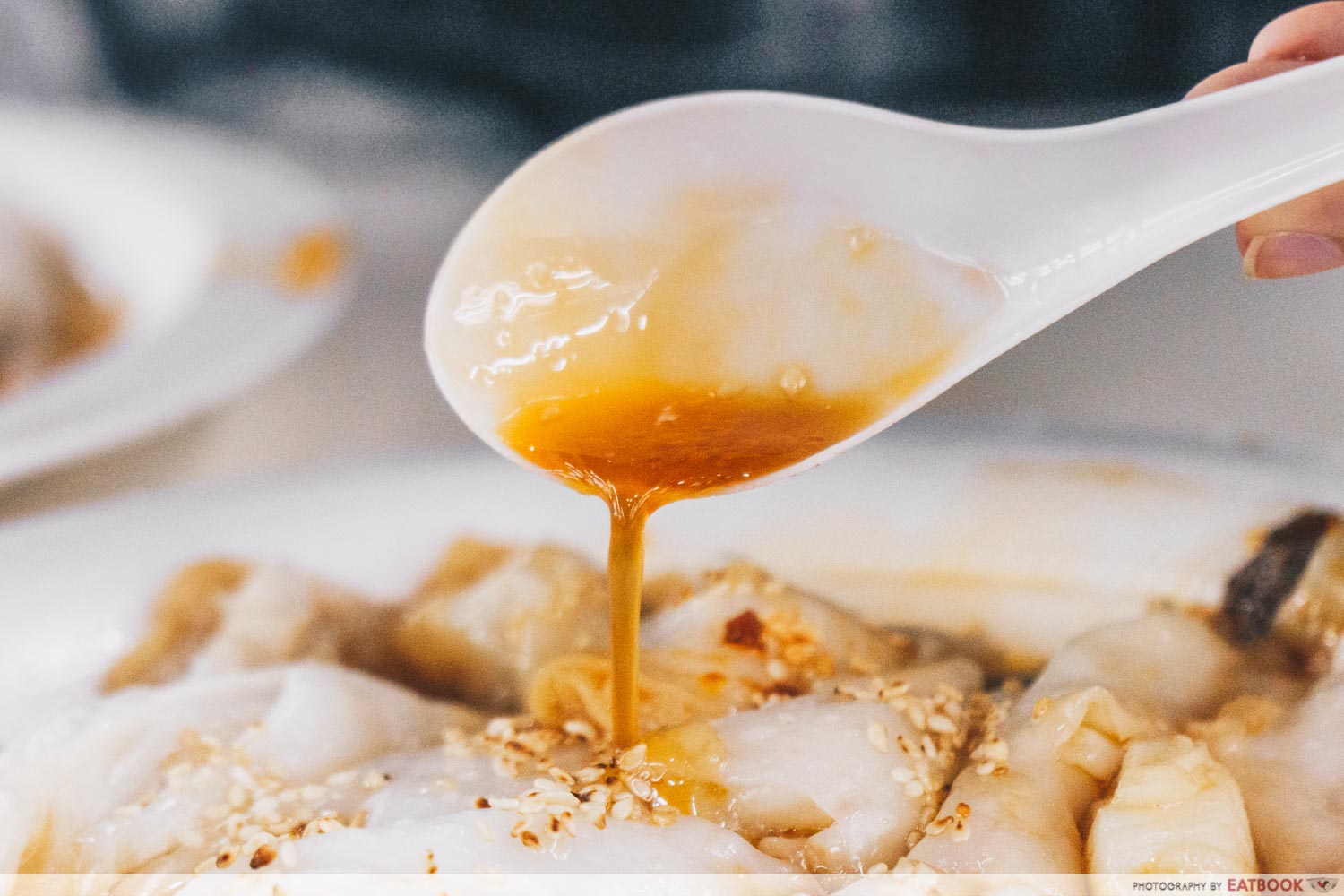 Their house-made sauce is a blend of soya sauce, sugar, fragrant sesame oil, and an infusion of other secret ingredients. This winning combination of sweet and savoury flavours added to the moreish quality of the dish, keeping it relatively light on the palate and addictive as well. However, after gobbling down a whole plate, I found the sauce a bit on the salty side, and it had me reaching for a drink to quench my thirst.
Perhaps another testament to how well the stall has mastered their chee cheong fun recipe, the rice sheets remained bouncy even after sopping up the oily sauce. They did not go soggy or disintegrate into mush like with some other chee cheong fun experiences I've had.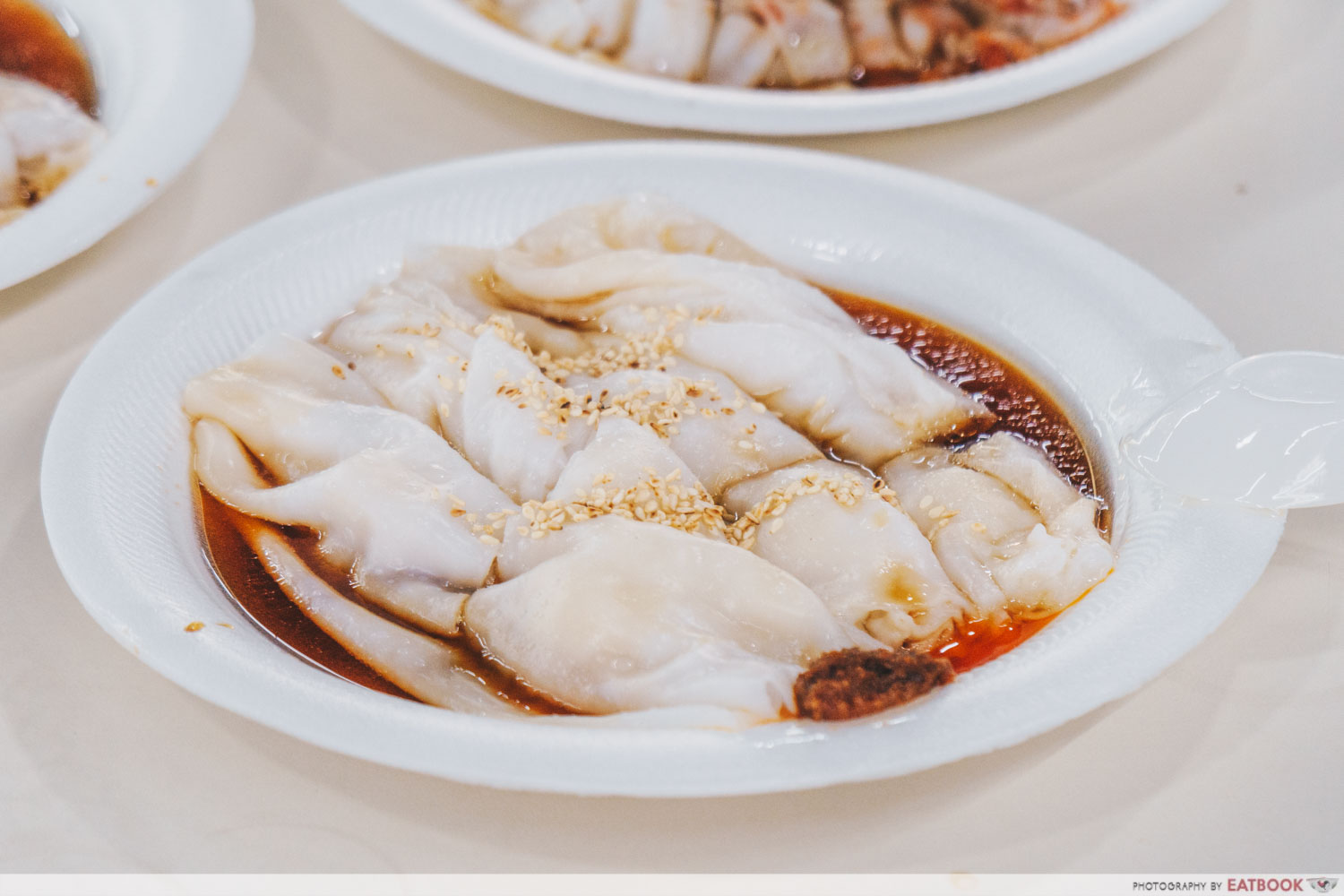 We moved on to the most expensive item on the menu: Scallop Chee Cheong Fun. Priced at $5.50 a plate, it was surely one of the priciest chee cheong fun I've ever had. On the plate, the unassuming white rice sheets didn't look any different from the basic chee cheong fun. But since I keenly watched them prepare these rolls, I knew there were juicy pieces of scallop waiting to be discovered inside.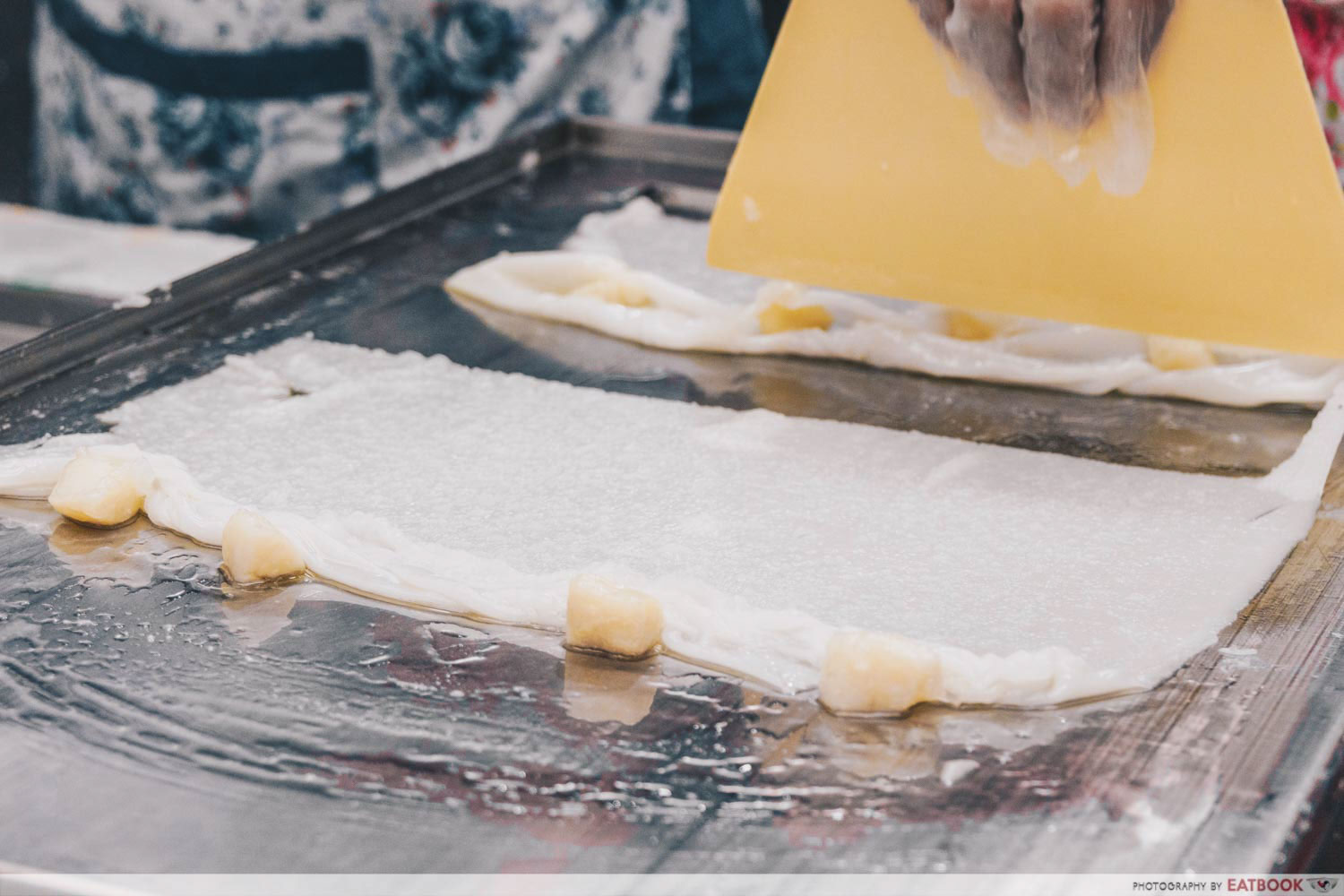 Eight chunks of cream-coloured scallop were neatly laid across the thin sheets, and in a blink of an eye, they disappeared into the folds of the rice rolls before being sectioned, scooped up, and plated.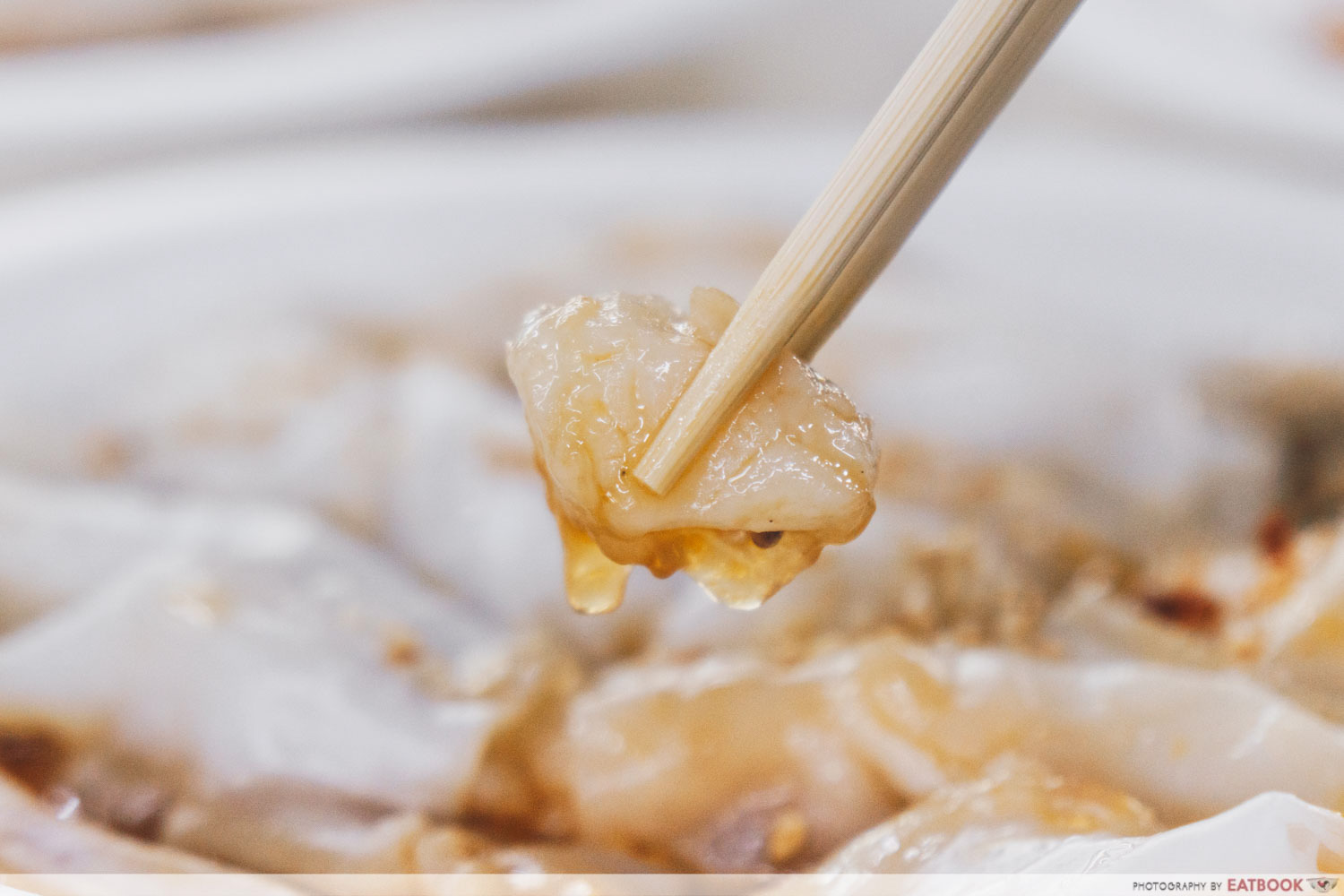 The pieces of scallop were a tad smaller than I envisioned, but still lusciously succulent nonetheless. Their firm and bouncy textures melded beautifully with the springy rice noodle sheets, and each piece of scallop soaked up their savoury house-made sauce, bringing pops of juiciness enriched with the mild sweetness of the shellfish.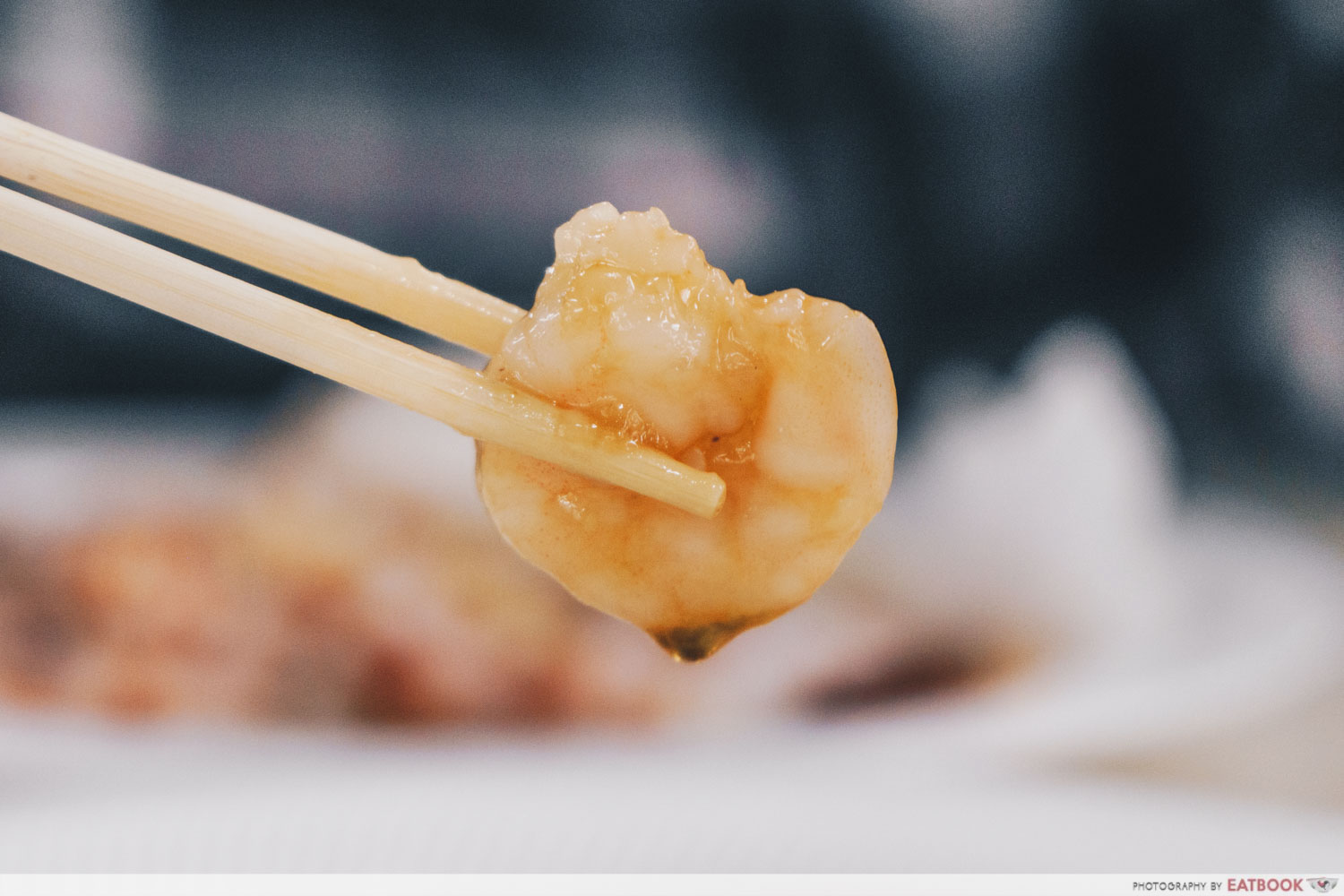 The Prawn Chee Cheong Fun ($4.50) was prepared in a similar manner. Each roll encased a plump prawn piece that had been cooked to near perfection. The exterior was firm and gave a satisfying snap when bitten into, while the inside was satisfyingly tender. Compared to the mild flavour of the scallop, this crustacean added a punch of seafood umami, and the characteristic briny taste of prawn certainly shone through.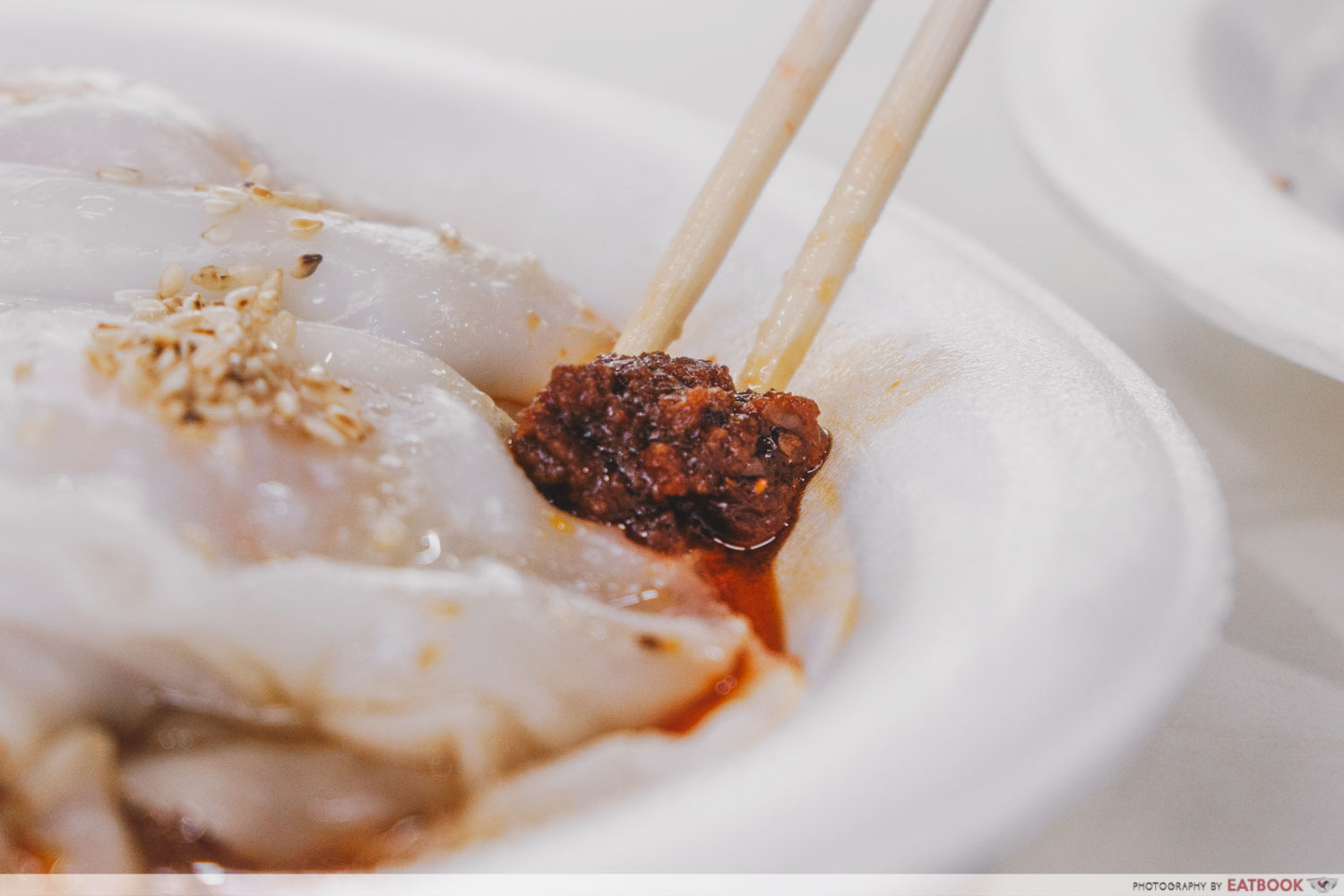 I'm a big advocate for enjoying chee cheong fun with chilli, and Pin Wei's sambal belacan checked all the right boxes for me. As with most good blends of chilli, this paste packed a good amount of heat without being too overwhelming. Their homemade blend possessed the piquant flavour of har cheong, shrimp paste, mingling with a robust mix of garlic, onions, and chilli padi.
Ambience at Pin Wei Chee Cheong Fun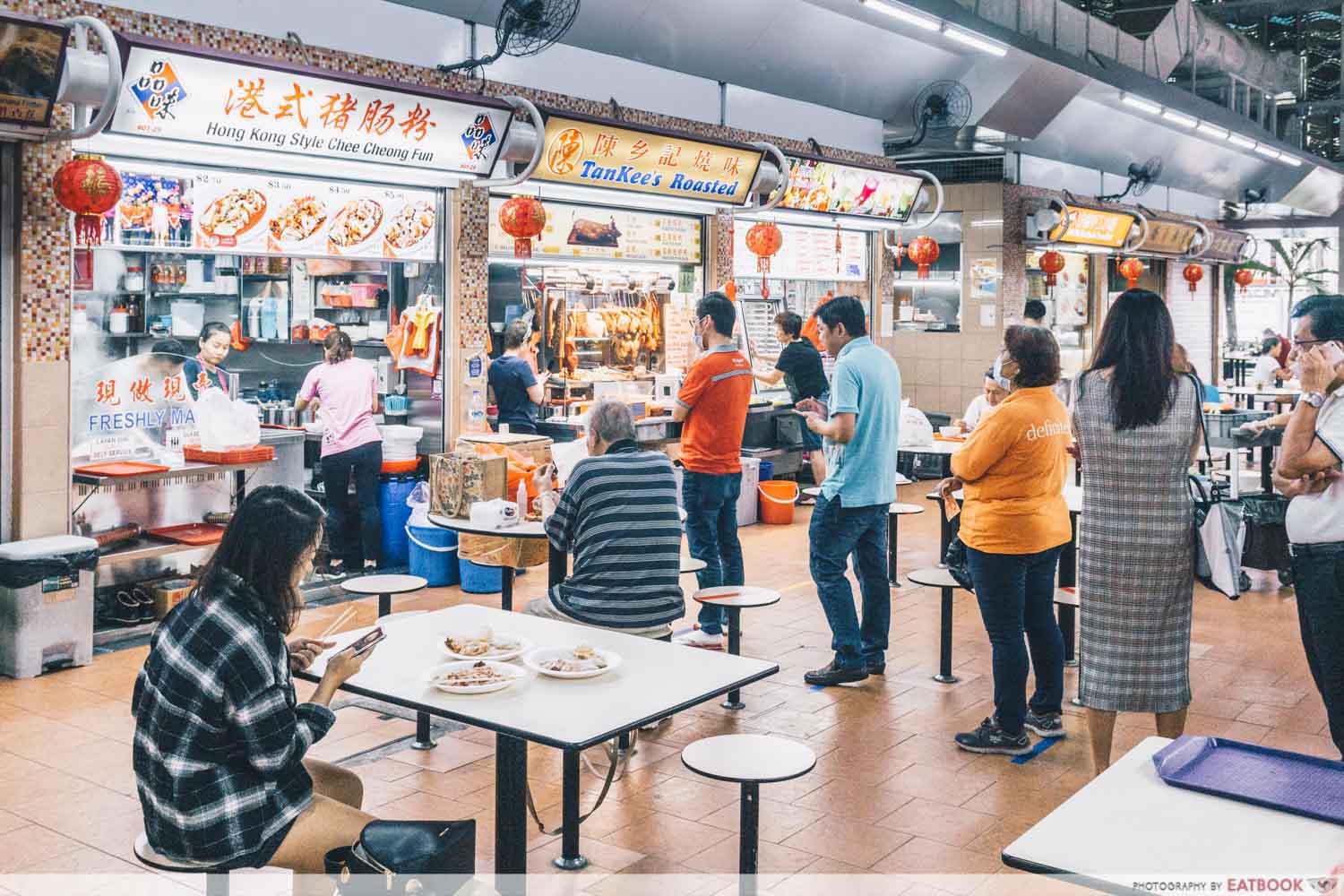 Pek Kio Market and Food Centre is three bus stops away from Novena MRT Station, or you can get there in 15 minutes on foot. The hawker centre is open and spacious, with high ceilings and decent lighting, so eating here won't feel stuffy at all.
If you're planning to drop by during Phase Two, getting a table shouldn't be a problem as they have more than enough seating space to accommodate the crowd. Just make sure to observe safe distancing while queueing up for your meal!
The verdict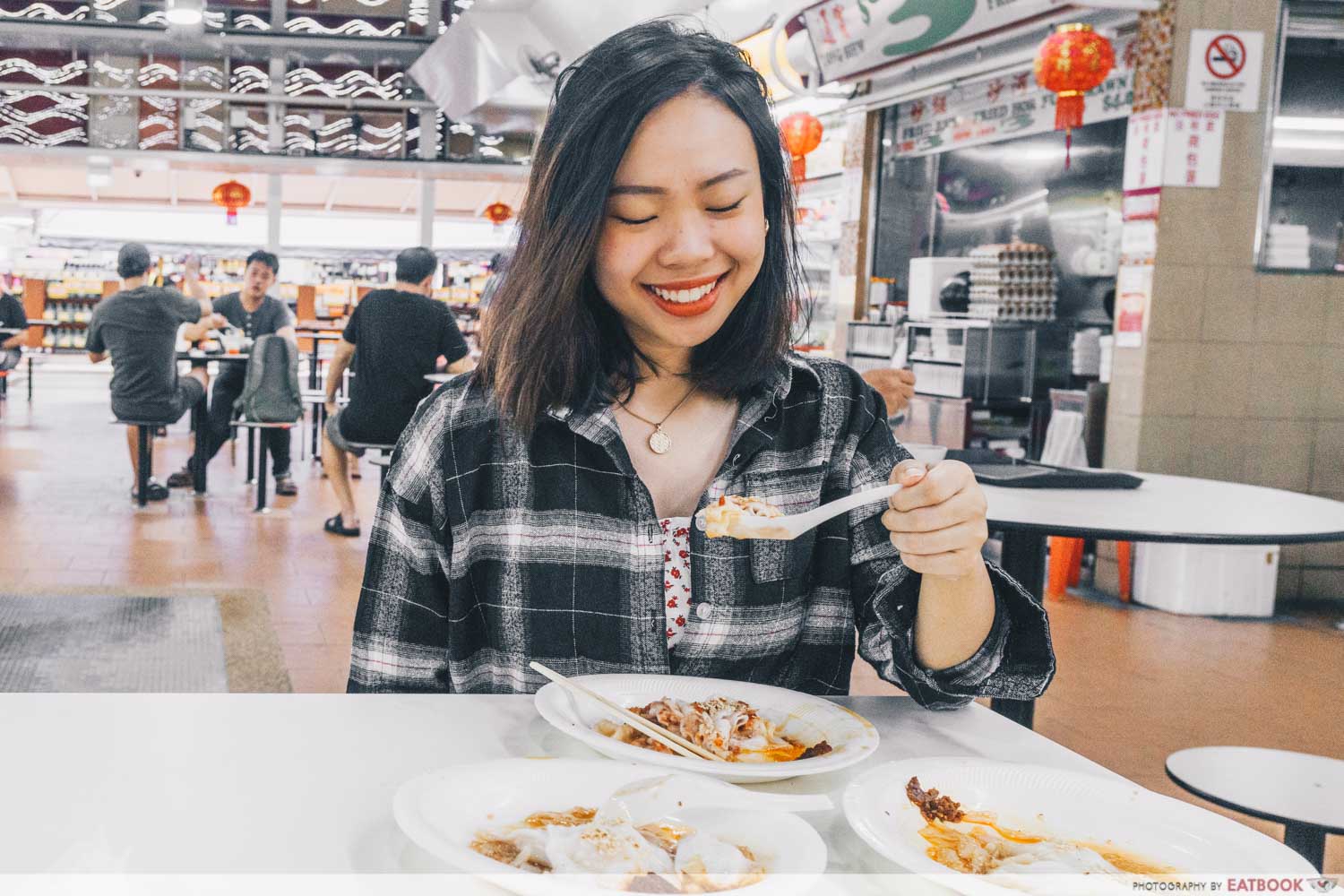 I watched in awe as the stall owners and their helpers deftly cleared a long queue of customers, working efficiently and harmoniously like a well-oiled machine. Evidently, their resolve to grow as a business extends beyond the one-time investment in a commercial steamer. It encompasses all the long hours and tiresome trial and error they've gone through to produce this winning recipe.
I have no doubt in my mind that this modest homegrown hawker stall will continue to savour success, as long as their can-do attitude lives on.
For more appetising grub in the area, check out our list of Pek Kio food. Alternatively, take a look at our list of dim sum delivery services to satisfy your dim sum cravings without leaving the house.
Address: 41A Cambridge Road, #01-25, Pek Kio Market & Food Centre, Singapore 211041
Opening hours: Thurs-Tues 6:30am to 2pm
Tel: 8180 2013
Pin Wei Chee Cheong Fun is not a halal-certified eatery.
Photos taken by Huang Xiao.
This is an independent review by Eatbook.sg 
10 Pek Kio Food Centre Stalls With Cheap And Good Eats From $2
Summary
Pros
– Silky chee cheong fun
– Juicy seafood
– Delicious chilli
Cons
– Pricey
– Sauce is on the salty side
Recommended dishes: Prawns ($4.50)
Opening hours: Thurs-Tues 6:30am to 2pm
Address: 41A Cambridge Road, #01-25, Pek Kio Market & Food Centre, Singapore 211041