---
Geylang Serai Ramadan Bazaar 2018 must-tries
---
With so many festivals and bazaars that have been popping up in the past few months, the Geylang Serai Ramadan Bazaar 2018 seems to have lost a little bit of hype as compared to last year. But we've checked it out for ourselves, and there are still some interesting stalls that are good enough for you to make a trip down this year! Here is a list of must-tries that will satisfy you as well as your IG feed.
---
1. Rainbow Works (GS42)
---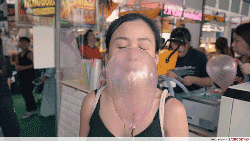 Rainbow Works is in the lead for one of the most Instaworthy hipster food of this year's Ramadan Bazaar. While it's pricey, their Edible Balloon ($8.90) is a fun item to order. Blown up with helium, you can expect a chipmunk voice when you suck in the sweet treat. All about the theatrics, their Flaming Unicorn ($9.90), which is essentially vanilla soft serve with Fruity Pebbles and whipped cream, is served with a stunning fire stunt from the server.
---
2. Happy Rollies (GS212)
---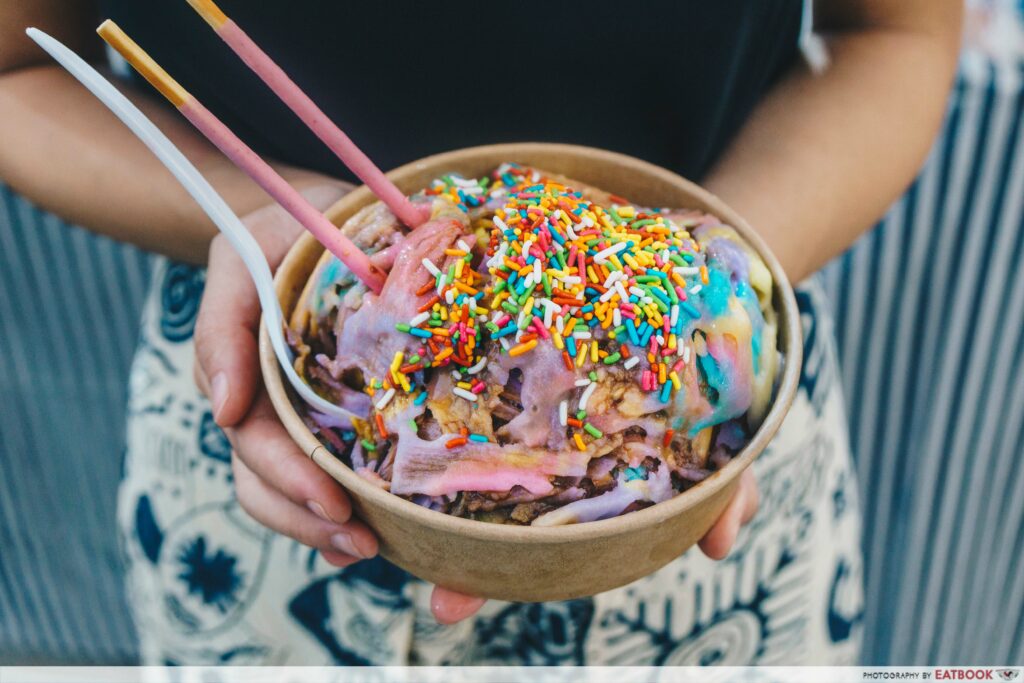 From a refreshing Watermelon Taco ($5) to picturesque Ice Cream Roll Rainbow Tacos ($5) showcasing vibrant colours, Happy Rollies' grub will definitely be worthy of the 'gram. For '90s kids who grew up eating Paddle Pop, order their Rainbow Paddle Pop Snow-Bowl ($5.90), which features pastel ice shavings with chocolate sauce.
---
3. Ice Burnz (Stall GS217)
---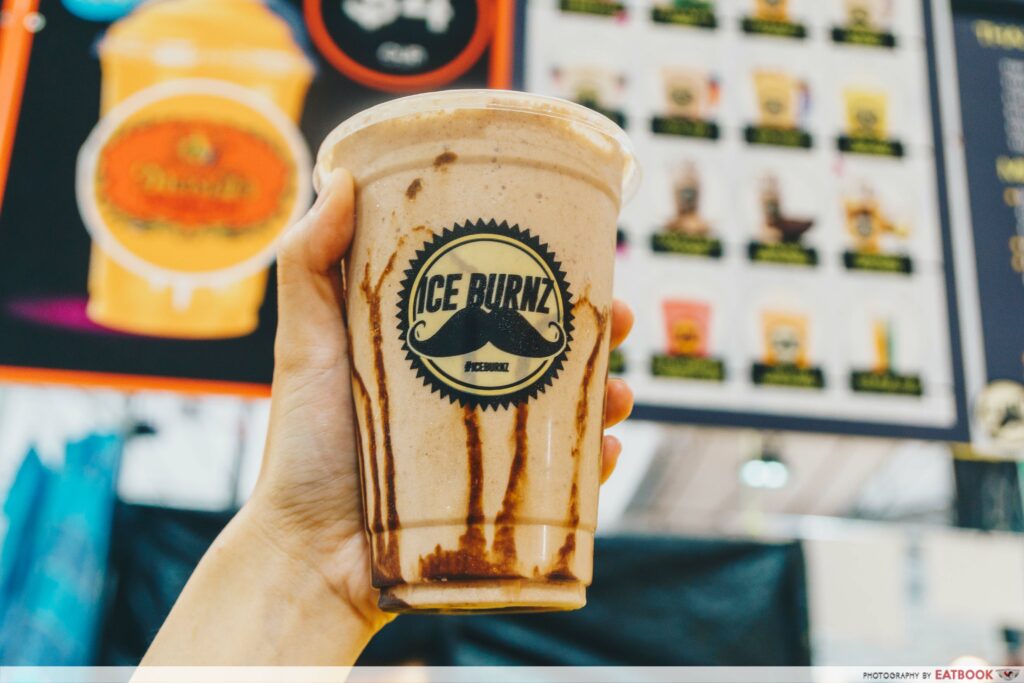 If the heat at the bazaar is getting to you, cool down with one of Ice Burnz's toothsome milkshakes at $6 each, with flavours such as Snickers, Bubblegum and Kinder Bueno. They also have more premium concoctions such as Speculoos ($6.50)! On top of that, they will also be serving Nutella and Kinder Bueno soft-serve at $5 each for either a cone or cup.
---
4. T.I.T (Stall GS205)
---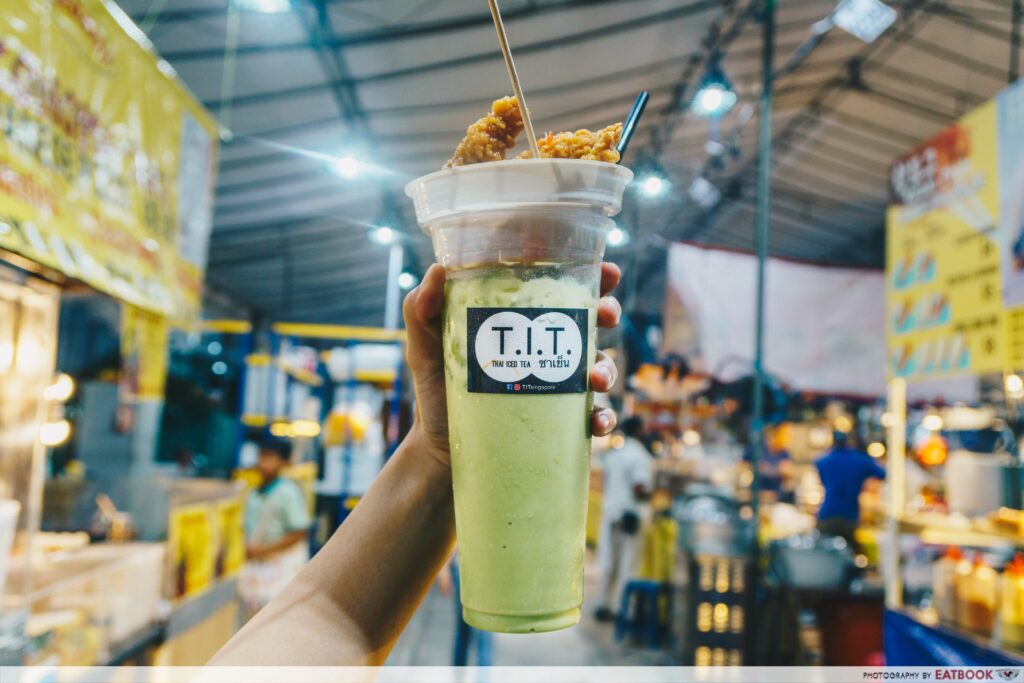 Navigating through the crowd with both your hands full is difficult. Thankfully T.I.T, which stands for Thai iced tea, has come up with a snack and drink cup to make things easy for you. At $7, a tall cup is covered with a plate of crispy pieces of fried chicken and filled with Thai iced milk tea in either Original or Green Tea.
---
5. Mrs Q Snacks (GS240)
---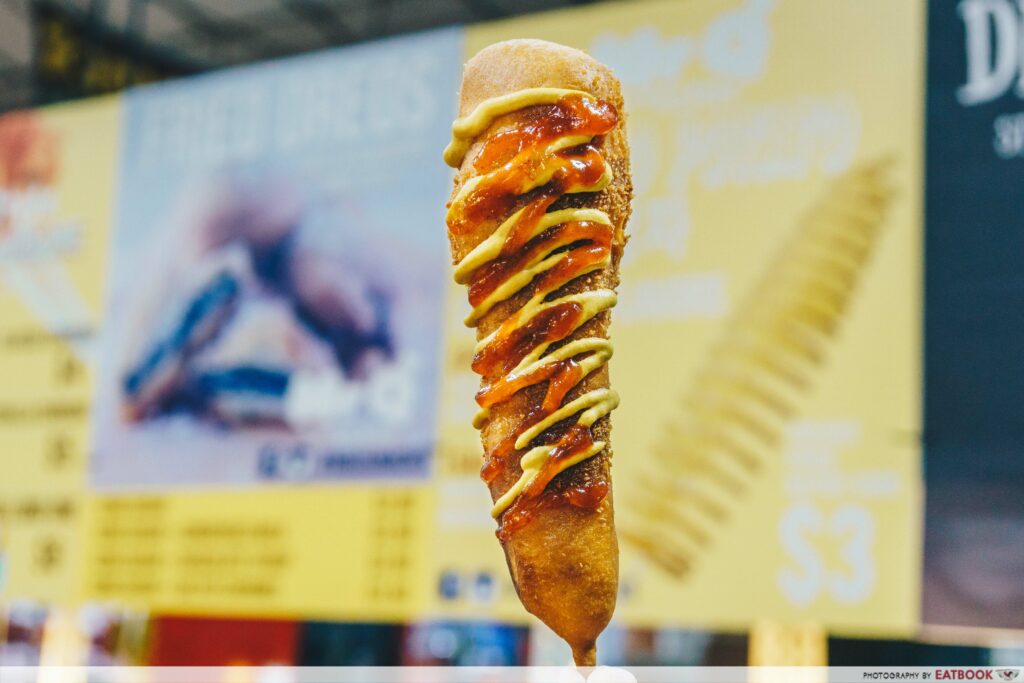 Just like their name suggests, Mrs Q Snacks' Korean Style Corndog Long Long One is really long! Available in three flavours – Classic ($4), Mozzarella ($5), and Long Long One ($8), we decided to order the Mozzarella Corndog, as we couldn't resist a gratifying cheese pull. The corndog was as long as my forearm, and its top half was filled with cheese, while the second half contained a juicy sausage.
---
6. High Roller (GS188)
---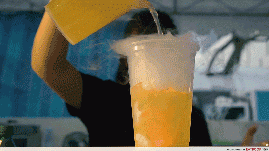 Opened by the guys behind fries stall The Daily Menu, High Roller serves up unique drinks that are conjured up with dry ice as well as a lighted cup that gives the illusion that your ice cubes are flashing lights. A must-try is definitely their Mango Fizz ($4.50) as well as their Honey Lemon ($4.50 each).
---
7. WORD (GS226)
---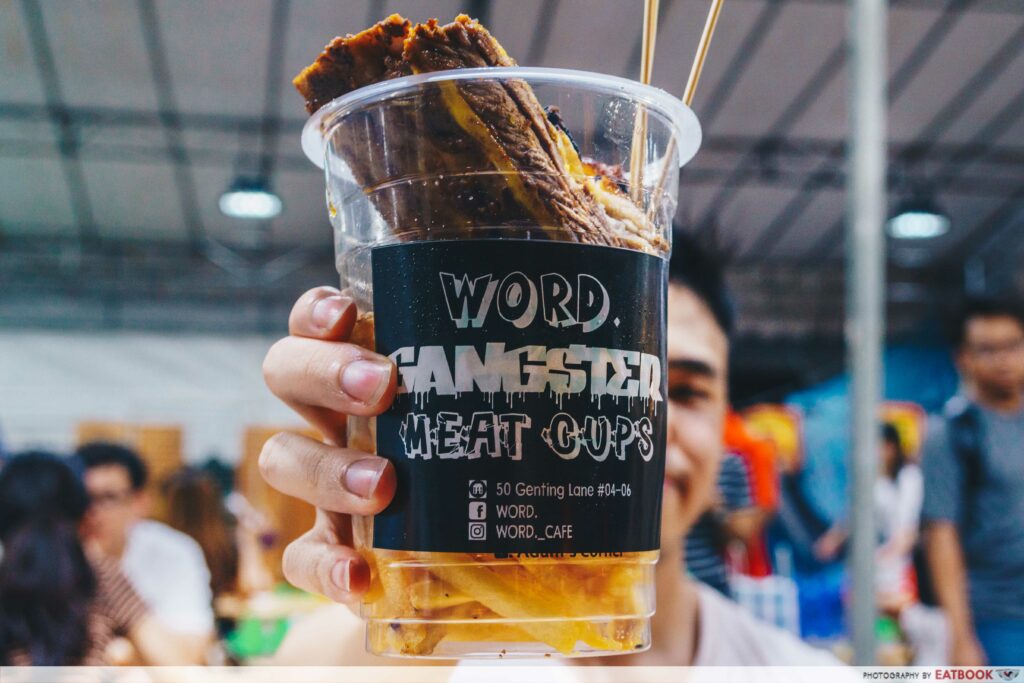 Meat lovers will enjoy WORD's Gangster Ribs Cup ($12 for a single portion, $25 for half ribs, $40 for full ribs). Available in lamb or beef, as well as with a side of fries or biryani rice, this was one of heartiest dish we tried here. We had the beef ribs, which was tender and filled with a robust aroma.
---
8. The Raclette Factory (GS221)
---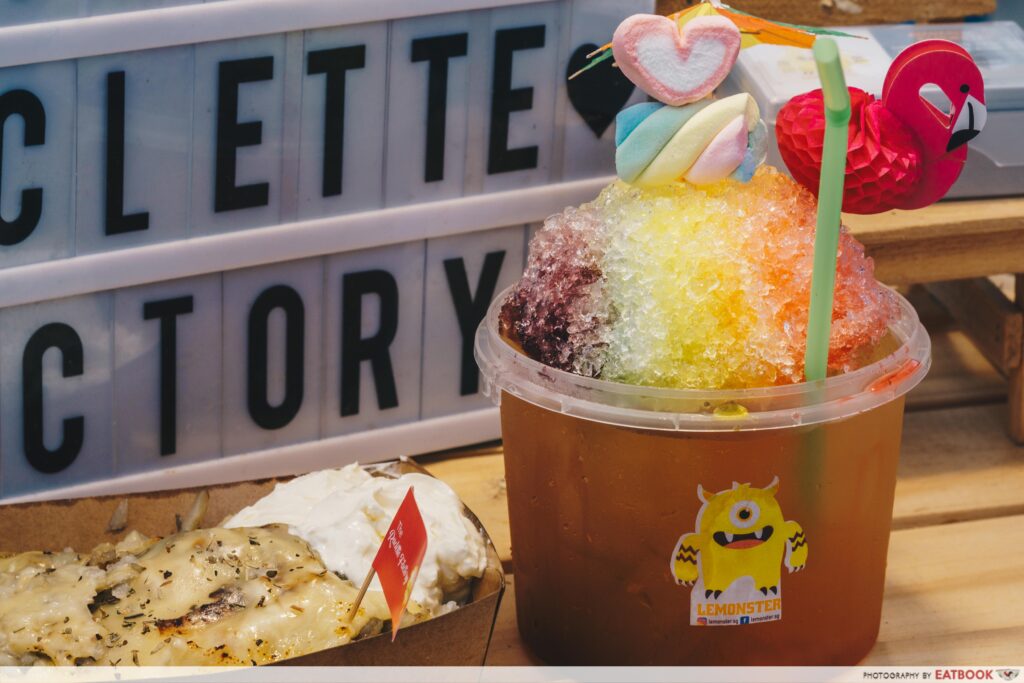 This year, The Raclette Factory will be serving more than just ordinary roasted potatoes. To up his game, the owner went to Switzerland for two days to learn how to make rosti! The rosti was soft and paired really well the smoky French cheese. Giving you more bang for your buck is their Raclette Combo Set ($19), where you get one Swiss Rosti Raclette (U.P. $12) as well as a Lemonster Drink (U.P. $8), which is essentially a fruity drink served in a bucket that's topped with a shaved ice ball.
---
9. CHICK-AAA-BOOM (GS232)
---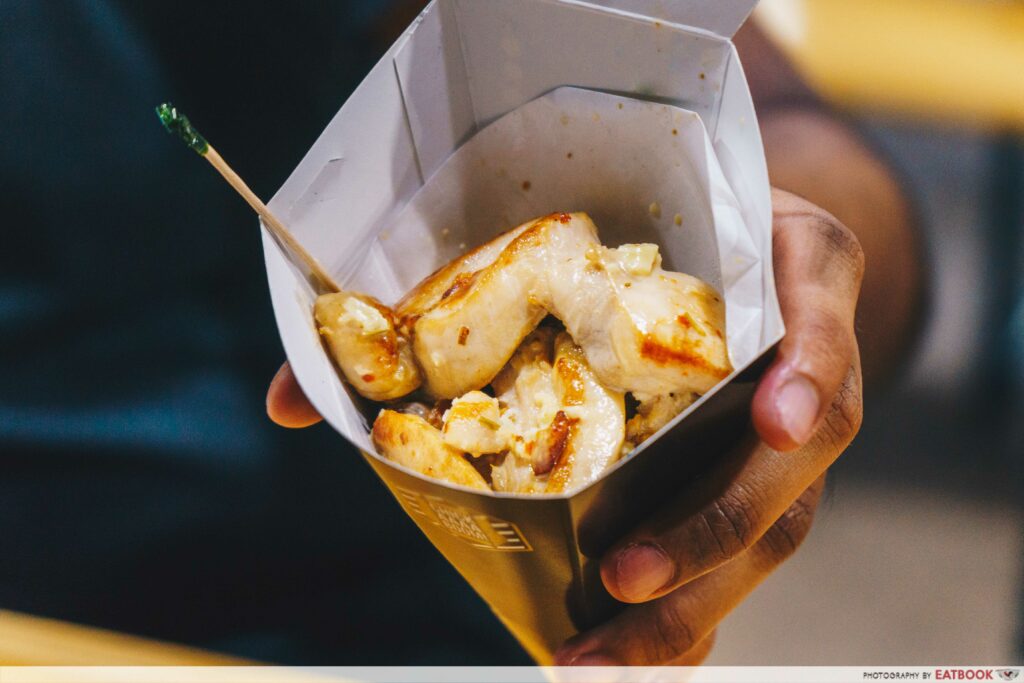 If there's one thing you must have at Geylang Serai Ramadan Bazaar, it's CHICK-AAA-BOOM. Serving up grilled chicken chop with a selection of sauces such as Aligot ($7.50), Chilli Crab ($7), Garlic Butter ($7) and Sambal Works ($7), the chicken is chopped up and served in bite-sized pieces for your convenience. A must-try is the Garlic Butter, which elevated the taste of the succulent chicken. Come between 7pm and 8pm to enjoy a serving at just $5!
---
10. Take A Bite (GS191)
---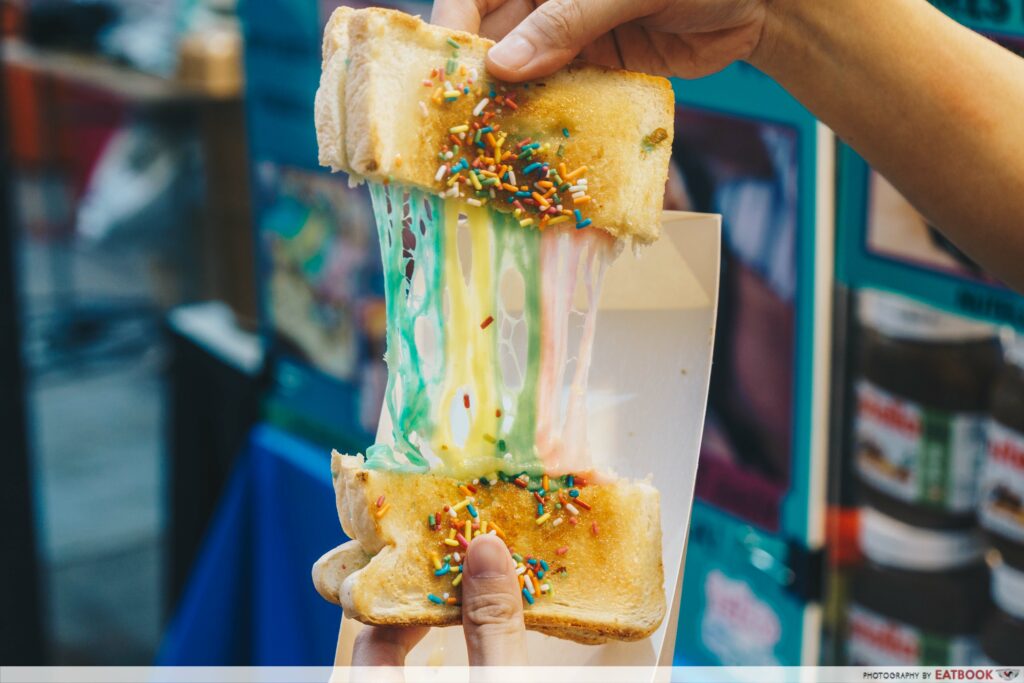 Cheesy food is our weakness. So when we saw that Take A Bite was selling a Rainbow Cheese Toast at $5, we knew we had to get it. The toasted sandwich is slathered in butter, and nestled within is a generous portion of mozzarella cheese that's dyed blue, yellow, green and red. They also offer Nutella Smores Dip at $3.
---
11. Sofnade (GS243)
---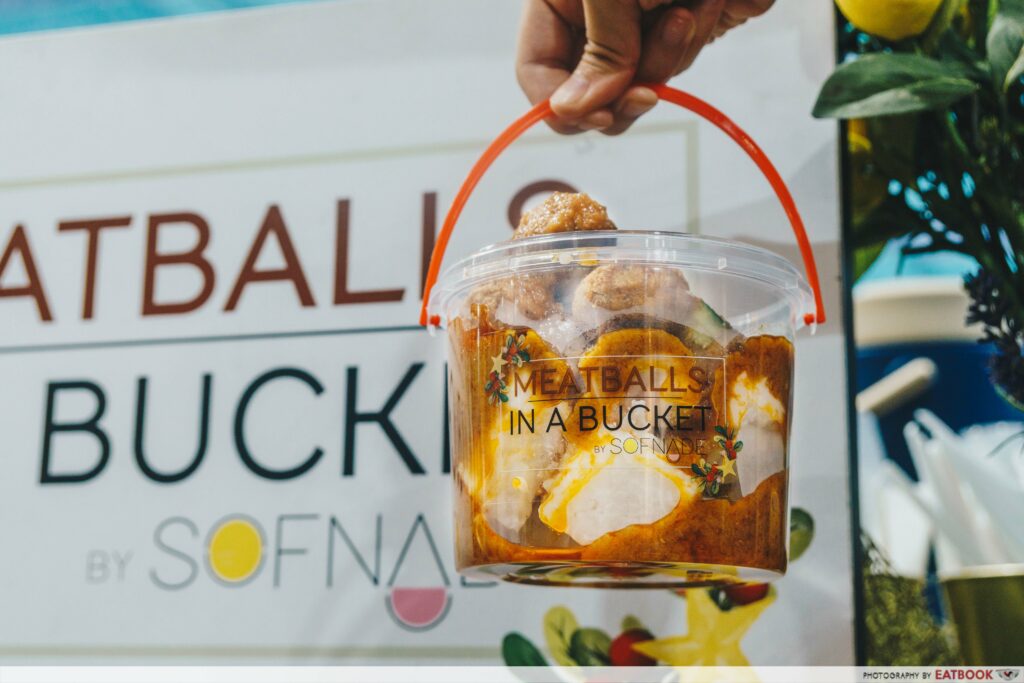 Everything at Sofnade is served in buckets. Aside from their usual meatballs with fries and mashed potatoes, they also have Chicken Satay Meatballs in a Bucket ($9), where the meatballs are doused in spicy peanut sauce, and served with cucumber slices, onions and rice cakes. Quench your thirst with their Bucket Drinks series. One drink to try would be the Blue Pea Lychee Tea ($6 for one, $10 for two) that comes with toppings of your choice!
---
Ramadan Bazaar 2018 food to try
---
It's always fun to head down to a bazaar filled with food. Jio all your foodie friends along to make sure you get to try as many of these snacks as you can! Let us know in the comments if there are more Ramadan Bazaar 2018 food that are worth trying.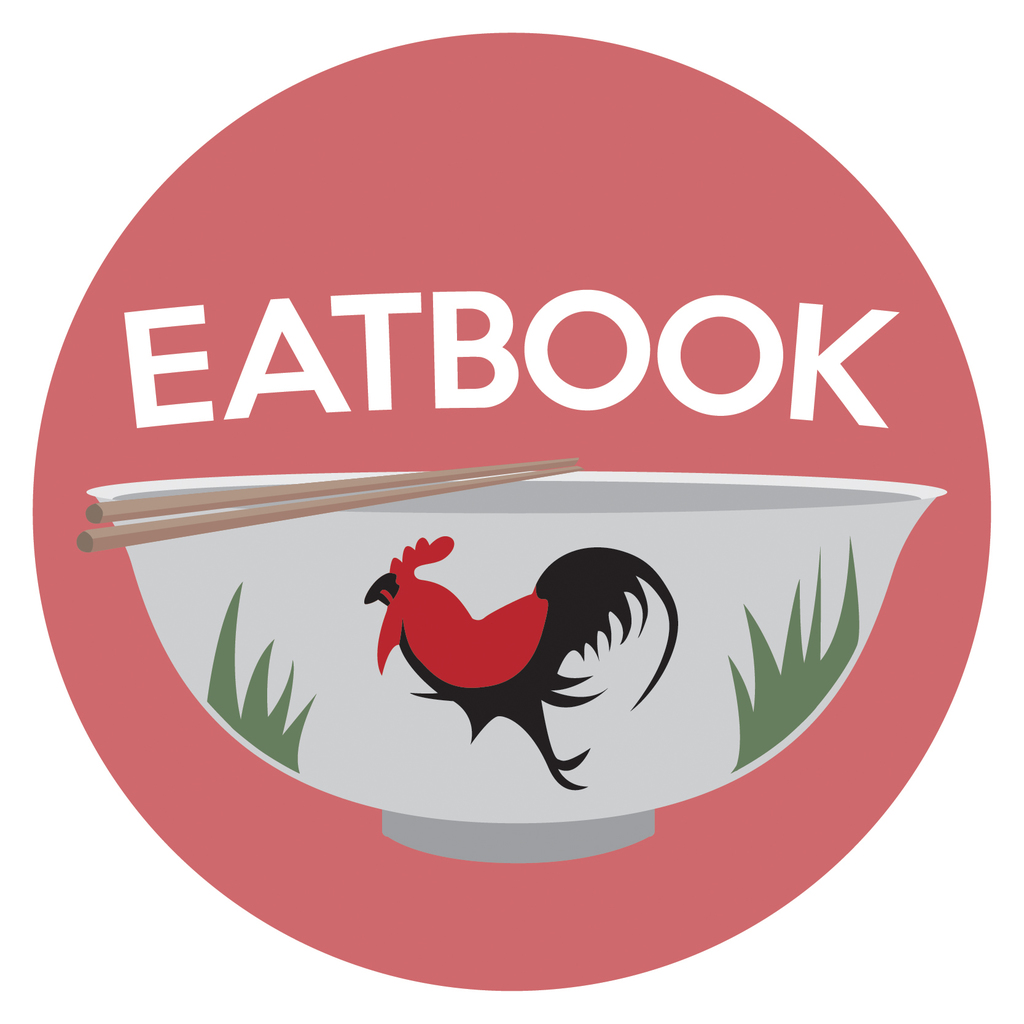 Drop us your email so you won't miss the latest news.