Pink ramen and spicy Magma Ramen at Ramen Champion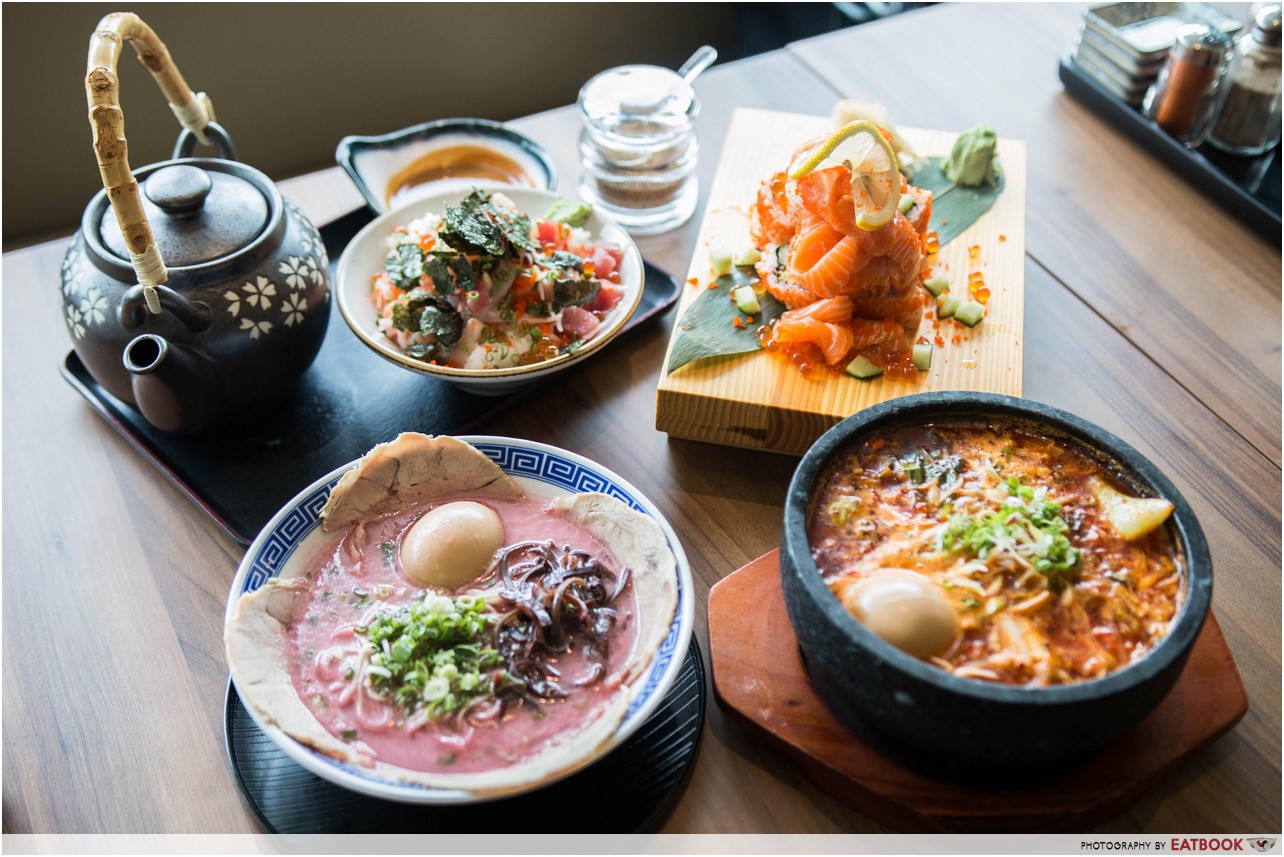 For someone who can't do without having rice every day, some of my special memories actually involve noodles. There was a period in my teens when my mum and I would watch Asian horror movies into the A.M. and share a packet of instant noodles afterwards to rub off the spookiness. Having grown up, tonkotsu ramen became one of the few noodle dishes I sometimes crave for because of the unforgettable taste of my first bowl in a corner of a small restaurant. My stress always seems to melt away as I tuck into ramen, thanks to the rich meaty taste from the deeply comforting broth.
Clarke Quay Central has four ramen restaurants but the new Ramen Champion stands out with dishes that entice with unusual colours and attractive plating, piquing my curiosity with their innovative twists.
Food at Ramen Champion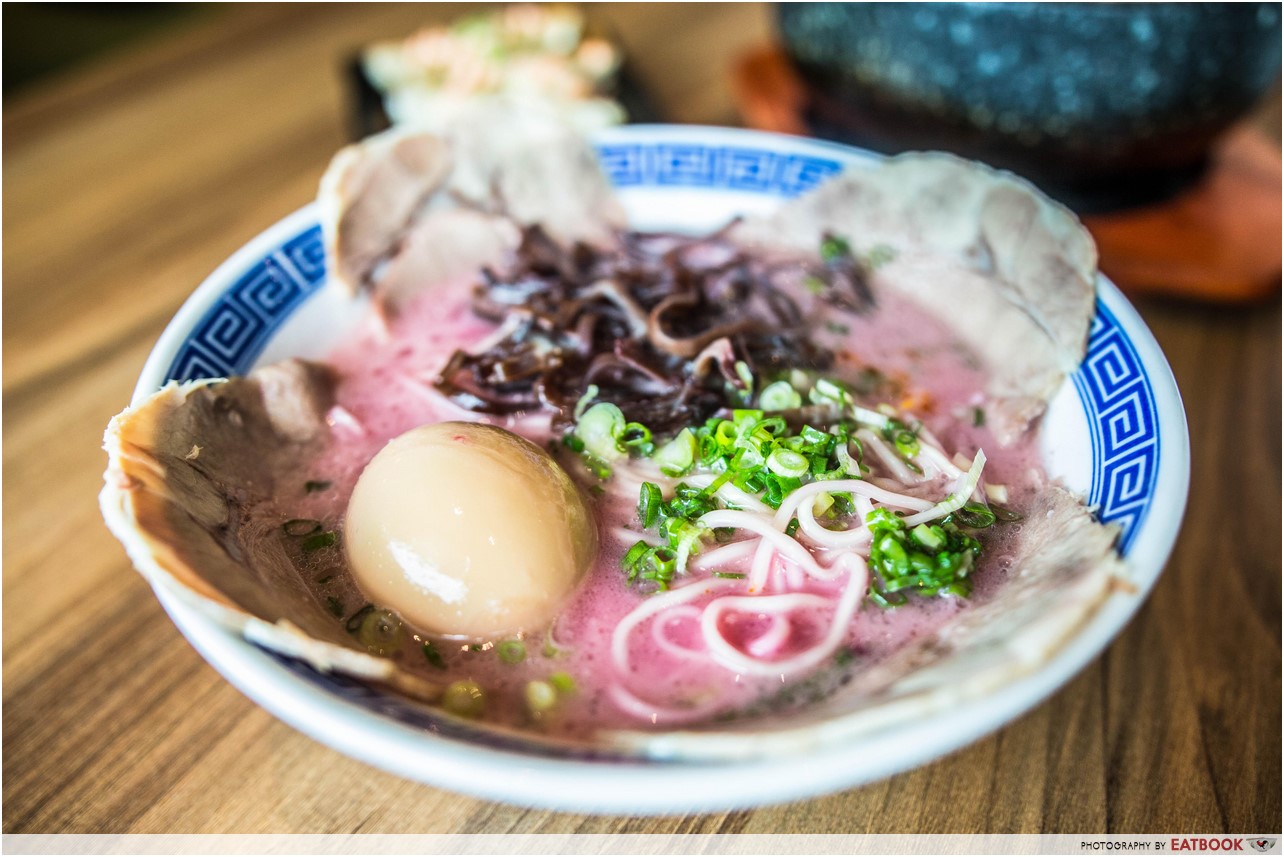 Special Tonkotsu Pink Ramen ($15.80++) is a unique one, and what struck me first was its eye-catching hue. Its colour comes from beetroot and blueberries. I eagerly sipped a spoonful of soup, and instantly loved it. The beetroot and blueberries balanced out the saltiness of the tonkotsu broth, while making it mildly sweet. Neither cloying nor too light, it had the right amount of tonkotsu flavour to satisfy my taste buds.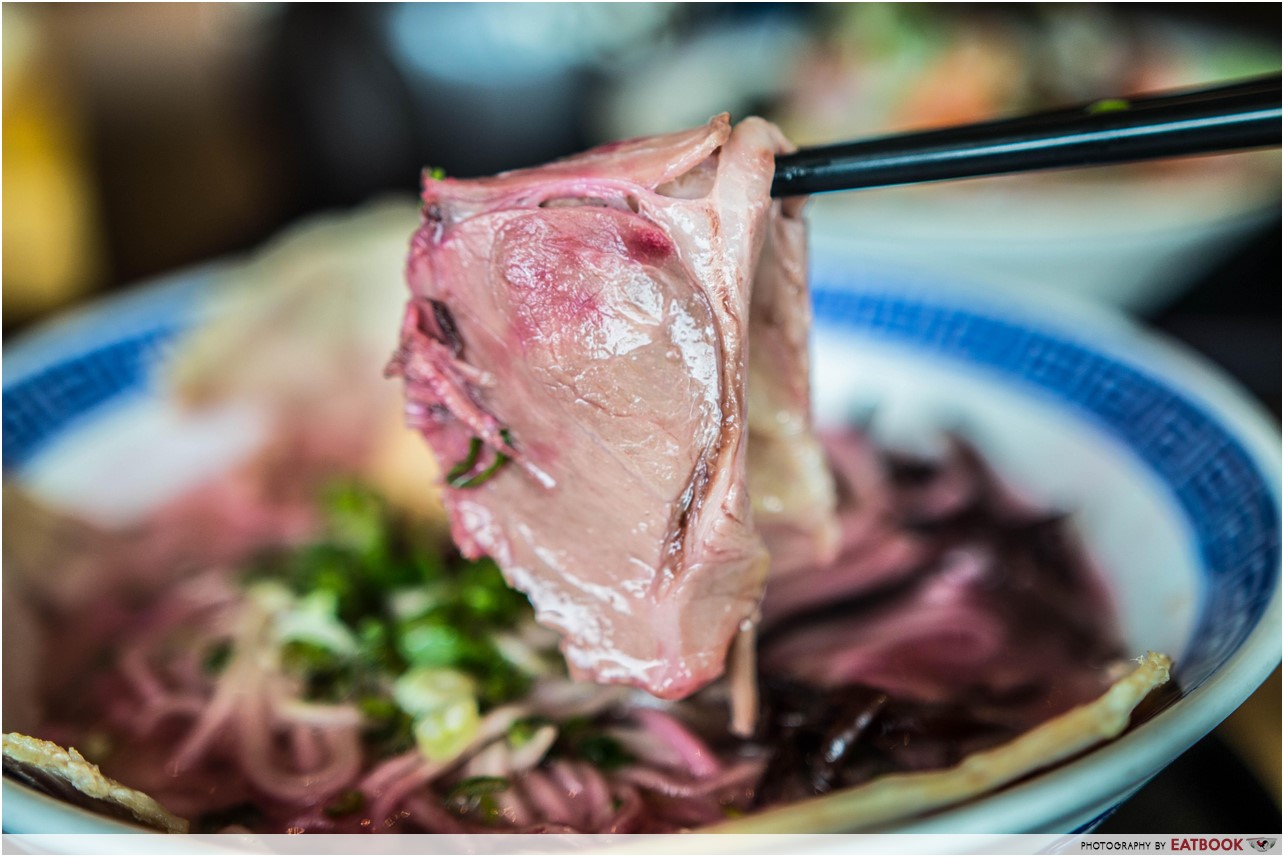 The thin noodles and char siew were stained pink and the latter was soft and fragrant. I slurped up a mouthful of noodles and to my delight, they absorbed the flavours of the broth. The toppings also supported the dish well. The ajitama egg I broke open gave way to a semi-molten yolk, and black fungus added crunch.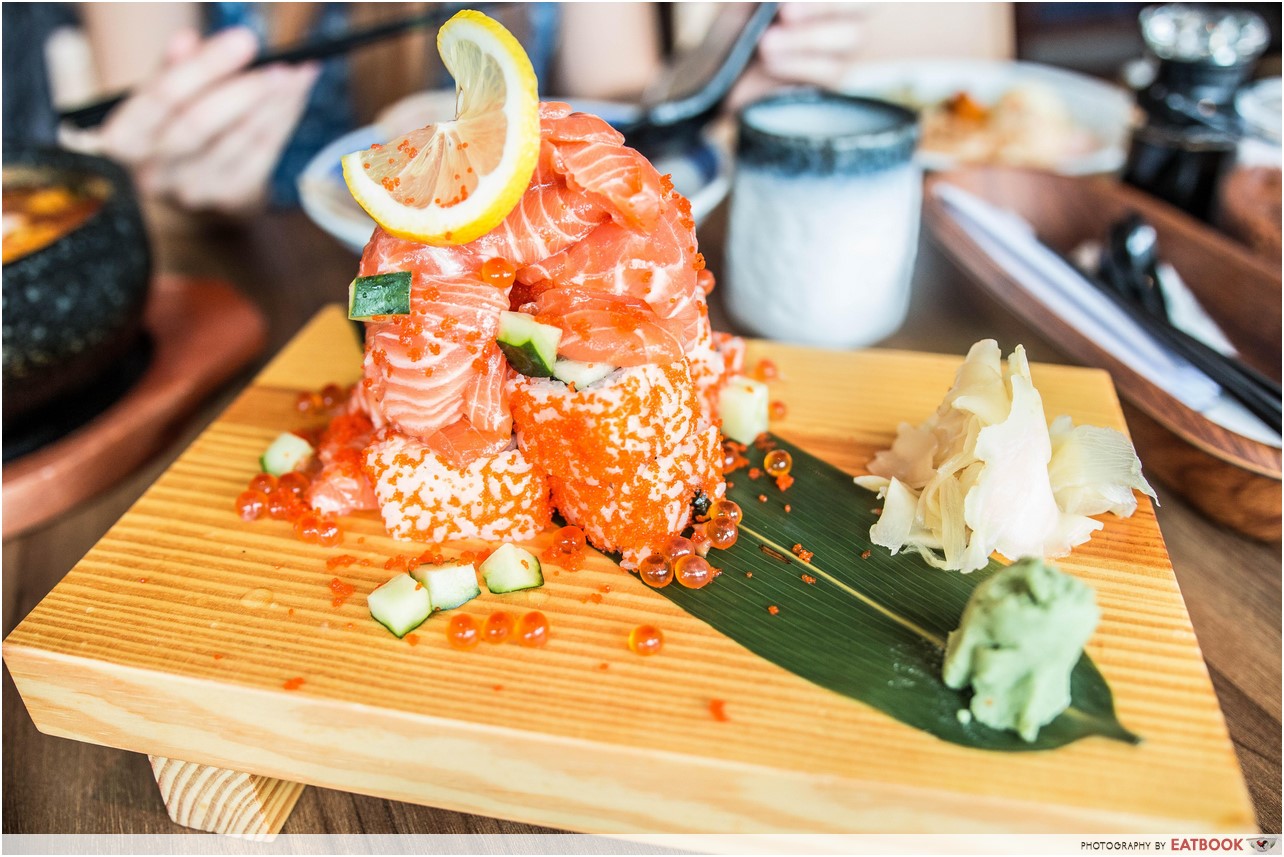 A twist to the usual California roll is Salmon Tower Maki ($21.80++). Slices of salmon were draped over maki that was loaded with ebiko, avocado, crabstick, and cucumber, and ikura was used to decorate the tower.
The salmon was just thick enough for a pleasantly meaty bite, and a thin lemon slice added a touch of zest. While it's not the freshest I've had, the salmon didn't have any fishy smell and was served in a generous amount.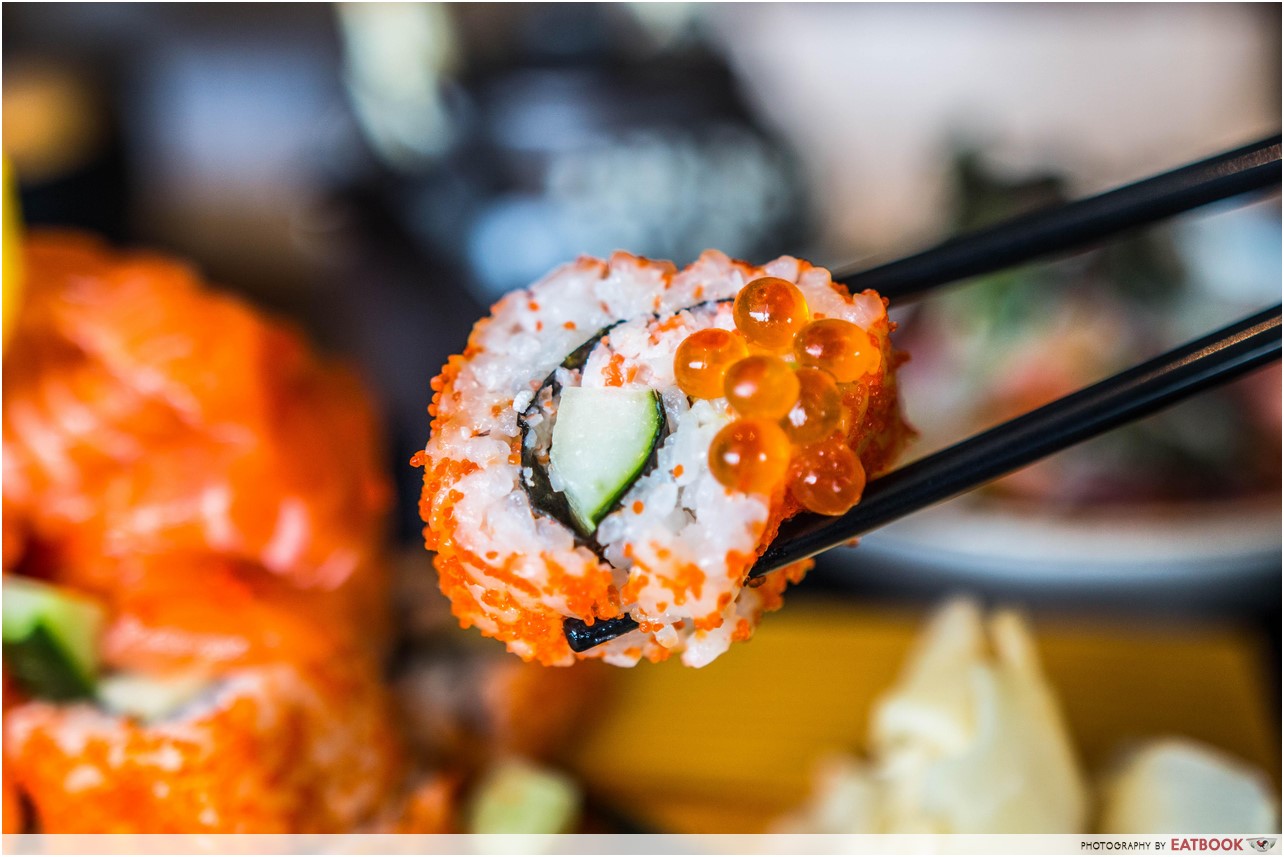 The maki was less appealing as it tasted flat and its rice grains were too sticky. However, the coat of ebiko around it added saltiness and a slight savouriness to it, and a dab of wasabi helped to lift its flavour.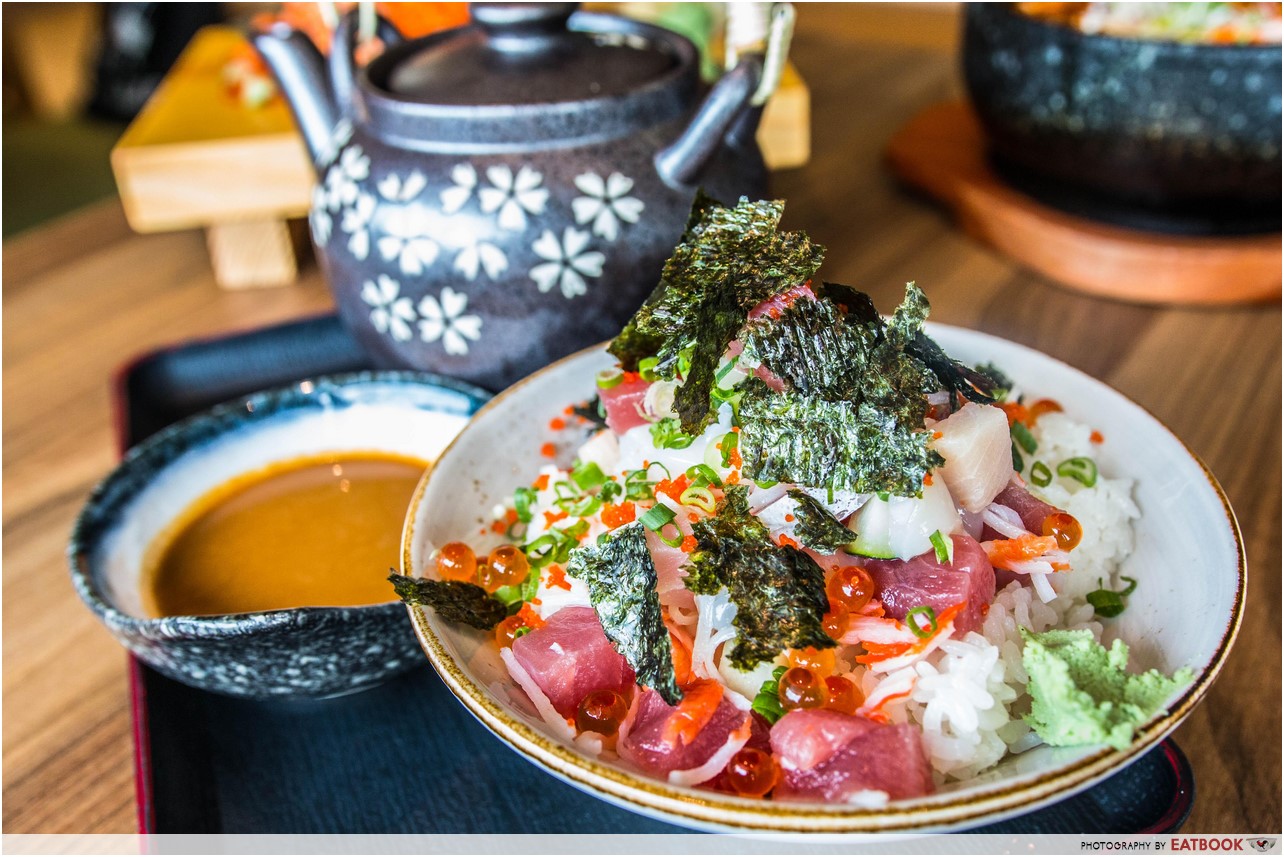 Fisherman Don ($21.80++) showcased sashimi cubes on warm rice, a sauce blend of miso, sesame and soy sauce, and a teapot of hot dashi soup. It's a dish from Ishikawa – a prefecture in Japan – that can be eaten in two ways. First, empty the sauce over the rice and give it a good mix before eating. Halfway into it, you can pour the dashi soup in to make a porridge.
The rice quickly warmed the sashimi cubes by softening the tuna and salmon while the squid retained a slight spring. Although the sauce had an intense flavour, there was enough white rice to tone down its saltiness and mellow out the strong scent of sesame. The mildly earthy marinade enhanced each ingredient but I felt that pairing each mouthful with wasabi helped give it the oomph it was lacking.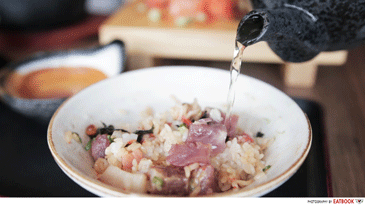 After the intensely savoury start, the warm dashi soup made with bonito and kombu washed down the flavours and made it a relatively bland porridge. Those with a light palate may prefer not adding the sauce at all, as it overwhelms the dashi's delicate flavours.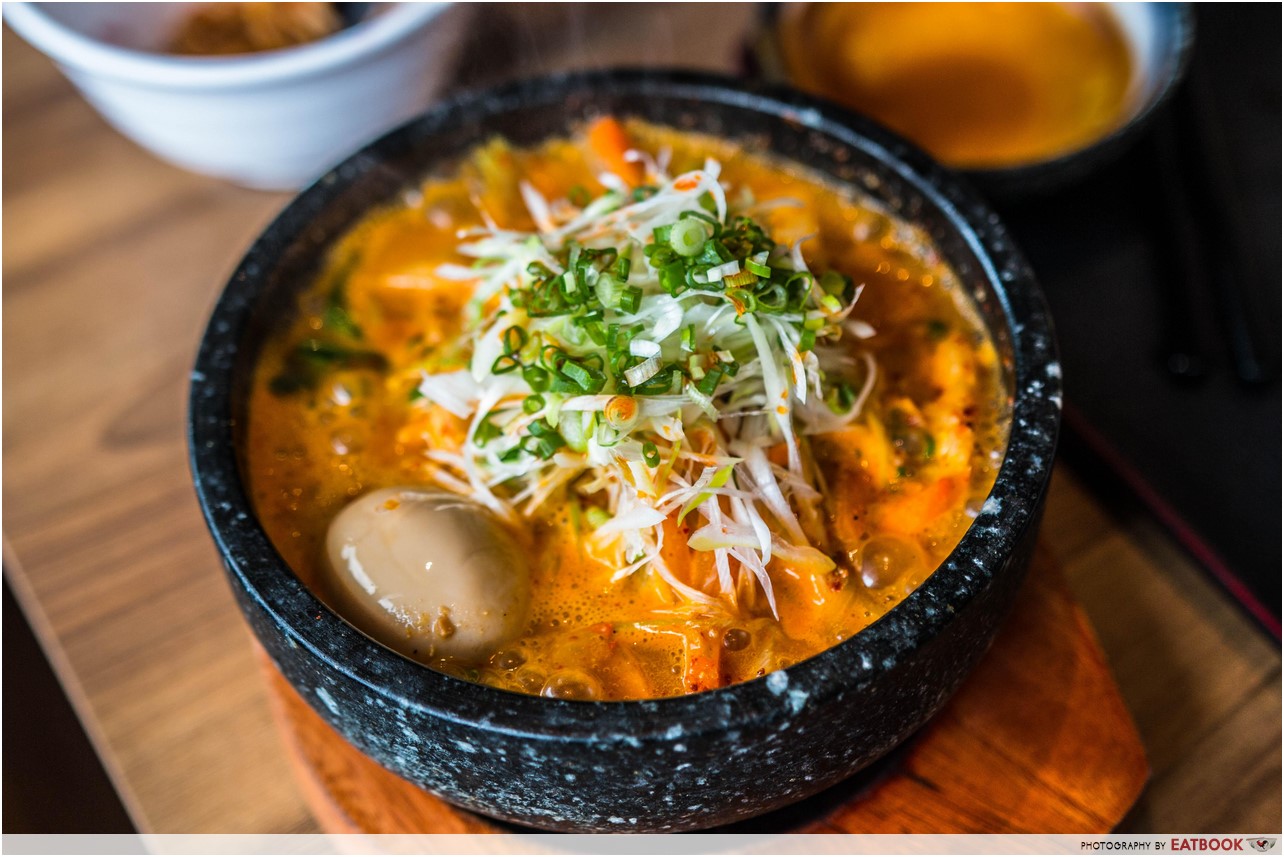 Magma Ramen ($14.80++) bubbled hot in its stone pot when it arrived, looking angry from capsicum peppers, Japanese black pepper, chilli padi, chilli oil, Korean chilli flakes, and Japanese chilli flakes. Thick, flat noodles were boiled in chicken broth with the six spices, topped with an ajitama egg, mixed vegetables, and minced meat. You can choose between twenty levels of spiciness, and I tried level five – the recommended level for spicy food lovers – and 20.
My first sip of the former got me perspiring even though the soup was just slightly hotter than spicy Korean ramyeon. It was the heated spices that squeezed tears from my eyes as I choked back on its pepperiness, but it got more manageable as it cooled.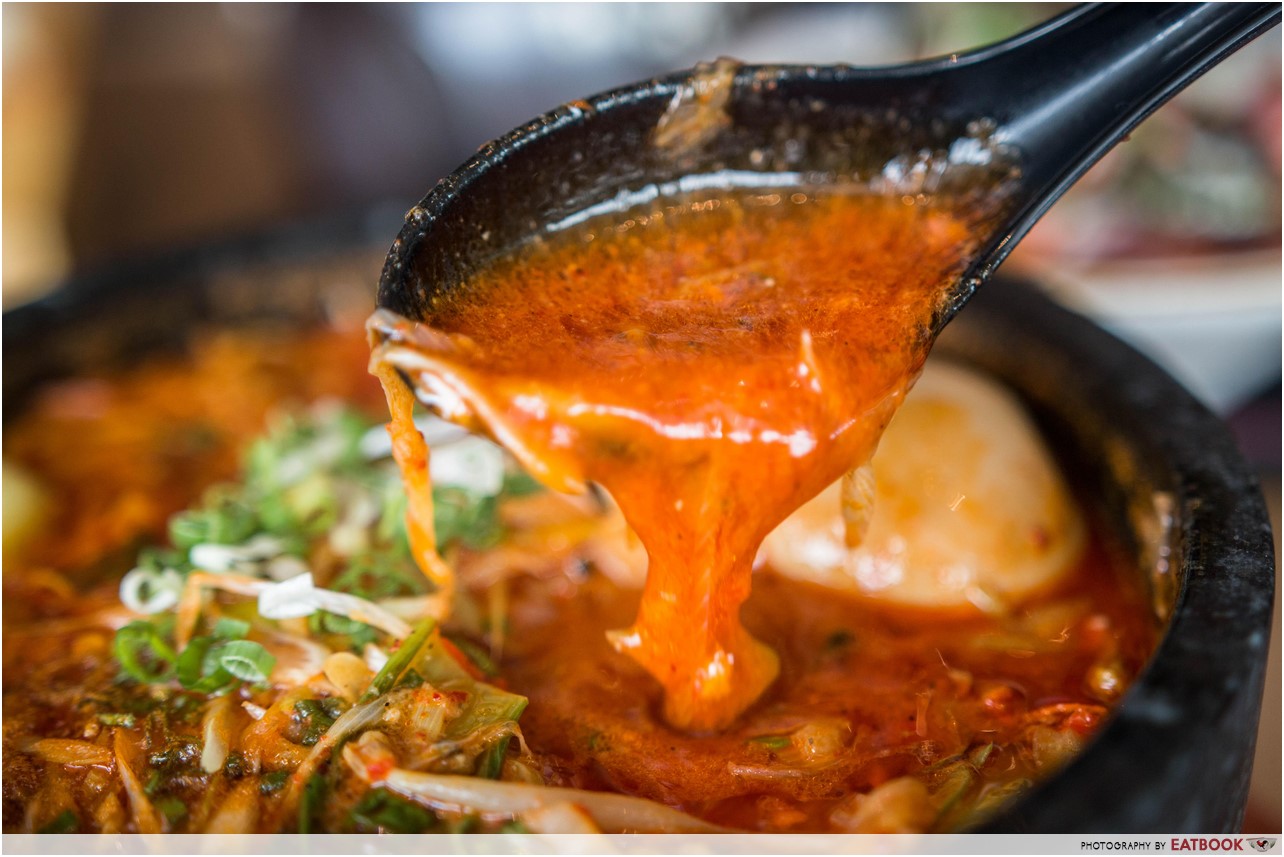 Level 20 looked impossible to survive with a copious amount of chilli oil that coated every spoonful, but it was a challenge I was ready to take. The burn lingered on my tongue so I ate slowly, and gradually realised that the level 20 soup was addictively tastier. Unlike the level five, this pot stayed spicy even when cooled.
When I broke open the ajitama egg in it, I was glad to find that the yolk was not overcooked by the bubbling broth. The combination of thick noodles, crunchy beansprouts, and bits of minced meat gave a good depth in flavour and a variety of textures.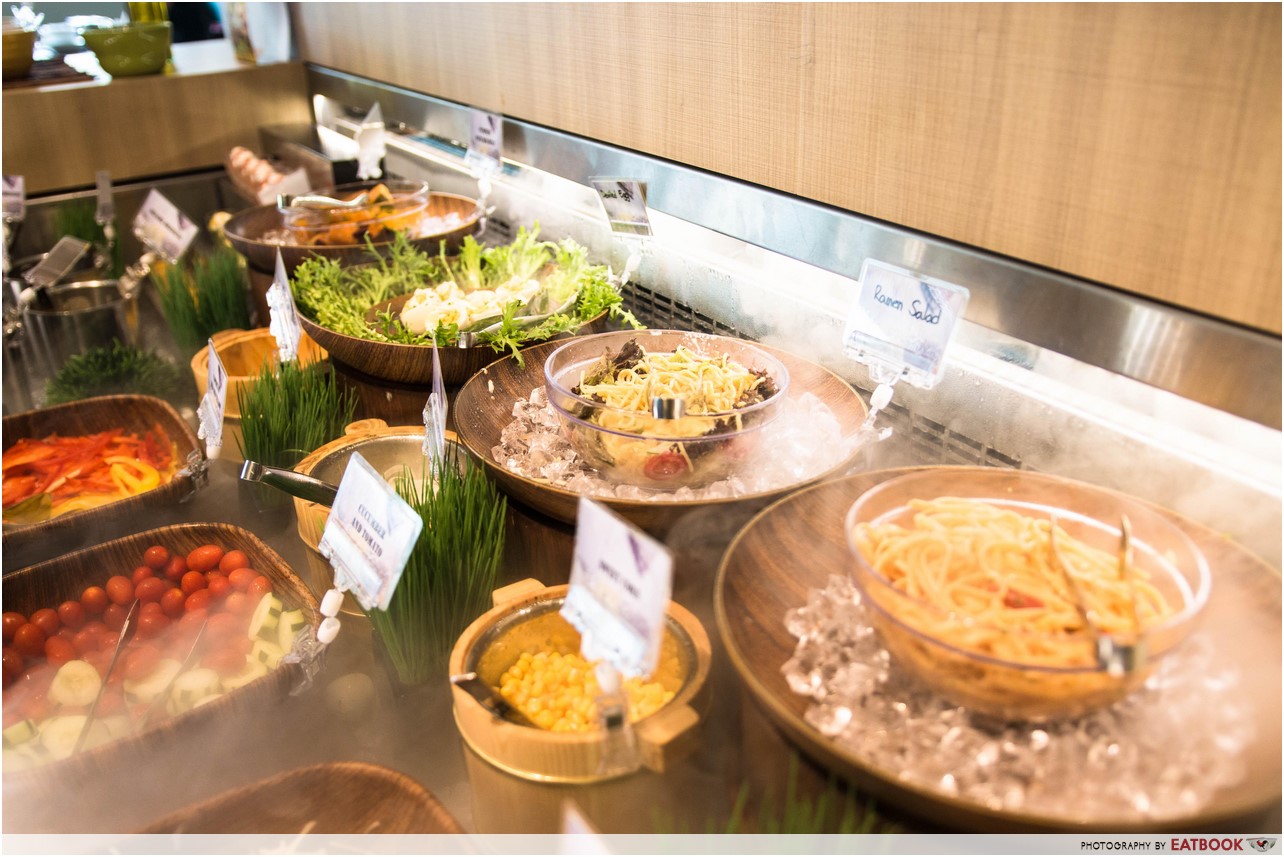 Unique to Ramen Champion's new outlet is a free-flow salad bar for those who add $4++ to any regular ramen or rice bowl. It offers over 20 dishes including deviled eggs, mentaiko potato salad, and ramen salad. There's also a small section of puddings, with flavours such as Houjicha Pudding with Matcha, for a sweet ending to your meal.
Ambience at Ramen Champion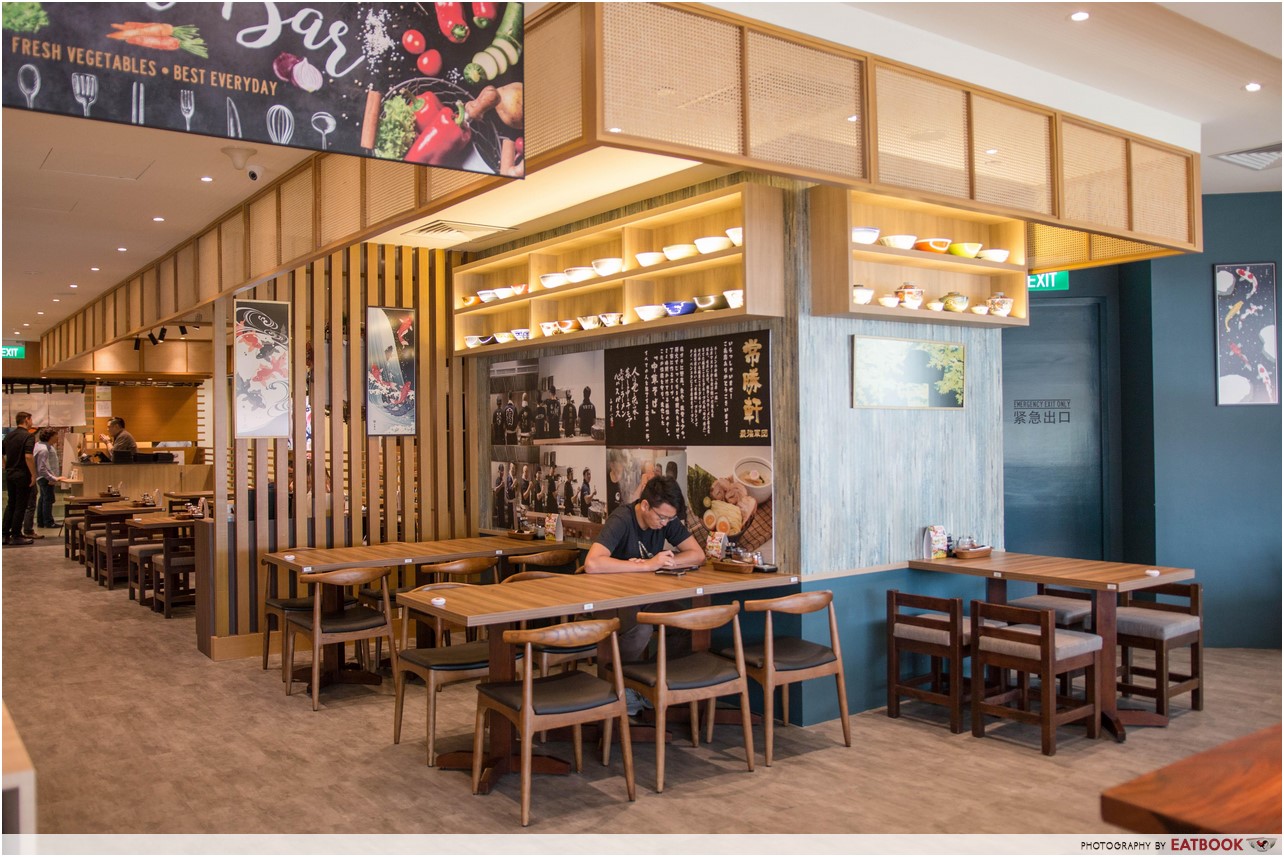 The new restaurant at Clarke Quay Central is spacious, with bar and table seats that cater to various group sizes and partitions that offer some privacy. Its minimalist design has an uptown feel but the wooden furnishings give it a laidback vibe. Half of the eatery enjoys plenty of sunlight with some window seats that offer a view over the city, whereas the other half is bathed in the warm glow of indoor lights.
Unlike Ramen Champion's other outlets that are styled like a food court, this restaurant has an extensive menu that includes rice bowls, grilled meats, maki rolls, desserts, and even kids' meals. It gets busy during lunch hours, but a small buzzer at each table alerts service staff to diners who want to be attended to. I like how things are at my fingertips so I can concentrate on my companions and the taste of my food as I let my mind unwind.
The verdict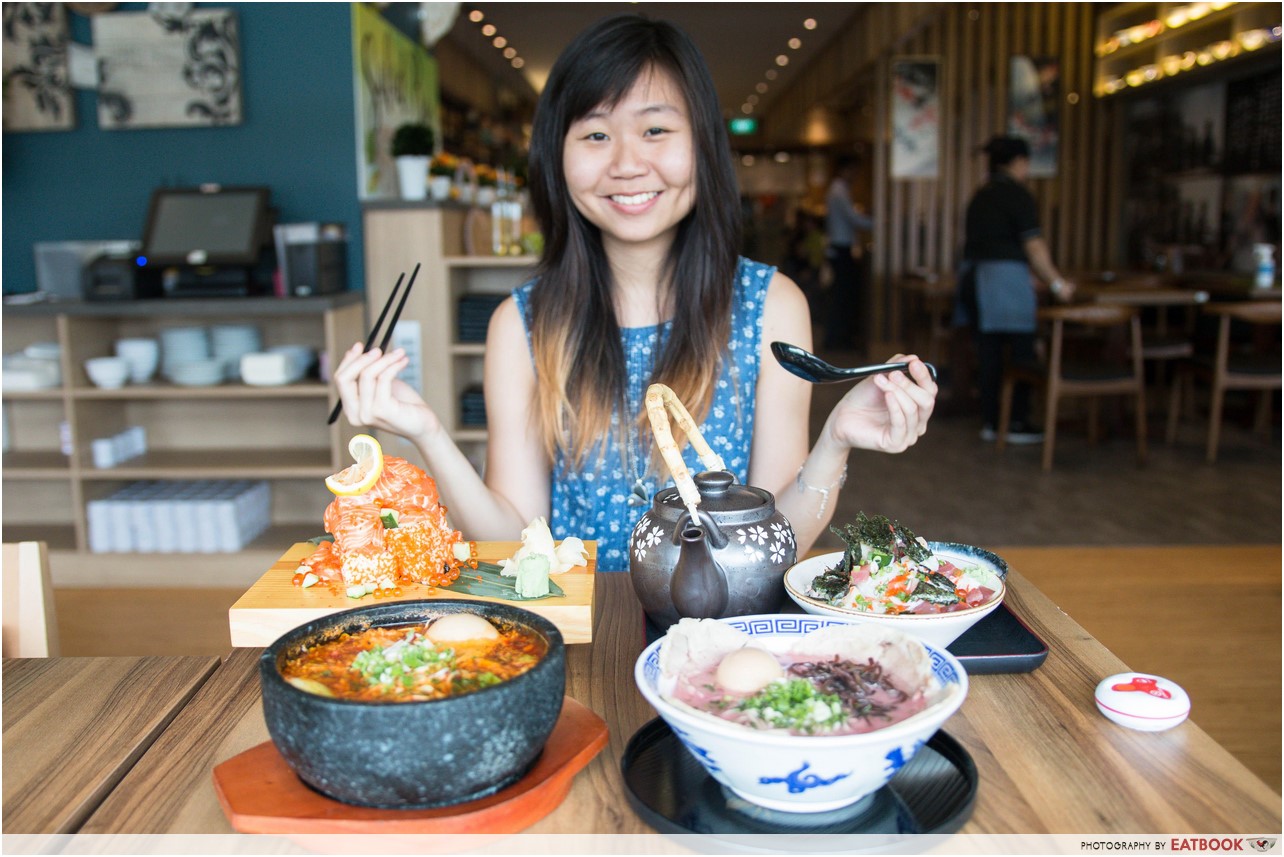 Ramen Champion won me over with its Special Tonkotsu Pink Ramen. Putting its good looks aside, the noodles soaked up the broth that was rich without being cloying and the semi-molten yolk of the ajitama egg was a delight. Proving my mettle with the spicy Magma Ramen was a fun challenge I would enjoy daring my friends to try. Japanese cuisine is my favourite and I appreciate a relaxed ambience, so while some dishes could be improved on and others don't appeal as much to my taste buds, I'm glad the menu has an extensive range of choices with a dish or two I'd return for.
Address: 6 Eu Tong Sen Street, #03-89, Clarke Quay Central, Singapore 059817
Opening hours: Daily 11am to 11pm
Tel: 6221 2156
Website
Ramen Champion is not a halal eatery.
This was a media tasting at Ramen Champion.
Summary
Pros
– Free-flow salad bar
– Call buzzers at each table
– Innovative dishes
– Wide menu
– Convenient location
Cons
– Expensive
– Salmon Tower Maki can be improved on
Recommended Dishes: Special Tonkotsu Pink Ramen ($15.80++), Magma Ramen ($14.80++)
Operating Hours:
Daily 11am to 11pm
Tel:
6221 2156
Address: 6 Eu Tong Sen Street, #03-89, Clarke Quay Central, Singapore 059817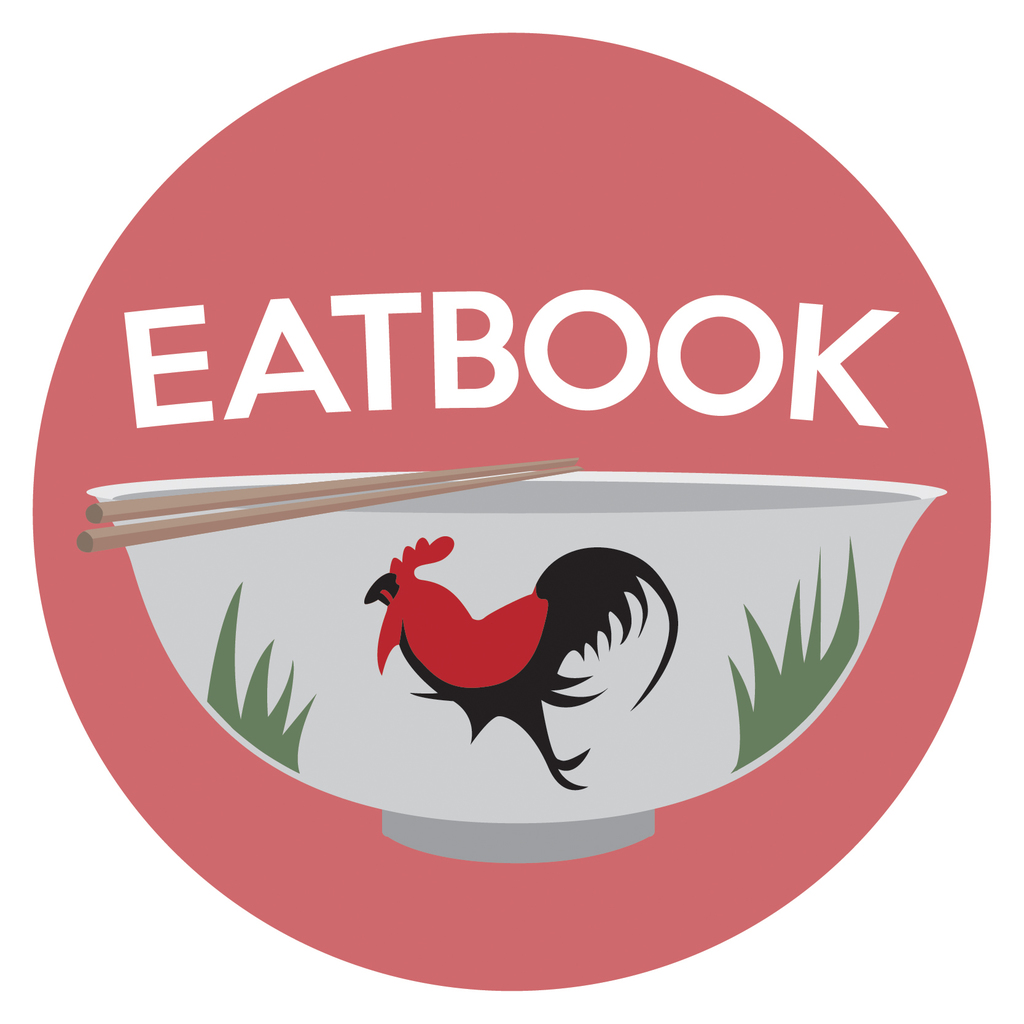 Drop us your email so you won't miss the latest news.