Creamy omurice at Canteen Bistro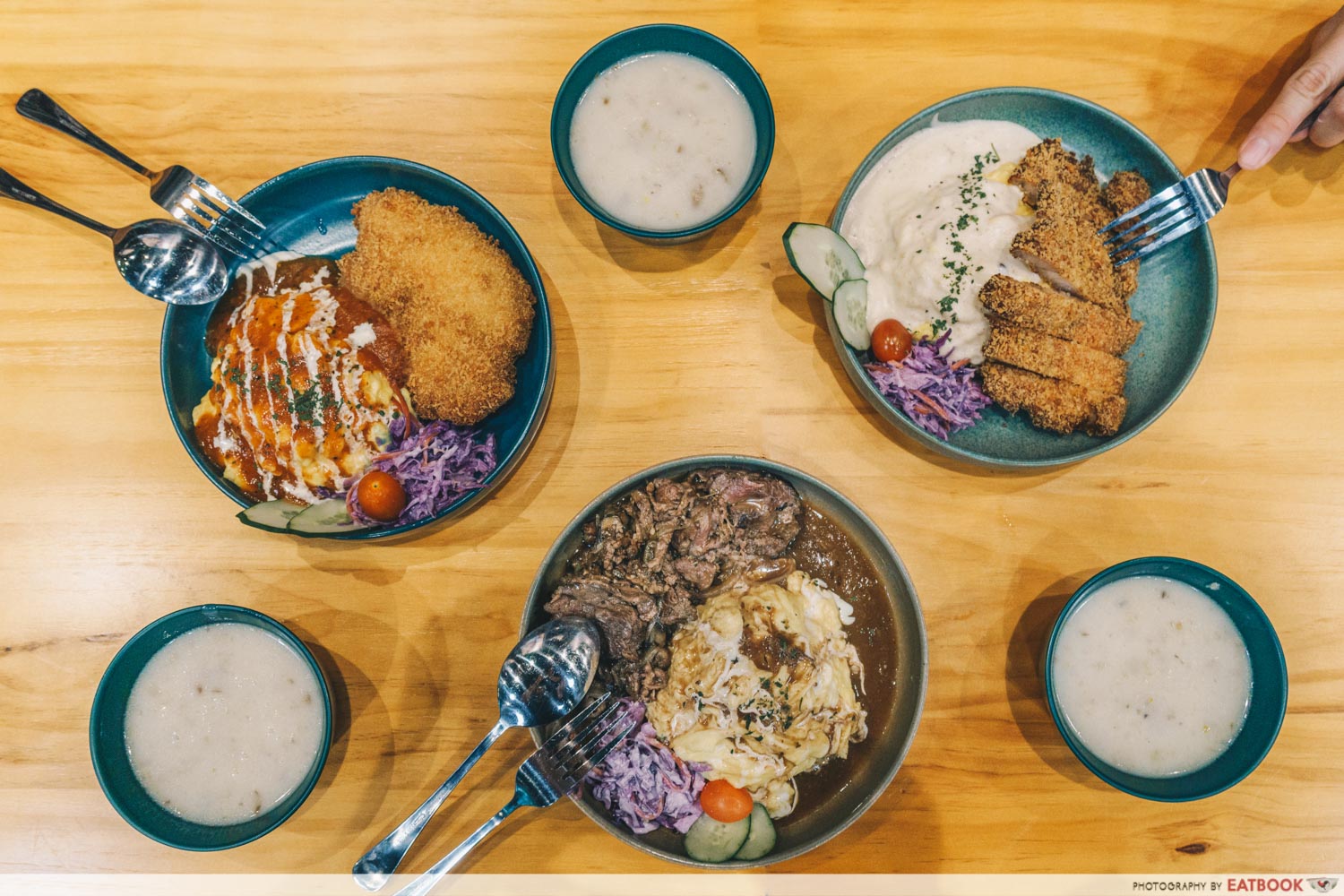 Being a fan of rich and comforting food since I was young, I love my classic rice and eggs. It was during my first trip to Japan where I discovered the glorious existence of a dish that combined my two favourites. A speciality of Canteen Bistro, omurice is a simple yet delicious creation that unites rice and egg to form a comforting dish that has won the hearts and tummies of many, including mine.
This delicacy has gained popularity in Singapore, with many omurice restaurants such as OMU and Omurice Keisuke popping up on our sunny shores.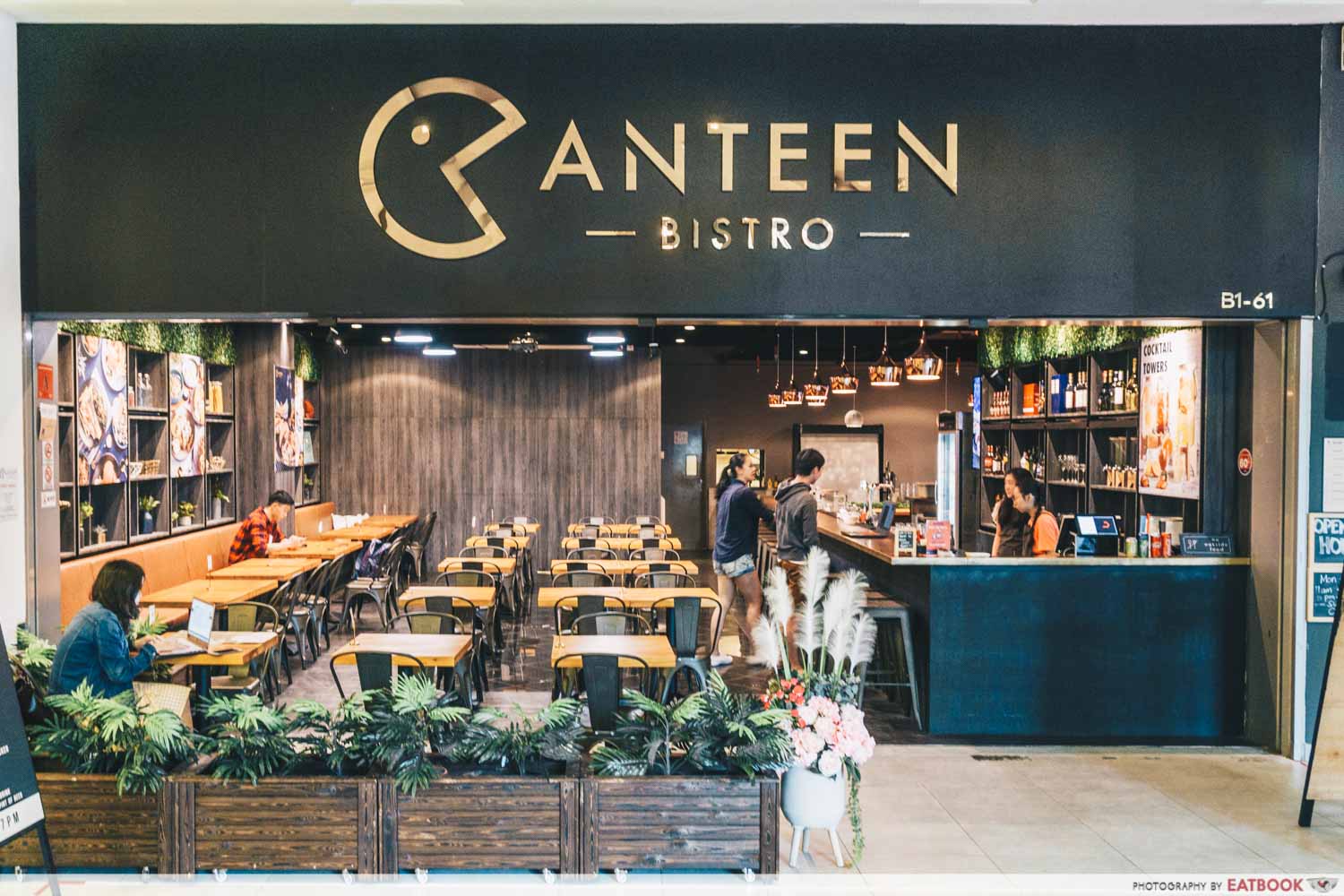 Opened in January 2020 by the owners behind Chop Chop, Canteen Bistro serves up yummy plates of omurice at affordable prices. All former engineers, the three good friends decided to go into the F&B industry to share their love for good food with the masses. Yi Fang, Zhen Yu, and Kollin firmly believe that good food should come from fresh ingredients, that's why nothing is pre-made in their restaurants.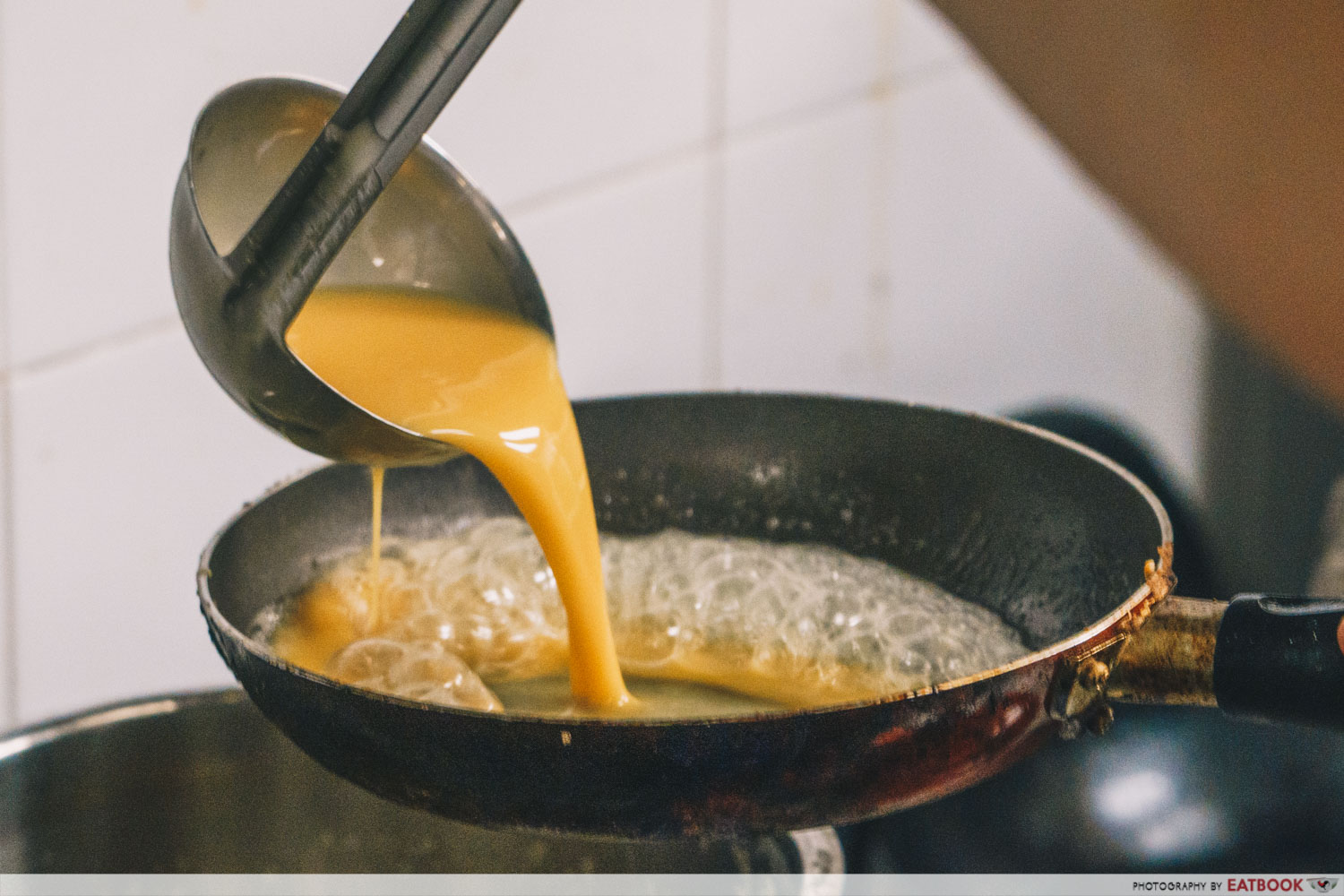 Sticking to how omurice is traditionally prepared, no butter, cream or cheese are added to the eggs.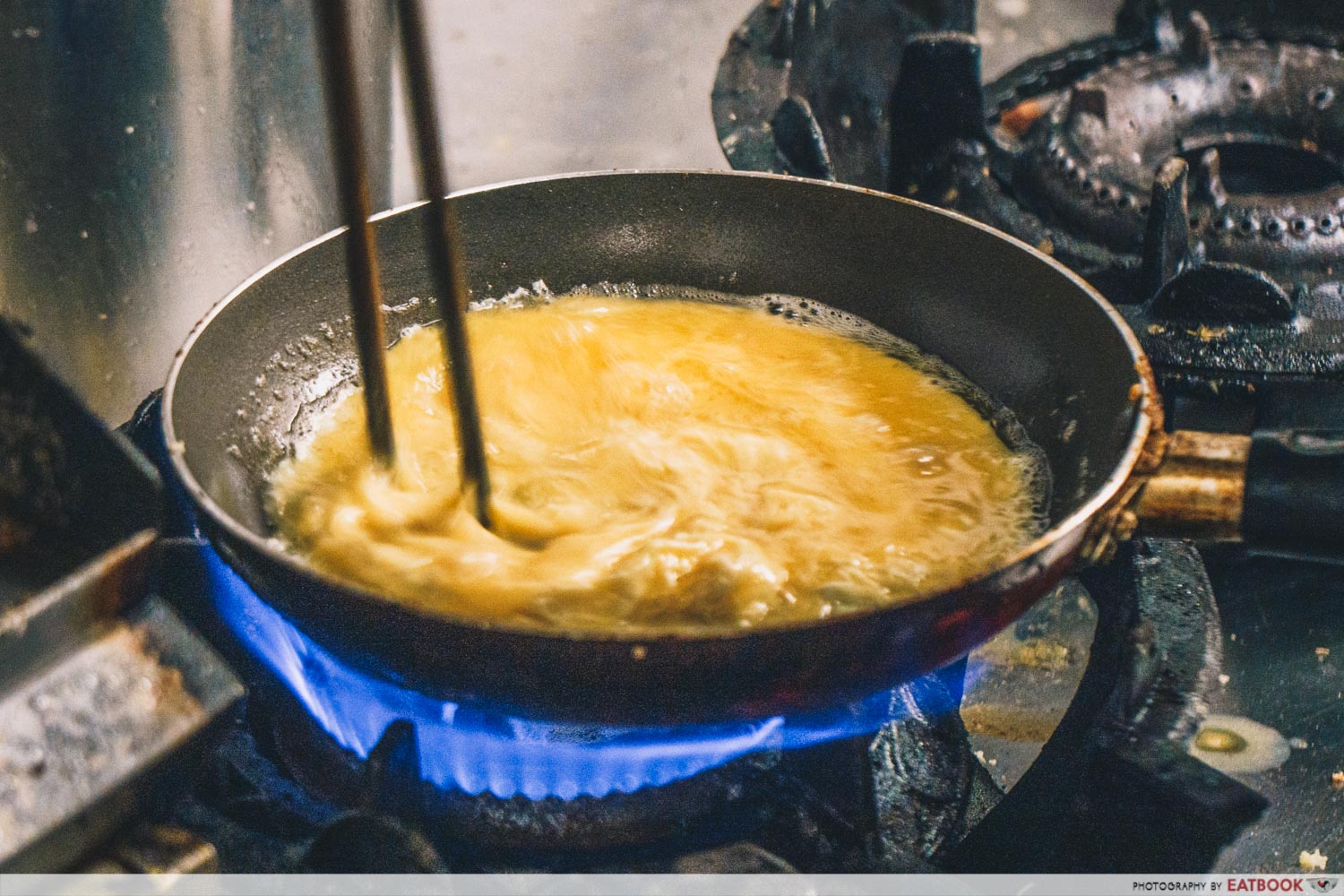 Instead, the runny eggs are expertly cooked in a pan with a pair of chopsticks. I watched in amazement as the chef mixed the eggs smoothly with clean flicks of the wrist. After giving the pan a swift jiggle to check for doneness, he swiped the eggy hot mess out effortlessly and settled it on a nice warm bed of flavoured rice.
Food at Canteen Bistro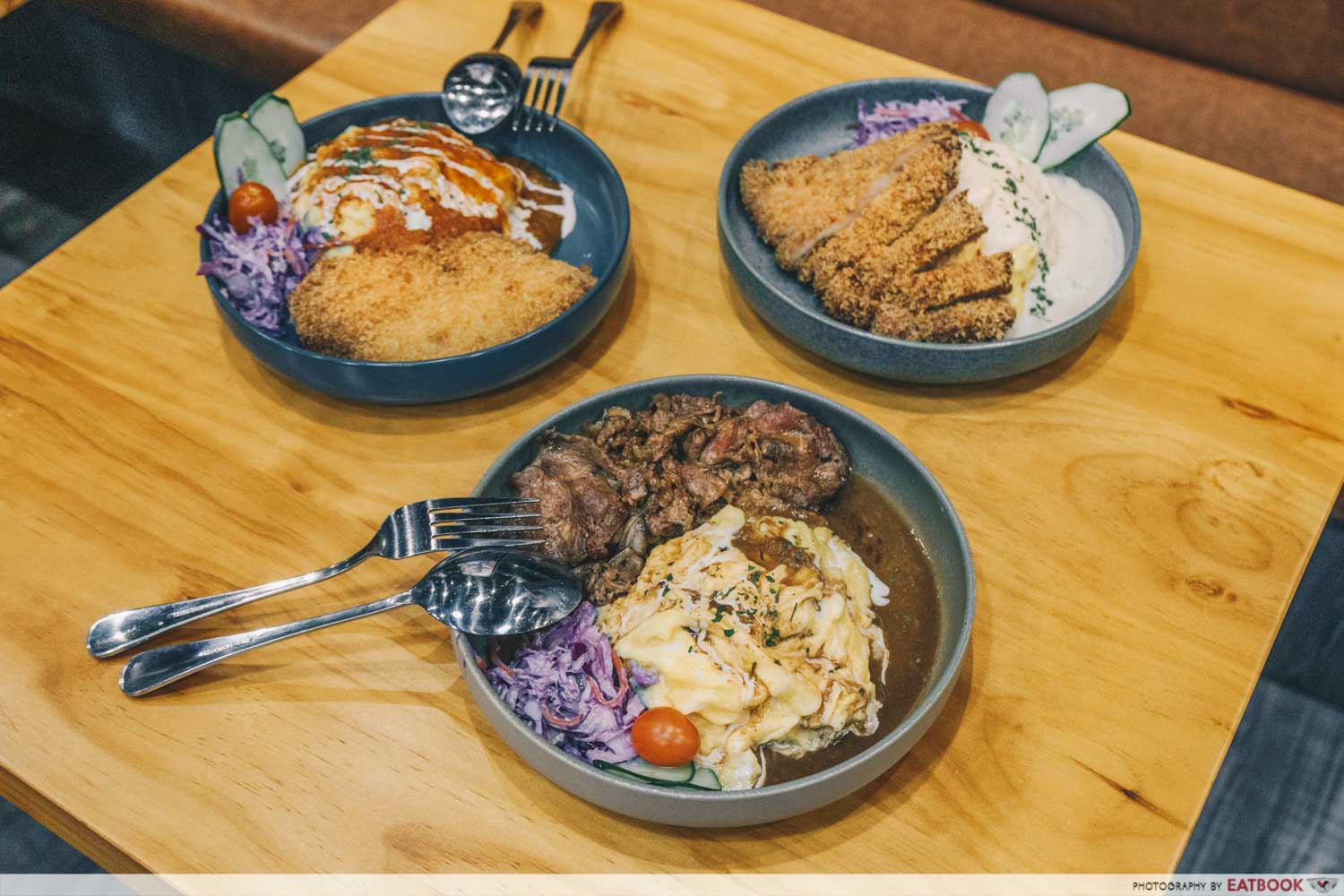 The lunch menu only consists of five omurice dishes, which come with a soup of the day. Food portions were generous, and each heaping portion of rice was nicely encapsulated by nice silky egg and surrounded by plenty of meat.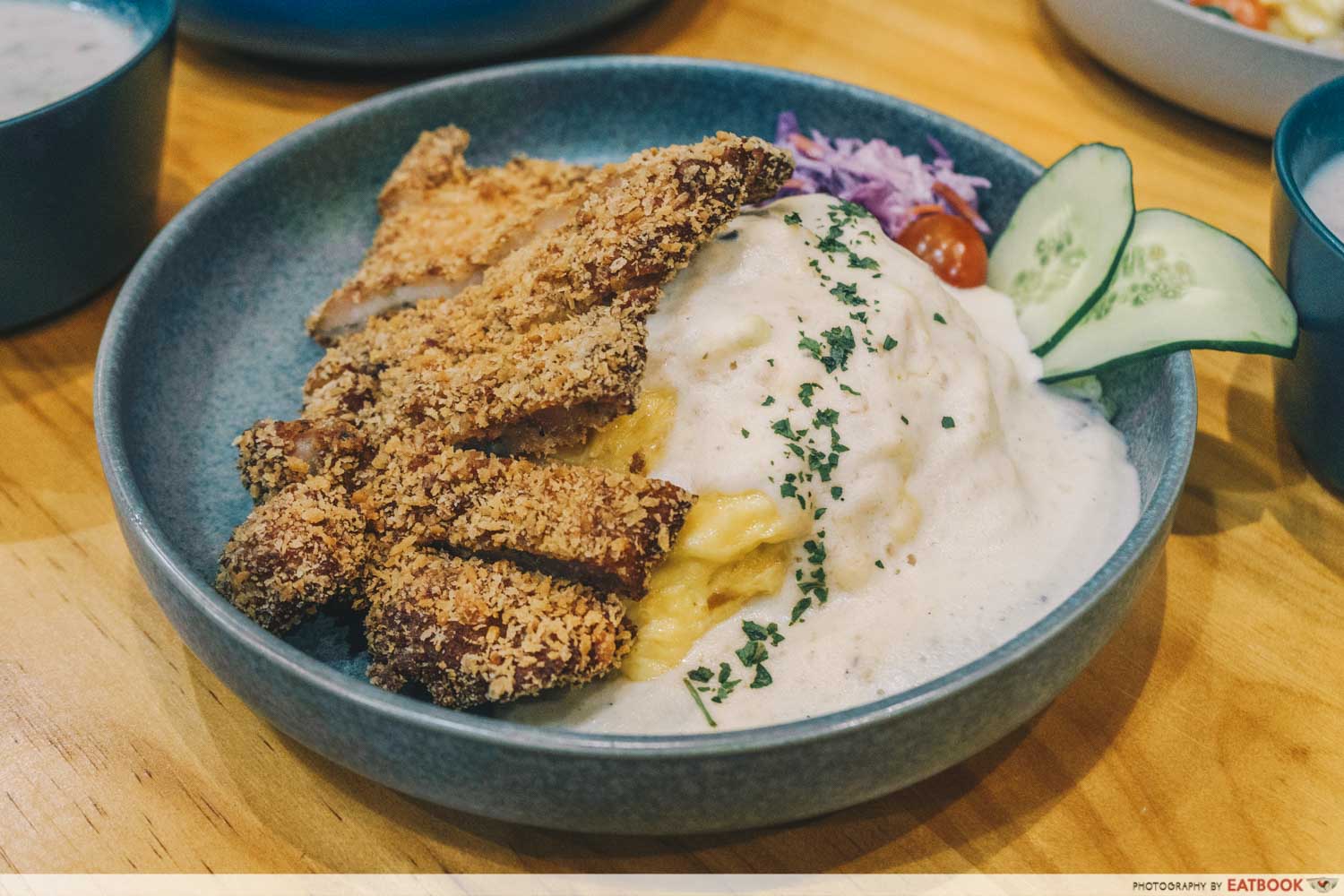 It's hard to say no to fried chicken, so we started off with the Crispy Chicken Omurice with Cream Sauce ($8).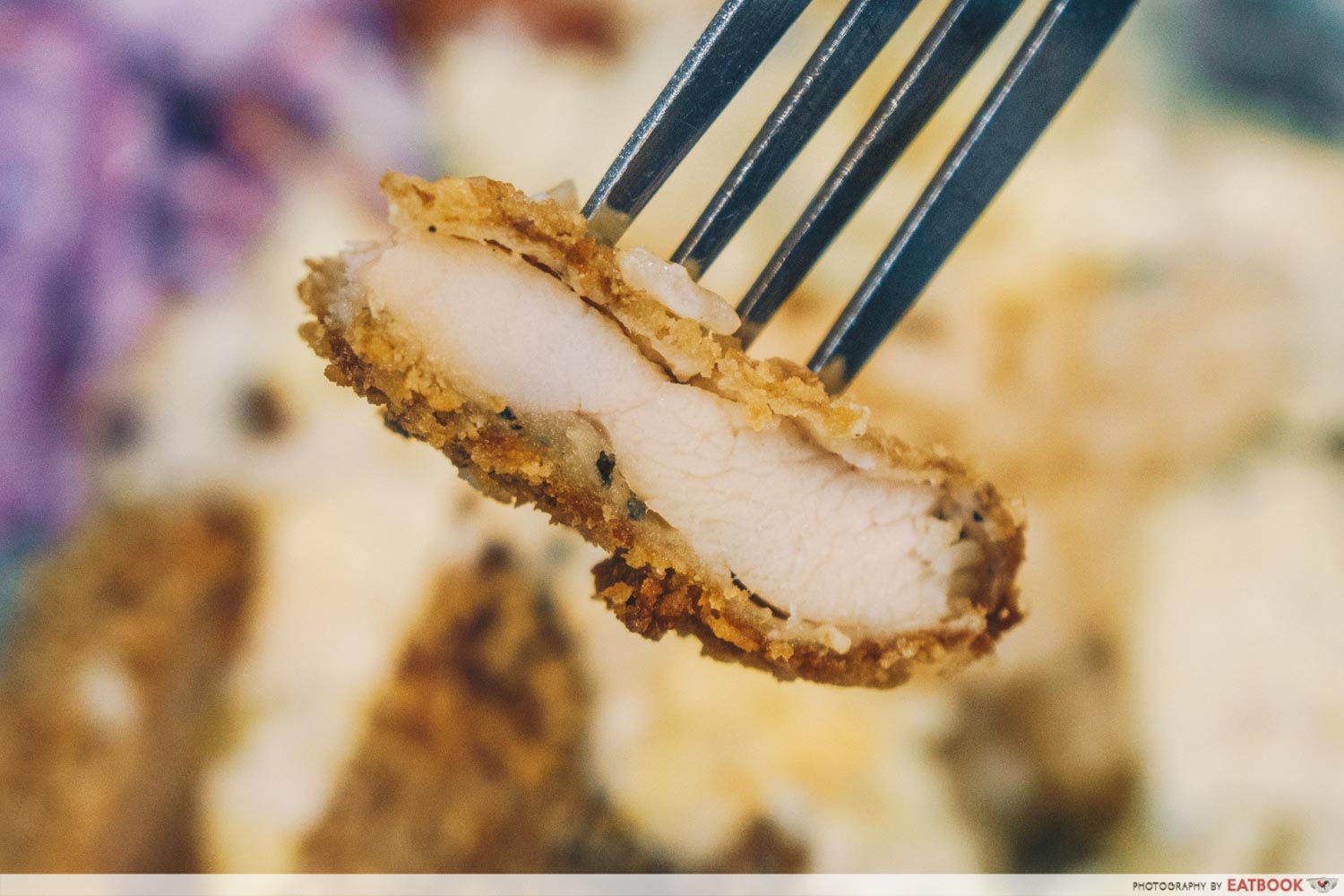 Upon sinking my teeth into the plump chicken, I was met with a pleasant crunch. Each piece had a nice crispy exterior and a warm juicy centre.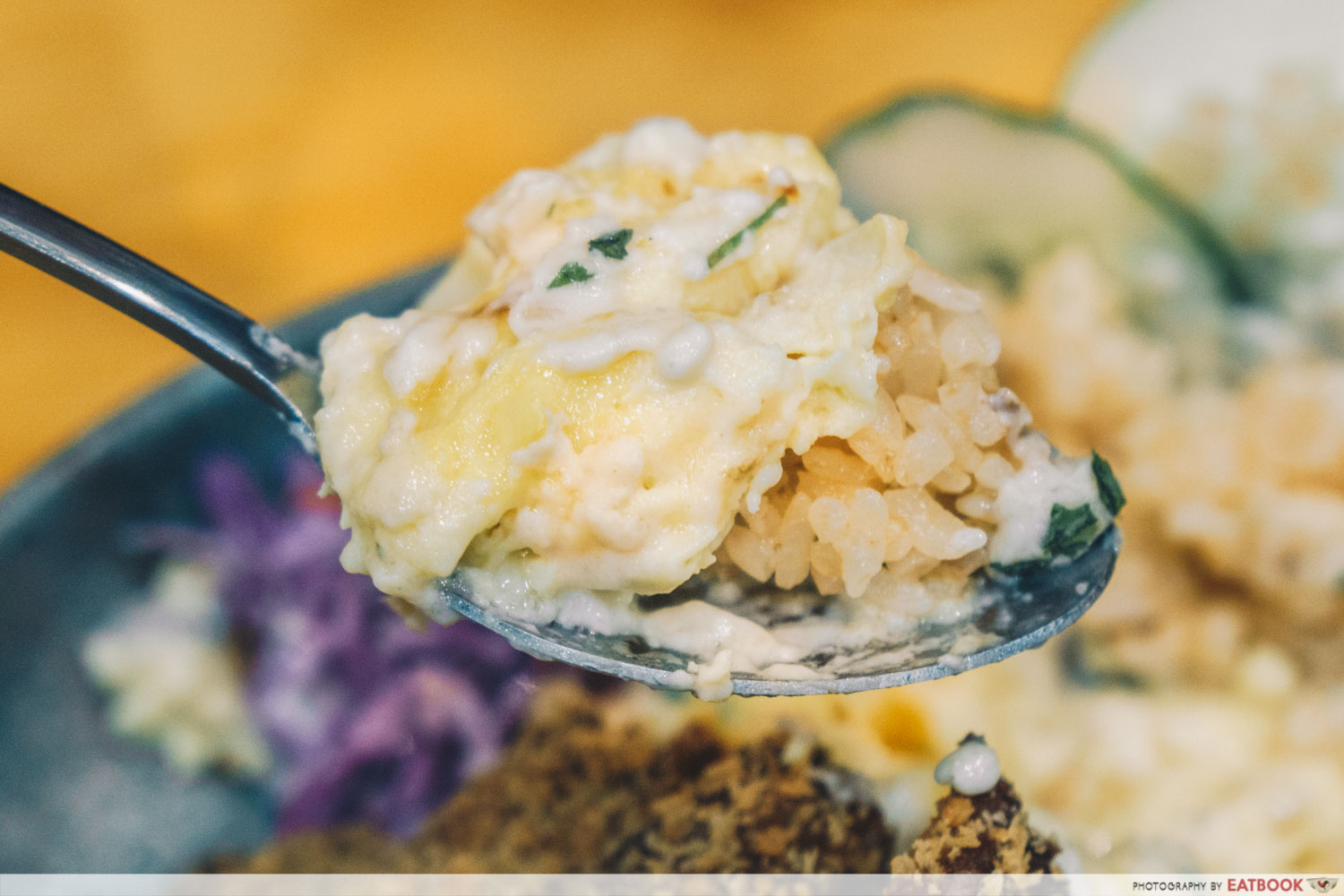 The cream sauce was delightfully smooth and milky. I was glad that it was not as rich as compared to the other cream sauces I've tasted in the past. It didn't wear my appetite down after a few spoonfuls. When slathered on the luscious eggs and flavoured rice, its creamy sweetness added a satisfying touch to each spoonful.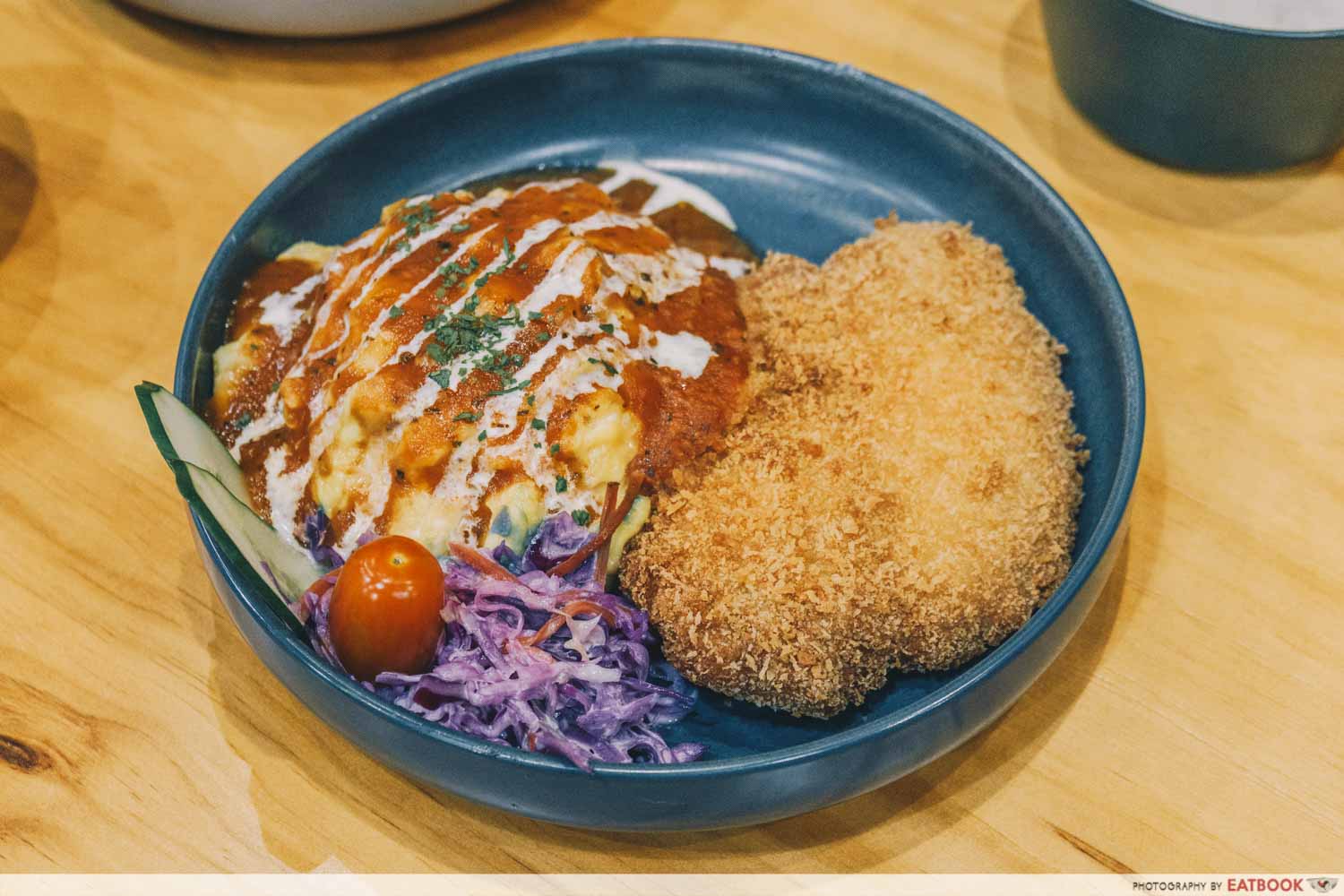 The Crispy Fish Omurice Set With Marinara Sauce ($8) was the only item on the lunch menu that was labelled with a thumbs-up sign, so I knew we had to get it.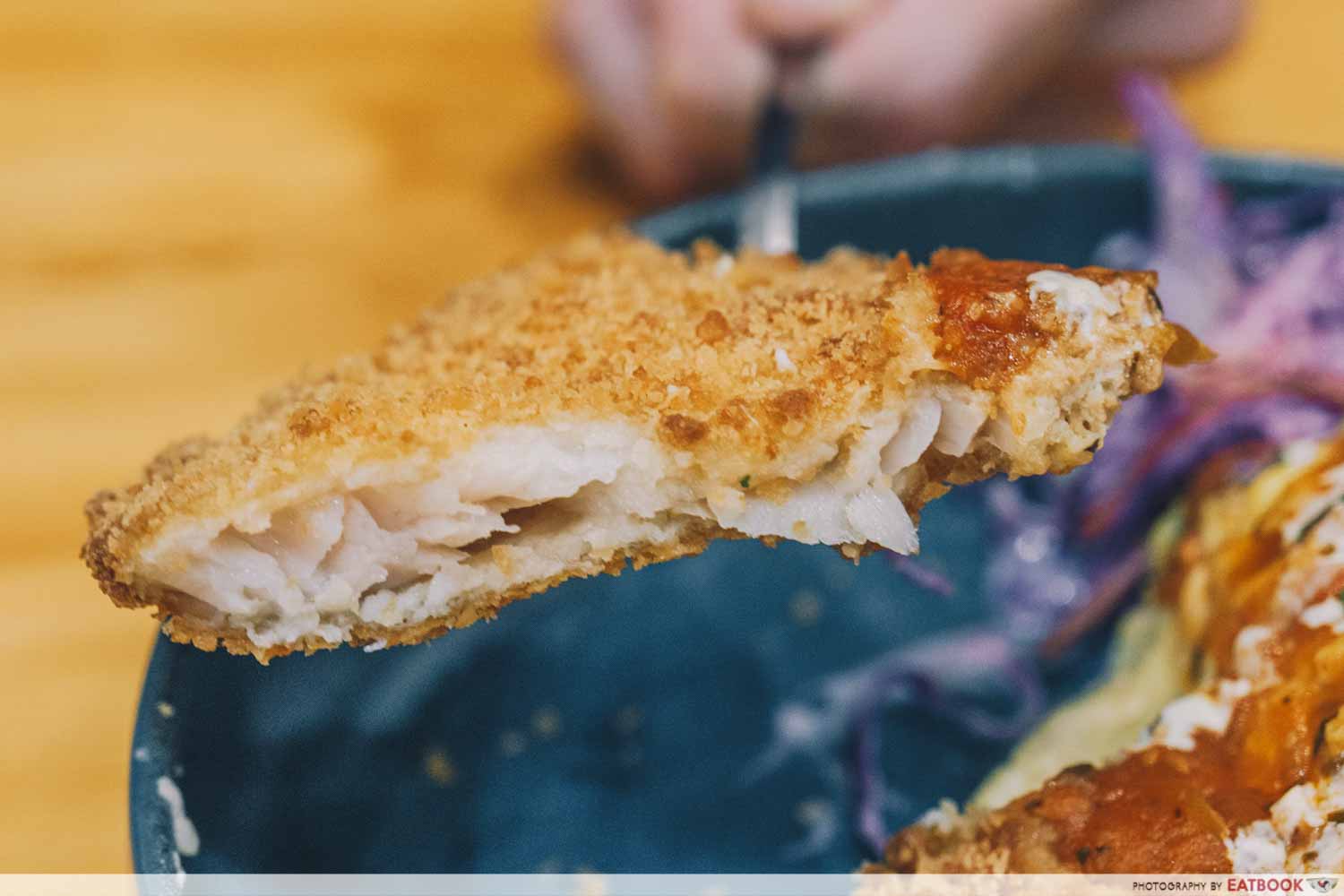 I bit through the thin exterior effortlessly to reveal small glistening chunks of fluffy white meat. A strong fishy taste ain't my cup of tea, and I was glad that the fish tasted pleasantly salty without being overly fishy. The meat was moist and tender, and even though I'm not the biggest fan of fish, this was a satisfying dish.
The marinara sauce provided a nice sweetness to the traditionally light-tasting fish meat. I liked that the sauce did not steal the limelight away from the fish, unlike some sauces that typically overpower everything else.
Being a passionate beef lover, I would never give a beef dish a miss. I'm glad to say that the Beef Stroganoff Omurice With Demi-Glace Sauce ($11) thoroughly impressed me.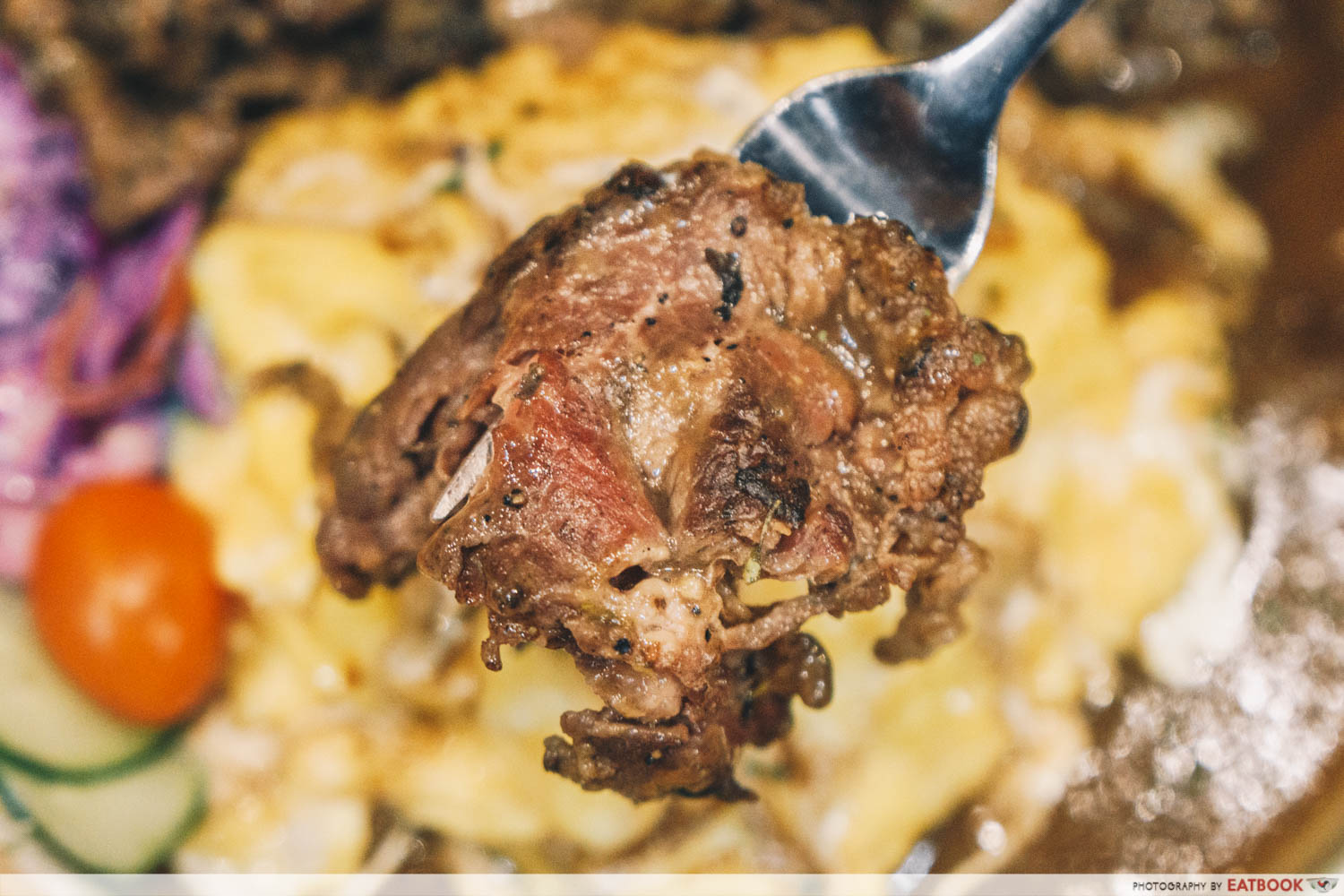 The beef slices were delightfully smoky and succulent. Though they were slightly salty, each piece of beef showed a great depth of peppery flavour. I was pleasantly surprised that Canteen Bistro uses ribeye, which explained the great degree of marbling for each slice. Like butter on a hot pan, the tender beef gradually melted in my mouth, and I thoroughly enjoyed the experience.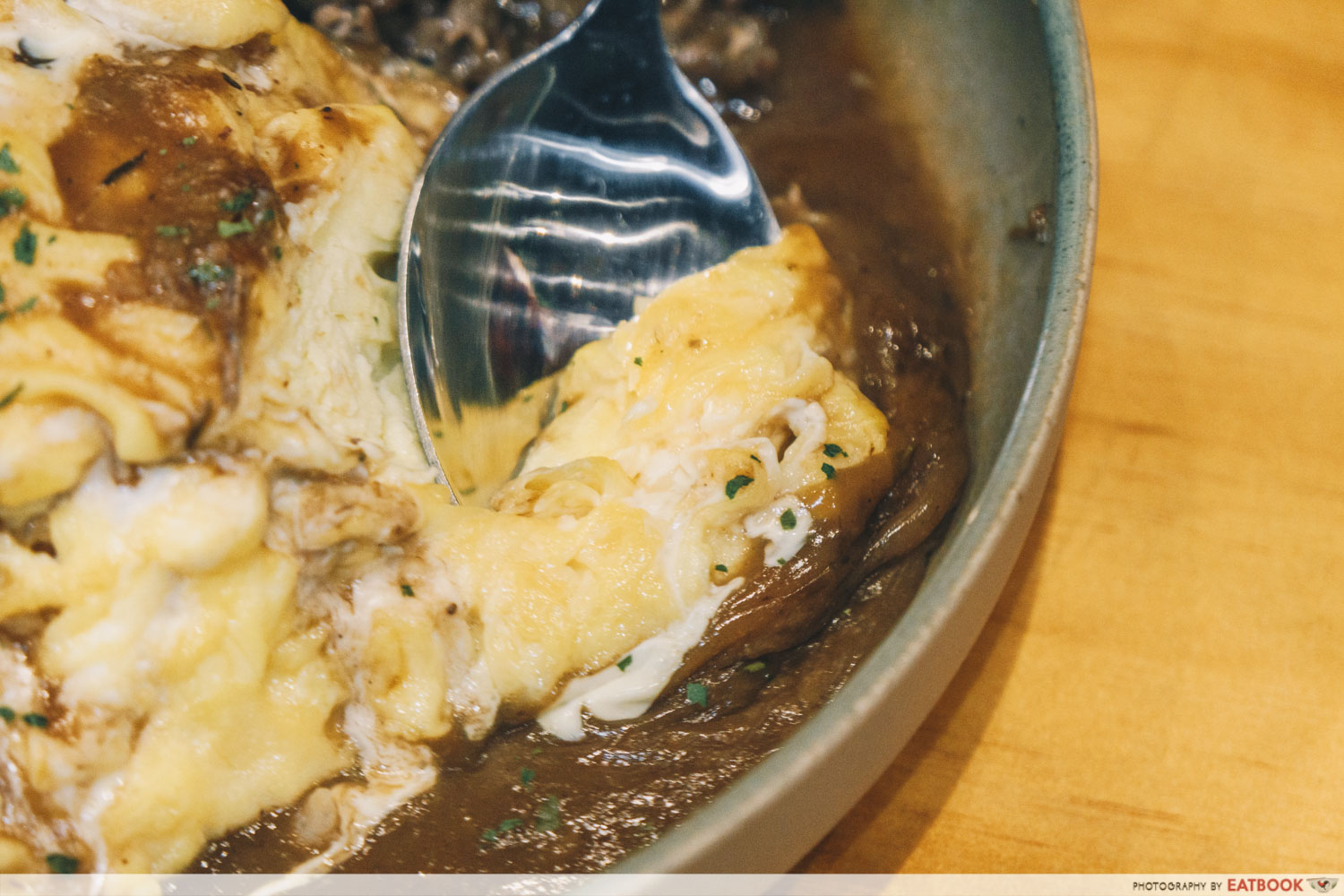 The demi-glace sauce provided a rich, meaty flavour to the beef and rice, and significantly deepened the flavour profile of every bite.
Ambience at Canteen Bistro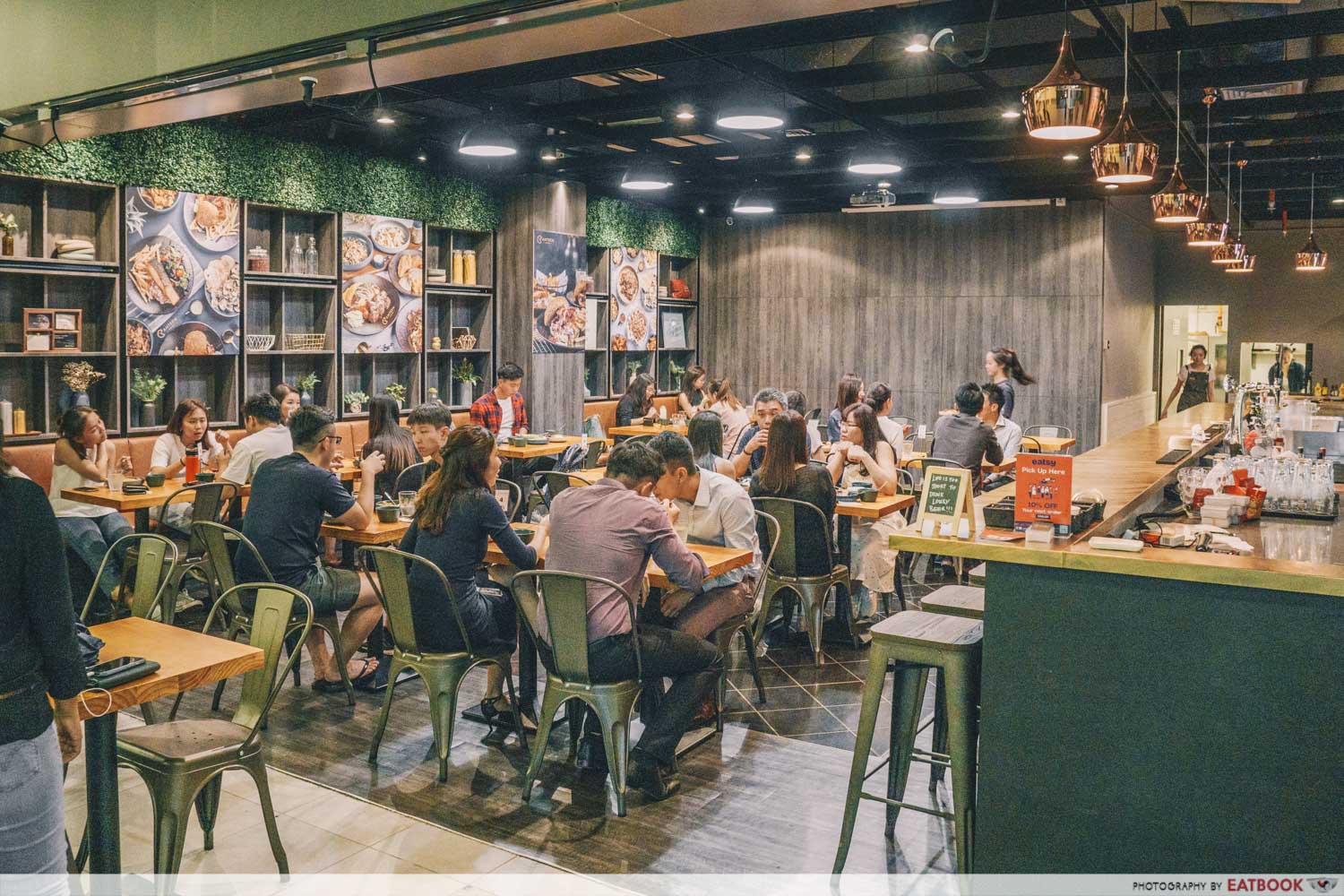 This spacious restaurant is situated in the basement of SMU's School of Information Systems, but it is open to the public. Regulars here range from SMU students and office workers to hungry tourists that flock from the museums nearby.
The restaurant is brightly lit and air-conditioned, making for a comfortable lunch with your friends or loved ones. For those who are looking for a place to unwind after a long day, you would be glad to know that this spots converts to a lively bar every night!
The verdict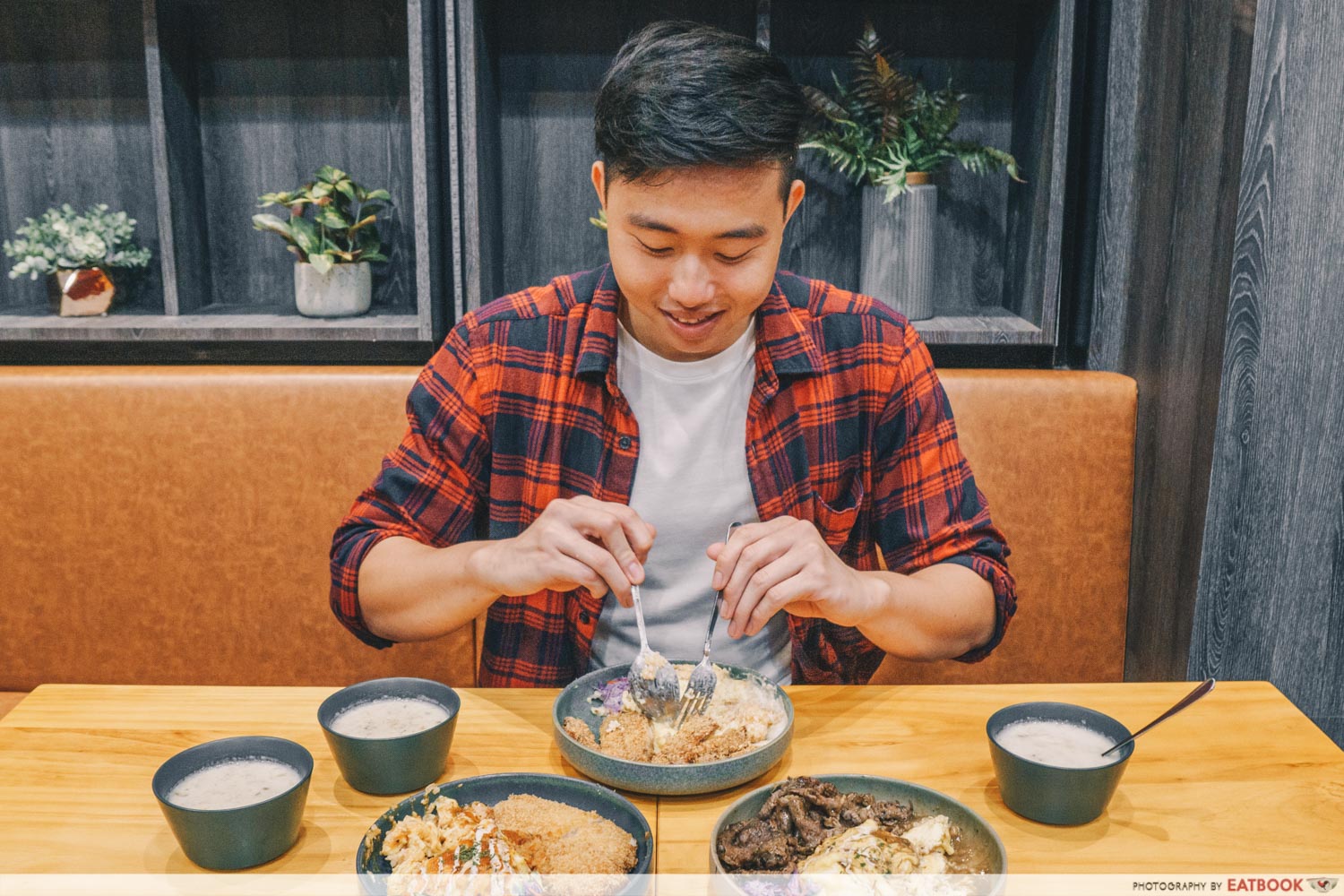 Canteen Bistro is a hidden gem in SMU. Visit them soon as we expect more hungry diners to start streaming in once their name gets out. Sadly, the omurice sets are only available for lunch, the dinner menu is not as affordable. With good food at a central location, this place definitely makes me want to come back for more, especially when I'm in town.
Address: 80 Stamford Road, #B1-61, School of Information Systems, Singapore Management University, Singapore 178902
Opening hours: Mon-Sat 11am to 3pm, 5pm to 1am
Tel: 6250 2238
Website
Canteen Bistro is not a halal-certified eatery.
Photos taken by Kerrianne Goh.
This is an independent review by Eatbook.sg.
Summary
Pros
– Tender beef slices
– Crispy chicken was flavourful and had a nice crunch
– Affordable prices
– Generous portions
Cons
– Omurice set only available for lunch, the dinner menu is not as affordable
Recommended dishes: Crispy Chicken Omurice ($8), Crispy Fish Omurice ($8), Beef Stroganoff Omurice ($11)
Opening hours: Mon-Sat 11am to 3pm, 5pm to 1am
Address: 80 Stamford Road, #B1-61, School of Information Systems, Singapore Management University, Singapore 178902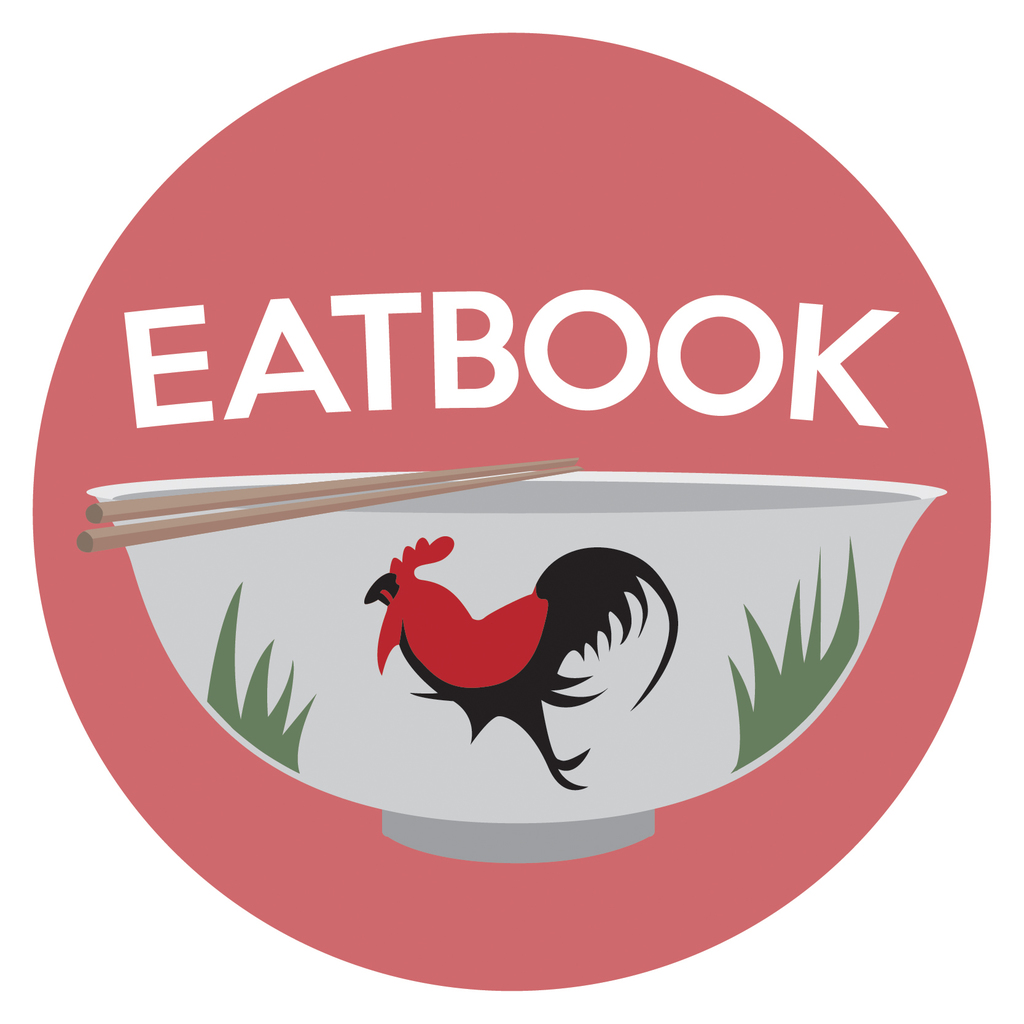 Drop us your email so you won't miss the latest news.