What to eat at Republic Plaza
You may know Republic Plaza as that skyscraper in Raffles Place—after all, the building is one of Singapore's tallest buildings. While most of the building's floors are populated with offices, here's a bit of good news for those working in the CBD: Republic Plaza is something of a foodie haven, with over 20 eateries populating its retail levels. 
 If you're looking to spice up your lunchtime offerings from the same ol' Raffles Place stalls, let us take you through some of the new Republic Plaza food offerings you can check out!
Freshly made pasta at affordable prices are all the rage of late. We recently covered Tangled (Fresh Pasta To Go) (#B1-20) when they opened their first store, so CBD workers will be pleased to know that the kiosk has set up shop in Republic Plaza, this time with a dine-in area!
 Here, you can get handmade pasta dishes from under $10. All their noodles and sauces are made completely from all-natural ingredients without any preservatives. You can choose from 11 different pasta dishes, some locally inspired, others classically Italian.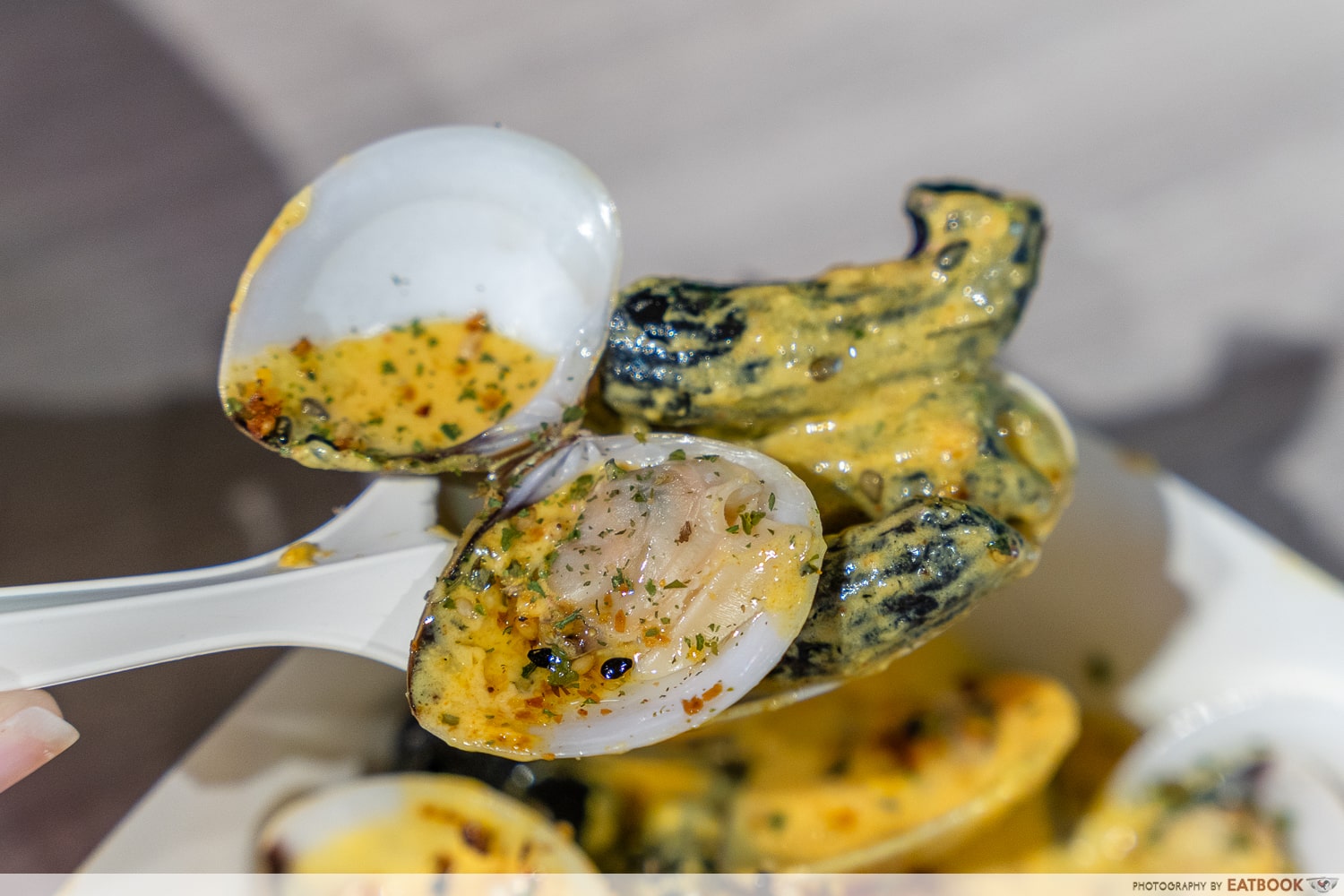 The Ooh Lala ($12.90) is our recommendation. A hybrid between vongole and squid ink pasta, the dish comprises penne coloured by squid ink, cooked in a creamy clam broth that's lightly spiced. The pasta comes with a generous serving of clams and squid, so you're getting your money's worth.
Apart from pasta, the stall also sells open-faced toasts and sides such as tater tots.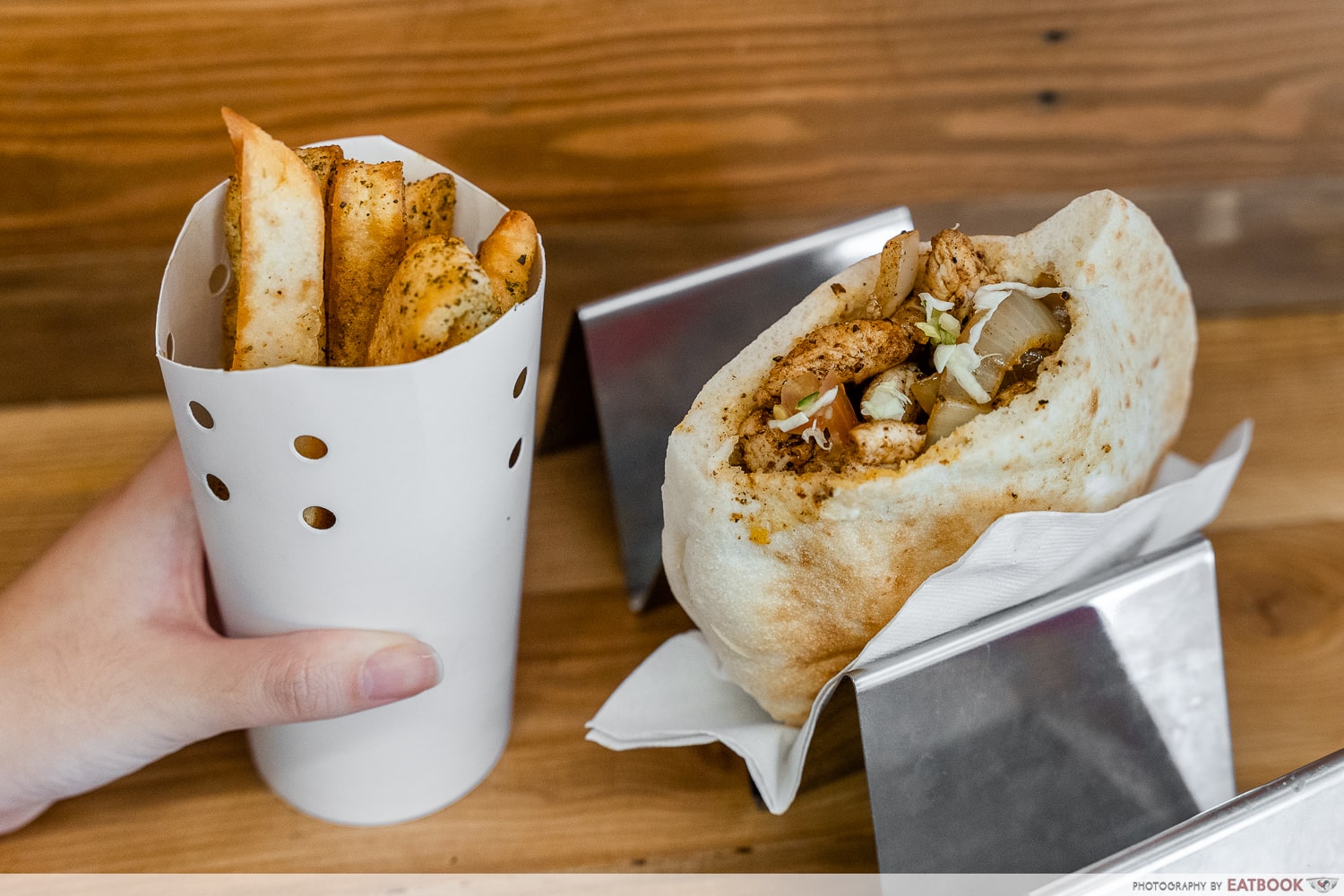 Dabao the flavours of the Mediterranean to your office with Pita House (#B1-19). The kiosk specialises in a selection of quick-and-easy eats, from pita sandwiches to falafel balls. Most of the menu is priced under $13, and you can get their loaded pita sandwiches for under $10. Their Grilled Chicken Pita Sandwich ($9.90) is our top pick—a fluffy, lightly charred pita pocket is packed with lightly spiced, grilled chicken that's delightfully juicy, along with fresh veggies and onions to liven up each bite.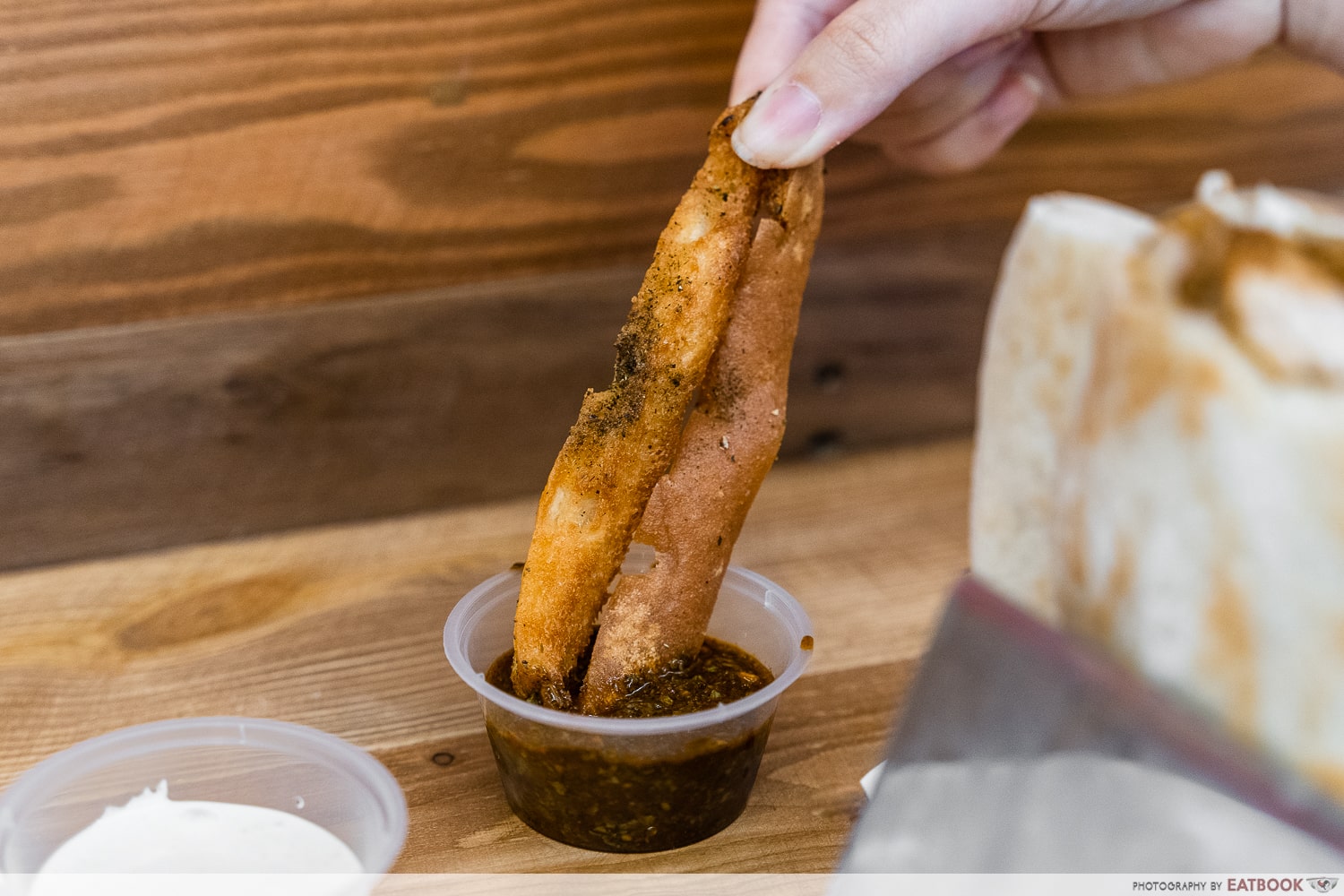 Pita House also has a variety of light bites should you feel like snacking or sharing some small bites with your colleagues. Go for their Pita Chips ($5), pita bread slices baked till they're extra crisp, and pair this with any of the dips they have available. If you're big on hummus, try their Hummus Plate ($9.90)—creamy, nutty, and just the right amount of garlicky.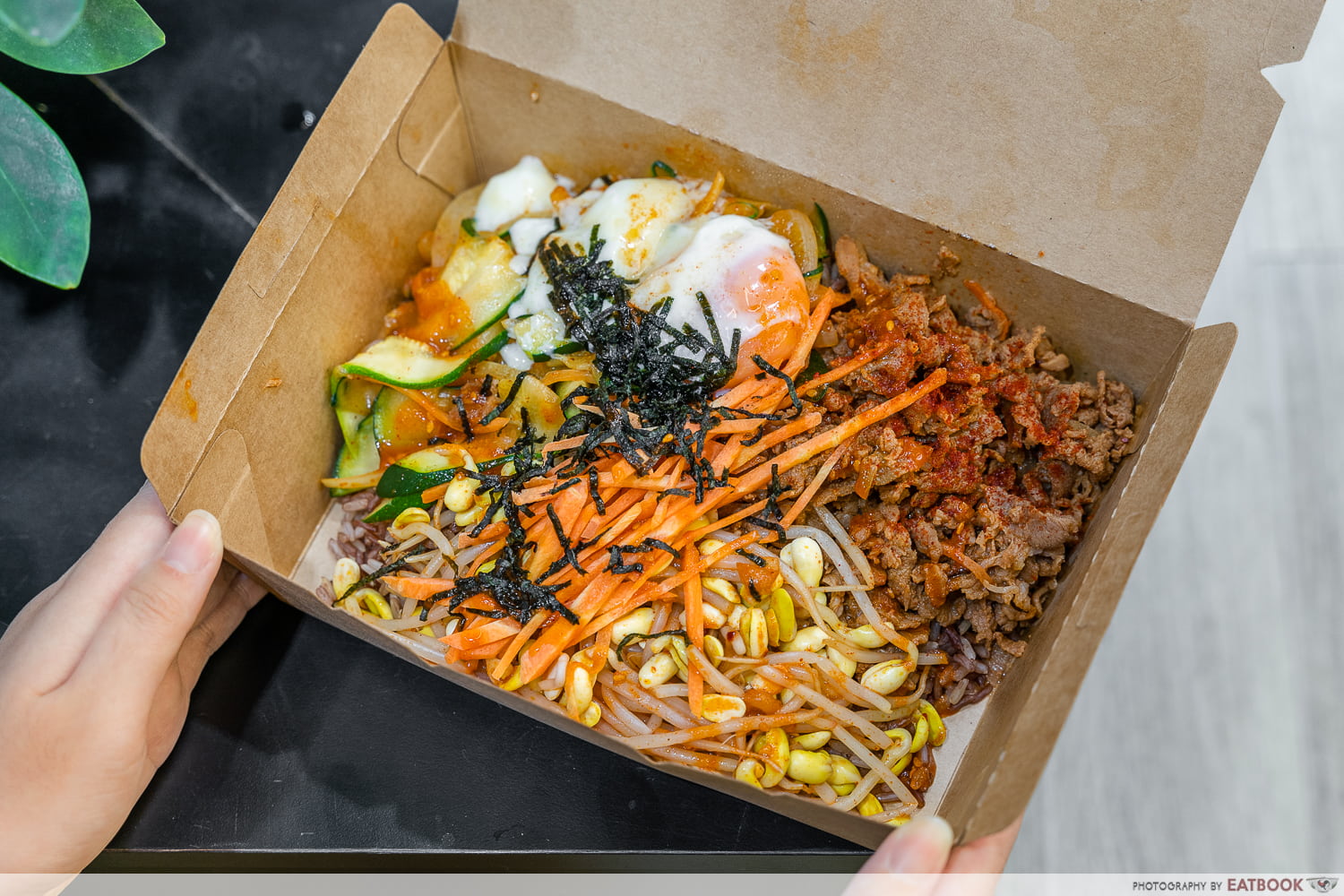 All-in-one rice bowls are a CBD lunchtime staple, but if you're tired of your usual healthy food haunt, make your way over to Kimchi Xpress (#B1-08) instead. The kiosk offers a range of nutritious Korean bowls that you can DIY. They also have plant-based options!
The brand also has a menu of pre-mixed bowls for those who can't be fussed with choosing toppings individually. If you enjoy spice, the Spicy K-Pork ($9.90) is a must. An aromatic brown rice base is topped with a generous serving of spicy pork bulgolgi, accompanied by a range of fresh greens to soothe the heat.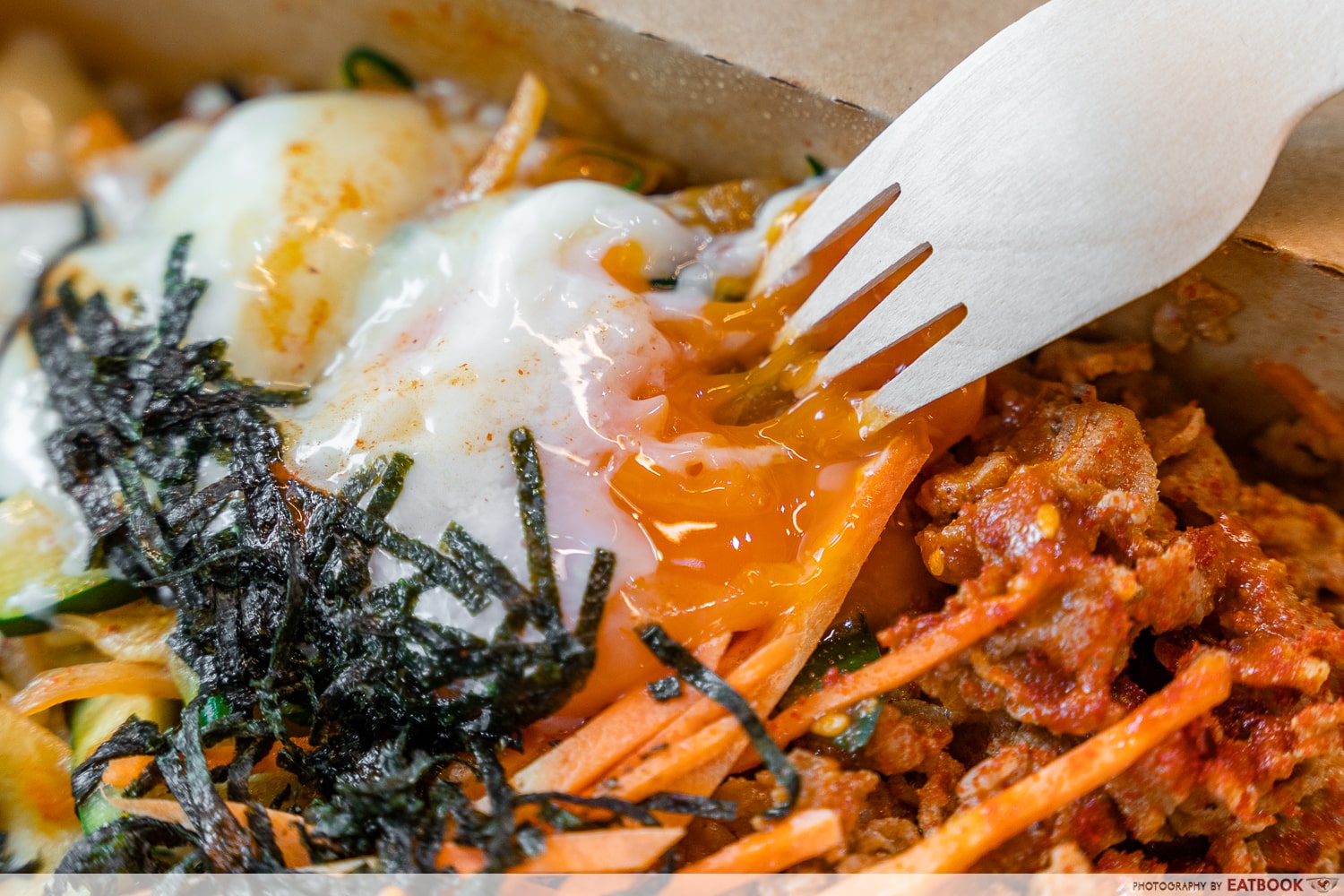 This includes beansprouts seasoned with a touch of sesame oil, stir-fried zucchini, and shredded carrots. For an added protein boost, the dish comes with a runny onsen egg too.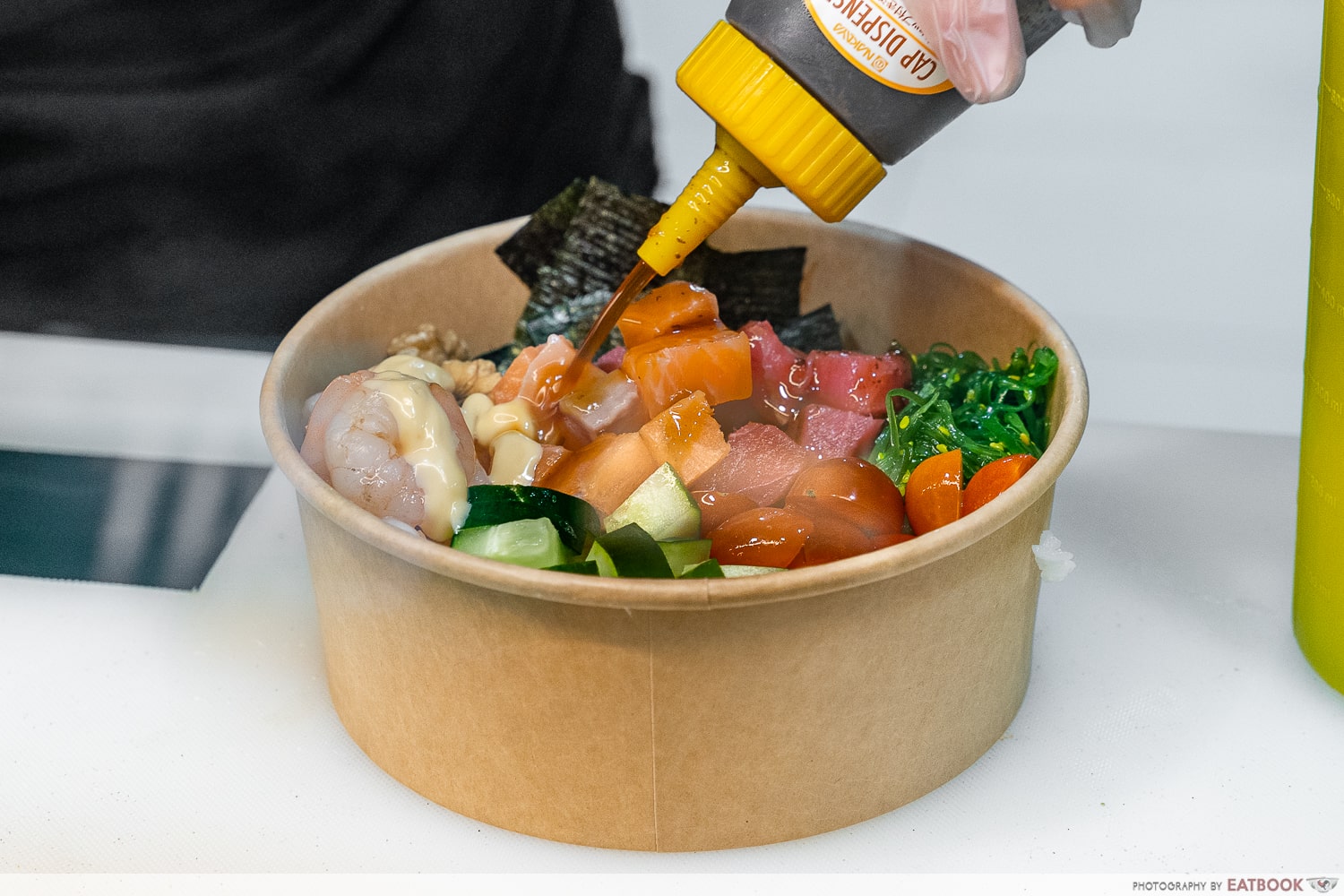 Poke bowls are another lunchtime classic, so swing by Pokomi (#B1-02) if you're a fan. The poke kiosk offers DIY bowls from $10.50, as well as premixed combos. The Ocean Bowl ($13.90) is a must-try if you love seafood.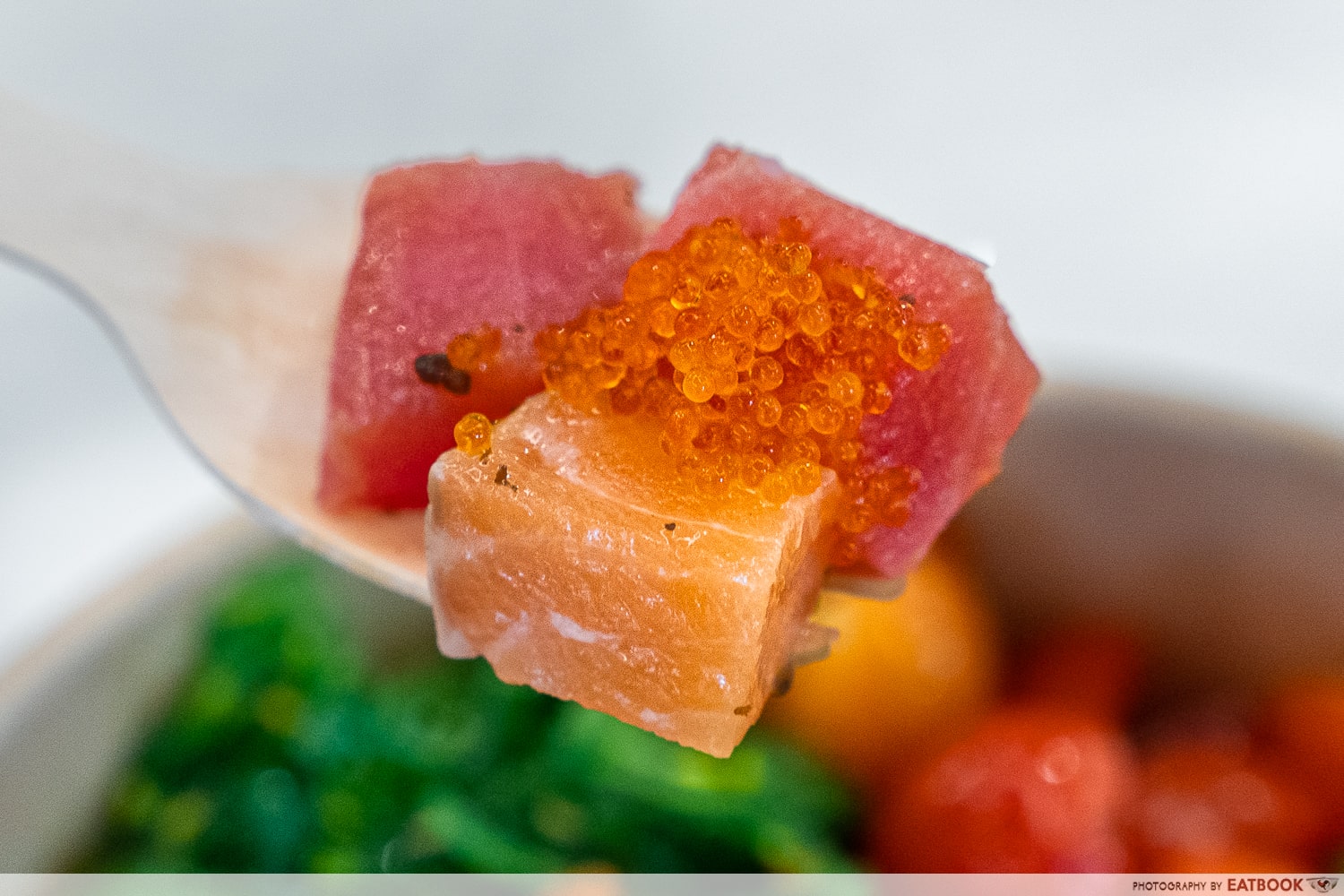 The bowl comes with marinated raw salmon and tuna chunks, as well as prawn pieces tossed in miso mayo. A heaping serve of tobiko delivers a dash of umami to the dish. Each portion also comes with greens, and almonds for crunch.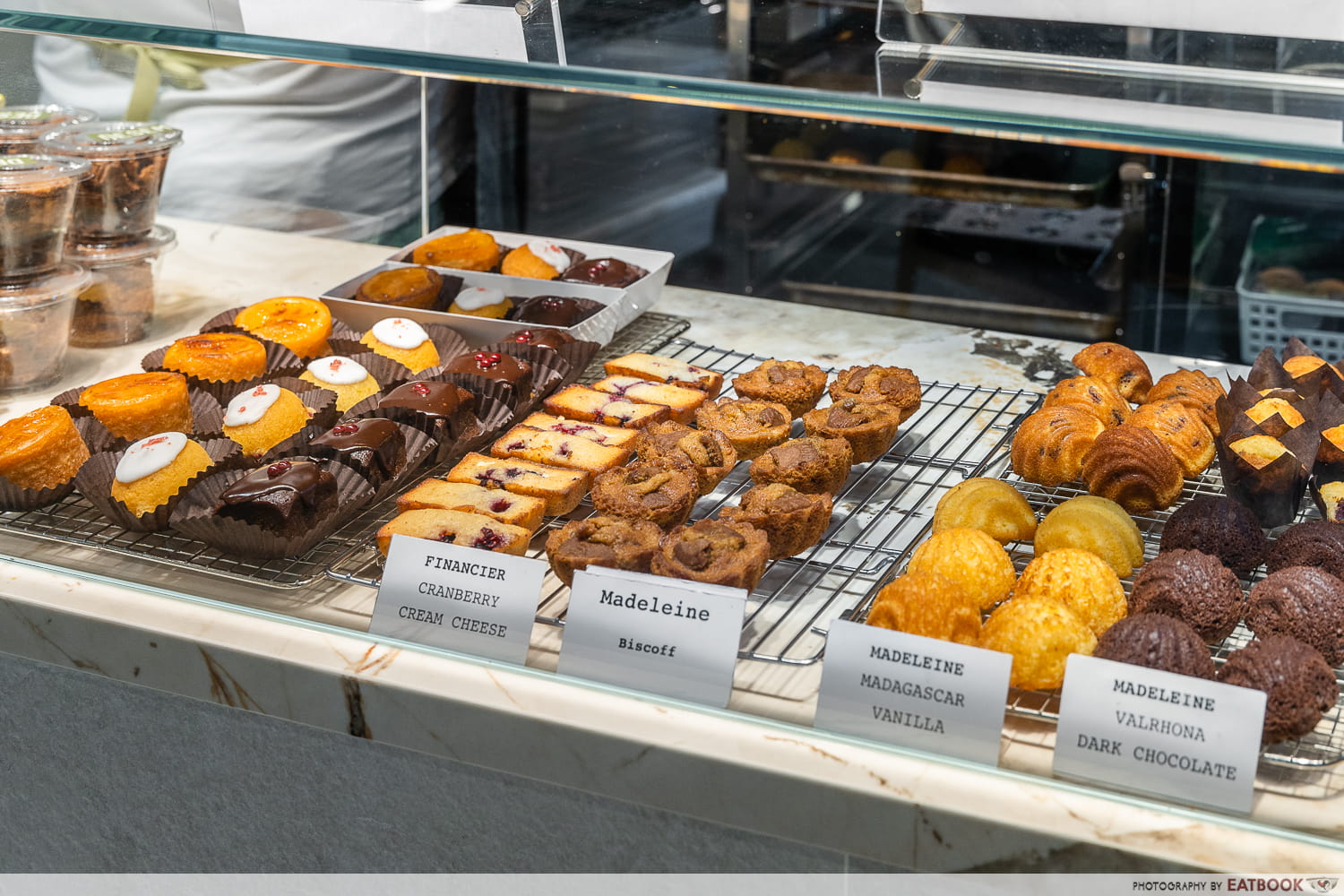 A good lunch break isn't complete without a sweet treat, so make a pitstop at Desem Dessert (#B1-16) before heading back to the office. The bakery has built quite the cult reputation for itself over the years thanks to its hole-in-the-wall flagship in Clementi. At their OG outlet, they're famed for their savoury offerings, including their Korean-style garlic cream cheese buns.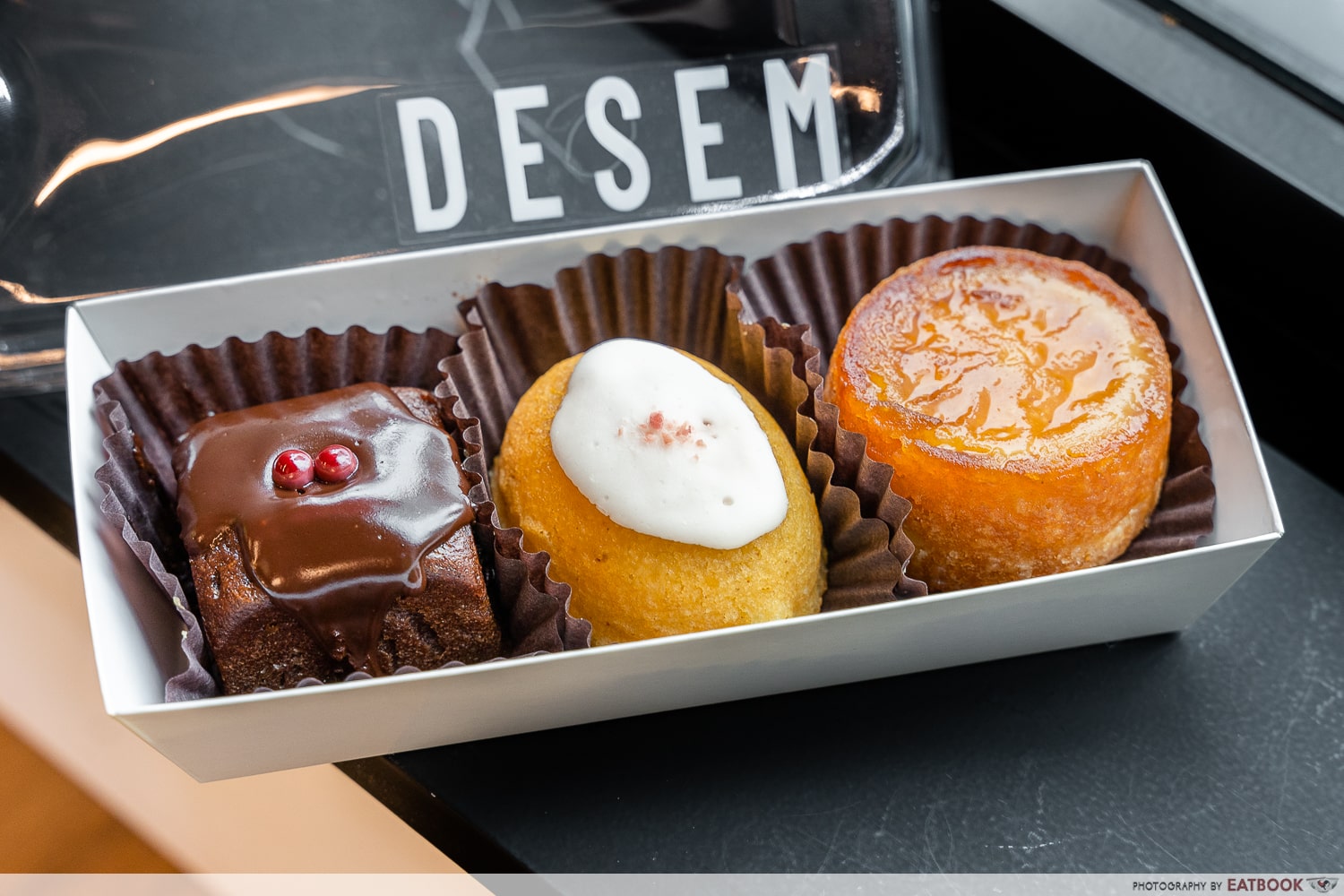 Here, though, we suggest you end off your meal with some of their sweets. You can get three of their small bakes for $5.80, ranging from madeleines to financiers. Get those in flavours such as Valrhona dark chocolate, Madagascan vanilla and more.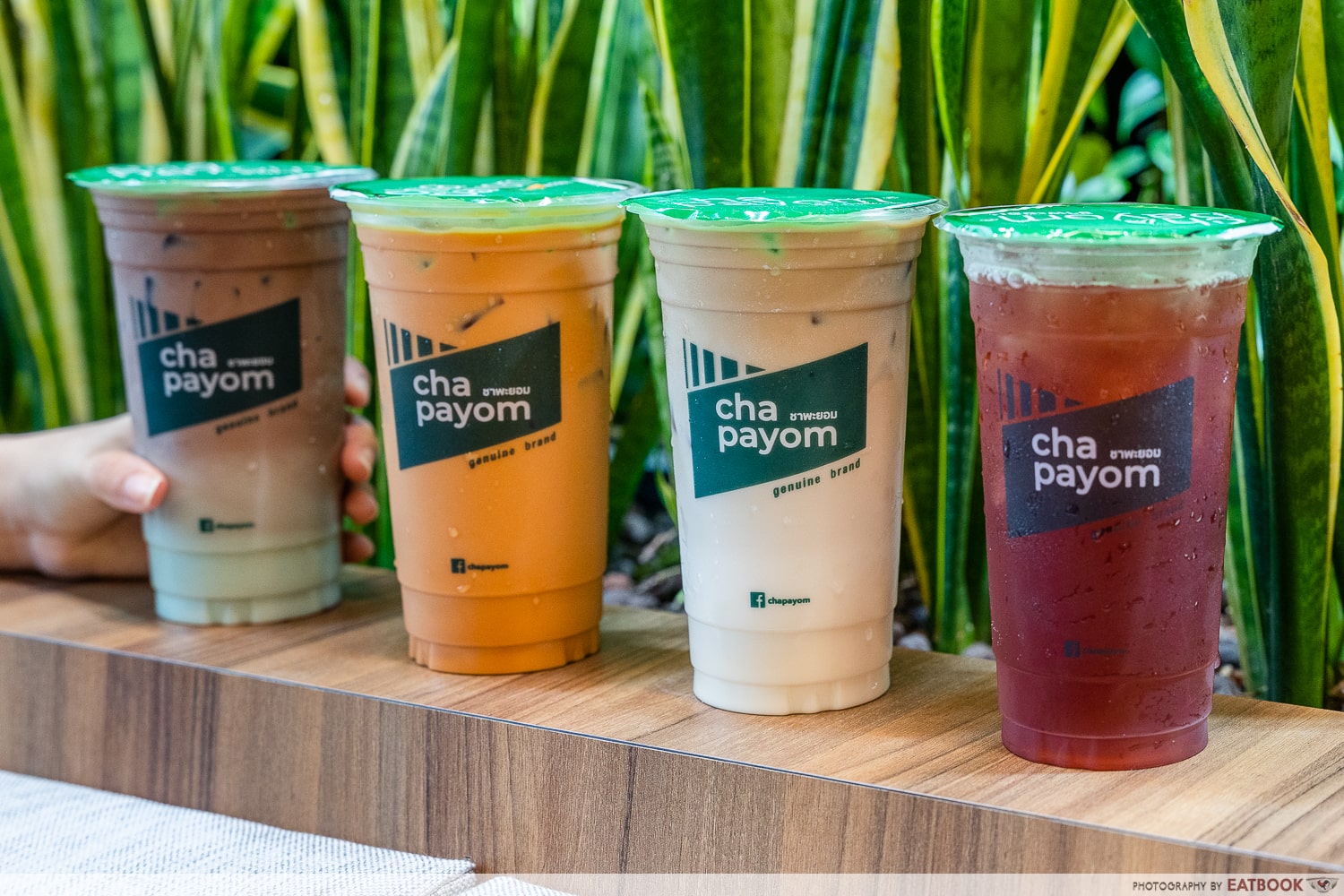 We also know bubble tea (BBT) is central to keeping that midday crash at bay. While the CBD has a fair number of BBT stores, if you're looking for something a little different, place an order at Chapayom (#B1-12). The Thai milk tea specialist offers their signature brew in a plethora of flavour combos, priced from $2.90.
We highly recommend their Lychee Rose Tea ($3.80), a house special that is made from their signature blend of rose petals and oolong tea, brewed fresh daily.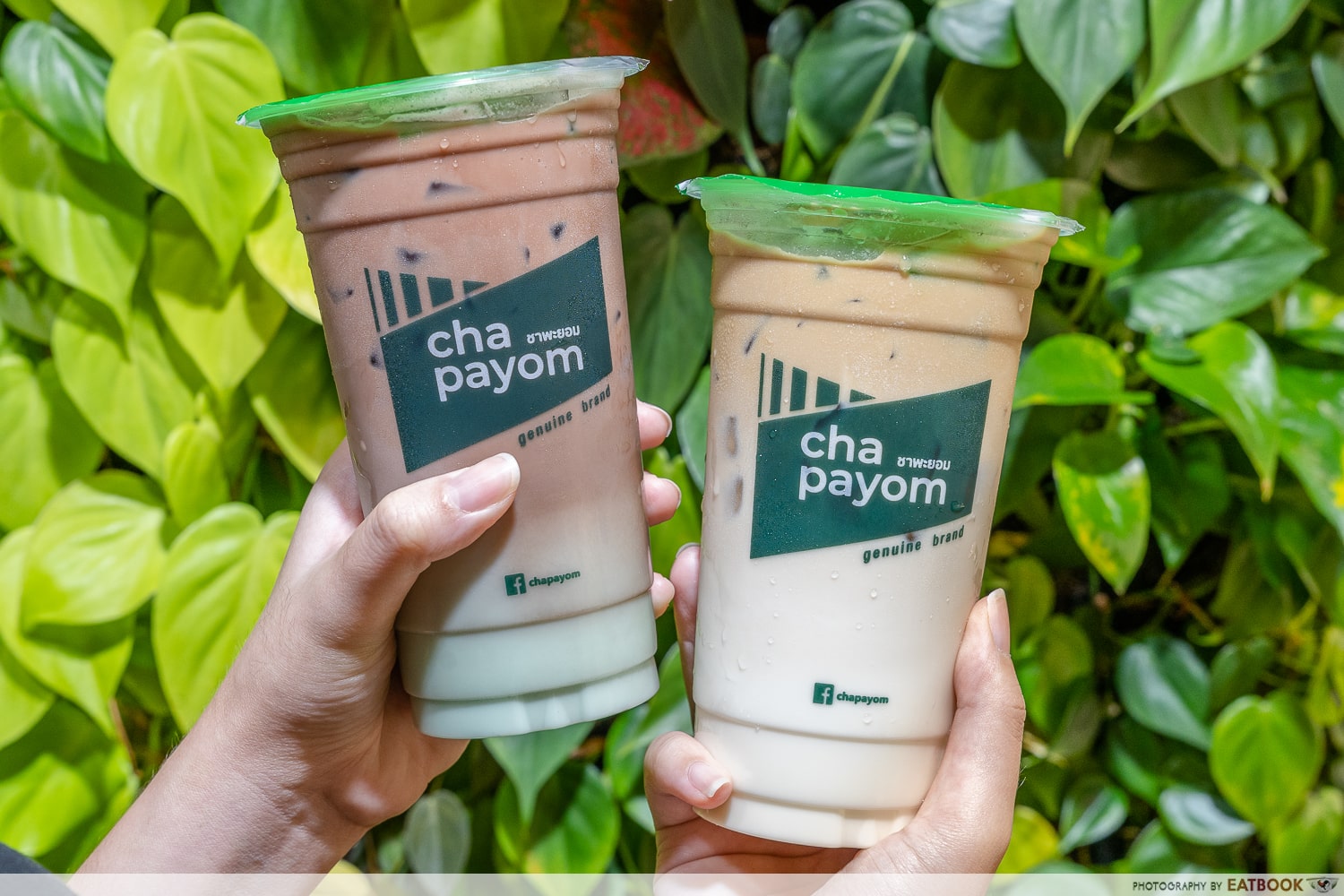 Apart from tea-based drinks, Chapayom also has coffee, coconut, and cocoa beverages. Coconut shake enthusiasts ought to try their Roasted Coconut Coffee ($4.50), offering the best of both worlds. Here, coconut and coffee come together to create a taste that's almost like gula melaka. The Mint Cocoa ($4.50) is another one to order if you love peppermint chocolate drinks and want to enjoy them round the year instead of just during Christmas.
For more Republic Plaza dining options, check out the link below. You can access the mall via Exit D of Raffles Place MRT Station.
Address: 9 Raffles Place, Republic Plaza, Singapore 048619 
Photos taken by Tan Zihui.
This post was brought to you by Republic Plaza.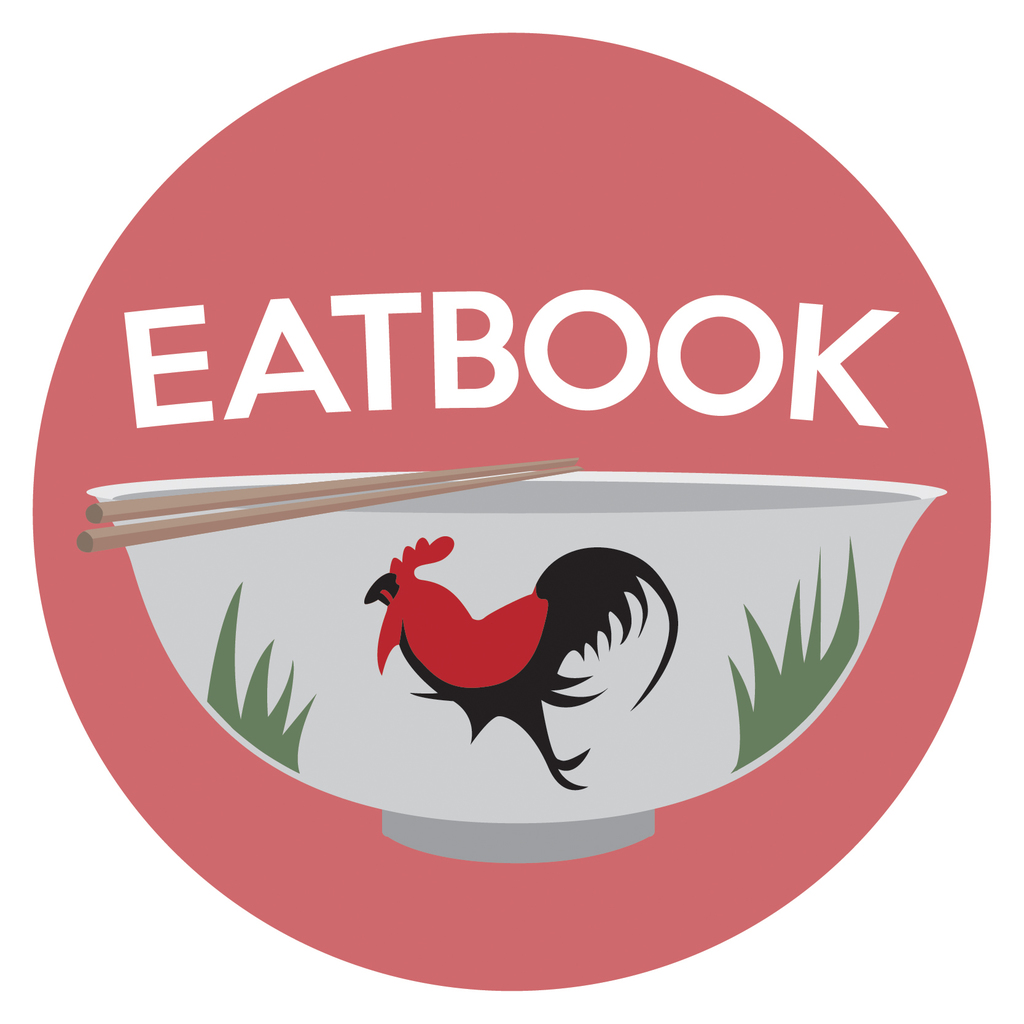 Drop us your email so you won't miss the latest news.