---
Ribena CNY Goodies
---
Chinese New Year is possibly my favourite festive celebration each year, simply because of all the goodies I get to snack on. Accompanying these goodies at each stop on the visitation route would be the quintessential Ribena─a treat for me when I was a child.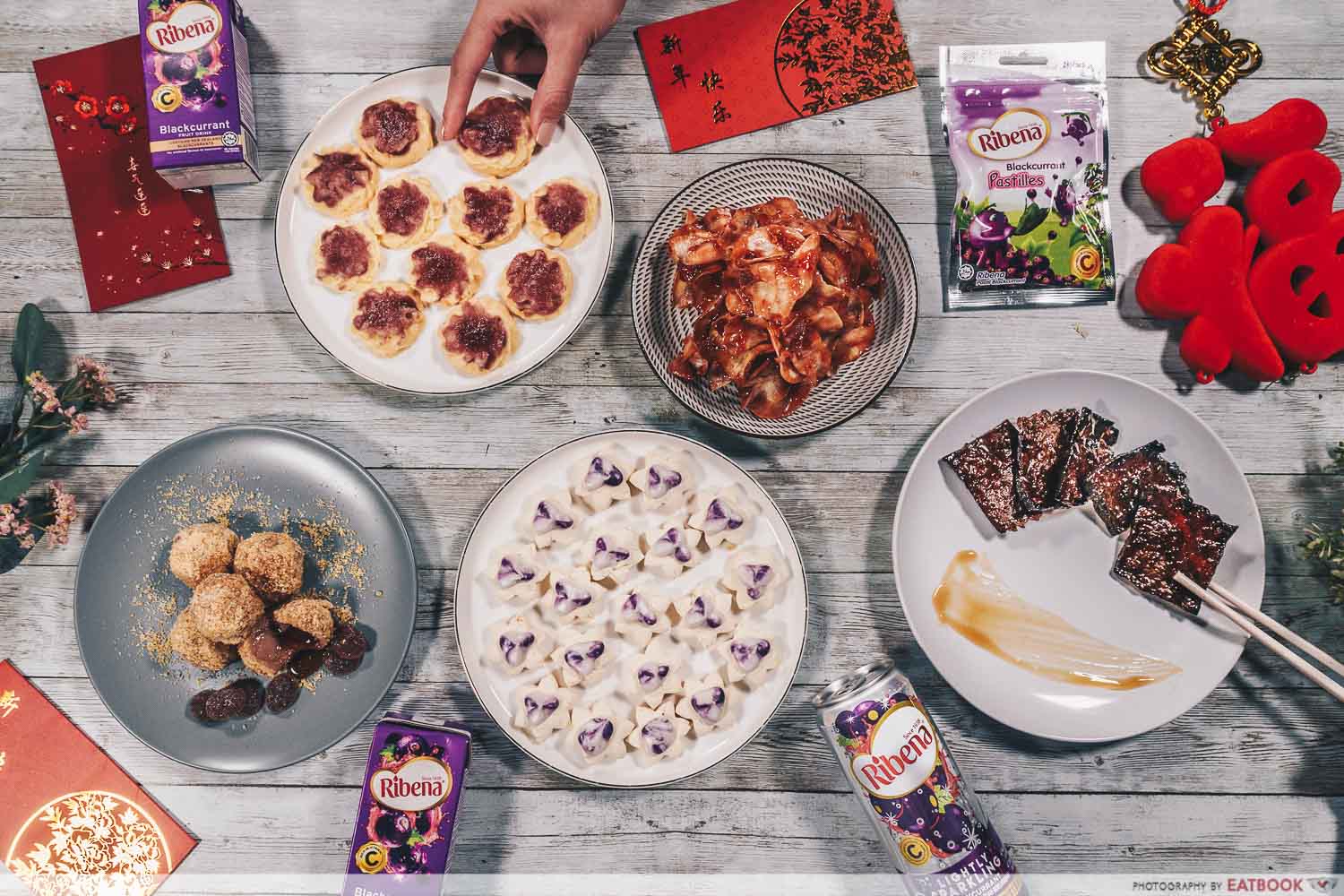 Now that I'm all grown up, I still enjoy the blackcurrant drink, both as it is, and incorporated in food such as this 3-course Ribena meal. This Lunar New Year, I decided to try my hand at making traditional CNY goodies, but with a modern Ribena spin. Here they are: five Ribena CNY goodies that you can try at home too!
---
1. Ribena Iced Gem Kuih Bangkit
---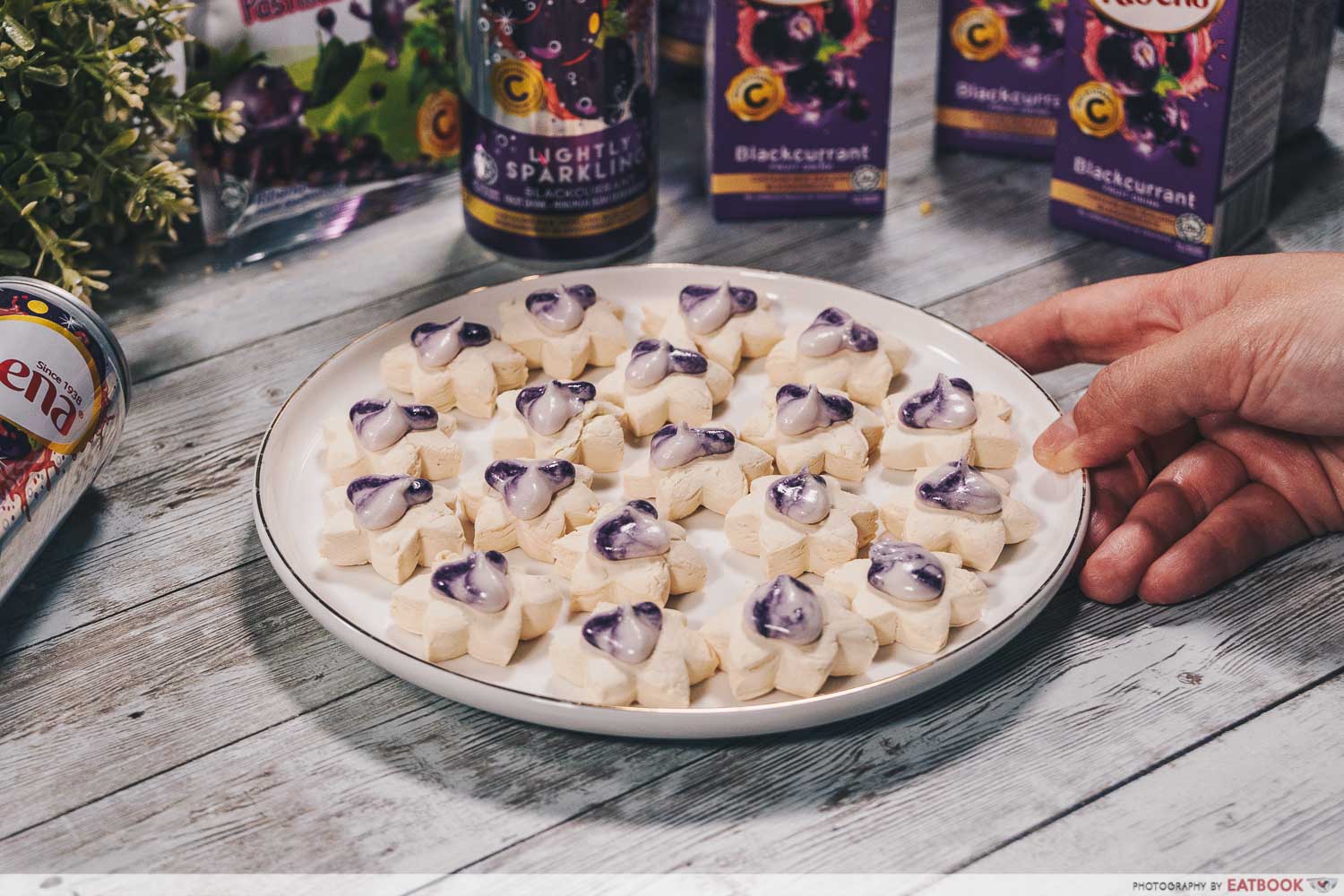 Kuih bangkit is beloved for being a melt-in-your-mouth poof of coconutty goodness. While I love a good kuih bangkit, it can sometimes be a little plain. On the other hand, I've never really fancied the biscuit base of iced gem cookies. So, I put them both together, piped in some fancy violet colouring, and made myself these galactic pops.
Of course, I couldn't forget my mission to add the slightly tart, blackcurrant flavour of Ribena. It features lightly in the cookie, and is the only liquid I add in the iced gem topping to provide a nice balance to the otherwise ultra sweet, crunchy, swirl.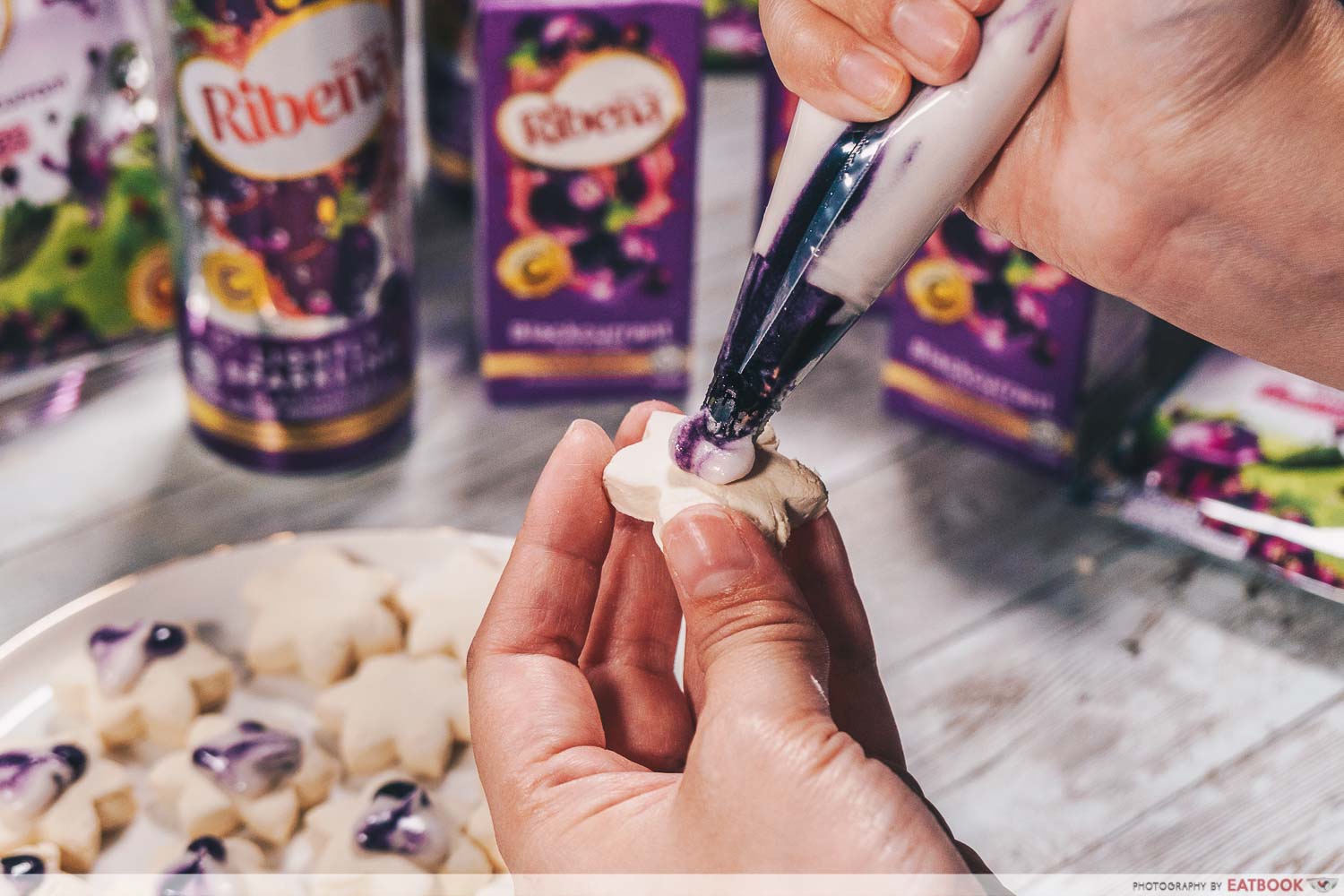 Swap out the violet food colouring that I've used in my iced gem toppings, for another of your choice, or use them all and have a rainbow-hued spread of iced gem Ribena kuih bangkit cookies this CNY!
Yield: 50 cookies
Cooking time: 90 minutes
Ingredients:
Kuih bangkit:
500g tapioca flour
5 pandan leaves, cut into 10cm pieces
1½ or 27g egg yolks
250g icing sugar 
200ml coconut cream
3 tbsp Ribena Blackcurrant Fruit Drink Combi 200ml
Pinch of salt
Iced gem topping:
250g royal icing powder
60-80ml Ribena Blackcurrant Fruit Drink Combi 200ml
1 tsp violet food colouring
Cooking time hacks: Bake the tapioca flour the day before, and store it in an airtight container.
Directions:
Wash and dry the pandan leaves, before cutting them and placing them on a deep oven tray. Lay the tapioca flour evenly on the tray and bake at 150⁰C for two hours. Let it cool.

Sift and weigh 250g of this flour. Reserve the rest.

Preheat the oven to 150⁰C.

Whisk 125g of icing sugar with the egg yolks at high speed till pale yellow and creamy.

Add the tapioca flour and salt, and knead it into the mix by hand.

Gradually add first the

Ribena Blackcurrant Fruit Drink Combi

, then the coconut cream one tablespoon at a time, kneading between each spoonful till it just comes together. The dough should hold together, but not be smooth and shiny. It should crumble when you press it.

Shape your kuih bangkit with either a kuih bangkit mould, or cookie cutters. You may use the reserved tapioca flour to dust the mould or cookie cutters.

Bake at 150⁰C for 25 minutes, or until the cookies are dry. Allow to cool.

Whisk royal icing powder with

Ribena Blackcurrant Fruit Drink Combi

till it forms stiff peaks.

After fitting the piping nozzle, use a toothpick to draw several purple lines in a piping bag. 

Fill the piping bag with icing, and pipe onto the kuih bangkit. Leave to firm up overnight.
Recipe adapted from What To Cook Today's post.
---
2. Ribena Pineapple Glazed Butter Cookies
---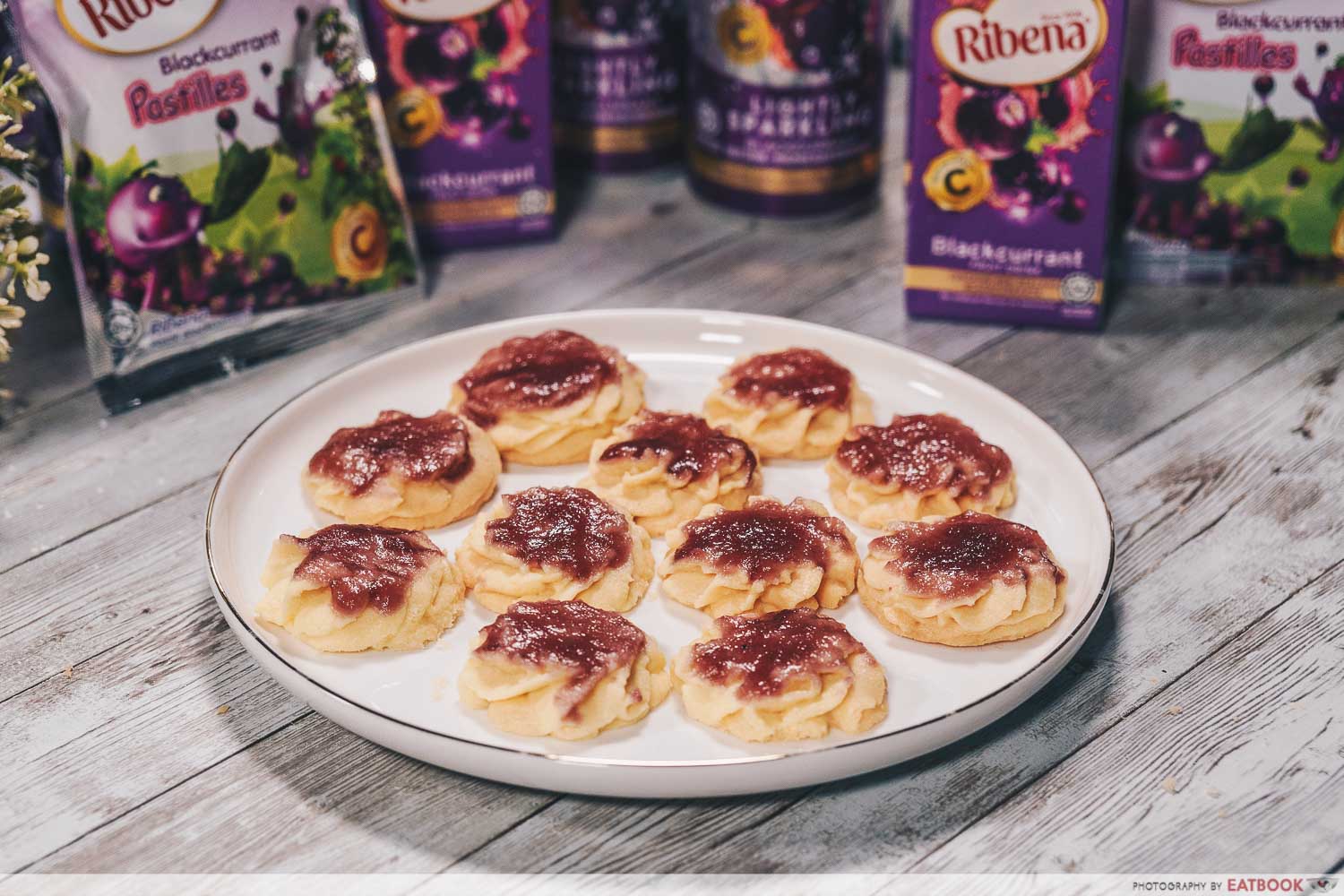 Call it an insult to pineapple tarts, but I prefer eating the tart base to the ball of fibrous pineapple jam. A perfect pineapple tart, in my books, would come with a brush of pineapple glaze that's neither too sweet, nor too sour, on an ultra buttery cookie.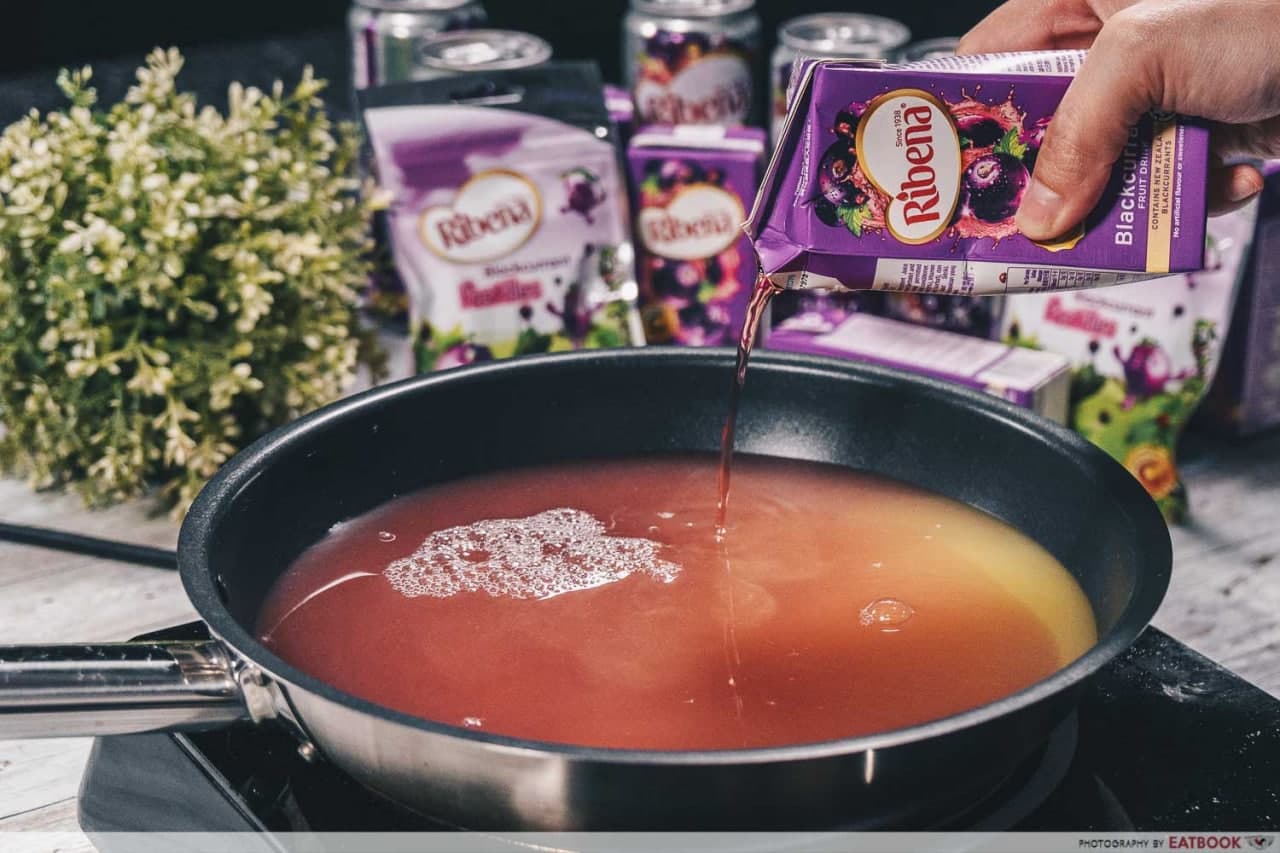 Combining pure pineapple juice with Ribena turned out to be a CNY match made in heaven. If you find the pineapple too tart, you may adjust it accordingly. Cook this down till it reaches a jam-like consistency. When you scrape your spatula across the base of the pan, it should spread the mixture for a couple of seconds. 
The cooking time needed depends on how shallow, and wide, your pan is. Do note that it'll continue to thicken as it cools!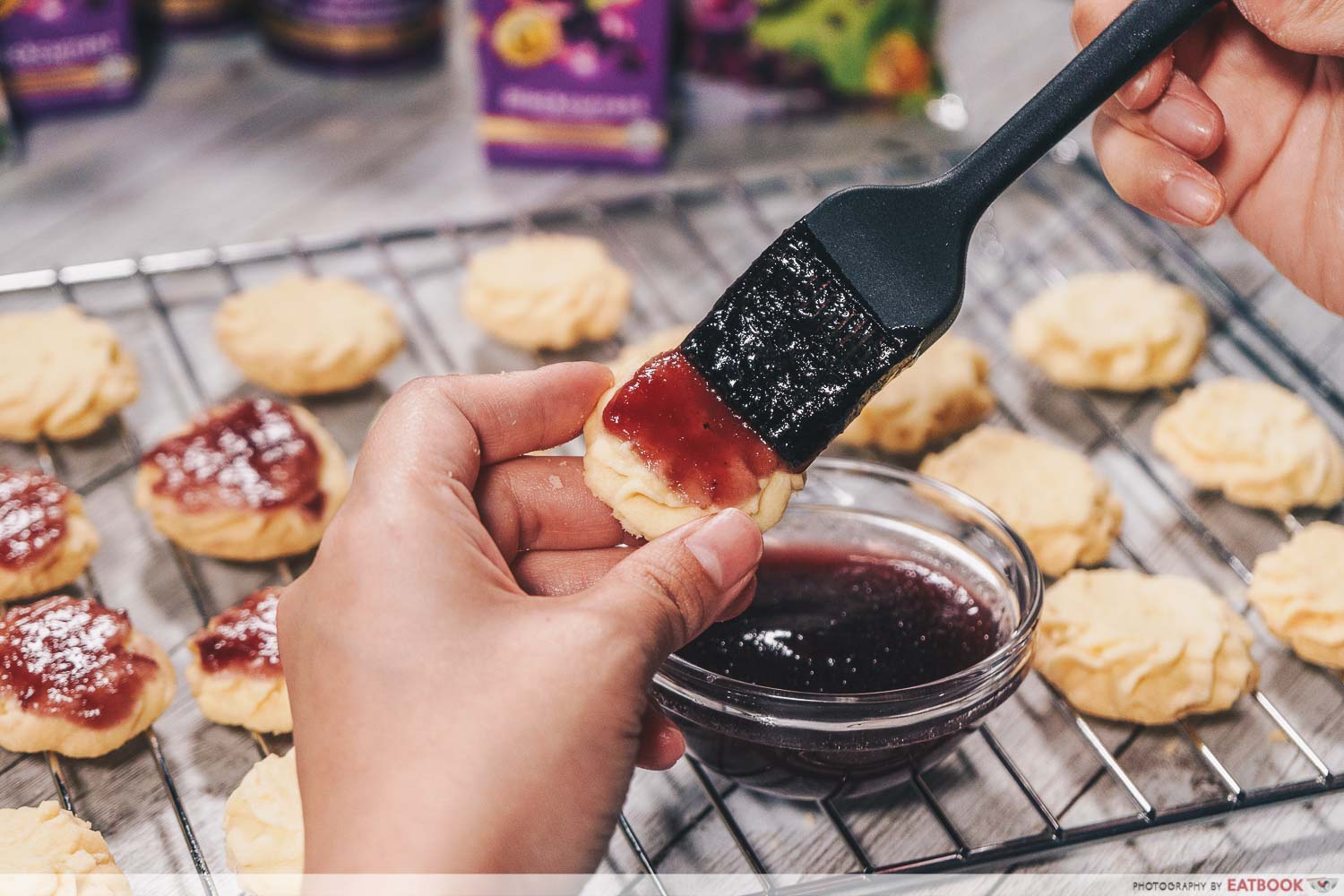 This recipe is perfect for you if you find buttery, melty cookies too jelak. The tartness of pineapple, with a tinge of berried sweetness from the Ribena, counters the rich butter cookie. You could even serve it with the jam on the side, for guests to glaze their butter cookies at their pleasure.
Yield: 40-50 cookies
Cooking time: 90 minutes
Ingredients:
85g canned butter, at room temperature
78g unsalted butter, at room temperature
50g icing sugar, sifted
80g cornstarch
140g all purpose flour, sifted
2 cans of pineapple juice
2 packets of Ribena Blackcurrant Fruit Drink Combi 200ml
2 tbsp sugar, or to taste
1/4 lemon, juiced
Directions:
Combine the pineapple juice,

Ribena Blackcurrant Fruit Drink Combi

, sugar, and lemon juice in a pot or pan, and reduce at medium-low heat till it reaches a jammy consistency. It should be slightly thick and sticky. Set it aside to cool.

Preheat the oven to 150⁰C.

Whisk the butters together, before adding the icing sugar and whisking till pale. Scrape the sides of the bowl to ensure all the sugar is incorporated.

Add the cornstarch and whisk to combine.

With a spatula, fold the flour in until just combined. Do not overmix.

Fit a piping bag with a nozzle, and transfer the dough into the bag to pipe.

Bake for 25 minutes.

Brush the Ribena-pineapple jam on each cookie, and serve.
Recipe adapted from Of Feast & Field's post.
---
3. Ribena Chilli Tapioca Chips
---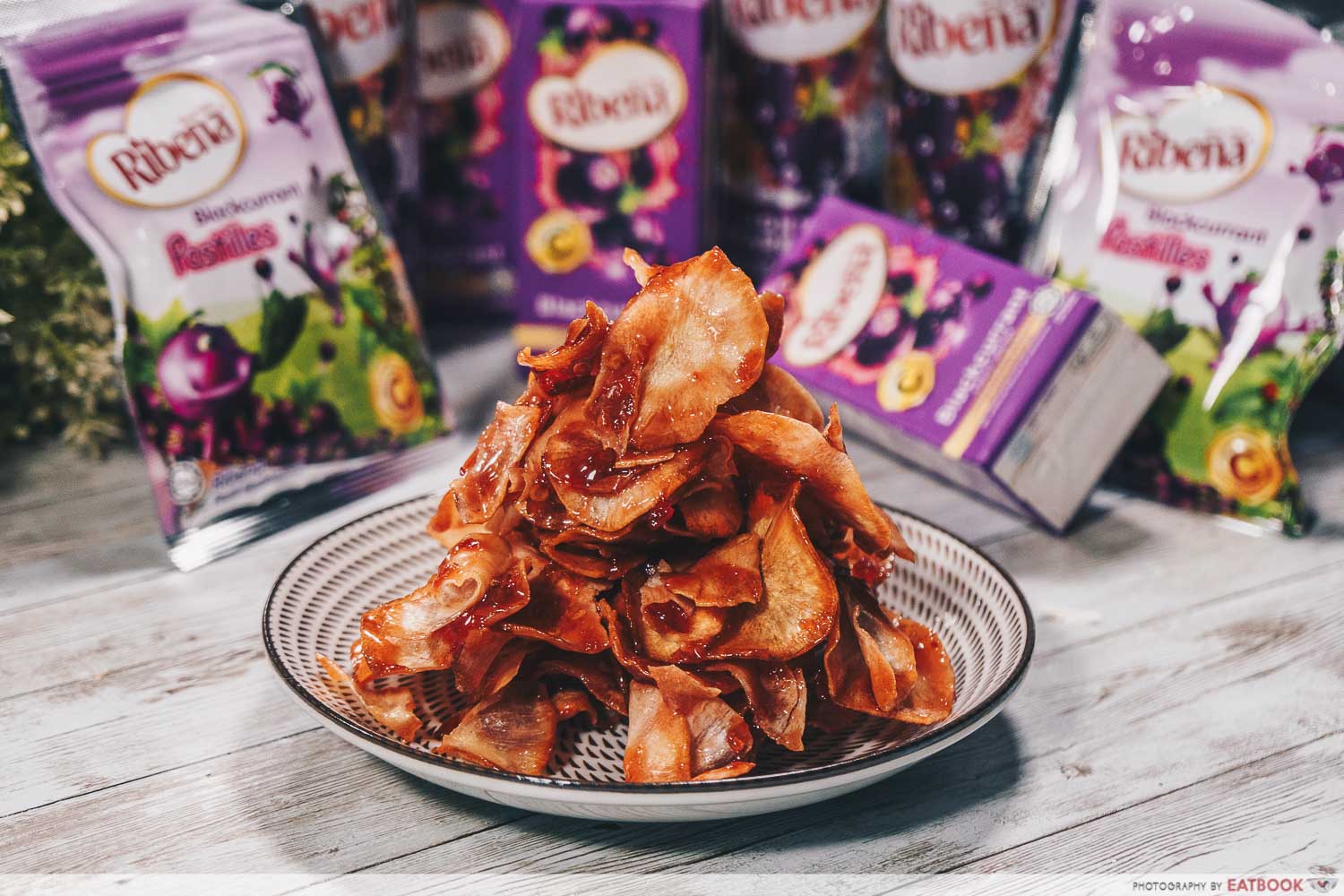 Chilli tapioca chips are a very guilty indulgence for me. If I'm not careful, I can demolish an entire bottle in one sitting.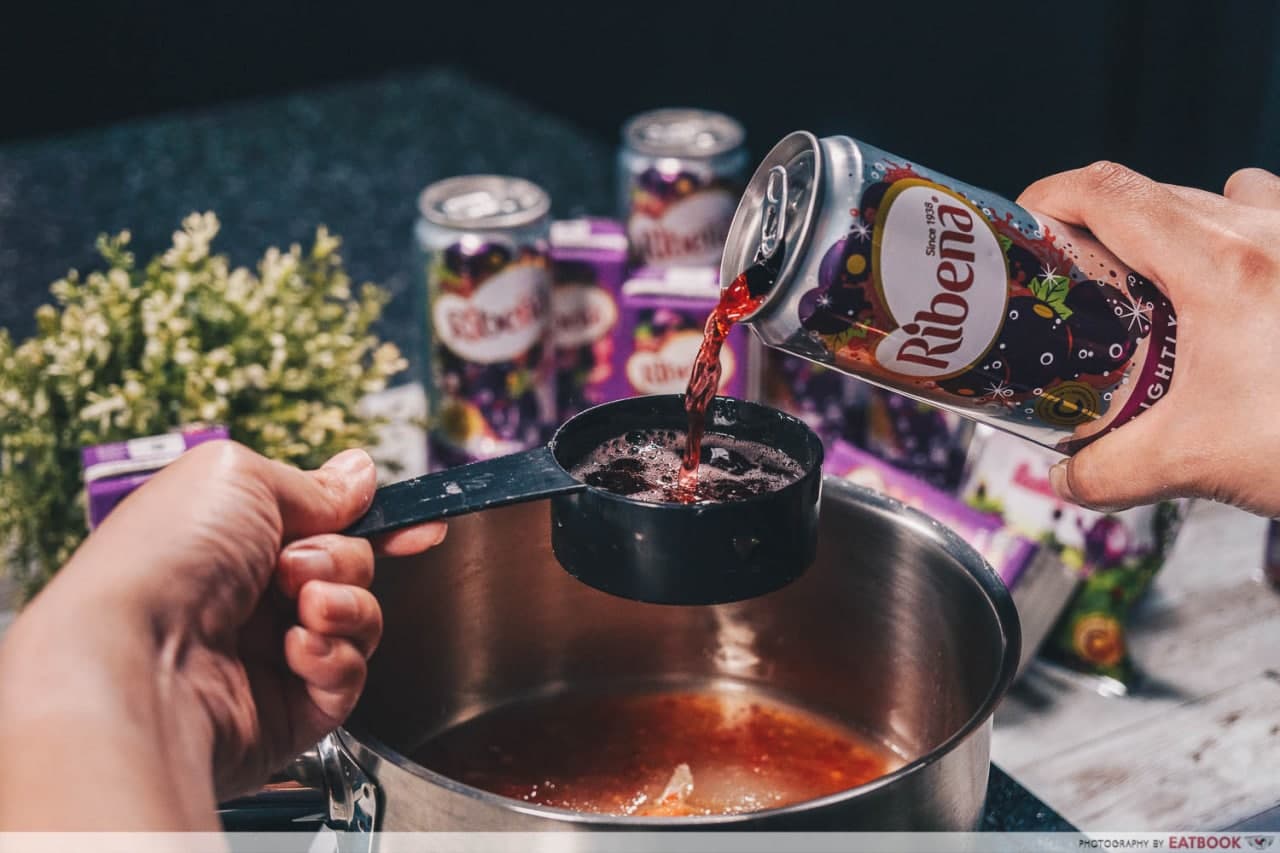 As it turns out, it's incredibly easy to make these at home, with just Thai sweet chilli sauce, Sparkling Ribena, and some pantry staples. Ribena tempers the sweetness of the chilli, thanks to the touch of tartness from blackcurrant. Sambal belacan, as well as a cincalok sweet onion relish, save you the effort of toasting belacan, or peeling and chopping shallots too. The addition of lemon juice and sugar cuts any potential fishiness from these sauces.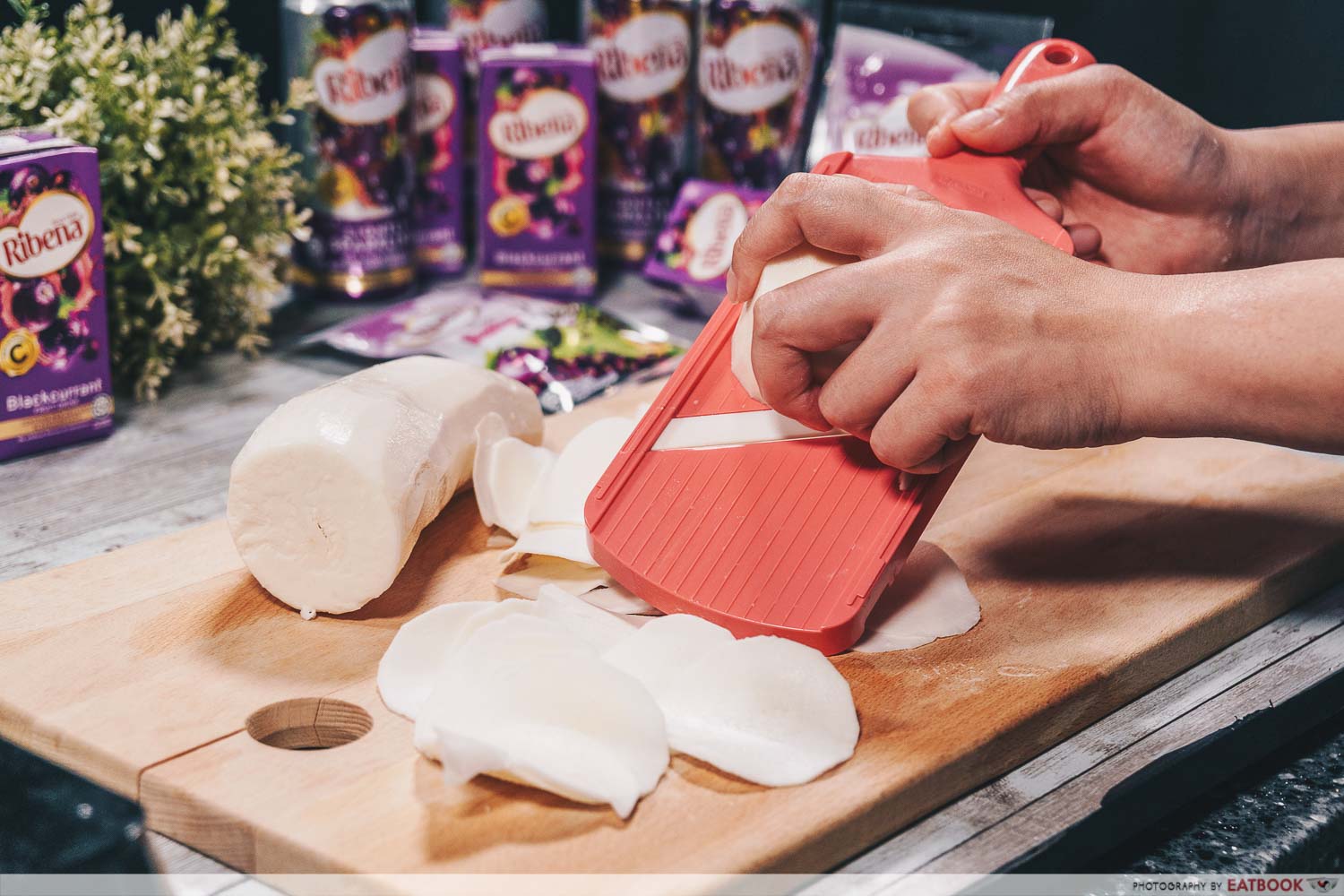 If there's anything else I learned from this experience, it's that getting perfect slices of tapioca is not absolutely necessary. As you toss them in the sticky syrup later, they're all bound to start breaking into pieces.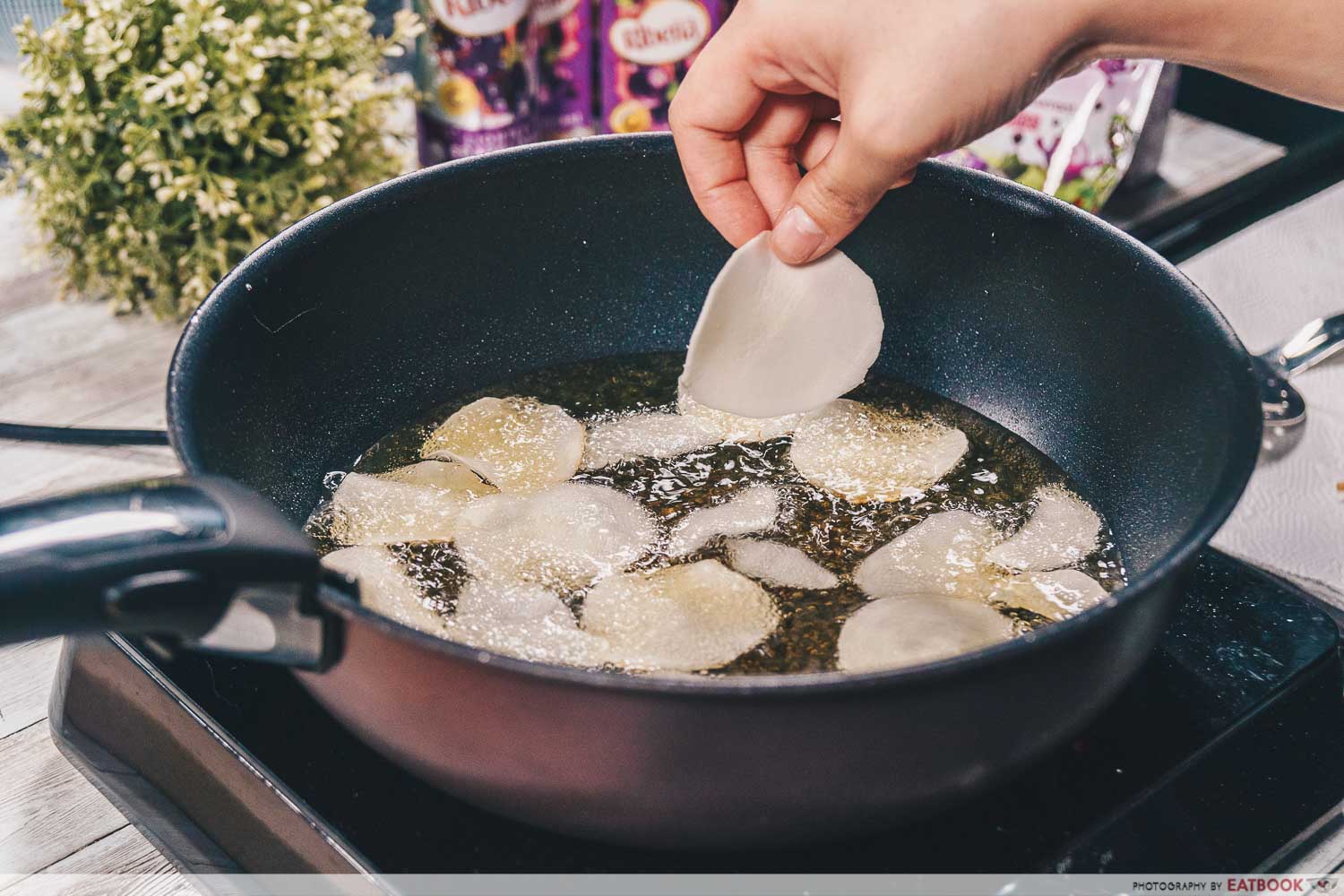 Take the effort to drop the tapioca slices in separately so that they don't all clump up while frying. To ensure that they don't burn too fast, keep the heat low. They're done when they turn a light gold, starting from the edges.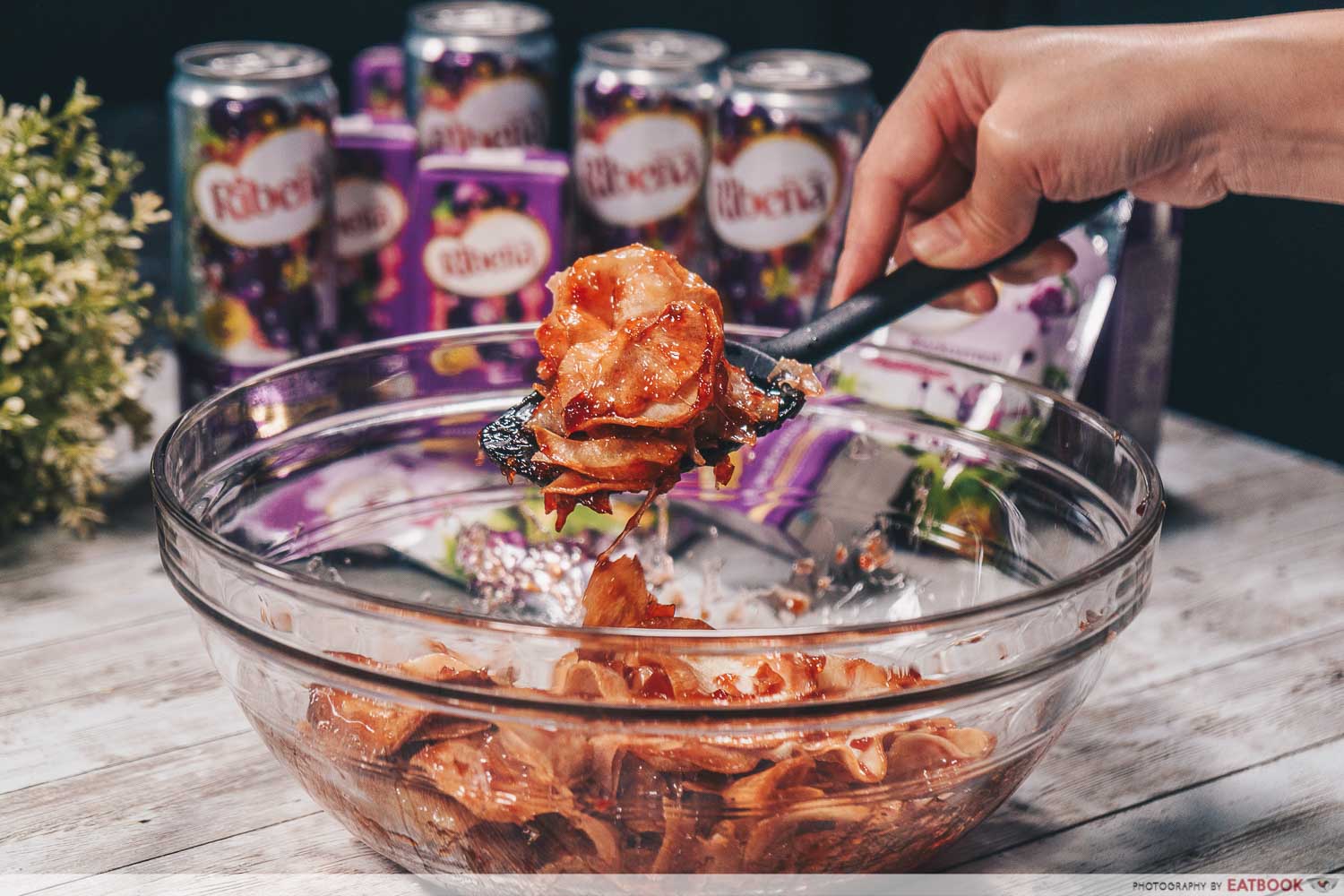 The mixture will get stickier as you toss it with the chips, so make sure you get in there and make sure every chip is well coated! Store in an airtight container if you can stop yourself from eating them all at once.
Yield: 500g
Cooking time: 60 minutes
Ingredients:
500g raw tapioca, peeled and thinly sliced
2 cups Thai sweet chilli sauce
2 cups Ribena Blackcurrant Sparkling Fruit Drink Can 325ml
1 tsp sambal belacan
1 tsp cincalok and sweet onion relish
½ lemon, juiced
6 tbsp sugar  
Directions:
Combine the Thai sweet chilli sauce,

Sparkling Ribena

, sambal belacan, cincalok asweet onion relish, lemon juice and sugar in a small pot. Cook on medium heat till it becomes sticky and thick, and turn the heat off.

Thinly slice the tapioca with a mandolin. 

Fill a pot with oil, up to 3cm deep. Heat the oil on medium-low, till a wooden chopstick bubbles vigorously when dipped into the oil.

Gently drop the slices of tapioca in the oil, and fry till the edges start to turn golden.

Remove from the oil, and place on a plate lined with blotting paper or a kitchen towel to cool.

Slightly warm up the chilli mix before pouring it onto the chips and tossing to coat. Store in an airtight container.
---
4. Ribena Bak Kwa
---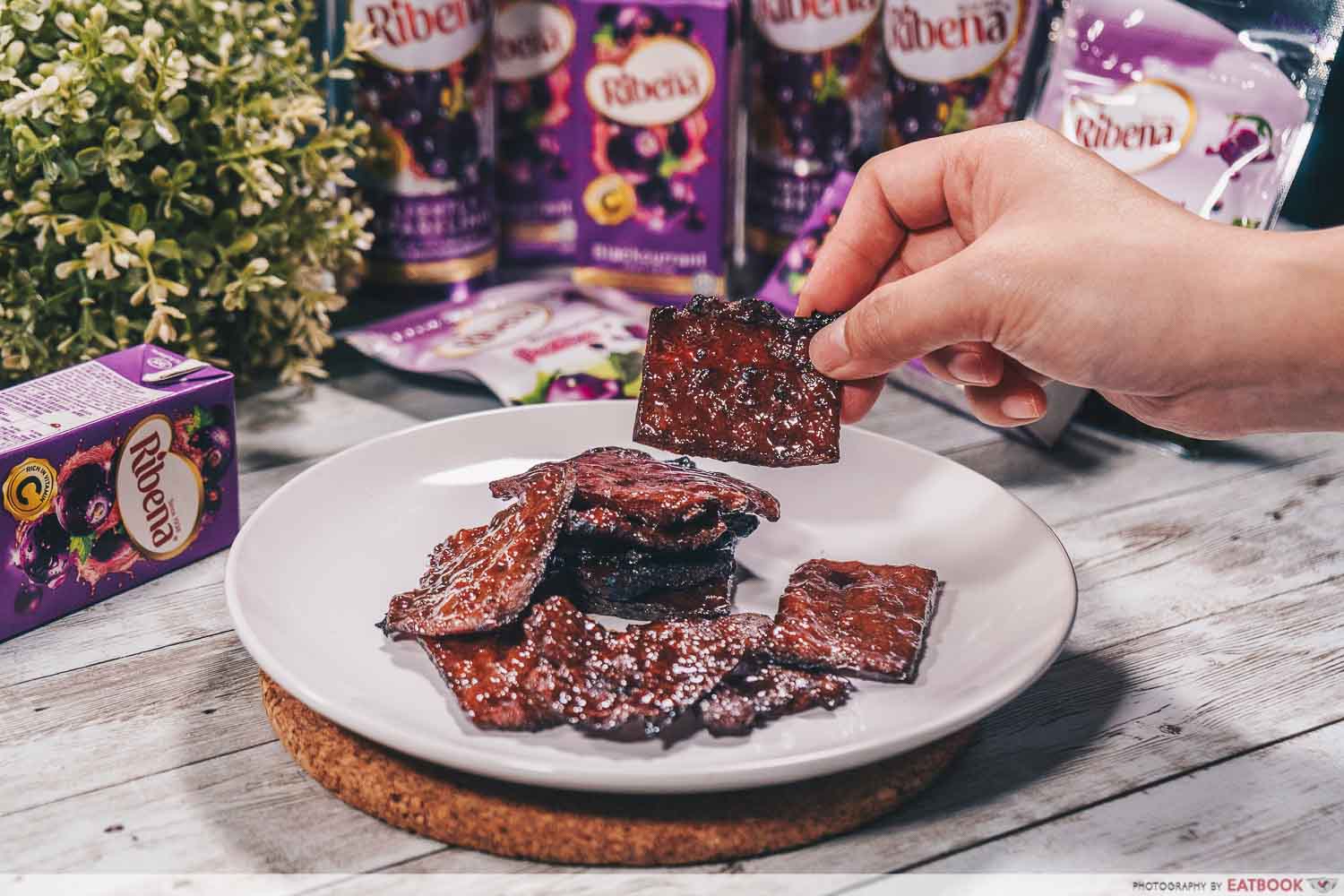 While everyone else is lining up for bak kwa, skip the queues and make your own Ribena bak kwa at home this CNY! A certain famed bak kwa shop saw eight-hour lines for their pineapple bak kwa, which got me thinking that berry-sweetened slices of pork might work just as well.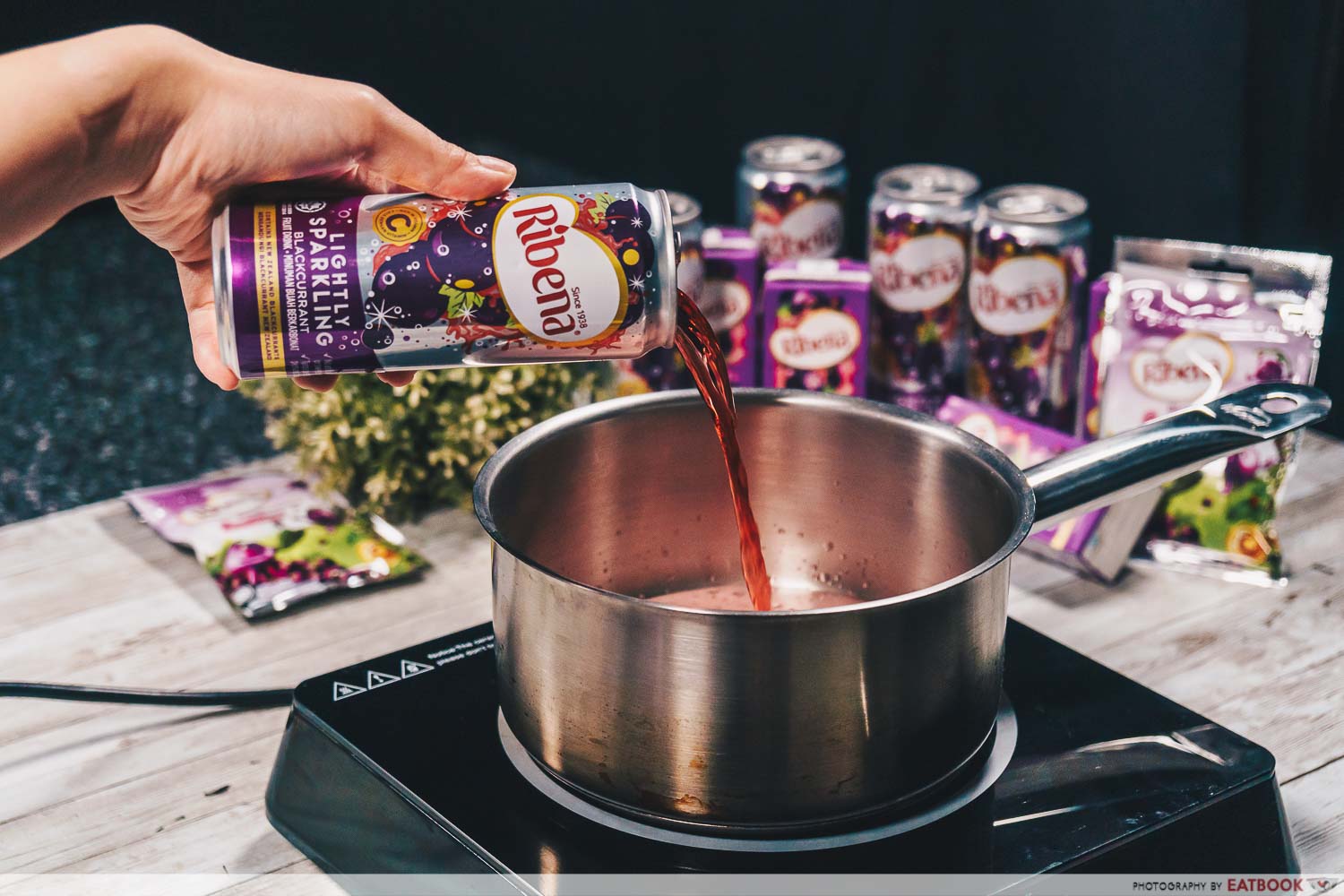 Making the bak kwa requires a little bit of prep work the night before. Rather than simply using sugar, reduce one cup of Sparkling Ribena till it's thick and glossy─you should be left with something like one to two teaspoons of syrup. Let it cool a little and mix it into your meat, before it hardens.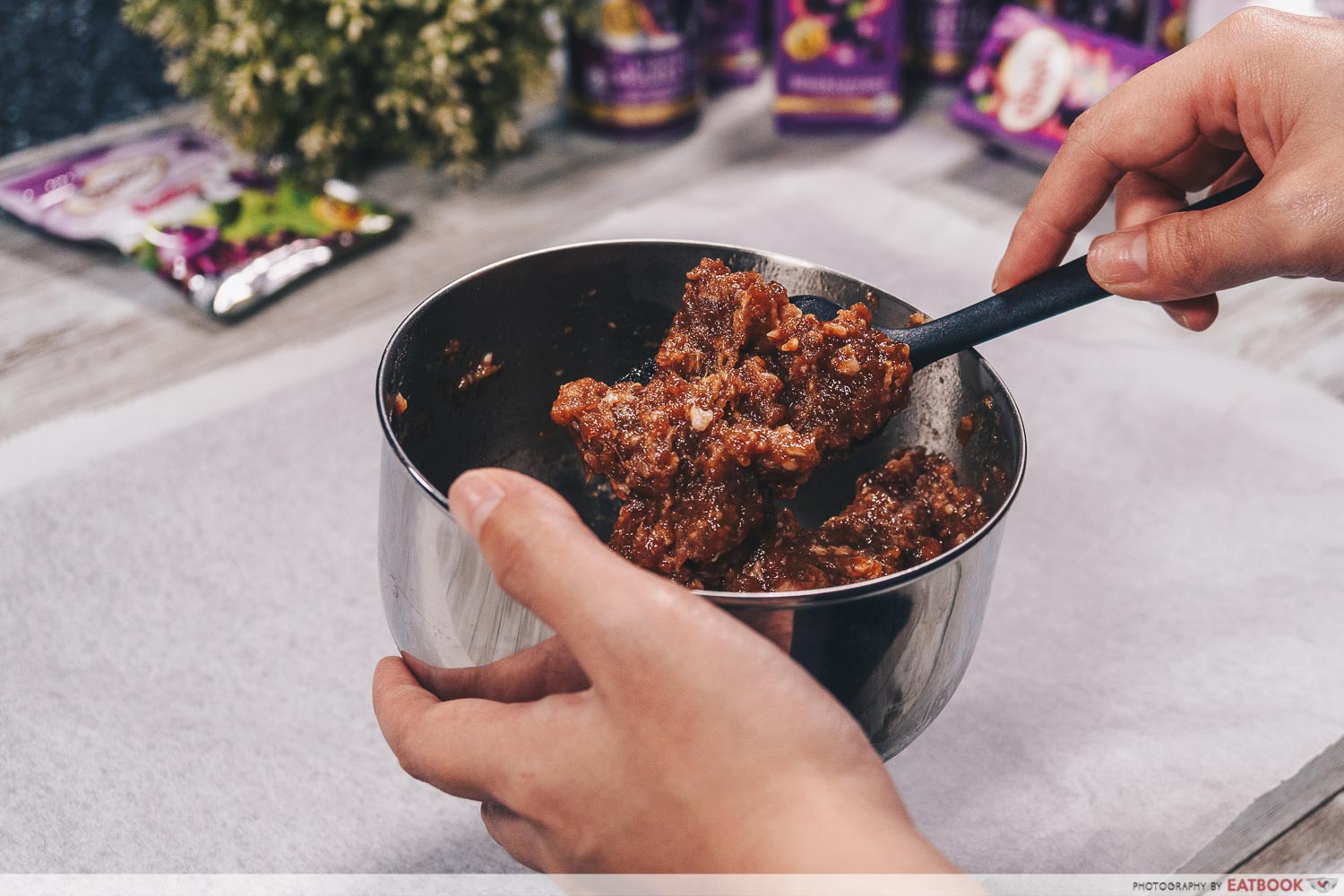 Spread the mixture evenly, and thinly, on a sheet of baking paper. The meat will shrink as it bakes, so feel free to spread it to the edges of the baking tray. I find 3mm to be the right thickness, but adjust this according to your preference.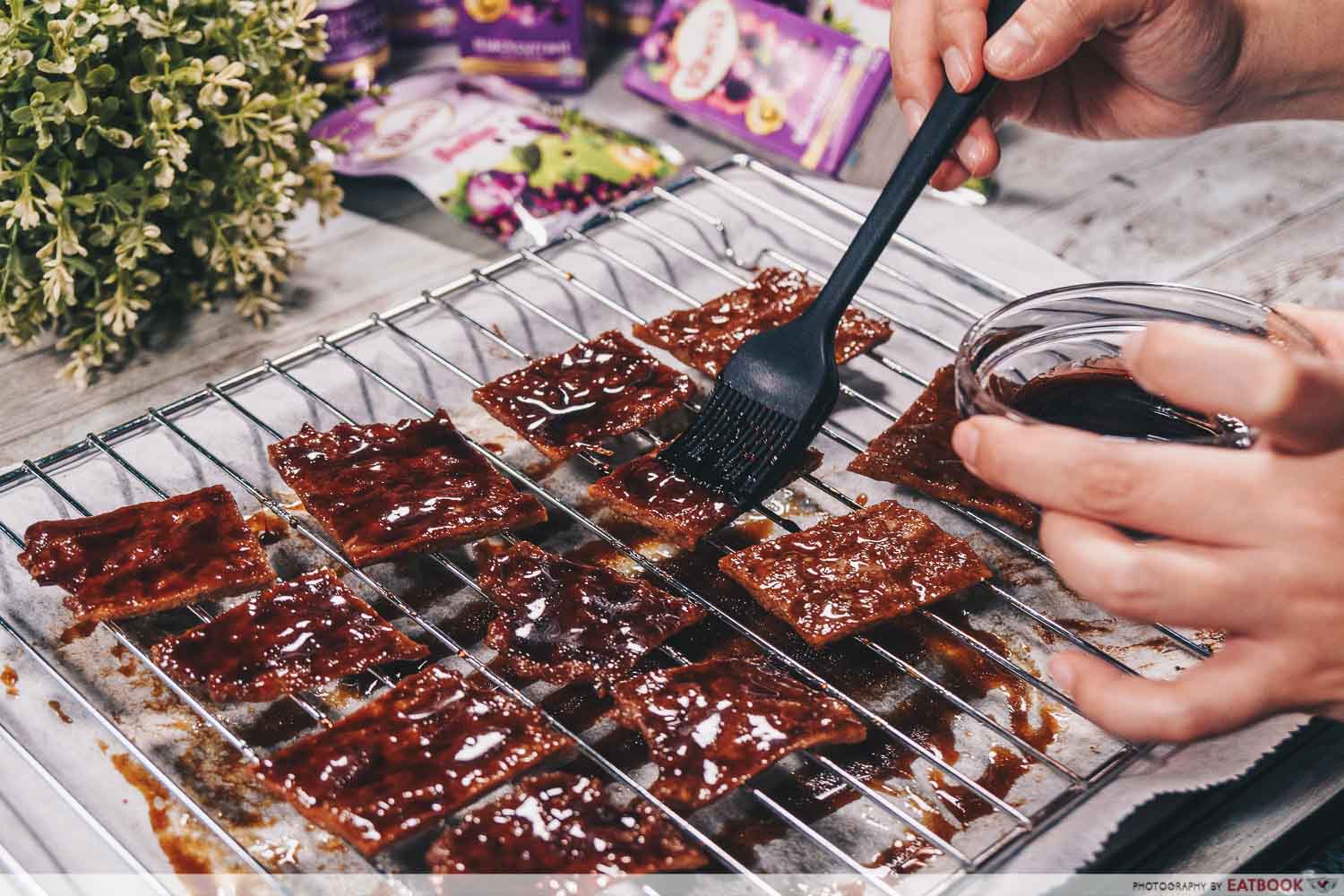 Liberally spread the Ribena glaze on the slices of bak kwa before you grill them. It may smell like something is burning when you return the bak kwa to the oven to grill, but this is most likely the smell of the drippings on the tray getting burnt. You may bring it one rack lower if you are concerned.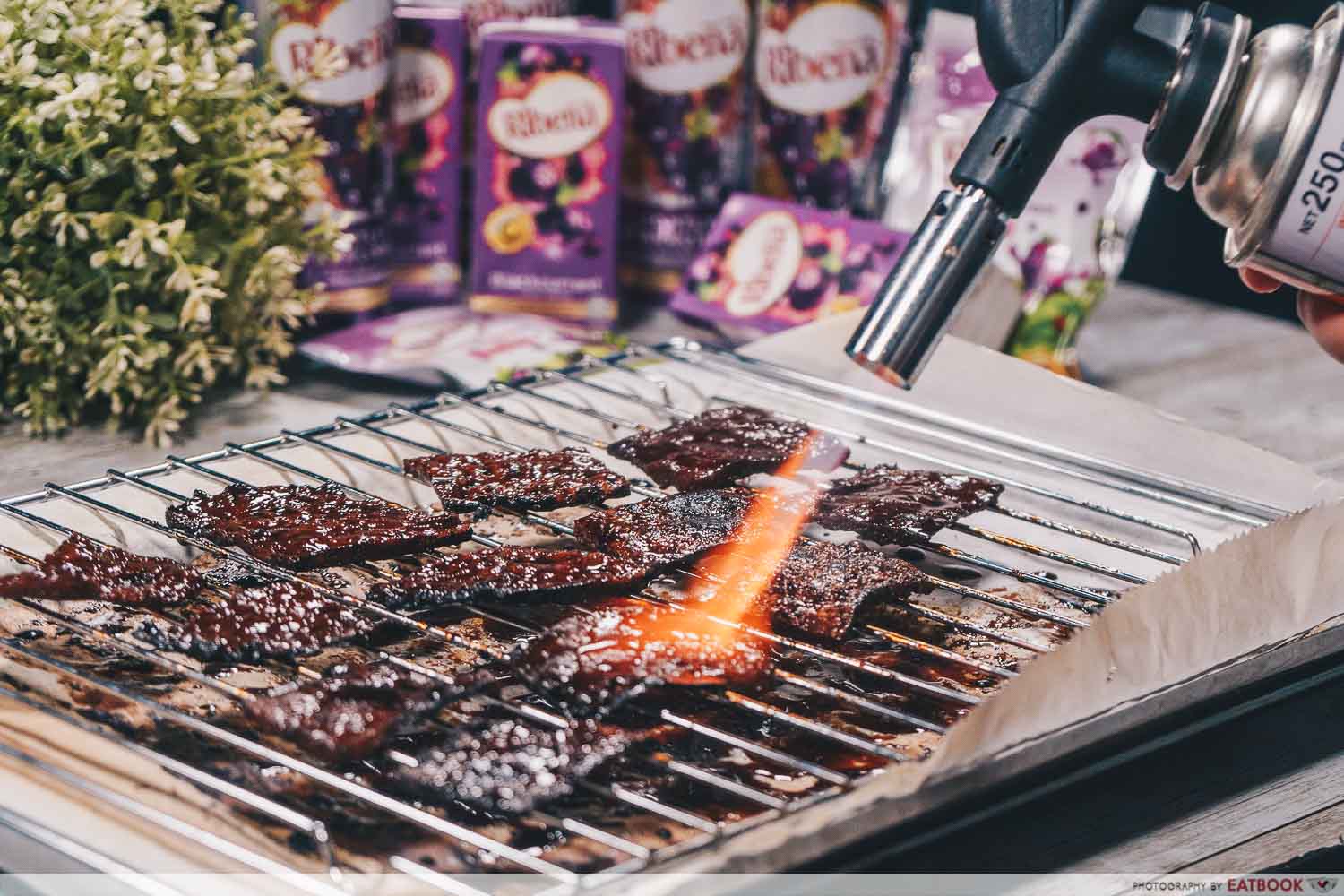 The bak kwa we get from the shops is typically grilled over a charcoal fire. This finish can't be replicated exactly in an oven, so I've employed a blowtorch to give my slices of bak kwa a very brief touch of char at the end. Do exercise caution when you use the blowtorch at home, and keep flammable materials away. If you don't have a blowtorch, just give the bak kwa an extra minute on the top rack of your oven, with the temperature as high as it can go.
Yield: 24 3cm x 3cm slices
Cooking time: 60 minutes
Ingredients:
Bak kwa:
1 cup Ribena Blackcurrant Sparkling Fruit Drink Can 325ml
250g minced pork
½ tsp salt
½ tsp fish sauce
½ tbsp hua tiao cooking wine
½ tbsp oyster sauce
1 tbsp light soya sauce
½ tbsp dark soya sauce
½ tsp sesame oil
40g sugar
Dash of white pepper
Pinch of five spice powder
Glaze:
1 can of Ribena Blackcurrant Sparkling Fruit Drink Can 325ml
1 packet of Ribena Blackcurrant Fruit Drink Combi 200ml
2 tbsp sugar
Cooking time hacks: Marinate the pork the night before.
Directions:
Make a syrup by reducing one cup of Sparkling Ribena in a small pot, and letting this cool.

Mix the minced pork with salt, fish sauce, hua tiao cooking wine, oyster sauce, light and dark soya sauce, sesame oil, 40 g of sugar, pepper, five spice powder, and the Ribena syrup.

Marinate at least eight hours, or overnight.

Preheat the oven to 160⁰C.

Line a baking tray with baking paper, and spread the meat mixture on the pan. Flatten it to about 2 to 3mm thickness with a spatula, or place another sheet of baking paper on top and roll it flat with a rolling pin, before removing the top piece of paper.

Bake for 15 minutes. While it's baking, reduce the

Sparkling Ribena

,

Ribena Blackcurrant Fruit Drink Combi,

and sugar till thick and sticky, like a glaze.

Remove from the oven, and switch to the broiler, or crank up the oven to 230⁰C.

Cut the bak kwa into your desired shape, and arrange on a metal rack. Place this metal rack back on top of the baking tray. Brush the Ribena glaze on, and grill on the top rack for five minutes.

Remove from the oven, turn the slices of bak kwa over, glaze, and grill for another five minutes.

Finish with a blowtorch if desired, and allow to cool.
Recipe adapted from The Burning Kitchen's post.
---
5. Ribena Lava Tang Yuan
---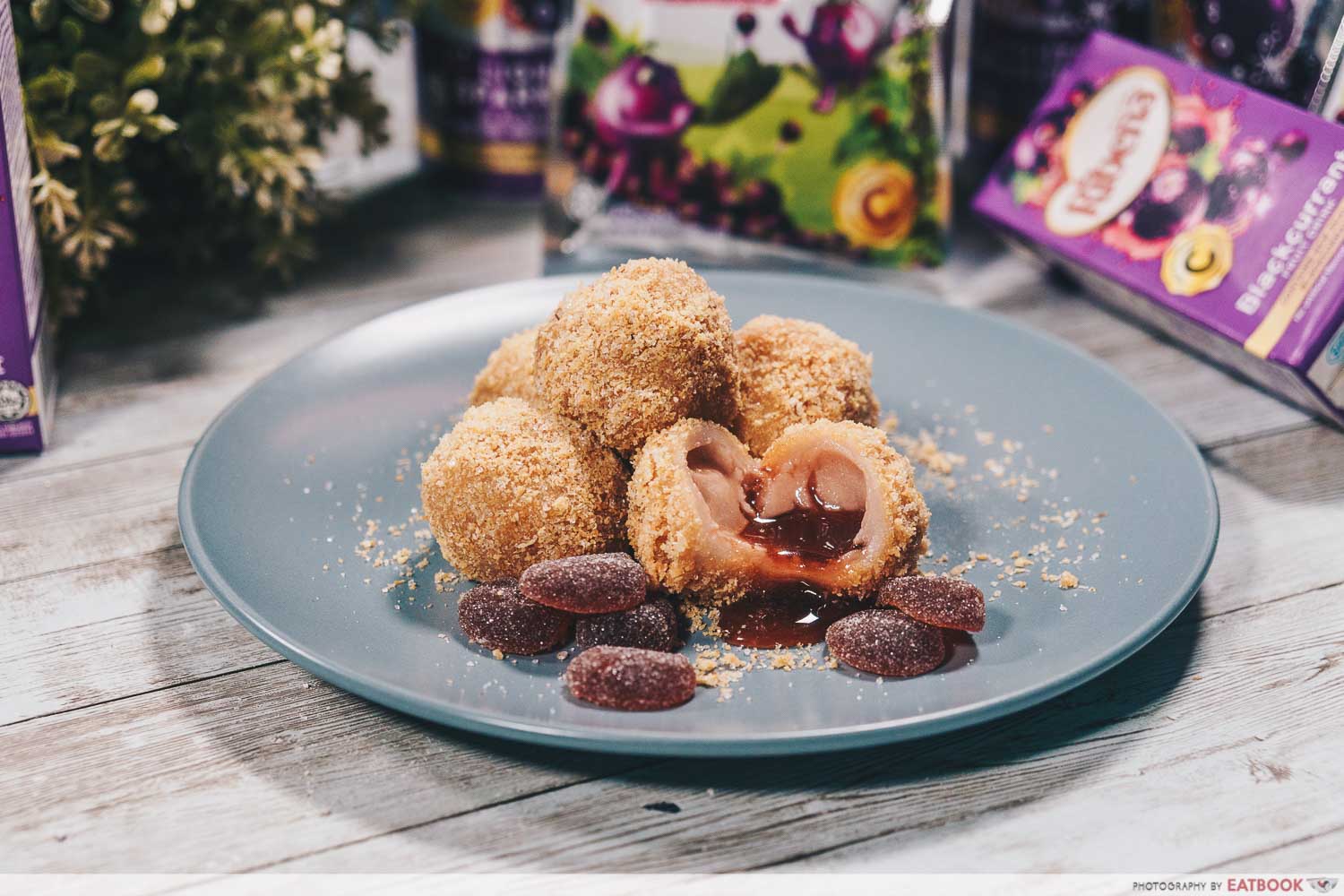 Tang yuan is traditionally eaten on the first full moon after CNY, or the 15th and last day of the celebrations. Also known as chap goh mei, the glutinous rice balls symbolise harmony and togetherness as the family gathers one last time before the end of the festive season. Here, I've zhnged-up the tang yuan balls with a molten, Ribena centre for a double shot of bliss this CNY.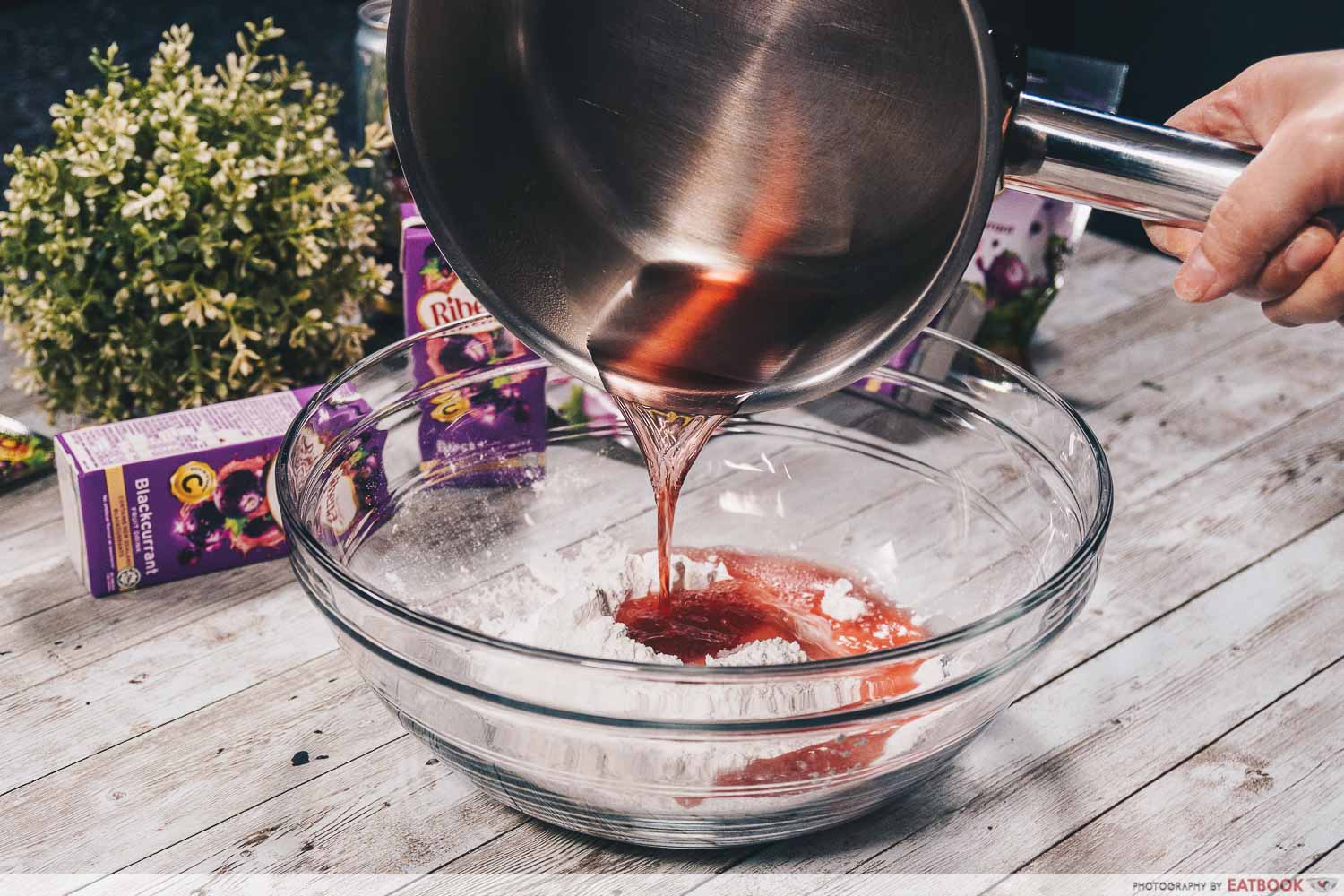 Instead of making the tang yuan with boiling water, I've replaced it with boiling Ribena instead to give the dough balls an extra fruity finish. If you prefer, you can stick to using hot water instead of Ribena.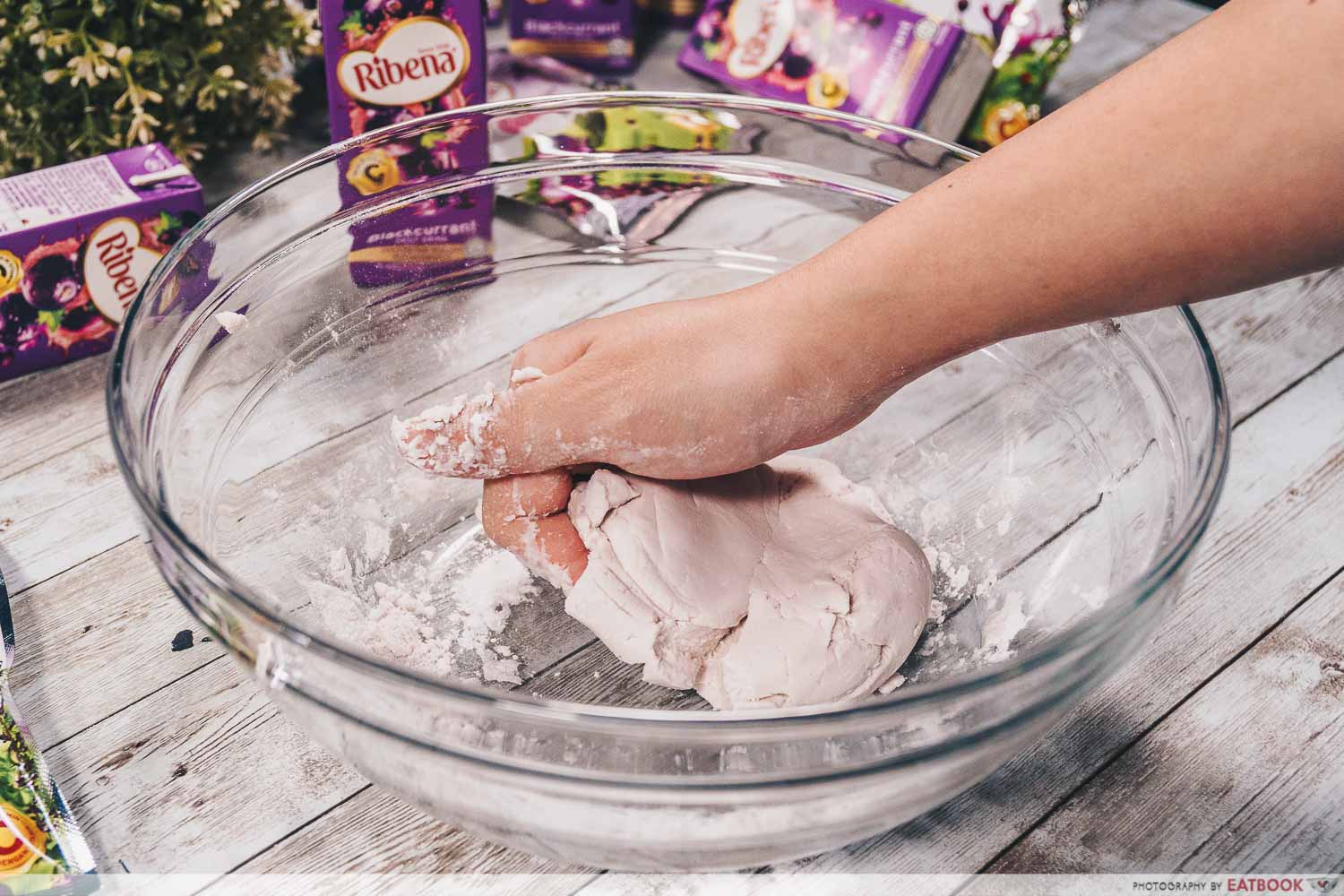 The dough should be soft, malleable and elastic. Add hot water a little at a time to achieve this consistency.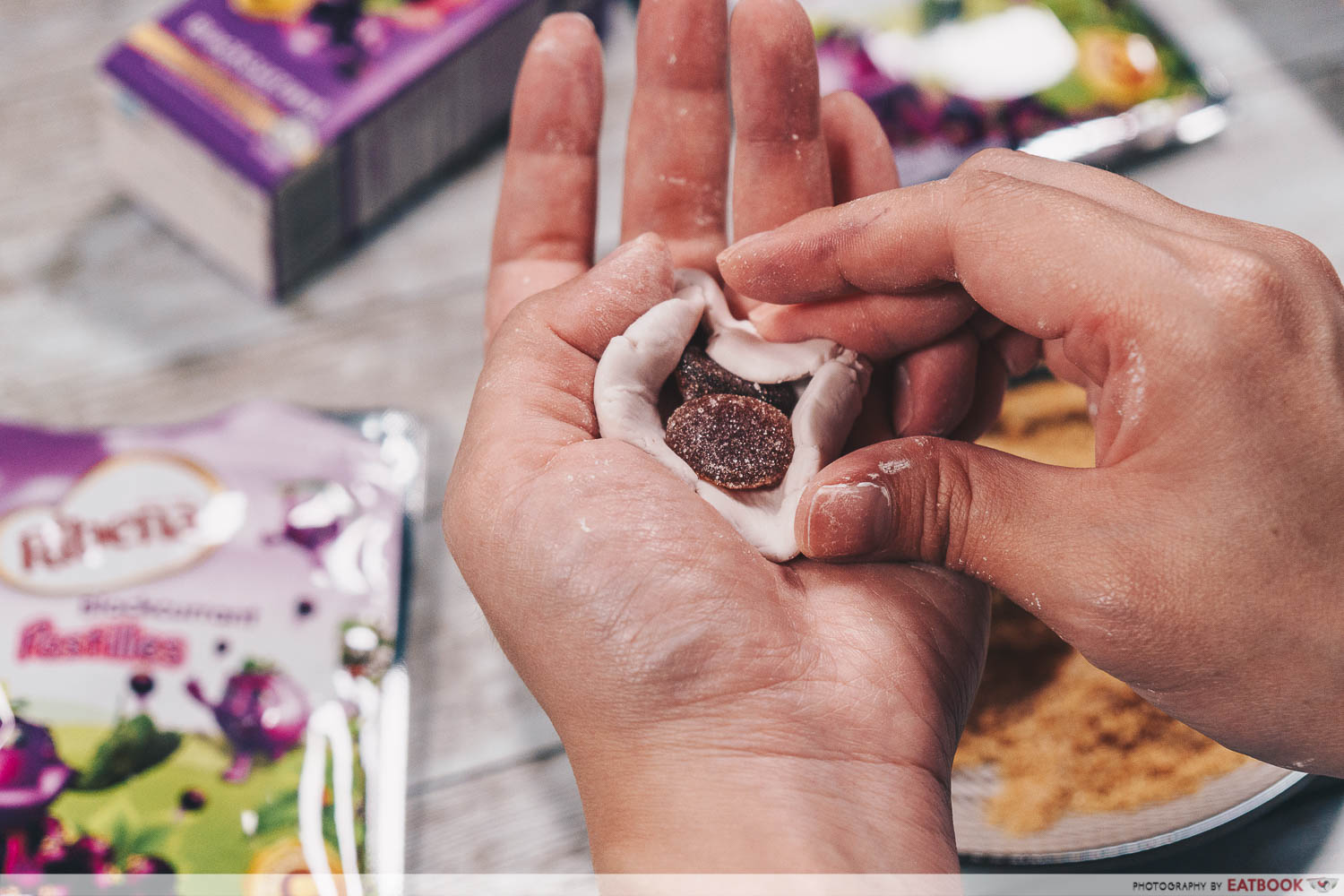 Enfold two Ribena pastilles in each piece of dough, and make sure the final ball has no cracks in it. The pastilles will melt as the tang yuan is boiled, so any lines of weakness in the dough might lead to the molten Ribena leaking.
Yield: 10 to 12 tang yuan
Cooking time: 40 minutes
Ingredients:
1 cup of glutinous rice flour
½ cup of Ribena Blackcurrant Fruit Drink Combi 200ml
20 Ribena pastilles
100g ground roasted peanuts
50g sugar
Directions:
Bring

Ribena Blackcurrant Fruit Drink Combi

to boil in a small pot. Remove from heat.

Make a well in the glutinous rice flour. Pour boiling Ribena into the well. Cover and rest for 10 minutes.

Knead till a soft dough forms. It should not stick to your hands.

Divide the dough into 18g pieces.

Flatten each piece into a round disc, and wrap two Ribena pastilles in each. Roll into a uniform ball.

Bring a pot of water to the boil, and leave it at a gentle boil.

Mix the ground peanuts and sugar on a plate.

Gently drop the tang yuan into the pot. Cook till they float and the edges turn slightly translucent.

Dish out the tang yuan and roll them in the peanuts to serve.
---
CNY goodies with Ribena
---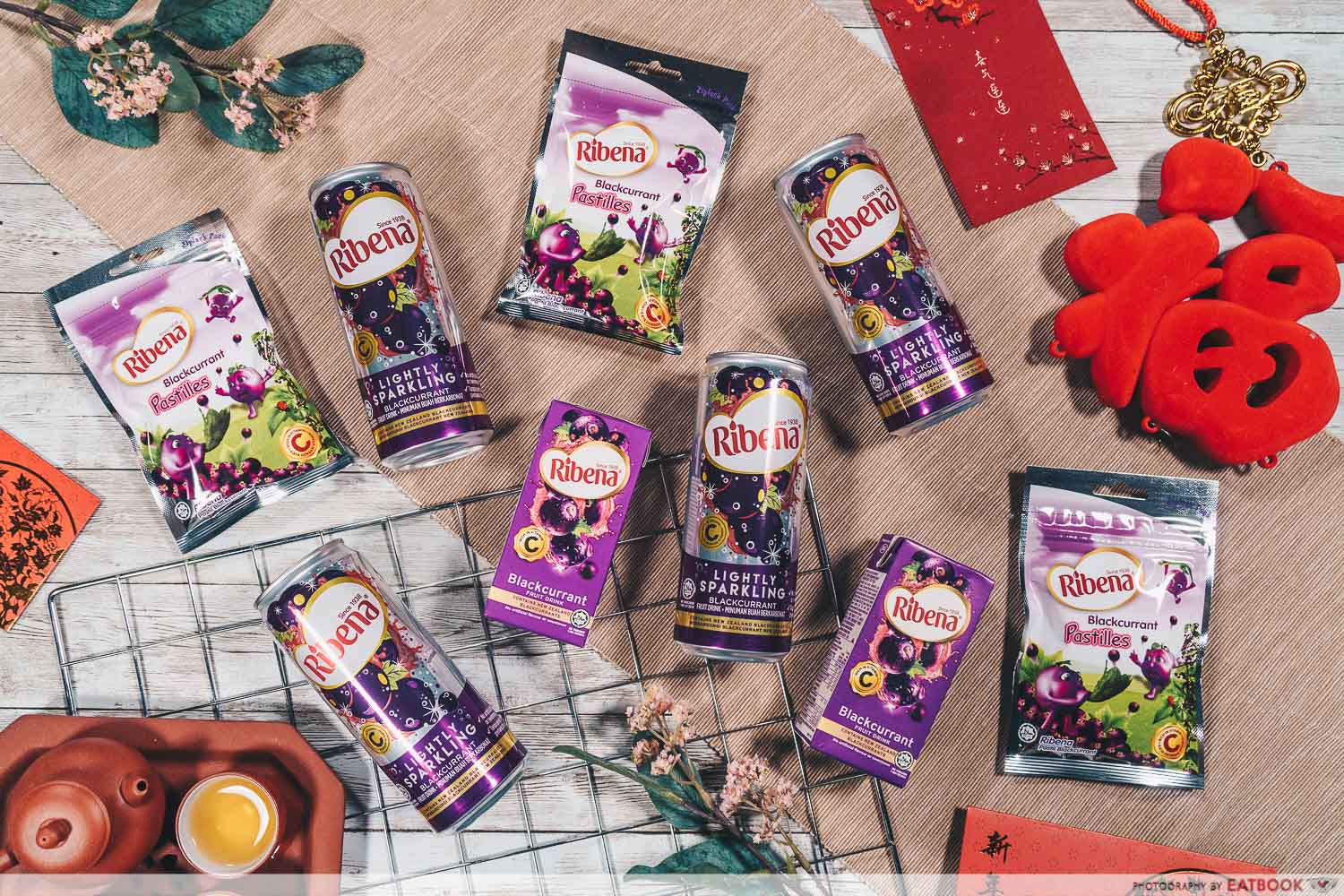 With Chinese New Year just around the corner, it's almost time to get into the kitchen and start whipping up all your CNY goodies. Ribena may be typically thought of as a drink, but as we've demonstrated, it can be used in so many different ways, so you're limited by your own creativity!
Serve up these Ribena goodies this CNY, and get your relatives to guess the secret ingredient! Get your Ribena products at all leading supermarkets, where you can redeem a free Ribena dining plate with every four packs of Ribena Lightly Sparkling 6-can! There are four designs available, in limited quantities. Alternatively, get your Ribena delivered to you when you order through RedMart. 
Photos taken by Muhammad Hafiq.
This post was brought to you by Ribena.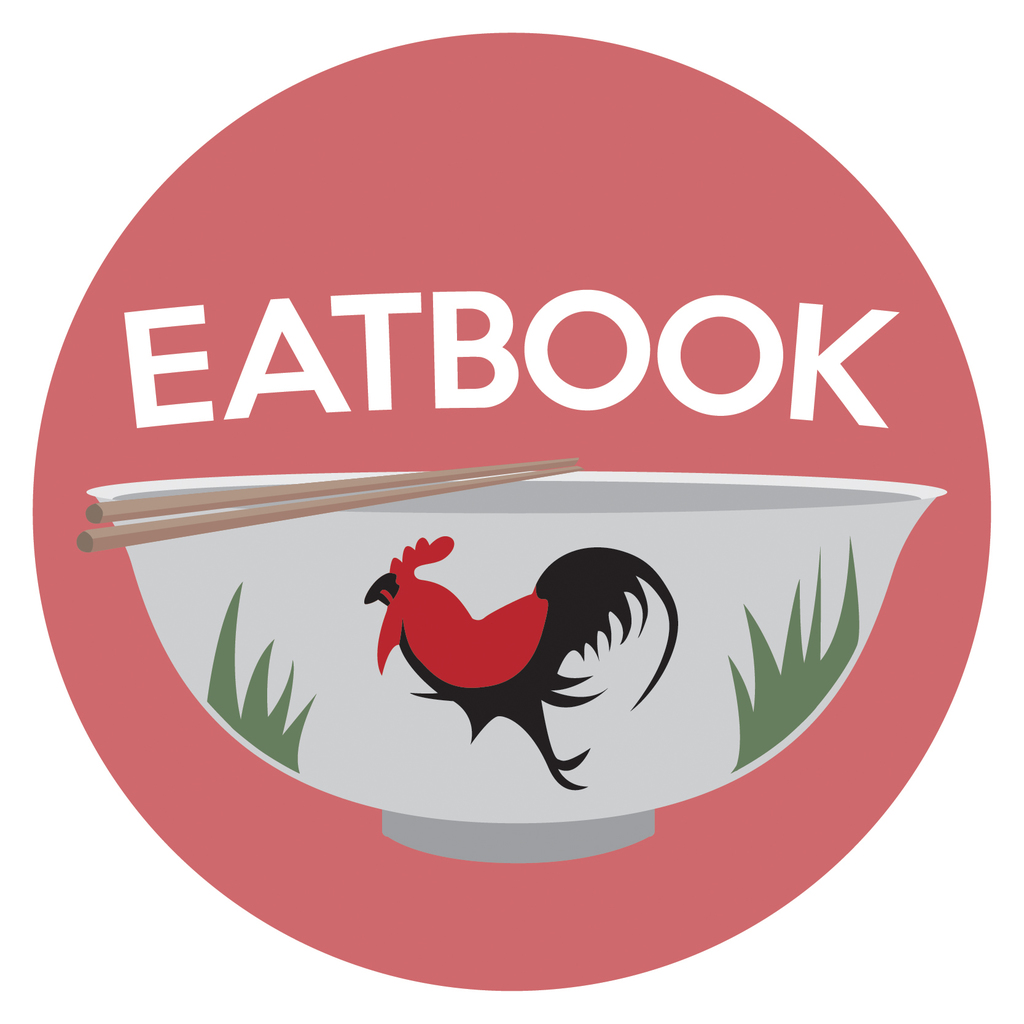 Drop us your email so you won't miss the latest news.