Legit pad Thai made with a rice cooker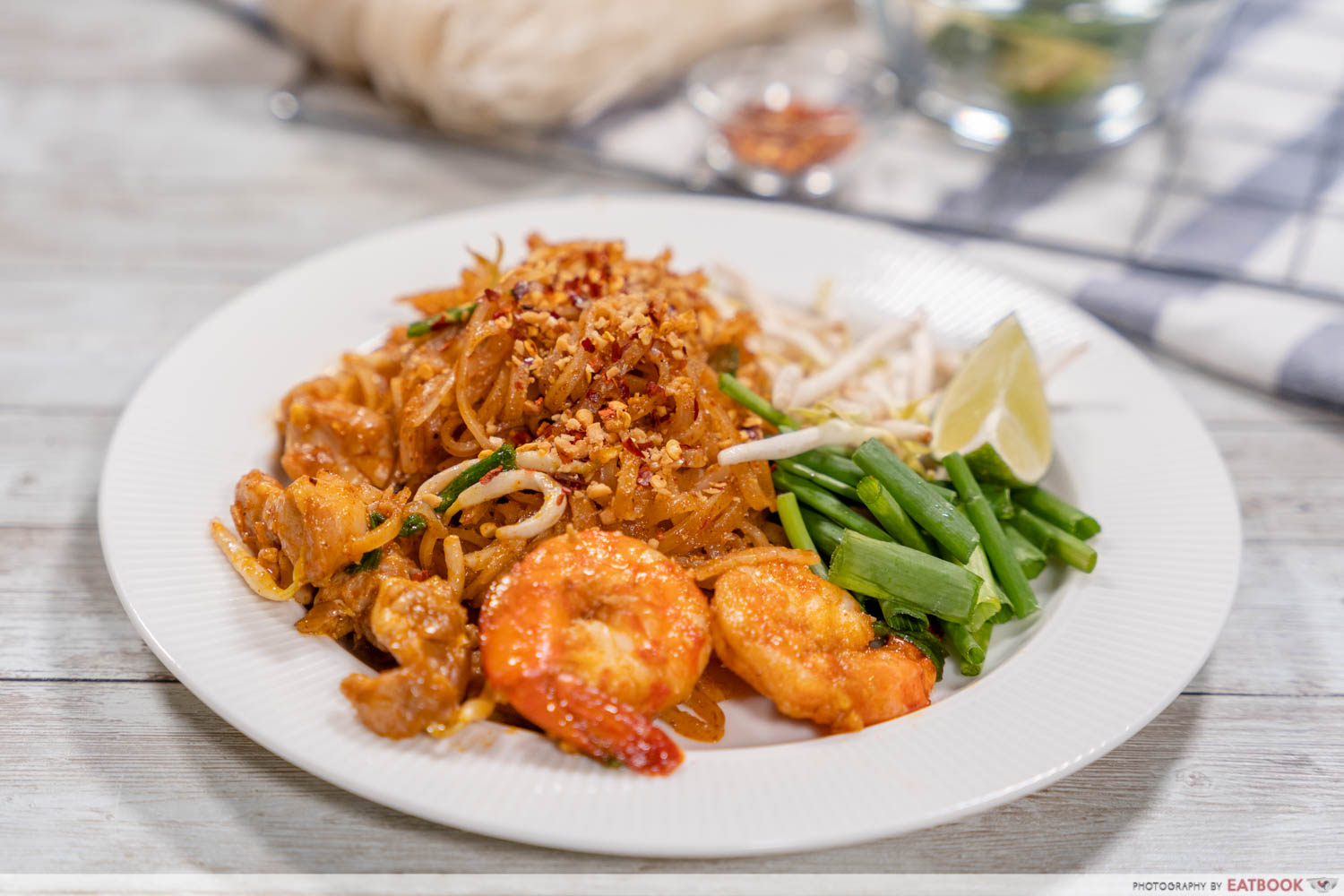 After a few months of being cooped up at home, we have experimented even more with the rice cooker and finally came out with a new dish—the Rice Cooker Pad Thai. Just like our previous recipes (exhibit A: Rice Cooker Oyakodon and exhibit B: Rice Cooker Mentaiko Mac And Cheese), this pad Thai is equally simple and straightforward to whip up.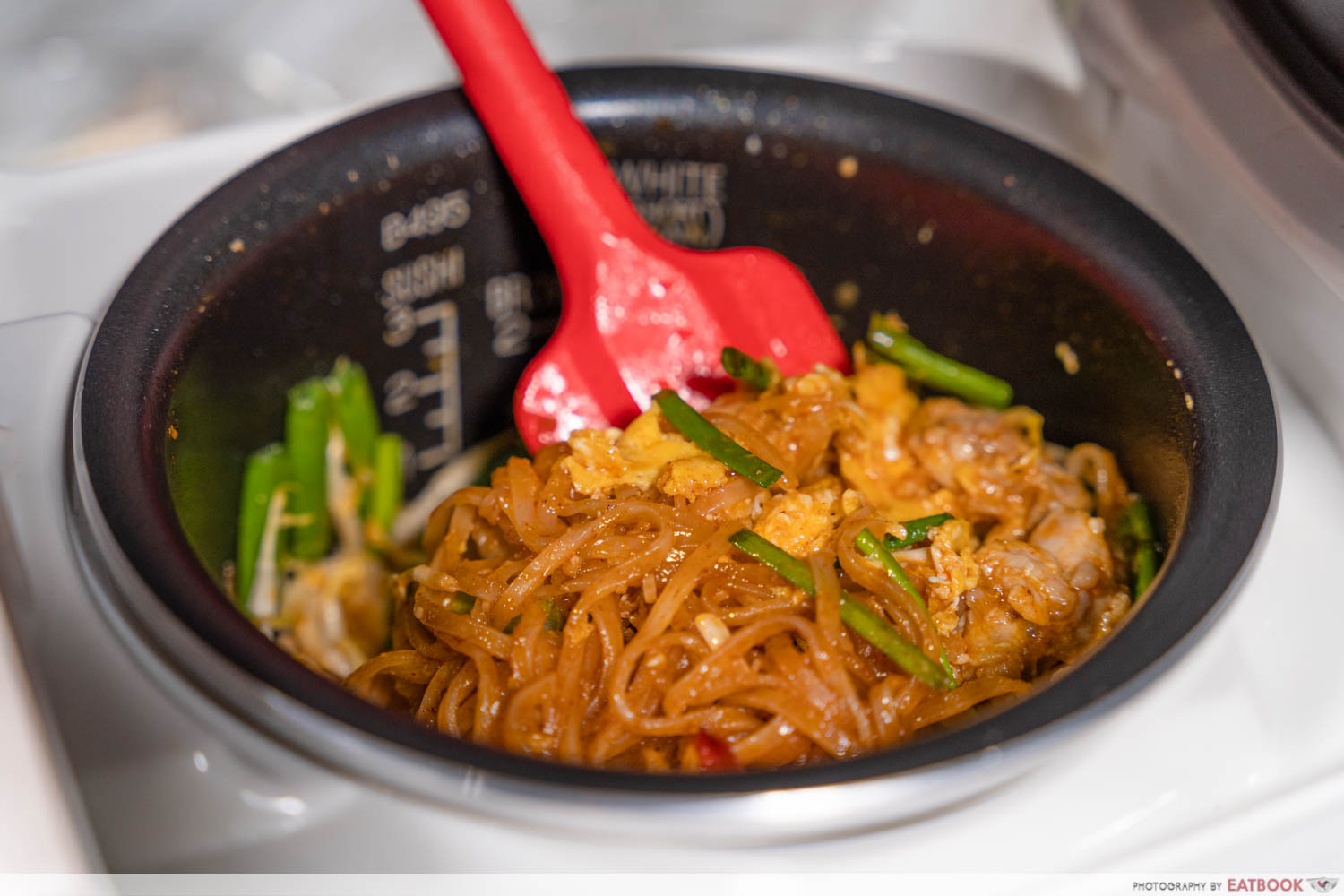 We take cooking pad Thai out from the wok, and into the rice cooker because hot oil is a common reason why kitchen noobs stay out of the kitchen. With this easy rice cooker recipe, you can protect yourselves from the scary splatters and also save time spent in cleaning up the stove.
If the travel ban has set your wanderlust ablaze, check out the end of this article for the full recipe, and bring your taste buds and imagination back to the bustling streets of Bangkok.
---
The process
---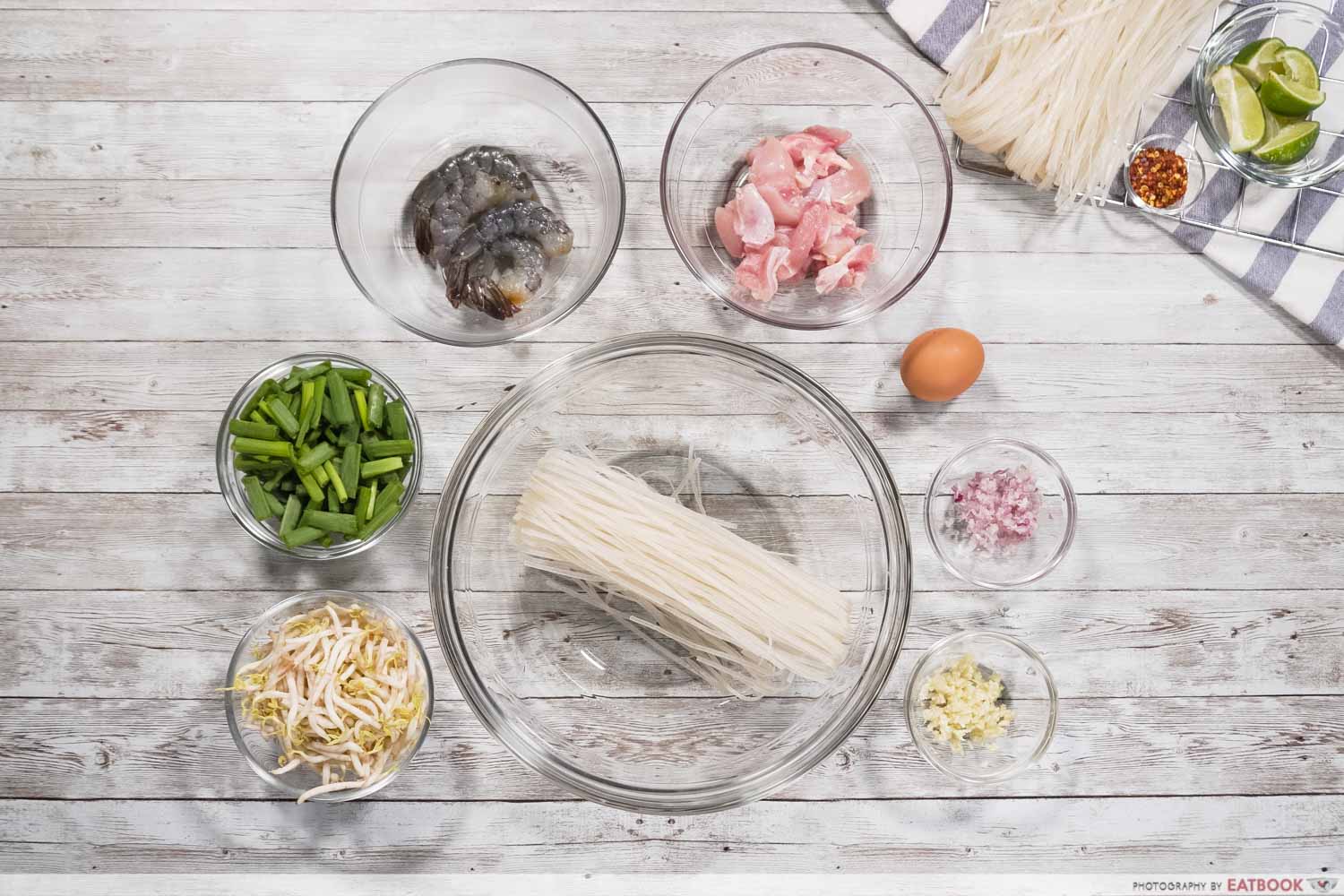 With less than 10 ingredients in this recipe, this pad Thai is easily one of the most doable dishes for beginners in the kitchen. Not only does the rice cooker prevent any oil splatters, it can also be left alone to cook by itself with little attention. This means lunch/dinner can start and end on time, as long as the prep work is done beforehand.
This includes slicing the chicken into bite-sized chunks, deveining the prawns, chopping up both garlic and shallots, as well as cleaning up a handful of spring onions and bean sprouts.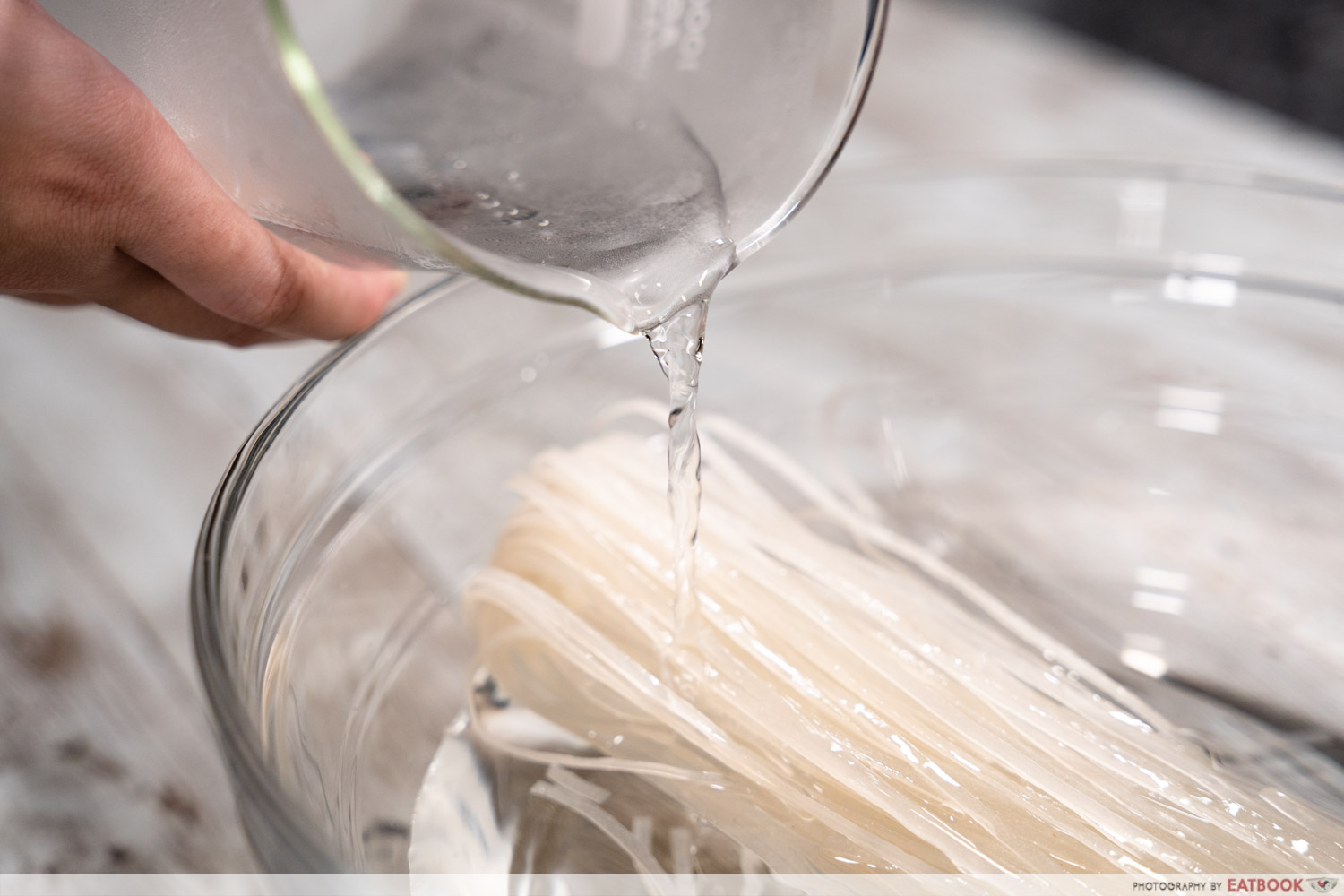 Start by soaking rice noodles in water for at least 45 minutes. If you prefer softer noodles, use warm water to lightly cook them beforehand. Alternatively, you can also use cold water if you prefer a more chewy texture. 
Set your rice cooker on "Quick Cook" settings, or "Start Cook" for older models. Heat up a liberal amount of oil, enough to coat the bottom on the pot. When it starts to smoke, throw in the roughly chopped garlic and shallots, and sauté the mix.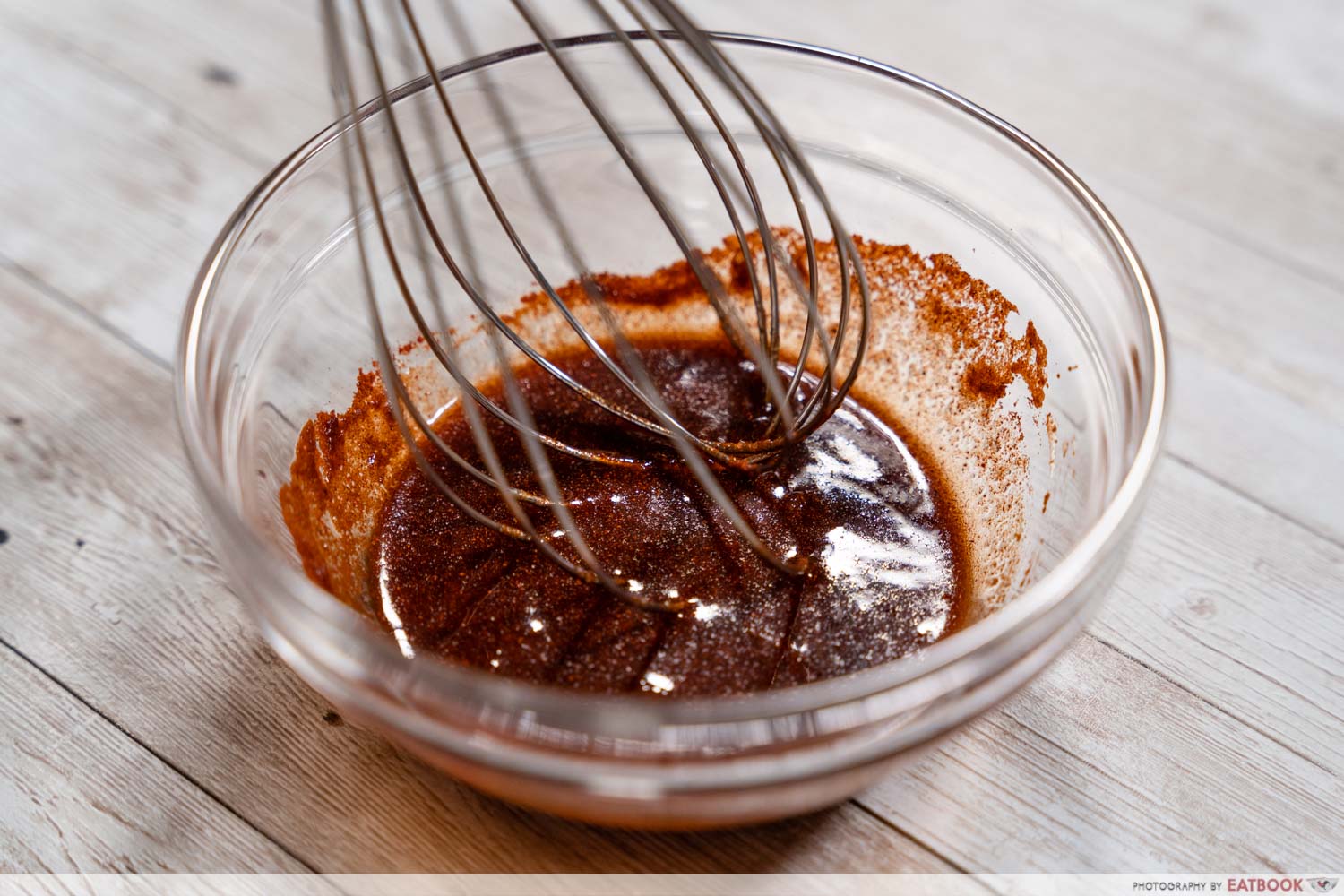 This tiny saucer of pad Thai sauce is where most of the flavours in this dish are derived from. Mix the pungent but essential fish sauce, tangy tamarind paste, smoky paprika, and sugar in a separate bowl and set aside.
Feel free to adjust the ratio in our recipe to suit your taste. Add more sugar if you love your pad Thai sweet, and if you walk on the spicier side of life, throw in some ground chilli powder for extra heat.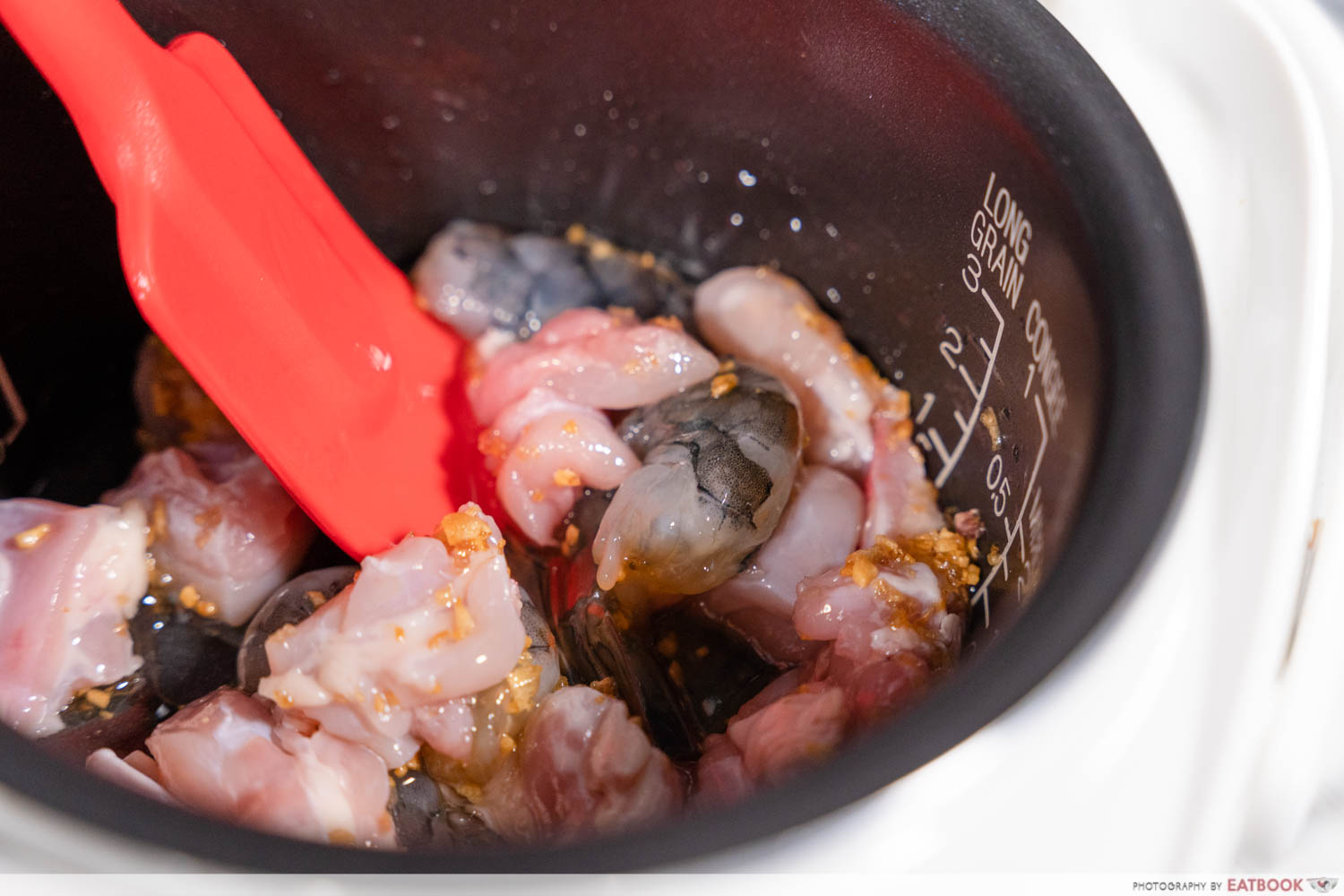 When the fragrant bits turn golden brown, add the chicken chunks, prawn, rice noodles, and pad Thai sauce into the rice cooker. Make sure to mix everything together and cook for around 10 minutes.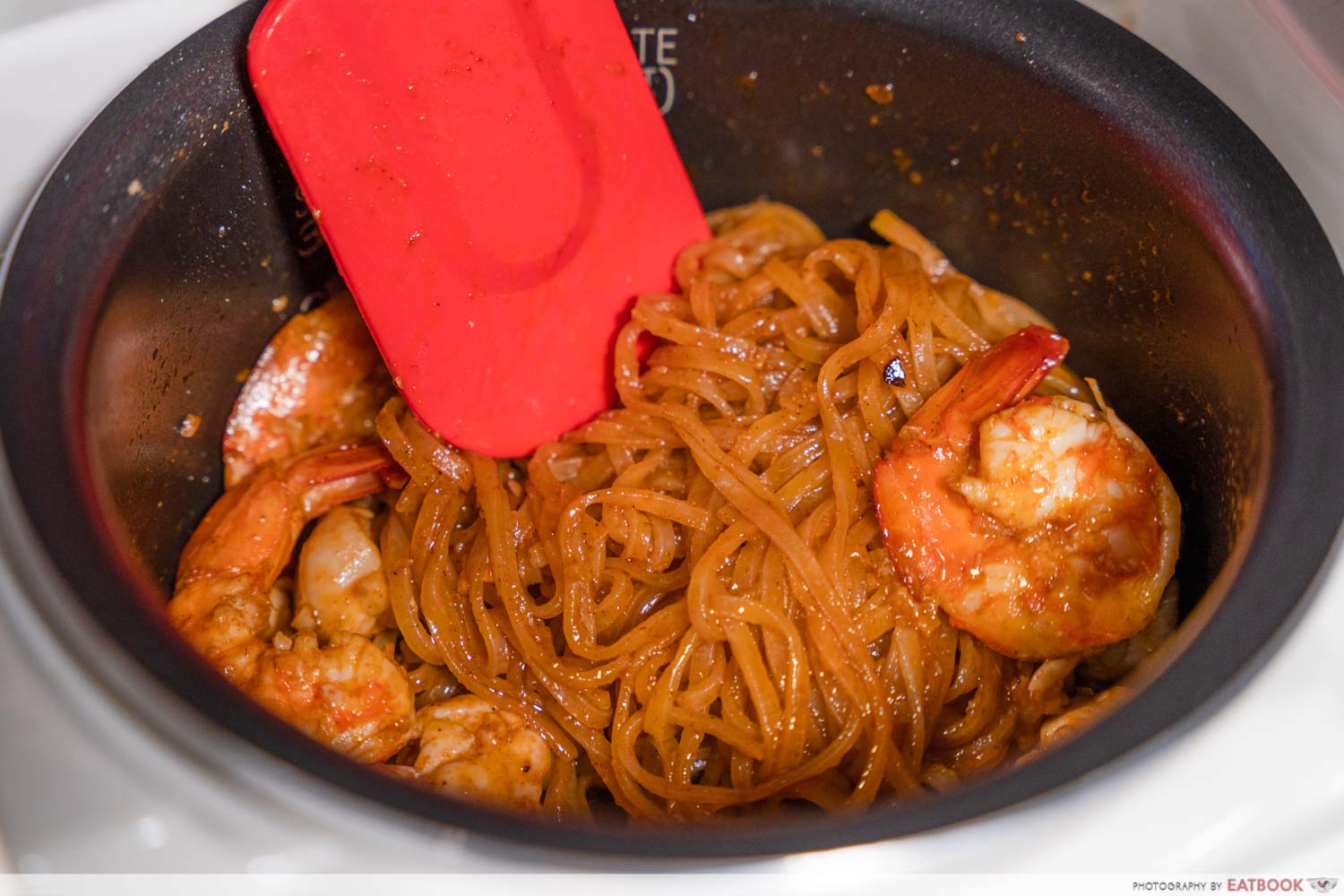 When the time is up, open and check if the proteins are cooked through, and noodles are to your preferred texture. If you find the noodles too hard, close the lid back up and let the pad Thai cook for a few more minutes.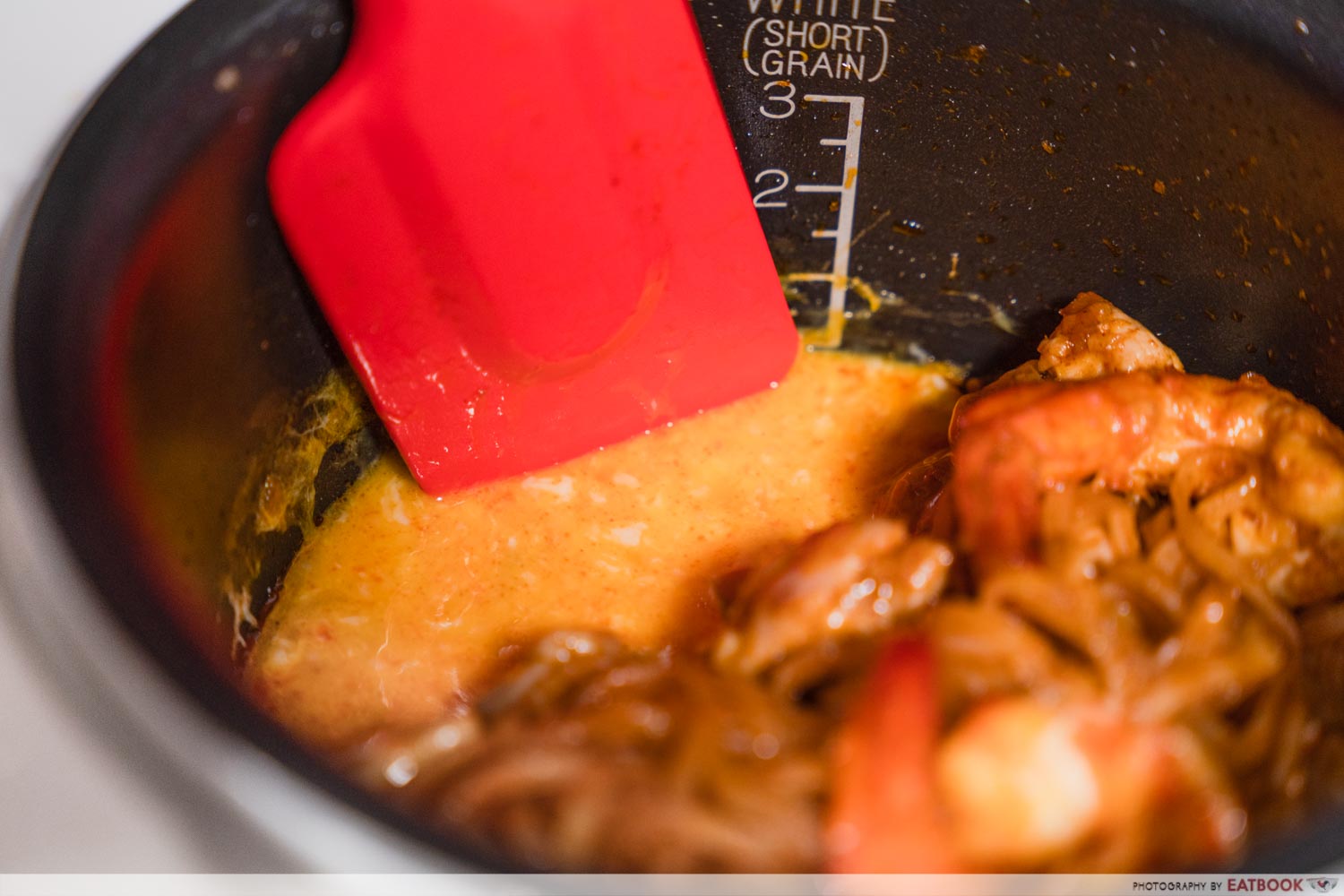 When it's ready, push the noodles to one side of the pot and crack an egg into the empty spot. Stirring continuously, allow the heat of the pot to slowly cook the egg for 1 minute, just like you would with scrambled eggs.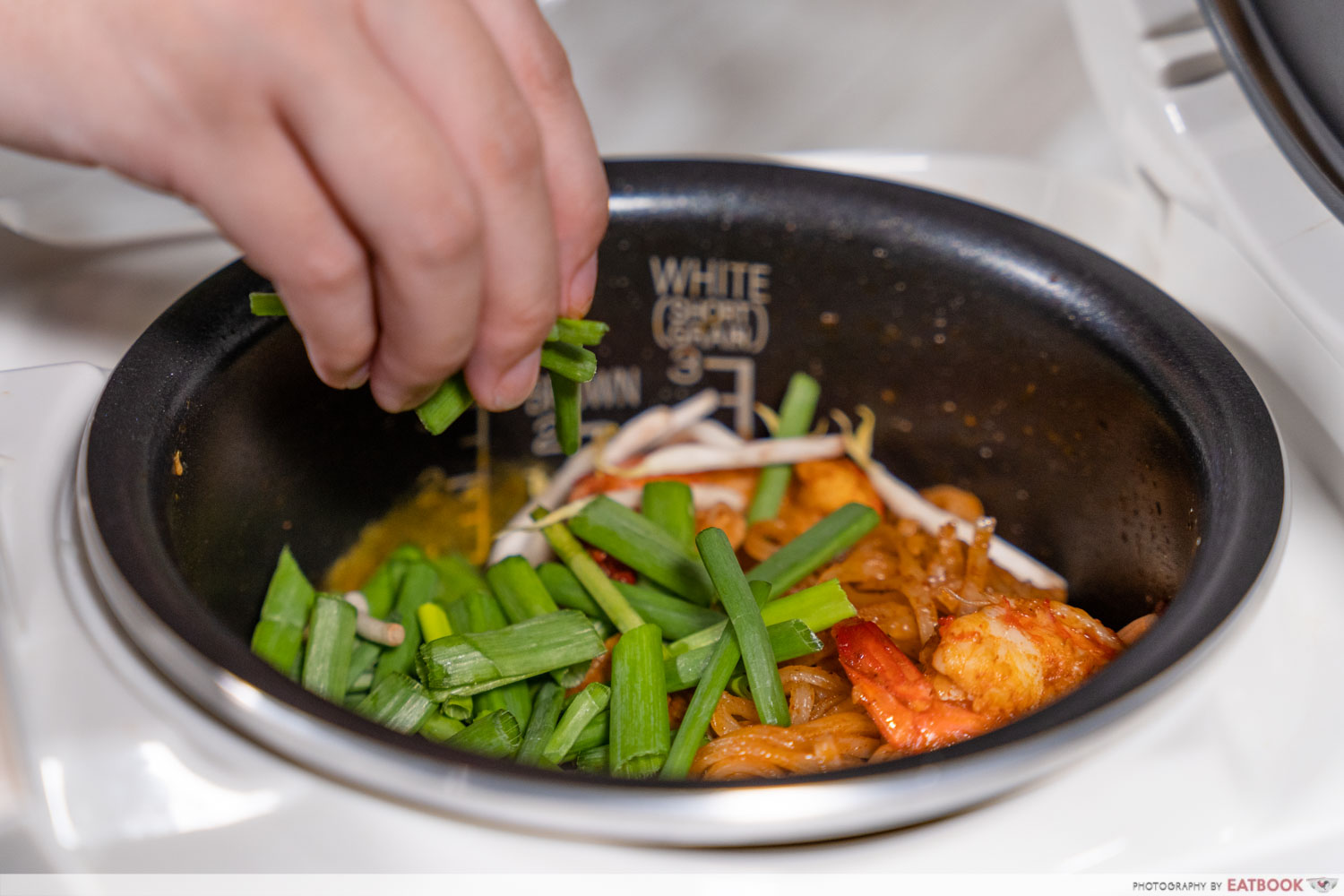 Throw in a generous amount of spring onion and bean sprouts, mix it up till everything is well-incorporated and close the lid for a quick three minutes. This would soften the noodles a little more, and lightly cook the vegetables to bring out its natural sweetness.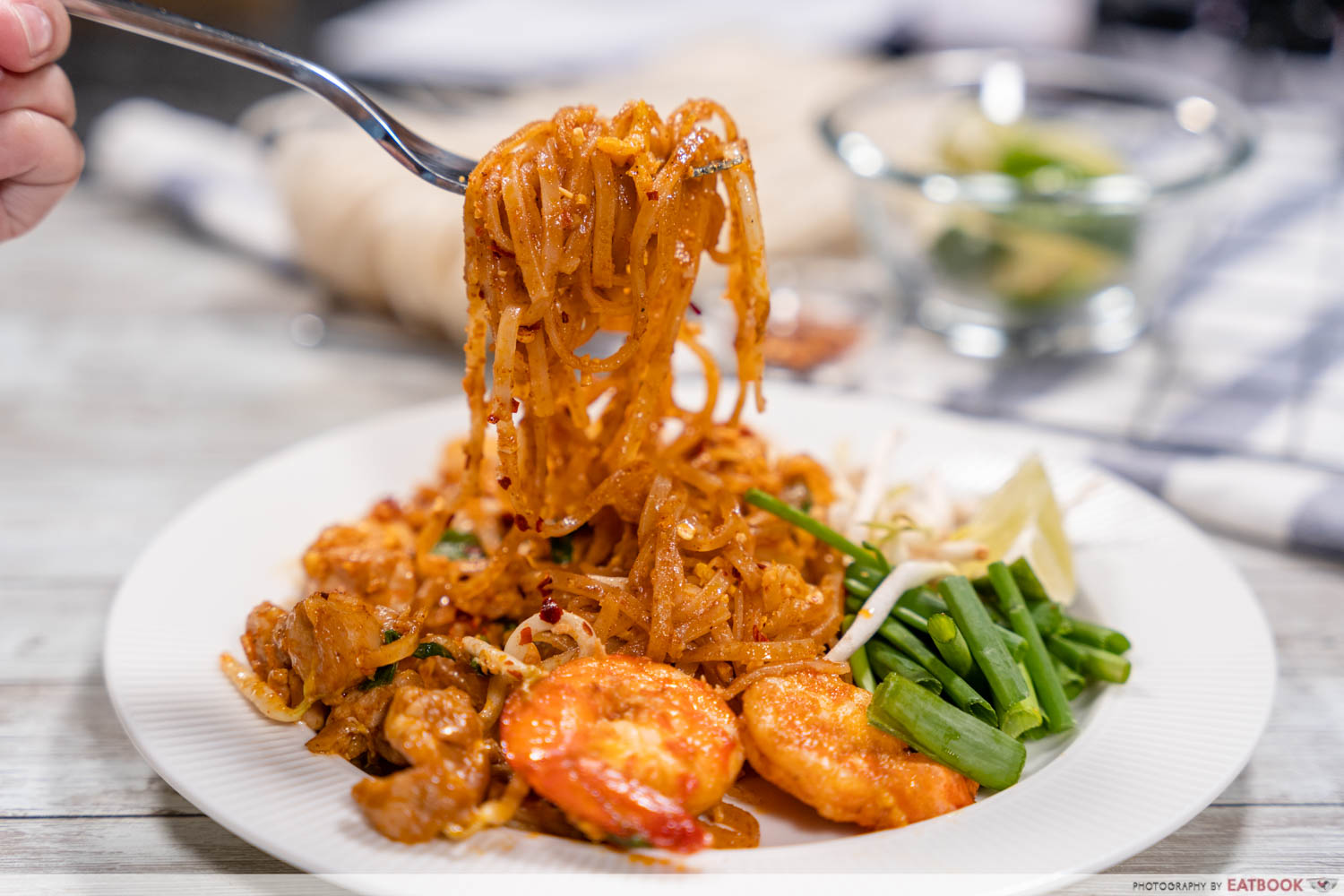 Plate the pad Thai like you remember how it looked like on the streets of Thailand — a mess of orange-hued noodles garnished with a dash of aromatic crushed peanuts and chilli flakes. Not forgetting a side of spring onion and bean sprouts, followed by a huge wedge of freshly cut lime. All you need now is a fresh coconut for some authentic BKK feels.
---
Pad Thai Recipe
---
Yield: Serves 2
Cooking time: 30 minutes
Ingredients: 
50 g rice noodles
2 cloves of garlic, roughly chopped
2 shallot, roughly chopped
1 egg
½ cup chicken chunks
½ cup prawns, deveined
1 cup spring onion
1 cup bean sprouts
4 tbsp oil
Peanuts
Chilli flakes
Lime
Pad Thai sauce:
2 tbsp fish sauce
2 ½ tbsp sugar
1 tbsp tamarind paste
1 tbsp paprika
Directions:
Soak rice noodles in cold water for 45 minutes to an hour. 

Hit the "Start Cook" button on the rice cooker and sauté the oil, garlic, and shallots together until the shallots are almost translucent, and the garlic is slightly brown.

Place chicken chunks, prawn, rice noodles, and pad Thai sauce into the rice cooker. Give it a good mix and cook for 10 minutes. Make sure the chicken and prawn are well cooked, and the rice noodles are al dente. 

Crack an egg into the pot and lightly beat the egg, allowing the heat to slowly cook it.

Throw in spring onion and bean sprouts, give everything a good mix, and close the lid to cook for another three minutes.

Garnish with peanuts, chilli flakes, and lime. Serve immediately.
Photos taken by Lim An.