Update (4 March 2021): Roost is now permanently closed.
Roost serves chicken rice sushi and deep-fried chicken rice balls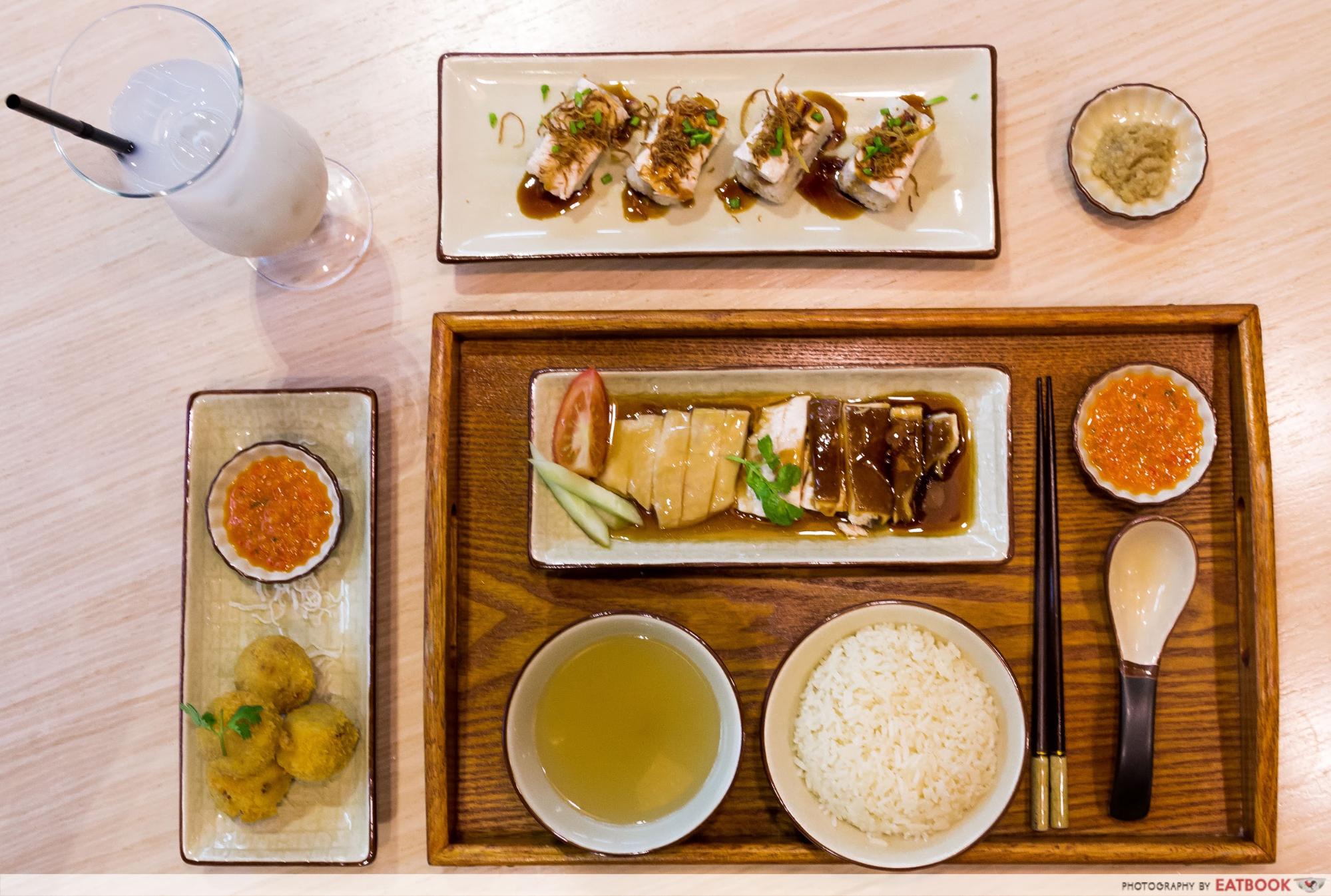 The months I was away on a student exchange programme to Europe was when I started to fall in love with Singapore's national dishes. Asian food was extremely hard to find and when we finally came across a rare Chinese joint, food was much too pricey. Even soya sauce wasn't in the supermarkets of some countries I visited.
Chicken rice was the dish I missed most. Since I've been home, I've grown to appreciate the flavours of the simple ingredients that make up the dish, from the fragrant rice and chicken doused in sauce, to the ginger and chilli condiments. At Roost, this iconic dish is reinterpreted in a variety of ways.

Food at Roost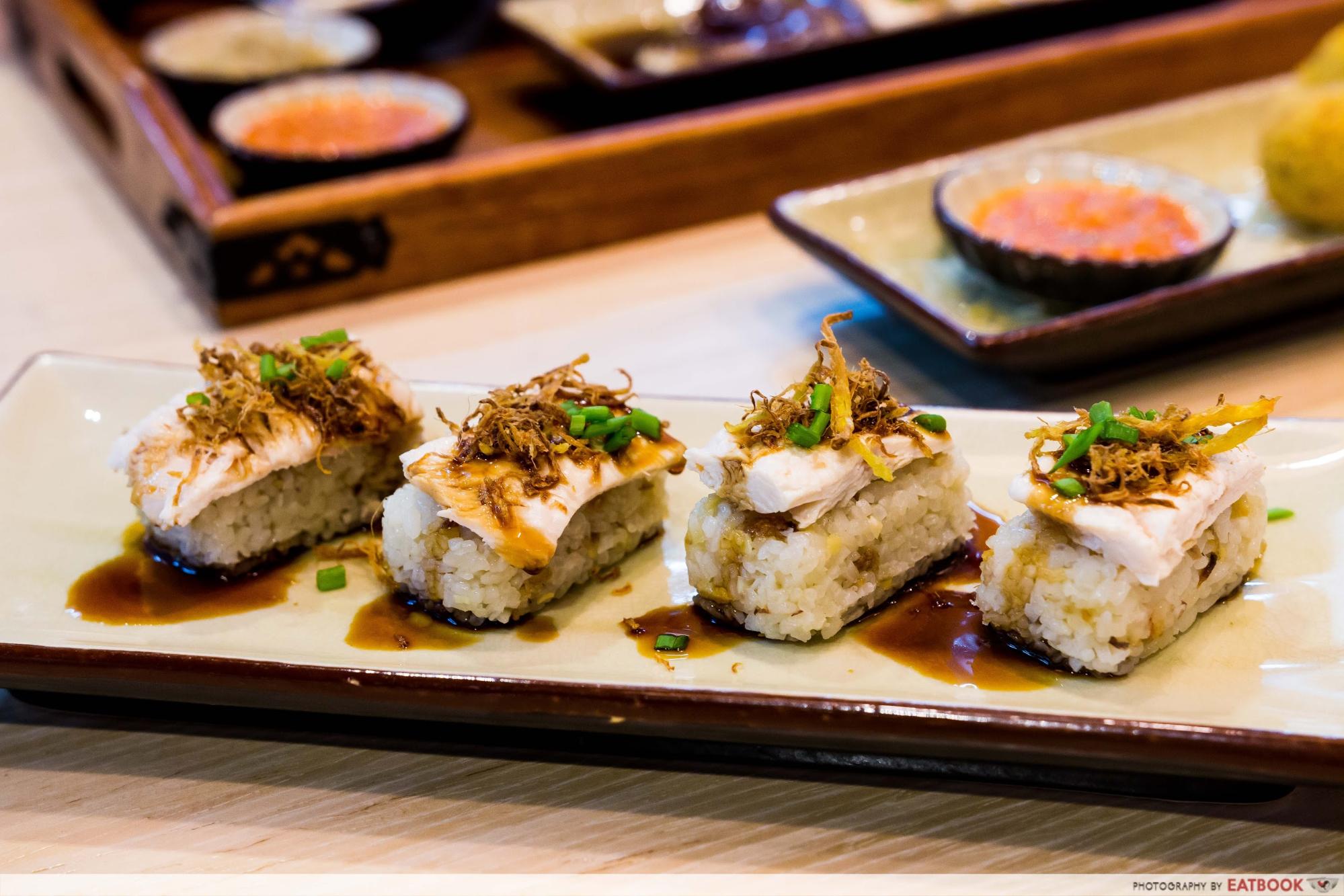 For starters, we got a platter of Chicken Sushi ($4.90++). A slice of their signature soya sauce chicken sat on top of a neatly moulded base of chicken rice and garlic bits, glazed with teriyaki sauce. It was a unique twist and the first I've ever heard of. Seeing the neatly plated dish, I was excited to pop one into my mouth.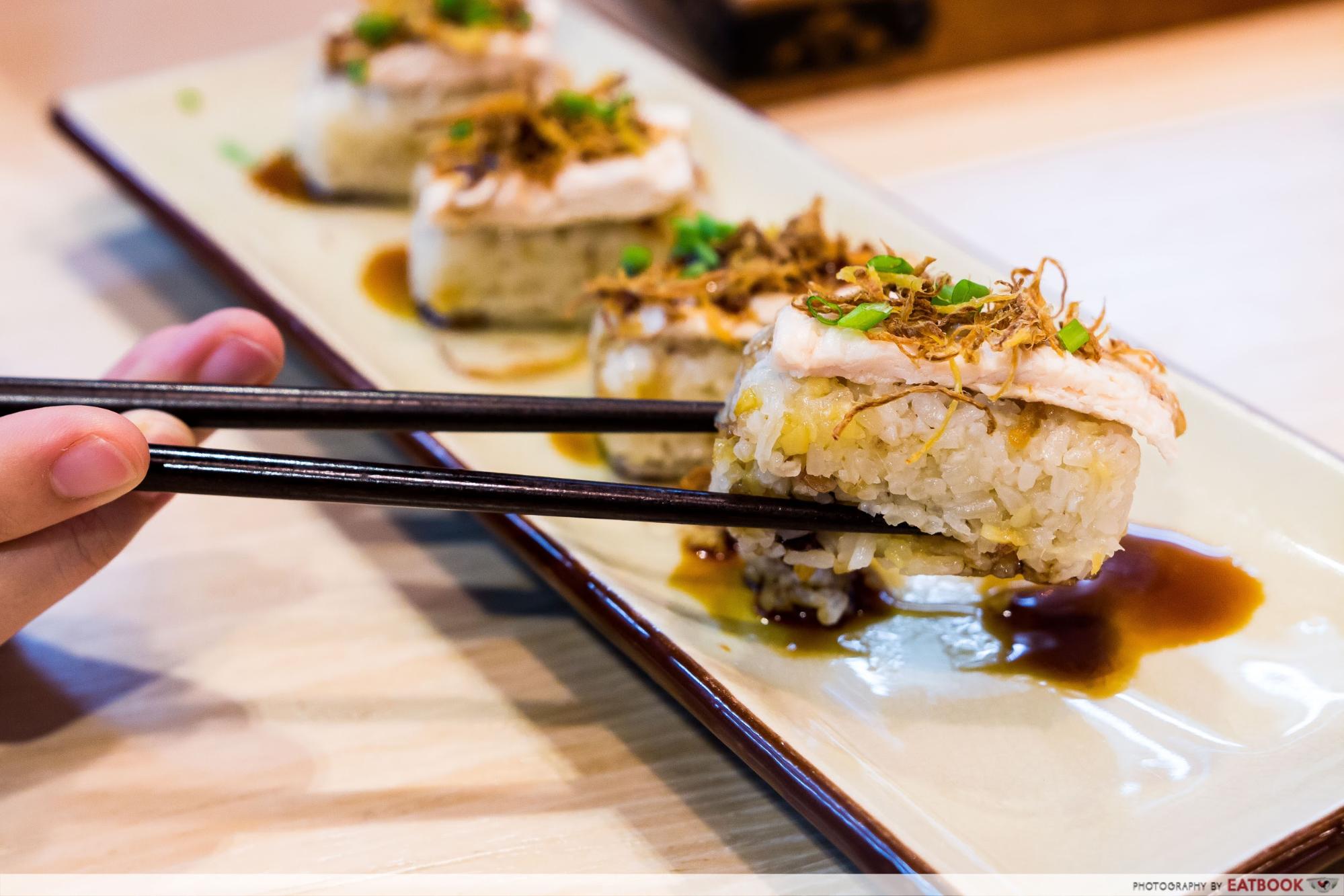 A couple of our sushi pieces fell apart when we picked them up. Nevertheless, I liked that they were bite-sized. This tasted just like chicken rice and the garnish of fried ginger, shallots, and spring onions pleasantly lifted the flavour of the dish with their aromas.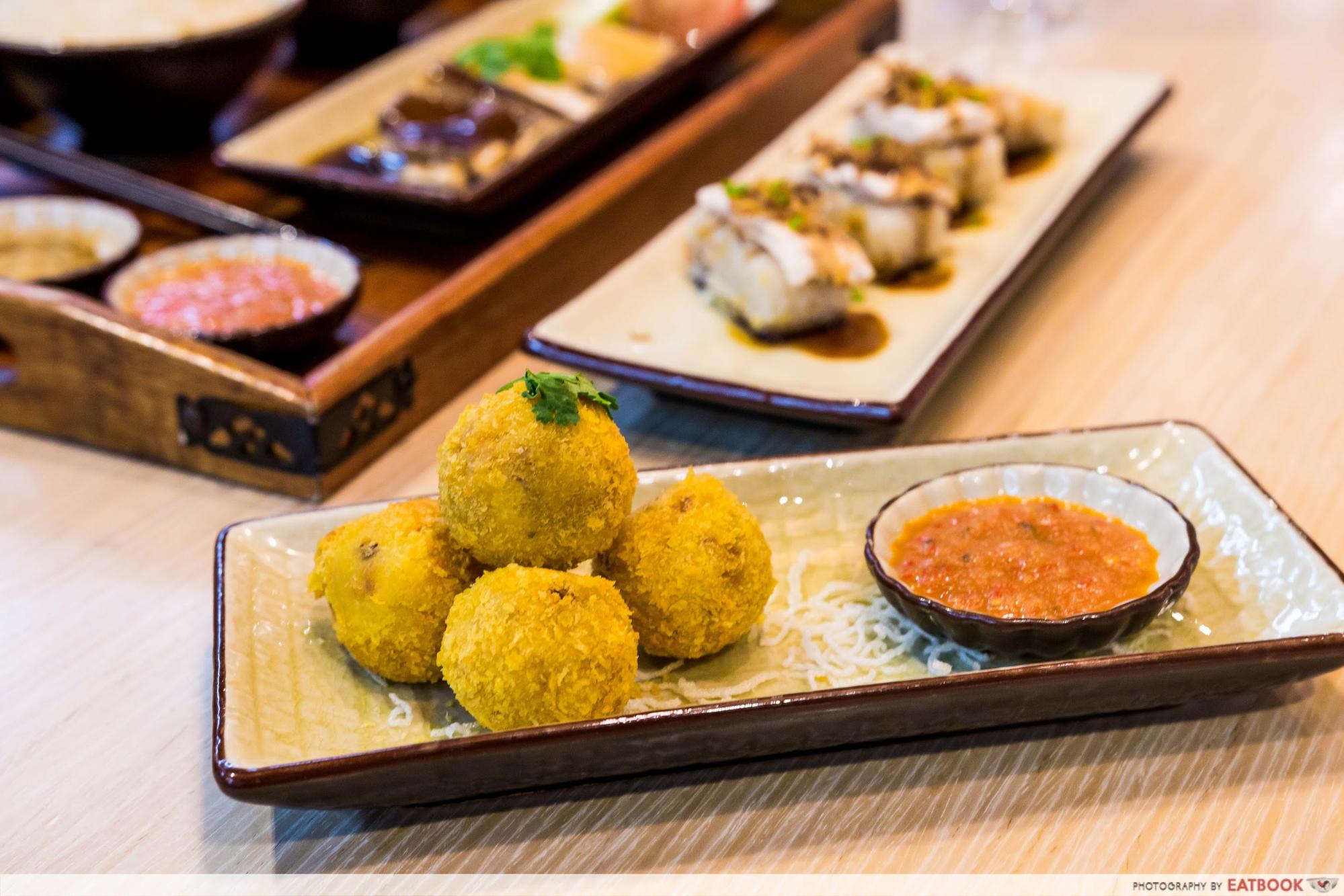 Another popular sharing plate we were curious to try was their Crispy Chicken Rice Balls ($4.90++).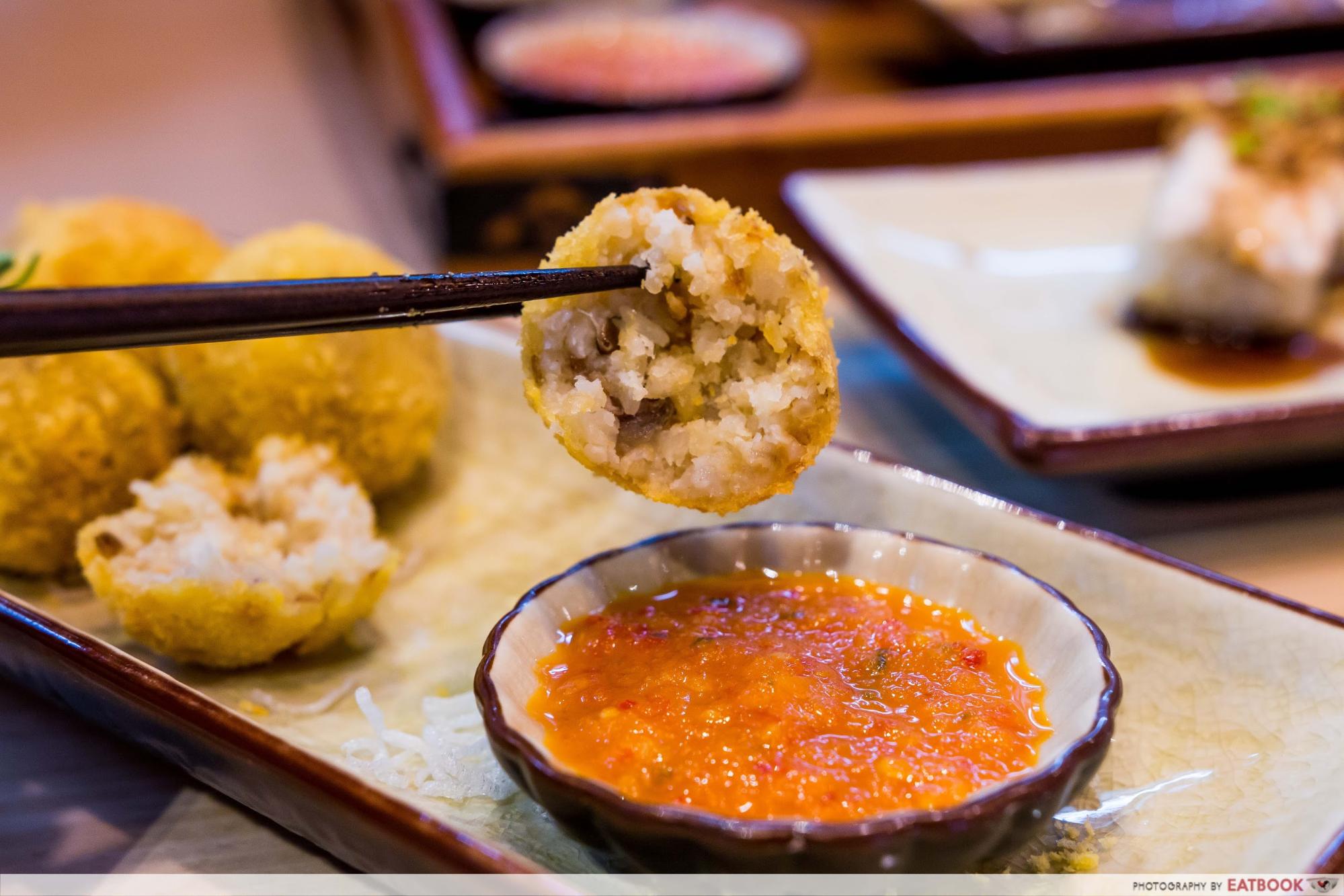 Deep-fried bread crumbs encased a mashed rice and chicken stuffing. The crunchy and light batter was a delightful contrast to the soft insides that weren't too dry. Compared to the Chicken Sushi, these Crispy Chicken Rice Balls had a deeper flavour, which was probably from chicken stock. Highlighting the tasty morsels was the house-made chilli sauce that added a spicy and sour tinge. It's little wonder why they're usually sold out before dinner hours!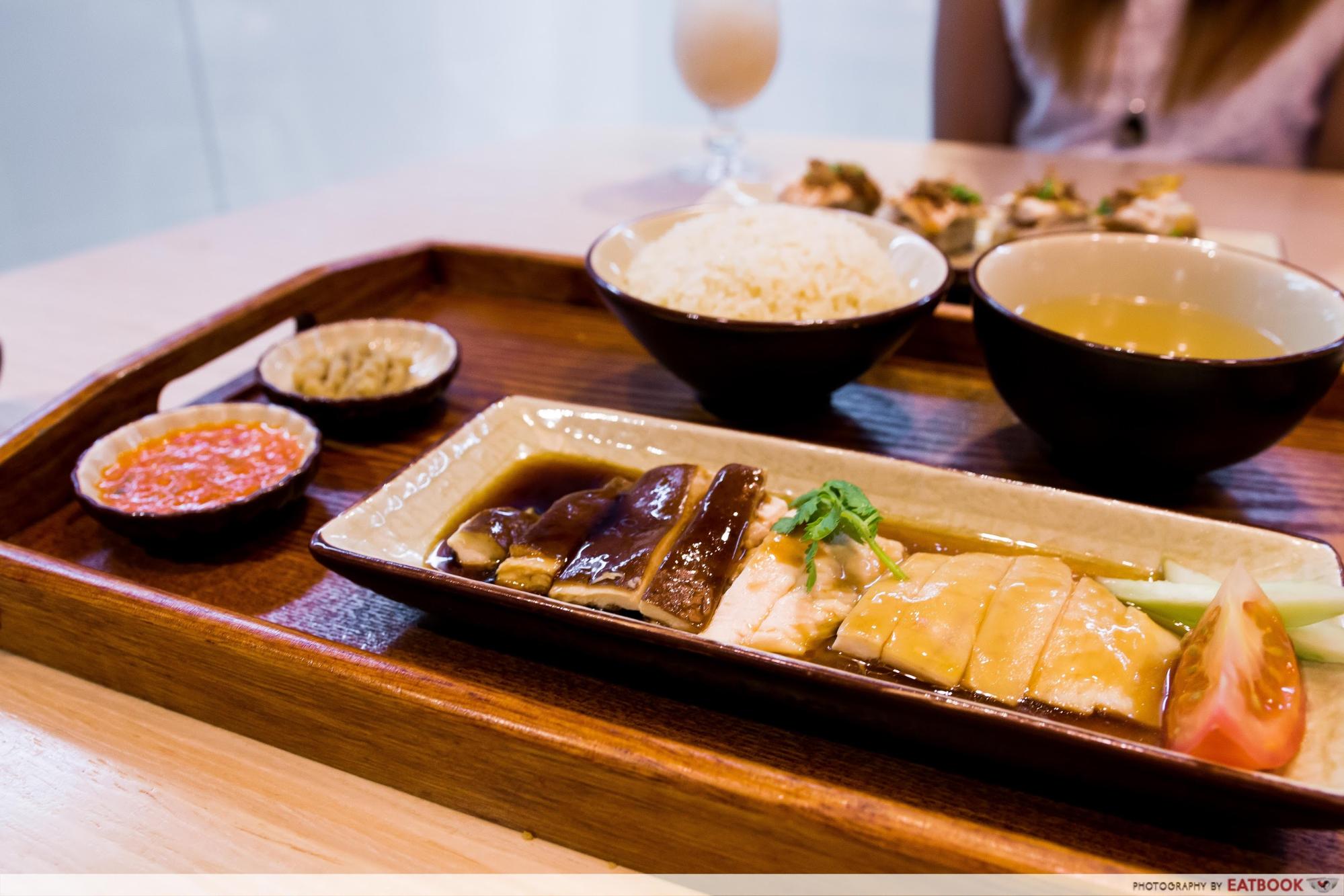 Deciding between food choices has me agonising every time. If you're like me, you'll be glad to know that their Yin Yang Chicken Rice ($8.90++) set has both poached and soya sauce chicken.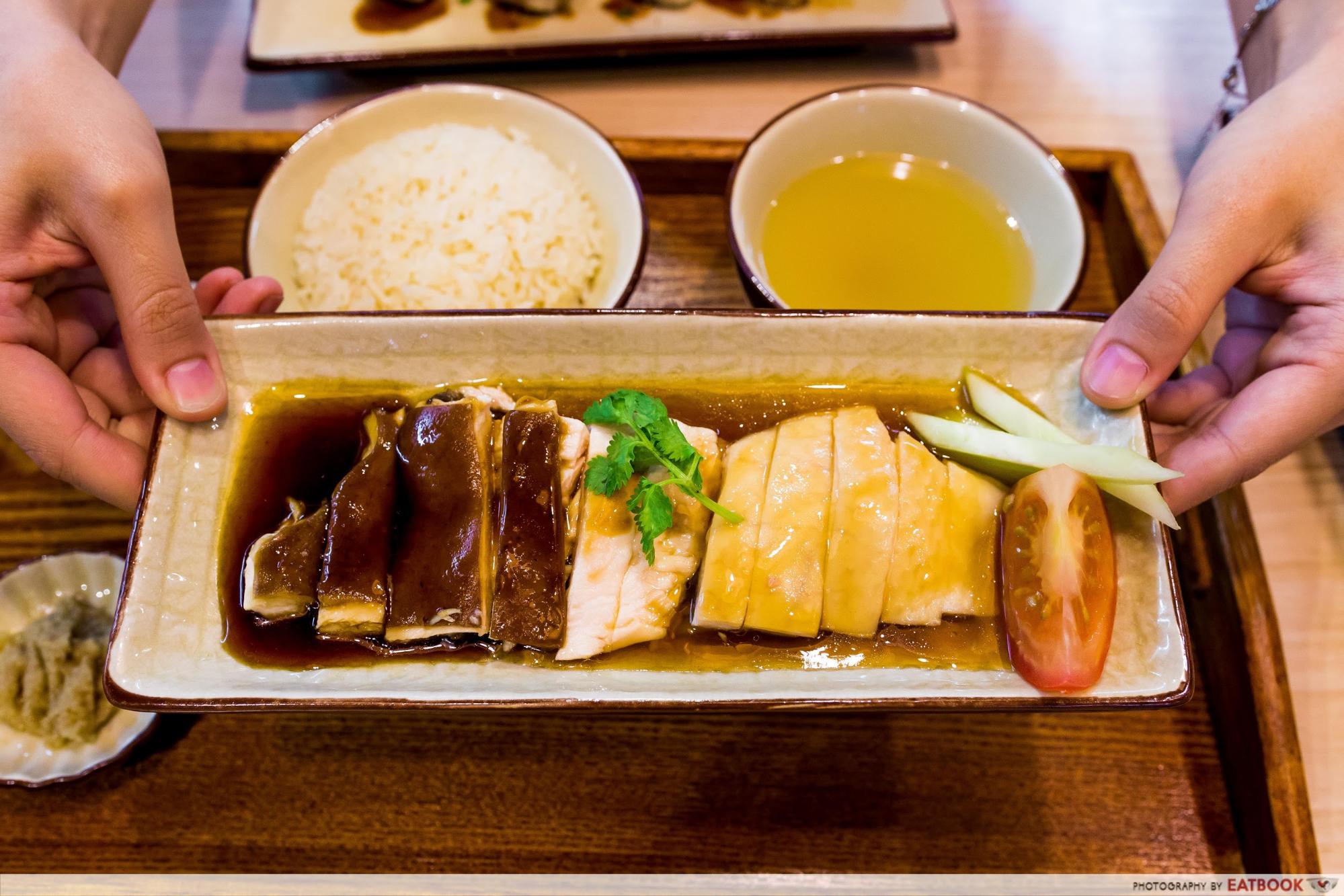 Our set arrived steaming hot and fragrant. The chicken slices looked silky and tender, and glistened enticingly from the sauce. The succulent meat tore apart easily, and was flavoured by two kinds of thick sauce — one for each type of chicken.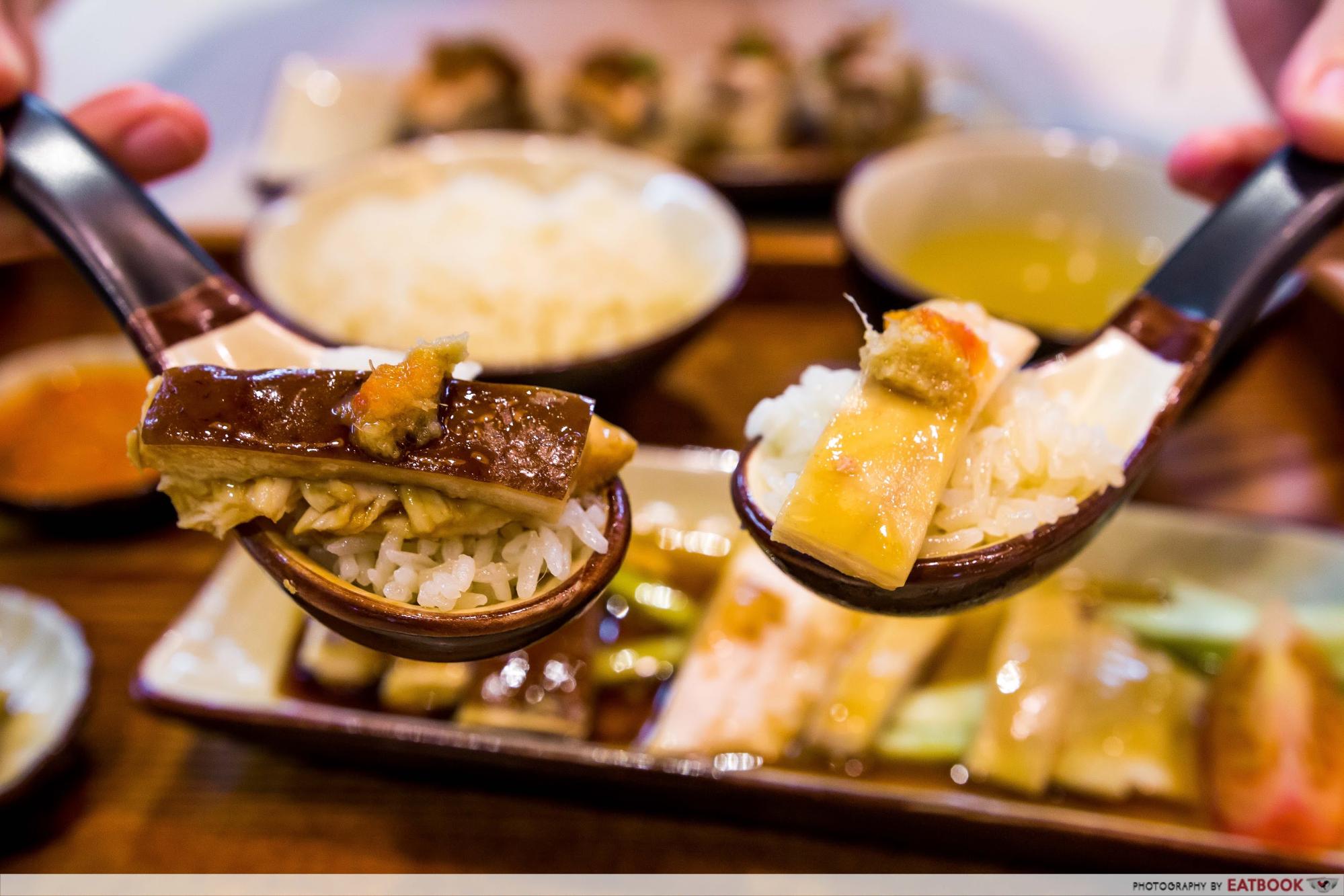 Under the poached chicken was light soya sauce that was saltier, while under the soya sauce chicken was a herbal sauce that was darker, sweeter, and thicker. Before entering Roost, I passed by their display window of cooked whole chickens and it struck me then that they lacked an oily sheen. Despite appearing dry, the chicken was quite tender as it was prepared sous vide.
The rice tasted less greasy and heavy with chicken stock as compared to what I'm used to. Instead, a spoonful imparted a faint fragrance of pandan and tasted healthier. As a dish, this chicken rice set was less oily and lighter than those at typical hawker stalls.
Ambience at Roost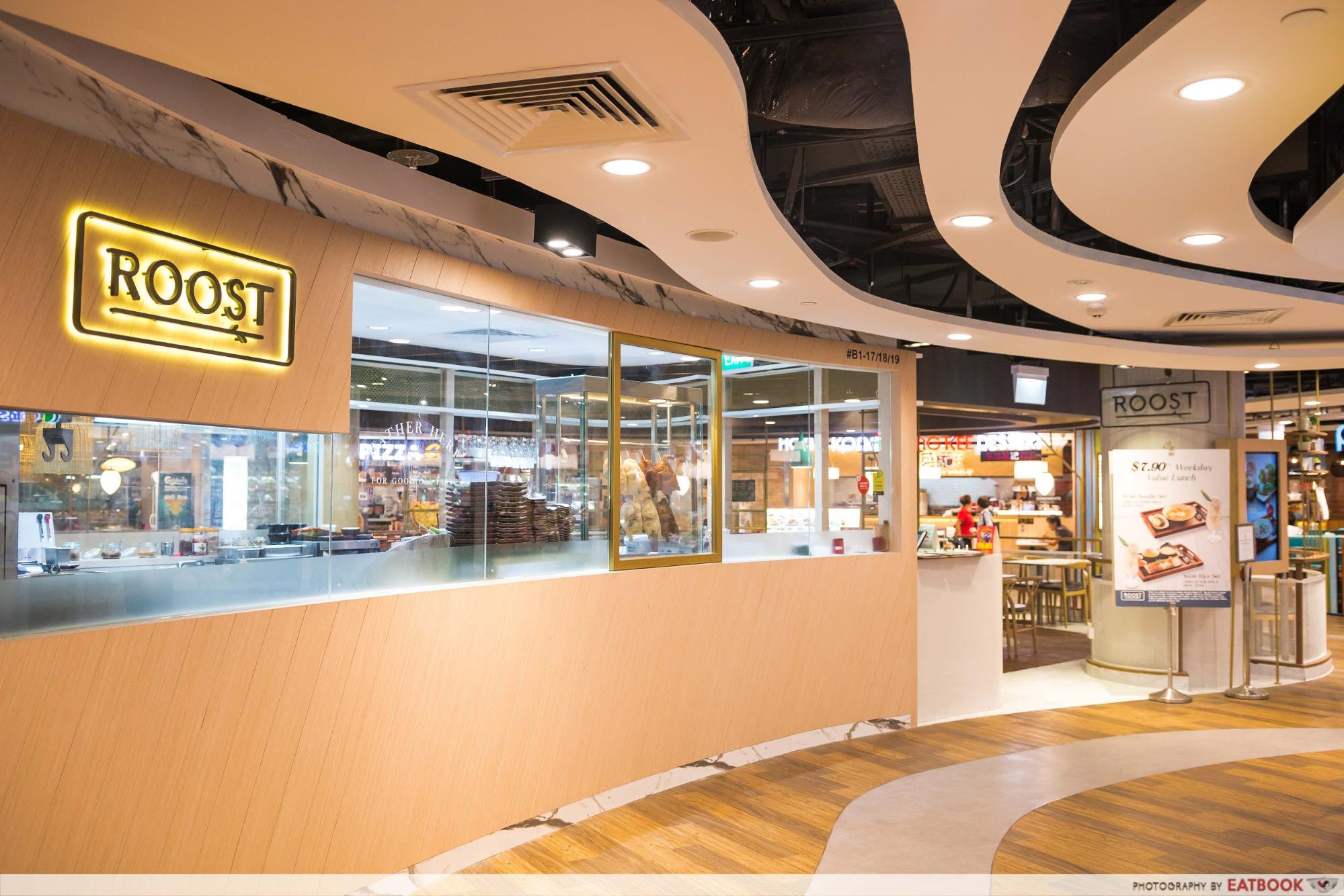 Roost is located in the basement of The Centrepoint, making it convenient for casual meals with friends. Brightly lit, the open-concept restaurant has a clean and minimalist vibe, and their kitchen looked sparkling clean and tidy.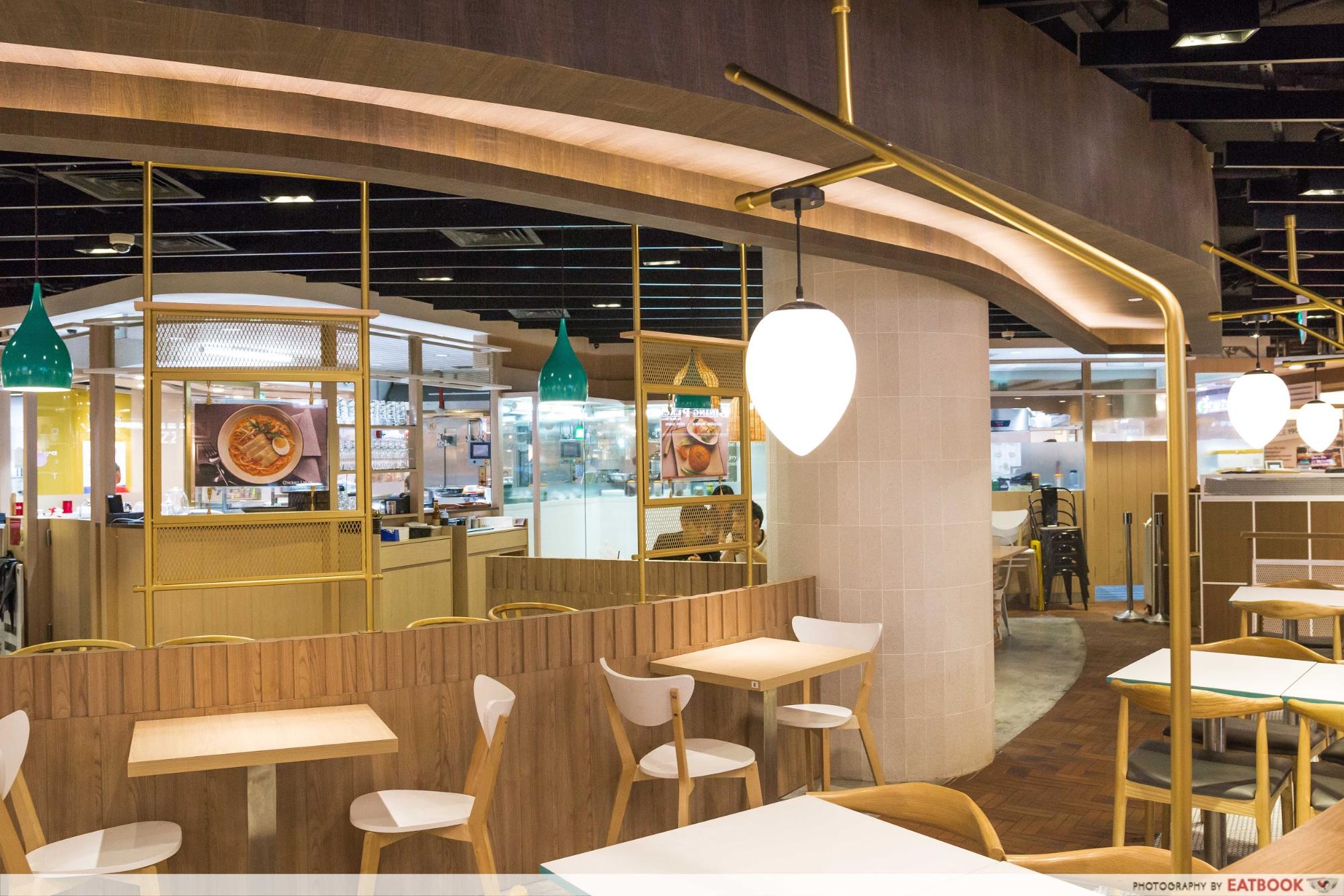 The restaurant is large and has tables that cater to various group sizes, making it suitable for families and groups. The menu also features a few lower-calorie items that have smaller portions of carbohydrates, and their food is cooked without MSG. Although it was empty when we went at an off-peak hour, we were advised to make reservations during lunch and dinner.
The verdict
To me, a good plate of chicken rice is straightforward and simple. It needs tender chicken meat, fragrant rice, spicy chilli, and a side of ginger. While I honestly wouldn't mind a less healthy plate at a hawker centre, the air conditioning and creative reinterpretations of the dish are what makes Roost attractive. It's a place I would bring my foreign friends or even my family to as the healthier mains have lighter flavours that would appeal to the palates of the older generation. For traditional chicken rice, check out Hainan Chicken Rice Ball or Yet Con!
Address: 176 Orchard Road, #B1-17/18/19, The Centrepoint, Singapore 238843
Opening hours: Daily 11am to 9pm
Tel: 6909 0411
Website | Menu
Roost is not a halal eatery.
This is an independent review by Eatbook.sg.
Summary
Pros
– Creative dishes
– Healthier options available
– Good for families and friends
– Efficient and friendly staff
Cons
– Healthier taste may not appeal to some
Recommended Dishes: Crispy Chicken Rice Balls ($4.90++)
Operating Hours:
Daily 11am to 9pm
Tel:
6909 0411
Address: 176 Orchard Road, #B1-17/18/19, The Centrepoint, Singapore 238843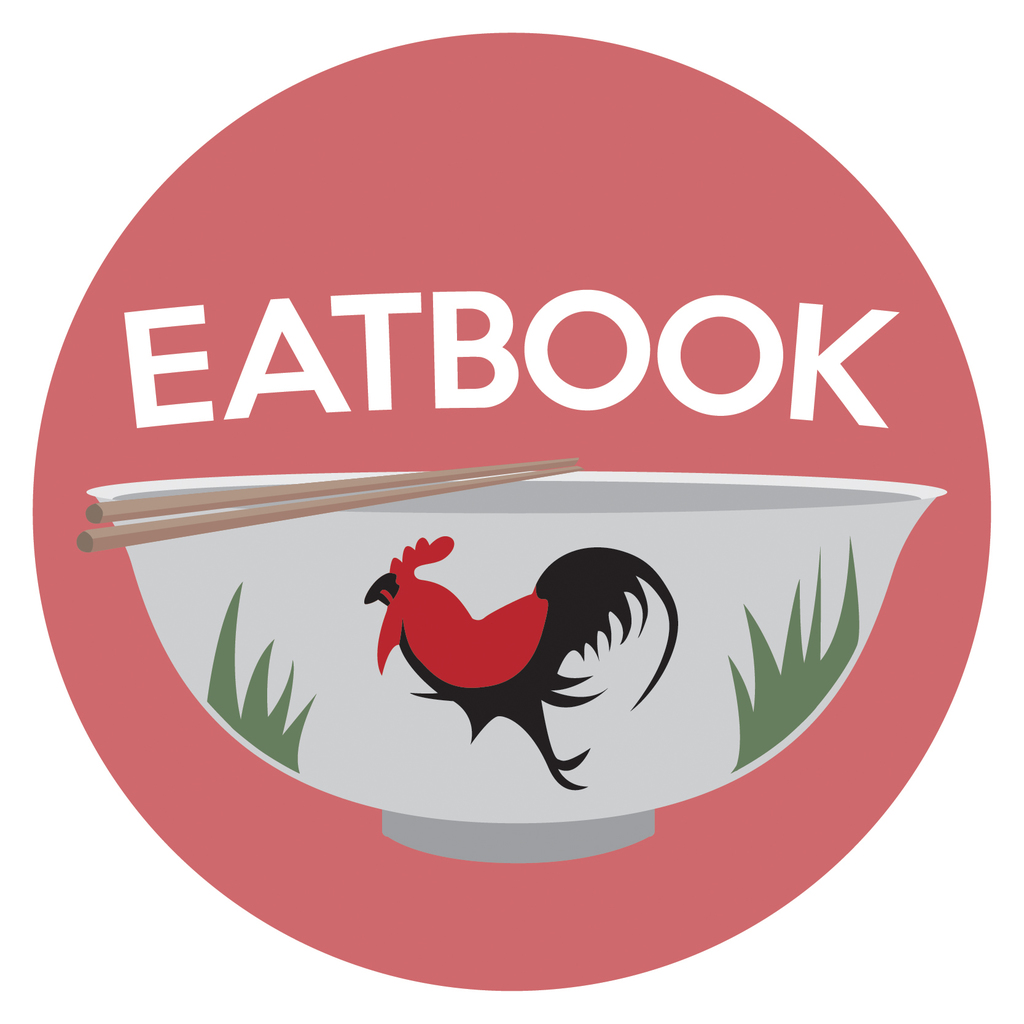 Drop us your email so you won't miss the latest news.